ssMaritime.com - Enter a world of Classic Passenger Liners, Passengers-Cargo Ships and humble Migrant Liners from around the world
Please Note: Firefox & some other Search Engines may not be suitable
Use Google Chrome for this Web Page to load perfectly!

Please Note: All ssMaritime and other related maritime sites are 100% non-commercial and privately owned, thus ssmaritime is NOT associated with any shipping company or any other organisation! Although the author has worked and been involved in the passenger shipping industry for well over 60 years, but due to his old age and poor health, he was forced to retire. Yet, he has completed well over 1,365 Classic Liners, Passenger-Cargo Liners as well as humble converted C3 converted Migrant Liners, which has transported countless thousands folk to the new world, as well on vacations'. I trust the features online will continue to provide Classic Liner and Ship enthusiasts both the information they are seeking, but more so provide a great deal of pleasure and relive many happy memories!
Also Note: The email service to ssMaritime is sadly no longer available, due to the author's old age and chronic illness as well as being disabled, etc. In the past ssMaritime received a huge number of emails each day, but
Please Note: If there are any photographs, images or copy missing on this page, please refresh the page
**********************
My thoughts on Covid-19 & that evil Delta Strain:
Welcome to ssMaritime.com. There is no doubt that 2020/21 has proven to be a tragic time throughout the world, due to the sudden arrival of COVID-19 and now with that evil even more dangerous "Delta Strain". Around the globe Covid continues to create havoc and due to this, as we well know, cruising around the world came to a complete halt, with some companies having been forced to go into administration and closing down, or those who have survived were sadly forced to sell some of their excellent ships to new owners, or to the breakers, which was tragic! I wish cruise companies well and hope they will survive this evil time, but with the ongoing conditions with COVID-19 and that even worse Delta Strain flaring up all over again in certain parts of the world it does not look too good for the cruise industry.
Even though some cruise ships are back in service in some sections of the globe, be very, very careful, for it is still too dangerous and sadly I would not recommend a cruise whilst Covid is still around and the very poor shipboard air-conditioning systems that allow air to be shared between cabins.
Australia and New Zealand seem to have outshone most of the world, when it came to managing Covid-19, but right now in our largest city Sydney and much of the State of NSW is in real strife, mostly due to the State Government of New South Wales having completely messed up by not going into a "Lock Down" fast, and allowing people to travel out of the Covid areas and they have infected people in other States. Idiotic errors have been made by the State's Premier Gladys Berejiklian who unlike every other State was unable to do her job correctly, and now far too many have died, and thousands of people are so ill with this evil Delta Strain in a very short time! Another problem is the very poor isolation premises that are in large hotels but it is there that so many actually get ill due to the poor air-conditioning systems, but our Prime Minister, has failed Australia and simply continued hotel isolation, where so many have caught Covid inside their rooms, as well having messed up obtaining sufficient vaccines to do the job. I must add that air-Conditioning in hotels allows air to travel from room to room, and it is the same on the majority of cruise ships! I would not go cruising until it is safe, and 99% of the cruise companies are doing the right thing and having laid up their ships, but sadly this has come at a massive cost to them!
Please stay safe and healthy and please go and get vaccinated, do not believe the evil lies of those anti-vaccinations, for they are sadly completely misled as their info has come from one of the most evil sources!
Reuben Goossens.
*****************************
Below - Seven New Ships are Featured
Recently, whilst checking I discovered that there were a number of ships that I had already covered, however I was unable to locate them on the Index, or online. Thus I have now uploaded these, and these ships are now listed below. Here you will discover three Dutch ships, the S.S. Prinses Amalia of 1874, the S.S. Gelria of 1913, and the M.S. Colombia of 1930, as well a magnificent Scandinavian super luxury cruise ship the M.Y. Stella Polaris of 1927, as well as a two great Italian liners - the S.S. Conte Grande of 1928, and the S.S. Frederico C of 1958,  as well as the R.M.S. Monarch of Bermuda of 1931,she was sold and had two new names later; 1. S.S. New Australia - 2. Q.S.S. Arkadia.
These seven ships can be viewed below with links to their respective features at the bottom of each item.
N°1 is the S.S. Conte Grande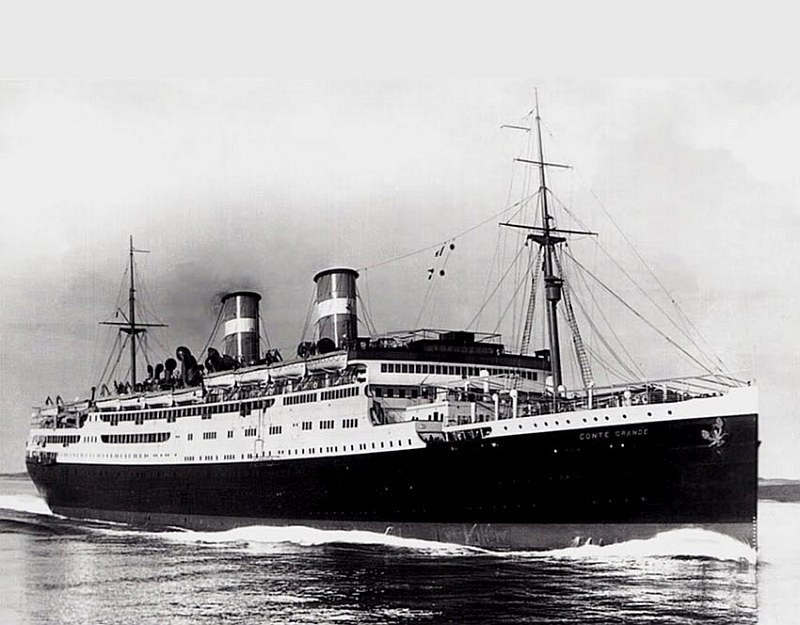 The elegant liner S.S. Conte Grande is seen during one of her early voyages to New York
S.S. Conte Grande was built by "Stabilimento Tecnico Triestino" at their San Marco shipyard, Trieste as an ultra luxury passenger liner and she was completed in 1928. She commenced her duties operating regular services from Genoa, Italy to New York. Although in 1932 she was placed on the Italy to South American service. In 1942 she was taken over by the US "War Shipping Administration" and was converted into a troop ship and renamed U.S.S. Monticello II - (AP-61). She was returned to the Italians after the war and she returned to her regular duties. She ended an excellent career in 1961.
She accommodated 578 passengers in First Class, 420 in Second Class and 720 in Third Class, but it was well known that her interiors were beyond spectacular, large lounges up to 2 or 3 levels high.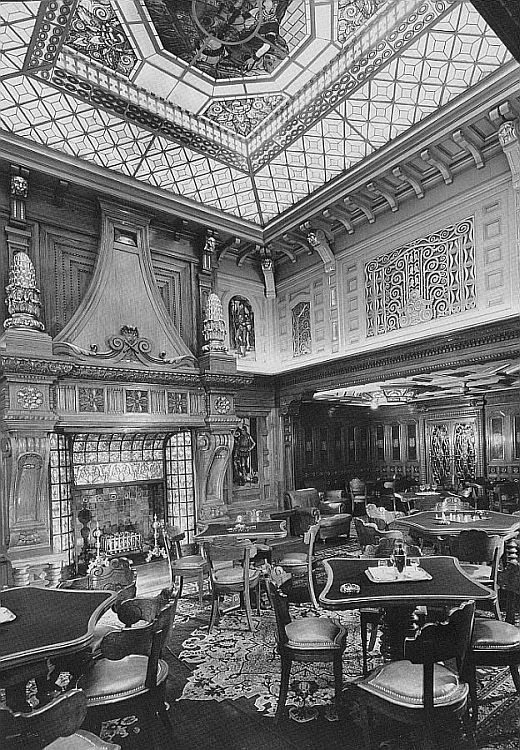 Above and below: Here we see the Main Lounge and the Smoke Room below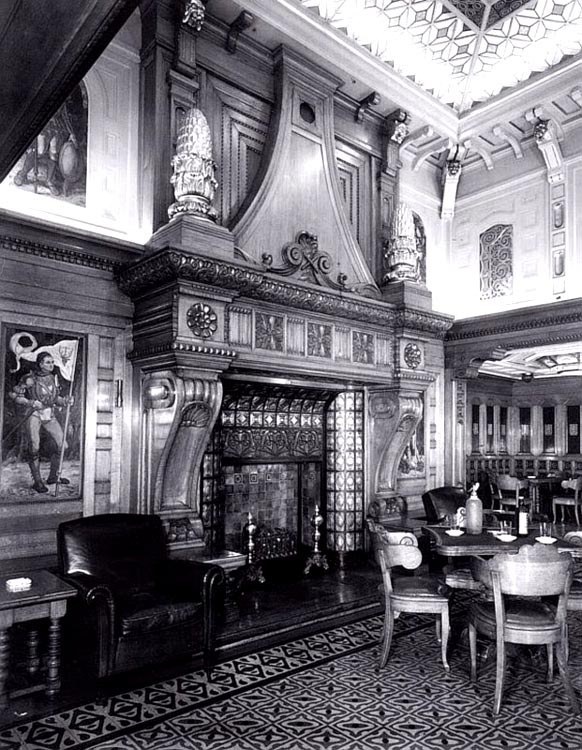 "Conte Grande" was purchased whilst she was interned in Brazil, on April 16, 1942, by the United States Government, who officially commissioned her and renamed the ship U.S.S. MonticelloII - (AP-61). She had extensive trooping duties, and these are well described.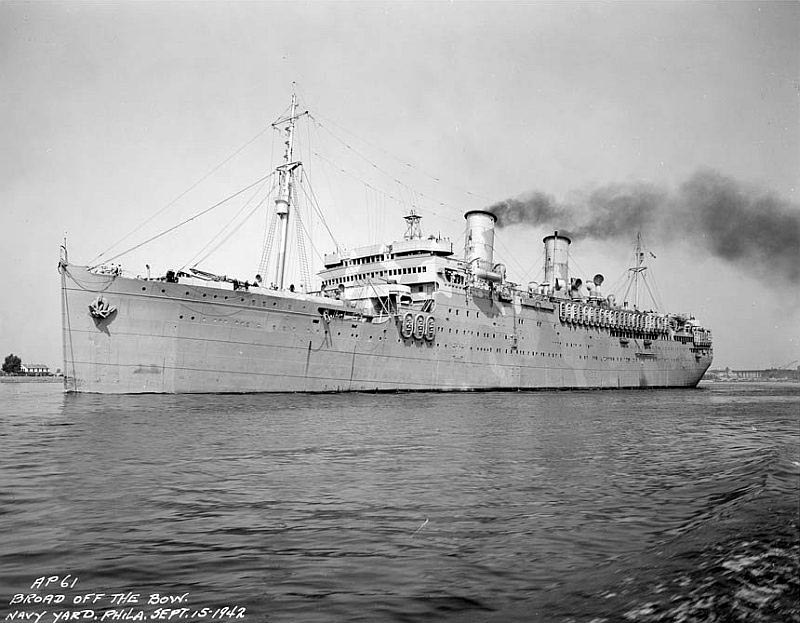 USS Monticello (AP-61) with her refit completed, is seen leaving the shipyard and is bound for New York on September 15, 1942
After the war she was returned to Italy and after she was given a massive refit in Italy she recommenced her services looking like a much newer ship, with a white livery.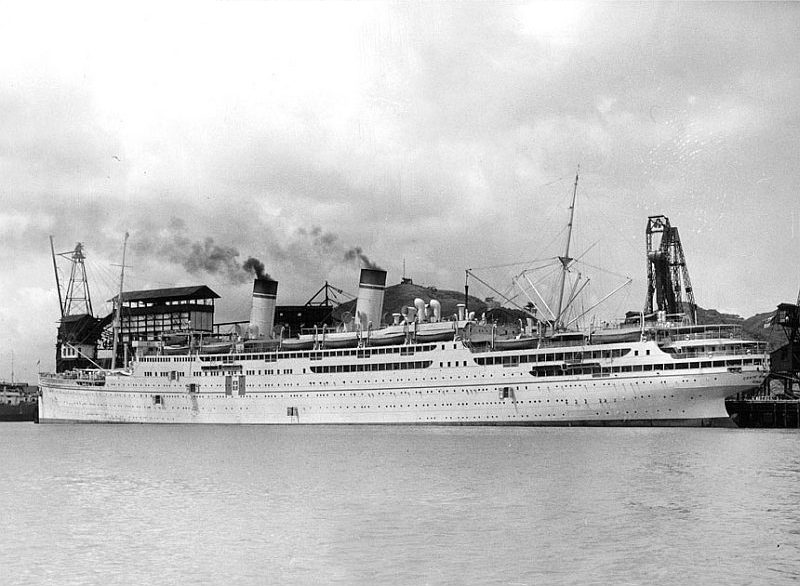 In December 1960 she was chartered by "Lloyd Triestino Line" to operate one return voyage to Australia with around 1,400 passengers who where accommodated on a One Class basis, but besides the many emigrants and refugees, there were also 200 full fare paying passengers who occupied the First Class accommodations.
She was finally sold to the breakers late in 1961.
Enter the S.S. Conte Grande feature
*****************************
N°2 is the R.M.S. Monarch of Bermuda
Sold to become S.S. New Australia & Q.S.S. Arkadia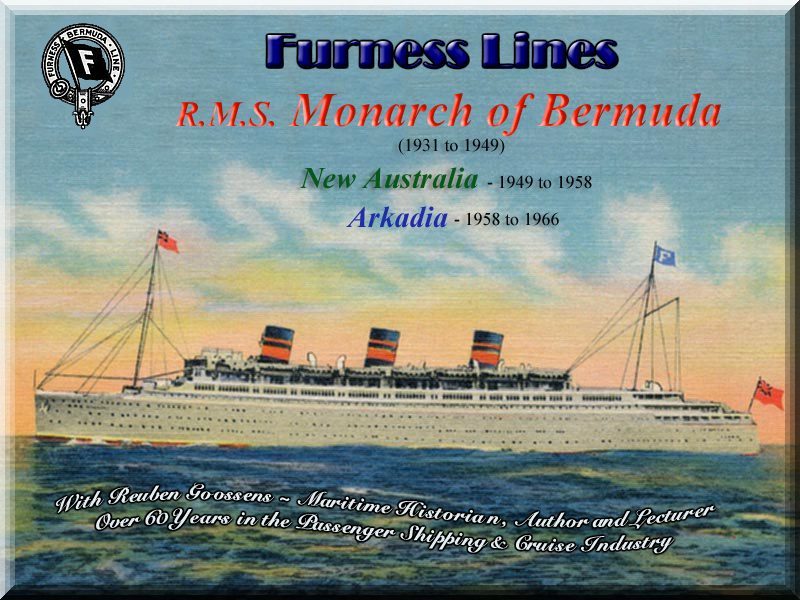 The luxurious R.M.S. Monarch of Bermuda
This feature covers two pages; Page One will cover this fine ship as built in 1931, including her days as a troopship during WW2. Page Two covers her in her two final guises; the British migrant liner the S.S. New Australia (1949) thereafter she became the Greek Line's Q.S.S. Arkadia (1958) and she sailed until 1966.
This luxurious turbo-electric propulsion liner, R.M.S Monarch of Bermuda was completed in November 1931, and she accommodated just 830 all First Class passengers, having a large crew of 456 persons. Her public venues were simply staggeringly beautiful as can be seen just below, and every suite and cabin had a private bathroom and a telephone, being a first on a liner in those days! She offered two swimming pools, one outdoor pool located aft on Deck A, and the other being one or the most magnificent indoor pools amidships down on E Deck. This latter pool had lighting installed in the floor of the pool and this was a sublime venue.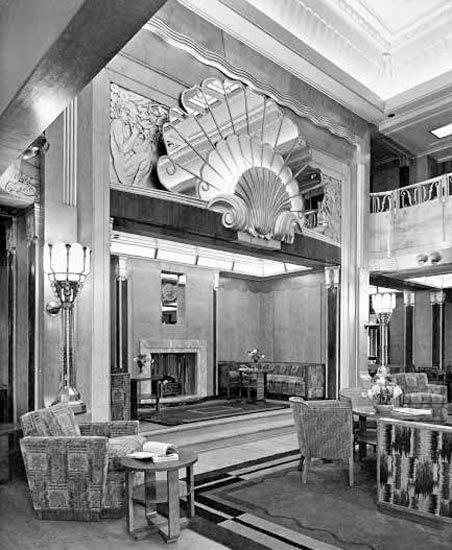 The ships magnificent Main Lounge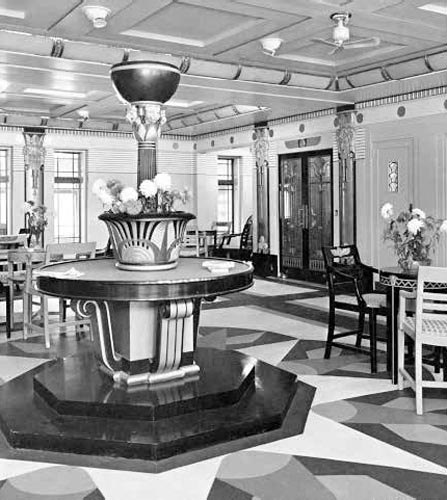 The elegant Verandah Café
She, and later her sister "Queen of Bermuda completed in 1933, operated a service from New York to Hamilton, Bermuda that would take just 40 hours in both directions, allowing for passengers to enjoy four days in the tropical haven of Bermuda.
Enter the Page One to view the R.M.S. Monarch of Bermuda feature
This page has links to Page Two, covering the "New Australia" and the "Arkadia".
*****************************
N°3 is the S.S. Prinses Amalia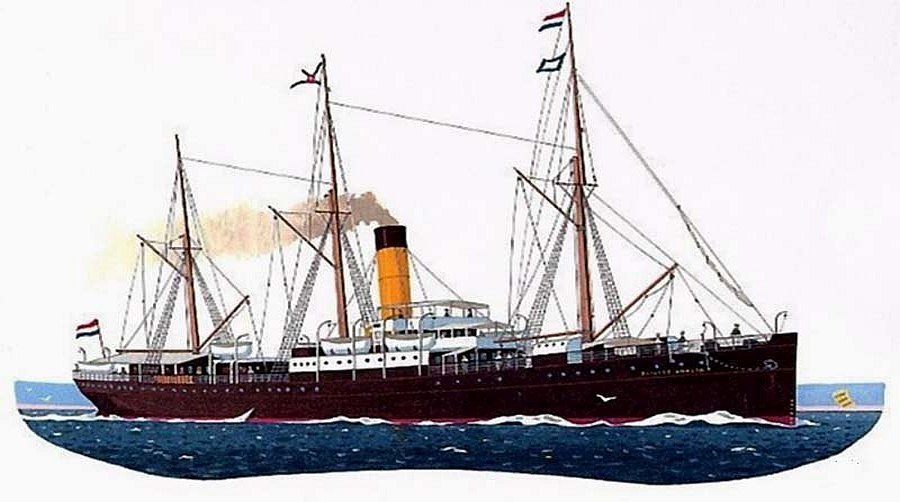 A fine illustration of the "Prinses Amalia
By artist Nico Keus
The S.S. Prinses Amalia was one of the early Dutch steamships, yet with her three tall masts she could also operate under sail. She was built by "John Elder & Company" at their Govan yard at Glasgow, Scotland for "Stoomvaart Maatschappij Nederland" or the "Netherland Steamship Company" also known simply as SMN.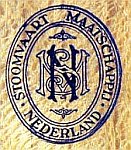 The 3,480 GRT (Gross Registered Ton) Prinses Amalia departed for her maiden voyage from the Netherlands on June 16, 1874 and she headed vu Southampton, Naples, Port Said and Suez to the Dutch East Indies (today's Indonesia) with her final destination being Batavia (or present day Jakarta).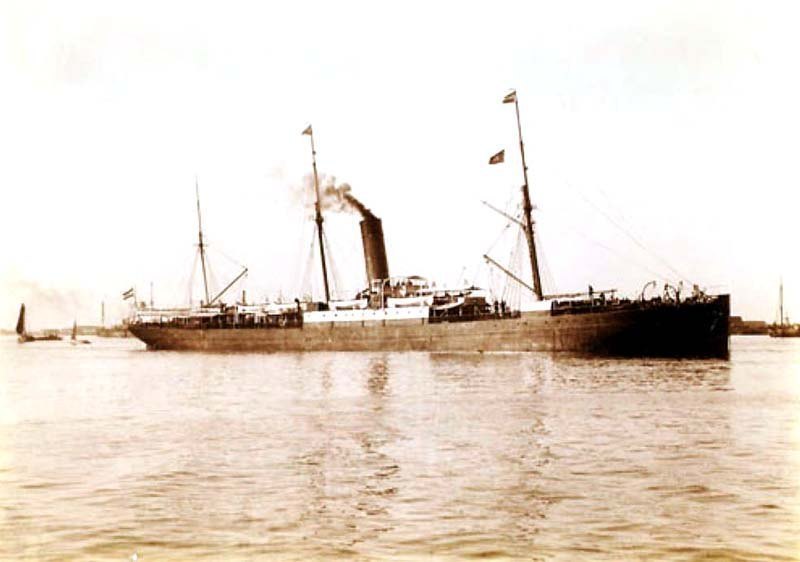 S.S. Prinses Amalia is seen departing port
She carried First, Second and Third Class passengers, as well as there being space for transporting soldiers.
The S.S. Prinses Amalia continued her voyages to Batavia for a good 29 years, but due to the unrest in the Colony, it was decided to lay her up in 1904, and she was sold several years later in 1906 to be broken up.
Read her interesting story, combined with many photographs as well as the details of the infamous Mata Hari having sailed on her, with her husband to the Dutch East Indies.
Enter the S.S. Prinses Amalia feature
*****************************
N°4 is the M.Y. Stella Polaris
Bergen Line and Clipper Line - 1927 to 1969
Hotel Scandinavia (Japan) - 1969 to 2006
The graceful Motor Yacht Stella Polaris was one of the most famous super luxury cruise ship ever built, in fact she was known as being more of "A glamorous Royal Yacht". In addition she was the very first purpose full time cruise ship ever built and she departed from Gothenburg for her maiden voyage on Saturday February 26, 1927, at Noon. She headed for Tilbury in the U.K., where she took on further supplies as well as passengers and she then continued her voyage to Lisbon and then headed for her Mediterranean cruise sector.

A fine artist impression of the M.Y. Stella Polaris
This three Page feature will cover her entire history and photographs, with the Norwegian "Bergen Steamship Company" and then the Swedish "Clipper Line" as well as her final days as a Japanese Hotel, renamed "Scandinavia", but her original name always remained on her bow!
Enter Page One of the MY Stella Polaris feature
*****************************
N°5 is the S.S. Frederico C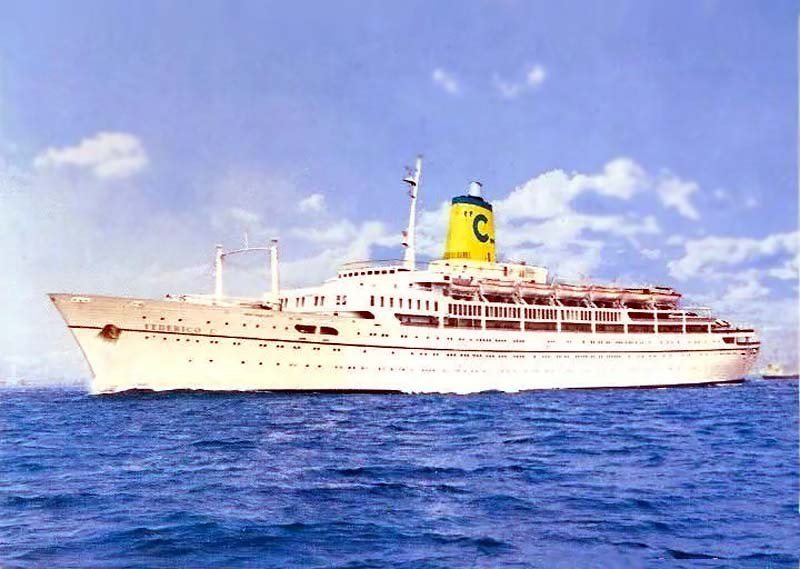 Costa's Linea "C" - S.S. Frederico C - 1958 to 1983
S.S. Royal, renamed StarShip Royal, followed by the name SeaBreeze - 1983 to 2000
The S.S. Frederico C was the very first new build passenger liner for Costa's Linea "C" a d she was a remarkably luxurious ship designed by Italy's most famous designer! What passengers loved about this ship was that the First and Cabin Class were of much the same high standard, both when it came to the accommodations and public venues. Even the Third class was also of a remarkably high standard compared to other ships.

The two lounges on the left are from Cabin Class, and the one on the right was First Class
She operated line voyages from Italy to South America, and later also cruises to the Caribbean and the Mediterranean in the off season. In 1968 she was a massive rebuild and refit, which saw her change both externally and internally, as she would become even more luxurious and now a Two Class ship. In 1972 she became a fulltime cruise ship.
She served Linea "C" very well, but due to a good number of new ships having been added to the fleet, it was decided to sell her and she was sold to Premier Cruises late in 1983. She received another refit and had her hull pained red and was renamed "Royal." Later she was again renamed "StarShip Royal" and she spent a short time with Dolphin Line, but as Premier obtained that company she was returned to Premier and was finally renamed SeaBreeze.
The Two page feature covers her exciting story, complete with countless photographs and Deck Plans.
Enter the SS Frederico C feature
*****************************
N°6 is the M.S. Colombia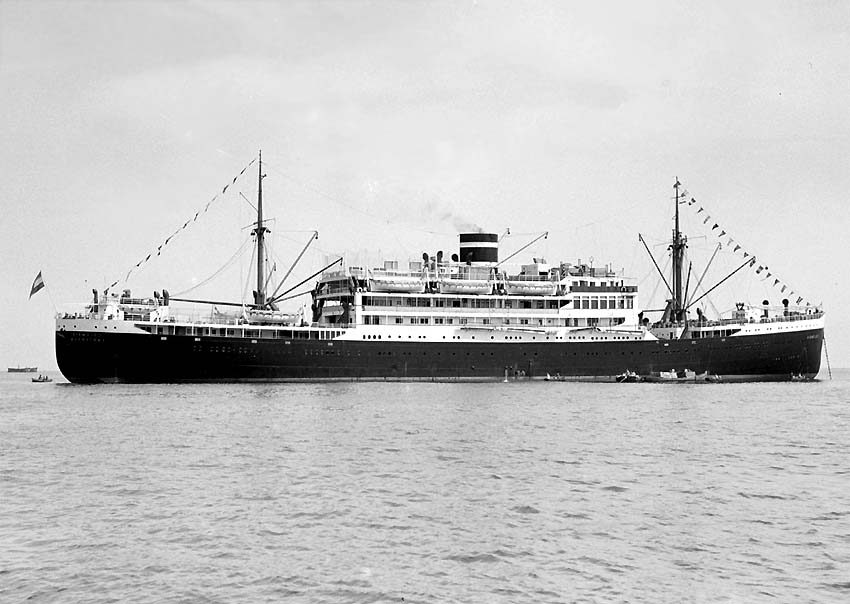 The luxurious Passenger Liner & Cruise Ship, the KNSM M.S. Colombia from 1930 to 1943
This is the story of the M.S. Colombia being the famous and luxurious flagship of the Dutch company "KNSM", or the "Royal Netherlands Steamship Company". This remarkable and intimate 10,782 GRT ship was completed in 1930, and she had passenger facilities that were far more luxurious and glamorous than any of her competitors! In fact the reason of her interior grandeur was due to her super famous designer, being C.A. Lion Cachet who worked on many of the finest grand Dutch liners.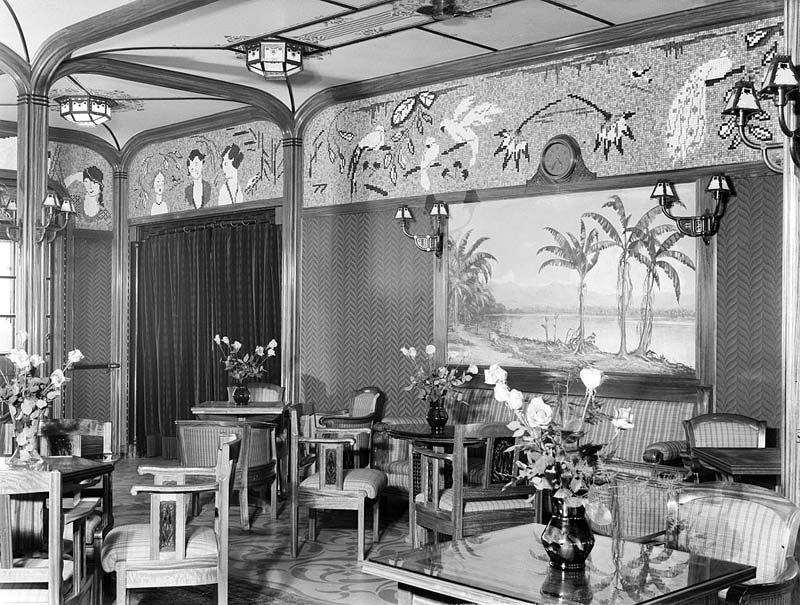 Her First Class Lounge
She served her company well, both with liner duties as well as a cruise ship. But sadly her duties during WW2 stood out as did her tragic end in 1943 together with a sailor's individual heroic activity that saved many lives. All this makes the M.S. Colombia story amazing reading and it with countless photographs!
Enter the MS Colombia Feature
*****************************
N°7 is the S.S. Gelria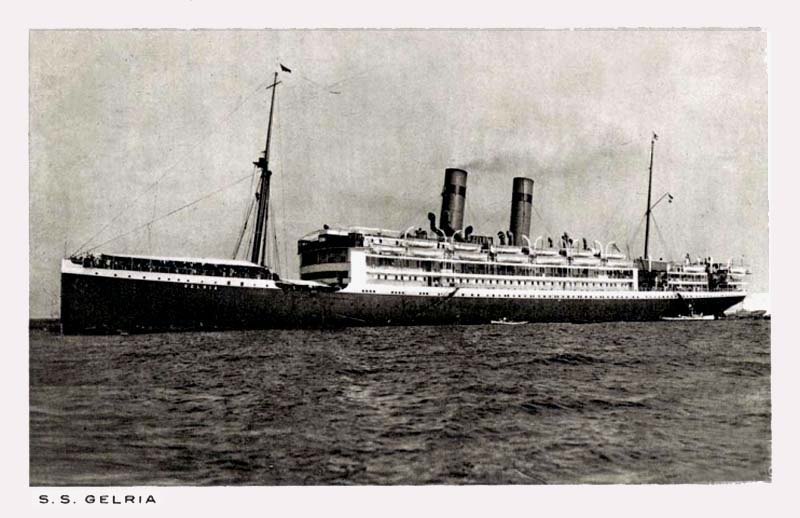 The of 1913 the S.S. Gelria
The luxurious S.S. Gelria was built by Alexander Stephen & Sons Ltd, Glasgow Scotland in 1913, for the "Royal Holland Lloyd." She was so greatly loved by the British that she was hailed by a UK publication "Shipping Illustrated" as being "the ship of the year".
She operated from Europe to South American ports, as well as luxury cruises, and later in 1928 she was converted to being oil fired as well as being painted all white, making her look better than ever!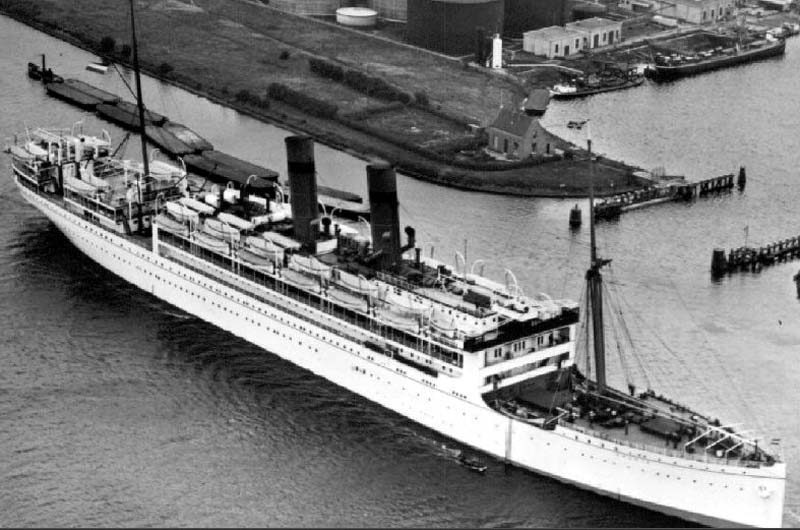 A fine aerial view of the Gelria
She has an interesting history, and in 1935 she was sold to the Italians who renamed her "Gradisca", and she spent most of her time as a troop ship or as a hospital ship thereafter. However, she sadly ran aground in 1946, but she was eventually refloated and laid up, but sold in 1949 to be broken up in Italy, which was done in 1950.
Enter the S.S. Gelria Feature
*****************************
In Conclusion:
Mr. Goossens asked me to say a very special thank you, to all ship lovers from around the world, for he has been astounded that there have been so many of you reading this ssmaritime, in fact friends this site has now reached over 538 million readers, and that, dear friends is simply beyond belief! And please remember, that all his maritime/cruise sites have always been and will remain 100% non-commercial, thus ssMaritime will continue to provide wonderful and hopefully joyful memories for past passengers from around the world, and those who really love passenger liners and older cruise ships! Goossens said; "it has been a great joy for me to present these classic liners for the readers of ssMaritime, and it has been a joy to have been able to write for so many years". Thus please go and enjoy the well over 1,365 wonderful maritime memories, and we pray that after a lifetime of sharing his love of these fine ships with you, that they will live long after he is gone, and that this site will give knowledge to future new generations and wonderful memories to those who remain!
Reuben Goossens is now retired due to extreme poor health, and disabled as well as poor eyesight, he has placed the very last feature online recently, but S.S. Conte Grande is the very last ship to be added.
Over the years Reuben has received countless Dear Mr. Goossens emails of thanks and on this page there are just some of them.
Please Note: Email service to ssMaritime, is sadly no longer available,
This is due to the author's old age and illness as well as being disabled, etc.
*************************
"Blue Water Liners sailing to the distant shores.
I watched them come, I watched them go and I watched them die."

Featuring over 1,365 Classic Passenger Liners, Passenger-Cargo Liners & Classic Cruise Ships!
Or ENTER HERE
**************************
ssMaritime.com & ssMaritime.net
Where the ships of the past make history & the 1914 built MV Doulos Story
The Author has been in Passenger Shipping & the Cruise Industry since 1960
In addition he was founder of "Save the Classic Liners Campaign" in 1990.
Please Note: ssmaritime and associated sites are 100% non-commercial and the author seeks no funding or favours of any shape or form, never have and never will!
Photographs on ssmaritime and associate pages are by; the author or from the author's private collection. In addition there are some images that have been provided by Shipping Companies and private photographers or collectors. Credit is given to all contributors. However, there are some photographs provided to me without details regarding the photographer/owner concerned, so sorry if this is the case.
This notice covers all pages; although, and I have done my best to ensure that all photographs are duly credited and that this notice is displaced on each page, that is, when a page is updated!
ssMaritime is owned & © Copyright by Reuben Goossens - All Rights Reserved.