ssMaritime.com
Enter a world of Classic Passenger Liners, Passengers-Cargo Ships as well as humble Migrant Liners from around the world
Please Note: Firefox & some other Search Engines may not be suitable
Use Google Chrome for this Web Page to load perfectly!

Please Note: All ssMaritime and other related maritime sites are 100% non-commercial and privately owned, thus ssmaritime is NOT associated with any shipping company or any other organisation! Although the author has worked and been involved in the passenger shipping industry for well over 60 years, but due to his old age and poor health, he was forced to retire. Yet, he has completed well over 1,355 Classic Liners, Passenger-Cargo Liners as well as humble converted C3 converted Migrant Liners, which has transported countless thousands folk to the new world, as well on vacations'. I trust the features online will continue to provide Classic Liner and Ship enthusiasts both the information they are seeking, but more so provide a great deal of pleasure and relive many happy memories!
Also Note: The email service to ssMaritime is sadly no longer available, due to the author's old age and chronic illness as well as being disabled, etc. In the past ssMaritime received a huge number of emails each day, but
Please Note: If there are any photographs, images or copy missing on this page, please refresh the page
**********************
Introduction and my Thoughts:
Welcome to ssMaritime.com. There is no doubt that 2020 has proven to be a tragic year for the entire world, due to the sudden arrival of COVID-19 and it is still continuing, and cruising around the world has come to a complete halt, with some companies either were forced to go into administration and closing down, or those who survived sadly where forced to sell many of their excellent ships to new owners, or to the breakers, which is tragic! It was a great and as loss of so many ships were lost long before their time, and this also included a few of some much loved classic cruise ships, that we hoped to assist in being sold and continue in service as there were buyers for them, but now with the current conditions with COVID-19 flaring up all over again around the globe it does not look good for shipping.
This page covers Covid-19 and it problems that, in shipping has caused an closure of the cruise industry, as well a Special Featured Ship below "Looking Back", being the amazing super luxury Cruise Ship; Motor Yacht Stella Polaris completed in 1927. Enjoy!
Looking Back:
It is hard to believe, that Goossens has now written on well over 1,355 ships (but he has long stopped counting) and sadly he no longer works due to his severe illness (not COVID-19 related). On the ssMaritime Index you will find many well-known Classic Liners, but also countless Passenger-Cargo Ships, including those wonderful Victory - C3 ships, etc, many of which became humble migrant liners, but some of them where given amazing rebuilding programs and became fine modern Liners with excellent facilities, and there are some fine smaller ships, some of which have been rebuilt into luxury cruise ships. He also covered a good number of Classic Cruise Ships, some have now gone and have been broken up, but there are still some that current in lay-up. One fine ship aged an amazing 72 years in 2020, and she is in such perfect condition and in Class! This is the amazing M/v Astoria, the ex 'Stockholm', 'Italia Prima', 'Athena' and she was recently operated by "Cruise & Maritime Voyages" (CMV) UK, and yes she is a superb cruise ship. Sadly CMV has gone broke. I feel that sadly that possibly this fine ship will be broken up.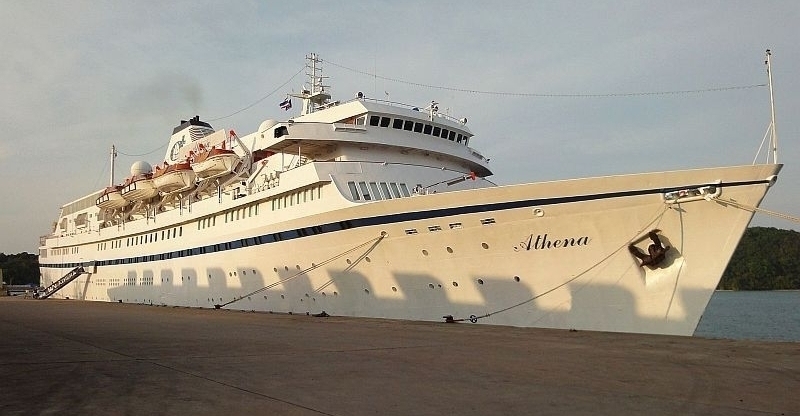 The wonderful M/v Athena, the ship the author has enjoyed two wonderful line voyages from Fremantle (Australia)
to Portsmouth (UK), one via Asia & the Suez & the next one via the Indian Ocean Islands, East, South and West Africa, to Portsmouth. But she is still an amazing ship - the magnificent M/v Astoria
Goossens certainly loved this fine ship when she was the "Classic International Cruises" - M/v Athena, and the truth is, as he told me, that he had enjoyed two of the best long cruises Australia to the UK, on this wonderful ship. Goossens said "I do mean bar none!" To be honest he stated that he enjoyed the voyages on the Athena that the QE2, for the Athena had that something special, as well she offered great service, and excellent cuisine. The fine suites on both voyages were simply outstanding and superbly kept. In addition, the Athena was the cleanest and best maintained ship he has ever sailed on, for you could not find a single tiny spec of rust or dirt anywhere, even in places where you would expect it most.
*****************************
Special Featured Ship:
M.Y. Stella Polaris
Bergen Line and Clipper Line - 1927 to 1969
Hotel Scandinavia (Japan) - 1969 to 2006
The graceful Motor Yacht Stella Polaris was one of the most famous super luxury cruise ship ever built, in fact she was known as being more of "A glamorous Royal Yacht". In addition she was the very first purpose full time cruise ship ever built and she departed from Gothenburg for her maiden voyage on Saturday February 26, 1927, at Noon. She headed for Tilbury in the U.K., where she took on further supplies as well as passengers and she then continued her voyage to Lisbon and then headed for her Mediterranean cruise sector.

A fine artist impression of the M.Y. Stella Polaris
This three Page feature will cover her entire history and photographs, with the Norwegian "Bergen Steamship Company" and then the Swedish "Clipper Line" as well as her final days as a Japanese Hotel, renamed "Scandinavia", but her original name always remained on her bow!
Enter Page One of the MY Stella Polaris feature
*****************************
In Conclusion:
Mr. Goossens asked me to say a very special thank you, to all ship lovers from around the world, for he has been astounded that there have been so many of you reading this ssmaritime, in fact friends this site has now reached over 538 million readers, and that, dear friends is simply beyond belief! And please remember, that all his maritime/cruise sites have always been and will remain 100% non-commercial, thus ssMaritime will continue to provide wonderful and hopefully joyful memories for past passengers from around the world, and those who really love passenger liners and older cruise ships! Goossens said; "it has been a great joy for me to present these classic liners for the readers of ssMaritime, and it has been a joy to have been able to write for so many years". Thus please go and enjoy the well over 1,355 wonderful maritime memories, and we pray that after a lifetime of sharing his love of these fine ships with you, that they will live long after he is gone, and that this site will give knowledge to future new generations and wonderful memories to those who remain!
Reuben Goossens - Retired due to extreme poor health, and disabled as well as poor eyesight!
Over the years he has received many Dear Mr. Goossens emails of thanks & here are just some of them.
Please Note: Email service to ssMaritime, is sadly no longer available, to the author's old age and severe illness as well as being disabled, etc.
*************************
"Blue Water Liners sailing to the distant shores.
I watched them come, I watched them go and I watched them die."

Featuring over 1,355 Classic Passenger Liners, Passenger-Cargo Liners & Classic Cruise Ships!
Or ENTER HERE
Please Note: Email service to ssMaritime, is sadly no longer available, to the author's old age and severe illness as well as being disabled.
**************************
ssMaritime.com & ssMaritime.net
Where the ships of the past make history & the 1914 built MV Doulos Story
The Author has been in Passenger Shipping & the Cruise Industry for over 60 years
In addition he was founder of "Save the Classic Liners Campaign" in 1990.
Please Note: ssmaritime and associated sites are 100% non-commercial and the author seeks no funding or favours of any shape or form, never have and never will!
Photographs on ssmaritime and associate pages are by; the author or from the author's private collection. In addition there are some images that have been provided by Shipping Companies and private photographers or collectors. Credit is given to all contributors. However, there are some photographs provided to me without details regarding the photographer/owner concerned, so sorry if this is the case.
This notice covers all pages; although, and I have done my best to ensure that all photographs are duly credited and that this notice is displaced on each page, that is, when a page is updated!
ssMaritime is owned & © Copyright by Reuben Goossens - All Rights Reserved.