ssMaritime for a world of Classic Passenger Liners, Passengers Cargo ships as well as humble Migrant Liners from countries worldwide!
Please Note: iPhones, iPads, Firefox & some other Search Engines may not be suitable
Use Google Chrome for this Web Page to load perfectly!

Please Note: All ssMaritime and other related maritime/cruise sites are 100% non-commercial and privately owned. Be assured that I am NOT associated with any shipping or cruise companies or any travel/cruise agencies or any other organisations! Although the author has been in the passenger shipping industry for over 60 years, but due to age and poor health, I was forced to retire. Yet, I have completed well over 1,350 Classic Liner, Passenger-Cargo Liners as well as countless humble converted C3 converted humble Migrant Liners, which brought countless thousands of Europeans to the new world. I trust these features will continue to provide Classic Ship enthusiasts not just the information they are seeking, but more so provide a great deal of pleasure and memories!
Please Note: If there are any photographs, images or copy missing on this page, please refresh the page
Ships of the Month
July, August & September 2020
**********************
Presenting Two Magnificent …
 

"Royal Rotterdam Lloyd" Liners
"Royal Dutch Mails"
M.S. Sibajak
1946 to 1955
And the …
M.S. Dempo
1931 to 1944
Go directly to "Ships of the Month" or keep on reading
**********************
Introduction:
Welcome to ssMaritime.com. During 2019 I have managed to add a few Classic Liners to ssMaritime as I already had them in on file partially completed, in addition, I also slowly updated some of my earlier features, for believe me some of them really needed a good clean up, and sadly there are many more that need work. But as most of my readers will know, for a very long time I have been suffering from a variety of extreme health issues, as well as having poor eye sight these days, and all this is sadly slowing me down greatly, and continuing this site and adding new ships, which I love to do so much is now suffering greatly! Therefore, I only do a little work whenever I am able, and I will do my very best whenever possible to add a "Company" or a "Ship of the Month" but now this will only be done on a quarterly basis (give or take), but from now on ships will be from those I already have online, and there are so many wonderful and interesting ships, I am sure you would like to discover!
Please note, due to the flood of emails that arrive each and every day, I no longer personally reply to the vast majority of the emails received, as 99.9% of the emails will be taken care of by my friend and carer Eng Tan, and those who seek a reply will receive a pre-written email. However, some very special emails with a very specific and most worthwhile question will be shown to me, and when it is possible I will send an answer as some you will have already discovered, although it may take a little time pending my condition at that time. But you will never receive an answer if it is regarding a passenger or a crew list, or a sailing schedule, for if I have a sailing schedule, believe me it will be shown online already.
However, I do have schedules for the three Dutch liners MS Sibajak, Johan van Oldenbarnevelt, and the MS Oranje, thus I have schedules of every voyage these three ships have ever made whilst in Dutch ownership.
Looking Back:
It is hard to believe, that I have now written on well over 1,355 ships, including so many of the great Passenger Liners, but also many Passenger-Cargo Liners, and not to forget those Victory - C3 ships some that became humble migrant liners, but others received amazing rebuilding programs and became fine modern liners with excellent facilities. I have also covered a good number of Classic Cruise Ships, some have now gone and have been broken up, but there are some that still sailing, in fact there is one ship aged today and amazing 72 years (2020) and she is in perfect condition in Class!
Not to forget the Classic Cruise Ships, some of which are still sailing such as the amazing ex Stockholm, Italia Prima, Athena and currently the CMV Cruises (UK) M/v Astoria.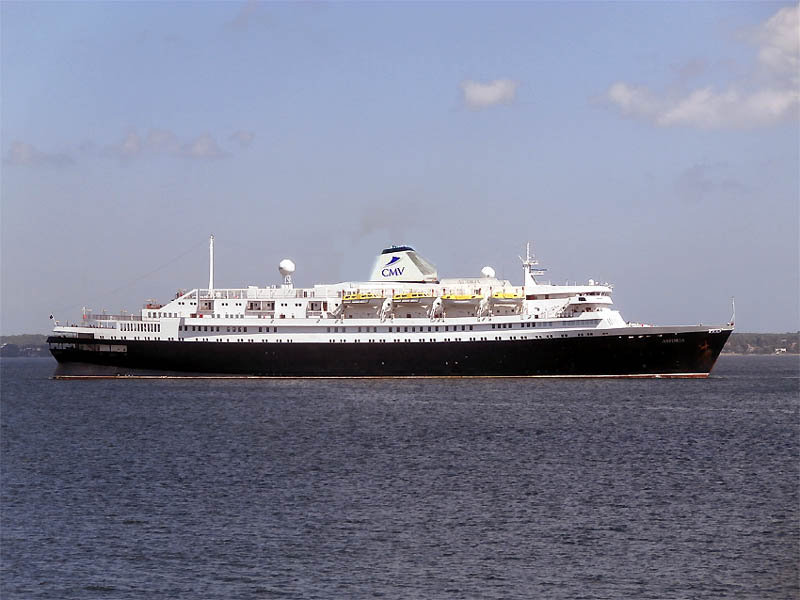 The wonderful M/v Astoria, the ship I have sailed on 2 long voyages from Fremantle (Australia)
to Portsmouth (UK), via Asia & the Suez & again via the Indian Ocean Islands, Africa, to Portsmouth
I loved her when she was the Athena, and I had the best cruises on her of my entire life!
Special News Item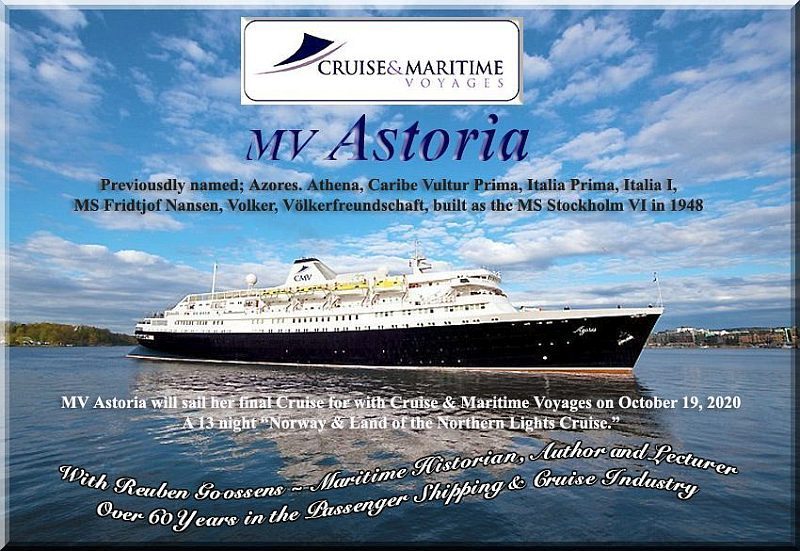 The MV Astoria, originally built in 1948, will sail her final Cruise with Cruise & Maritime Voyages on October 19, 2020,
13 night "Norway & Land of the Northern Lights" Cruise.
Visit MV Astoria her final cruise after 72 years of sailing - the full story
Located on my cruise-australia.com site, with a link to …
The MS Stockholm IV full history on ssmaritime.com
Some of the countless ships online:
Below is a small selection of some of the ships that are online, but remember that the ssMaritime INDEX has a full listing of the well over 1,355 classic liners and cruise ships that I have covered over the countless years I have been doing this!
Humble C3 & C4 Class Vessels:
There were many humble Migrant ships, which were mostly converted American War-Time C3 & C4 Class ships, and several ships shown below, were converted into fully operational aircraft carriers, The ship seen below received a more simple exterior refit like most in this class, but she did have a delightful and more traditional German style public venues.

Laid down as a C3 Class ship in 1941, and used as an aircraft carrier in WW2
Converted into a migrant ship the M.S. Nelly in 1949
And received an extensive refit and renamed Seven Seas in 1953
Whilst other there were C-Class ships that were comprehensively rebuilt into fine looking Passenger Liners, delightfully modern and with their interiors even being rather glamorous. Ships that come to mind are the Italian "Flotta Lauro Lines" - TSS Roma and Sydney, as well as the "Sitmar Line" TSS Fairsky, and these ships made significant inroads into maritime history!

Another 1941 C3 Class ship that served during WW2 but as an ugly escort aircraft carrier
She was sold to Sitmar Line to become the fine looking migrant liner T.S.S. Fairsky in 1957
In the early 1970s she became a very popular Australian based cruise ship
However, I have also covered many Passenger-Cargo Liners, from countries around the globe, including Australia, New Zealand Europe and worldwide! These are all to be found on the ssmaritime INDEX
Below is the delightful M.S. Randfontein sold in 1971 to become the M.S. Nieuw Holland, which was based in Australia operating on the Asian service to Japan and China, etc.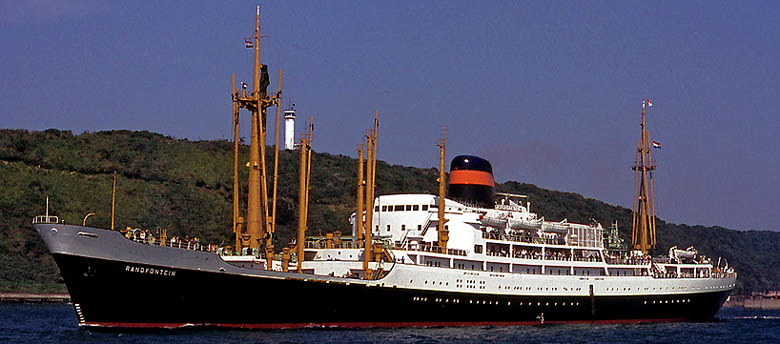 M.S. Randfontein
Friends, it is my sincere hope, that through the pages of ssMaritime you may rediscover some wonderful memories, be it for a ship you have sailed on, being a past passenger, or searching for your relatives who may have sailed on one of these amazing ships, from days of old until their demise in the late 1970s to the 1990s, for I am sure that I will have the ship for you online!
Please Note; the greatly loved ex Cunarder QE2 is now open as a Luxury Hotel in Dubai (UAE)
Visit my comprehensive Hotel Queen Elizabeth 2 feature
*****************************
In Conclusion:
I must say a very special thank you, to all ship lovers from around the world, for I have been astounded that there have been so many of you reading this site, in fact friends ssMaritime.com has reached as of recently over 536.7 million readers, and that, dear friends simply blows my mind! And please remember, that all my maritime/cruise sites have always been and will remain 100% non-commercial, for my purpose has been to provide wonderful and hopefully joyful memories to past passengers from around the world, and those who really love passenger liners and older cruise ships! Be assured, it has been a great joy for me to present these many classic ships to, and it has been a joy to have been able to write for so many years, thus all I can say is; go and enjoy the well over 1,355 wonderful maritime memories, and I pray that after a lifetime of sharing my love of these fine ships with you, that they will live long after me to give knowledge to a new generation and wonderful memories to those who remain!
ssMaritime's Main Index is located just Below & as well at the Bottom of the Page, be assured that you will discover a "Ship lover's delight" with so many great ships, both Liners, humble Migrant Ships as well as some wonderful Passenger-Cargo Liners from countless countries around the globe, and all of these will have you reading and returning for a long time to come!
Dear Mr. Goossens … just some of the emails of thanks received over the years.
It is my greatest desire that the ships I have covered will provide many memories of their days now mostly long gone, but for those who were fortunate to have sailed on some or more of the ships I have covered I pray will have brought some joy to your heart!
Reuben Goossens - Retired due to extreme poor health, being disabled and poor eyesight!
Maritime Historian; Working and involved in the Passenger Shipping & Cruise Industry for over 60 years.
PLEASE NOTE: Send no emails requesting passenger or crew lists or sailing schedules please. See the special note at my email address at bottom of this page for the three ships that are excluded, as I do have voyage details available for them, but all other emails requesting passenger, crew lists, or sailing schedules will simply requesting passenger or crew lists or sailing schedules be deleted!

Or ENTER HERE
View some of the finest Classic Passenger Liner paintings by world renowned artists
on the ssmaritime Maritime Art page!
Or Continue to Read the "Company - Ships of the Month"
Company / Ships of the Month
"Royal Rotterdam Lloyd"
"Royal Dutch Mails"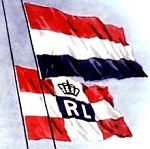 M.S. Sibajak
1946 to 1955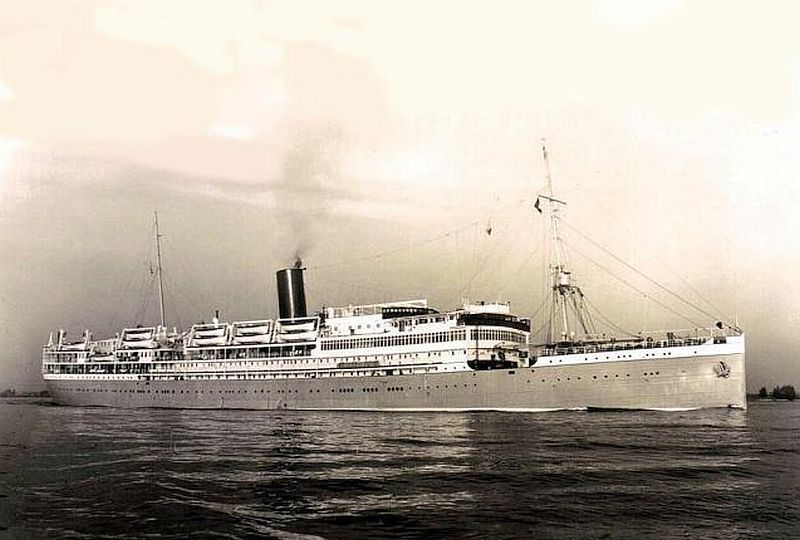 The 12,040 GRT M.S. Sibajak is seen here after her 1935 refit with changes made to her Bridge & Sports Deck
M.S. Dempo
1931 to 1944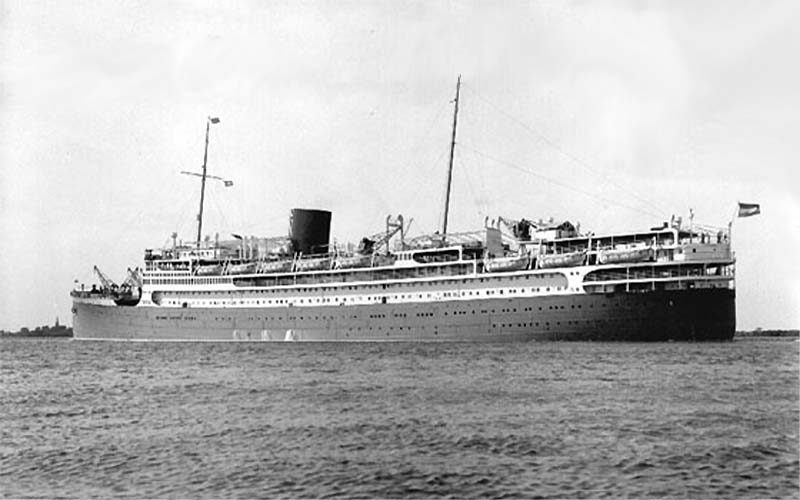 A fine view of the 16,979 GRT M.S. Dempo
Ship Details:
M.S. Sibajak 1928 to 1959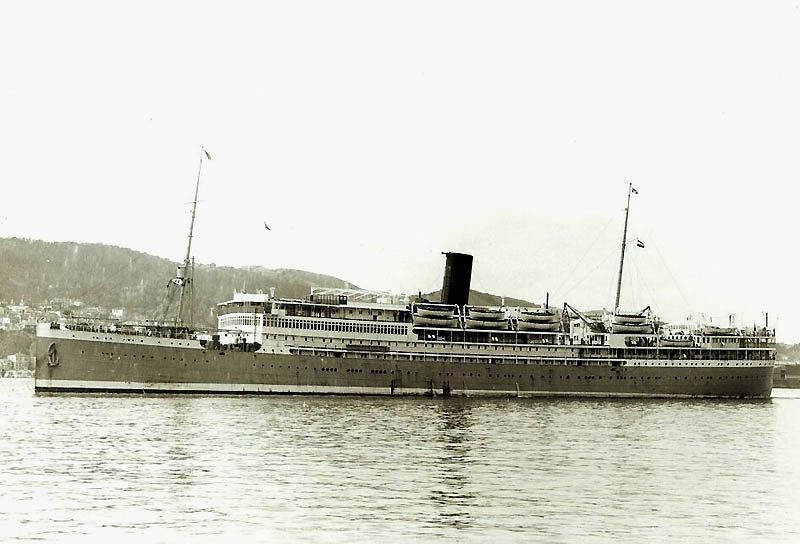 The M.S. Sibajak is seen departing Wellington for the last time on July 29, 1959, as she
was sold to be broken up, she would head to Australia first with her last passengers
Photograph by & © Reuben Goossens
To commence both ships were constructed by the same ship yard the Royal Company "De Schelde" Shipyards at Vlissingen, the Netherlands.
On Saturday April 2, 1927 the Sibajak was ready to be launched, and once in the water she was towed to the "De Schelde" fit-out berth where she was completed. The Sibajak had been fitted with a pair of 8-cylinder Schelde-Sulzer diesel engines with a total capacity of 10,000 shaft-horsepower. They provided the ship an excellent service speed of 17 knots. She was officially delivered to the Rotterdam Lloyd on January 28, 1928.
On Sunday February 8, 1928 with the Sibajak being under the command of Captain W. J. Boon was ready for her big day. Passengers had slowly gathered and boarded whilst relatives and friends waited ashore to see the ship sail and wave them goodbye as the band played, for a ships departure was such an emotional affair!
The Sibajak departed Rotterdam and headed for the East Indies, sailing via Southampton, Lisbon, Tangier, Gibraltar, Marseilles, Port Said, Suez, Colombo, Sabang, Belawan, Singapore to Batavia (Jakarta).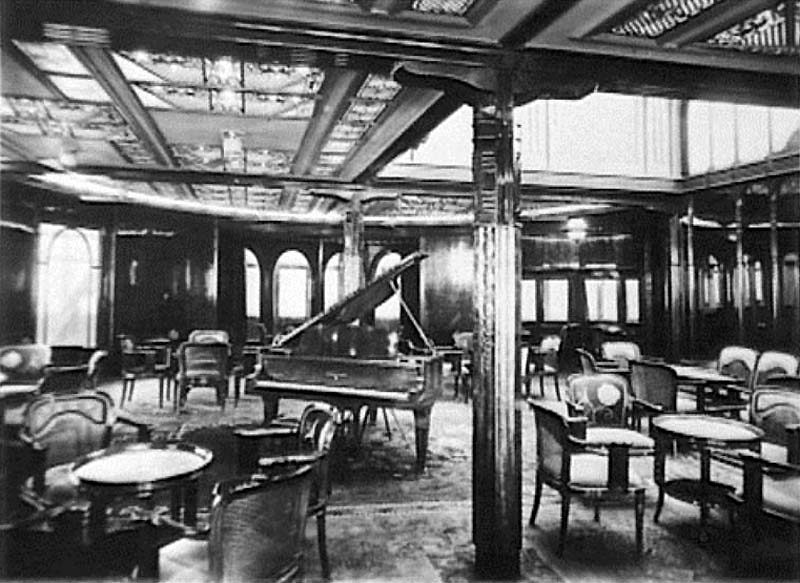 The First Class Social Hall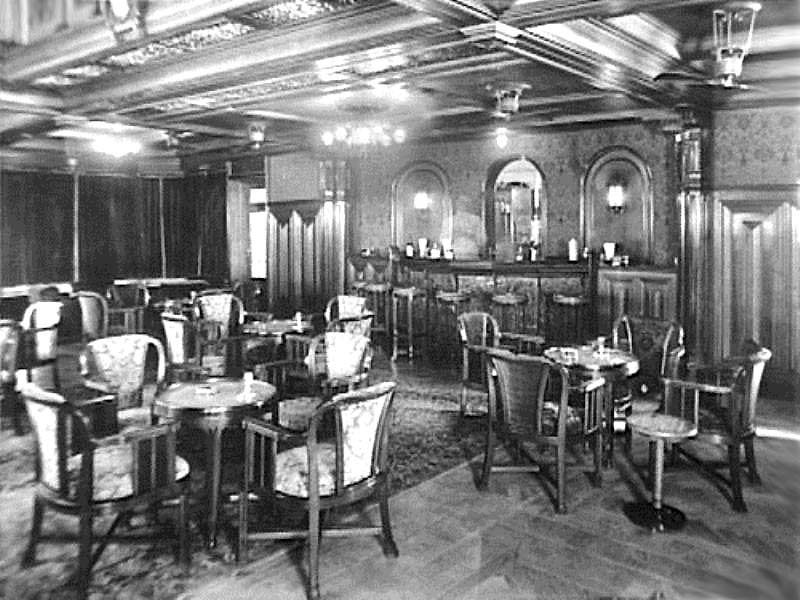 The First Class Smoke Room
The Sibajak served during WW2 and continued to sail on long after the war until June 1959. For much more on the M.S. Sibajak, including my story regarding my voyage on her from Rotterdam on May 17, 1959 to Wellington, New Zealand, use the link below.
Enter my Eleven-Page "M.S. Sibajak" Feature
*************************
M.S. Dempo 193 to 1944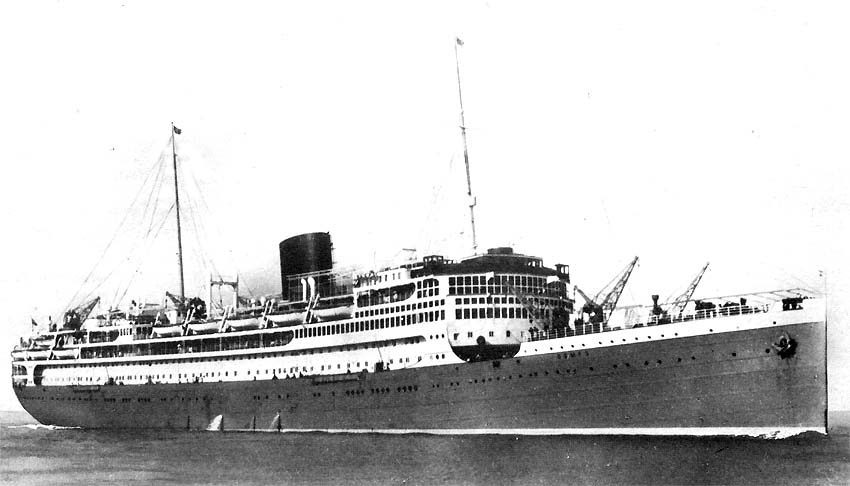 A fine photograph of the M.S. Dempo
Like the he smaller sister this ship the Dempo was also built by "De Schelde" at Vlissingen, and on July 26, 1930 she was officially named and launched and once in the water, she towed to her Vlissingen Fit-out berth to be completed. Then on February 21, 1931, she was delivered to RRL, and was berthed at the "Lloydkade" (Lloyd wharf) at Rotterdam and she was made ready for her maiden voyage to Batavia in March.
The Dempo offered three main classes, and they were as follows; 236 First Class, 253 Second Class, between First and Second Class depending on demand there were 27 cabins that were could be used for either class. Both First and Second Class where extremely luxurious and popular! Third Class was a more intimate area having just 70 passengers, but also very comfortable with all the required facilities!
The Dempo was blessed with the most glamorous lounges, in all three classes, and below we see what they looked like!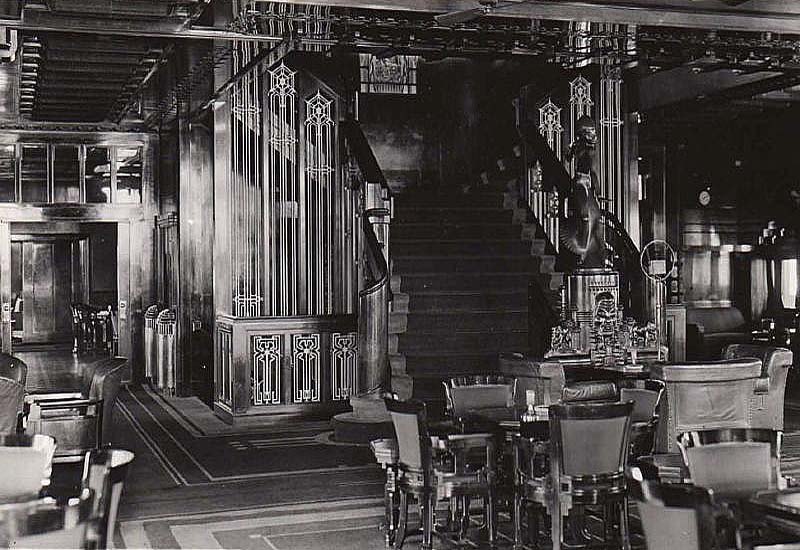 Social Hall First Class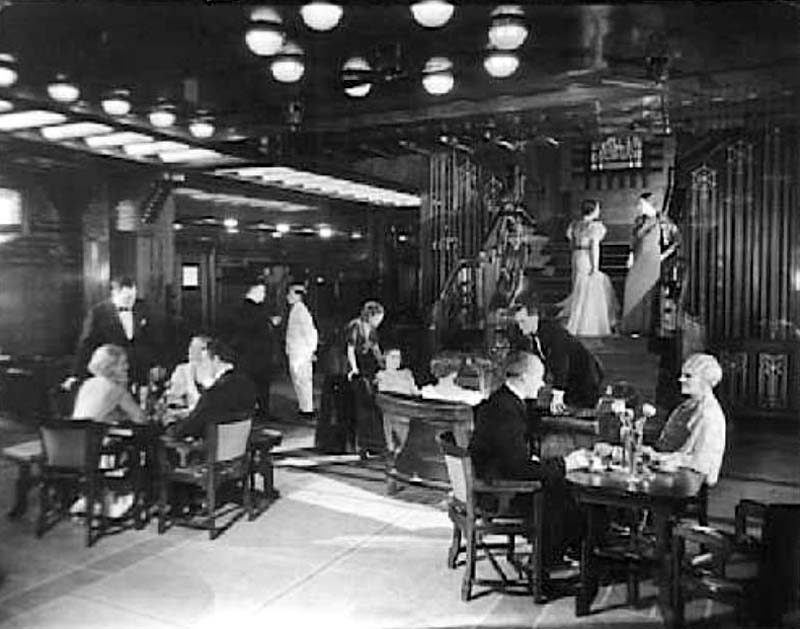 The Social Hall Second Class
You will note the similarities between the two, yet they are different, but just as glamorous
The M.S. Dempo was also commissioned to serve as a Troop Transport Ship and her page has all the details, but sadly on March 17, 1944 she was torpedoed by a German U-Boat which saw her sink and she was a total loss. However, thankfully there was no loss of life.
 Enter the M.S. Dempo Page
"Blue Water Liners sailing to the distant shores.
I watched them come, I watched them go and I watched them die."
*************************
PLEASE SUPPORT … "Mercy Ships"
Mercy Ships is VERY Unique and does Amazing Medical Work.
This is a Work I Personally Support, and have done so for a very long time!
Please Join me and Support this Most Worthwhile Cause!
Mercy Ships - helps those who have severe medical needs in desperately poor lands around the globe, and they need our help!
Everyone on the ship, crew, nurses, doctors, surgeons, etc, is a volunteer, and Mercy Ships completely rely on our donations
Thus your contribution really counts, and be assured it will not be wasted on any on-board wages, as the vast majority of funds received will actually be spent on surgeries and healing children and all those who are in such urgent need of our help!

Enter the Mercy Ships Introduction Page featuring their current ship - M.V. Africa Mercy and their past ships, which include; The 1953 built Lloyd Triestino liner M.V. Victoria, which was renamed "Anastasis" by Mercy Ships in 1982, the Norwegian 1952 built M.S. Polarlys, which was sold to become "Caribbean Mercy" in 1994, whilst the 1961 built Canadian M.V. Petite Forte was donated in 1983, and she was renamed "Island Mercy." Soon a new ship will join Mercy Ships, being a brand new ship the 11 deck, 36,600 GRT "Global Mercy", which will have a crew of 641 (including medical staff), with 158 hospital beds, 6 operating theatres and countless other new and exciting facilities!
Enter my Mercy Ships
To Donate Click … https://mercyships.org.au/donate/
Thank you for your kind assistance and donating to Mercy Ships, Reuben Goossens.
**************************
"Blue Water Liners sailing to the distant shores.
I watched them come, I watched them go and I watched them die."
Also visit the wonderful Maritime Art pages & the Maritime Links Page!
Over the years, I have received many Dear Mr. Goossens emails of thanks & here are just some of them

Or ENTER HERE
Featuring over 1,355 Classic Passenger Liners, Passenger-Cargo Liners & Classic Cruise Ships!
**************************
ssMaritime.com & ssMaritime.net
Where you will discover Classic Liners & the 1914 built MV Doulos Story
The Author has been in Passenger Shipping & the Cruise Industry for some 60 years
& founder of "Save the Classic Liners Campaign" in 1990.
Email the Author: rg@ssmaritime.com
Please Note: Requests for passenger or crew lists and sailing schedules will NOT be answered, for I simply do not have these!
I only have voyage details of 3 Dutch Liners: the M.S. Sibajak, Johan van Oldenbarnevelt and the Oranje. All other requests, except for the three ships mentioned, will simply be deleted. Remember, I am old and very ill, and almost blind, thus be kind.
Please Note: ssmaritime and associated sites are 100% non-commercial and the author seeks no funding or favours of any shape or form, never have and never will!
Photographs on ssmaritime and associate pages are by; the author or from the author's private collection. In addition there are some images that have been provided by Shipping Companies and private photographers or collectors. Credit is given to all contributors. However, there are some photographs provided to me without details regarding the photographer/owner concerned. I hereby invite if owners of these images would be so kind to make them-selves known to me per email address, which is located above in order that due credit may be given.
This notice covers all pages; although, and I have done my best to ensure that all photographs are duly credited and that this notice is displaced on each page, that is, when a page is updated!
ssMaritime is owned & © Copyright by Reuben Goossens - All Rights Reserved