Classic Liners from great Trans-Atlantic liners or Liners sailing the Globe and also Passenger-Cargo ships with 10 to 240 passengers
Please Note: Mobiles, Firefox & Google Chrome & other search engines may not suitable
Use Internet Explorer & Old Google for this page to load perfectly!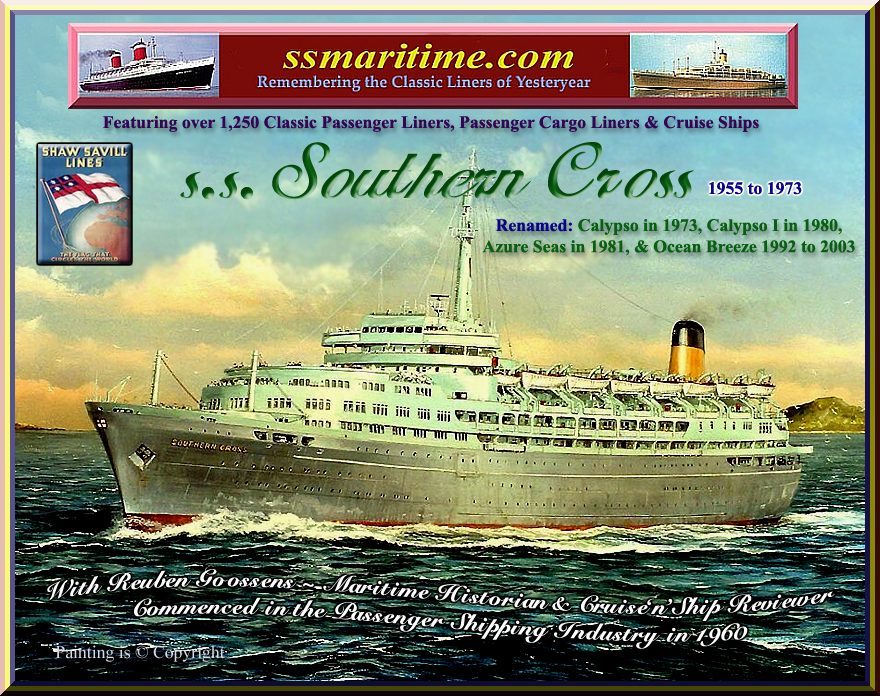 To read all about this Great Liner use the ssMaritime INDEX link below;
Please Note: If there are any photographs/images missing on this or any page, please refresh the page, or advise us!
Introduction:
Welcome to ssMaritime.com. During 2016 &17 I have managed to add some additional Classic Liners and other ships to ssMaritime, as well as managing to updated a good number of my earlier features, for believe me some of them really needed a good clean up, and sadly there are many more that need it, but I am no longer able! Now for health reasons, sadly I am forced to conclude my work! Therefore, I will now only occasionally add to this page a "Company" or "Ship of the Month" which is already online, but sadly I will no further add any new ships now as I have done for well this for over 26 years. In addition, due to the flood of emails that arrive daily, I will no longer be able to answer all emails as most will be taken care of by mt friend ans carer, and I am sorry, but most will receive a pre-written reply, but some with a specific worthwhile question may receive an answer. But not if it is regarding passenger or crew lists, including sailing schedules, for if I have a schedule, believe me it is already online, except for the Dutch liners MS Sibajak and the MS Oranje, of which I have every single departure!
Looking Back:
To date I have written well over 1,084 Classic Passenger Liners, Passenger-Cargo Liners, including a good number of humble Migrant ships, many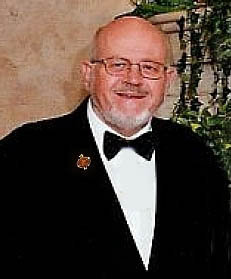 of these being converted War-Time Victory Class ships, such as the type C3 & C4 Class Vessels. Some of these ships were rebuilt into rather humble Migrant Liners, whilst others became far more modern and even glamorous Migrant Liners, such as Flotta Lauro's TSS Roma and Sydney, as well as Sitmar's TSS Fairsky, and these ships made significant inroads into maritime history. I hope that through the pages off ssMaritime you will discover many wonderful memories, be it for those past passengers and their relatives who may have sailed on these wonderful ships, from days of old until their demise in the late 1970s. And not to forget the Cruise Ships
The author is seen aboard the MV Athena in 2011 whilst on a-
voyage from Australia to England on the classic ship built in--
1948, which was completely rebuilt from the hull up in 1995-
She is still sailing today as the CMC Cruises (UK) MV Astoria-
To Conclude:
I must say a very special thank you, to all ship lovers from around the world, for I have been astounded that there have been so many of you reading ssMaritime; in fact this site has now almost reached over 520.2 million readers to date from when my first site came online 25 years ago, and that, dear friends simply blows my mind! Please remember, that my sites have always remained 100% non-commercial, for my purpose has been to provide wonderful and hopefully joyful memories to all past passengers from around the world, and those who really love passenger lines and older cruise ships! Be assured, it has been a great joy for me to present these many classic ships, which I have been able to write about for so many years, therefore, enjoy the memories!
Below area number of my last brand new features and updated ones, as well as the "Ship of the Month."
ssMaritime's Main Index is located just Below & also at the Bottom of the Page, be assured that you will discover a "Ship lover's delight" with so many great ships, both Liners, Migrant Ships as well as Passenger-Cargo Liners and all of these will have you reading and returning for a long to come!
Enter the ssMaritime Main INDEX,
Or start by discovering my New & Updated Features below
*************************
Please Note: Special QE2 News Update
"Hotel QE2 Dubai" finally becomes a Reality!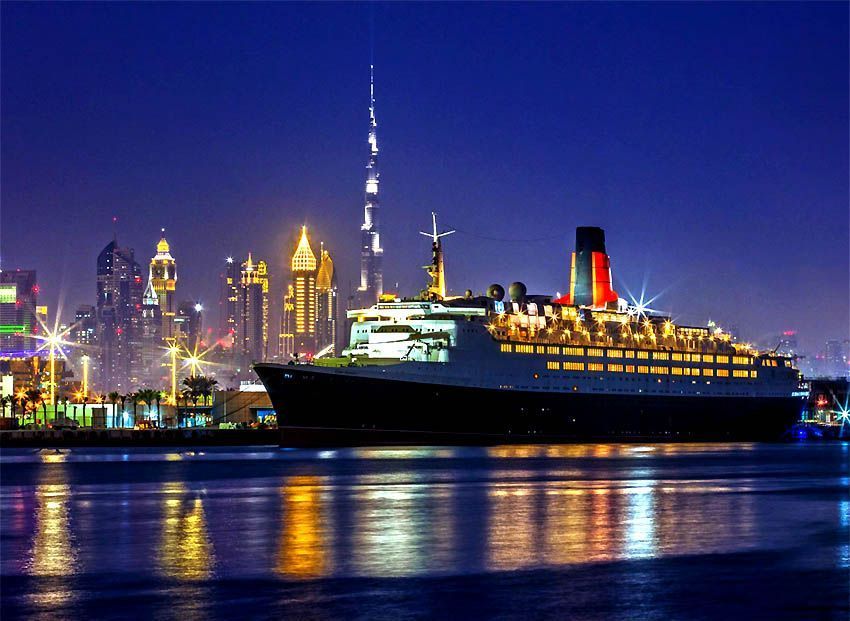 "Hotel QE2 Dubai" at Port Rashid is seen with a grand city backdrop - Opened on April 18, 2018
Enter the "Save the Classic Liners Campaign" for Full Details and photographs
Enter this NEWS UPDATE
Reuben Goossens - Retired!
Maritime Historian, Commenced in the Passenger Shipping & Cruise Industry in 1960.
Email: rg@ssmaritime.com.
*************************
Ships of the Month
M.V. Funchal
A Fine Classic Ship has been

Saved

!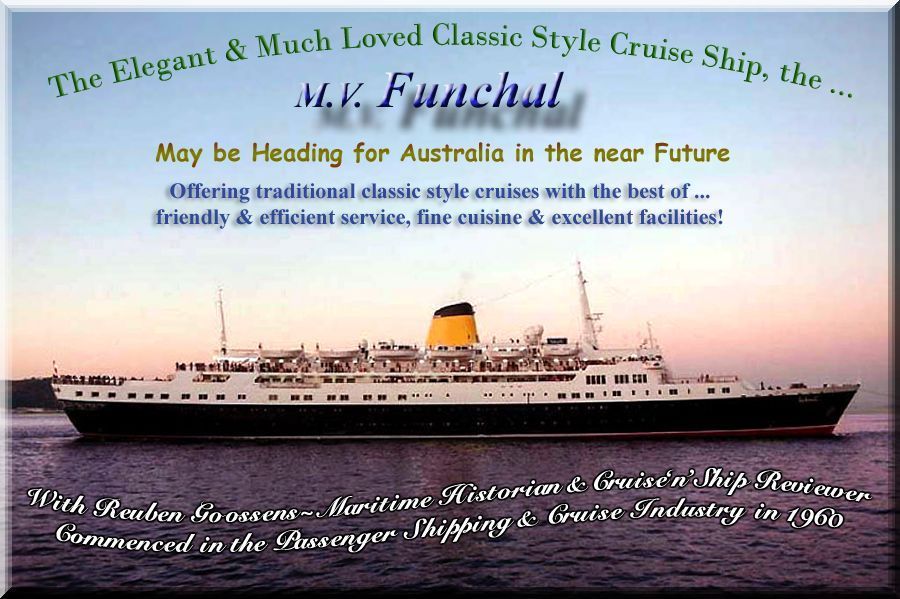 The classic cruise ship, the M.V. Funchal has been laid up in Lisbon since January 2015, following the closure of her previous operator Portuscale Cruises. However, I have been working closely with a prospective new owner and soon something new and exciting is about to happen!
The Funchal was expertly built by "Elsinore Shipyards" in Helsingør Denmark, and she has been one of the most loved and cherished ships, considering she is one of a very few superb Classic Liners that continued to operate as an extremely successful intimate yacht-like Cruise Ship.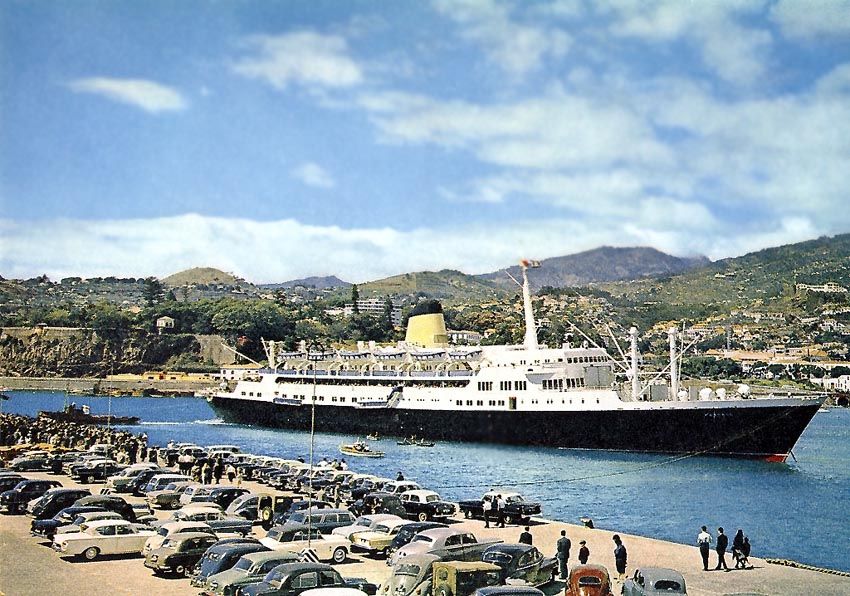 S.S. Funchal is seen during her maiden voyage at Madeira in November 1961
This delightful 10,000 ton ship, has become a favourite for countless of thousands around the world for passengers who returned again and again just to cruise on this fine ship. But the good news is in 1972 she headed for Amsterdam, the Netherlands, where her steam engines were removed, and she was given two brand new, ultra reliable "Werkspoor" 9-Cylinder Diesel Engines developing 2 x 5,000 BHP. Thus today, the Funchal, an excellent "motor ship" will be Australia bound in the near future, and she will make her home here.
She has been beautifully refurbished throughout in a classic style, and the intimate Funchal was given an all new interior, and had a massive amount of work done on her, including upgrading of her safety & satellite navigation technology, making her as modern as tomorrow where it counts!
It took more than 300 Kms of electrical cables, as well as some 3 Kms of pipes and conducts. Over 500 tons of steel was replaced on board the ship and on board these is some 15.000m2 of new ceilings and carpets and then there are new furnishings throughout the ship and countless other new amazingly beautiful luxuriant new fittings!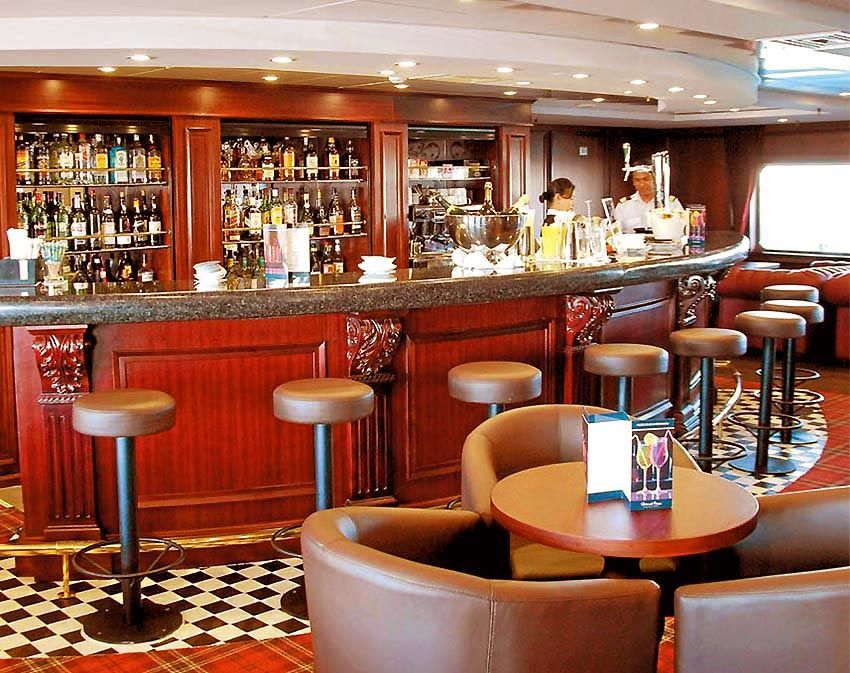 The Porto Bar, note the beautiful timber Bar and its intricate carvings on the inlaid pillars
This fine venue features fine leather lounge chairs and comfortable sofas along the sides
I am sure that all classic ship lovers, especially those who have followed the career of the superbly beautiful Funchal, which was originally built as a Trans-Atlantic Liner as well as having served as the Presidential Yacht, they will look forward to her once again navigating the oceans!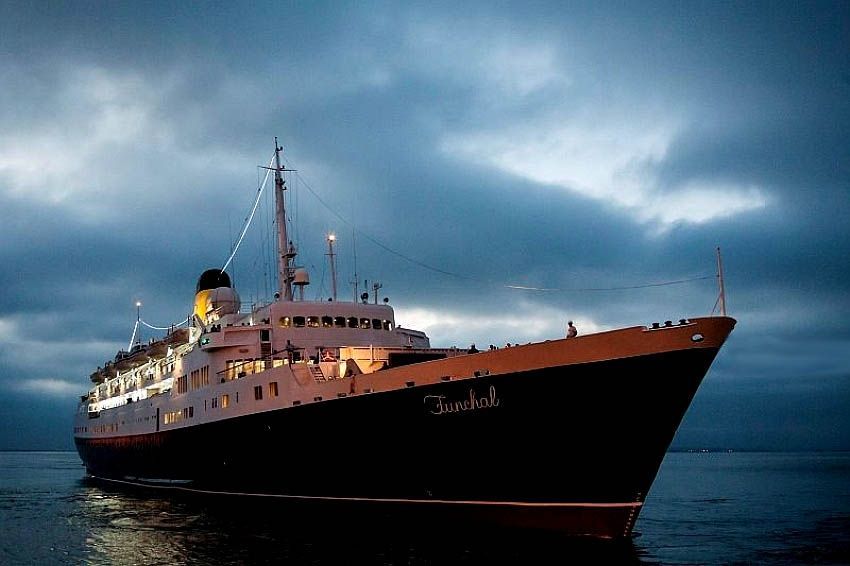 The graceful bow of the M.V. Funchal will soon be heading Down-Under
Enter my special Two Page M.V. Funchal Feature located on my; www.cruise-australia.com
*************************
A Feature Covering Two of my much loved and amazing small Norwegian Ships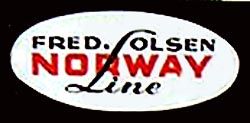 "Fred Olsen Line"
MS. Blenheim (2) & M\S Braemar (1)
Completed in 1951 and 1953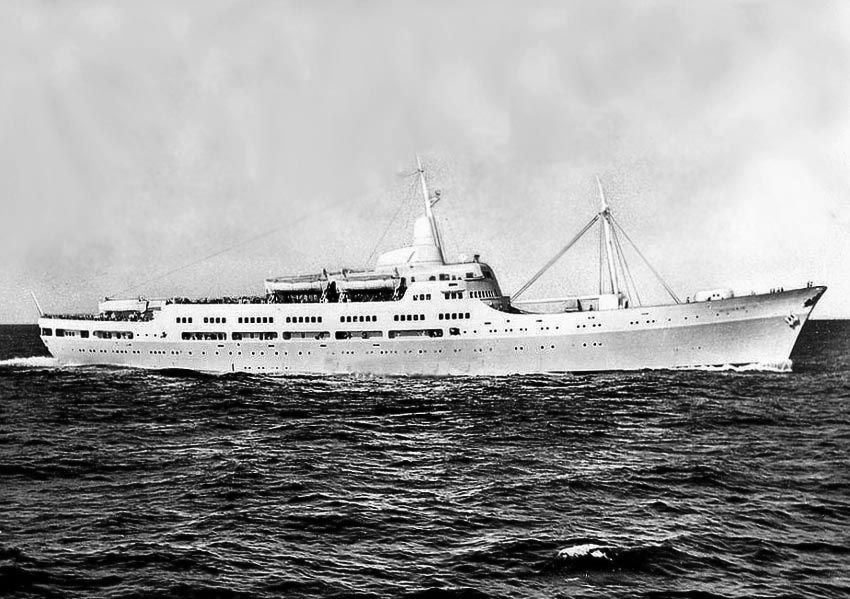 This postcard shows off the M/S Blenheim's beautiful sleek lines
These two fine small ships are favourites of mine, for they really set a whole new maritime standard with Fred Olsen having requested for some new designs for their two new ships. Their designers came up with several ideas, but there was one design that was completely revolutionary for those days as it was so new! Thus it was chosen and the new ships would have elegant long sleek lines, which made these small, almost 5.000 ton ships, look larger that they really were. In addition, they would have a completely new style of radar mast that was combined or part of what can only be described as a unique funnel located of atop her Bridge, but set just slightly aft. Combined with her overall design the complete package was simply outstanding!
This two page feature will cover both ships, as well having their Deck Plans on Page Two.
Enter below for my two page feature covering the simply beautiful Fred Olsen ships of the early 1950s
M/S Blenheim (2) & Braemar (1)
**************************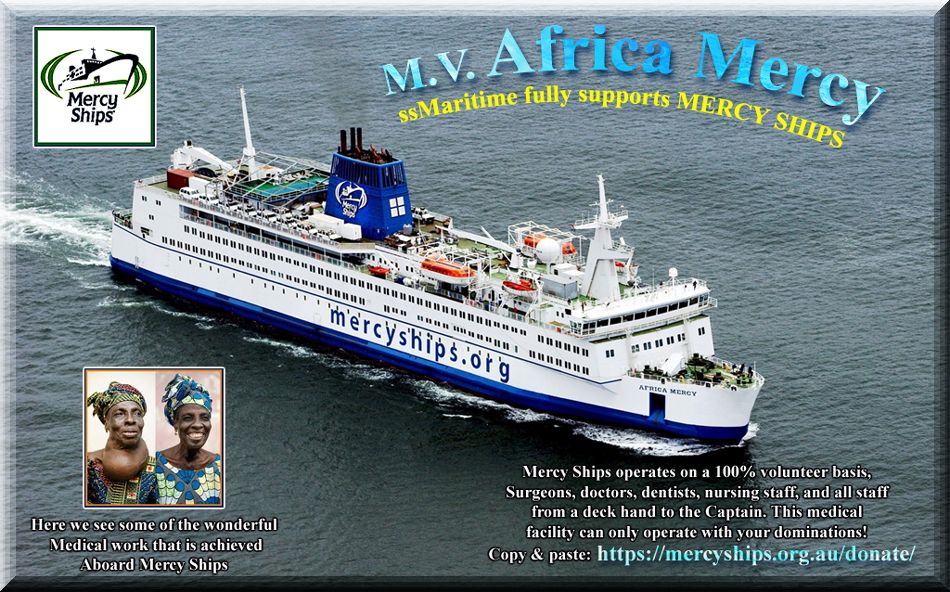 Also Visit: http://www.ssmaritime.com/Mercy-Ships-Africa-Mercy.htm
**************************
A Fully Updated Feature with 2 New Pages Added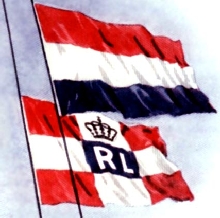 Flags of the Netherlands & Royal Rotterdam Lloyd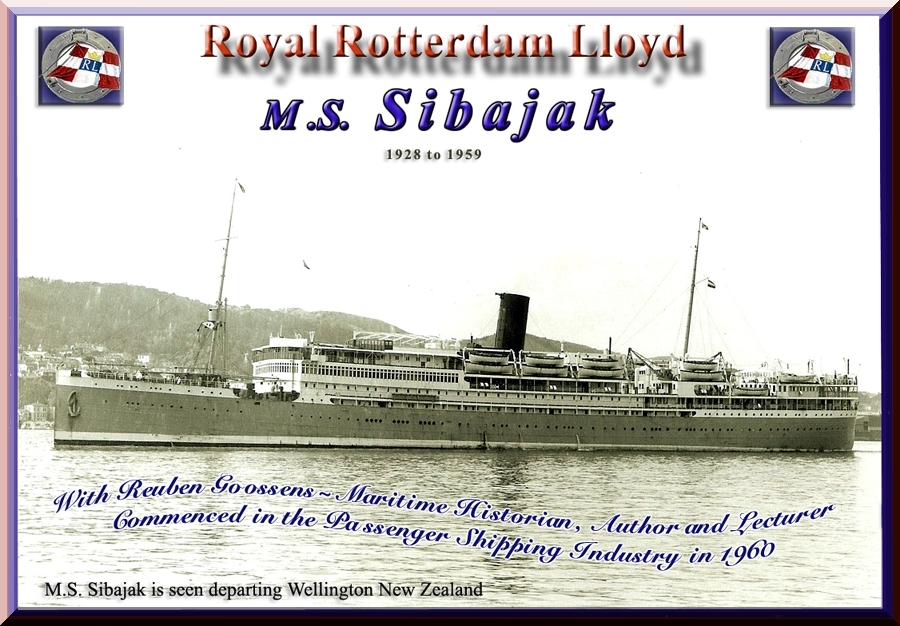 August 2017: In mid July, I received a wonderful story from a daughter, who was born in Australia, but her Mum, Father and Baby brother sailed on the M.S. Sibajak from Rotterdam on May 17, 1958. If you have read Page Three, you will have noted that I also sailed on this very same voyage, and was bound for Wellington New Zealand, whilst Family Salden-Van Mulken was heading to Melbourne Australia. Of course the story regarding my voyage can be found on the Sibajak Index on Page Three.
This is a delightfully written and a comprehensive story regarding the family departing their hometown down the south east of Holland travelling by bus to Rotterdam, and then comes a comprehensive description of the voyage, with personal photographs of the families' voyage to Melbourne.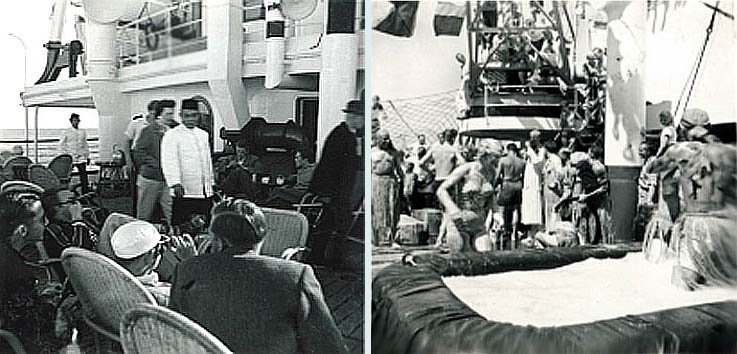 Family photographs taken out on Deck and during the Crossing the Equator Ceremony
The story of the voyage was written, by (the now late) Mrs. Mia Van Mulken, and it is a beautifully told story that includes all of the ports of call. She brings the voyage back to life with her remarkable descriptions. Included are full colour brochures in Dutch, which can be enlarged, as well as a four-page Royal Rotterdam Lloyd Instruction letter re their voyage, etc, this letter is located on Part Two, which has yet another brochure and some further photographs.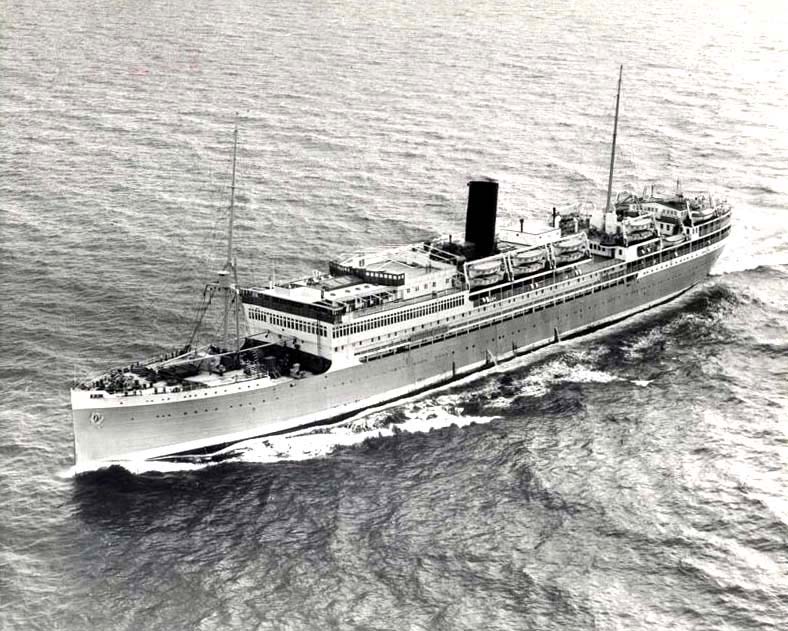 An aerial photograph of the M.S. Sibajak seen at Sea sailing at full speed bound for Australia
For interest, I have also updated all the other M.S. Sibajak pages to make them suitable for Google Chrome and some other search engines, but if you have problems, just head for good old Google!
**************************
I trust that the above new and updated features above will be greatly enjoyed as they it has many new and/or larger photographs; in addition I have added new details to some of its and added additional details where applicable!
Reuben Goossens.
Email: rg@ssmaritime.com.
Enter our … ssMaritime MAIN INDEX
Featuring over 1,084 Classic Passenger Liners, Passenger-Cargo Liners & Cruise Ships!
**************************
Visit the Following Special Maritime Sites
Visit the author's cruise pages
Also visit Maritime Links & our Maritime Art pages!
Also visit the "Save The Classic Liners Campaign" pages
"Blue Water Liners sailing to the distant shores.
I watched them come, I watched them go, and I watched them die."
ssMaritime.com & ssMaritime.net
Where the ships of the past make history & the 1914 built MV Doulos Story
Please Note: ssmaritime and associated sites are 100% non-commercial and the author has never sought funding or favours, never have and never will!
Photographs on ssmaritime and associate pages are either by the author or from the author's private collection. In addition, some images and photographs that have been provided by Shipping Companies or private photographers or collectors. Credit is given to all contributors however, there are some photographs provided to me without details regarding the photographer or owner concerned. Therefore, I hereby invite if owners of these images would be so kind to make them-selves known to me (my email address can be found on www.ssmaritime.com) in order that due credit may be given.
ssMaritime is owned & © Copyright by Reuben Goossens - All Rights Reserved