Classic Liners from great Trans-Atlantic liners or Liners sailing the Globe and also Passenger-Cargo ships with 10 to 240 passengers
Please Note: Mobiles, Firefox & Google Chrome & other search engines may not suitable
Use Internet Explorer & Old Google for this page to load perfectly!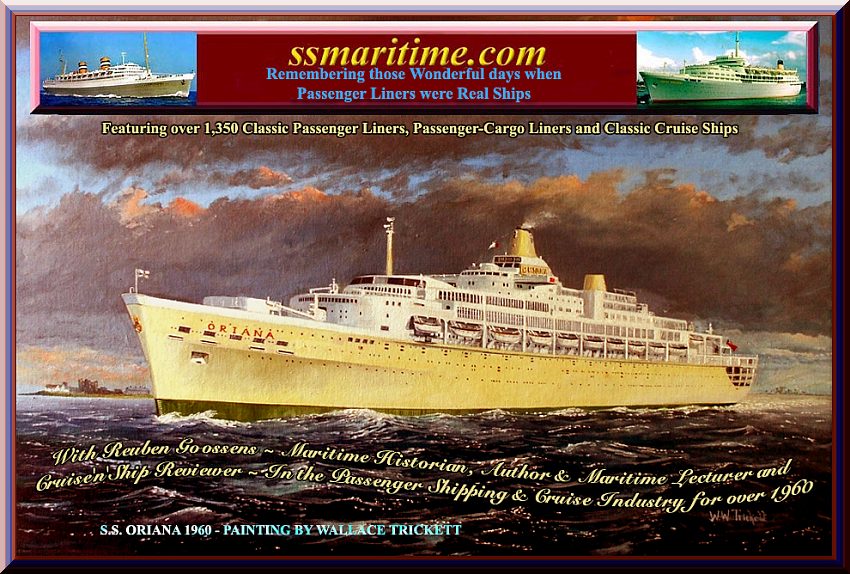 To read all about this the very last of the Orient Line Liners - See: "Ship of the Month" below;
Please Note: If there are any photographs, images or copy missing on this page,
 please refresh the page, or advise us at; rg@ssmaritime.com
Classic Liners Update ~ August/September 2018
For details go to "

Ship of the Month

" and keep on reading
Updated "Ship of the Month" #1 The final Orient Line Liner SS Oriana (1960)
NEW "Ship of the Month" #2 the Italian Line S.S. Leonardo da Vinci (1960)
Introduction:
Welcome to ssMaritime.com. During 2017, and yes even in 2018 I have managed to add some additional Classic Liners and other ships to ssMaritime, as well as managing to update some of my earlier features, for believe me some of them really needed a good clean up, and sadly there are many more that need some work. As most of my readers will know, I have been suffering from a variety of health problems, which sadly has greatly slowed my work! Therefore, I am only do some work when I am able, and when I can I may add a "Company" or "Ship of the Month" which will most likely be already online, but occasionally there may just be a new ship or ships, just as I have done for a good 28 years. However please note, due to the flood of emails that arrive daily, I no longer reply to emails personally, as most will be taken care of by my friend and carer Mr. Hun-Eng Tan, therefore most will receive a pre-written reply, however there will be some emails with a specific worthwhile question that may receive an answer from me, as some you will have already found out, although it may take time pending my condition at the time. But not if it is regarding passenger or crew lists, including sailing schedules, for if I have a sailing schedule, believe me you will have found it online already. However, I do have schedules for the Dutch liners MS Sibajak and the MS Oranje and I have details of every single voyage of both ships
Looking Back:
To date I have written well over 1,125 Classic Passenger Liners, Passenger-Cargo Liners, including a good number of humble Migrant ships, many <![if !vml]>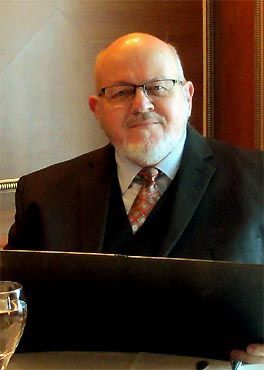 <![endif]>of these being converted War-Time Victory Class ships, such as the type C3 & C4 Class Vessels. Some of these ships were rebuilt into rather humble Migrant Liners, whilst others became far more modern and even glamorous Migrant Liners, such as Flotta Lauro's TSS Roma and Sydney, as well as Sitmar's TSS Fairsky, and these ships made significant inroads into maritime history. I hope that through the pages off ssMaritime you will discover many wonderful memories, be it for those past passengers and their relatives who may have sailed on these wonderful ships, from days of old until their demise in the late 1970s. And not to forget the Cruise Ships
The author is seen whilst on an extended Princess Cruise-
To Conclude:
I must say a very special thank you, to all ship lovers from around the world, for I have been astounded that there have been so many of you reading ssMaritime; in fact this site has now almost reached over 521.4 million readers to date from when my first site came online 28 years ago, and that, dear friends simply blows my mind! Please remember, that my sites have always remained 100% non-commercial, for my purpose has been to provide wonderful and hopefully joyful memories to all past passengers from around the world, and those who really love passenger lines and older cruise ships! Be assured, it has been a great joy for me to present these many classic ships, which I have been able to write about for so many years, therefore, enjoy the memories!
ssMaritime's Main Index is located just Below & also at the Bottom of the Page, be assured that you will discover a "Ship lover's delight" with so many great ships, both Liners, Migrant Ships as well as Passenger-Cargo Liners and all of these will have you reading and returning for a long time to come!
Reuben Goossens - Retired!
Maritime Historian, Commenced in the Passenger Shipping & Cruise Industry in 1960.
Email: rg@ssmaritime.com.
*************************
Enter the ssMaritime Main INDEX,
Or Continue to Read the New or Updated Features below
Please Note: The QE2 is now open as a Luxury Hotel in Dubai she is "Ship of the Month #2"
*************************
Ship of the Month #1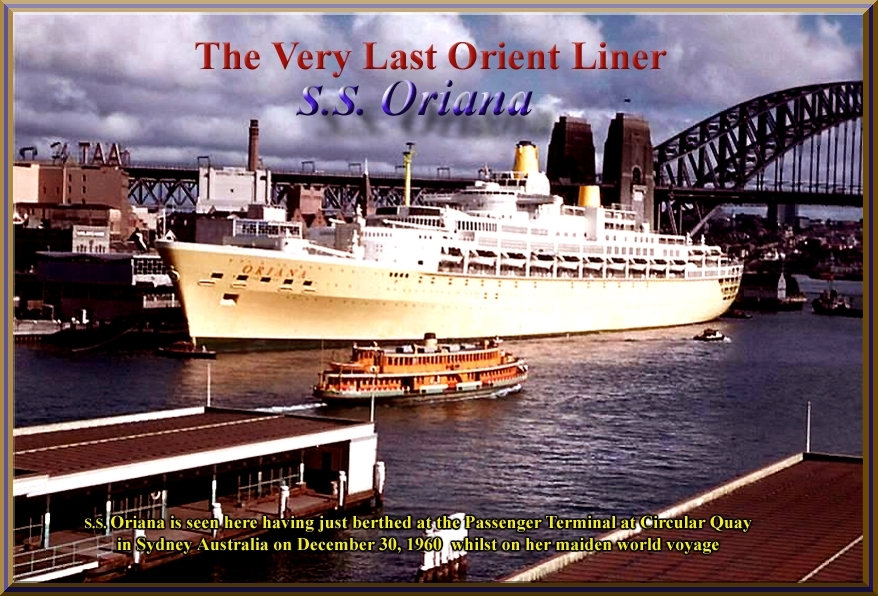 SS Oriana is seen arriving in Sydney on December 30, 1960 on December 30, 1960
Having sailed via the Suez Canal and she will return via New Zealand and the Panama Canal to Southampton
This extensive fourteen Webpage feature covers Oriana from her conception in 1954 to being broken up in 2005. Part One contains very special features, which are entirely related to her design, construction, launching, fitting out, sea trials and her maiden voyage with rare photographs thaat I have been given by the wife from the late Mr. Charles F Morris (famed for his "Book "Origins, Orient and Oriana") who was a long established Orient Line Naval Architect being one of the ships main designers, and I received these photographs and other images that have never been seen before, thus come enjoy the beauty and come for an amazing ride as the SS Oriana comes to life!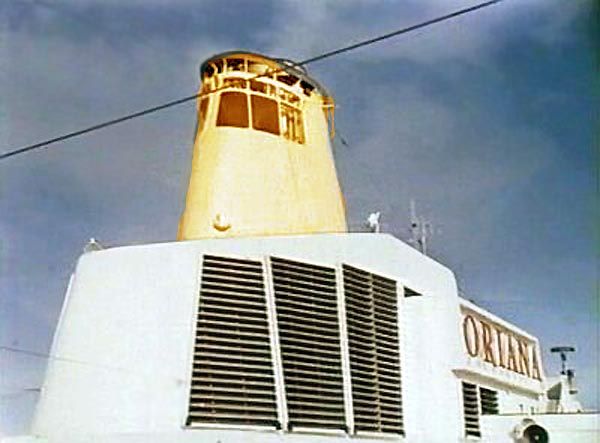 Oriana's uniquely located high and amidships Bridge with her funnel slightly aft up higher
Part Two covers the Oriana's complete history "From Birth to the Breakers". From construction to completion, and her maiden voyage, her later days as an all white cruise ship and to her sale to the Japanese in 1986. Having been sold to the Chinese, she ended up in Dalian where she was a huge success, but tragically her days would come to and end during a massive typhoon in Dalian. The last page reveals the sad photographs of her at the Chinese breakers yard. Each page contains a complete SS Oriana INDEX to all paes.
Enter the updated … SS Oriana Part One
Construction, Photographs, Deck Plans, Posta Cards & much more!
Or Enter … SS Oriana Part Two
Her History and passenger & crew Pages as well as photo pages!
**************************
Ship of the Month #2
S.S. Leonardo da Vinci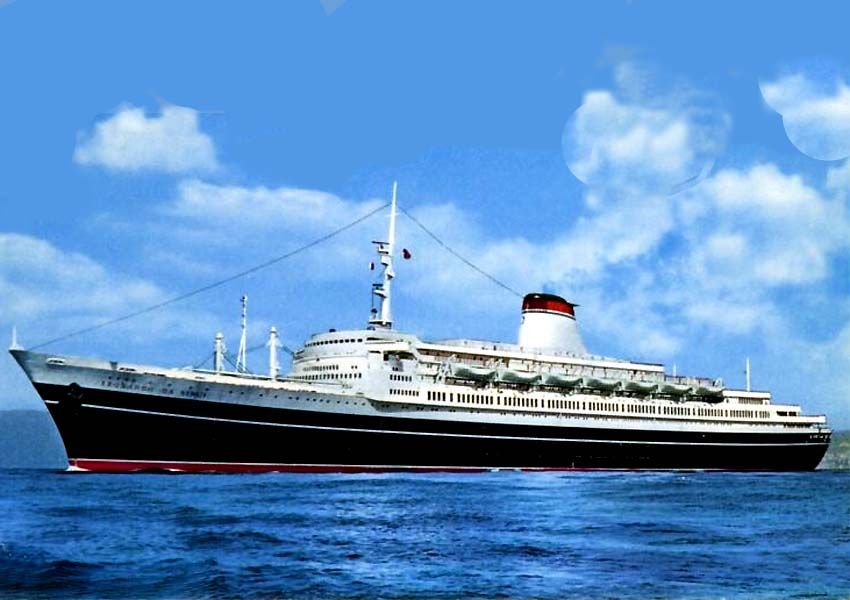 He we see the elegant Italian Line S.S. Leonardo da Vinci as she was from 1960 to late 1965
Due to the tragic loss of the magnificent Italian Line liner S.S. Andrea Doria which sank on July 25, 1956 after a collision with the Swedish liner MS Stockholm, and of course this proved to be a huge loss to the company, as the investigations rulings made the Italian Line cover the full cost of the loss of the Andrea Doria, whilst the Stockholm did have bow damage, which the Swedish American Line would financially covered. The Italian Government supported the Italia line and soon they commence to design a new and a larger ship, a ship that would become the revolutionary Leonardo da Vinci.
Externally the 1960, 33,340 Gross ton S.S. Leonardo da Vinci was very similar looking to her two earlier constructed sisters, however she was 63 ft longer and a good 2 ft wider, in addition she had a larger superstructure both forward and aft. The ships funnel was also beautifully re-shaped into a more modern shapely funnel, as well as being somewhat taller and she was given a small smoke deflector fin. Atop of her Bridge, but set back, we find the only mast on the Leonardo, and it a stylish tall, multi level radar mast, suitable for the ship being beautifully dressed with flags
The Leonardo da Vinci had the same livery as the ill fated S.S. Andrea Doria and her sister S.S. Cristoforo Colombo, having red boot topping which was itself topped by a thin white ribbon. The ship had a perfectly painted black hull with a thin white band painted two-thirds up the hull from the red boot topping and its white ribbon. Forward she had just two king posts to handle cargo, however far aft there was no cargo handling posts or any cranes, which provided the four beautifully stepped spacious Lido and three pool decks with the most spacious decks for the passengers.
Late 1965 & 66 she was painted all white as the company livery had changed as their ships were operating more and more cruises.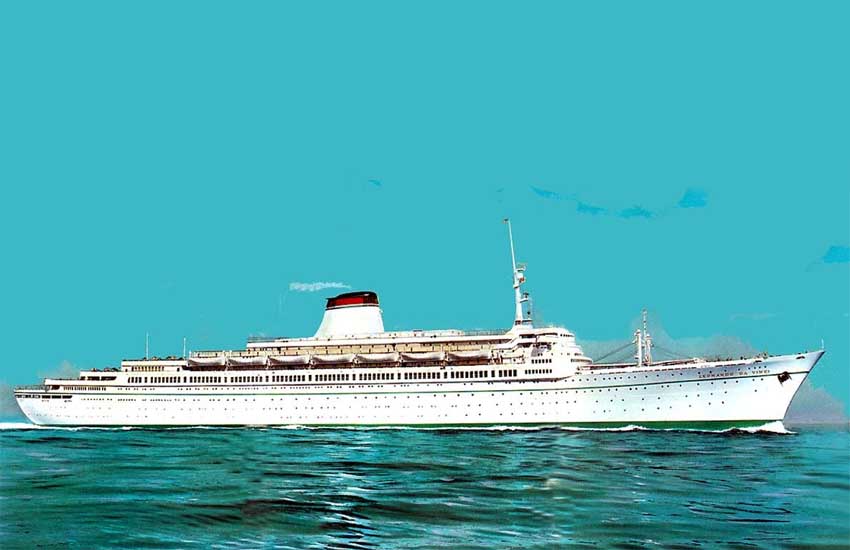 Here we see the 1966 new look Leonardo da Vinci, operating both as a trans-Atlantic liner and as a Cruise Ship!
There is no doubt externally, and I do mean visually, S.S. Leonardo da Vinci was a perfectly balanced liner; she was absolute perfection to behold at sea, be it way back then and even if she was with us today!, but being traditional, I still prefer the black hull!
Enter my Three Page feature on this amazing liner via the LINK below, it contains the Leonardo da Vinci's amazing and most unusual history, and did you know that she was ready to be fitted with a nuclear power plant? The pages are full of photographs, brochures, posters, menus and a full Deck Plan will be online very soon!
Enter S.S. Leonardo da Vinci
**************************
Ship of

the
Month #3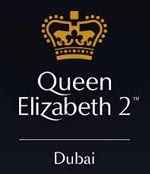 "Hotel Queen Elizabeth
2
"
Dubai - UAE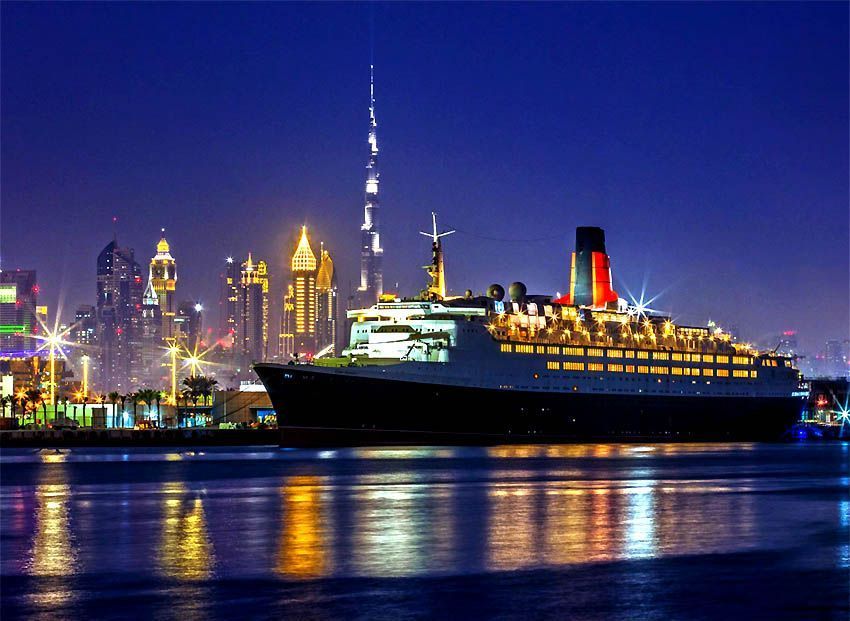 "Hotel Queen Elizabeth 2" Dubai at Port Rashid is seen with a grand city backdrop has now officially opened
The exciting new luxury floating hotel, the ex Trans-Atlantic Liner RMS Queen Elizabeth 2, so lovingly known in days gone by as the 'QE2' has finally opened in Dubai as a 5 Star luxury floating Hotel on April 2018.
Although her lifeboats and davits have been removed, but apart from that she looks very much the same as we remember her as during her cruising days, having received her diesel engines and her new suites built topside, etc. Her interiors have been carefully been restored to their original state, with very minor alteration, thus allowing the ship to constantly reveal her history through her décor and fittings, such as her original furnishings and art throughout her public spaces.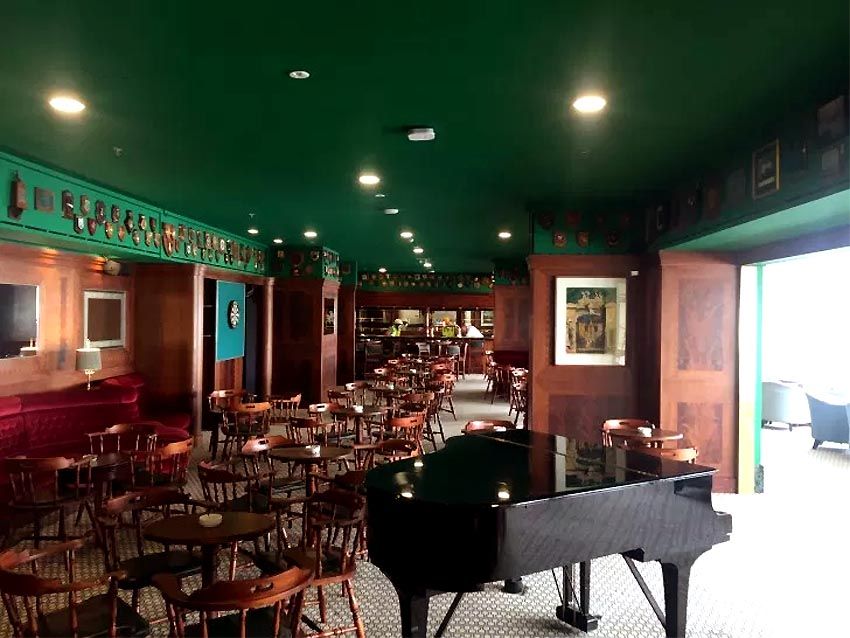 The Golden Lion Pub remains as was and how many memories have been made here and will be again
Accommodations have been beautifully updated, although again, the Cunard touch can be found in every room.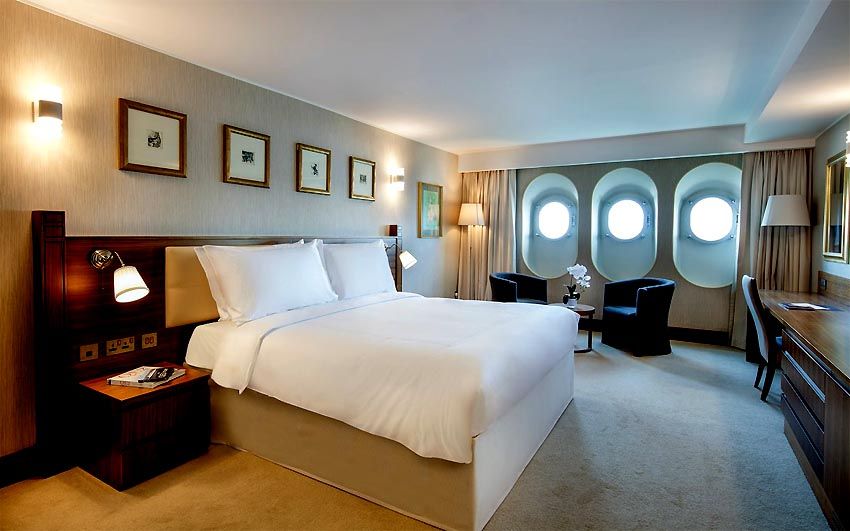 One of the spacious Captains Club Rooms
Ashore is the Terminal, which has the reception desk, a Café and the Cunard Museum complete with replica of a Tourist Class cabin from 1969, there is also a life-sized replica of the ship's bridge.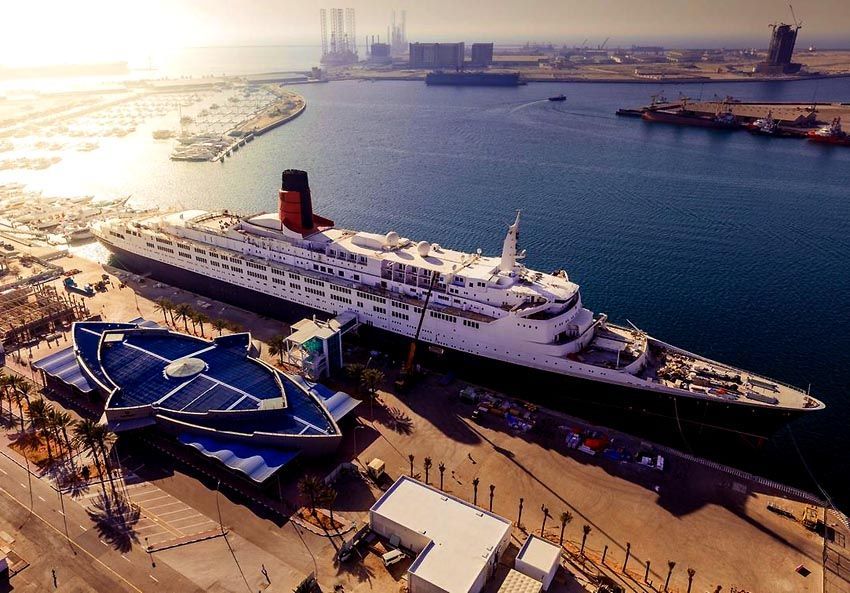 Here we see the Ship and the Terminal with the marina just aft of the QE2
I have placed a comprehensive webpage online (LINK below the next Photograph), which provides a short history of the RMS Queen Elizabeth 2, to her arrival at Dubai, her long lay-up and her amazing revival to her magnificent transformation into a superb hotel, which has retained the great Queen as much as possible in her original condition, which her original owners at Palm Jumeirah would not have done!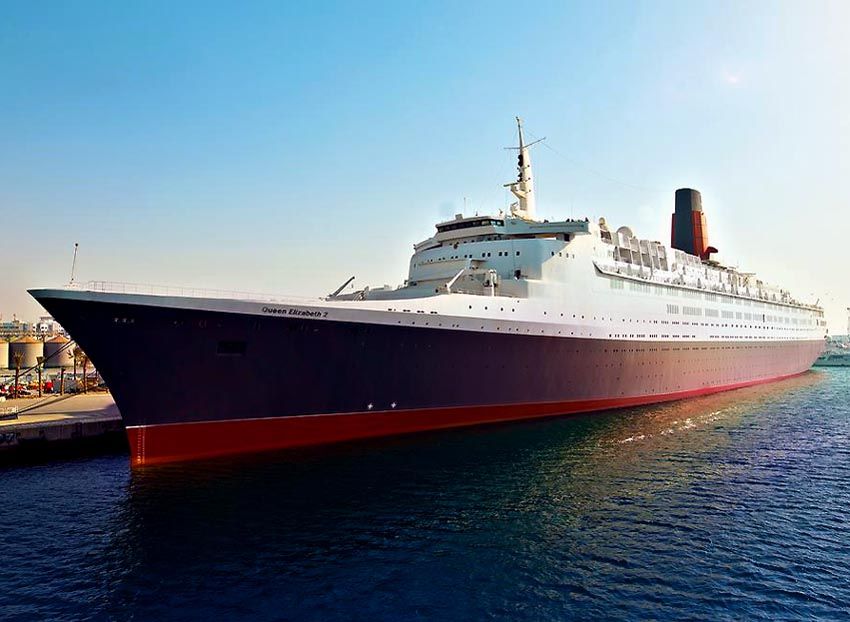 "Hotel Queen Elizabeth 2" still looks like her beautiful long and sleek self!
Visit my comprehensive all New Hotel Queen Elizabeth 2 page
**************************
Ship of

the
Month #4
S.S. Funchal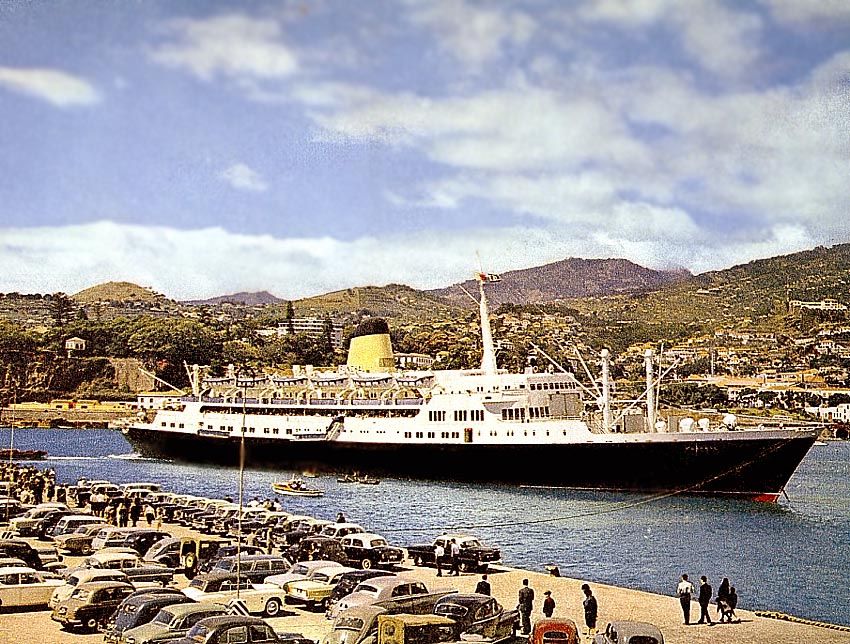 SS Funchal is seen arriving at Madeira during her Maiden voyage in November 1961
This remarkable ship was designed in Portugal yet she was constructed in Denmark by "Elsinore Shipyards" in Helsingør. The reason for this was this company offered to build her for around £2 million (UK Pounds), which was far lower that the Portuguese were able to build her. She was completed in October 1961.
Due to her long streamlined design she always tended to look larger than her 9,824 GRT tonnage, and it was said that the Funchal "must surely rank as one of the most attractive small liners built in the post-War period. This was a statement made by Lloyds of London. In addition, her accommodations and lounges received great praise; in addition she was fully air-conditioned and stabilised!
Funchal was chartered on various occasions between February 1968 until 1972 to operate as the official Portuguese Presidential Yacht, however as she was suffering on and of boiler problems it was decided in 1972 to send her to Amsterdam in the Netherlands where her old steam engines were removed and Funchal received two brand new ultra reliable "Werkspoor" 9-Cylinder Diesel Engines developing 2 x 5,000 BHP. Although she would now operate as a slightly slower service speed of 16 knots, but as she would now operate mostly as a cruise ship thus speed was no longer an issue. She had been painted all white with, blue boot topping, blue trim and a new yellow funnel with a blue band. In addition a new deck was added forward topside and she became an all one class ship.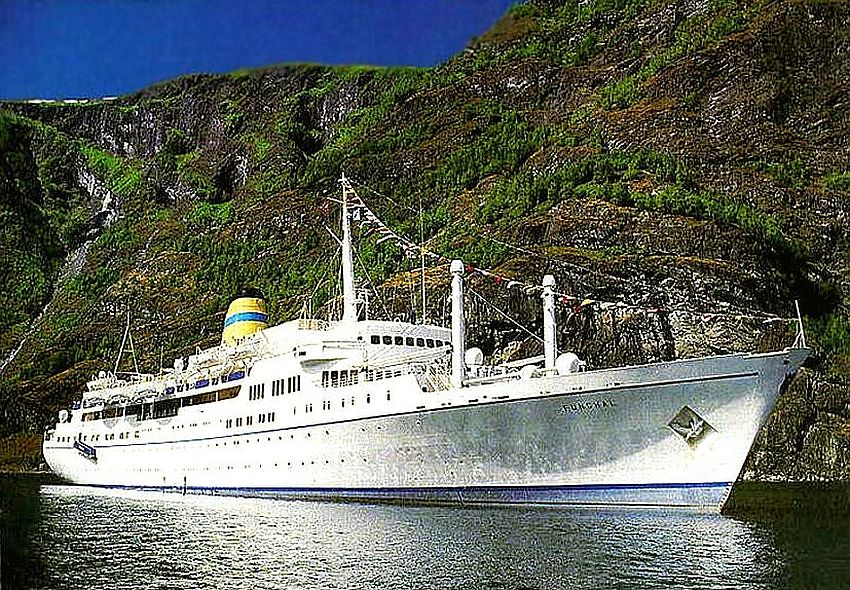 The new look cruise ship MV Funchal
In 1976 that one of the most famous Greek Shipping Magnates Mr. George Petros Potamianos chartered the Funchal to operate a series of cruises. I know the amazing history of the Potamianos family personally and they go back in shipping history to 1850, when his great grandfather commenced the much loved and world famous "Epirotiki Lines", thus it stood to reason that the Funchal charter was going to be very successful indeed! There was no doubt that Mr. Potamianos did not forget this now greatly loved stylish ship, for in 1985 having oprated her on a regular basis, he decided buy her outright for his company "Great Warwick Inc" and "Arcalia Shipping Company" and she would be managed by his "Classic International Cruises" or CIC.
Funchal continued to be hugely popular and in 2004 she was based during the Australian Summer season in Fremantle (Perth) Western Australia operating cruises to Asia and coastal cruises, as well as a line-voyage from the UK to Australia and back to the UK.
I was most fortunate to be onboard the Funchal on her last voyage back to the UK in 2008 and she was simply a delight in every respect possible. In addition, she was a ship that was so spotless that no one could find a single spot of dirt or rust anywhere on the ship, for CIC was known or their maintenance, which was absolute perfection to say the least!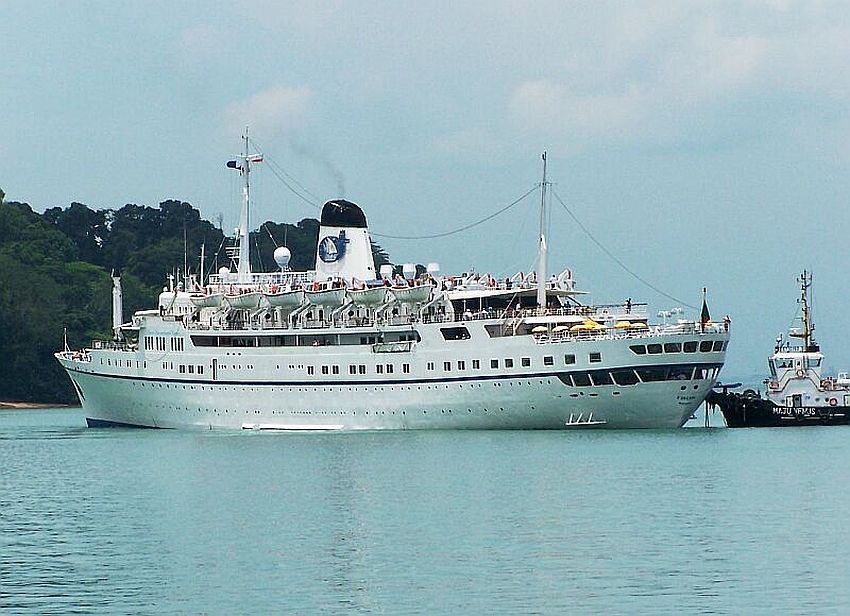 Funchal seen in Singapore March 14, 2008 - moving from the Cruise Terminal
just after lunch to the container wharf as a large Star Cruises ship was due in.
I went back ashore to take this photograph as it would be a fine view of the Funchal
Photograph by © 2008 Reuben Goossens
The reason Funchal concluded her seasons in Australia, is that CIC had become so popular, that they decided to bring out their larger ship later in 2008 the wonderful MV Athena, which was built as the MS Stockholm built in 1948, but she superbly rebuilt into a 5 star luxury cruise ship from the hull up in Italy in 1994, and she had a number of refits since. I sailed on her from Australia to the UK in 2011, and again in 2012. Today (2018) she is named MV Astoria and this remarkable is scheduled to cruise in 2019 and we await further updates.
MV Funchal has an amazing story, and the above is just a small introduction for you will discover a multi page feature on her as well as a page regarding her future.
Visit the Updated SS/MV Funchal feature
**************************
Ship of the Month #5
Royal Packet Company (KPM)
Later: Royal Interocean Lines (RIL)
MS Tjiwangi & Tjiluwah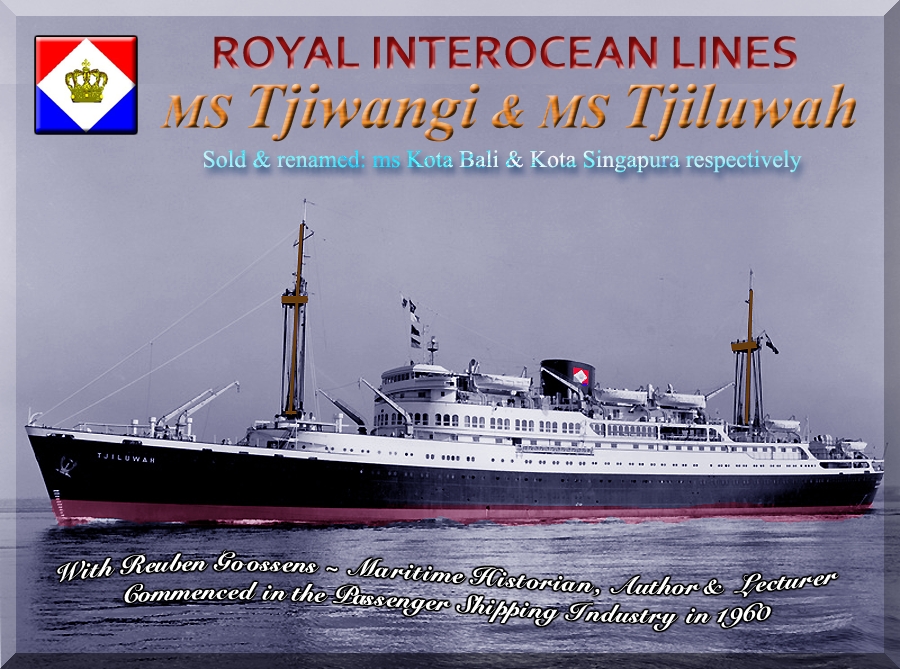 These two fine compact liners were considered the most beautifully proportioned passenger cargo liners ever to be seen in Australian waters, and they became the most popular ships to sail between Australia and Asia. This is their story!
In 1948 KPM decided to build two relatively luxurious 9,000 GRT, 479 ft – 146 m long Passenger-Cargo Liners, and these ships were built by "C. van der Giessen & Zonen" at Krimpen aan den Ijssel, Amsterdam. Named the Tjiwangi and Tjiluwah they were launched on April 29, 1950 and April 28, 1951 respectively.
Their First Class Public Facilities were amazingly opulent, with the Main Lounge located forward on Promenade (A) Deck being surrounded by the wonderful and greatly loved Wintergarden. The Main Lounge was sumptuously furnished and just aft on the portside was a delightful Bar, whilst on the starboard side the Library and Writing Room. Directly aft was the covered open sided full width deck Verandah, which was popular at night as an entertainment venue and dancing, although the main lounge also had a more intimate dance floor! One deck up on Boat Deck was the First Class Swimming Pool! Tourist class had their Lounge and Dining Room on a lower deck, as well as ample spacious deck space. All cabins were outside either with one or two portholes.
After their fit-out and sea trials were completed, both ships headed to Hong Kong, were the company had their head offices and operated a good number of larger and smaller cargo ships, with a good number carrying smaller number of passengers, and this would be their base.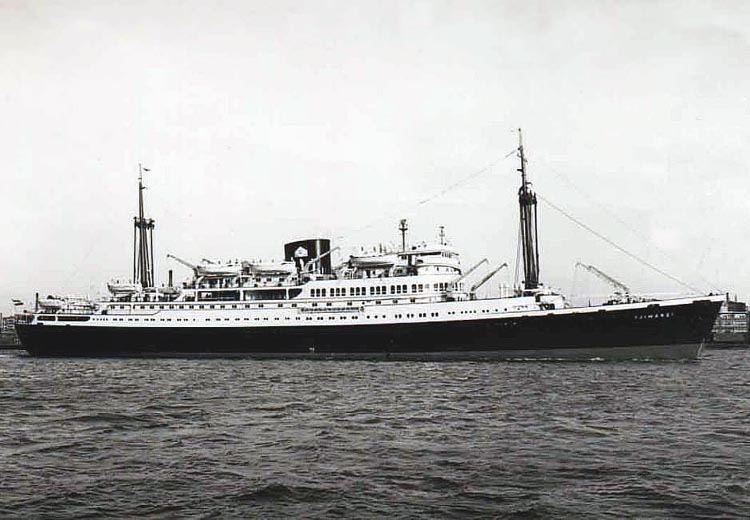 And here is the wonderful MS Tjiwangi
MS Tjiwangi and Tjiluwah operated on the Dutch East Indies (Indonesia) and Hong Kong service until in 1960 a decision was made to change their service and place them on the Australia, Hong Kong and Japan service commencing in July that year under full "Royal Interocean Lines" management.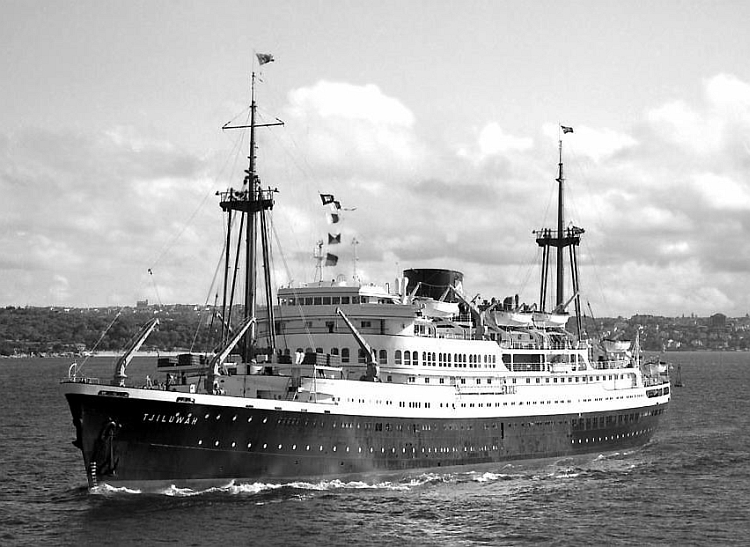 The delightful Tjiluwah is seen arriving in Sydney in the early 1960s with her new RIL logo on her funnel
In 1963 both ships received a complete refit, which saw Tourist Class greatly improved, with a new lounge added as well as another swimming pool, and the ships were now painted all white. Upon completion they were registered at 8,978 GRT.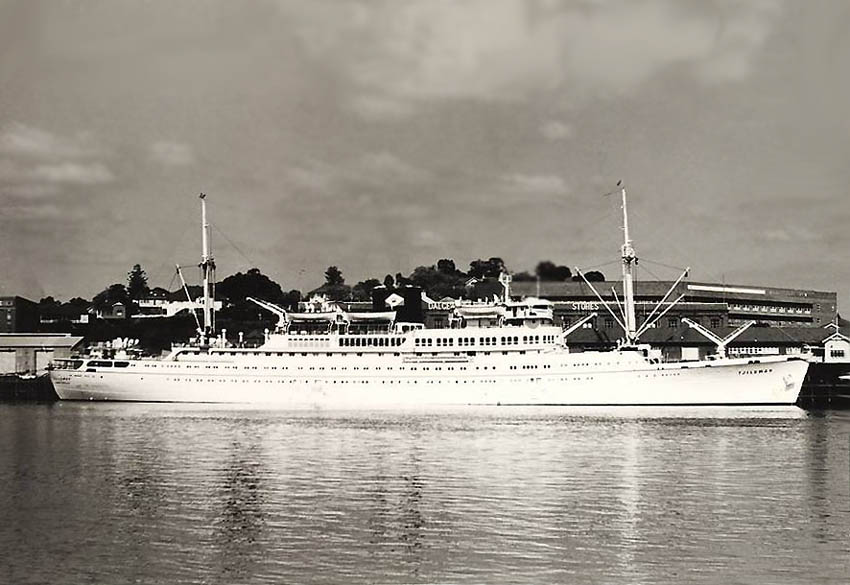 The now all white MS Tjiluwah is seen in Brisbane in 1970
In a very short time, these beautiful ships became lovingly known as the "Elegant White Yachts" due to their beautiful exterior lines and perfect design. In addition it was well known that their First class was without a doubt sumptuous, having grand carved timber stairwells carved from the main Lounge down to te Lobby below, and the Restaurant being two levels high with a balcony surrounding it, and again another stairwell for the ladies to slowly come down with their gents, in their long gowns dripping with jewels and fur stoles, looking a million dollars ready to dine on a sumptuous cuisine and service that always came with perfection.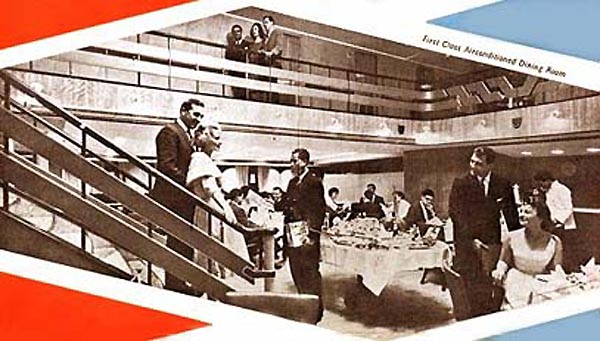 The First Class Restaurant for a small ship was quite extravagant
Note the differences between the décor between the two ships above and below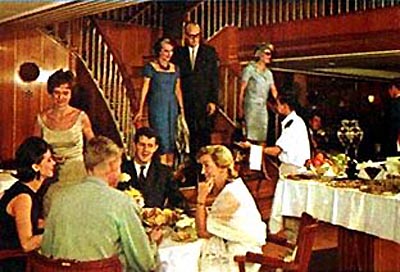 The staircases were different on each ship as one was placed forward & the
other aft of the Dinning Room, one traditional, the other more modern looking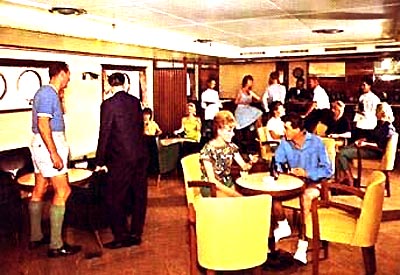 A most pleasant Tourist Class Lounge and Bar
Their voyages operated as follows: Melbourne, Sydney, Brisbane, Yokkaichi, Nagoya, Tokyo, Yokohama, Osaka, Kobe, Hong Kong, Sydney back to Melbourne. Although being quite a lengthy voyage, many passengers decided to enjoy the round voyage as a cruise, whilst others used these ships as as a means of transportation to a destination.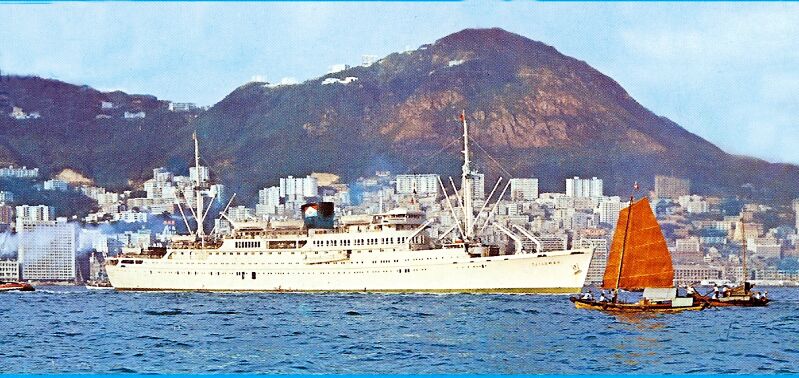 MS Tjiluwah seen in 1963 in Hong Kong Harbour
For a multi page feature on these fine ships Visit … MS Tjiwangi & Tjiluwah
**************************
Mercy Ships
is
My Special Interest & My Fundraising Campaign,
Please Support this Very Worthy Cause!
M.V. Africa Mercy
Mercy Ships - helping those who need our help!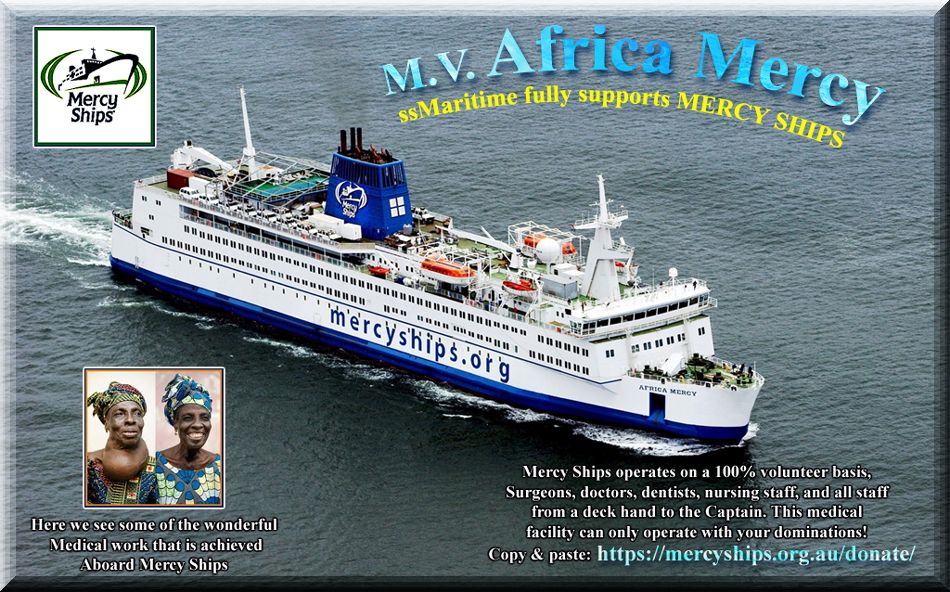 Also Visit: http://www.ssmaritime.com/Mercy-Ships-Africa-Mercy.htm
**************************
I trust that the above new and updated features  will be greatly enjoyed as most will have new and/or larger photographs; in addition with updated features, I have added new details to some of its and added additional details where applicable!
Reuben Goossens.
Email: rg@ssmaritime.com.
Enter the ssMaritime Main INDEX
Featuring over 1,116 Classic Passenger Liners, Passenger-Cargo Liners & Cruise Ships!
**************************
Visit the Following Special Maritime Sites
Visit the author's cruise pages
Also visit Maritime Links & our Maritime Art pages!
Also visit the "Save The Classic Liners Campaign" pages
"Blue Water Liners sailing to the distant shores.
I watched them come, I watched them go, and I watched them die."
ssMaritime.com & ssMaritime.net
Where the ships of the past make history & the 1914 built MV Doulos Story
Please Note: ssmaritime and associated sites are 100% non-commercial and the author has never sought funding or favours, never have and never will!
Photographs on ssmaritime and associate pages are either by the author or from the author's private collection. In addition, some images and photographs that have been provided by Shipping Companies or private photographers or collectors. Credit is given to all contributors however, there are some photographs provided to me without details regarding the photographer or owner concerned. Therefore, I hereby invite if owners of these images would be so kind to make them-selves known to me (my email address can be found on www.ssmaritime.com) in order that due credit may be given.
ssMaritime is owned & © Copyright by Reuben Goossens - All Rights Reserved