Classic Liners from great Trans-Atlantic liners or Liners sailing the Globe and also Passenger-Cargo ships with 10 to 240 passengers
Please Note: Mobiles, Firefox & Google Chrome & other search engines may not suitable
Use Internet Explorer & Old Google for this page to load perfectly!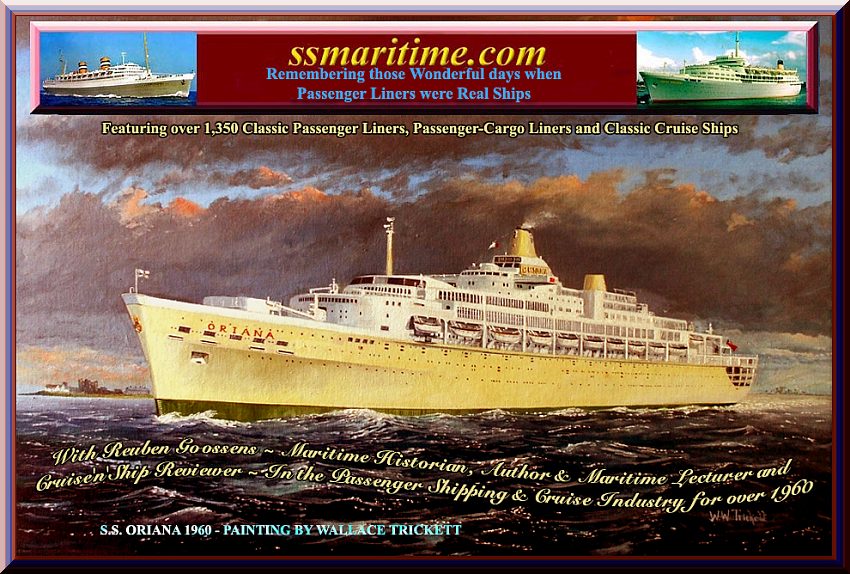 Introduction:
Welcome to ssMaritime.com. In the past year I have managed to add some companies and individual ships to the list as well as having updated a good number of my earlier features, for believe me some of them really needed a good clean up! But for personal health reasons, sadly I am forced to slow down! Therefore, I will only update the occasional feature that is already online, when I am able and if possible I may add a new ship now and then, but not as before. However, due to the flood of emails that arrive each day, I will no longer be able to answer any further emails!
Looking Back:
To date I have written well over 700 major Passenger and Passenger-Cargo Liners, and a good number of humble Migrant ships, many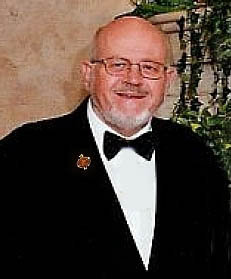 of these being converted War-Time Victory Class ships, such as the type C3 & C4 Class Vessels. Some of these ships were rebuilt into rather humble Migrant Liners, whilst others became far more modern and even glamorous Migrant Liners, such as Flotta Lauro's TSS Roma and Sydney, as well as Sitmar's TSS Fairsky, and these ships made significant inroads into maritime history. I hope that through the pages off ssMaritime you will discover many wonderful memories, be it for those past passengers and their relatives who may have sailed on these wonderful ships, from days of old until their demise in the late 1970s.
The author is seen aboard the MV Athena in 2011 whilst on a-
voyage from Australia to England on the classic ship built ---
in 1948 and was completely rebuilt from the hull up in 1995-
She is still sailing today as the CMC Cruises (UK) MV Astoria-
To Conclude:
I must say a very special thank you, to all ship lovers from around the world, for I have been astounded that there have been so many of you reading ssMaritime; in fact this site has now almost reached almost 519 million readers to date from when it first came online 23 years ago, and that, dear friends, simply blows my mind! Without a doubt, the number of emails That comes into my inbox certainly reflects those numbers, and as I look back to those early days when I was merely a clumsy computer hack, with some of the most awful pages and pictures, yet you were so kind for you loved them, yet obviously those pages must have had something, mostly a good story and the details you were looking for. Please remember, that all my sites have always remained 100% non-commercial, for my purpose has been to give happy memories and joy to past passengers from around the world and those who really love passenger lines and older cruise ships! It has been a great joy for me to be able to present to you all of the fine Classic Liners I have online. Therefore, enjoy the memories!
The ssMaritime Main Index is located Below & as well as at the Bottom of the Page and be assured that you will discover a "Ship lover's delight" with over 700 great ships, both Liners, Migrant Ships and Passenger-Cargo Liners, and all of these will have you reading and returning for a long to come!
Reuben Goossens - Retired.
Maritime Historian, Author, Lecturer & Cruise'n'Ship Reviewer.
Commenced in the Passenger Shipping & Cruise Industry in 1960.
You may enter the ssMaritime Main INDEX here, OR discover the New & Updated Features below!
Where you will discover over 700 Classic Passenger & Passenger-Cargo Liners!
NEW & UPDATED
Features
**************************
New Feature ~
Anchor Line
A Trio Identical Sisters Built 10 Years Apart
RMS Circassia (III) 1937 - RMS Cilicia 1938
& RMS Caledonia (V) 1948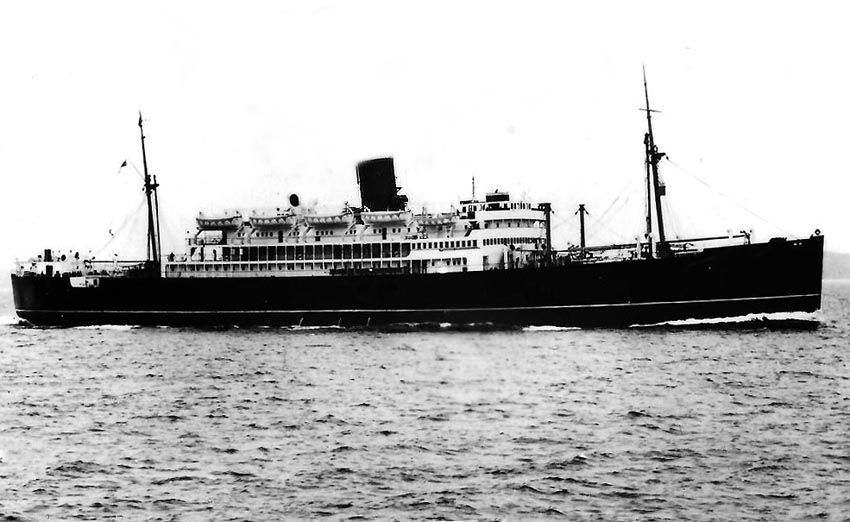 R.M.S. Circassia (III) the first of the identical trio of ships built in 1937
The first two of these three ships, RMS Circassia and Cilicia were built pre-WW2, and both served on their dedicated passenger service from Liverpool sailing via Gibraltar, Port Said, Aden, Karachi to Bombay, India and return. However within two years both ships were commissioned to enter the war and they served well in various guises. They returned to their passenger services having received a comprehensive refit. Then 10 years after the Circassia was built the third of the trio was completed, the RMS Caledonia and these ships had a fine career and they were greatly loved for their luxurious public venues, excellent accommodations, fine service and their superb catering in the Dining Room.
Enter the Anchor Line Feature
**************************
New Feature ~ Canadian Pacific Lines
RMS Empress of Australia
Ex SS Tirpitz, Admiral von Tirpitz - first built 1913 - broken up in 1952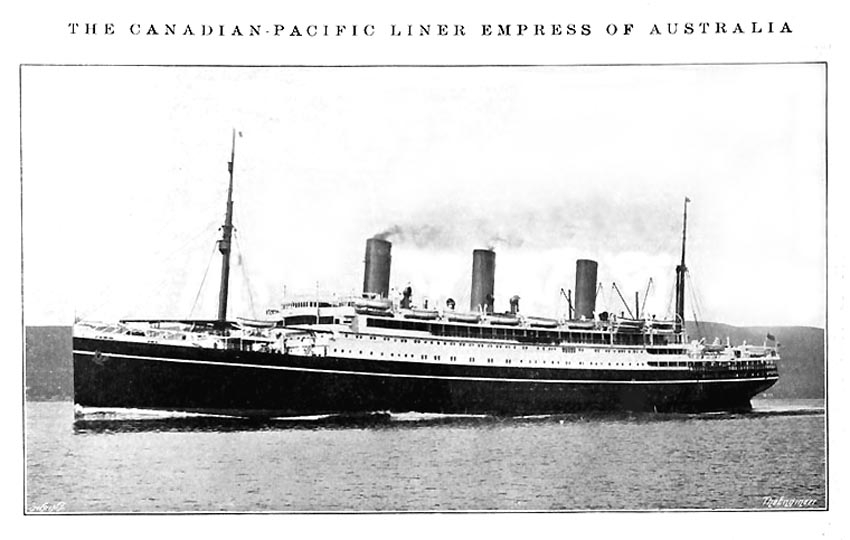 Postcard of RMS Empress of Australia
Enjoy the great story of a fine Canadian Pacific Liner, which operated both the Trans-Pacific service to Asia, as well as a trans-Atlantic service. But in 1928 suring the Canadian winter season, she became an amazing annual around the World all First Class Luxury Cruise Ship, with fares including all optional excursions, with some being overland tours as long as 8 days. She commenced her days painted with a back hull, but in 1929 she was painted with an all white livery, making her look more of a cruise ship! She also served as a troopship in two world wars, and thus this two-page feature offers a great deal on this amazing liners. On Page Two, there are photographs never seen before as they are exclusive to the author!
Enter the RMS Empress of Australia Feature
**************************
Newly Updated ~
The
Much Loved
S.S.

Ocean Explorer I ex SS President Roosevelt
The Ship of many names and a long life at sea: 1944 to 2004
SS Ocean Explorer I - previously named: Sapphire Seas, Emerald Seas, Atlantis
President Roosevelt, Leilani, LaGuardia. Built as the: USS General W. P. Richardson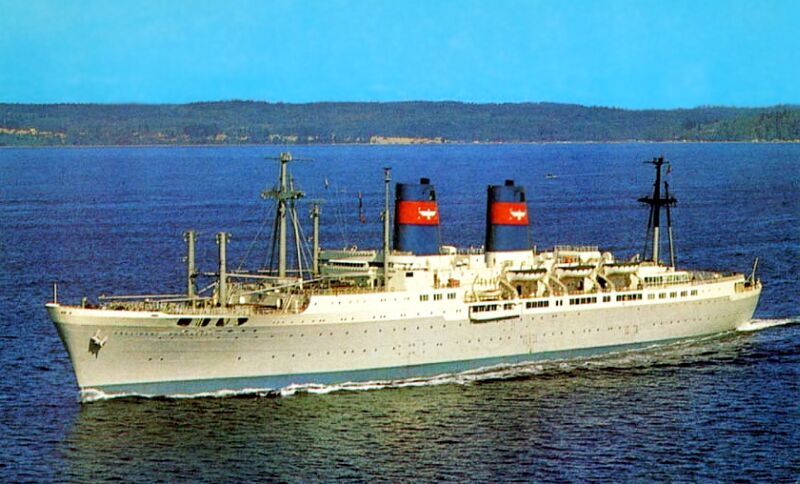 This remarkable ship is seen here under her fourth guise as the Passenger liner, SS President Roosevelt

Postcard from the author's private Collection

June 2017

: I am delighted to advise that I have just managed to update this much-visited feature, even though my health has been rather poor to say the least! On Page One, I have added further information and many more photographs that I had on file. It covers all of her 60 amazing years at sea and each of her identities are covered. Some companies had her for a long time, whilst others just a year.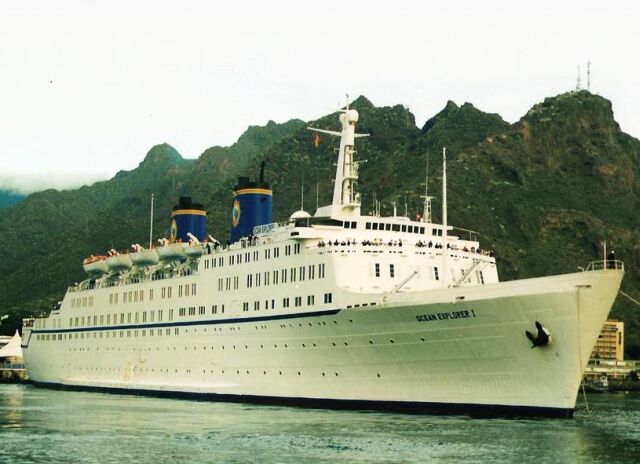 Ocean Explorer I seen during her 1999 World Voyage and she is looking pristine at her ripe old age!
Photographer unknown – *See Photo notes at the bottom of the page
Enter Page One of … SS Ocean Explorer I
**************************
NEW ~
Netherland Line
S.S. Prinses Juliana
Later named SS Costa Rica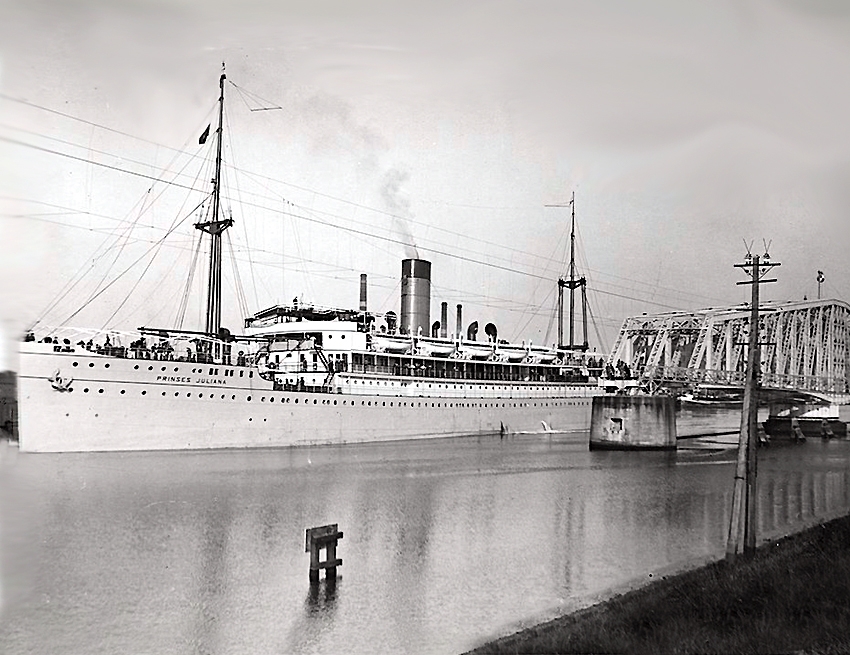 "Stoomvaart Maatschappij Nederland," or the "Netherlands Steamship Company" commissioned to build a new what was considered a more modern 8,000 GRT steamship for their regular East Indies (Indonesia) service in 1908 and she was laid down on July 7, 1909. This attractive ship with clean lines would offer superior accommodations and facilities for 349 passengers. She was completed on October 1, 1910 and sailed successfully for the next twenty years, including serving as a troopship during the Great War (WWI). In 1930 she was transferred to the "Koninklijke Nederlandsche Stoomboot-Maatschappij N.V.," (KNSM) and she was refurbished and partially rebuilt and given a dummy aft funnel, and she was renamed SS Costa Rica. She also operated in World War 2. But sadly this time the War took her toll, as the Costa Rica was attacked by German aircraft who dropped their bombs on her, and sadly she caught fire which completely destroyed her in 1941.
Enter the SS Prinses Juliana - Cost Rica feature
**************************
NEW ~

The

Panama Pacific Liners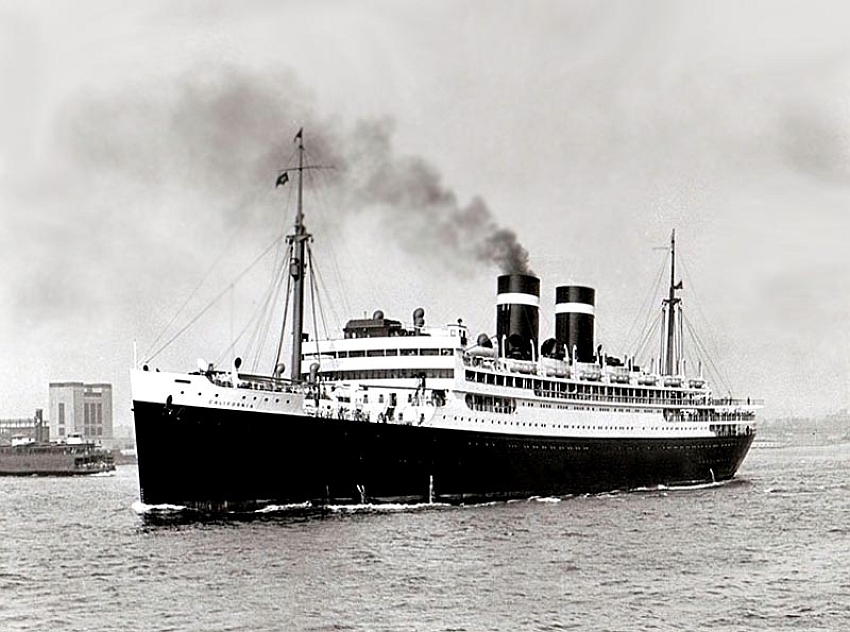 The SS California is seen in New York Harbour passing a Holland Tunnel Vent
Photographer is unknown - Please see the photo notes at the bottom of the page
SS California, Virginia & Pennsylvania - 1928 to 1938:
The "American Line Steamship Corp" in mid 1920s decided to build three elegant twin funnelled sister ships, the S.S. California, Virginia and the Pennsylvania. All three ships were built at Newport News Shipbuilding & Drydock Co., Ltd., in Virginia and were designed to operate vacation voyages as well as to carry cargo between New York and San Francisco. These turbo-electric powered liners were promoted as being 32,450 Displacement tons, and they were completed in 1928 and 1929 and were named SS California, Virginia, and Pennsylvania. Each ship accommodated 384 First Class passengers and 363 in Tourist Class with a crew of 363. These ships were beautifully designed and had fine appointments throughout! They were placed under the management of the "Panama Pacific Line" and the three liners were promoted as The "Big 3."
Itinerary was as follows: New York, Havana Cuba, Colon Panama, transit the Panama Canal, Balboa Panama San Diego, Los Angeles to San Francisco. After an overnight stay, the return voyage was via the same ports back to New York. Voyages could be sold as return cruises, or as a cruise and rail voyage, as passengers would disembark either in San Francisco or New York and they would either take the train to their hometown, which would have been pre-arranged and booked by Panama Pacific Line, as they had special fixed rates available to them for their guests. Alternatively, passengers were also able to take their "automobiles" with them aboard, as all three ships had a drive on, drive off garage facility, and therefore they could drive home.
However due to the loss of the mail subsidy as well as ongoing strikes in the US, the ships began to suffer financially and were placed on the market, but they were very quickly sold to the "American Republics Line" and they were renamed.
SS Uruguay, ex California,

Brazil

, ex Virginia & Argentina, ex

Pennsylvania

- 1938

to

1964: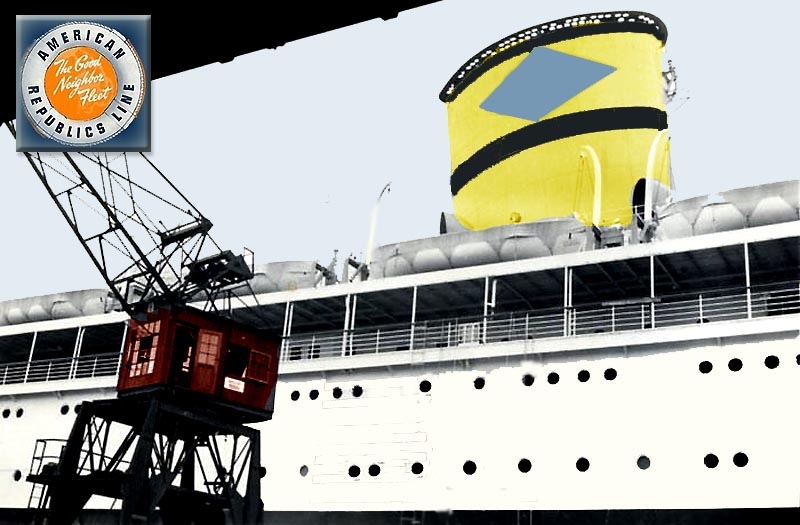 Here we see one of the ships with the "American Republics Line" funnel
These three Panama Pacific Line liners were still superbly beautiful, and in perfect condition and having been sold they became part of "American Republics Line" new "Good Neighbor Fleet." The three ships were sent to be partially refurbished and rebuilt at "Newport News Shipyards," or the Bethlehem Shipbuilding Corporation. Besides some minor interior changes, their exteriors saw a drastic change, for upon completion their aft funnel had gone, leaving one slightly larger funnel, giving these ships a more modern look!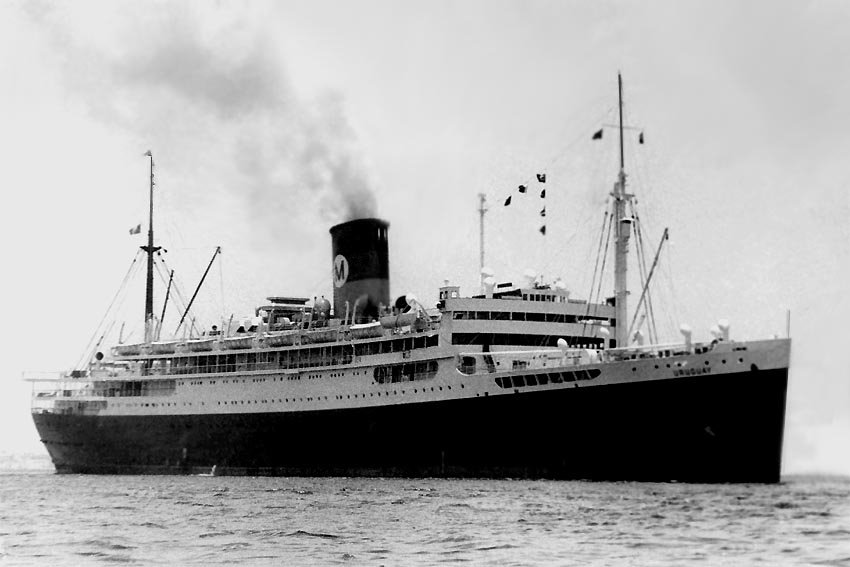 Here we see the SS Uruguay after her WW2 refit with the Moore-McCormack logo on her funnel
However after their World War 2 duties they would again receive a major refit, which upgraded their interiors greatly and they became far more luxurious and very suitable for the South American service, which they now operated! Sadly, their days concluded when all three ships were sold to be broken up in 1964.
This is a three-page feature, with full details and many photographs!
Enter our new SS California - Uruguay and her two Sisters three-page feature
**************************
P&O
The Peninsular and Oriental Steam Navigation Company)
R.M.S. Canton 3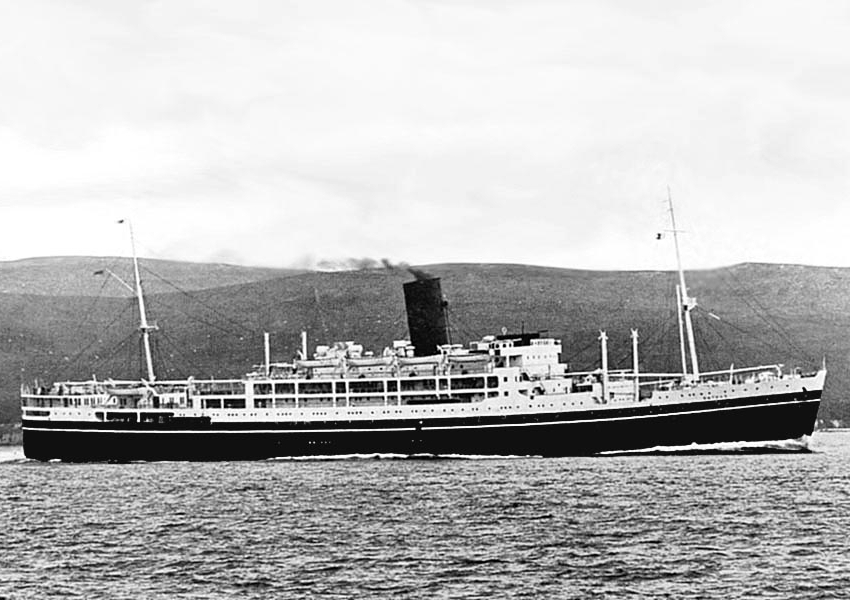 RMS Canton was the very last P&O liner to be given a black hull and funnel
The Canton was an amazing ship, for as you will discover this in her feature for she was a ship that had a good number of "lasts," as well as a special and an unusual "first!"
Besides serving to the Far East prior to WW2, she was then acquired by the admiralty and converted to an Armed Merchant Cruiser, and later she became a Troopship. She served the war bravely and came under attack many times, yet came out of it unscathed! She was rebuilt after the war, and she was painted all white and she then came under the new management of P&O-Orient line as the two companies having merged. She was a wonderful and much loved liner as she had excellent public venues, which were sumptuously furnished with fine timber walls and furnishings, and Cabins were roomy and well appointed!
Visit the RMS Canton Feature
**************************
Cunard White Star Line / Cunard Line
R.M.S.
Mauretania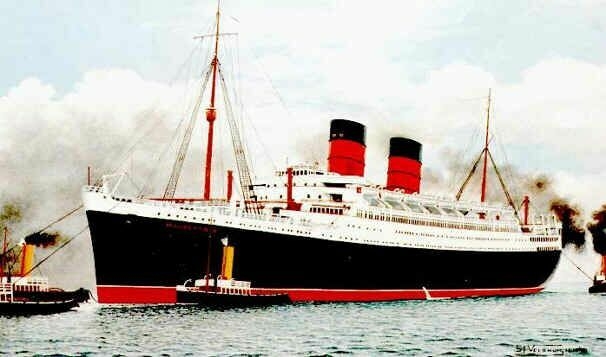 Painting of the RMS Mauretania by the late Dutch Maritime Artist …
Mr. Sjouke Jan Veldhuis - Provided by & © Mr. Hans Brink
The Mauretania was first and the largest ever Cunard White Star Line Trans-Atlantic Liner to be built in England. She was launched in 1938 and made her maiden voyage on June 17, 1939. She was famed for her late Art Deco style interiors, which gave her a unique and made her a popular liner, the Queen Elizebath had similal décor, but in a gradeus style and on a larger scale!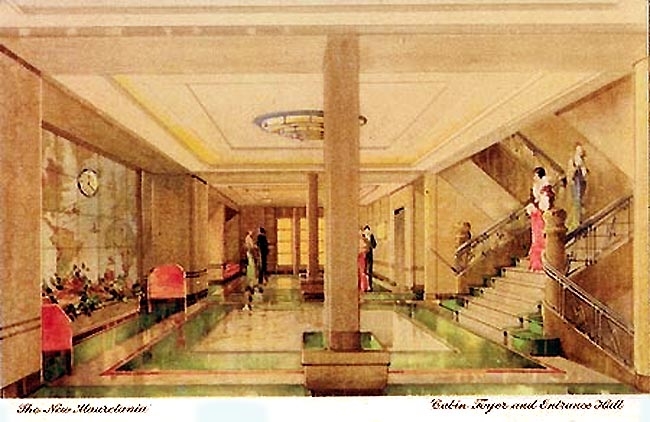 Here we see the Cabin Class (later First Class) Grand Entrance Hall & Stairwell
In 1950 she returned to be operated by Cunard Line and in 1962 she was given her second refit during her career. However, during this refit, she was painted cruising green and accommodated slightly less passengers. She operated popular winter Caribbean cruises, as well as her regular Trans-Atlantic voyages during the summer months. This fine ship had a fine WW2 record and she has a great story to tell!
Visit the RMS Mauretania Feature
**************************
Union Line & Hellenic Mediterranean Lines
SS Maunganui sold to become the TSS Cyrenia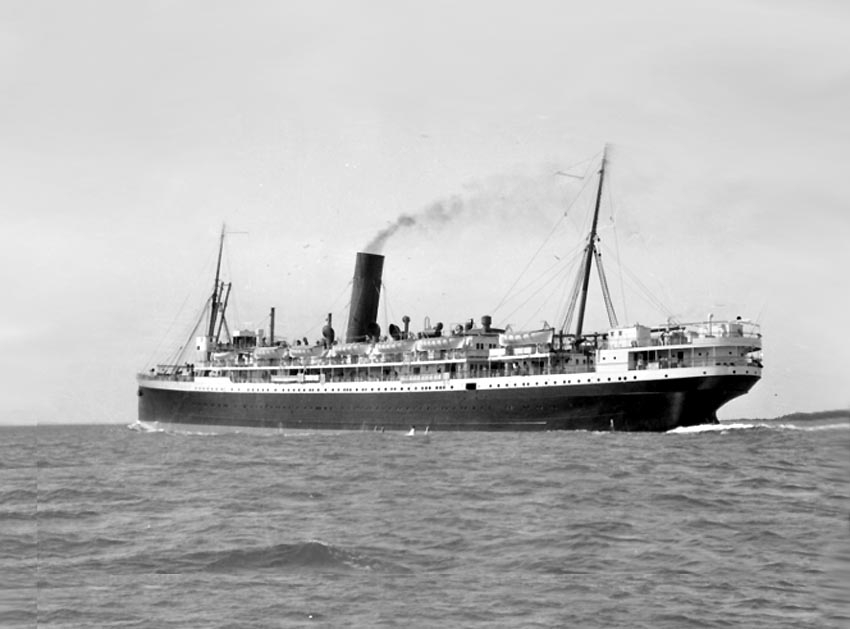 A fine view of the Union Line ss Maunganui's counter stern
The Union Line, later to become the "Union Steamship Company" (USSCo) of New Zealand ordered a new passenger liner to be built by Fairfield Shipbuilding and Engineering Company in Govan on the River Clyde, and she was launched in August 1911. She operated on both the Trans-Tasman and Trans-Pacific services to San Francisco and Vancouver. She served in World War One and Two, but after the WW2 she was rapidly sold when she was returned to her owners in 1947 to a Greek Company and was renamed TSS Cyrenia.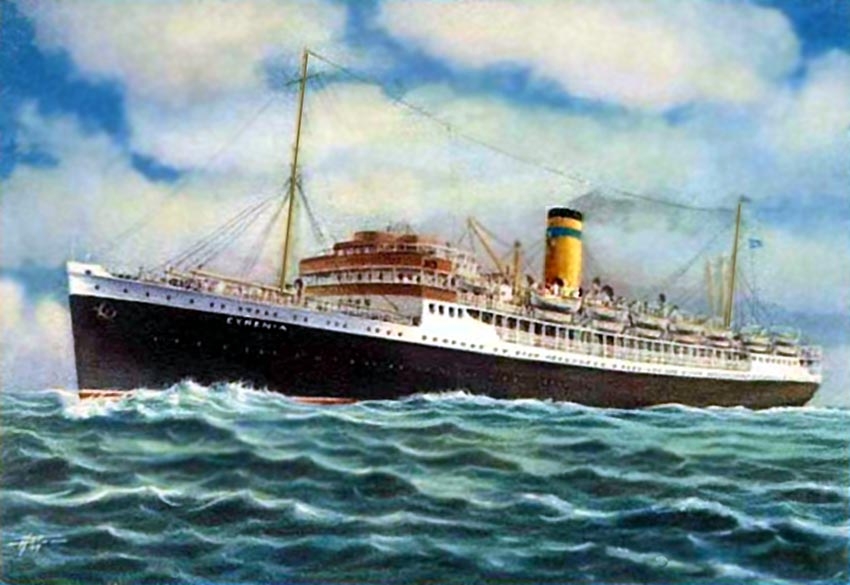 A Hellenic Mediterranean Lines postcard of the TSS Cyrenia
She was taken to Piraeus, Greece where she was refitted to take 800 passengers and she was operated by Hellenic Mediterranean Lines as a refugee, migrant and passenger ship between Genoa, Malta to Australia from 1949 to 1957.
Visit the SS Maunganui & TSS Cyrenia feature
**************************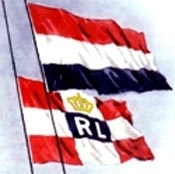 Royal Rotterdam Lloyd & Flotta Lauro Lines
MS Willem Ruys ~ MS Achille Lauro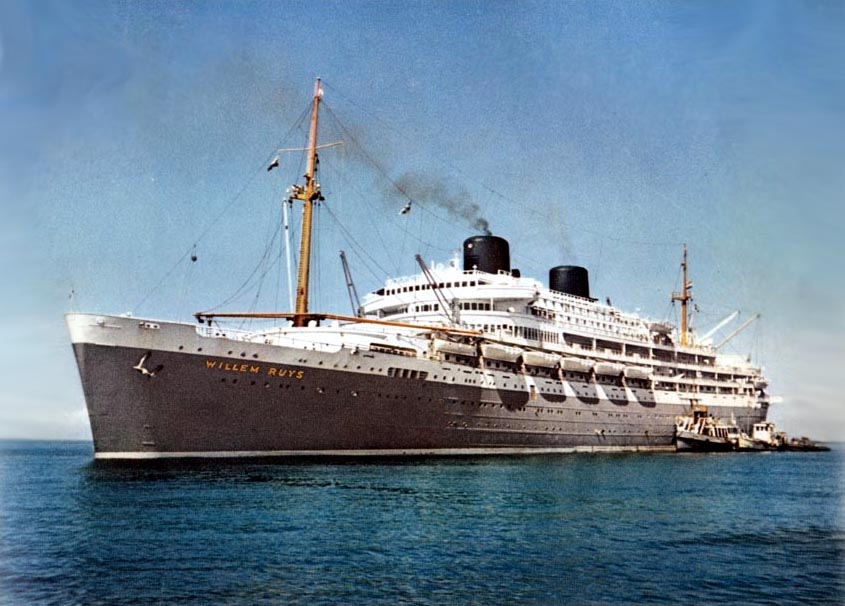 MS Willem Ruys seen with her first twelve months of operation
I trust that this fully updated MS Willem Ruys and Achille Lauro feature will delight those who may have sailed on this ship Regardless when you may have sailed on her, I am sure that there will be many happy memories that linger as you rediscover this magnificent classic Liner and Cruise Ship all over again as you explore the ships seven pages.
When she was the Willem Ruys she was a ship that was so beautifully designed and she was what many called "A ship of simple perfection," and she was in many more ways than one! Her first Class two lever Lounge was stunning to say the least, and sadly that grandiose beauty was lost when she was modernised when she became the Achille Lauro.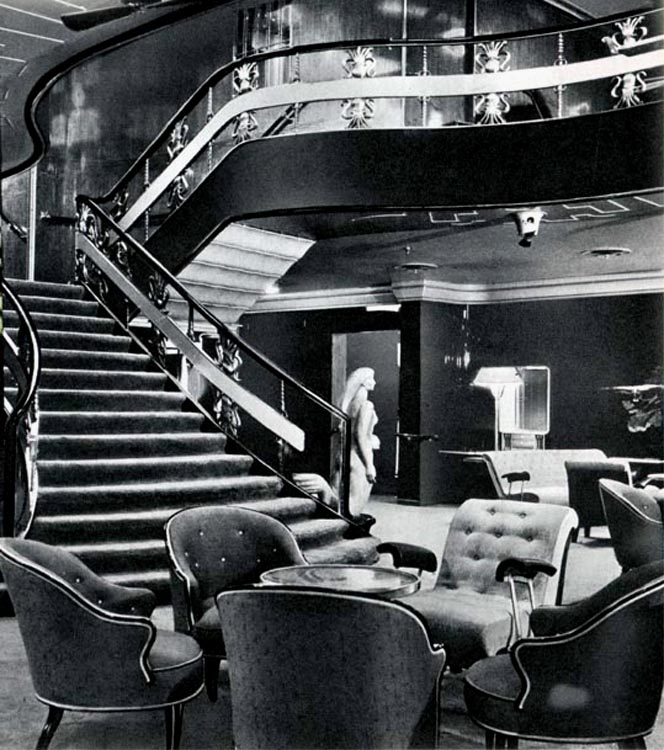 First Class Lounge featured a luxurious cane furnishings and palm tree
Wintergarden that surrounded the lower level and a bar on the upper
You will discover Willem Ruys Photo and Brochure pages as well as Achille Lauro pages containing Brochures and Deck Plans.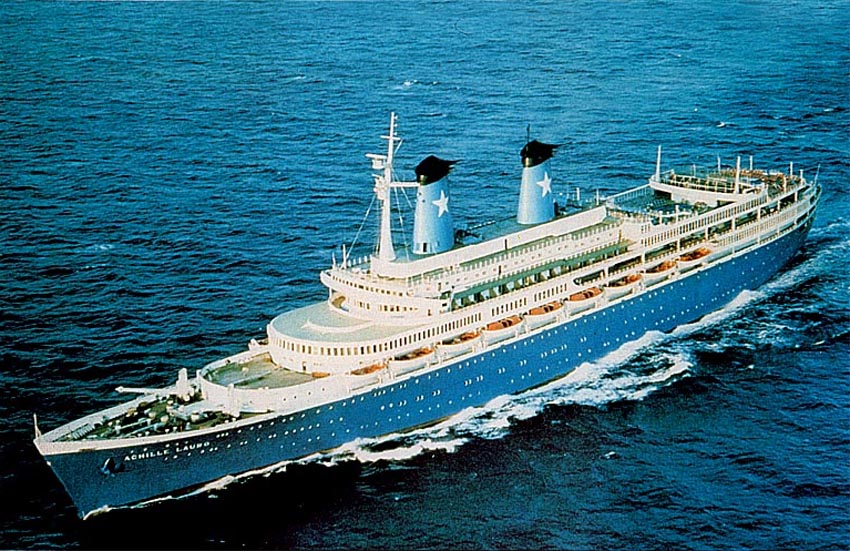 The beautifully rebuilt MS Achille Lauro is seen at full speed at sea as she heads for Sydney Australia
I trust that you will enjoy the many photographs of her, especially her interiors, be it First Class or Tourist Class, for both had wonderful and beautifully appointed public venues and ample deck spaces as well as her cabins! For those who later sailed on the completely rebuilt Italian liner and cruise ship the MS Achille Lauro, you will also be delighted seeing her again, as she was certainly an amazingly stylish ultra modern liner as well as a delightful cruise ship, but sadly Achille Lauro was an unlucky ship, but you can read all about her many trials and tribulations, as well as her good days on her own three pages.
Enter the MS Willem Ruys - Achille Lauro page
**************************

Updated Feature
29 Page Sitmar Line / Cruises Feature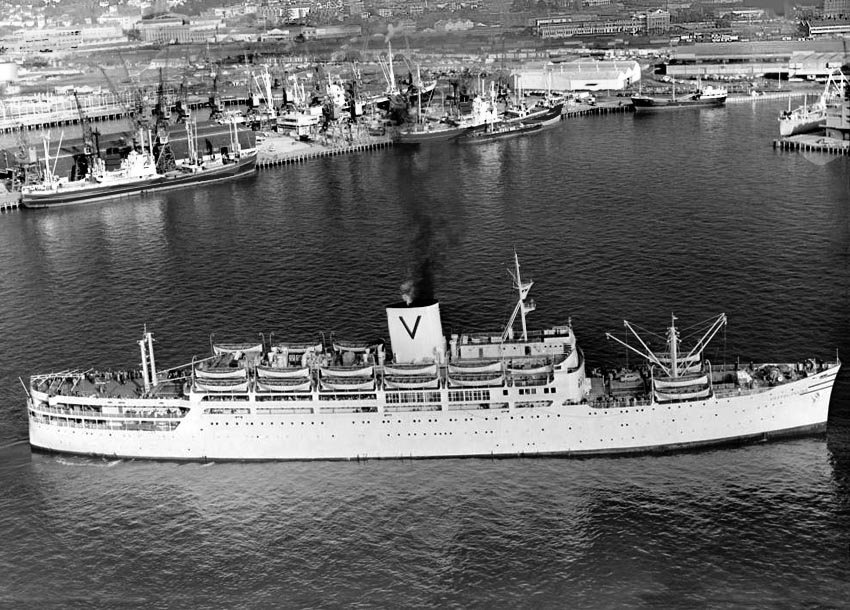 The delightful and popular old liner SS Castel Felice right through to their ultra modern cruise ships of the late 1980s
Sitmar Line, which in the 1980s was renamed Sitmar Cruises, but SITMAR was a company name, which was derived from the full company name; Societa Italiana Trasporti Marittimi, which is in English; Italian Maritime Transport Company. Sitmar was originally an Italian shipping line founded by Russian Mr. Alexandre Vlasov; however the company's headquarters were later transferred to Monaco. Mr. Vlasov originally operated cargo services, which commenced in 1937, but he gradually purchased laid up ships after the WW2 and rebuilt them into Passenger Liners and commenced passenger services from 1947 and continued until 1988, when the company was taken over by P&O/Princess Cruises.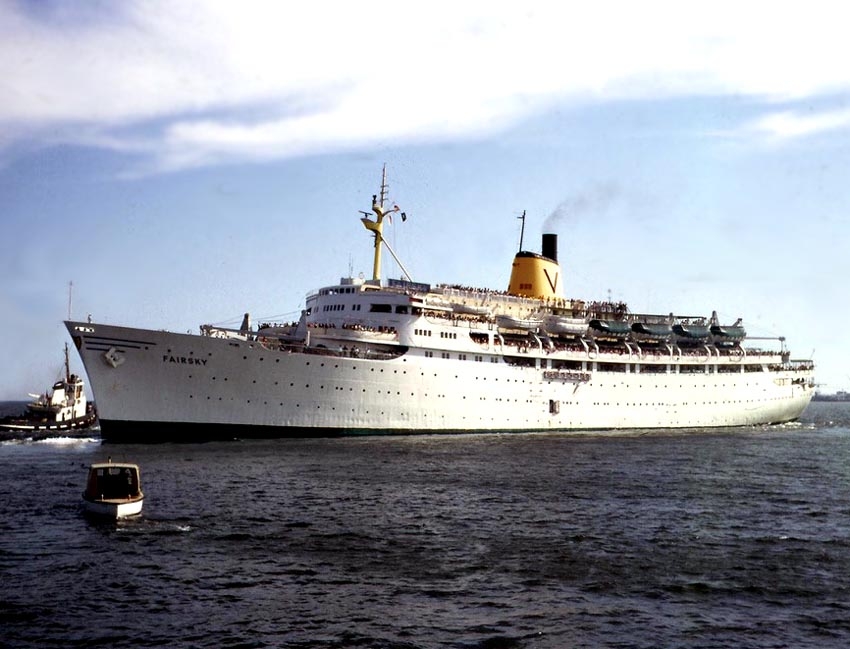 SS Fairsky seen in Melbourne January 25, 1971
This amazing and extensive feature covers every single Passenger Liner and Cruise Ship including the only ever completed new build, the SS Fairsky, which later became the Pacific Sky in Australia, as well as those ships that were in building, but completed for Princess Cruises as well as a number that had already been designed by Sitmar and placed on order and were built by P&O/Princess. The latter three are currently sailing for P&O Cruises Australia, as the Pacific Pearl, Pacific Dawn and the Pacific Jewel! However, the smaller ships are certainly fascinating and were greatly loved, the SS Castel Felice, ex Kenya, the MS Fairsea, SS Fairsky seen below and the greatly loved TSS Fairstar, ex Oxfordshire (see Item 3). Not to forget the Fair Princess and the Dawn Princess, the two ex Cunarders, which were the two Sitmar Cruises American ship operating very successful luxury cruises when they were named the TSS Fairsea and the Fairwind, which was renamed; Sitmar Fairwind.
I am sure for the countless of thousand who have sailed on a Sitmar Liner to or from the USA, Canada, Australia or New Zealand, or taken a cruise on one of their wonderful ships in their later days, and remember that the offshoot of Sitmar today is the Ultra Luxury all Inclusive, All Suite Silversea Cruises is still cruising the globe, but no longer with migrants, but in the top bracket! The Company also mans countless Cruise Companies and V-Ships is one of the largest and the most important ship management company in the cruise industry today and again, we all know what "V" stands for!
Enter the The Sitmar Site which will take you to all the early Sitmar Liners
OR Visit the Brand NEW Sitmar EXPERIENCE covering the MV Fairsea & Fairwind by Clicking the Image Below
These ships later became known as the Fair princess and Dawn Princess
Or ENTER the Sitmar Feature HERE
**************************
I trust that the above new and updated features will be enjoyed as they will have many new and/or larger photographs; in addition I have added new details to existing features and stories where applicable!
Reuben Goossens.
ENTER OUR … ssMaritime Main INDEX
Where you will discover over 700 Classic Passenger & Passenger-Cargo Liners!
**************************
Visit the Following Special Maritime Sites
Also Visit the author's cruise pages
Also visit Maritime Links & our Maritime Art pages!
"Blue Water Liners sailing to the distant shores.
I watched them come, I watched them go and I watched them die."
ssMaritime.com & ssMaritime.net
Where the ships of the past make history & the 1914 built MV Doulos Story
If requesting Passenger or Crew Lists or Sailing Schedules, I am sorry your email will be Deleted!
I receive hundreds of requests and I simply do not have any lists or schedules available.
Please Note: ssmaritime and associated sites are 100% non-commercial and the author has never sought funding or favours, never have and never will!
Photographs on ssmaritime and associate pages are either by the author or from the author's private collection. In addition there are some images and photographs that have been provided by Shipping Companies or private photographers or collectors. Credit is given to all contributors, however, there are some photographs provided to me without details regarding the photographer or owner concerned. Therefore, I hereby invite if owners of these images would be so kind to make them-selves known to me (my email address can be found on www.ssmaritime.com) in order that due credit may be given.
ssMaritime is owned & © Copyright by Reuben Goossens - All Rights Reserved