ssMaritime.com - Enter a world of Classic Passenger Liners, Passengers-Cargo Ships and humble Migrant Liners from around the world
Please Note: Firefox & some other Search Engines may not be suitable
Use Google Chrome for this Web Page to load perfectly!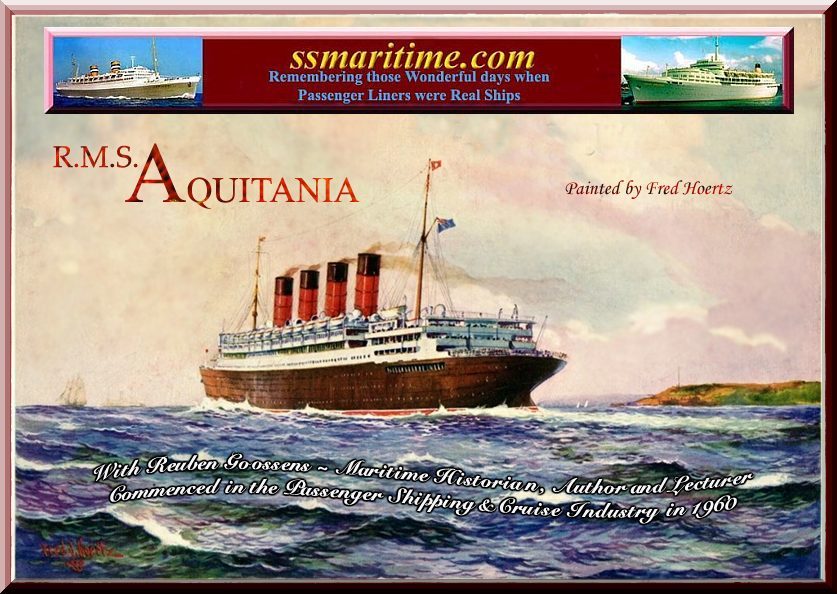 Please Note: All ssMaritime and other related maritime sites are 100% non-commercial and privately owned, thus ssmaritime is NOT associated with any shipping company or any other organisation! Although the author has worked and been involved in the passenger shipping industry for well over 60 years, but due to his old age and poor health, he was forced to retire. Yet, he has completed well over 1,435 Classic Liners, Passenger-Cargo Liners as well as humble converted C3 converted Migrant Liners, which has transported countless thousands folk to the new world, as well on vacations'. I trust the features online will continue to provide Classic Liner and Ship enthusiasts both the information they are seeking, but more so provide a great deal of pleasure and relive many happy memories!
Also Note: The email service to ssMaritime is sadly no longer available, due to the author's old age and chronic illness as well as being disabled, etc. In the past ssMaritime received a huge number of emails each day, but
Please Note: If there are any photographs, images or copy missing on this page, please refresh the page
**********************
My thoughts on Covid-19 & the evil Delta & Omicron Variants:
Welcome to ssMaritime.com. There is no doubt that 2020/21 and again now in 2022 has proven to be a tragic time throughout the world, due to the sudden arrival of COVID-19 and now with that evil even more dangerous "Delta Strain" and that much faster spreading "Omicron" variant.
A stern warning from the Director-General "World Health Organization"
An Urgent Message from the Director-General of the United Nations, "World Health Organization" (WHO), who obviously disagrees with our PM and all those who continue to spread the story that "Omicron is mild". Is there a reason it is being played down so much, which is totally untrue as we will find out below.
I am sure that many are tired of our Prime Minister and his team continually playing down the "Omicron" variant as being "mild", but he and all those that keep pumping that lie, are doing it for a Liberal/National Party reason, and that reason is directly related to their close association with business and industry. Yes it is all about money, and do they really care if the people of Australia are heading rapidly down the drain and falling ill with this evil and very dangerous variant. Already countries in Europe are going back into 'Lock Down' and they will be mostly closed over Christmas!
But what are we being told by the "World Health Organization", Our Prime Minister has NOT mentioned it once, ask the question, WHY? Could well be that he is playing Mr nice and the happy chappie all over our TV's for yes, there is an election on the horizon.
On December 14, 2021, the Director-General of the United Nations, "World Health Organization" (WHO) Dr. Tedros Adhanom Ghebreyesus, made a powerful statement; when he clearly stated "It is a mistake to dismiss the Omicron variant as mild".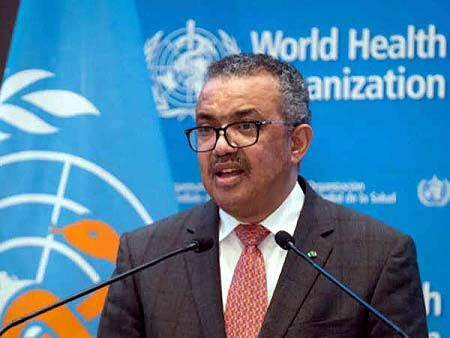 Dr. Tedros Adhanom Ghebreyesus (WHO)
He continued;
Dr. Tedros Ghebreyesus said at the WHO headquarters in Geneva that "the Omicron variant is now present in some 77 countries". Also that;
"Omicron is spreading at a rate we have not seen with any previous variant. We're concerned that there are those who are dismissing Omicron as mild, and it is a mistake to dismiss Omicron as 'mild'. Surely, we should have learned by now that we will underestimate Omicron at our peril."
"The sheer number of cases could once again overwhelm many unprepared health systems. I need to be very clear: vaccines alone will not get any country out of this crisis. Countries (Governments) can and they must prevent the spread of Omicron with measures that work today."
It is sad, but what is being done in other countries, the only way to minimise this evil and deadly variant, yes people are very sick filling hospitals to overflowing and sadly are dying, is NOT, like we are being told over and over again, by you know who, Mr leader of this nation who only has a heart for business "We have to live with Covid." Well you have to be extremely uneducated to agree with that!
Please stay safe and healthy and please go and get vaccinated, do not believe the evil lies of those evil anti- antivaxers, for they are sadly completely misled as their info has come from the most evil sources; being American Ultra Right Movements, and I do mean of the Nazi kind!
In regard to cruising, even though some cruise ships are back in service in some sections of the globe, but PLEASE be very, very careful, for it could be still too dangerous, and sadly I would not recommend a cruise whilst that Delta virus is still around and considering that shipboard air-conditioning systems allow air to be shared between cabins, that is dangerous! I hope that the companies have spent time correcting this massive problem. If not, sadly I will never cruise again!
Reuben Goossens.
*****************************
New Ships Located on my Files and are now Featured Online
Recently, whilst checking I discovered a good number of ships that I had already covered, however I was unable to locate them on the Index, or online. Thus some have now been uploaded, and these ships are three Dutch ships, 1. the S.S. Prinses Amalia of 1874, 2. the S.S. Gelria of 1913, and 3. the M.S. Colombia of 1930, as well a magnificent Scandinavian super luxury cruise ship 4. the M.Y. Stella Polaris of 1927, and two great Italian liners - 5. the S.S. Conte Grande of 1928, and 6. the S.S. Frederico C of 1958, and finally 7. the R.M.S. Monarch of Bermuda of 1931, which was sold and she became the S.S. "New Australia" and finally the Q.S.S. "Arkadia". These fine ships can all be found on the ssMaritime Index. There will be I think three or four ships to be looked at and slightly updated, and I will mention it when online, but due to my health situation I can only do this when able, my kind helper will complete his page, etc.
However, featured below is the spectacular …
R.M.S. Aquitania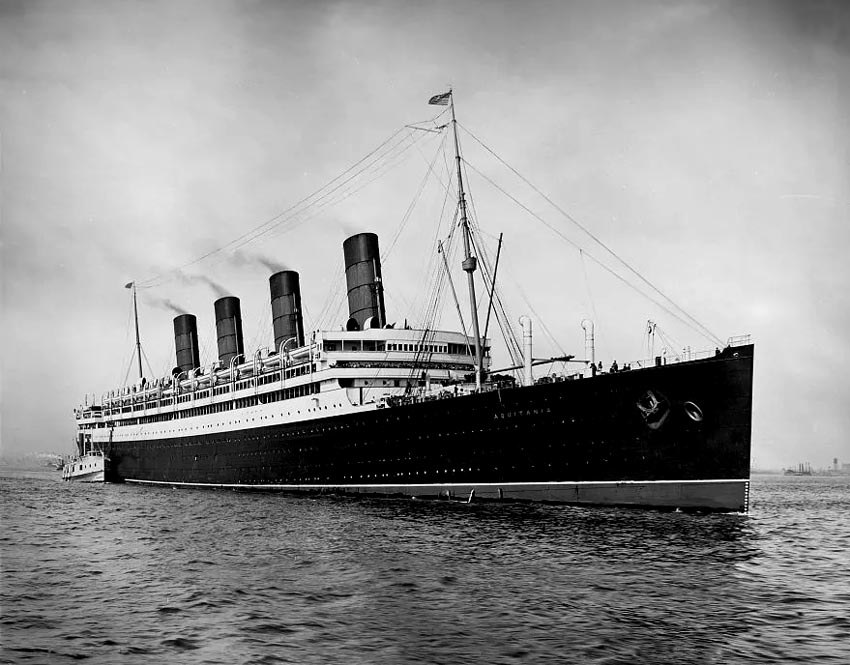 The elegant liner R.M.S. Aquitania is seen arriving at New York whilst on her maiden voyage
Plans for the new liner commenced for the "Cunard Steamship Company Ltd" commenced early in 1910, and her design was undertaken by Cunard's Naval Architect 'Leonard Peskett'. He drew up plans for a larger and a faster vessel than both the "Lusitania" and the "Mauretania". Plans were sent to several yards, but John Brown & Co Ltd., at Clydebank was chosen and the new four stack ship was ordered on December 8, 1910. She was laid down on June 5, 1911 in Yard 409, and she was eventually launched on April 21, 1913, the Countess of Derby. She was delivered to Cunard ion Liverpool on May 24, 1914 and on the 30th she departed on her maiden voyage to New York.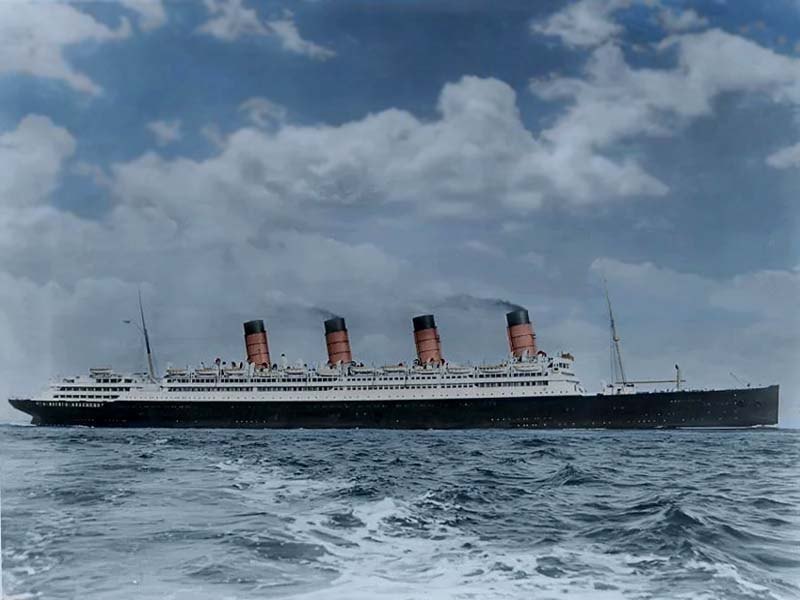 R.M.S. Aquitania at sea
But what made the "Aquitania so very special was her brilliant interiors and her magnificent exterior design gave the nickname of; "The Ship Beautiful", and she was that indeed!
The First Class Lounge, also known as the "Palladian Lounge" was the signature venue of the ship and was located on Promenade (A) Deck and it featured a rich Baroque-style of decoration. Whilst on a lower deck of the ship, was the very first ever Swimming Pool to be placed on a Cunard liner.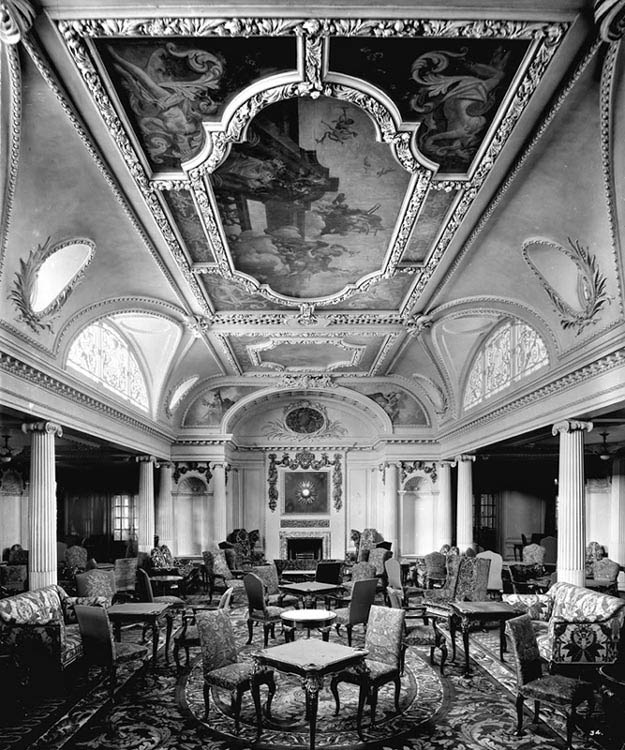 The Palladian Lounge
Whilst the "Smoking Room" was entirely traditional and was called the "Carolean Smoking Room", its décor was staggering with fine art and classic style furnishings.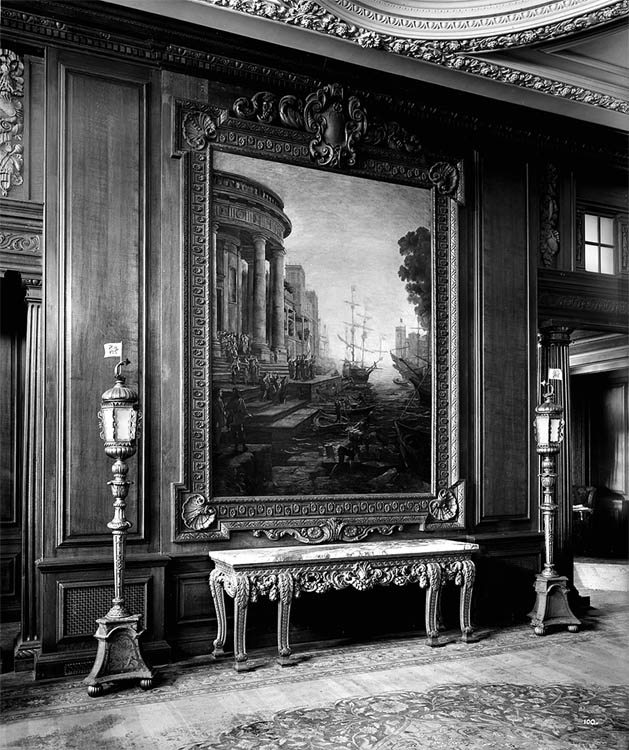 A part of the Smoking Room
However Second Class also had fine Lounges, in fact they were superior to some first class venues on other liners!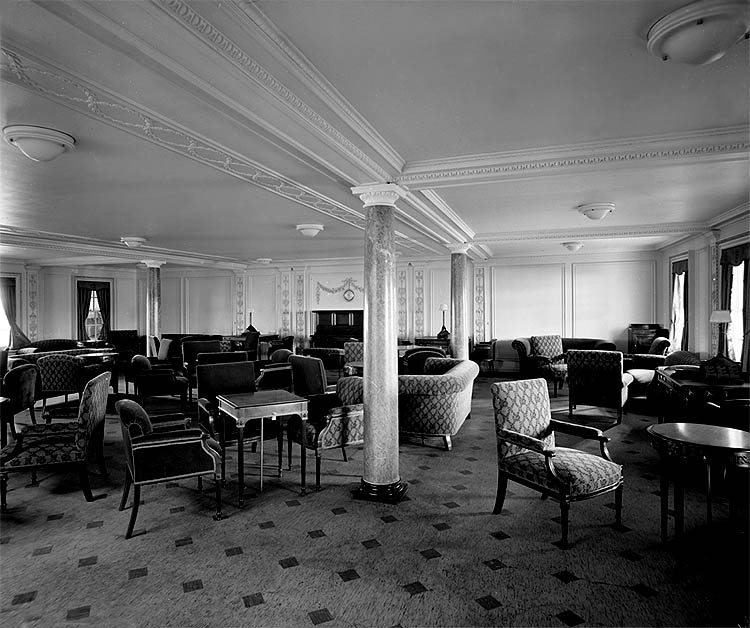 Second Class Lounge complete with a centre ceiling well (out of sight) featuring a fine class dome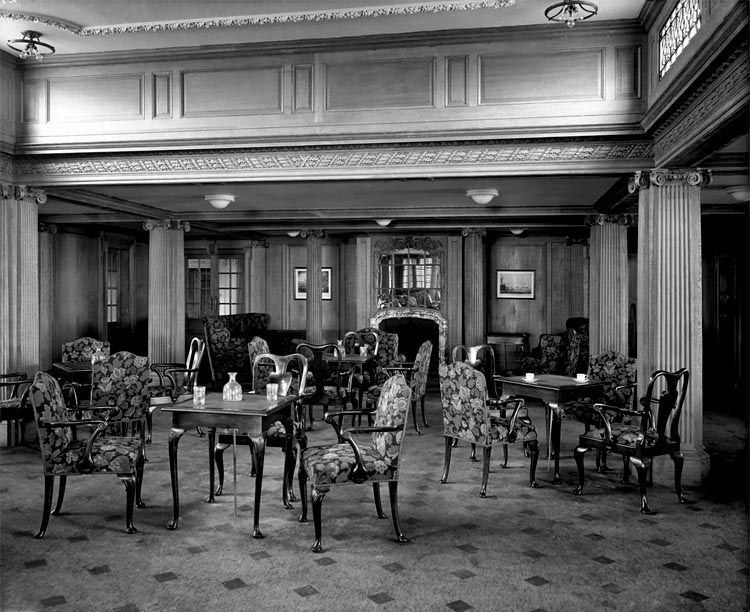 This is the superb Second Class Smoking Room that is also known as the "Kensington Palace Smoking Room"
Third Class had every facility, several lounges, drawing room, smoking room, a library and like the other classes a dining room.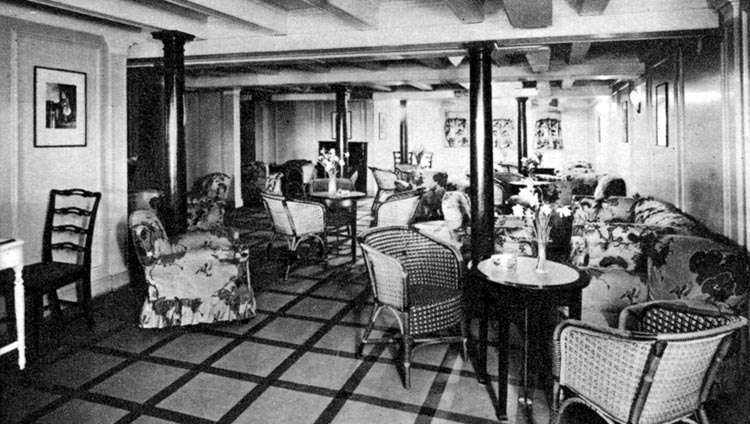 A most pleasant Third Class Lounge
This fine ship had a long 36 year career, which saw her serve in two World Wars, as an Armed Merchant Cruiser, a Hospital Ship and finally a Troopship. This R.M.S. Aquitania feature is three pages and has countless high quality photographs, it is one of the most detailed studies of a ship I have online! Thus enjoy it!
Enter the RMS Aquitania Feature
*****************************
In Conclusion - by friend & editor:

Goossens asked me to say a very special thank you, to all ship lovers from around the world, for he has been astounded that there have been so many of you reading this ssmaritime, in fact friends this site has now reached over 573.4 million readers, and that is simply beyond belief! And please remember, that all his maritime/cruise sites have always been and will remain 100% non-commercial, thus ssMaritime will continue to provide wonderful and hopefully joyful memories for past passengers from around the world, and for those who really love passenger liners and older cruise ships! Goossens said; "it has been a great joy for me to present these classic liners for the readers of ssMaritime, and it has been a joy to have been able to write for so many years having started back in the early 90's". Thus please go and enjoy the well over 1,435 wonderful maritime memories, and we pray that after a lifetime of sharing his love of these fine ships with you, that they will live long after he is gone, and that this site will give knowledge to future and new generations and provide wonderful memories to those who remain!

Reuben Goossens is now retired due to extreme poor health, completely disabled in addition he has poor eyesight, the very last feature he placed online was the R.M.S. Aquitania, with great difficulty.
Best wishes -
K.S.
Over the years Reuben has received thousands of Dear Mr. Goossens emails of thanks and on this page there are just some of them.
Please Note: Email service to ssMaritime, is sadly no longer available,
This is due to the author's old age and illness as well as being disabled, etc.
*************************
"Blue Water Liners sailing to the distant shores.
I watched them come, I watched them go and I watched them die."

Featuring over 1,435 Classic Passenger Liners, Passenger-Cargo Liners & Classic Cruise Ships!
Or ENTER HERE
**************************
ssMaritime.com & ssMaritime.net
Where the ships of the past make history & the 1914 built MV Doulos Story
The Author has been in Passenger Shipping & the Cruise Industry since 1960
In addition he was founder of "Save the Classic Liners Campaign" in 1990.
Please Note: ssmaritime and associated sites are 100% non-commercial and the author seeks no funding or favours of any shape or form, never have and never will!
Photographs on ssmaritime and associate pages are by; the author or from the author's private collection. In addition there are some images that have been provided by Shipping Companies and private photographers or collectors. Credit is given to all contributors. However, there are some photographs provided to me without details regarding the photographer/owner concerned, so sorry if this is the case.
This notice covers all pages; although, and I have done my best to ensure that all photographs are duly credited and that this notice is displaced on each page, that is, when a page is updated!
ssMaritime is owned & © Copyright by Reuben Goossens - All Rights Reserved.