Please Note: Firefox and some other search engines are not suitable – Use "Internet Explorer" for this page to load perfectly!
Click the logo above to reach the ssMaritime FrontPage for News Updates & "Ship of the Month"
With Reuben Goossens
Maritime Historian, Cruise'n'Ship Reviewer & Author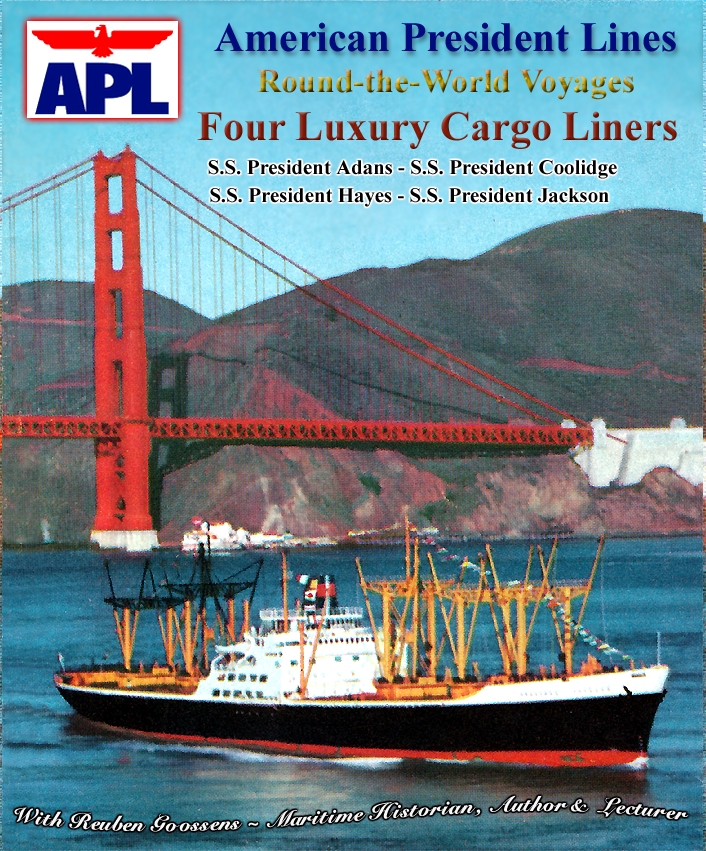 Introduction:
American President Lines (APL) were well known for operating some excellent all First Class Passenger liners that operated to many parts of the world, such as the superb 1947 built 15,539 GRT (Gross Registered Tons) SS President Cleveland, as well as many other ships and luxury passenger-Cargo liners!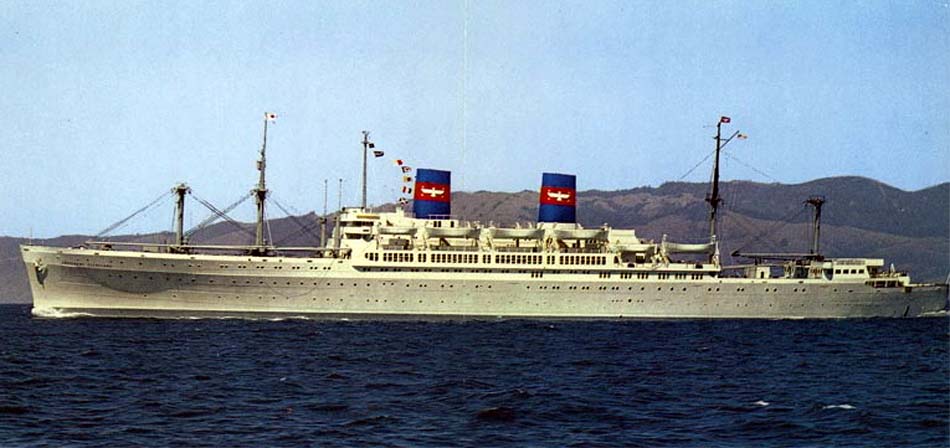 The beautiful SS President Cleveland
From the author's private collection
However, it was in the mid 1950s that APL was ready to commence their $200,000,000 ship-replacement and modernisation program, commencing with a new fleet of Passengers-Cargo liners, and in order to do so they obtained four ships all that were of what was known as a Mariner design.
In January and March 1955 and American President Lines obtained four C4-S-1a class, being rather basic cargo ships, all having been built by Newport News Shipbuilding Co around 1955 and APL took them to by Bethlehem Steel Co., at their Key Highway Yard at Baltimore, Maryland, where they were rebuilt and refitted with the superstructure fitted with modern First Class luxury accommodation's with air conditioning being fitted to all passenger and crew areas.
Other modifications included additional *deep cargo tanks as well as refrigerated cargo spaces and new modern cargo gear. These ships would be operating on the Far East and the Round the World service. They looked very smart with their black hull all white superstructures and a tall shapely dark blue funnel with a traditional APL logo on it! Ships had four cargo handling gear forward and three aft servicing their seven hungry holds! *Further details regarding their cargo holds down the page.

Here we see their previous profile
Illustration by & ? Karsten-Kunibert Krueger-Kopiske
Upon completion, the ships were renamed President Hayes IV, ex Old Dominium Mariner (built in 1952), President Jackson IV, ex Volunteer Mariner (built in 1953, President Adams IV, ex Palmetto Mariner (built 1953) and President Coolidge IV, ex Cracker State Mariner (built 1954).

And here are the new and completed luxury Cargo liners of APL, with a new top deck featuring the all glass Sky-Room Lounge!
Illustration by & ? Karsten-Kunibert Krueger-Kopiske
Please Note: All images below were taken from a brochure from the author's private collection.
These fine ships became the largest and fastest combination cargo-passenger ships ever to be placed in operation. One of these ships special features was that these rather traditional cargo ships had the most modern and deluxe passenger accommodations and facilities that were ever installed on a freighter. For the simple truth is that the passenger accommodation on board would easily rival any of the latest cruise ship sailing today in the twenty-first century! Amazingly passengers enjoyed the luxury of a glass-enclosed lounge, the Sky Room affording a view in all directions; however, forward there was a raised "Observation Platform" with forward views. This venue was above the Bridge and occupied the whole deck, with a delightful sun deck aft of the Sky Room!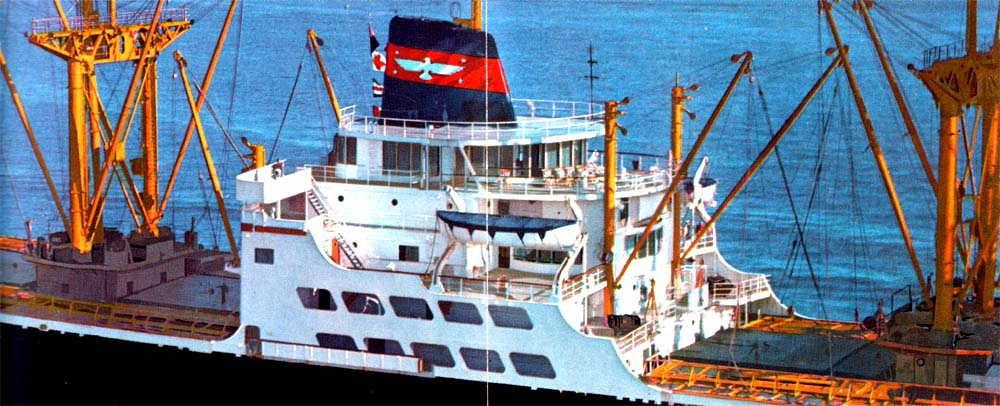 Note the Sky Room topside, Suite and Staterooms are located on Boat Deck (below the lifeboat)
Aft of this deck is the Dining Room with the curved windows, and there is ample deck space
Passenger Facilities:
As can be seen above, the superstructure saw some radical changes as the passenger staterooms were moved from the upper deck to the Cabin (Boat) Deck, whilst the brand new glass-enclosed Lounge and Observation Platform was built above the Bridge, around a new shapely funnel, which was a new innovation for any passenger-cargo ship in history! In addition a single passenger elevator (lift) was installed to provide access to all decks.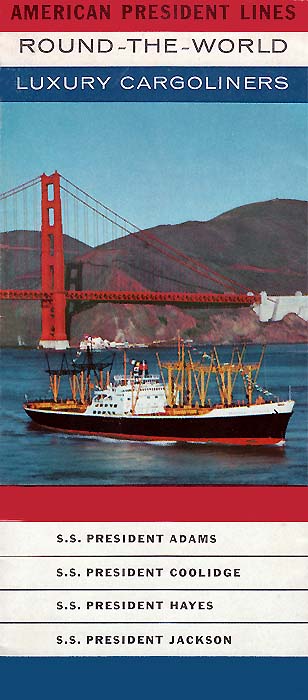 An APL brochure issued in September 1957

I have used this brochure extensively on this page!

The brochure above stated;

"American President Lines, Picture Window 'Penthouse' with a view of the whole wide world."

"Picture yourself aboard her, one of the de Mariner-Class Presidents. She is sleek, deep-hulled Cargoliners, yet she's the embodiment of American modern living and good taste. She's completely air-conditioned for all weather comfort, elevator-equipped, and boasts modern 'hi-fi' and short wave stateroom radio, just-right measures of seafaring adventure and gracious home life of world-ranging excitement and deck-chair repose!

Notice her upper-deck lounge, nearly all glassed, with a skyroom observation lounge commanding a sweeping vista of the world and the sea! Credit for designing of all passenger accommodations, goes to San Francisco architects Anshen and Allen who have won numerous awards and are credited frequently in national home magazines. Whilst the interiors, which vary in theme aboard each of the vessels, bear the master touch of several of the greats in the world of design!"

Public Venues

.

The Sky-Room, being the Main Lounge on board was the heart for passengers to get together and meet, and it certainly had every possible facility that any passenger ship could offer. This venue had three separate levels, the aft section being overlooking the sun deck and the stern section of the ship, was the lowest. This area was beautifully furnished and carpeted with a timber veneer aft wall featuring a variety of art works. Going forward on the starboard side, the floor was raised slightly and this was the delightful Card Room that also contained the ever popular self-service Bar, which was located along the superbly timbered inside wall. However, at set times a steward would be scheduled to be on duty!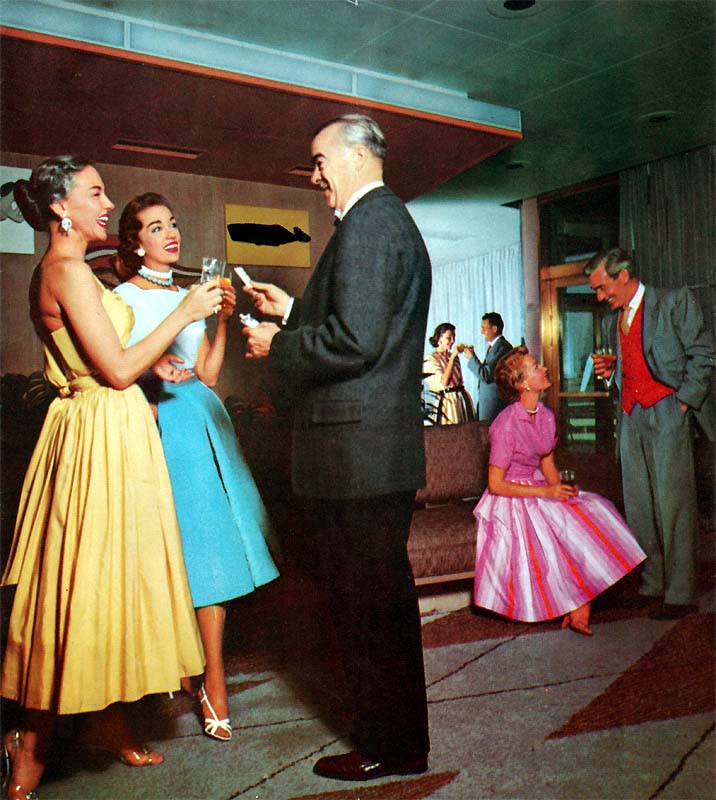 ?---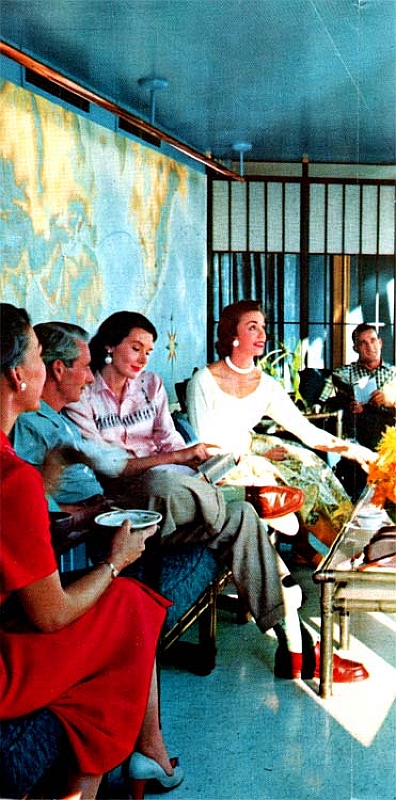 Left:

The aft section of the Sky-Room

Right: The Observation Platform, located directly above the Bridge overlooking the bow of the ship

Far forward on a raised section directly above the Bridge is the "Observation Platform" that is beautifully furnished for a relaxing time looking out forward toward the sea and it is an ideal place to be as the ship arrives into port! Then from the platform, we step down to the middle level again to the port side where we would have found the Library located on the timbered inside wall as well as the main large screen TV and Stereo that controls, the several other TV's, or just that one if private viewing was desired. In addition, there was an excellent sound system that could be controlled to be played locally, or go into the lounge and out on deck, whatever was desired! This area has a vinyl floor covering and further seating. The entire Sky-Room had Ceiling to floor curtains with colours to match each ships décor, as they did vary somewhat!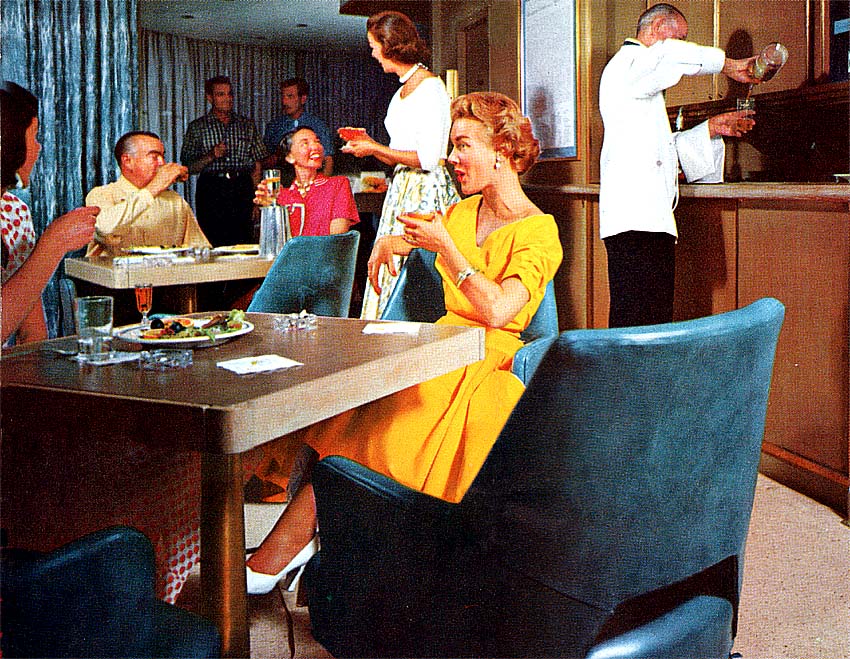 ?---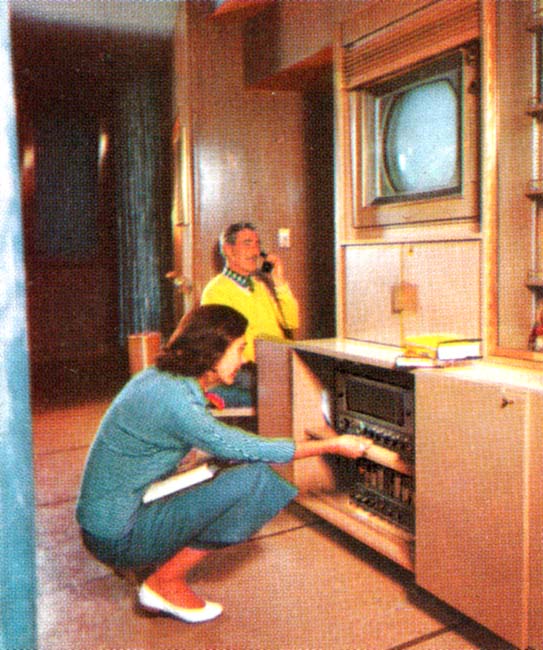 Outside of the Sky Room was a spacious Sun Deck overlooking the ships aft cargo decks, but it was a most popular area as it was close to the bar and often there would be soft music playing.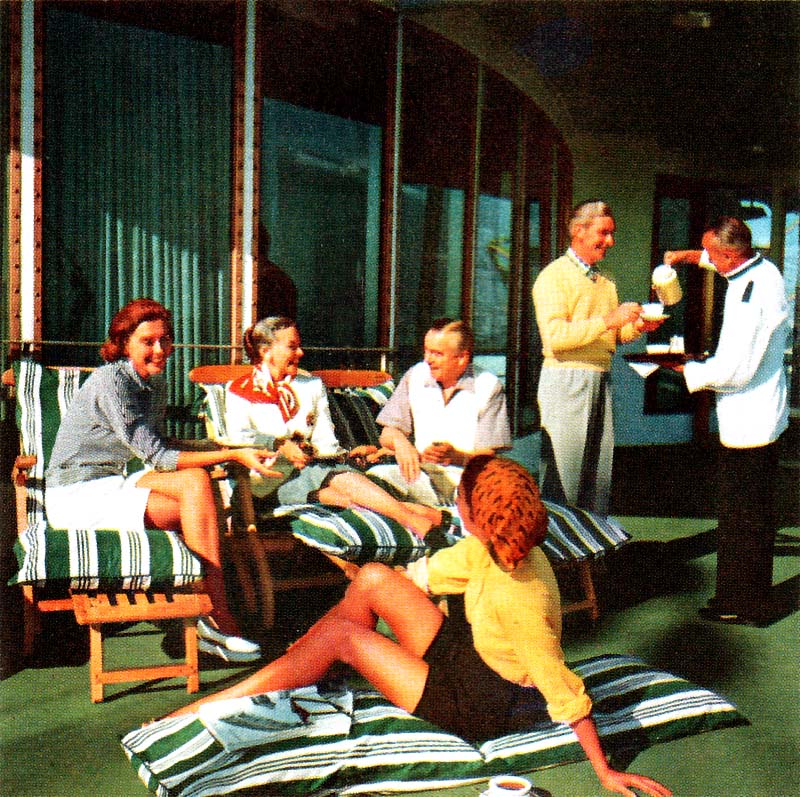 Relaxing out on deck aft of the Sky-Room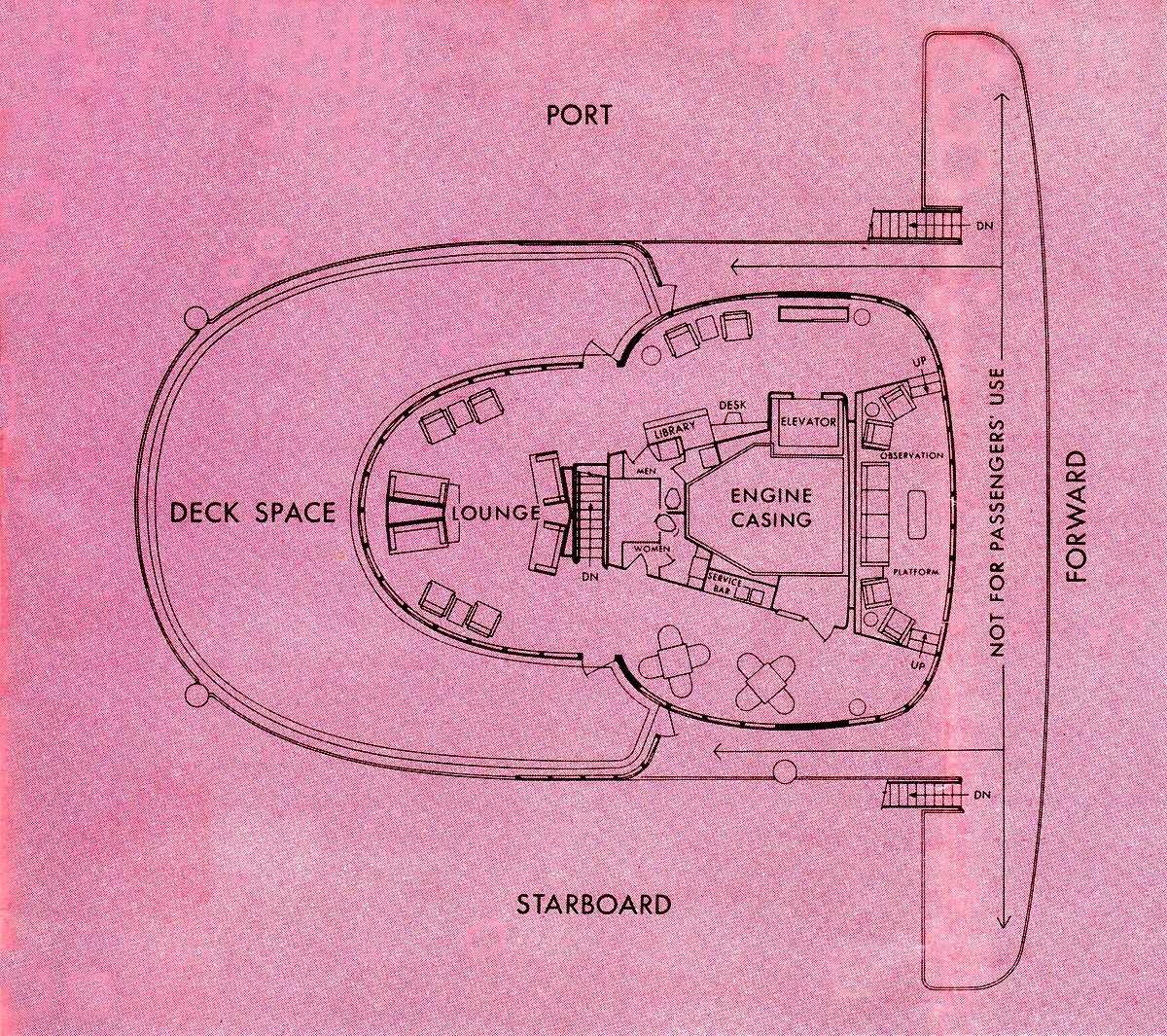 Lounge and Sun Deck
Suite, Staterooms & Dining Room.
The ships provided a total of 15 beds (13 beds and 2 upper berths), they were limited to carrying a maximum of 12 passengers as some Staterooms were several Single Staterooms and the Suite occupied two rooms. The staterooms are for single, double, and three-person occupancy and are arranged as individual or connecting rooms to accommodate either single passengers or family groups. The overall passenger design of these ships was by San Francisco architects Anshen and Allen and interior design was assigned to three other famed designers. The work on the President Jackson and President Hayes was done by Eleanor Le Maire of New York. Whilst H. Clifford Burroughs, from New York was did the President Adams. Styling for the President Coolidge was assigned to a Michael Taylor of San Francisco.
All of the passenger accommodations and the crew's quarters were fully air-conditioned, with thermostat controls being installed. While the interior decorations varied from ship to ship, there was basic theme that was retained to a degree on each ship. Staterooms were superbly finished with Johns-Manville Marinite, marine veneer, and marine acoustical units. "Joanna" vinyl wall fabric was used to advantage throughout the quarters. Robbins vinyl floor tile and Crossfield Products, Dexotex-Neo-tex plating had been installed on the decks.
Suite & Staterooms.

The suite had a twin/double bedroom with a separate lounge and there were two bathrooms
The lounge had a sofa that could be used as a bed for a third person as it pulled out
Due to the cropping I had to do, the bedroom looks smaller than it really is for I had to cut parts of it to fit!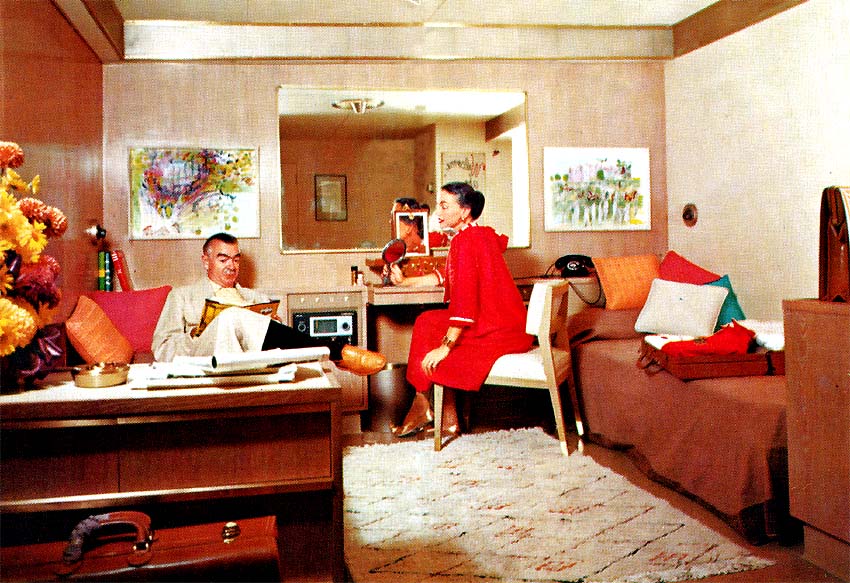 A twin bedded stateroom – all rooms had interconnecting doors, thus thse could
Be linked with a single or a double room if travelling with a family or friends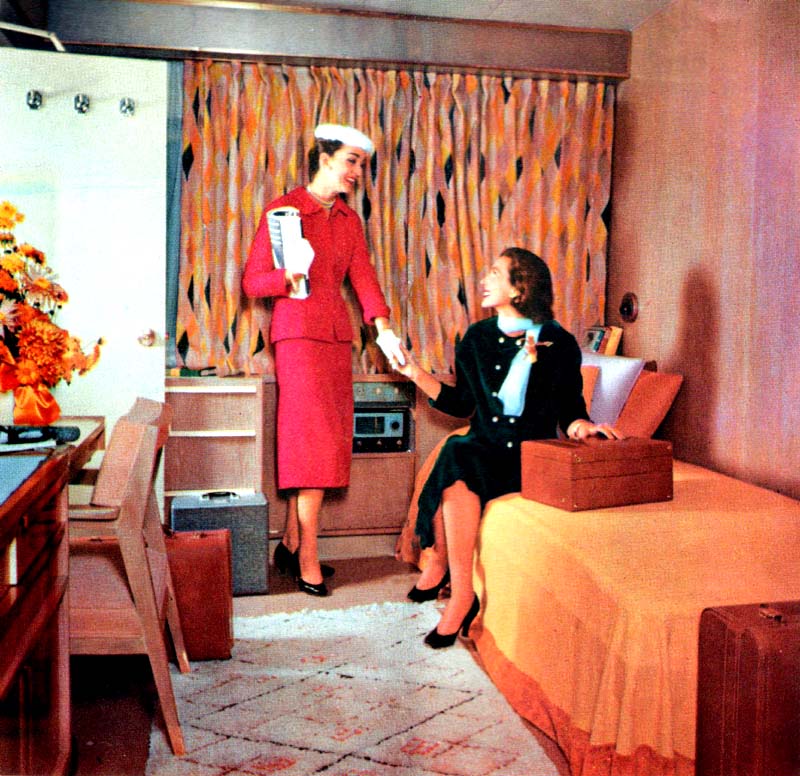 A cosy single bed stateroom
All Staterooms had large windows and the bathrooms had either a bath or a shower or both, as well as a WC and every other possible luxury amenity! In the room there were ample wardrobes and deep drawers, a radio, phone and a writing desk with overhead lighting.
The Dining Room.
The massive double Glass plated Dining Room doors were just staggering, and there were some 35 windows installed into this wonderful venue. In line with all these conversions, the lifeboats were raised up one deck and their capacity increased to 75 persons.
For interest, as there was no bar service available in the Dining Room, guests were able to pre-purchase bottles of Champagne and wines of their choice etc from the Pursers Office. They could and have them cooled if required for their meals, and yes keep bottles of wine in their Staterooms as well in the Sky-Room Bar. The Canteen on board had all the usual needs that passengers could possibly need during a long voyage and these were for sale at regular hours.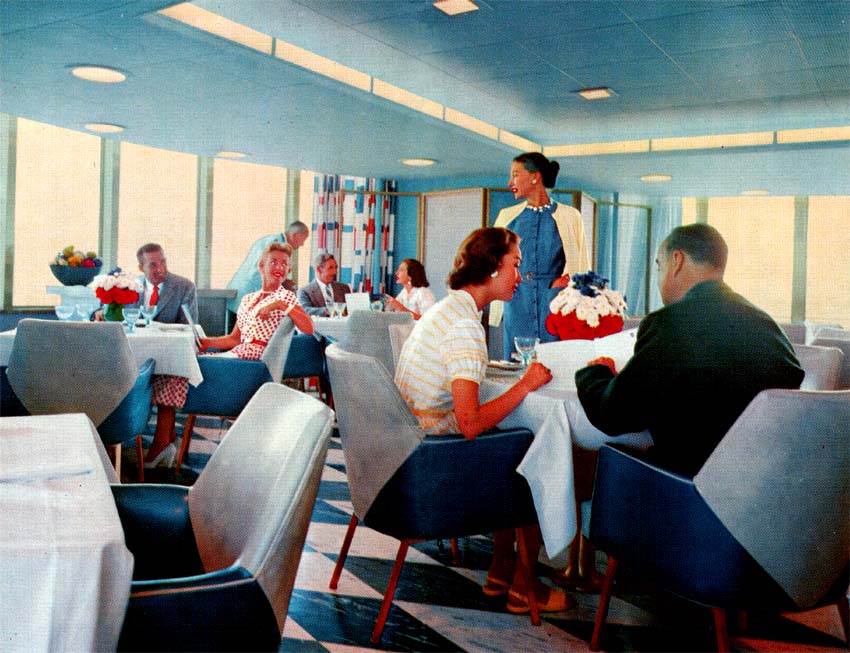 The delightfully spacious Dining Room for just 12 guests
There was no doubt about it, but the cuisine served on board these four APL luxury passenger cargo liners was simply first class as can be judged from the farewell dinner below. All meals from Breakfast, Lunch and Dinner was always a delight, for APL was famed for its fine cuisine!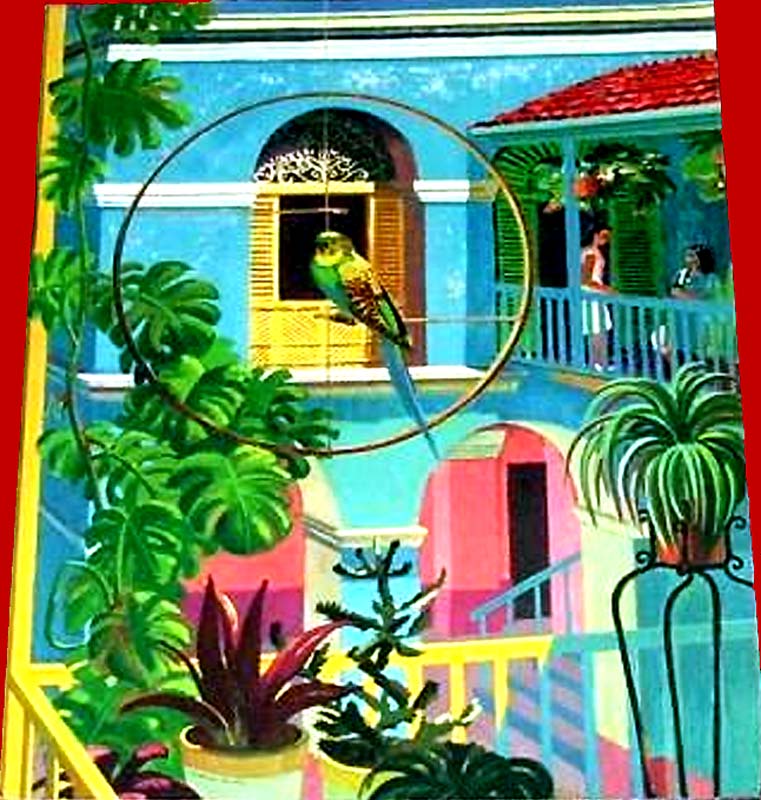 ---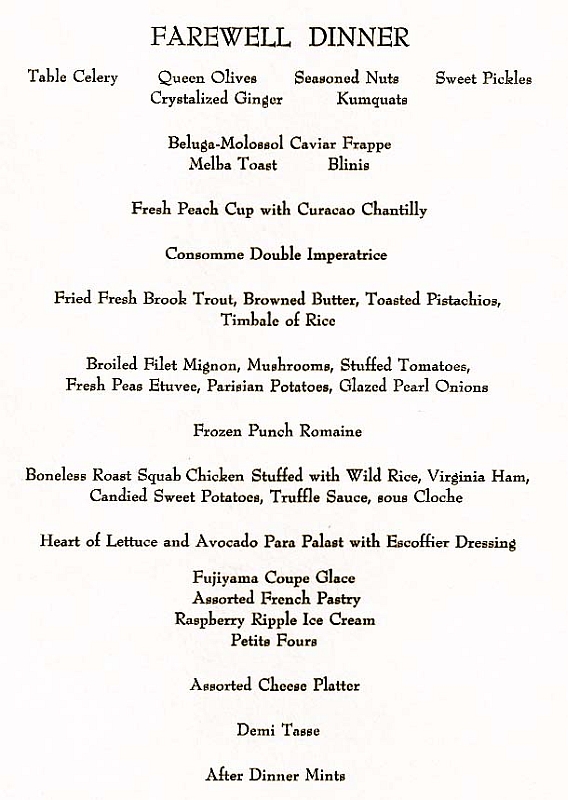 A typical APL Menu Cover and a Farewell Dinner Menu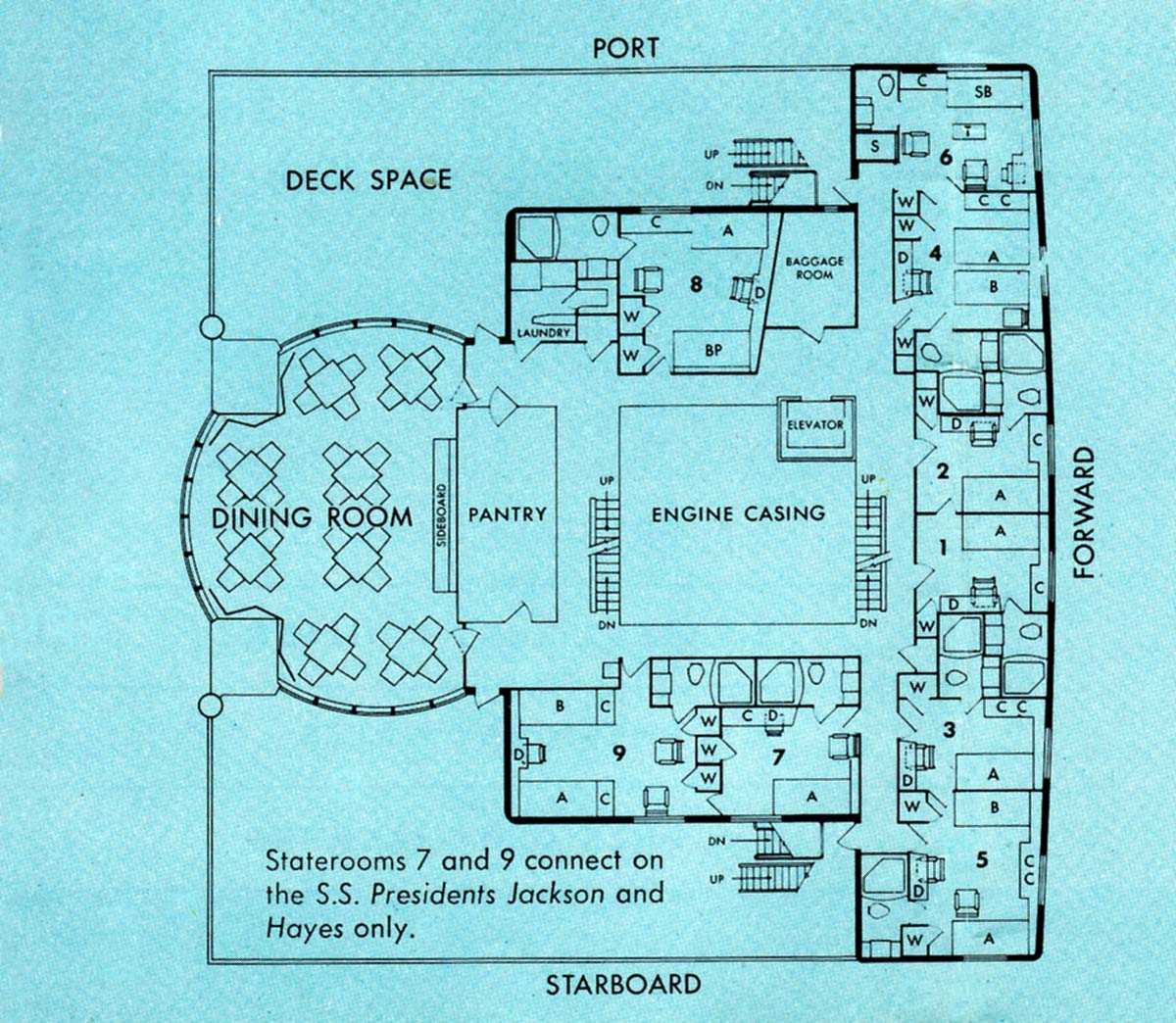 Cabin Deck with the Dining Room and additional deck space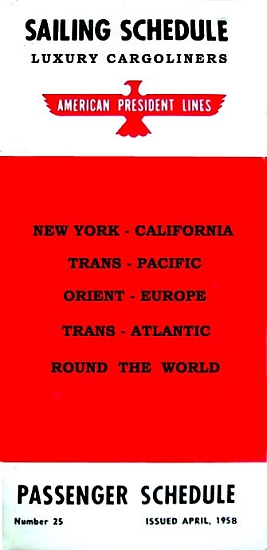 ?---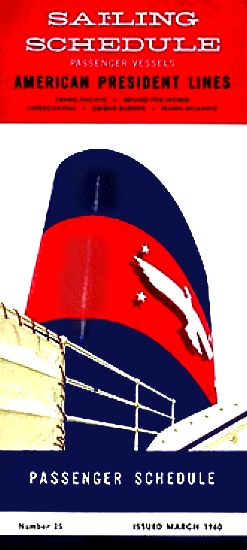 Two APL Schedules Left: 1958 & Right: 1963
Cargo Changes:
There were new cargo deep tanks installed in order to provide to carry a good 1,888 tons (based on 40 cu ft) of liquid cargo. About 1,500 tons of the total cargo deep-tank capacity was made up of special flush-type liquid-cargo tanks ranging in capacity from 20 to 300 tons. This type of tank would have reduced the ships port time by permitting rapid cleaning, inspection, loading and discharging of liquid cargoes. The refrigerated cargo space was increased from the original 30,254 cu ft to 53,150 cu ft. This additional reefer space had been installed in the No. 5 hold on the third deck and on 26-ft 6-in. level in way of the hatch square. There is 24,080 cu ft of freeze capacity and 29,070 cu ft of chill capacity. The existing boxes were subdivided to provide for more flexible storage. Four sets of 5-ton cargo booms were replaced with 9-ton booms. Thus holds Nos. 3 and 6 are serviced by four 9-ton booms each. The 60-ton boom originally servicing No. 4 hold was relocated to the forward side of the mast so that it now is serving No. 3 hold. All cargo gear is of the burtoning type with booms. The rigging and positioning of the booms is similar to the Ebel-type gear.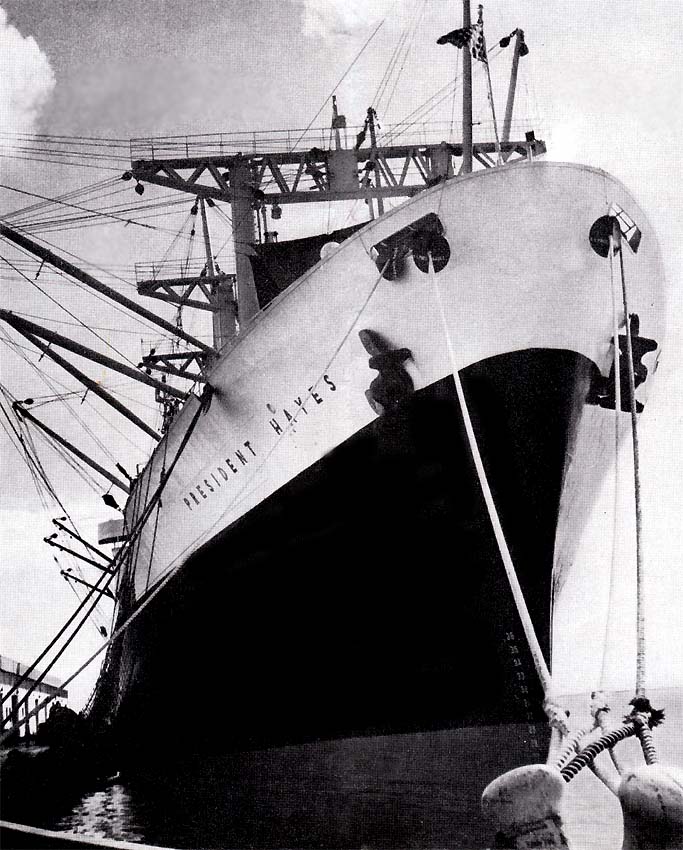 Although they were Luxury Passenger Cargo liners, they were still traditional working ships!
During their rebuilding other changes had been made to the crew quarters on the main deck as well as in the galley and crew mess rooms on the second deck. While the total of the ships refrigerated stores was untouched, but the dry stores and sundries were increased from 1,265 cu ft to 4,087 cu ft. The new slop chest and bonded stores add another 595 cu ft to the crew stores. The increases in these stores were gained by increasing the dry-stores room on the port side from frames 134 to 138, decreasing the size of the butcher shop and moving the engineer's storeroom. The engineer's workshop was increased in size by a third. The engineer's storeroom was relocated in tie port passageway at the after bulkhead. A separate electrician's shop was made in the engineer's storeroom on the starboard side.
To my knowledge, all ships have now been scrapped.
Specifications:
Built:? Newport News Shipbuilding Co - 1952-54.
Converted by:? Bethlehem Steel Co., at their Key Highway Yard at Baltimore, Maryland -1955.
Tonnage:??????????????????????????????? 9,280 GRT - 5,430 NET (US tonnages).
Engine:????????????????????????????????? Geared steam turbine powered, 19,250 HP.
Length:? 563.67ft - 171.81m.
Beam:??????????????????????????????????? 76.00ft - 23.16m.
Draught:??????????????????????????????? 29.83ft - 9.09m.
Screws:????????????????????????????????? 1 - 4 blades.
Passengers:??????????????????????????? 12.
Crew:??????????????????????????????????? 60.
These Ships offered the Very Best of Ocean Travel!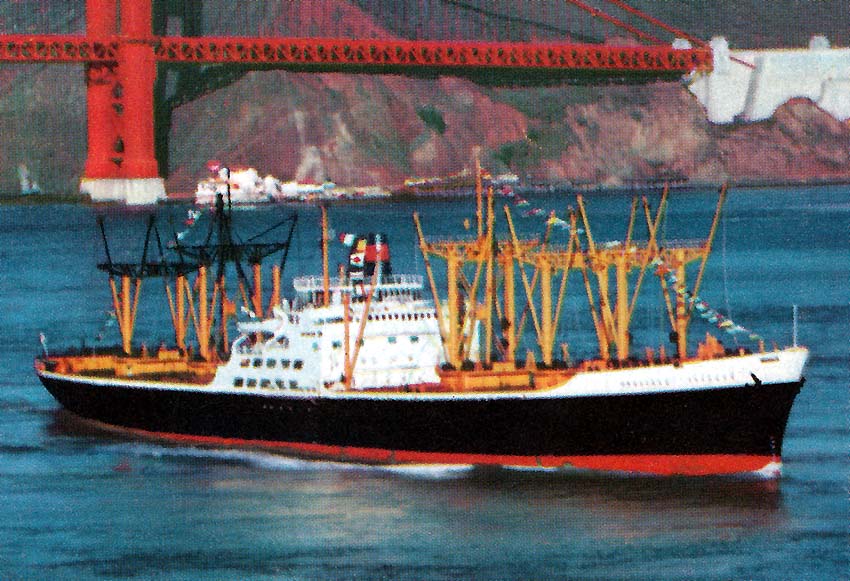 They were the best of the best of the American Passenger-Cargo Liners!
****************************************
Use the Back button on your browser or Close the Page to return to the previous page
or go to our
INDEX
Who is the Author of ssMaritime?
Commenced in the Passenger Shipping Industry in May 1960
ssMaritime.com
&
ssMaritime.net
Where the ships of the past make history & the 1914 built MV Doulos Story
Also visit my …
"
Save The Classic Liners Campaign
"
Photographs

on ssmaritime and associate pages are by the author or from the author's private collection. In addition there are some images that have been provided by Shipping Companies and private photographers or collectors. Credit is given to all contributors. However, there are some photographs provided to me without details regarding the photographer/owner concerned. I hereby invite if owners of these images would be so kind to make them-selves known to me (my email address may be found on www.ssmaritime.com only), in order that due credit may be given.
This notice covers all pages

, although, and I have done my best to ensure that all photographs are duly credited and that this notice is displaced on each page, that is, when a page is updated!
ssMaritime is owned and ? Copyright by Reuben Goossens - All Rights Reserved