ssMaritime.com & ssMaritime.net
With Reuben Goossens
Maritime Historian
Turkish Maritime Lines
MS Karadeniz
New – Including the MV Izmir & her sisters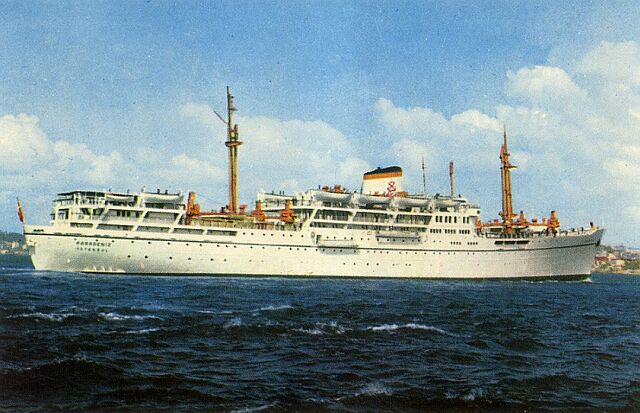 Karadeniz

postcard

From the Ata Bilgili collection

MV Karadeniz was the second of a pair of identical ships to be built, but they were part of the Turkish rebuilding plan at the time and were two of a total of five ships built at the same time by the A.G. Weser Shipyards in Bremen/Bremerhaven, Germany.

The Karadeniz and her slightly younger sister Akdeniz were the larger ships of the five and were 8,809 GRT, whereas the three Izmir class ships were only 6,041 GRT. However, the Izmir ships were almost identical with only very minor differences in their appearances; however the big differences was that the Izmir class ships only had a single screw and sailed at a slower service speed of just 14 knots.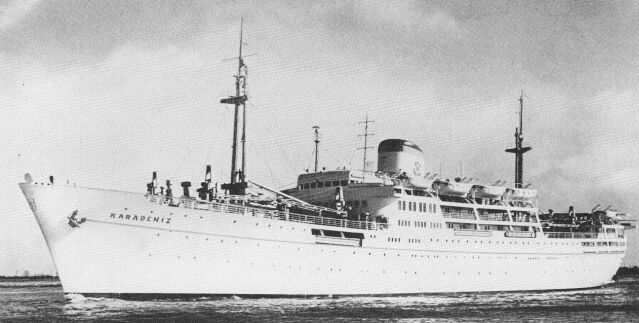 Karadeniz seen in 1956, a looks a solid and a sturdy ship!
*¹ A. Duncan photo from the author's private collection
Karadeniz had a pair of M.A.N. diesel engines and sailed at a respectable service speed of 18.s knots. Although the Akdeniz was the first to be delivered in December 1955, the Karadeniz followed by her sister within months in 1956 and commenced service on the North and South Mediterranean service.
For details of her public rooms, and cargo capacity etc, as well as her specifications, I suggest that you visit Page One of this four page Turkish Maritime feature: You will find the link located at the INDEX at the bottom of this page.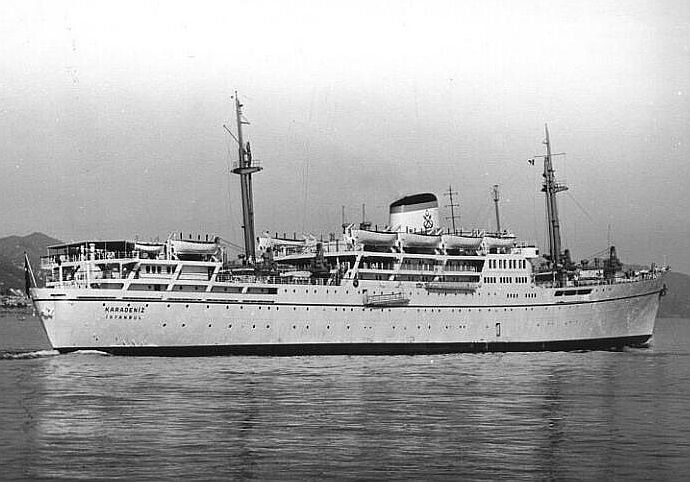 A fine black and white shot of the Karadeniz
*¹ A. Duncan photo from the author's private collection
Sadly, in 1984 MV Karadeniz suffered a fire in her engine room whilst she was at Izmir, although details are sketchy I believe that she never recuperated from the event and she was eventually sold and broken up at Aliaga in 1987.
Photographs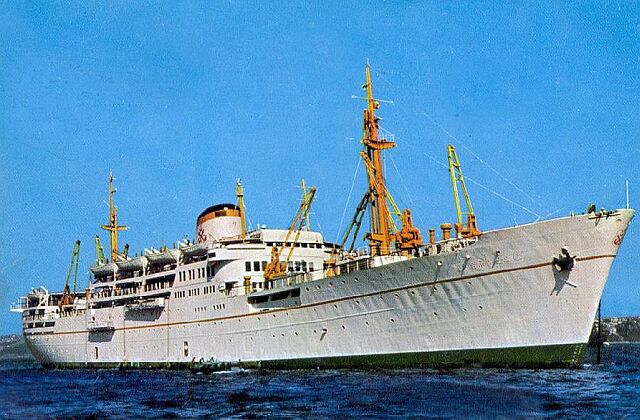 I believe that this is a postcard, and the name of Karadeniz was removed to make it a suitable
one to be sold on both ships – the enlargement clearly shows the name Karadeniz
From the Ata Bilgili collection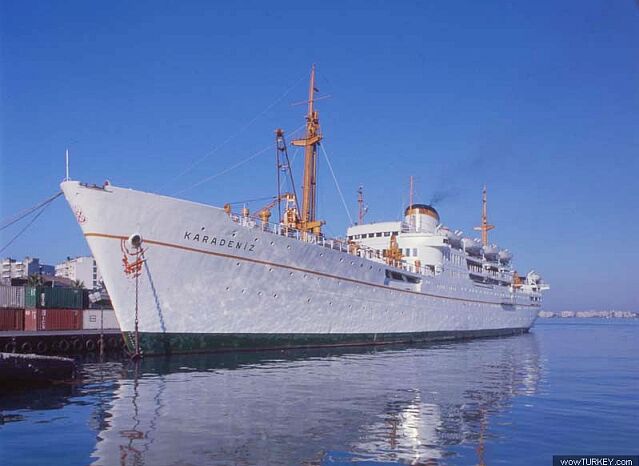 A fine photograph of the Karadeniz

Photograph by & © Ali-Bozoglu – www.wowTURKEY

MV Ezmir

And her two sisters

MV Ege & Marmara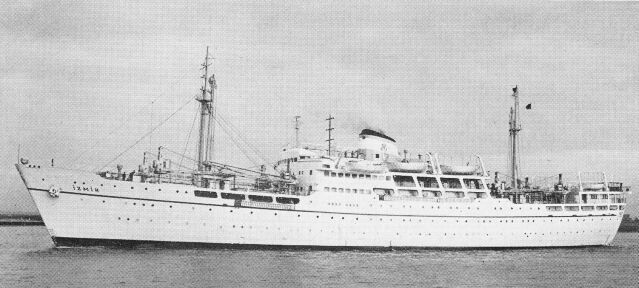 MS Izmir the 1stiof three smaller sister ships
*¹ Author's private collection
Although I will not be writing extensively on these three ships, I thought I would just provide some general details as they have so many similarities to both the Akdeniz and Karadeniz! To look at them you would think that they are identical, although they are considerably smaller by just over 2,500 GRT. These ships were also built by A.G. Weser in Germany at the same time 1955 and 56.
In this item I will concentrate on the MV Izmir. Sadly she collided with SS Howell Lykes whilst in Izmir Bay on February 3, 1957 and as her damage was substantial she was laid up. In 1958 she was taken to Bremen Germany where she was repaired in the very ship yard that built her just several years earlier. Upon completion she returned to her regular duties.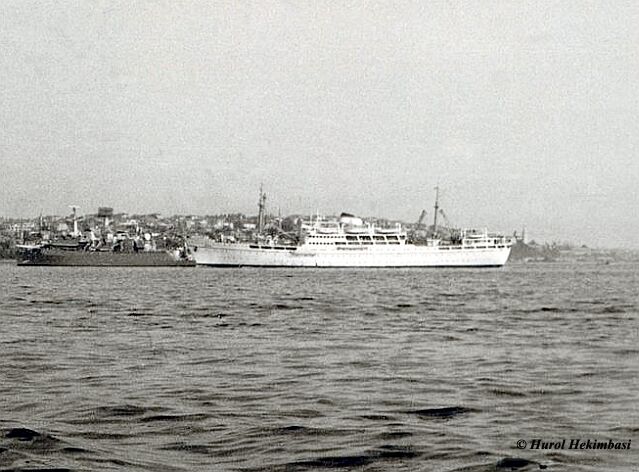 Here we see the Izmir sailing north bound at the southern entrance of Bosphorus in 1973
Photograph by & © Hurol Hekimbasi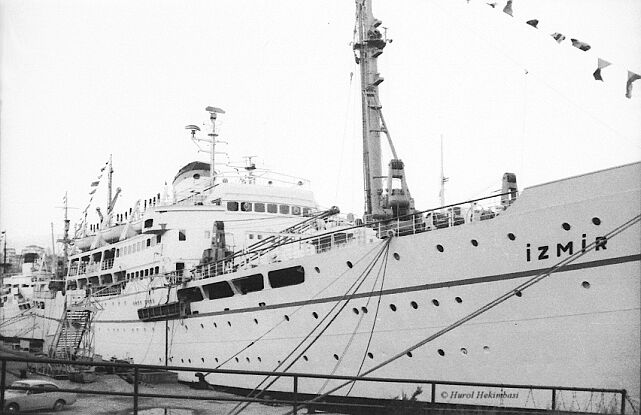 Izmir is seen here at the Istinye dry-docks at, Istanbul in 1975
Photograph by & © Hurol Hekimbasi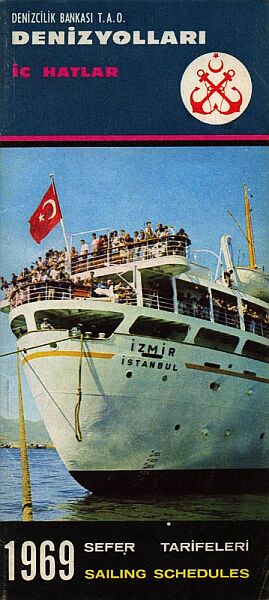 1969 MV Izir Sailing schedule
From the collection of Björn Larsson
www.timetableimages.com/maritime/index.htm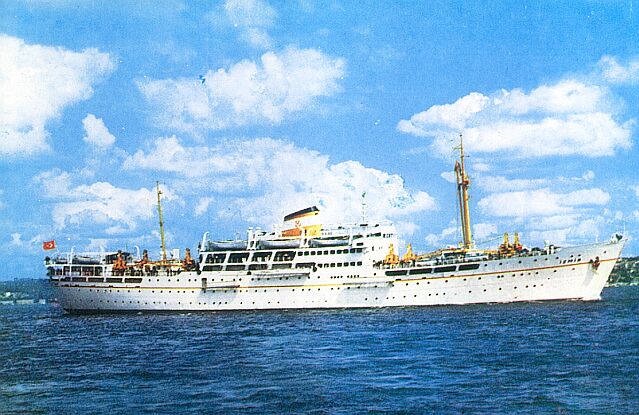 Postcard of the MV Izmir
From the Ata Bilgili collection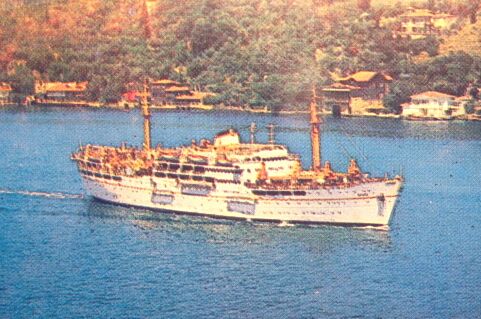 MV Ege
This image was taken from a rather blurred postcard, but better something than nothing!
From the Ata Bilgili collection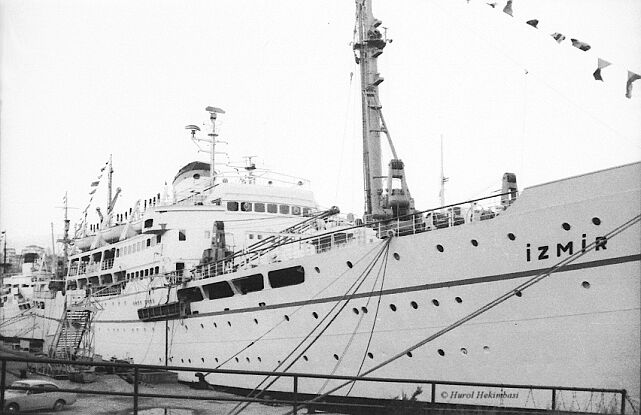 Izmir is seen here at the Istinye dry-docks at, Istanbul in 1975
Photograph by & © Hurol Hekimbasi
Specifications:                
Built by:                           A.G. Weser Shipyards, Bremenhaven Germany
Tonnage:                          6,049 GRT
Length:                            402ft
Width:                              54ft
Draught:                           19ft
Engines:                           Single M.A.N. Diesel Engine
Screws:                            One
Speed                              14 knots
Passengers:                      4 deluxe, 68 First Class
                                      72 Second Class
                                      332 Tourist
Izmir continued in service along the Mediterranean coast until the mid eighties, but slowly passenger loadings were dropping, and already the company was considering of disposing of the larger Karadeniz. Thus it was decided that they would also send Izmir to the breakers and after a short lay up she was towed to Aliaga arriving there on October 29, 1987.
Turkish Maritime Lines 1969 Schedule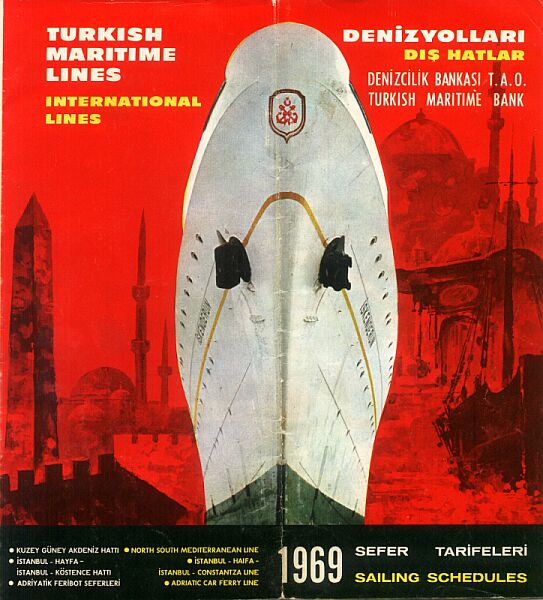 The 1969 schedule seen above and below is from the Ata Bilgili collection
For interest, the bow shown on the cover of this brochure is one of the Companies older ships the 1950 Italian built SS Iskenderun. She and her sister SS Samsun were 6,570 & 6,543 GRT respectively, and had 25 Deluxe, 71 First Class and 320/330 passengers. In this schedule they are shown on Page 5 and operated the Istanbul to Haifa service, sailing via Izmir and Limasol both out and homeward bound.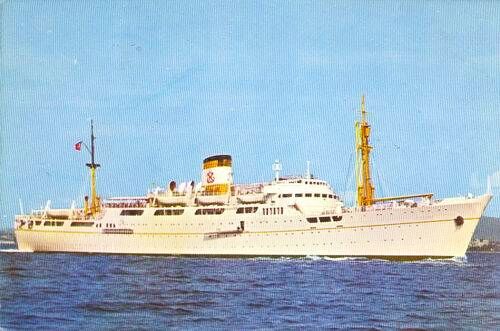 A postcard of the SS Iskenderun
Author's collection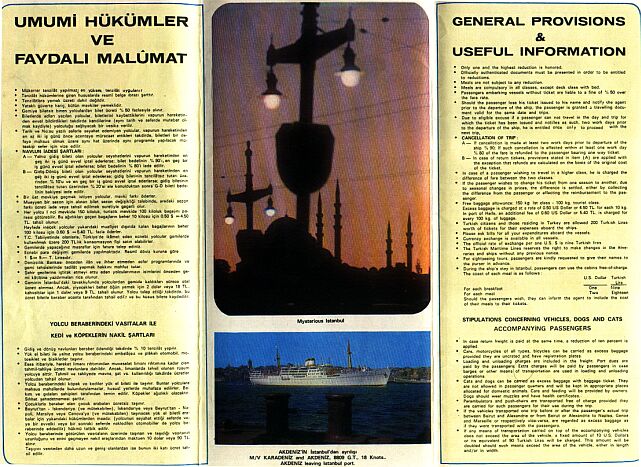 Page One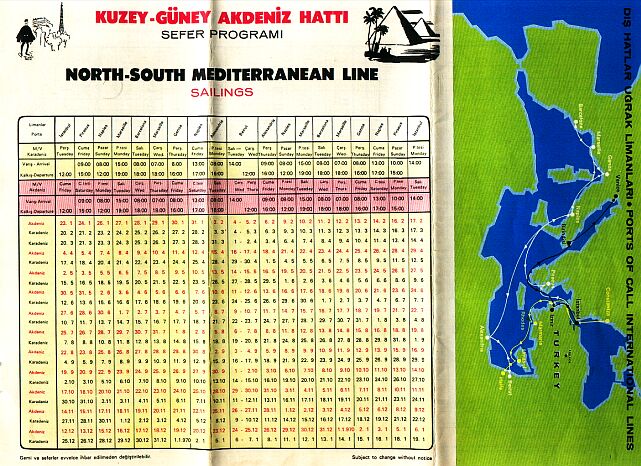 Page Two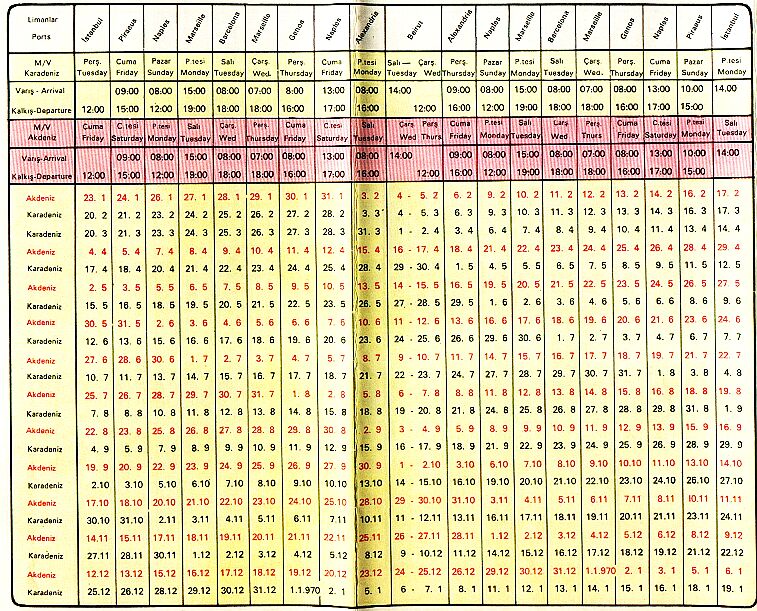 Enlargement of page two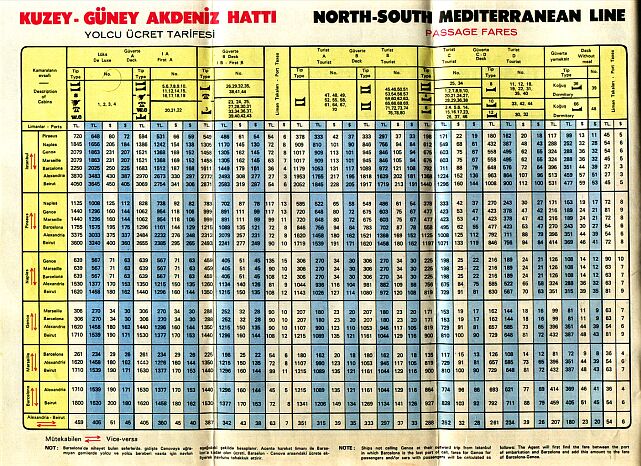 Page Three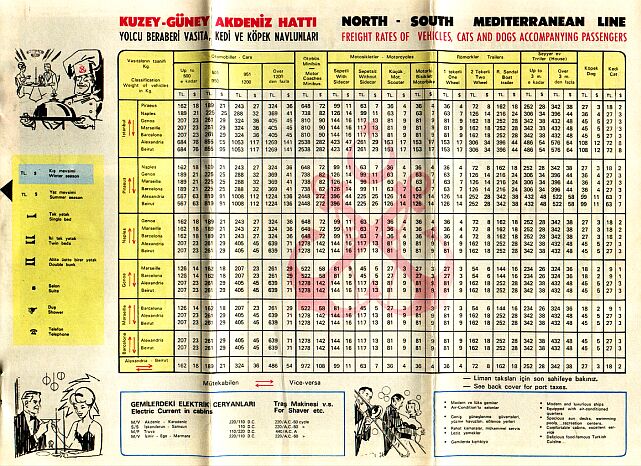 Page Four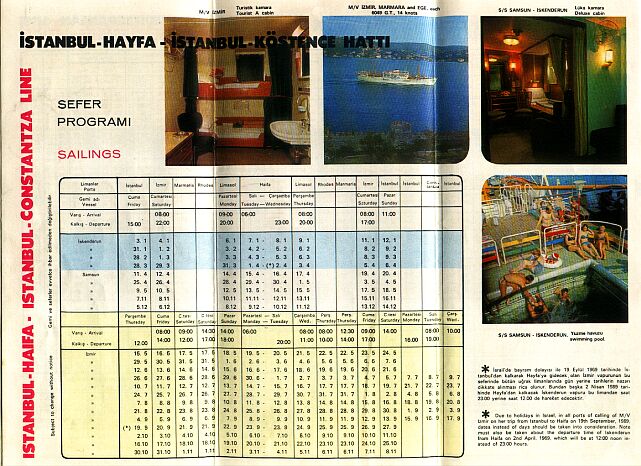 Page Five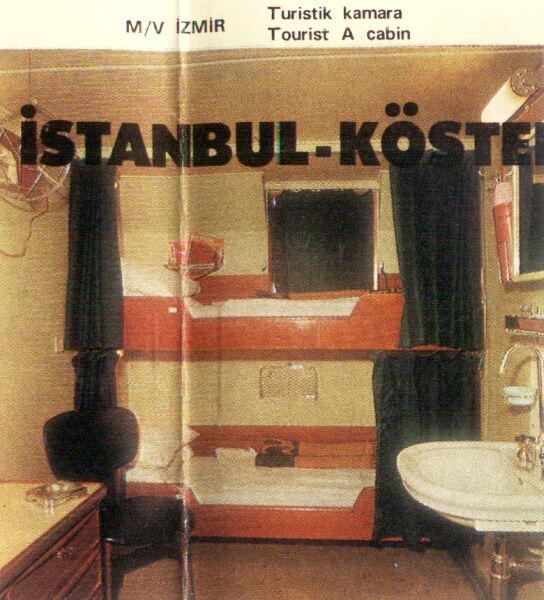 Izmir's Tourist Class A Grade Cabin
From a brochure from the Ata Bilgili collection
INDEX
Page One  …    The history of MS Akdeniz and the early days of MS Karadeniz
Page Two …    Interior photographs taken in June 2006 and other images
Page Three …  Photographs by Peter Knego taken of Akdeniz in 1998
Page Four …    Photographs and details of MS Karadeniz and MV Izmir, Ege & Marmara
Page Five ...    NEW – A superb page packed full of photographs of the ships interiors taken by Dr.Ata Bilgili
                        whilst she has been at anchor as an accommodation vessel
New Page …    Two fine Turkish ships SS Iskenderun and Samsun built in 1950/51
New Page …    MS Pasabahce is a remarkable 1955 built Turkish all steel ferry and it is now in need of saving!
Use the Back button on your browser or Close the Page to return to the previous page
or go to our INDEX
***********************************
Who is the Author of ssMaritime?
Commenced in the passenger Shipping Industry in May 1960
ssMaritime.com & ssMaritime.net
Where the ships of the past make history & the 1914 built MV Doulos Story
Also visit my …
"Save The Classic Liners Campaign" & "Classic Ocean Voyages" pages
Photographs on ssmaritime and associate pages are by the author or from the author's private collection. In addition there are some images that have been provided by Shipping Companies and private photographers or collectors. Credit is given to all contributors. However, there are some photographs provided to me without details regarding the photographer/owner concerned. I hereby invite if owners of these images would be so kind to make them-selves known to me (my email address may be found on www.ssmaritime.com only), in order that due credit may be given. I know what it is like, I have seen a multitude of my own photographs on other sites, yet these individuals either refuse to provide credit or remove them when asked, knowing full well that there is no legal comeback when it comes to the net. However, let us show these charlatans up and do the right thing at all times and give credit where credit is due!
This notice covers all pages, although, and I have done my best to ensure that all photographs are duly credited and that this notice is displaced on each page, that is, when a page is updated!
ssMaritime is owned and © Copyright 2010/12 - by Reuben Goossens - All Rights Reserved