Please Note: Firefox and some other search engines are not suitable – Use "Internet Explorer" for this page to load perfectly!
Click the logo above to reach the Cruise-Australia FrontPage for News Updates & "Ship of the Month"
With Reuben Goossens
Maritime Historian, Cruise'n'Ship Reviewer, Author & Lecturer
Please Note: All ssmaritime and my other related ssmaritime sites are 100% non-commercial and privately owned sites. Be assured that I am NOT associated with any cruise or shipping companies or travel/cruise agencies or any other organisations! The author has been in the passenger shipping industry since May 1960 and is now semi-retired, but continues to write article on classic liners and cruise ships in order to better inform cruise and ship enthusiasts for their pleasure!
Turkish Maritime Lines
(Denizcilik Bankasi Turk Anonim Ortakligi)
MS Akdeniz
Page Five
A series of photographs of Akdeniz berthed
PLEASE NOTE: All photographs on this page were taken by Dr. Ata Bilgili and they are ? Copyright. None of these images
can be reproduced and published in any shape or form, or by any media, without the express permission from the owner!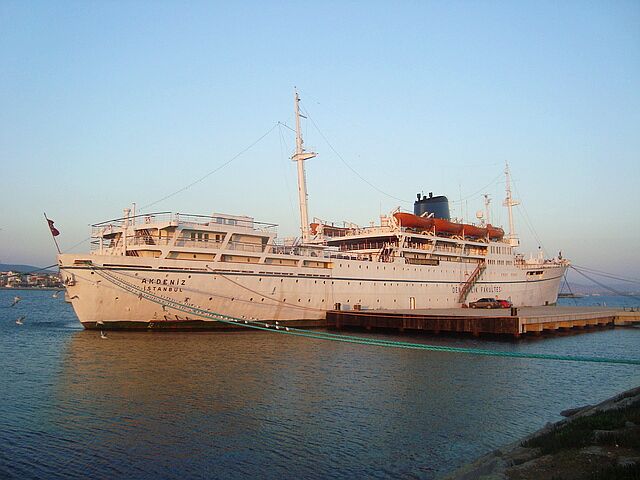 MV Akdeniz is seen here berthed as a student accommodation vessel and is currently used for the University
Photograph by & ? Dr. Ata Bilgili
When commenting on each photograph, I will be doing so on the basis as if from the days when the ship still had several classes, rather than being a one class ship. Thus I will commence with First Class and complete with Tourist Class.
First Class
A Deck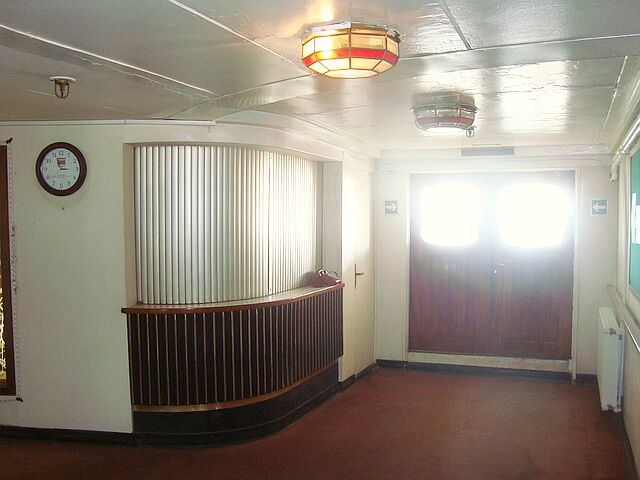 Forward Lobby & Information Desk – looking to starboard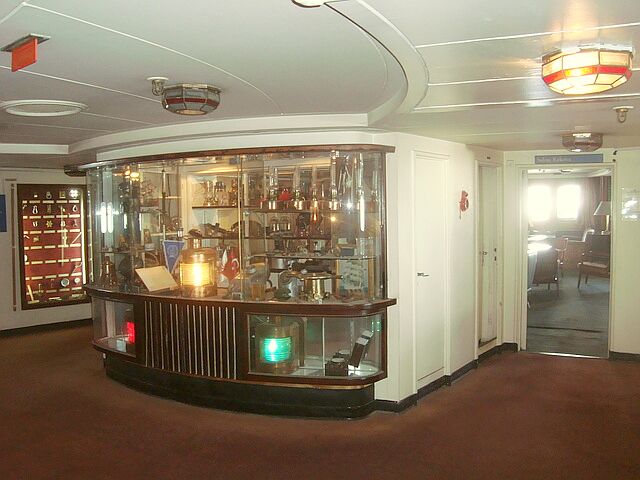 Forward Lobby – The Shop – looking forward into the Main Lounge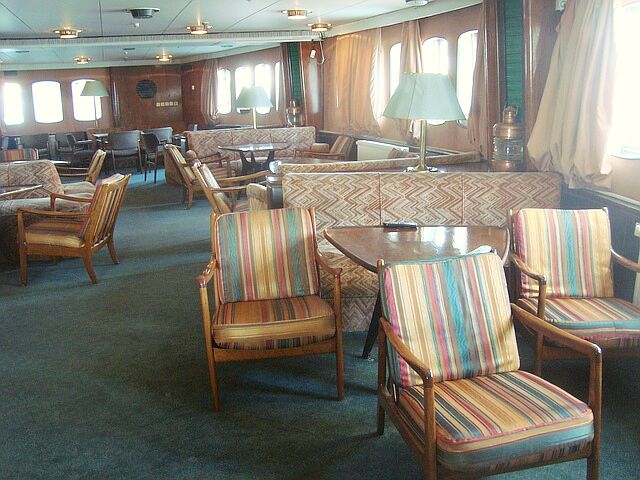 Main Lounge – looking to port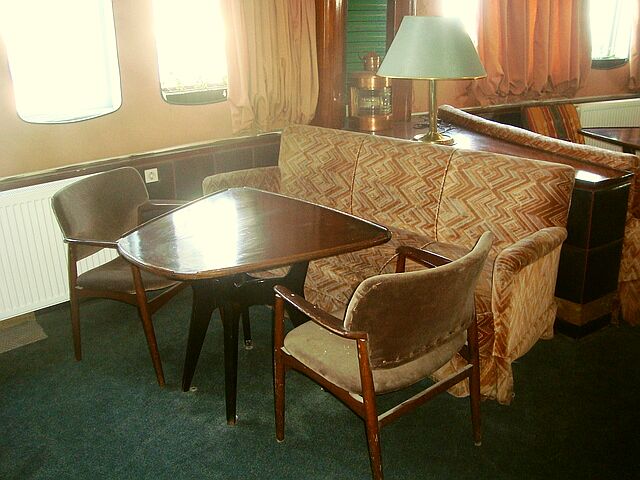 Main Lounge – forward port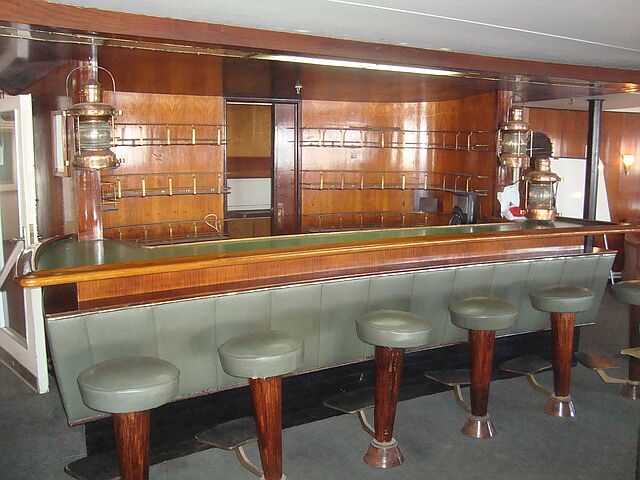 Main Lounge Bar – located mid aft wall between entrances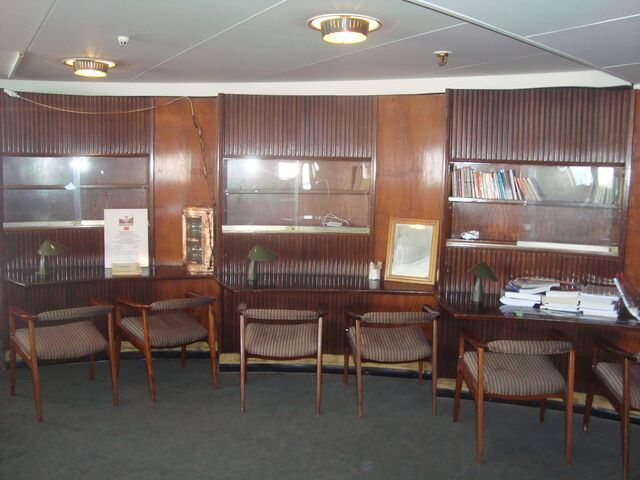 Library in the Main Lounge – located on the starboard aft wall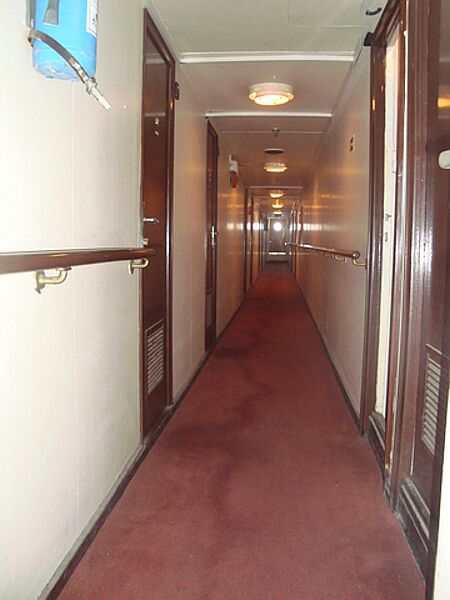 Passageway to cabins looking aft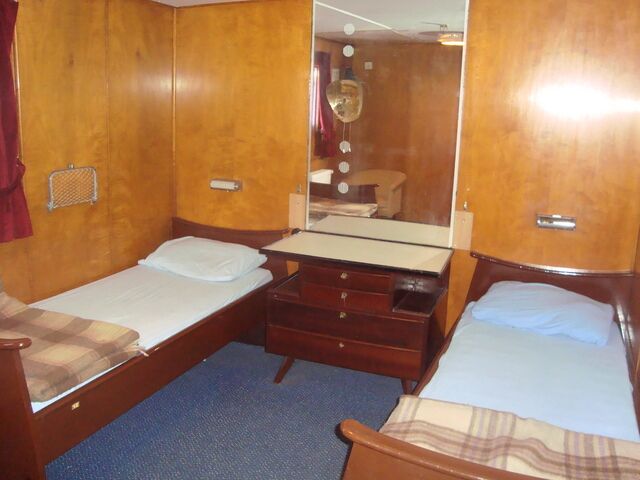 First Class twin bedded cabin – starboard looking aft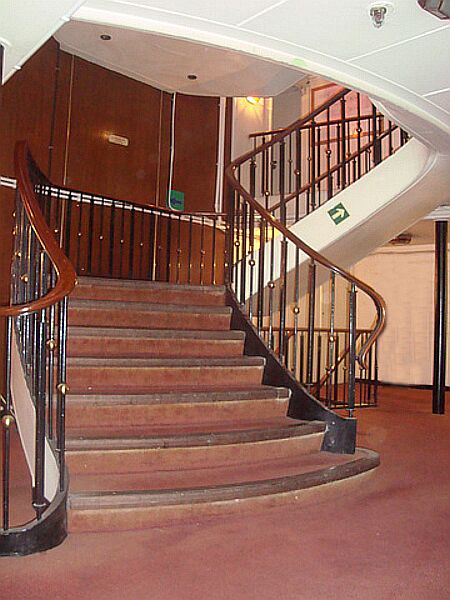 Main Lobby Stairwell – looking up to Promenade Deck
Promenade Deck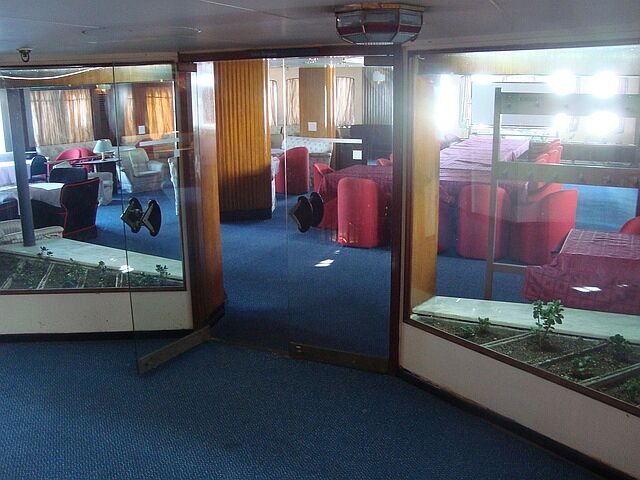 Entrance to the Music Salon – looking forward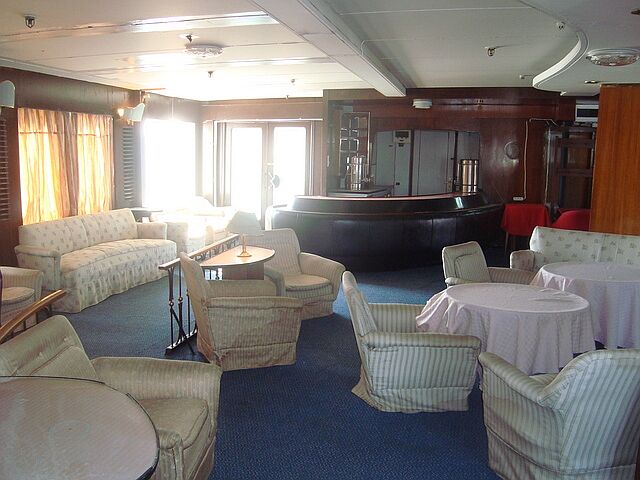 Music Salon – starboard looking aft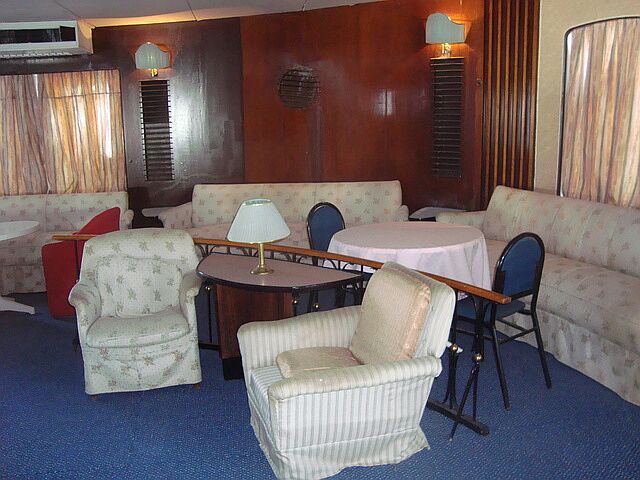 Music Salon – starboard looking forward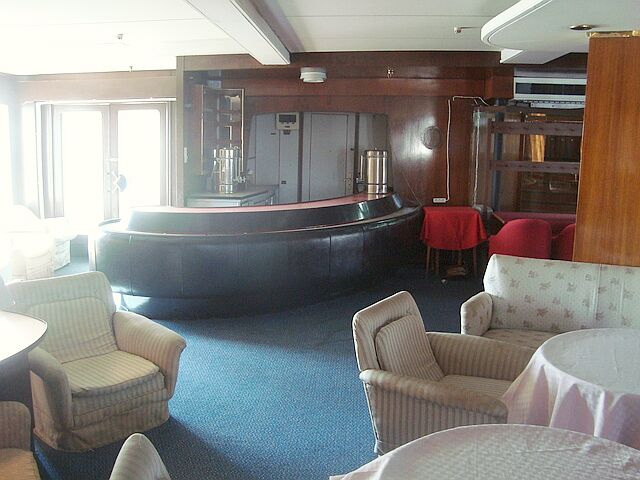 Music Salon – starboard looking aft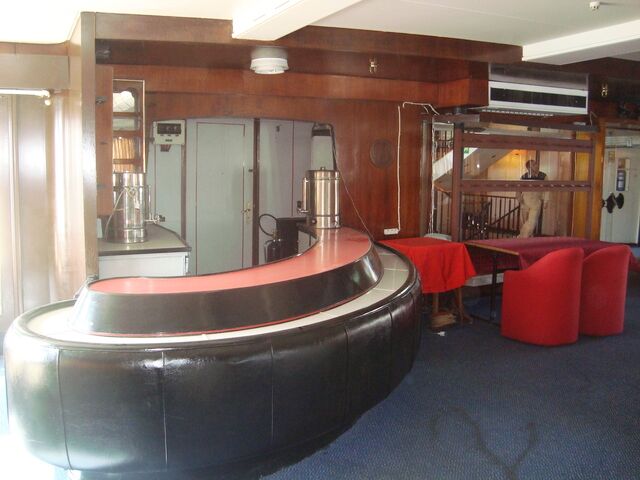 Music Salon – starboard looking aft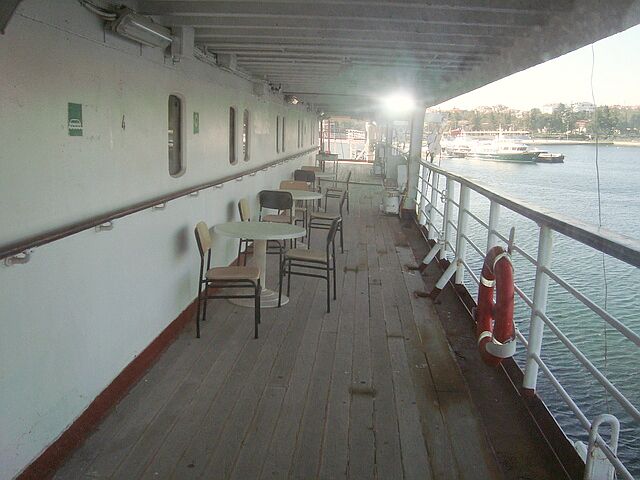 Promenade Deck – portside looking aft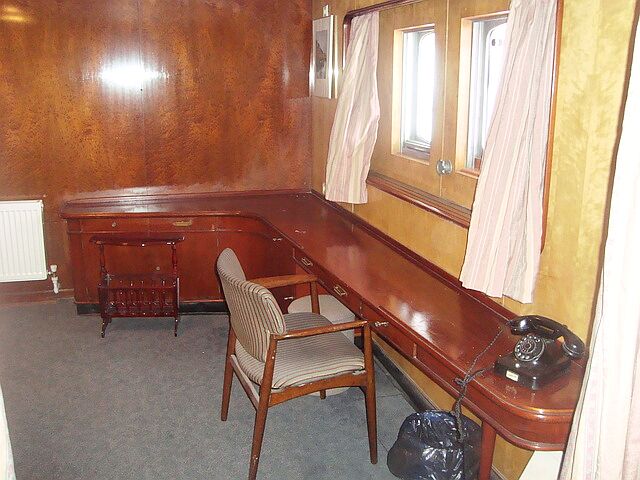 Starboard Deluxe suite – the Lounge area – starboard looking forward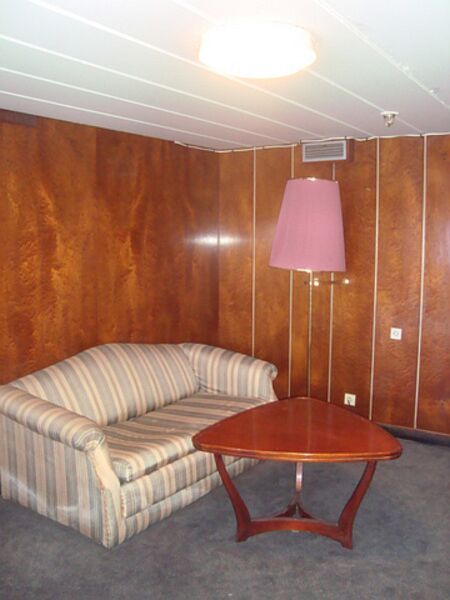 Starboard Deluxe suite – the Lounge – looking port to aft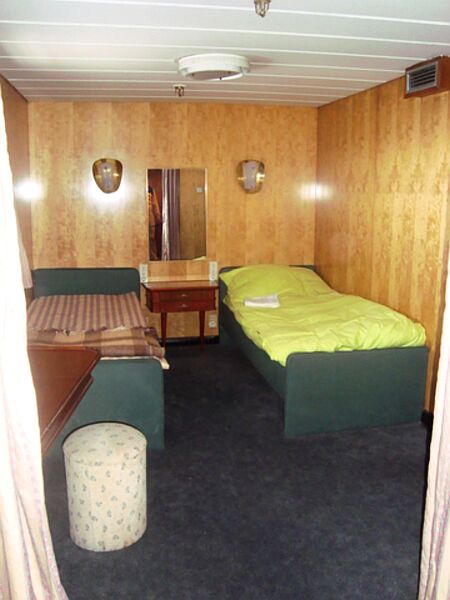 Starboard Deluxe suite – bedroom – looking aft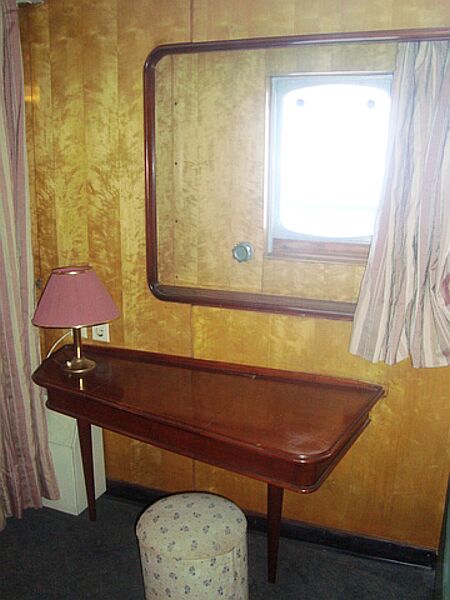 Starboard Deluxe suite – bedroom – table at foot of bed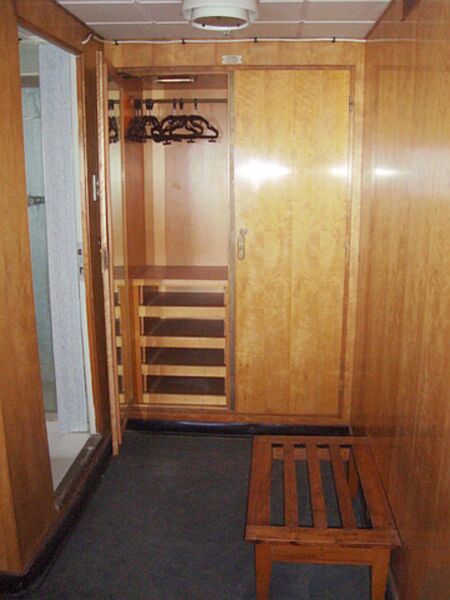 Starboard Deluxe suite – bedroom – entrance to wardrobes and barthroom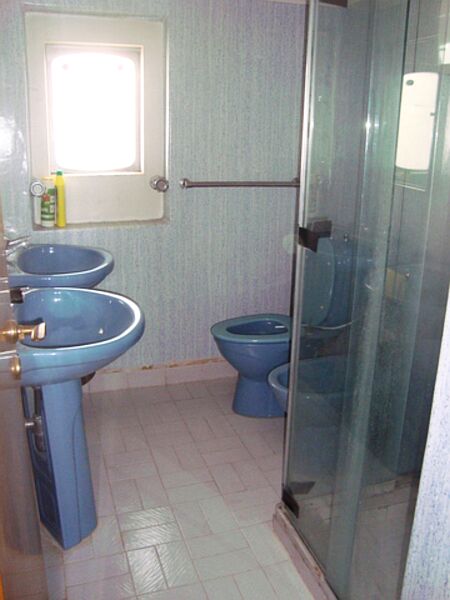 Starboard Deluxe suite – bathroom – looking aft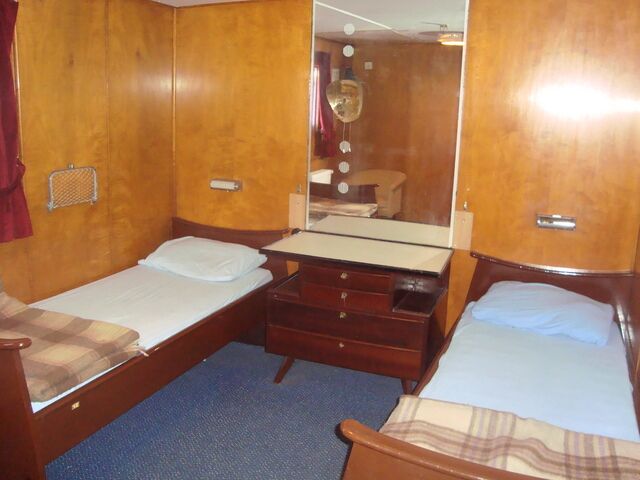 First Class twin bedded cabin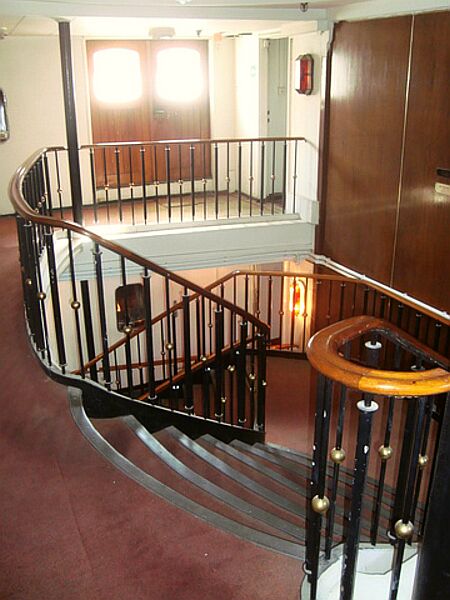 Boat Deck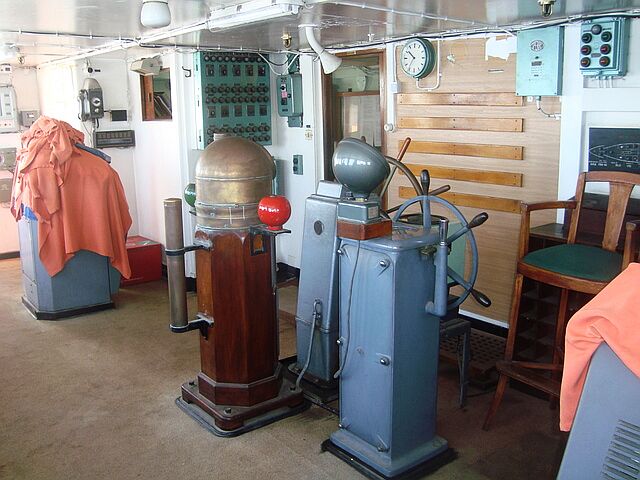 The Bridge – looking starboard to aft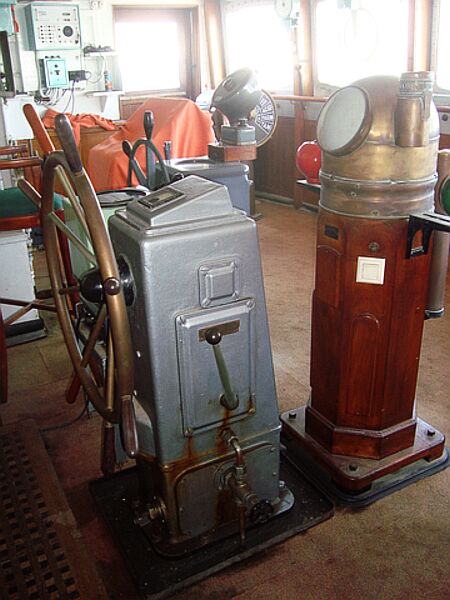 The original wheel, compass and telegraph – looking forward to port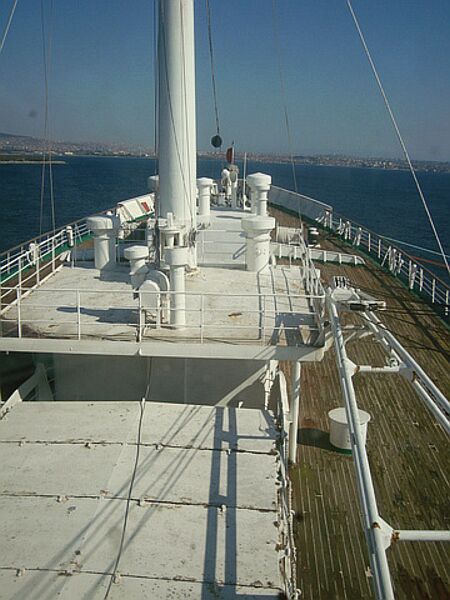 Looking from the Bridge over her bow – only two of her original four forward electric cranes remain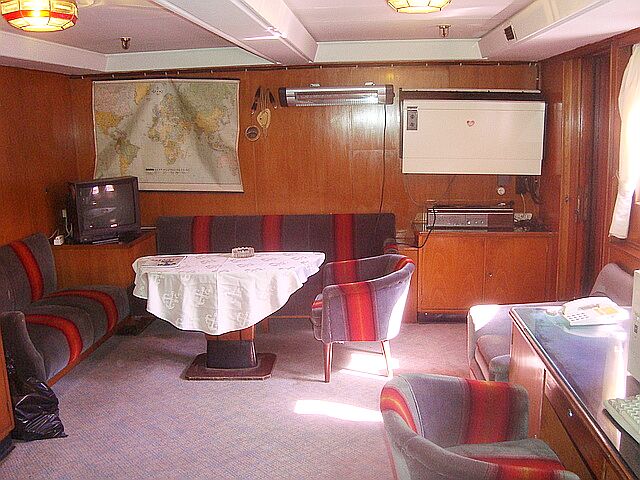 Captain's day room & office – starboard aft of the Bridge – looking forward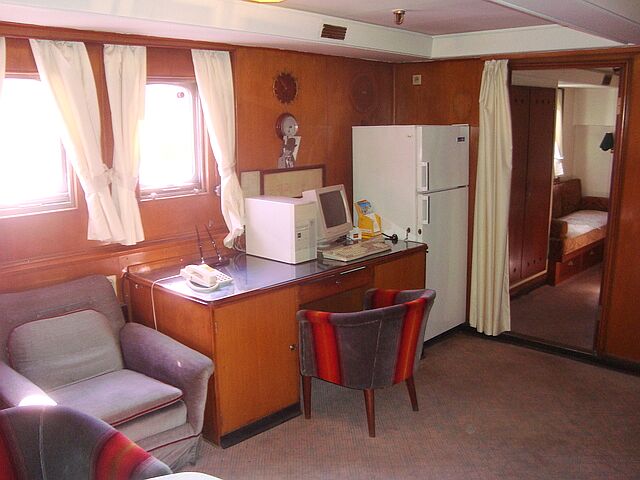 Captain's day room & office –starboard aft of the Bridge – looking aft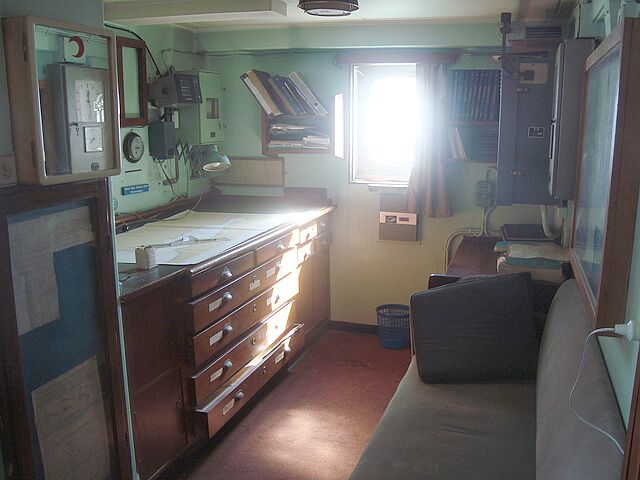 Chart Room – Starboard aft of Bridge - looking to starboard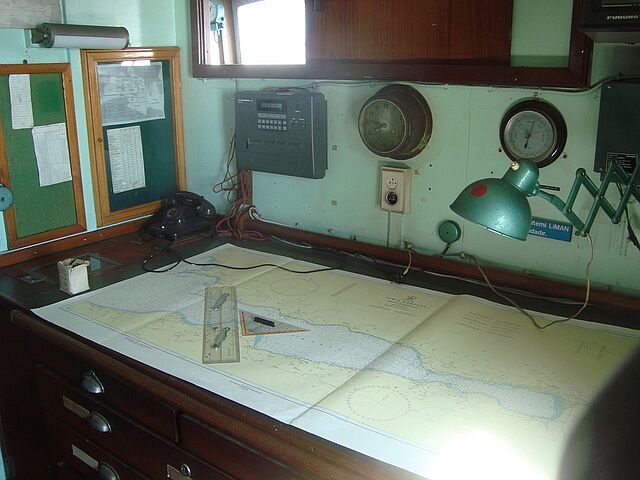 Chart Room – Starboard aft of Bridge – looking aft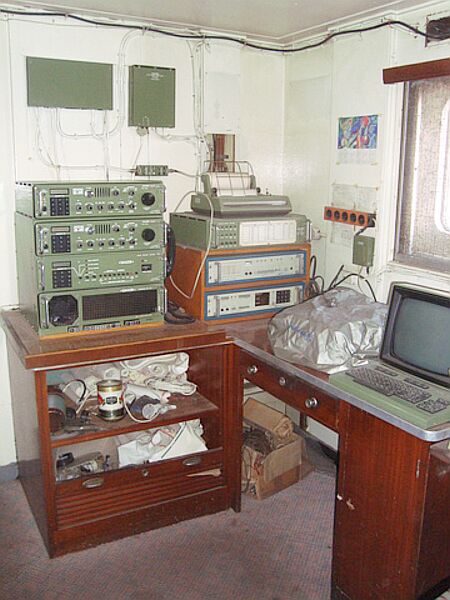 Communications Room – located port aft of the Bridge – looking port to aft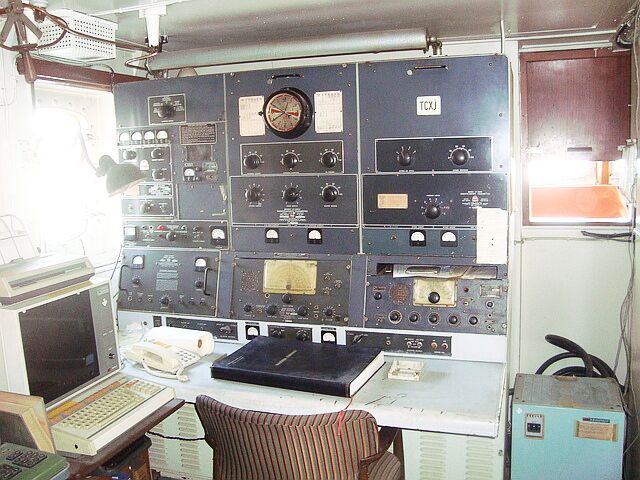 Radio Room - located port aft further of the Bridge – looking forward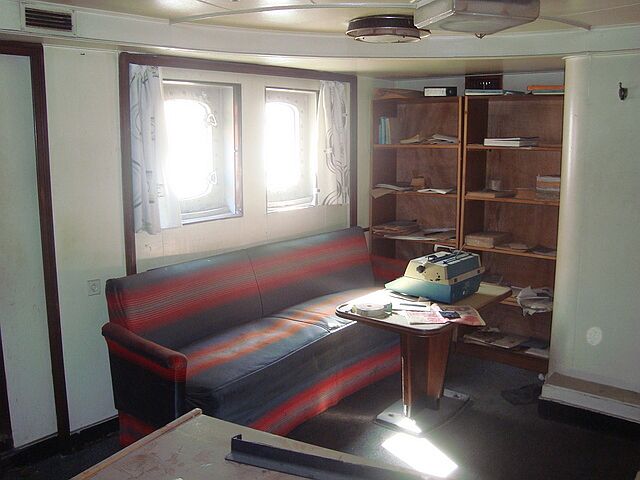 Officer's Lounge – starboard aft on Boat Deck - looking aft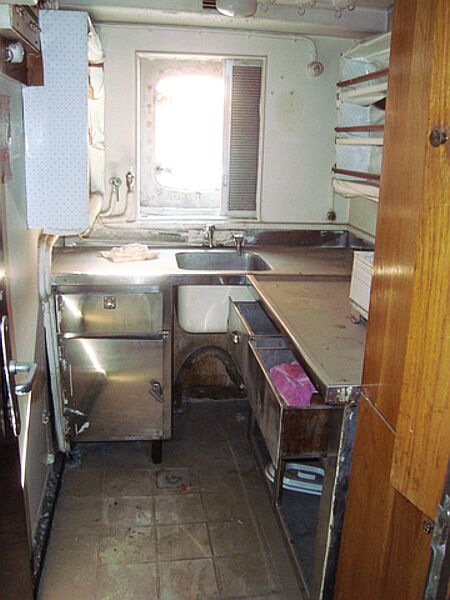 Officer's panty – next to Officers Lounge
B Deck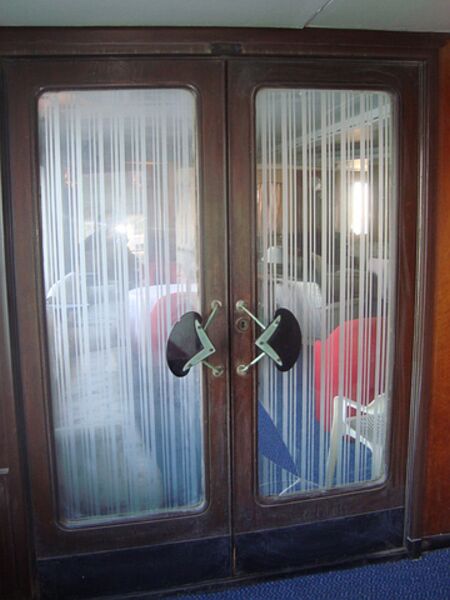 Frosted Main Doors to the Dinning Room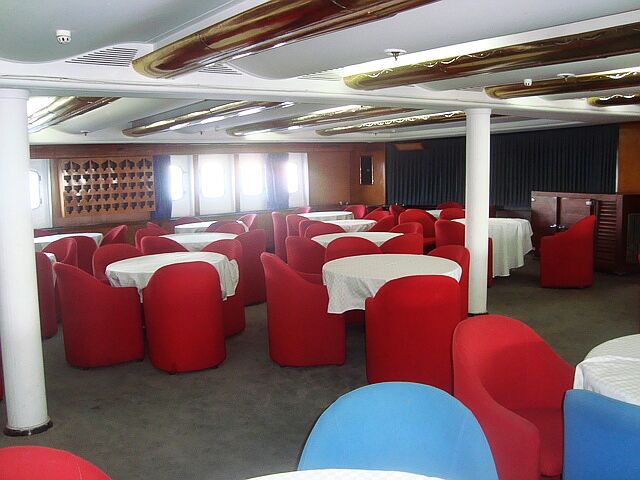 Dinning Room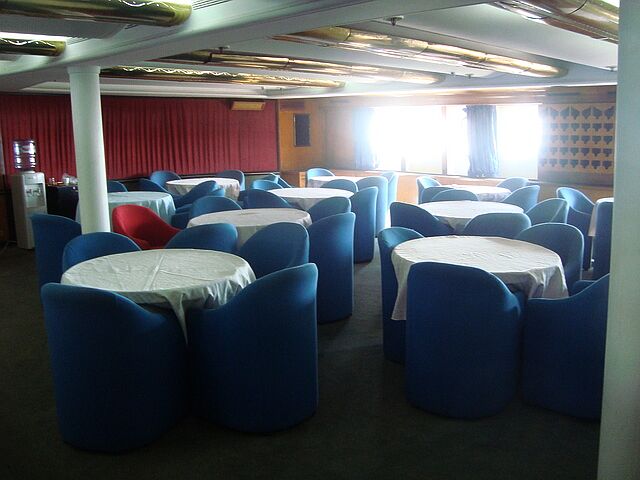 Dinning Room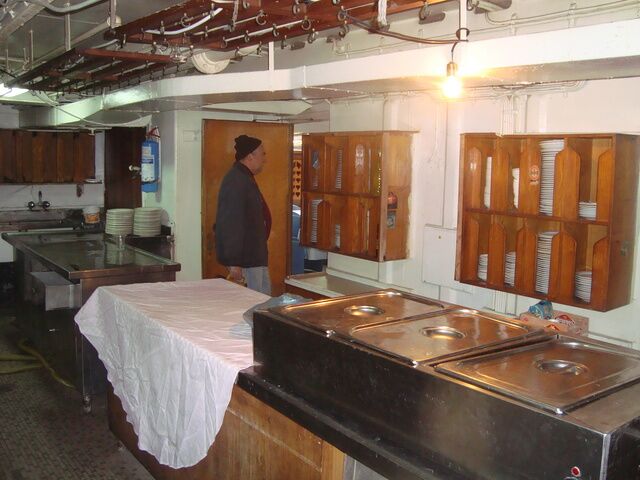 The Galley
Tourist Class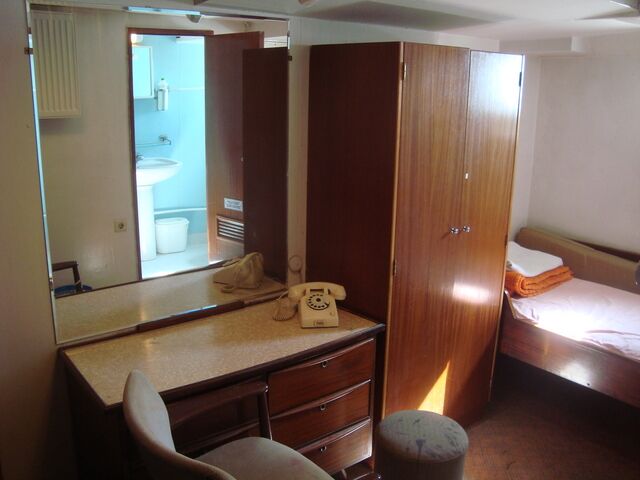 Outside three berth cabin on B Deck aft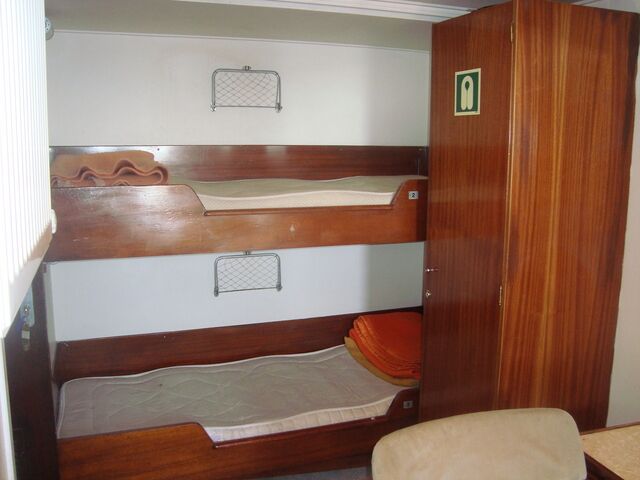 Outside three berth cabin on B Deck aft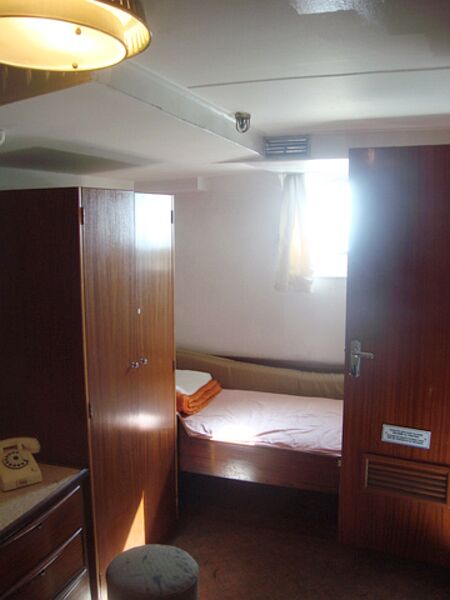 Outside three berth cabin on B Deck aft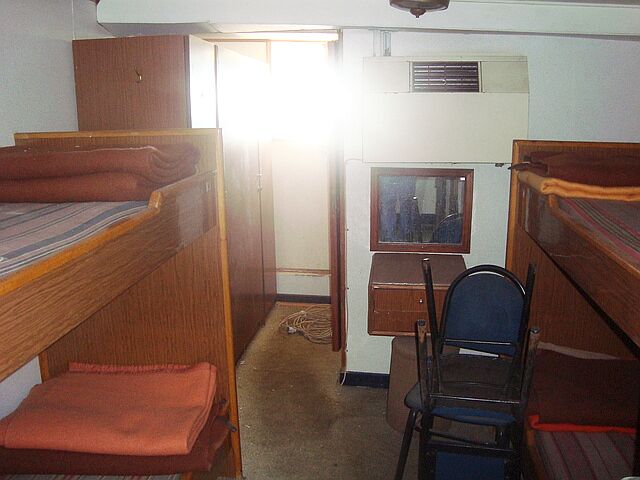 Outside 4 berth cabin on C Deck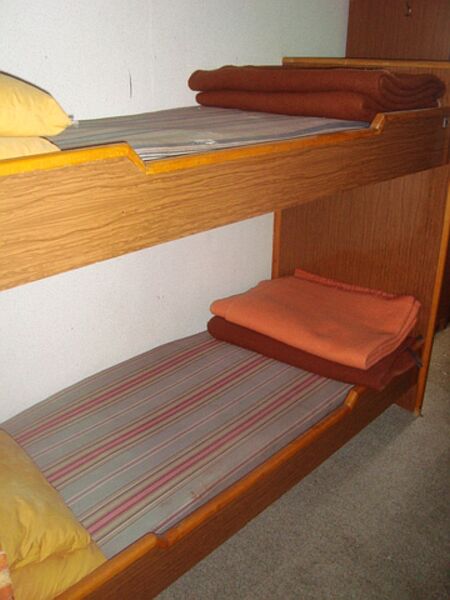 Outside 4 berth cabin on C Deck
The Engine Room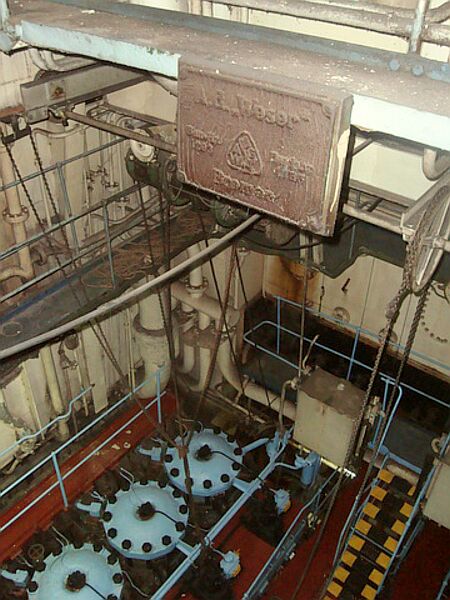 Note the "A.G. Weser" builder's plate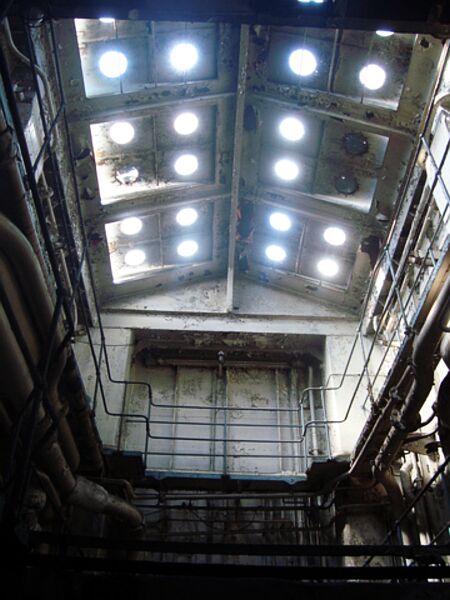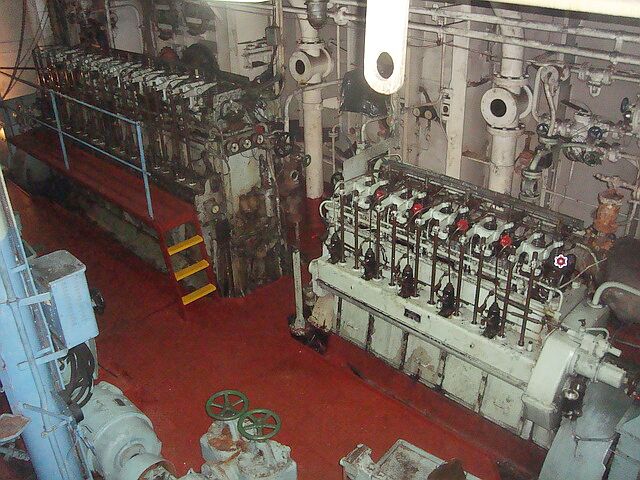 Her reliable M.A.N. Diesel Motors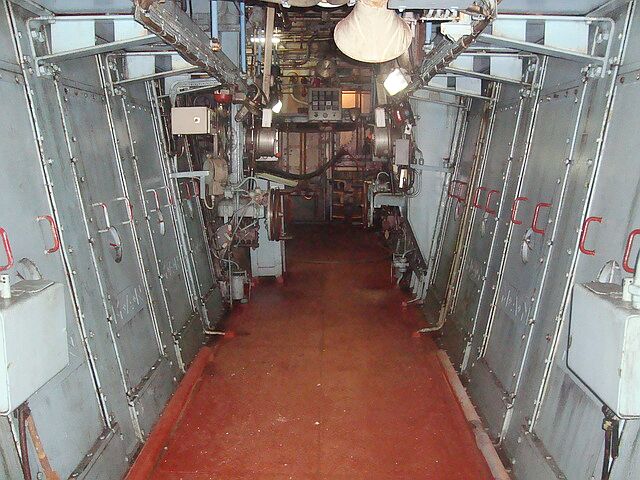 Above & below

: views in the engine room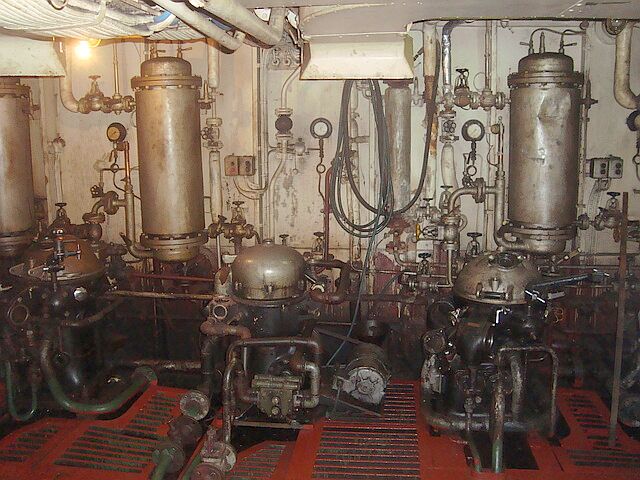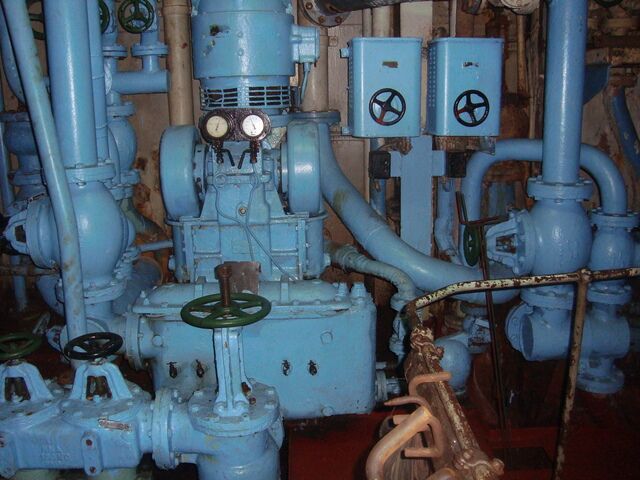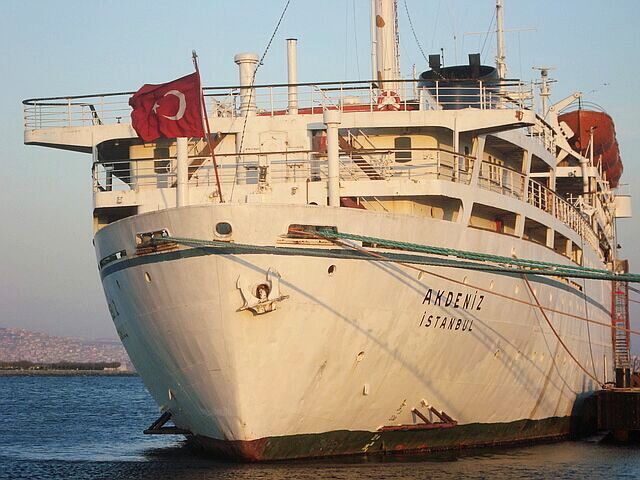 Akdeniz like many of the famed has a stern anchor, but set to starboard

A fine stern photograph to conclude this set of photographs by Dr. Ata Bilgili!

INDEX

??????????????????????? whilst she has been at anchor as an accommodation vessel

????????????????????????????????????

***********************************

Return to the ssMaritime Main INDEX

ssMaritime.com & ssMaritime.net

Where the ships of the past make history & the 1914 built MV Doulos Story

Also visit my

"Save The Classic Liners Campaign"

Please Note: ssmaritime and associated sites are 100% non-commercial and the author seeks no funding or favours of any shape or form, never have and never will!

Photographs on ssmaritime and associate pages are by the author or from the author's private collection. In addition there are some images that have been provided by Shipping Companies and private photographers or collectors. Credit is given to all contributors. However, there are some photographs provided to me without details regarding the photographer/owner concerned. I hereby invite if owners of these images would be so kind to make them-selves known to me (my email address may be found on www.ssmaritime.com only), in order that due credit may be given.

This notice covers all pages, although, and I have done my best to ensure that all photographs are duly credited and that this notice is displaced on each page, that is,Replica Watches when a page is updated!

ssMaritime is owned & ? Copyright by Reuben Goossens - All Rights Reserved