Norddeutscher Lloyd (NDL) SS Zeppelin 1915 to 1919 - Orient Line RMS Ormuz (2) 1920 to 1927 - NDL SS Dresden 1927 to 1934
Please Note: Firefox, iPhones, iPads & some other Search Engines may not be suitable
Use Internet Explorer & Old Google for this Web Page to load perfectly!

Click the logo above to reach the ssMaritime FrontPage for News Updates
With Reuben Goossens
Maritime Historian, Cruise'n'Ship Reviewer, Author & Lecturer
Please Note: All ssmaritime and my other related ssmaritime sites are 100% non-commercial and privately owned sites. Be assured that I am NOT associated with any cruise or shipping companies or travel/cruise agencies or any other organisations! The author has been in the passenger shipping industry since May 1960 and is now semi-retired, but continues to write article on classic liners and cruise ships in order to better to inform cruise and ship enthusiasts for their pleasure!
Turkish Maritime Lines
(

Denizcilik

Bankasi

Turk

Anonim

Ortakligi

)
MS Akdeniz
And her sister ship the MS Karadeniz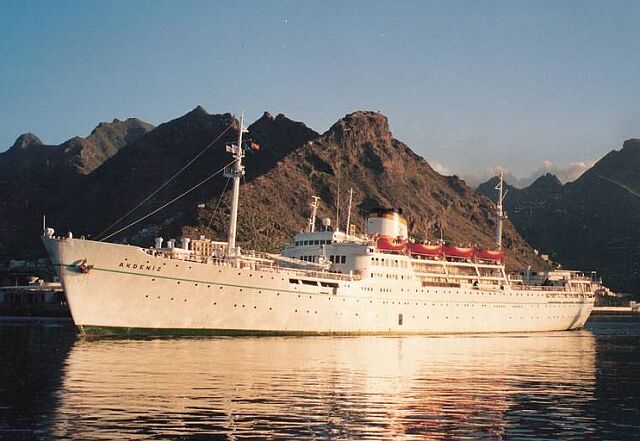 The then cruise ship MV Akdeniz is seen here in Tenerife in 1990 and she is still afloat at Istanbul!
Let us keep her looking this beautiful for history to remember what real ships were like!
Photographer unknown – *See Photo notes at bottom of the page
These two fine looking ships were part of the Turkish rebuilding plan at the time and two of a total of five ships being built all at the same time by the A.G. Weser Shipyards in Bremen/Bremerhaven.
The Akdeniz and Karadeniz were the larger ships of the five at 8,809 GRT, whereas the three Izmir class ships were only 6,041 GRT. However, these three were almost identical with minor differences; but one of the big differences was to be found mechanically in addition the Izmir class ships only had single screws and sailed at a service speed of just 14 knots.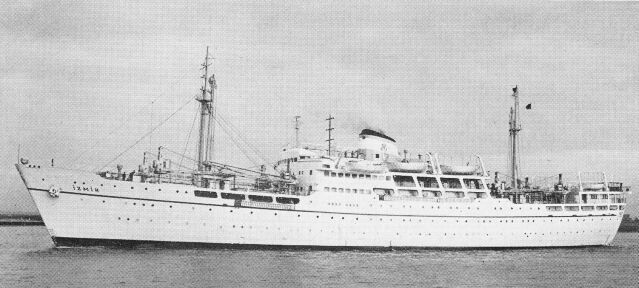 MS Izmir the 1stiof three smaller sister ships
Author's private collection
The Akdeniz and Karadeniz both had a pair of M.A.N. diesel engines sailing at a respectable service speed of 18? knots. Akdeniz was the first to be delivered in December 1955 and commenced services. She was soon followed by her sister Karadeniz in 1956.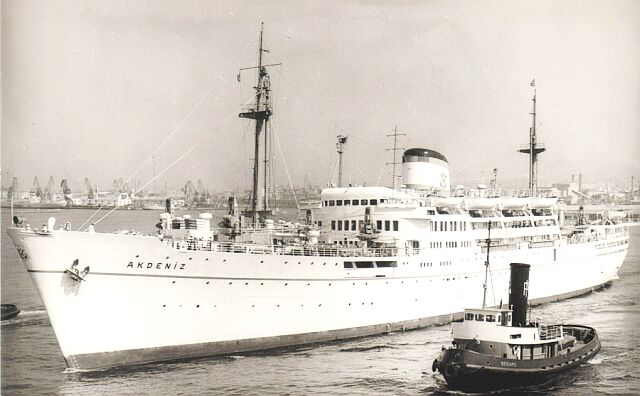 MS Akdeniz seen sometimes in 1955
A. Duncan photo from the author's private collection
Directly below the Bridge located forward on three levels are the main First Class Lounges all of which were superbly furnished as were all her First Class accommodations. On Promenade Deck forward is the Ballroom with the Deck Bar located far aft. Between the two public rooms there are four twin deluxe suites, all having a private sitting room. On A Deck forward was the First Class Main Lounge followed by cabins. First Class accommodations were mostly two berth cabins in two grades, A and B grades and were located on the corresponding decks (A&B), the vast majority having private facilities.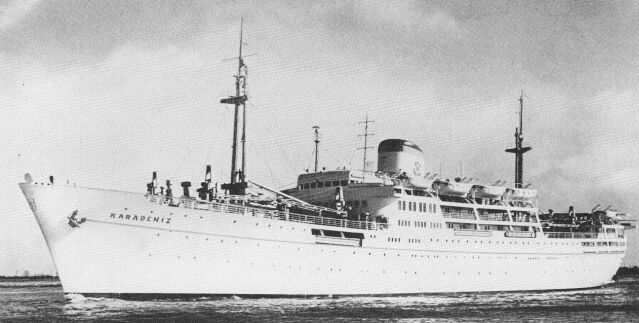 MS Karadeniz seen in 1956
A. Duncan photo from the author's private collection
Tourist Class had a Lounge in the "poop" structure far aft. The Tourist Class Dining Room was located port side on C Deck. Four grades of accommodation were available from two and four berth to multiple spaces. When built these ships had three classes, but were changed into amore suitable two-class configuration. When built both ships were only partially air-conditioned with forced air to other parts of the ship.
The four ships holds were serviced by eight 3-ton electric cranes and four derricks. Both ships had space to transport 40 cars out on deck.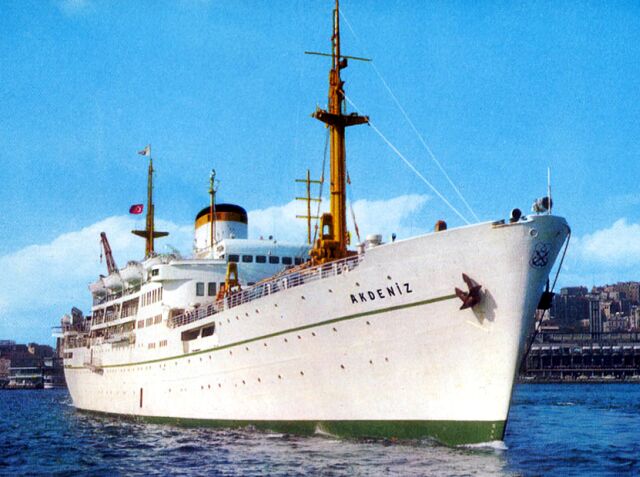 A fine full colour postcard of the MS Akdeniz seen as built

Author's private collection

Specifications

:

Built by: A.G. Weser Shipyards, Bremen Germany.

IMO: 5006815.

Call Sign: TCXJ.

Tonnage: 8,809 GRT, 2,477 DWT.

Length: 144m – 474ft.

Width: 18.7m - 61ft.

Draught: 9m - 20ft 3".

Engines: 2 M.A.N. diesels, 3620 BHP each.

Screws: Twin.

Speed 18.5 knots.

Passengers: 8 deluxe, 74 First Class.

370 Tourist.

1980 - 561 One class.

1990 - 314 One class.

Crew: 158.

Both ships operated on North and South Mediterranean services, but from 1960 the Akdeniz first served on the Istanbul- Izmir and Black Sea Express service. After 1960, she commenced on a 25-day Istanbul to Barcelona service sailing via Piraeus, Naples, Genoa and Marseilles, with occasional Calls to Beirut and Alexandria (until the Lebanese civil war).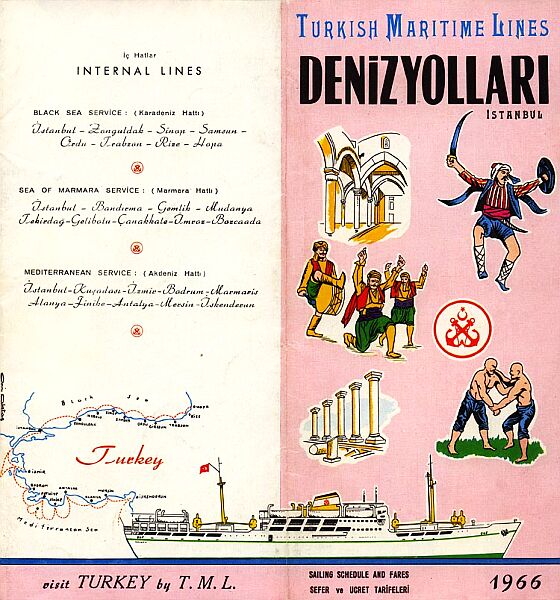 1966 Fare and sailing schedule
From the collection of Bj?rn Larsson
www.timetableimages.com/maritime/index.htm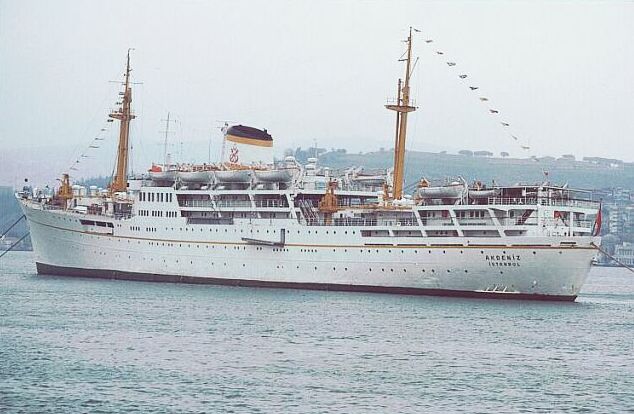 MV Akdeniz is seen here in Istanbul
Photograph by & ? Hans Jurgen Aambergh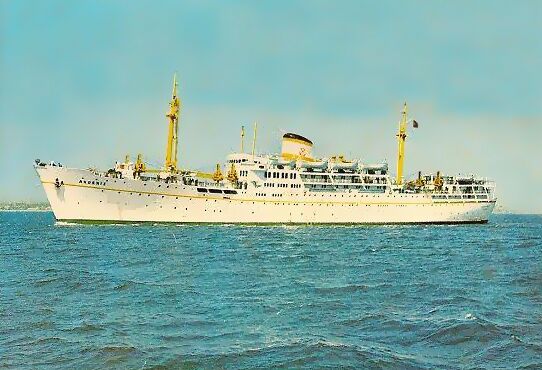 An official Turkish Maritimes lines Postcard of the MS Akdeniz
Author's private collection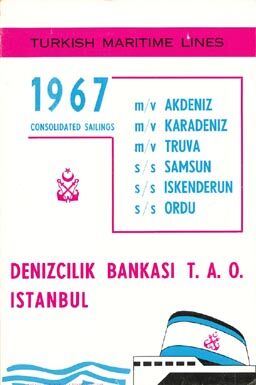 1967 sailing schedule
From the collection of Bj?rn Larsson
www.timetableimages.com/maritime/index.htm
In 1980s both the Akdeniz and her sister Karadeniz became one class ships accommodating up to 561 passengers and began operating cruises out of Istanbul, which proved to be an exceedingly successful move by the company.
MV Karadeniz was broken up in 1987. Page Four has further details.
From 1988 to 1989, Akdeniz had a change of livery, a dark blue hull, red boot topping and white masts. Also her far forward and aft electric cranes and derricks over the cargo holds were removed as the ship no longer carried general cargo.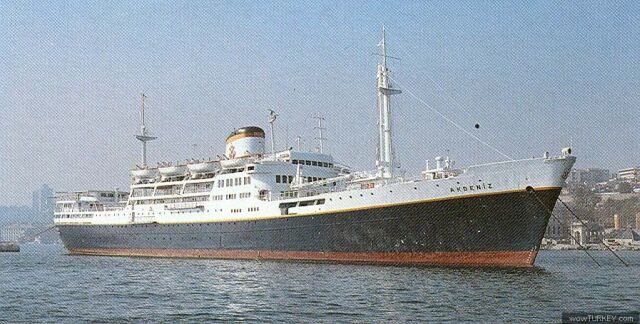 Looking rather attractive the refitted MV Akdeniz is seen with her dark blue hull
There are conflicting reports about the dates of the hull colour
Photograph by & ? Ali Bozoglu – wowTURKEY.com
As Akdeniz had become a much loved ship by the cruising public, she continued to be extremely successful, thus Turkish Maritime Lines decided that it was time give her an extensive upgrade!
The refit would take place in 1989, which saw her passenger capacity lowered to just 314 with all cabins being upgraded and given private facilities. In addition she was finally fully air-conditioned. There were further upgrades,www.copyluxurywatch.comt including the all-important ones on the Bridge, which received the very latest navigational and international safety equipment, etc. Upon completion she had been repainted all white once again, but retained her red boot topping. Her lifeboats were also still white, but later they would become red, as they are to this day. She was completed in 1990 and she recommenced her cruise duties and became acclaimed for her, elegance, comfort and style!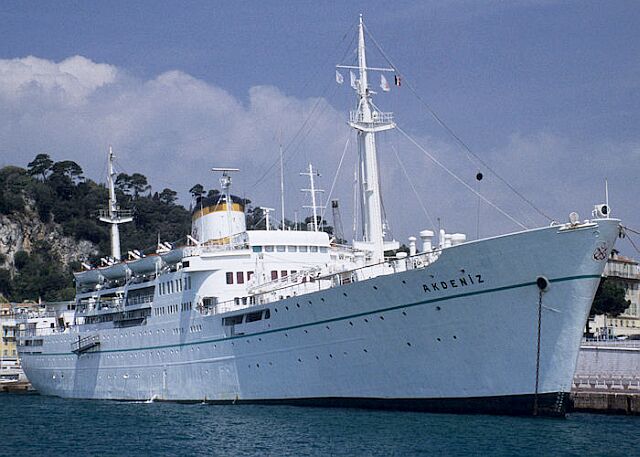 With her hull white again, Akdeniz is looking pristine.
Photographer unknown – *See Photo notes at bottom of the page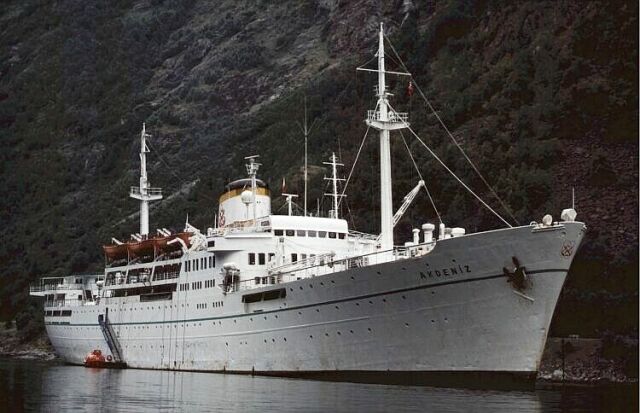 MV Akdeniz is seen here cruising in the Scandinavian Fjords in 1992, now with her lifeboats painted red
Photograph by & ? Hans Jurgen Aambergh
As with many of the Mediterranean ships, during the winter months the Akdeniz was laid up at the Turkish port of Bosphorus.
Photo Album:
The photographs below show her during one of these winter lay up's and these were taken by Hurol Hekimbasi. I am grateful to Hurol for the use of these fine images!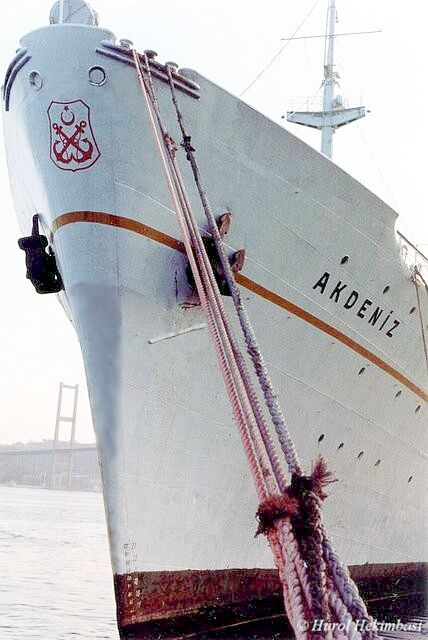 Her proud bow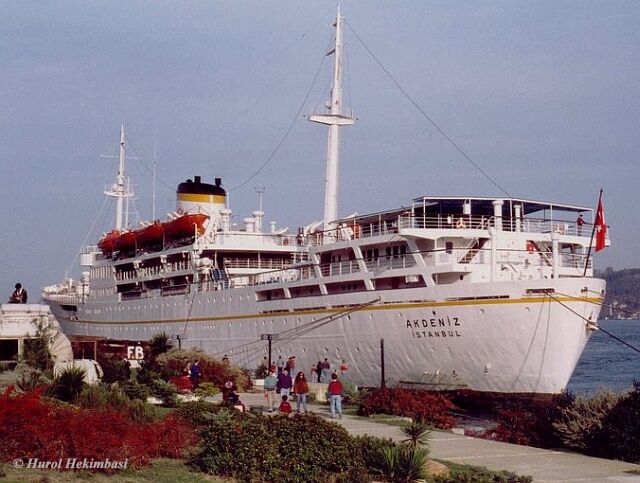 Obviously fishing around the ship is a popular event!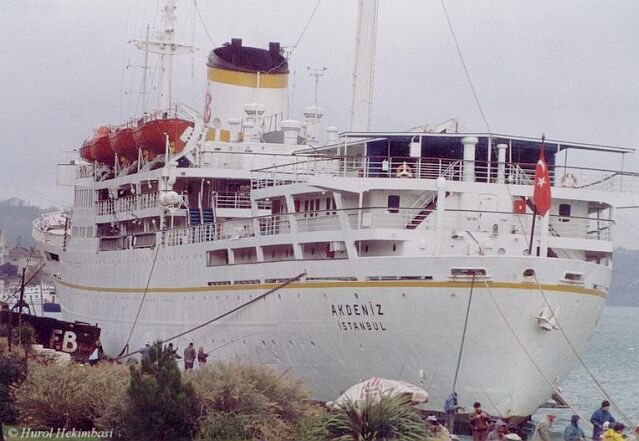 A fine stern close-up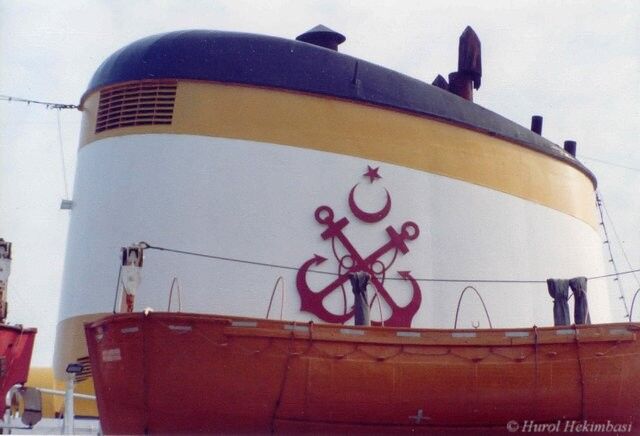 At last an excellent photograph of her funnel!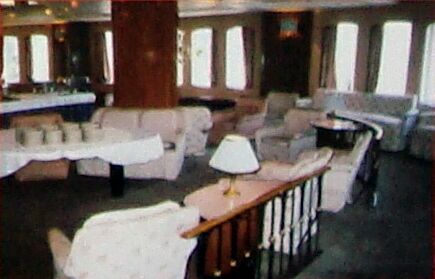 Smoking Room/Main Lounge A Deck
Provided by Istanbul Teknik University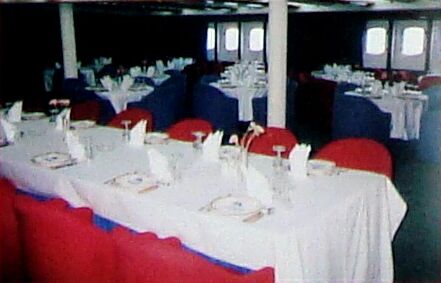 First Class Dinning Room
Provided by Istanbul Teknik University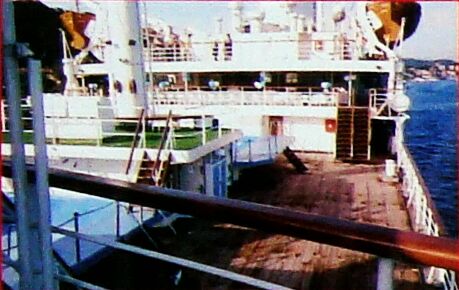 Two swimming pools
Provided by Istanbul Teknik University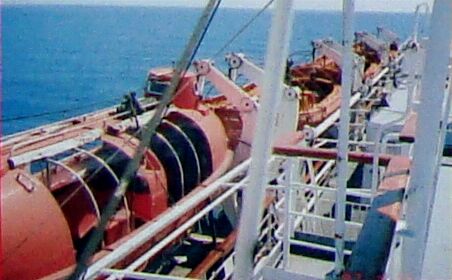 Forward tender and lifeboats
Provided by Istanbul Teknik University
A New Life for the Akdeniz:
In 1997 the ITU Maritime Faculty connected to the Istanbul Teknik University was looking for a suitable vessel for their Faculty and as the Akdeniz became available it was decided that she would be the perfect ship for the Faculty!
MS Akdeniz was handed over to the ITU Maritime Faculty in the port of Tuzla on July 2, 1997. This prestigious event was presided over by Prof. Dr. Osman Kamil Sag the Dean of the ITU Maritime Faculty, who gave a stirring speech, one that is remembered to this day! The ship remained at anchor until 2006. During that time she endured a few storms, one of these almost tore her from her anchorage, but thankfully she held fast and was saved from being blown ashore.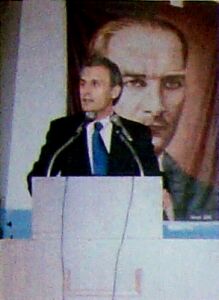 Prof. Dr. Osman Kamil SAG, the then Dean of the Faculty delivering the official opening speech
Provided by Istanbul Teknik University
A good friend of the author, Peter Knego, visited her in 1998 and he told me,
"In June of 1998, the Akdeniz had just been taken over by the Istanbul Teknik University in nearby Tuzla. Osman Kamil Sag the Dean of the ITU Maritime Faculty arranged to have me fetched from my hotel and take me via bus and boat to this graceful beauty, which was anchored off the sunny Turkish coast. I spent hours on board marvelling at her pristine wood-panelled lounges and staterooms before I was allowed several passes around the ship from her launch in the late golden-hued afternoon."
In June 2006 Ata Bilgili, Vice Dean, Maritime Faculty, took a series of photographs of her interiors prior to her being used as an accommodation ship, thus she looked a rather lonely vessel. Yet her lounge showed her old elegance and it can be seen how this ship could be turned into an elegant floating hotel one day!
Before being berthed she was dry-docked for maintenance. When completed she was berthed at an especially made mooring and soon she was ready to served both as an ongoing Faculty as well as a student accommodation ship.
Page Two has a series of photographs taken by Ata Bilgili of the interiors mentioned above from June 2006, as well as other images. Page three contains a series of photographs taken by maritime historian Peter Knego when he visited the ship in 1998. Page four will have further photographs of her sister the MV Karadeniz.
Akdeniz has served the ITU Maritime Faculty in Tuzla well for twelve years, however, recently I have received an email from Ata Bilgili who has a great desire to save and preserve this fine Turkish passenger ship.
Dr. Bilgili wrote me as he is concerned about this fine ship, considering that she is the only passenger ship afloat that has never been externally been modified and looks the same today as she did the day she sailed on her maiden voyage. Obviously her future at this stage is somewhat unsure and it is best to look ahead and ensure that her future is safe and well-taken care off!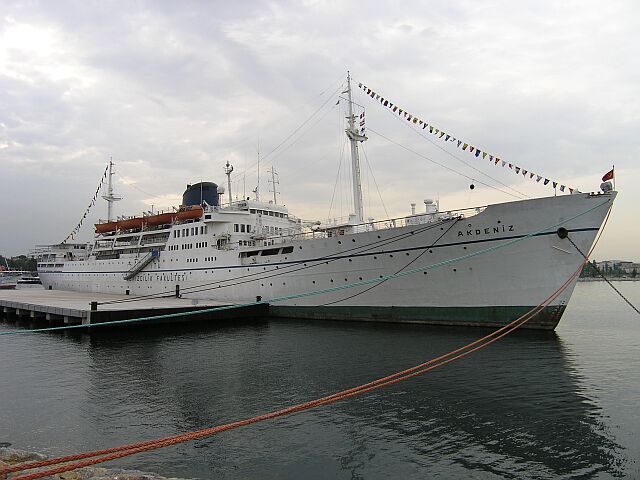 Here is one superb view of the Akdeniz in 2009 – It is amazing, but her superstructure remains 100% as built
Photograph by & ? the author Reuben Goossens
To be, or Not to be Saved:
ssMaritime in combination with the founder of the "Save a Classic Liner Campaign" - Reuben Goossens, and Ata Bilgili of the Istanbul, "ITU Maritime Faculty" commenced a campaign the "Save the MV Akdeniz Campaign" back in 2005 and we had hoped that this fine all classic ship would be saved. There were several possibilities in mind for her future:

1... Reclassification: This will mean that we could keep Akdeniz operational but with a crew of around 36, and use her locally or even internationally as an emergency accommodation and/or a hospital ship, should there be a need. For the rest of the time she would be used as a floating student Faculty in Turkey as well as in overseas ports. But this will of course take a considerable investment.

2... Hotel & Maritime Museum: The Akdeniz did have all the makings of a superb boutique Hotel and Maritime Museum in Turkey her homeland! However, I also believe that this genuinely classic ship would do Germany very proud considering that she is the ONLY and the LAST of the fine German passenger ships built of the mid fifties and still very much afloat and operational. In addition she is in an excellent interior condition. As a Classic Boutique Hotel & Maritime Museum in Bremen she would certainly make a fine tourist attraction in Germany, or Turkey for that matter!

The Author's visit to the Akdeniz:

Ata Bilgili being a Professor and the Vice Dean of the "Maritime Faculty" of the "Istanbul Technical University" at Tuzla, Istanbul, who was using the Akdeniz as a student accommodation ship and a function facility and he was working to save the ship for a further role in the future to be used by the university.

Whilst I was on an around the world voyage on the Dawn Princess 2009, when in Istanbul on September 8, Dr. Bilgili collected me from the terminal and drove to Tuzia where the ship was berthed. Before we boarded we had lunch at a restaurant over looking the Akdeniz, after which we boarded her and took and extensive tour of the ship as well spending time on the Bridge, etc.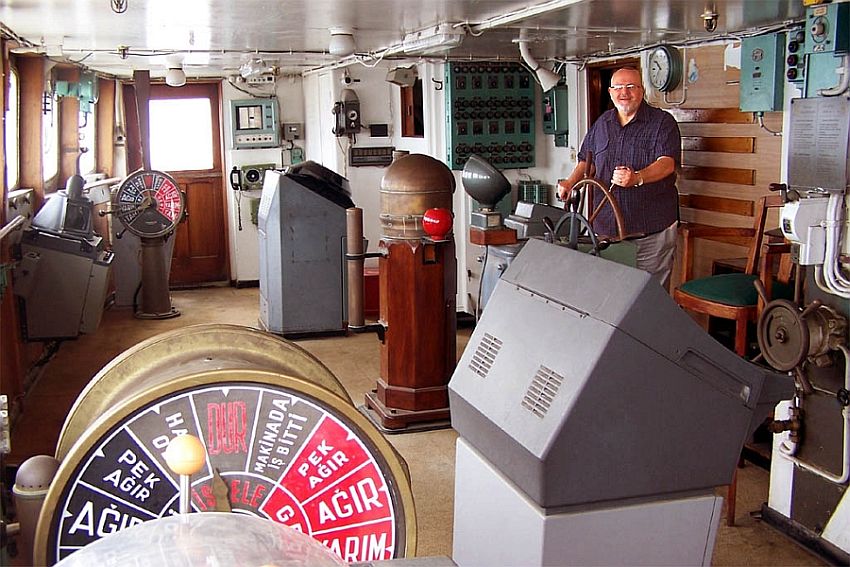 The Author on the Bridge of the MV Akdeniz
Whilst there I met an crew member and visited the Radio and the Chart Rooms, etc. we enjoyed having a Turkish coffee on her aft promenade deck.
Even though her original First Class lounges were in fine condition and looked good considering they were used for functions, but sadly, generally maintenance proved to be a huge financial problem for her owner, and sadly in general the ship looked a horrid mess. The worst was her deck planking was a hideous mess and every single plank would have to be replaced, and it would cost a great deal.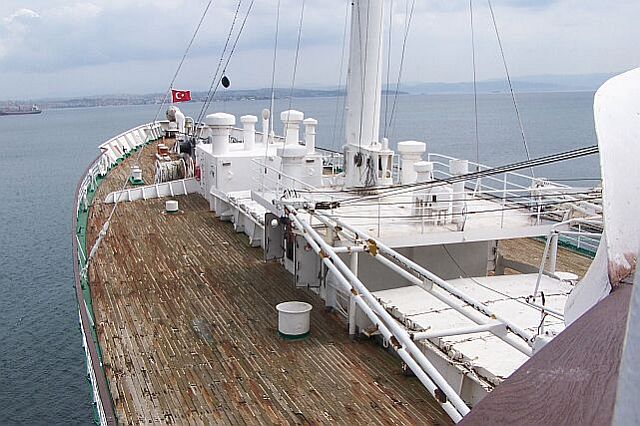 A photo I took from her Bridge portside wing of her Foc'sle and we can see the state of her planking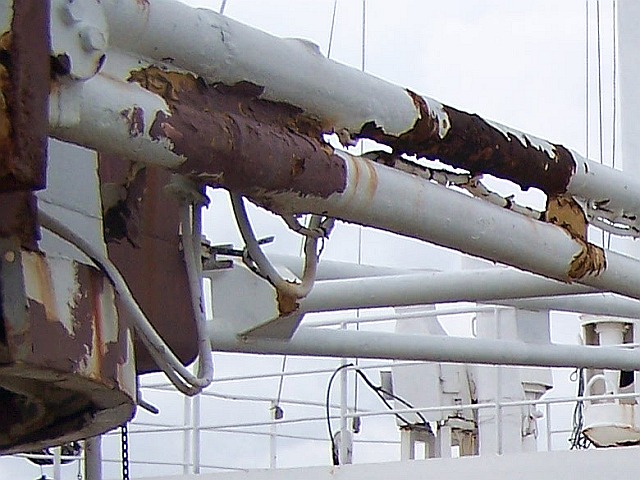 The state of the derricks forward
Her Tourist Class Main Lounge, had water damage from a leaking deck above, and there were countless other problems.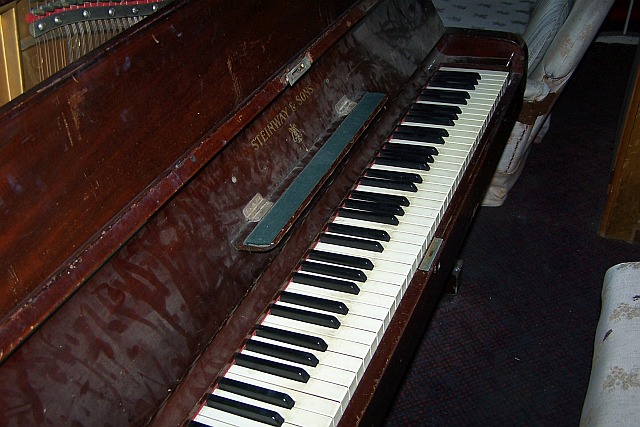 The water logged Piano in the Tourist Class Lounge
The cabins were all in a reasonable conditions, well good enough for students I suppose, but I would not sleep in one! When visiting her inner hull sections, there was an unbelievable amount of rust everywhere and the corrosion within her hull regions was in a shocking state, there were so many other problems and I soon began to doubt her future, and I was proved right.
Her End:
The ship lingered on for a few more years as a student accommodation ship, but then in 2015 the ITU Maritime Faculty sold the Akdeniz to a Turkish ship breaker at Aliaga in September of that year, where she was soon broken up.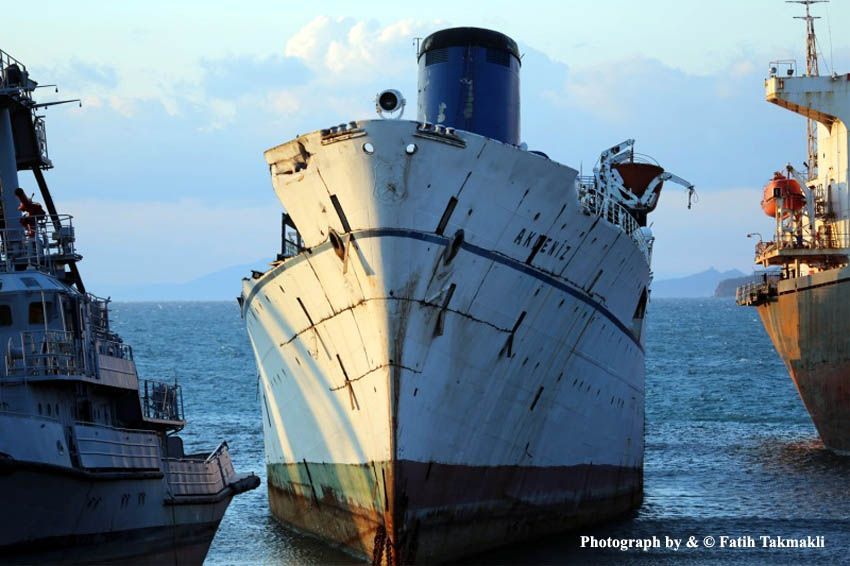 A sad looking Akdeniz is seen here during her demolition at Aliaga in 2015
She was a Fine Looking Classic Ship and this is the way we want her to stay!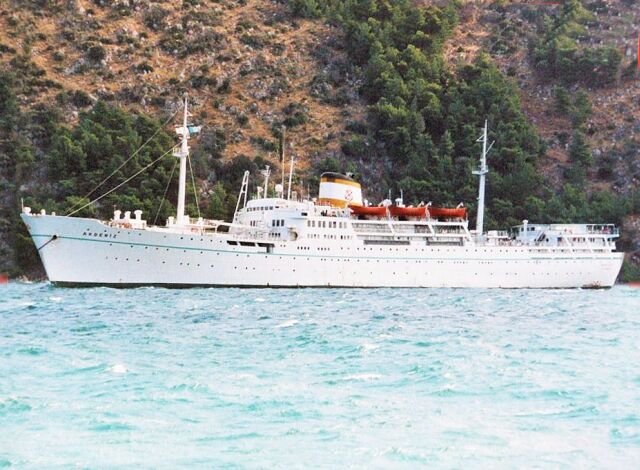 MV Akdeniz was an elegant and a truly classic cruise ship!
INDEX
Page Three … Photographs by Peter Knego taken of Akdeniz in 1998
Page Four … Photographs and details of MS Karadeniz and MV Izmir, Ege & Marmara
Page Five ... NEW – A superb page packed full of photographs of the ships interiors taken by Ata Bilgili
whilst she has been at anchor as an accommodation vessel
New Page … Two fine Turkish ships SS Iskenderun and Samsun built in 1950/51
New Page … MS Pasabahce is a remarkable 1955-built Turkish all steel ferry and it is now in need of saving!
************************
"Blue Water Liners sailing to the distant shores.
I watched them come, I watched them go, and I watched them die."
************************
ENTER OUR ssMaritime MAIN INDEX
Where you will discover well over 750 Classic Passenger & Passenger-Cargo Liners!
ssMaritime.net
Where the ships of the past make history & the 1914 built MV Doulos Story
Photographs on ssmaritime and associate pages are by the author or from the author's private collection. In addition there are some images that have been provided by Shipping Companies and private photographers or collectors. Credit is given to all contributors. However, there are some photographs provided to me without details regarding the photographer/owner concerned. I hereby invite if owners of these images would be so kind to make them-selves known to me (my email address may only be found on www.ssmaritime.com), in order that due credit may be given.
This notice covers all pages, although, and I have done my best to ensure that all photographs are duly credited and that this notice is displaced on each page, that is, when a page is updated!
ssMaritime is owned & ? Copyright by Reuben Goossens - All Rights Reserved