SS Hellenic Prince 1948-1954, ex HMAS Albatross 1928-1946
Please Note: Firefox and some iPad's or iPhone's, etc are not suitable
Use Internet Explorer or Google for this page to load perfectly!

Click the logo above to reach the ssMaritime FrontPage for News Updates & "Ship of the Month"
With Reuben Goossens
Maritime Historian, Cruise'n'Ship Reviewer, Author & Maritime Lecturer
Please Note: All ssMaritime and other related maritime/cruise sites are 100% non-commercial and privately owned. Be assured that I am NOT associated with any shipping or cruise companies or any travel/cruise agencies or any other organisations! Although the author has been in the passenger shipping industry since 1960, although is now retired but having completed over 700 Classic Liners and Cargo-Passengers Ships features I trust these will continue to provide classic ship enthusiasts the information the are seeking, but above all a great deal of pleasure!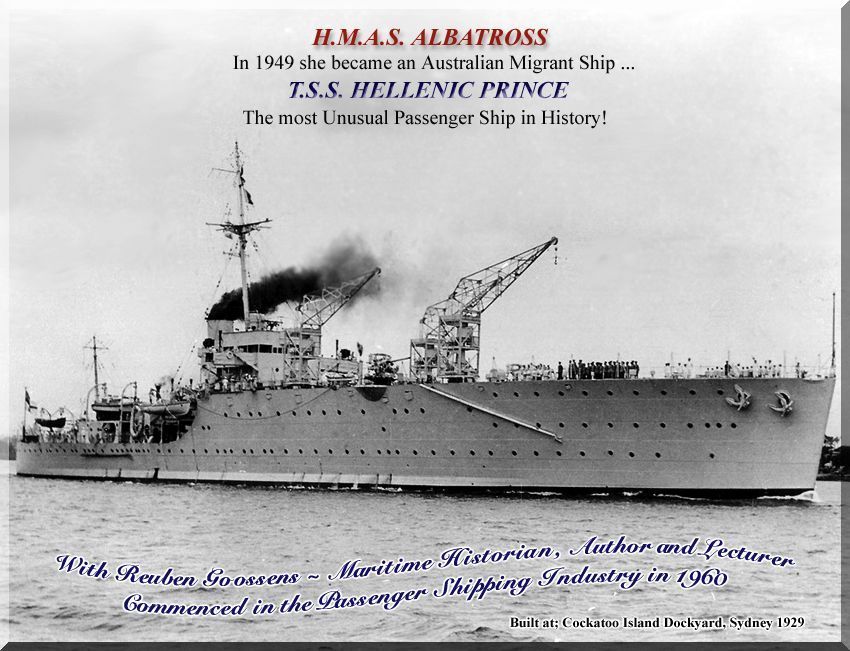 This feature contains the story of what was, without a doubt one of the world's most basic passenger ships ever, yet she was unbelievably majestically given such a princely name the … "Hellenic Prince", her story is located on Page Two and if you wish to read about this ship first, then click the link as shown or at the one at the bottom of the page. But we will begin with the ship as she was built as an Australian naval vessel the HMAS Albatross!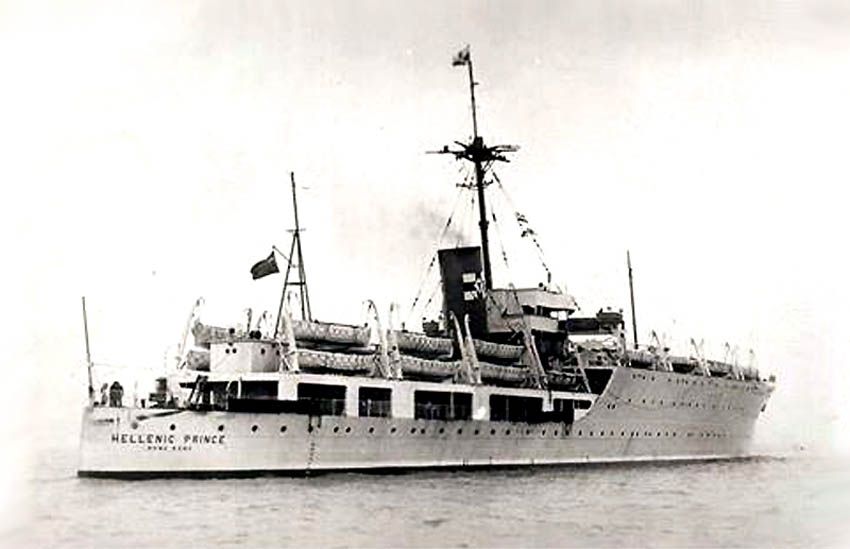 The Hellenic Prince was known by a good number of names, sadly some were not very complementary, as we will discover on Page Two
Page One – HMAS/HMS Albatross
Construction and Commission into the RAN & RAAF:
During the first half of the 1920s the Governor-General of Australia, Lord Stonehaven announced the construction of a new type of naval warship, which would be a Seaplane Carrier, to the surprise of both the Royal Australian Navy and the Royal Australian Air Force. The decision to acquire a seaplane carrier was prompted mostly due to the need to provide work during the timed of the depression and high unemployment of the 1920s and the realisation that a conventional aircraft carrier was outside the ability of the RAN to finance. The Australian Commonwealth Naval Board requested that the British Admiralty supply a basic design for a seaplane carrier, with the conditions that the ship have a top speed of a minimum of 20 knots (37 km/h; 23 mph), and cost under £400,000 (AU pounds), thus saving a good saving of £1m if built in an Australian shipyard.
Thus, she was ordered to be built for the Royal Australian Navy at the "Cockatoo Dock & Engineering Co," Sydney, Australia and her keel was laid down on June 16, 1926 as Yard No 106. She was officially Named "Albatross" and launched by the wife of the Governor-General of Australia, Lady Ethel Stonehaven on February 21, 1928, being the 12th naval ship to carry this name.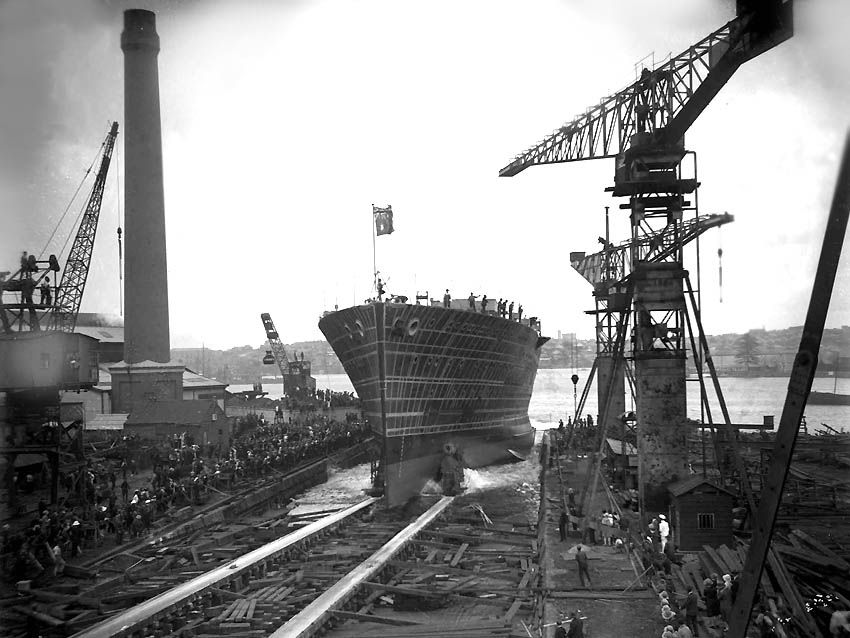 The launching of the HMAS Albatross on February 21, 1928
HMAS Albatross was completed on December 21. She entered service being officially commissioned by the RAN on January 23, 1929.
HMAS Albatross was Australia's very first Aircraft Carrier, or rather a Seaplane transporter as she was to carry up to nine seaplanes in a large forward hanger, and they would be lowered in to the water by one of the three cranes/catapults.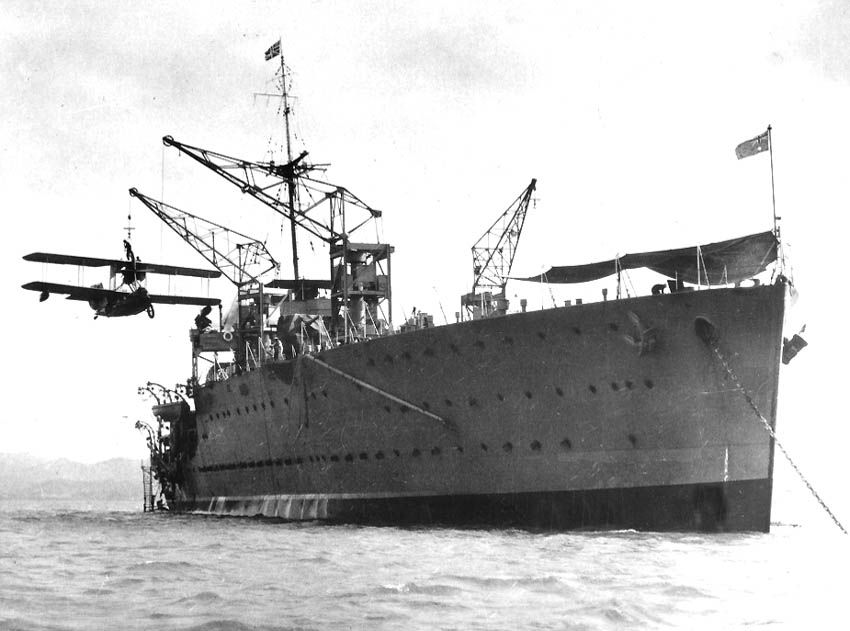 Here we see the HMAS Albatross at work, lowering one of her Seagull III seaplanes into the water
The Ships Specifications & Details:
Tonnages was listed as being 4,800 NET, and her length was 443.7ft - 135.2m, her width being 61ft - 18.5m, having a draught of 16.11.5ft - 5.169m.
Her propulsion machinery consisted of four "Yarrow" boilers supplying "Parsons" geared turbines, which generated 12,000 shaft horsepower (8,900 kW), which fed two propeller shafts. Although the Albatross was to have a maximum speed of 20 knots, but during her speed trials operating at full power she proved that the ship was capable of good 22 knots (41 km/h; 25 mph). At that speed, she had a range of 4,280 nautical miles (or 7,930 km; 4,930 mi), although she could cover 7,900 nautical miles (or 14,600 km; 9,100 mi) at a more economical speed.
Albatross' armament consisted of four QF 4.7-inch Mk VIII naval guns, four QF 2-pounder pom-pom guns, four QF 3-pounder Hotchkiss saluting guns, four .303-inch Vickers machine guns, and twenty .303-inch Lewis machine guns (ten singles and five twin mounts).
The ship's company consisted of 29 RAN officers, 375 RAN sailors, 8 RAAF officers, and 38 RAAF enlisted.
Her Duties 1929-1938:
January to March 1929:
HMAS Albatross was deployed as guard-ship in Hobart, Tasmania during the "Annual Royal Regatta." Thereafter she headed to Port Phillip Bay at Melbourne, Victoria, to re-embark six RAAF Seagull III seaplanes, after which she headed for the Jervis Bay region, some 200 kilometres south of Sydney, New South Wales, for trials with the seaplanes and ensuring that the RAN worked well with this ship. Due, to the nature of the ship and her duties there were obvious limitations of operation with the moving of aircraft, which could only be done in calm weather conditions.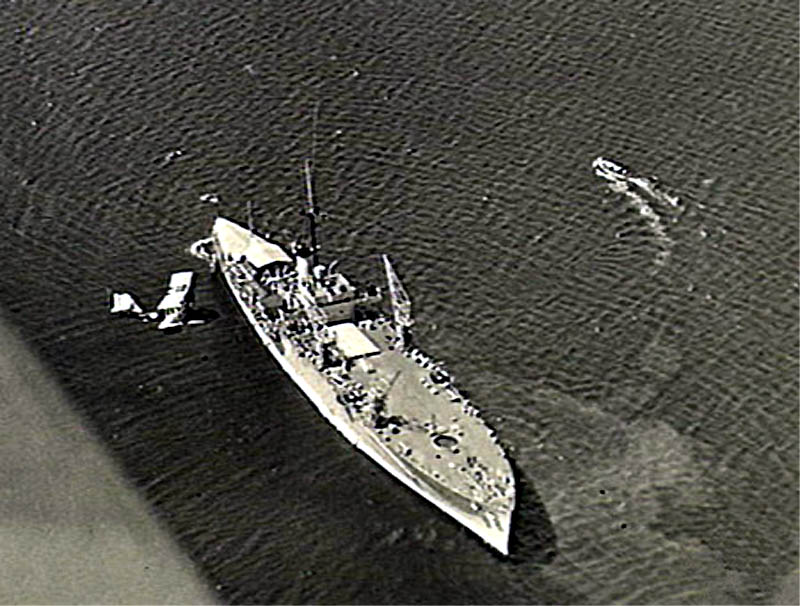 The HMAS Albatross seen at the Jervis Bay area with one of the seaplanes in the air
April to August:
She was deployed for further trials and exercises in Sydney region and out at sea. For a special voyage the Governor General and wife came on board for an official State visit to the "Australian Mandated Territories" (today's Papua New Guinea). After having returned to Sydney, she operated in the South Pacific.
September to December:
The HMAS Albatross was mainly deployed along the east coast of Australia during these months.
1930 to 1932:
Albatross was deployed during the majority of this time in Darwin, the Northern Territory, were the RAAF would operate reconnaissance flights over the approaches of the Northern Territories, and other commissions.
January to March 1933:
The HMAS was operated in and around Sydney for various operations.
April:
Finally the Royal Australian Navy & the Royal Australian Air Force decided that they had no further use for HMAS Albatross, thus all the seaplanes were removed from the ship, and she was decommissioned on April 26, 1933, and placed into reserve and laid up in Sydney Harbour. However, she was regularly used as a stationary ship as a base for visiting seaplanes, until the end of 1935.
1936:
The Albatross was given a refit which included installing a new crane/catapult. Upon completion, she was re-commissioned in order to carry out trials on the new crane/catapult. When this was completed successfully, she was again paid off and placed in reserve, and again would take on board visiting seaplanes.
1937:
At some time during this year, discussions were held with the Royal Navy relating to transfer in part for payment for building of a cruiser for the Royal Australian Navy.
1938:
This would prove to be a special year for the Albatross as she encountered many changes and a long voyage.
From January to March she remained in Reserve, then without notice, the transfer to the Royal Navy had been agreed and made official. The Albatross was officially re-commissioned for passage to UK on April 12, 1938. Over the next three months she was made ready and prepared for her passage to the United Kingdom.
On July 11, HMAS Albatross departed Sydney and headed for the UK with ports of calls on the way at; Singapore, Colombo, Suez and Port Said.
She arrived in the UK on September 8, where she was immediately paid-off from Royal Australian Navy and transferred to the Royal Navy. She was soon taken to a naval ship yard where she would undergo another refit and have one of her canes removed, this work was completed in December 1938.
1939 to 1944: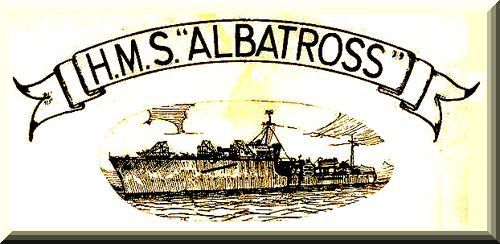 Here we see the HMS Albatross Banner with an image of the vessel below
She was officially commissioned as HMS Albatross for service. She was sent to "War Station at Freetown" where she carried out harbour and sea trials, with great success. She was prepared to operate at Freetown and for this reason Six Walrus III seaplanes embarked.
Over the next six years the HMS Albatross, did serve her country with great valour and the Albatross was awarded several awards of a high honour for the brave 1939 to 1942 Atlantic campaign and her valiant 1944 Normandy campaign, she was a small ship that did her country, and her excellent crew very proud! Let us look a little closer at her services;
HMS Albatross operated military service for the Royal Navy during World War 2. It operated patrol and escort duties in the southern Atlantic and commencing mid 1942 she also served in the Indian Ocean. By early 1944 she was converted in order that she could repair landing craft and other support vessels off two of the most dangerous location, being "Sword" and "Juno beaches" during the "Invasion of Normandy". The Albatross managed to return 132 craft back into service, in addition save another 79 from being a total loss.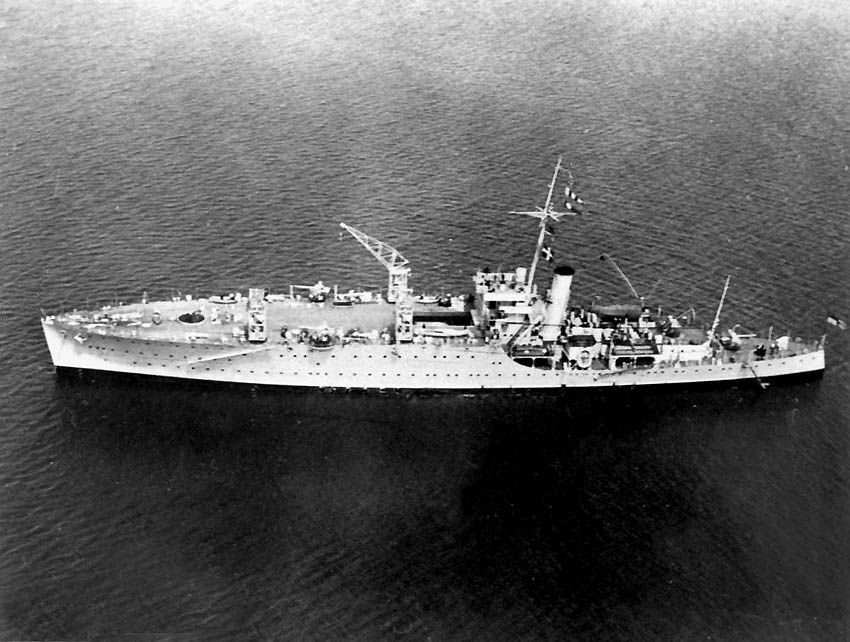 The HMS Albatross seen in service
Then suddenly, on August 11, 1944 HMS Albatross was torpedoed with the tragic loss of up to 66 personnel, but thankfully they were able to tow her to Portsmouth. After being repaired she briefly operated duties as a minesweeper's depot ship, but then on August 3, 1945 she was de-commissioned and placed in reserve and laid up once again, which was the conclusion of her warship duties.
The Also View Page contains further details of her valiant War duties; the link to this page is located at the bottom of the page.
With the Albatross Having been placed on the disposal list, it was just over a year later that she was sold to a British company who intended to rebuild her into a luxury liner. For the story of the Passenger Ship, which in due course became the S.S. Hellenic Prince go to Page Two via the link below!
HMAS/HMS Albatross & SS Hellenic Prince Page INDEX:
Page One:           The HMAS & HMS Albatross, Australia's first Sydney built seaplane carrier.
Or Copy & Paste:       www.ssmaritime.com/Albatross-Hellenic-Prince-Page-One.htm.
Also View:           HMS Albatross and her War 2 duties. This is another website, but very interesting!
Page Two:           The S.S. Hellenic Prince the migrant ship to Australia that with quite a reputation.
Or Copy & Paste       www.ssmaritime.com/Albatross-Hellenic-Prince-Page-Two.htm.
****************************
ENTER OUR ssMaritime MAIN INDEX
Featuring over 1,084 Classic Passenger Liners, Passenger-Cargo Liners & Cruise Ships!
Classic Liner enthusiasts visit …
ssMaritime.com & ssMaritime.net
Where the ships of the past make history & the 1914 built MV Doulos Story
Photographs on cruise-australia.com & .net are: 1. By the author. 2. From the author's private collection. 3. As provided by Shipping Companies and their Publicity Companies as well as by private photographers or collectors. Credit is given to all contributors. However, there are some photographs provided without details regarding the photographer concerned., therefore I hereby invite if owners of those images to be so kind and make them-selves known to me, in order that due credit may be given!
This notice covers all pages, although, I have done my best to ensure that all photographs are duly credited and that this notice is displayed on each page, that is, when a page is updated!
Cruise-Australia is owned/operated and © Copyright by Reuben Goossens - All Rights Reserved