SS Hellenic Prince 1948-1954, ex HMAS Albatross 1928-1946
Please Note: Firefox and some iPad's or iPhone's, etc are not suitable
Use Internet Explorer or Google for this page to load perfectly!

Click the logo above to reach the ssMaritime FrontPage for News Updates & "Ship of the Month"
With Reuben Goossens
Maritime Historian, Cruise'n'Ship Reviewer, Author & Maritime Lecturer
Please Note: All ssMaritime and other related maritime/cruise sites are 100% non-commercial and privately owned. Be assured that I am NOT associated with any shipping or cruise companies or any travel/cruise agencies or any other organisations! Although the author has been in the passenger shipping industry since 1960, although is now retired but having completed over 700 Classic Liners and Cargo-Passengers Ships features I trust these will continue to provide classic ship enthusiasts the information the are seeking, but above all a great deal of pleasure!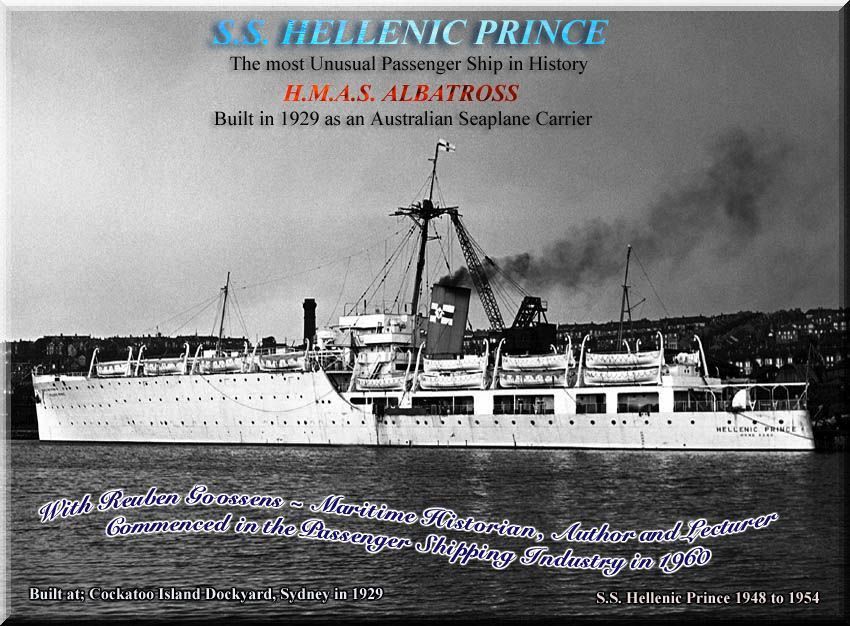 This feature contains the story of what was, without a doubt one of the world's most basic passenger ships ever, yet she was give such a majestic and a princely name such as the; "Hellenic Prince". However, she was built in 1928 as a humble Australian seaplane carrier the HMAS & the UK wartime HMS Albatross and her story is located on Page One. If you wish to read about the ship as originally built first, then click the link as shown or at the one at the bottom of the page.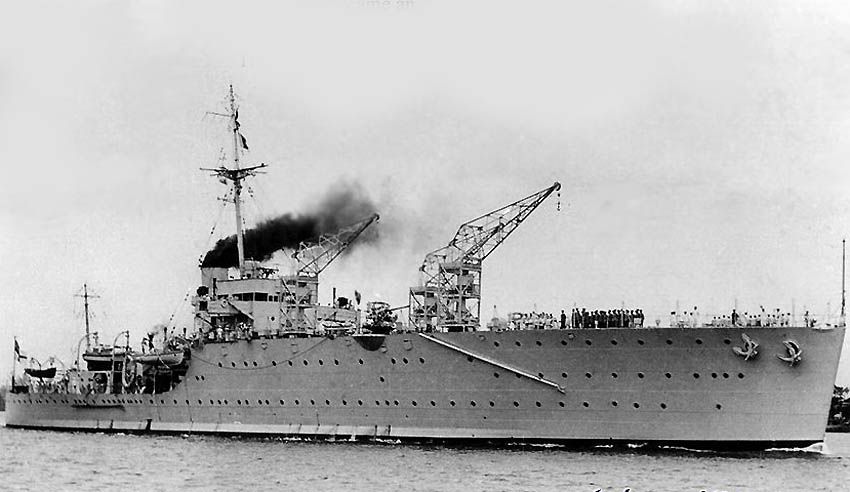 HMAS Albatross is seen in the Brisbane River
Part Two - S.S. Hellenic Prince
The Albatross was sold to a British company the "South Western Steam Navigation Company" on August 19, 1946 with the idea of rebuilding her into a passenger liner to operate on the Australian market, and thus she was sent to Chatham Dockyards for conversion. But it rapidly became obvious that the cost of the rebuilding programme was going to prohibitive, therefore after a small amount of work had been done, South Western formed a new plan for the vessel, and they decided to use her as a storage facility. Thus, she was towed to Torquay early in 1947, having been renamed the "Pride of Torquay." However, soon thereafter she was placed on the market, but as no buyers were forthcoming an auction was organised which was to be held on October 19, 1948.
Then, just several days prior to the auction date, she was purchased at a very good price by the British-Greek "Yannoulatos Group" for their "China Hellenic Lines" based in Hong Kong, and she would be converted to operate migrant services to Australia. On November 14, 1948 she was officially renamed that "Hellenic Prince" which was done to recognise the birth of Prince Charles who was born on that day, and to honour his Greek heritage, through Prince Phillip.
The SS Hellenic Prince was sent to the C. H. Bailey Ltd Shipyards, at Barry in Wales, UK, where she was converted to a very basic passenger vessel at a cost of £200,000, with her completion date being set for March 1949. However, work took a good six months longer than had been anticipated, but finally in September 1949 the Hellenic Prince was completed.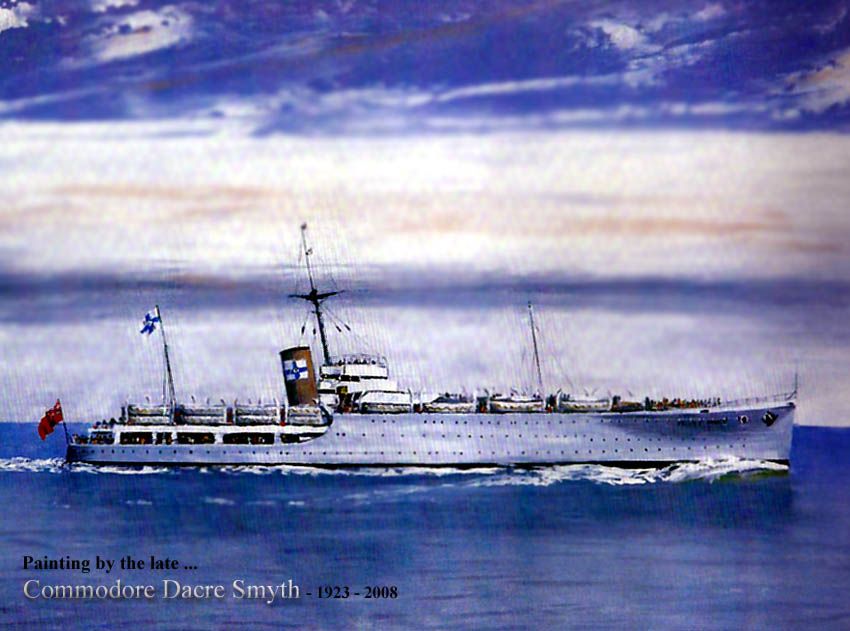 A Painting of the completed SS Hellenic Prince
The completed 6.558 GRT (Gross Registered Tons) SS Hellenic Prince was certainly no luxury liner, was able  to accommodate up 1,200 persons in 200 cabins and dormitories with up to 20 persons, as well some 8 and some 4 bunk cabins all having the most basic of facilities, yet all accommodations were fully air-conditioned. The spacious Dinning Room seated 560 persons and this venue at certain times also was used as a lounge area, for there were no formal lounges, but there were two Cinemas for entertainment. In the three bays of her hangar deck there were three separate Hospitals - one for men, one for women, and an isolation Ward for sick children who would most likely have come out of one of the concentration camps of post-war Europe.
Specifications:    
Built at:                Cockatoo Docks and Engineering Co, Sydney 1928.
Tonnage:               4,800 Displacement.
Rebuilt:                 C. H. Bailey Ltd Shipyards, at Barry, Wales, UK 1949.
Tonnage:               6.558 GRT.
Length:                 443.7ft - 135.70m.
Width:                  61ft – 18.5m.
Draught:               17.25ft - 5.26m.
Propulsion:            4 × Yarrow boilers, Parsons Turbines, 12,000 SHP, 8,900 kW.
Speed:                  17 Knots service speed, 22 maximum.
Propellers:             Two.
Passengers:           around 1,000, but up to 1,200 maximum in Steerage.
Crew:                   250.
Her lower aft deck had been covered providing a short Promenade Deck, but as it was very close to the sea meant that on bad weather days it would have been inaccessible! There was large covered area provided forward of the superstructure for relaxation, and there was also a spacious aft deck, but considering this very small ship carried so many passengers, her decks were usually very crowded.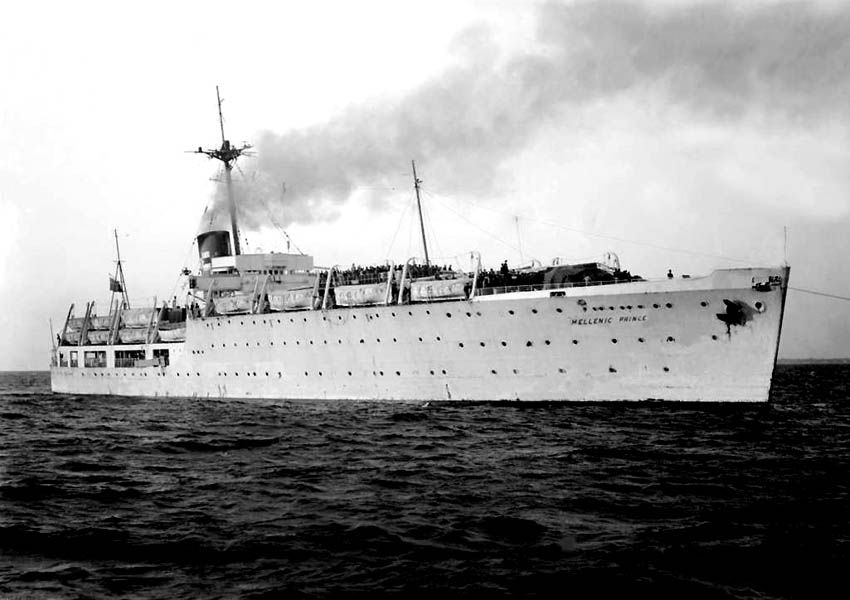 SS Hellenic Prince seen at Sea & you can see the two covered areas forward and the passengers crowded there
She departed the C. H. Bailey Ltd Shipyards and headed for Naples Italy on October 17, 1949 and upon arrival she was crewed and prepared for he upcoming voyages, to Australia. The master placed in charge of the SS Hellenic Prince was Captain. P. C. King and he was a fierce former British naval officer), and he became known as a tyrant and treated passengers with great disrespect and he was in due course charged!
During the Hellenic Prince's career she was also chartered by the "International Refugee Organisation" (IRO) to transport both individuals and families who would migrate to Australia and one voyage that extended to New Zealand after World War II, who hailed from various European Countries including; Germany, Hungary, Russia, Ukraine, Latvia, Poland, Czechoslovakia and Romania, etc. The vast majority of these passengers are World War II refugees or displaced persons.
Hellenic Prince would sail at a service speed of 17 knots, meant that her voyages would take an average of between 25 and 28 days. Her first voyage departed Naples and headed for Australia, sailing via the Port Said, Aden Colombo, Fremantle; arriving in Sydney on December 5, 1949 thus she actually arrived home after more than eleven years having been away. But, this time she was not name HMAS Albatross, and did not have naval personal but a merchant crew and carrying 1,000 World War II refugees and displaced persons and a few passengers.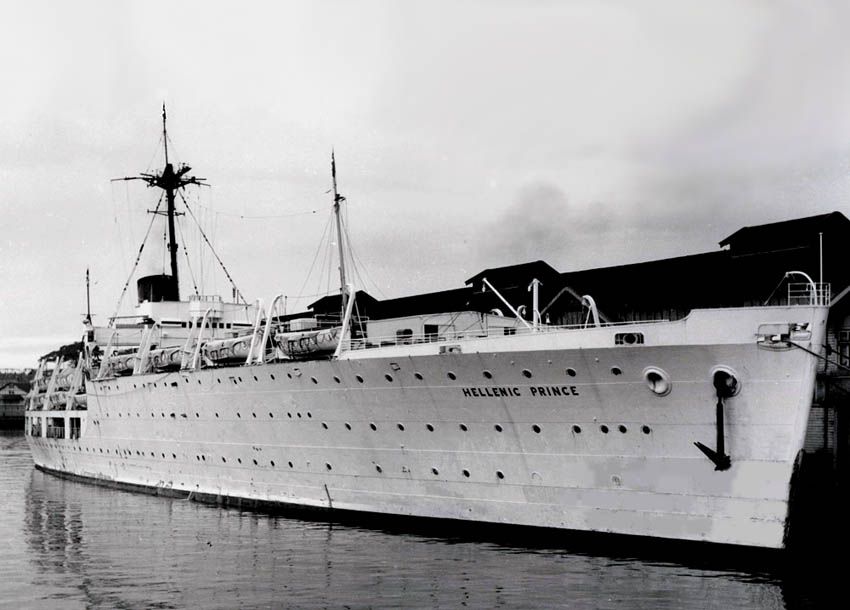 SS Hellenic Prince is seen here berthed in Sydney on December 5, 1949
Once she had offloaded her passengers, she departed and headed back to Naples at top speed without any passengers as she did not have the facilities that were up to standard for tourists!
Her next voyage departed Naples on January 11, 1950 and she made a stop at Sicily where she dropped anchor and tenders brought some more passengers bound for Australia. However, whist boarding passengers, she lost an anchor, but decided to depart without it. When she arrived in Port Said she was held up for three full days as a new anchor had to be fitted! This voyage's troubles did not end there, for mid Indian Ocean; the ship was forced to come to a full stop and dead in the water, as there was a boiler breakdown. As work was done down below, she drifted for several days before the problem was fixed, she headed for Melbourne at full speed making up some good time, arriving on February 13, 4 days late. Her return was again as an empty ship, and when arriving in Naples, further repairs were made before departing on her next voyage.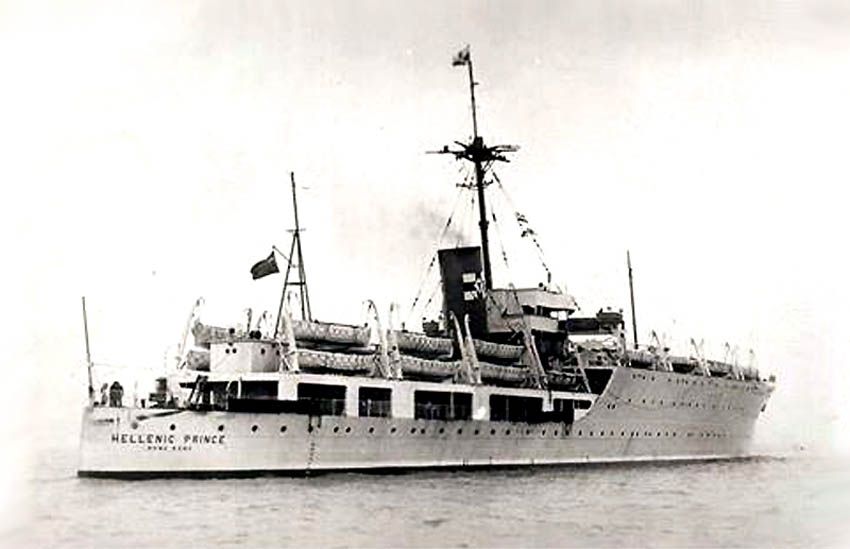 Here we see a stern view of the SS Hellenic Prince
Her third voyage however, went without a hitch mechanically and she headed to Australia via the usual ports. However, this time her return to Europe was very different, for she headed north and sailed to Indonesia, where she picked up Dutch ex-patriots and those escaping the troubles there, and they were taken to Bremerhaven Germany. Now Bremerhaven became her new European homeport. She departed for there on her first voyage on June 25, 1950 and returned from Australia late in August.
Her next voyage was in September 1950 and she sailed via the Port Said, Aden Colombo to Fremantle where she arriving on October 10, remaining there for the day.
She the departed later that day and headed directly along the Southern Sea & the "Great Australian Bight," and then across the Tasman Sea to Wellington New Zealand where she arrived October 16 to off load her passengers bound for New Zealand.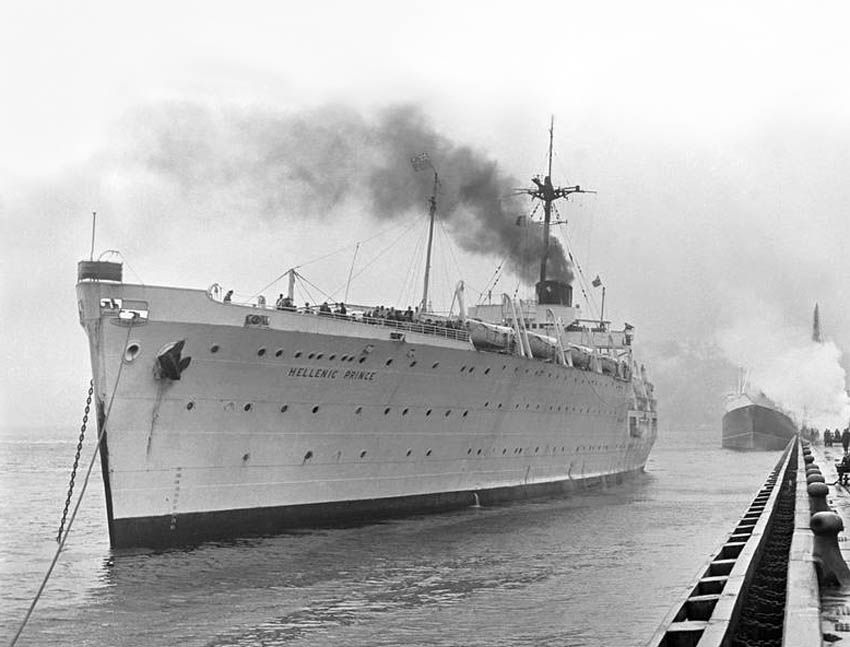 SS Hellenic Prince is seen arriving in Wellington
She then departed that same day and returned once again directly to Fremantle arriving on November 2, and having bunkered there, she departed again and headed directly north bound for Indonesia to board further Dutch ex-patriots and then head for Bremerhaven.
Although she remain on the Australian trade until 1952, but I have not covered her on board experienced as reported so clearly by the captain and the passengers. AS we read the following be well aware that "action was taken against captain P. C. King and the company".
Newsletter "Kangaroo" January 5, 1951
A Newsletter titled "Kangaroo" and dated January 5, 1951 was distributed on board the Hellenic Prince during her 38 day voyage from (Bremerhaven via) Naples to Melbourne from December 3, 1950 to January 11, 1951. The newsletter includes an address from the ship's master captain P. C. King expressing his indignation at the behaviour of the passengers and making accusations of mutiny. He refers to a committee of passengers, who evidently formed a delegation to the Ship's Master and to a passenger being held in the ship's prison for assaulting the Escort Officer. The newsletter also includes an illustration parodying the cruelty of the captain which must have been created by a passenger.
This newsletter was used by Mr & Mrs. Savo and Carla Krohnje who immigrated to Melbourne on the Hellenic Prince from Slovenia. They have very few fond memories of the voyage, describing the shipboard conditions as appalling and overcrowded with 1,200 passengers accommodated in 200 bunk rooms.
Passengers were even required to work during the voyage, undertaking cleaning, cooking, mess room duties, and working in the boiler and engine rooms, with payment received in Woodbine cigarettes. Drinking water ran out before the end of the voyage, although stubbies of drinking water could be purchased from passengers working in the machinery room for US$1.00. A freezer breakdown saw precious food stuffs perish, in addition passengers were refused permission to disembark at every single port and when fresh food was finally obtained in Fremantle, it was given to the crew, and not the passengers. Sea sickness was also rife as the ship was rarely level due to a malfunction with the pumps thus they were unable to move the ballast tanks around when needed.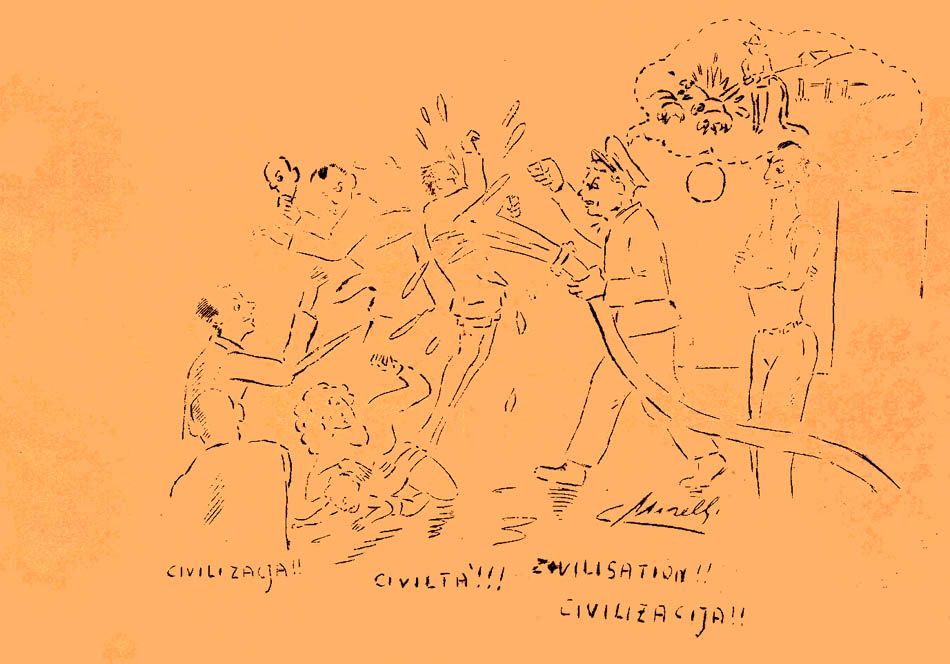 This drawing made by a passenger was to prove of the water & other tortures received from the hands of the captain & his crew
This image has been greatly cleaned up as the original I received was in a very poor state!
These conditions resulted in increasing passenger discontent which culminated in a hunger strike and the ship's master accused passengers of mutiny. A letter of complaint was drafted and signed by all passengers and sent to the "International Refugee Organisation". On arrival at Bonegilla Migrant Camp, they received news that the Hellenic Prince had been inspected and action was taken against captain P. C. King and the company.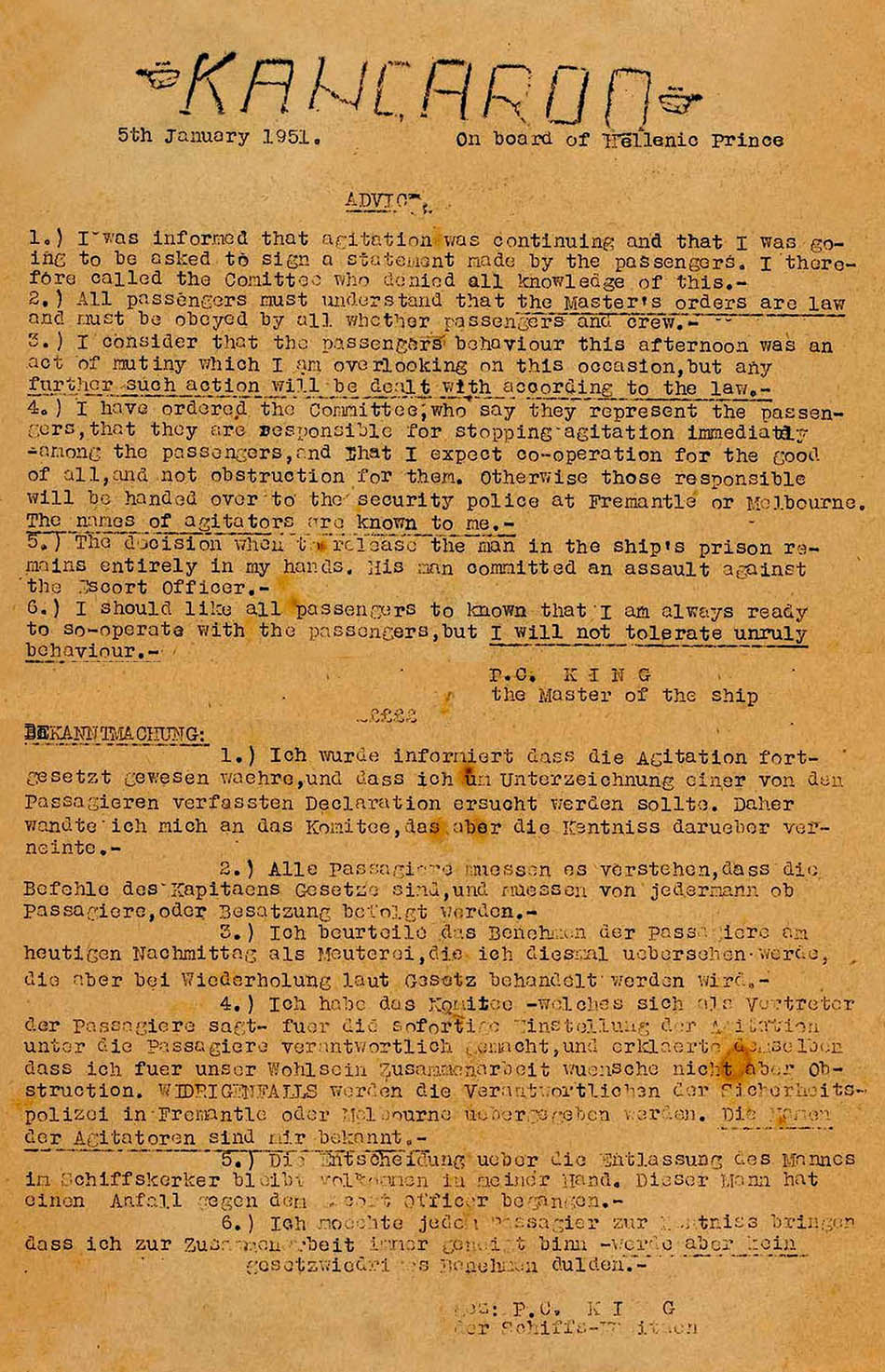 To view a larger, more readable version CLICK HERE
If the link does not work due to your system - Copy & Paste the following link that should suit your search engine;
www.ssmaritime.com/Hellenic-Prince-Kangaroo-Lge.jpg
West Australian News Paper Article May 12, 1951
Below is a copy of the "West Australian" News Paper printed in Perth after SS Hellenic Prince had arrived at Fremantle.
Dated; Saturday 12 May 1951, Page 2.
"Filthy" Ship Habits Of Migrant Groups.
"Their habits have been filthy and they were a constant worry to the crew," the master of the migrant vessel Hellenic Prince Captain. P. C. King said at Fremantle last night about Syrian. Lebanese and Cypriot peasants aboard the ship. "Some of them are not even white," Capt. King said. 'They came on board from the mountains of Lebanon dressed in flowing Arab robes and their standards of living do not conform with those of Western civilisation. I do not know who is responsible for the choice of migrants to Australia, but some of the passengers are poor types."
Capt. King, who is a former British naval officer, said that he was as surprised as some of his passengers-particularly the 29 French men and women on board-when Syrian, Lebanese and Cypriot peasants joined the ship.
"Some appeared to have the mentality of children," he continued. "It has been difficult to keep the ship clean, particularly in their dormitory."
During the past five voyages to Australia, he said, the Hellenic Prince had carried about 1,000 displaced persons on each trip. On her present voyage, the ship had 591 fare-paying passengers of eight nationalities.
"Luxury" Claim."
"The displaced persons gave us less trouble because they were well disciplined," Capt. King said. "Many of the people on this voyage have not the slightest idea of what discipline is. They became obstreperous at Aden when they thought they would not be allowed ashore."
Another officer said that although he had seen thousands of displaced persons coming to