ssMaritime.com & ssMaritime.net
With Reuben Goossens
Maritime Historian
Compagnie de Navigation Paquet
MS Ancerville
Later to become the Chinese Cruise ship
MS Minghua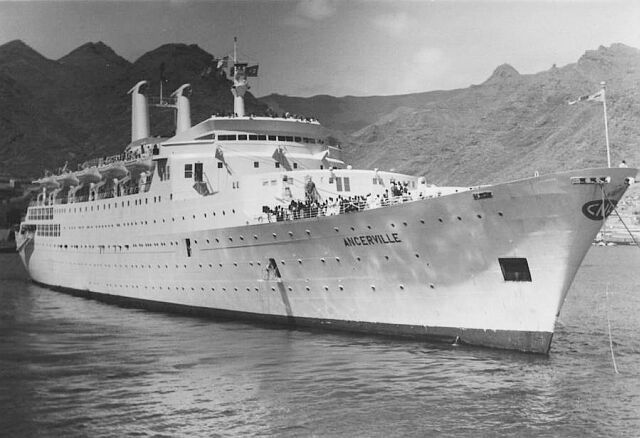 MS Ancerville seen at Tenerife
Please Note: Photographs on this page are from the author's private collection, unless stated otherwise.
MS Ancerville was a revolutionary design for Compagnie de Navigation Paquet, who ordered to have her built by Chantiers de l'Atlantique at St, Nazaire in France. She was launched on April 5, 1962 by French president Charles de Gaulle, and delivered to her owners on August 20, 1962. Upon completion she looked quite yacht like, however she was in fact the largest of the companies liners at a good 14,224 GRT (Gross Registered Tons). Paquet's other ships operating at the time, were ships such as the 1949 and 1951, 3,920 GRT built SS Azriu and SS Azemmour, as well as the 1952 built 9,931 GRT SS Lyautey.
MS Ancerville departed on her maiden voyage from Marseille on September 5, for a cruise to the Canary Islands, after which she commenced her regular service France (Marseilles), Morocco, Canaries, and Senegal together with the SS Lyautey, as well as operating cruises.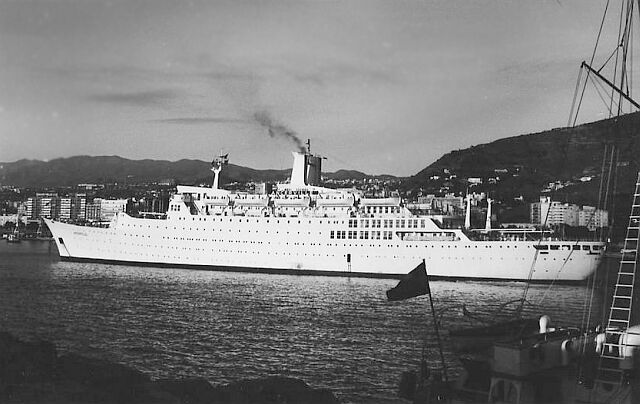 Ancerville seen arriving at Tenerife in the 1960's
Ships Appointments and Accommodations.
Due to her unusual layout, all her main public rooms were placed at the aft end of the superstructure and all accommodations were placed forward, the only exception being the Theatre and the Chapel which was located forward on Promenade Deck. She certainly became quite a notable passenger ship very quickly and was much loved due to her fine décor and excellent appointments and facilities in all three classes.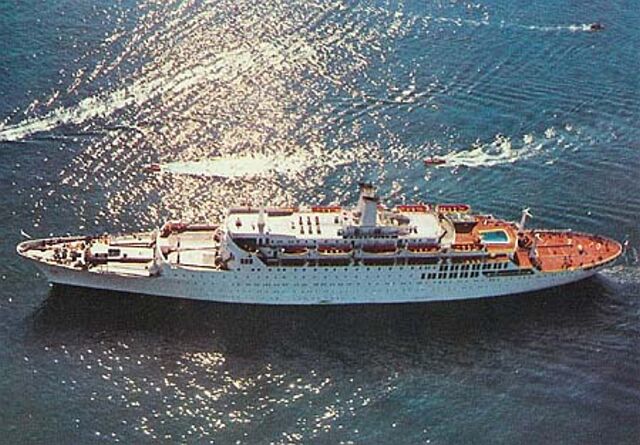 An excellent aerial postcard of the MS Ancerville
She offered accommodations in four classes 22 deluxe as well as 149 passengers in Comfort (first) Class; however these two grades shared the same Comfort Class facilities. Then there were 342 passengers in Tourist Class, as well as 243 in Standard (third) Class. However, whilst cruising she would operate as a one class ship with just 500 passengers. She had a crew of 173. It is noteworthy that "Comfort Class" obviously had three separate classes of accommodations. 1, "Deluxe," 2, then there were 78 cabins that are designated as "Priorité" and there rest 3, were the standard "Comfort Class" accommodations. It is all so very French; you can almost see Monsieur Poirot walking along the ships corridors!
The First Class Pool and Lido area was located aft on Boat Deck, with its Public Rooms directly beneath on Promenade Deck. The Tourist Class Public Rooms and Pool were also aft, but on A Deck. The dinning Rooms, as well as the Smoking Room for Standard (third) Class were located amidships on B Deck.
The deluxe and Priorité cabins all outside singles or twin bedded with private facilities were located on Boat and Promenade Decks. Comfort Class cabins, singles, twins, or three berths with private facilities and all outside with a view were located on A Deck. Tourist Class cabins were located on B, C and D Decks and comprises of twins, three and four berth cabins, many having a shower, otherwise with shared facilities. Standard Class offered from four to 10 berth dormitories located forward of the ship, and had a pool and promenade space on the fore deck, with their Lounge amidships on B deck.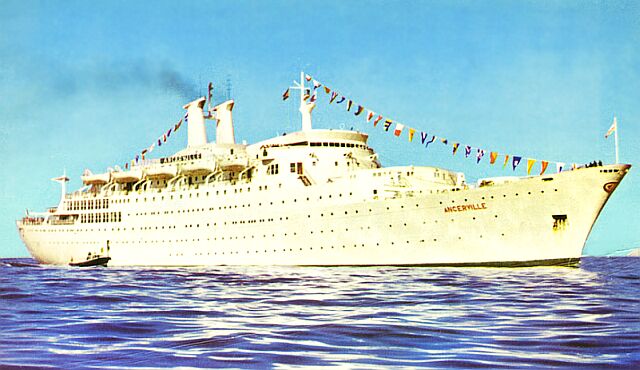 This is the very best post card of the MS Ancerville ever produced!
Specifications – MS Ancerville.
Builder:                             Barclay Curle & Company Glasgow, Scotland.
Yard No.                            M21.
Launched:                         April 5, 1962.
Length:                             167.53m / 551ft.
Beam:                               21.81m / 72ft.
Draught:                           21.9ft
Displacement:                   14,225 GRT (Gross Registered Tons).
Engines:                           2 x B&W type Diesels by the builder.
Horsepower:                      26,700 BHP.
Screws:                             Two.
Speed:                              22.5 knots - service speed.
Passengers:                       171 Comfort (first) Class, 342 Tourist Class, 243 in Standard (third) Class
                                        500 one class when cruising.
Crew:                                173.
                                        Fully stabilizes and air-Conditioned.
In 1970 she was transferred to "Nouvelle Compagnie de Paquebots," however she continued on her regular schedules. In July 1970, the Ancerville went to the rescue of the sinking liner SS Fulvia and rescued all her passengers and crew of the burning ship in the Canary Islands.
A New life – MS Minghua
However, with the declining loadings, it was decided early in 1973, and within weeks she was purchased by the Peoples Republic of China. As the buyer insisted on an early delivery, Paquet had to end MS Ancerville's services ahead of her schedule on March 24 and handed her over at the beginning of April 1973. Her new owners renamed her MS Minghua (translation: "Spirit of China") and she was placed on the China to East Africa service, but she was placed under the management of the China Ocean Shipping Company. Although there were very few major changes, her hull was painted a pale green, and her funnel was painted a buff-yellow with a red band containing an offset gold star with three stylised waves on either side of the star.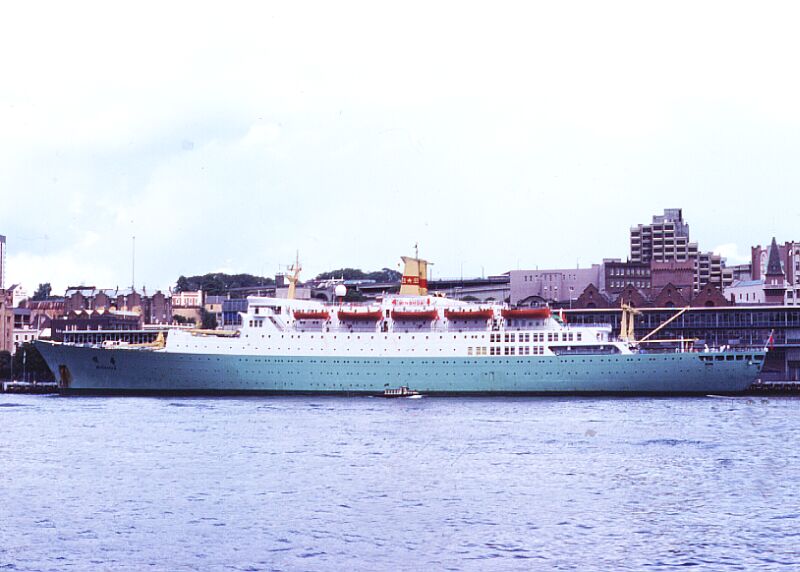 The pale green hulled MS Minghua seen in Sydney on December 31, 1979
Photo by & © Stan Evans – Newcastle Australia
In 1979 a new company was formed in Sydney Australia named Asian Pacific Cruises, and they arranged to charter the Minghua in order for her to operate South Pacific cruises. To make her ready for this role, she was given an extensive refit in Hong Kong, and upon completion she was able to accommodate 590 passengers and she was ready for her first voyage, being a fly/cruise voyage from Australia to Hong Kong and cruise back to Australia. Thus some 300 boarded in Hong Kong and sailed home to Sydney arriving there on December 31, 1979. Sadly this very first cruise was not the great success this new company had hoped for as many passengers complained about language problems aboard with the Chinese crew and other aspects of the voyage. However, she departed on her next cruise of the Pacific and New Zealand,Best Replica Watches but whilst she was away there was a dispute between her owners and Asian Pacific Cruises, which concluded in the termination of the charter agreement.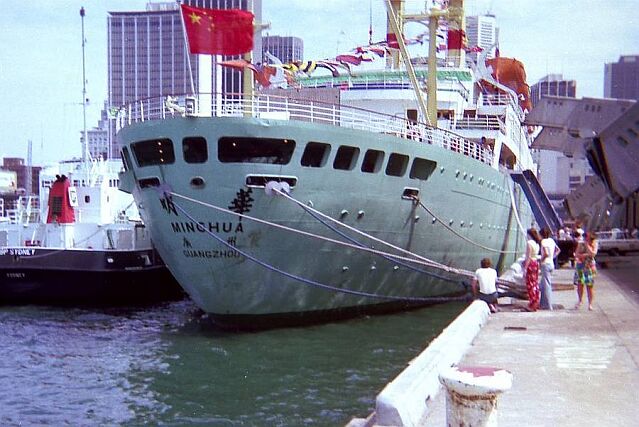 MS Minghua is seen here in January 1980 still with her green hull
Photo by & © Jeff Eastwood
Burns Philp and Minghua Cruises Australia.
In the meantime, the Chinese had also been speaking with the old and reliable company who had operated passenger ship for countless generations, Burns Philp and sought the idea if they might want to operate the ship, under the name of "Minghua Cruises." The answer was obviously – "Yes," as the ship returned to Sydney and continued cruising, but still not without its problems. Her owners decided to take Minghua back to Hong Kong for another refit to westernising even further, yet keeping the Asian charm and making her fit for the Australian cruise operation, this time she was painted all white again and she looked simply superb, so much better than with that pale green hull!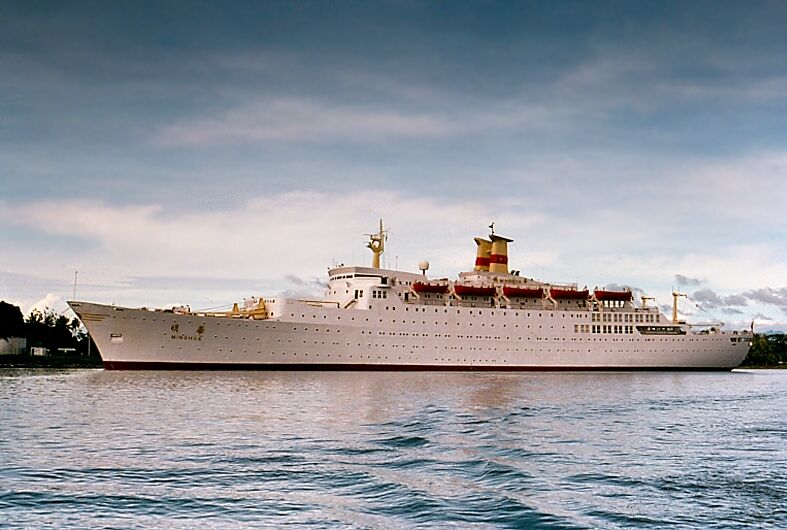 MS Ancerville became the popular Chinese cruise ship - MS Minghua
Also her interiors were greatly improved and much brighter than before, and now as she recommenced her cruise duties her popularity began to grow and grow! However, in 1981, she received yet another refit and her capacity was reduced to just 450. By now she had become known by another name by many, the "Friendship."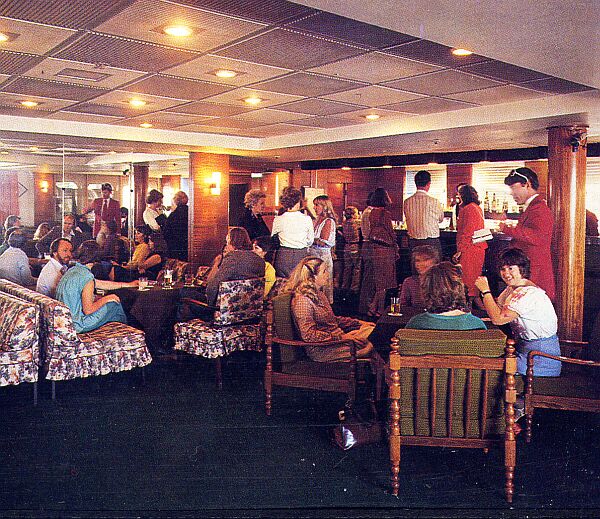 One of the popular Lounge Bar's on board the Minghua
Image provided by Stan Evans – Newcastle Australia
A deluxe cabin
MS Minghua had really found a new home in Australia and became greatly loved by many for she was a unique ship and comfortable. She was now offering extended cruises to Asia as well as Hawaii. She operated a series of cruises out of Darwin, as well as visiting other Australian ports such as Adelaide and Fremantle on her way to Asia.
One of her many passengers was a good friend of ssMaritime, Mr Stan Evans, who sailed on this fine ship some three times from Sydney. His story and photographs, as well as her Deck Plan are located on the next page. But he also makes clear that she was quaint and very popular and that without doubt that after a bad start that the MS Minghua had become a huge success and she was here to stay! Well that is what we thought, but something unexpected was on the way!
Suddenly an announcement was made on February 2, 1983, that MS Minghua would be withdrawn in three months. Why? We really do not know for she was selling well and profitable!
On May 20, the Minghua departed Sydney for the last time, and she was fully booked for her cruise to Hong Kong. All her passengers disembarked and after a stay, they flew home.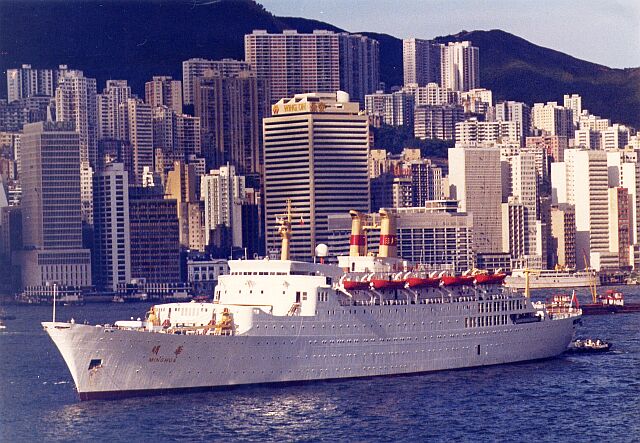 MS Minghua is seen here in Hong Kong during one of her extended Oriental cruises
Photo provided by Stan Evans – Newcastle Australia
Now she was in Hong Kong, she operated two further cruises, but these were exclusively for the Japanese market, after these were completed she was laid up. The question many were asking was; why end the life of an operational ship that was mechanically sound and profitable? Well, ask the Chinese, they may have the answer.
Her New Career as a Hotel and Tourist centre.
In June 1984 she was officially sold to a Hong Kong and Chinese Company named Sea World Ltd, who would use her as a hotel and resort. She was berthed at Liuwan Bay, at Shekou near Shenzhen in southern China's Guangdong province (near Hong Kong), part of a "special economic zone." Once she was refitted to become a hotel and tourist complex, she offered 253 hotel rooms, including fine Chinese and Western restaurants, as well as an English Pub, and the Bamboo Grove Bar. Other venues are The Music Dance Hall,  the swimming pool, health centre, a recreation centre and the "China Folk Customs Exhibition Centre."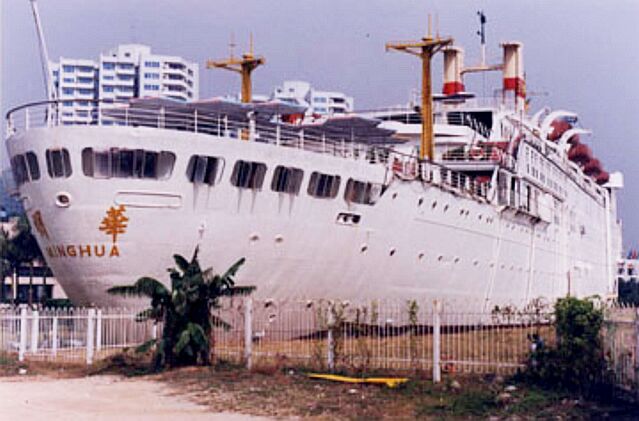 MS Minghua just before she was fully rebuilt into a hotel at Shekou China
Photograph by & © Peter Knego
She was officially renamed by the Chinese leader Mr. Deng Xiaoping as "Shekou Sea World," and thus the ex Minghua, Ancerville, became part of a complex of shops, hotels and restaurants in the centre of Shekou, which was as it was publicised "a radical first of its kind for China."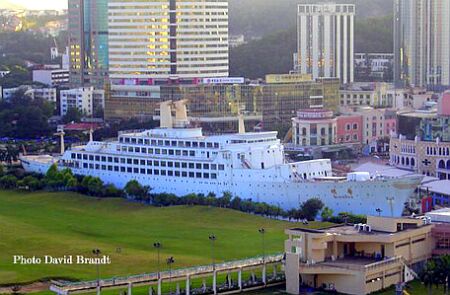 The landlocked – Hotel "Shekou Sea World"
Photo by & © David Brandt
However, later it was decided that the berth around the ship would be filled in as the new development took place, and the ship has now become totally land locked. Shekou has become a popular residential community and has ever increasing tourism numbers, thanks to the remarkable ship.
In 1998 the Sea World was closed due to various company difficulties as well as a fire. However after a comprehensive refurbishment which was undertaken during 2001 and 2004 the she reopened in December 2004.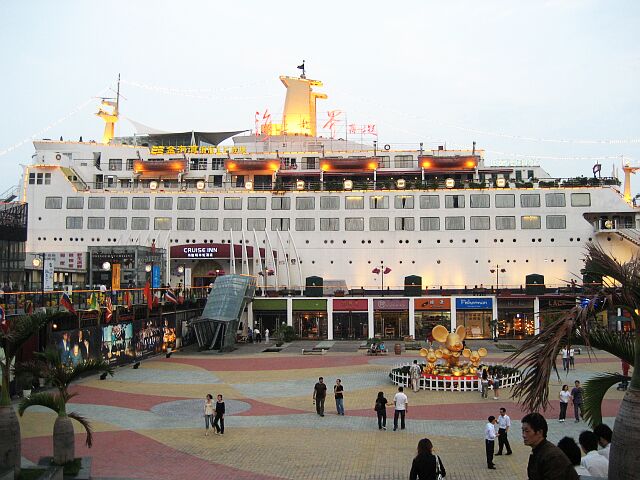 Here we see the Hotel "Shekou Sea World" and its plaza with its art works and it has become a popular attraction
Sourced from Shekou Tourism websites
Currently she continues to be an extremely popular hotel, and an entertainment venue. Thus the MS Ancerville, MS Minghua lives on, although be it as a landlocked tourist attraction!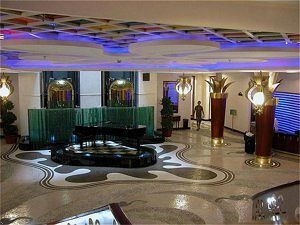 ------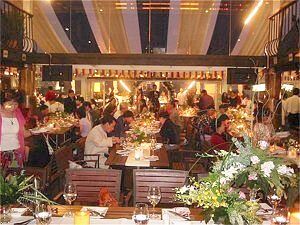 Interiors of the Hotel "Shekou Sea World" – Left, the Lobby – right, the outdoor restaurant
Sourced from Hotel "Shekou Sea World" publicity material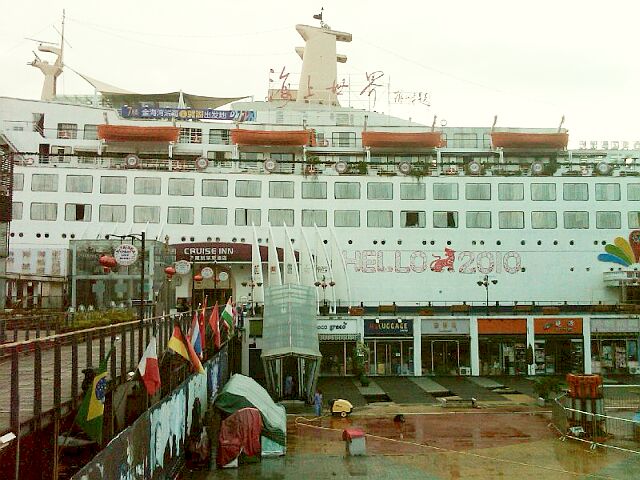 She had just celebrated the 2010 New Years celebrations here and she continues to this day as a
Viable Hotel, restaurant and tourist attraction at Shekou!
Sourced from Shekou Tourism websites
Page Two: Stan Evans takes three cruises on the Minghua
                    Also – the ships Deck Plan
***********************************
Use the Back button on your browser or Close the Page to return to the previous page
or go to our INDEX
***********************************
Who is the Author of ssMaritime?
Commenced in the passenger Shipping Industry in May 1960
ssMaritime.com & ssMaritime.net
Where the ships of the past make history & the 1914 built MV Doulos Story
Also visit: Cruise-Australia and
"Save The Classic Liners Campaign" & "Classic Ocean Voyages" pages
Photographs on ssmaritime and associate pages are by the author or from the author's private collection. In addition there are some images that have been provided by Shipping Companies and private photographers or collectors. Credit is given to all contributors. However, there are some photographs provided to me without details regarding the photographer/owner concerned. I hereby invite if owners of these images would be so kind to make them-selves known to me (my email address may be found on www.ssmaritime.com only), in order that due credit may be given. I know what it is like, I have seen a multitude of my own photographs on other sites, yet these individuals either refuse to provide credit or remove them when asked, knowing full well that there is no legal comeback when it comes to the net. However, let us show these charlatans up and do the right thing at all times and give credit where credit is due!
This notice covers all pages, although, and I have done my best to ensure that all photographs are duly credited and that this notice is displayed on each page, that is, when a page is updated!
ssMaritime is owned and © Copyright 2010/12 - by Reuben Goossens - All Rights Reserved