M.S. Anna Salen was built as the C-3 class ship M.S. Mormacland.in 1939, but she taken over by the Royal Navy as the HMS Archer, later became the M.S. Tasmania & Union Reliance
Please Note: Firefox and some iPad's or iPhone's, etc are not suitable
Use Google Chrome for this web page to load perfectly!

Click the logo above to reach the ssMaritime FrontPage for Ships of the Month & News Updates
With Reuben Goossens
Maritime Historian, Cruise'n'Ship Reviewer, rolex replica watches Author & Lecturer
Please Note: All ssmaritime as well as my other related maritime & cruise sites are 100% non-commercial and privately owned sites. Be assured that I am NOT associated with any shipping or cruise companies or agencies or any other organisations! The author has been in the passenger shipping industry since May 1960, but although retired and unwell, I occasionally attempt to write an article now and then, in order to bring enjoyment and pleasure to ship enthusiasts past passengers and crew.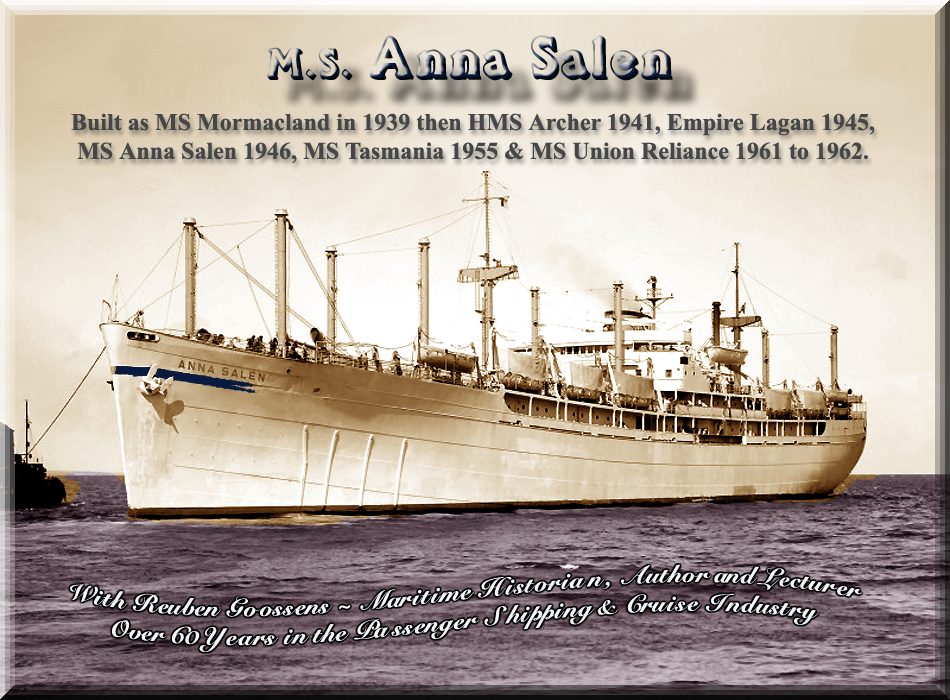 Photographs are from the ssMaritime historic collection - unless stated otherwise
Page Two
M.S. Anna Salen
Later M.S. Tasmania & M.S. Union Reliance
Introduction:

Page One, will commenced with the very beginning of the ship that became the M.S. Anna Salen,chopard replica as she was built as the 12 passenger cargo liner the M.S. Mormacland, but she was rapidly commissioned by the US Navy and rebuilt into a "Long Island" class Escort Aircraft Carrier and renamed HMS Archer. Towards the end of World War Two, in 1945 she was remanded for a short time the M.S. Empire Lagan. Whilst this Page will cover her next three stages, when she was rebuilt as a Migrant ship the M.S. Anna Salen, which later became the Greek owned M.S. Tasmania and finally the Chinese owned M.S. Union Reliance.

Reuben Goossens.

I

am well aware that amongst some maritime historians seem to be confused on when the Empire Lagan, temporarily renamed by one of her earlier codes BAVD-1, was sold to the Norwegians, most claim it was around in 1949, the truth is, it was in 1946. I have viewed an official record that states; "In 1946 the BAVG-1 was auctioned off as surplus, and she was obtained by Sven Salén a ship-owner from Stockholm".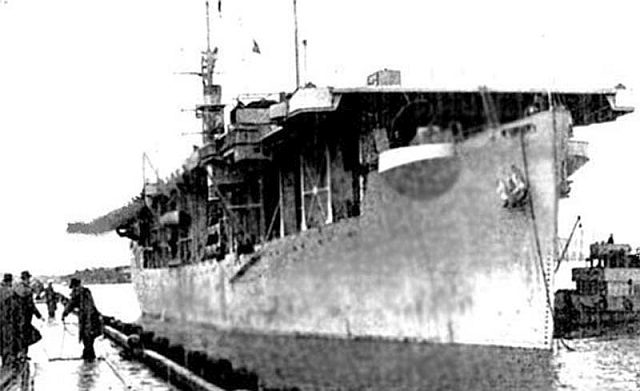 The last known photo of the Empire Lagan seen in Auckland New Zealand on September 8, 1945
M.S.

Anna Salen:
Thus the hideous boxy looking ship was purchased by Sven Salén of Stockholm who was a well-known ship owner, who at first decided to have her rebuilt into a bulk carrier, and he sent her to "Bethlehem Shipyard" at Baltimore where she would be rebuilt and refitted into a migrant ship with her superstructure extended to the stern, and with many additional lifeboats added. She was now registered as being 11,672 GRT.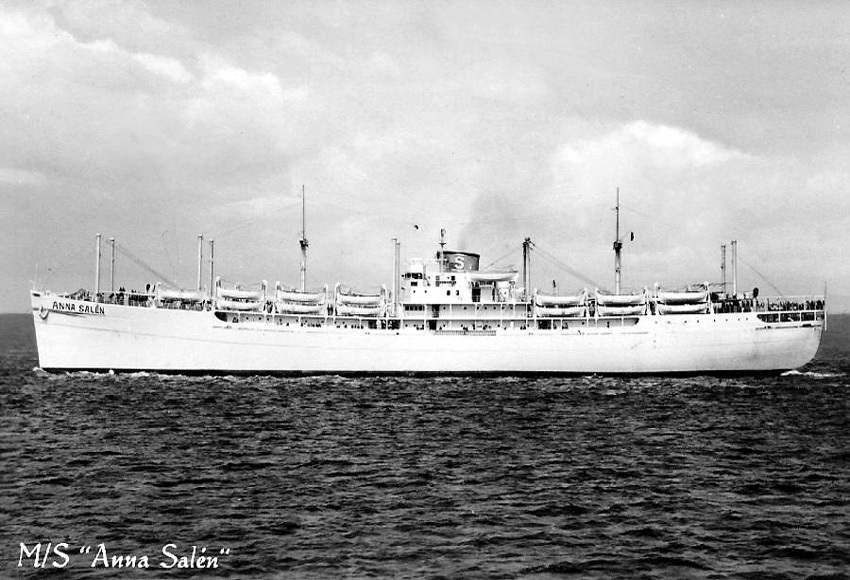 M.S. Anna Salen Postcard
However, considering Mr. Salén obtained a contract from the "International Refugee Organization" (IRO) to transport displaced persons to various parts of the world, he advised Bethlehem Shipyard to change plans and rebuilt into a basic migrant ship were the accommodation for up to 1,500 persons, which would be installed, in the huge open spaces of her holds with no actual fixed beds as such, but these were all triple-decker bunks, and the upper bunk would lower on top of the middle bunk during the day, these bunks were very cramped, so much so you were unable to sit up in them. There were some smaller four, six to eight bedded cabins on B and C Decks, as well as one smaller cabin on D Deck for special families. See the Passenger Deck Plan for details.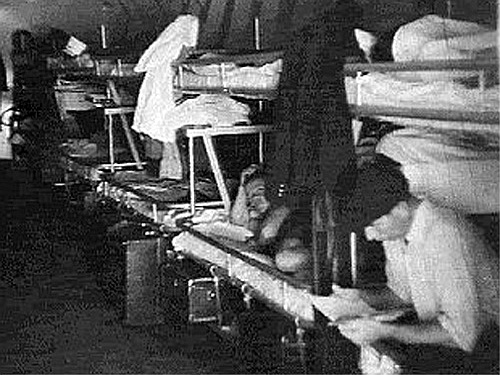 This is the men's bunk hold, note the top bunks
Men would be assigned to one to their holds, with women and children to other. There was also a large open toilet and washing block. Up on A Deck there were two specious open air decks for the passengers to enjoy fresh air and some sunshine, there were the "Aft" and "Fore Decks", whilst on B (Shelter) Deck there was a short narrow covered promenade deck. The main superstructure above was completely out of bounds to all passengers, as the area was for the crew only! Thus all passenger facilities and accommodations was located in the hull and generally there were no portholes or a view out to the sea, except one public venue which had three portholes.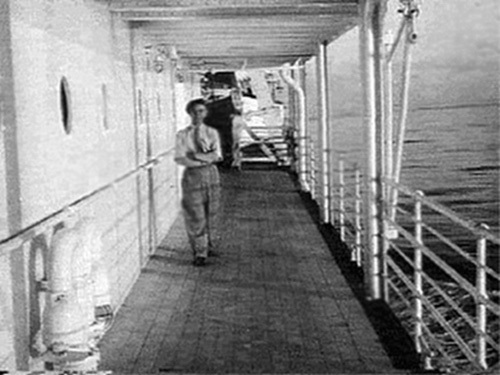 Here we see the B (Shelter) Deck promenade deck, with an unknown passenger
Photograph from an unknown source; Please see photo notes at the bottom of the page
Also on B Deck far aft of the central superstructure was the Information Desk, and the hospital, Medical center just aft on the starboard side.
Down in the hull amidships on the starboard side was the "Grüner Salon" or the Green Lounge and Bar being the only area with three portholes. Whilst far aft was a spacious "Dancing Room" and Snack Bar. Amidships and D and E decks were the large interior Dinning Rooms.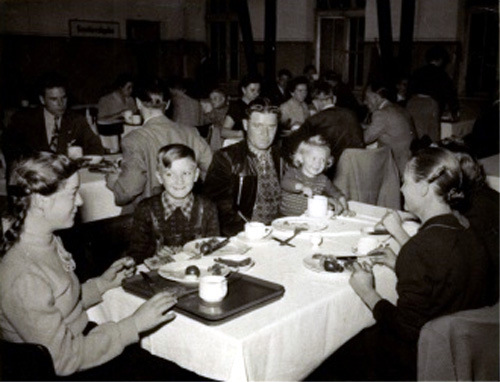 One of the Dining Rooms where families would be able to gather
Dinning times were as follows: Passengers had to be seated for Breakfast 8 to 9 am. Lunch 12 noon to 1 pm, Evening meal 5.30 to 6.30 pm. A special daily children's sitting in the Upper Dining Room was at 3 pm
Deck Plan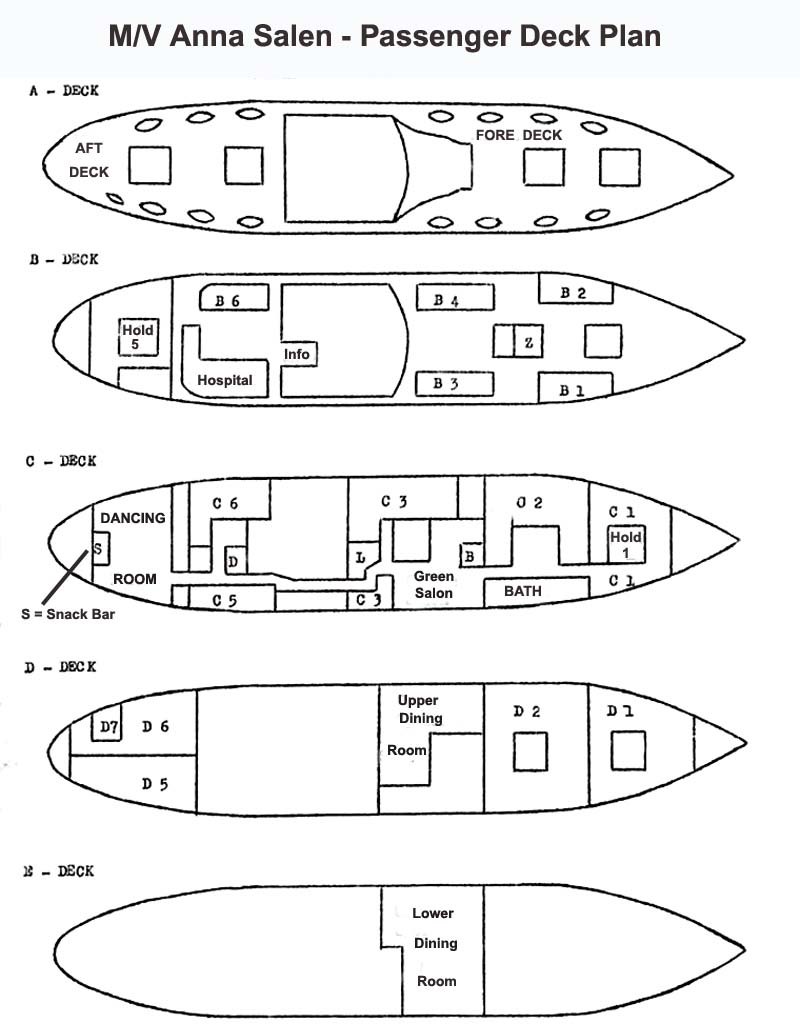 M.S.

Anna Salen is

Completed

:
After a long refit and rebuild, she was finally completed and the Anna Salen was registered under the ownership of "Rederi A/S Pulp Company" officially as the Anna Salén, but the name shown on her bow and stern was written as Salen. She was now registered as being; 11,762 GRT.
She was ready to commence in her new role as a rather humble full time immigrant ship, and in 1949 she finally sailed from Naples Italy to Fremantle, Adelaide, Melbourne and Sydney, Australia, which was later changed to Bremerhaven, then to Cuxhaven. She also operated a good number of voyages to Halifax and Montreal in Canada.
However, most of her voyages back to Europe, her passenger accommodations would be removed from her holds and she would return filled with cargo, making her return voyages financially viable.
As many regular readers of ssMaritime know well, I have covered countless ships that transported large numbers of European displaced persons that settled either in Australia or in Canada, the USA as well as South America, etc. The Anna Salen certainly brought many fine new citizens to Australia, and although the Anna Salen may not have been a luxury Trans-Atlantic style liner, but she generally did get these wonderful people to their new destinations safe and well, although on one voyage she did breakdown badly and she had to be towed back to Aden and transferred to another ship, but I will come to that story later.
IRO Voyages to Australia from Naples, Italy:
Voyage One: The M.S. Anna Salen departed on her first IRO voyage, which departed Naples, Italy on May 22, 1949 and she sailed via the Suez Canal, and then called in at Aden before the long voyage across the Indian Ocean. She visited both Fremantle and Melbourne and arrived in Sydney on June 21 and departed the next day, the 22nd.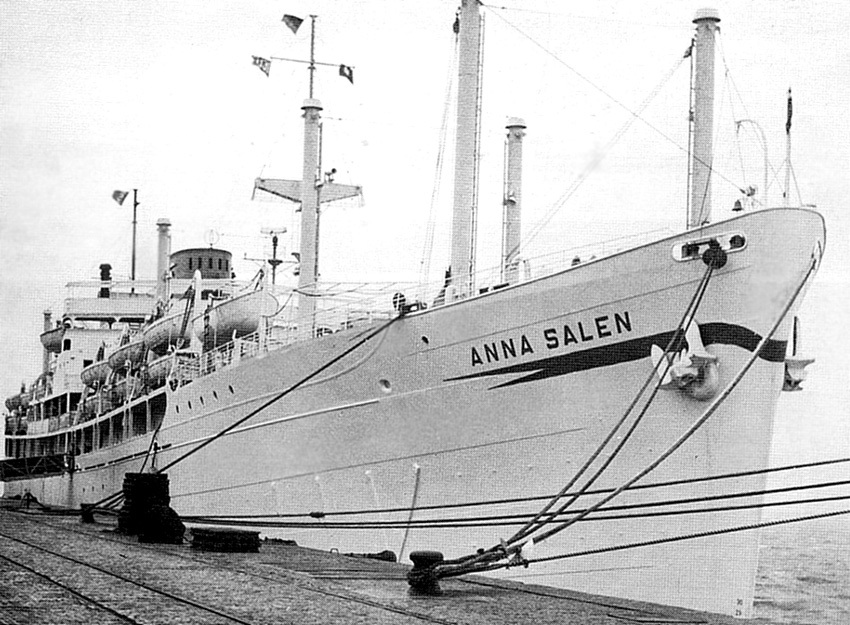 A fine bow view of the Anna Salen seen berthed
Voyage Two: also departed from Naples, on August 1, 1949, but this time her destination was only as far as Fremantle, in Western Australia, where she arrived on August 24, 1949, carrying some 1,566 Displaced Person's.
A Voyage filled with malnourished and ill Passengers and Children:
Voyage Three: departed Naples on October two, 1949 and this would be come a voyage that would receive a huge amount of publicity when she arrived in Melbourne on October 30, and she was quarantined and the ship had to anchor in Port Phillip Bay, due to deaths of 6 poor children and 114 others on board from measles, even the pilot had to remain on board until the ship was permitted to berth for Doctors to be able to carry out quarantine examinations of the pilot and all passengers and the ships crew.
Please Note: On Page Three there are a number of news Paper Reports for you to read and they are very interesting, as they explain how Italy completely failed these poor people who had been in these horrid embarkation camps near Naples for months before sailing and many of them suffered from malnutrition in an advanced stage and from enter colitis as well as measles. Yet the poor medical staff cleared them to go on board the Anna Salen.
Break Down on the Indian Ocean:
Voyage Four: On December 1, 1949 the Anna Salen departed on her fourth voyage from Naples to Australia, with a complement of IRO migrants made up of 1,096 adults and 447 children. Having had a good voyage and a pleasant transit trough the Suez Canal and a visit to Aden, it was whilst she was sailing east toward Australia in the Indian Ocean, that suddenly two days out at sea from Aden, the Anna Salen broke down with severe mechanical problems, and she, she was unable to continue, thus with Aden being the closest port she had to return slowly back to Aden. The Captain Arrangements were made with made arrangement through head office and it turned out that the Skaugen Line's - SS Skaugum which was returning empty from Newcastle, Australia to Naples, to call in to Aden.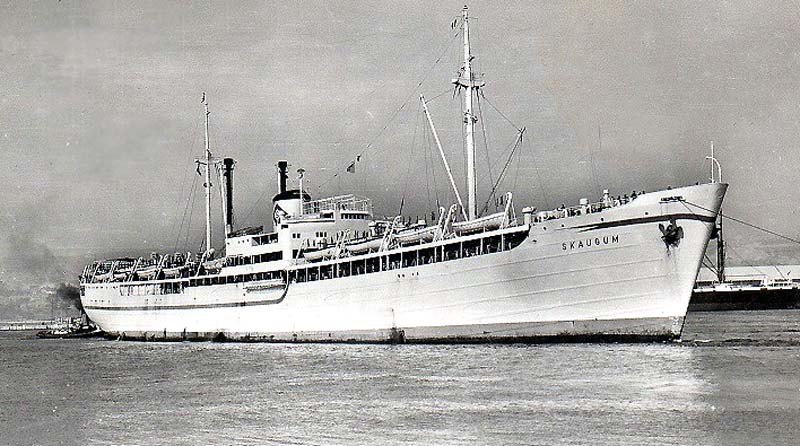 The SS Skaugum; which was also a C-3 Class ship, except most C-3 ships had steam engines which were superior
The "Skaugum", was a very similar ship, also operating with much the same type of accommodations with berths fitted in her holds, etc. Upon her arrival in Aden, Anna Salen's 1,543 displaced persons were transferred to the Skaugum, and she turned back to Australia arriving in Fremantle on Thursday January 5, 1950.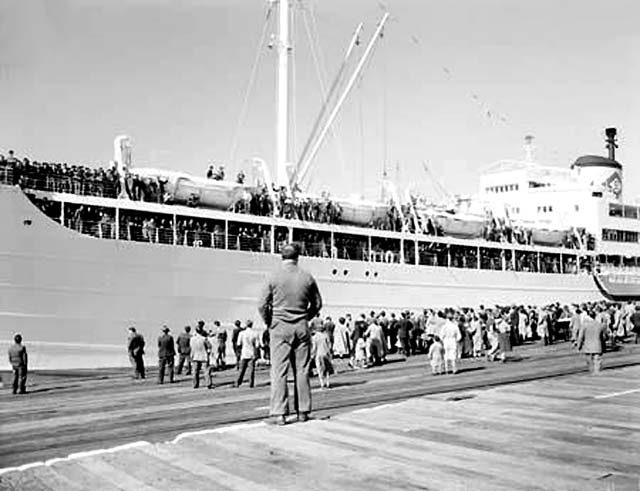 Large crowds have come to see the many on board as the Skaugum arrives back in Australia
The Anna Salen however returned to Italy to enter a ship repair yard where major work was undertaken before she was able to return to her regular duties.
New Home Port Bremerhaven Germany:
Voyage Five: M.S. Anna Salen was transferred to Bremerhaven and her next departure after her repairs was on June 20, 1950. This time she has a large passenger load of 1,561 IRO migrants all bound for Melbourne, where she arrived on July 29, 1950. This time however, she returned via Tientsi, China where she collected a good number of refugees and transported then back to Europe.
A Newsletter Provided to Embarking passengers:
Please Note: The Newsletter below is a translation from German and several other Eastern European languages.
Anna Salen News
To all Passengers:
We bid all passengers onboard the "ANNA SALEN" sincerely welcome and wish all of you a good journey to your new homeland. We will do our best to make the trip as pleasant for you as possible and request your friendly cooperation. On the reverse side of this sheet you'll see a ground-plan that should familiarize you with important arrangements and locations of departments; also we request you to give your careful attention to the following important announcements.
Management of Ship.
Important Announcements for the Day of Departure:
Evening mealtime today is 6 p.m. to 7 p.m. Tonight from 8 p.m. to 9 p.m. vouchers can be redeemed for the ship's currency at the Snack Bar in the Dance Hall. From 8 p.m. to 10 p.m. the Drug Store will be open for the sale of cigarettes. It was already pointed out today that the onboard currency must be spent during the voyage and cannot be returned.
During the voyage please especially comply with:
The passengers are requested to leave their cabins every morning, immediately after having made your beds, and stay away while the stewards are busy with cleaning. During the time from 10 to 11 before noon there will be a daily inspection during which all passengers are to be absent from the cabins. Quiet on the ship commences evenings at 11 p.m. At 11.15 p.m. is the nigh time inspection. Please conduct yourself quietly on board from 11 p.m., consider the mothers with children as well as the passengers who wish to sleep. Except for fruit do not take any food out of the cafeteria. Food found in cabins will be destroyed. Blankets belonging to the ship as well as cutlery and cabin fittings are not to be taken on deck. Pay attention to announcements on the notice board in the Green Salon as well as messages via the loudspeaker.
For special attention - VERY IMPORTANT:
Passengers with children should upon coming onboard ensure that life jackets are available for the children. Ask your steward or your stewardess about children's life jackets. During ship drills, as well as in an emergency, all passengers should gather at life-boat stations as announced in the dormitories — and under no circumstances at the lifeboats. Inform yourself in advance about the location applicable to you.
***********************************
Voyage Six: Anna Salen under the command of Captain R. Enander departed once again from Bremerhaven and headed to Fremantle, where she arrived and docked at the wooden pier at Fremantle Harbour on December 31, 1950, with some 1,522 men, women and children. All her IRO migrants disembarked to commence a new life in Western Australia.
The Canadian Services:
Canadian voyages I have been able to locate are the following sailings, although this is far from a complete list! Please do NOT ask me for further details as I do NOT have them! All I have is online,
Anna Salen departed from Bremerhaven on July 24. 1951, and arrived in Halifax on August 4.
Anna Salen departed Bremerhaven on November 26, 1951, and she arrived in Halifax on December 6.
Anna Salen departed Bremerhaven on December 17, 1951, and arrived in Halifax on December 29.
Anna Salen departed Bremerhaven on January 29, 1952 and she arrived at Halifax on February 8, 1952.
Return to the Australian Service:
The Anna Salen departed Bremerhaven on February 21, 1952 and sailed via Cape Town and arrived at Adelaide on March 28, 1952. And she operated several further voyages until another voyage to Canada, but she would soon have a new role as a ferry commencing in July 1952.
Helsinki

Olympic Games:
Anna Salen was chartered to operate a ferry service from Stockholm to and from the "Helsinki Olympic Games" (July to August 1952) with her capacity increased to 2,500, all being sports enthusiasts travelling to and from Helsinki.
Collision with a Whale Factory Ship:
However, having completed her ferry duties, she was booked to sail to New York with around 630 passengers and crew aboard, but early in this voyage she collided with the Norwegian Whale Factory Ship the MV "Thorshovdi" around 3.5 miles south east off "Duncansby Head", Scotland on August 13, 1952.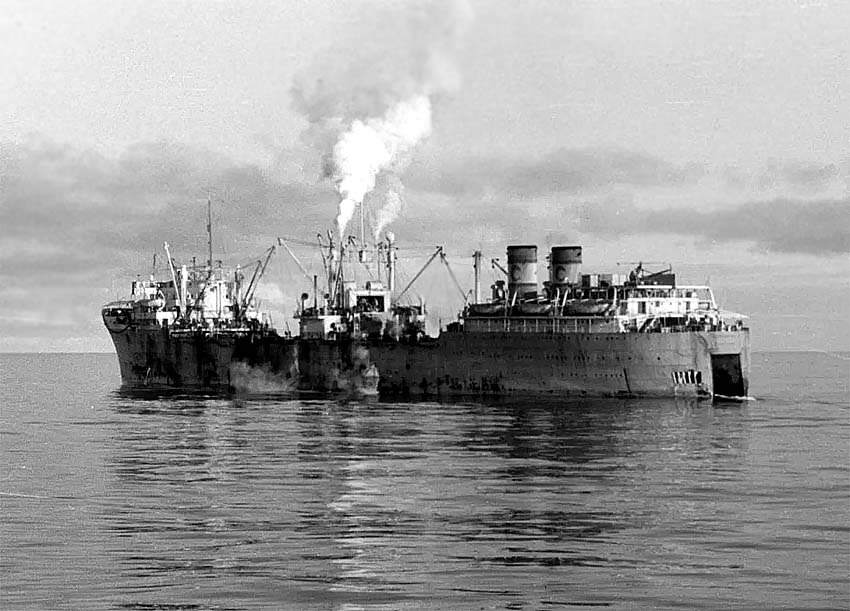 The Whaling Factory Ship MV Thorshovdi
At the time there was thick fog at the time and both ships suffered damage, but the Anna Salen had upper bow damage and the "Thorshovdi" had damage to her port side. A fire broke out on both ships but the fires were rapidly brought under control by the respective ships crews. Thankfully no crew or passengers were injured. Anna Salen had to be piloted to "Scapa Flow" and berthed at the port of Lyness where repairs were affected by "Metal Industries."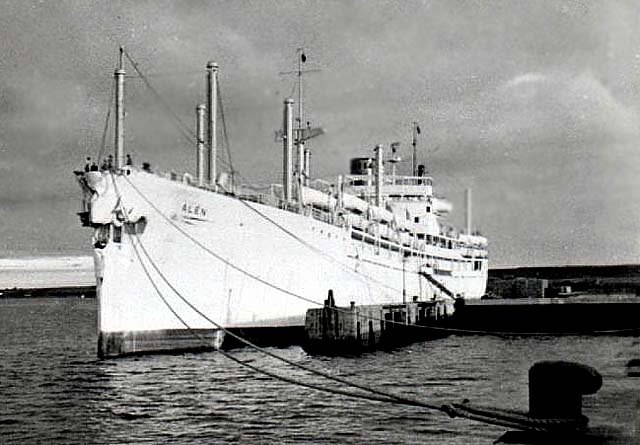 Anna Salen seen with her bow damage seen at Lyness where "Metal Industries" would repair her
The "Thorshovdi" headed to "Burmeister & Wain Engineering" in Copenhagen for her repairs, which was around November 21, 1952. When Anna Salen's repairs were completed she was able to resume her passage across the Atlantic to the USA and her passengers were even given "A Survivor's Certificate" to say that they had survived this event.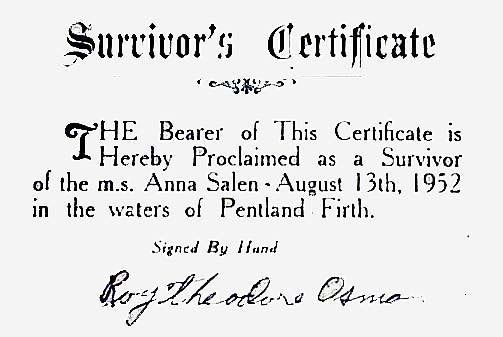 Back to IRO Voyages:
M.S. Anna Salen departed Bremerhaven on March 14, 1953 on and she arrived and docked at the Melbourne at Station Pier on April 18, 1953.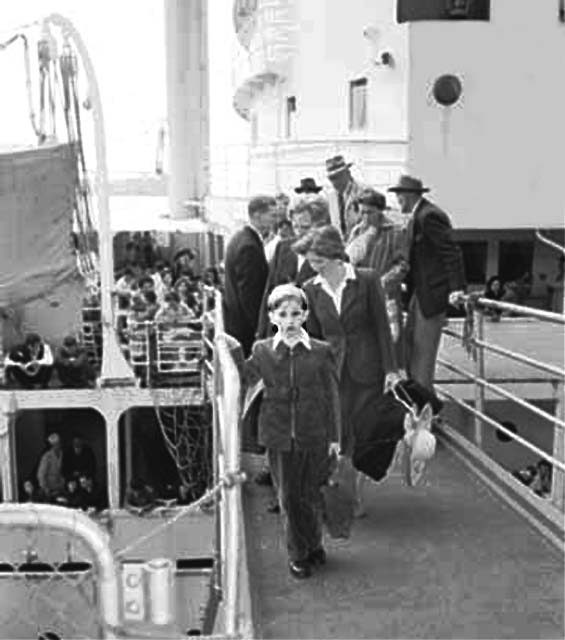 Passengers are seen disembarking the Anna Salen in Melbourne
Photograph with thanks from the "National Archives of Australia"
The Anna Salen continued with voyages to both Canada and of course Australia; however during 1953 she commenced to depart from Cuxhaven, just north of Bremerhaven on the river Elbe. In addition there were also voyages when she returned from Australia to Europe sailing via Saigon (Ho Chi Minh City) Vietnam, ports in China. But then the time came her owners decided in mid 1955 to dispose of the aging M.S. Anna Salen, as well as the IRO contract had ended, and her accommodation configuration was not really suitable become a genuine passenger liner.
M.S. Tasmania:
The Anna Salen was purchased by a Greek company; "Compagnia Navigazione Tasmania SA", of Piraeus, around June 1955, and they renamed her; "Tasmania". Her interiors remained as was, however her hull was repainted and for the first time she had a dark hull, and her funnel received a new blue, with a yellow ribbon just below the black hat colour scheme.
The new look M.S. Tasmania was placed under the management of the "Hellenic Mediterranean Line" and she was placed on her new regular service, operating from Piraeus to Melbourne.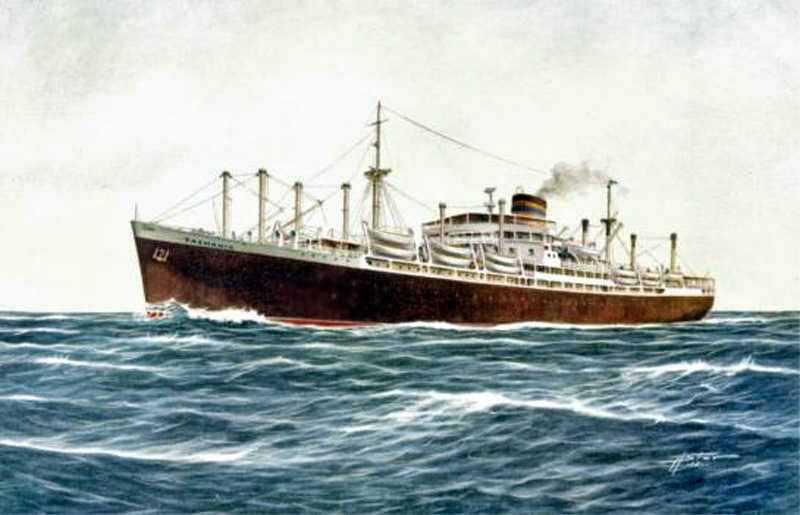 A Hellenic Mediterranean Line pre-release postcard of the M.S. Tasmania
The Tasmania departed Piraeus for her first voyage to Melbourne on August 23, 1955 filled with Greek Migrants who would commence a new life in Australia, and made a huge difference to the city and the country! She arrived on September 23, but as she had been doing in her previous life as the Anna Salen, on her return voyage she again headed for Saigon, where French troops boarded her and the Tasmania took them home to Le Havre in France.
She continued her voyages to Australia however whilst entering Port Philp Bay to Melbourne on April 3, 1956 she suddenly ran aground and she suffered some damage to the bottom of her hull. She did mange to reach her berth and all passengers disembarked, but she required repairs and this delayed her departure by around eleven days.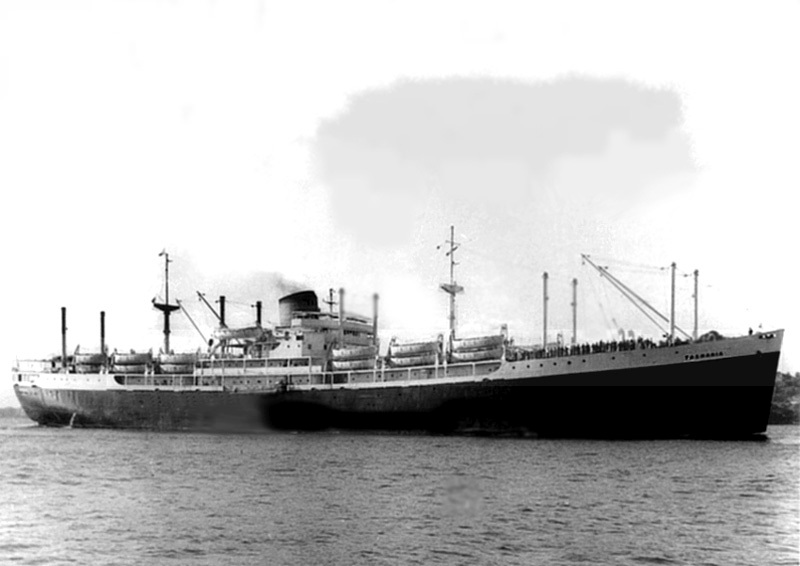 An actual photograph of the M.S. Tasmania
M.S. Tasmania arrived in departed Melbourne on October 15, 1956 and with her passengers having disembarked, she departed later that day for the last time, heading home to Piraeus.
Upon arriving in Piraeus she was sent to a shipyard where all her passenger fittings were removed, as her owners had decided to operate her as a more profitable full time cargo ship. I have no information on her schedules, but in December 1960 it had been decided by her owners to dispose of her, and the Tasmania was placed on the market.
The tragic M.S Union Reliance:
Please Note: I am sorry, but to date I have not been able to locate any images of the M.S. Union Reliance.
Early in 1961, the Anna Salen was sold to the "China Union Lines" of Taipei, Taiwan and they gave her the new name "Union Reliance". The purpose of the ship was to continue to operate her as a regular cargo service to various American ports.
However, it was her old age as well as being a worn ship, but more so poor maintenance that finally caught up with her, when she broke down at the very worst possible time whilst under Taiwanese ownership she became a neglected ship and was operated by an incompetent captain and crew.
The ship was found to be in need of extensive engine room repairs due to extensive wear. Repairs were made to the engine controls in New Orleans after the ship's voyage from Piraeus, Greece, but the engine cylinder heads were found to be badly worn and eroded. The old cylinder heads were reinstalled since replacements simply were not readily available.
The Union Reliance headed to Taiwan, where additional repairs were to be made, before proceeding with general cargo bound for Japan and then onto the United States. She was given the five piston heads desperately needed for her engines upon arrival in Los Angeles, but, for some unbelievable reason the ships Chief Engineer and his mechanics did not install them prior her departed to the Gulf of Mexico.
The ship proceeded through the Panama Canal and arrived in Houston on November 5, 1961, where she discharged some of her cargo.
She then departed Houston at 6.30 pm on November 7, with Houston Ship Channel Pilot Capt. David Duncan on the bridge. At approximately 8.30 pm the ship experienced a massive steering malfunction and she anchored in the channel for repairs, where it was discovered that "one brush holder in the starboard steering engine motor was grounded." Control was then shifted to the alternate port steering motor and "after several tests of the steering mechanism the trip down channel was resumed."
Steering the Union Reliance wasn't the only problem – the telephone communication system between the bridge, engine room and steering engine room was inoperative. A Coast Guard enquiry later found that "it was difficult to hear over the ship's telephone system, and that it was necessary to use messengers from the bridge to relay any emergency messages to the engine room."
Then, at around 11.10 pm, whilst approaching a bend in the channel, pilot Duncan ordered the rudder 10 degrees to port and then amidships.? It was at this very point, with the Norwegian chemical tanker "Berean" was approaching from the opposite direction in this rather narrow channel, and the helmsman on the Union Reliance reported that "the wheel was jammed and would not move in either direction." Steering was then quickly shifted from the telemotor system to gyro-electric, but even though the gyroelectric wheel would turn, unbelievably the rudder would still not respond.
The engines were ordered full astern and the danger signal was sounded on the ship's whistle, after which pilot Duncan ordered both anchors to be dropped. All four engines had been coupled to run ahead for maximum speed. Upon receiving orders from the bridge for full power astern, "the engine room reversed one set of two engines, and coupled same to the propeller shaft to give astern power." Capt. Charles Lary, the Houston Ship Channel pilot on board the "Berean", immediately blew three blasts in return to show that he recognized the emergency, ordered full speed astern and gave the Berean hard-right rudder in order to run the ship aground in the mud on the side of the channel.
The Union Reliance sheered across the channel, where her bow made contact with the port side of the Berean, penetrating ten feet into the Berean's number one cargo hold. The hold contained acrylonitrile, being a vinyl cyanide flammable material that gives off dangerous fumes similar to cyanide poisoning. The toxic liquid sprayed over the forward half of the Union Reliance and touched off a fire that consumed the forward section of the ship up to the deck house and continued aft to the stern. The fire spread so fast that only one aft starboard side lifeboat could be launched, taking 23 crew members aboard. They picked up the ship's captain after he jumped off the bridge into the water.
The remaining crew members on the Union Reliance were successful in extinguishing smaller fires aft, but they were unable to fight the main larger fire forward being due to fire hose couplings having different threads they simply could not fit all the fire hydrants."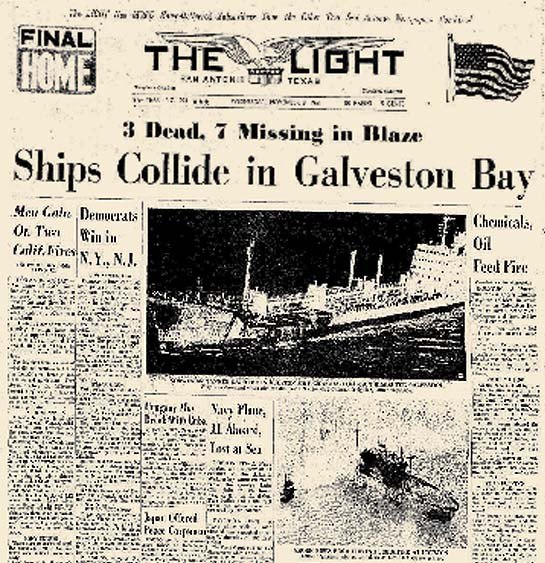 San Antonio Texas "THE LIGHT" Newspaper report regarding the collision - "Chemical Oil Feed Fire"
Thankfully, there were no injuries or lives lost on the Berean, although she did sustain extensive damage to her hull. The Union Reliance continued burning for several days; and she blocked the channel until November 10, when she was finally towed to, and anchored in Galveston Harbour (arriving on the 11th), by the "United States Corps of Engineers", but the fire had completely gutted her.
Tragically, there were 11 charred bodies of the Union Reliance's crew as well of that of the pilot on the Union Reliance duly removed from the ship.
The Coast Guard inquiry after the collision ruled that "there was no negligence on the part of either the Pilot Capt. David Duncan, or the MV Berean".
Please Note: On there is a link on Page Three for you to read a nine page pdf transcript of the "Coast Guard inquiry" - Final Reviews and results re the Inquiry, who clearly states who was to blame!
The Union Reliance was completely abandoned by her owners and China Union Lines, who also refused to make any payment to the United States authorities for moving their wreck, and worse still they even filed a Petition for "Exoneration From, or Limitation of Liability". It was their contention, and the contention of the owners and underwriters of the cargo aboard the Union Reliance, that the "American Cyanamid Company" and the owners of the Berean should be held responsible since they believed that "the Acrylonitrile carried by Berean, which had spread, and caught fire, and ignited the two ships, was of such dangerous nature and propensity as to render the owner and shipper liable to the injured parties." The court found that "the Berean was not at fault in carrying acrylonitrile cargo in her forward wing tanks."
At the Breakers Yards:
Finally it was on January 12, 1962, that the wreck of the Union Reliance was sold to be scrapped for US$109,100.72. However, she was completely destroyed by yet another fire on February 19, 1962, during her being dismantled at a New Orleans Shipyard, but her breaking up was completed late in March 1962.
In conclusion:
If "hope" could be weighed as Plasma-like Mind-matter then the M.S. "Anna Salen" - like many of her C-3 Class sister ships that operated on migrant runs to various parts of the world - carried countless thousands to their new homes, and are thus these ships are warmly remembered by many with fond gratitude, even though the M.S. Anna Salen and Tasmania were certainly not the finest, or even the most comfortable of ships!
Specifications & Details
Ships: M.S. Mormacland in 1939 then HMS Archer 1941, Empire Lagan 1945,
M.S. Anna Salen 1946, M.S. Tasmania 1955 & M.S. Union Reliance 1961 to 1962.
Built by:?????????????????????????????????????????? Sun Shipbuilding & Drydock Co., Chester, Pennsylvania in 1938/39.
Yard:?????????????????????????????????????????????? 184.
Hull:??????????????????????????????????????????????? 46.
Launched:???????????????????????????????????????? December 14, 1939 as the Mormacland.
M.S. Anna Salen, Tasmania & Union Reliance:
Tonnages:??????????????????????????????????????? 11,762 GRT - Anna Salen & Tasmania.
.????????????????????????????????????????????????????? 7,368 GRT - Tasmania & Union Reliance (1956-1962).
Length:??????????????????????????????????????????? 494 ft - 150.5 m.
Beam:????????????????????????????????????????????? 69.2 ft - 21.1 m.
Draught:?????????????????????????????????????????? 29.1 ft - 8.86 m.
Propulsion:?????????????????????????????????????? 4 × 7 cylinder SCSA diesel engines (Busch-Sulzer Bros Diesel Engine Co, St Louis) 2,060 HP (1,540 kW) each, driving a large single screw through electro-magnetic couplings and single reduction gearing.
Speed:???????????????????????????????????????????? Service speed 15.5 knots, maximum 17.5 knots.
Range:???????????????????????????????????????????? 14,550 nautical miles (26,950 km) at 10 knots.
Passengers:????????????????????????????????????? 1,550 including children on the Anna Salen and Tasmania.
.????????????????????????????????????????????????????? None - Union Reliance.
Ports of Registration:
1948:?????????????????????????????????????????????? Sweden Stockholm.
1955:?????????????????????????????????????????????? Greece Piraeus.
1961:?????????????????????????????????????????????? Taiwan Taipei.
Fate:?????????????????????????????????????????????? Scrapped in New Orleans in 1962.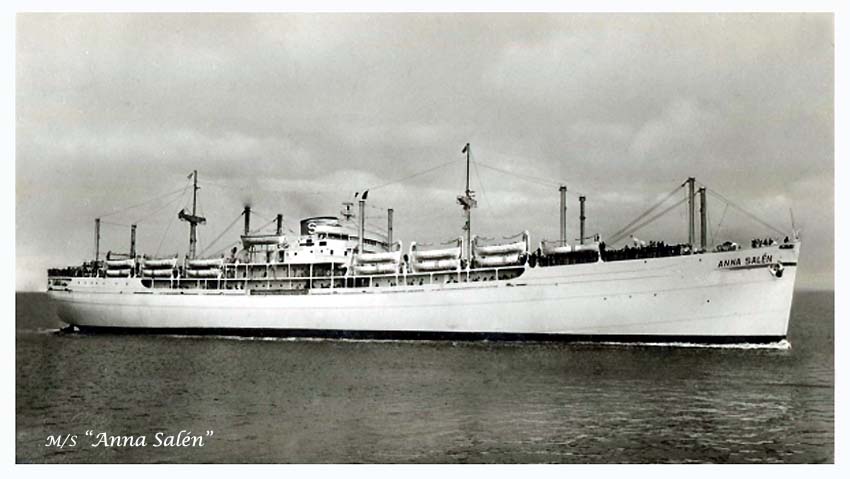 This is how the vast majority of migrants who sailed on this ship will remember her

As the M.S. Anna Salen, this is a fine postcard of her

***********************************?

INDEX:

M.S. Mormacland, BAVG-1, HMS Archer & M.S. Empire Lagan, Anna Salen, Tasmania & Union Reliance.

Page One …?????????? History of M.S. Mormacland, BAVG-1, HMS Archer & M.S. Empire Lagan.

Page Two … ????????? History of the M.S. Anna Salen, Tasmania & Union Reliance.

Page Three …??????? 1. Anna Salen, News reports of passengers arriving ill, and deaths in Melbourne.

.??????????????????????????? 2. Union Reliance, a pdf "Coast Guard inquiry" who was to blame of the collision between her and the M/V Berean.

Depart Naples May 22, 1949, visit Fremantle and arrive Sydney June 22, 1949 - Full Passenger List available

Use this Link … M.S. Anna Salen Sydney Jun 22 1949

M.S. Anna Salen Arrives at Fremantle, Western Australia on December 31, 1950 details & a passenger list

Use this Link … M.S. Anna Salen Fremantle Dec 31 50

***********************************

?"Blue Water Liners sailing to the distant shores.
I watched them come, I watched them go and I watched them die."

Return to the ssMaritime MAIN INDEX

ssMaritime.com & ssMaritime.net

Where you will discover over 1,350 Classic Liners & the 1914 built MV Doulos Story

The Author has been in Passenger Shipping & the Cruise Industry for a good 60 years!

Please Note: ssmaritime and associated sites are 100% non-commercial and the author seeks no funding or favours of any shape or form, never have and never will!

Photographs on ssmaritime and associate pages are: by the author or from the author's private collection. In addition there are some images that have been provided by Shipping Companies and private photographers or collectors. Credit is given to all contributors. However, there are some photographs provided to me without details regarding the photographer/owner concerned. I hereby invite if owners of these images would be so kind to make them-selves known to me (my email address may be found on www.ssmaritime.com only), in order that due credit may be given.

This notice covers all pages: although, and I have done my best to ensure that all photographs are duly credited and that this notice is displaced on each page, that is, when a page is updated!

ssMaritime is owned & ? Copyright by Reuben Goossens - All Rights Reserved