Built as a C-3 class ship, the MS Mormacland.in 1939, but taken over by the Royal Navy as the HMS Archer, later became the MS Anna Salen, Tasmania & Union Reliance to 1962
Please Note: Firefox and some iPad's or iPhone's, etc are not suitable
Use Google Chrome for this web page to load perfectly!

Click the logo above to reach the ssMaritime FrontPage for Ships of the Month & News Updates
With Reuben Goossens
Maritime Historian, Cruise'n'Ship Reviewer, Author & Lecturer
Please Note: All ssmaritime as well as my other related maritime & cruise sites are 100% non-commercial and privately owned sites. Be assured that I am NOT associated with any shipping or cruise companies or agencies or any other organisations! The author has been in the passenger shipping industry since May 1960, but although retired and unwell, I occasionally attempt to write an article now and then, in order to bring enjoyment and pleasure to ship enthusiasts past passengers and crew.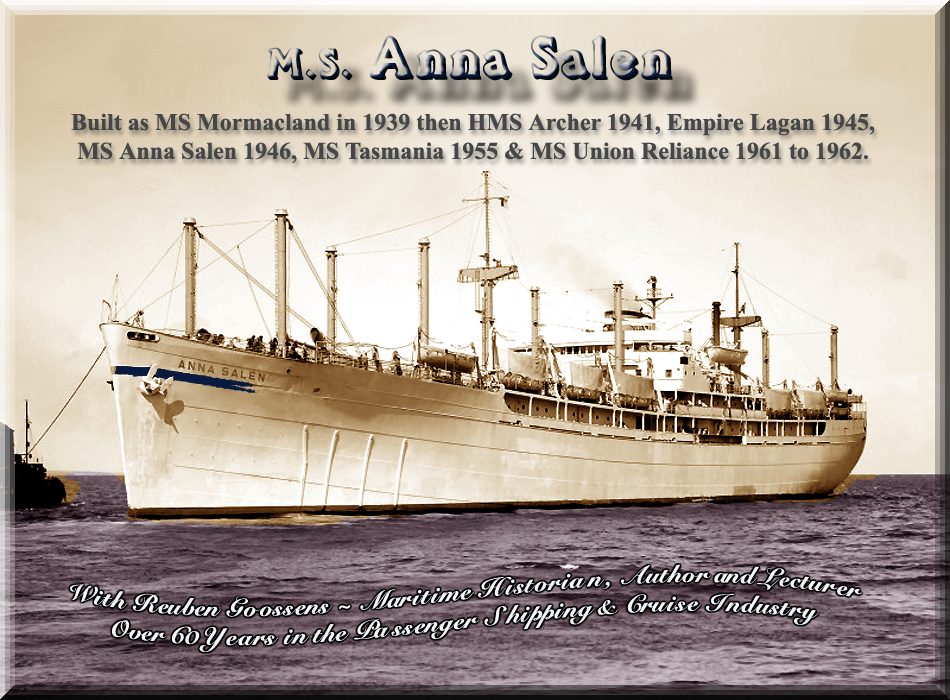 Photographs are from the ssMaritime historic collection - unless stated otherwise
Also with grateful thanks to the "Imperial War Museum"
Page One
M.S. Mormacland, BAVG-1, HMS Archer
M.S. Empire Lagan & BAVG-1 again
Introduction:
Page One, will commence with the very beginning of this ship the 12 passenger cargo liner the M.S. Mormacland, but she was rapidly commissioned by the US Navy for rebuilding into a "Long Island" class Escort Aircraft Carrier named the HMS Archer. Towards the end of World War Two, in 1945 she was remanded for a short time M.S. Empire Lagan. All this will be covered on this page, Whilst Page Two will cover the Migrant ship the M.S. Anna Salen, which later became the Greek owned M.S. Tasmania and finally the Chinese owned M.S. Union Reliance.
Reuben Goossens.
M.S.

Mormacland
:
The M.S. Anna Salen commenced her life as a 7,886 GRT (Gross Registered Ton) Motor Ship Mormacland. She was one of 465 standard C-3 class ships constructed in the USA, and commenced her original life as a passenger freighter ordered by the US operator Moore-McCormack Lines. Her keel was laid down on August 1, 1939 at "Sun Shipbuilding & Drydock Company", Chester Pennsylvania as Maritime Commission hull number 46, and Sun number 184. She was the third of a series of four cargo vessels of the "Mormacpenn Class": Mormacpenn, Mormacyork, Mormacland and the Mormacmail.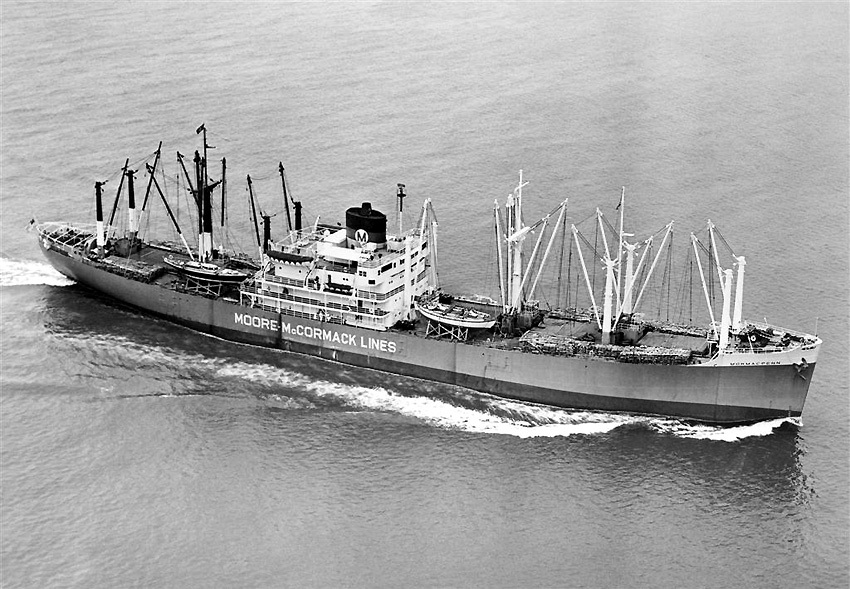 M.S. Mormacpenn the first of the four C-3 ships built
Each of these ships would have space for 10 or 12 passengers, and they were powered by four Busch-Sulzer diesels connected to a single propeller shaft through Westinghouse electrical couplings and a Falk single-reduction gear set. They had a normal shaft horsepower of 8,500 and a sustained sea speed, fully loaded, of 16.5 Knots.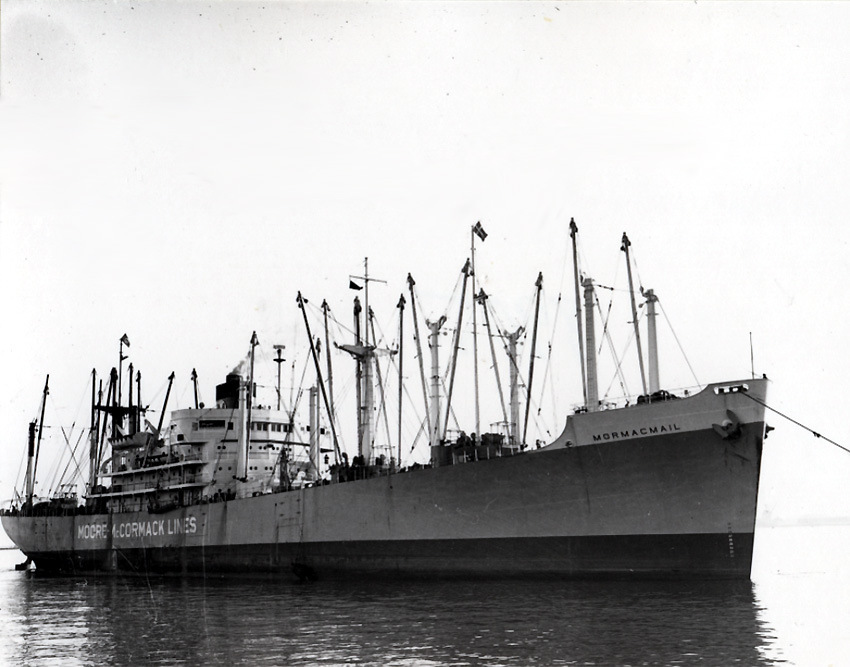 M.S. Mormacmail was the fourth of the series built and she became the M.S. Seven Seas - more later
The Mormacland was launched on December 14, 1939, by her sponsor Miss. Anne E. Bailey, she was the daughter of Senator Bailey, chairman of the Senate Commerce Committee. Having been taken to her fit-out berth she was completed on April 24, 1940, and she was delivered to Moore-McCormack Lines to be operated on the American Republics Line service to South America sailing from New York to Barbados, Trinidad, Rio de Janeiro, Santos, Montevideo, Buenos Aires. However, all four Mormacpenn Class ships would be commissioned into military service within a year.

The Mormacland was the third of the series built, and she would become famous
But that was when she was the HMS Archer's as her Planes sunk the U-boat U-752
in the Atlantic on May 23, 1943, making her the first "Baby Flattop" credited
with a U-Boat kill without the assistance from any of the warships
M.S. Mormacland and her sister the Mormacmail were requisitioned by the Maritime Commission for conversion into Auxiliary Aircraft Carriers; Mormacmail was requisitioned on March 6, 1941, and she became the USS Long Island, whilst the M.S. Mormacland was requisitioned on May 2, 1941, for conversion and was transferred to Royal Navy upon completion as 'BAVG 1.'
Her sister the M.S. Mormacmail, which became the became the USS Long Island and later was rebuilt into the very popular German passenger liner, M.S. Nelly, then after a further rebuild and wonderful interior refit, she was renamed the Seven Seas.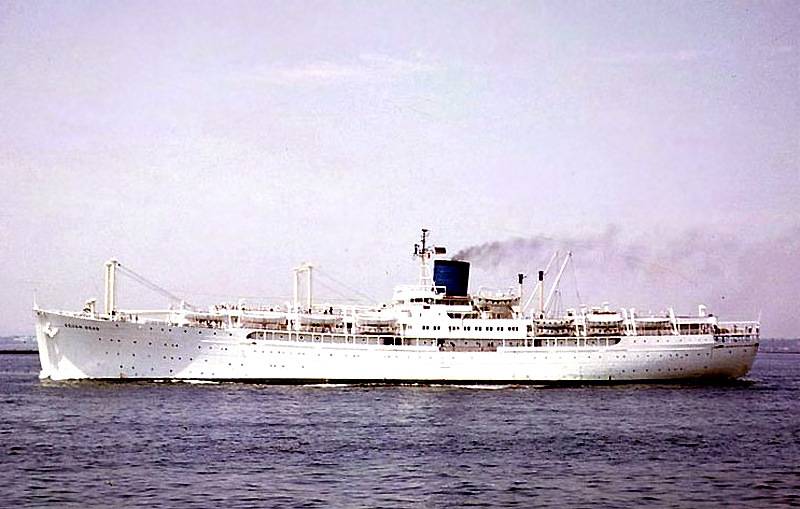 M.S. Mormacmail became the M.S. Nelly, then the much loved Seven Seas - 1948 to 1977
A LINK to her feature is located at the bottom of this page.
However we have to return to the ship of this feature, being the M.S. Mormacland. Although her fit-out was almost completed she was acquired by the US Navy and the Maritime Commission on May 6, 1941. She was to be converted to an Auxiliary Aircraft Carrier at the Newport News Shipbuilding & Dry-dock Co", during the summer and autumn (fall) of 1941.
Conversion of BAVG-1:
The Mormacland, or as she was designated BAVG-1, prior to her being renamed, was to be converted in the same manner as her sister the Mormacmail. The conversion consisted of installing a lightweight flat wooden flight deck on a metal truss superstructure that covered 70% of the ship's length, with a hangar below the flight deck, which was serviced by a single lift located aft. She did not have a traditional aircraft carrier Island Superstructure, for there was a small Navigation Bridge built under the forward edge of the flight deck, whilst the original bridge was retained under the flight deck with enlarged open wings on both port and starboard sides to give adequate visibility.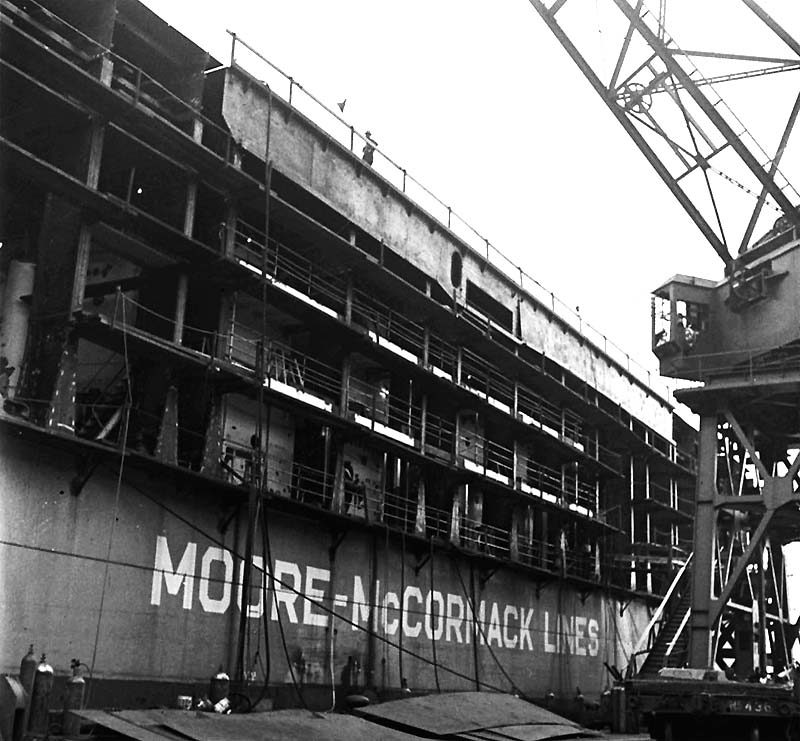 BAVG-1 is seen under construction
Above: We see her original hull with the "Moore-McCormack Lines" markings
Below: We see her bow and her forward an upper superstructure under construction
Sourced from "Newport News Shipbuilding & Dry-dock Co"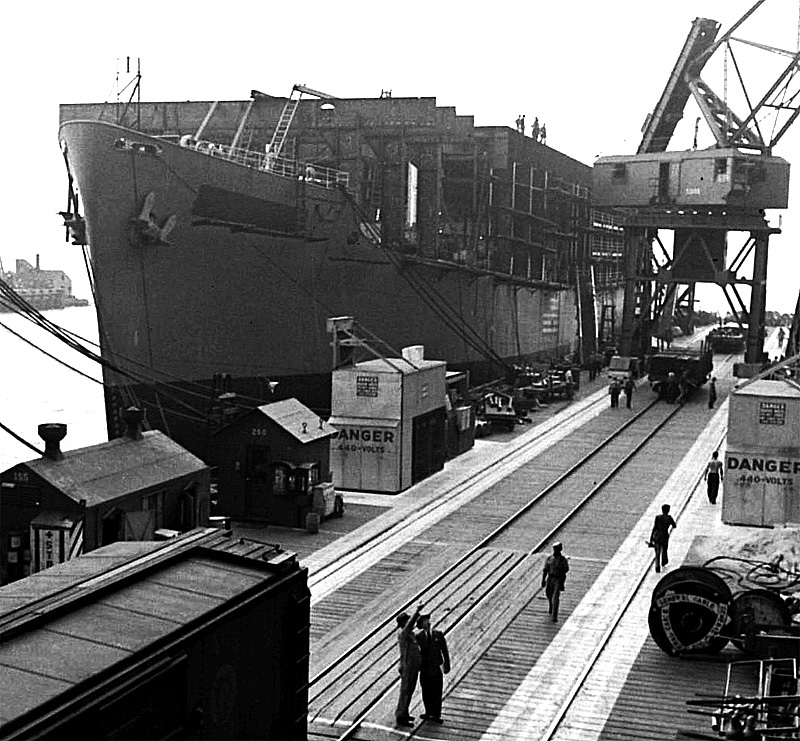 BAVG-1 is seen under construction
Sourced from "Newport News Shipbuilding & Dry-dock Co"
Obviously her original funnel had to be removed and it was replaced by a system that split the exhausts into two deck level vents which emerged amidships on either side of the flight deck. Although this concealed the funnel and reduced her silhouette, it did cause some problems for when she was steaming at maximum speed, being necessary for flight operations, her diesel engines tended to produce volumes of black smoke that at times could completely obscure the visibility of flight deck, if fact, so much so that pilots could see neither the batsman and at times not even the part of the deck where they had to land.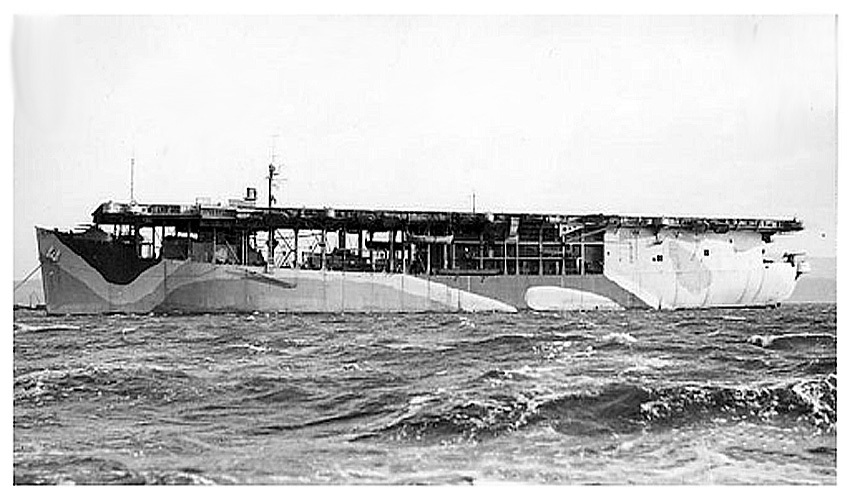 An early postcard released of the HMS Archer with no aircraft of her flight deck
Her conversion was completed on November 15, 1941 and she was officially transferred and commissioned on November 17, 1941 by the Royal Navy as HMS Archer (D78) at Norfolk, Virginia, with acting Captain J.I. Robertson RN, being in command.
But then during her first trial, it was discovered that her Busch-Sulzer diesel engines had some real problems, but somehow she managed to carry on, but only with the very best mechanics always having to be at the ready to fix the ongoing problems.
Having been fully manned and completely stored, HMS Archer commenced her most important trials in Hampton Roads on Sunday December 23, 1941; that is after the aforementioned ship handling runs and other trials, but now three US Navy Wildcats (aircraft) would have to be out on deck and see if everything is working, such as the ships "landing" and "accelerator" trials, the first Wildcat landed safely aboard at 11:06 a.m. But, sadly tragedy was to strike on the first catapult launch off the ship; half an hour later, for the "hydraulic aircraft accelerator" misfired, causing the fighter plane to be released prematurely and without enough airspeed the Wildcat fell into the sea off the bow. An fine crew member, dove over the side and made repeated attempts to locate and rescue the pilot, but sadly he was sadly unable to locate him, thus this brave RAF fighter and the aircraft was lost.
Later the remaining two Martlets aircraft were flown off the deck while steaming at full speed into the wind as the accelerator was damaged beyond repair. HMS Archer put into Philadelphia Navy Yard on Christmas Eve for repairs, but she was not ready to continue her trials until after the New Year. It was on January 2, 1942, the Archer safely catapulted three Martlets as well as completed all her sea trials successfully!
Off on duties, but disaster strikes in January 1942:
A week later on January 9, Archer proceeded down the Delaware River bound for Norfolk, Virginia to embark a ferry load of aircraft before setting out on her maiden Atlantic crossing to the UK. Archer's bad luck with mechanical systems struck again before she even reached the open sea; first her gyro compass failed near to Goose Island, and after steaming through the night at 14 knots her engine began to cause concern and she had to heave to at 07:20 hours in order to affect repairs. She arrived at the Norfolk Naval Operating Base at 1247. On the morning of January 12, she took on board eleven Martlets (the Wildcat was named the Martlet when first in RN service) as cargo.
HMS Archer left Norfolk on the morning of the 13th bound for Kingston, Jamaica where she was to embark her own aircraft, four Swordfish belonging to 834 Naval Air Squadron from RNAS Palisadoes.
But once again, she would quickly suffer further mechanical failures; first her steering broke down at 10:30, followed by the gyrocompass which failed again at 1140. After making repairs she resumed her course for Jamaica. Then at 2230 hours while around 200 miles east of Charleston, South Carolina, suddenly disaster struck when a a passenger liner loomed out of the darkness to port; HMS Archer's engines were put into full reverse, but sadly it was too late to for it to have any effect, and the two ships collided. The Archer was struck on her port bow by the Mallory Line, but Peruvian flagged, liner SS Brazos tearing a large gash in her side; No 1 hold filled rapidly with water and the she began to settle by the bow, when damage control parties had had managed to stem the water, the Archer had now settled with a 5-degree trim down by bows The Brazos was also down by the bows, and obviously the two ships were dead in the water. Attempts to assist the Brazos were not successful and at 0300 the following morning the ten officers and twenty-five men who were aboard came aboard the Archer using their own life boats. Archer's captain, who had contacted the US coastguard requested urgent assistance, and commenced his ship moving towards the US coast at first light. Due to the large hole in the bow, the ship could only make minimal progress by going astern because her single large screw was half out of the water due the bow having settled by 5-degrees. The Brazos was still afloat, but sadly she did sink due to her severe damage and having taken on so much water.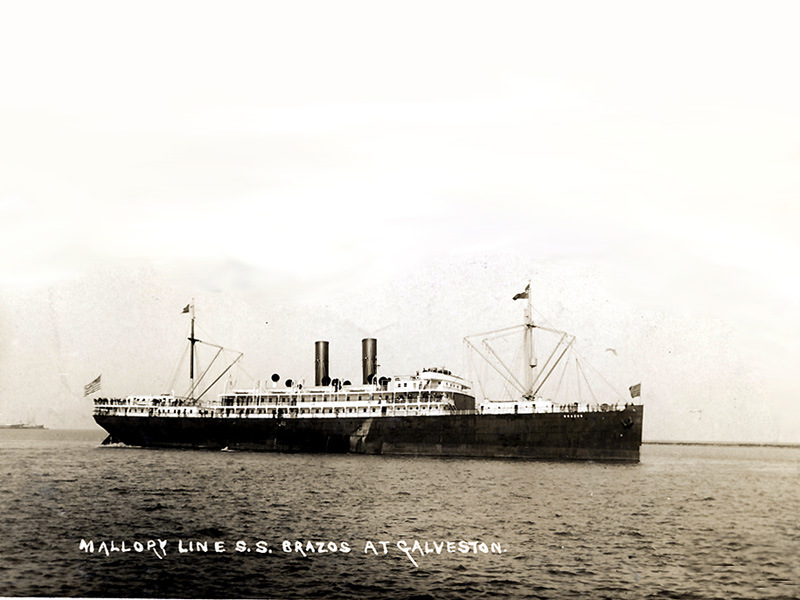 A postcard of the ill-fated Mallory Line, SS Brazos
The US Coast Guard tug "Tallapoosa" came to assist the Archer at 0240 on the January 16, and a tow was established by 0750. However, the Tallapoosa was not an ocean going tug and she was only able to move the Archer at a speed of 1 knot. After two hours it was decided that Archer would cast off the tow and continue under her own power until a more powerful tug could be able to assist her. Later the following day the ocean going tug "Cherokee" arrived and took up the tow. On the after-noon of January 21, eight days after the collision, HMS Archer arrived at the Columbus Pier in Charleston.
Then on January 28, the Archer entered dry-dock for repairs, and she was not passed as being fit for operations until the beginning of March. The Archer was moved to Pier 317 on March 7, 1942 to begin to operate as a store and ammunition the ship. Next she embarked her aircraft around twelve Martlets as cargo for delivery to the Fleet Carrier HMS Illustrious, and finally the four Swordfish aircraft for her own small Squadron, 834 Naval Air Squadron which had flown out from Jamaica to join her.
With repairs to her bow now finally completed, HMS Archer departed for duties once again on March 18, 1942, and she was now officially based in Freetown, Sierra Leone. However she continued with a multitude of engine problems, together with a host of other problems that continued to happen to this rather unfortunate ship!
Finally having completed a voyage from Cape Town to New York, where she arrived on July 15, 1942, and it would there where she would be given a complete machinery overhaul, and all her mechanical problems would finally be fixed, so much so she remained in good running order until much later when further severe mechanical problems occurred after she had become a passenger ship, whilst on the Indian Ocean and all her 1,500 plus passengers were transferred in Aden to another ship, but more on that story on page two.
HMS Archer's service history includes Atlantic convoy escort from February to November 1942. During November 1942, she ferried 30 P-40 War-hawks from USA to Casablanca, then provided Atlantic convoy escort from December 1942 to October 1943.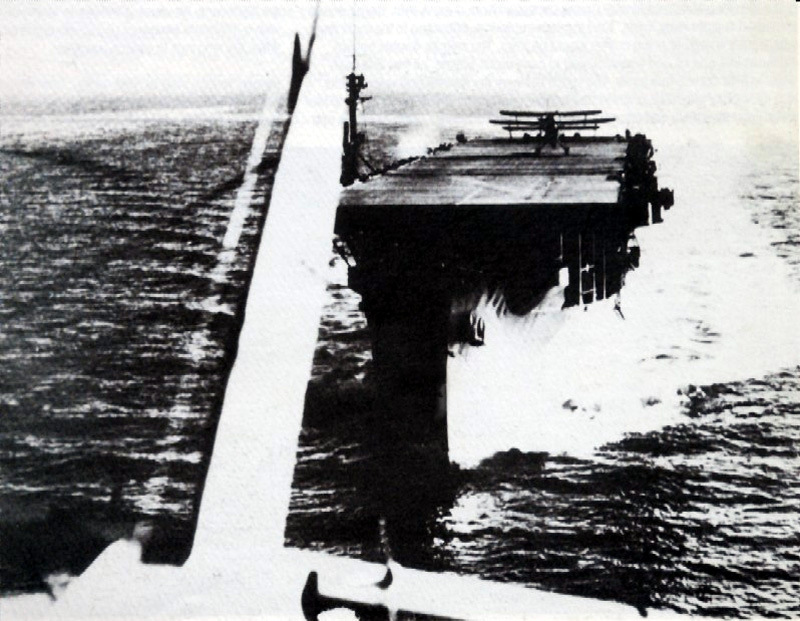 Here we see a photo taken from an aircraft having just taken off from the Archer looking back to her flight deck
HRH King George VI paid a 4-day visit to the Home Fleet from 18 to 21 March 1943, at Scapa Flow, the King wore His uniform as the Admiral of the Fleet. He is seen here on the bridge of the HMS Archer, on his left is the Captain of HMS Archer and the Admiral Commanding all Aircraft Carriers, Vice Admiral, Sir. Arthur Lumley, St George Lyster, KCB, CVO, CBE, DSO,.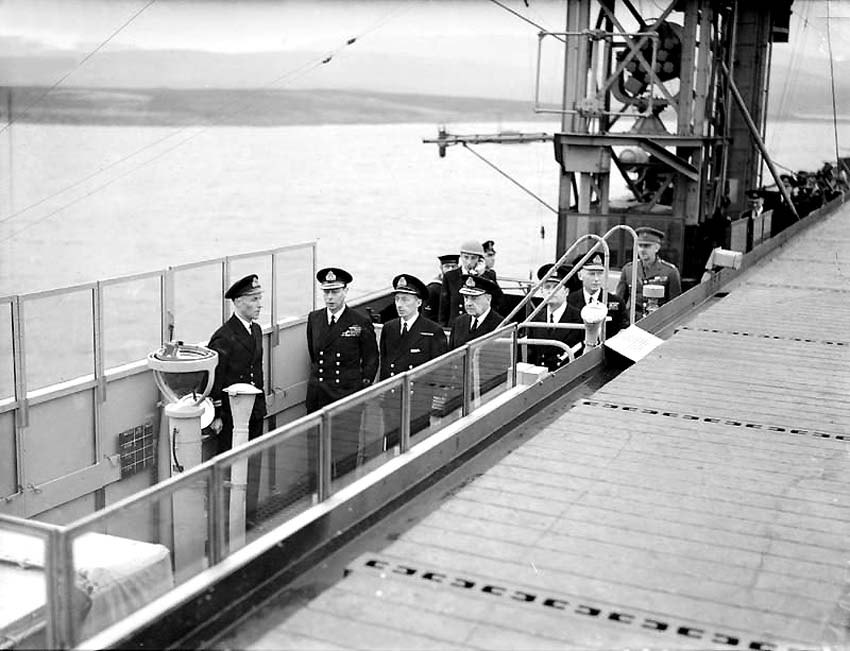 HRH King George VI is seen on the portside Bridge Wing and on his left is the captain of HMS Archer, and the
Admiral Commanding all Aircraft Carriers, Vice Admiral, Sir. Arthur Lumley, St. George Lyster, KCB, CVO, CBE, DSO.
And it was on May 23, 1943 that one of her aircraft, a swordfish from the 819 squadron fired rockets into a German U-Boat U-752 in the North Atlantic and she sank, making the HMS Archer and her aircraft, the only wooden decked aircraft carrier ever to do so!
Sadly HMS Archer was again plagued by engine and machinery defects, and further work had to be undertaken on major engine repairs in August, 1943. It was found that her defects were so extensive and the Admiralty decided to withdraw her from active duty status effective from November 6, 1943. Three days later Commander, Commander H.E. Bickley RN arrived to assume command of the HMS Archer. However, she was towed to a mooring in 'Gareloch where she was employed as a stores hulk until she was moved again in March 1944. This time she was towed up the coast to a new mooring in 'Loch Alsh' where she was used as an accommodation ship from March 6, 1944 Commander H. Walker RN (retd) relieved Commander Bickley RN as C.O. from March 8, 1944.
The Archer spent the next six months in "Loch Alsh" until the beginning of August 1944 when she was towed to Belfast where extensive repairs would take place and they replaced her main gearing and prepared her for a new service and name.
M.S. Empire Lagan:
This major period of maintenance and conversion work was to take seven and a half months to complete, and was finished on March 15, 1945. During the period in the hands of the dockyard it had become clear that Archer would no longer be capable of operating aircraft and plans were made to loan her to the "Ministry of War Transport" (MoWT) for use as a dedicated aircraft ferry carrier.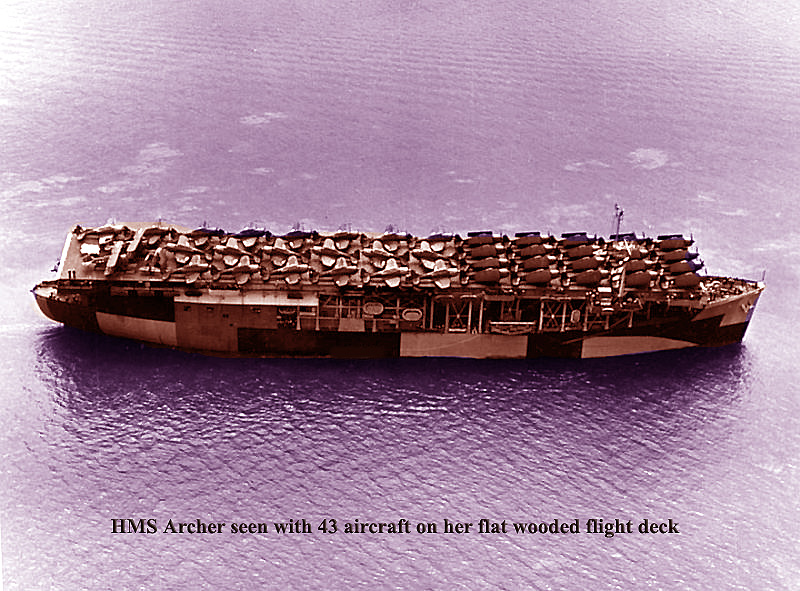 The Archer is seen as an Aircraft Ferry Carrier
HMS Archer was officially decommissioned on March 15, 1945 and she was renamed the "Empire Lagan", although she was not rebuilt and she looked the same as did during the war, even her defensive armament remained it had been during the war. The only change was that she was now no longer had the full camouflage paintwork, and was just painted a dull grey. During her time with "MoWT" she was managed (amazingly) by the "Blue Funnel Line" and was registered in London.
Little is known of Empire Lagan's career, except that she made an Atlantic crossing with the west bound in Convoy UC-69, which departed Liverpool on May 24, 1945 and she arrived in New York on June 3, she then sailed to Norfolk, Virginia to embark a ferry load and although it is not known where this ferry load was delivered. However the next time the M.S. Empire Lagan under the Captain G. R. Cheetham, of Birmingham, appears in records, believe it or not arrived in Auckland, New Zealand, late on Friday September 7, 1945, having crossed the Tasman Sea from Brisbane, Australia.
"The Auckland Star" newspaper wrote on September 7, 1945:
"Converted Carrier Due at Auckland"
"A merchant ship converted as an auxiliary aircraft carrier, the Empire Lagan, is due to arrive at Auckland this afternoon. The ship, which comes from Brisbane, carries 28 New Zealand Service personnel, and she will load aircraft at this port.
The vessel is one of a number of similar ships operated by the commercial owners for the British Government, and is the first aircraft-carrying vessel to visit the Dominion. She is to berth at the Western Wharf. Owned by the Blue Funnel Line, her Auckland agents are Henderson and Macfarlane, Ltd."
On September 8, the "NZ Herald" published the following (not a great quality) photograph;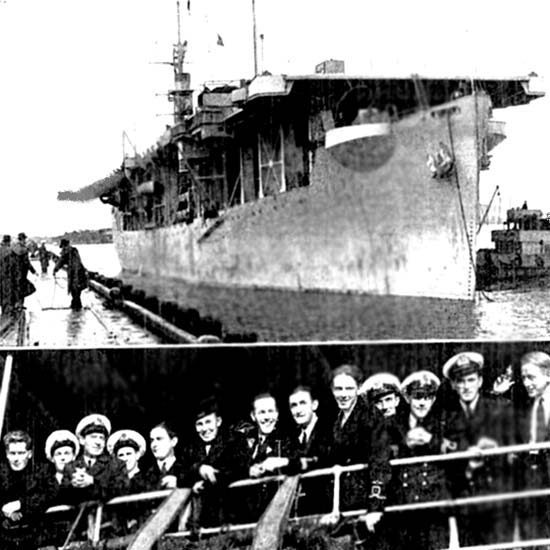 Upper: The auxiliary aircraft-carrier Empire Lagan, which arrived at Auckland late yesterday afternoon
Lower: Some of the R.N.Z.N.V.R. (A) personnel who returned in the ship
The NZ Herald wrote on September 8:
"The first "flat-topped" ship to visit Auckland arrived in the harbour late yesterday afternoon from Brisbane and is expected to leave today for Sydney. She is the Empire Lagan, a Blue Funnel Line ship converted during the war for use as an auxiliary aircraft-carrier, and she brought a number of naval air arm personnel who have been on service with the British Pacific Fleet.
The main reason for the Empire Lagan's visit to Auckland is to take nine Avenger torpedo-bombers and two Walrus amphibian reconnaissance machines on board for delivery to the fleet. Avengers were regularly used by the British Pacific Fleet for bombing Japanese targets and Walrus amphibians were used for the rescue of pilots who had been forced down at sea. New Zealand has maintained both types of machines, Avengers at one time being used by' the R.N.Z.A.F. in the Solomons."
While she was berthed at the Western Wharf in Auckland, it had been decided that on Saturday the 8th she would be opened to the public, and it was expected that no more than up to five hundred would turn up, but amazingly the ship was overwhelmed with almost 20.000 people heading for the wharf and whishing to visit the merchant aircraft transport ship on that day. Crowds swarmed all over and through her.
The M.S.? Empire Lagan departed and headed for Sydney, and in after having delivered her aircraft in the Pacific, she returned to the UK, arriving at the start of December 1945, and she was returned to Admiralty on December 6, 1945. It was now she was temporally renamed once again to that simple previous name of BAVG-1.
HMS Archer & M.S. Empire Lagan (BAVG-I) Final Days:
BAVG-1 (formerly Archer) was no longer required for service in the Royal Navy and a steaming crew was drafted to handle the ship for her final Atlantic crossing. Work began to prepare her for her return to the custody of the US Navy as soon as she docked, de-storing her and removing all Admiralty equipment and armoury, etc.

BAVG-1 was officially returned to the US Navy at Norfolk, Virginia on January 9, 1946, and she decommissioned was stricken for "disposal" on February 26, 1946 and laid-up on the James River to awaiting to be sold.

Specifications & Details

Ships: M.S. Mormacland in 1939 then HMS Archer 1941, Empire Lagan 1945,

M.S. Anna Salen 1946, M.S. Tasmania 1955 & M.S. Union Reliance 1961 to 1962.

Built by:?????????????????????????????????????????? Sun Shipbuilding & Drydock Co., Chester, Pennsylvania in 1938/39.

Yard:?????????????????????????????????????????????? 184.

Hull:??????????????????????????????????????????????? 46.

Launched:???????????????????????????????????????? December 14, 1939 as the Mormacland.

Tonnages:??????????????????????????????????????? 7,886 GRT - Mormacland 1939.

.????????????????????????????????????????????????????? 7,886 GRT - BVGI 1941.

.????????????????????????????????????????????????????? 13,399 GRT - Archer - 1941.

.????????????????????????????????????????????????????? 13,399 GRT - Empire Lagan 1941.

.????????????????????????????????????????????????????? 11,762 GRT - Anna Salen 1946 & Tasmania 1955.

.????????????????????????????????????????????????????? 7,368 GRT - Tasmania & Union Reliance 1956 - 1962..

Length:??????????????????????????????????????????? 494 ft - 150.5 m.

Beam:????????????????????????????????????????????? 69.2 ft - 21.1 m.

Draught:?????????????????????????????????????????? 29.1 ft - 8.86 m.

Propulsion:?????????????????????????????????????? 4 × 7 cylinder SCSA diesel engines (Busch-Sulzer Bros Diesel Engine Co, St Louis) 2,060 HP (1,540 kW) each, driving a large single screw through electro-magnetic couplings and single reduction gearing.

Speed:???????????????????????????????????????????? Service speed 15.5 knots, maximum 17.5 knots.

Range:???????????????????????????????????????????? 14,550 nautical miles (26,950 km) at 10 knots.

Passengers:????????????????????????????????????? 1,500 aboard the Anna Salen and Tasmania.

HMS Archer:

Complement:??????????????????????????????????? 555.

Armament:??????????????????????????????????????? 3 × 4 in (102 mm) guns, 4 × twin and 7 × single machine guns, 7 × 20 mm guns AA guns, 4 twin 20 mm AA guns.

Armour:?????????????????????????????????????????? None.

Aircraft carried:???????????????????????????????? 15.

Aviation facilities:????????????????????????????? 1 lift, 1 catapult, 9 arrester wires and 3 barriers.

Ports of Registration:

1945:?????????????????????????????????????????????? United Kingdom London.

1946:?????????????????????????????????????????????? United States United States.

1948:?????????????????????????????????????????????? Sweden Stockholm.

1955:?????????????????????????????????????????????? Greece Piraeus.

1961:?????????????????????????????????????????????? Taiwan Taipei.

Fate:?????????????????????????????????????????????? Scrapped in New Orleans in 1962.

INDEX: M.S. Mormacland, BAVG-1, HMS Archer & M.S. Empire Lagan, Anna Salen, Tasmania & Union Reliance.

Page One …?????????? History of M.S. Mormacland, BAVG-1, HMS Archer & M.S. Empire Lagan. (This page).

Page Two … ????????? History of the M.S. Anna Salen, Tasmania & Union Reliance.

Page Three …??????? 1. Anna Salen, News reports of passengers arriving ill, and deaths in Melbourne.

.??????????????????????????? 2. Union Reliance, a pdf "Coast Guard inquiry" who was to blame of the collision between her and the M/V Berean.

***********************************?

"Blue Water Liners sailing to the distant shores.


I watched them come, I watched them go and I watched them die."

Return to the ssMaritime MAIN INDEX

ssMaritime.com & ssMaritime.net

Where you will discover over 1,350 Classic Liners & the 1914 built MV Doulos Story

The Author has been in Passenger Shipping & the Cruise Industry for a good 60 years

Please Note: ssmaritime and associated sites are 100% non-commercial and the author seeks no funding or favours of any shape or form, never have and never will!

Photographs on ssmaritime and associate pages are: by the author or from the author's private collection. In addition there are some images that have been provided by Shipping Companies and private photographers or collectors. Credit is given to all contributors. However, there are some photographs provided to me without details regarding the photographer/owner concerned. I hereby invite if owners of these images would be so kind to make them-selves known to me (my email address may be found on www.ssmaritime.com only), in order that due credit may be given.

This notice covers all pages: although, and I have done my best to ensure that all photographs are duly credited and that this notice is displaced on each page, that is, when a page is updated!

ssMaritime is owned & ? Copyright by Reuben Goossens - All Rights Reserved