Union Steam Ship Company, the great RMS Aorangi (II) - WW2 Operations
Please Note: Mobiles, Firefox & Google Chrome other search engines may not suitable
Please use Internet Explorer or Old Google for this page to load perfectly!
Click the logo above to reach the ssMaritime FrontPage for New Features & Updates
With Reuben Goossens
Maritime Historian, Author, Cruise'n'Ship Reviewer and Maritime Lecturer
Please Note: All ssMaritime and other related maritime & cruise sites are 100% non-commercial and privately owned. Be assured that I am NOT associated with any shipping or cruise companies or travel or cruise agencies, etc! Although having been in the passenger shipping industry since 1960, I am now retired but having completed features on well over 700 Classic Liners and Cargo-Passengers Ships, I trust these will continue to provide you the classic ship enthusiast the information you are seeking, but above all a great deal of pleasure!
Union Steam Ship Company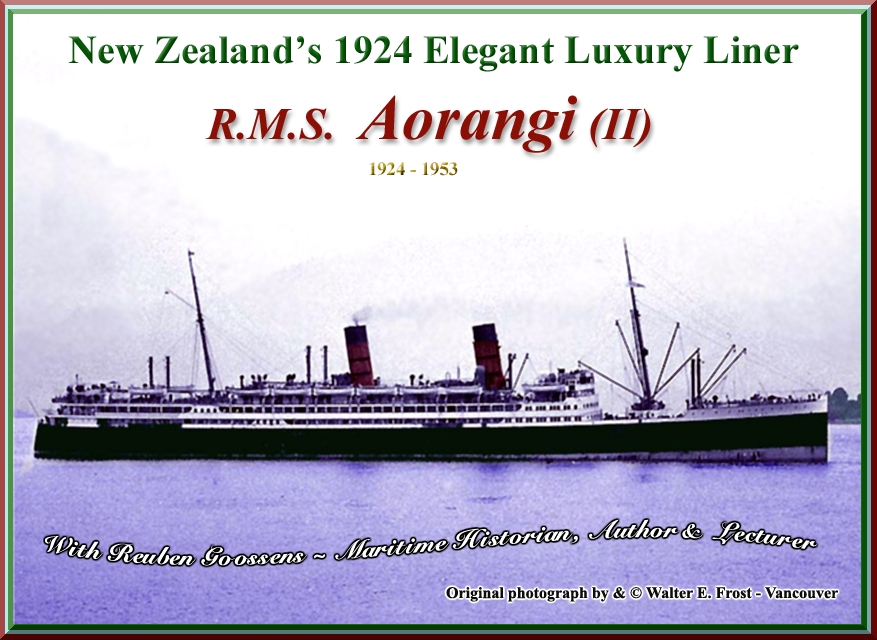 Introduction:
The Union Steam Ship Company (USSCo) is a well established British/New Zealand Shipping Company with a huge list of ships to its name, both cargo and passenger liners. There were some very small ones in the early days, including the combination sail and steamship the Aorangi, built in 1983, but obtained by the USSCo in 1910. These were the early days of a company that would go on and build wonderful and enduring ships such as the 7,527 GRT (Gross Registered Tons) as the SS Maunganui (1911-1948), which was sold to a Greek company and was renamed Cyrenia (1948-1957), then came the largest and the most glamorous to date, the luxurious 13,415 GRT SS Niagara (1914-1940), followed by the remarkable but slightly smaller and enduring of line 4,436 GRT SS Wahine (1913-1951).
However, it would not be until a good ten years after the Wahine, in 1923 that the company laid plans for a brand new much larger liner and gave the order for this ship to be built to Fairfield Shipbuilding & Engineering Company in Glasgow, Scotland and soon "Hull 603" commenced, she would become RMS Aorangi II.
I trust that you will enjoy this new feature, which is one I am writing during my official retirement, when I should be resting more. But, it is good to keep on doing something occasionally - Right? But first, let us first look at the SS Aorangi 1.
Reuben Goossens.
**********************
S.S. Aorangi (II) WW2 Services:
Introduction:
RMS Aorangi was at first chartered in October, 1939 to transport troops from New Zealand to Fiji; thereafter, she began transporting troops and airmen from Australia to Canada. However, finally, the British Ministry of War Transport decided to officially requisition her for war duties, and having been made ready, HMS Aorangi, now officially a troopship, departed Sydney for the United Kingdom, under the command of Commander Ernest Colin Coats, DSO, DSC.
Please Note: I am delighted to provide information of the Aorangi's service records and convoy's and voyages, however, not every single voyage is recorded, but I will provide as much as is available!
Although RMS Aorangi's services were far away from the conflicts in Europe, however there remained a danger off the coasts of Australia and New Zealand. In fact, the USSCo 13,415 GRT, RMS Niagara, also on the Trans-Pacific, Sydney to Vancouver service, tragically was an early casualty of WW2, when she struck a mine during the early hours of June 19, 1940 having just departed Auckland. The mine was part of a many laid by the German auxiliary cruiser the Orion. The Niagara sank off 'Bream Head,' near Whangarei in 360 feet of water. All 349 passengers and crew were rescued because the ship thankfully sank slowly in calm seas, allowing for an orderly evacuation of the once popular passenger Liner.
However, sunk with the ship was a fortune of 590 bars of gold (around eight tons), which was in transit from New Zealand to Canada representing payment to the United States from the Bank of England for munitions. Salvage operations on the Niagara commenced rapidly by the United Property Salvage Ltd,' of Melbourne, but it took a good six weeks to locate the wreck of the ship. At that time only 555 gold bars were recovered, however in 1953 a further 30 bars were salvaged, yet five remained unaccounted for.
Late in 1939 the Aorangi departed with troops from New Zealand to Fiji. Until the first half of 1941, her operations was based under a charter agreement, moving troops and airmen from Australia to Canada, etc.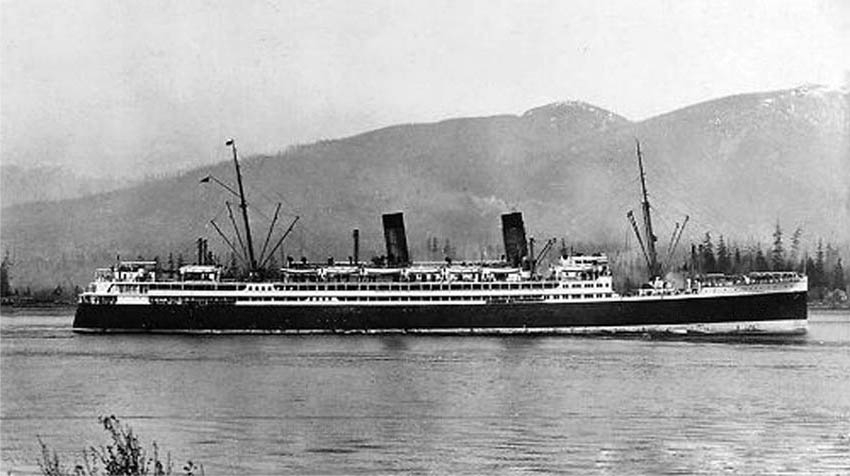 HMS Aorangi is seen whilst still under charter transporting servicemen, etc
HMS Aorangi the Troopship:
Then mid 1941 the RMS Aorangi was officially requisitioned by the 'British Ministry of War Transport' and sailed from Sydney to the United Kingdom to be converted into a troopship. Having been converted to enter troop ship service, she would operate with convoys transporting troops and supplies to the Near East, Middle East and India and bringing American and Canadian troops to Europe.
The Aorangi was now classified as a 'Defensively Equipped Merchant Ship' (DEMS). Equipment fitted for this role included degaussing gear and a variety of armament including a rear gun emplacement fitted with one 4.7-inch gun, a 3-inch high angle and two 20-mm Oerlikon pom-poms just forward of it. Two further Oerlikons were located amidships, as well as two 5-inch Brownings on the Bridge, and two more Oerlikons were located on the forecastle.
The HMS Aorangi departed the United Kingdom on November 13, 1941 as part of convoy WS 12Z and sailed via the Suez Canal to Freetown, arriving there on November 25, 1941 and departed three days later. She then refuelled in Durban, departing there on December 24, 1941. The Aorangi, was transporting 2,200 troops, from the 53rd Infantry Brigade, 232 Squadron RAF, 6th Heavy & 35th Light Artillery Regiments RA, and 85th Anti-Tank Regiment RA., and there were three other ships in convoy DM1 as they headed for Singapore there they required urgent additions of numbers for the forces there. Aorangi arrived in Singapore on January 13, 1942.
HMS Aorangi departed Singapore filled with evacuated civilians from Singapore, departing January 16, 1942 and she headed for the port of Fremantle (Perth – Western Australia) arriving there on January 24.
Later, the Aorangi departed the United Kingdom as part of convoy WS 18 on April 15, 1942 and again headed for Freetown, where she arrived on April 29. She departed again on May 3, with the convoy and arrived off Cape Town on May 15, 1942. Although the Aorangi was due to refuel at Durban, but a minefield was recently laid by the raider 'Doggerbank,' and two other sadly ships sadly the mines. After unloading her troops, the Aorangi set sail together with two other ships and headed for the River Plate.
A very heavily protected convoy AT 17 departed New York bound for the Clyde on July 1, 1942 and there were with eight ships in this convoy including the Aorangi. However at some time, the Aorangi & Siboney were separated from the main convoy and therefore they headed for Halifax. Both ships departed from Halifax on July 5, as convoy AT 17B and reached the Clyde on July 12.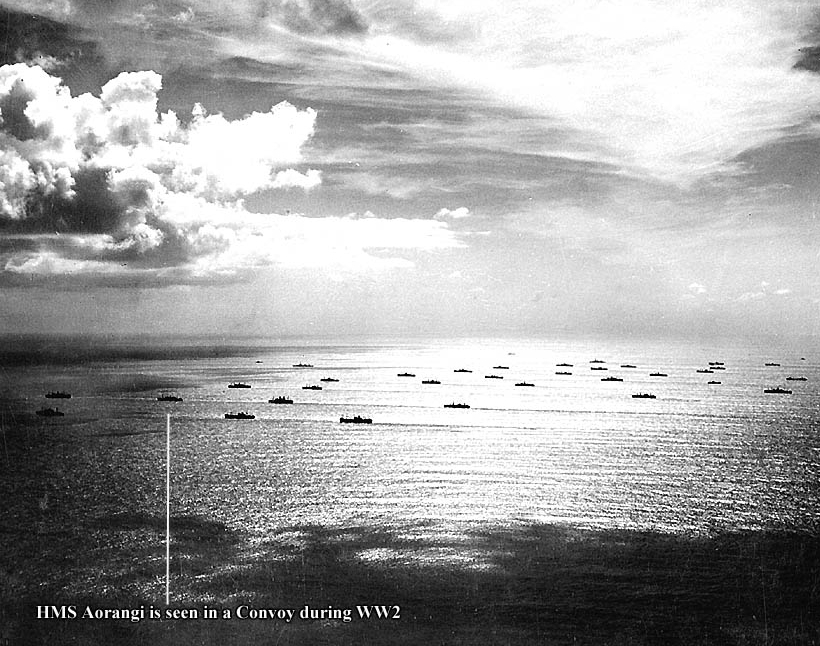 The Aorangi sailed from the Clyde again on July 29, 1942 as part of convoy WS 21, this convoy was the Sulzer powered Rangitiki. Freetown was reached on August 10, the convoy departed five days later, and they arrived at Cape Town on August 27. The Aorangi refuelled here, and her departure was on August 30, 1942. However on September 10, the convoy split as they normally would in the Indian Ocean, with the Aorangi bound for Aden and Suez, arriving later in September 1942.
A small convoy WS 29A with just two ships, one of these being the Aorangi departed from the United Kingdom on April 20, 1943 and headed for Casablanca, Dakar and then Freetown arriving there on May 4, 1943. Here a number of other ships joined the convoy now identified as WS 29. Next port of call was Cape Town, which the convoy reached on May 18. However, the Aorangi was in another part of the group that went through to Durban to bunker (refuel), arriving there on May 20.
We next see the Aorangi in convoy KMF 25A which had a good twenty-six, mostly large troop ships. This convoy departed from Liverpool on October 27, 1943 and was bound for Alexandria, where they arrived on November 11. However, as it does happen in convoys, the Aorangi only went as far as Oran in Algeria on this voyage.
The next convoy MKF 26 departed Port Said on November 17, with the Aorangi joining the convoy at Oran on November 30, and they headed for the United Kingdom, reaching the Clyde on December 8.
Her last official trooping voyage was early in 1944, being a round trip from the UK to Malta. The HMS Aorangi departed the Clyde on February 21, 1944 sailing as always in convoy, but number KMF 29, she had 1,551 servicemen aboard and headed for Alexandria. She next sailed in convoy MKF 29, from Port Said Egypt on March 2, bound for Liverpool via Malta. HMS Aorangi departed Malta with 3,143 troops aboard bound for Liverpool and she arrived there on March 16, 1944.
She had now completed her duties as a troopship, and was about to enter another role, thus she entered a dockyard in Liverpool several days after her arrival for conversion.
D-Day Depot Ship:
In May 1944 the HMS Aorangi was fitted out as an accommodation and depot ship for small craft personnel, as well as having hospital facilities. During the Normandy invasion she served as a depot ship for a fleet of 150 tugs and auxiliary ships, and for other vessels involved with towing the artificial "Mulberry harbours" across the Channel providing food, water, ammunition, engine part's and relief crews. From D-Day (June 6, 1944) until the end of July, the Aorangi serviced 1,200 vessels and countless other small craft. Her hospital took in wounded men from the beachheads. Not far away at the D-Day landings the HMT Monowai was used in the transport of troops across the English Channel. During her time on Operation Neptune Aorangi provided services to 1,200 vessels, and the hospital looked after hundreds of wounded men brought back from the landing beaches. She left Liverpool on April 29th 1944 and arrived at an anchorage off Lee-on- Solent on May 5. The Solent, off the town of Lee-on-Solent, was the marshalling area for the tugs. The Solent was extremely crowded waterway by the end of May, and many of the tugs were dispersed; Later the Aorangi was moved to Southampton where she remained in this role until she was relieved in the second week of July 1944 by the destroyer depot ship Empress of Russia. She next returned to the Clyde, where she arrived on July 13, 1944.
Depot & Crew Accommodation Ship:
On July 25, the Aorangi entered the Fairfield Shipbuilding yards in Glasgow, for further conversion work to equip her as a submarine depot and crew accommodation ship. It was intended that she operate her as a depot ship for the 8 'T' Class and 2 'S' Class Boats of the reconstituted 4th Submarine Flotilla at Trincomalee in East Ceylon. When completed, the HMS Aorangi was to leave the UK in February 1945; however her departure to the Far East was delayed to March 31, 1945. Thus she departed the Clyde on March 31, 1944 in convoy KMF.42 bound for Trincomalee via Bombay with 433 service passengers onboard. She continued operations in Ceylon in addition she was also sent to Fremantle, Western Australia until May 1945.
She was then reallocated to the 'British Pacific Fleet' in July 1945 having been reassigned as a 'Submarine Spare Crew Accommodation Ship' and departed to join the Fleet Train at Manus in the Admiralty Islands.
Flagship of the Commodore Fleet:
On her arrival at Manus on July 15, 1945 she was taken in hand by the Heavy Repair Ship HMS Artifex and further converted to become the flagship of 'Commodore Fleet,' this necessitated the creation of new offices, supplying additional telephones and furniture, etc. She was also fitted out as a Fleet Chart Depot and a Fleet Medical Store-Issuing Depot.
Post War:
After the Japanese surrender, the Aorangi remained at Hong Kong as an accommodation ship for men released from war service and waiting to go home. It was estimated that during the WW2, Aorangi bravely transported 36,000 troops and evacuated 5,500 refugees from war zones.
Then on Tuesday September 25, 1945 the HMS Aorangi arrived in Brisbane, Queensland Australia, with 700 former Australian prisoners of war. In Brisbane, one hundred men departed the ship and the Aorangi left Brisbane on Thursday September 27, and headed for Sydney arriving there on Saturday September 29, 1945 with the remaining 600 men.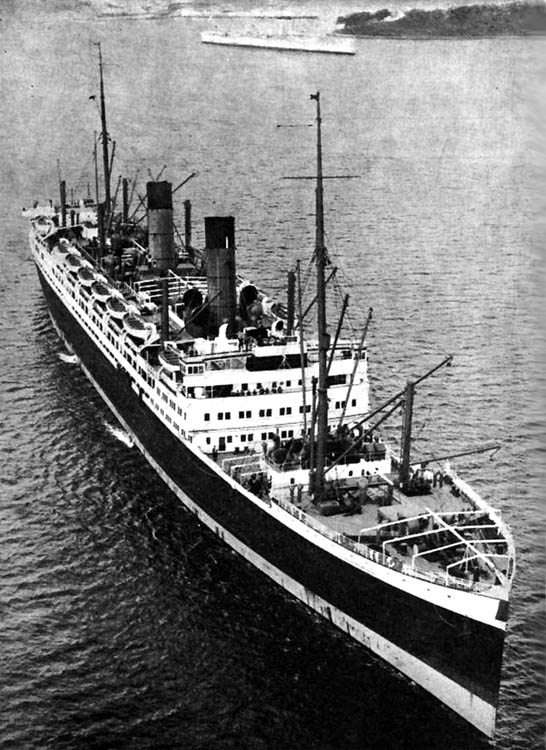 The HMS Aorangi is seen in Sydney Harbour with Warships in the background
Sadly the seven hundred returned to Australia on the Aorangi was but a very small number of the recently freed Australian and New Zealand prisoners of war that were yet to be recovered from territories formerly controlled by the Japanese, but those who survived all did eventually come home!
Below a Brave Service Record of the HMS Aorangi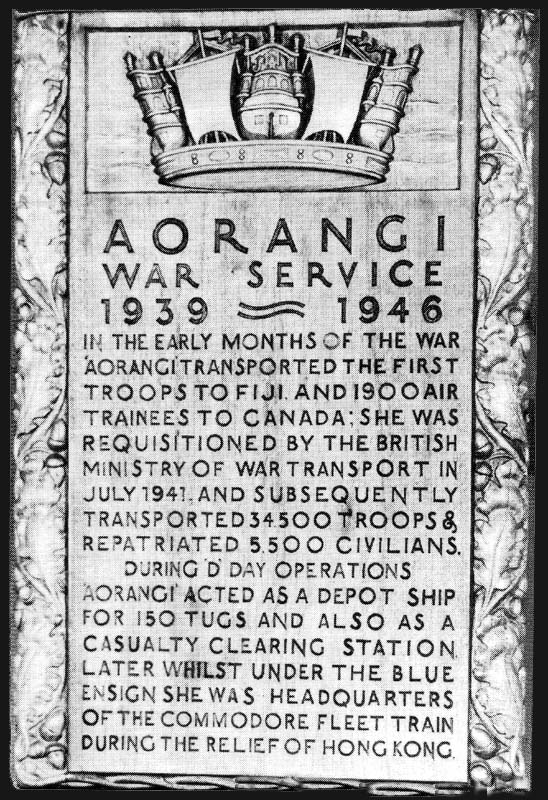 Please Note

: RMS Aorangi's restoration into a Passenger Liner and return to her Sydney to Vancouver service, as well as her final years are fully covered on Page One.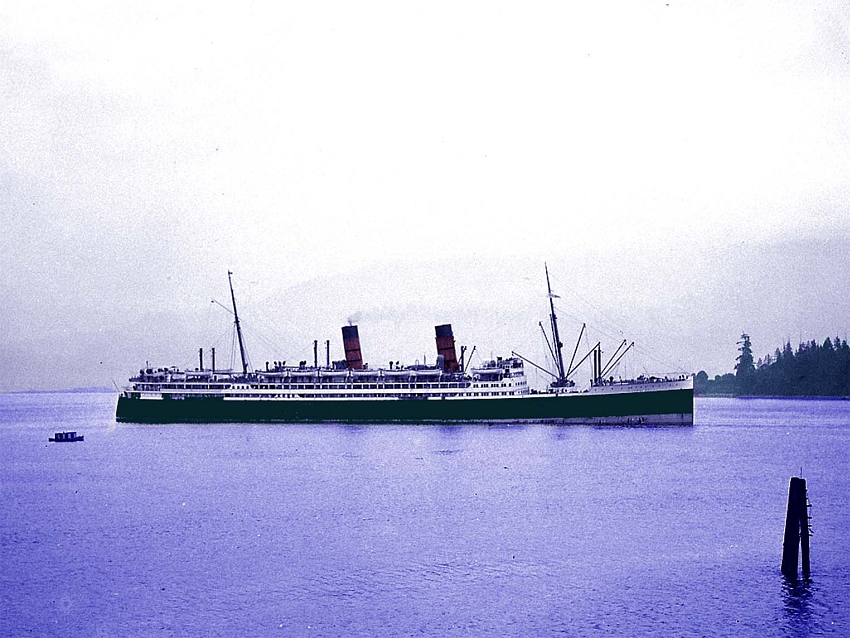 HMS Aorangi is seen back in civil service in 1950
Return to RMS Aorangi Page One
Also view the other USSCo Passenger Ships online, from oldest to the last ever built
SS Waitaki / SS Moeraki & Manuka / SS Marama & Maheno
TSS Monowai / TSS Awatea / MV Matua & MV Tofua
**********************
Use the Back button on your browser or Close the Page to return to the previous page
or go to our
INDEX
ssMaritime.com

& ssMaritime.net
Where the ships of the past make history & the 1914 built MV Doulos Story
Photographs on ssmaritime and associate pages are by the author or from the author's private collection. In addition there are some images that have been provided by Shipping Companies and private photographers or collectors. Credit is given to all contributors. However, there are some photographs provided to me without details regarding the photographer/owner concerned. I hereby invite if owners of these images would be so kind to make them-selves known to me (my email address may be found on www.ssmaritime.com only), in order that due credit may be given.
This notice covers all pages, although, and I have done my best to ensure that all photographs are duly credited and that this notice is displaced on each page, that is, when a page is updated!
ssMaritime is owned and © Copyright by Reuben Goossens - All Rights Reserved