Union Steam Ship Company, the great RMS Aorangi 1924 to 1953
Please Note: Mobiles, Firefox & Google Chrome other search engines may not suitable
Please use Internet Explorer or Old Google for this page to load perfectly!
Click the logo above to reach the ssMaritime FrontPage for New Features & Updates
With Reuben Goossens
Maritime Historian, Author, Cruise'n'Ship Reviewer and Maritime Lecturer
Please Note: All ssMaritime and other related maritime & cruise sites are 100% non-commercial and privately owned. Be assured that I am NOT associated with any shipping or cruise companies or travel or cruise agencies, etc! Although having been in the passenger shipping industry since 1960, I am now retired but having completed features on well over 700 Classic Liners and Cargo-Passengers Ships, I trust these will continue to provide you the classic ship enthusiast the information you are seeking, but above all a great deal of pleasure!
Union Steam Ship Company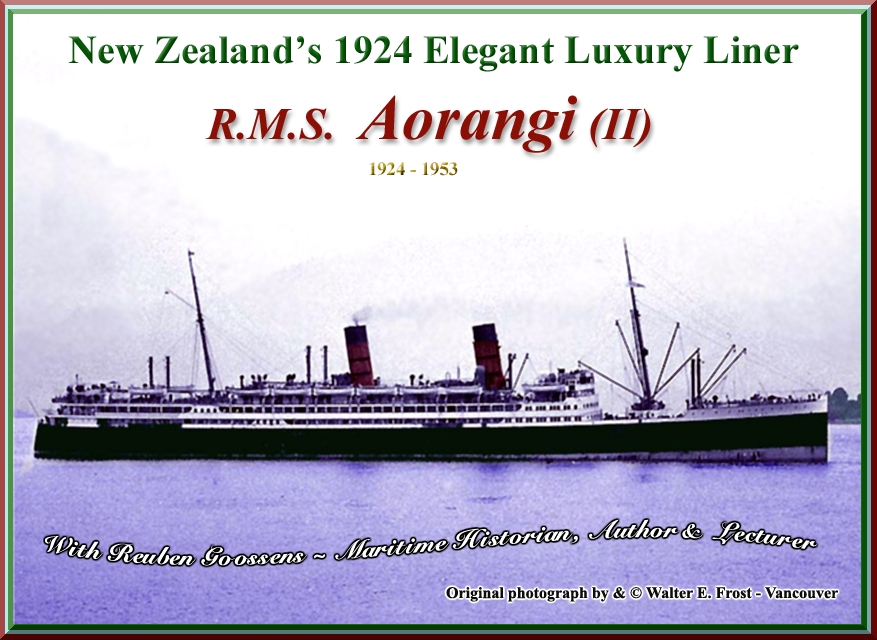 Please Note: Photographs and images on this feature are from the author's private maritime collection, Andrew Deans & family, or as stated otherwise!
Introduction:
The Union Steam Ship Company (USSCo) is a well established British/New Zealand Shipping Company with a huge list of ships to its name, both cargo and passenger liners. There were some very small ones in the early days, including the combination sail and steamship the Aorangi, built in 1983, but obtained by the USSCo in 1910. These were the early days of a company that would go on and build wonderful and enduring ships such as the 7,527 GRT (Gross Registered Tons) as the SS Maunganui (1911-1948), which was sold to a Greek company and was renamed Cyrenia (1948-1957), then came the largest and the most glamorous to date, the luxurious 13,415 GRT SS Niagara (1914-1940), followed by the remarkable but slightly smaller and enduring of line 4,436 GRT SS Wahine (1913-1951).
However, it would not be until a good ten years after the Wahine, in 1923 that the company laid plans for a brand new much larger liner and gave the order for this ship to be built to Fairfield Shipbuilding & Engineering Company in Glasgow, Scotland and soon "Hull 603" commenced, she would become RMS Aorangi II.
I trust that you will enjoy this new feature, which is one I am writing during my official retirement, when I should be resting more. But, it is good to keep on doing something occasionally - Right? But first, let us first look at the SS Aorangi 1.
Reuben Goossens.
**********************
S.S. Aorangi (I):
The first S.S. Aorangi was built by John Elder & Co in Glasgow for the New Zealand Shipping Company and she was launched on October 2, 1883. This delightful 4,162 GRT three mast, clipper bow ship had a single funnel, and was fitted with refrigerated cargo space. Her three decks accommodated 80 First Class, 80 Second Class and 250 in Third Class passengers.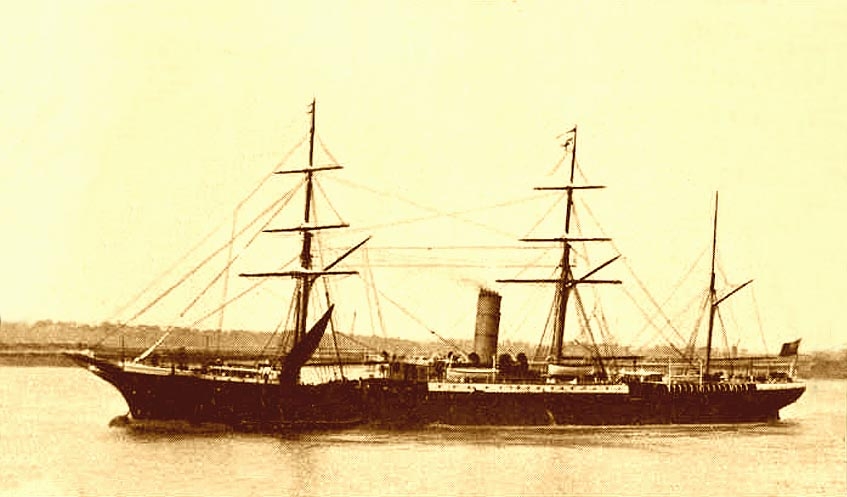 Here we see the S.S. Aorangi as built with a full rigging for sails and a shorter funnel
Part of a private collection of a series of old sepia photographs © R. Goossens
She was especially built to operate between England and New Zealand for the New Zealand Shipping Company, who would own her from 1883 to 1996, but in 1894, she was chartered to the Australian Huddart Parker Shipping line.
She was obtained by the Canadian Australian Royal Mail Line in 1896 who decided to give her a refit, which was completed in 1897, externally this saw her funnel heightened by a good 10ft - 3.05m taller as well as accommodation updates that included 100 First Class and 50 Second Class berths. She recommenced, but on a new service under the New Zealand Line, and this was the popular Pacific route from San Francisco to Sydney sailing via some Pacific Islands and New Zealand.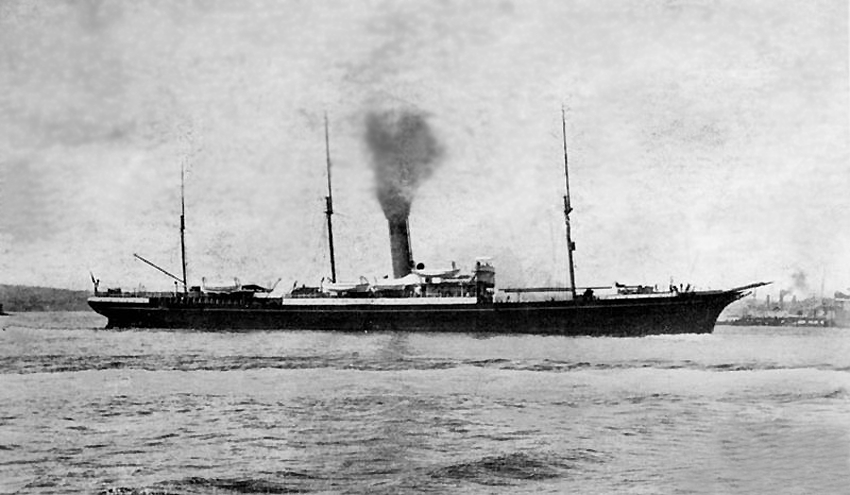 S.S. Aorangi seen around 1907 quite some time after her refit, with her rigging removed and her funnel heightened
In 1910, The Union Steam Ship Co (USSCo) of New Zealand became her official owners, but her service remained the same, and she continued on this service until late March 1914, when she arrived in Sydney and she was laid up for a refit, as she had been chartered by the Royal Australian Navy for war duties until 1915.
Having been fitted out she was used as a supply ship, but she was never officially commissioned into the Royal Australian Navy and she was manned by her New Zealand civilian crew. Yet, she was well armed with a QF 12 pounder 12 cwt naval gun and she took part in various operations against the German colonies in the Pacific with the Australian Naval and Military Expeditionary Force and Australian Fleet.
The Aorangi was returned to the USSCo in May 1915, but they sold her directly to the Admiralty, who had took her to Britain and scuttled her in August 1915, in Holm Sound, Scapa Flow, the United Kingdom's chief naval base during World War I. She was salvaged, refloated in 1920, cleaned, and made ready to be used as a storage ship at Malta until she was scrapped in 1925.
Aorangi II - Construction, Launching, Fit-Out and Sea-trails:
USSCo ordered a new larger liner to be built by Fairfield Shipbuilding & Engineering Co., Ltd., Glasgow, Scotland, and her keel was laid down in 1923. She was launched and named 'Aorangi' on June 17, 1924 and was officially christened with these words; "I name this ship the Aorangi" as spoken by Mrs Charles Holdsworth, who was the wife of USSCo's Managing Director Mr. Charles Holdsworth. A special gavel was used by Mrs Holdsworth to launch the ship and upon the conclusion of the vent, the gavel was presented to her, placed in a specially carved box with a painting of the RMS Aorangi inside of the lid (by an unknown artist), and this item is now in the possession of her surviving relatives, being the Deans family, together with a small painting of the Aorangi by the celebrated maritime artist Charles Dixon.
Launching Photographs: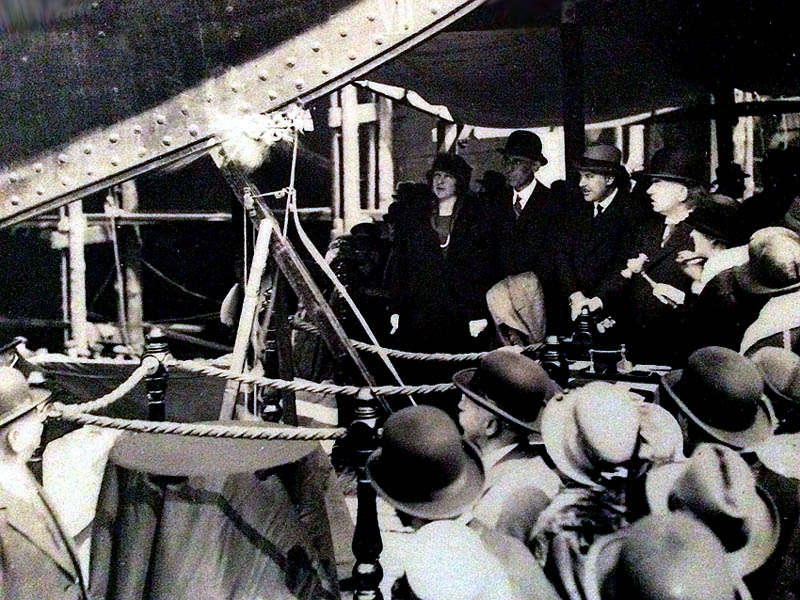 Here we see Mrs Charles Holdsworth (later Lady Holdsworth) having used the gavel and the bottle is smashing against the bow
Pease Note: All photographs related to the launching of the RMS Aorangi, were kindly provided by Andrew Deans, and the Deans family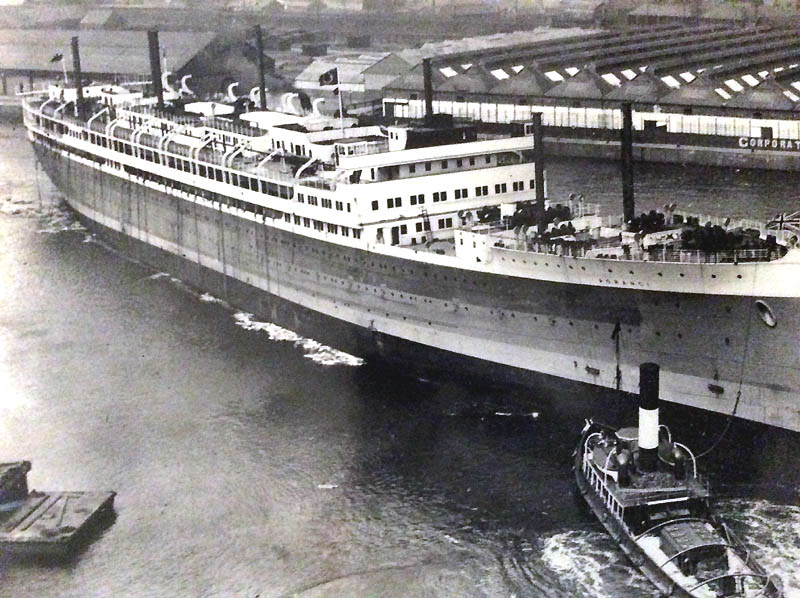 The new liner slides into the Clyde and will be be taken in tow and moved to her fit-out berth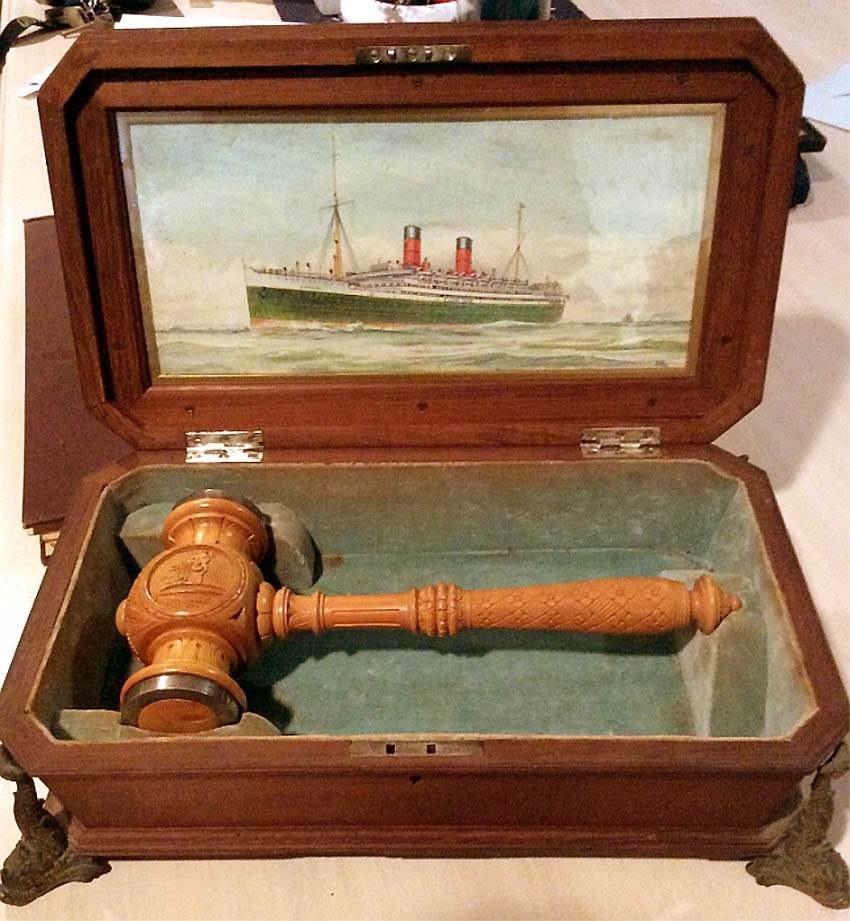 Above & below; the gavel and box presented to Mrs. Charles Holdsworth after her launching of the Aorangi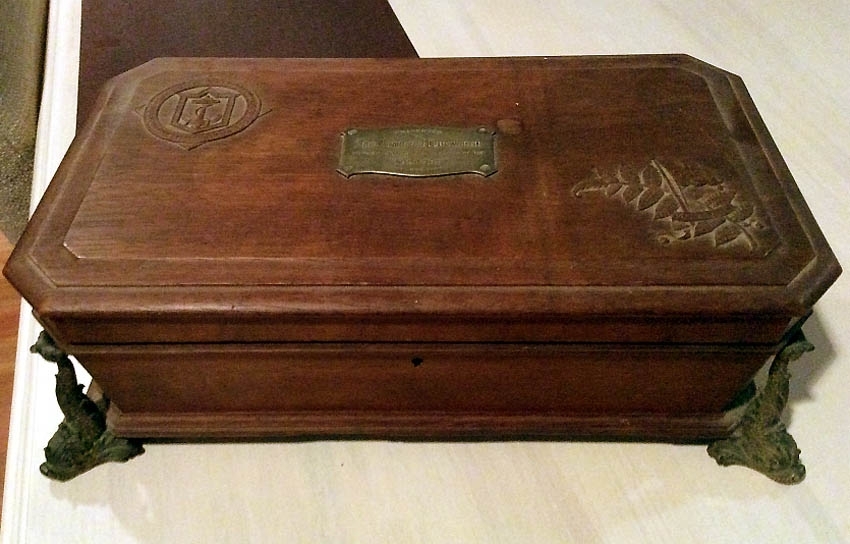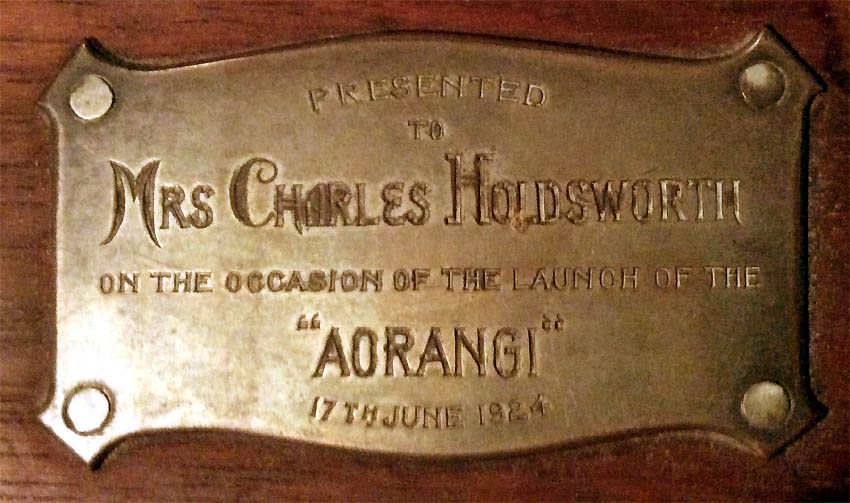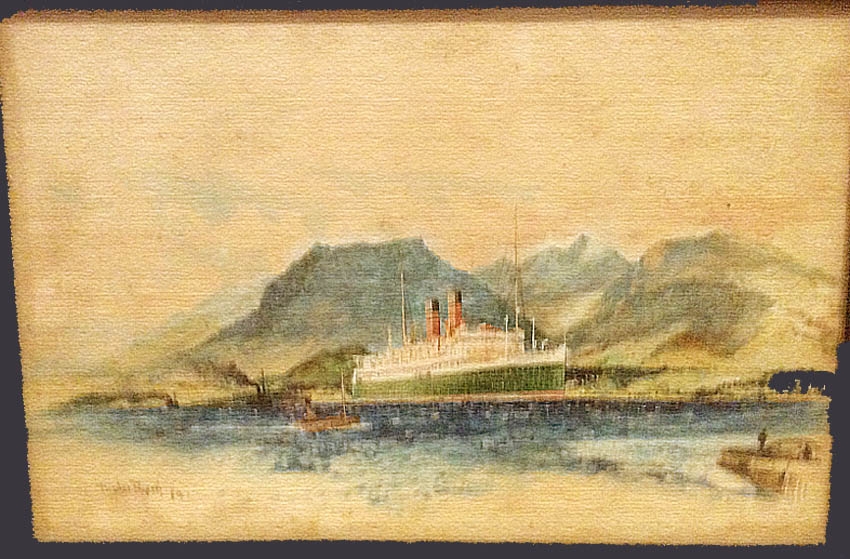 A painting of the RMS Aorangi by Charles Dixon
For Interest: The name 'Aorangi' was chosen as it is the Maori name for 'Mount Cook,' being New Zealand's tallest mountain, but in English the Maori word is in reality translated as 'Cloud Piercer,' being a suitable name for the then revolutionary liner with her stately tall funnels, as well as being the largest and fastest motor powered ship in the world. PS: Aorangi is also pronounced 'Aoraki,' the reason for the two names are due to the small differences in pronunciation that occurred, between Maori tribes (iwi). The Maoris local to the Mount Cook area are the 'Ngai Tahu' tribe (iwi), and they pronounce it as 'Aoraki.'
The Aorangi was fitted out on the Clyde where she was given some of the most spectacular interiors, which were as good as many of the great Trans-Atlantic liners of her time. Upon completion she underwent her comprehensive deep-sea trails where she achieved an amazing 18.24 knots, and these sea trials were expected during November and December. With this in mind, the Union Steam Ship Company commenced forward planning of their schedules considering the arrival of their new liner Aorangi, which would be entering her duties on the Vancouver, Sydney, Vancouver service as soon as she arrived in Vancouver Canada.
The RMS Aorangi was 17,491 GRT or a displacement tonnage of 23,000 tons, which would place her, based on size as well as her other qualities at the head and the largest of the merchant liners trading on the South Pacific. This remarkable liner was fitted with quadruple screws and was powered by four six-cylinder Fairfield built Sulzer ST70 two stroke single acting engines of 700mm bore, a total of an excellent 13,000 BHP at 127 RPM, and she had a service speed of 17.5 knots, and a maximum of 18.24 knots. At the time of her construction, she was the largest and fastest Motor Ship in the world!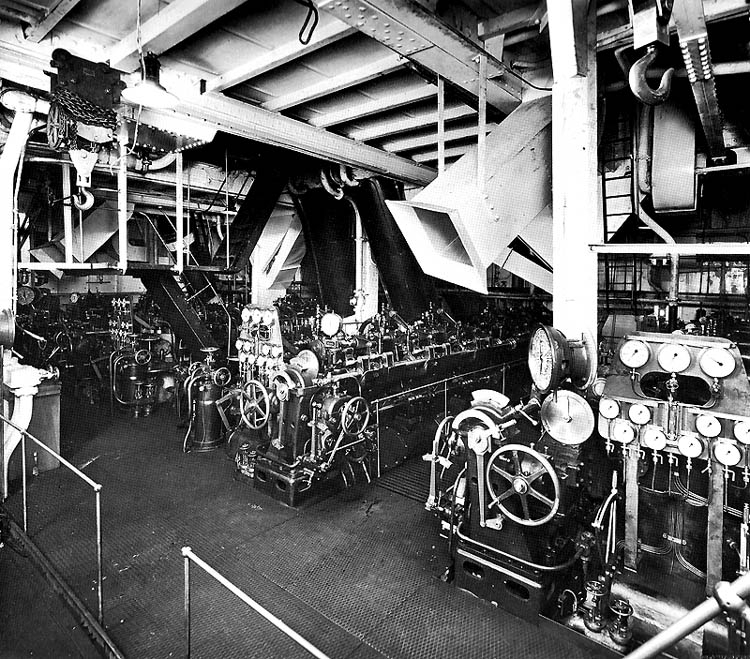 The RMS Aorangi's great Engine Room
Image was released by Fairfield Shipbuilding & Engineering Company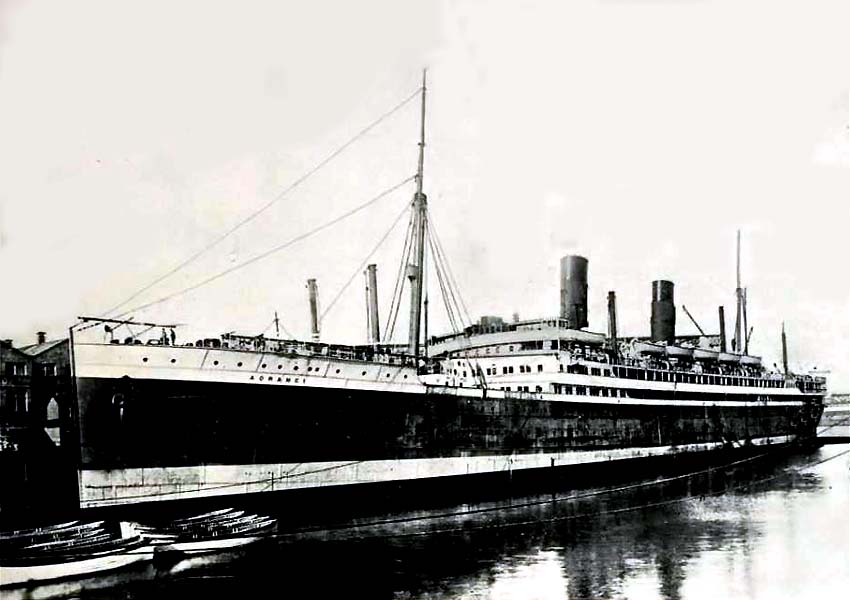 The Aorangi is seen here at the Fairfield Shipbuilding and Engineering Company Yards being fitted out
Image was released by Fairfield Shipbuilding & Engineering Company
Then in the second week of December 1924 the Aorangi commenced her sea trials and we are told that she sailed a good 1,000 miles or 1,609.3 klm. Her tests were described as "some of the most important in the history of the British merchant marine." The trials included operating the Aorangi under a number of conditions of fuel consumption as well as speeds. Following her successful completion of these trials it was decided that she would depart Southampton on January 2, 1925 on her maiden voyage to Sydney Australia.
On December 16, 1924 some three hundred invited guests for the society, engineering superintendents from the seventy leading shipping companies were invited to take a short cruise on the Aorangi. Speaking at the luncheon, Sir Alexander Fairfield said that in exhaustive trials the vessel had maintained 18 knots for 60 hours, which was remarkable!
As soon as people saw this ship there was no doubt that she was more than an imposing passenger liner, for she did not just have long sleek lines with her two well balanced tall red and black funnels, two masts, and the traditional USSCo green hull, with a yellow ribbon running all the hull, as well as that perfect cruiser stern and her all white superstructure. All this created an imposing and a graceful profile, but moreso, her interiors were breathtakingly beautiful and was praised by all!
RMS Aorangi the Ship:

As built, on her six decks the Aorangi offered accommodations for 970 passengers, with the ship having three classes; 440 Saloon, 300 Second Class and 230 Third Class Passengers and they were ably looked after by a complement of 328 officers and crew. In addition to the passenger accommodation there was a superb array of public rooms all designed to offer stateliness and dignity using the very best designs of interior furnishing and decoration offering the best of comforts regardless of class as well as the finest hygienic practice of the period! It was obvious that the latter was common to the detail of the ship's passenger accommodation down to the corridors, bathrooms, and sanitary offices.
Eleven per cent of the total First Class passengers had single berth cabins, whilst seventy-six per cent had two-berth cabins. A large area of Promenade Deck close to the First Class Verandah Cafe had been allotted and equipped for open-air dancing. Whilst during voyages "moving pictures" (Movies) would be shown in one of the public rooms.
The ship had facilities to carry 1,000 tons of fresh water exclusively for drinking purposes. Although she was primarily designed for passengers, the Aorangi was also able to transport a considerable quantity of cargo in her eight holds, which were equipped with 16 'silent winches.' For interest, there was a considerable refrigerated cargo space available to carry frozen meat (mostly New Zealand lamb), cheese, butter, and fruit.
RMS Aorangi Photo Gallery
Saloon or First Class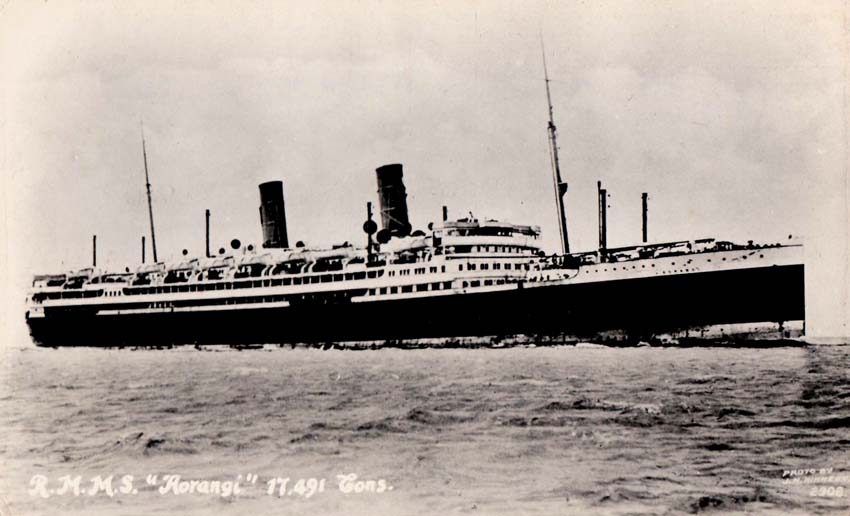 An early Postcard of the stately RMMS Aorangi as was stated on this card (Royal Mail Motor Ship)
Photograph above and those interiors below are from the author's private collection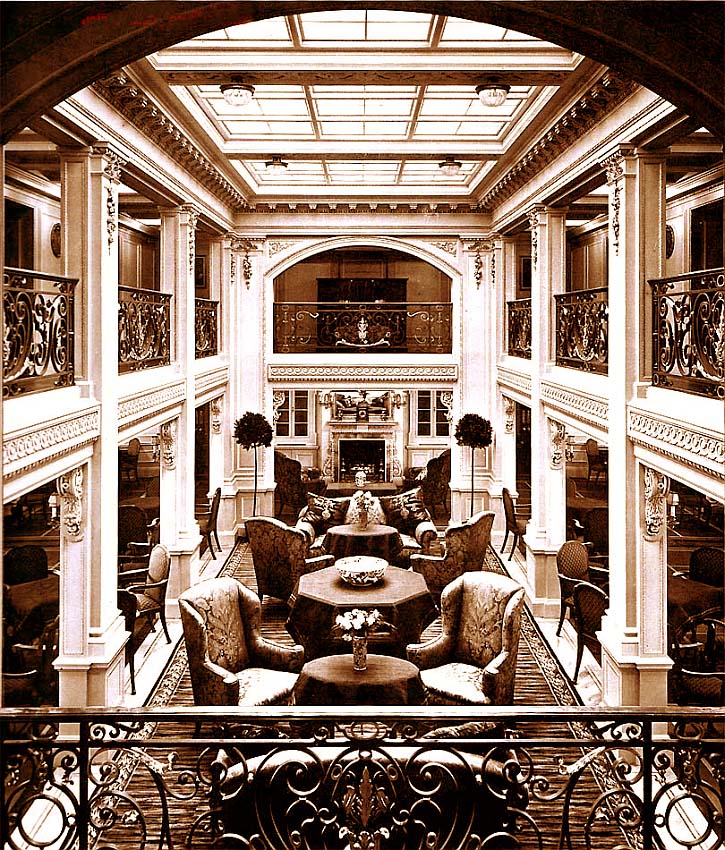 The Main Lounge as seen from the balcony above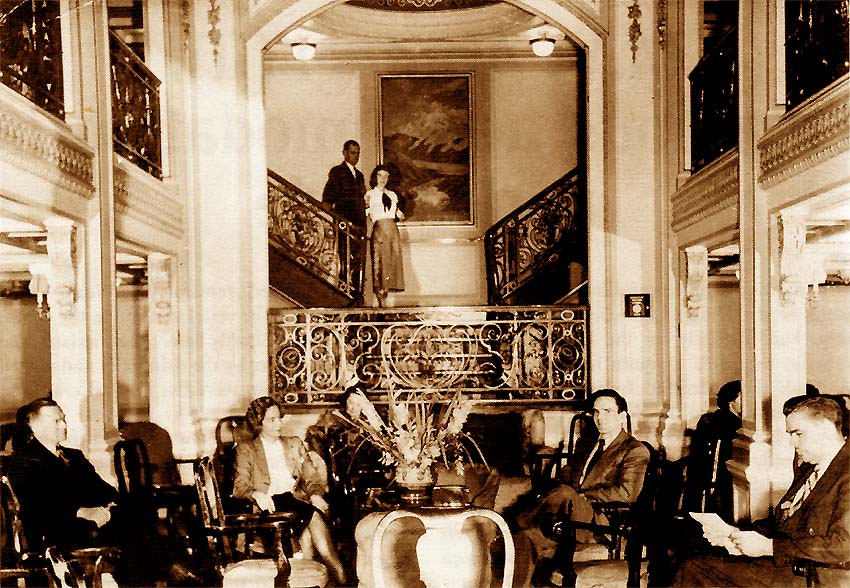 The Georgian inspired Main Lounge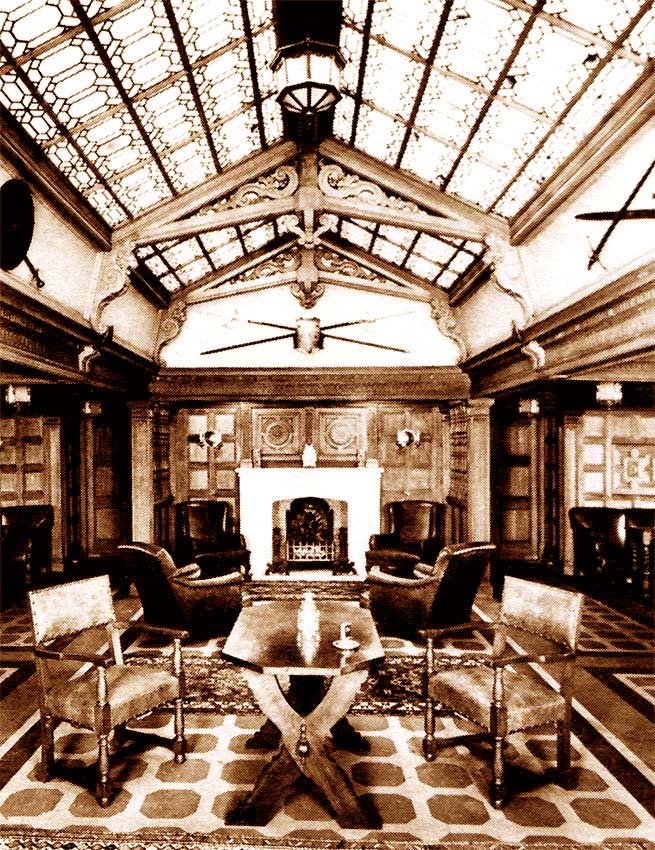 The Jacobean inspired Smoking Room complete with a fireplace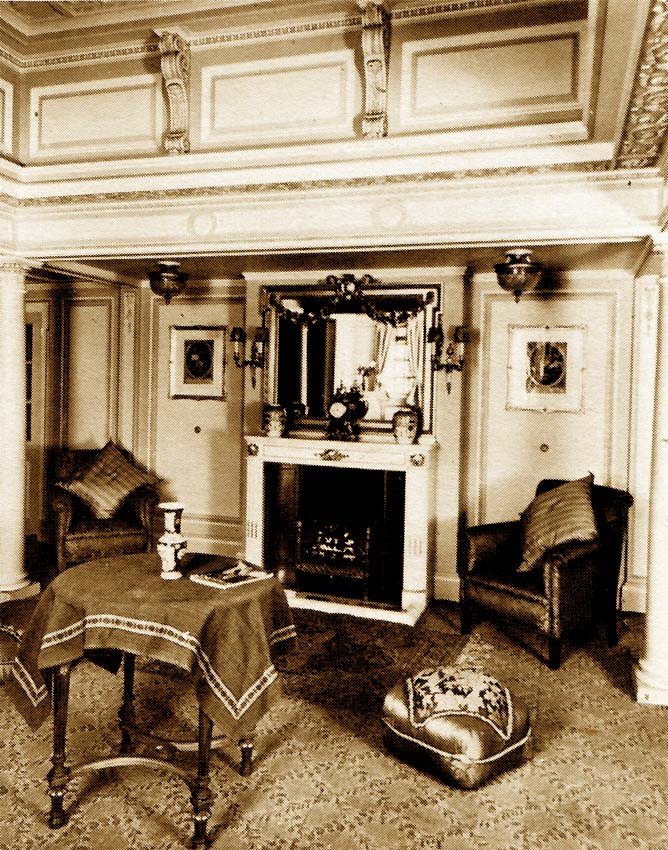 The delightful cosy Music Room that was far more spacious than this image suggests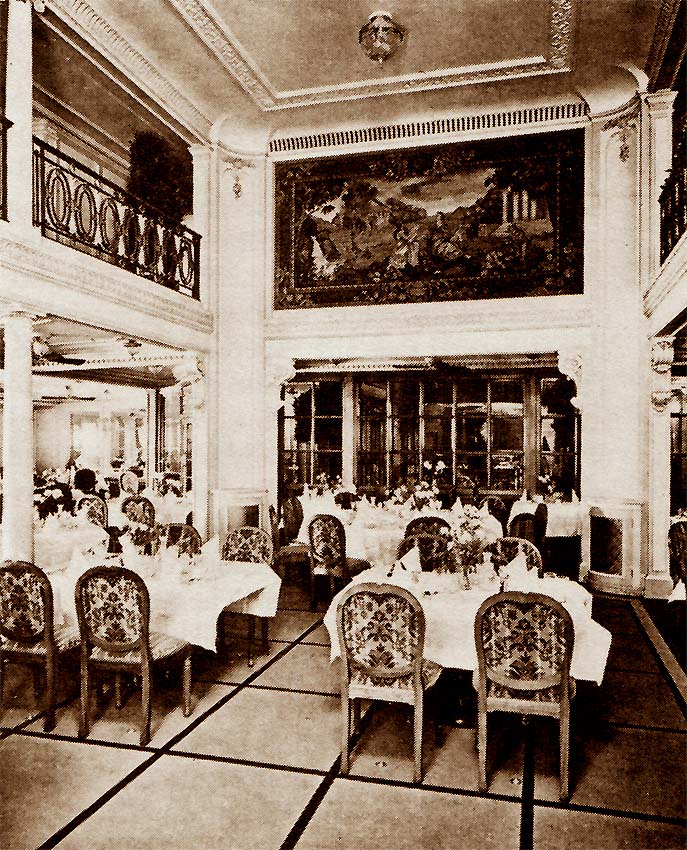 The grandiose Dining Room had touches from the Louis XIV period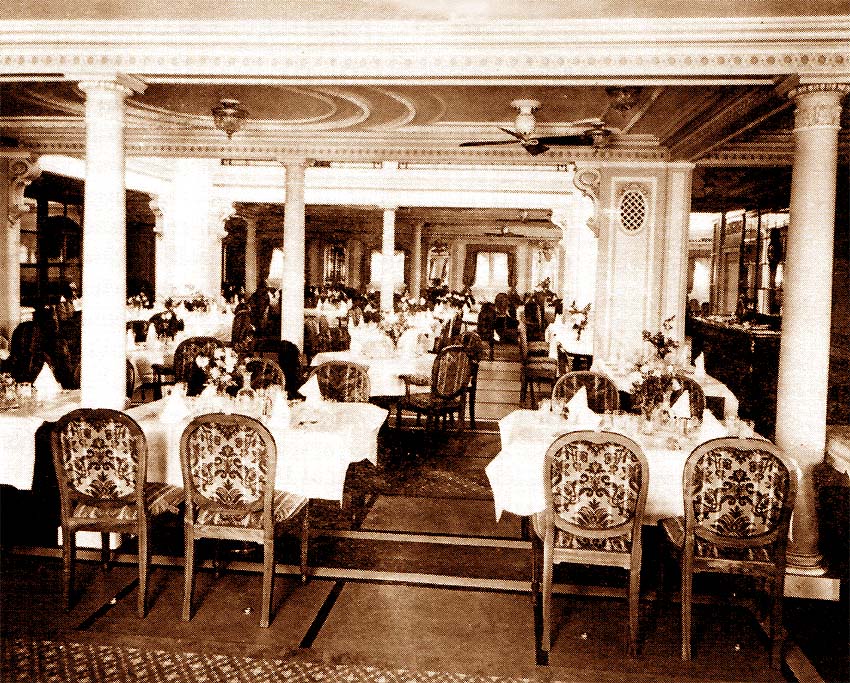 This is the starboard side if the Dining Room looking towards port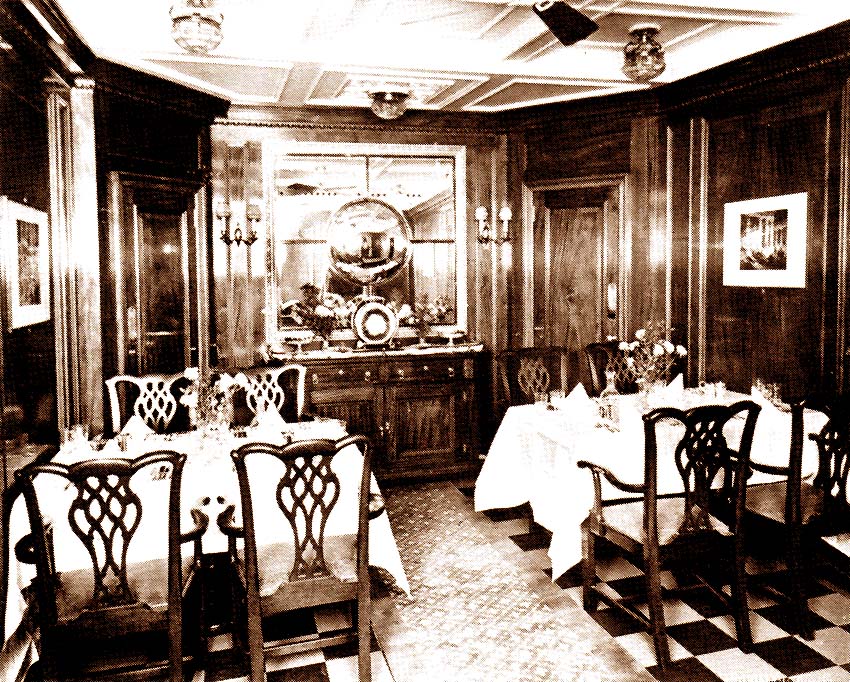 This was the elegant private Dining Room for those who desired to have a meal alone, or with friends
Thus this was a prelude as to the optional dining that is has become so popular today!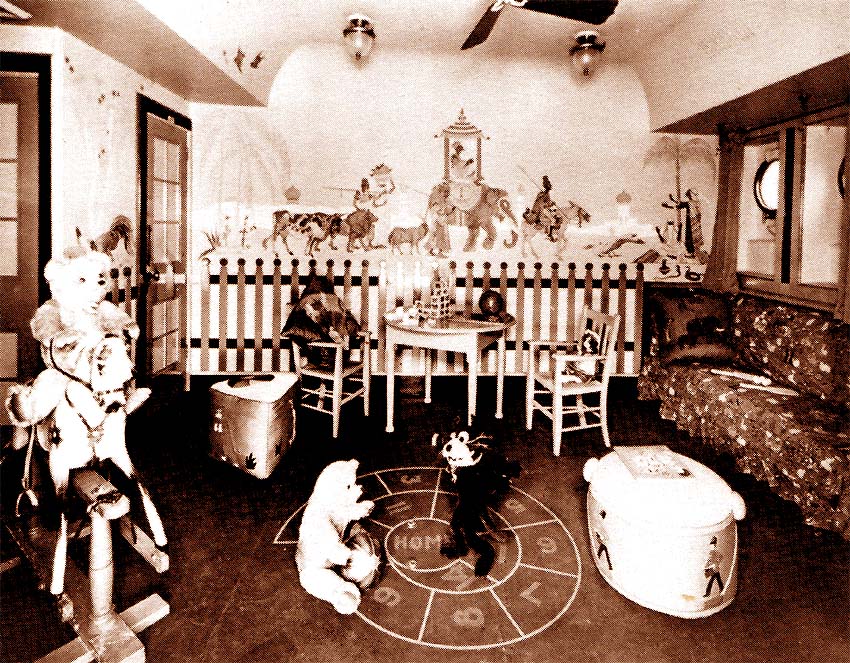 The delightful Children's Nursery and play area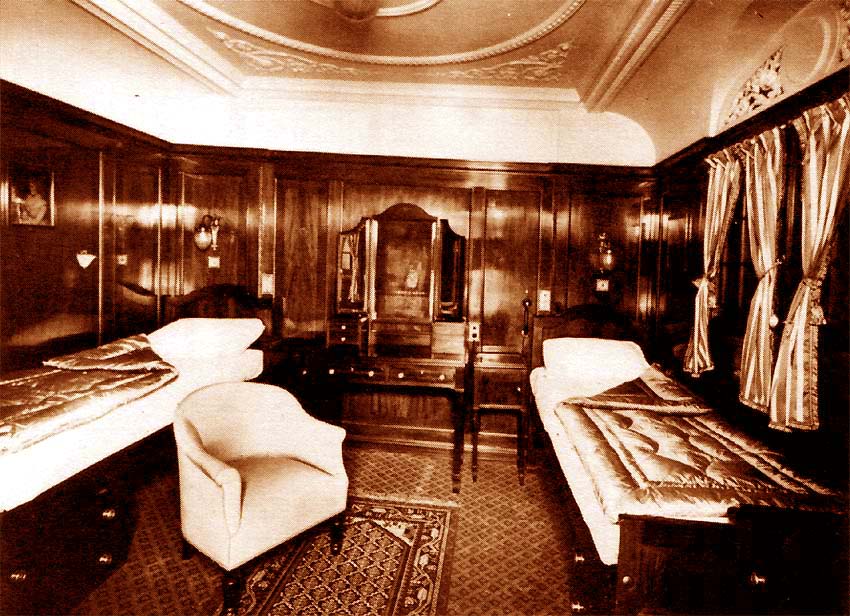 Here we see a Deluxe Stateroom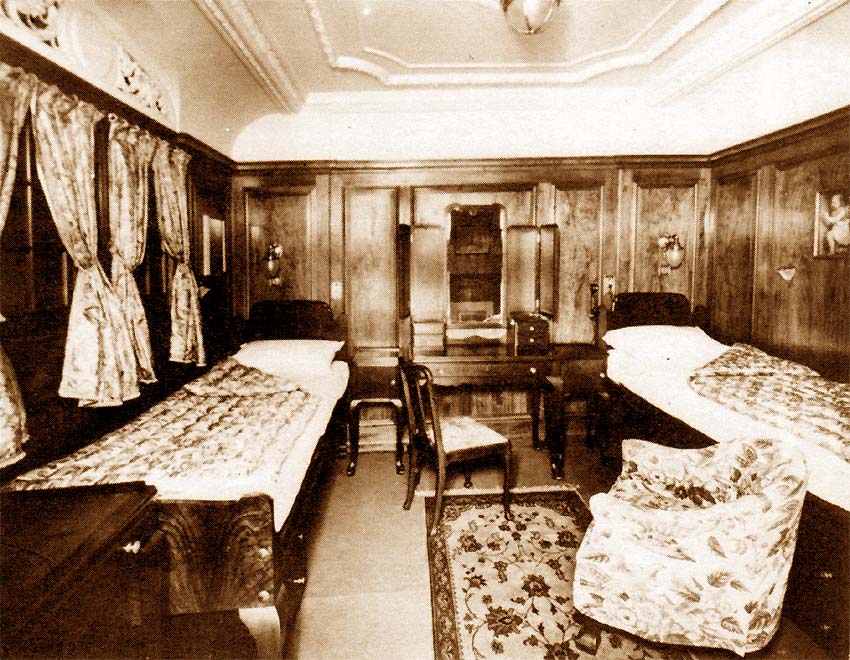 This is a Deluxe Cabin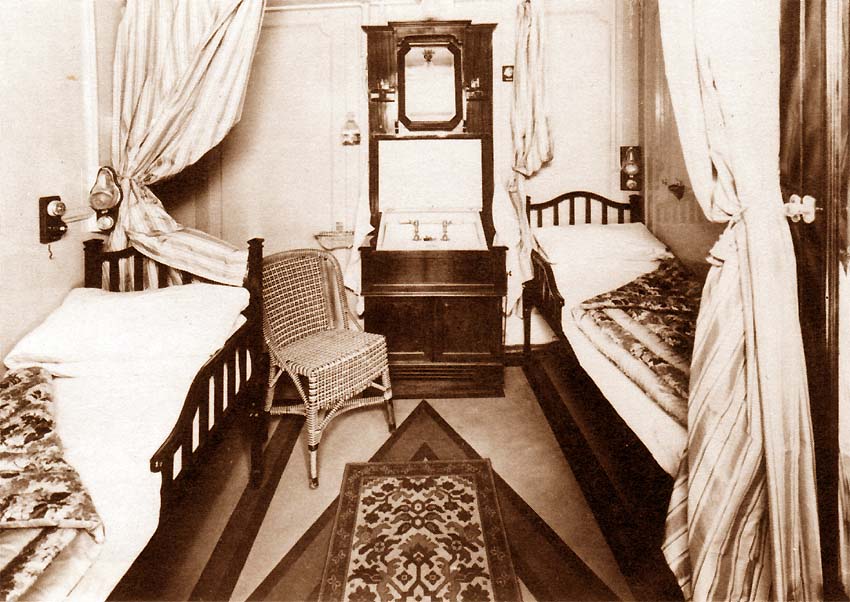 Amazingly First Class did have some (unpopular) Inside Cabins
Second Class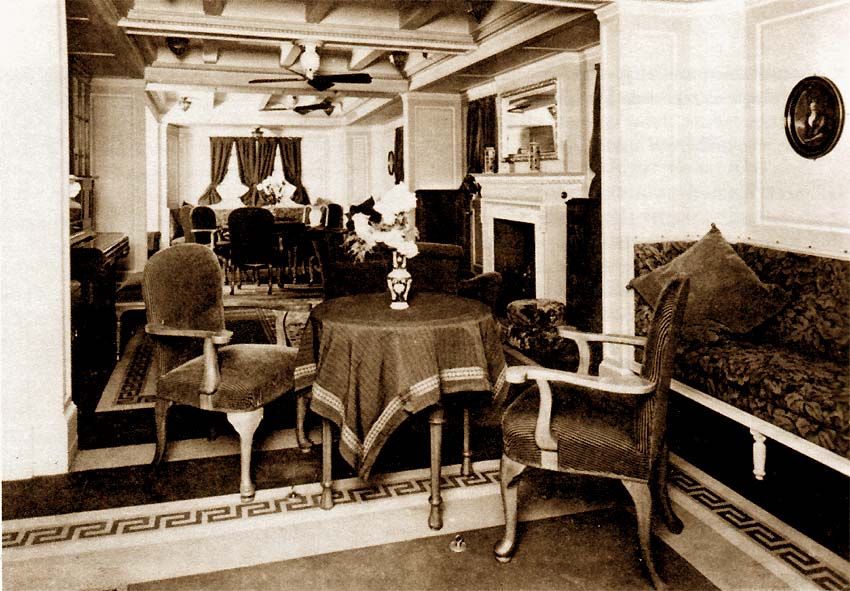 A comfortable Lounge that is much larger than what is seen here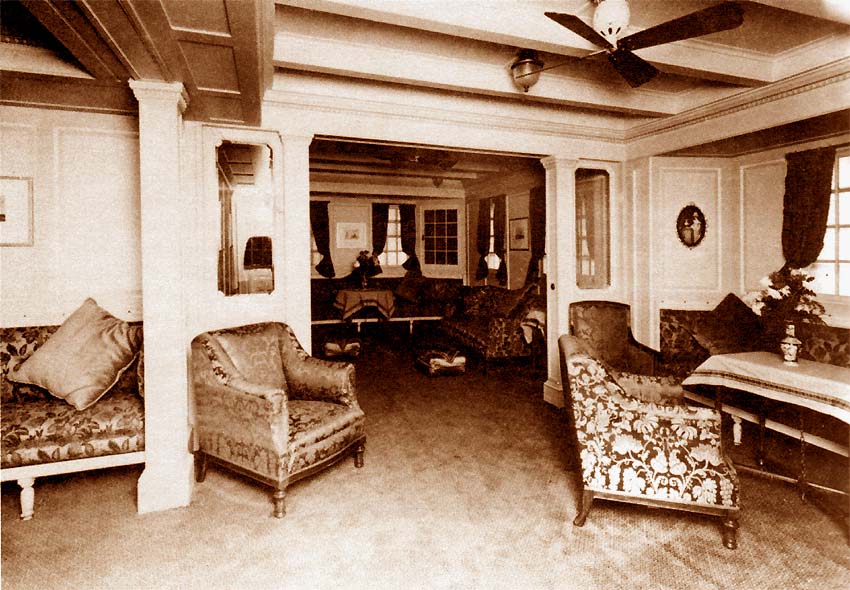 Like in First Class here also was a delightful room just for the ladies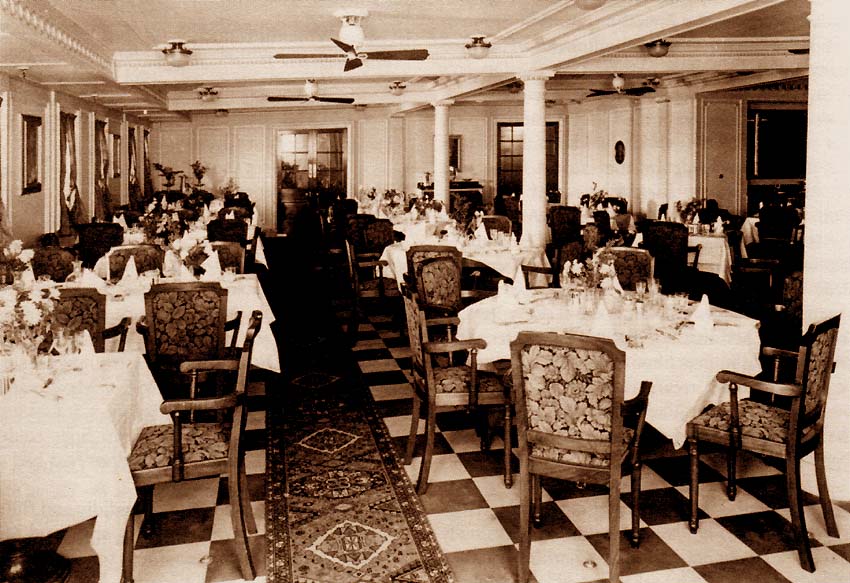 This Dining Room would be as good as those on many First Class liners!
RMS Aorangi departs on her Maiden Voyage:
She commenced her maiden voyage from Southampton on January 2, 1925 and her itinerary for the 17,000 mile - 27,359 klm passage included ports of call at; Kingston, Colon, Bilbao, Panama Canal, Los Angeles, San Francisco, and Vancouver, arriving there later that month on January 29.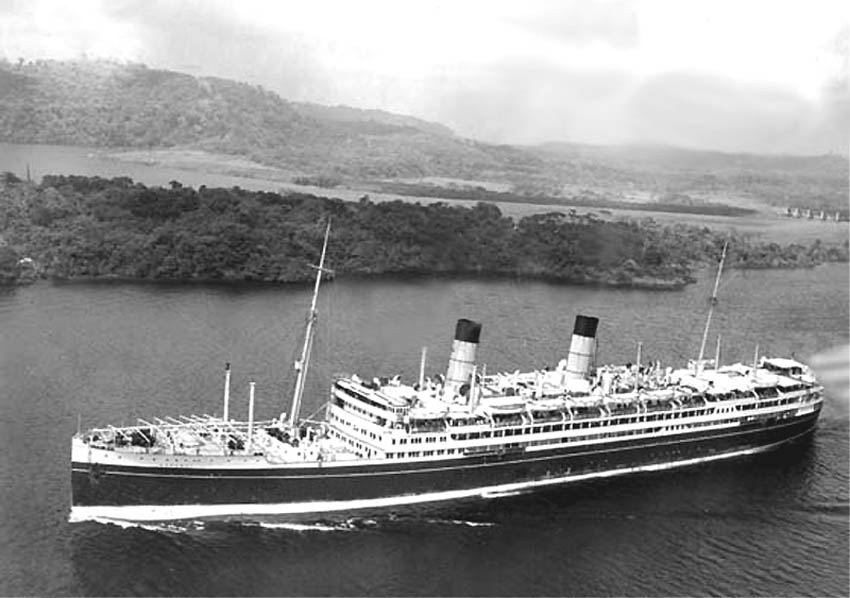 RMS Aorangi seen during her maiden voyage in Gatun Lake, Panama in January 1925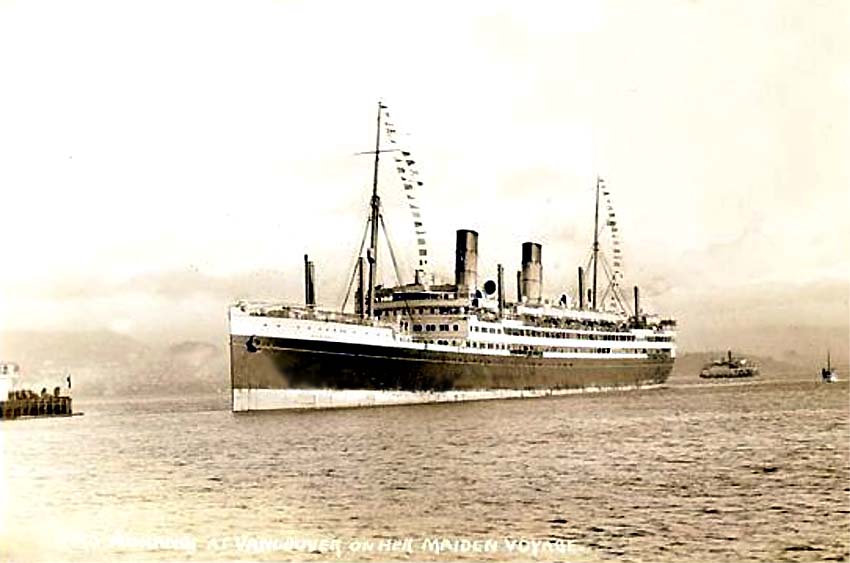 This is a very rare marked photograph of the RMS Aorangi
at Vancouver on the occasion of her maiden arrival
Sent in by one of my Canadian supporters – name withheld by his request!
After a big welcome and a weel in Vancouver, she departed for Auckland and Sydney on February 6, 1925 and Aorangi would follow the traditional USSCo route to Honolulu, as well as Suva in Fiji and she arrived in Auckland on February 24, 1925.
Aorangi's maiden arrival in Auckland:
On February 24, 1925, the people of Auckland were very excited that they were about to be the very first *Kiwi's to see this wonderful new liner that was now gently sailing past Rangitoto Island up Auckland Harbour heading for Queen's Wharf and as they looked at her, some were thinking "She looks so stately," and the crowds became more and more exited the closer the ship came closer and some people were heard to say; "Is she not the most beautiful ship ever?"
Of course, this was indeed a very special even for Auckland, for most new USSCo ships on their maiden voyages tended to call on Wellington first in the past, thus Auckland was extremely excited that this time New Zealand's largest ship ever, as well as their very first Motor Ship came to New Zealand's largest City first!
*A Kiwi is a native New Zealand flightless bird, the "KIWI" and the people of NZ are lovingly known and called by that name!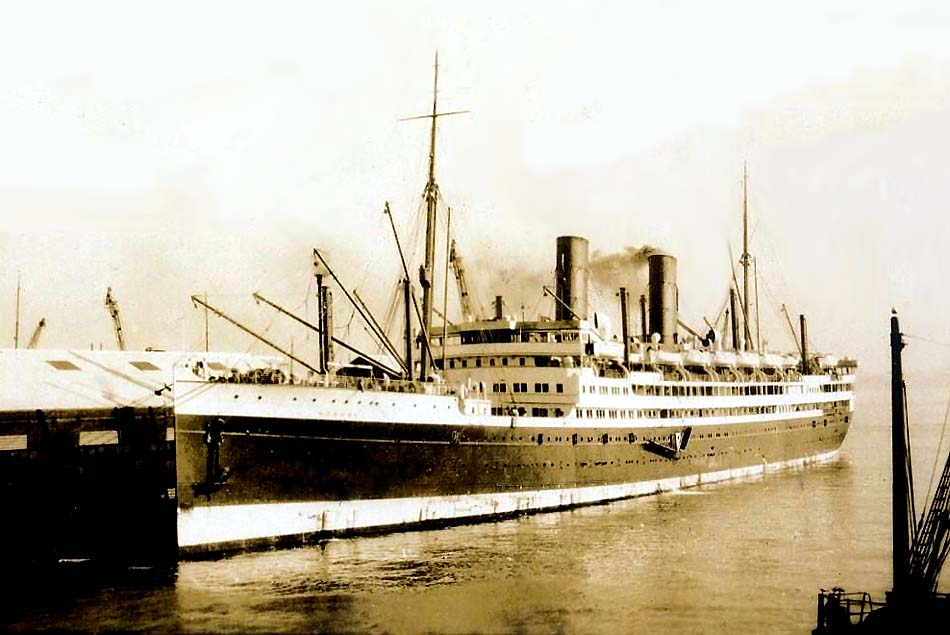 Here we see the beautiful RMS Aorangi berthed at Queens Wharf having arrived on her maiden voyage a day earlier
This photograph was taken on February 25, 1925 by David Ross' father
As the Aorangi gently pulled up to Queens Wharf the excitement commenced to grow for this beautiful liner just seemed to tower above everything for she was so large, compared to any other ship of her time and there was no doubt about it, she was a wonderful sight to behold! All of Auckland's Newspapers hailed her with words such as follows;
"AORANGI'S ARRIVAL
Queen of the Antipodes
Warm Auckland Welcome
Spectators Delighted with Pride and Patriotism"
"The New Zealand Herald", Auckland February 25, 1925.
Another paper had the heading,
"LARGEST MOTOR LINER
THE STATELY AORANGI
New Era in Shipbuilding"
"The Weekly News" Auckland, February 26, 1915.
The papers wrote that "the ship was one of the most handsome vessels afloat, having a straight stem (bow) and a cruiser stern. Her two tall masts and two funnels give her a stateliness that suggests a huge steam yacht … In design and furnishing, the public rooms would do justice to a West End Hotel. The First Class Dinning Saloon is a handsome and spacious apartment designed after the period of Louis XIV. The First Class Lounge has a Georgian scheme of decoration and the Smoke Room conforms to the Jacobean period. Two Verandah Cafes have been treated as garden cafes, open to the principal Promenade Deck. In a word, the entire appointments maintain a dignified elegance."
The above is just a short excerpt taken from the New Zealand Herald comments about their fine new ship, whilst she was berthed in Auckland!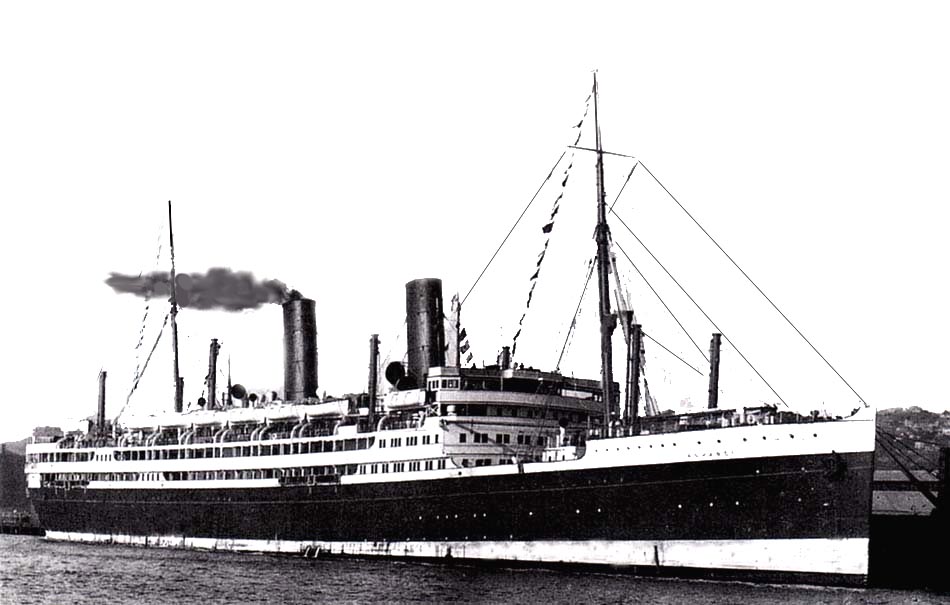 Another delightful photograph of the elegant RMS Aorangi
Her Career:
From Auckland as the Aorangi was ready to sail, her passengers lined three decks and considering it was during high tide the ship just seemed to tower high above Queen's wharf and there were countless streamers thrown from the ship to family and friends on the wharf. And soon she was gone and out of sight!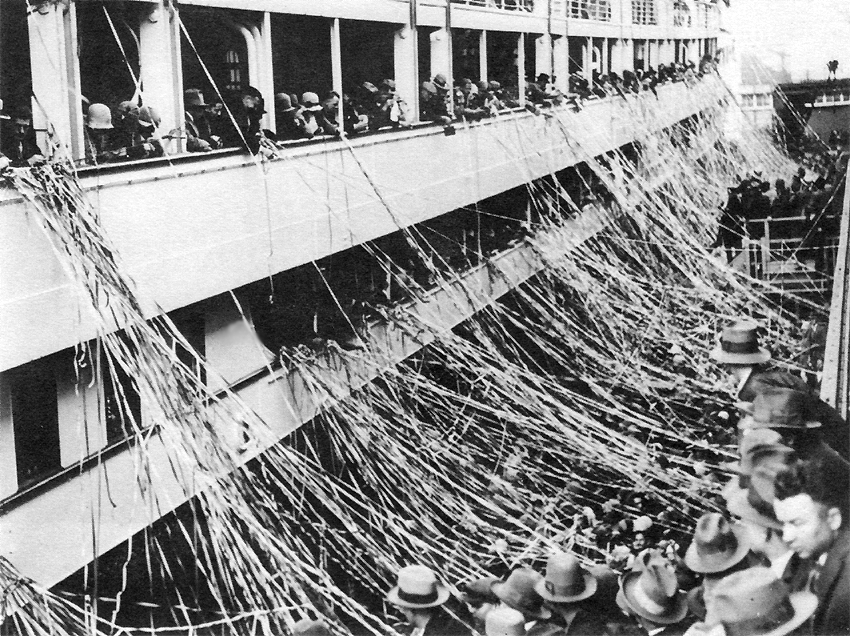 This is a view from the second level showing Aorangi's great height at high tide

She headed across to the north of New Zealand, turned west, and crossed "the Ditch", better known as the Tasman Sea bound for Sydney

where she arrived on March 3, 1925. RMS Aorangi's arrival in Australia coincided with the "Jubilee Celebrations" of the "Union Steamship Company of New Zealand," therefore special events were held onboard the ship, and due to the advance promotions, there was great deal of interest in this new liner, by both the travel industry, the press and the general public. She remained in Sydney for five days and for several days the ship was opened up in order that special guided tours could be held for the public as well as the press and dignitaries. In the evening there were functions on board for USSCo management as well as those who had been invited to these very special occasions. There would be a meal in the First Class Dining Room, as well as entertainment and a speech or two.

Five days later the RMS Aorangi departed for Vancouver she officially commenced on her regular service, sailing her round voyages from Sydney via Auckland, Suva, and Honolulu to Vancouver, where she always remained for five days. She would then depart Vancouver sailing via Honolulu, Suva, Auckland to Sydney where she also remained for five days. Later San Francisco would be included and schedules would alter somewhat!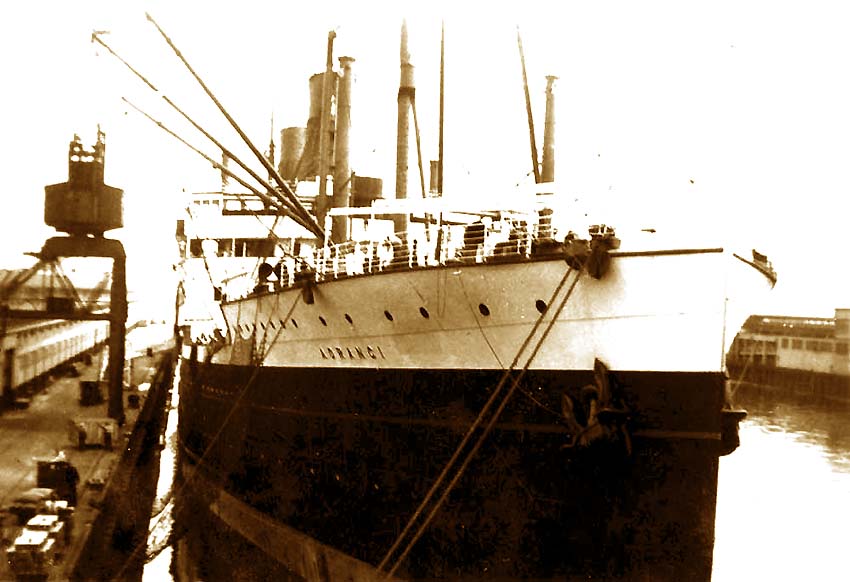 The Aorangi is seen berthed in Vancouver
Over the next six years the Aorangi proved to be exceedingly popular operating the Trans-Pacific service, for her passenger loadings proved remarkable. There was no doubt that travellers enjoyed the luxuries this fine ship offered, even passengers in Third Class, were delighted as they felt that facilities were superior to most other ships on the Pacific! The voyage was a relaxing one giving ample time for friends to get together and chat, or play cards, or just sit in a lounge, or in a deck chair and read a good book, which many did, as well the many sport activities that were available. However by 1931, a slight change would happen to the company makeup!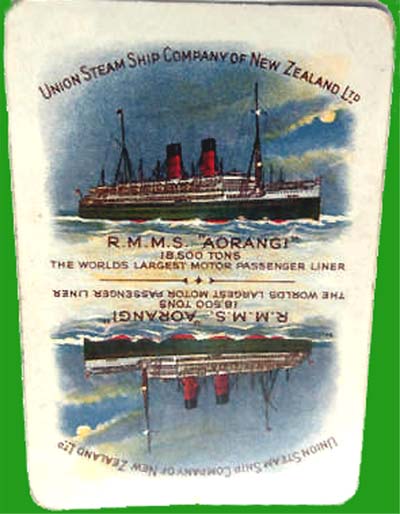 One of Aorangi's playing cards, although the printers over estimated
the tonnage just a little - well by an additional 1,000 Tons!
A Minimal Change:
In 1931 the 'Canadian Pacific Line,' purchased 50% 'Union Steam Ship Co., of New Zealand' (USSCo) and together they formed the 'Canadian Australian Line' especially for the Vancouver - Sydney service. Thus the MS Aorangi as well as the smaller 1913 built SS Niagara were transferred to this new "CAL" Line, but the ships continued to be operated by the USSCo of NZ, with the ships retaining their traditional green-hulled livery and New Zealand and Australian crews!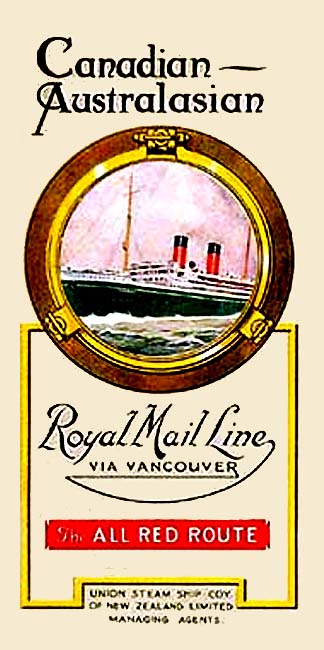 The first Canadian Australian Line brochure from 1931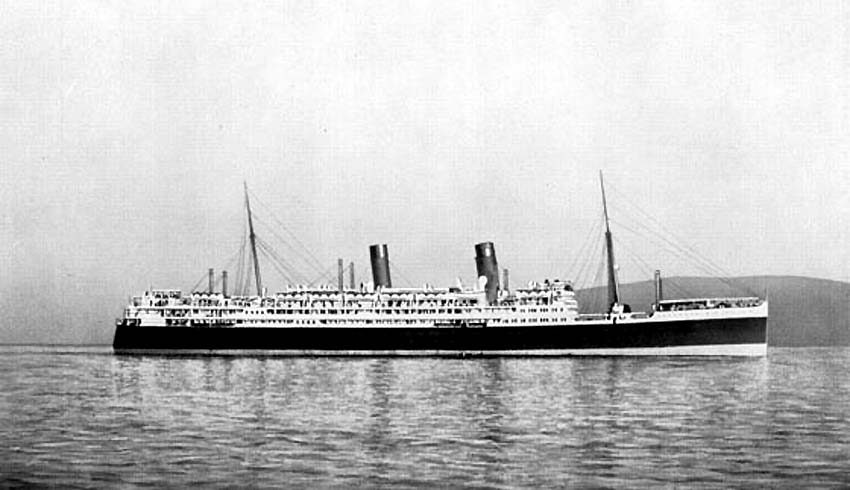 A wonderful broadside view of the Canadian Australian Line ship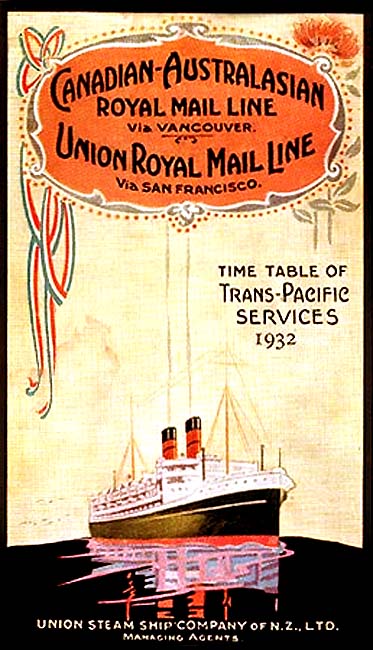 1932 Canadian Australian Line fares & Schedules for the Aorangi and Niagara
In 1938 she was given one of her regular overhauls, however this time it was decided to make a number of changes to her accommodation. Upon completion there were 248 First Class, 266 Cabin Class and 125 in Third-Class, thus in total there were 331 less passenger's berths available and now Second Class, like Trans-Atlantic liners, was designated Cabin Class. Third Class also received a further improvement making it even more attractive and there was more space per passenger.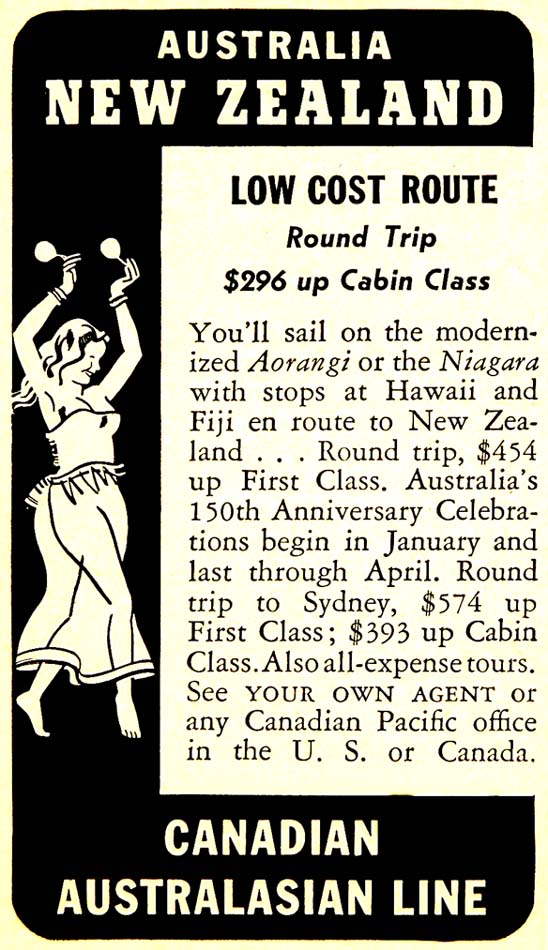 An advertisement for the RMS Aorangi and the SS Niagara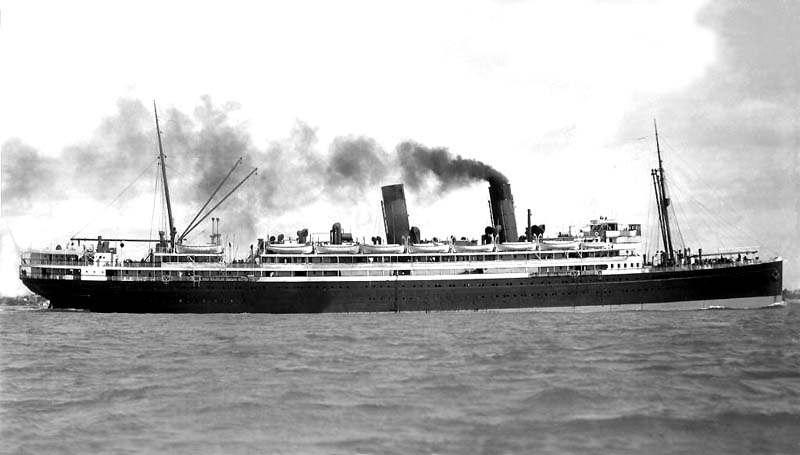 The smaller, but similar looking SS Niagara, built in 1913
She sadly sunk off New Zealand 1940
Provided by David Swimmer NZ – but photographer is unknown – See photo note at bottom of page
World War II:
In October, 1940 with the war already raging in Europe the Aorangi still a passenger liner departed New Zealand filled with troops for Fiji. Then up to the end of May 1941 the ship was transporting troops and airmen from Australia to Canada. But in June 1941 she was requisitioned by the British Ministry of War Transport and the Aorangi sailed from Sydney to the United Kingdom in order to be converted for war duty. She received a rapid conversion, being completely stripped from her luxury fittings and her lounges and large spaces became large sleeping areas with countless hammocks or bunks. Although there were a few smaller lounges retained for the officers and the occasional passengers and whenever there would be some hierarchy on board! Upon completion she was ready for duties and she was about to be caught up in the midst of World War II. Amazingly, even though this fine ship was utilized as a troop ship, a supply ship, a hospital ship and even an escape vehicle for hundreds of civilians fleeing the war, the Aorangi miraculously emerged from the World War II unscathed and she, like so many other liners, she finally met her end in a breakers yard!
Soon she joined a convoy of large liners carrying troops and supplies for the near east. Over time, she carried troops to India, the Middle East and also brought US and Canadian troops to Europe during the war, always escaping the torpedoes and the hunt of those German U-Boats and searching bombers in the sky.
Then in January 1942 as the Japanese had invaded Malaya, the Aorangi was sent in a hurry to Singapore that had been already under heavy attack by Japanese aircraft. The liner successfully managed to get into Singapore harbour and escaped out of Singapore with her interiors and decks completely packed with countless women and children, and was able to safely transport them successfully to safety in Australia.
She had to head for France, as the Aorangi would be offering a vital service as a depot ship for a fleet of about 150 tugs and auxiliary ships, supplying them all with food, water, ammunition, engine parts and relief crews. At the same time serving as a hospital ship and providing medical supplies, and all this during the Normandy Invasion!
From D-Day, on June 6, 1944, until the end of July, the Aorangi managed to service some 1,200 vessels and countless other small craft. Her hospital took in wounded men from the beachheads, she was a hard working ship and she had a superb staff and crew on her! But soon it would all be over and she would be able to go home.
But it must never be forgotten that during the war years, the amazing Aorangi transported a good 36,000 troops and airmen and evacuated some 5,500 refugees from war zones, but also treated countless medical cases and services other craft and ships. She had a huge and a varied role during the war!
As soon as her main duties had been completed, the Aorangi was converted to serve as the "Commodore ship" and she joined the British Pacific Fleet in Hong Kong in 1945. After the Japanese surrender, she was berthed in Hong Kong and was used as an accommodation ship for men released from war service and awaiting their turn to go home.
On September 25, 1945 the Aorangi arrived in Brisbane with 700 former Australian prisoners of war. Around one hundred would leave the ship in Brisbane and the Aorangi would arrive in Sydney two days later with the remaining 600 heroic men. These were but a fraction of the recently freed Australian prisoners of war that were to be recovered from the territories formerly controlled by the Japanese.
Please Note: See Page Two for further details of HMS Aorangi's wartime duties. A link is located at the bottom of this page.
Refitting an ex Warrior:
USSCo leased wharf No. 5 for they decided it would be best to use this wharf and commence to restore and fix the damage that had been done to her during World War II. She certainly needed to be restored as a luxury commercial Passenger liner. Work began in June, however, it was severely delayed due to a massive industrial action having been taken by engineers and dockworkers union in Sydney. Initially the dispute was over the payment of 'dirt' money to those working onboard the Aorangi, during the war the men received dirt money for working in dirty places, and now they said USSCo refused to pay it, because it was peacetime, the repair crews left the ship at the end of June. This strike would continue until March 1947, but finally work was underway and internally she was taking shape, but not as yet completed. With a dock available, the Aorangi was relocated on June 30, 1947 to the Sutherland Dock, located at Cockatoo Island where her much needed hull work was undertaken, and when completed, she had a gleaming all-white hull, and she returned to Darling Harbour wharf No. 5 on July 12.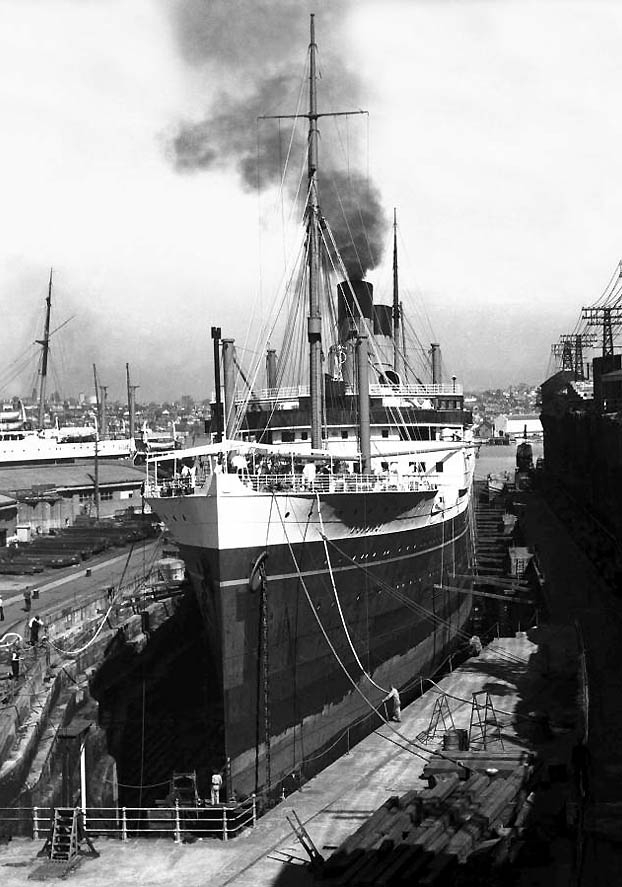 The HMS Aorangi is seen in the Sutherland Dock, at Cockatoo Island in July 1947
Her bottom would first be cleaned and made ready for her hull to be painted white
However, work on board would continue another year before she was completed. The all-new looking liner headed out Sydney Harbour and out to sea for her engine/sea trials on Sunday August 1, 1948. The refit cost around AuŁ1 million Pounds and it was fully paid for by the British Government.
The now designated MV Aorangi was to resume service in August 1948 with accommodations for 212 First Class, 170 Cabin Class and 104 Third Class passengers for the Trans-Pacific service, or the Australia - Vancouver service. Thus, the passenger accommodations were reduced by one hundred cabins to create superior quarters for the crew. Thus, with her new hull painted white with a green ribbon located around her hull. She departed Sydney on August 19, 1948 bound for Vancouver.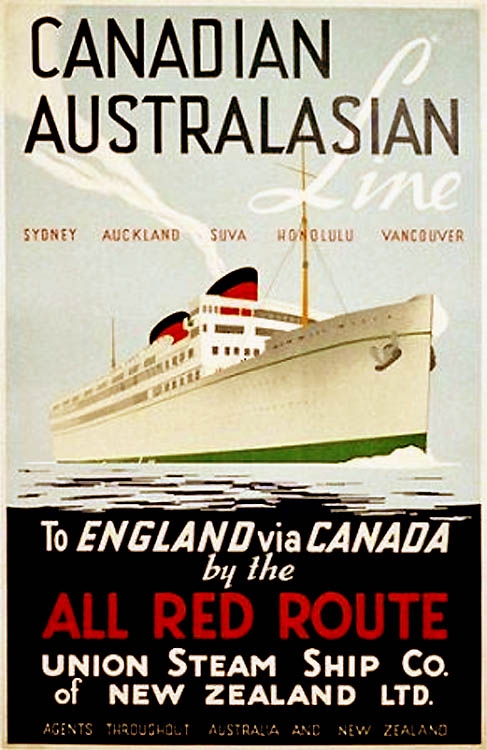 The Company released a new brochure earlier in 1948 with details of an updated all white MV Aorangi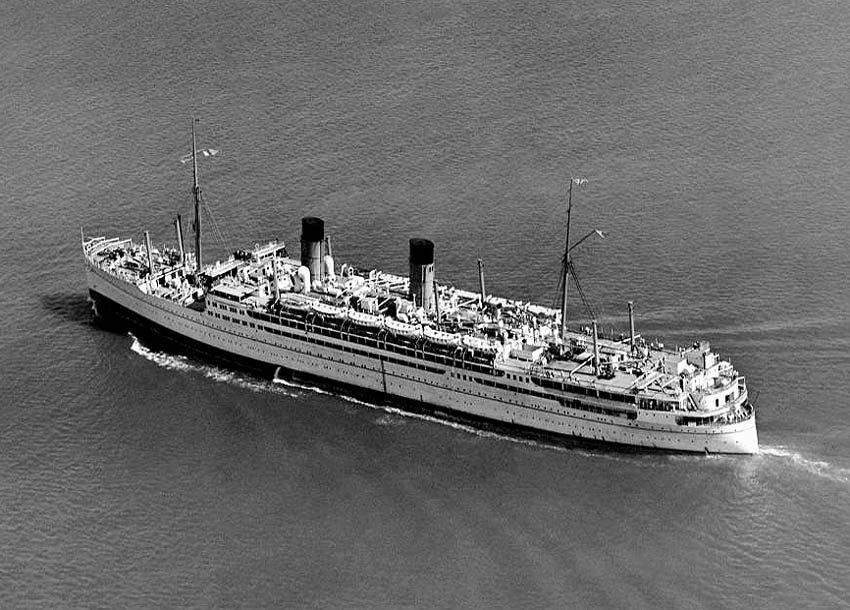 A photograph of her in all new white livery from 1948 and in 1949 she was returned
to her traditional USSCo green hull, as the white did not prove to be popular at all!
Above she is seen in Auckland Harbour on Dec 26, 1948, having returned from the Americas
Photograph taken by Whites Aviation Ltd, but from the author's private collection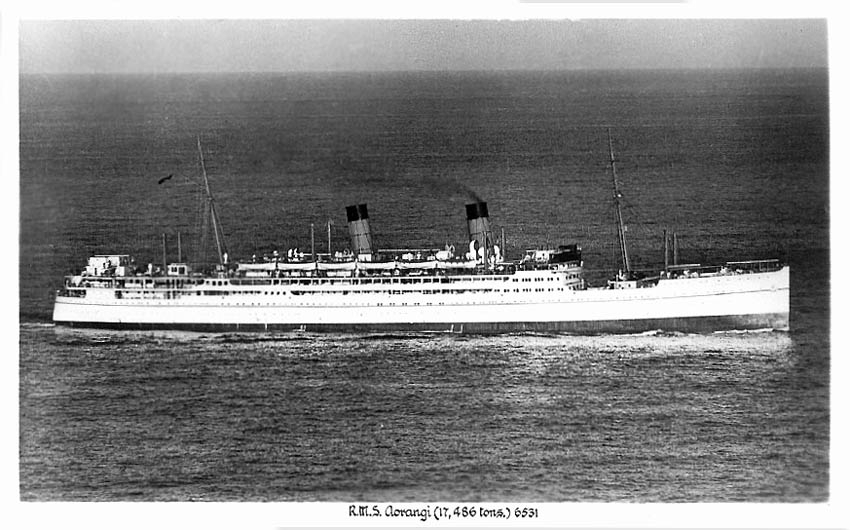 An USSCo Postcard of the white RMS Aorangi from 1948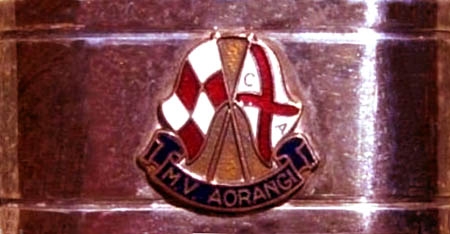 An item of memorabilia; a sterling silver Napkin Ring from the MV Aorangi from around 1948/49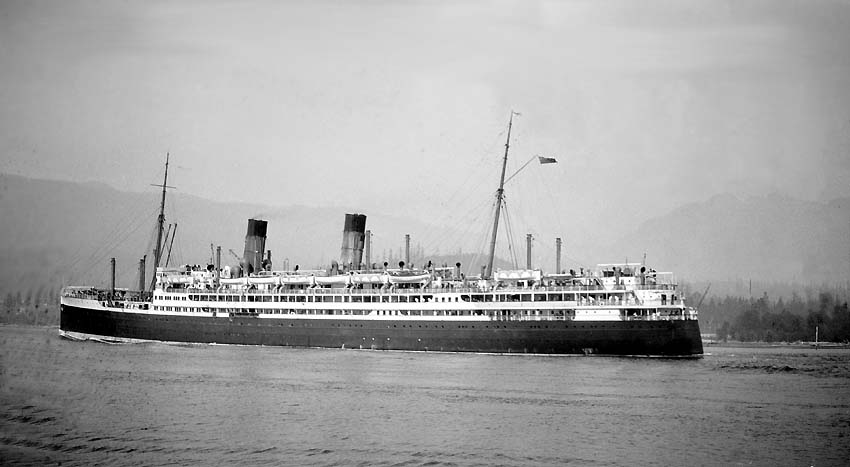 A delightful stern view of the wonderful GREEN hulled, and again designated RMS Aorangi in 1949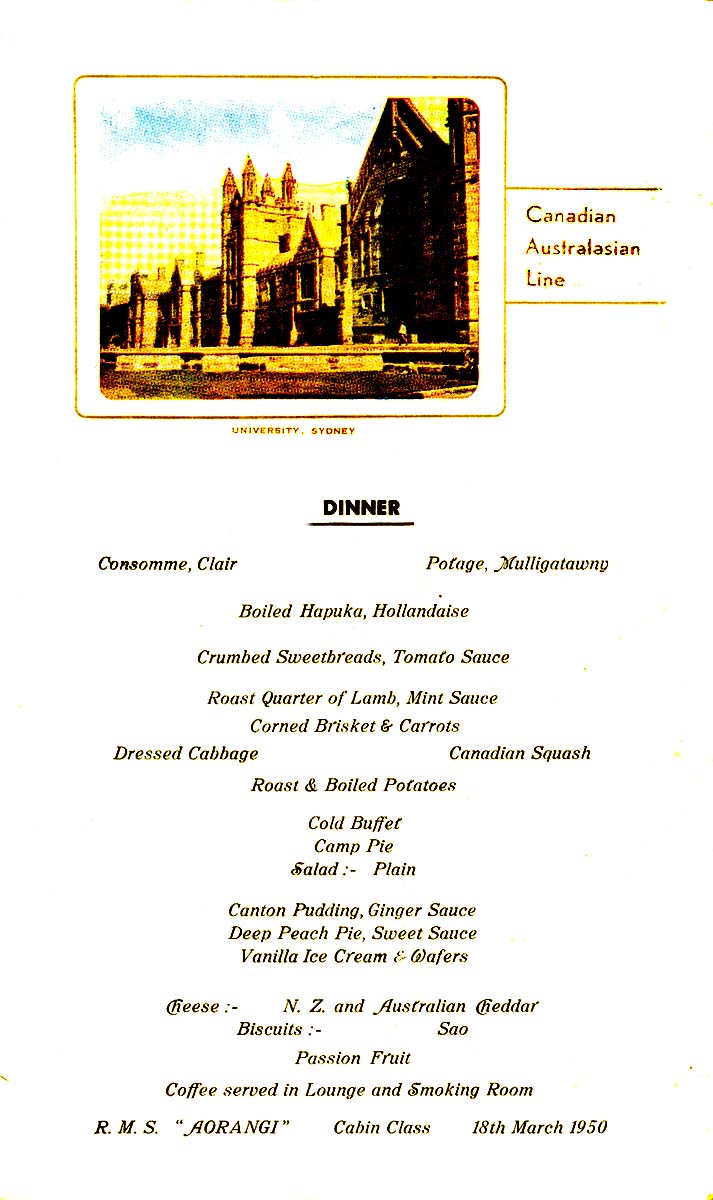 A Cabin Class Diner Menu offering an excellent menu!
Aorangi
's Final Year:
Early in July 1952, it was announced that the Aorangi would be tied up in "Kerosene Bay" in mid July for some two months, and there she would be undergoing a Lloyd's survey. The Aorangi arrived from Vancouver on July 12, and was set to resume the Sydney, Auckland to Vancouver service on September 25, 1952.
But then, with the Aorangi having departed as scheduled, suddenly without notice just four days after she had left Sydney, on September 29, 1952 it was officially announced that the MV Aorangi would be ending her service between Vancouver and Sydney after she completes her voyage to Sydney on May 25, 1953. This decision would have Australia and New Zealand without a regular passenger liner service to North America.
The Union Steamship Company of New Zealand, as agents for the Canadian-Australasian Line, announced that the reason to discontinue the Aorangi was due to her age. They said that the liner was now 28 years old and "that operation of the Pacific service beyond May 25, 1953, could not confidently be maintained." Already Matson Line had been in Australia a year earlier and has stated that they were considering either building or buying two smaller much modern passenger ships for this service, thus the aging Aorangi could never compete with these ships!
Whilst departing her berth at Auckland on September 30th the Aorangi was delayed for sixteen hours when she lost a gun port door whilst leaving the wharf. She was moving from her berth when the door swung open, fouled a wharf-pile, and dropped into the harbour. A plate was welded over the hole, and she left for Vancouver in the afternoon. Permanent repairs will be made at Vancouver.
The Aorangi encountered a severe storm on Monday October 27th whilst working southwards from Vancouver. Winds of 80 miles an hour and 55 foot waves slammed at the Aorangi 800 miles south-west of Cape Flattery as she headed out on her last voyage from Australia. The vessel radioed the Dominion Public Weather office to report that she was in the midst of a storm off Cape Flattery, the northernmost tip of Washington State. Two hours later it was reported the winds had 'dropped' to 55 mph. A huge wave smashed windows and tore away woodwork. The wave hit the ship at 4 am flooding the cabin of the master, Captain W. Whitefield, who was in bed. Crockery was broken in the storm, which lasted 24 hours, Glassless windows and splintered woodwork showed the effects of the wave, but much of the damage has been repaired by the time the Aorangi reached the next port. The Aorangi was two days late reaching Auckland, partly because of the storm and partly because of engine trouble at Honolulu.
The last northbound sailing of 1952 for the Aorangi should have left Sydney in the last week of November; however the company delayed the date to December 11, reportedly due to engine trouble. There was then no prospect of Christmas goodwill parcels and letters/cards now reaching America before Christmas. The original schedule would have seen the Aorangi reach Vancouver on December 19.
The Aorangi departed Vancouver for the very last time for Auckland and Sydney on Friday May 15, whilst bagpipes played the "Skye Boat Song" and a countless steam whistles and sirens sais a typical Vancouver goodbye to a dear old friend. With all the dignity of her 28 years, the MV Aorangi moved under the famed Lion's Gate Bridge as the Union Line / Canadian Pacific Railway's liner Princess Patricia signalled a wistful "Goodbye and good luck" with her flags. Sadly the Aorangi did not have a full complement of passengers, around 70% full.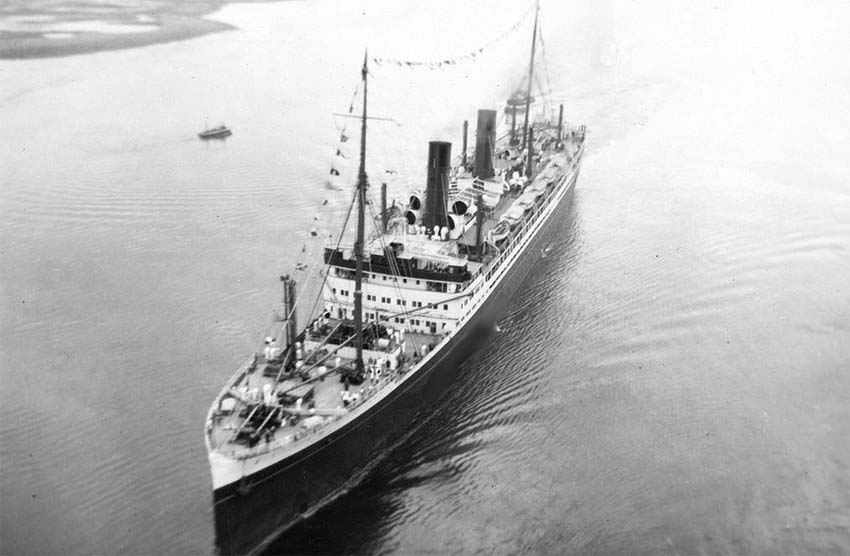 MV Aorangi is seen under the Lion's Gate (Bridge) Vancouver in 1953 as she heads for the UK and the breakers
Amazingly she still looked as good as new as she departed Vancouver, but she was no longer cost effective
Then on May 12, 1953 it was announced that the once great liner, the Pride of New Zealand, the RMS Aorangi, would be sold and many hoped that she would have another life sailing for another company, but that was not to be. For on June 9, when she was indeed sold, but to the British Iron & Steel Cooperation for the sole purpose for her to be broken up in the United Kingdom!
As she returned to Auckland huge crowds came to the wharf to see their much loved Kiwi ship, although she did spend a great deal of time in Sydney, but people knew that this would be the very last time they would ever see the darling of New Zealand again! She departed Auckland on June 4, 1953 with her final passenger destination being Sydney. However, her departure was delayed for around two hours, being due to a minor mechanical fault, but it was soon fixed.
The Aorangi arrived in Sydney on June 9, having just completed her final dramatic Trans-Pacific voyage. She did arrive a day late being due to the ship having fought those fierce and powerful westerly winds off the coast of Australia. For the voyage between Auckland and Sydney there were 366 passengers out of a maximum of 486, which was due to her capacity having been lowered during her rebuild in 1946 and she had a crew of 317.
Upon her arrival as the Aorangi berthed at No. 5 Darling Harbour, where a huge crowd awaited her and they loudly cheered the ship. The ships at the various wharves nearby gave a blast on their sirens as a greeting of welcome.
Ready to greet the ship was Captain J G MacPhail, who was the wharf superintendent, who back in February 1925 supervised Aorangi's berthing at No. 2 Circular Quay, being her arrival during her maiden voyage. The master of the Aorangi, Captain W Whitefield, said at his final Australian press conference on board that the Aorangi had covered 1,300,000 Pacific miles during the nine years he has been in command, and that two members of the crew had served 24 years with the Aorangi, the chief radio operator, C F G Taylor, and the ship's barman, John Gordon MacGregor. Mr. Taylor said: "The Aorangi seemed to bear a charmed life throughout her career. Even an enemy flying bomb which fell into the sea 400 yards away failed to hurt her." The chief steward, Mr. George Cooper, said the Aorangi was the finest ship he had sailed in. "She is splendid in bad weather," he continued, "I am sad to see her going off the run, but she is old and has given magnificent service."
The Aorangi departed Sydney on June 18 for the breakers yard in Scotland and technically she departed as a dead ship, stripped from all of her furnishings, with no passengers or cargo on board, and she was manned by just a skeleton crew. Interestingly, here had been a special draw for the crew of her final voyage, and that had been done by the means of lots out of a hat outside the shipping master's office. The reason that this draw was needed, was that there were far more men who had volunteered for the voyage than was required for the job. The truth is that crew looked upon this voyage more like a First-Class holiday on full pay, for among other things, upon arrival in Scotland, there would be a weeks holiday in the United Kingdom before being flown back to Australia thank you very much! A skeleton crew of one hundred signed-on the morning of the departure. One of these men happened to be a cabin steward Mr. Harry Hammond who was a member of the crew when Aorangi made her maiden voyage to from Britain to Sydney.
There was a great commotion as her lines were freed from the shore by the dockworkers, and even the Orient liner the SS Otranto that was berthed at an adjoining wharf flew a special signal of farewell as the Aorangi slipped from her berth for the very last time. All the way down the harbour every liner in port, as well as freighters, ferries, and countless small harbour craft sounded a friendly farewell on their sirens and whistles. Even the Royal Australian Navy sent a wonderful farewell message from H.M.A.S. Australia: "We are sorry to lose an old friend of many years standing in these waters. Captain, officers, and ship's company, wish you luck on your last voyage."
After Aorangi had cleared the Heads her master, Captain W. Whitefield radioed to Sydney the following message: "We are now on our last voyage to the ship breakers yards. The ship is putting her best foot forward as though she is telling us there is life in the old girl yet."
After a smooth voyage via the Suez Canal, she arrived at the 'Arnott Young' of Dalmuir West, Clydeside, for partial breaking on July 25, 1953. They commenced their work early in August But then she was moved, see below for the final stages of this fine Liners demise.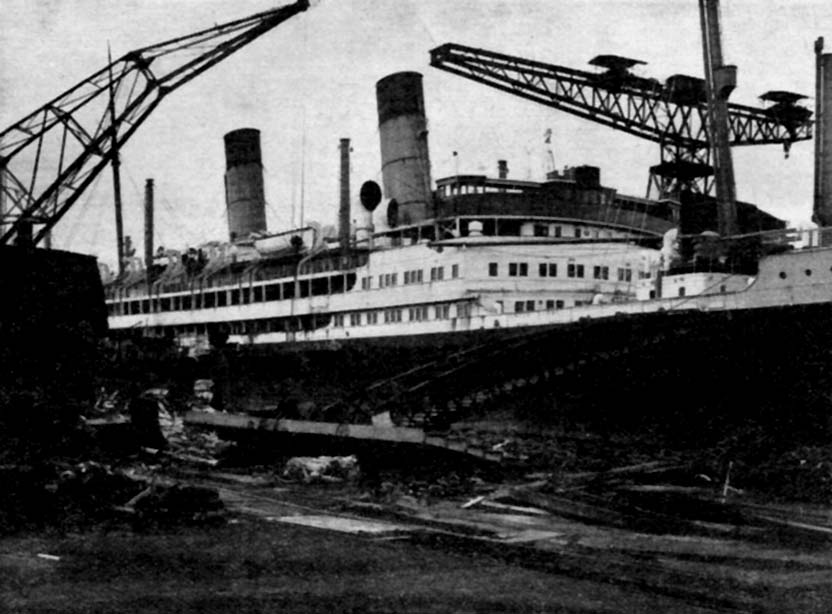 A sad view of the Aorangi at the Scottish breakers at Dalmuir

After work at Arnott Young' of Dalmuir West, Clyde side had finished, her remains, the ships hulk was delivered to the 'West of Scotland Shipbreaking Company Ltd' of Troon on April 6, 1954 and her breaking up commenced six days later on April 12. Scrapping of the once great RMS Aorangi was completed, and she was now sadly completely gone on September 20, 1955.

Amazingly, she was broken up not far from where she was actually built some thirty years earlier!

**********************

Specifications as Built

:

Built:                       Fairfield Shipbuilding & Engineering Company, Glasgow.

Launched:                 1924.

Delivered:                 December 1924.

Maiden Voyage:         January 2, 1925.

Tonnage:                  17,491 GRT tons.

Length:                    600 ft - 183.m.

Beam:                      72.2 ft - 22 m.

Draught:                   29.9 ft – 9 m.

Propulsion:               Four Fairfield-Sulzer 6ST70 two-stroke single acting 6-cylinder diesel engines 3000/3600hp at 130 rpm.

Auxiliary engines:      Four x 4SS34 and one x 2RV24 totalling 1,660 HP.

Screws:                    Four.

Speed:                     17.5 knots.

Passengers:              1925 - 440 Saloon, 300 Second-Class and 230 Third-Class.

.                              1938 - 248 First-Class, 266 Cabin-Class and 125 Third-Class.

.                              1946 - 212 First-Class, 170 Cabin-Class and 104 Third-Class.

Crew:                       328.

Broken up:                August 1953 Arnott Young & Co on the Clyde Dalmuir, Scotland.

&                             West of Scotland Shipbreaking Company Ltd' of Troon, completed September 1955.

Distances between ports in Nautical Miles & Kilometres.

Southampton – Vancouver

via Panama Canal:            8,746 Mi - 14,075 Km.

Vancouver - Honolulu:       2,383 Mi - 3,835.1 Km.

Honolulu - Suva:              2,761 Mi - 4,443.4 Km.

Suva - Auckland:              1,251 Mi - 2,013.3 Km.

Auckland - Sydney:           1,281 Mi - 2,061.6 Km.
Let Us Remember New Zealand's Great Liner ~

The

…
RMS

Aorangi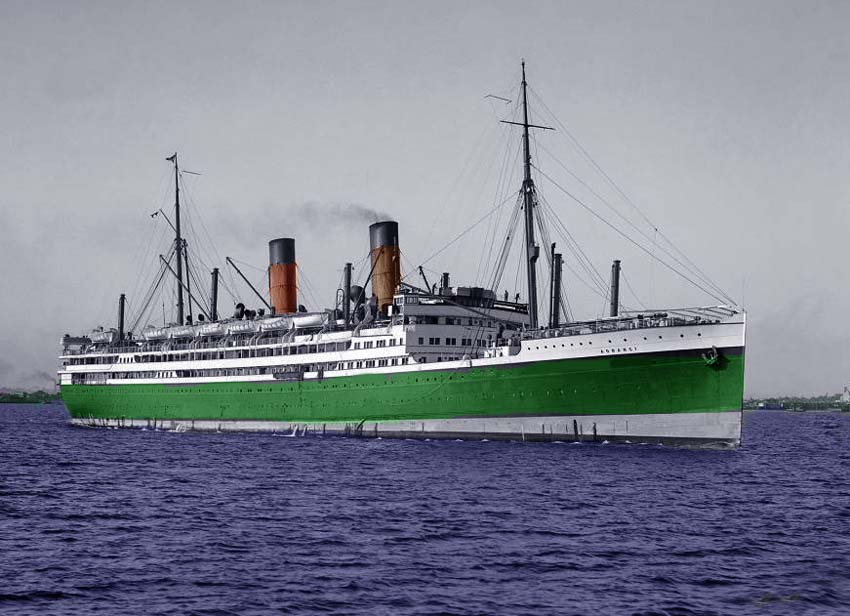 She is seen in Port Phillip Bay, Melbourne
Photograph was colourised by the author
Also read Page Two - HMS Aorangi WW2 Duties
Also view the other USSCo Passenger Ships online, from oldest to the last ever built
SS Waitaki / SS Moeraki & Manuka / SS Marama & Maheno / RMS Aorangi
TSS Monowai / TSS Awatea / MV Matua & MV Tofua
**********************
Use the Back button on your browser or Close the Page to return to the previous page
or go to our
INDEX
ssMaritime.com

& ssMaritime.net
Where the ships of the past make history & the 1914 built MV Doulos Story
Photographs on ssmaritime and associate pages are by the author or from the author's private collection. In addition there are some images that have been provided by Shipping Companies and private photographers or collectors. Credit is given to all contributors. However, there are some photographs provided to me without details regarding the photographer/owner concerned. I hereby invite if owners of these images would be so kind to make them-selves known to me (my email address may be found on www.ssmaritime.com only), in order that due credit may be given.
This notice covers all pages, although, and I have done my best to ensure that all photographs are duly credited and that this notice is displaced on each page, that is, when a page is updated!
ssMaritime is owned and © Copyright by Reuben Goossens - All Rights Reserved