Coast Lines Ltd MS Irish Coast 1953 - Epirotiki Lines - MTS Apollo II 1968
Please Note: Firefox and Google Chrome search engines are not suitable - Use "Internet Explorer" for this page to load perfectly!

Click the logo above to reach the ssMaritime FrontPage for News Updates & "Ships of the Month"

With Reuben Goossens

Maritime Historian, Cruise'n'Ship Reviewer & Author

Please Note

: All ssMaritime and other related maritime/cruise sites are 100% non-commercial and privately owned. Be assured that I am NOT associated with any shipping or cruise companies or any travel/cruise agencies or any other organisations! Although the author has been in the passenger shipping industry since 1960, although is now retired but having completed over 700 Classic Liners and Cargo-Passengers Ships features I trust these will continue to provide classic ship enthusiasts the information the are seeking, but above all a great deal of pleasure!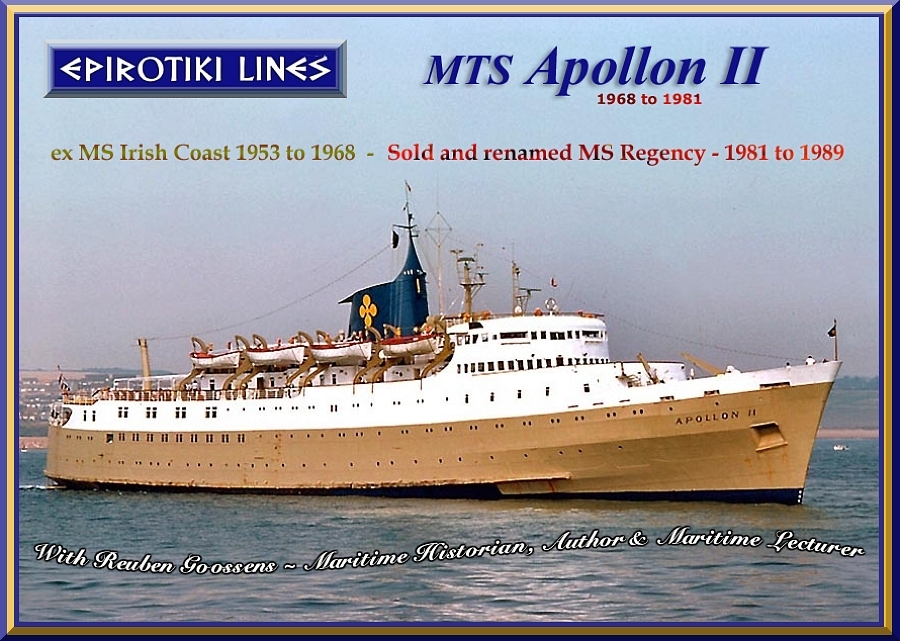 Page Six
MS Irish Coast:
Harland & Wolff Belfast, built the 3,813 GRT, passenger, Refrigerated cargo-ferry the MS Irish Coast, which was completed for Coast Lines Ltd in 1953. She was 97.7m long and had a beam of 15.7m and with her twin screws she had an excellent cruising speed of 17 knots. The Irish Coast's keel was laid down in 1951, and she was officially launched on May 8, 1952.
This ship was built to fill a special roll, for when other ships were taken out of service and spend time either in maintenance, repair or refits, the MS Irish Sea would take their place and operating their services. Thus over the years, she would sail on a variety of routes.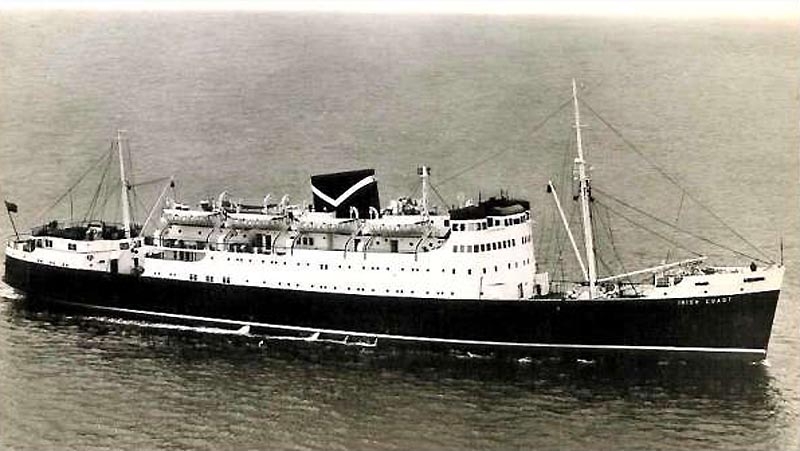 An aerial photograph of the Coast Lines Ltd MS Irish Coast, which had a slightly
more rounded forward superstructure to the MS Munster, later the MTS Orpheus
On October 16, 1952 the 1,200 passenger ferry was delivered to Coast Lines Ltd, in Glasgow, Scotland and she had been previously been charted to be operated by Burns & Laird Lines Ltd and she commenced on the Belfast - Liverpool service just a few days after the ship had been fully stored and made ready within just over a week after having been delivered. In addition whilst with this company, she also operated on the following services; Cork - Fish Guard; Dublin - Liverpool as well as the Glasgow - Dublin - Liverpool services, which kept her constantly busy for a good 14 years!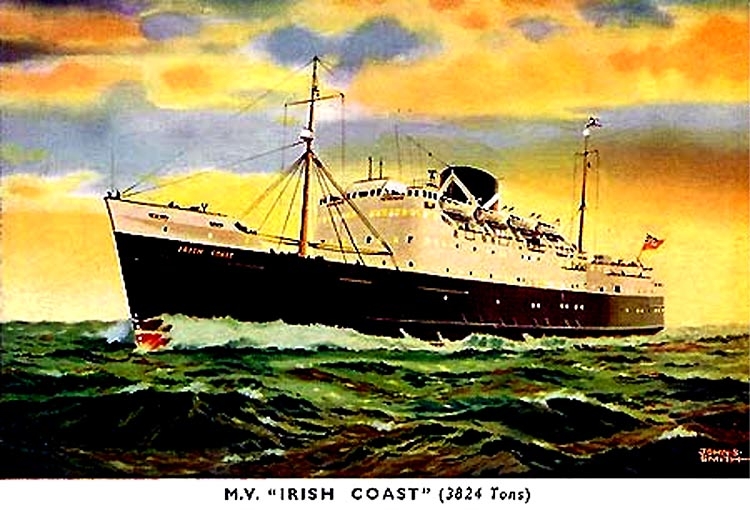 A postcard of the MS Irish Coast as sold on the ships canteen or shop
However, whilst she although very busy on a variety of services in the summer of 1960 came a brand new service for her, being the very popular daylight Ardrossan to Belfast holiday beachside service, which proved to be a huge success!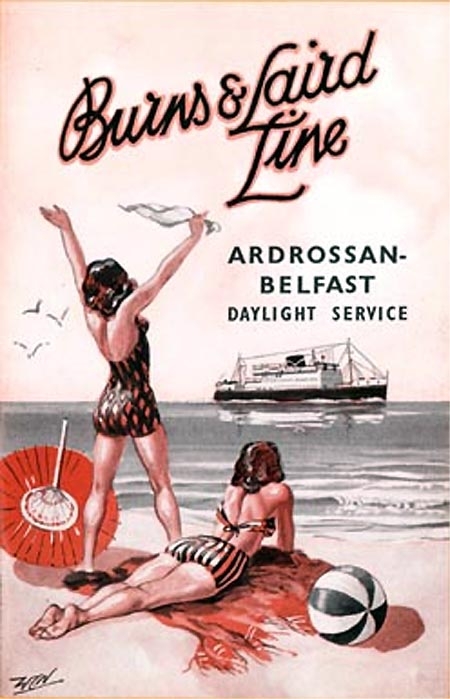 This brochure also contained MS Irish Coast sailings from June 25 to August 27, 1960 - Issued in February that year
Brochure obtained with thanks from www.timetableimages.com/maritime/index.htm
Then on October 2, 1966 she was chartered to the Belfast Steamship Co, of Dublin for the MS Irish Sea to operate on the Belfast – Liverpool service. This service operated for less than two years, for there was a decline for these older ships, with new roll on, roll off ferries taking over.
MS Irish Coast Sold to Epirotiki Lines:
Therefore on August 16, 1968 the Irish Coast was sold to the Epirotiki Steamship Navigation Company, of Piraeus, Greece who renamed her 'Orpheus.' She departed Birkenhead on August 22, 1968 for Piraeus. Upon arrival she entered the shipyard for an extensive rebuilding programme and internal renovation to become a cruise ship!
Epirotiki Converting their New Ship:
Her conversion was a most extensive one it was not completed until May 1969. Major external changes saw her well-deck filled in, as two of her decks directly below Boat Deck were extended forward and aft. In addition her tall fore-mast and aft main-mast were removed and a new Signal and Radar Mast was placed above the Bridge. Her funnel was completely reshaped and it now featured a modernistic upward reaching pointed fin located on the forward ledge, this mast like fin mostly served as for the ships lines to take the flags and like her sister the funnel also featured a smoke deflector. But again her funnel was somewhat low, but in her Epirotiki livery of blue and the yellow logo it did look pleasant! A swimming pool was installed into the newly added Aft Apollo (Boat) Deck.
Her public venues were located over four decks from Jupiter (Bridge) Deck, Apollo (Boat) Deck, Venus (Promenade) Deck and Dionysos (A) Deck. I will describe her public venues complete with photograph a little later.
MTS Apollon II:
As she came out of the shipyard, she looked very much like a fine and a modern cruise ship, although she was not like an ultra modern style luxury liner, but internally she was simply a delight. For besides her beautiful Lounges, every cabin on board, were fully carpeted, and featured private facilities, air-conditioning with in cabin controls and telephones. Also the cabins could be converted into day sitting rooms, thus they were stylish lounges, ideal for entertaining! The Dining Room was large and offered the very finest of cuisine, and not to forget the best of traditional First Class Epirotiki Service!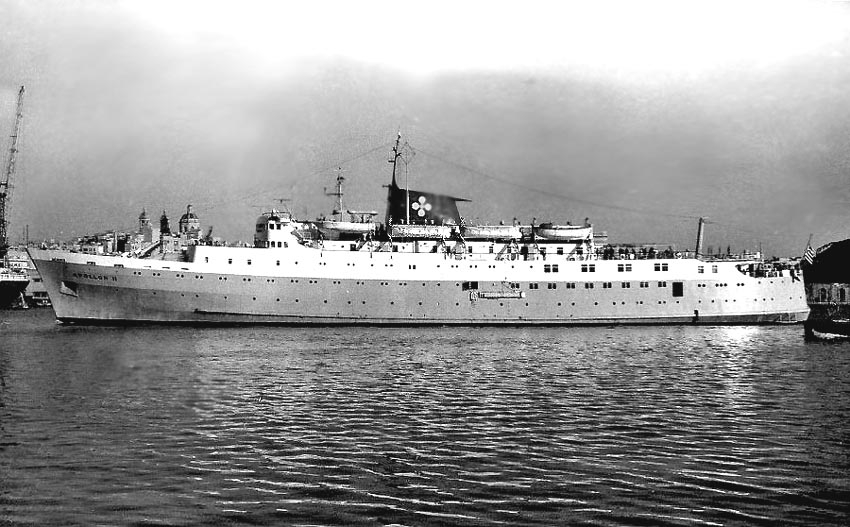 A side on portside view of the rebuilt MTS Apollon II
With the ship having come out of the ship yard looking all new and having been fully stocked and staffed, she was ready to commence cruising. The MTS Orpheus commenced her very first cruise on May 5, 1969 departing from Piraeus, cruising to Crete, Rhodes, Cos, Patmos, Delos and Myconos returning to Piraeus.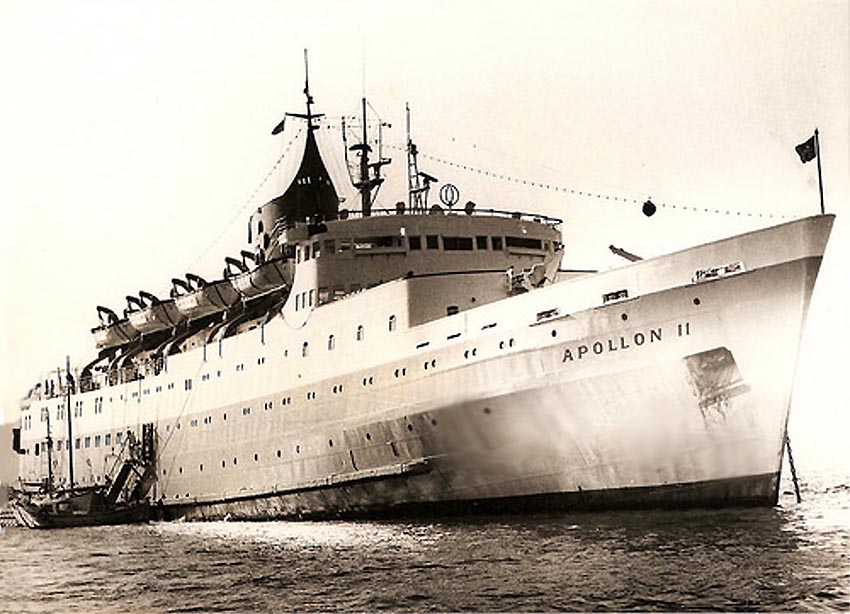 Here is an early bow shot of the MTS Apollon II whilst at anchor and tendering her guests to one of the Greek Islands
However, due to the arrival of the new MTS Orpheus as per on Page Five. As we know, she has several names in rapid succession, in 1969 but her two main names came rapid succession in the same year as follows; in 1969 the Apollon XI, but then the name and prefix that became so greatly loved, the 'Apollon II,' although all her promotional material always named her simply as 'MTS Apollo.'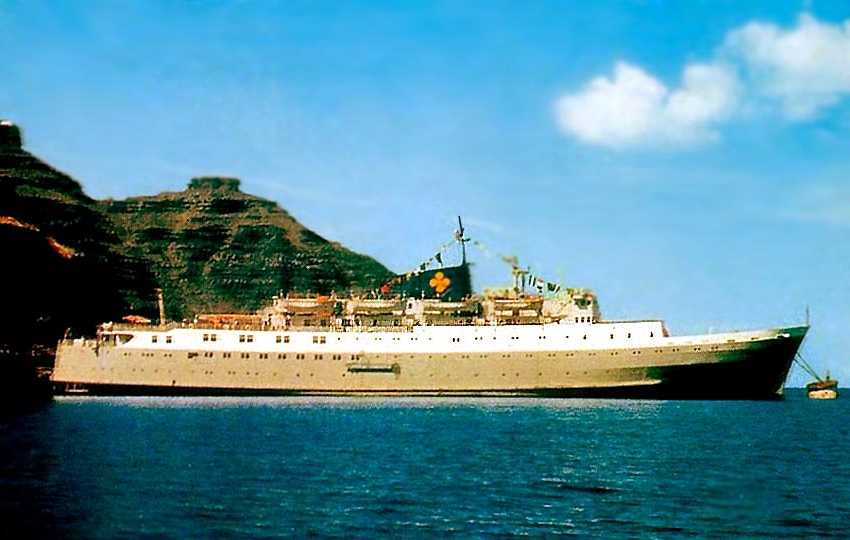 A colour photograph of the Apollon II
The MTS Orpheus - Deck by Deck:
As always, I will commence from the top deck being Jupiter (Bridge) Deck and then head downwards to Nereus (C) Deck. In addition, I will start from the forward end of the ship and then head aft on each deck. Deck plans of the MTS Apollon II as well as the Orpheus are located on Page Six B.
Just for interest: First of all, we need to understand that this ship was a good five years newer than her sister ship the MTS Orpheus, yet both were based on the same hull design as well as a similar superstructure as built. When they were rebuilt by Epirotiki Lines, there is no doubt that they looked almost the same, although the Apollon's funnel looked different being due to that forward pointed fin at the top, but also her window configurations was slightly different. But looking at the two ships, in general, they certainly were similar looking ships, but the Apollo's Bridge was somewhat more modern looking.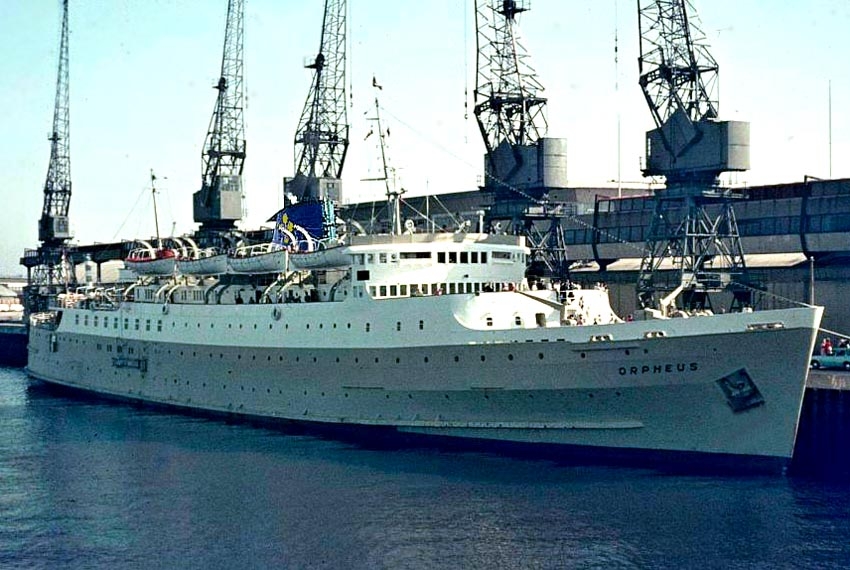 The MTS Orpheus is seen in Southampton and as can be seen her forward end and Bridge is almost flat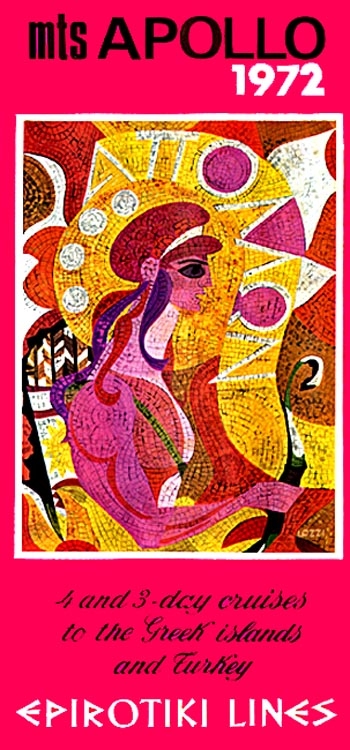 Each year a brochure just like this would appear, but with another year on it, and I have several of them. Further down

you will find the 1973 release and all interior and exterior photographs come from these brochures as well as some of the ship

Jupiter (Bridge) Deck

:

When built this ship was given a more spacious Bridge and her Captains quarters and senior officers accommodations were located directly aft of the bridge. Jupiter Deck was blessed having a spacious teak deck and inside the aft funnel housing was the semi circular Jupiter Club and Bar. Directly aft was the spacious Sundeck.

Apollo (Boat) Deck:

Far forward, ahead of the original superstructure, ahead of the forward glazing was the Observation Deck. Then heading back Apollo Deck did have an excellent spacious full walk around Promenade Deck that would take you around the forward glazing along the port side of the ship, via the swimming Pool area far aft and back forward on the starboard side!

The forward interior had six twin or single cabins, and another ten cabins just aft of the machinery casing. Directly aft of this was a Lobby with not just a  stairwell, but unlike the Orpheus, the Apollon II did have a lift (Elevator) that reached all aft decks up to this one. Aft f the Lobby was the wonderful Marsyas Bar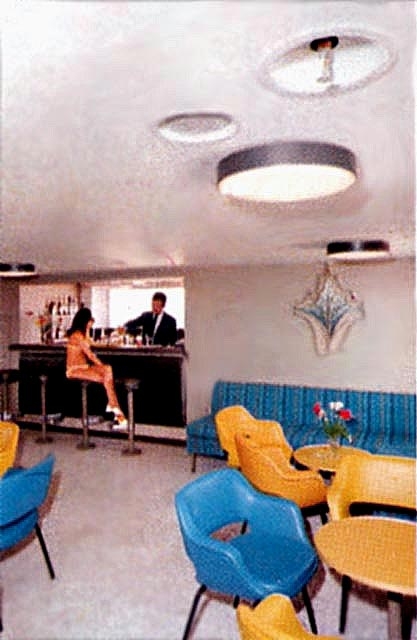 The delightfully colourful and bright Marsyas Bar
Outside against the aft wall of the Marsyas Bar was the location of the outdoor Pool Bar, for the aft Sun, come Lido deck was exceedingly spacious with a good swimming pool that even had a slippery slide aft of the pool. In addition there was ample seating and sun lounges on this spacious deck. Stewards would serve drinks and tend to the Guests needs; in addition at lunch a delicheos buffet would be available located near the Pool Bar!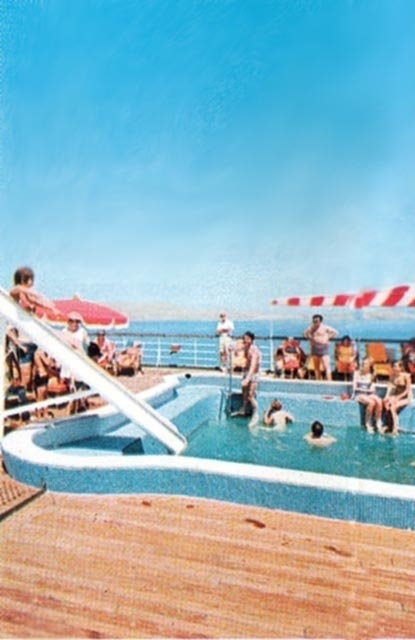 --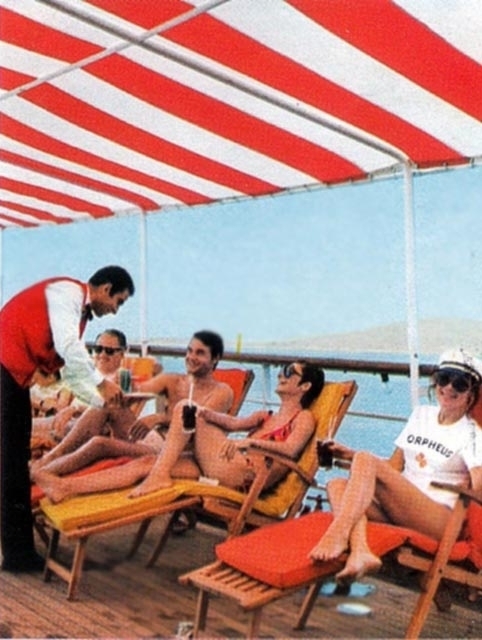 Above & below: Four fine views on the Apollon II's Pool and Lido Deck, as well as the lunchtime Buffet being served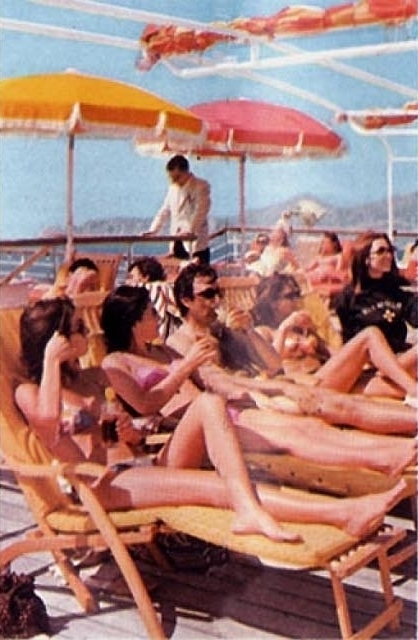 ------------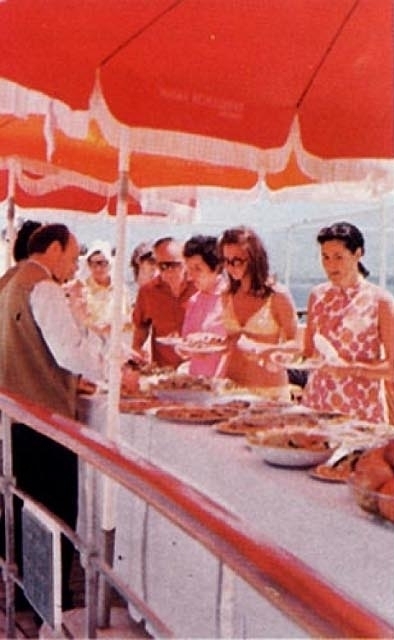 Venus (Promenade) Deck:
The vast majority of the forward section was occupied by cabins, including the ships finest, the suites and deluxe rooms. Of course there were two main Lobbies, one forward and the other aft, the one with the lift!
The ship had excellent cabins and there was no doubt about that, they were the same as was fitted in the Orpheus, all could be made up as Day Rooms, as all lower beds turned into sofas. In addition, every room on board has private facilities, with either a bath and an overhead shower, or a shower stall. Cabins were fitted with carpets, the ship was fully air-conditioned, and each cabin had its own climate control, thus you could set the temperature of choice. For comfort, again unlike the Orpheus, the Apollon II was fitted wit Denny Brown stabilizers offering a smooth ride, even when the seas were not so kind!
Amidships, between the cabins, is the ships Ladies and Men's Hairdressing Salon.
From the Lobby we enter the superb, colourful and huge Phoebus Lounge that also contains the Reading and Writing Room on the starboard side toward the aft end, whilst the Leto Bar is located directly opposite on the portside and the delightful Verandah itself is aft with windows overlooking the teak deck!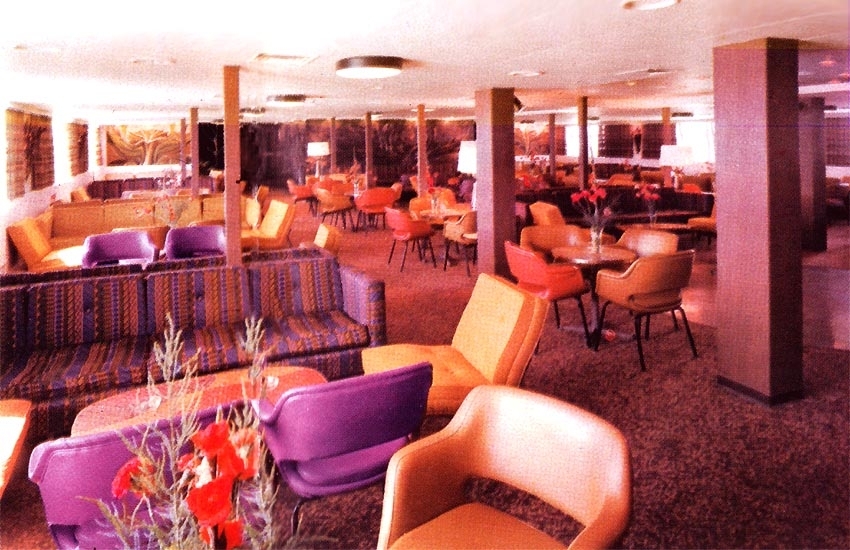 The Phoebus Lounge is the main entertainment and Dance venue, the Bandstand is located against the centre
wall that separates the Lounge and Leto Verandah Bar, the area inside the wall actually contains the pool above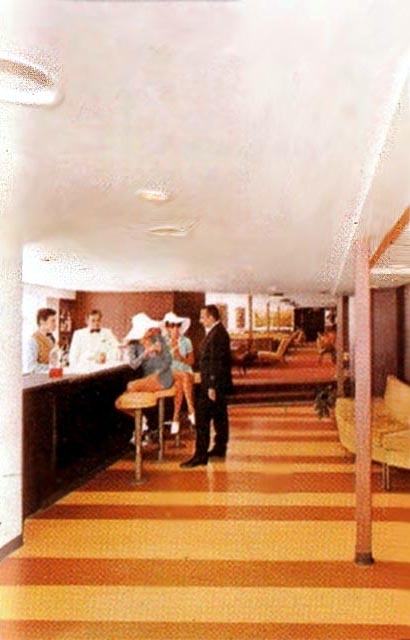 This is the light and bright, portside Leto Veranda Bar, looking forward to the Phoebus Lounge
Dionysos (A) Deck:
Once again Cabins dominate the forward section, until we reach the Main Lobby aft, however, this time, it is the huge Entrance Hall, with the Pursers Desk and the Cruise Office are located centre aft. However, the Chief Stewards Office and Reception was located on the starboard side, and the Semiramis Boutique was located on the portside.
Aft were the main ships stairwell and the Lift, and on both sides doors into the large and beautiful Artemis Dining Room. Like on all other Epirotiki cruise ship, this room featured some of the very best and highly acclaimed murals, by some of the best artists. In the photograph below, we see two fine glazed murals on either sides of the Dining Room, and on the centre wall a specially created metal wall sculpture. The carpets are two-tone blue with streaks of red. Chairs were of black leather, whilst sofas along the walls and elsewhere where mostly beige and in a soft material. Like all Epirotiki ships, vast amount of flowers always featured, giving the Dining Room a more homely feel yet elegant, whilst everyone was served only the finest of cuisine, with service to march!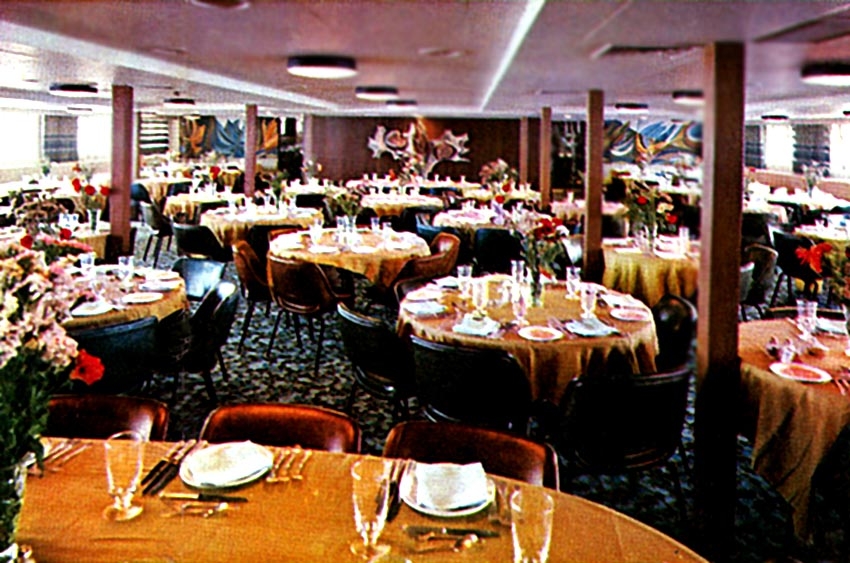 The Artemis Dining room with its spectacular murals and wonderful colours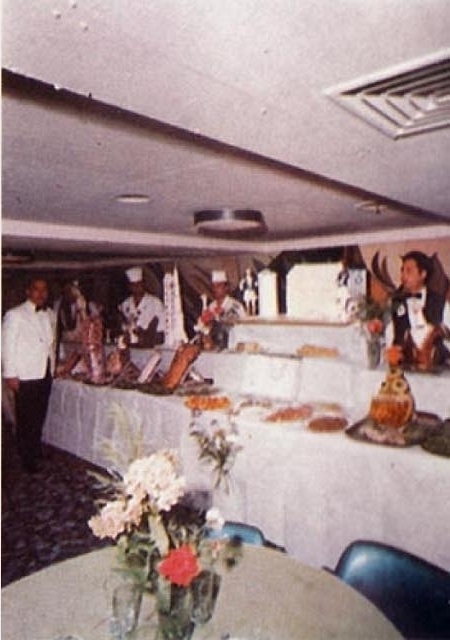 Poseidon (B) & Nereus (C) Decks:
Poseidon Deck offers cabins forward, with a space in the middle and the rest of the cabins some further aft. However, there was a passageway from forward to far aft of the ship. Whilst Nereus Deck only had 10 cabins located near her forward stairwell.
Cabins on the Apollon II were either a single bed outside, or an inside (no window or porthole) cabin, a twin bedded outside, or an inside cabin, whilst some twin bedded cabins had an upper Pullman (foldaway berth) making it available to occupy three persons. But there were not a great deal of these. In addition, there were only 19 inside cabins on the ship.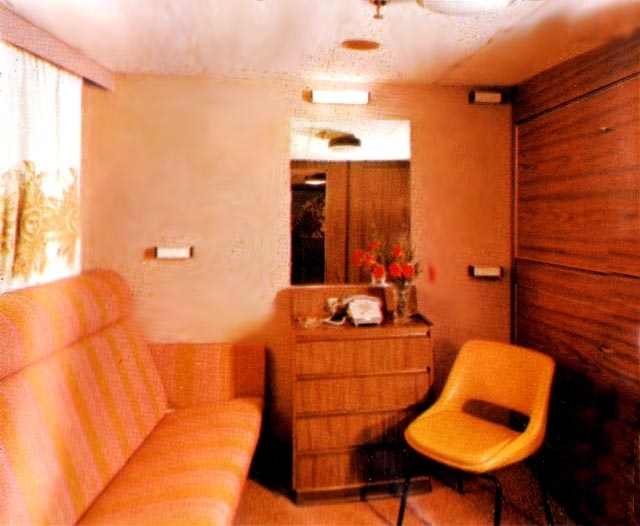 An outside Single cabin seen made up as a Day Room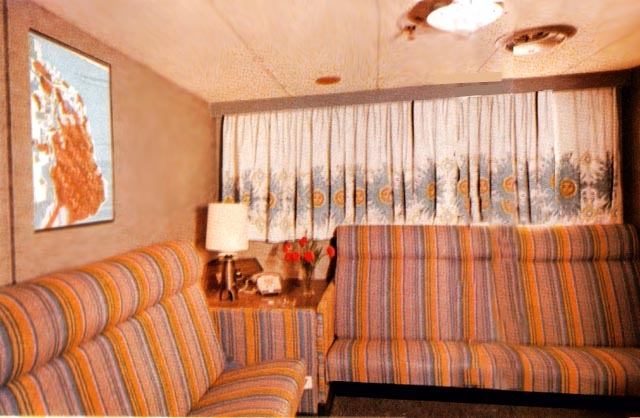 Twin bedded cabin seen made up as a Day Room
As the years Pass By:
Although she operated her regular Idyllic Greek Island cruises during the warmer months, it was during the summer that the MTS Apollon II would venture to a very different destination and head very much further south and operate cruises to the African Continent!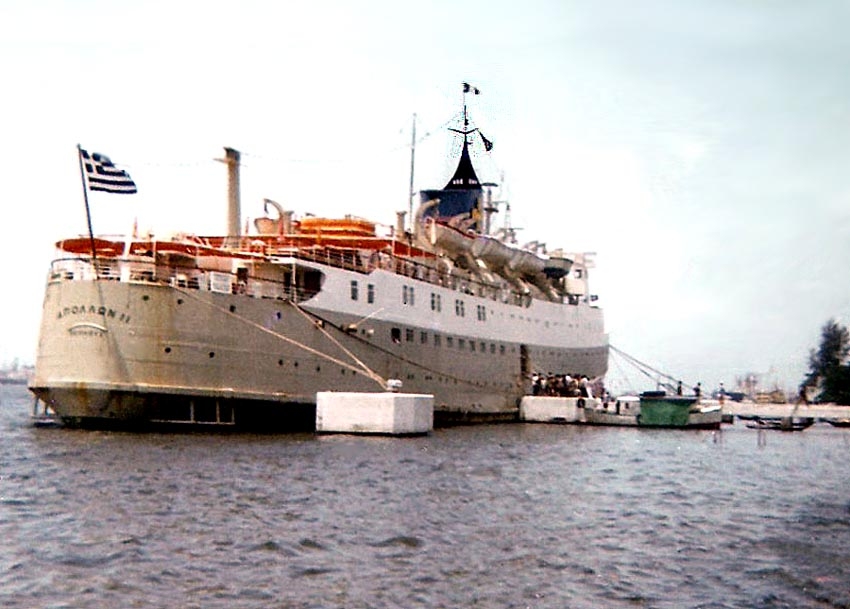 Here we see the Apollon in Nigeria in 1972
But it was her summer cruises that had the British, Americans and people from as far as Australia, New Zealand and Africa and they would fly to Athens, Greece and join her in Piraeus. As she operated the 3 and 4 day cruises, the vast majority would combine them and thus enjoy a full week of exploring the fascinating historic and ports, as each voyage would visit some different destinations!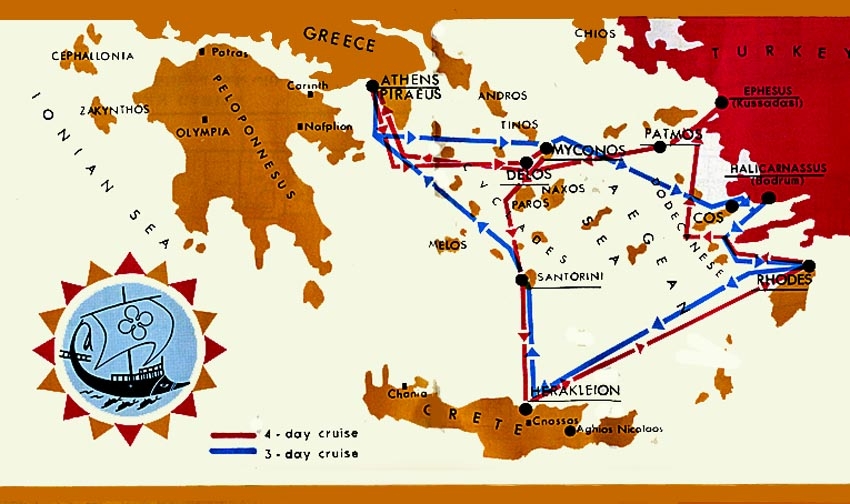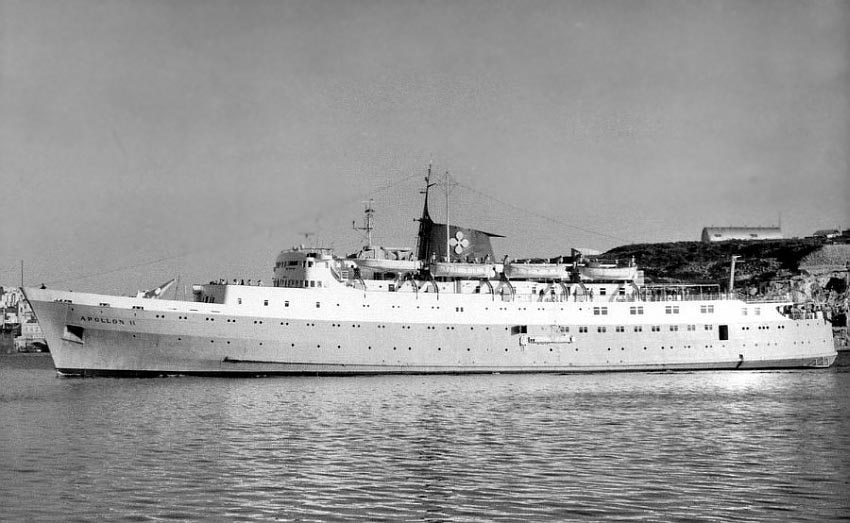 The MTS Apollon II is seen at anchor off one of the Greek Islands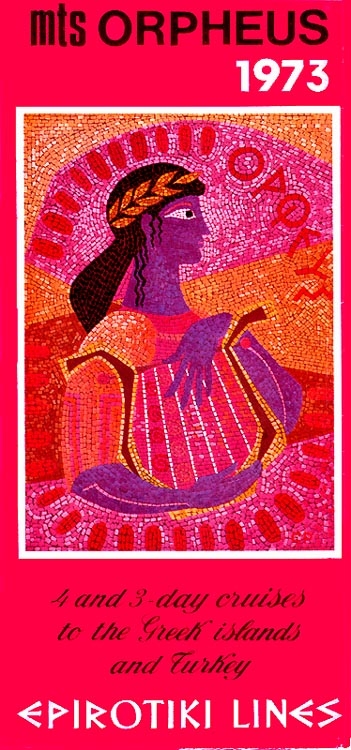 Here we see the 1973 version of the Apollo II brochure
However, at times she would also be under charter by various companies and she would be based in the UK to operate a series of cruise for a travel company. These cruises would either be, the Canary Island, visiting Las Palma, or Madeira, or Tenerife, as well as cruises around the UK, and to Scandinavia, etc! This all depended on the agency's demand on cruise, etc!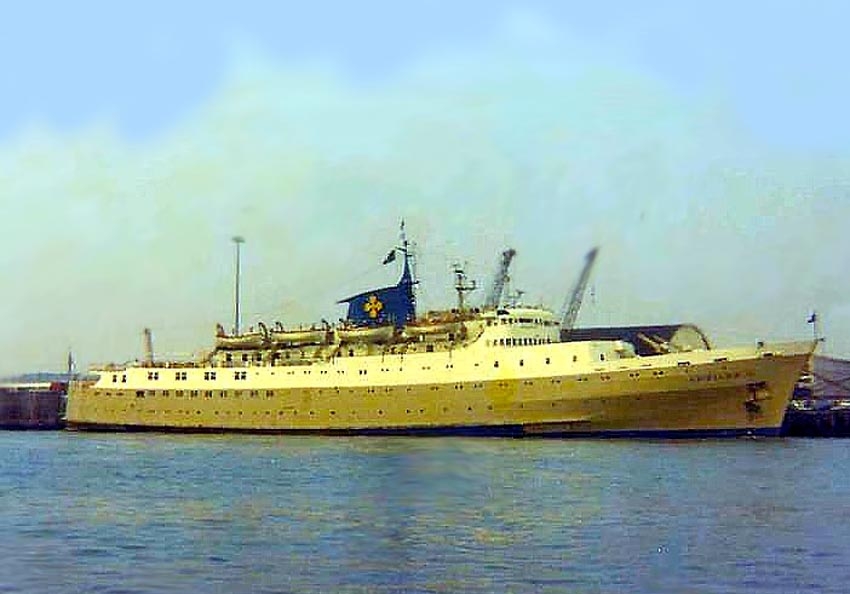 The Apollon is seen here in a UK port in 1975
But the Apollon II main cruises were as always the 4 and 3-Day Greek Islands and Turkey Cruises, which continued through until 1980 as well as the winter alternative services and charter operations. But sadly, MTS Apollon was never as popular as the Orpheus, which somehow seemed the better of the two ships, even though the Apollon II, unlike the Orpheus had Denny Brown Stabiliser Fins! But then there was another factor that the Apollo II was not given a major refit, like the Orpheus. This may well be due to her past machinery problems, even though it had been attended to, well on a good number of occasions!
Thus, Epirotiki decided that it was best that the Apollon II was no longer required and therefore she was laid up at Piraeus after her summer cruise series in 1980. The Apollo II was also placed on the market!
MS Regency:
Then in 1981, she was purchased by; "Corporation Naviera Intercontinental SA" registered in Panama R.P. and they renamed her "Regency." Although she was not given much of a refit, except for some internal deck name changes, etc, but externally she was painted all white, which and it did not suit the ship, considering her very high hull and sides that reached up to Boat Deck! The only colour to be found was a dark blue funnel with a dark logo and two buff signal masts atop her bridge.
However, there is little to no information available regarding her the service she was to operate on, however we do know that she must have crossed the Atlantic and headed for the America's and operated most likely cruises from Miami to the Bahamas' or the Caribbean Islands.
What we do know for a fact is that in 1982 control of the ship was taken over by Triton Holding Corp, based in Bermuda whilst she was laid up in Miami Florida. This move may well have meant that the ship was taken over due to non payments. For at the time she had been laid up at Miami and she did look somewhat neglected and was in a poor state, certainly nothing like the wonderful and always spotlessly maintained MTS Apollon II.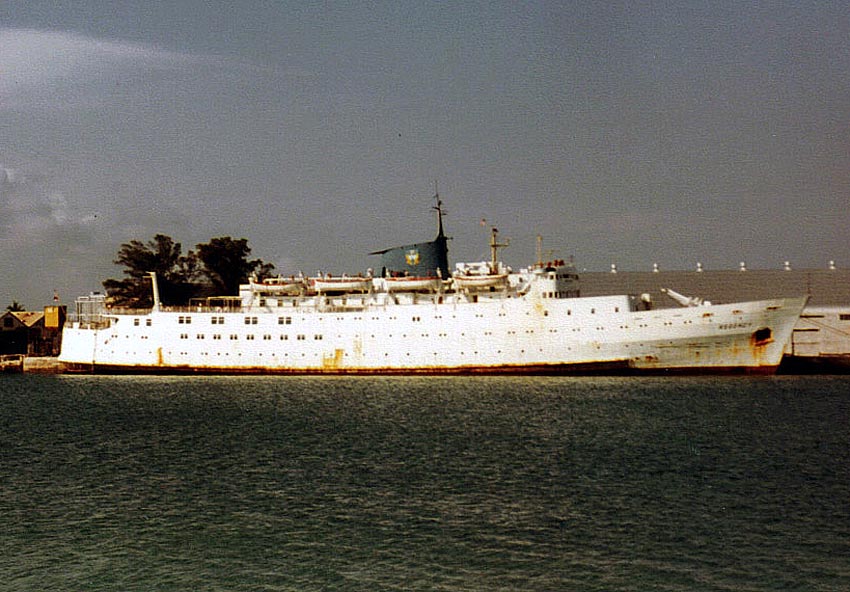 Above & below: MS Regency is seen laid up at Miami, Florida on March 5, 1982 as obviously things were not going very well for the ship!
Both photographs were taken by & © Mr. Rich Turnwald of Miami Florida, USA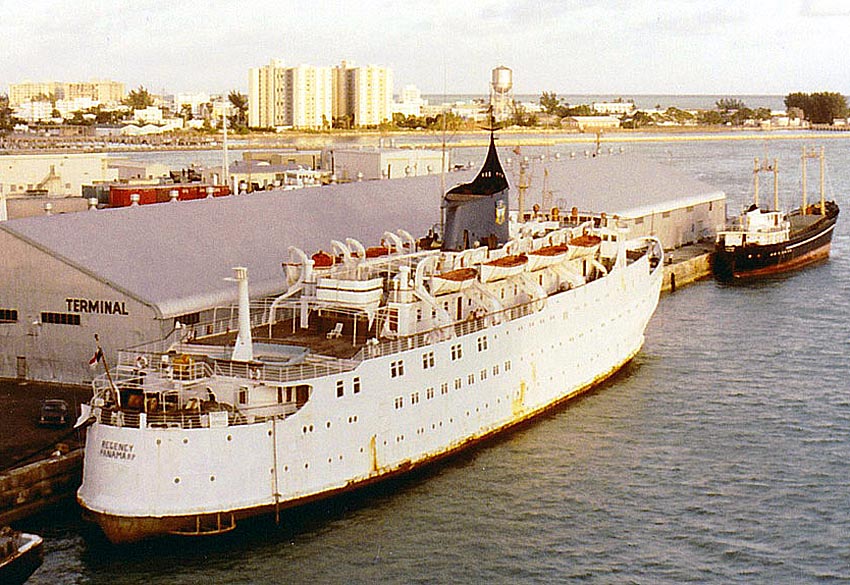 The MS Regency at some stage (date unknown) must have departed the USA and she headed and reached the Philippines. Once she had arrived, she was laid up at Batangas a Port City located on the south-western part of Luzon in the Philippines, but what year she actually arrived we do not know.
The End of what Was a Fine Classic Ship:

However a great tragedy struck the ex MS Irish Coast, MTS Apollon II, for suddenly on October 11, 1989, whilst the Regency was still laid up, looking so shockingly neglected at Batangas, a massive typhoon as officially named "Dan" struck in the region and it caused great damage around the very wide area.

Tragically the MS Regency was in the very heart of typhoon Dan and thus she suffered extreme damage and apparently the force of the forceful winds snapped her lines and she blown midstream and was partially grounded. As a result, she was declared a total loss by the insurance company and therefore, she was subsequently sold for scrap.

However, for some unknown reason it was not until a number of years later that the wrecked Regency was finally freed and towed to Manila where she was to be broken up. But, strangely enough the Regency was only broken up after 1996.

Specifications MS Irish Coast - MTS Apollon II:

IMO:……………………………………………………..5163120.

Names & Owners:…………………………………1952-1968 - MS Irish Coast, Coast Lines Ltd.

Sold:……………………………………………………..1968-1981 - MTS Orpheus - Apollon II, Epirotiki Lines.

Sold:……………………………………………………..1981-1989 - MS Regency, Corporation Naviera Intercontinental SA.

Builder:………………………………………………….Harland and Wolff, Belfast, Northern Ireland.

Yard No:………………………………………………..1461.

Launched:……………………………………………..May 8, 1952.

Delivered:……………………………………………..October 16, 1952.

Length:………………………………………………….103.54m - 339.7ft.

Breadth:………………………………………………..15.73m - 51.6 ft.

Draft:…………………………………………………….4.81m - 15.78 ft.

Tonnage:…………………………………………….…3,813 GRT as built.

………………………………………………………………3,824 GRT.

Propulsion:……………………………………………Two 10 Cylinder Harland & Wolff Diesel Engines - 4,849 kW.

Speed:…………………………………………………..16 knots.

Passengers:…………………………………………..1,200 as built First and Tourist.

……………………………………………………………..350 for Apollon.

Crew:…………………………………………………….180       "

Stabilisers:……………………………………………Denny Brown Stabilisers.

Epirotiki Index

:                     

Page One …                              MV Semiramis the first ship!

Page One B …                           MV Semiramis Deck Plan.

Page Two …                              The Early Ships - SS Hermes, Atreus, Pegasus & Hermes II.

Page Three …                           MS Argonaut.

Page Three B …                        MS Argonaut Deck Plan.

Page Four …                             MTS Jason.

Page Four B …                          MTS Jason, later MS Ocean Odyssey - Deck Plans.

Page Five …                              MTS Orpheus II.

Page Six …                               MTS Apollon II.

Page Six B …                            MTS Orpheus II & Apollon II - Deck Plans.           "

 "Blue Water Liners sailing to the distant shores.
I watched them come, I watched them go and I watched them die."

****************************

Return to the ssMaritime Main INDEX

Where you will discover over 700 Classic Passenger & Passenger-Cargo Liners!

ssMaritime.com & ssMaritime.net

Where the ships of the past make history & the 1914 built MV Doulos Story

Please Note: ssmaritime and associated sites are 100% non-commercial and the author seeks no funding or favours of any shape or form, never have and never will!

Photographs on ssmaritime and associate pages are by the author or from the author's private collection. In addition there are some images that have been provided by Shipping Companies and private photographers or collectors. Credit is given to all contributors. However, there are some photographs provided to me without details regarding the photographer/owner concerned. I hereby invite if owners of these images would be so kind to make them-selves known to me (my email address may be found on www.ssmaritime.com only), in order that due credit may be given.

This notice covers all pages, although, and I have done my best to ensure that all photographs are duly credited and that this notice is displaced on each page, that is, when a page is updated!

ssMaritime is owned & © Copyright by Reuben Goossens - All Rights Reserved