"Cunard Lines" R.M.S. Aquitania 1913 to 1950 - She also served in World War I & II.
Please Note: Firefox and some other Search Engines may not be suitable
Use Google Chrome for this Web Page to load perfectly!

Please Note: All ssMaritime and other related maritime sites are 100% non-commercial and privately owned, thus ssmaritime is NOT associated with any shipping company or any other organisation! Although the author has worked and been involved in the passenger shipping industry for well over 60 years, but due to his old age and poor health, he was forced to retire. Yet, he has completed well over 1,365 Classic Liners, Passenger-Cargo Liners as well as humble converted C3 converted Migrant Liners, which has transported countless thousands folk to the new world, as well on vacations'. I trust the features online will continue to provide Classic Liner and Ship enthusiasts both the information they are seeking, but more so provide a great deal of pleasure and relive many happy memories!
Please Note: Postcards, photographs & other images are either from the author's private collection, unless stated otherwise.
A special thank you to ssmaritime supporters Eric Davidson (Liverpool - UK), Pieter ver Brugge (Ghent - BE)
Luis Leforge (Le Havre - FR) and Don Reynolds (New York - US) for their kind assistance and photographs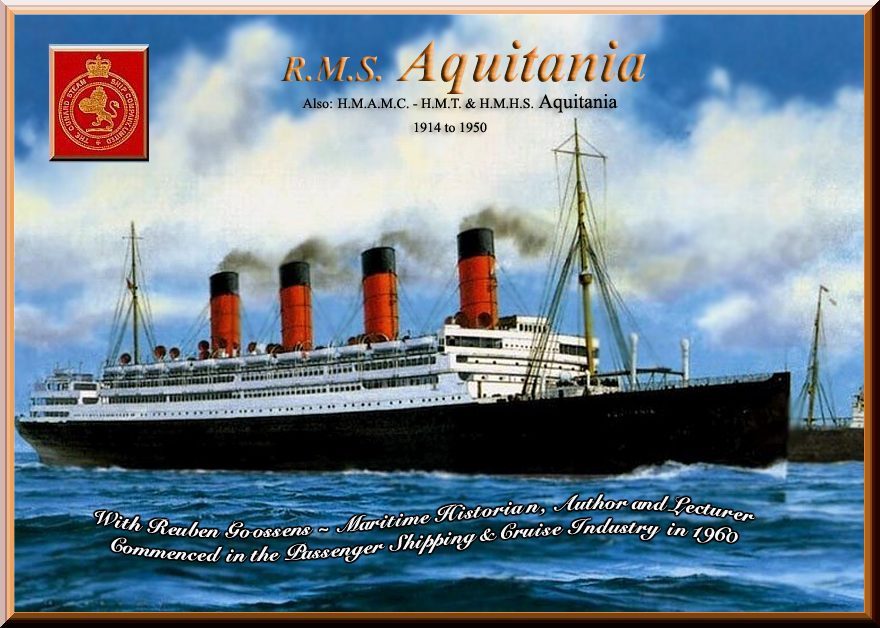 The artist impression of the R.M.S. Aquitania's is from after her 1920 refit
Page Two
Please Note: This is an extensive multi page feature covering a very special liner, the R.M.S. Aquitania, and if you have arrived at this page via a search engine, you will find that this is Page Two of the "Aquitania" feature, thus I suggest that you visit the Page One first by using this LINK.
Page One covers the ship's construction, her interiors to her maiden voyage and her early Trans-Atlantic return voyages from Liverpool to New York.
Page Two sees her requisitioned by the British Admiralty to enter World War One services, and this page will include the three roles she operated in during the Great War. 1. as an Armed Merchant Cruiser, 2; a Troop ship and 3; a Hospital ship. After the War she was refitted and returned to civil duties until World War Two when she became a Troop Ship once again. I will conclude Page Two with an extensive list of her specifications and other details, etc.
Then there is also Page Three, this is a page that covers every aspect regarding her massive power plant and other machinery, etc! You will find a link to the "Aquitania's Power Plant" at the bottom of this page, together with other relevant pages.
A Brief Intro:
The "Aquitania" was a very special and a spectacular Passenger Liner to say the least! She was one of those grand four stackers that was built especially for the Trans-Atlantic trade to New York, and her public venues were nothing short from spectacular!
Recently I located this incomplete item and it needed some work still to be done to it. Thus I decided, although I had long been retired that I would try and finally finish it, but I am sorry, this will be my very last ssmaritime.com feature. I trust that you will enjoy it!
Reuben Goossens.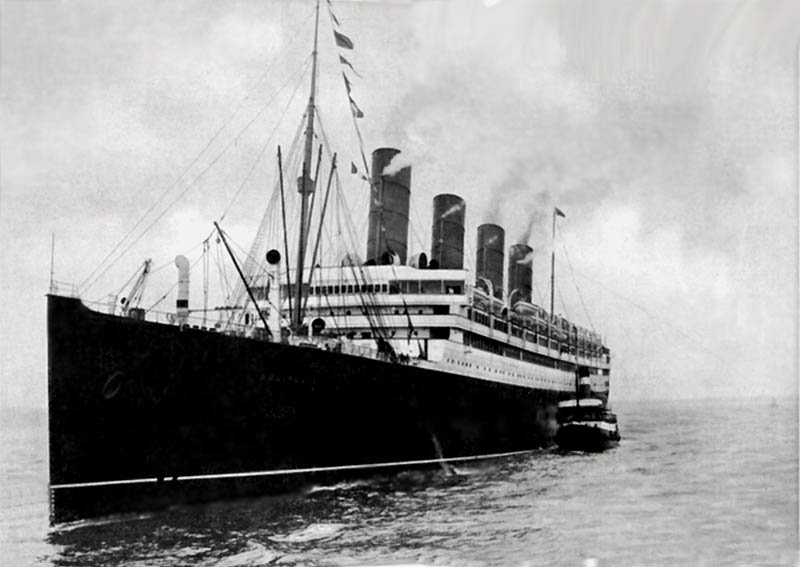 R.M.S. Aquitania is seen as built

*************************

As we learned on Page One that the magnificent R.M.S. Aquitania departed on her maiden voyage from Liverpool to New York on May 30, 1914, after which she made only several further return voyages. But sadly things in Europe were in turmoil, and sadly the "Aquitania" was forced to cease her services due to World War One having commenced on July 28, 1914!

World War One:

Four days after the war commenced, on August 2, 1914 "Aquitania" was officially requisitioned by the British Admiralty to become an Armed Merchant Cruiser (A.M.C.). She was converted at the Cunard dock in Liverpool, and her luxurious and decorative furnishings and other elements were removed and placed into storage, whilst she was being armed with ten 6" guns and was painted in that drab War time grey livery. Her conversion was completed on August 7, and she was officially commissioned into the Royal Navy on that same day.

On August 8, the H.M.A.M.C. Aquitania (Ml.56) commenced her first war patrol on the Western Approaches of the UK, in the Irish Sea and the North Atlantic and did so until August 16.

Then on August 22, 1914, she headed off on her second patrol, but during this patrol, she collided during heavy fog with the "British Leyland Line" ship, S.S. Canadian just off the "Old Head" of Kinsale along the coast of Ireland, which crushed the Aquitania's bow. The "Canadian" had incurred considerable damage and thus she also headed to a ship yard for repairs, but thereafter she continued sailing until 1917, when she was torpedoed and then sunk just off Fastnet Rock, Ireland.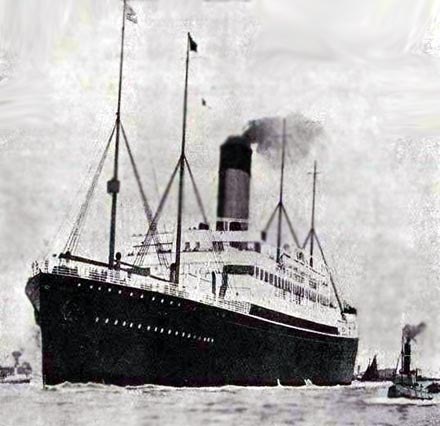 The 9,309 Tonne S.S. Canadian
With the Aquitania having returned to Liverpool and being repaired that took from August to December. During this time the Admiralty decided to withdraw the "Aquitania" from her AMC duties, as she simply did not prove to be the right ship for the role, and operating her proved to be far too costly. Thus her guns were removed and upon completion in December she was laid up at Liverpool.
However, the Admiralty then decided for a more useful purpose for her, and they requisitioned her to become a troopship, a role that she was built to do at her construction.
Officially on June 18, 1915, she was requisitioned by the Admiralty for her new role and she was converted into a "Troop Ship". When completed she had room between 5,000 to 6,000 plus troops.
On June 25, 1915, H.M.T Aquitania departed on the first of three voyages as a troopship to the Dardanelles and at times she would be running alongside the "Britannic" or the "Mauretania". Combined they transported some 30,000 men to the battlefield between May and August of that year.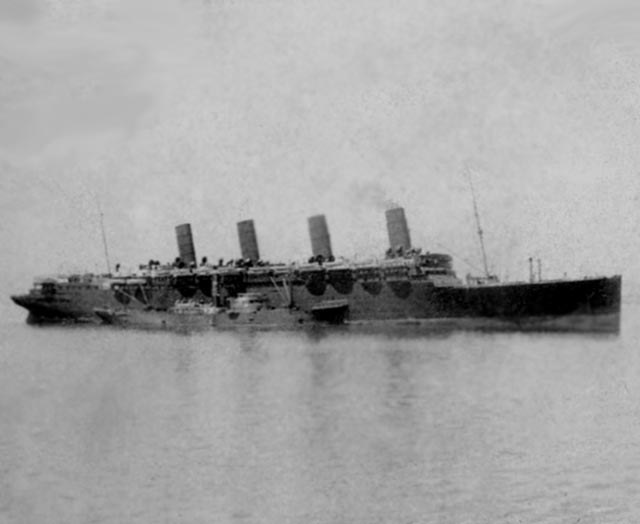 H.M.T. Aquitania is seen at anchor at Mudros Harbour
Whilst transporting troops from Liverpool to Mudros (at the Greek island of Lemnos) in July 1915, Aquitania narrowly avoided a torpedo fired from a suspected Austrian submarine. The incident was a near miss with the torpedo passing 'some fifty feet astern.
She was then rapidly converted at Mudros for her to be used as a hospital transport ship. She operated one voyage from Mudros to Southampton carrying around 2,400 wounded soldiers from the Dardanelles to England. But when she returned to the UK, due to Britain's failure at 'Gallipoli' the "Aquitania" was given a full conversion that saw her refitted into a full-fledged operating Hospital ship. This commenced in August 1915, she was converted at Southampton and upon completion she had a capacity of 4,182 beds.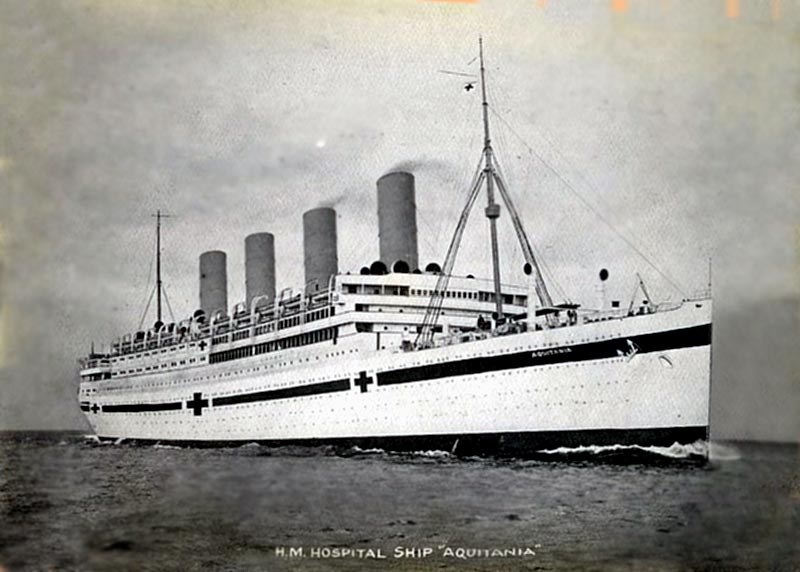 H.M.H.S. Aquitania
She was able to care for many wounded on board, as a good number of grand venues became large wards as well as operating theatres, etc. The wards were to be found in such grand venues like the "Carolean" style First Class Smoking Room, as well as the magnificent "Baroque" style "Palladian Lounge". The ship was repainted into the internationally-recognised Hospital Ship colours, with buff funnels, a white hull with a broad green band and three red crosses along each side of her hull. From April 1916 up until January 1917, H.M.H.S. Aquitania safely carried over 25,000 wounded troops.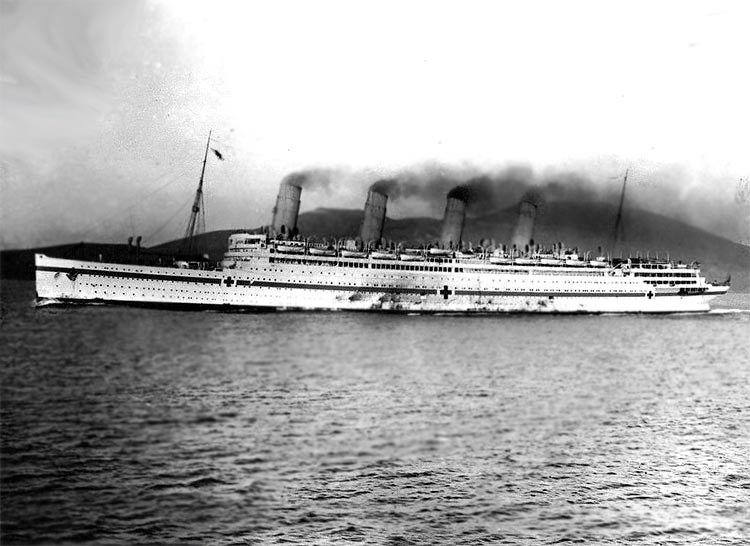 H.M.H.S. Aquitania seen at full speed bound for the UK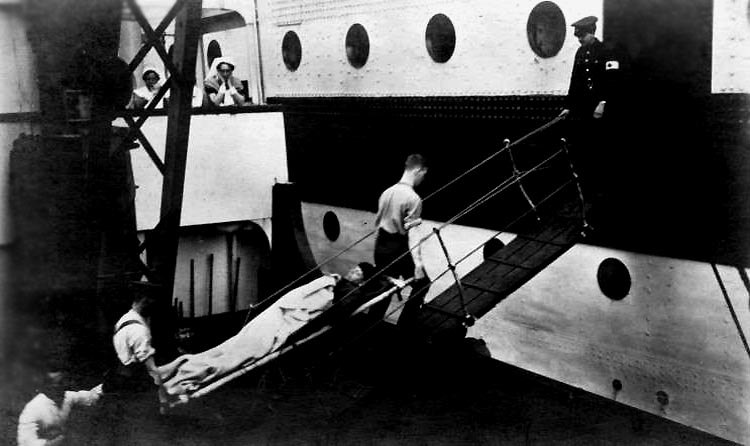 Wounded soldiers being loaded onto the H.M.H.S. Aquitania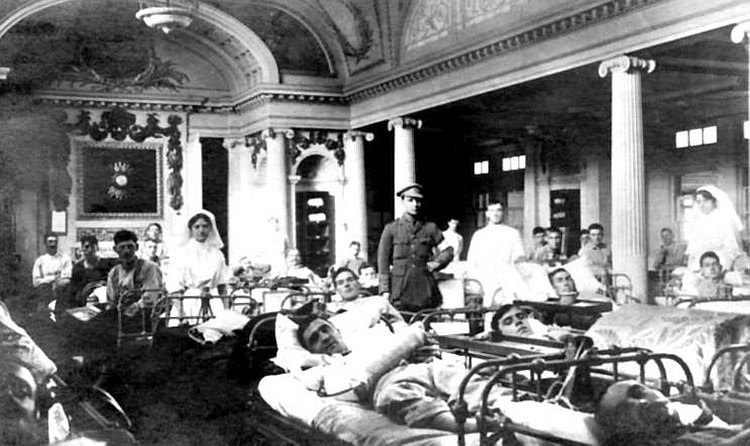 Above & below: The First Class Palladian Lounge and Smoke Room were transformed into wards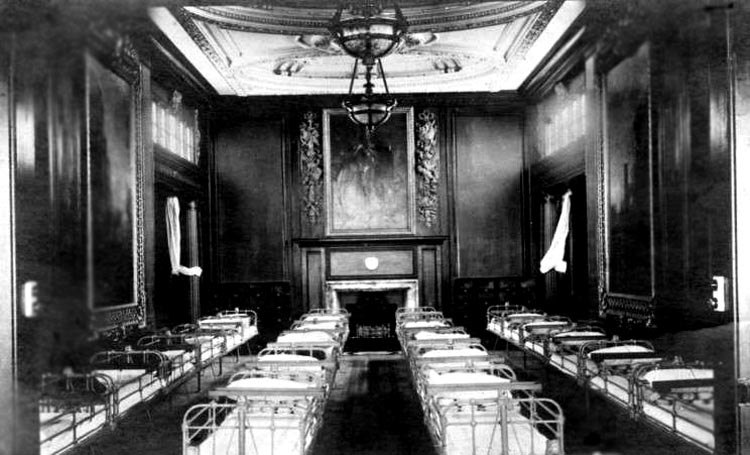 She was used as a hospital ship during the Dardanelles campaign, collecting wounded soldiers at Mudros, Lemnos Island, Greece, and taking them back to the UK. She continued to serve in this role until April 10, 1916.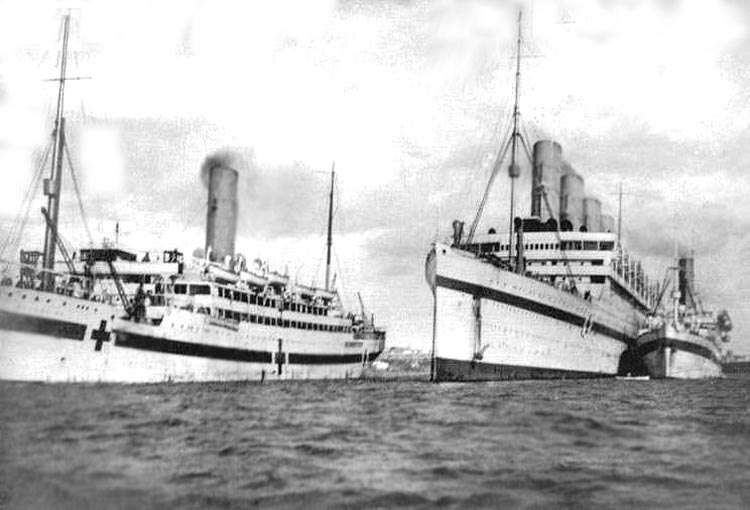 Above we see the H.M.H.S. Aquitania at anchor at Mudros and the small vessel at her side is delivering further wounded troops that had arrived from Gallipoli. On the left is another smaller Hospital ship.
Returned to Cunard Line:
Then on April 10, 1916 whilst she was in the UK, she was decommissioned and officially returned to the Cunard Line. Thereafter the "Aquitania" was sent to Belfast where she arrived at the "Harland & Wolff" shipyard. There she was refitted as a luxury passenger liner again, but it seems that she was laid up.
Then, sadly on November 21, 1916, the "White Star" Hospital Ship the "Britannic" was torpedoed and she sunk with 50 lives lost, but thankfully 1,106 persons were rescued.
Days after the sad loss of the H.M.H.S. Britannic in November she was requisitioned by the Admiralty for her to return and operate as a hospital ship once again. Thus, she had a rapid internal makeover and the H.M.H.S. Aquitania returned to her role as a hospital ship operating in the Mediterranean from early December 1916 through to late January 1917.
When her service was completed she was laid up in the Solent from late January to November 1917.
Then in November 1917 the "Aquitania" along with the "Mauretania" as well as the "Olympic" were requisitioned by the US Government to be used as US troopships. The request was approved by the Ministry of Shipping and the three ships headed for the USA in December 1917.
Thus in 1918, the "Aquitania" was back on the high seas now in the American troopship service, but she was now under the command of Captain James Charles. Her role was transporting both US and Canadian troops to Britain and she would carry an average of 6,000 troops on each voyage. Many of these voyages departed from Halifax, Nova Scotia, Canada where her spectacular colourful "dazzle" paint scheme was captured by artists and photographers, including one "Antonio Jacobsen".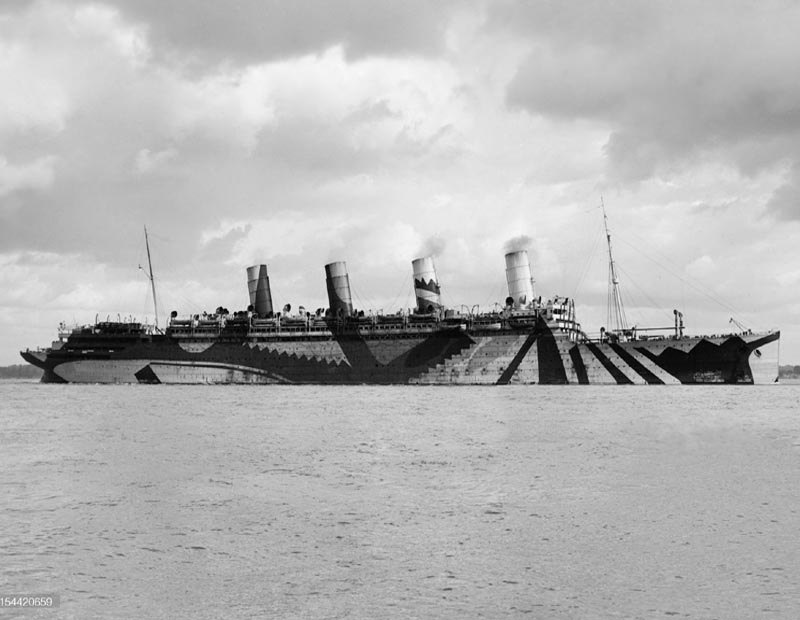 U.S.S. Aquitania seen with her "dazzle" war paint-scheme

However on one voyage the "Aquitania" transported just over 8,000 men. During her nine voyages for the US, she transported around a total of 60,000 men.
However, not every voyage ran smooth, for during her 8th US trooping voyage which departed on October 2, 1918 started well, but a week later on October 9, she collided with the Sampson-Class destroyer, U.S.S. Shaw DD-68, some 40 miles south of Portland, England. With Commander William A. Glassford in command, the U.S.S. Shaw was steering a zigzag course, when suddenly her steering gear jammed causing her to cross the bow of the "Aquitania". A massive damage of 90 ft of the Shaw's bow was completely cut off and destroyed, and sadly 16 of her men were killed during the collision. Both ships were able to make port under their own power. Obviously the Aquitania's crew came to the "Shaw's" assistance, as well as providing medical help as needed.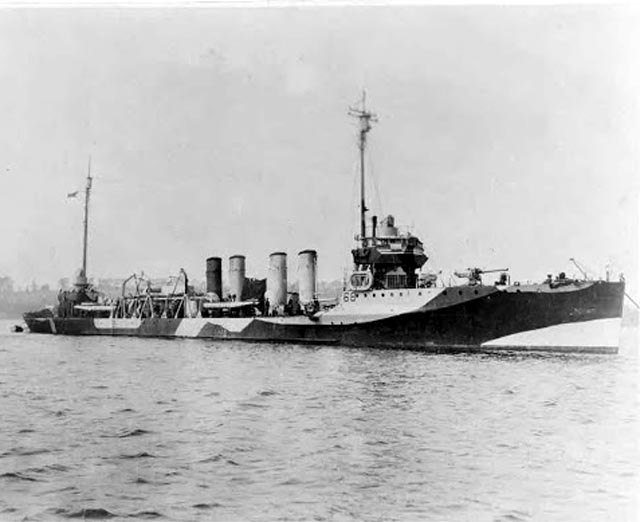 Above & below: the U.S.S. Shaw DD-68 seen prior the collision and her massively damaged bow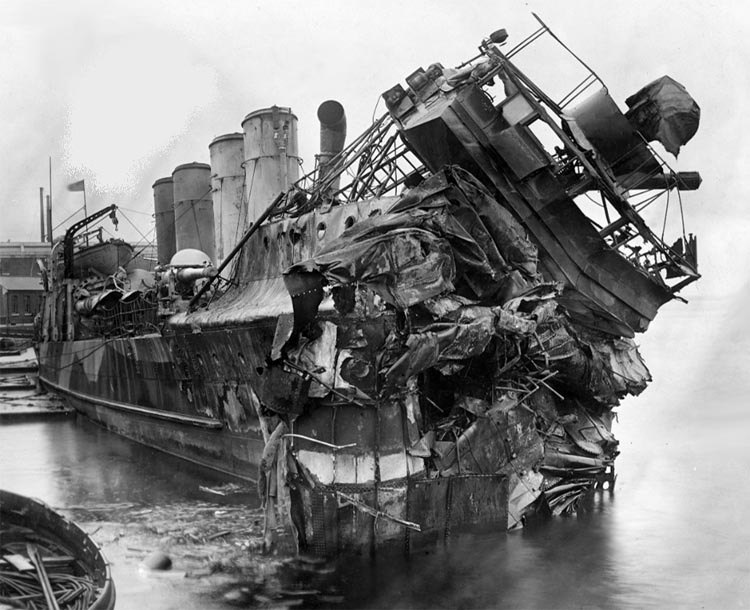 Finally on November 2, 1918, the "Aquitania" departed New York for the official last US trooping voyage with 5,717 troops on board.
When the hostilities finally ended in 1918, Britain and France stood victorious over Germany and Austria and they signed an unconditional surrender at Versailles.
*************************
Back to Civil Duties:
At last, the "Aquitania" could return to the commercial service she was intended for. However, Cunard Line was not the same company it had been before the war, for they had lost a huge number of ships, in fact it was 22 of their ships, including of course the magnificent "Lusitania" that had been lost. Due to there being a good number of captured German liners available, some would now join the Cunard fleet including the impressive 52,000 GRT, S.S. Imperator, which Cunard had renamed the "Berengaria" and she replaced the lost "Lusitania".
On February 19, 1919 R.M.S. Aquitania departed for her first voyage after the Armistice, but during her first three voyages she was operated especially to repatriate troops from Liverpool and Brest to New York.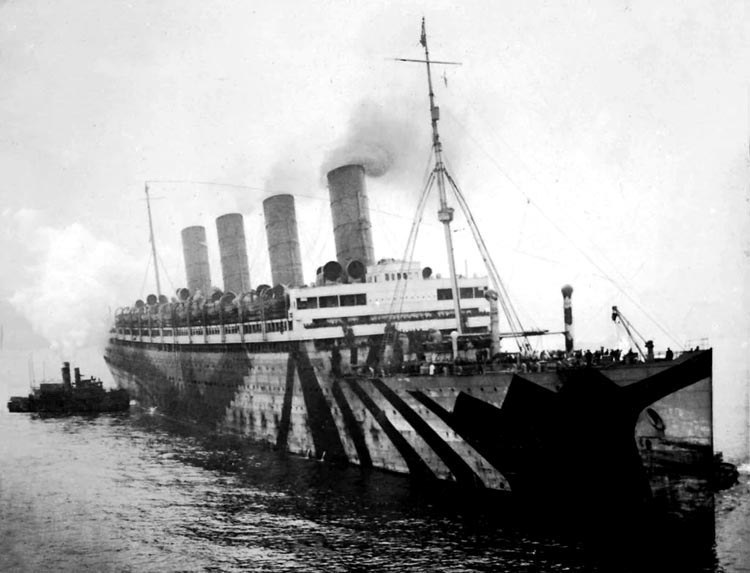 The "Aquitania is seen returning to Hoboken, New Jersey late in February 1919 filled with US soldiers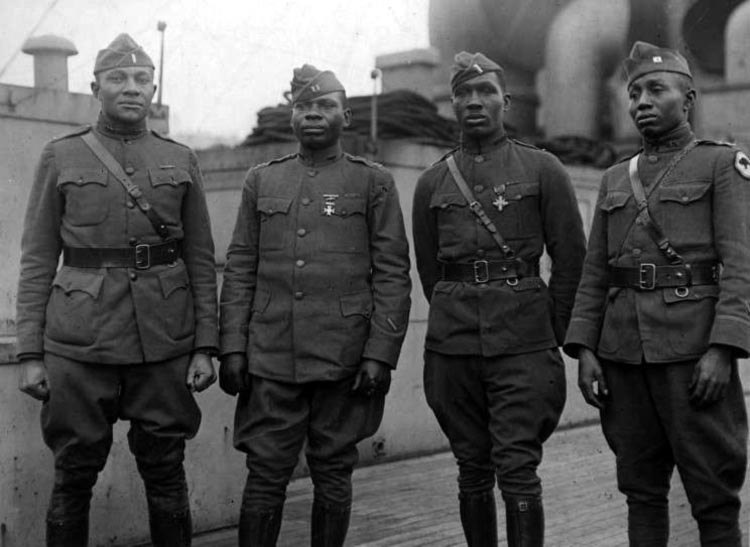 Above we see four of the African American officers of the 377th Infantry who arrived on board the "Aquitania" in Hoboken late in February 1919. From left to right are; Lieutenant C. L. Abbot, Captain Joseph L. Lowe, Lieutenant A. R. Fisher of Lyles, Indiana, winner of Distinguished Service Cross and Captain E. White.
Whilst below we see the US 77th Division soldiers who were also on the "Aquitania" arriving at Hoboken in February 1919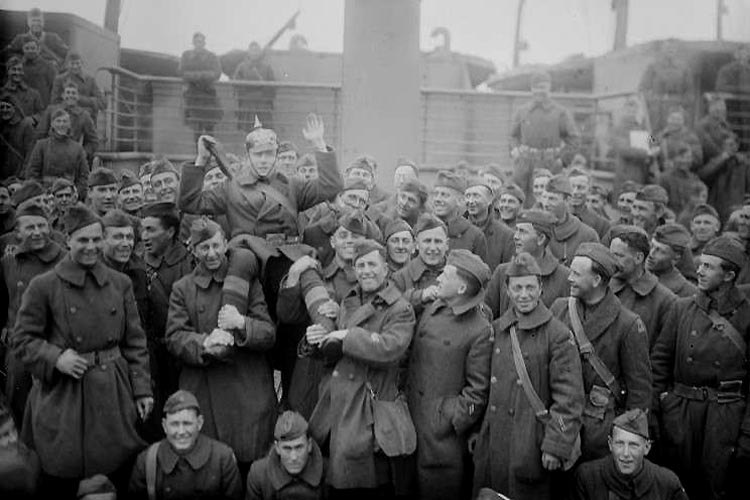 On June 14, 1919 this fine liner returned to her commercial passenger duties but not having had a major refit as yet, she was temporarily operated on what was called an "austerity service" from Southampton, sailing via Cherbourg to New York.
Aquitania's Massive Refit:
In December 1919 the "Aquitania" headed for the "Armstrong Whitworth & Co" ship-yard on the Tyne at Newcastle, Scotland, where she would be comprehensively refitted for her post-war service.
Work on the "Aquitania" took place from December 1919 trough to June 1920, and there was a great deal of work in order to bring her back to the luxury liner she was post war. But whilst this was being undertaken, it was the perfect opportunity to convert the ship to oil burning. The company realised that converting her from coal to oil would mean that only 50 stokers would be required, opposed to the 350 that where needed to maintain her coal fired bunkers, thus it would save a great deal in her operating costs.
As we know, her original fittings and art pieces, etc, had been removed prior to her being refitted for military use pre-war, thus all that would now be returned to the ship, and it was brought out of storage and re-installed. Sadly, some of the original furniture and fittings had to be replaced due to some items having been damaged during wartime storage.

R.M.S. Aquitania's new look, note forward topside, as a new Bridge was built above the previous wheelhouse
The "Aquitania received another addition and that was a brand new wheelhouse that was located topside directly above the original wheelhouse. The fact is that her officers had been complaining from when she was built regarding the poor visibility over the ship's forecastle, and thus the new Bridge topside would make a huge difference. Also installed was a new "Sperry Mark IV Gyro Compass" making this the very first time such a device was used on board a merchant ship!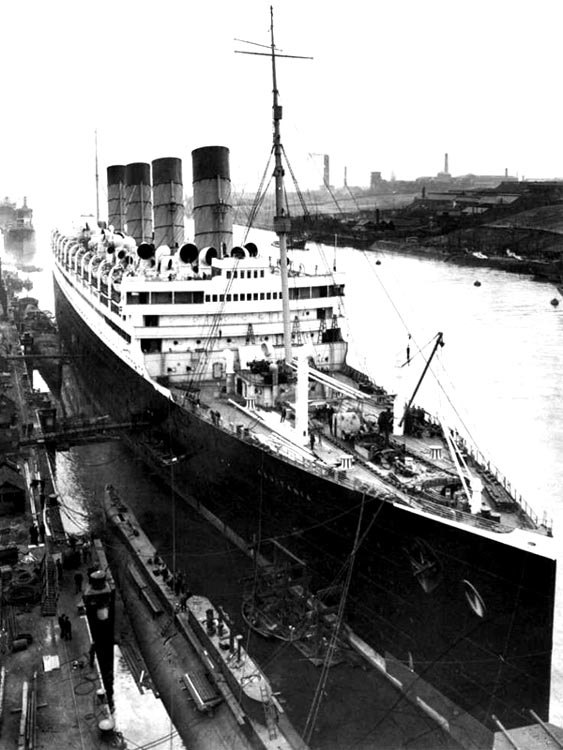 R.M.S. Aquitania is seen at the "Armstrong Whitworth" shipyard and her new Bridge has just been completed
During the refit several new facilities where added on board such as a branch of the "Midland Bank" being installed for her first class passengers, as well as the installation of an "Information Bureau" in the First Class Foyer.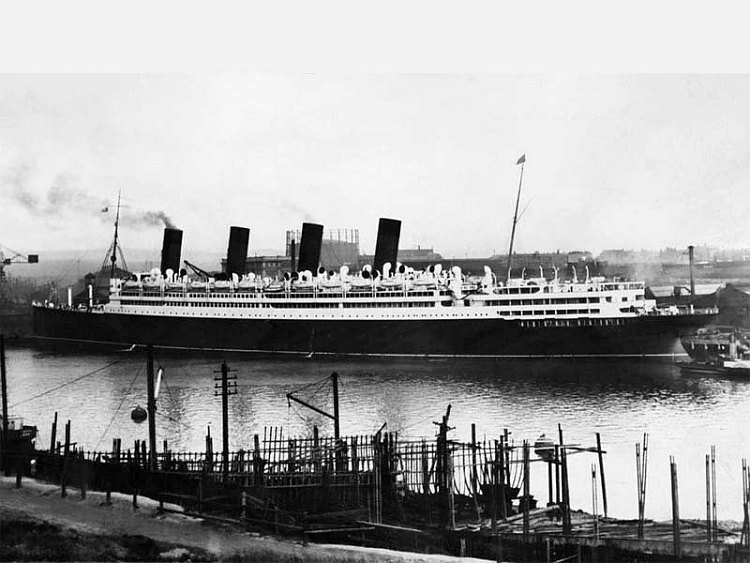 R.M.S. Aquitania seen in preparation for her departure from the "Armstrong-Whitworth Shipyard on the Tyne in May, 1920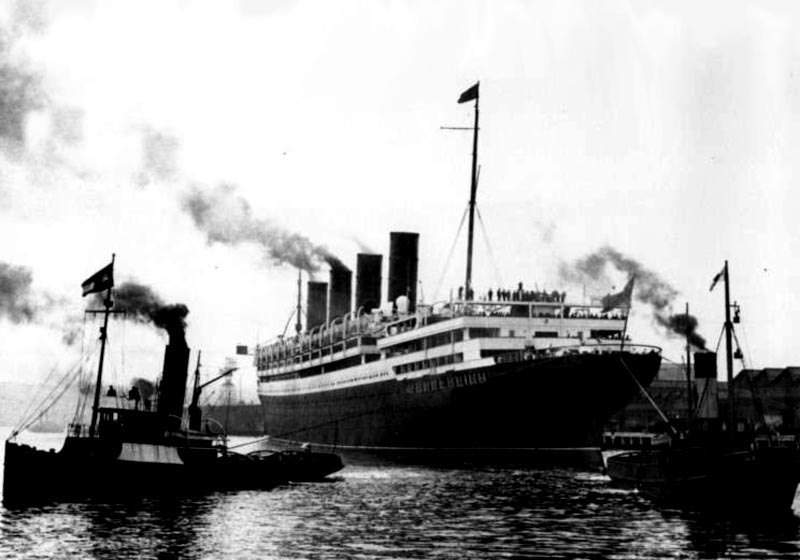 R.M.S. Aquitania is seen on the Tyne having just departed from the "Armstrong Whitworth" shipyard
After sea trials north of Scotland early in July, "Aquitania" departed Newcastle and she was returned to her owners the "Cunard Line" in Liverpool.
Upon arrival at Liverpool, Cunard ensured that their luxury liner would be completely up to scratch and ready to be the finest of ships once again. She was fully stocked up and immaculately prepared for her regular Trans-Atlantic passenger services.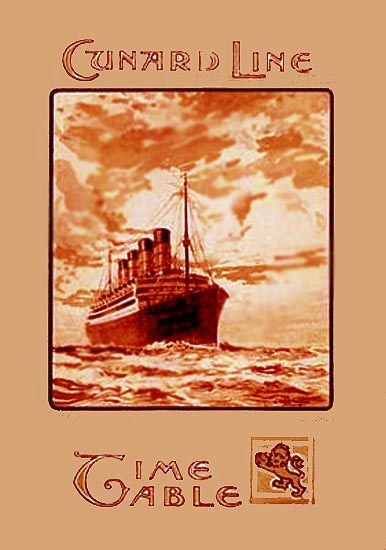 A British 1920 Cunard Time Table
In the United States, the company was already promoting the return of the famed, "Ship Beautiful" by various newspaper posters and advertisements, but also a drawing promoting her grand size.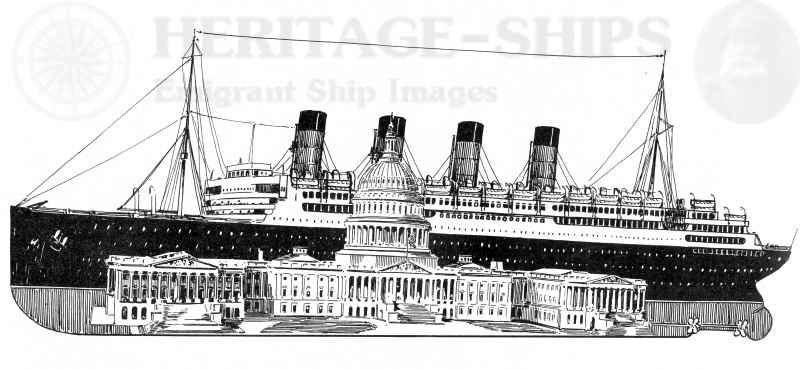 Promotional material of the R.M.S. Aquitania created especially for the American market
With 2,433 passengers having booked on her first official post war voyage, the R.M.S. Aquitania departed Liverpool on July 17, 1920 for Trans-Atlantic voyage bound for New York. This voyage proved to be a huge success as the weather was simply sublime, and passengers enjoyed the fineries of this magnificent liner. In addition she maintained an excellent speed, whilst at the same time clearly proving that the oil-fuelled propulsion was indeed a great deal cheaper than the coal-fuelled system. "Aquitania" arrived in New York Harbour to a fine welcome back, and she was filmed as part of a special pioneering documentary.
A fine view of the R.M.S. Aquitania after her splendid refit, with her new Bridge visible topside
Her original wheelhouse area can be seen above, and note that it was plated in with 12 small portholes added.
After her voyage from Liverpool to New York, she returned to Southampton, where she was now home ported. The months and year that followed were equally as promising and passenger numbers remained very high on each voyage, despite a stewards' strike in May 1921.
At the beginning of the decade, the "Aquitania" was the only large liner in Cunard's service due to the Mauretania undergoing repairs after a fire on board. And thus 1921 was an exceptional year for the Aquitania; and she broke a record by transporting around 60,000 passengers during the year. In 1922, R.M.S. Mauretania rejoined her, and the "Aquitania" operated together with the "Mauretania" and "Berengaria" as a trio that became lovingly known as "The Big Three."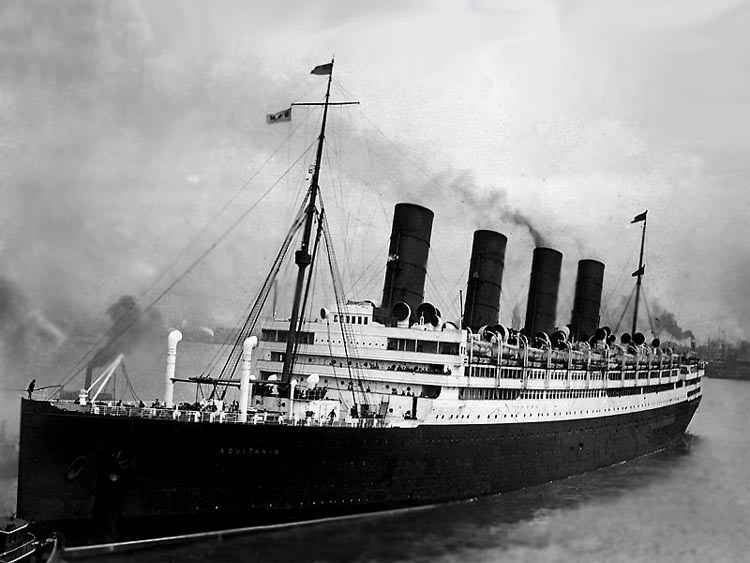 "Aquitania is seen arriving at New York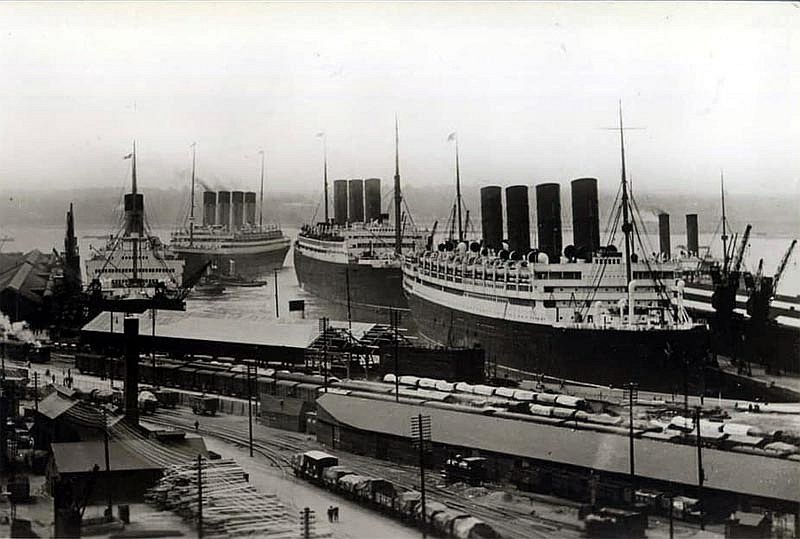 Photograph above: Here we see the Ocean Dock at Southampton in 1923, and there are four great legends of the sea in port. From left to right we see the "White Star" liners, R.M.S. Homeric seen pulling away as she is departing, the R.M.S. Olympic see bow on. Then from "Cunard Line" we see the R.M.S. Aquitania with the R.M.S. Berengaria berthed aft of her.
However late in 1924, there was a new restriction passed by the United States regarding immigration and this caused the number of Third Class passenger numbers to decline significantly. From an average of 26,000 Third-Class passengers transported by the "Aquitania" each year during the early 1920's, but the figure fell to just around 8,200 Third-Class passengers in 1925. Therefore it was decided that the number of the crew would be reduced to around 850 from the original 1,200. Suddenly Third Class was no longer the key to the profitability of the liner, and therefore Cunard was forced to adapt. Therefore, Third Class was updated and it became "Tourist Class, which offered an upgraded service, but at a low price.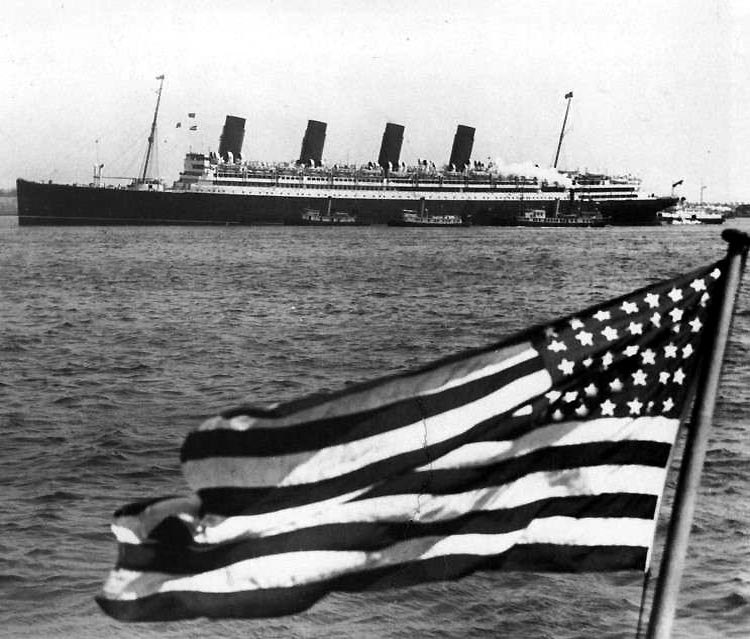 The "Aquitania" is seen in New York in 1926
In 1926, the ship underwent a major overhaul, which reduced the passenger capacity from around 3,300 to around 2,200. During further annual winter refits in 1927, 1928 and 1933 her accommodations were continuously updated and even a theatre/cinema was installed during her 1936 winter refit.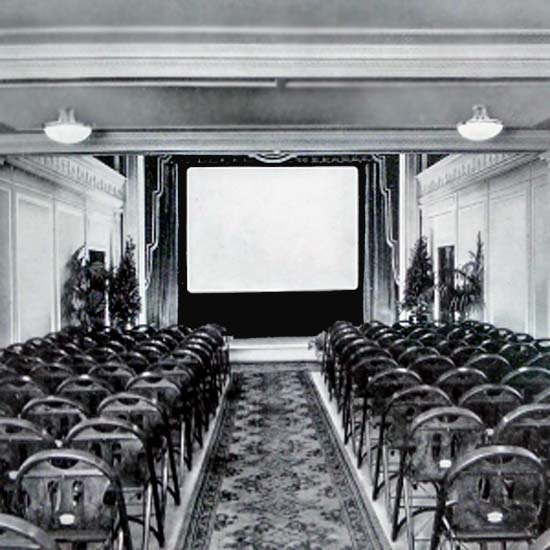 The new theatre, cinema installed on the "Aquitania" in 1936
The Stock Market Crash of 1929:
Following the stock market crash of 1929, many ships were affected by the economic downturn and reduced traffic. "Aquitania" found herself in a tough position.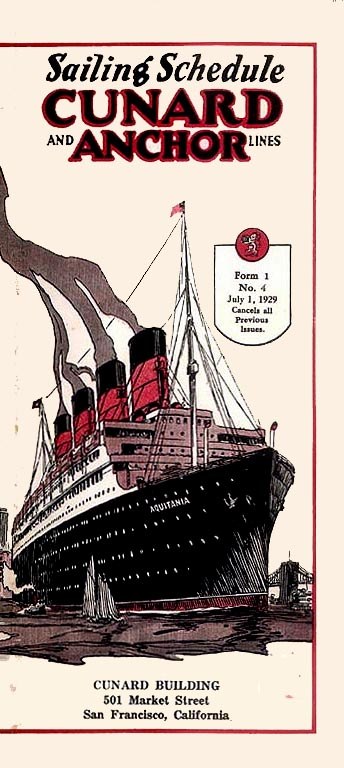 A 1929 Cunard Time Table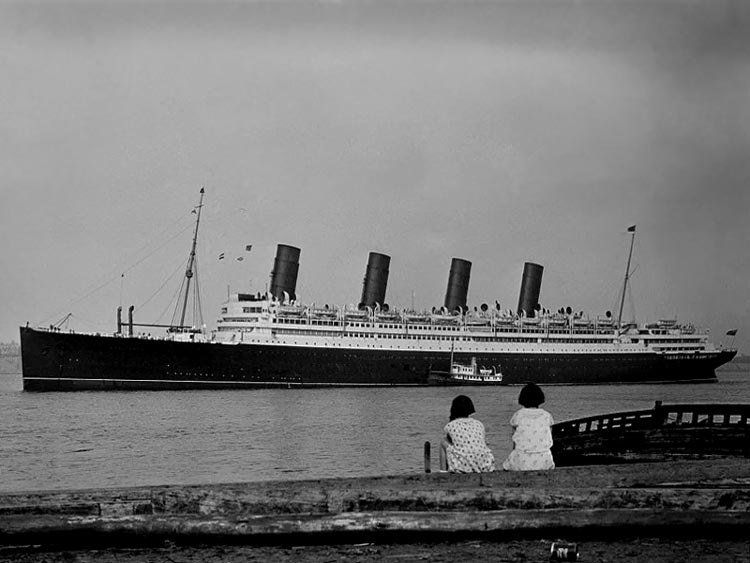 "Aquitania" is seen in July 1930 whilst the pilot is leaving the ship in the Narrows between Brooklyn and Staten Island
During a voyage in May 1931, President Franklin D. Roosevelt, his son Elliott Roosevelt sailed on the R.M.S. Aquitania and on the photograph below they are seen together with the Captain out on deck on May 11, 1931.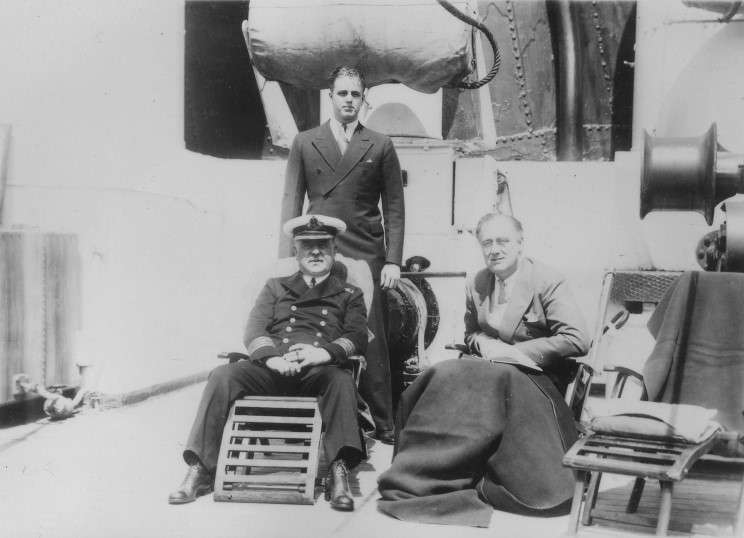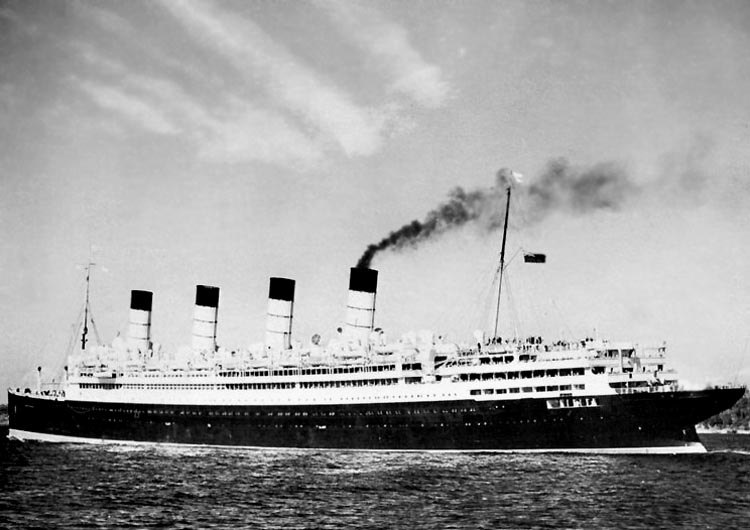 The R.M.S. Aquitania is seen on the Atlantic in May 1931
In November 1931, during one of her voyages she encountered a massive storm, which saw her crash through the waves and even a number of portholes were lost during the wild weather.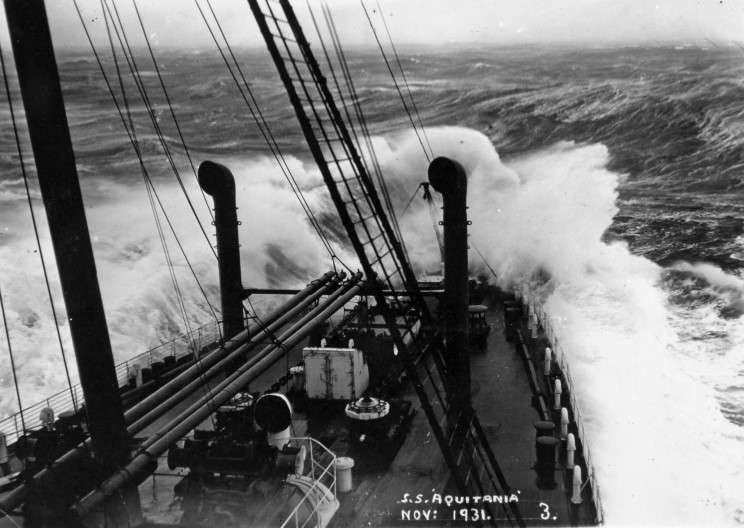 "Aquitania's" bow is seen crashing through the wild sea during a storm
Only a few could afford the costly passage on her, thus in 1932 Cunard decided to send the "Aquitania" on a well priced luxury Cruises. She would depart New York on February 3, and crossed the Atlantic and sailed around the Mediterranean.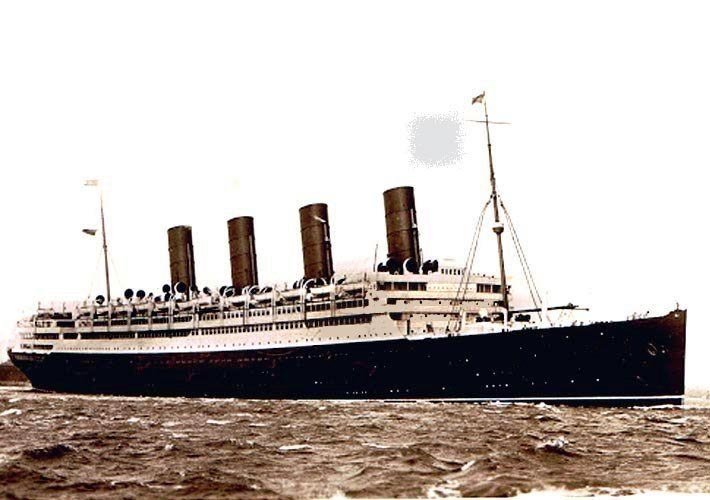 The "Aquitania" is seen during her first Mediterranean cruise in February 1932
These proved to be successful, especially for Americans who decided to head off on what was their "booze cruise", for American's were sick and tired of their country's 'prohibition'.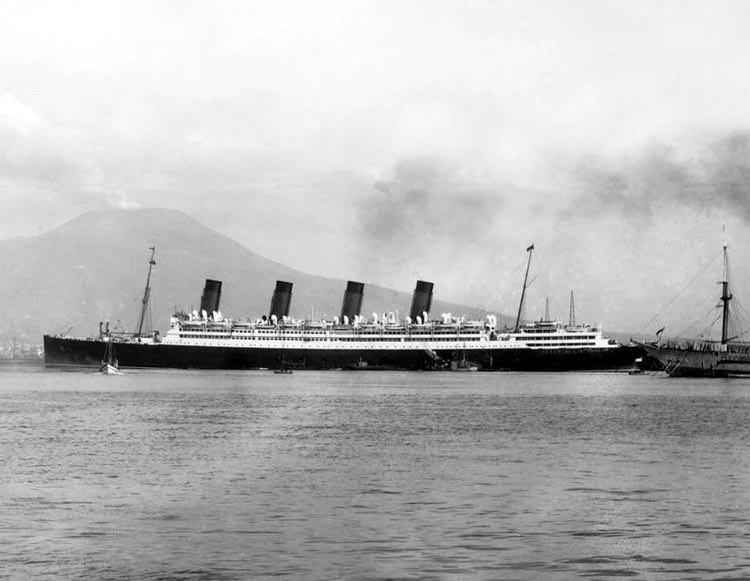 The "Aquitania" is seen here during a cruise arriving at Naples Italy
There were further cruises on this service, but also other cruises to an ever popular destination being sunny Bermuda, and these were operated during the northern winter months.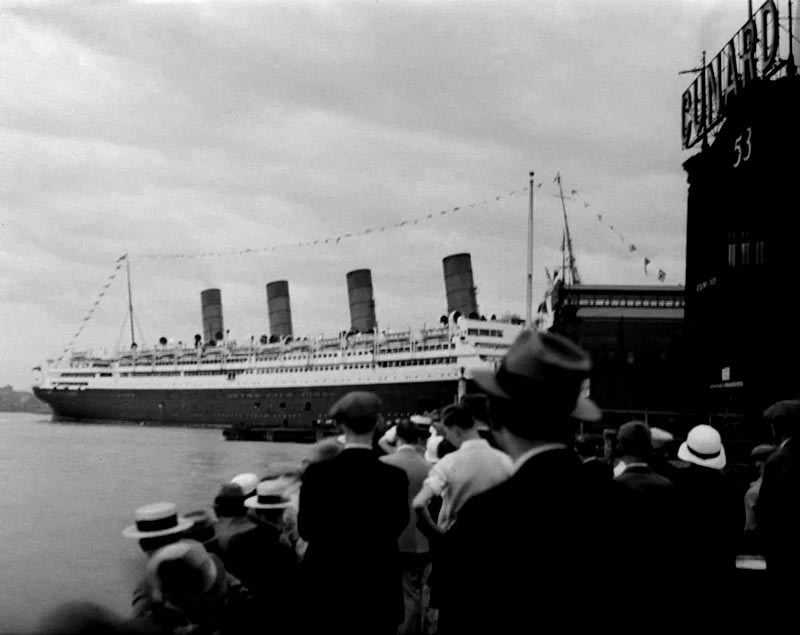 With Pier 54 in New York having been closed, the Aquitania was the first to berth at the reopened pier in July, 1933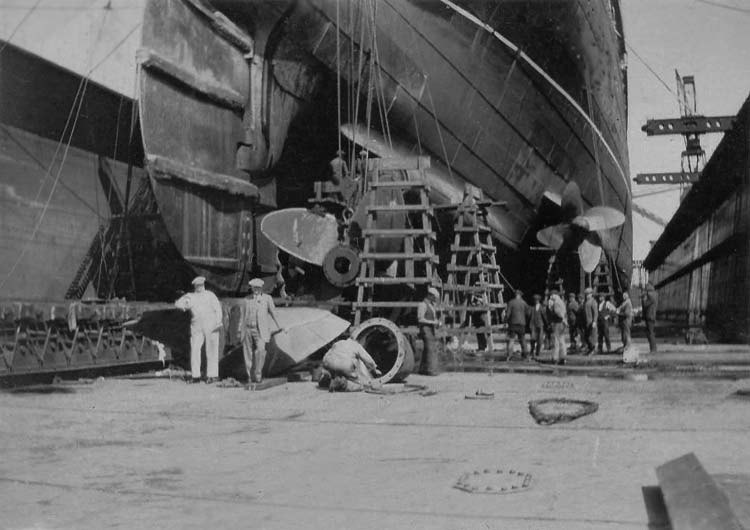 Aquitania is shown in the floating dry dock at Southampton in May, 1930
The ship was having a new propeller installed to replace a damaged one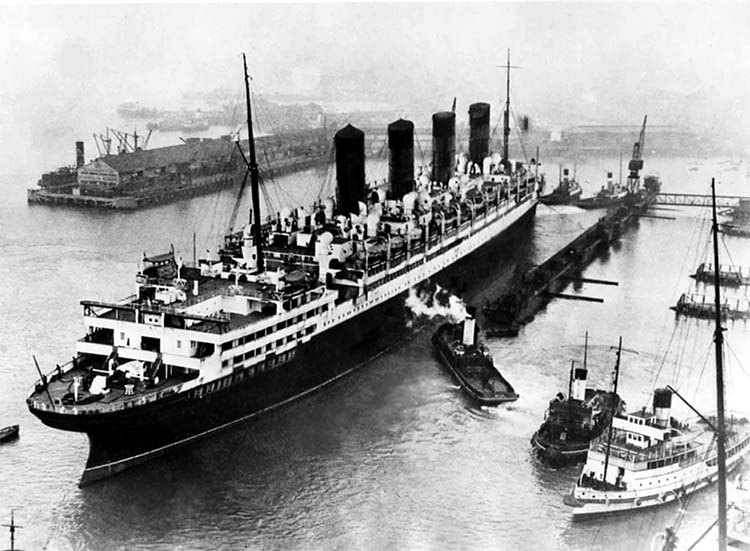 "Aquitania" is seen the Southampton's floating dock on December 17, 1933 undergoing her annual overhaul
Note her funnels having been capped
On January 24, 1934, the "Aquitania" ran aground whilst she was still on the Solent River, but thankfully she was refloated later that day.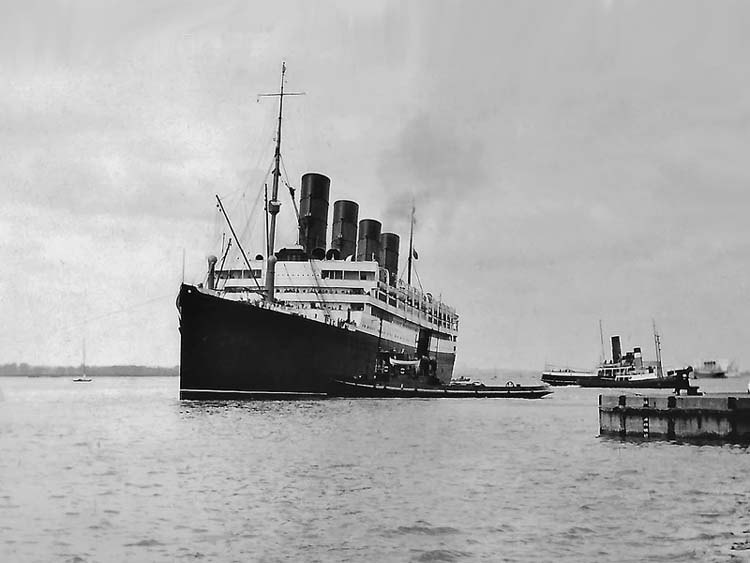 Above The "Aquitania" sails from Southampton in 1934, following Cunard's merger with White Star on May 10, 1934. Both house flags now fly from her aft mast. The R.M.S. Olympic can be seen berthed in the background.
Below we see the R.M.S. Olympic arriving in New York in August 1934, and the "Aquitania" is at her berth. These two ships will soon be the very last two four-stackers left in service on the North Atlantic, because their running mate the 1906 built R.M.S. Mauretania was taken out of service in September 1934.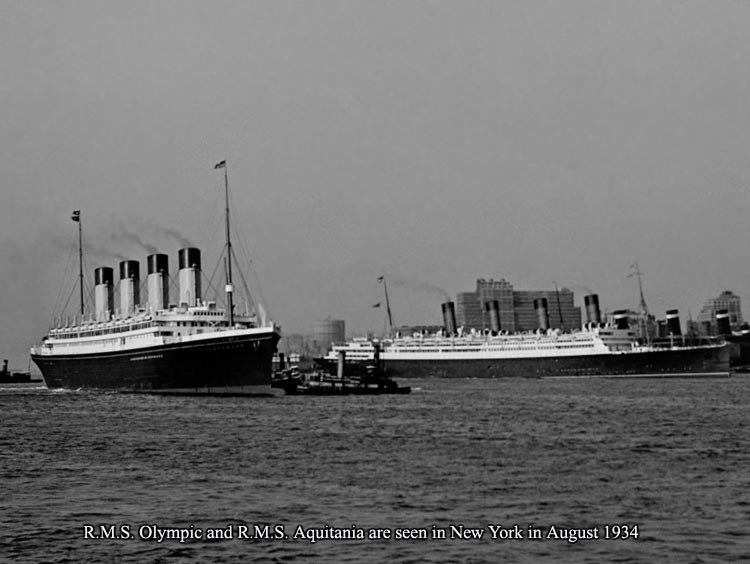 Cunard-White Star Line: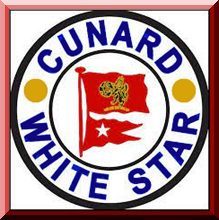 For financial reasons "Cunard Line" and the "White Star Line" merged on May 10, 1934, to forming the "Cunard-White Star Line". It was understood that the company planned to retire the "Aquitania" when the new R.M.S. Queen Elizabeth would enter service in 1940. But in the meantime the R.M.S. Aquitania continued to operate sailing from Southampton to the United States, in addition when WW2 commenced, the "Aquitania" would sail on for a further 10 years.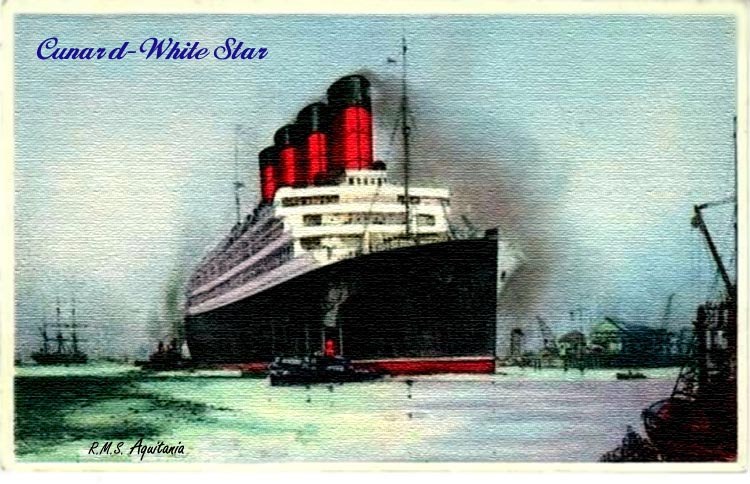 A new Cunard-White Star Line postcard of the "Aquitania"
However due to the merger, the older ships, such as the "Mauretania" and the long serving "Olympic" and the "Homeric" were laid up for five months and were then sold and headed to the breakers later in 1934. But thankfully due to her excellent speed the "Aquitania" remained in service even though she was 21 years old.
Although numbers of passengers on all ships including the "Aquitania" had declined, she transported 13,000 passengers in 1934 compared to 30,000 most years prior. The ship, however, remained popular and she remained one of the busiest liner's during the early 1930s.
The public continued to love the "Aquitania" and she was Cunard's most popular ship, be it for her Trans-Atlantic services or her popular luxury cruises.
But once more on April 10, 1935, the "Aquitania" went aground on "Thorne Knoll" in the Solent near Southampton, but this time she was hard and fast and she remained stuck in the same position for 26 long and costly hours.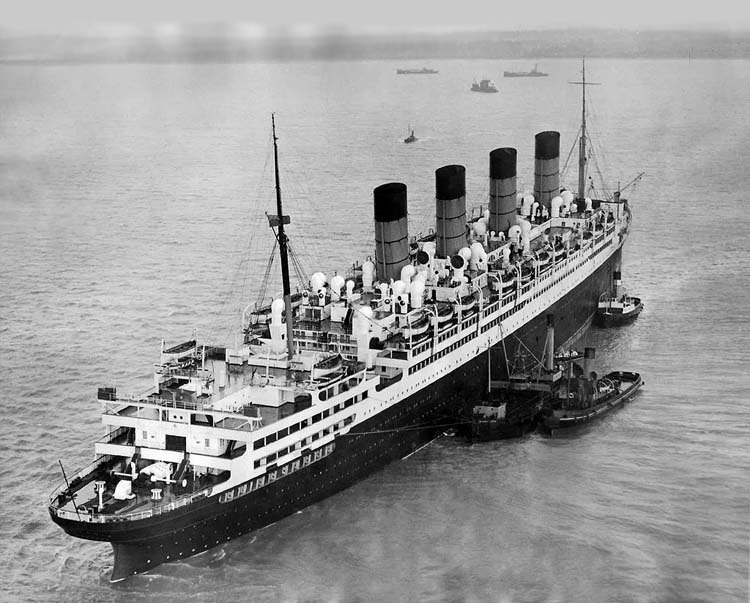 The "Aquitania is seen stuck on "Thorne Knoll" with the first tugs assisting on April 11, 1935
Some eleven tugs during the next high tide she was pulled off and was free again. Although her hull had rested fast on the bottom, that had been a huge strain for the ship, but thankfully the "Aquitania" came out of this event almost unscathed. She was back in service very quickly thereafter.
When Cunard's magnificent new liner the R.M.S. Queen Mary entered service in 1936, the company decided that it needed the "Aquitania" to obtain a maximum speed of at least 24 knots to make her a suitable running mate for "Queen Mary" and she certainly had no trouble in obtaining that speed. Thus from 1936, 24 knot Trans-Atlantic passages had become the norm!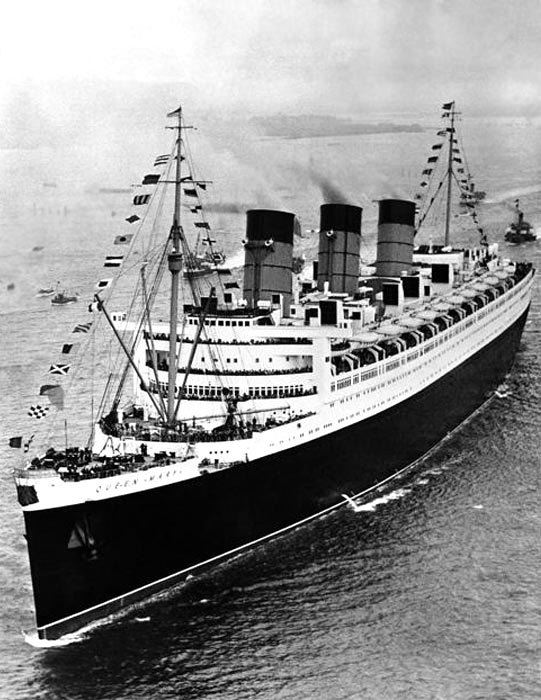 R.M.S. Queen Mary is seen departing Southampton on her maiden voyage on May 27, 1936
In 1939 saw an even greater increase of the wealthy passengers onboard R.M.S. Aquitania, even though she was then already 26 years old.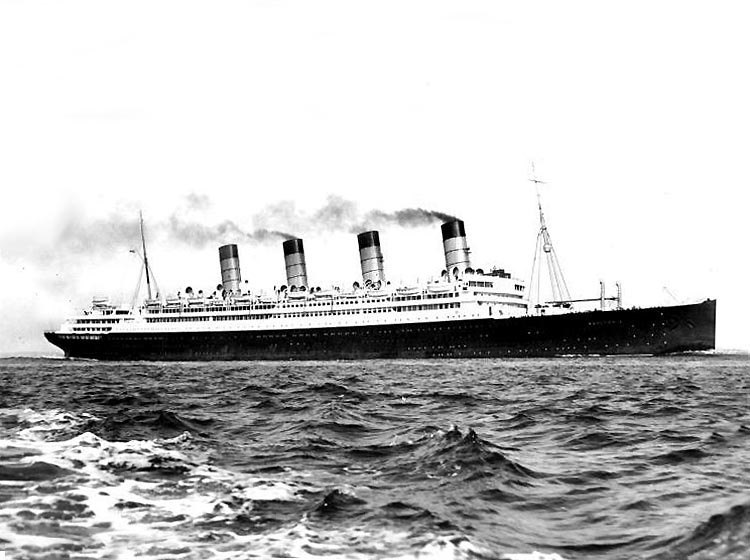 The R.M.S. Aquitania is seen on the Atlantic in 1937 sailing at a good 24 knots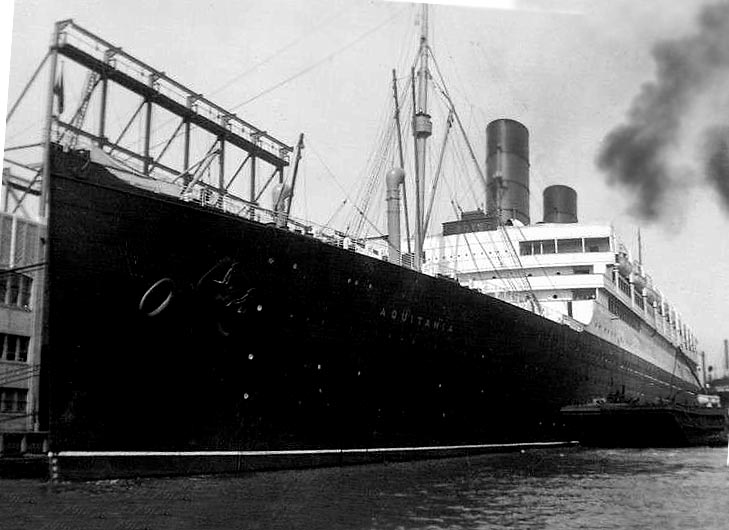 R.M.S. Aquitania is seen at Southampton in the late 1930's
Note on the 2 photographs above that her Bridge has had a slight change and the window section had been painted brown
However, when the new R.M.S. Queen Elizabeth entered service as a troopship in February 1940, all the newspapers speculated that "The Aquitania will surely be sold and be broken up this year". But they were very wrong, for her overall performance continued to satisfy the company and thus the R.M.S. Aquitania would sail on for quite some time yet.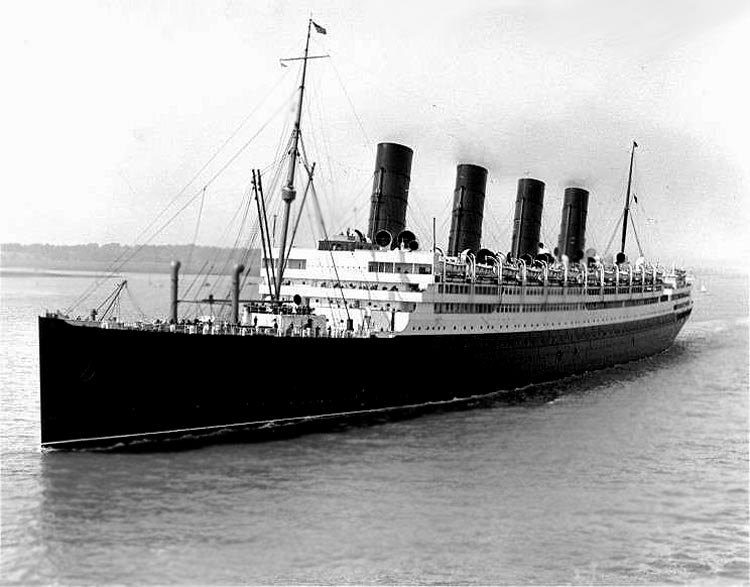 Departing for New York on August 23, 1939
On August 23, 1939, R.M.S. Aquitania departed on her very last peacetime voyage from Southampton to New York where she arrived on the 29th. Once her passengers had left the ship she and other liners remained there as it was expected that a war was about to break out.
*************************
World War Two:
On September 1, 1939, Adolf Hitler's army had suddenly marched into Poland, he had declared war, and this commenced World War Two.
During September of 1939, New York harbour had a highly selected group of great Ocean Liners at berth, as at pier 88 were the French Liner "Īle de France" as well as the grandest liner of the times, the "Normandie", whilst berthed at pier 90 were the "Queen Mary" and the "Aquitania", whilst at pier 92 was the Italian liner "Rex".
All those plans to replace the "Aquitania" with the new "Queen Elizabeth" in 1940, was completely changed due to the outbreak of World War Two.
Below, on September 16, 1939, the "Aquitania" having had her superstructure, funnels and masts repainted in a grey camouflage, she is seen arriving in New York to an awaiting media, who had come out to meet her on a press boat.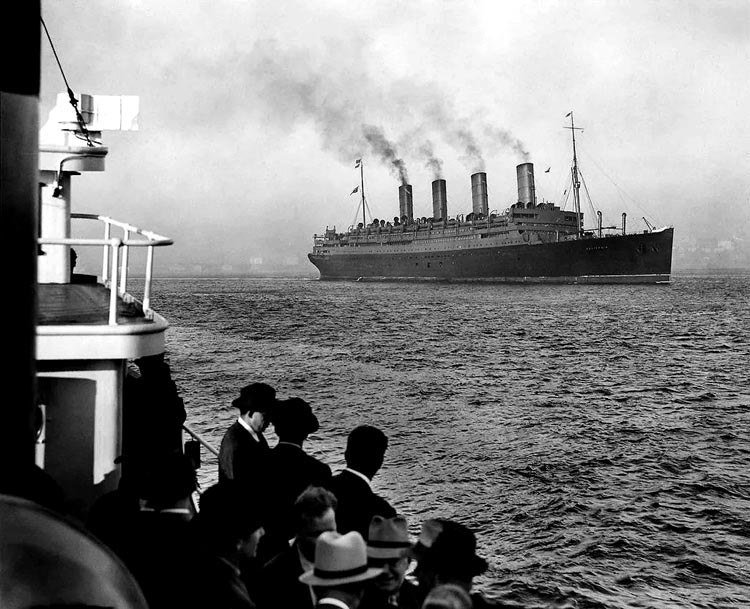 Having arrived in New York, her captain had been awaiting for her to be called up for war duties and soon enough the call came and she returned to Southampton, where she was immediately requisitioned on November 21, 1939, by the Admiralty for use as a troopship with a capacity of over 7,000 troops.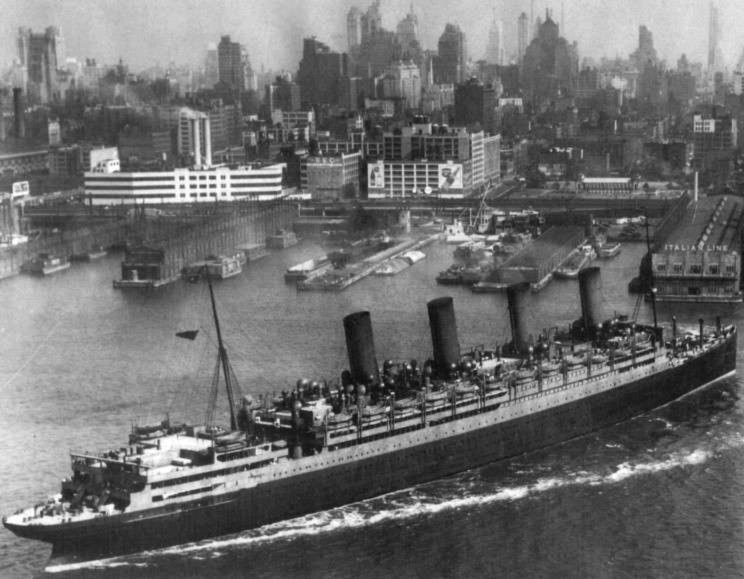 The "Aquitania" seen departing New York in November 1939
Although she had been painted in a dull grey camouflage this image does not show it well
The "Aquitania" was originally designed to be able to carry some 7,400 soldiers, etc, after her luxury fittings had been removed and was rapidly painted in that dull war grey camouflage. "Aquitania" was among a select group of large, fast liners converted into troop ships that were capable of sailing independently without an escort transporting large numbers of troops that were assigned worldwide as required. Sadly, these ships were frequently termed as "Monsters" being due to their large size. But London requested, or better still "demanded" that the term be dropped and it certainly was.
The "Aquitania", "Queen Mary", "Queen Elizabeth", "Mauretania" (II), "Īle de France" and what is regarded as the most beautiful ship ever built the S.S. Nieuw Amsterdam as well as some slightly smaller ships, yet being liners capable of sailing independently with a large troop capacity that accounted for much of the troop capacity and deployment, especially during the early days of the war.
In December 1939, the now repainted battleship grey H.H.S. Aquitania headed for Canada as there she would be collecting Canadian troops and take them to Scotland.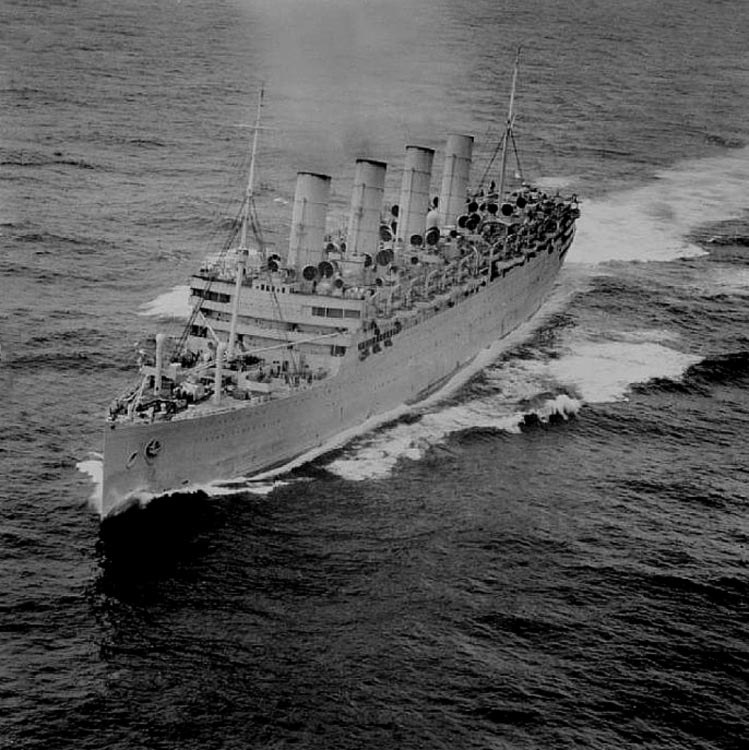 H.M.T. Aquitania is seen here in her war grey livery at sea, bound for Canada
Thus her initial troop transport operation was taking American and Canadian troops to Scotland, and she sailed in Convoy TC1 in company with "Empress of Britain", "Empress of Australia", "Duchess of Bedford", "Monarch of Bermuda", HMS Hood, HMS Warspite, HMS Barham, HMS Resolution, HMS Repulse, HMS Furious, in December 1939.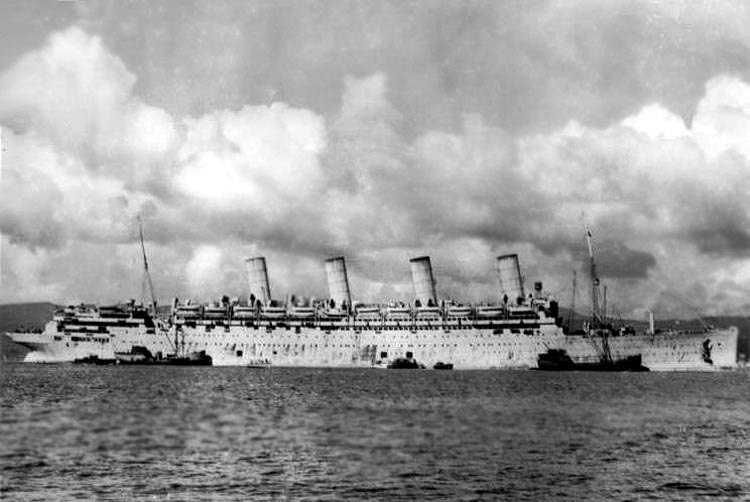 H.M.T. Aquitania at anchor in Scotland and is disembarking US and Canadian troops per tender's
Meanwhile, a massive transport of Australian and New Zealand troops to Suez and North Africa, with possible diversion to the United Kingdom if events required, was in planning with the numbered convoys to be designated as "US" with the large Atlantic liners assigned a role.
The fast convoy designated as US.3 was composed of Aquitania and the liners Queen Mary, Mauretania, Empress of Britain, Empress of Canada, Empress of Japan and Andes. Aquitania, Empress of Britain and Empress of Japan, after embarking New Zealand troops at Wellington in May, sailed escorted by HMAS Canberra, HMAS Australia, and HMNZS Leander to join the Australian component off Sydney on 5 May 1940.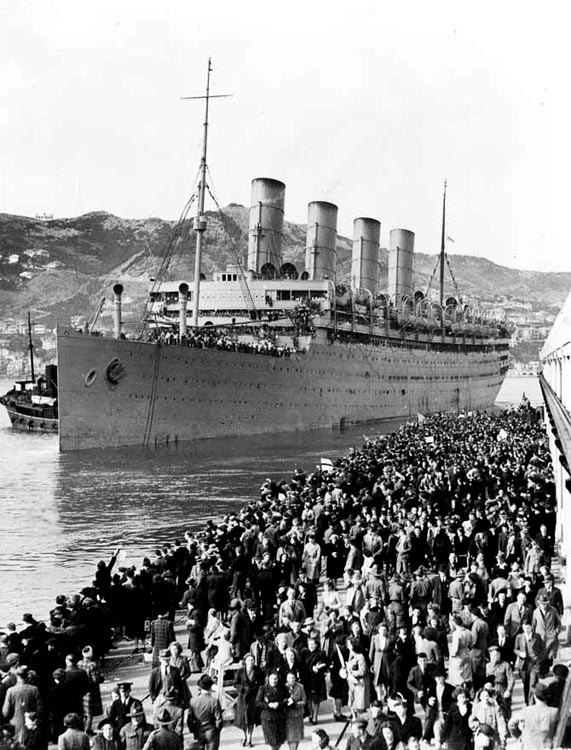 H.M.T. Aquitania departs Wellington New Zealand on May 5, 1940
She was joined off Sydney Heads by the "Queen Mary" and the "Mauretania" and the convoy sailed the same day to be joined by the "Empress of Canada" from Melbourne and then a stop was made at Fremantle (port of Perth) from 10 to 12 May, 1940, before the voyage intended to be for Colombo. About midway to Colombo, on 15 May, the convoy was rerouted due to the rapid German penetrations into France with the ultimate destination of Gourock, Scotland sailing via Cape Town, South Africa and Freetown, Sierra Leone where the escort was strengthened by various ships including the aircraft carriers HMS Hermes and HMS Argus and the battle cruiser HMS Hood. The convoy arrived in the Clyde and anchored off Gourock on 16 June 1940.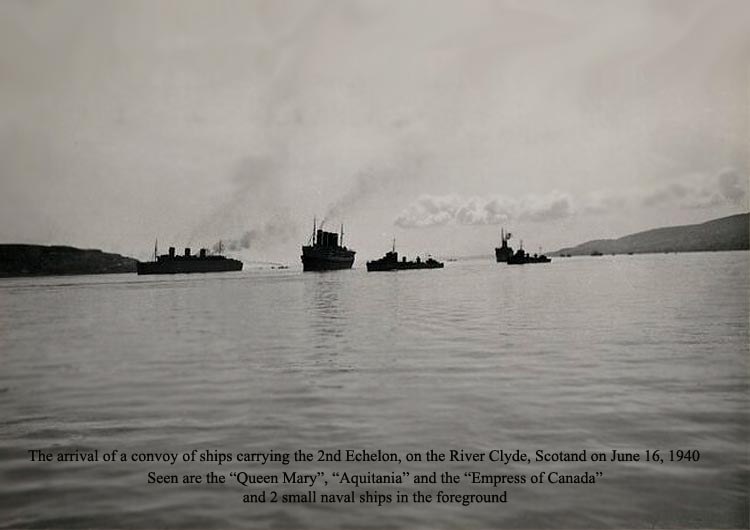 The Tragic Loss of the H.M.A.S. Sydney:
In November 1941 H.M.T. Aquitania was at the British colony of Singapore, and she sailed from there on November 19, to take part indirectly in the tragic loss of the Australian cruiser H.M.A.S. Sydney.
H.M.A.S. Sydney had engaged in battle with the German 8,736 GRT, auxiliary cruiser the "Kormoran" (HSK-8). There has been unsubstantiated speculation that the "Kormoran" was actually expecting the "Aquitania", after German spies in Singapore had notified the ship's crew of the liner's departure and was heading their way, and that the "Aquitania" planned to ambush her in the Indian Ocean west of Perth.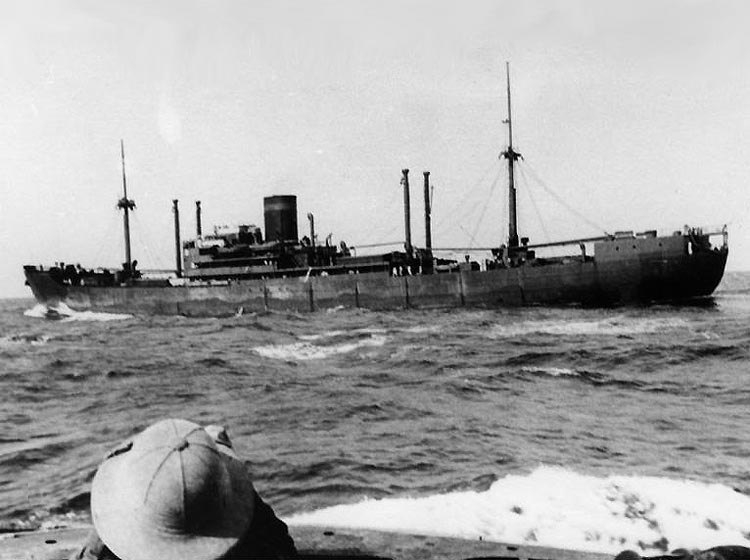 She may look innocent, but she was a very dangerous heavily armed, auxiliary cruiser "Kormoran" (HSK-8)
But instead the "Kormoran" happened to encounter the H.M.A.S. Sydney on November 19, 1941. Both ships were lost after a fierce battle.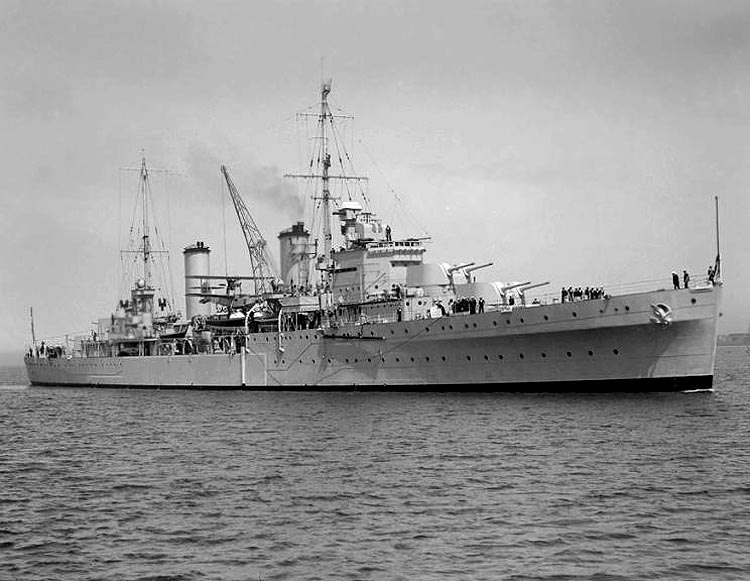 The Australian cruiser H.M.A.S. Sydney was sunk during a fierce battle on November 19
Tragically all hands on board were lost, the German auxiliary cruiser "Kormoran" also sunk
On the morning of November 24, whilst the "Aquitania" was heading for the port of Sydney from Singapore, she spotted and picked up twenty-six survivors of the German ship, but she maintained radio silence and did not pass word until she was in visual range of Wilson's Promontory on November 27. The captain had gone against orders not to stop for survivors of sinking's. Tragically there were no survivors from H.M.A.S. Sydney.
Japanese enter the war in the Pacific:
December saw the outbreak of war in the Pacific, then Japanese advances throughout Southeast Asia and they were attempting to head for Australia, necessitating the redeployment of defensive forces. On December 28, 1941, the "Aquitania" and two smaller troop ships departed Sydney with 4,150 Australian troops and 10,000 tons of equipment bound for Port Moresby, New Guinea. The H.M.T. Aquitania returned to Sydney on January 8, 1942.
The next effort was reinforcement of Singapore and the Netherlands East Indies with Aquitania transporting Australian troops (whose equipment was in Convoy MS.1) as the single ship MS.2 convoy, under escort of HMAS Canberra. Originally, "Aquitania" was to head for Singapore, but the danger from aircraft to such a valuable troop ship and with so many troops on board caused a change of plans. Thus the "Aquitania" departed Sydney on January 10, sailing via Fremantle arriving on January 15, 1942 and she anchored at Gauge Roads in the port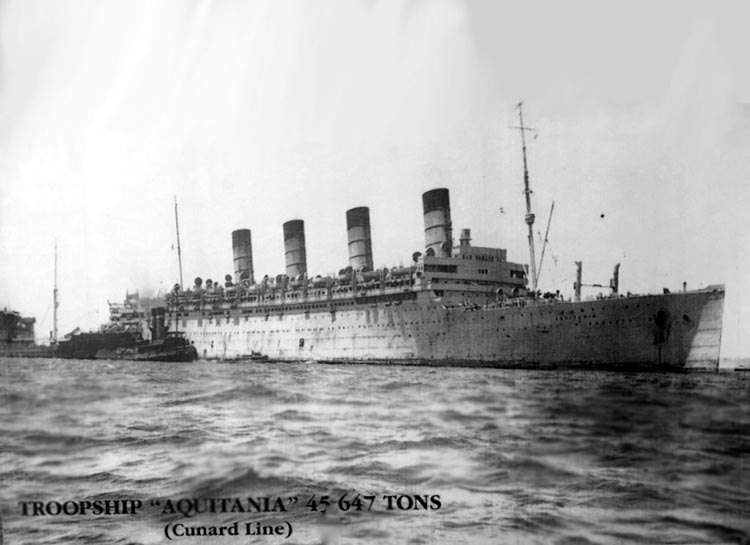 Aquitania is seen at Fremantle on January 15, 1942
She departed after a very short stay, and onboard was the 8th Division's 2/4th Machine Gun Battalion, who thought that they were heading for the Middle East, but no they were heading to Singapore. The "Aquitania" arrived in Ratai Bay at the Sunda Strait on January 20 (Sunda Strait is a strait between the Indonesian islands of Java and Sumatra) where the 3,456 personnel as well as some Navy, Air Force and civilians were transhipped under a covering of naval force to seven smaller vessels (six of these being Dutch K.P.M. ships) that would take them to Singapore in convoy MS.2A. After all had disembarked, the "Aquitania" returned to Sydney arriving on January 31.
With the United States having entered the war, Aquitania (then with a troop capacity of 4,500) had been scheduled for troop transport duties from the United States to Australia in February, but required repairs delayed that, mostly due to her deep draft, which would have been hazardous in some Australian as well as intermediate ports at Pacific Islands. Thus she spent March and April 1942 transporting troops from the west coast of the U.S. to Hawaii. Then she was temporarily transferred from Pacific duties to support the movement of troops from the United States to the United Kingdom, sailing from New York on April 30, in a large convoy that transported at total of 19,000 troops. On May 12, 1942 the "Aquitania" loaded troops at Gourock, Scotland, who were heading for the war in the Middle East, she departed in convoy WS19P on June 1. However with slow destroyers and heavy weather; on June 7, the "Aquitania broke away from the convoy and sailed independently, due to her far greater speed with designation she was now listed as 'WS19Q'. The first port of call was Freetown in West Africa where she arrived on June 11, and she spent 48 hours there. Next was Simonstown, South Africa, where she arrived on June 20 and stayed for 3 days, then it was to Diego Suarez, Madagascar, where she arrived on June 30 and remained for 48 hours. She then headed for Steamer Point, Aden arriving on July 3, and remained there for 24 hours. Then she arrived at her destination Port Tewfik, Egypt, on July 8, 1942, and all troops disembarked there. H.M.T. Aquitania's return voyage was via Diego Suarez, Cape Town, Freetown and then back to Boston, Massachusetts, USA where she would enter a Boston Naval Ship Yard in September 1942 for some modifications and an increase of troop numbers.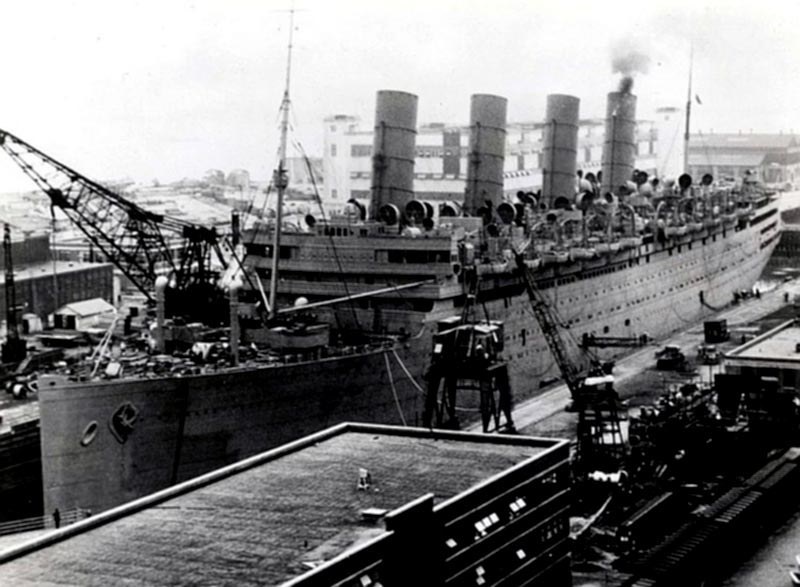 "Aquitania" is seen here in the Boston Naval ship yard
Thank you Don Reynolds (New York - US) for your assistance and photographs
After her Boston overhaul, by the end of September the "Aquitania" would be engaged in what was known as a "Triangular Troop Deployment' sailing from the United States, as well as the United Kingdom and the Indian Ocean regions.
As part of a major redeployment of Australian troops had come from North Africa to the defence of Australia and joined the offensive operations in the South-west of the Pacific. The armed merchant cruiser H.M.S. Queen of Bermuda transported the Australian 9th Division to Sydney in Operation Pamphlet during January and February 1943.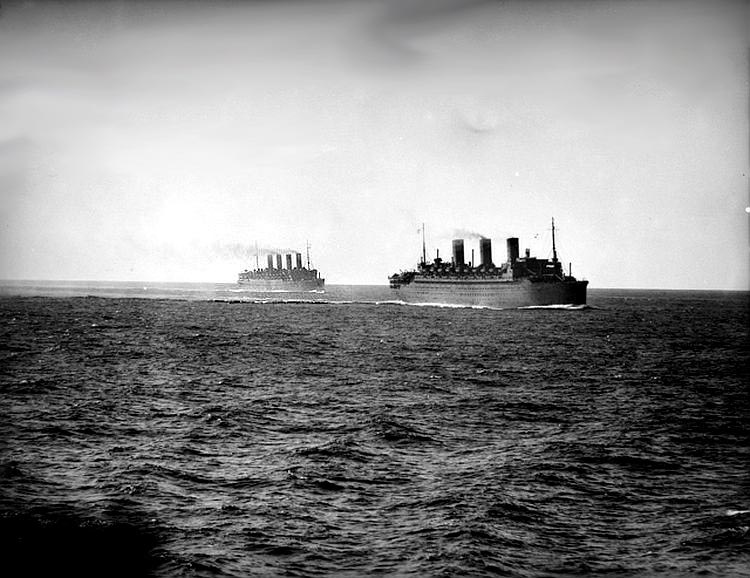 Here we see the Aquitania (aft) and the Īle de France during "Operation Pamphlet" early in 1943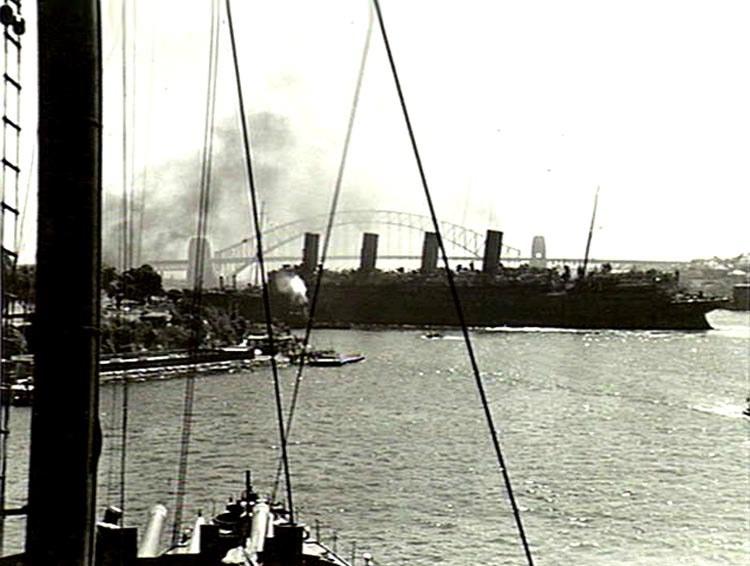 H.M.T. Aquitania is seen arriving in Sydney on February 27, 1943 at the conclusion of "Operation Pamphlet"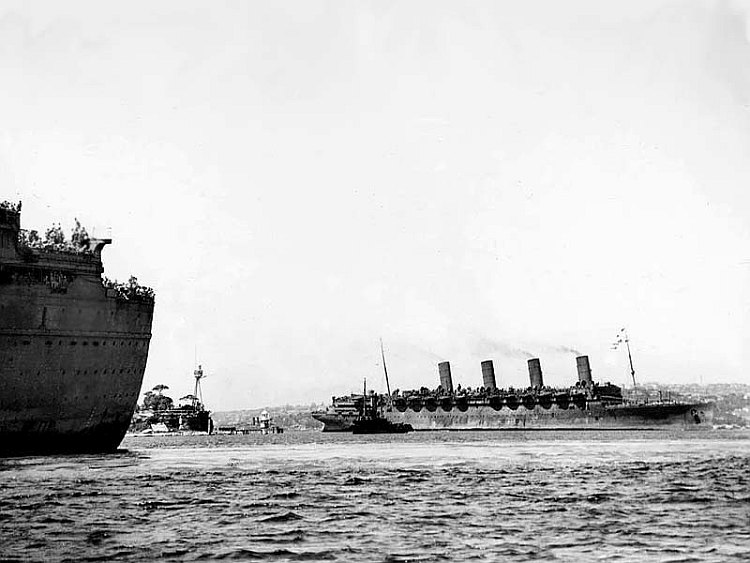 Another photo of the Aquitania arriving in Sydney on February 27, 1943, with the stern
In view of the "Queen Mary" which was known during the war as the "Grey Ghost"
With the invasion of Europe in 1944, troop deployments to Britain depended heavily on the H.M.T. Aquitania Together with the other large troop ships, and no allowance could be made for interrupting their service for any other transport requirements.
There was an embarkation in New York of the "Special Navy Advance Group 56" (SNAG 56), and they were to become "Navy Base Hospital Number 12" at the Royal Victoria Hospital at Netley in England, a hospital that would receive countless casualties from Normandy. H.M.T. Aquitania departed New York on the morning of January 29, 1944 with some 1,000 Navy as well as 7,000 Army personnel and she headed for and arrived at Gourock, Scotland on February 5, 1944.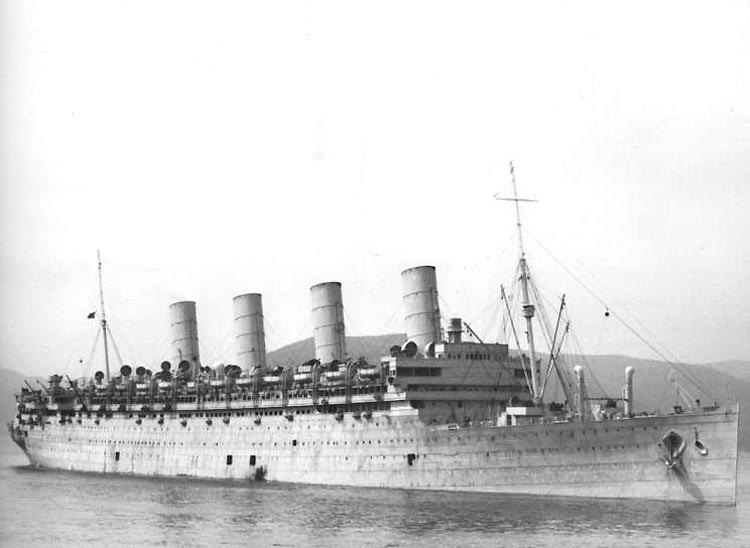 H.M.T. Aquitania arrives in Scotland on February 5, 1944
Below we see the "Aquitania" in a photo taken from the air, and she is seen berthed at Sydney's Woolloomooloo wharf in December, 1945. The other ships that are seen are on the left the aircraft carrier H.M.S. Implacable, the "Aquitania" is in the center, in addition there is a large battleship seen on the far right slightly in the background.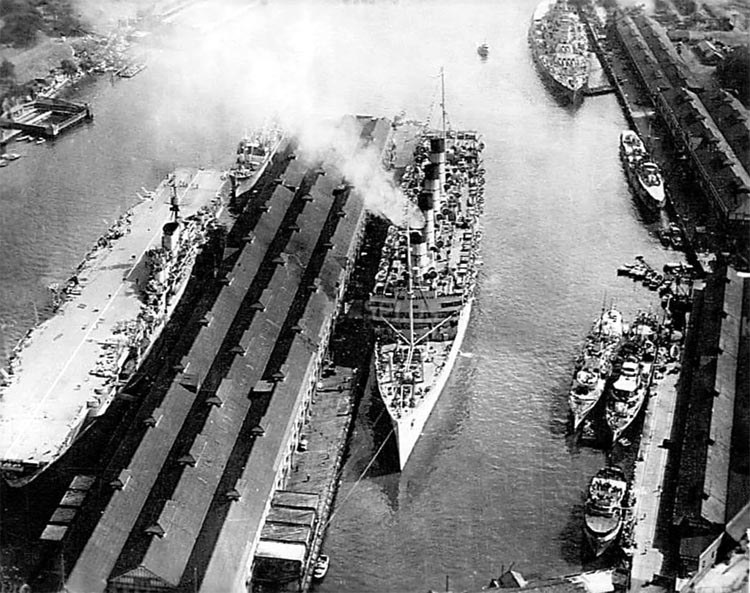 World War Two was very busy for the H.M.T. Aquitania and she remained in mostly trooping service until 1948, and with eight long years of military work, the "Aquitania" had sailed over 500,000 miles, and she had carried close to 400,000 troops and officers, as well as medical staff, to and from places as far afield as Australia, New Zealand, the South Pacific, Africa (Middle East) Greece and of course places around the Indian Ocean.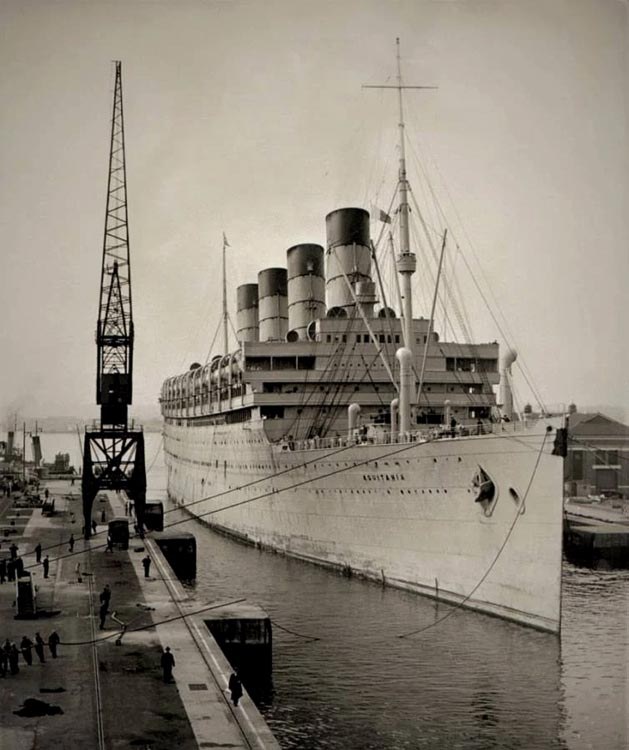 The "Aquitania" is seen entering the King George V dry dock at Southampton in July, 1946.
*************************
Post War and ships fate:
After completing her official trooper duties "Aquitania" was handed back to Cunard-White Star in 1948. She underwent a refit for passenger service. She was then chartered by the Canadian Government for her to be used to transport war brides and their children to Canada.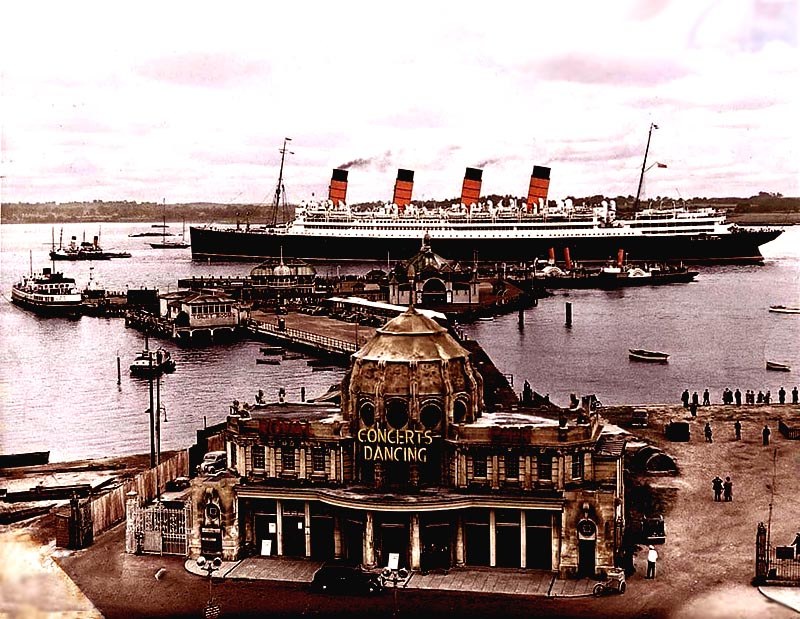 The voyage was more like a luxury cruise for those on board, as they were all pampered and their children were so well taken care off and superbly fed.
This final Canadian service created a special fondness for Aquitania in Halifax being the port of disembarkation for these special voyages.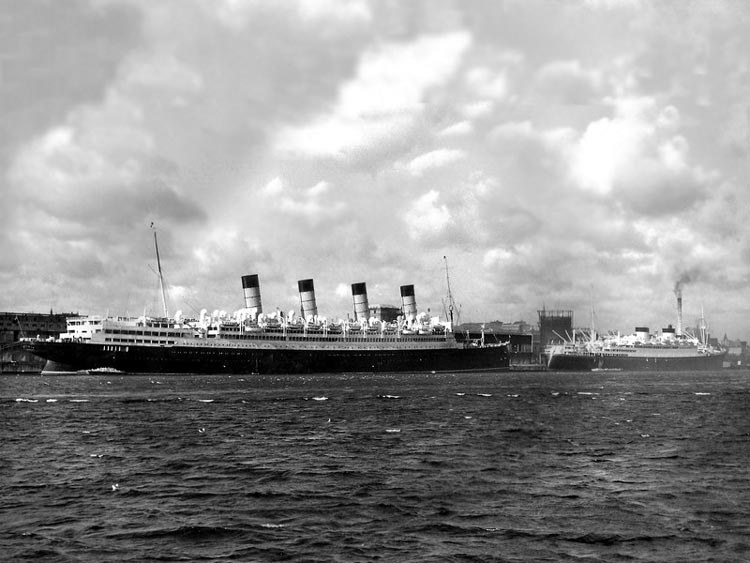 R.M.S. Aquitania seen berthed at Halifax with the R.M.S. Britannic ahead of her, this was during the summer of 1949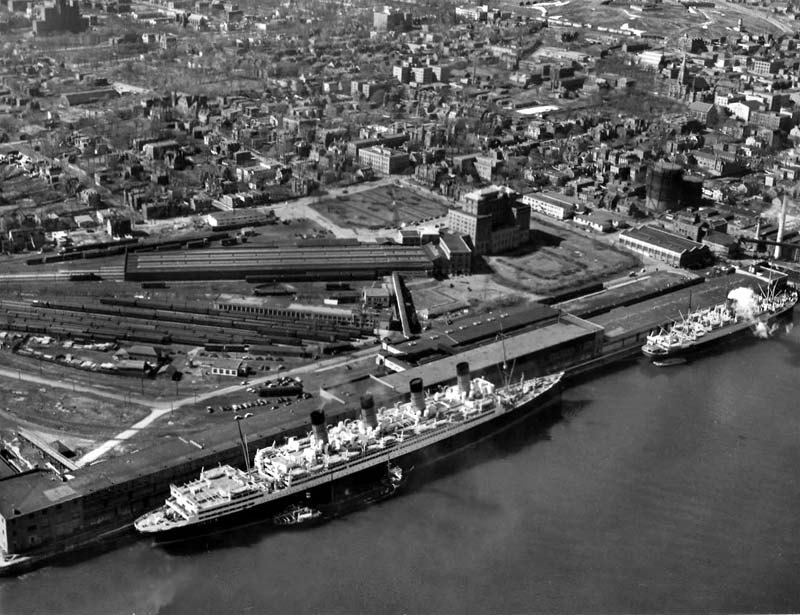 Two fine Cunard liners, the grandiose "Aquitania" and the more intimate "Ascania" are seen together in Halifax during the summer of 1949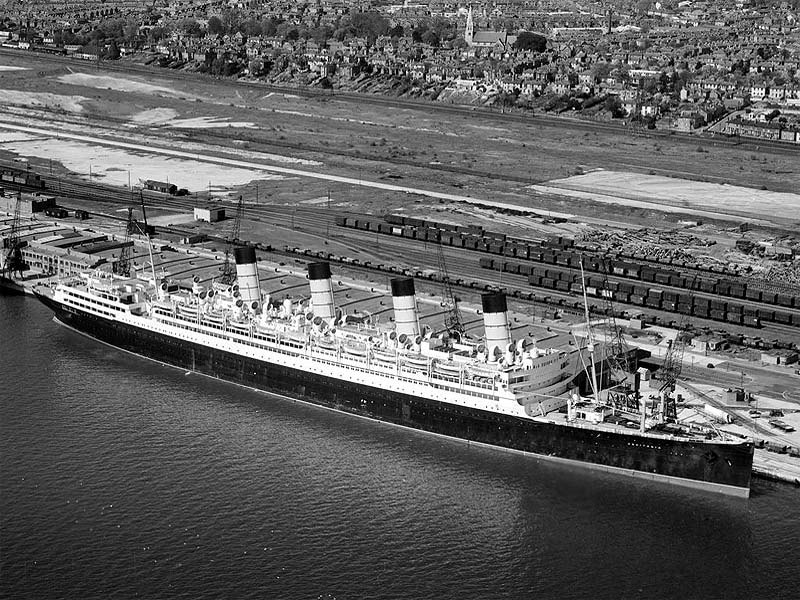 The "Aquitania" is seen at Southampton whilst she was berthed at the Western Docks in September 1949
With "Aquitania's" Canadian voyages having been completed in December 1949, the Cunard-White Star Lines' name had been changed in 1942, to just the - "Cunard Line".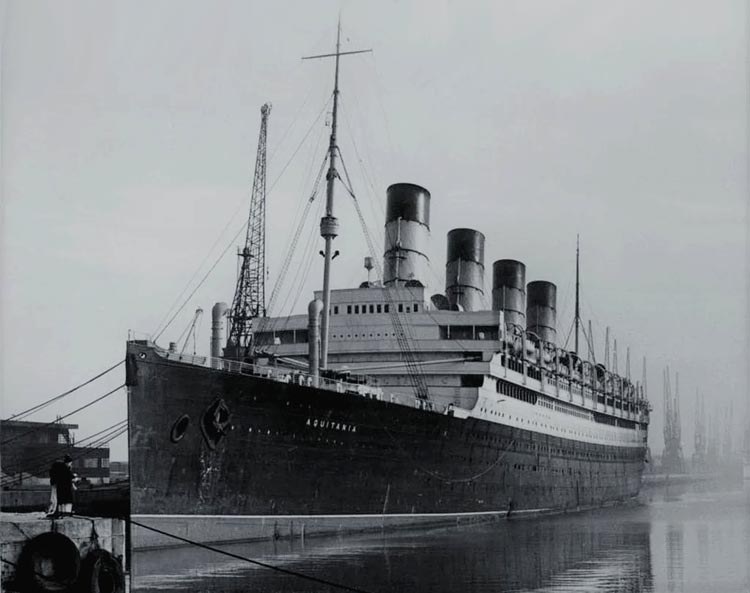 Above we see the R.M.S. Aquitania at Southampton's berth 108, early in December 1949, and she had just returned from her final Trans-Atlantic voyage. On December 1, Cunard had announced that she would be officially withdrawn from service on December 14.
The reason for the decision to take the "Aquitania" out of service was due to the ship's "Board of Trade" refused to renew her certificate, due to the poor condition of the ship. Sadly the "Aquitania had deteriorated rather badly, and it would have been far too expensive to bring this old liner up to the current high safety standards, namely the fire code regulations. But she was now in a bad shape, for her open decks were leaking water into her interiors whenever it was bad rainy weather, the bulkheads and her funnels were so badly corroded that someone managed to stick their finger right through them. And then, even a piano had fallen through the roof of a dining room from the deck above and believe it or not, that happened during a corporate luncheon being held on board at that time, but thankfully no-one was hurt. Thus all this signalled the end of the once magnificent and luxurious R.M.S. Aquitania's operational life.
It was tragic that the Company had regained their much loved ship and had given her a refit in 1948, to her return to commercial services, but at least no other large liner had ever served this long under a single ownership.
It is remarkable, but the "Aquitania" was the only major passenger liner, as well as being the largest commercial ship to serve in both, yes two World Wars. In addition she was also the very last of the four-stacker's (funnelled) passenger liner to be broken up.
In Conclusion:
Thus, when in December 1949 the "Aquitania" was sadly found to be unfit for further commercial service, this great ship was retired from service at the end of 1949 and she was sold several months later to be broken up.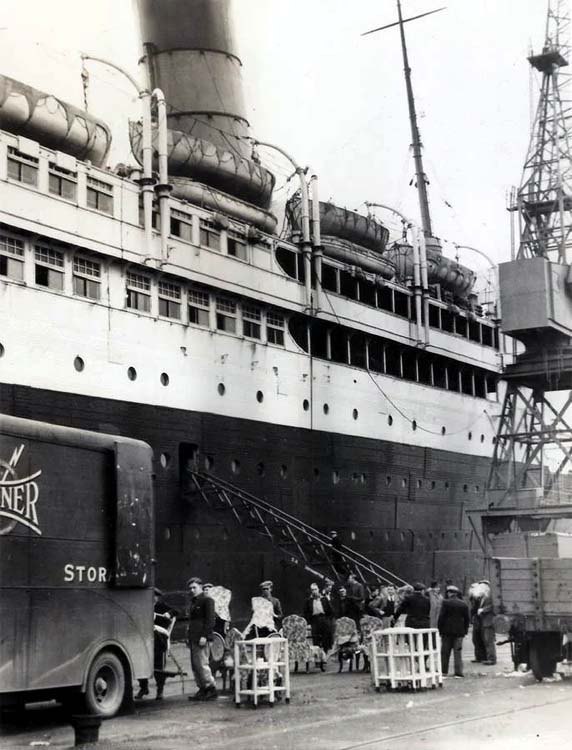 Above we see the crew of the "Aquitania" seen removing the furnishings on the dockside from the old liner on January 8, 1950. Vans would transport her furniture and fittings to a shed on Pier No 108, where it was all displayed in lots, ready for the auction that commenced in February.
She had been sold on February 13, 1950, to a ship breaker, the "British Iron & Steel Corporation" of Faslane, Scotland, for £125,000.
On February 18, 1950 the Cunard flag was officially hoisted down for the very last time and she was then officially transferred (signed over) to "British Iron & Steel Corp".
The "Aquitania" departed Southampton on February 19, 1950, with Captain R.G.B. Woollatt in command and she headed for Faslane, Scotland.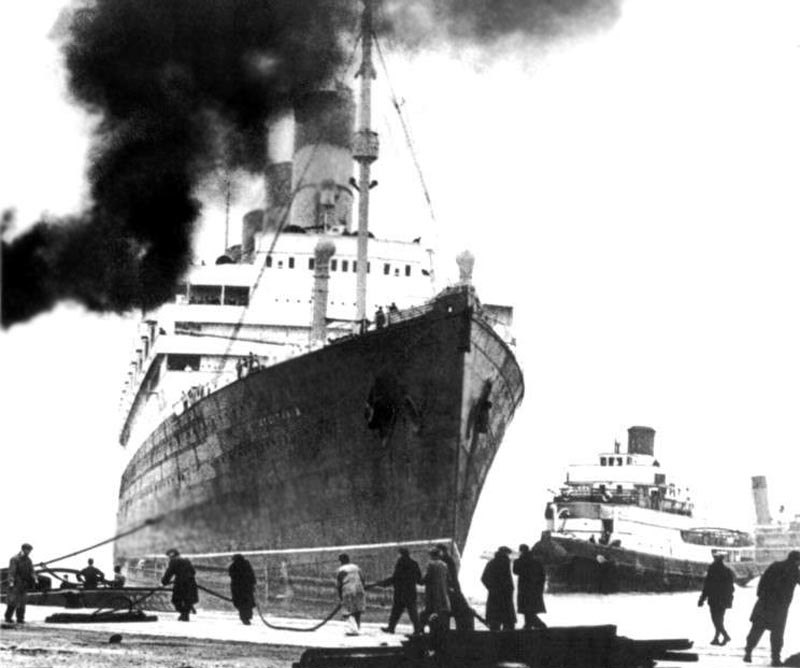 Above we see her departing Southampton on February 19, 1950, for her very last voyage ever, to the breakers yard at Faslane.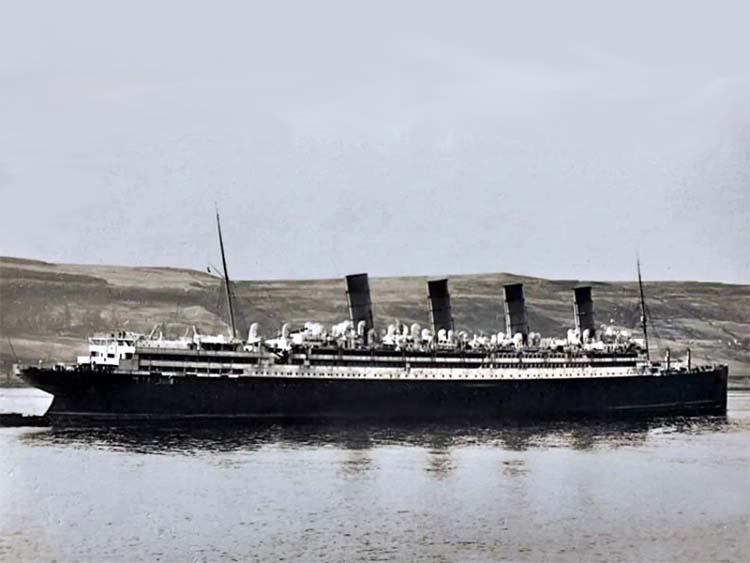 "Aquitania" is seen arriving at Faslane on February 21, 1950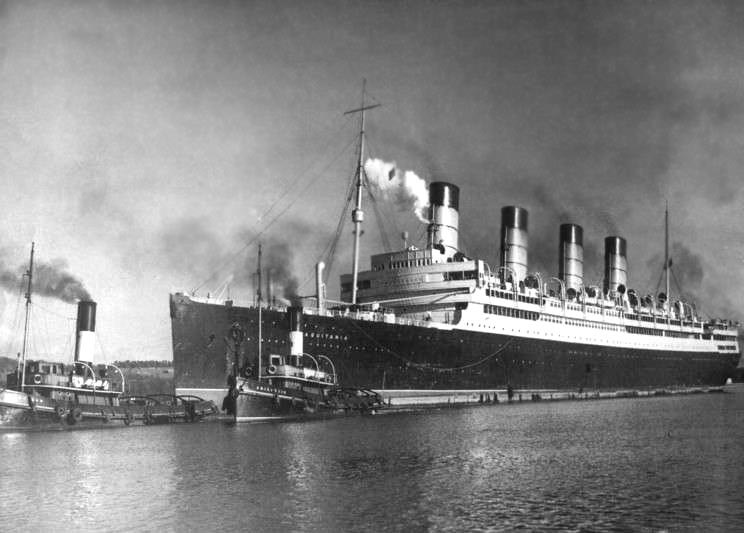 The "Aquitania" is now arrives at the "British Iron & Steel Corp" yard on February 21
Due to her being such a well constructed ship, dismantling this big liner took close to a year to complete, and it was a very slow process. Below we can see her being dismantled at the stern, and a stern section is flying in the air as it has just been thrown over the side, and it seems that someone has cut out the last letter of her name the "A". But then on October 12, 1950, during the breaking up, she was suddenly swept by fire, which was extinguished, and breaking her up continued.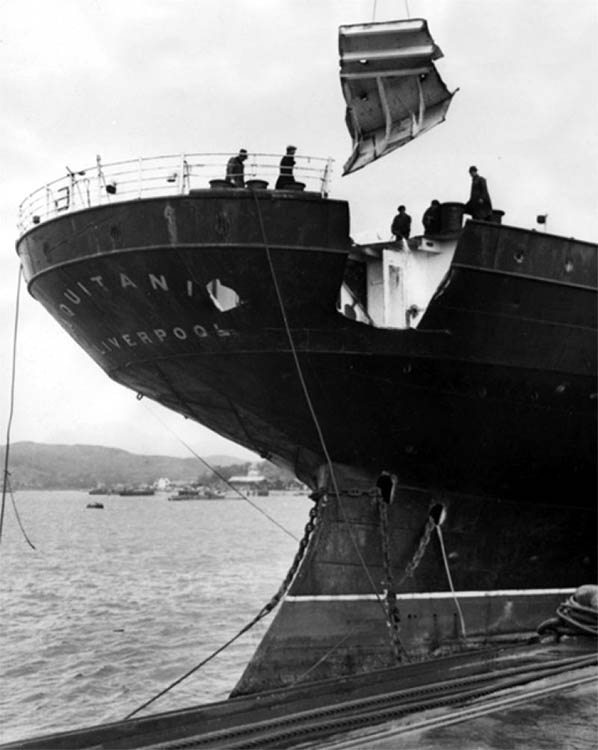 Thus the illustrious career of this great liner had sadly come to an end, but the "Aquitania" was a record breaker, for she did steam more than 3 million miles, with 450 return voyages. The "Aquitania" carried an amazing 1.2 million passengers through her busy career at sea that now spanned almost 36 years, making her the longest-serving "Express Liner" of the 20th century.
But, her record was overtaken six years later by the R.M.S. Scythia who served for 37 years. Then in 2008 Aquitania's service record was pushed to the third place, when the "Queen Elizabeth 2" became the longest serving Cunard ship ever, having served for 40 years.
As I stated earlier, she became a much loved and admired ship by the Canadian's, and thus her 'Ship's Wheel' and a fine large scale model of the "Aquitania" is located at the "Cunard Exhibit" in the "Maritime Museum of the Atlantic", Halifax, Nova Scotia, Canada - their museum images (thank you) are seen below.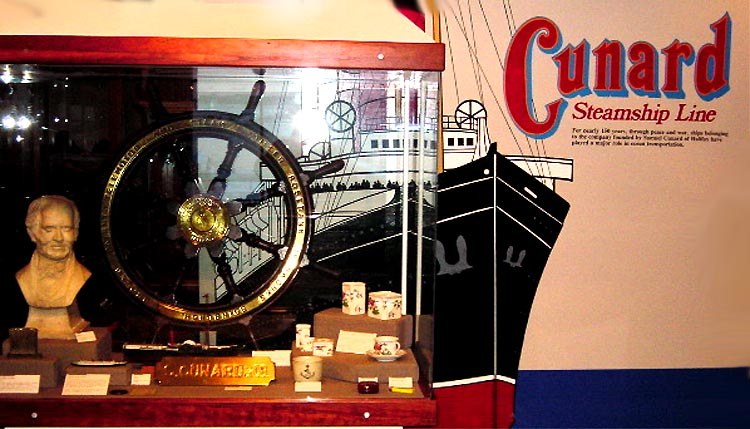 *************************
Remembering the Grandiose & Luxurious …
R.M.S.
Aquitania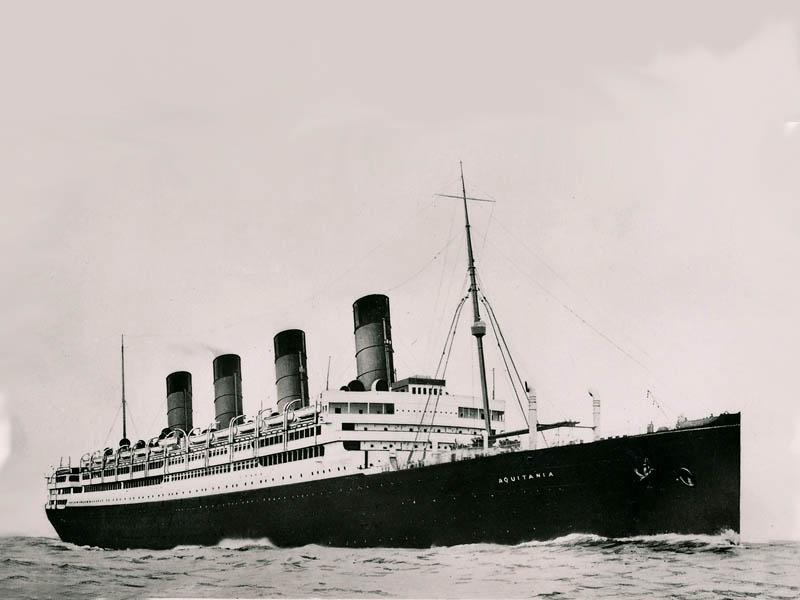 A view of R.M.S. Aquitania just after her 1920 refit
R.M.S. Aquitania's Index:
Page One … (this Page).
From Concept, Construction, Interior & exterior Photo Album,
her Maiden Voyage and pre WW1 services.
Aquitania WW1, Civil service & WW2, with her final days.
Aquitania's Power Plant & more …
View a YouTube video on the Aquitania.
*************************
"Blue Water Liners sailing to the distant shores.
I watched them come, I watched them go and I watched them die."

Featuring over 1,365 Classic Passenger Liners, Passenger-Cargo Liners & Classic Cruise Ships!
Or ENTER HERE
For interest: Sadly an email service to ssMaritime is no longer available, due to the author's old age and chronic illness as well as being disabled, etc. In the past ssMaritime received well over 120 emails per day, but Goossens can no longer handle same. He sincerely regrets this!
*************************
ssMaritime.com & ssMaritime.net
Where the ships of the past make history & the 1914 built M.S. Doulos Story.
The Author has been in Passenger Shipping & the Cruise Industry for well over 60 years
In addition he was the founder of "Save the Classic Liners Campaign" in 1990.
Please Note: ssmaritime and associated sites are 100% non-commercial and the author seeks no funding or favours of any shape or form, never have and never will!
Photographs on ssmaritime and associate pages are by; the author or from the author's private collection. In addition there are some images that have been provided by Shipping Companies and private photographers or collectors. Credit is given to all contributors. However, there are some photographs provided to me without details regarding the photographer/owner concerned.
This notice covers all pages; although, and I have done my best to ensure that all photographs are duly credited and that this notice is displaced on each page, that is, when a page is updated!
ssMaritime is owned & © Copyright by Reuben Goossens - All Rights Reserved