MY Orion, USS Vixen, MS Orion, MS Argonaut, MV Regina Maris 1929 - 2004
Please Note: Firefox and some other search engines are not suitable – Use "Internet Explorer" for this page to load perfectly!

Click the logo above to reach the ssMaritime FrontPage for News Updates & "Ship of the Month"

With Reuben Goossens

Maritime Historian, Cruise'n'Ship Reviewer & Author

Please Note

: All ssMaritime and other related maritime/cruise sites are 100% non-commercial and privately owned. Be assured that I am NOT associated with any shipping or cruise companies or any travel/cruise agencies or any other organisations! Although the author has been in the passenger shipping industry since 1960, although is now retired but having completed over 700 Classic Liners and Cargo-Passengers Ships features I trust these will continue to provide classic ship enthusiasts the information the are seeking, but above all a great deal of pleasure!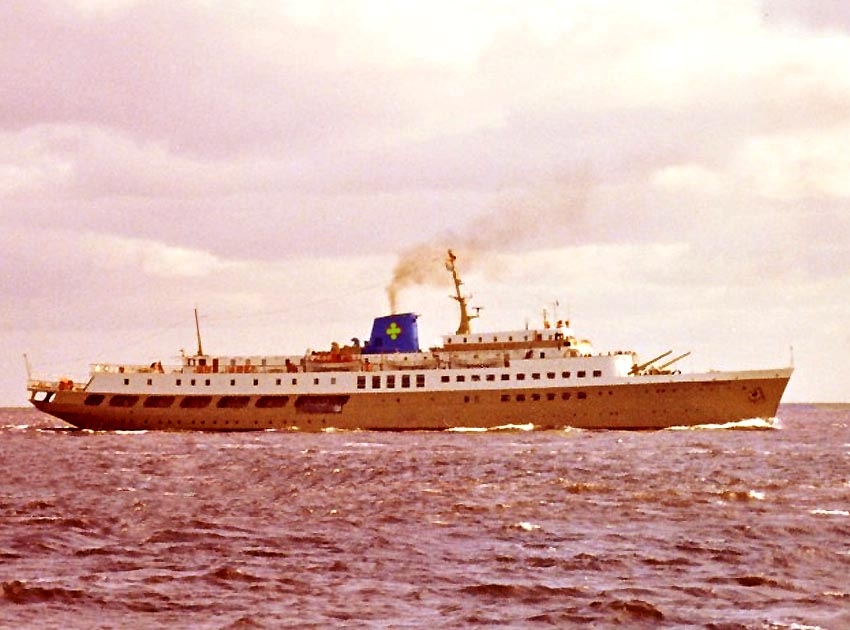 The ever Delightful MS Argonaut is seen at sea in her latter years with Epirotiki Cruises
Page Three B
MS
Argonaut Deck Plan
When I obtained this Deck Plan over the past week of uploading this, I was aware that it was an Epirotiki original plan and that it was printed on the one side and would have been originally have been inserted inside a brochure. Thus, it did not contain a print on it. However, as you will also note at the bottom left corner, it states the following: "The ARGONAUT …. meets the 1966 Fire and Safety Requirements … (and) holds a 1960 SOLAS certificate."
Considering the above, I would assume that this plan was printed after from when she had underwent her annual maintenance as well as some other compliance work done, and she also had two motor tenders fitted, replacing the open lifeboats one on each side of the ship in 1966-97.
Please Note: For a larger version of the Argonaut Deck Plan, just click on the image of the Plan below and a new page will open. If it reduces, just click on the new image and it will open in the full size!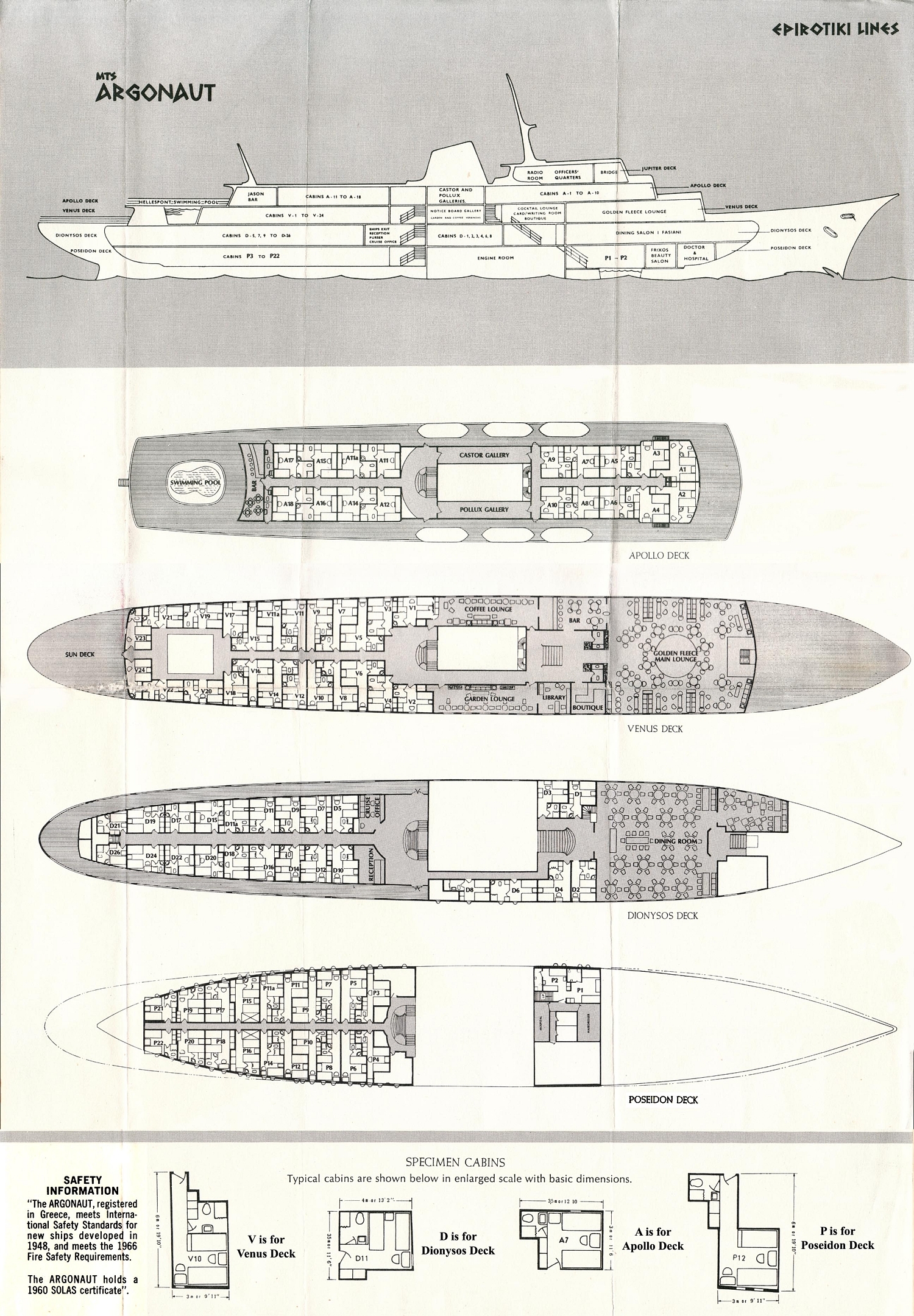 Epirotiki Index:                     
Page One …                              MV Semiramis the first ship!
Page One B …                           MV Semiramis Deck Plan.
Page Two …                              The Early Ships - SS Hermes, Atreus, Pegasus & Hermes II.
Page Three …                           MS Argonaut.
Page Three B …                        MS Argonaut Deck Plan.
Page Four …                             MTS Jason.
Page Four B …                          MTS Jason, later MS Ocean Odyssey - Deck Plans.
Page Five …                              MTS Orpheus II.
Page Six …                               MTS Apollon II.
Page Six B …                            MTS Orpheus II & Apollon II - Deck Plans.           "
 "Blue Water Liners sailing to the distant shores.
I watched them come, I watched them go and I watched them die."
****************************
Return to the ssMaritime Main INDEX
Where you will discover over 700 Classic Passenger & Passenger-Cargo Liners!
ssMaritime.com & ssMaritime.net
Where the ships of the past make history & the 1914 built MV Doulos Story
Please Note: ssmaritime and associated sites are 100% non-commercial and the author seeks no funding or favours of any shape or form, never have and never will!
Photographs on ssmaritime and associate pages are by the author or from the author's private collection. In addition there are some images that have been provided by Shipping Companies and private photographers or collectors. Credit is given to all contributors. However, there are some photographs provided to me without details regarding the photographer/owner concerned. I hereby invite if owners of these images would be so kind to make them-selves known to me (my email address may be found on www.ssmaritime.com only), in order that due credit may be given.
This notice covers all pages, although, and I have done my best to ensure that all photographs are duly credited and that this notice is displaced on each page, that is, when a page is updated!
ssMaritime is owned & © Copyright by Reuben Goossens - All Rights Reserved