MY Orion, USS Vixen, MS Orion, MS Argonaut, MV Regina Maris 1929 - 2004
Please Note:

Firefox

and some

iPad's

or

iPhone'

s

, etc

are not suitable
Use

Google Chrome

for this web page to load perfectly!

Click the logo above to reach the ssMaritime FrontPage for News Updates & "Ship of the Month"

With Reuben Goossens

Maritime Historian, Cruise'n'Ship Reviewer & Author

Please Note

: All ssMaritime and other related maritime/cruise sites are 100% non-commercial and privately owned. Be assured that I am NOT associated with any shipping or cruise companies or any travel/cruise agencies or any other organisations! Although the author has been in the passenger shipping industry since 1960, although is now retired but having completed over 700 Classic Liners and Cargo-Passengers Ships features I trust these will continue to provide classic ship enthusiasts the information the are seeking, but above all a great deal of pleasure!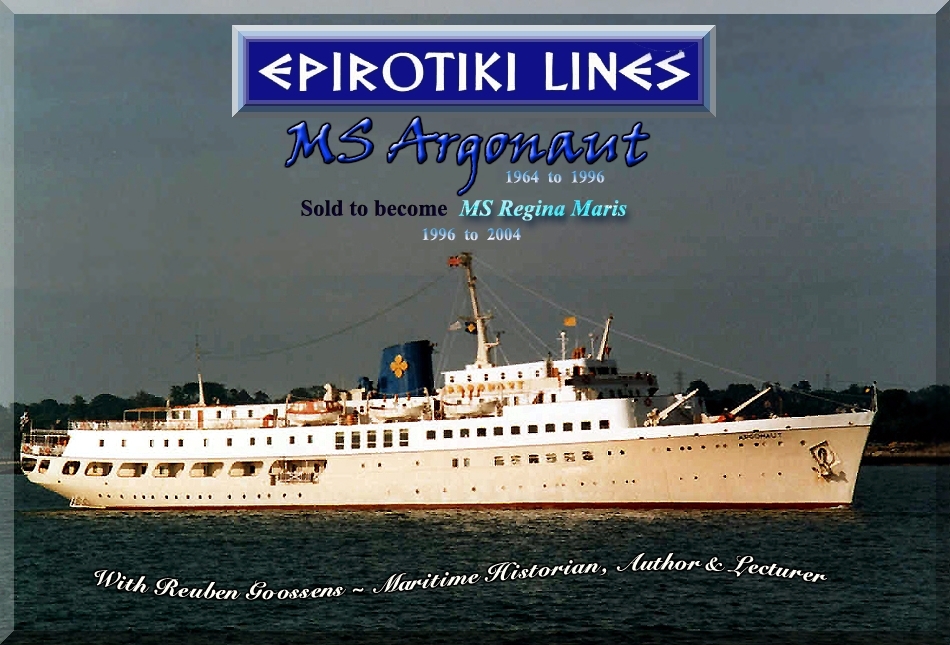 Page Three
The Story from the Worlds Largest & Most Expensive Private Yacht
a WW2 Gunboat, to an all First Class Luxury Cruise Ship
Please Note: Photographs & Illustrations on this page are from the author's private collection unless stated otherwise.
Introduction:
This is the story regarding an amazing small ship the super Private Motor Yacht, the MY Orion, which was built for the Billionaire German-American Wool Manufacturer Mr. Julius Forstmann who had a grand Mansion at 22 East 71st Street in New York City.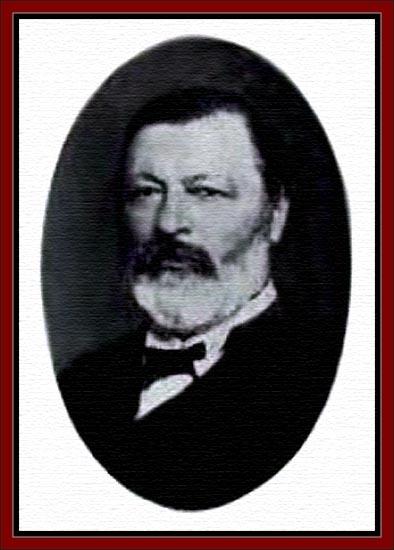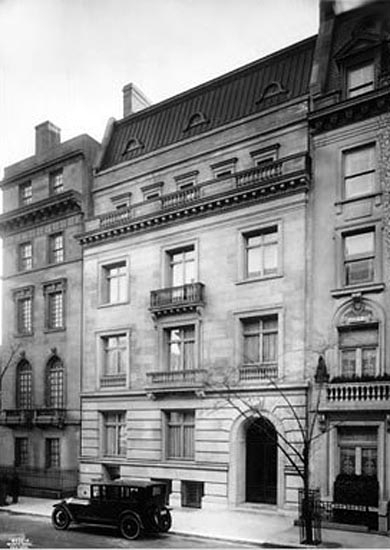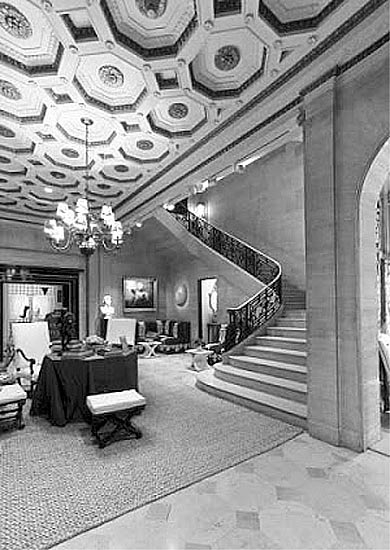 Above is a portrait of Forstmann and the facade of his Mansion as well as the impressive reception hall
Thus he decided that he would place an order for his super yacht to be built by one of the finest small ship builders in Germany, for he wished his yacht to be capable of grand world voyages!
MY Orion:
At the time of this yacht being built, she became rapidly famous, for she was known to be as the worlds largest and the most glamorous and luxurious private yachts ever to be built.
She was built by Krupp Germania Werft in Kiel Germany and every possible care was taken and the very finest fittings were installed, including the best possible engines, as she had two Krupp Diesel Engines that drove two screws at an excellent speed of 16.5 knots, but she cruised at 15 knots.
Named the MY "Orion," she was completed early in 1929. The yacht had four decks, being Bridge, Boat, Shelter and A Decks and these provided crew quarters as well as guest staterooms. Shelter Deck from the forward lobby below the Bridge, and heading aft were a number of lounges, commencing with the spacious Owners Lounge, followed by the Dinning Room and the Galley amidships. There was also a Library and a spacious guest Lounge that had a bar. This layout allowed Forstmann to retain his privacy when sailing with guests, as his quarters were located forward to amidships, and guests amidships to aft. Boat Deck offered ample deck space aft of a small Wintergarden. Thus she was much like a passenger ship in so many ways. Up on Bridge Deck was the Navigation Bridge and aft the Captain and his most senior officers quarters.

This is a model of the Motor Yacht Orion seen as built in 1929
Click the above image to reach the webpage
Amazingly, this was the very same time that there was a deepening financial crisis in the United States, but having taken delivery of his magnificent new yacht, Julius Forstmann decided to take his son Julius and depart on an around-the world cruise on the MS Orion in 1929, as Mr. Forstmann decided that this would be good for his son's education and thus he also brought a number of teachers with them.
They departed on November 5, 1929 on their extended world voyage sailing east bound. However, whilst at various ports Forstmann senior saw warehouses packed to the rafters with stock and he began to realise that this was a clear sign of an International glut in the market due to declining purchasing power.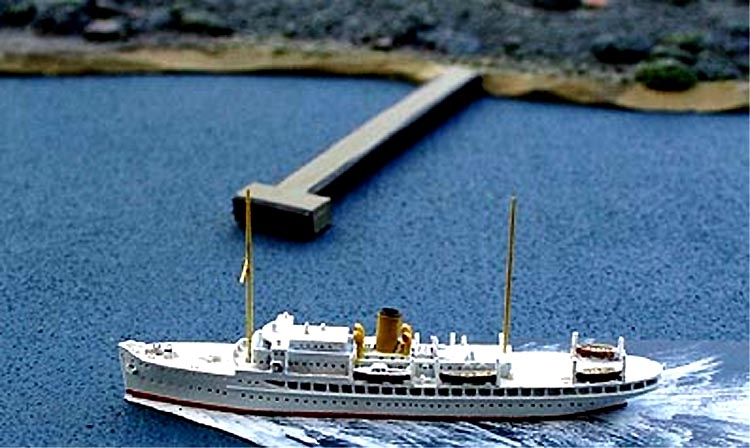 A model of the MY Orion seen sailing along the shoreline
Also from an model website
By the time the MY Orion had reached Asia and then across the Pacific to Honolulu, it was early in October, and Forstmann phoned his broker in New York and told him very decisively to "sell the entire Forstmann portfolio." However, when he phoned his broker again ten days later, making absolutely sure that his orders had been followed as directed. However, his broker replied "I have not sold anything" and he then added, "Aren't you glad for everything has gone up ten points." Forstmann was furious, for it was not that he had made some additional money, but that his broker could not and would not take orders and thus he fired him and hired another broker, who liquidated the entire portfolio. Two weeks later on October 24, the bottom fell out of the New York stock exchange and thus, Forstmann knew better! They continued their voyage, whilst Forstmann retained a finger on his financial pulse whenever he was in port, but he was in fact retired, but their long and interesting and varied voyage finally came to an end when they arrived home on June 11, 1930.
The beautiful private yacht Orion was used for many Forstmann business functions, and special private family occasions, including weddings and other festivities. She made a good number of shorter voyages and she certainly made quite an impression wherever she entered a port, for she was looked more of a small cruise ship rather than a Private Yacht, thus newspapers always made a fuss about her! For the 4,000-ton MY Orion was the largest and the most expensive private Motor Yachts ever built!
Gunboat - USS Vixen:
Sadly, Mr, Julius Forstmann passed away in 1940, giving the US Navy an opportunity to make an offer for the Orion, as it had become obvious to a number of high ranking Admirals that this small ship was the perfect ship and its size made her suitable to become one of the US Navy's most important "Command ships," as well as the "Flagship" for four major Admirals on the Atlantic!

The steel-hulled yacht was purchased from the Forstmann Estate on November 13, 1940 and the former private yacht was converted by the Sullivan Drydock and Repair Corporation to become a gunboat in their Brooklyn Navy Yards, New York. She was officially renamed USS Vixen and designated PG-53 and she was manned by 279 officers and enlisted men. As a gunboat she was going to be obviously well armed! However, the list below may not mean that all armaments shown were on board in 1941, but the rest would have been added at a later time, as it was required!

Her armaments were as follows: 4 X 3in (76 mm) guns; 7 X .50 calibre machine guns; 2 X .30 calibre machine guns & 2 X depth charge tracks.

She was commissioned whilst she was alongside at Sullivan Naval Yards on February 25, 1941 with Commander Pal L. Meadows having been placed in charge of the ship. The USS Vixen - PG-53 departed on March 5, bound for the Caribbean for a shakedown cruise.

After her Caribbean shakedown cruise, the Vixen headed for New London, Connecticut,

where she became the Flagship of Rear Admiral Richard S. Edwards, who was the Commander of all Submarines in the Atlantic Fleet. While acting in the role of flagship, the Vixen sailed all over the eastern seaboard of the United States throughout 1941, returning to New London on, ironically, December 6, 1941, the day before the attack on Pearl Harbor.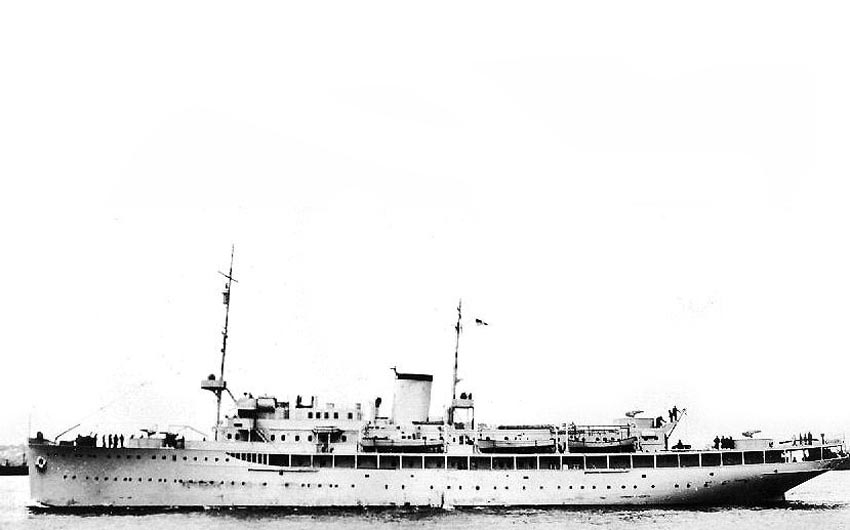 Here we see the USS Vixen PG-53 around 1942
The photograph was provided by & © photoship-co-uk
The Vixen remained in New London until December 20 and was ordered to go head for the Washington Navy Yard in Washington, DC, where she would became the flagship for Admiral Ernest J. King, the Commander-in-Chief of the United States Fleet. She officially assumed this role on December 30. 1941 and would continue functioning as Admiral King's flagship until June 17, 1942.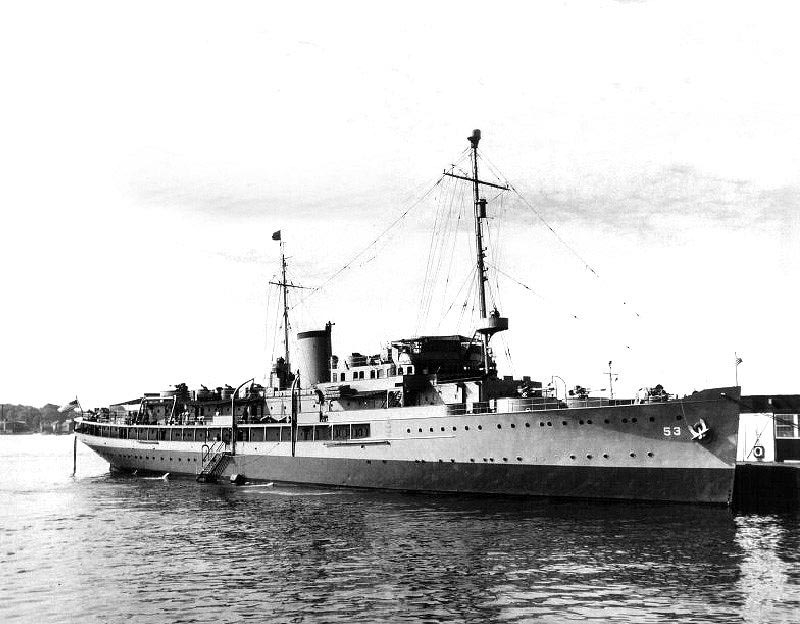 The USS Vixen has just received a refit
The photograph was provided by & © photoship-co-uk
She would be given a quick refit during June and July 1942, after which she became flagship of Commander in Chief of the Atlantic Fleet, being first Admiral Roy E. Ingersoll, on July 21, 1942, which continued through to November 1944.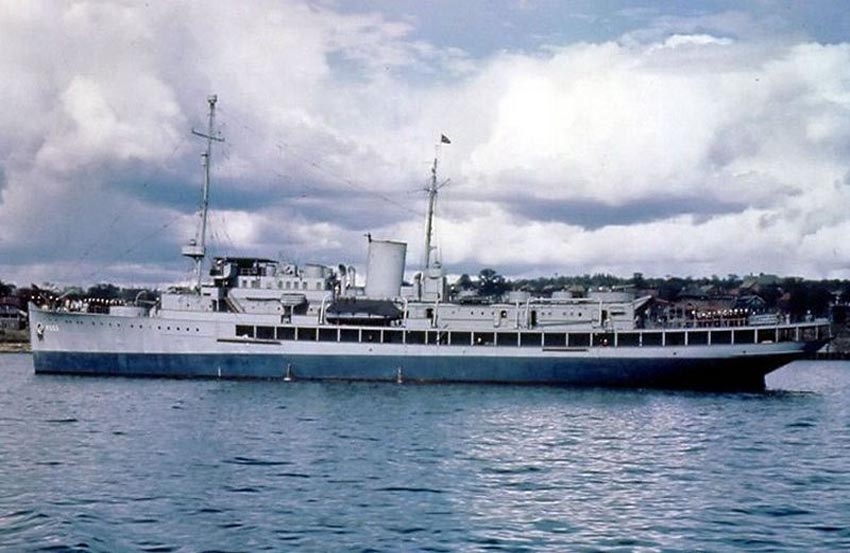 USS Vixen PG-53 is seen here in her final guise and in one of the few colour photographs
The photograph was provided by & © photoship-co-uk
She was then handed over to Admiral Jonas H. Ingram on November 15, 1944 until the USS Vixen was decommissioned on May 24, 1946 and she was laid up.
The Yacht Orion:
The MS Vixen was officially delisted from the US Navy on July 3, 1946 and she was transferred to the War Shipping Administration who maintained her during her lay up and had placed her on the market. She was sold to a private buyer on January 21, 1947.
Sadly I have no information who the new private owner was, but obviously they must have refitted her into a luxury Private Yacht again and she was renamed MY Orion once more and she was with her new owners from 1946 to 1954.
McCormick

Shipping MS Orion:
In 1954 the MY Orion was sold to the McCormick (Fraser) Shipping of Panama, who refitted her into a genuine cruise ship, and retained her name but with the prefix of MS (Motor Ship) Orion and they operated her on Caribbean cruises until she was sold ten years later in 1964. However, considering that she was already aged 36 years of age and it was thought there may not be a market for an aging vessel of her size and thus she might have to be sold to the breakers. However, as it turned out this was far from the truth!
Epirotiki Lines Cruise Expansion: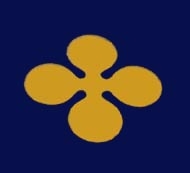 The beginnings of Epirotiki Line: Anastassios Potamianos began his first shipping venture in 1850 by transporting both cargo and passengers along the River Danube between the Island of Cephalonia and the City of Braila. Assisting

Potamianos was his nephew, Giorgos Potamianos. When Anastassios Potamianos passed away in 1902, Giorgos took over control of the company and took the emblem of the Byzantine Cross as the company's trademark, and changed the company name to Epirotiki. In 1916 Giorgos moved to the new centre of shipping of Piraeus, acquiring his first steam powered ship. By 1926 the company owned 15 passenger vessels ranging between 800 to 1,500 GRT (Gross Registered Tons).

Epirotiki pioneered cruises in the Aegean Sea operating in 1955, working in conjunction with the "Hellenic National Tourist" Office and establishing round cruises to the Greek Islands and Eastern Mediterranean. In order to do this they obtained the 1935 built, 1,933 GRT Elder Dempster Lines passenger-Cargo ship the SS Calabar (3) that accommodated 40 First Class and 12 Second Class passengers. She was purchased in 1954 and she received an extensive rebuild and a refit making her the perfect small cruise ship of 3,000 GRT, offering fine accommodations for 185 passengers. Epirotiki renamed their new ship the "Semiramis."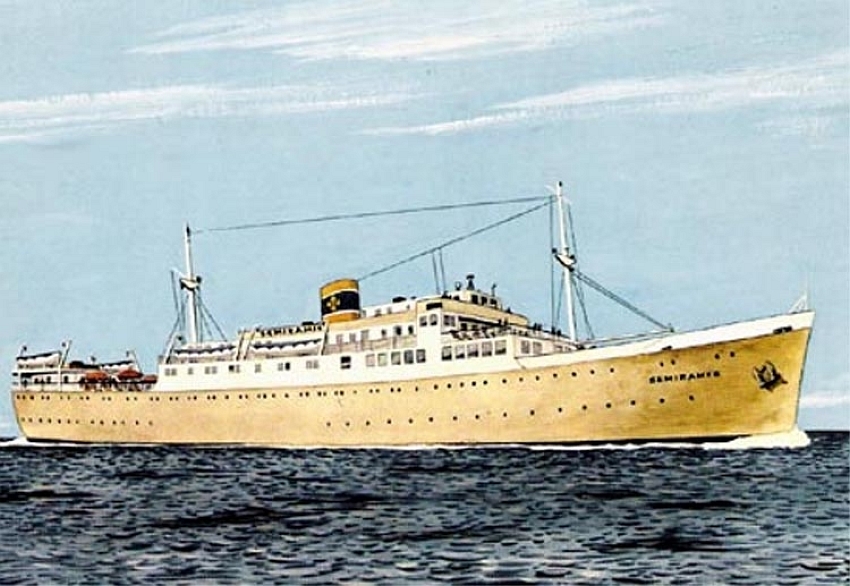 The Semiramis commenced with style into the Greek Island cruise market!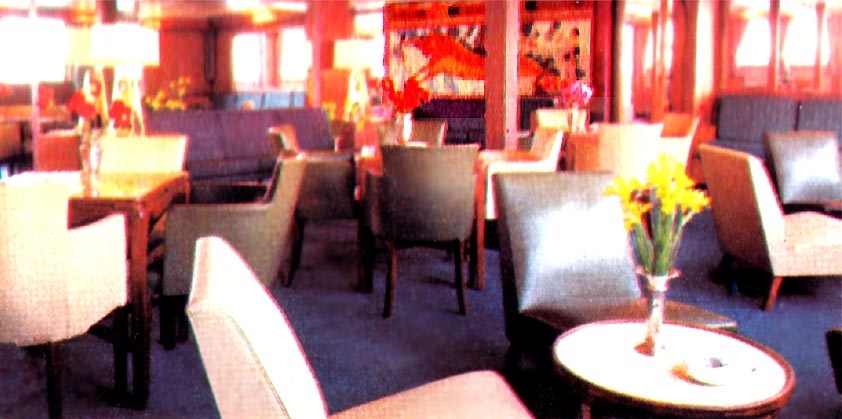 Here we see the delightful SS Semiramis' Smoking Room, the Main Lounge
is located forward as can be seen through the windows and the glass doors
In 1955 at first, she commenced operating three and four day cruises to a range of Greek Islands and the two cruises could also be taken as a seven day cruise. This was soon alternated with other destinations and with both 3 and 4 day cruises, which could be taken as a seven day cruise or separate 7 day cruises to other destinations!
With the success of the SS Semiramis, a further five ships rapidly followed as Aegean and Greek Island cruises proved to be a huge success. However, by the mid 1960's Epirotiki decided that their future ships would be a First Class product and this was clearly reflected in their new acquisition the MS Orion.
The Luxurious MS Argonaut:
In 1964 Epirotiki Line purchased the delightful past Private Luxury Yacht, Gunboat and Cruise Ship the MS Orion and renamed her "Argonaut' and she headed for Greece, where she was completely rebuilt into a luxurious cruise ship. Her extensive refit and rebuild commenced in April 1964 and it was completed eleven months later in March 1965.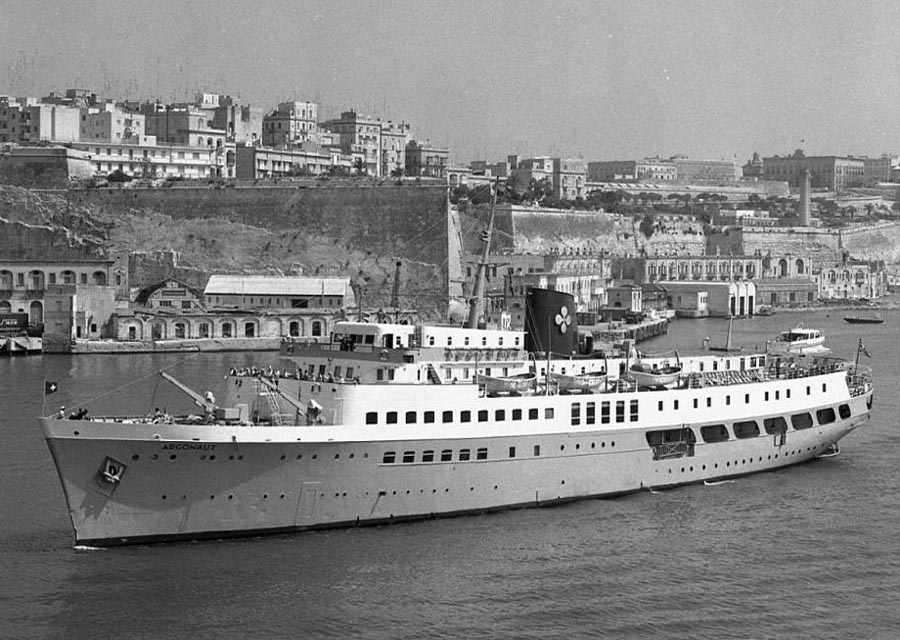 The luxury MS Argonaut arriving at Valletta, Malta and she is seen prior to being fitted with two covered motor tenders
Photo provided by Jason B. Cunningham, but photographer is unknown - Please see photo notes at bottom of the page
Interior details:
The first deck painted white above the hull (previously Shelter Deck) was renamed Venus Deck and this deck had been extended further aft, and it contained her main Lounges, such as the spacious Golden Fleece Lounge located forward, this being located directly above the Dining Room down on Apollo Deck. Aft of the Lounge and the forward Lobby, were two further Lounges as well as two Verandas. On Apollo Deck beside the Dining Room and the Galley, there were two Art Galleries. Up on Boat Deck aft, was a Swimming pool and the Lido bar. There was also an Indoor heated Swimming Pool amidships on a lower deck.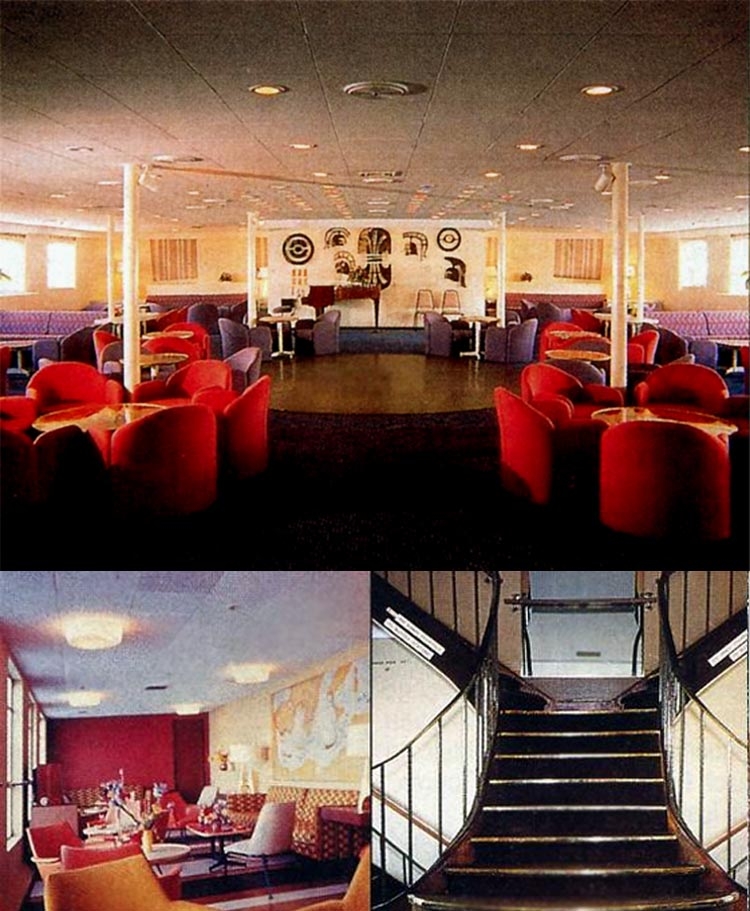 At the top we see the superb Golden Fleece Lounge, whilst below is one of the Verandas
The below right we see the Main Stairwell in the forward Lobby
She accommodated a maximum of 220 passengers, based on her very spacious outside cabins, with every cabin having private facilities and being superbly furnished! Each room had twin beds that converted into sitting rooms, but above some of the beds there was an upper Pullman bed, that could be used as a third bed, and if these were all used, the complement would be 220 guests. Otherwise based on a twin bedded basis she has a complement of 168.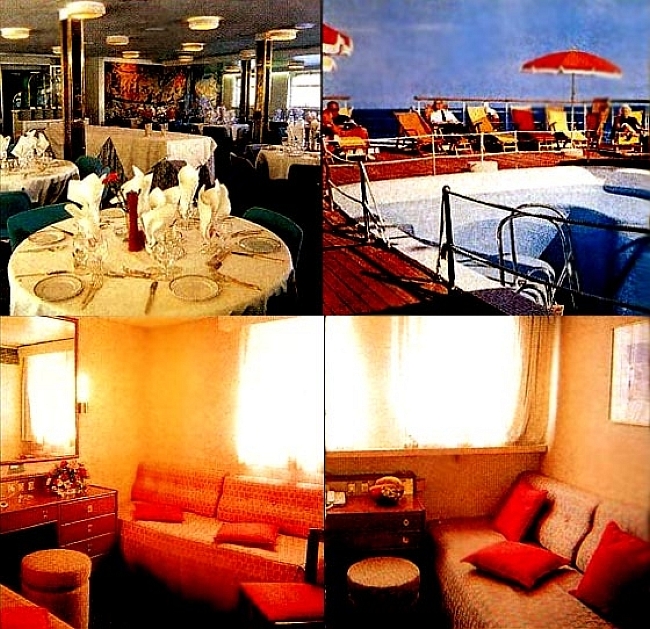 Top left is the elegant & spacious Dining Room, beside it is the aft Pool and below are two typical cabins seen as day rooms
Upon completion, the beautifully fitted out MS Argonaut she was placed on popular seven-day cruises from Piraeus to Istanbul, sailing much loved ports such as; Crete, Rhodes, Santorini, Ephesus and Mykonos. Whilst during the winter moths she would operate popular cruises to the North and Baltic Seas.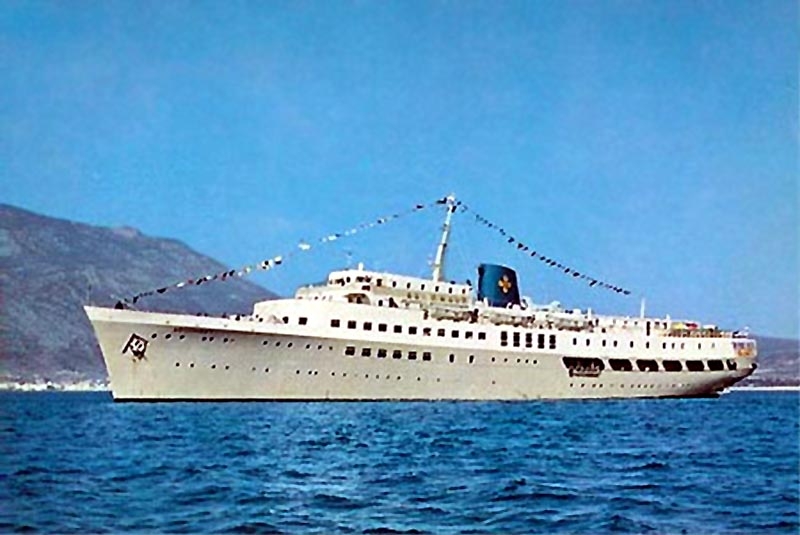 Another early photo of the Argonaut seen fully dressed with flags she is about to arrive at another exiting port of call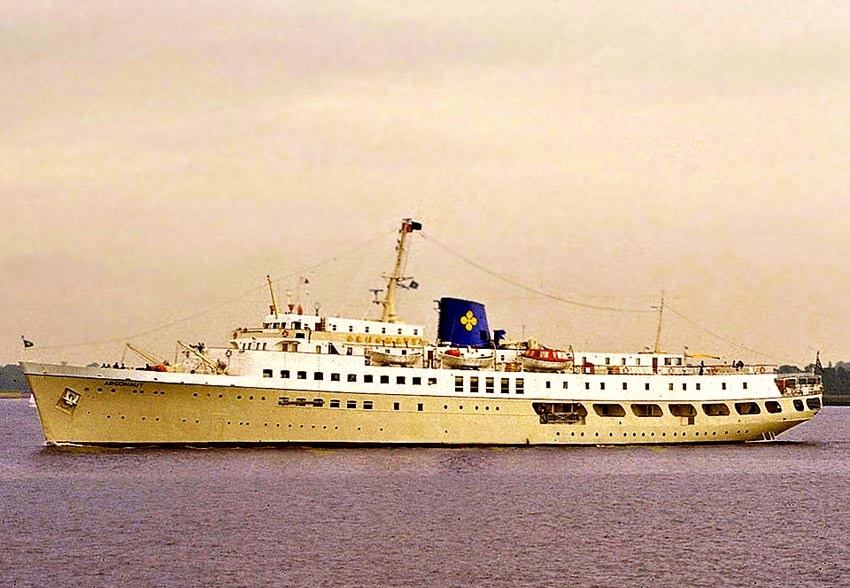 The elegant MS Argonaut is seen at sea just after another refit. Note that she just had two covered
Motor Tenders fitted, aft on port & starboard sides, for when she would be at anchor at one of the Islands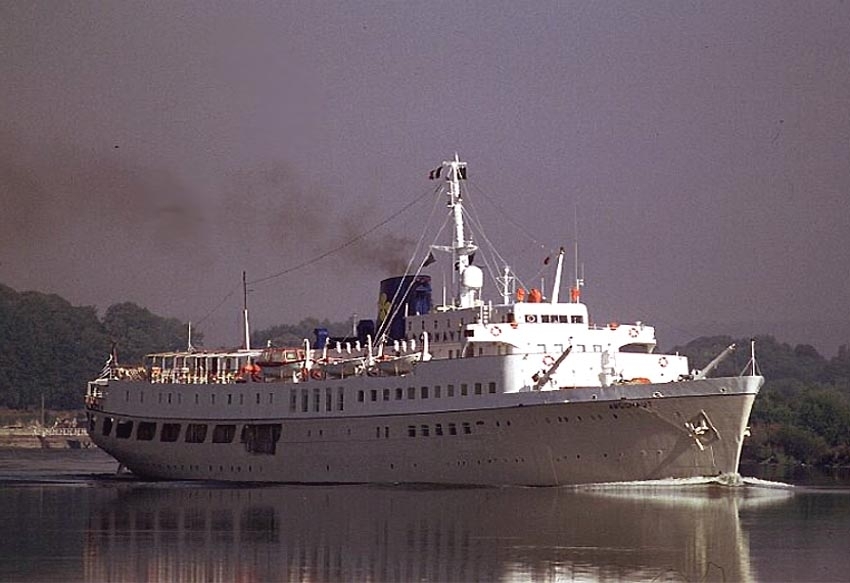 She is seen bow on to starboard side during one of her countless cruises
Photograph by & © Eric Houri
The Argonaut continued with great success for a good 32 years for Epirotiki Line, but with new larger and more modern ships entering into service, it was decided that the time had come to retire the delightful Faithfull Old Girl, for in 1996 she was an amazing 67 years old and yet still in perfect condition!.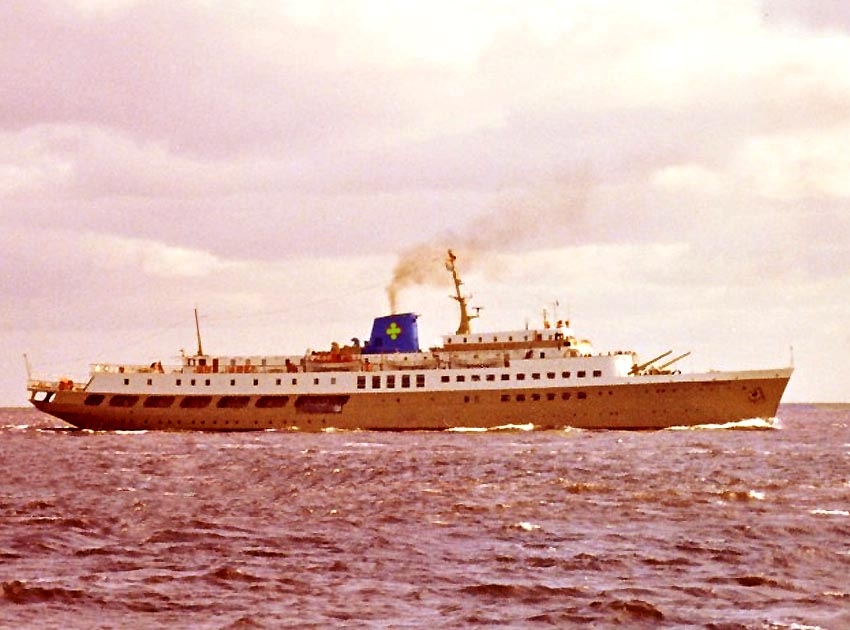 The ever magnificent MS Argonaut is seen at sea in her final year with Epirotiki
However in 1996, aged 67 years the ship that had served the company so well for a good 32 years was placed on the market, for the truth was that this fine ship was far from retiring!
Regina Maris Cruises SA:
The MS Argonaut was sold in 1996 to Regina Maris Cruises who renamed her "Regina Maris." Apart from her name change and a new funnel logo, amazingly the funnel colour never changed only a new logo appeared when she was under charter. When it came to her interiors little to nothing was required to be done for she was in perfect condition, therefore no refit was required. The company just gave her the "Regina Maris" touches throughout the ship.
The MS Regina Maris was managed by Memnon Cruises & Tours who were well known operators of popular cruises and tours to Egypt, Israel and Jordan.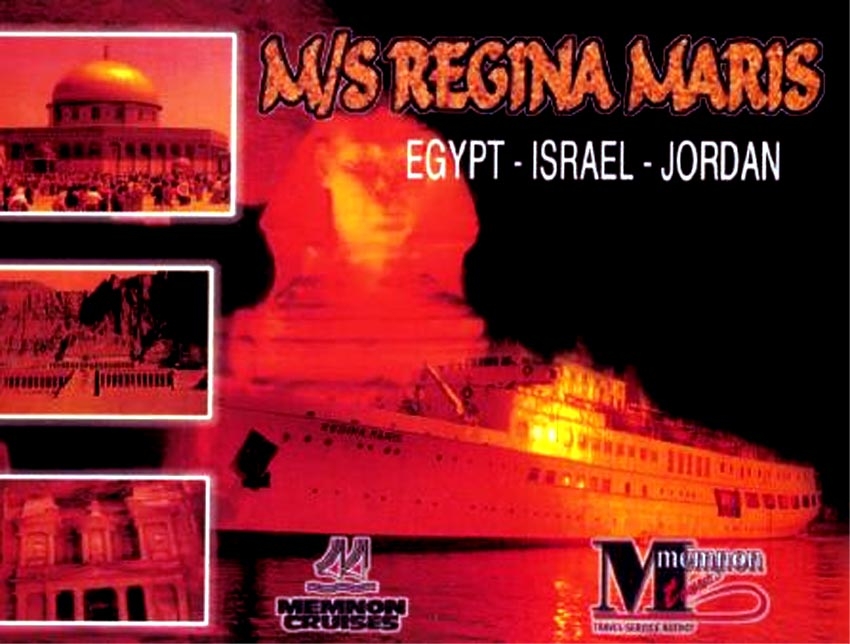 This was a postcard sold on board of the Regina Maris, not the best photo of the ship
Others are top to bottom: Dome of the Rock, Jerusalem Israel; Valley of the Kings, Egypt; Petra, Jordan
In addition her regular operations, she was also chartered to the German market, for which she proved the perfect ship and Peter Deilmann Cruises, the company that later became Phoenix Cruises and they chartered for a season and operated a good number of fly/cruises out of Germany.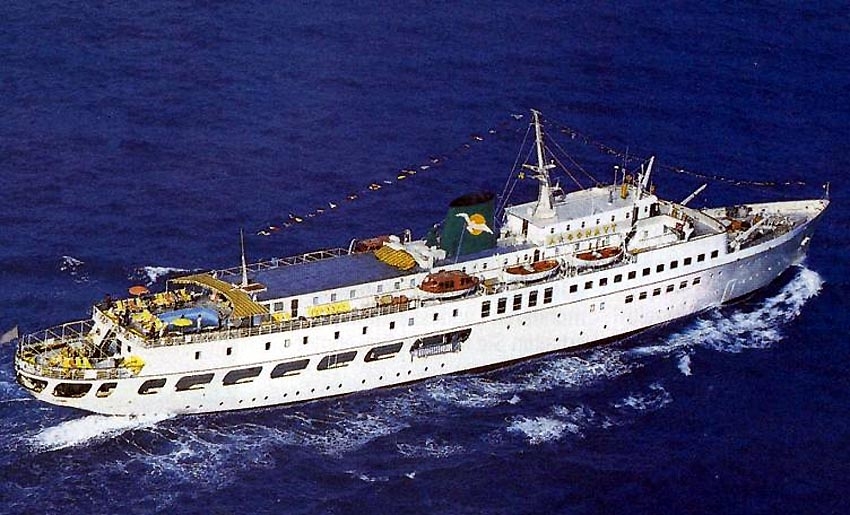 Here we see the MV Regina Maris in her Deilmann/Phoenix charter livery
During her six years of excellent service, the company decided to give her a livery change and a minor refit with updated soft furnishings, etc, thus upon completion she featured a dark blue hull.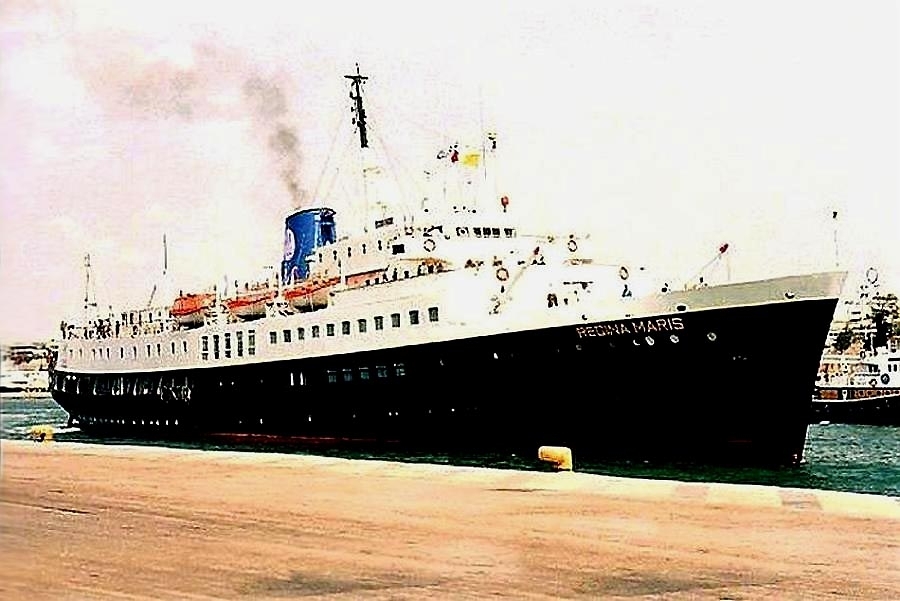 The MS Regina Maris is seen here in her final Memnon livery, with a dark blue dark hull
and a much the same blue funnel but with the Memnon Cruises & Tours logo on it
The photograph above was taken in Piraeus in July 2001 by & is © Copyright by Alexi Lindstrom
In 2002, being after a wonderful six years of service, Memnon Cruises & Tours were changing direction and had decided to place their efforts in their Egyptian Nile River Cruises and Tours in Egypt, Israel and Jordan, etc.
Therefore they decided that the then 73-year-old cruise ship would be laid up in Alexandria, Egypt in 2002, being one of last and oldest active Cruise ships in the world. However, during her lay up, she would be superbly maintained, for she was to be either be sold, or possibly be used again, thus she remained in perfect shape!
Goodbye to a Fine Old Ship!
However, after a two year lay up, Memnon Cruises realised that they would not be using her again, and although the Regina Maris had been on the market, the only interest had come from, well to be honest only from the breakers in India or Bangladesh. Thus, with regret, this beautiful ship, in such perfect condition was sold for scrap to Indian breakers, at Alang in 2004 and she soon departed under her own power and arrived off the beach at Alang on December 2, 2004. After she was beached later that month at the higher tide, breaking up commenced and it is said that she was gone by April 2005, thus precisely 76 years after she was completed.

A line drawing of the MS Argonaut
***************************
Specifications:
Built to be: Private Yacht, later a US Gunboat and a Cruise Ship.
Names: MY Orion 1929 - 1940.
. USS Vixen PG-53 1940 - 1950.
. MY & MS Orion 1950 - 1964.
. MS Argonaut 1964 - 1996.
. MS Regina Maris 1996 - 2004.
IMO Number: 5265069 for the last two ships named.
Built by: Krupp Germania Werft, Kiel, Germany, 1929.
Yard Number: 502.
Tonnage: 4,007 GRT, 1,432 NET, 8,097 DSP.
Length: 333.2ft - 101.55m.
Beam: 46.7ft - 14.20m.
Draught: 16ft - 4.9m.
Propulsion: 2 × Krupp Diesel Engines, 3,600 BHP (2,685 kW).
Screws: Two.
Speed: 15 knots, maximum 16.5 knots.
Passengers: Argonaut: 168, twin beds or 220 all beds.
. Regina Maris: 170 based on all beds.
Crew: 90.
Passenger Decks: 4.
Other facilities: Fully Air-Conditioned.
. Stabilisers fitted in 1964.
Remembering a Wonderful Classic Small Cruise Ship
She Certainly Outlasted all of her Newer Rivals!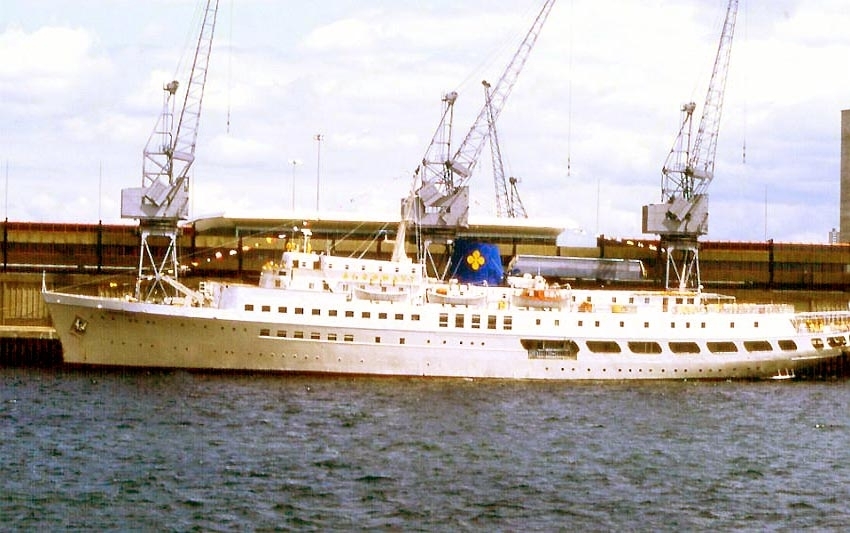 The magnificent Argonaut is seen berthed at an unknown port
Photograph is by an unknown photographer - Please see Photo notes at bottom of page
Epirotiki Index:
Page One … MV Semiramis the first ship!
Page One B … MV Semiramis Deck Plan.
Page Two … The Early Ships - SS Hermes, Atreus, Pegasus & Hermes II.
Page Three … MS Argonaut.
Page Three B … MS Argonaut Deck Plan.
Page Four … MTS Jason.
Page Four B … MTS Jason, later MS Ocean Odyssey - Deck Plans.
Page Five … MTS Orpheus II.
Page Six … MTS Apollon II.
Page Six B … MTS Orpheus II & Apollon II - Deck Plans.
"Blue Water Liners sailing to the distant shores.
I watched them come, I watched them go and I watched them die."
****************************
Return to the ssMaritime Main INDEX
Where you will discover over 1,355 Classic Passenger Liners, Passenger-Cargo Liners & Cruise Ships.
ssMaritime.com & ssMaritime.net
Where the ships of the past make history & the 1914 built MV Doulos Story
Please Note: ssmaritime and associated sites are 100% non-commercial and the author seeks no funding or favours of any shape or form, never have and never will!
Photographs on ssmaritime and associate pages are by the author or from the author's private collection. In addition there are some images that have been provided by Shipping Companies and private photographers or collectors. Credit is given to all contributors. However, there are some photographs provided to me without details regarding the photographer/owner concerned. I hereby invite if owners of these images would be so kind to make them-selves known to me (my email address can only be found on www.ssmaritime.com), in order that due credit may be given.
This notice covers all pages, although, and I have done my best to ensure that all photographs are duly credited and that this notice is displaced on each page, that is, when a page is updated!
ssMaritime is owned & © Copyright by Reuben Goossens - All Rights Reserved