Please Note: Firefox and some other search engines are not suitable – Use "Internet Explorer" for this page to load perfectly!

Click the logo above to reach the ssMaritime FrontPage for News Updates & "Ship of the Month"
With Reuben Goossens
Maritime Historian, Cruise'n'Ship Reviewer & Author
Please Note: All ssMaritime and other related maritime/cruise sites are 100% non-commercial and privately owned. Be assured that I am NOT associated with any shipping or cruise companies or any travel/cruise agencies or any other organisations! Although the author has been in the passenger shipping industry since 1960, although is now retired but having completed around 680 Classic Liners and Cargo-Passengers Ships features I trust these will continue to provide classic ship enthusiasts the information the are seeking, but above all a great deal of pleasure! Reuben Goossens.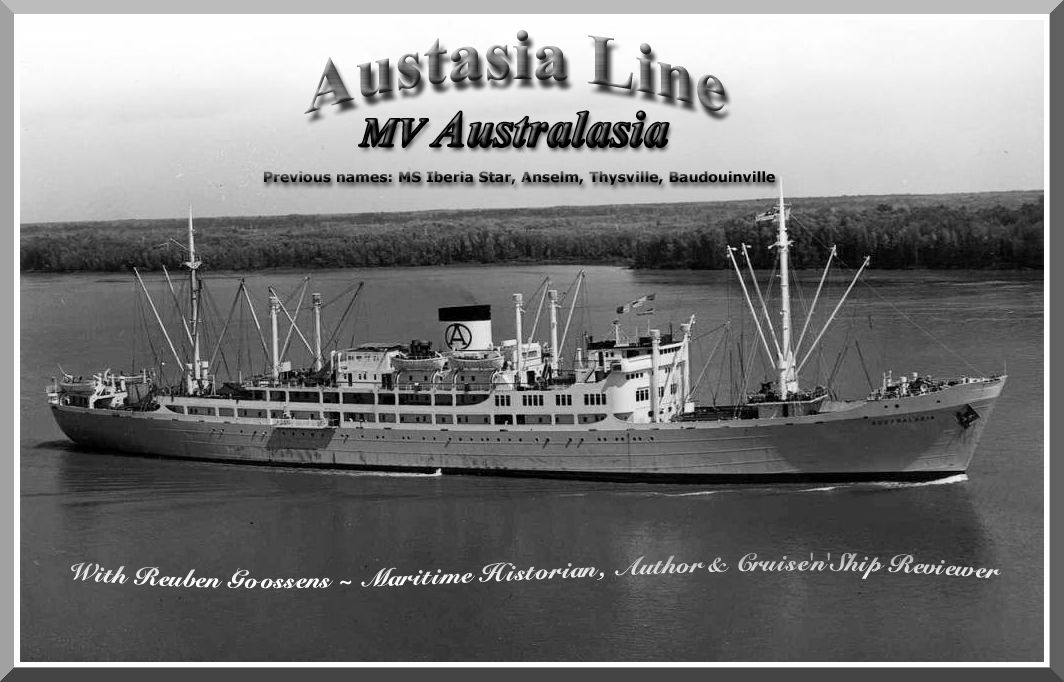 Photographs on these pages are from the author's private collection, unless otherwise stated
The ship that would later become the much-loved MV Australasia Down Under was built by John Cockerill S.A. at Hoboken Belgium for Cie Maritime Belge of Antwerp. Named the MS Baudouinville she was the second of a series of five sisters known as the Elizabethville Class ships which were built between 1948 and 1951.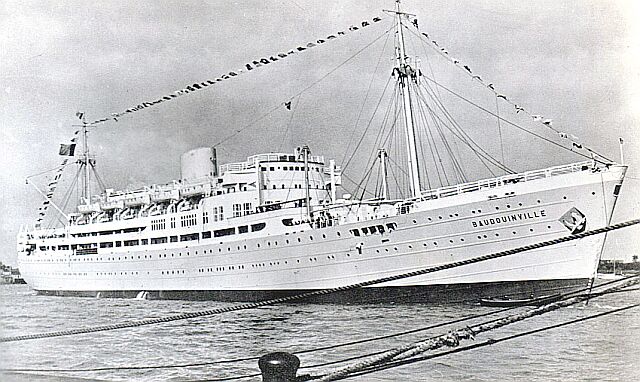 MS Baudouinville (1) was destroyed by the Germans
MS Baudouinville was named after her predecessor Baudouinville (1) which was built in 1939 and was captured by the Germans in 1940 and destroyed by mines in 1944 in Nantes as the Germans retreated.
MS Baudouinville 1950 - 1957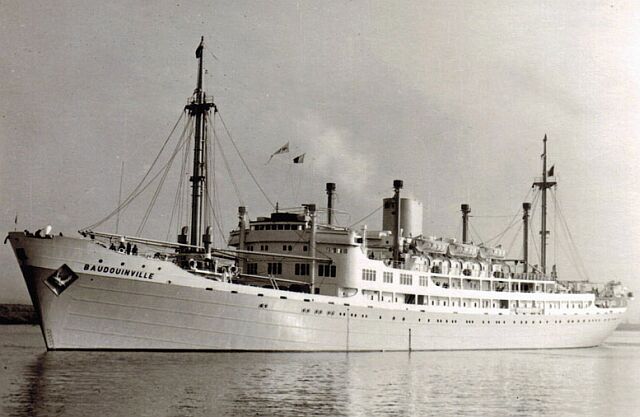 Here is a fine view of the MS Baudouinville (2) in her early days
Baudouinville (2) was launched on March 4, 1950 and delivered to Cie. Maritime Belge on September 7. She departed Antwerp on her maiden voyage for Matadi, in the Belgium Congo on September 19. She accommodated 248 passengers and was equipped with excellent public rooms. The main Lounge was located forward on B (Promenade) Deck, with the Verandah Café aft facing the open decks. Cabins were either singles or twin bedded with all having private facilities. Most of these being on C (Shelter) deck, including all the deluxe accommodations and these were fully air-conditioned, whilst the cabins on B Deck, between the forward and aft lounges were not and had fan forced ventilation. The Dinning Room was located forward on D deck and this spacious room was fully air-conditioned. As the ship had six holds she obviously had a considerable general cargo capacity.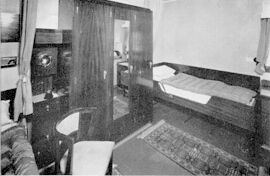 Twin Bedded Cabin on B Deck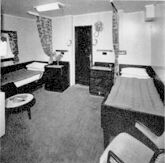 Deluxe Cabin on C Deck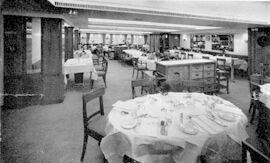 Dinning Room on D Deck
Specifications.
Built:                                   John Cockerill S.A., Hoboken, Belgium.
Yard:                                   #720.
Launched:                             March 4, 1950.
Delivered:   September 7.
Tonnage:                              10,854 GRT.
Length:                                153.7m / 505ft.
Width:                                  19.6m / 64.3ft.
Draft:                                   27.6ft.
Engine:                                2 x 8-cyl Burmeister & Wain oil engines by the builder.
Screw:                                 Single.
Speed:                                 15.5 knots.
Passengers:                          248 Max.
Crew:                                   140.
This the later version the MS Baudouinville (3) seen in 1957
Later she became the P&O popular MV Cathay sailing between Australia & Asia
MS Thysville … 1957 - 1961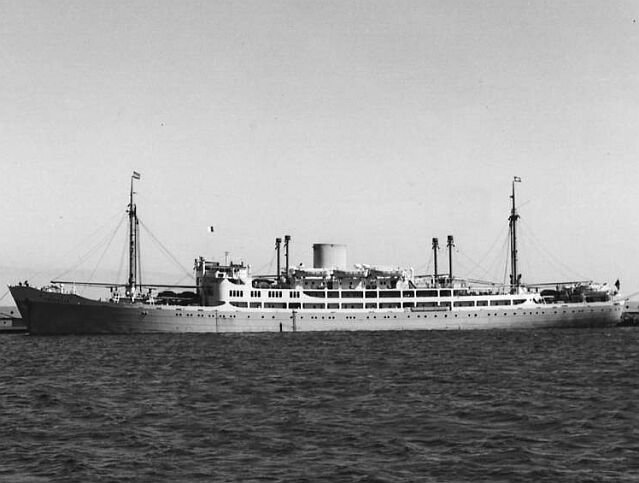 Seen as the Thysville after having her engines turbo charged in August 1957
When a new and larger MV Baudouinville (3) had been built and commenced sailing, Baudouinville (2) was renamed Thysville on June 1, 1957. It was decided to give her an extensive engine refit in early August. When complete she ran her sea trials on August 16, operating at 9,250 BHP and reaching a respectable 16.5 knots having been turbo charged. She returned to the Congo trade, but she would be taken off the service and placed on the market three years later.
RMS Anselm … 1961 -1963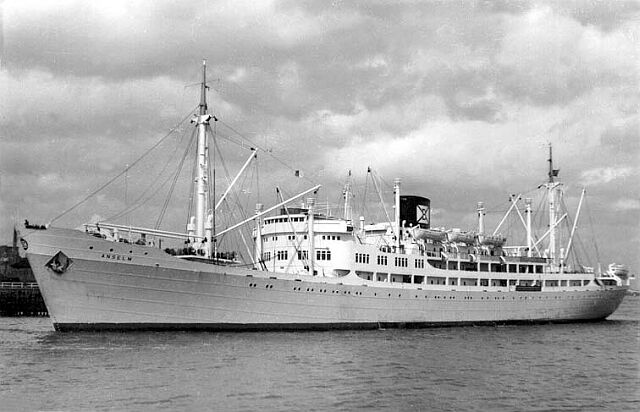 Booth Line made her a Royal Mail Ship, thus she became RMS Anselm
In February 1961 she was sold to the Vestey Group who took delivery of her on March 13 and assigned her to the Booth Line of Liverpool who renamed her Anselm. She was about to be given an extensive refit at the Mercantile Marine Engineering & Graving Dock Co, in Antwerp as she was about to become a two class ship, thus a new lounge, as well as cabins and a dinning room would be added on D Deck starboard side aft. A new galley had to be built as well as a new hospital. She would now accommodate 135 First Class and 101 Tourist Class passengers. In addition Anselm was also fitted with refrigerated cargo facilities.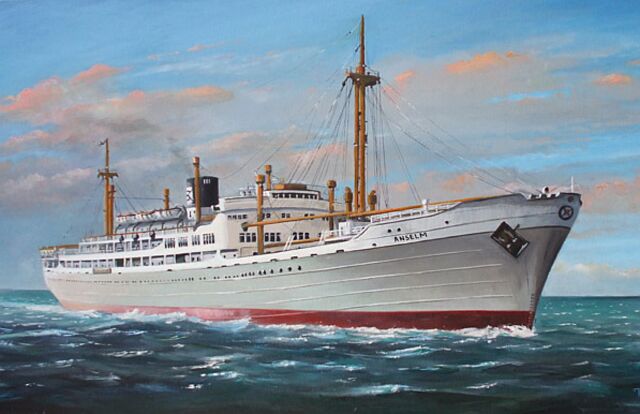 MS Baudouinville seen here in 1961 as the Booth Line - Anselm
© A painting by Wallace Trickett NZ –
Enter his website HERE – Email: wallace.t@paradise.net.nz
After her refit she was listed at 10,868 GRT and on June 16, 1961 she commenced her new service from Liverpool to Brazil sailing up the Amazon River as far as Manaus. However, it soon proved that she was not successful and within two years she was withdrawn.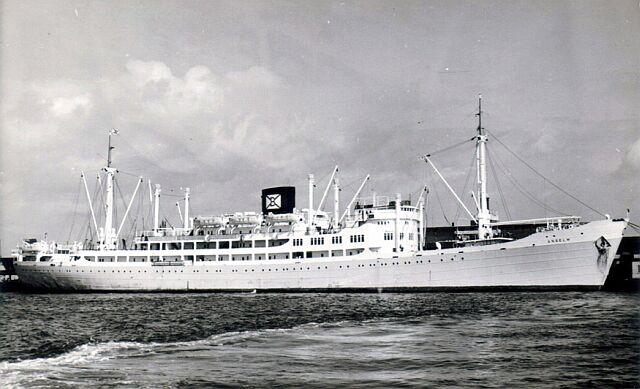 Anselm seen just after having entered service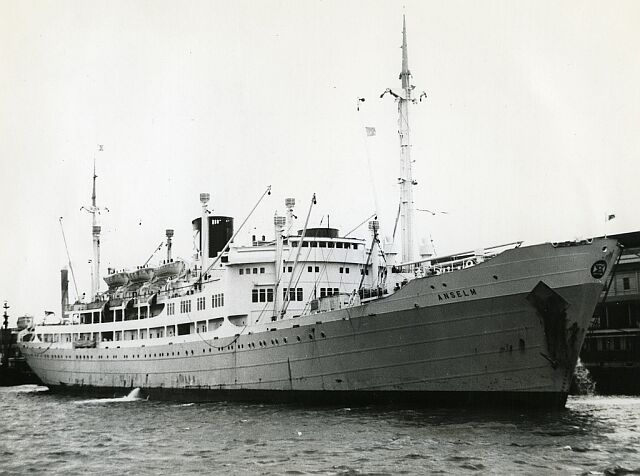 Anselm seen not long before her transfer to Blue Star Line
Photograph by L. A. Baker – R. Goossens Collection
MS Iberia Star … 1963 - 1965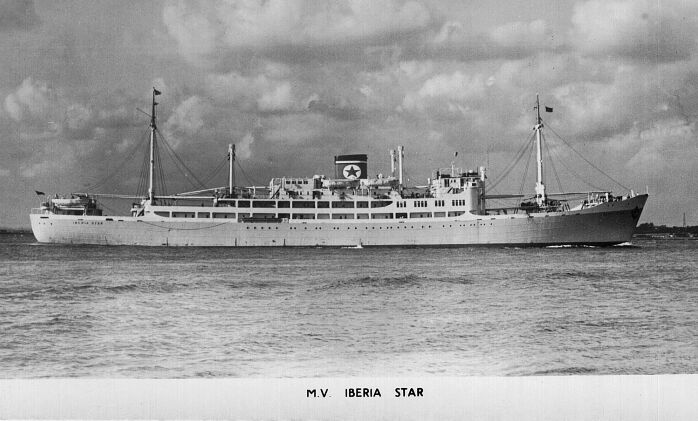 Postcard of the Iberia Star – Note the pool area aft of the funnel and the lack of portholes aft
The Vestey Group decided in April 1963 to transfer her to the Blue Star Line of London and she was suitably renamed Iberia Star. This time she was suitably refitted at the Bremer Vulkan shipyard and her accommodations were greatly reduced to just 76 all First Class, and air-conditioning was finally extended throughout the ship. Another new feature was the swimming pool which was located on the top deck, just aft of her funnel, whilst the norm was to place the pool in the aft hold closest to the superstructure.
As she now operated with just 76 passengers it was decided to remove two of her aft lifeboats, leaving her four forward lifeboats in place. With the refit complete the smart looking MS Iberia Star commenced on the London / River Plate service.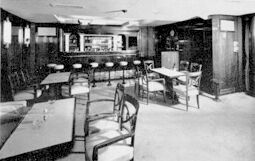 The aft Smoking Room & Bar – originally the Tourist Class lounge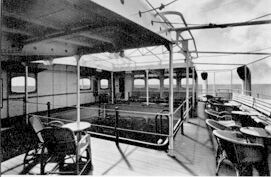 The Pool located topside
However, again this venture lasted for only for two years and Iberia Star was transferred to another Vestey company in the Southern Hemisphere on August 22, 1965.
MV Australasia … 1965 – 1972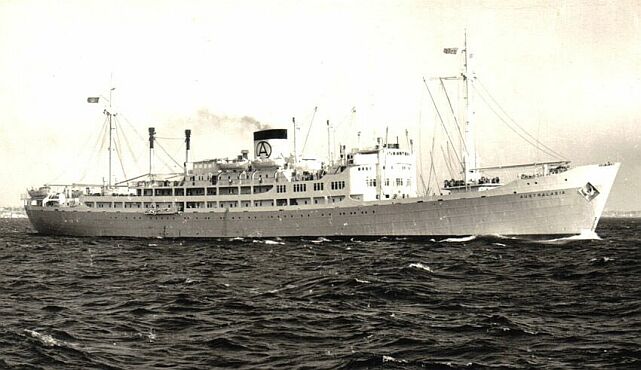 Austasia Lines MV Australasia
Renamed MV Australasia she headed for Australia via the Suez Canal calling at Beira Mozambique and arrived in Sydney on December 15, 1965. She headed down south to Melbourne arriving on there on the 19th and remained there until January 9, 1966 when she departed for Singapore, sailing via Sydney and Brisbane. In the meantime she had a refit opening up all her accommodations, deluxe rooms, single and two bedded, as well as three and four berth cabins, and the beautifully dark timbered aft Smoke Room and Bar which was added in the days of the Anselm. She joined the service already established by the two class passenger cargo liner SS Malaysia, built as the  Booth liner Hubert, a close to a year earlier.
Australasia arrived in Singapore on January 30, and continued on the Sydney to Singapore service. Her schedule was; Sydney, Brisbane Singapore, Brisbane, Sydney. This continued until she departed Sydney on January 30, 1969 for the last time, for upon arrival in Singapore she was transferred to the Fremantle to Singapore/Malaysia service.
Images from an MV Australasia Brochure
The brochure below (and images taken from it) was kindly provided by Graham Emery. This and other items are part of his parent's Mr & Mrs. Lawrence Vernon Emery collection. They sailed on MV Australasia from Fremantle, departing on December 3, 1970 arriving at Singapore on the 10th. After a visit to Asia they returned to Fremantle on the Blue Star liner MV Centaur departing January 4, arriving back in Fremantle on the 11th.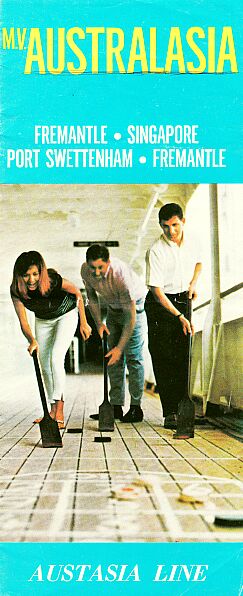 This brochure was produced before she was re registered
in Singapore in 1970, thus she was still a "British liner"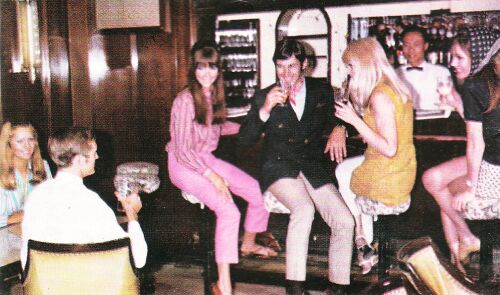 Smoking Room and Bar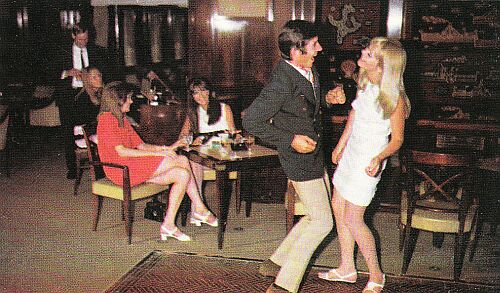 Main Lounge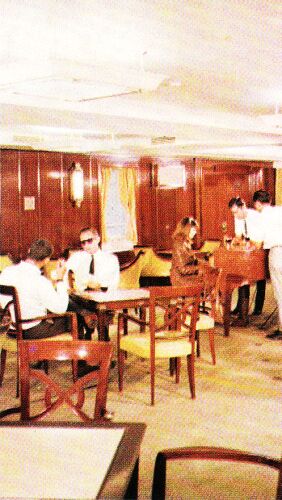 Games Room – There was also a Library and Reading Room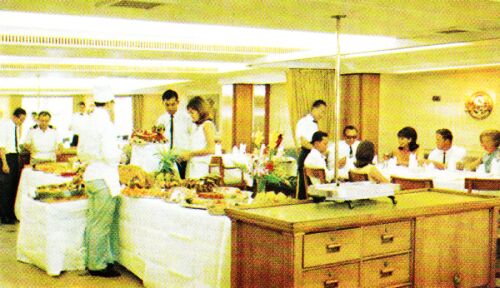 The Dinning Room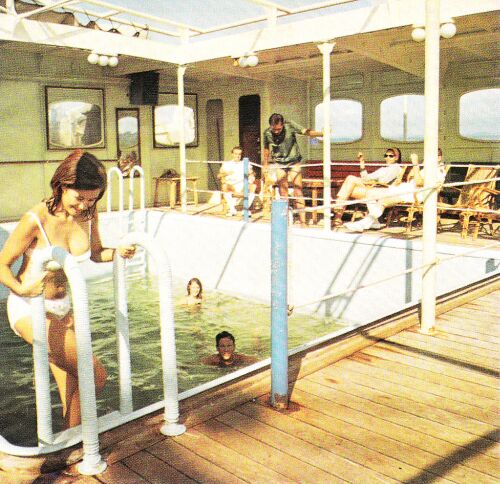 The pool located topside, just aft of the funnel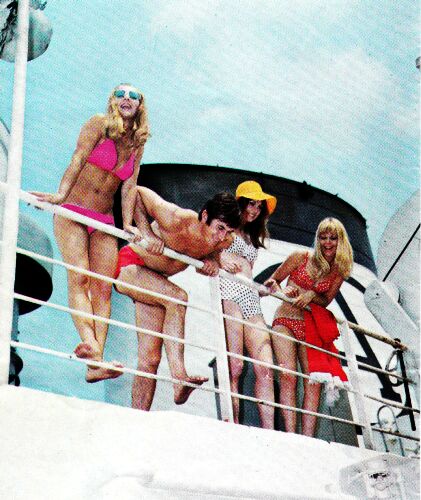 A typical promo shot for the MV Australasia brochure
As a One Class British liner she was manned by British officers and engineers and Asian Stewards and Stewardesses. Besides the comfortable traditional beautifully timber panelled lounges and bars, she had a variety of accommodations available, with two, three and four berth cabins. In addition there were single rooms as well as special double deluxe staterooms. The majority of cabins had private facilities and she was fully air-conditioned.
Australasia was a popular ship, both as a cruise ship for round voyages to and from Singapore be it from Sydney, Brisbane or Fremantle, but also as a ship for the use of Cruise/Jet options to and from London via Singapore, with cheap charter flights still operating out of Singapore in those days. Her Fremantle schedule was: Fremantle to Singapore, with occasional calls to Port Swettenham (today known as Port Klang) Malaysia, Fremantle.
She was reregistered from English to Singaporean registry on July 28, 1970. However, it had become obvious that Australasia had been suffering from various mechanical problems every now and then, and these sadly increased as the next two years went on.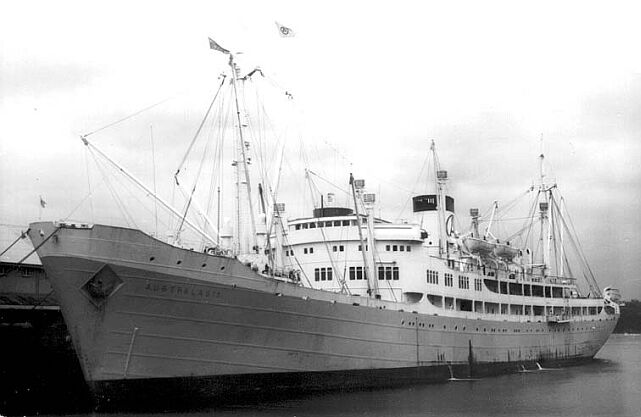 MV Australasia in port

Photographer unknown – Please note the photo notes at bottom of page

In 1972 it became evident to Austasia Line (Vestey) that the ship engines were deteriorating and maintenance had become prohibitive, thus the company decided that they would place her on the market. Whilst she was in port in Fremantle she was purchased by Euroasia Carriers of Singapore on December 10, 1972. However, they resold her the same day to Nissan-Iwai Co Ltd, of Osaka. MV Austrasia departed Fremantle on December 11 for the last time, arriving in Singapore on the 16th. Her new owners sold her to Chou's Iron & Steel Co. Ltd, of Taiwan to be broken up and she was towed to Taiwan, arriving at the Hualien breakers yard on December 27. Her demolition was completed in July 1973.

Also visit the

SS Malaysia Feature

"Blue Water Liners sailing to the distant shores.
I watched them come, I watched them go and I watched them die."

****************************

Visit our ssMaritime Main INDEX

Where you will discover around 680 Classic Passenger & Passenger-Cargo Liners!

ssMaritime.com & ssMaritime.net

Where the ships of the past make history & the 1914 built MV Doulos Story

Please Note: ssmaritime and associated sites are 100% non-commercial and the author does not seek funding or favours and never have and never will.

Photographs on ssmaritime and associate pages are either by the author or from the author's private collection. In addition there are some images and photographs that have been provided by Shipping Companies or private photographers or collectors. Credit is given to all contributors, however, there are some photographs provided to me without details regarding the photographer or owner concerned. Therefore, I hereby invite if owners of these images would be so kind to make them-selves known to me (my email address can be found at the bottom of the page on www.ssmaritime.com), in order that due credit may be given.

ssMaritime is owned & © Copyright by Reuben Goossens - All Rights Reserved