SS Birger Jarl 1953, SS Bore Nord 1973, SS Baltic Star 1978, MS Baltic Star 1982, MV Birger Jarl 2000
Please Note: Firefox and Google Chrome search engines are not suitable - Use "Internet Explorer" for this page to load perfectly!

Click the logo above to reach the ssMaritime FrontPage for News Updates & "Ship of the Month"
With Reuben Goossens
Maritime Historian, Cruise'n'Ship Reviewer, Author & Maritime Lecturer
Please Note: All ssMaritime and other related maritime/cruise sites are 100% non-commercial and privately owned. Be assured that I am NOT associated with any shipping or cruise companies or any travel/cruise agencies or any other organisations! Although the author has been in the passenger shipping industry since 1960, although is now retired but having completed over 700 Classic Liners and Cargo-Passengers Ships features I trust these will continue to provide classic ship enthusiasts the information the are seeking, but above all a great deal of pleasure! Reuben Goossens.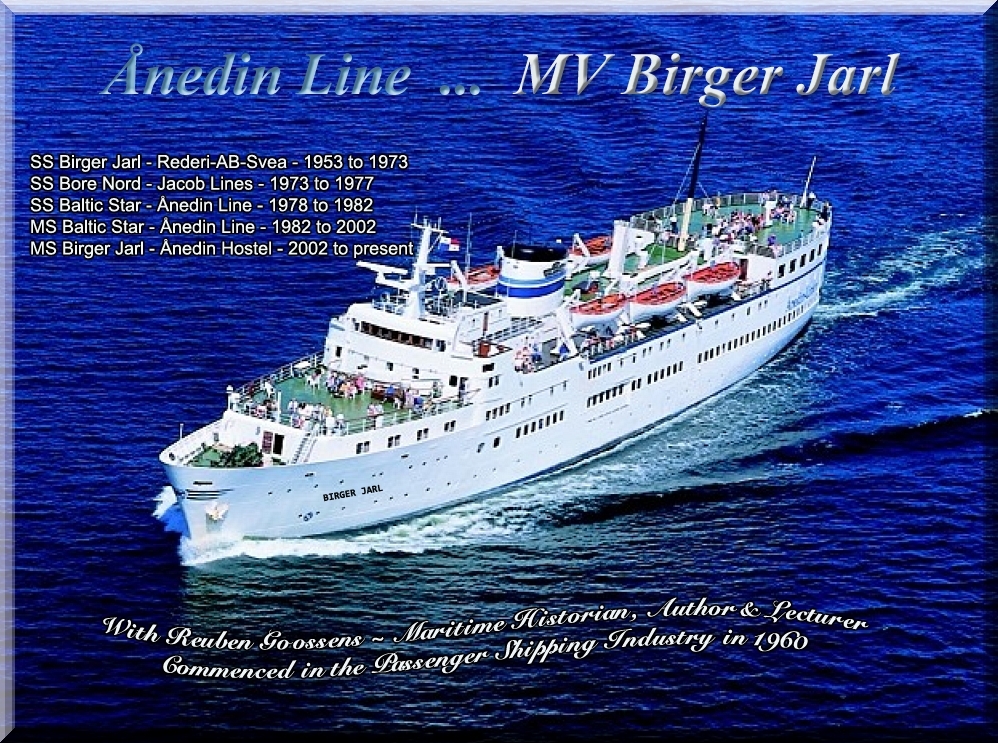 Short Introduction:
The delightful Veteran SS Birger Jarl is one of those very special traditional classic small passenger ships, which was originally built as a passenger car ferry for the Swedish "Rederi AB Svea," with a tonnage of 3,236 GRT (Gross registered Tons). Thankfully today in 2016 this fine small ship remains with us and she is located in Stockholm!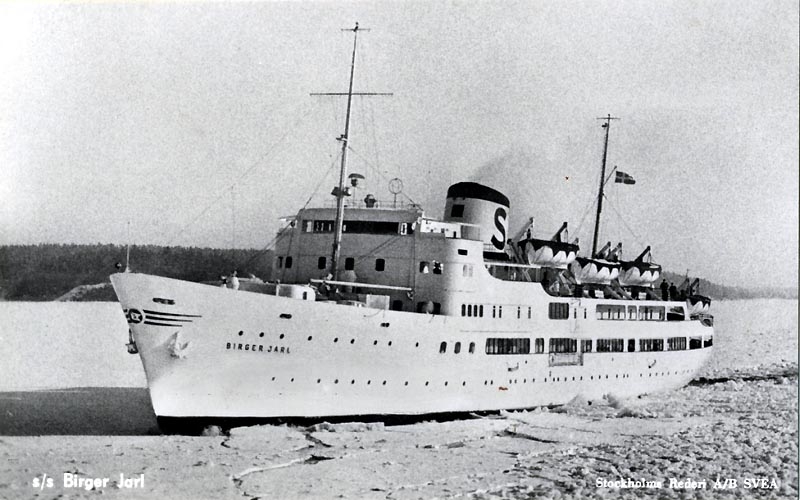 Here we see two early postcards of the SS Birger Jarl released by Rederi AB Svea, thus the S on the funnel!
Please Note: Photographs on this page are from the author's private collection, unless stated otherwise.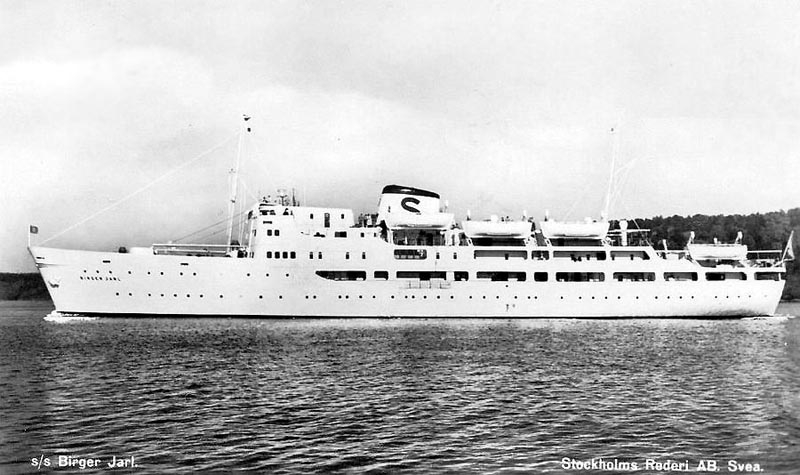 Later in 1982, when she was operated by Ånedin Line and she was given new diesel power plant and was comprehensively refitted and rebuilt into a cruise ship, with a new tonnage of 3,564 GRT.
The MV Birger Jarl has been included in Sweden's registry for historically and culturally important ships by Swedish National Maritime Museum.
Her first Years of Service 1953 to 1973:
On June 4, 1953 the SS Birger Jarl was given her official deep Sea trials, which proved to be successful and later that day she was delivered to her owners, Rederi AB Svea in Stockholm. She was fully crewed and then on the 7th.of June she was moved to her official berth and stocked up, being made ready for service.
Her accommodations were quite sumptuous, featuring rich timber panelling throughout the ship and it had been noted in the media of the day that some of the best Swedish artists had been involved, thus her First Class Lounge was luxurious, and the Second Class Lounge was certainly not far behind!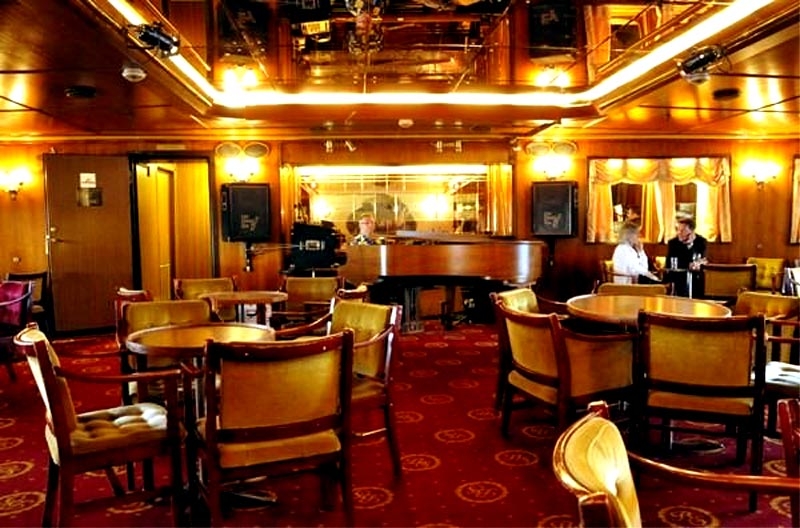 Here we see a delightful Lounge on board the SS Birger Jarl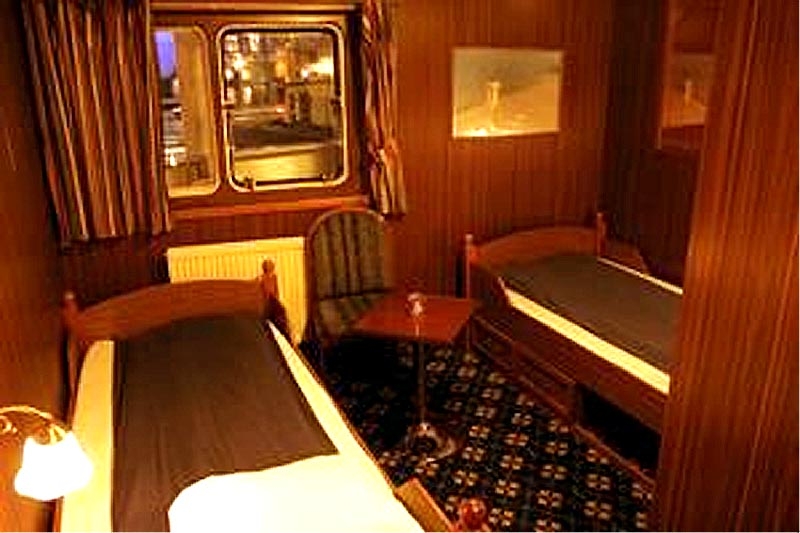 Here we see a richly timbered First Class, twin bedded cabin
The Birger Jarl offered 57 First Class berths and 216 in Second Class and the latter were relatively small. In addition there was also room for 600-day deck passengers, who had access to a lounge and other facilities of their own.
Another mention was the remarkable work and attention done to all safety equipment on the ship considering she was also a Class C1 Ice Breaker for during winter she would have to continue sailing and be an icebreaker! But, besides having the finest safety equipment on the Bridge and in the Engine Room, it had been noted that the ships sprinkler system that in winter was able to be fully maintained with warm water in order to prevent it from freezing. That is Scandinavian ingenuity!
SS Birger Jarl entered service on June 9, 1953 on the Stockholm to Helsinki service, which she did during the summer months, and during the winter months she operated the Stockholm to Mariehamn and Turku service and return. During the winter, the non-accommodated passengers were greatly lowered, as they would spend most of their time indoors!
She was a very popular ship as her classic interiors suited the Scandinavian clientele, and thus other companies would charter her. She was chartered in June 1963 for a special voyage to Visby, on the Island of Gotland, Sweden. In September 1963 by a Car enthusiast Club "KAK" and "KSSS," for a fishing trip to the Aaland archipelago. Charter voyages continued in 1965 as well as in 1967, in between her charters she continued her regular services.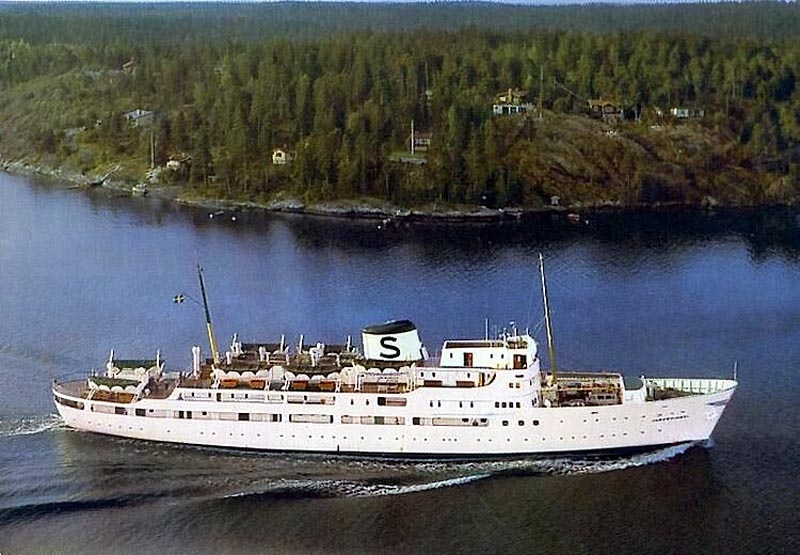 A wonderful full colour photograph of the Birger Jarl during her early years
Rederi AB Svea and the Svea Group of Companies owned around 53 ships most of which being small vessels. However, it had become obvious new and much larger ships were required as well as ships with roll on and roll off facilities for cars and trucks, etc. Thus the Svea group consisted of the Silja Line, Finska and Bore Lines.
On October 22, 1971 the Birger Jarl was placed on a new and a popular service sailing from Stockholm to Mariehamn and back, which many would take as a mini cruise. Finally on April 21, 1973 she departed for her very last Stockholm to Mariehamn service, for she was to be sold.
A New Phase - 1973 to 1977:
The Svea Group finally decided to sell the delightful Birger Jarl after she had been in service for a good 20 years. In April 1973 she was sold to a Bore Line subsidiary; Jacob Lines.
On April 25, 1973 she was officially renamed to "Bore Nord' as well as being registered in Jacobstad, thus flying the Finnish flag. Jacob Lines decided to send her to the Finnboda Shipyard at Nacka, where an elevator lift was attached to her aft starboard side in order that cars could drive on board via this ramp into a specially created garage.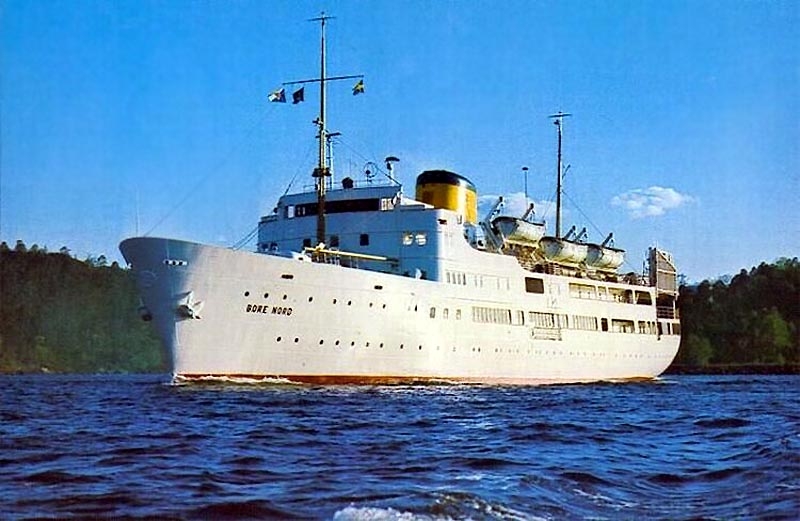 Jacob Lines SS Bore Nord, note the aft drive on, drive off ramp folded up at her side
Between May 18, 1973 and December 8, 1973 she operated on the most northerly ferry service across the Gulf of Bothnia between Pietarsaari (Jakobstad) and Skellefteå, 63°N.
For the summers of 1974 and 1975 she was chartered to the parent company Bore Line and she was used as a cruise ship Turku and Visby on the Swedish Island of Gotland, a popular resort region! She also was chartered to be used as an accommodation ship off the coast of Norway in 1976. When not on charter, the Bore Nord would return to her regular duties as normal.
October 1977 Changes:
This one month saw a several changes to this fine 24-year old girl! For Jacob Lines did a deal with their parent Company Bore Line on October 6, 1977 and exchanged the Bore Nord as a part payment for a new and larger ship. However, as Bore Line had no use for the ship they sold her on October 31, 1977 to Minicarriers Ab, Turku, Finland, associates of Godby Shipping. She was registered in Turku, Finland named the Minisea, however, this name was never placed on her hull. It was Minicarriers intention to giver her a refit and turn her into a motor ship and then place her on the cruise market on the popular short cruise service between Stockholm and Mariehamn on the Aland Islands, instead, she laid up at Mariehamn for a full year and left idle.
A wonderful New Life - SS Baltic Star - 1978 to 1982:
On October 19, 1978 the ex Bore Nord was sold to "Caribbean Shipping Co Inc, Panama" and she was towed to Turku where she received refit to become a fulltime cruise ship. This included the addition of a spacious new lounge on what had been the After Deck with large windows, as well as the removal of the Jacob line's addition of the car deck and starboard lift operated side car-ramp.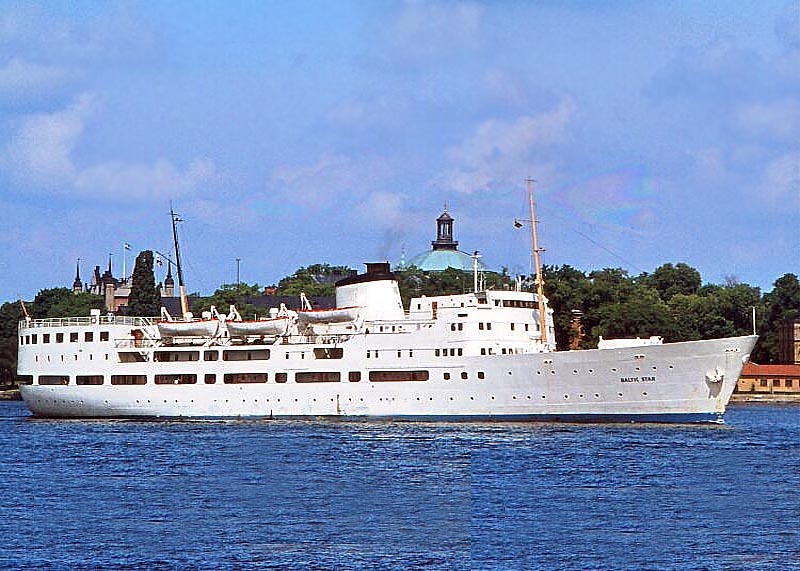 The SS Baltic Star seen in her first year of operation revealing the new lounge on her after deck
Photograph by & © Tommy Gjerling
She was renamed the Baltic Star and was chartered to Ånedin Line, being a Swedish version of the popular Bristish TV drama of the time, the "Onedin Line." And as of May 1979 the Baltic Star operated the popular 24-hour summer cruises from Stockholm to Mariehamn and return, as well as Stockholm to Visby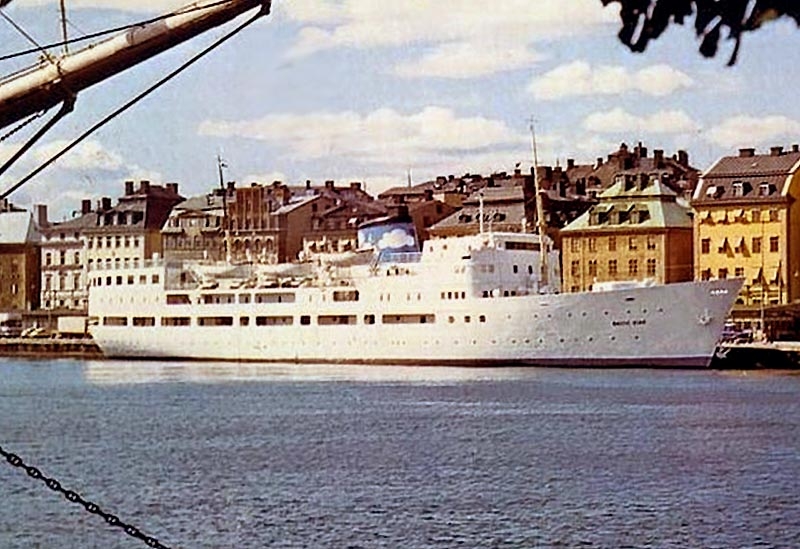 The Baltic Star now seen with her new blue cloud funnel markings
Photographer is unknown – Please see photo notes at the bottom of this page
On April 10, 1979 the SS Baltic Star operated a 7 day return voyage from Stockholm to Riga, Gdynia, Warnemünde, Rönne, Visby and back to Stockholm. But continued to operate the ever-popular short Stockholm to Mariehamn cruises, although she did have several incidents which are well recorded online.
Further changes to the MV Baltic Star - 1982 to 1989:
By 1982, the Baltic Star was one of the very last steam driven passenger ships in the Baltic, however, it had come to a point that her 29-year-old boilers had been playing up and had been causing troubles, thus it was decided to convert her to diesel propulsion. Thus in February of 1982 she was sent to Frederikshavn where they installed a MAN B&W - Burmeister & Wain Alpha 16-cylinder Diesel Engine SE 2,900 HP. When ready, she was returned to service on April 13.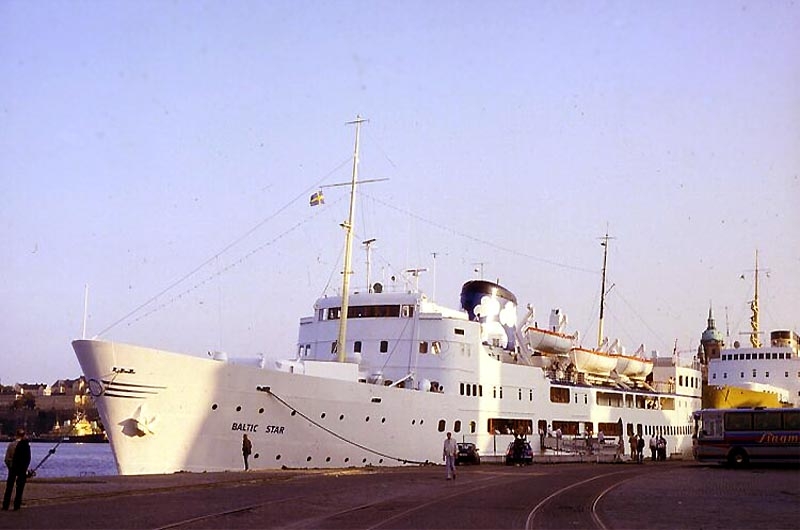 MV Baltic Star having just received her new B&W engines
Photographed by & © Mike Taplin
However, her new engines proved to be far from being powerful or all she was able to manage was a reduced speed of mere 12¼ knots. However, but at that time her owners decided, considering she was only being used for short cruises being less than 100 miles, it would be satisfactory for the time being. Interestingly her original funnel was now just a dummy, for located slightly further aft there was a new slender short pipe exhaust mast. This new addition made very little change to the ships classic appearance for it was quite discreet.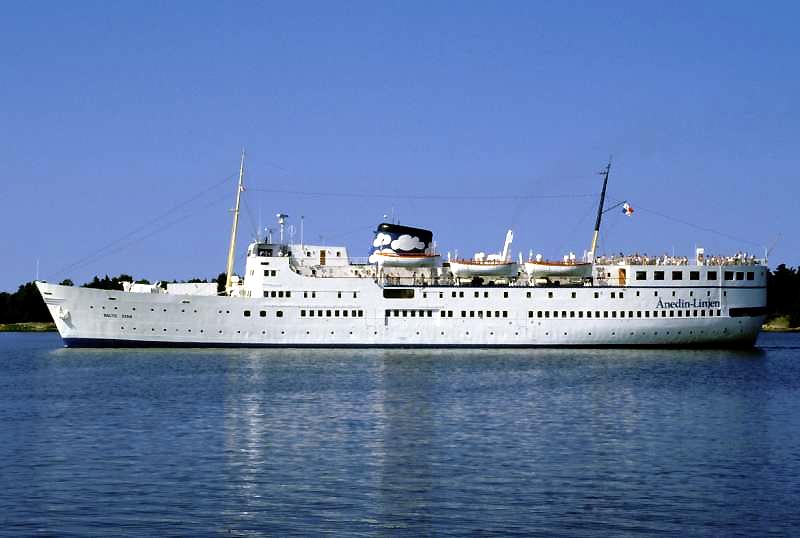 Here is another photo of the Baltic Star after she returned to service in 1984
Photograph by & © K Brzoza
The MV Baltic Star continued her short return voyages, although on July 26, 1985 she operated a special seven-day cruise to Lithuania. However, one of the major problems with her engines was not so much during the summer, but the Baltic Star was built to be an icebreaker and thus required to have enough power to break through the Baltic ice, and sadly frequently this became a major problem!
Another Transformation for the MV Baltic Star - 1989 to 2002:
However, it had become obvious that this fine classic, but solid and obviously a very popular ship needed a more powerful engine as well as some modernisation and that is just what was going to happen!
Thus in March 1989 she once again headed for the Frederikshavn shipyard where she was again given a new engine. This time she was given a MAN B&W - Burmeister & Wain Diesel Engine SE 3,600 HP and this more powerful unit would see the ship sail at a better service speed of 15.5 knots and capable of better. Whilst at the yard she received further changes, turning her into a superior cruise ship. Her original foremast was removed and this was replaced by a modern streamlined Signal Mast atop of the Bridge. Her lower superstructure was extended far forward, which not only provided additional cabins, but also a huge deck space above. In addition it was not much later that the blue and cloudy funnel received a dramatic change and it was given a far more elegant livery of stripes and the initials of the ships official owners "CSC" - "Caribbean Shipping Company," although she remained under charter and managed by Ånedin Line.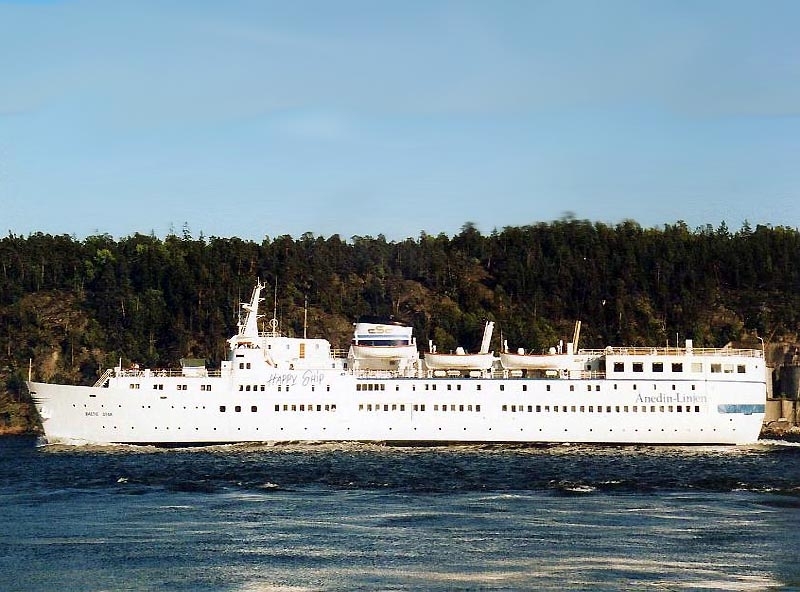 Externally the Baltic Star was far more modern looking with her new stretched areas and new mast, etc
She continued her services and became known as the "Happy Ship" and these words were pained on the sides of the ship, as can be seen above. Although in the late 1980s the Ånedin Line was aquired by Sally Line, but after Sally's demise, Ånedin Line was taken over by Effjohn International, being the parent company of Silja Lime.
Although she did continue her short Stockholm to Mariehamn cruises, but she also operated a good number of extended voyages to the Island of Saarermaa and Tallinn in Estonia and Riga in Latvia, as well to other ports! She continued in operation with her current owners until they decided to sell her late in February 2002.
MV Birger Jarl - Cruise Ship - 2002 to 2013:
MV Baltic Star was sold to Rederi AB Allandia of Stockholm on March 7, 2002 who duly returned to her, the name she had been christened with, back in 1953 - "Birger Jarl."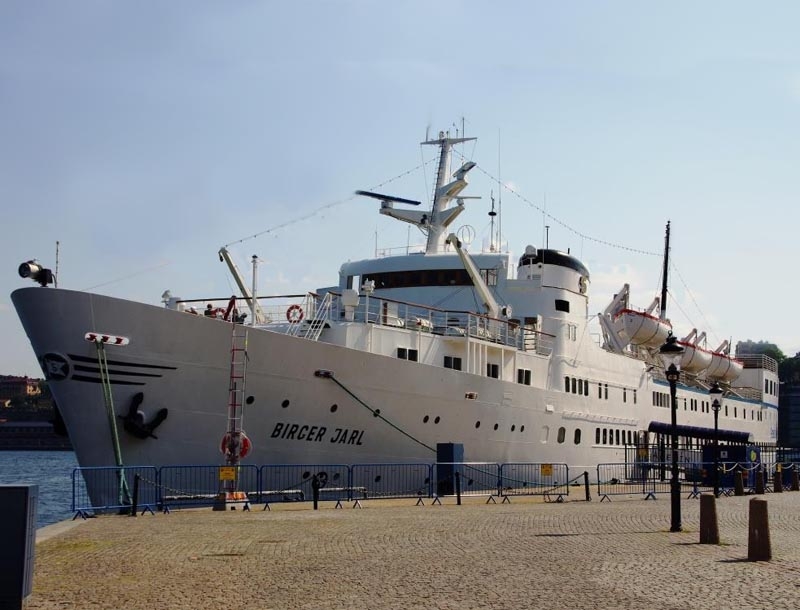 A fine shot of the MV Birger Jarl's bow whilst docked
Photographer is unknown – Please see photo notes at the bottom of this page
She was given a further refit making her ready for further cruise duties, with new and updated cabins and other improvements to the grand old ship of almost half a century!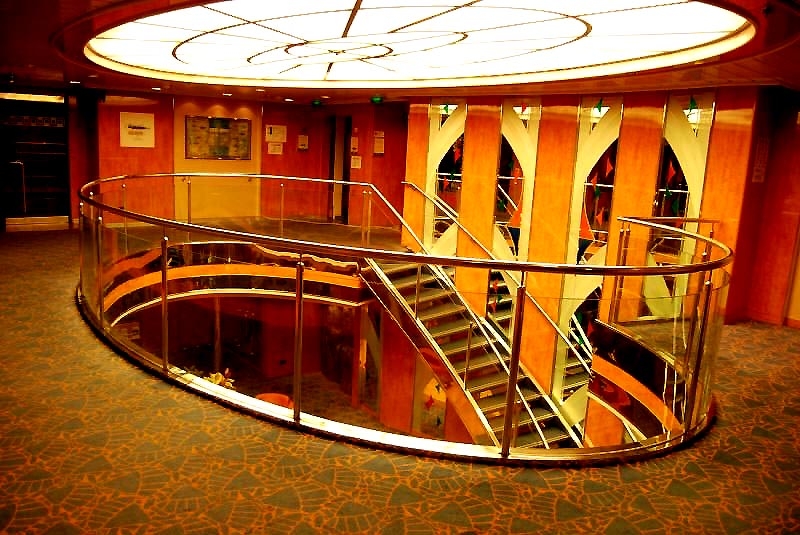 Is this an early fore runner of the modern Cruise Ship Atrium?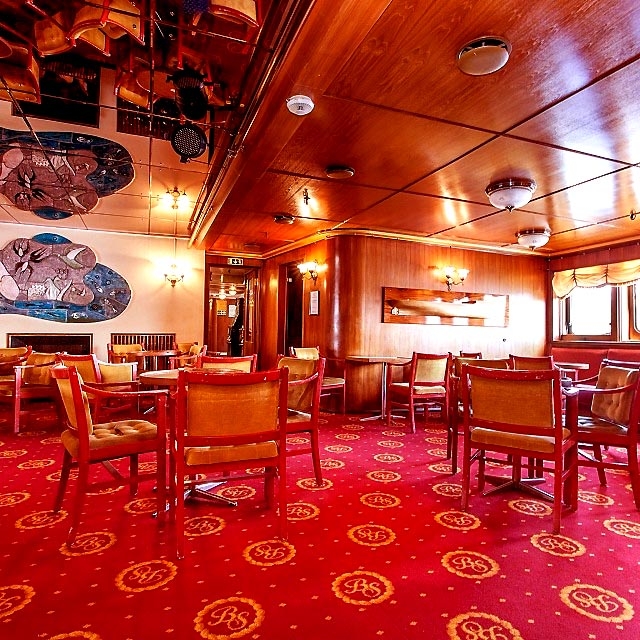 A beautifully decorated Lounge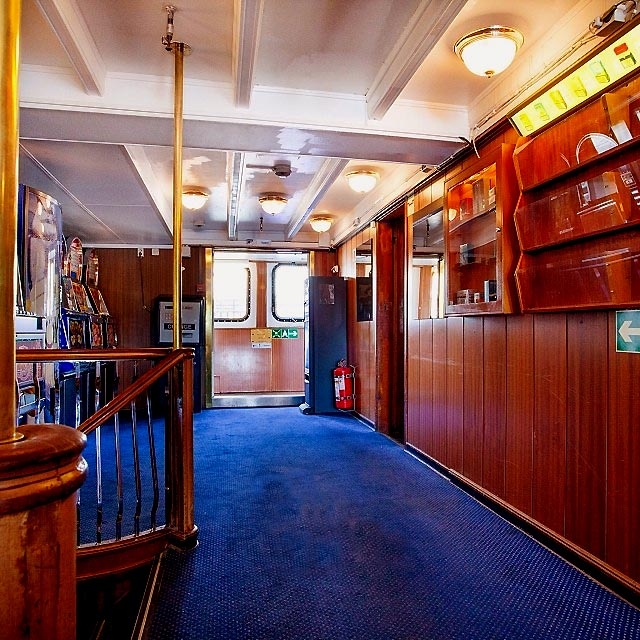 Main Deck Lobby with information racks and stairwell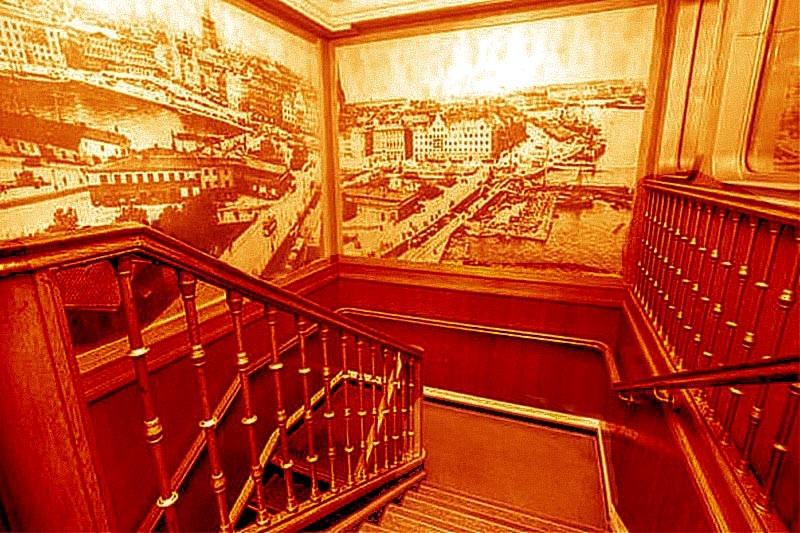 One of the ships amazing stairwells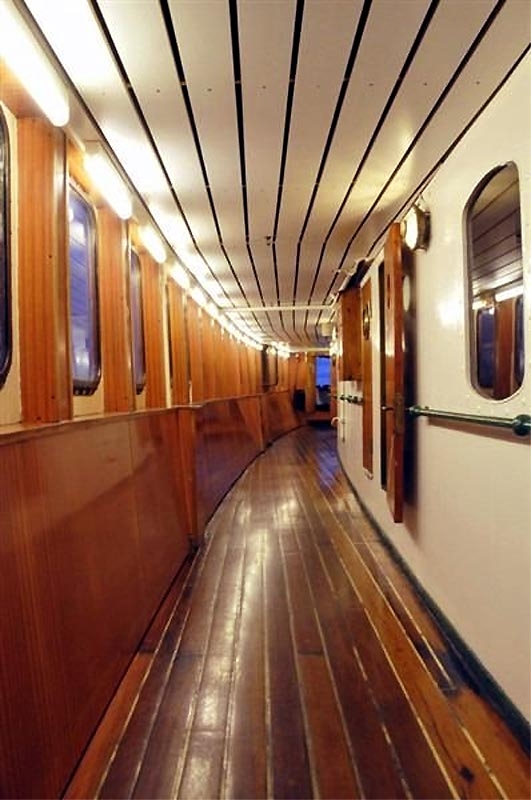 A narrow deck space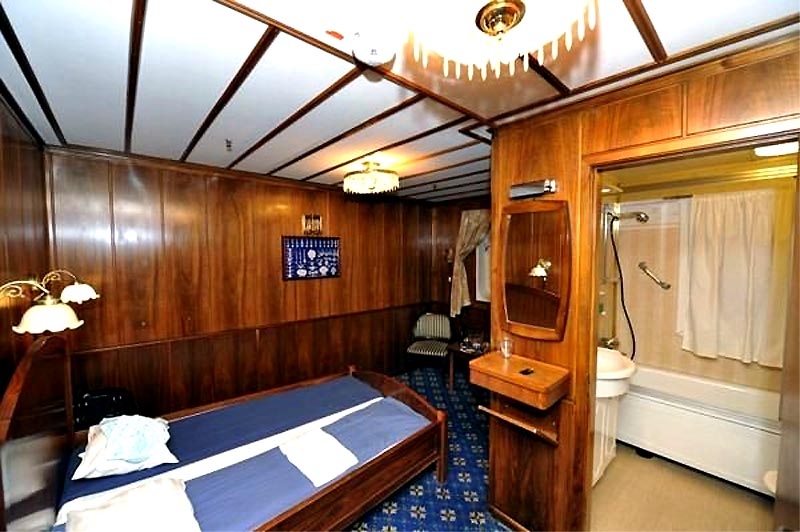 A twin/double bedded cabin with private facilities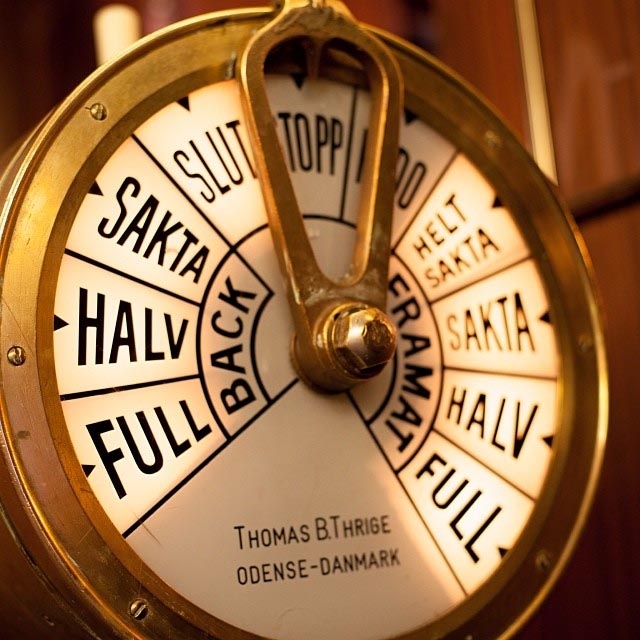 The ships original Telegraph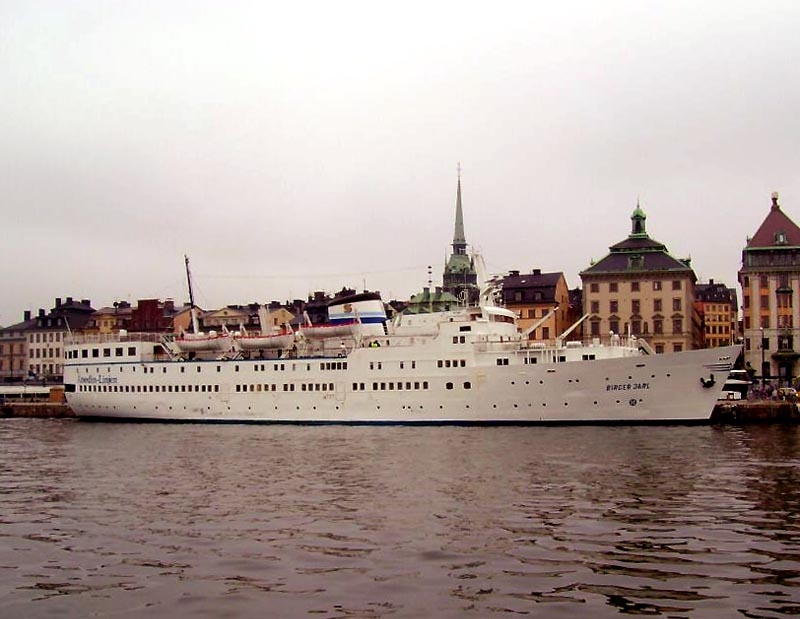 MV Birger Jarl seen in Port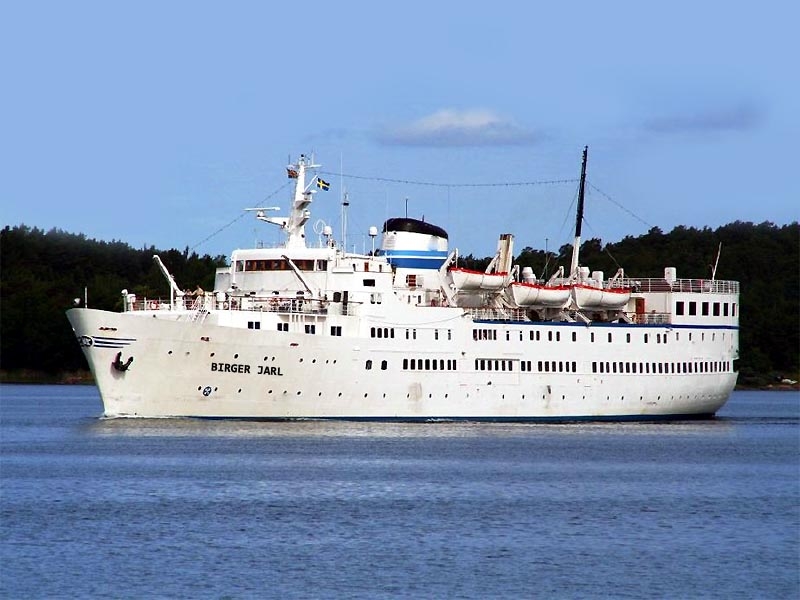 Another view of the cruise ship, MV Birger jarl
Although I am unsure of he operations and cruise schedules, but would assume that she would have returned to what she was so popular for and would have operated the short 24 hour cruises as well as the week long cruises to Estonia and Latvia, etc!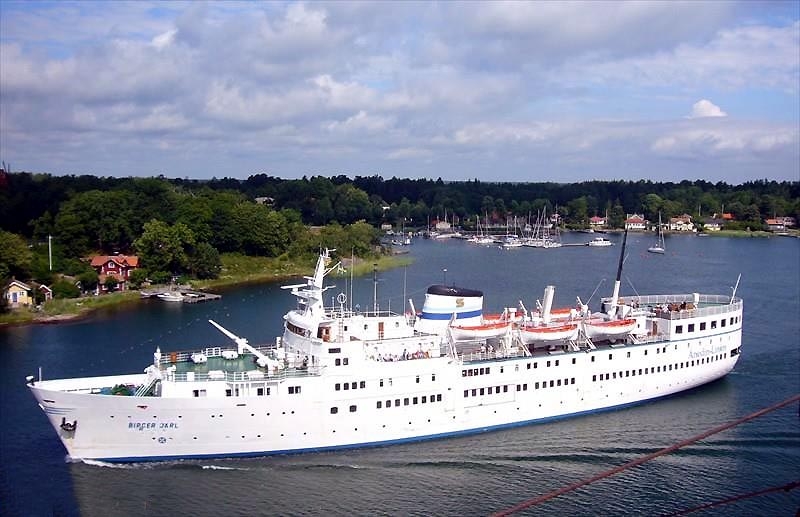 Seen in 2004, is a rather good looking 51 year MV Birger Jarl as she returns to port
However, in October 2005 she was officially registered to Birger Jarl AB, in Stockholm, but nothing changed and she just continued her same services.
From July 27, 2007 she was based at the port of Värtahamnen (Stockholm) and operated cruises to Mariehamn in Finland and continued to do so with variations. She had various problems during 2011 and apparently some repairs were required.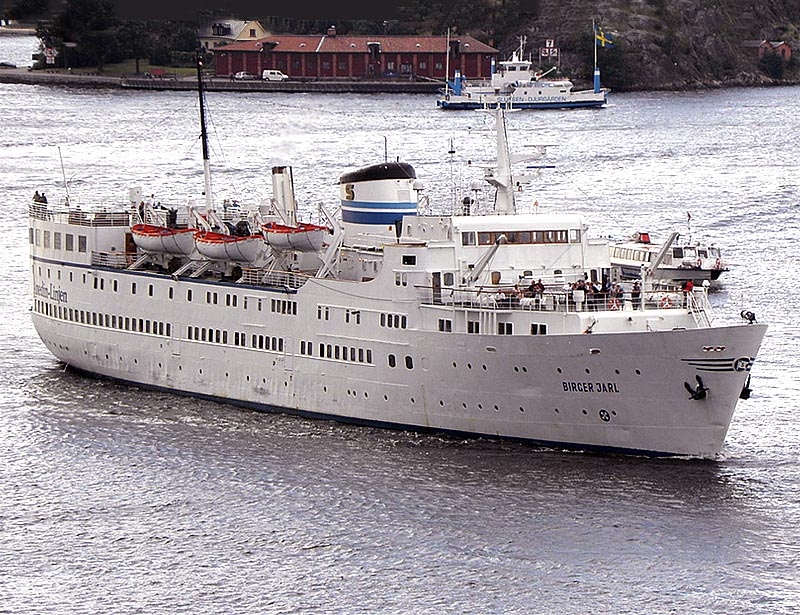 The MV Birger Jarl is seen here during her summer season of cruises of 2012
On December 14, 2012 the company applied for some reorganisation and the Birger jarl was temporarily laid up. However, on February 11, 2013 the MV Birger Jarl commenced to operate a cruise fortnightly, due to the lack of popularity, this continued to June of that year!
Sadly on June 6, 2013 the the MB Birger Jarl operated her very last ever 24-hour cruise between Stockholm and Mariehamn returning the next day June 7. She was officially deregistered on June 25, 2013.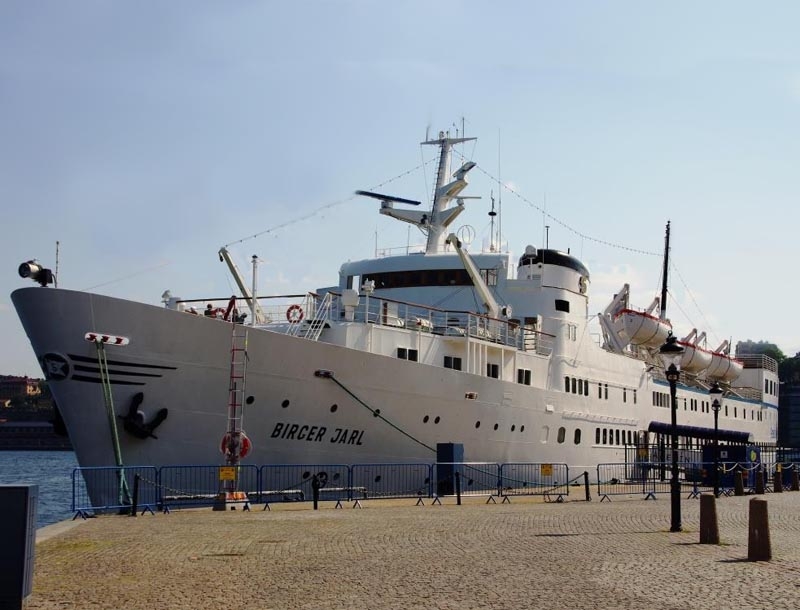 A sad view of the MV Birger Jarl's having returned from her final cruise to Mariehamn
Photographer is unknown - Please see photo notes at the bottom of this page
MV Birger Jarl – Restaurant/Hostel - 2013 to 2016:
The Birger Jarl was sold on June 6, 2016 to "Restaurant & Hostel Ånedin" of Stockholm and she has been operating as an accommodation facility, restaurant, and function centre in Stockholm since then.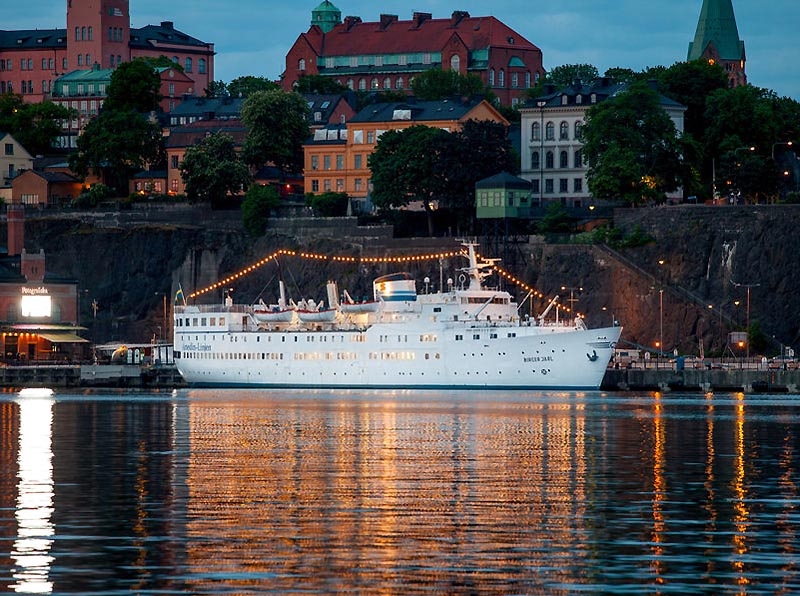 Birger Jarl is seen here in Stockholm in her new role as a Hotel/Hostel and Restaurant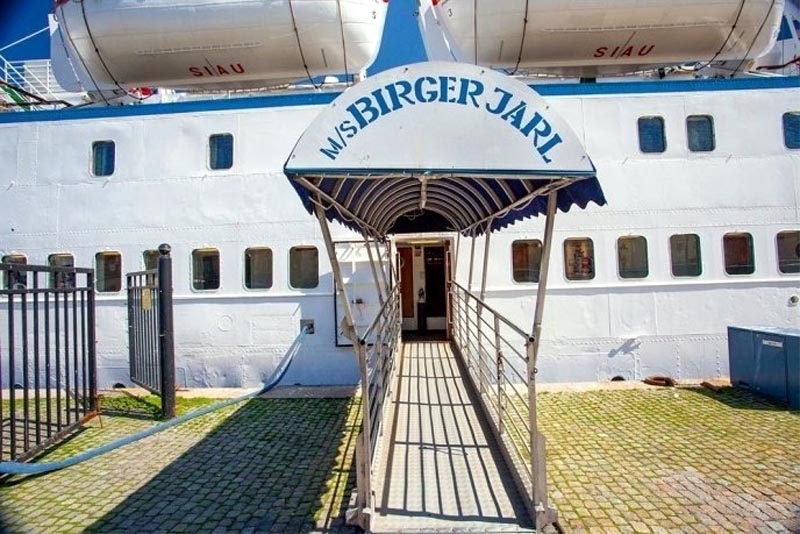 The Entrance to the Birger Jarl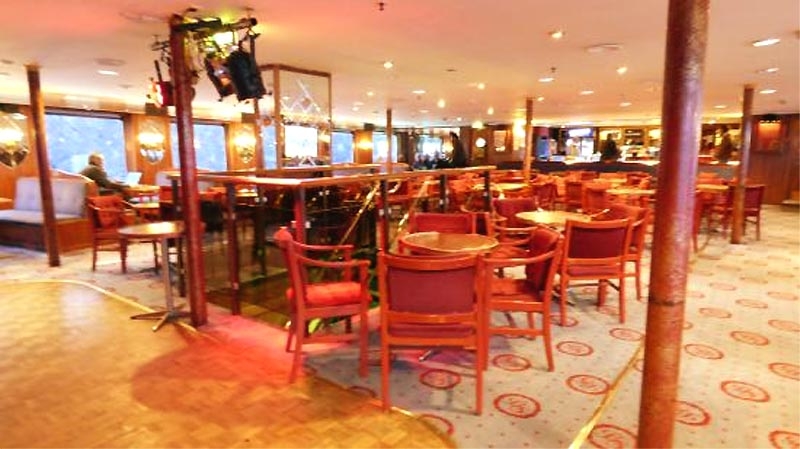 Here we see one of the Lounge Bars that has been updated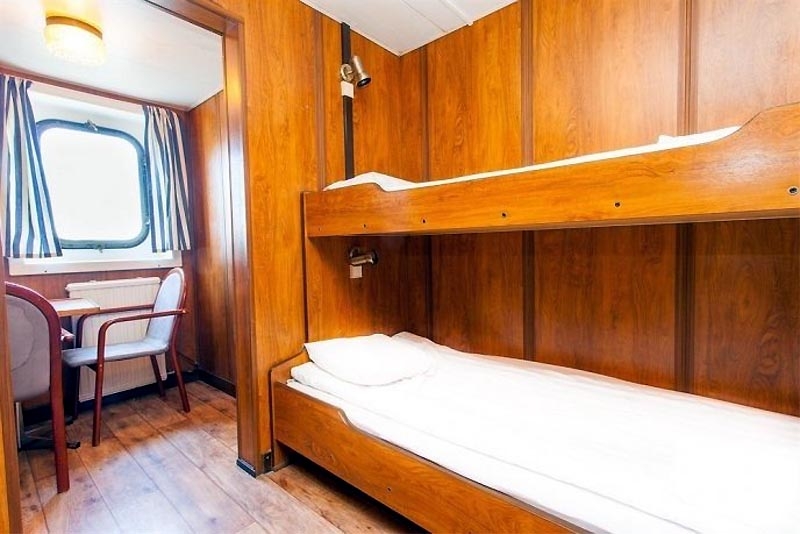 An outside two berth cabin with private facilities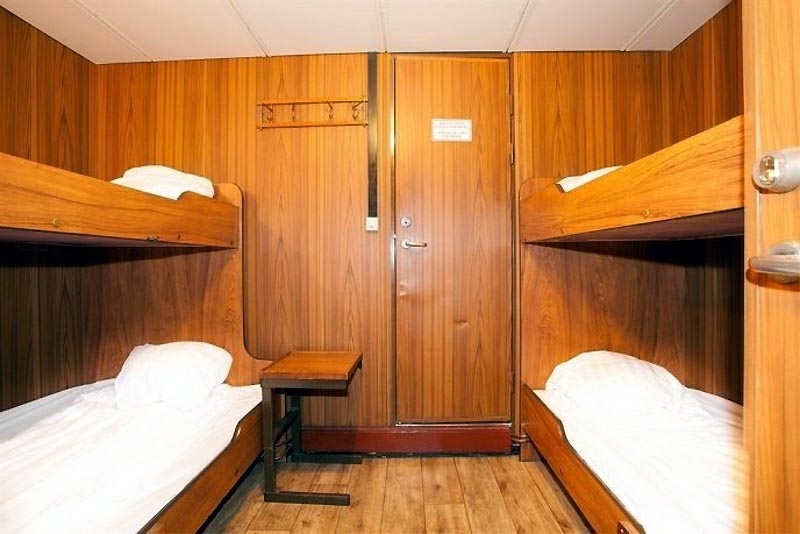 A more economical style of accommodation for younger people who do not mind sharing, a four berth cabin with share facilities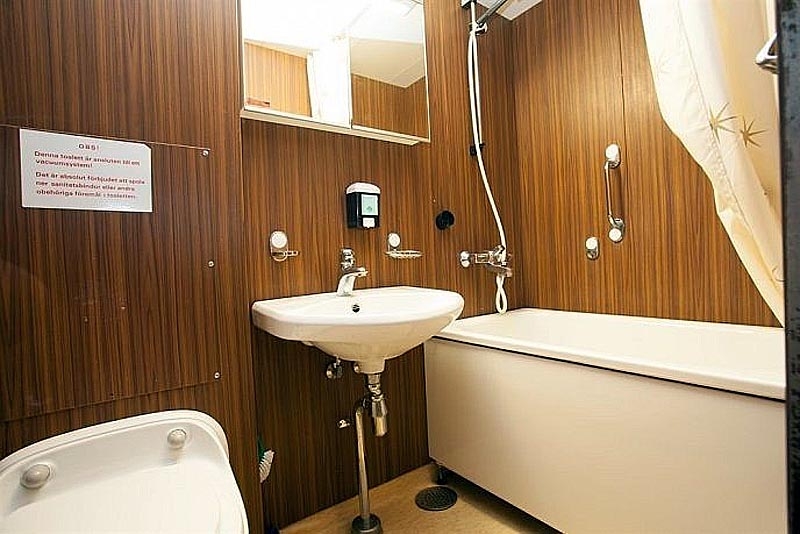 A typical shipboard bathroom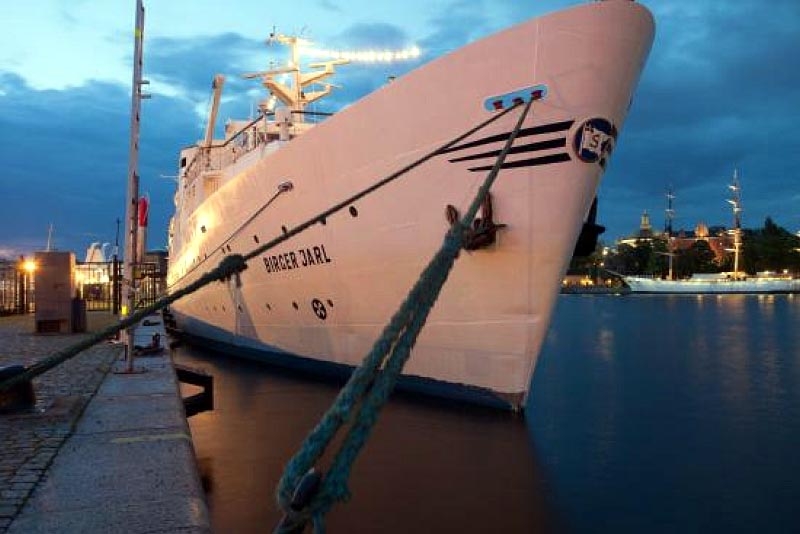 Birger Jarl's Bow seen mid 2016
Update Late 2016:
The soon to be 64-year-old Classic Passenger ship that has proven to be a most reliable ship, which some of the most elegant facilities has been placed on the market. Although, it would take a considerable amount to bring her up to SOLAS requirements and to see her sail as a passenger ship again, but this wonderful old lady could also have another life if someone who has grand ideas could use this fine classic Dame, that already offers  some of the finest classic features that many tourists are seeking! Thus, why not look at this amazing small ship as an investment.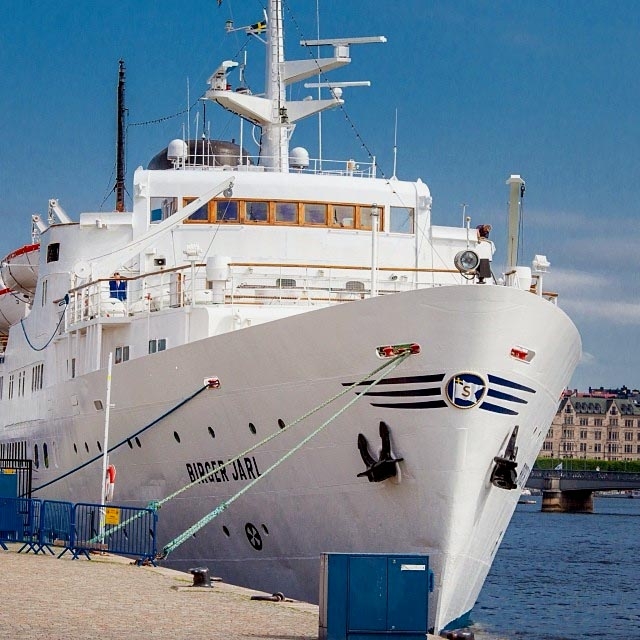 The beautiful MS Birger Jarl awaiting her future in Stockholm late in 2016
The MV Birger Jarl is located in Stockholm Sweden and she is available for: US$3,800,000 / A$4,963,427 but this may be negotiable. I do have a contact if you are interested to obtain her, but only if you have a complete and a true interest and a plan for the ship, as well as funding available combined with a possible berth or if there could be another plan, I would love to hear it?!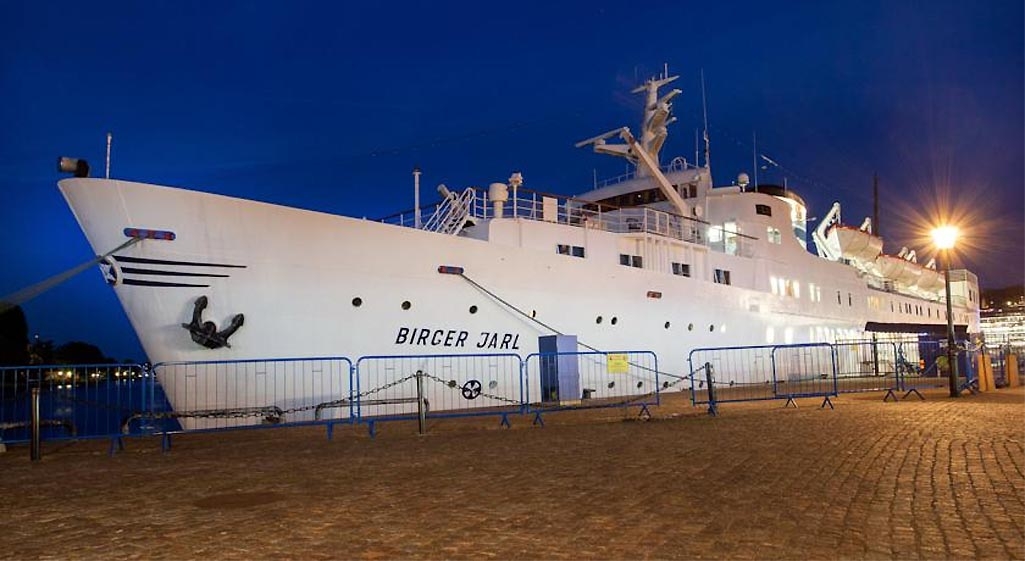 The spotless and superbly maintained MS Birger Jarl is seen at night
*****************************
Specifications of the SS Birger Jarl as built 1953:
Type:……………………………………….Passenger & Car Ferry.
For:………………………………………….Rederi-AB-Svea
Builder:……………………………………Finnboda varv, Nacka, Sweden.
Yard Number:………………………….351.
IMO:………………………………………..5044893.
MMSI:………………………………………265878000.
Call Sign:………………………………..SIAU.
Launched:……………………………….January 15, 1953.
In service:……………………………….June 9, 1953.
Tonnage:…………………………………3,236 GRT - 850 DWT.
Length:……………………………………304ft - 92.66m.
Beam:……………………………………..46.10ft - 14.28m.
Draught:..............................16.8ft – 5.1m.
Ice class:………………………………..1C.
Power:…………………………………….Quadruple steam engine with exhaust steam turbo compressor, 3,300 hk.
Propulsion:…………………………….1 propeller.
Speed:……………………………………15 knots (27.78 km/h; 17.26 mph).
Capacity:………………………………..57 First Class, 216 Second Class plus 600 Day passengers.
Cars:………………………………………30.
Specifications after rebuilding in 1989:
Type:……………………………………….Cruise Ship / Hotel / Hostel
Tonnage:…………………………………3,564 GRT - 864 DWT.
New installed power:………………MAN–B&W 4SA diesel engine, 2,795 kW.
Speed:…………………………………….15.5 knots (28.71 km/h; 17.84 mph).
Passengers:…………………………….369 passengers One Class with 369 passenger berths.
Status:…………………………………….In service as a hotel but for Sale.
Seven stages of the Birger Jarl:
SS Birger Jarl - Rederi-AB-Svea - 1953 to 1973:
SS Bore Nord - Jacob Lines - 1973 to 1977:
SS Baltic Star - Ånedin Line - 1978 to 1982:
MV Baltic Star - Ånedin Line - 1982 to 1989 new diesel engine:
MV Baltic Star - Ånedin Line - 1989 to 2002 rebuilding & more powerful Engines:
MV Birger Jarl - Cruise Ship - 2002 to 2016:
MV Birger Jarl - Restaurant & Hostel Ånedin - 2016:
We will

Never

Forget this Wonderful Classic Ship!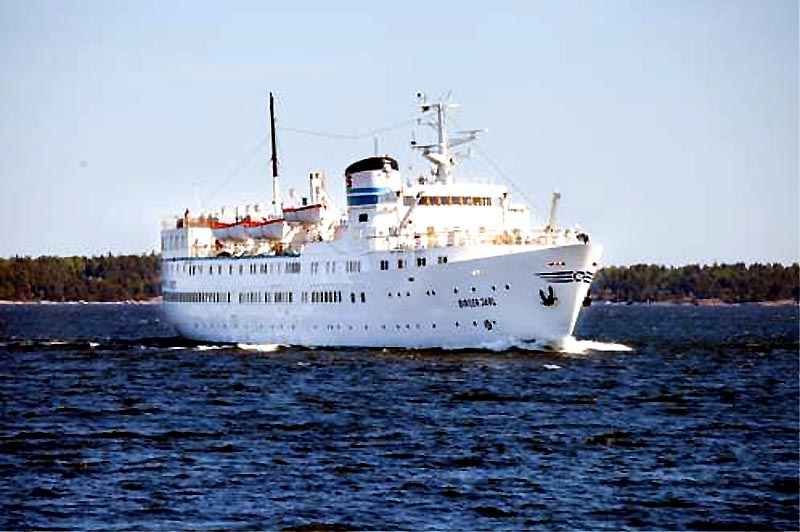 The amazingly beautiful Classic ship, the MV Birger Jarl has been around for a good 64 years. I sailed on a
ship that was 20 years older at the time and she continued to sail on for quite some time yet. Today she is about to become
a major luxury tropical resort in Asia and I was responsible saving her from the breakers and selling her to her new owners!
"Blue Water Liners sailing to the distant shores.
I watched them come, I watched them go and I watched them die."
****************************
Visit our ssMaritime Main INDEX
Where you will discover over 700 Classic Passenger & Passenger-Cargo Liners!
ssMaritime.com & ssMaritime.net
Where the ships of the past make history & the 1914 built MV Doulos Story
Please Note: ssmaritime and associated sites are 100% non-commercial and the author does not seek funding or favours and never have and never will.
Photographs on ssmaritime and associate pages are either by the author or from the author's private collection. In addition there are some images and photographs that have been provided by Shipping Companies or private photographers or collectors. Credit is given to all contributors, however, there are some photographs provided to me without details regarding the photographer or owner concerned. Therefore, I hereby invite if owners of these images would be so kind to make them-selves known to me (my email address can be found at the bottom of the page on www.ssmaritime.com), in order that due credit may be given.
ssMaritime is owned & © Copyright by Reuben Goossens - All Rights Reserved