Please Note: Firefox and some other search engines are not suitable – Use "Internet Explorer" for this page to load perfectly!

With Reuben Goossens
Maritime Historian, Cruise'n'Ship Reviewer, Author, Journalist & Lecturer
From Office Boy in 1960 to Managing a Mayor Shipping Company to finally operating my beloved Cruise Company!
Presenting…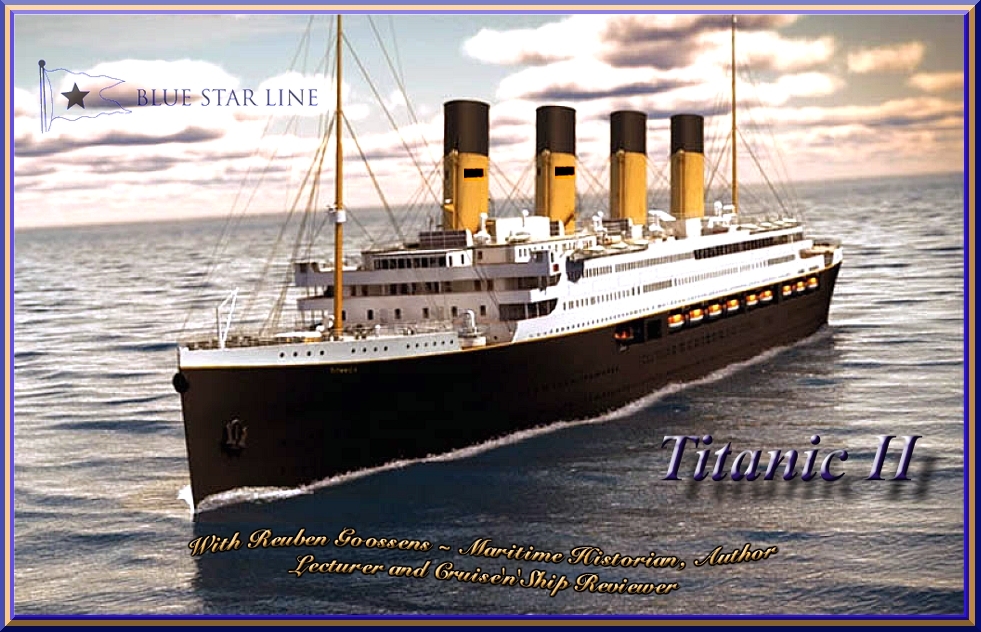 Please note: All Titanic II photographs are provided by & © Blue Star Line
Are you ready for something out of the ordinary in cruising? Then in 2016 you will be able to board a cruise new ship that is able to provide her passengers an Edwardian Period of Ocean Liner style of travel across the Atlantic on a voyage from Southampton to New York or visa versa! If you feel this is for you, then when you are on board you will be provided with costuming, pending on the class you are in at the time, considering that she is technically a three-class ship, and thus you will be dressed at the evening meal in grand style in an elegant evening gown, or the finest suit of the time in First Class, A stylish suit and a nice dress in Second Class, and a rather modest woollen style clothing in Third Class, etc.
Titanic II - Introduction:
The author having been in the passenger shipping industry since the 1960s and having written on well over 500 classic liners and cruise ships, and given maritime lectures on cruise ships, including the RMS Titanic, including one whilst at sea between Australia and England in 2012 on the 100th.anniversarry of the great tragedy that beset this wonderful ship! Thus having written on all three of the sisters, out of which only one the three ships built actually sailed on successfully as a full time Trans-Atlantic liner until long after WWI, and that was the RMS Olympic that sailed on to 1935.
Thus when I heard that our Australian Mr. Palmer was planning to built a replica of the Titanic, I wondered at first if he had gone, well as they say here, "Gone Bananas" or something, but no this astute businessman is not known for making any errors when it comes to spending his money and that is why he is one of this nation's wealthiest men around!
Thus, the amazing Australian mining magnate, resort owner and a great entreuponeur Mr. Clive Palmer announced on April 30, 2012 his plans to build a replica of the Titanic, however, the big difference was that this new ship would be a far superior ship than the original Titanic had ever been!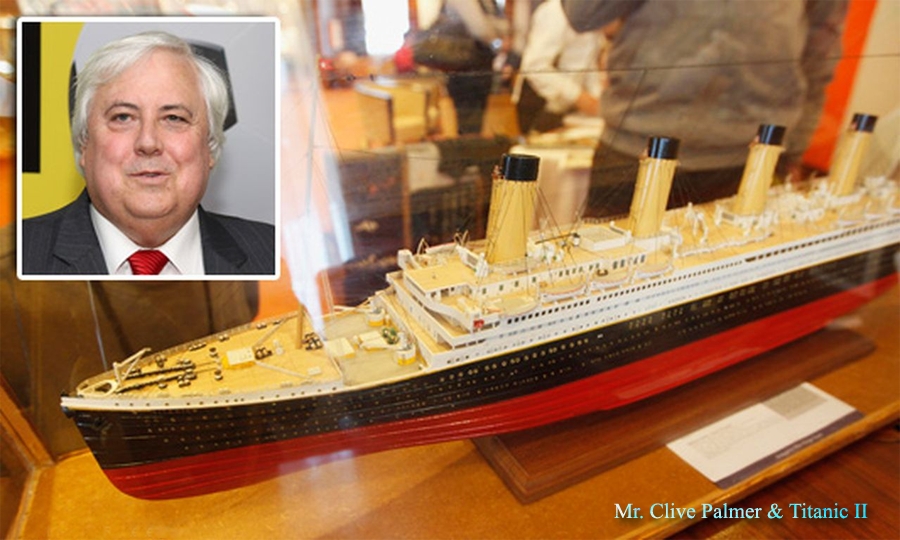 A model of the new ship and an inset of Mr. Clive Palmer
With a great deal of planning with some of the very best maritime experts in the world, it was announced, that Titanic II would feature some of the very latest technology sourced from around the world as well as the best safety equipment. Her bridge will have two sections, the forward section will be a replica of the original Titanic bridge, whist the aft section is an ultra modern high technology bridge, that will have every possible feature that is available in 2016 and obviously Titanic II will be fully certified and conform to all International regulations and SOLAS of course!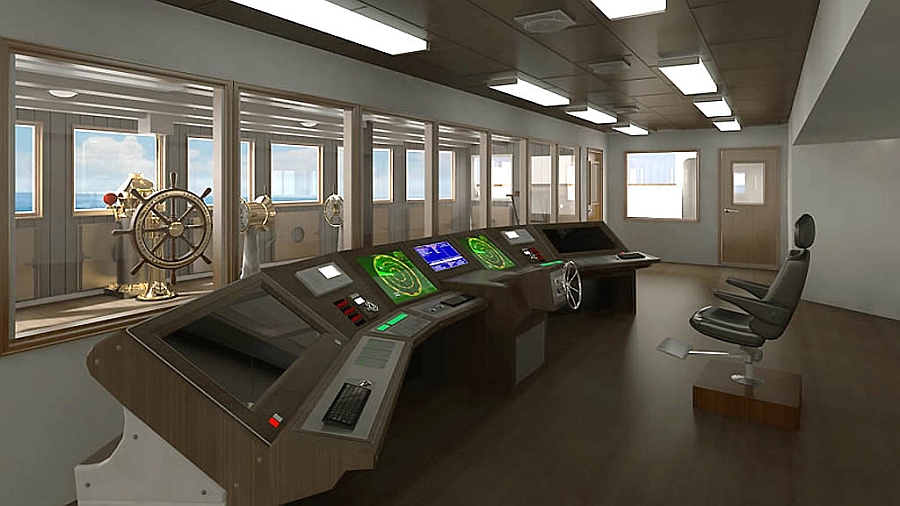 A view of the modern and the original Bridge
Yet to look at her externally, there is no doubt that she will look just like her namesake, but if you look very closely, you will note some changes as Titanic II will be somewhat different, as in her upper hull level you will discover that she has the latest lifeboats and tenders set closely into her hull, yet there are those beautiful wooden lifeboats up on Boat Deck, just as there were on the original Titanic. It is important to note that the new lifeboats are obviously the main life saving equipment and they have a capacity for many more people than are actually on board and there are a large number of additional life rafts! In addition, her underwater hull will be far superior as it will be fully welded and not riveted, and to make her far more efficient in the water she will have a bulbous bow and have bow thrusters and stabilizers.
Then there is underwater magic, for above she looks like 1912, yet below water she is very much twenty first century and as promised, she will be driven by "triple screws" just like the original ship, but that is where the similarities end. Titanic II will be driven by an ultra modern propulsion unit, the triple "azipod" system, which also steers the ship, the two outer units usually face forward as the screw blades are shaped to work that way, and they can turn, whilst the centre unit will always face aft. Therefore as the propulsion unit also steers the ship, she will have dummy rudder that looks like the original, but it hangs just above the water!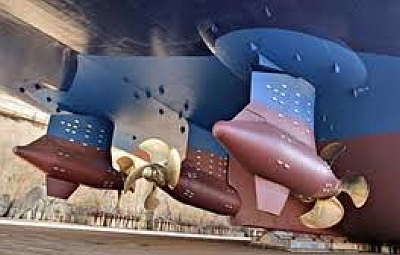 Here we see the triple azipods under another ship
Titanic II will also feature the latest in radar and satellite systems, as well as full computerisation, etc. Therefore the Titanic II will be very much a ship for the twenty-first century when she is launched in 2016!
It stands to reason that Titanic II will have additional space on board compared to the original Titanic and she has those dummy funnels, as four funnels are certainly not required. In fact the two forward funnels will have viewing galleries in them.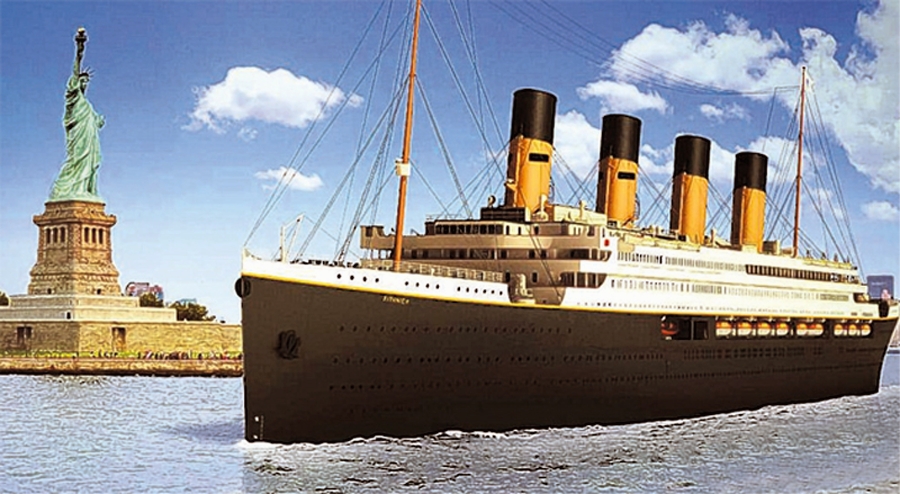 Titanic II seen in New York sometime in the future
Note the black cut-outs in the forward funnels being the viewing galleries
Classes:
Although the Titanic will be operated as a Three Class ship for authenticity sake, there will be options available to her passengers. These are the purchase of passage of a One Class voyage for the six nights on board, or passengers may opt for two nights in each of the classes, alternatively spend the six nights in just one class! Amazingly, Third Class has been one of the most sought after, from enquiries around the world, which might have much to do with the Titanic Movie and the famed dance scene in the Third Class Lounge.
For interest, all cabins on the original decks as well as all public rooms from D deck upwards are as they were on the original RMS Titanic. However, there are cabins located on the lower (a new) deck, these cabins will be more "typical for a modern cruise vessel" and have all the modern facilities. These cabins will be popular and will have the run of the ship, but will be allocated to a certain dinning rooms.
Titanic II – Specification and details:
According to the general arrangement as was published on July 17, 2012, the length of Titanic II will be the same as that of the original ship, but it will be *4.2m (13.9ft) wider and its draught will be less by 3m (9.10ft). Thus the Titanic II will be 270 metres long and 53 metres high and she will have nine decks offering a total of 840 cabins. *This was done to increase her stability.
She will accommodate a total of 2,435 passengers and 900-crew. Her tonnage is should be an estimated 56,000 GRT (gross registered tonnage). Mr. Palmer has said that she will cost around A$400 to 500 million.
To comply with SOLAS regulations (Safety Of Life At Sea) the ship will be a mixture of an authentic appearance and modern safety features: such as enough lifeboats! Modern (anti-iceberg) radar will also be a feature. In fact an extra deck between the original 'D' and 'C' that is called the 'Safety Deck' will be added to the design, to accommodate 18 modern lifeboats, safety chutes, a 400 seat theatre, casino, shops and a hospital. There is also the re-created telegraph room.
Yes, it is true - she will be three classes of accommodation, just like the original Titanic. Third class accommodations will be complete with shared bathrooms, dancing to Irish drums and Irish stew on the menu. Mr. Palmer said plans are in the works to provide costumes from the era of Titanic for every passenger based on what class of ticket they hold.
Her lounges and other public spaces will be carefully recreated and timber cladding on walls and light fittings, furnishings, artworks to crystal chandeliers all being sourced from the finest sources!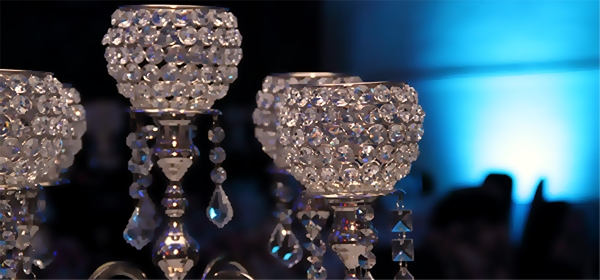 A sample of the crystal to be used on board
Other possible features that are being discussed at this time are; "storage for cars on-deck or in a garage" and "excursions ashore in replica lifeboats."      
Titanic II will be built at the "Jinling Shipyards" in Nanjing, China, and this will commence later in 2013, but when she is finally completed, she will sail to the UK and will be made ready for her maiden voyage from Southampton to New York, being a repeat voyage in memory fateful 1912 voyage that ended in disaster for the original Titanic. Amazingly, the ship is already close to booked out!
"Deltamarin" a Finnish-based naval architecture and engineering firm has been fully involved in the design of the Titanic II, and V-Ships will manage the ship when she comes in service. V-Ships of course are one of the world's most famous ship management companies, and Blue Star Line could not have obtained a better company for their new ship. In addition to have these companies working with them does mean that this venture will come to a grand finale when the Blue Star Line Titanic II departs on her maiden voyage in 2016!
It is important to note that there are some major players involved in the planning, designing, building and operating the all-new Titanic II. It is for this reason I have placed some of these below.

Deltamarin:
Deltamarin are a Finnish-based naval architecture and engineering firm. Their company promise: "Combining cost efficiency with sustainability", means that sustainable design does not have to imply added costs to the ship owners or yards, it can be quite the contrary.
They specialise in consulting, design and engineering from small concept development tasks and studies to complete engineering packages in the marine field. Offering services to the Marine and Offshore industries worldwide.
Deltamarin use the latest technologies in order to respond to the latest requirements endorsed upon maritime new buildings, such as sophisticated 3D modelling commencing at the concept design phase as well as the latest document handling and sharing applications to support effective project execution and to achieve the most optimal end result.
Just for interest, Deltamarin was also responsible for Celebrity Cruises' hugely popular Celebrity Solstice, and Royal Caribbean's Oasis of the Seas, thus their pedigree goes a long way back and in recent times as I have just shown, they are well known!
CSC Jinling Shipyard:
Jinling Shipyard has the world's largest comb type slipway. A Guinness world record has been won for heaviest launching weight of a vessel by side slipway. To date Jinling Shipyard has delivered and exported hundreds of large ships to their buyers in over 20 countries and regions with high a reputation in domestic and international shipbuilding industry of China.
For many years Jinling Shipyard has been in the top 50 of the International Shipbuilding Industry, achieving its DWT (deadweight tonnage) targets of new orders and deliveries. An amazing feat indeed!
Lloyd's Register:
Blue Star Line Chairman Clive Palmer announced the appointment of Lloyd's Register to review the design and safety features for Blue Star Line's Titanic II project. Mr Palmer said Lloyd's Register had more than 250 years' experience with passenger ships and would review key design drawings, calculations and studies for Titanic II. He said the appointment of Lloyd's Register further strengthened the team that had been assembled to deliver Titanic II in 2016.
"This will include class rules and Safety of Life at Sea (SOLAS) aspects which relate to the structure, stability and safety of Titanic II." Said Mr. Palmer.
Paul Nichols, the Lead Specialist with Lloyd's Register's Passenger Ship Support Centre in the UK, said Lloyds Register was delighted to be part of the Titanic II project, "Working with Blue Star Line and Titanic II's designers "Deltamarin," Lloyd's Register will help ensure the vessel will be compliant with all the current statutory and classification regulations," Mr Nichols said.
V.Ships Leisure:
V.Ships Leisure is the world's largest supplier of management and outsourcing services to the maritime leisure industry.
It is the passenger shipping arm of V.Ships being the world's leading provider of third-party ship management and related services. The companies CEO Mr. Andrea Zito said the company was pleased to be associated with Blue Star Line and Titanic II. "We are very pleased to be part of the team that V.Ships will re-create this iconic ship in a project which we will combine our current know-how with our heritage from the time Vlasov created the first Sitmar Line and then Sitmar Cruises," he said. V.Ships Leisure 200 shore-based and 7,000 crew members provide services to more than 120 cruise ships, ferries and super yachts. These services are in many cases customised to meet the specific needs of clients including the ability to provide integrated deck and engine and hotel management as part of the same service offering. But, "We also want to recognise the artists and artisans whose skill, creativity and dexterity has never been fully recognised because of the ship's limited service." Said Mr. Zito.

When will she be Built - When will she be Completed?
Thus, we have seen that some of the world finest maritime specialist's are busy at work on this great ship, but actual building of the Titanic II will commence late in 2013 and she will be completed late, around September 2016.
Now the real question now is, "what will her interiors really look like?" Are you ready to discover the sheer beauty of Titanic II? I am sure that you will be amazed by the authenticity for the lounges on board will be close to identical to the actual venues on the original Titanic. But the big difference is that this ship will; 1. Be fireproof. 2. Built to withstand Iceberg's and any kind of weather conditions. 3. She will have world standard safety features and navigation equipment on board this High-Tech ship that will have back-ups, after back-up! Thus there is no was that she will ever sink as she retraces the original voyage from Southampton to New York in 1916.
Titanic II Photo Album
First Class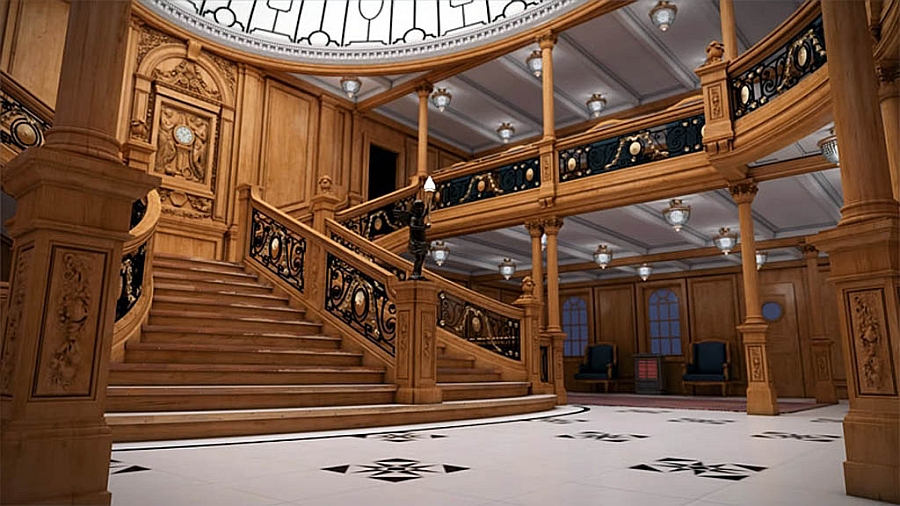 Above & below

: The Grand Stairwell and its grand glass dome & crystal chandelier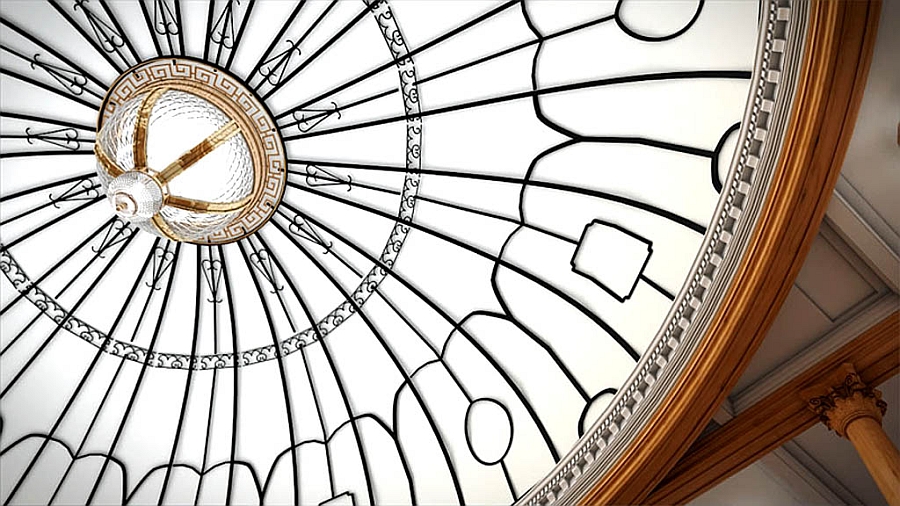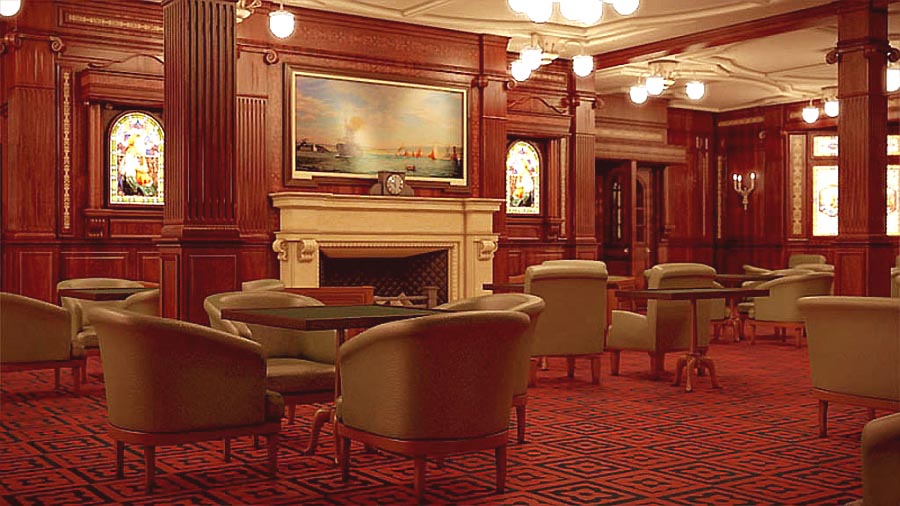 The Smoking Room – the original is seen below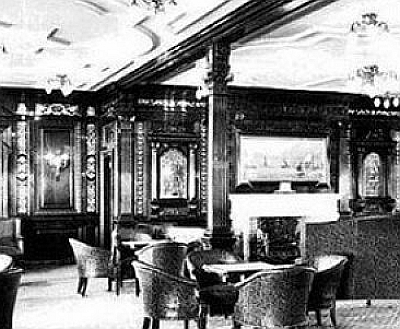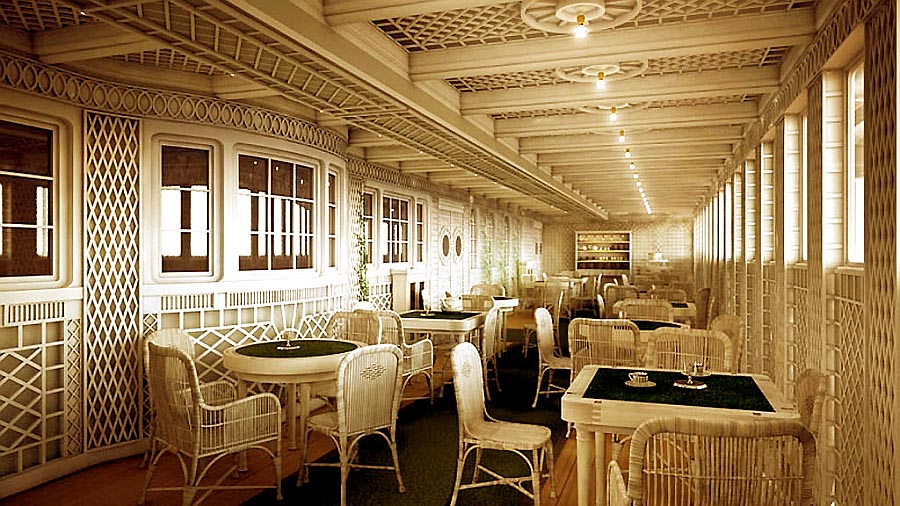 The famed Café Parisien that was also much loved on the RMS Olympia
The original Café is seen below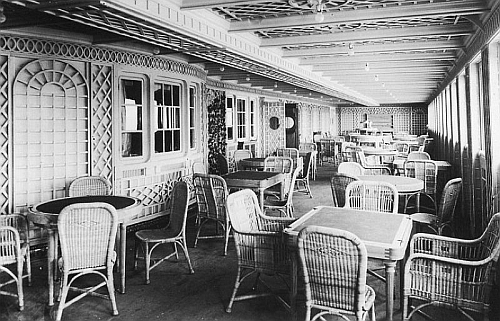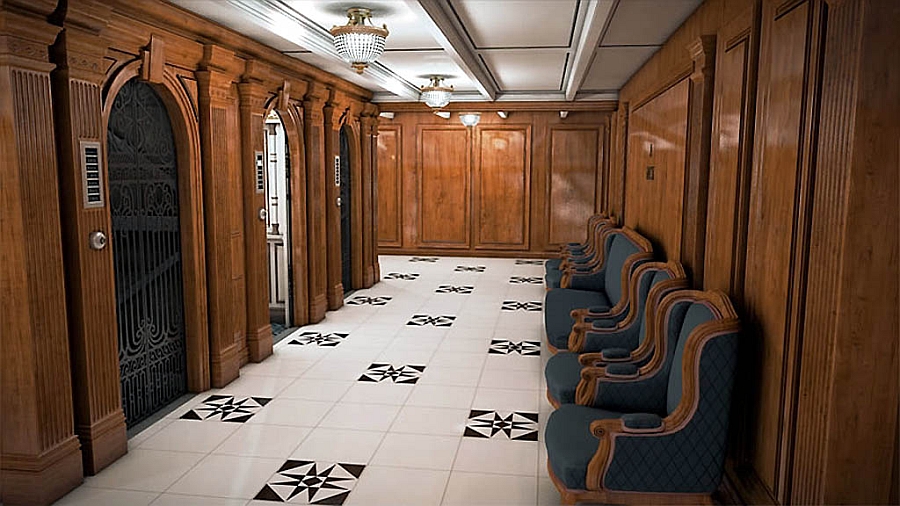 Above & below: A beautifully timbered and tiled lobby with three lifts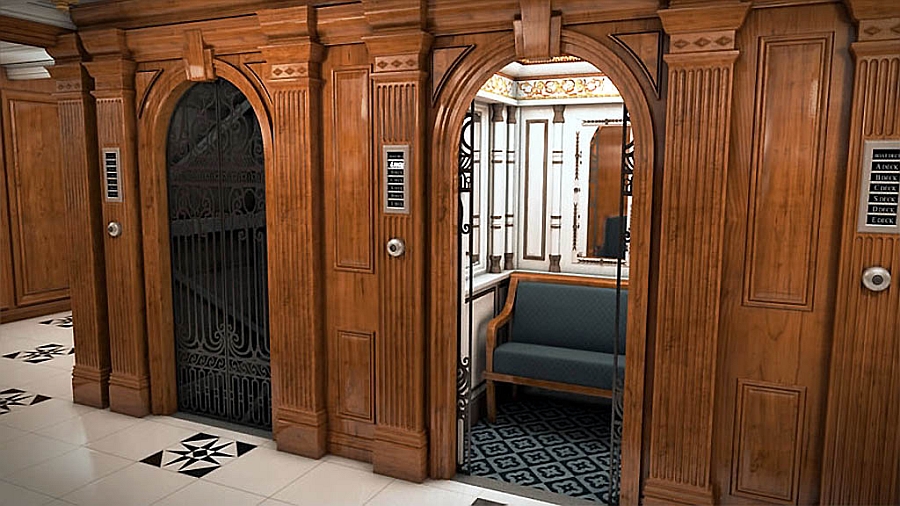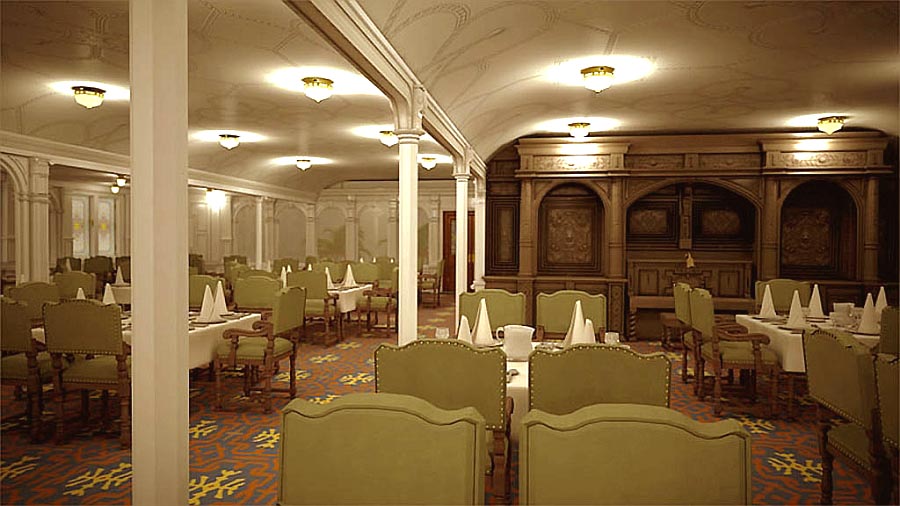 The side section of the Dining Room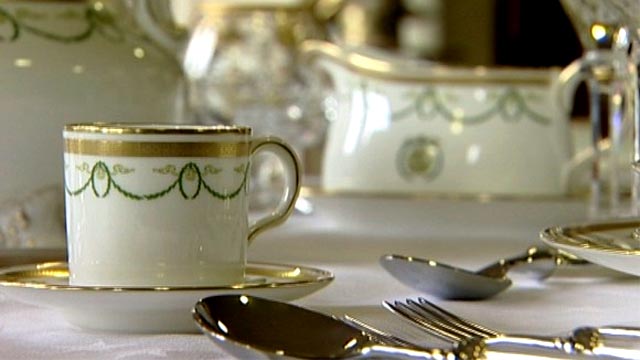 It will feature fine china by Royal Crown made in Derby the UK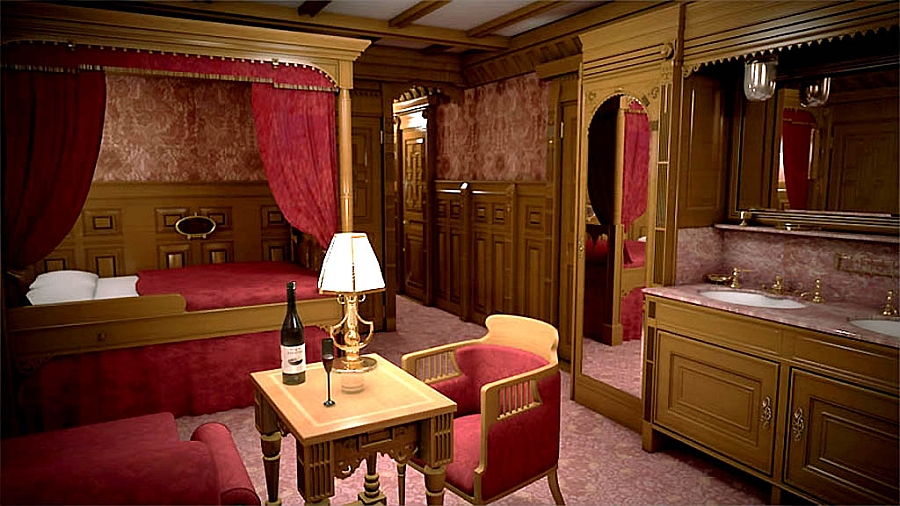 One of the grand staterooms with an interconnecting room
View the original room below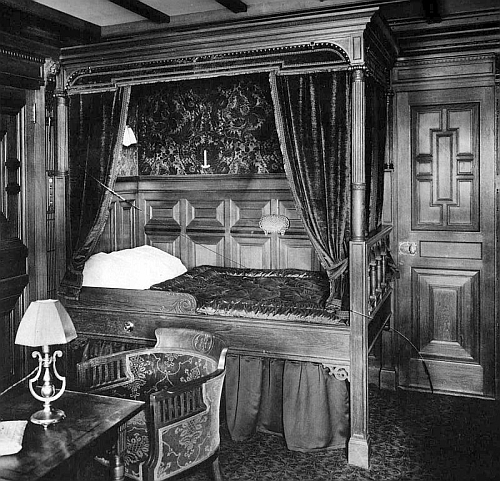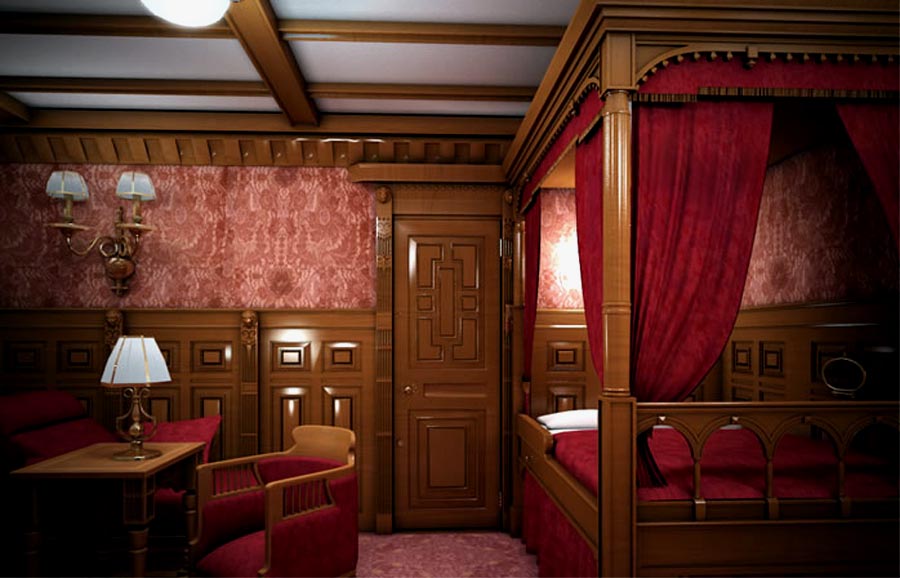 Another stateroom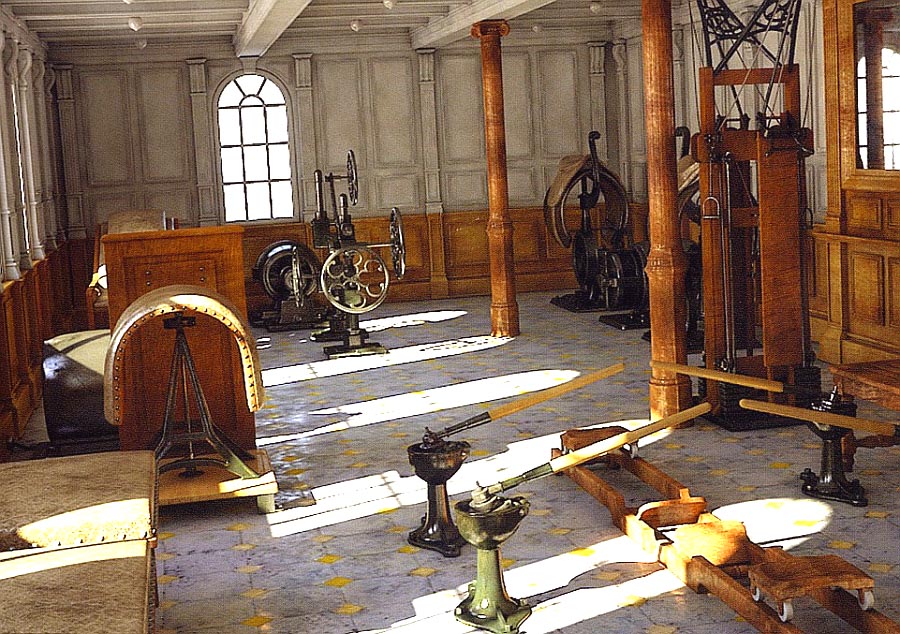 Above & below: Topside we find the traditional Gym – here are two fine views
However, there will be a modern located on board as well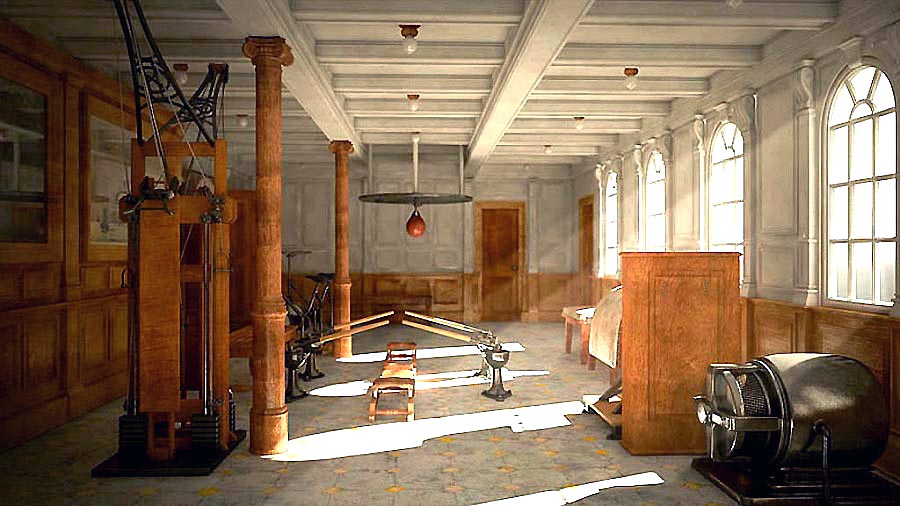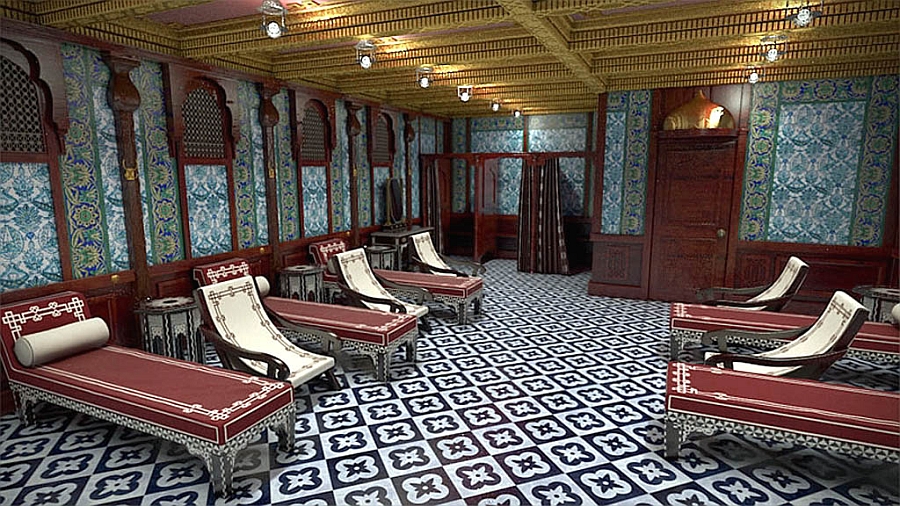 Not to forget the amazing Turkish Baths that will be part of the Spa Salon on board!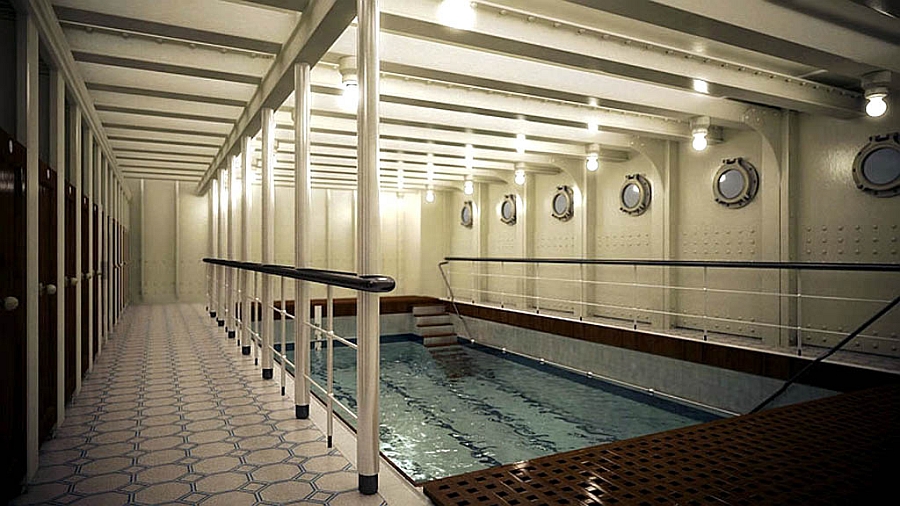 As we head down we find the heated pool
as well as something very new …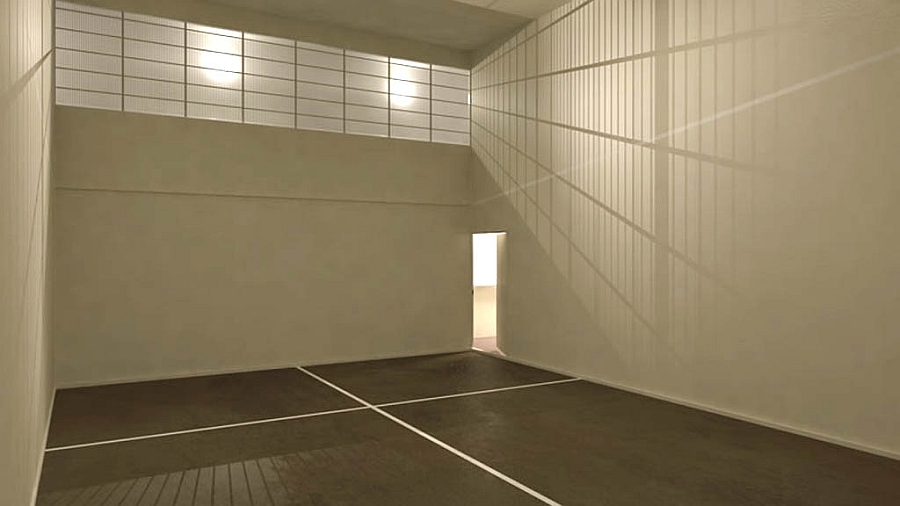 And the brand new venue is the Squash Court that is within the hull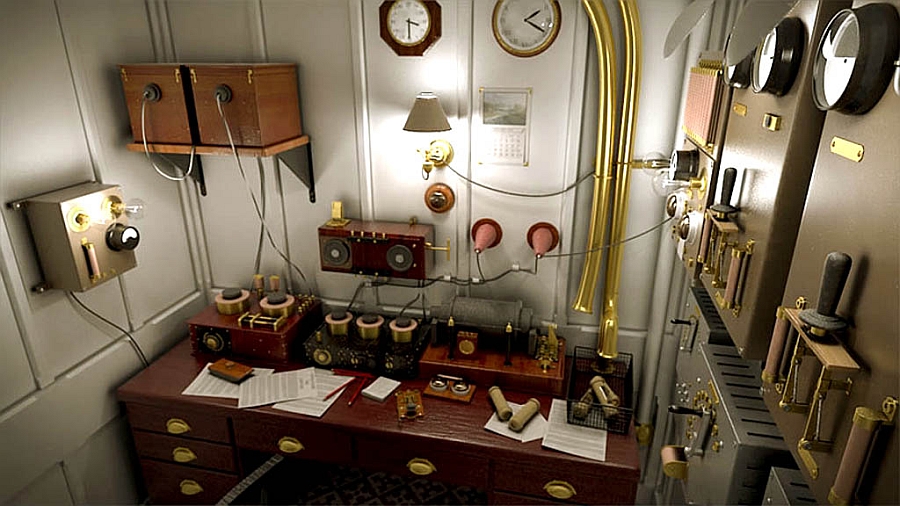 There will be a replica of the RMS Titanic "Radio Room", but it will be non-operational

A model of the MV Titanic II and we see her new 9 (total 18) lifeboats/tenders
Also note the rudder ends above the waterline as the azipods steer the ship

Second Class
Sadly we do not have many photographs for the Second or Third Class as yet, but these will follow in the near future!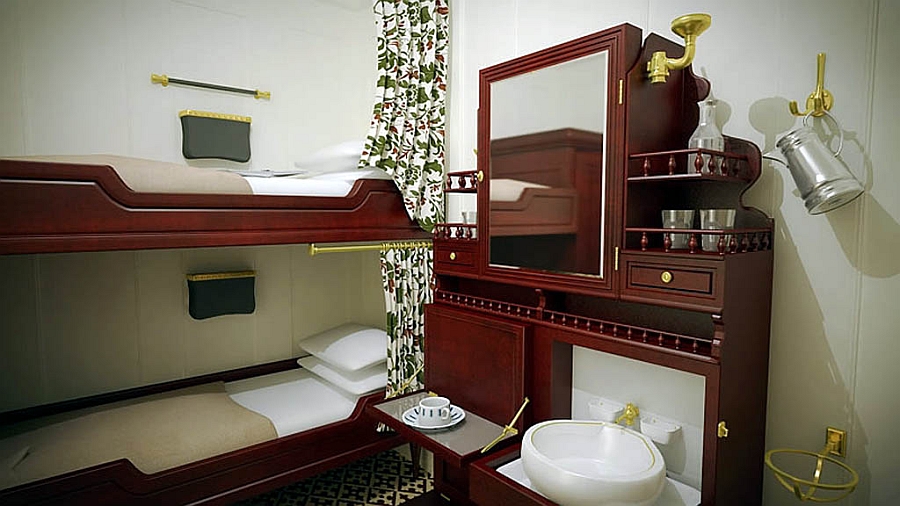 Above & 2 images below: a typical Second Class outside cabin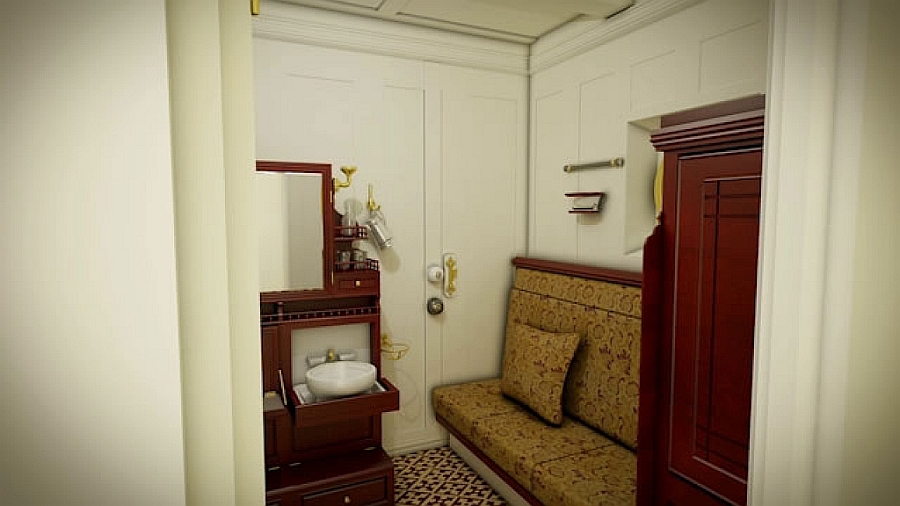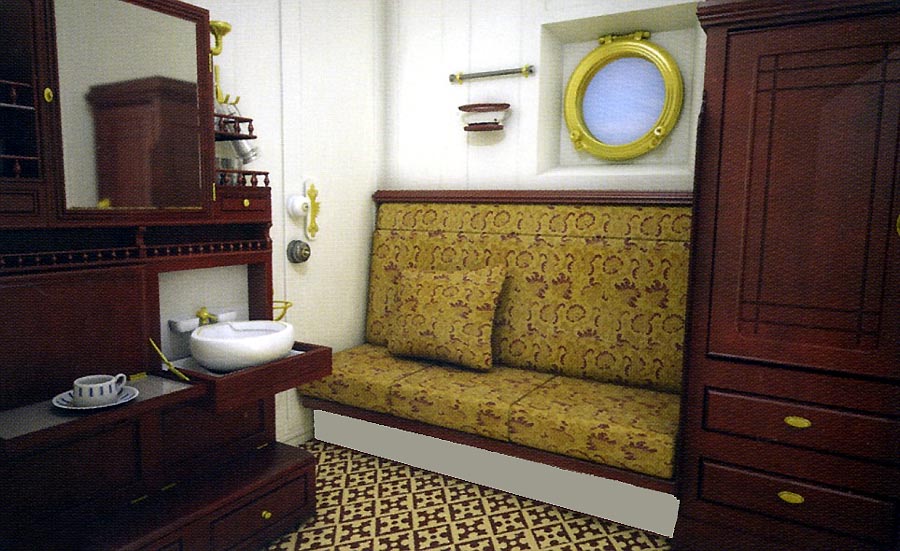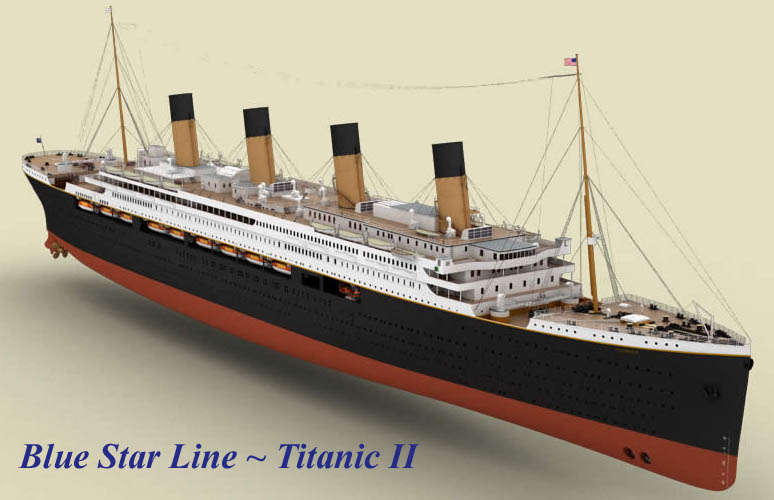 Third Class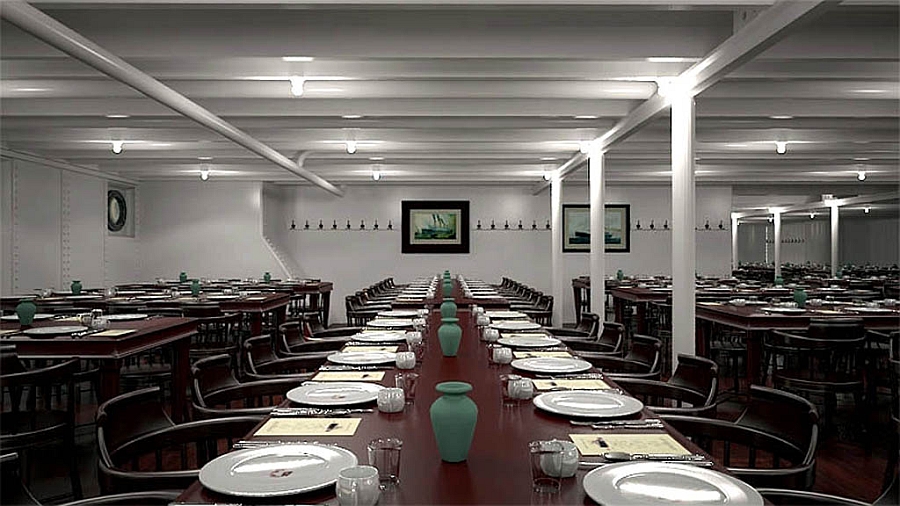 The Third Class Dining Room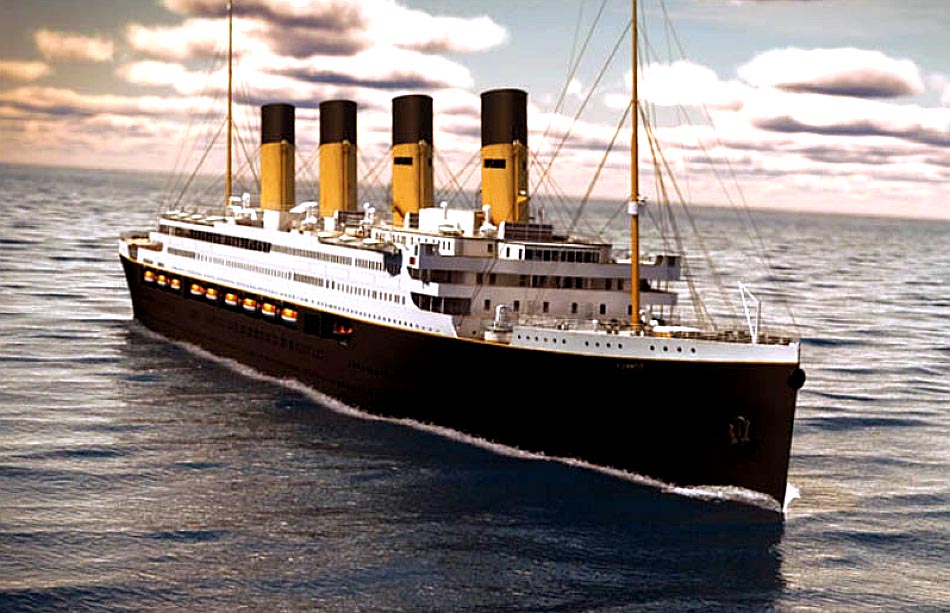 If you wish to obtain further information on the Titanic II, why not subscribe to Titanic II News Updates by going online by clicking the Blue Star Line logo below! This is also the Blue Star Line website.

Click the logo above to enter the Blue Star Line website
For an excellent short video clip view the following:
www.youtube.com/watch?v=_lkII5hj6Qo&feature=player_detailpage.
Also visit: www.titanic-ii.com, which is an excellent site as it will show you the ships interiors and other spaces in 3D Animation, a Photo Album and a slide "Then and Now" Image. This is a comprehensive feature and each image comes with a full and a most descriptive explanation of each image and the fitting out of every single venue! For genuine ship lovers, this is a MUST VISIT!
General - Titanic II Deck Plan – online soon
Return to the - ssmaritime.com - INDEX

Contact the Author …
When sending an email please name the ship you are requesting information or wish information about – but NOT for reservations, THAT MUST done through a cruise agent!
Please Note: Cruise-Australia is a non-commercial and privately owned cruise site and is not connected with any cruise company or agency. The author has been in the passenger shipping industry since 1960 and is currently semi-retired, but continues to write cruise and ship reviews and articles in order to better to inform cruise and ship enthusiasts and provide information for those intending a cruise in the future.
However, if you are interested in a cruise, I am happy to refer you to a dedicated cruise agent in Australia, New Zealand or further afield on my recommended "cruise agents" page, for these are agents that specialise in cruising and they will be able offer excellent service you and the best fares available! Be assured, I do NOT receive any commissions or favours from these agents, and in the vast majority of cases these agents will not even be aware of my, or my site's involvement, as I provide the enquirer with the requested information of the agents (in their region) including their contact details. Reuben Goossens.
Websites:
Where the ships of the past make history
Classic Ship Enthusiasts Visit
Featuring Superb Classic Cruise Ships operating today!
Also visit … ssMaritime.net
The 1914 built MV Doulos Story
Save the Classic Liners Campaign
Read about ships saved, or good ships in danger of being scrapped
Photographs on cruise-australia are: 1. By the author. 2. From the author's private collection. 3. As provided by Shipping Companies and private photographers or collectors. Credit is given to all contributors. However, there are photographs provided to me without details provided regarding the photographer concerned. I hereby invite if owners of these images would be so kind to make them-selves known to me, that due credit may be given. I know what it is like, I have seen a multitude of my own photographs on other sites, yet they either refuse to give me credit and even refuse to remove them, knowing full well that there is no legal comeback when it comes to the net. However, let us show the charlatans up and do the right thing at all times and give credit where credit is due! Note: I do not credit those who send me photos as they are not the owners of the photographs concerned, unless the image is part of their private collection.
This notice covers all pages, although, I have done my best to ensure that all photographs are duly credited and that this notice is displaced on each page, that is, when a page is updated!
Cruise-Australia and ssMaritime is owned / operated and © Copyright by Reuben Goossens - All Rights Reserved