British India Steam Navigation Co MS Dilwara
Please Note: Firefox and some other search engines are not suitable – Use "Internet Explorer" for this page to load perfectly!

Click the logo above to reach the ssMaritime FrontPage for News Updates & "Ship of the Month"
With Reuben Goossens
Maritime Historian, Cruise'n'Ship Reviewer, Author & Maritime Lecturer
Please Note: All ssMaritime and other related maritime/cruise sites are 100% non-commercial and privately owned. Be assured that I am NOT associated with any shipping or cruise companies or any travel/cruise agencies or any other organisations! Although the author has been in the passenger shipping industry since 1960, although is now retired but having completed around 680 Classic Liners and Cargo-Passengers Ships features I trust these will continue to provide classic ship enthusiasts the information the are seeking, but above all a great deal of pleasure! Reuben Goossens.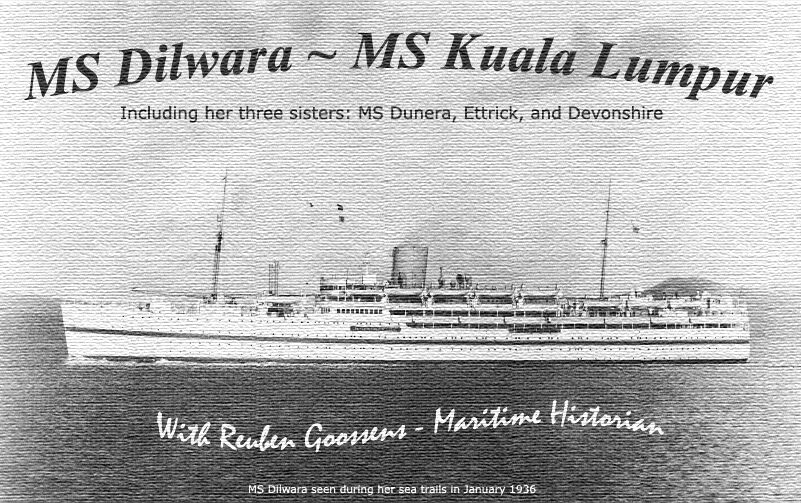 Please Note: Photographs on this page are from the author's private collection, unless stated otherwise.
Part One
Introduction
This feature is mostly about the MS Dilwara, the ship which was sold to the China Navigation Co (CNCo) of London to become the much-loved MS Kuala Lumpur sailing out of New Zealand and Australian waters around Asia and the Pacific, as well as operating Pilgrim voyages from Malaysia.
However, we will commence with the fascinating beginnings of the famed British India Steam Navigation Co, and the quartet being the subject of this article, and then on "Part Two" we will cover the second life of the MS Dilwara as the MS Kuala Lumpur!
The Quartet are as follows, as well as the MS Kuala Lumpur, ex Dilwara
MS Devonshire (later BI's - MS Devonia)
MS Kuala Lumpur (ex MS Dilwara) on Part (page) Two
******************************
In brief - The beginnings of a Legendary Company!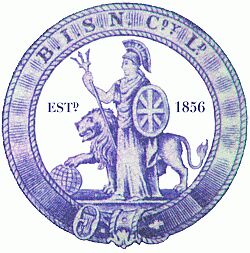 British India Steam Navigation Co has a long and an esteemed history as the founder Mr. William Mackinnon (born in Campbeltown Scotland) made his first contact with India in 1847 and it was when he was there that he encouraged his friend another Campbeltown native Mr. Robert Mackenzie to join him and seek their future together which culminated in the establishment of the company first known as "The Calcutta & Burmah Steam Navigation Co Ltd," which was registered in Glasgow on September 24, 1856.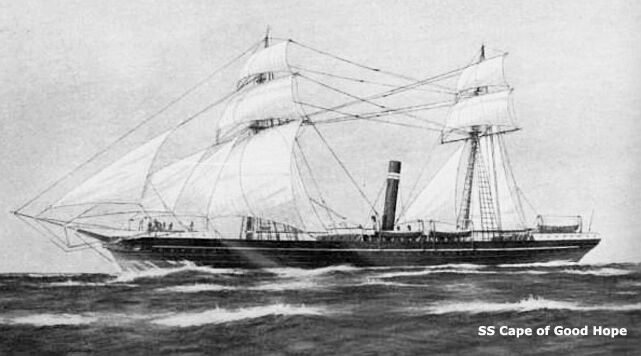 One of the company's first ships was the schooner the 1853 built, 420 GRT (Gross Registered Tons) SS Cape of Good Hope. Although, she may have been propelled steamer, yet she was also rigged as typical brig!
Not long after she commenced successful operations, in 1861 the British India Steam Navigation Company Ltd., came into being, and the company grew from strength to strength operating a vast number of ships and since the thirties as passenger liners, troop, and hospital, cruise, and student ships. In this feature we will deal with four very special ships, one of which became one of the best known on two sides of the globe, as well as a greatly loved ship, the first of the quartet to be built the MS Dilwara, later the MS Kuala Lumpur of the China Navigation Co, of London (CNCo). The other three are the MS Dunera, the ship that became the ill-fated P&O Liner MS Ettrick, and the MS Devonshire.
******************************
1. MS Dilwara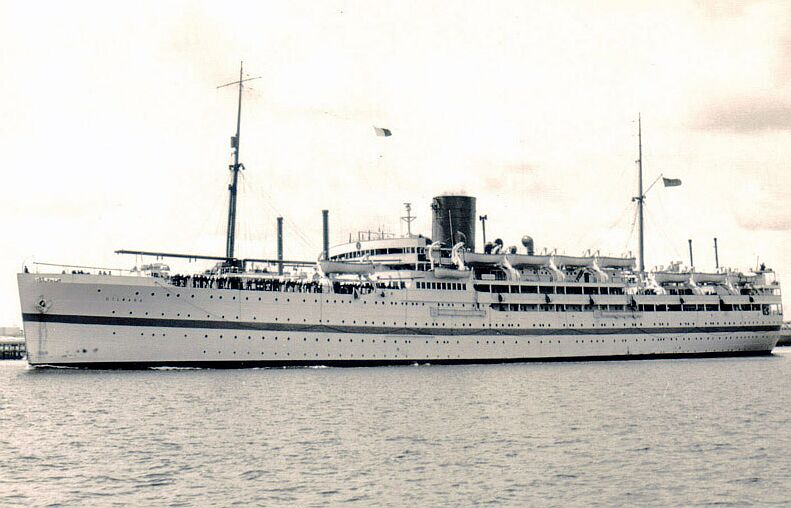 MS Dilwara seen here earlier in her career, and like all the ships in this class, they were built with a Yellow (troopers) funnel
How a new quartet of ships came to be:
In the mid 1930's the British Government decided to sponsor a quartet of ships to operate as troopers. Although purpose built as troopers, these ships would also be adaptable to operate budget cruises, and thus it was decided that the design would be based on one of BI's current passenger liners, but a vastly improved and larger version of the 1926 built 8,704 GRT SS Rajula, which remained in service with BI until sold in 1973 to Shipping Corporation of India when she was renamed SS Rangat, but was laid up in India in 1974, and broken up the very next year.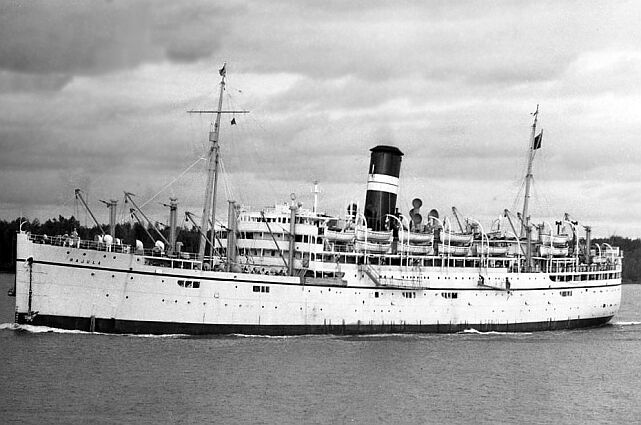 SS Rajula seen in the late 1950's
*Photographer unknown – sent in by a supporter. Please see photo notes at bottom of page
These four ships were purpose built as troop and passenger ships between Britain and her colonies in the East. However, although this being this page highlights British India, two of the ships were not owned by them, although one of them (Devonshire) would later be obtained by them. As built the first pair was owned by British India, the third by P&O, and the last of the quartet by Bibby Line, and they would charter them out to the Government for trooping duties when they were not being used for cruising or educational purposes.
Although these ships would be built using all the latest techniques and finest materials, all four ships WERE remarkably Spartan offering bland interiors, for mass-transport having barrack style accommodation and mess-halls for some 1150 troops. However, there were some premier accommodations on board in two classes being First and Second Class, as well as additional accommodations for troop family members in comfortable, but basic cabins for four, six or eight. First Class was generally reserved for the high ranking officers and their families, and Second Class for the lesser ranking ones, whilst the third category for the accompanying direct family members of soldiers on board.
Each ship had five deep holds and were able to hold around 12,000 cubic ft of cargo as well as military equipment and stores. But, these ships were essentially passenger ships, and it was for this reason that British India decided that the first of the pair to be built, the Dilwara and Dunera would commence the company's educational programme, which they started in the thirties with their ship the Neutralia in 1932. These educational voyages were operated to take schoolchildren and their teachers and chaperones on voyages to the Mediterranean, Scandinavia, Belgium, The Netherlands, and British ports.
The first two ships, MS Dilwara and Dunera were completed in 1936 and 1937 and the second pair MS Ettrick and Devonshire in 1938, whilst they also varied slightly in design.
MS Dilwara and her engines were built by Barclay Curle & Company in Glasgow, Scotland and she was launched and named by Lady Currie on October 17, 1935. Having been completed she undertook her deep sea trails in January 1936, and she was delivered to her owners. She departed that month on her maiden voyage an education voyage one of the famed "Schoolboy Cruises." These continued for some time …
However – troublesome times were on the horizon!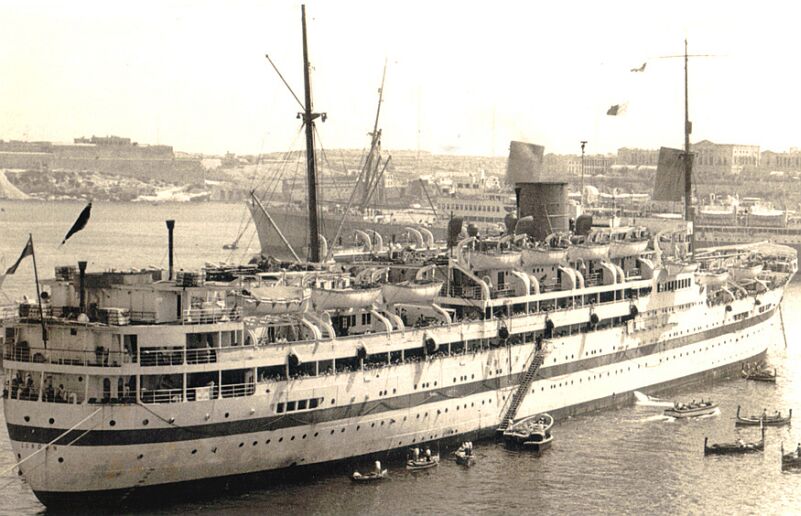 A stern view of MS Dilwara with the Arundel Castle in the background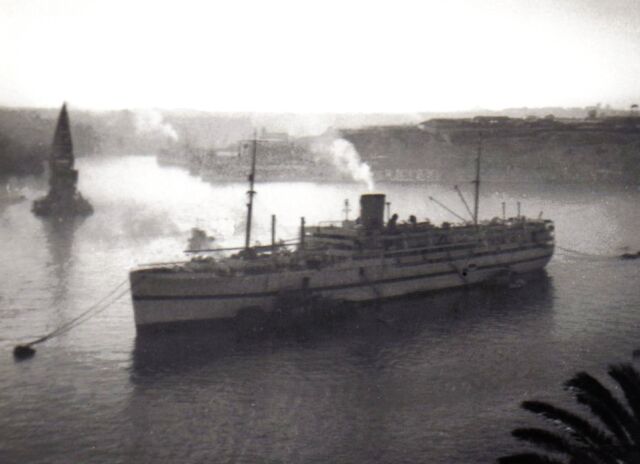 Dilwara is seen at anchor at Malta
*Photographer unknown – sent in by a supporter. Please see photo notes at bottom of page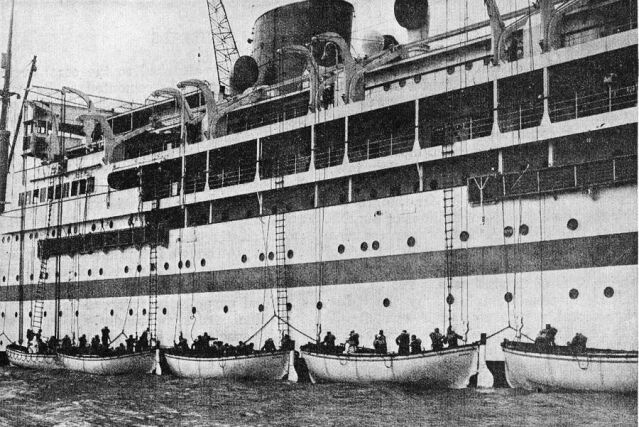 Life boat drill was a regular occurrence and strictly observed
World War II.
Some time prior to the war years the Dilwara had already commenced to operate a full time trooping duties from Britain to India, Burma, Palestine and Egypt. However, when World War II was officially declared, the now designated HMS Dilwara was placed on new duties which saw her in service mostly around the Asian and Pacific region, a region she would come to know really well towards the end of her days, when she would be carrying a new name on her bow!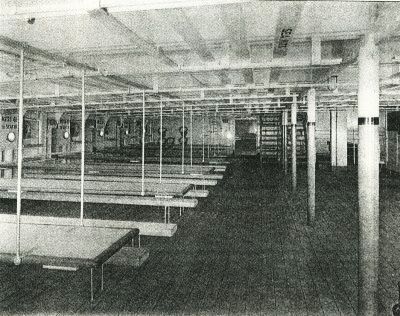 Here is an image of the rather Spartan troop mess hall
Provided by Stan Evans – Newcastle Australia
Some notable events:
HMS Dilwara took part in HRH King George VI's Coronation Review. In April 1941 she took part in the evacuation from Greece, and in 1942 she was converted to an infantry landing ship.
The HMS Dilwara was also involved in the Madagascar landings, whilst in 1943 she took part in the assaults on the Burma coast where she was damaged by a mine, but survived and the damage was soon repaired. She trooped between Singapore, Calcutta, the Andaman Islands, Thailand, and George Town in Penang Malaysia in 1945.
1952 Refit:

     
Thankfully the Dilwara came out of the war without any major damage and in 1952 it was decided to give her a comprehensive refit and she was to be well and truly modernised. Thus she headed for the Clyde where the work was carried out. Upon completion she was reregistered at 12,555-GRT and now accommodated 125 First, 96 Second and 104 Third Class, as well as a lesser number of troops of 705 in a new grade of accommodations, rather than the old "barracks," she now offered a far more comfortable fully equipped dormitory style of accommodations, which was also suitable for student cruises.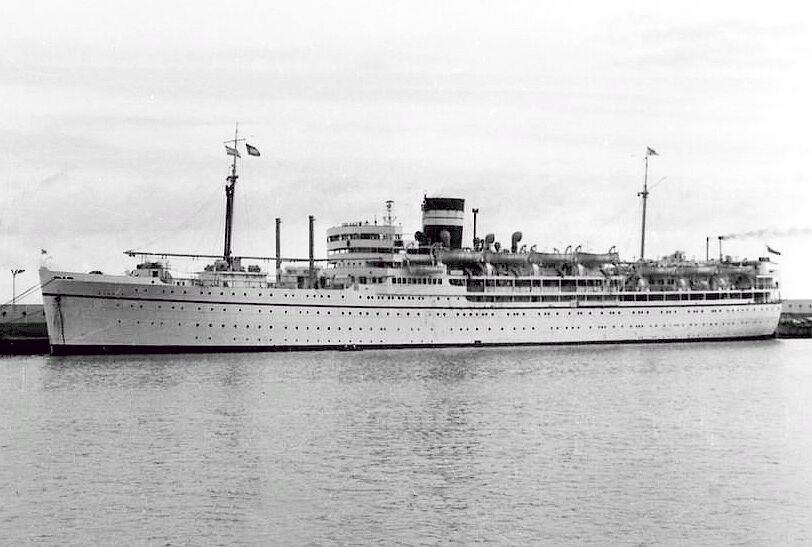 MS Dilwara seen in her latter years with the BI funnel - spending more time as a student cruise ship
She continued her trooping services and her education cruises until 1960 when the British Government the Trooping Charter that had been in effect for a long tome. Thus, with British India now having to continue mostly in the education voyages and operating cruises, it was decided that having their newer and larger ships operating quite successfully, such as the TSS Oxfordshire and TSS Nevasa, they would dispose of the Dilwara.
However, the MS Dilwara was purchased in September 1960 by the China Navigation Co, of London (CNCo), part of the British John Swire Group, and she was renamed MS Kuala Lumpur and registered in Hong Kong prior her departure from Southampton on October 7, 1960 and sailed for Hong Kong.
The MS Kuala Lumpur story will be continued on "Part Two" – see the Index at the bottom of the page.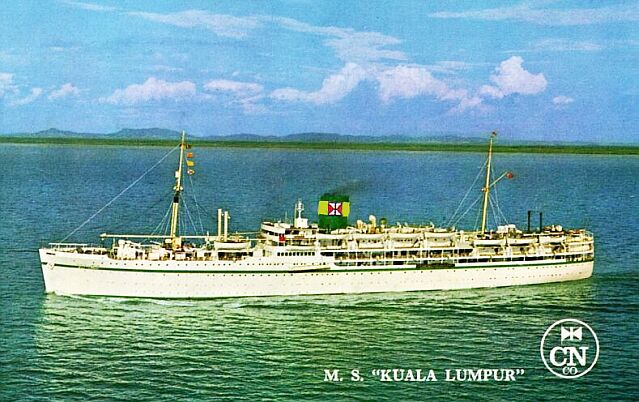 Postcard of the MS Kuala Lumpur in her later years, showing the Swire flag on her green funnel
Specifications - MS Dilwara & Dunera:
Builder:                Barclay Curle & Company Glasgow, Scotland.
Yard No.                Dilwara – 654 / Dunera – 663.
Launched:             Dilwara – October 17, 1935 / Dunera – May 10, 1937.
Length:                 157.53m / 516.9ft.
Beam:                   19.81m / 63ft.
Draught:               7.4m.
Displacement:        11,080 GRT (Gross Registered Tons), 6,553 Net, 3,435 DWT.
Engines:               2 x Doxford, Opposed Pistons, 5 Cylinder, 2S, CSA, Diesels by Barclay Curle.
Horsepower:          11,880 BHP.
Screws:                Two.
Speed:                  14.5 knots service speed, 16 max.
Passengers:          
Dilwara:              104 First Class, 100 Second Class, 164 troops' families & 1150 troops (1936-52).
                           125 First Class, 96 Second Class, 104 Third & 705 Troops (1952-60).
Dunera:               123 First Class, 96 Second Class, 100 Third & 835 Troops (1951-61).
                                      190 in Cabins & 800 in Dormitories. (1961-67).
******************************
2. MS Dunera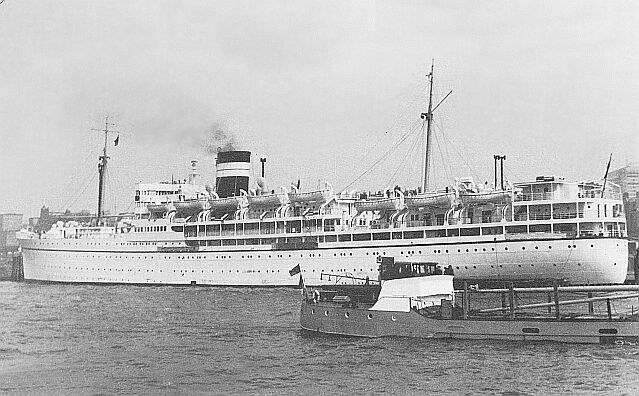 MS Dunera is seen here operating as a school-cruise ship in 1961
The MS Dunera was the second of the quartet to be built and she also was specifically designed as a troopship and built by Barclay Curle & Co, Glasgow in 1937. Like her sister she had the one yellow funnel, two masts, diesel engines and twin screws.
She was launched on May 10, 1937 and was completed in August that year. She like her sister was managed by British India Steam Navigation Co, and was occasionally used prior the World War II for passenger and student cruises during the summer months to Scandinavia. In 1940 she was used to bring Australian and New Zealand troops to Suez and in 1942 she was involved with the invasion of Madagascar together with the HMS Dilwara. In 1943 she also took part in the Sicily landings and in 1944 carried the US headquarters staff for the landings near Cannes in southern France.
When the war had finished she continued on her trooping duties, mostly to Malaya, but during 1950 and 1951, she was used for to transport troops to and from the Korean War.
In 1951 she was given a comprehensive refit which saw her tonnage change to 12,615 and she had new and more stylish accommodations for 123 First, 96 Second, 100 Third as well as 835 beds in the new dormitories, that replaced the old "barracks". These would be used by troops and student cruises. She continued on her usual voyages to the Middle East and Asia until January 1961, when the Dunera was decommissioned from trooping in 1961, as she was being replaced, much like the Dilwara had been a year earlier, by the new TSS Oxfordshire and Nevasa. However, BI did decide to retain her and give her another refit.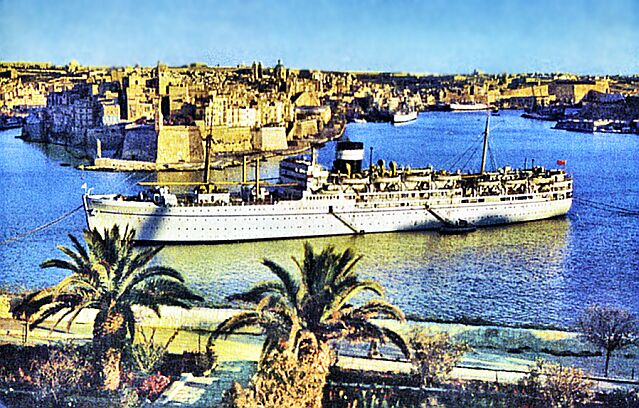 A postcard of the MS Dunera in Malta in the mid 60's
She was taken to the Palmers Hepburn & Co shipyards on the River Tyne to make her suitable to operate exclusively as an education cruise ship. Upon completion she was reregistered at 12,620 GRT, and she accommodated 190 passengers in cabins and 800 in her upgraded dormitories. She departed on her first 14 day cruise in April 1961 and she continued her duties as a floating school for the next six years until she became unprofitable and was sold the breakers in 1967. She arrived at the Revalorizacion de Materiales SA yards in Bilbao on November 9 1967 and she was soon broken up.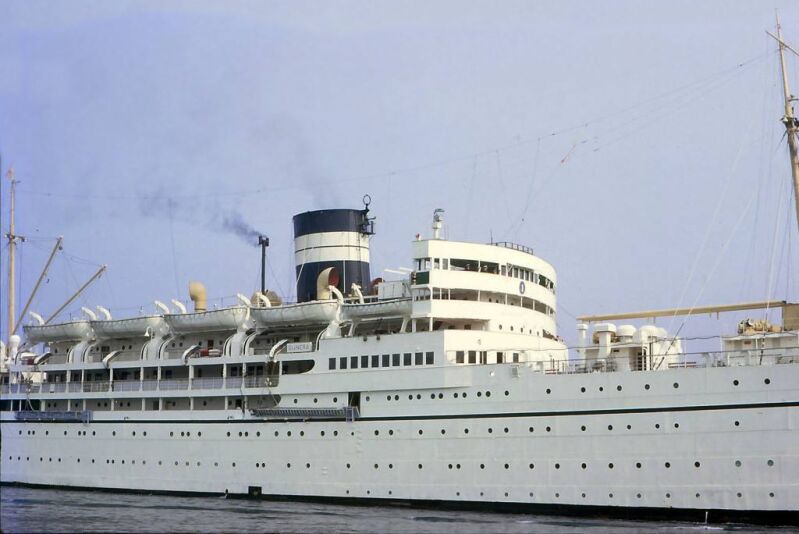 This is a superb close up image of the superstructure during MS Dunera finest of days
From the author's private collection – purchased part of a photo bundle in 1984
******************************
3. Ettric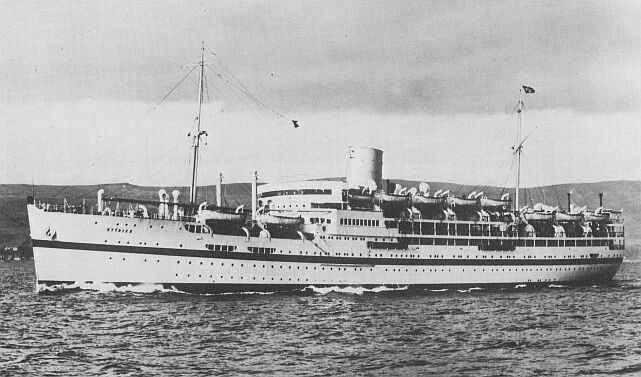 P&O's liner MS Ettrick
MS Ettrick was built to be managed by P&O Lines as a permanent troopship, and she was also built by Barclay Curle & Co, Glasgow – Yard 669. 11,279 GRT
She was launched on August 25, 1938 and completed on December 12. She was delivered and departed on her maiden voyage on January 13, 1939, which was a cruise from Southampton to the West Indies.
Unlike her older sister, she and her next sister the Devonshire would have open forward T'ween decks, and Ettrick accommodated 104 First, 90 Second Class and 1150 troops. She soon commenced trooping and when World War II began she operated voyaged to the Middle East and North Africa.
Her tragic end.
Whilst she was on her homeward voyage from North Africa to Southampton, on November 15, 1942 HMS Ettrick was torpedoed by the German submarine "U 155" and she sadly sunk near Gibraltar, with a loss of 24 precious lives.
******************************
4. Devonshire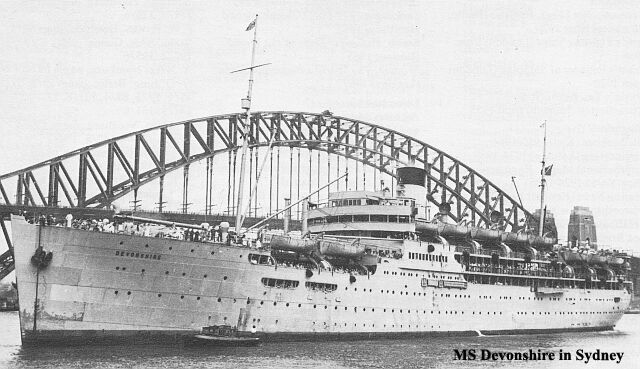 Troop ship HMS Devonshire is seen here in Sydney Australia during World War II
Devonshire was the last of the Dilwara quartet and was managed and operated by Bibby Line. Unlike the first three, she was not built by Barclay Curle & Co, but by Fairfield Shipbuilding of Glasgow – Yard 670. 11,275 GRT and accommodated 104 First, 90 Second Class and 1150 troops.
She was launched on December 20, 1938, and completed in July 1939. Like her sister she would undertake a cruise first, and then her maiden troop voyage departed from Southampton on August 11, 1939, sailing to India.
The Devonshire would spend most of the war years transporting Australian troops to the Far East, Africa, Middle East and the Mediterranean. In 1943 she took part in the Sicily campaign as Command Operations Ship and she carried troops for the Salerno landings. She also was used to carry troops to Juno Beach as part of the 'D' Day landings in June 1944.
Like the Dunera she carried troops to the Far East and Korea but then in 1951 she was forced to send a "Mayday" signal when suddenly her engines failed totally during a massive gale whilst in the Bay of Biscay. Thankfully not long later, they managed to get power restored and the "Mayday" was cancelled.
Obtained by British India:
<![if !vml]>

<![endif]>In 1962, Devonshire was officially obtained by British India and she was given a refit to become a Scholars Cruise Ship and she was renamed MS Devonia. Having been refitted she now accommodated 190 passengers in cabins and 830 in her upgraded dormitories. Her new tonnage was registered at 12,795 GRT. She and began a new fulltime career as an educational cruise ship.
However, like her sister the Dunera which was also sold in 1967, the Devonia was sold to Italian breaker. She arrived at La Spezia on December 14, 1967, and was broken up in 1968.
The first of the quartet, the MS Dilwara would continue to sail on for a few more years yet, as she outlived all her younger sisters. Read her story on "Part Two" – MS Kuala Lumpur.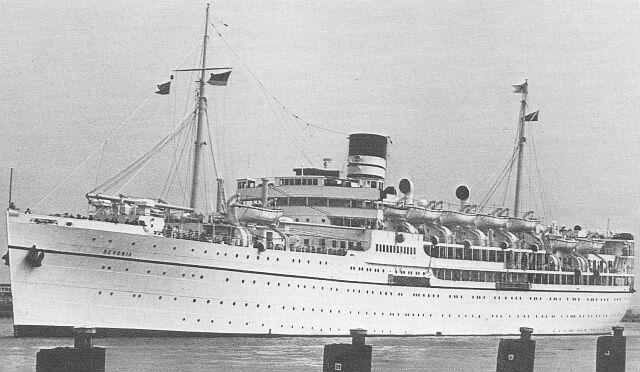 She is seen here looking very smart and renamed as the MS Devonia
******************************
5. Kuala Lumpur

ENTER … Part Two
The China Navigation Co - MS Kuala Lumpur, ex Dilwara
"Blue Water Liners sailing to the distant shores.
I watched them come, I watched them go and I watched them die."
****************************
Visit our ssMaritime Main INDEX
Where you will discover around 680 Classic Passenger & Passenger-Cargo Liners!
ssMaritime.com & ssMaritime.net
Where the ships of the past make history & the 1914 built MV Doulos Story
Please Note: ssmaritime and associated sites are 100% non-commercial and the author does not seek funding or favours and never have and never will.
Photographs on ssmaritime and associate pages are either by the author or from the author's private collection. In addition there are some images and photographs that have been provided by Shipping Companies or private photographers or collectors. Credit is given to all contributors, however, there are some photographs provided to me without details regarding the photographer or owner concerned. Therefore, I hereby invite if owners of these images would be so kind to make them-selves known to me (my email address can be found at the bottom of the page on www.ssmaritime.com), in order that due credit may be given.
ssMaritime is owned & © Copyright by Reuben Goossens - All Rights Reserved