The "British India Steam Navigation Co.", "S" Class Trio of 1947 & 1950
Please Note: Firefox, iPhones, iPads & some other Search Engines may not be suitable
Use Google Chrome for this Web Page to load perfectly!

Click the logo above to reach the ssMaritime FrontPage for Ships of the Month & News Updates
With Reuben Goossens
Maritime Historian, Cruise'n'Ship Reviewer, Author & Lecturer
Please Note: All ssmaritime as well as my other related maritime & cruise sites are 100% non-commercial and privately owned sites. Be assured that I am NOT associated with any shipping or cruise companies or agencies or any other organisations! The author has been in the passenger shipping industry since May 1960, but although retired and unwell, I occasionally attempt to write an article now and then, in order to bring enjoyment and pleasure to ship enthusiasts past passengers and crew.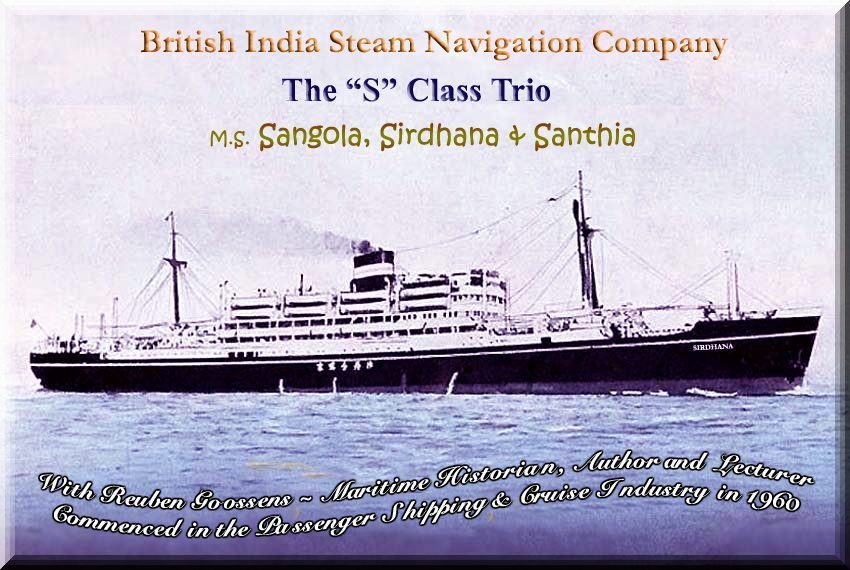 The photograph is of the third ship of the Trio, the M.S. Sirdhana of 1950
This photograph was originally a "British India Steam Navigation Co" publicity photograph
Photographs are from the author's private maritime 1960's collection, unless stated otherwise
Introduction:
A brief back ground on the "British India Steam Navigation Company" - (B.I.).
B.I. first registered their company back in 1856, but it was named the "Calcutta & Burmah Steam Navigation Co", then just six years layer in 1862 it was renamed the "British India Steam Navigation Co. Ltd", and below we see the famed funnel livery and the B.I. House Flag.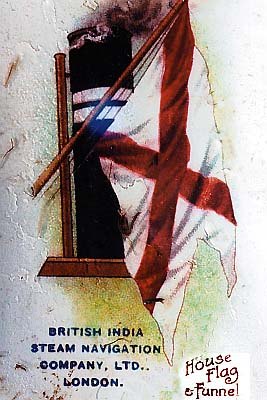 In 1886 B.I. took control of the Australian Steam Navigation Co, and their coastal services out of Brisbane. This became Australasian United Steam Navigation Co, "Apcar & Co", with their fleet of five ships being taken over in 1912 and the five ships and the Australian company of "Archibald Currie" being absorbed in 1913. B.I. and P & O Steam Navigation Co. merged in 1914 but each kept their separate identities until 1971 when all ships came under the parent P&O Company. The "Norse Line" was acquired by B.I. in 1917 but their ships retained their original identities. In 1919 "Strick Line" was the next to be taken over and in 1935 a controlling interest was purchased in Asiatic Steam Navigation Co". P&O finally became the 'parent' company and in 1971 "P&O Steam Navigation Co", was reorganised into separate divisions, General Cargo, Passenger and Bulk Handling. All ships of the group were progressively transferred to one of these divisions.
Many of the B.I. ships carried a smaller number of passengers, either in one class or two classes, but some also tended to carry native passengers on deck between ports.
The "S" Class Trio
The first of B.I.'s, "S" Class Trio of ships The M.S. Sangola was handed over to her owners in June 1947, and she was followed by the M.S. Sirdhana in December of that same year. The third of the Trio, the M.S. Santhia was delivered to B.I. in November 1950.
This fine "S" Class Trio of Ships had been especially constructed for British India's post-war Calcutta-Far East service, which was known as the "Apcar Route", - which B.I. had obtained from the "Apcar" family back in 1912.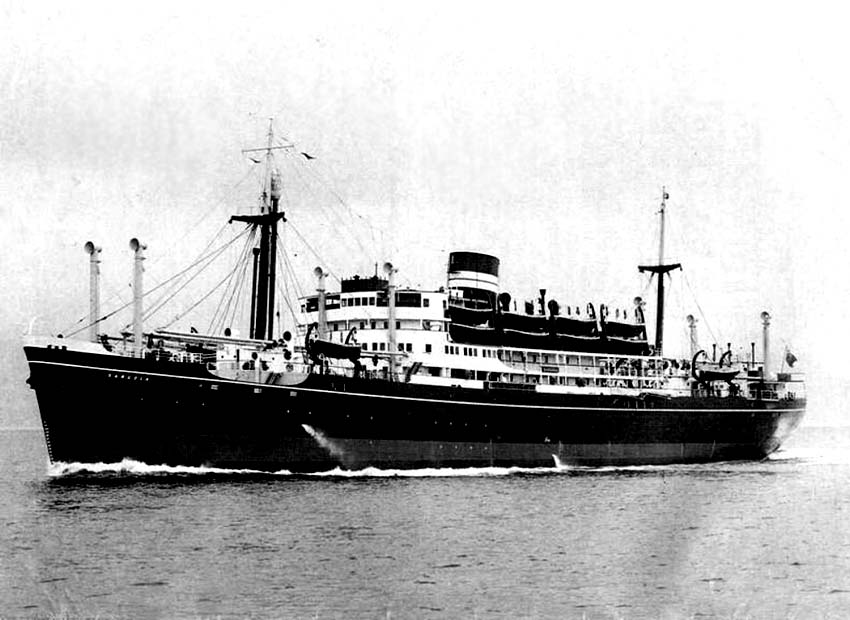 The first of the BI "S" Trio, the M.S. Sangola is seen here whilst undergoing her speed trials in 1947
Photograph by the builder, Barclay Curle & Co
But before we delve into each ship's details and history, let us first look at their facilities.
The Ships Facilities:
Each ship offered two classes, but originally these classes were known as "First Saloon" and "Second Saloon". The both classes were fully ventilated as the ships were installed with the efficient "Punkah Louvre" ventilation systems
The venues shown below do cover all three ships, as there were almost identical.
First Saloon: Located forward on Promenade Deck was a comfortable Lounge with windows providing a good view forward, located fat aft was the Smoking Room with a Bar, which featured, as B.I. proudly stated I their brochure had "an extensive Cellar" with windows providing views towards the aft. Amidships on Promenade Deck were the First Saloon Cabins, two if the twin bedded cabins offered private facilities. The Dining Saloon located a deck down, was well known for providing excellent cuisine. There was abundant deck space available, both covered and open decks, ideal for relaxation and sports, etc.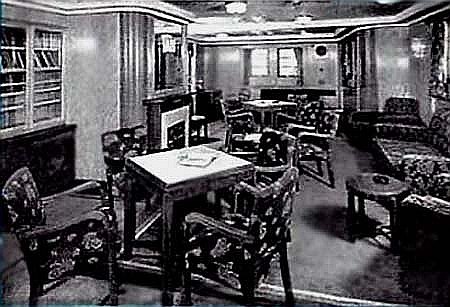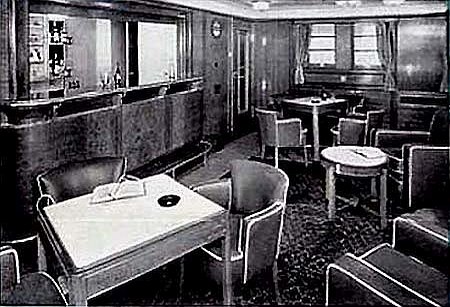 Left: The First Saloon Lounge & Right: The Smoking Room and Bar
All Photographs are from a B.I. "S" Trio brochure, from the author's personal collection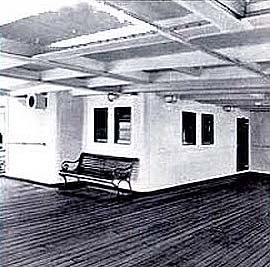 Covered deck space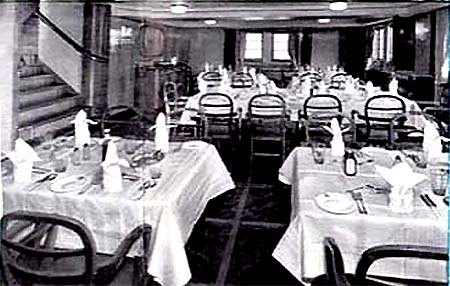 Dinning Saloon
First Saloon accommodated 21 passengers in single and two berth cabins, all having windows, comfortably furnished and with running hot and cold water.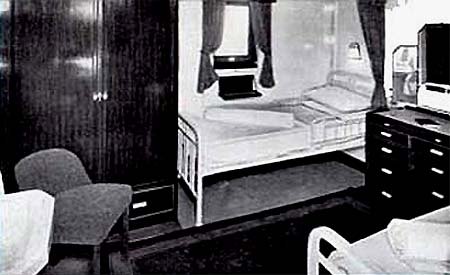 As we can see the cabin was comfortably furnished
Second Saloon: was located on Bridge and Upper Decks and had much the same style of Lounge, Smoking and Dining Room as the ones in First Saloon, but somewhat larger, with a very similar cuisine offered, but without the extra luxuries that would come in First. Here also there sufficient deck spaces. It was unusual that Second Saloon was in the main superstructure as on most ships they would be located far aft of the ship, but not aboard the "S" Trio, for the brochure did state they had a "Higher Standard of Accommodations."
Second accommodated 70 passengers with all cabins having three berths and having a porthole, although the S.S. Santhia accommodated a further 68 Intermediate Class passengers in four, six and eight-berth cabins. Of course, once again there were sufficient covered as well as open deck spaces. Lat a later time the Intermediate class become Second Class 'C,' and the original Second Saloon became Second Class 'A.' I am sorry but no photographs are available for Second Saloon.
In addition to the above all three ships had been built with the Asian coastal trades in mind and they were able to take large numbers of native passengers who would be transported from port to port outside of the monsoon months as deck passengers located on the forward decks of the ship as well as some being able to obtain interior more basic accommodations in four, six or eight berth cabins with folding bunks for longer stretches.
In addition, each ship carried fully qualified doctor, who was also a surgeon as well as a nurse and a small, but fully fitted out hospital, come medical center.
Cargo:
Each Ship had four cargo holds, the M.S. Sangola and Sirdhana having 402,000 cubic feet of bale capacity as well as around 11,000 cubic feet of refrigerated space. Considering that the M.S. Santhia carried 68 additional passengers in cabins and this obviously reduced the ships cargo capacity, as she had 360,000 cubic feet bale capacity, but she did have a good 115,000 cubic feet of refrigerated space.
*************************
"S" Class Ship One
M.S. Sangola:
This ship was constructed by Barclay Curle & Co., of Glasgow, and she was launched on January 8, 1947. When she was completed and undertaken her speed trials where she achieved a top speed of 15.39 knots, she was delivered as the M.S. Sangola to the "British India Steam Navigation Company Ltd" on June 6, 1947, having cost B.I. £1,116,000. The 8,646 GRT (Gross Registered Tons) M.S. Sangola was the lead ship of a class of three ships constructed for B.I.
M.S. Sangola departed on her maiden voyage mid June 1947 and Commodore Reginald Harold Arthur Bond, OBE, was in command of her from her maiden voyage in June 1947 right through to February 1949.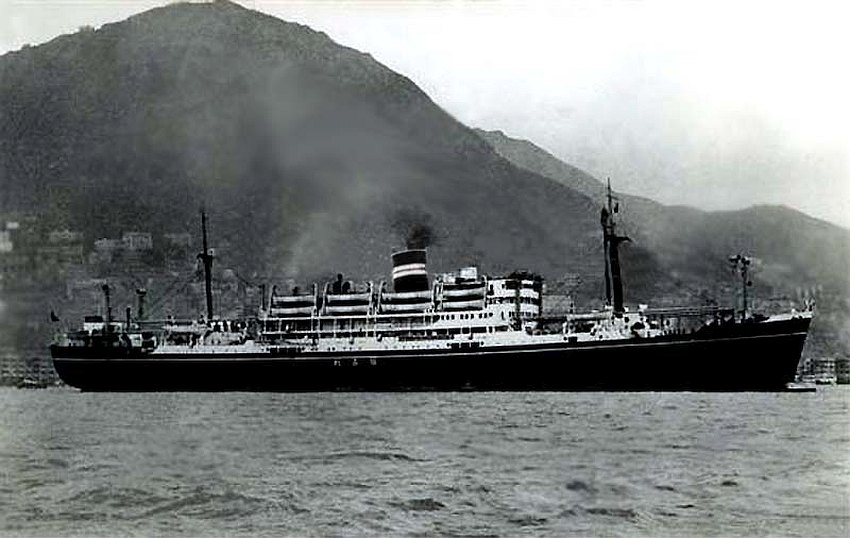 M.S. Sangola is seen at anchor in Hong Kong Harbour
The Sangola and her two newer sisters, yet to be delivered, would be operating on the regular Calcutta to Japan service, from Calcutta, Rangoon, Penang, Singapore, Hong Kong, Yokohama, Kobe and return, this route was known as the "Apcar service".
In 1948 the M.S. Sangola was one of the many ships that assisted in the repatriations of the thousands of Japanese who were in China.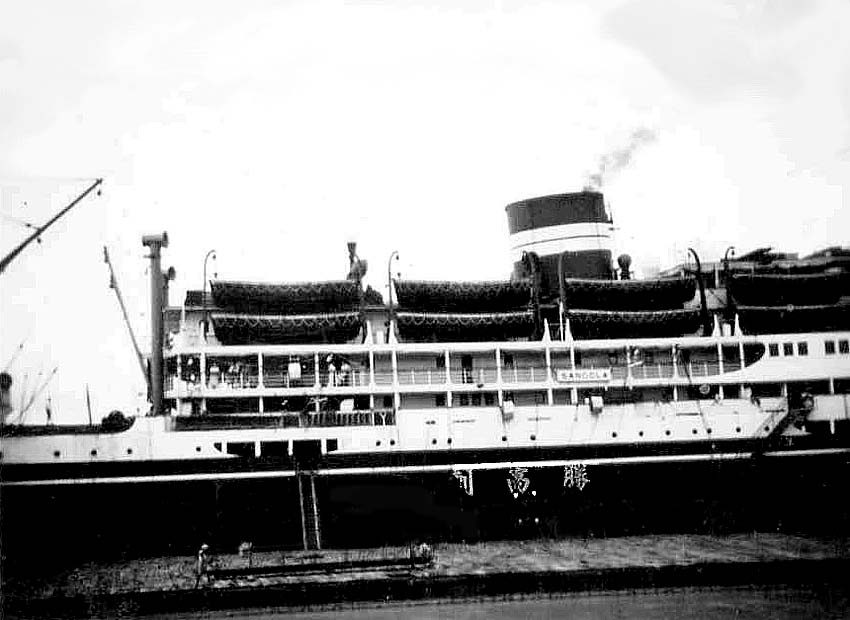 A close up of her starboard side superstructure Note the Chinese lettering on her hull, it reads San Go Lah
Photographer is unknown - Please see photo notes at the bottom of the page
The Hiraganj Sand Incident:
Early in the afternoon of July 1, 1953 the Sangola, having just departed Calcutta, ran hard aground on "Hiraganj Sand" (sandbank) in the "Hooghly River" whilst commencing her voyage from Calcutta to Japan. On board there was a crew of 173 and a total of 1,490 passengers and amongst these was a large contingent of "Brigade of Ghurkhas" who were bound for Hong Kong.
As the ship's position became more precarious throughout the day, these men were enlisted by the Sangola's Master to help to control and to evacuate the civilian passengers, a feat that was accomplished without loss during the evening of July 1, and the early morning hours of July 2. For the next 6 days the Sangola was at the mercy of tides and currents of the river, forces that threatened to further damage the ship, but sadly she still partially sunk.
On July 8, she was refloated but obviously she had suffered severe damage amidships, she was taken under tow to the B.I. "Garden Reach Workshops" in Calcutta, and there the ship was cut in half and her damaged mid-section was fully repaired. Apparently this was and became the largest shipyard repair job that had ever been undertaken in the East.
Return to a New Service:
Upon completion in December 1954, the M.S. Sangola returned to her regular "Apcar service". Due to the modifications made on board, her passenger Accommodations had altered, for her passenger capacity was now 420 berthed. This was made up as follows; First Class had just 21 passengers, however Second Class was now split into two categories based on the location of the cabin, Second 'A' had 34 berths, and Second 'B' had 30 berths, but they shared the same public facilities. Then there was 'Intermediate', a higher grade of Deck passenger accommodation who could sail on longer voyages sleeping on folding bunks in larger accommodation spaces with full facilities available, and it held 335, and then there were also 995 deck passengers for short voyages. In addition, the ship had been repainted all white as her sisters would also be painted white in 1955.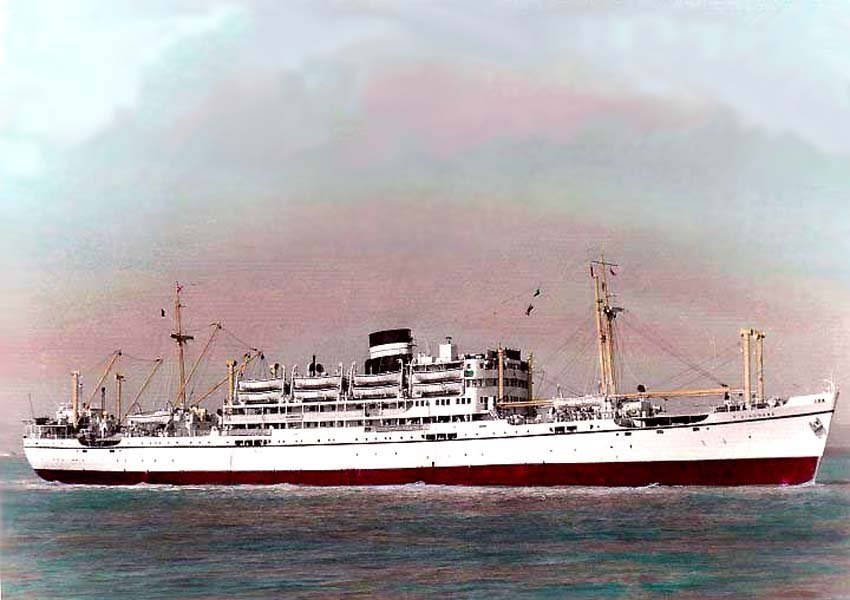 An excellent portside view of the all white M.S. Sangola
Early in 1962 The Sangola was transferred to the Bombay to the Gulf service and below is a list of her ports of call:
From Bombay to Karachi, Parsni, Gwadar (Pakistan), Muscat (Oman), Bunder Abbas (Persia or today's Iran), Sharjah, Dubai (UAE), Umm Said (Qatar), Manama (Bahrain), Bushire (Persia), Shuwaikh (Kuwait), Abadan, Khorramshahr, Basrah (Persia) back to Bombay.
The End of the M.S. Sangola:
Early in 1963 it became obvious to B.I. that their hard working ships, which were built for what was becoming a dying trade, at a time when technological advance was proceeding all too quickly with new ships arriving on the scene with container facilities, being  new idea, and superior cargo transferring facilities. Thus it was it was decided to sell the Sangola.
It was on March 26, 1963, M.S. Sangola was sold to "Nichimen & Co" a Japanese ship-breaker, and she was broken up at Mishear, Japan later that year.
For interest: In 1965, M.S. Sangola's Bell was officially presented to the "Brigade Ghurkhas", as their troops, as well as being regular passengers on board, had played such a large part in ensuring an orderly evacuation when the ship ran aground in 1953.
*************************
"S" Class Ship Two
M.S.

Sirdhana (3):
The second "S" Class ship of the series was constructed by Swan Hunter & Wigham Richardson at Newcastle in yard 1826.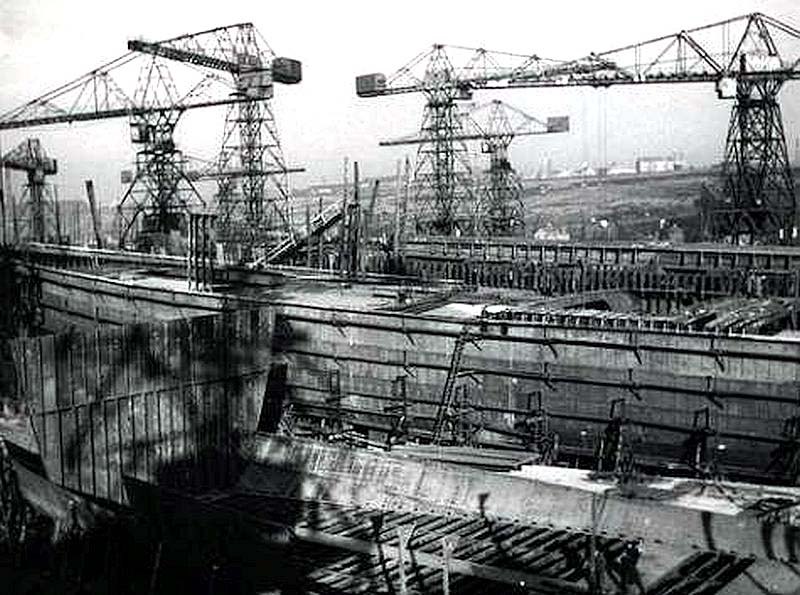 The second of the 'S' Class Trio ships is seen in construction
The 8,608 GRT Sirdhana was delivered to B.I. in December 1947, and she also cost B.I. £1,116,000. She was prepared for her maiden voyage and soon departed bound sailing as follows; Calcutta, Rangoon, Penang, Singapore, Hong Kong, Yokohama, Kobe and return.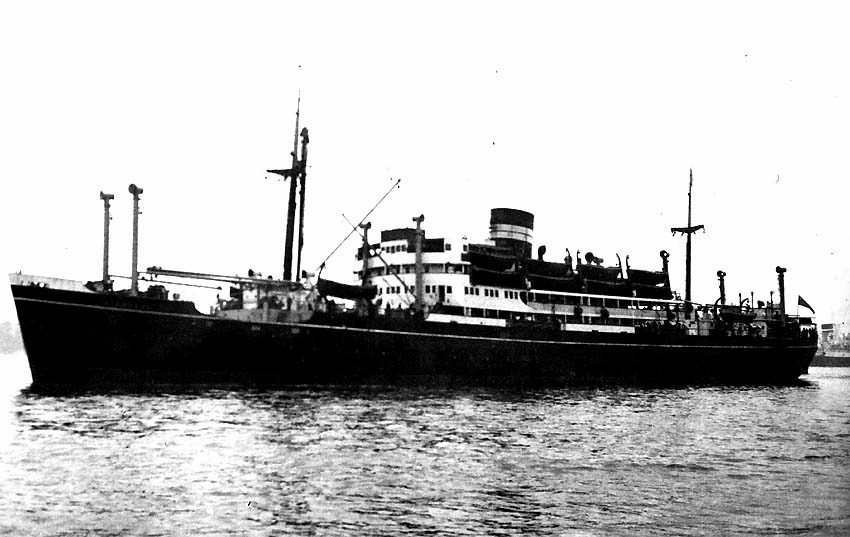 Above & below: M.S. Sirdhana seen whilst on her delivery voyage & an "S" Class Trio brochure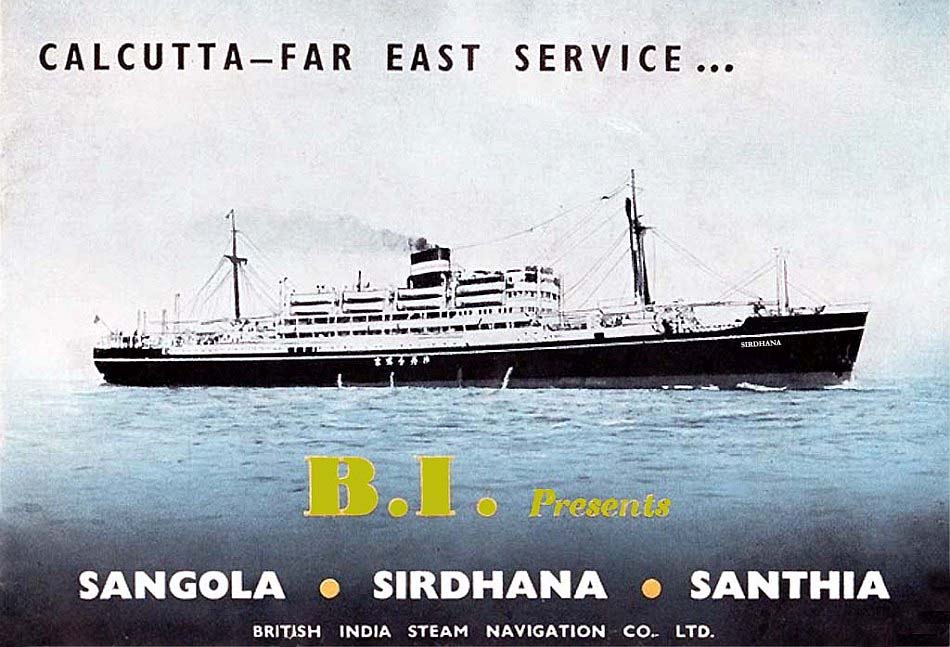 She continued on this service without much ado until 1955 when she received a refit and was painted all white, which also saw the Chinese characters removed from the sides of her hull. On board changes was most hat she now accommodated 21 in First Class, 32 in Second Class, 30 in Intermediate Class as well as 333 in folding bunks and 987 deck passengers.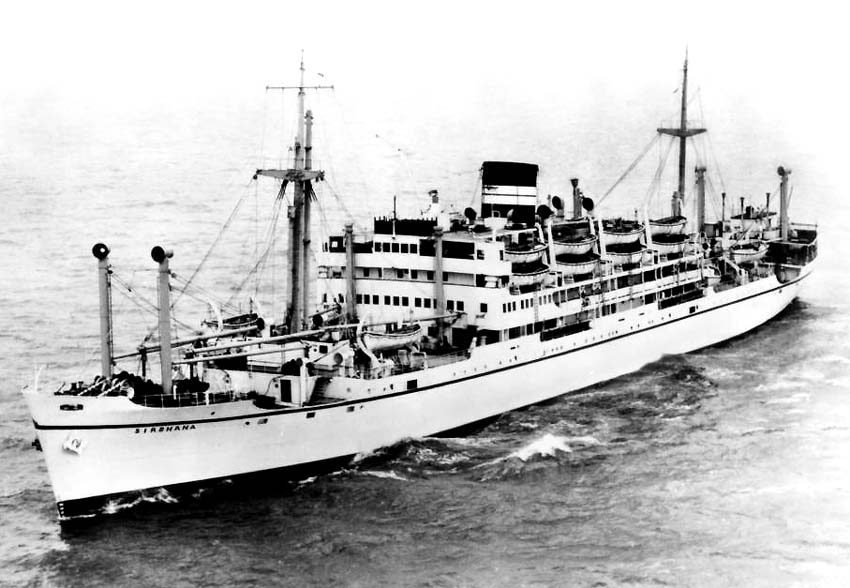 M.S. Sirdhana seen in her new all white B.I. livery
She returned to service when she was completed looking like a gleaming new ship and she sailed on her regular service for the next five years until a massive incident took place in Yokohama, Japan!
USS General William Mitchell:
In 1960 Captain Clive Turner was the master of the M.S. Sirdhana, but in November 26, 1960, the American ship, the USS General William Mitchell collided with the Sirdhana at the inner breakwater of Yokohama.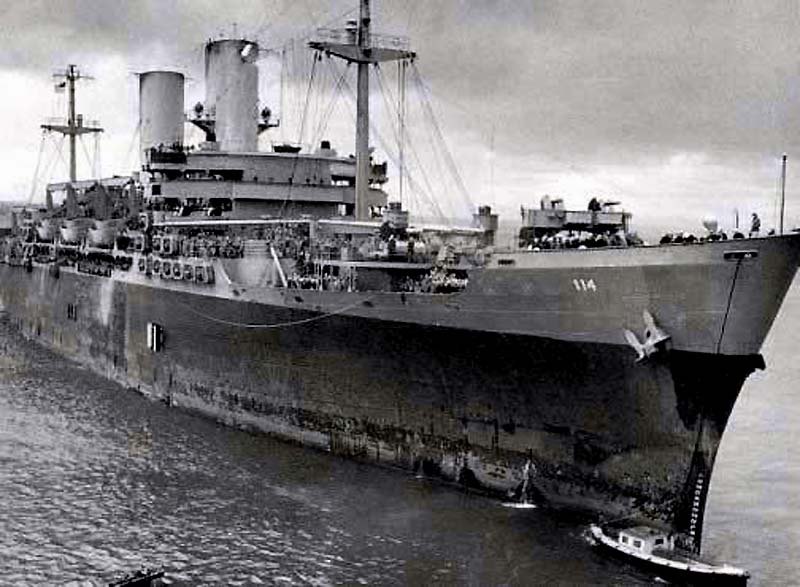 The U.S.S. General William Mitchell
Sadly the General William Mitchell's bow hit the Sirdhana amidships on the starboard side causing considerable damage, which meant she remained in Yokohama for massive repairs for the next five months.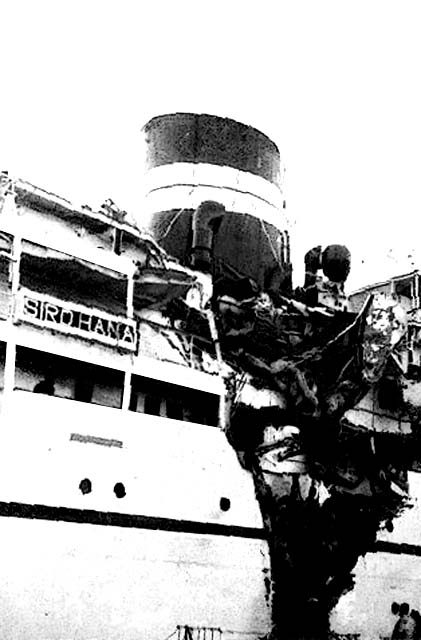 A photograph of the massive damage done to her starboard side
Photographer is unknown - Please see photo notes at the bottom of the page
M.S. Sirdhana returned to her regular duties in May 1961; however during 1962 she like the M.S. Sangola was transferred to the Bombay - Gulf region service. On November 19, 1970, she was the first ship to officially open the new deep water harbour at Port Rashid in Dubai.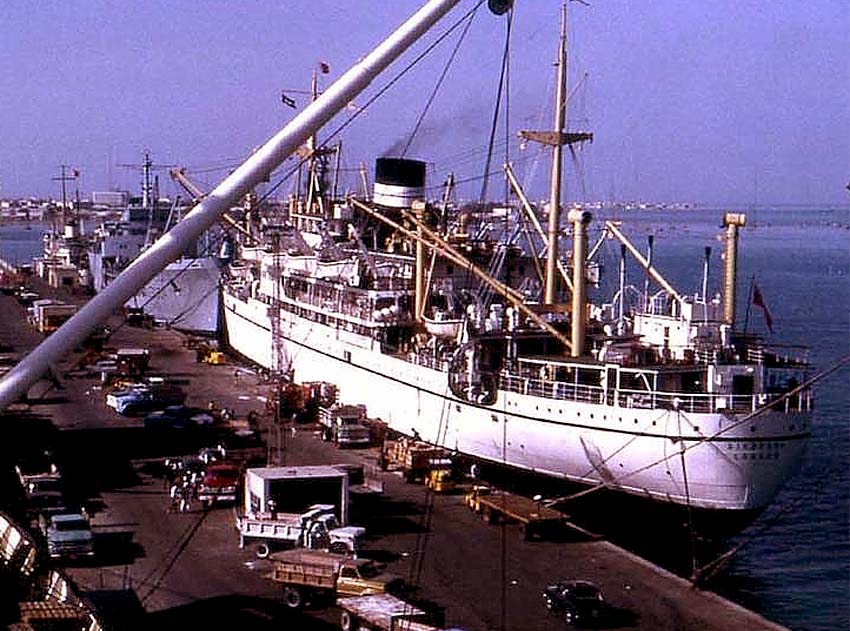 A rare colour photograph of the M.S. Sirdhana seen berthed at Bahrain November 1970
Thank you Jason Beason of Glasgow for this fine photograph
Change of Hands & her End:
In October of 1971 the Sirdhana along with some other BI vessels, were transferred to the newly established P&O General Cargo Division, for whom she made three East African voyages, turning round at Dar-es-Salaam.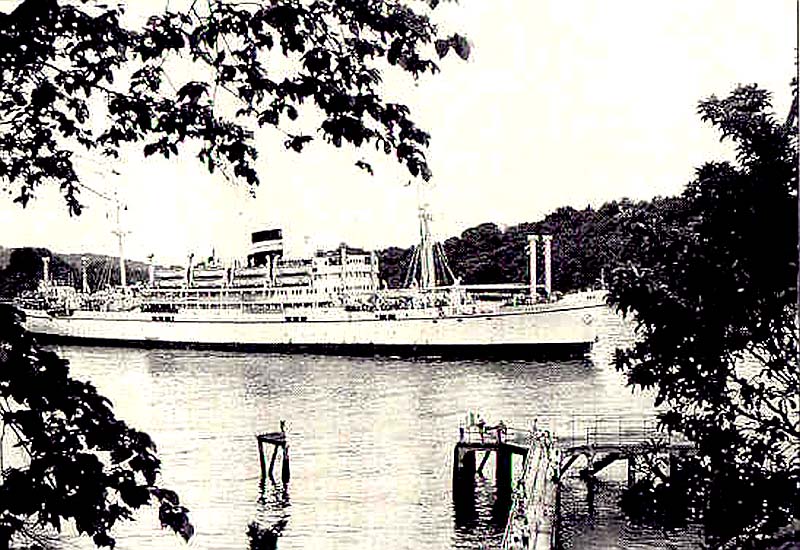 A delightful view as she slides into port
I am sorry for the poor quality of this photograph, it was badly damaged
Sadly the three BI 'S' Trio ships they did pass into history much too fast. But of the three, at least the Sirdhana managed to fulfil a good 25 years with B.I.
The Sirdhana sold on August 3, 1972, to "Nan Feng Steel Enterprise Co Ltd" of Taiwan to be broken up. On August 16, her demolition commended at Kaohsiung, and it was rapidly completed on October 2, 1872.
*************************
"S" Class Ship Three
M.S. Santhia (3):
On June 1, 1950 the last ship of the "S" Class Trio was launched from Barclay Curle's Yard N° 717, by J. B. Currie who was the daughter-in-law of the Company's Chairman. Having been completed the 8,908 GRT M.S. Santhia was delivered by Barclay Curle to B.I., on November 3, 1950.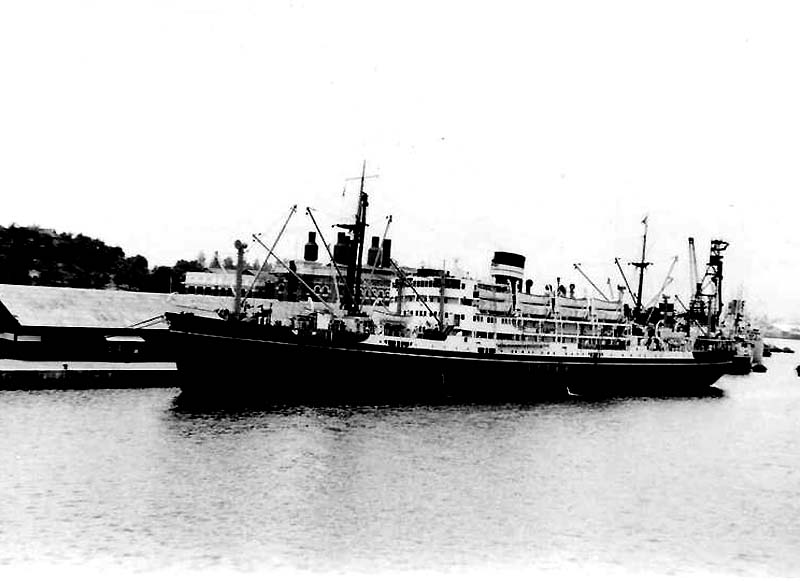 The last of the 'S' Class Trio the M.S. Santhia seen berthed in an Asian port
She was made ready for her maiden voyage and she joined her sisters on the India, Far East service, which she continued to operate until 1955 when she like her two sisters received a minor refit and was painted all white.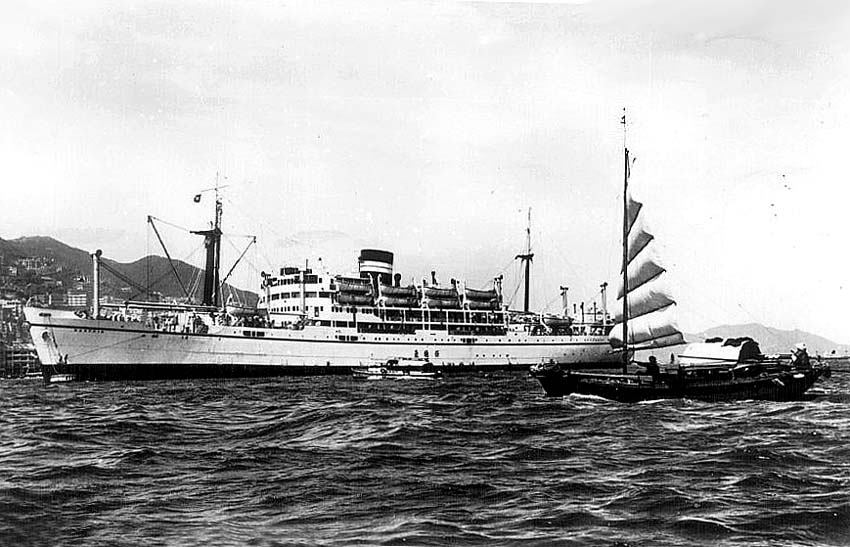 The all white M.S. Santhia is seen at anchor in Hong Kong Harbour
She continued the Far East service until 1962, when she was also was placed on the India, Gulf service. However early in 1963 First and Second Class was no mores as they now became One Class on board the Santhia.
On a voyage from Basrah to Bombay in August of 1963, the Santhia struck a rock off "Harta Bank" and she sustained some rudder damage and lost control and thus she ended upon the bank. She soon freed and was towed by a salvage vessel, the "Svitzer" to Bombay where she was repaired, and soon she was back operating her regular duties.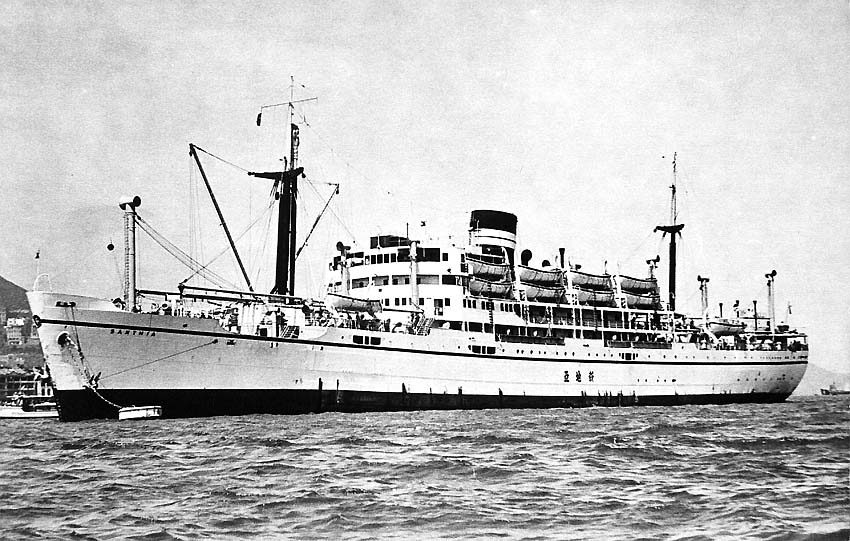 The Santhia towards the end of her B.I. career!
The M.S. Santhia was with sold to the Shipping Corporation of India, and the transfer took place at Bombay on December 6, 1966. She was renamed "State of Haryana" and she was placed in one of their services.
M.S. State of Haryana seen in a port
Thank you Jason Beason of Glasgow for this photograph
The former British B.I. ship thankfully had found a new life, as she would continue to serve a good further 10 years of trading between India and East Africa. Although in 1974 she was transferred to the Andaman Islands service and was temporarily renamed "Nancowry" and she continued this charter service until something occurred in November 1976.
M.S.

Santhia / State of Haryana Last Days:
Suddenly late in November 1976 she suffered a major collapse of her auxiliary boilers and they could either be repaired or be replaced. The only option was to sell the now 26 year old ship to the breakers.

On January 2, 1977, she was sold to "Zain & Co.," of Bombay for breaking up, having been renamed once-again the "State of Haryana".

*************************

B.I. "S" Class Ships Specifications & Details

:

1. Sangola. 2. Sirdhana. 3. Santhia:

Built by:                                    1. Barclay Curle & Co., of Glasgow.        

.                                               2. Swan Hunter & Wigham Richardson, Low Walker Yard, Newcastle.

.                                               3. Barclay Curle & Co., of Glasgow.

Yard N°:                                    1. 707.

.                                               2. 1826.

.                                               3. 717.

Launched:                                  1. January 8, 1947.

.                                               2. January 8, 1947.

.                                               3. June 1, 1950.

Delivered:                                  1. June 6, 1947.

.                                               2. December 9, 1947.

.                                               3. November 3, 1950.

Official N° & Call Sign:                 1. 181609 - GCLB.

.                                               2. 181791 - GCLD.

.                                               3. 184299 - GFSN.

Tonnage:                                   1. 8,646 GRT, 8,046 DW, 5,053 NET.

.                                               2. 8,608 GRT, 8,827 DW, 5.057 NET

.                                               3. 8,908 GRT, 8,590 DW, 5,089 NET.

Length:                                     145.90 m - 478.7 ft.

Breadth:                                     19.11 m - 62.7 ft.

Draught:                                    8.046 m - 26.4 ft.

Engines:                                           1 & 3. 2 x 4-cylinder 2 SCSA Doxford diesel engines (by builder).

.                                               2. 2 x 4-Cyl as above, etc,(by Swan Hunter & Wigham Richardson).

Power:                                      5,900 BHP.

Propulsion:                                Twin Screw.

Speed:                                      14 Knots service speed, 15.38 knots maximum.

Drawing of a B.I. "S" Class Trio Ship
Drawing by & © Duncan Hawes
*************************
 "Blue Water Liners sailing to the distant shores.
I watched them come, I watched them go and I watched them die."
Return to the ssMaritime MAIN INDEX
Where you will discover over 1,270 Classic Passenger Liners & Passenger-Cargo ships!
ssMaritime.com & ssMaritime.net
Where the Ships of the Past make History & the 1914 built MV Doulos Story
The Author has been in Passenger Shipping & the Cruise Industry for a good 60 years!
Also visit the …
Save The Classic Liners Campaign & Cruise-Australia.com
Please Note: ssmaritime and associated sites are 100% non-commercial and the author seeks no funding or favours of any shape or form, never have and never will!
Photographs on ssmaritime and associate pages are by the author or from the author's private collection. In addition there are some images that have been provided by Shipping Companies and private photographers or collectors. Credit is given to all contributors. However, there are some photographs provided to me without details regarding the photographer/owner concerned. I hereby invite if owners of these images would be so kind to make them-selves known to me (my email address may be found on www.ssmaritime.com only), in order that due credit may be given.
This notice covers all pages, although, and I have done my best to ensure that all photographs are duly credited and that this notice is displaced on each page, that is, when a page is updated!
ssMaritime is owned & © Copyright by Reuben Goossens - All Rights Reserved