The China Navigation Company MS Anking and Anshun
Please Note: Firefox and some other search engines are not suitable – Use "Internet Explorer" for this page to load perfectly!

Click the logo above to reach the ssMaritime FrontPage for News Updates & "Ship of the Month"
With Reuben Goossens
Maritime Historian, Cruise'n'Ship Reviewer, Author & Maritime Lecturer
Please Note: All ssMaritime and other related maritime/cruise sites are 100% non-commercial and privately owned. Be assured that I am NOT associated with any shipping or cruise companies or any travel/cruise agencies or any other organisations! Although the author has been in the passenger shipping industry since 1960, although is now retired but having completed around 680 Classic Liners and Cargo-Passengers Ships features I trust these will continue to provide classic ship enthusiasts the information the are seeking, but above all a great deal of pleasure! Reuben Goossens.
The China Navigation Co, Ltd
MS Anking & MS Anshun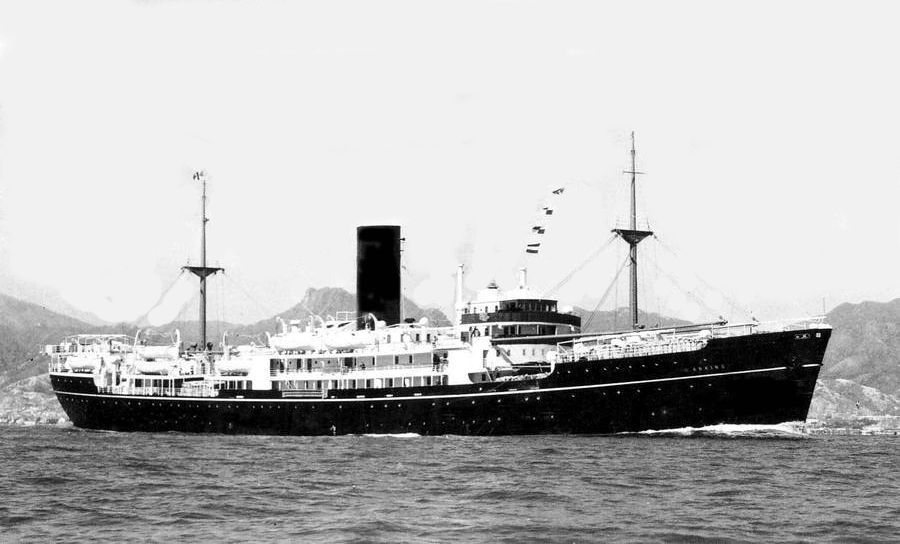 Photographs on this page are from the authors' collection or as marked
The China Navigation Company's History in Short:
The China Navigation Company's (CNCo) and they have their origins in Liverpool when they were founded in 1816. The background is due to CNCo's parent company being the well known John Samuel Swire (1825-1898) & Sons Ltd who in 1866 opened his first Far Eastern agency in Shanghai, and in 1872 he founded The China Navigation Company to operate a modest fleet of paddle steamers on China's Yangtze River.
Within a decade, CNCo had expanded its operations up and down the China coast and had begun regular services to Australia and New Zealand. One of the company's early successes was to take a monopoly of the previously junk-borne tramp trade in "beancake" – cartwheel-sized cakes of compressed soybean husk (the residue from making oil), which were carried from North to South China to use as a fertiliser. By the turn of the century, CNCo's by then substantial fleet was covering a complex network of Far Eastern trades, backed up by its own well-established coastal and river feeder services. But after WWII the Australian passenger services became more and more popular.
The 1960s and 70s also saw China Navigation diversifying its scope of activities in two other very different directions. The first was cruise operations, based in Australia and New Zealand, which commenced in 1961. In the early 1970s, CNCo developed a niche market operating seminar cruises out of Japan and successfully dominated this market for almost 20 years. CNCo continues today as a major shipping company but no longer as a passenger operator, but container ship operations and has a massive fleet. However, Australians and New Zealanders will remember the days of the CNCo passenger, services, especially the delightful twins MS Changsha and Taiyuan, which have their own page on this site, see the link at the bottom of this page!
The 1946/1947 Quartet of Ships:
By the late 1950's The China Navigation Company (CNCo) was a popular shipping company, especially with Australian's sailing between Melbourne, Sydney, Brisbane, Port Moresby, and Asia, be it for a line voyage or a circle cruise. By this time there were eight ships operating from 3,150-tons, accommodating with just 12 first class to the larger 7,472-ton ships offering 84 first class passengers, and each ship also had space for steerage or third class accommodations, which was mostly used for local inter island coastal traffic.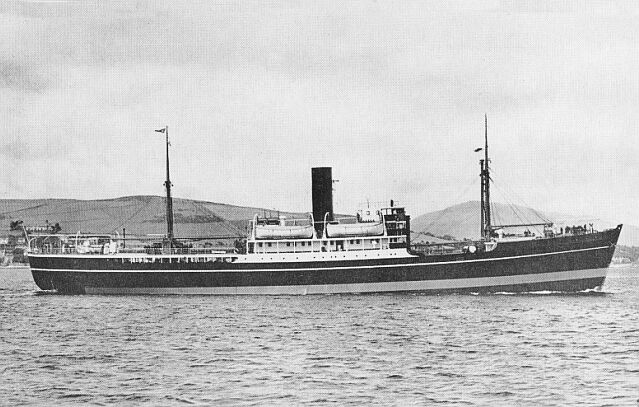 The MS Sinkiang 3,029-ton was he first of the quartet to be built
In 1946 and 1947 quartet of ships of cargo ships were built, being the MS Sinkiang (12 first class passengers), Szechuen (15 first class), Shansi (11 first class) and Soochow (11 first class). Each ship also had space for 76 in steerage. However, there as slight differences between the first pair, which were built in 1946, and were 3,029-ton & 3,028-tons and the 1947 being slightly larger at 3,152-tons each. All measured: 321ft long, 46ft wide and having a draught of 18.ft, having with Doxford diesels installed (although MS Szechuen had Sulzer Diesels), with a single screw and a service speed of 12 knots (Szechuen 11.5 knots).
However, the 1947 pair, being the MS Shansi and Soochow externally looked quite different as they had a longer Bridge deck that extended as far aft as the mainmast, providing additional facilities for their passengers to the other ships. This quartet became very popular with passengers including the excellent style of service that was available, which was simply superb and it became obvious to the management that they proved to be inadequate and new and larger ships were needed with a larger passenger capacity, thus two new ships had been designed, which resulted in two superb ships being built, the MS Changsha and Taiyuan, which were true passenger-cargo liners in the true sense of the word, offering every possible facility!
The Building of the MS

Ankin

and Anshun:
With the aforementioned ships having proved to be very successful, the CNCo decided to build two new 6,000 tonners, able to accommodate a larger number of passengers. They would be able to accommodate up to 165 in two classes, as well as a large number of passengers in what was called "4th.class" or Steerage.
The Ankin was built by Scotts Shipbuilding & Engineering Co of Greenock, and she was launched on August 23, 1949. She was delivered in January she was fully stocked and having been placed under the command of Captain E. H. Histed she departed the Clyde on February 10, 1950 and headed for Rotterdam were she remained a few days there loading cargo before continuing her voyage to Penang, Singapore and Hong Kong, arriving on March 29.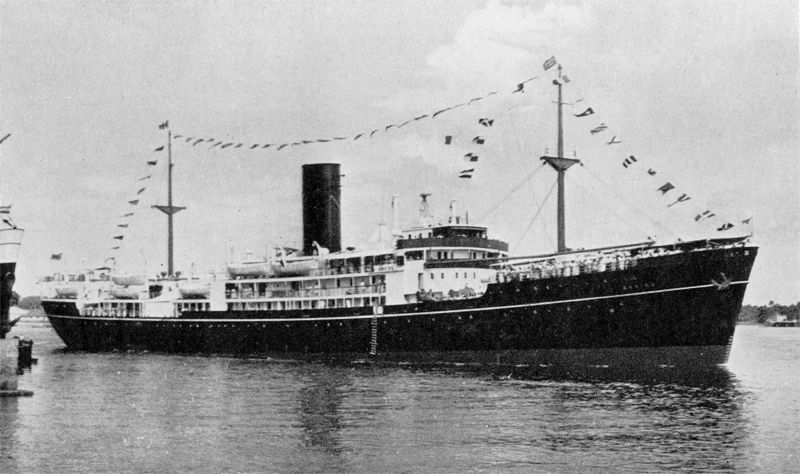 MS Anking is seen here in the Brisbane River
Whilst the Anking was built in the UK, the MS Anshun was built at the Taikoo Shipyards in Hong Kong and she was the largest ship of her type to be built there following the post war occupation of the city, which was quite unique. She was launched on September 12, 1950 and was ready to commence duties some six months later.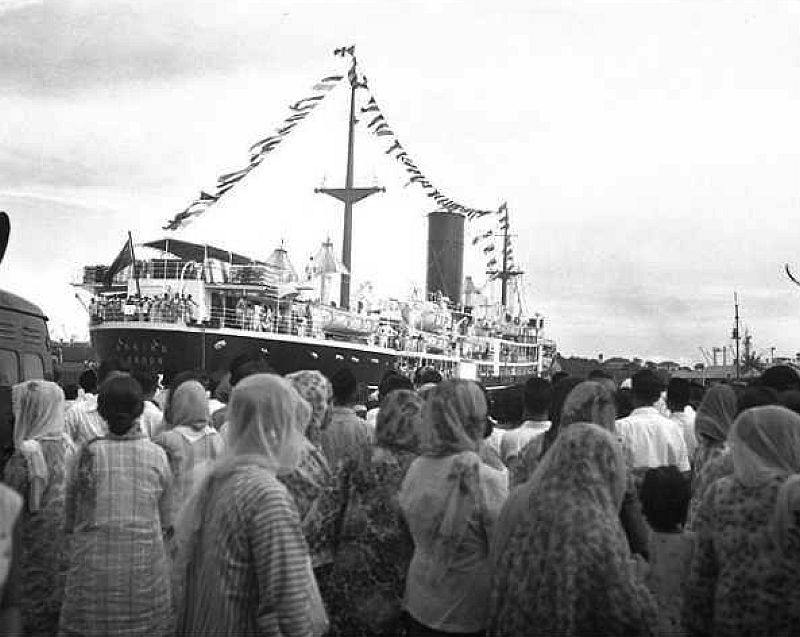 MS Anshun is seen here departing Singapore
Provided by a supporter, but unknown photographer – *Please see photo notes at bottom of page
Ship Board Information:
First Class was quite comfortable for a total of 50 passengers, which were all located on the one deck, being A Deck, the lower open deck. Far forward is the First Class Lounge, although pleasant with gentle timber lining, light upholstery with comfortable seating of chairs and fixed wall sofas. Timer tables were topped with Formica and flooring covered in Korkoid. On the side of the lounge there were several writing desks as well as a book case on the other side. Amidships were all the First Class cabins, which were all two bedded very comfortable staterooms, but one of the odd features was that these rooms did not have a traditional cupboard with doors, instead there was just curtain in front. Although there was a larger dresser with plenty of drawers, a stool and a wicker cane chair and all rooms had a window. However, as it was for many ships in those days none of the cabins had private facilities, just a wash basin in each room, thus it was off to one of the well located and supplied bathrooms nearby. One deck above (Promenade Deck), directly above the First Class Lounge was the Dining Room, which again had timber clad walls and furnishings, the floor was covered in linoleum that had a pattern of a large square motif, over all it was a reasonably a pleasant room and somewhat larger than the lounge. In those days there was no such thing as air-Conditioning and the air cooling was provided by a "Phukah" fan forced ventilation system, with movable outlets in all cabins and venues. These could be regulated to provide more or less air and turn to the preferred direction. These plastic fittings can be seen in the photographs
No one would ever say that these ships were luxurious, that could be better said of the 7,400 ton MS Changsha and Taiyuan, which were by far more glamorous ships considering that they were the companies flagships, and then cane the ever popular MS Kuala Lumpur, also online and a link is also at the bottom of this page.
Basic Ships Layout and Interior Images

Ships side view plan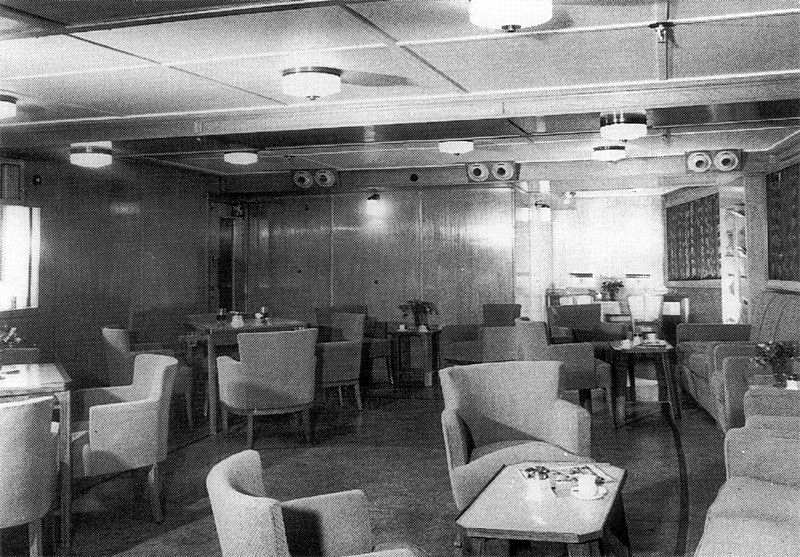 Lounge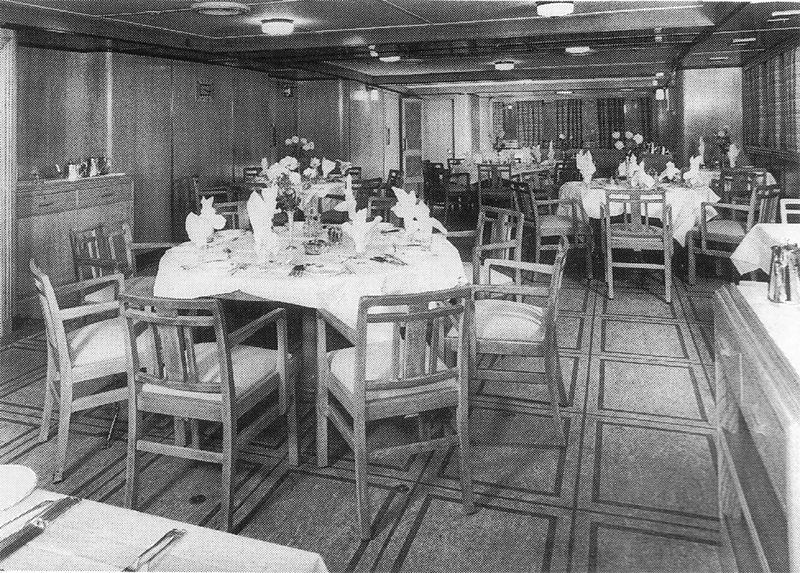 Dining Room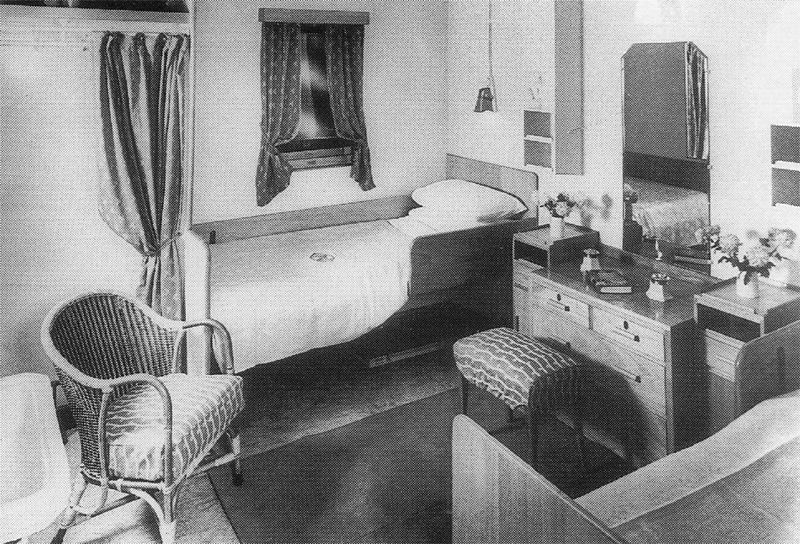 Twin Bedded Cabin
They also accommodated 116 Steerage Class passengers, their cabins which were mostly located on B Deck aft offered from six to ten berth cabins. They had a dinning room aft on A Deck and a Lounge up on Boat Deck. Whilst 4th.class passengers were located in the forward 'tween decks and were provided with either portable beds, or were un-berthed, as they would sail between ports (a day voyage), or a longer voyage, depending on the sailing. The forward deck would be well covered with canvas providing ample protection from the sun.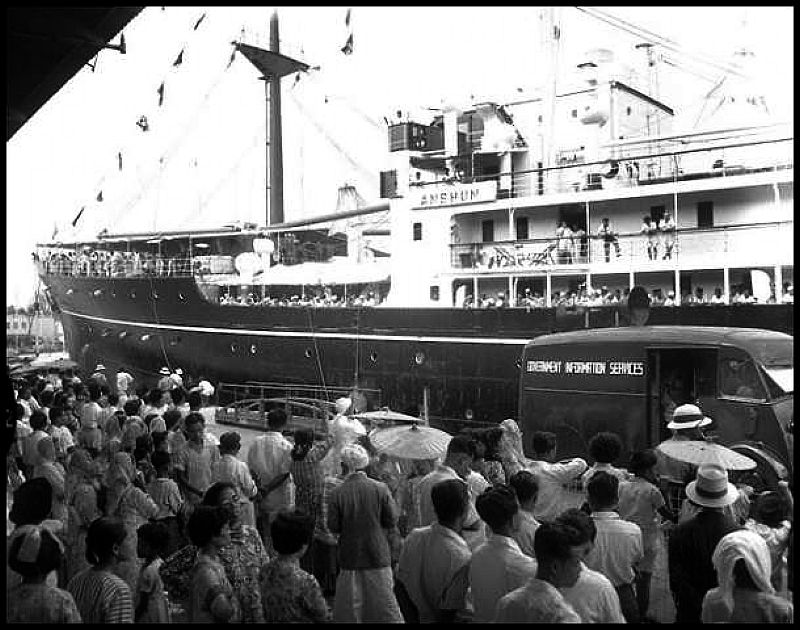 This photo shows the location of the forward located 4th.class passengers very well
The MS Anshun is seen at Singapore
Provided by a supporter, but unknown photographer – *Please see photo notes at bottom of page
To handle cargo, they had five holds, which were served by her two tall totally upright masts, just like her very tall slender pitch black funnel, two king posts and a total of twelve derricks. Able to carry regular cargo as well as having refrigerated space and having deep tanks. Both ships had reliable 4 cylinder Doxford type Diesel engines and with their single screw they would operate at a service speed of around 15 knots.
History and Service Record:
Considering that the Anking and Anshun were built especially for the emigrant trade between southern China to Singapore and Penang Malaya. She operated on various voyages as the intended route had much concluded due to the communist occupation of southern China, thus the Anking as well as her sister when she arrived operated very much a varied service and switched from one to another, sailing on either the Hong Kong Japan route, round voyage to Penang and Singapore, or the popular Hong Kong to Australia service.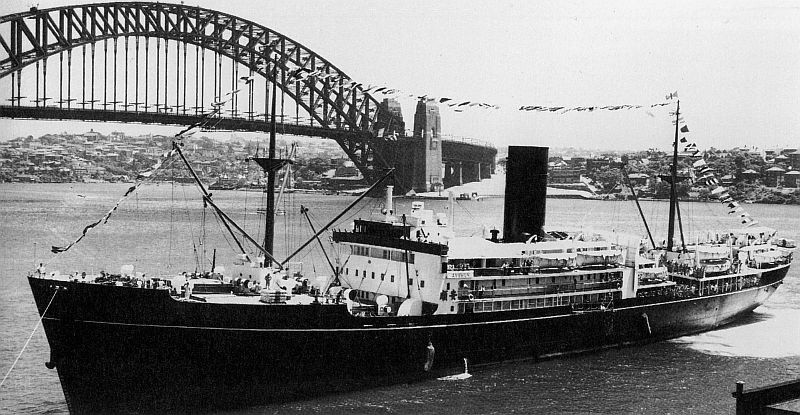 MS Anshun is seen arriving in Sydney Australia fully decked out with flags
This would continue until both ships were transferred in 1953 to the pilgrim or the "Hajj" service operating between Malaya and Jeddah for four months of the year. As the Harold Holt (Blue Funnel Line) had long been involved with this pilgrim trade for over three quarters of a century and were well known on this service, it was decided to have both the Anking and Anshun painted in the official Blue Funnel livery with an all white hull and also in the earlier days with the traditional blue and black topped funnel, which would remain with them for a considerable time. In 1961 the funnel was changed to all black with a green band featuring the Malaysian flag, as seen below.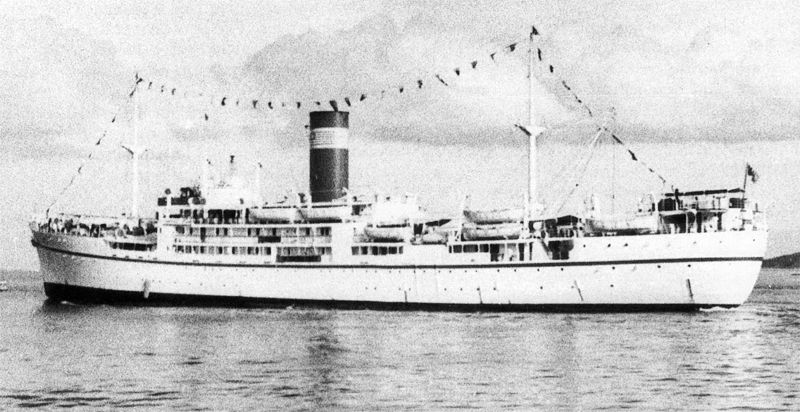 MS Anking looking good as an all white Pilgrim ship
However, in the early 1960's the much larger MS Kuala Lumpur, which had been especially converted for this trade would take over the pilgrim services. For interest, during the MS Anshun did have a close encounter of the worst kind when she came close to the entrance of the Gulf of Aqaba and she was hit when Egyptians fired on her from one of their cannon batteries ashore on July 3, 1955. Apparently the Egyptians accused her of being in Egyptian territorial waters, which for interest, as was proven, she was not and also considering she was operating on transporting Muslims from Muslim nations, you would wonder, and she did have an Islamic flag on her funnel, weird, but that is the mad, mad world of the Middle East Arab style, it makes no sense whatsoever, not even to themselves most of the time!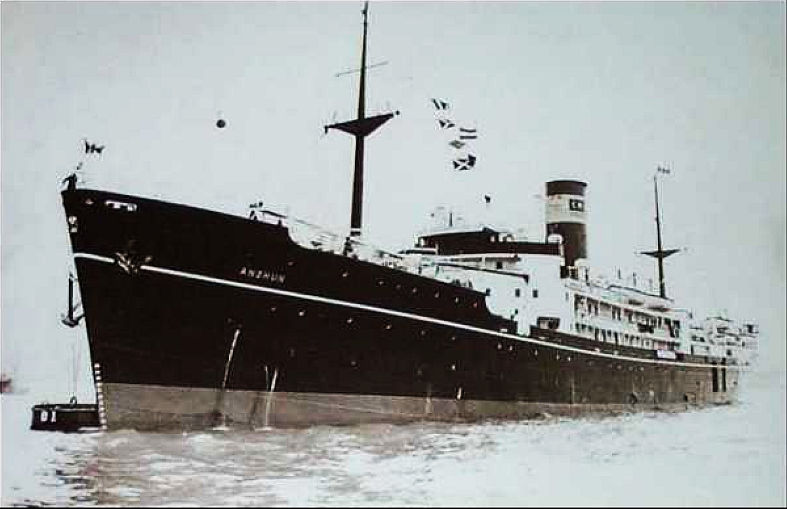 The Pilgrim ship MS Ashun, but now with a black hull, she just had her funnel pained with the green band and the Malaysian flag
Although Ashun continued as a backup for the pilgrim trade seasonally, out of season she returned to her regular First Class and Steerage services, only carrying 4th.class passengers between ports when the opportunity arose together with the MS Anking which was by now a full time passenger/cargo liner. In 1965 the Anking was placed on the Hong Kong to Keelung service on which she served for the next five years, until she was finally sold together with her sister the Anshun in 1970.
Specifications:
Built:                  Anking: Scotts Shipbuilding & Engineering, Co Greenock. 1950.
                          Anshun: Taikoo Dockyard Hong Kong. 1951.
Tonnage:             6,160 GRT.
Length:               418ft – 127.4m.
Breath:                57ft – 17.3m.
Propulsion:          4 cylinder Doxford Diesels – Anshun's was built by Tailoo HKG.
Screws:               Single.
Service speed:     15 knots.
Passengers:         50 First Class, 115 Steerage, as well as deck passengers for short haul daylight coastal voyages.
Their Last days:
MS Anking was sold to the Straits Steamship Company, Ltd who gave her a minor refit removing her two aft upper lifeboats and renamed her Klias. She was placed on the following service: Singapore, Victoria (Labuan), Kota Kinabalu, Kudat, Sandakan, Lahad Datu, Taiwan. Returning via the same ports omitting Victoria. She also made additional voyages that made calls at Nauru and Papua New Guinea.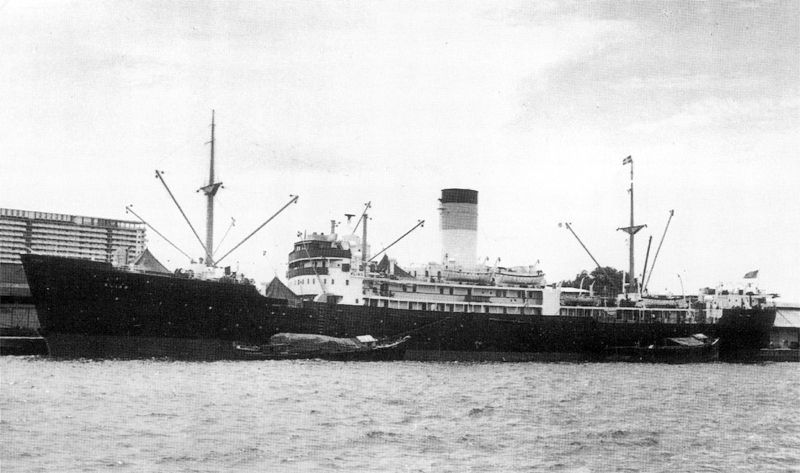 The Klias still looking very much her old self as the Anking, note the missing upper lifeboat aft next to her mast
However in September 7, 1976, whilst the, MS Klias was berthing in Singapore, due to obvious errors made on board, her aft section smashed against the wharf so badly that her stern became simply became impaled on the wharf. She was so severely damaged that it was not possible to have her repaired economically, and thus the damage was patched up and she was sold to Hong Kong breakers in 1977.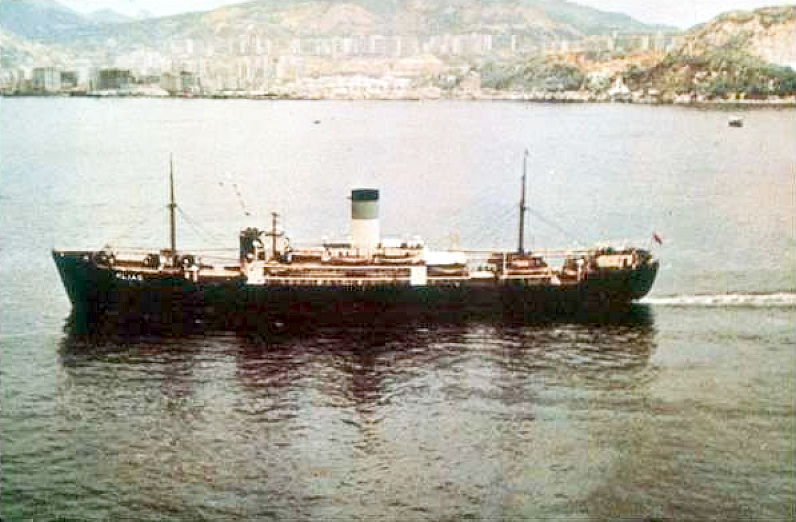 An aerial shot of the ex Anking now named the MS Klias

MS Anshun

was 1971 sold to Pan Islamic Steam Ship Company, Ltd of Karachi who renamed her Safina-E-Abid. She was used mostly on either the pilgrim trade or between Karachi and Kuwait. She sailed on long after her sister and although she had a varied life with her owner, she was finally sold to be broken up late in 1991, thus she lasted a good 40 years!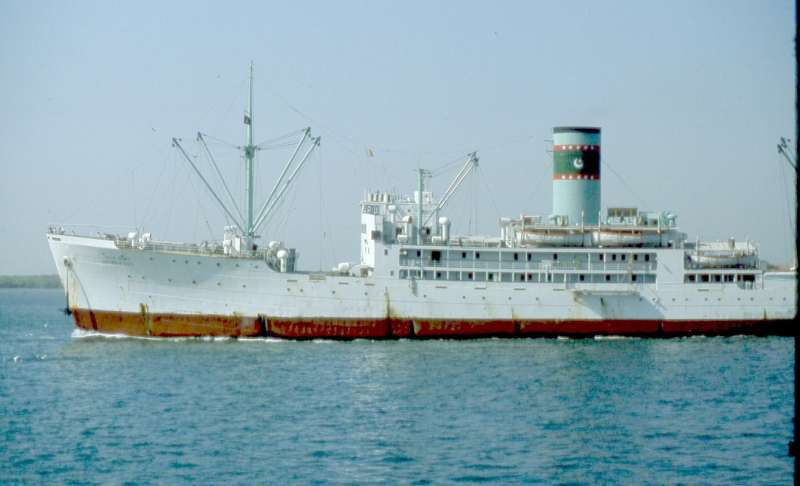 MS Anshun seen as the MS Safina E Abid departing Karachi early in 1982

Photograph taken by & © Benoit Donne

For other China Navigation Company's Ships - read the following:

MS Changsha & Taiyuan – MS Kuala Lumpur

"Blue Water Liners sailing to the distant shores.


I watched them come, I watched them go and I watched them die."

****************************

Visit our ssMaritime Main INDEX

Where you will discover around 680 Classic Passenger & Passenger-Cargo Liners!

ssMaritime.com & ssMaritime.net

Where the ships of the past make history & the 1914 built MV Doulos Story

Please Note: ssmaritime and associated sites are 100% non-commercial and the author does not seek funding or favours and never have and never will.

Photographs on ssmaritime and associate pages are either by the author or from the author's private collection. In addition there are some images and photographs that have been provided by Shipping Companies or private photographers or collectors. Credit is given to all contributors, however, there are some photographs provided to me without details regarding the photographer or owner concerned. Therefore, I hereby invite if owners of these images would be so kind to make them-selves known to me (my email address can be found at the bottom of the page on www.ssmaritime.com), in order that due credit may be given.

ssMaritime is owned & © Copyright by Reuben Goossens - All Rights Reserved