The China Navigation Company MS Changsha and Taiyuan
Please Note: Firefox, iPhones, iPads & some other Search Engines may not be suitable
Use Internet Explorer & Google for this Web Page to load perfectly!

Click the logo above to reach the ssMaritime FrontPage for News Updates & "Ship of the Month"
With Reuben Goossens
Maritime Historian, Cruise'n'Ship Reviewer, Author & Maritime Lecturer
Please Note: All ssMaritime and other related maritime/cruise sites are 100% non-commercial and privately owned. Be assured that I am NOT associated with any shipping or cruise companies or any travel/cruise agencies or any other organisations! Although the author has been in the passenger shipping industry since 1960, although is now retired but having completed around 680 Classic Liners and Cargo-Passengers Ships features I trust these will continue to provide classic ship enthusiasts the information the are seeking, but above all a great deal of pleasure! Reuben Goossens.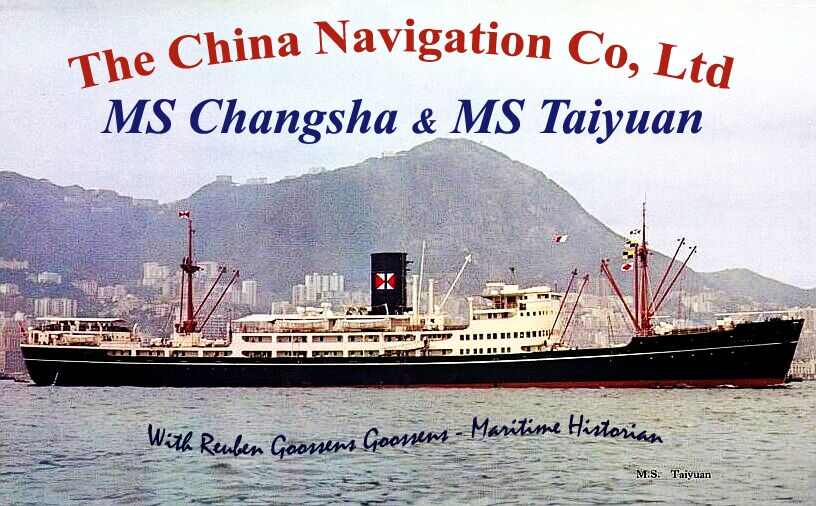 PLEASE NOTE: Images on this page are from the author's private collection, Mr Stan Evans unless specified otherwise.
The author received an email from a dear friend who has been a solid supporter and a provider of many fine photographs on ssMaritime, Mr Stan Evans from Newcastle Australia, and he wrote about how he saw the MS Changsha for the very first time, and she was coming through Sydney Heads through some very heavy seas. He was certainly impressed by this "little ship." As I had been intending to write an article on the China Navigation Co twins for a long time, but somehow never got around to it, I decided, well I have a good number of photographs on file, and Stan will send me more, why not do it NOW! Thus here is the story of the MS Changsha and her sister the MS Taiyuan! I trust that you will enjoy it, and thank you Stan!
The China Navigation Company's history in short!
The China Navigation Company's (CNCo) and they have their origins in Liverpool when they were founded in 1816. The background is due to CNCo's parent company being the well known John Samuel Swire (1825-1898) & Sons Ltd who in 1866 opened his first Far Eastern agency in Shanghai, and in 1872 he founded The China Navigation Company to operate a modest fleet of paddle steamers on China's Yangtze River.
Within a decade, CNCo had expanded its operations up and down the China coast and had begun regular services to Australia and New Zealand. One of the company's early successes was to take a monopoly of the previously junk-borne tramp trade in "beancake" - cartwheel-sized cakes of compressed soybean husk (the residue from making oil), which were carried from North to South China to use as a fertiliser. By the turn of the century, CNCo's by then substantial fleet was covering a complex network of Far Eastern trades, backed up by its own well-established coastal and river feeder services. But after WWII the Australian passenger services became more and more popular.
The 1960s and 70s also saw China Navigation diversifying its scope of activities in two other very different directions. The first was cruise operations, based in Australia and New Zealand, which commenced in 1961. In the early 1970s, CNCo developed a niche market operating seminar cruises out of Japan and successfully dominated this market for almost 20 years. CNCo continues today as a major shipping company but no longer as a passenger operator, but container ship operations and has a massive fleet. However, Australians and new Zealanders will remember the days of the CNCo passenger, services, especially the delightful twins MS Changsha and Taiyuan!
The 1946 / 1947 quartet of ships:
By the late 1950's The China Navigation Company was a popular shipping company, especially with Australian's sailing between Melbourne, Sydney, Brisbane, Port Moresby, and Asia, be it for a line voyage or a circle cruise. By this time there were eight ships operating from 3,150-tons, accommodating with just 12 first class to the larger 7,472-ton ships offering 84 first class passengers, and each ship also had space for steerage or third class accommodations, which was mostly used for local inter island coastal traffic.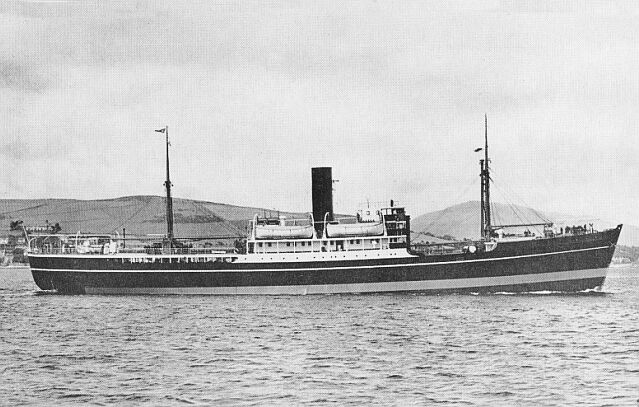 The MS Sinkiang 3,029-ton was he first of the quartet to be built
In 1946 and 1947 quartet of ships of cargo ships were built, being the MS Sinkiang (12 first class passengers), Szechuan (15 first class), Shansi (11 first class) and Soochow (11 first class). Each ship also had space for 76 in steerage. However, there as slight differences between the first pair, which were built in 1946, and were 3,029-ton & 3,028-tons and the 1947 being slightly larger at 3,152-tons each. All measured: 321ft long, 46ft wide and having a draught of 18.ft, having with Doxford diesels installed (although MS Szechuan had Sulzer Diesels), with a single screw and a service speed of 12 knots (Szechuan 11.5 knots).
However, the 1947 pair, being the MS Shansi and Soochow externally looked quite different as they had a longer Bridge deck that extended as far aft as the mainmast, providing additional facilities for their passengers to the other ships. This quartet became very popular with passengers including the excellent style of service that was available, which was simply superb and it became obvious to the management that they proved to be inadequate and new and larger ships were needed with a larger passenger capacity, thus two new ships had been designed, which resulted in two superb ships being built, the MS Changsha and Taiyuan, which were true passenger-cargo liners in the true sense of the word, offering every possible facility!
1950 and 1951 - Twins that were built world's apart!
Several other ships to be built are the 1950, 6,100-ton twins MS Anking and Anshun, which officered accommodations for 50 first class passengers as well as 116 in steerage.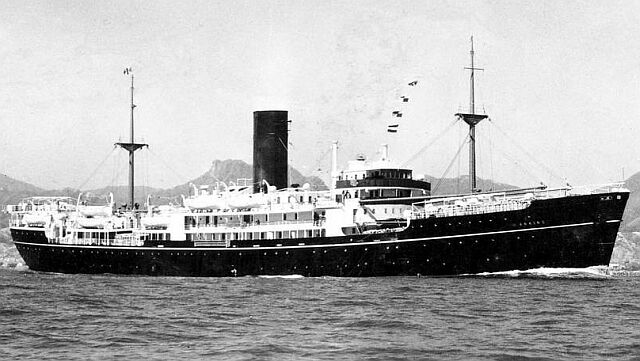 MS Anking, the second of the pair to be built
All CNCo's ships were generally all built by Scotts Caledon or Scotts Inglis in the UK, except for MS Anshun, which was built at the Taikoo Shipyards in Hong Kong and she was the largest ship of her type to be built there! But just prior to building these two ships, our featured ships came into being and we will now concentrate on them!
MS Changsha and Taiyuan:
With the changes happening in mainland China, the China Navigation Company had to seek new routes and were operating all the above between Australia, New Zealand Hong Kong and Japan, with a variety of ports in between. However with these new ships having a large passenger capacity, their services would be more of a cruise style operation, whilst continuing their cargo services, something that appealed to the public!
MS Changsha was built by Scotts Shipbuilding & Engineering Co of Greenock and she was launched on November 2, 1948. Having been completed she run her deep sea trails on May 3, 1949 and she was delivered duly to her owners at Liverpool thereafter. Changsha having loaded with freight departed the United Kingdom on May 17 and she sailed via the Suez Canal to Australia, calling at Adelaide, Melbourne and Brisbane. Having offloaded all her cargoes at all three ports, she returned to Melbourne where she would commence her official maiden passenger service to Asia from Australia on July 23, 1949, sailing to Sydney, where she remained for five full days, after which she continued to Brisbane, Hong Kong and various ports in Japan.
MS Taiyuan was also built by the same builder and she was launched on May 13, 1949. She ran her sea trails on Tuesday November 1, and she headed for Liverpool to be delivered and handed over. She departed for Australia on November 15, 1949, but unlike her sister, she sailed via South Africa, visiting Cape Town and arrived in Melbourne on December 21, where she remained for five days. Taiyuan departed on her official maiden passenger voyage on the 29th.
Ports of Call:
They operated regular sailings on two consecutive months each quarter. In general their ports of call were: Melbourne, Sydney, Brisbane, Manila, Hong Kong, Osaka, Kobe, Yokohama, Shimizu, Hong Kong, Sydney and back to Melbourne, a round voyage that generally took around 78 days. Occasionally there were slight variations due to cargo requirements, but the route basically remained the same until the mid 1960s.
For interest, there were two contemporaries that were of a similar design named the MS Changchow and Chungking, but they had been purchased by the British Admiralty as supply ships and were renamed Resurgent and Retainer.
The ships design and interiors:
These superbly designed ships and had traditional lines with rounded forward superstructure, giving them a somewhat more modern look than any of their predecessors, yet they retained the traditional tall slender pipe black funnel and the forward and aft upright masts. The MS Changsha and Taiyuan were the also the largest ships of the fleet, and were managed from the Swire Hong Kong based office.
These were also the only ships in the fleet to enjoy air-Conditioning in all of the pubic rooms, such as the Lounge, Lounge and Bar as well as the Shop and hairdresser, and all cabins on Upper Deck.
The Main Lounge far forward on Upper Deck featured soft timbered walls with book cases built into the aft walls. There was a grand piano for entertainment. The colour scheme was minimal with a gently patterned red to rust carpets, with the sofas and seating in a pale blue accompanies by mahogany tables and incidental furnishings. The smaller Bar and Lounge featured timber floors with turquoise mats, both the walls and ceiling clad in fine woods and a superb Chinese mural featuring the forward facing wall. The furnishing was the same as in the Main Lounge. The Dining Room continued this elegant timber theme with blue upholstery, but with beige patterned vinyl flooring.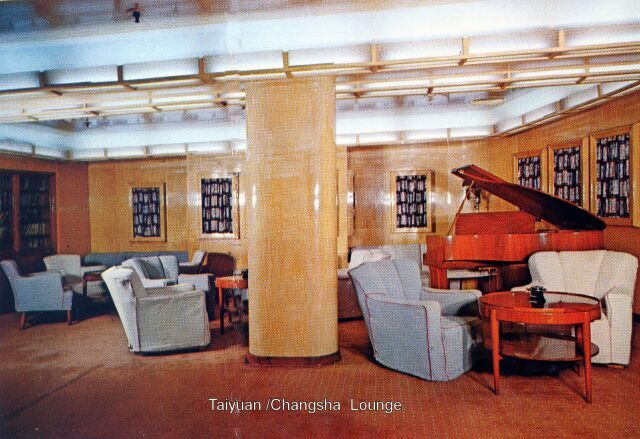 From a brochure – provided by Stan Evans

– Newcastle Australia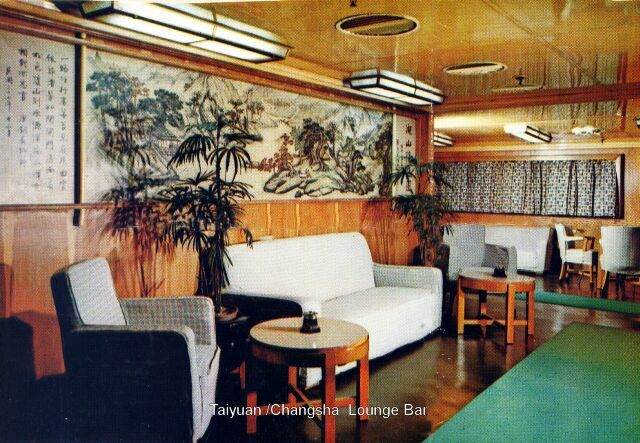 From a brochure – provided by Stan Evans

– Newcastle Australia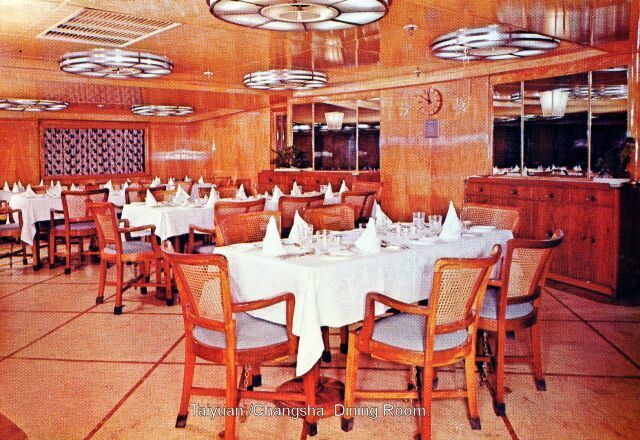 From a brochure – provided by Stan Evans

– Newcastle Australia

Accommodations were more designed to make the passenger feel very much at home, yet with a nautical feel, having an abundance of fine timbers in all the furnishings. There were comfortable beds, and spacious bathrooms with bathtubs and showers. All cabins had large windows and looked out onto the deck.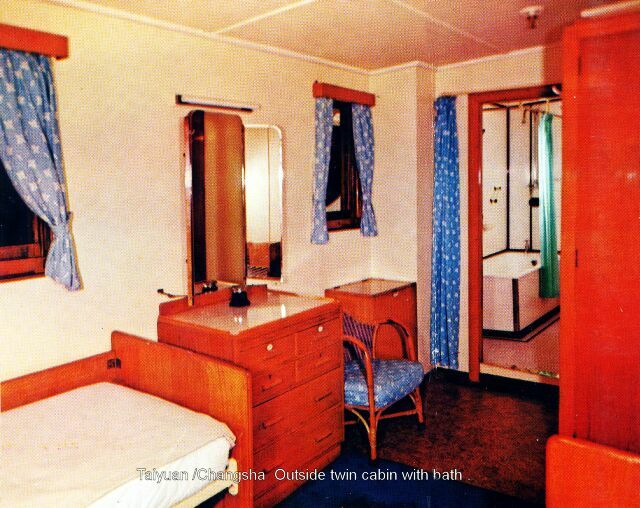 From a brochure – provided by Stan Evans – Newcastle Australia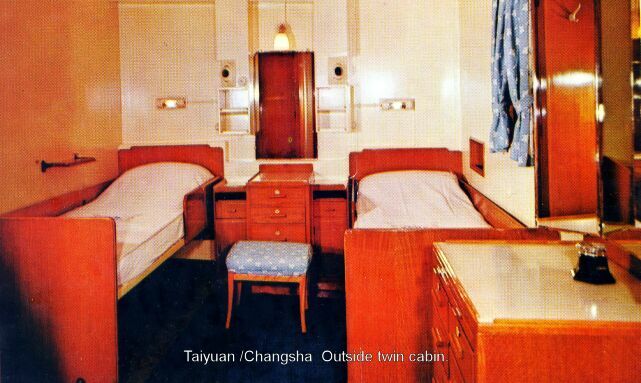 From a brochure – provided by Stan Evans

– Newcastle Australia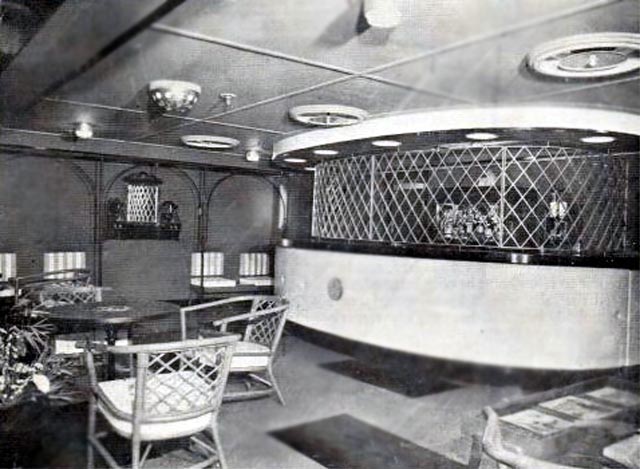 The Bar from onboard one of the ships
MS Changsha's and her run of bad luck:
MS Changsha certainly had her share of misfortunes, as she ran aground in Tokyo Bay on Tuesday March 27, 1956 and it would be twelve days later when she was finally refloated on Monday April 9.
Then on September 26, 1959, just over three years later, whilst was on another voyage and again in Japanese waters, during Typhoon Vera she was blown ashore near Nagoya in 1959 during typhoon Vera. However, due to the ferocity of this Typhoon she was one of around 19 vessels that were affected and blown ashore, and Changsha ended up high and dry on a sandy beach with a considerable list. In order to refloat her, sand had to be moved and a channel dug around the hull, it was a massive task, but it was achieved and on December 15 she was pulled clear and towed to Yokkaichi where she was berthed to be repaired. However, her problems had not ended, for just two days later a fire broke out on board, and with the fire controlled, she was towed to Yokohama for dry-docking. She was completed and returned to service in March 1960.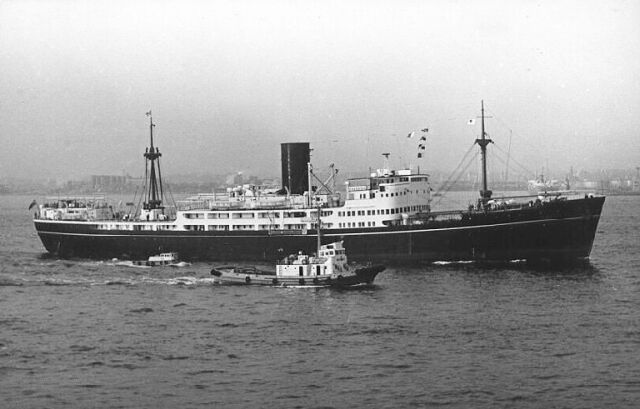 MS Changsha seen during her troubled days
However, sadly her troubles continued, although her sister MS Taiyuan happily sailed on being the untroubled ship of the pair!
On December 18, 1960, whilst off the coast of Victoria, there was damage to the propeller shaft, which caused her engines to stop, which caused her to drift for around 15 hours. In the meantime her engineers were busy making temporary repairs, and soon she was able to sail to Melbourne not having to request a tow. Thankfully this was the last of her troubles and she sailed on trouble free thereafter as the Changsha!
NEW

- Purser Grace Winifred Hawley:

I was delighted to receive an email from

G. Jones, who is the son of Grace Winifred Jones, nee Hawley who served on both the MS Taiyuan and Changsha as the ships Purser from the late 1950s to the early 1960s. Mr. Jones advised me on January 2, 2016, that his Mother "Is now 90 and is still cruising the high seas solo and is currently in the Magellan Strait aboard MV Marco Polo!"

Although from the UK, but whilst Purser Grace W. Hawley was employed with CNCo and serving on the Taiyuan and Changsha, she resided at Blackman's Bay near Hobart in Tasmania, Australia.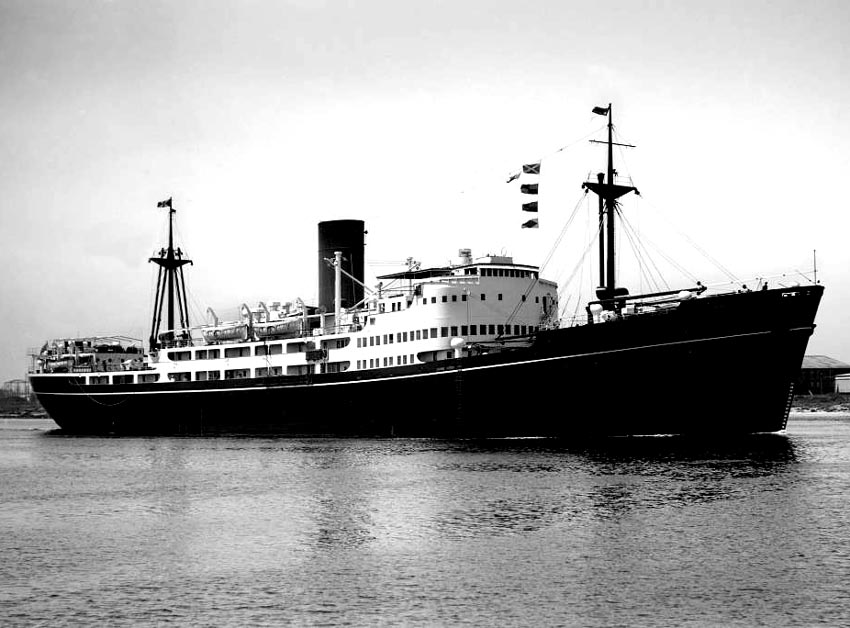 The MS Changsha is seen during her voyage in January 1961 to Hong Kong and Grace W. Hawley was on board as a passenger
Whilst onboard she had ample opportunities to mix with the passengers in the Lounge and Bar in the evening, and below are several photographs of her doing just that, when it was all part of her official duties when she was the ships Purser. Below are a few photographs of Grace mixing with the passengers when she was the Purser and there are two Passenger & Officer lists, and a Passenger List Cover, I am sure that you will enjoy these wonderful items, and for those who sailed on these fine ships, they may well bring back some wonderful memories!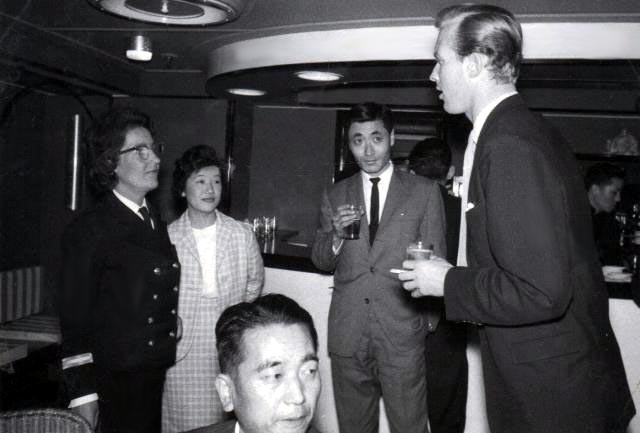 Here we see Purser Grace Hawley chatting with passengers at the ships Bar and Lounge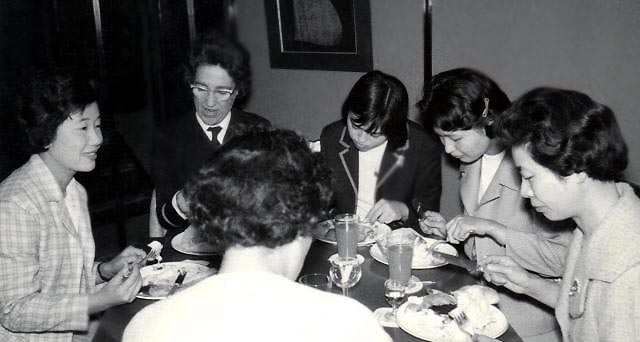 Time for Grace to enjoy lunch with a group of passengers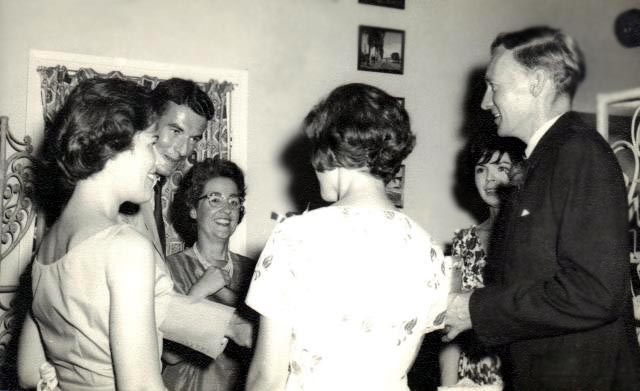 Here we see Grace in her civvies at a Company social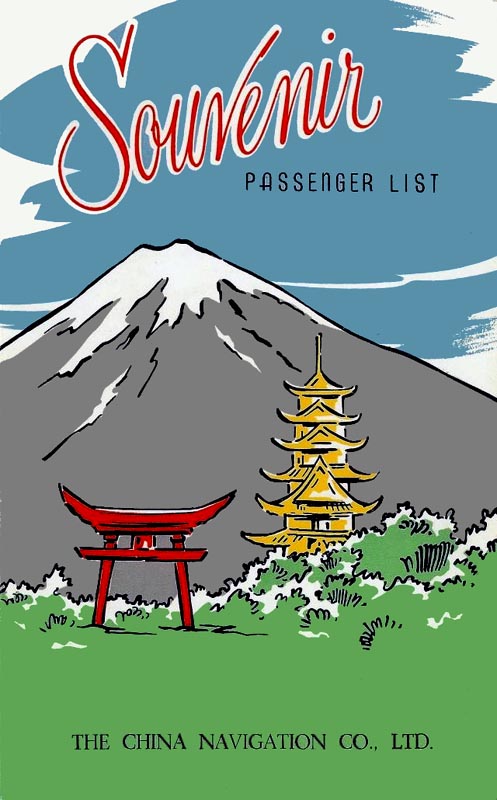 Passenger List Cover of the MS Changsha, Voyage 46 northbound Jan 1961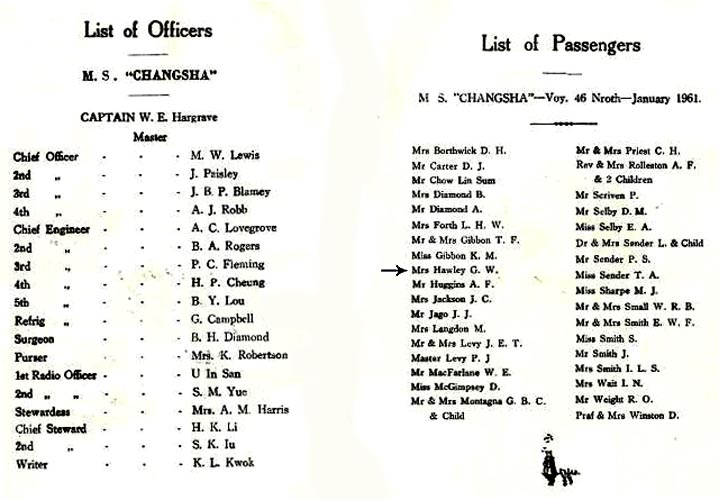 …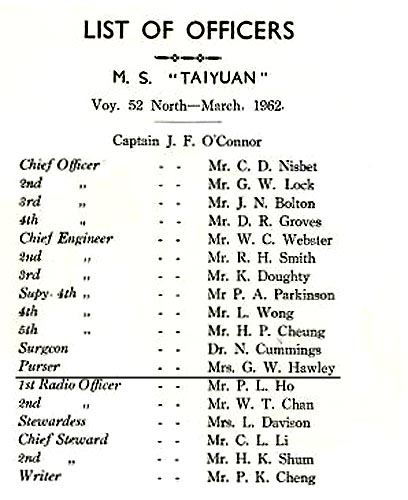 Left

: Is the MS Changsha Voy 46 northbound Jan 1961 - List of Offers ( Left) and (Passengers) (Right)

Passenger Mrs Grace Hawley is marked with an arrow

Right: List of Officers, Taiyuan northbound Voyage 52 Mar 1962.

Purser Grace W. Hawley is seen marked as she has joined the ship after a break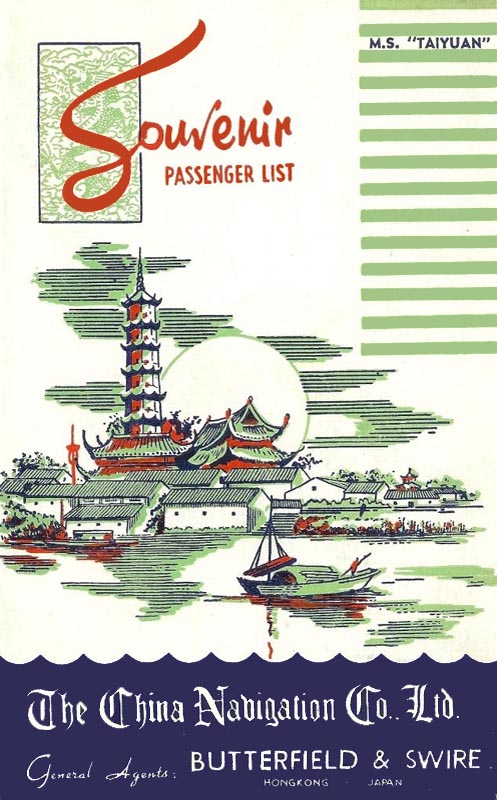 Passenger List Cover for the Taiyuan, Voyage 52 southbound Feb 1962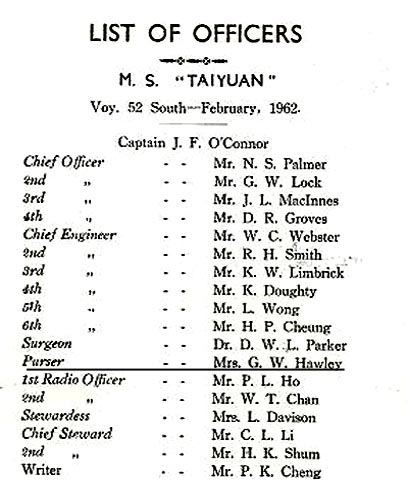 Here we see Grace marked on Voyage 52 southbound Feb 1962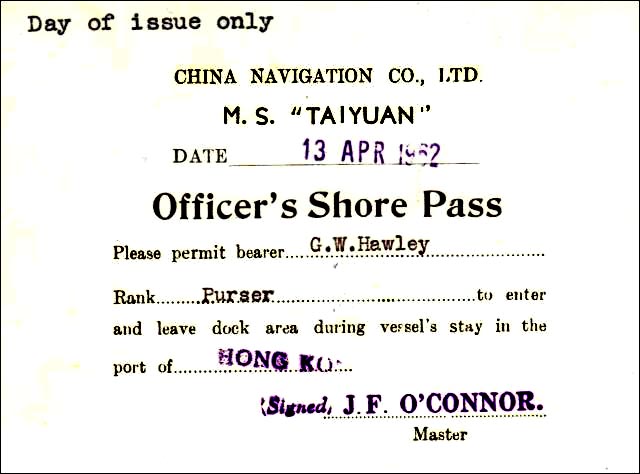 Officers Day Shore Pass for Purser Grace Hawley Apr 1962

I hereby wish to thank

G. Jones and his drear Mother, Mrs. Grace Winifred Jones, nee Hawley for being so kind contacting me and providing the images above and her delightful story regarding her time onboard these two fine ships! Please Note All of these Photographs and Passengers lists, etc are Copyright © and are not to be copied for the use on any media, be it the internet, print of any kind without permission from the owner! Please Email me!
A New Swire Company Service:
In 1965 the Changsha and Taiyuan were placed on a new and shorter service, covering the usual Australian ports, but sailing to Port Moresby, Manila and concluding in Hong Kong, thus making it a shorter return voyage and thus they offered an excellent value circle cruise fare! It was during the next years that the author became closely acquainted with these two ships, for I spent considerable time onboard whenever they were in port and each time I was on one of the ships, I just loved the atmosphere onboard and the amazing crew and superb food and service! From 1965 it would be the Swire Company flag that was shown on their funnels as the company now managed them. Apart from an excellent passenger service they also offered an efficient freight service!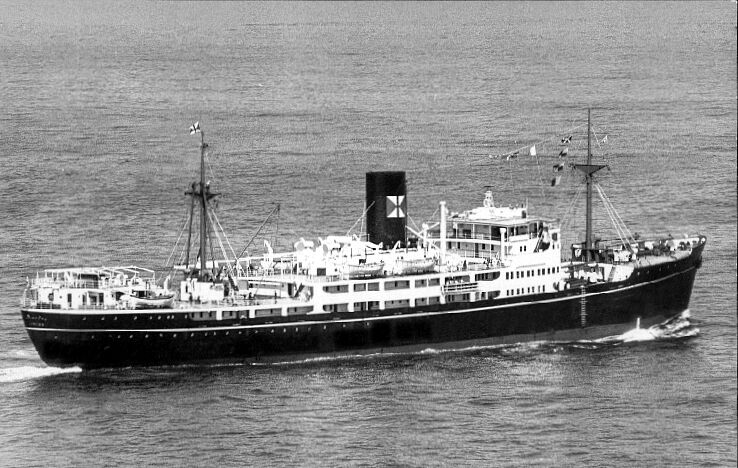 A new postcard of the MS Changsha featuring the Swire logo on her funnel
However, times had suddenly changed, for at the time the competition had vastly increased, for en the famed Dutch Company "Royal Interocean Lines," which operated two fine small ships that where considered as the finest small liners afloat and were called the "Elegant White Yachts" the MS Tjiwangi and the MS Tjiluwah, in addition there were also the delightful Dominion Line twins with the SS Francis Drake and the George Anson, as well as a good number of other ships, thus the competition was becoming more and more difficult and a solution had to be found.
Specifications 1 = MS Changsha - 2 = Taiyuan:
Built:                  Scotts Shipbuilding & Engineering, Co Greenock.
Launched:           1. November 2, 1948.
.                         2. May 13, 1949.
Maiden Voyage:    1. July 23, 1949 Melbourne to Asia.
.                         2. December 29, 1949 Melbourne to Asia.
Tonnage:             1. 7,412 GRT.
.                         2. 7,472 GRT.
,                         1. 5,795 D.W.
.                         2. 5,894 D.W.
Length:               440ft - 134.11m.
Breath:                57ft - 17.37m.
Draught:             23.7ft - 7.18m.
Propulsion:          Doxford type Diesels.
Screws:               Single.
Service speed:     15 knots.
Passengers:         82 First Class.
.                         70 Third Class & Deck passengers for daylight coastal voyages.
.                         1. Sold in 1969.
.                         2. 1971 Refit - 86 First Class passengers only continued to sail to 1972.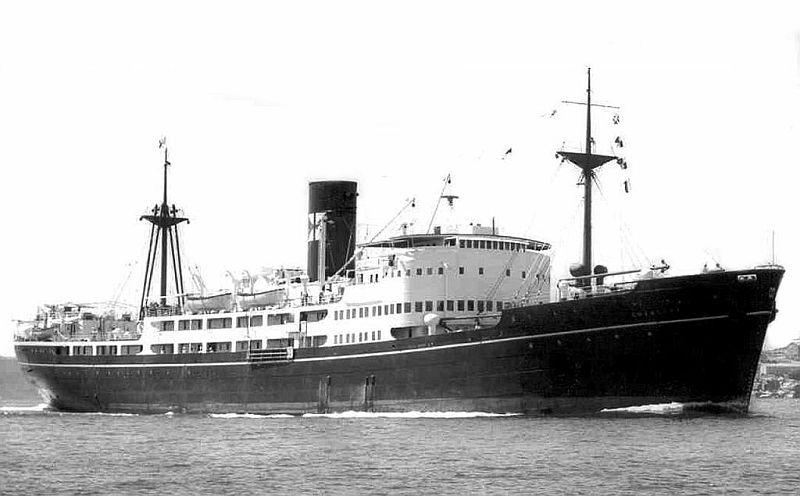 The MS Changsha is seen here on one of her last visits to Sydney.
A new life for the MS Changsha:
Sadly it was in 1969 that it was decided by Swire/CNCo to sell the Changsha and she was soon obtained by the Singaporean - Pacific International Lines and the MS Changsha departed Sydney for the very last time on May 20, 1969 and was soon handed over to her new owners and having received a refit and painted all white, a red funnel, with a white band with large PIL letters in red. When completed she was renamed Kota Panjang. She was then placed on the Hong Kong, Canton, Singapore to Penang service.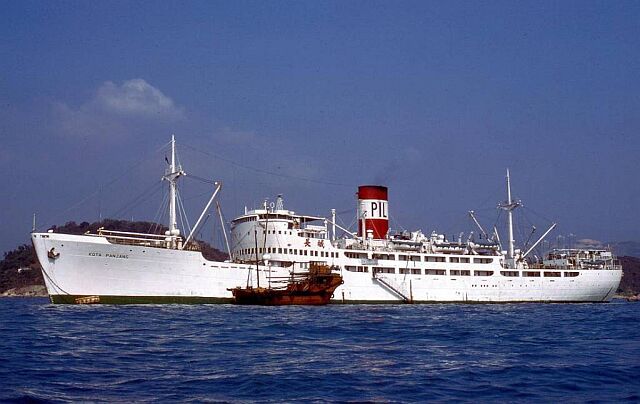 MS Kota Panjang seen in Hong Kong - early in her new role
*Photographer unknown – Please see the photo notes at the bottom of the page
MS Taiyuan Receives a Refit.
Whilst the Taiyuan was in Hong Kong she was given an extensive refit, improving her facilities bringing her up to date with other ships on the service. The old third class was removed, which provided additional aft deck space which allowed the installation of a swimming pool as well as a children's playroom. With upgraded accommodations she now accommodated 86 first class passengers.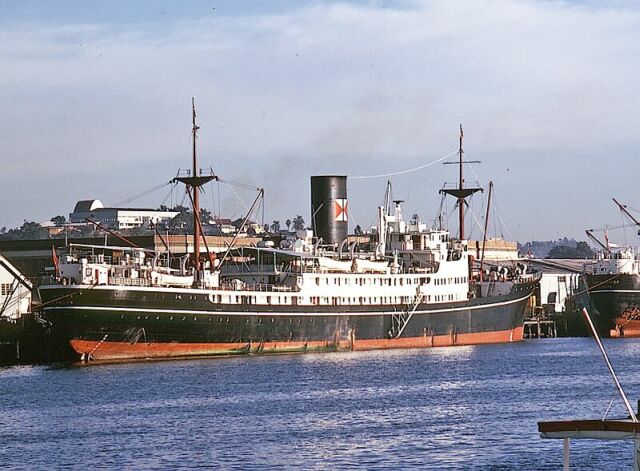 MS Taiyuan seen berthed in the Brisbane River with the Swire Company flag on her funnel
Photograph by Stan Evans
Upon completion the Taiyuan returned to Sydney in June 1971, and she was placed under the management of the Fiji Australia Line, as she was about to commence a new Pacific service and these voyages were advertised as a "Cruise."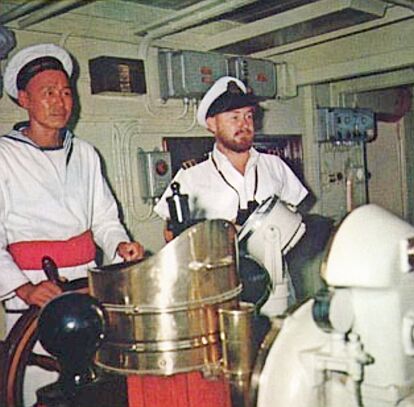 A Bridge scene on board the MS Taiyuan
From a brochure – provided by Stan Evans - Newcastle
She would sail from Sydney to Noumea, (New Caledonia), Lautoka and Suva (Fiji), then back to Sydney sailing via Brisbane. Taiyuan would depart Sydney every third Saturday. Sadly, she was not a great success, again due to the vast competition with the various much larger cruise ships operating offering far greater facilities and entertainment, etc, thus in 1972 this service was ceased.
MS Taiyuan sold:
This fine ship that had served the company so well for she and her sister the Changsha had become greatly loved by those who had sailed on them, but sadly, even though they had excellent repeat passenger numbers, this was simply not enough to keep the Taiyuan operating, for there were other factors at hand at the time, such as air travel and of course when it came to cargo, containerisation was slowly becoming the new age of modernisation, and these ships were certainly not suitable for conversion!
Pacific International Lines:
The day came that the MS Taiyuan departed Sydney for the very last voyage on July 10, 1972 and upon arrival in Hong Kong she was rapidly sold to the Pacific International Lines who gave her a refit and renamed her Kota Sahabat. However, unlike her sister, the company decided not to repaint her hull white, and thus throughout her career she retained her original black hull. She joined her sister and operated the same service as the Kota Panjang.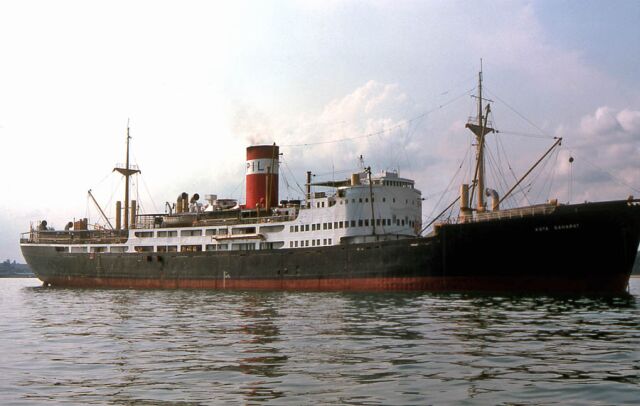 MS Kota Sahabat seen in Australian waters in 1977
*Photographer unknown – Please see the photo notes at the bottom of the page
The final days of two fine ships!
1. MS Kota Panjang.
The all white Kota Panjang (ex Changsha) continued as a passenger cargo liner until the very end of her days sailing around Asia where she became a familiar sight. Apart from her scheduled Asian sailings, she also made voyages to Tanzania with Chinese workers to build a railway there. However, in her latter days, she did look rather worn!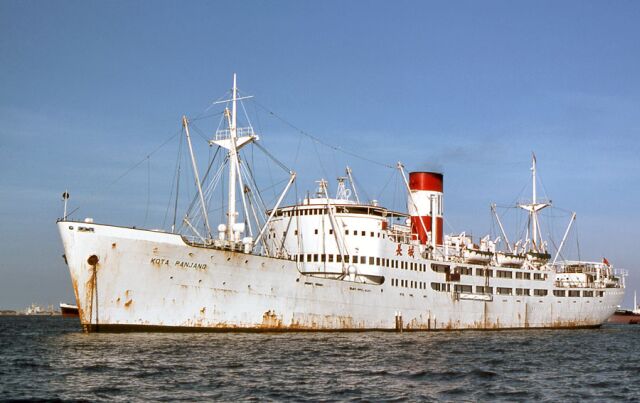 MS Taiyuan, renamed Kota Panjang is seen here in Singapore in 1977
She is looking rather rusty, but sadly it did get much worse!
*Photographer unknown – Please see the photo notes at the bottom of the page
MS Kota Panjang was finally laid up and sold in 1981 to ship breakers in Karachi, where she was broken up at Gadani Beach.
2. MS Kota Sahabat.
But, amazingly MS Kota Sahabat (ex Taiyuan) did return to Australian waters for her final days of operation as she was placed on the Australia Fiji run for three years from 1975 until 1978. Then in 1978 she was converted into a sheep carrier and she entered occasional troubled waters, for she was held up for weeks off the coast off Newcastle due to industrial disputes ashore, but as soon she was able to berth and loaded some 12,000 sheep.
Later, in September 1979, whilst en-route to Hobart Tasmania the ship lost radio contact and she became a major search and recue operation off the coast of Tasmania. But, she arrived safely in Hobart on September 16, and took on a further load of sheep.
In December 1979 she was in Singapore and she was laid up for sadly her days were finally at an end, and she was sold to Taiwanese breakers. MS Kota Sahabat departed Singapore in February 1980 and headed for Kaohsiung where she was broken up.
Remembering Two Delightful and Popular Ships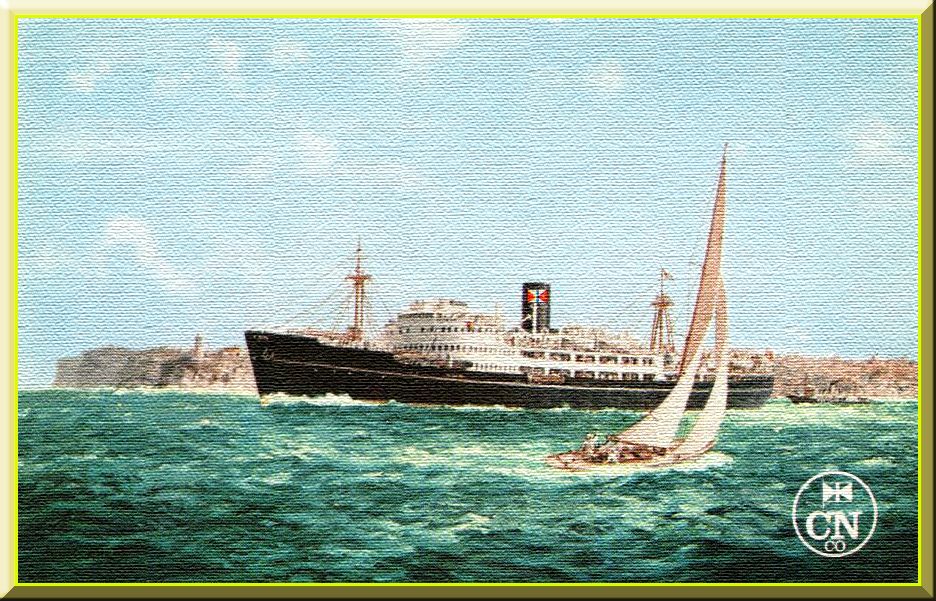 Memories of two fine First Class Passenger-Cargo liners; The MS Taiyuan is seen heading out bound through Sydney Heads!
This superb painting is by Second Mate Neil Bohill who sailed on the Taiyuan in 1964. He later became a pilot on the Great Barrier Reef.
Thank you to Captain Rodger Biggs for advising us.
A ship lover's love affair, that began back in 1966:
<![if !vml]>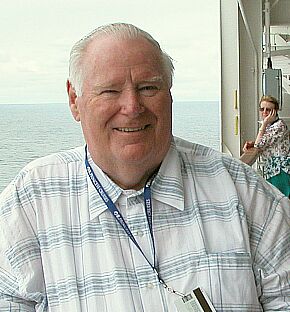 <![endif]>

"My love affair with these pretty little ships began in 1966 when I was at Manly in Sydney for the day. It was a cold, and a windy day, and I recall that the seas were rather high. As I looked out to sea I could see this little black ship with a tall black funnel, rolling and pitching heavily, as she struggled her way towards Sydney Heads, but she obviously did so safety. I decided that I would drive up to North Head to see her enter the harbour as the swells at the entrance can be quite high. Her entry was quite something to behold as she turned to enter the harbour and was 'surged ahead' by the following huge rollers, dipping her bows deep in the water as she did so. It must have been a very rough trip for all those who were on board. I could not read her name from my vantage point on the top of North Head but I was really impressed by the scene being played out before me, so I rang the Maritime Services Board to ask the name of that little ship that had entered the harbour. The man I spoke to told me that "The pretty little ship you saw battling the waves is the Changsha of the China Navigation Company and she will berth at Pyrmont." Sadly I did not have my camera with me or I would have driven around to Pyrmont to take a photograph her. Ever since that day I have loved these little ships and still do to this day having watched the Changsha's heroic battle to gain entry into the harbour on that day, back in 1966! Stan Evans - Newcastle."

Stan Evans photographed by the author on board MV Dawn Princess in October 2009

****************************

I trust you have enjoyed reading this page about these much loved passenger-cargo ships, and if you have sailed on them, then I hope that you will have relived some wonderful memories of some fine maritime days now long gone, when passenger shipping was so much simpler and in many ways so much nicer!

Reuben Goossens,

Maritime Historian, Author, Cruise'n'Ship Reviewer & Lecturer.

Commenced in the Passenger Shipping Industry in 1960.

For other China Navigation Company's read the following:

MS Kuala Lumpur – MS Anking & Anshun

"Blue Water Liners sailing to the distant shores.


I watched them come, I watched them go and I watched them die."

****************************

Visit our ssMaritime Main INDEX

Where you will discover around 1,350 Classic Passenger & Passenger-Cargo Liners!

ssMaritime.com & ssMaritime.net

Where the ships of the past make history & the 1914 built MV Doulos Story

Please Note: ssmaritime and associated sites are 100% non-commercial and the author does not seek funding or favours and never have and never will.

Photographs on ssmaritime and associate pages are either by the author or from the author's private collection. In addition there are some images and photographs that have been provided by Shipping Companies or private photographers or collectors. Credit is given to all contributors, however, there are some photographs provided to me without details regarding the photographer or owner concerned. Therefore, I hereby invite if owners of these images would be so kind to make them-selves known to me (my email address can be found at the bottom of the page on www.ssmaritime.com), in order that due credit may be given.

ssMaritime is owned & © Copyright by Reuben Goossens - All Rights Reserved