The China Navigation Company MS Kuala Lumpur
Please Note: Firefox and some other search engines are not suitable – Use "Internet Explorer" for this page to load perfectly!

Click the logo above to reach the ssMaritime FrontPage for News Updates & "Ship of the Month"
With Reuben Goossens
Maritime Historian, Cruise'n'Ship Reviewer, Author & Maritime Lecturer
Please Note: All ssMaritime and other related maritime/cruise sites are 100% non-commercial and privately owned. Be assured that I am NOT associated with any shipping or cruise companies or any travel/cruise agencies or any other organisations! Although the author has been in the passenger shipping industry since 1960, although is now retired but having completed around 680 Classic Liners and Cargo-Passengers Ships features I trust these will continue to provide classic ship enthusiasts the information the are seeking, but above all a great deal of pleasure! Reuben Goossens.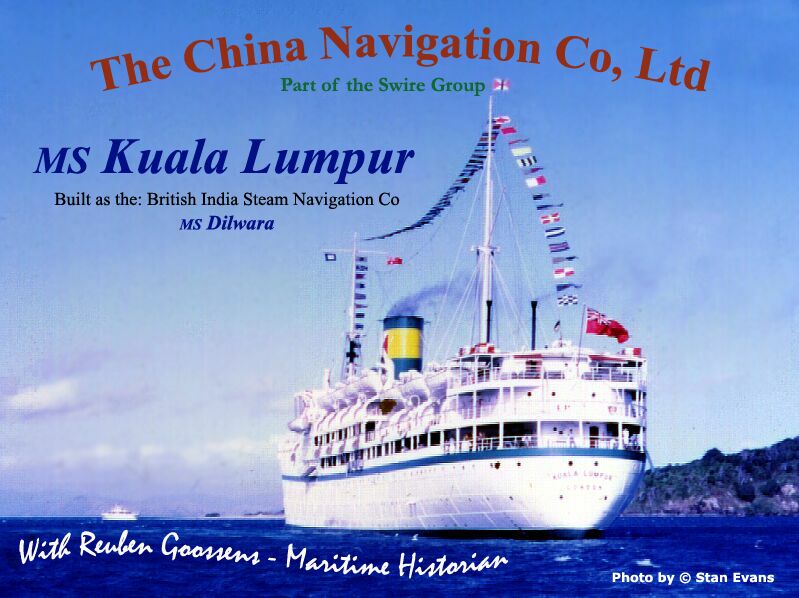 Please Note: Photographs on this page are from the author's private collection and from Stan Evans, unless stated otherwise.
The China Navigation Company's history in short!
The China Navigation Company's (CNCo) and they have their origins in Liverpool when they were founded in 1816. The background is due to CNCo's parent company being the well-known John Samuel Swire (1825-1898) & Sons Ltd who in 1866 opened his first Far Eastern agency in Shanghai, and in 1872 he founded The China Navigation Company to operate a modest fleet of paddle steamers on China's Yangtze River.
Within a decade, CNCo had expanded its operations up and down the China coast and had begun regular services to Australia and New Zealand. One of the company's early successes was to take a monopoly of the previously junk-borne tramp trade in "bean cake" – cartwheel-sized cakes of compressed soybean husk (the residue from making oil), which were carried from North to South China to use as a fertiliser. By the turn of the century, CNCo's by then substantial fleet was covering a complex network of Far Eastern trades, backed up by its own well-established coastal and river feeder services. But after WWII the Australian passenger services became more and more popular.
The 1960s and 70s also saw China Navigation diversifying its scope of activities in two other very different directions. The first was cruise operations, based in Australia and New Zealand, which commenced in 1961. In the early 1970s, CNCo developed a niche market operating seminar cruises out of Japan and successfully dominated this market for almost 20 years. CNCo continues today as a major shipping company but no longer as a passenger operator, but container ship operations and has a massive fleet. However, Australians and new Zealanders will remember the days of the CNCo passenger, services, including the delightful twins passenger cargo ships, the MS Changsha and Taiyuan and of course the ship being the highlight of this feature, the delightful MS Kuala Lumpur!
Introduction:
MS Kuala Lumpur was built as the MS Dilwara at the Barclay Curle & Company shipyards in Glasgow, Scotland and she was launched on October 17, 1935. She made her maiden voyage in January 1936. Having spent her days both as a trooper (including service during World War II) and as an education ship, as well as a budget cruise ship, she was eventually sold in 1960, and the first built of a quartet of ships, the MS Dilwara was purchased from British India in September 1960 by the China Navigation Co, of Hong Kong (CNCo) which was part of the Swire Interocean Group of Companies. She was renamed Kuala Lumpur, in honour the capital of Malaysia, a country she would spend a great deal of time serving, and she was registered in Hong Kong.
MS Kuala Lumpur departed Southampton for her delivery voyage to Hong Kong on October 7, 1960, and upon arrival there she entered the Taikoo Shipyards where she received a refit making her ready as a Cruise and a seasonal Muslim Pilgrim ship from Singapore, Malaysia to Jeddah. Obviously she was the perfect ship for these kinds of voyages, having accommodation for large numbers in comfortable dormitories. A beautiful Mosque was also installed in one of the holds as well as a separate fully Halal certified kitchen was installed, in order to cook traditional Malay style cuisine, food that was 100% (Halal) "fit to eat" for Muslims.
For cruise duties she would accommodate 198 First Class passengers and only her spacious First Class section, but all deck space would be operational. Whilst during her Pilgrim voyages she would accommodate 242 in First Class as well as 1,669 in Third Class or what was originally the more basic troop and educational style accommodations. Whilst previously the air-conditioning had only been in her First Class cabins and public rooms, air-Conditioning was now extended throughout the ship.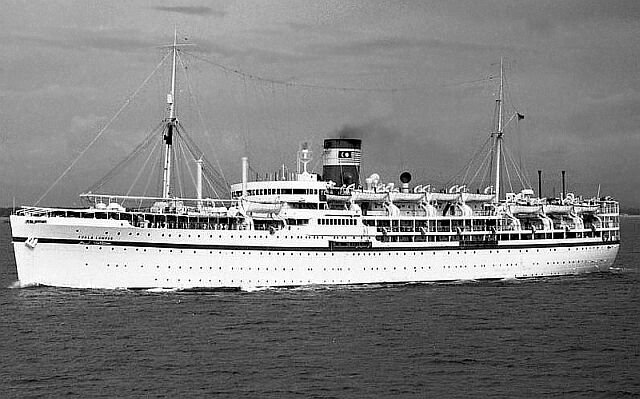 MS Kuala Lumpur seen as the traditional Pilgrim liner
MS Kuala Lumpur the Pilgrim Liner:
When the Kuala Lumpur had been completed she commenced her first series of Pilgrim voyages from Malaysia to Jeddah, therefore she bore the traditional Malay "Pilgrim" livery, being a white hull with a thick green band and her funnel also painted green having a broad yellow band containing the Malaysian flag. She would sail from Singapore, Port Swettenham, Penang, to Jeddah and return during for around half of the year, with the rest dedicated to regular cruise duties.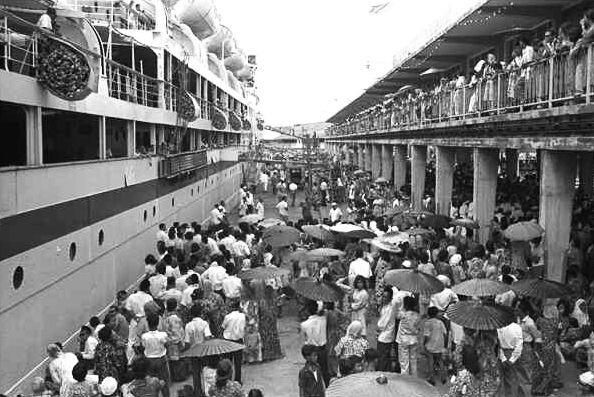 Above and Below: MS Kuala Lumpur is seen with Malaysian Pilgrims
Photographs provided by Stan Evans – Newcastle Australia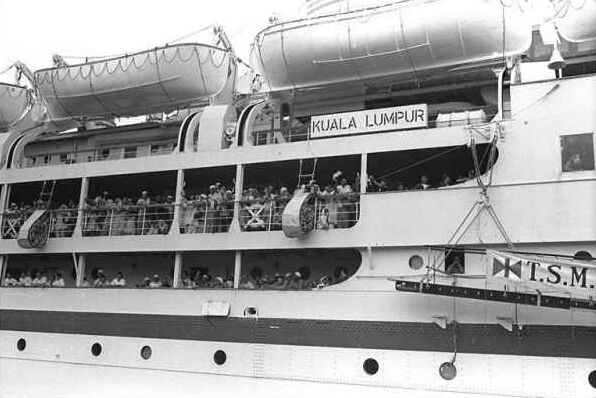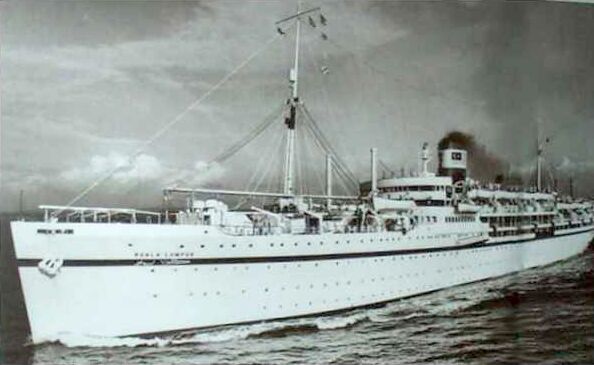 Kuala Lumpur on a voyage to Jeddah
Photo provided by Stan Evans – Newcastle Australia
MS Kuala Lumpur the Cruise Ship:
During her cruise season her funnel would be painted yellow, however, a little later whilst cruising her funnel would remain painted green with the wide yellow band, but instead of the Malaysian flag, it would be replaced with the Swire Group Company flag. Her new IMO Number was; 5197248, and her Call sign; GYQV.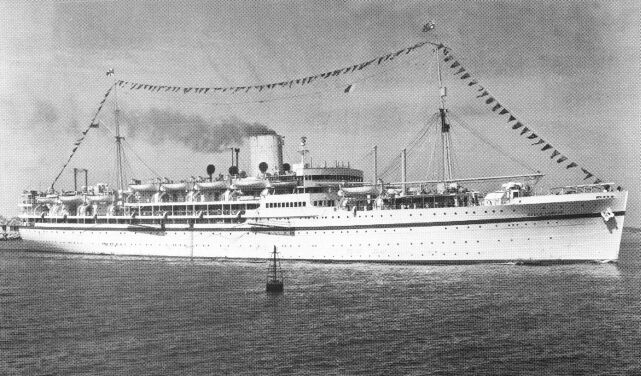 MS Kuala Lumpur is seen here departing Fremantle for her maiden cruise in September 1961
Photograph by a great friend, the late Richard McKenna
With her first series of Pilgrim voyages completed she was free to commence her cruise duties and her livery was changed to her having her yellow funnel, and she headed Down Under to Western Australia and Fremantle, which is the harbour township, today a city, next to the city of Perth. She arrived there on September 2, 1961, fully decked out with flags flying and looking simply pristine! Well know maritime photographer and historian, the late Richard McKenna was there and he photographed her arrival.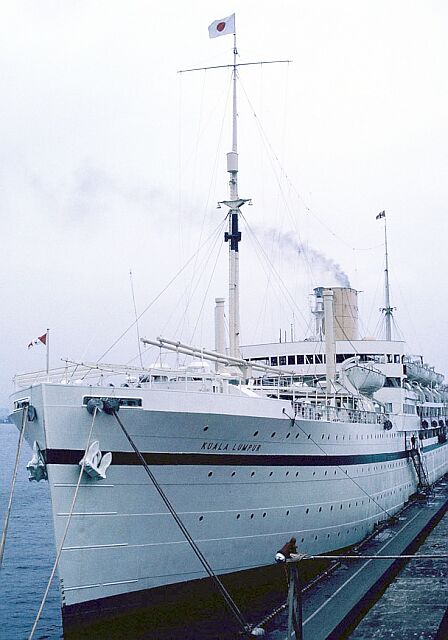 The MS Kuala Lumpur
Photo by Stan Evans – Newcastle Australia
MS Kuala Lumpur undertook as mini cruise, before heading off on a 46 day cruise of Asia, departing Fremantle on September 8, 1961, her second cruise departed on October 30, but it concluded on December 3, when she sailed to the East Coast of Australia, first to Melbourne and then to Sydney arriving there on December 13, and commenced a voyage back to Hong Kong, from where she continued operations from Malaysia and locally.
However, China Navigation decided that it was time for the Kuala Lumpur to return to Australia and in October 1962 she headed for Sydney where she would operate a series of cruises that were marketed under the banner of "Kuala Cruises" and she now featured the green funnel with a wide yellow band with the Swire group logo on it. She departed Sydney for the first of this series on October 28, 1962. At one stage she even operated an "International Boy Scout cruise" around the Pacific Islands. Besides voyages to the Pacific, New Zealand and Asia, she also operated coastal cruises to the Great Barrier Reef region.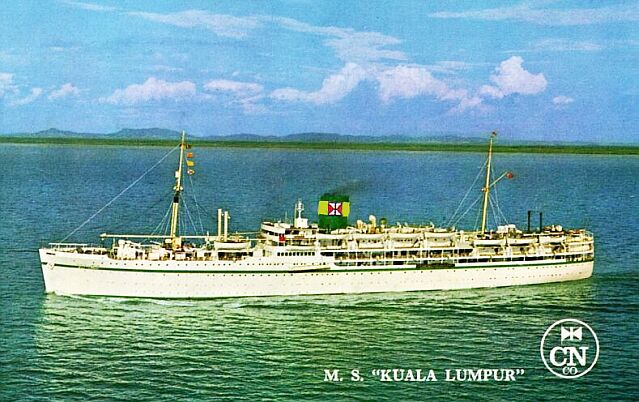 A postcard featuring the Kuala Lumpur with her new funnel logo (obviously added later)
The following are some of her ports of call during one of her grand circle voyages: Melbourne, Sydney, Rabaul, Yokohama, Kobe, Manila, Port Moresby, Sydney, Melbourne, Auckland, Suva, Apia, Nuku'alofa, Auckland, Melbourne, Sydney and then commence the Asian sector again.
This would create the following cruise sectors and even further opportunities: 1. An Asian grand circle Voyage from Melbourne or Sydney. 2. Single Trans Tasman sailings from Melbourne or Sydney. 3. Round cruises Australia to New Zealand and the Pacific. 4. A Pacific cruise from Auckland. 5. Round grand circle Asian voyage. 5. Single Trans Tasman sailings to Melbourne or Sydney.
Kuala Lumpur
's Interiors:
Her Lounges and Dining Room were quite delightful, and they were decorated with the good use of fine traditional style of British furnishings, with sofas and comfortable broad chairs covered in delightful floral upholstery, especially in the elegant Drawing Room, this venue even featured a fireplace. There were many fine paintings scattered around the lounges that made their own statement as they stood out against the simple pale coloured walls. Generally the Public Rooms and the Bar were quite spacious and certainly were much loved and all those who sailed one her commented on how comfortable she was!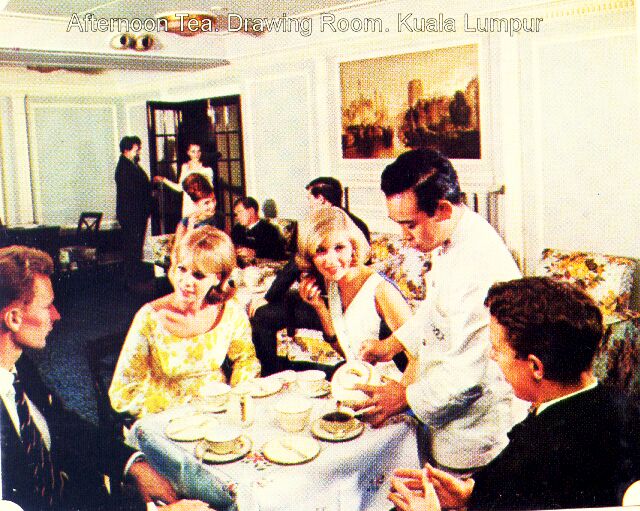 Afternoon tea tine in the Drawing Room was still an elegant affair!
Images provided by Stan Evans – Newcastle Australia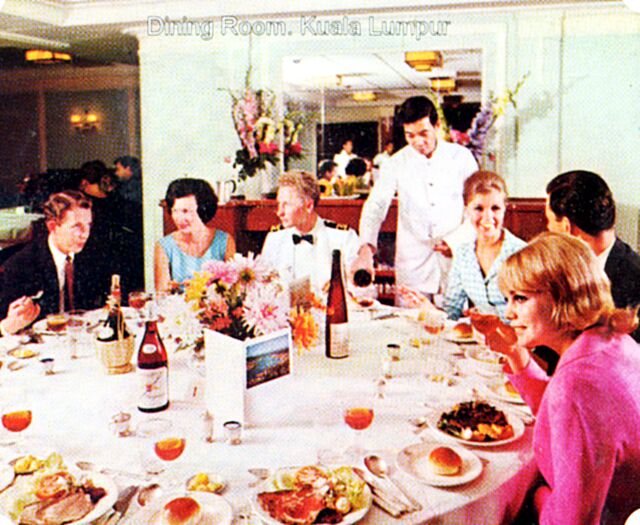 The Dining Room – Officers still dined with the passengers in the evening
A good friend and long time supporter of mine and ssMaritime, Mr. Stan Evans, sailed on the MS Kuala Lumpur in July 1962, being a 12-day cruise from Sydney to the Great Barrier Reef. Stan has provided me with quite a few fine photographs he has taken of the ship and you will find some of these and items of memorabilia below. He sailed with a friend and co-worker and his recently widowed Mother. They departed Sydney on Wednesday July 6, and headed for the Great Barrier Reef. Below is his story and I am sure that you will enjoy it!
*****************************
Stan Evans' Cruise of the Whitsundays
With Images provided by Stan Evans – Newcastle Australia
"In 1968 a friend of mine, Lindsay Harwood, and I were fortunate enough to have time off at the same time for holidays from the hospital where we worked, thus we got together and decided to go on a cruise. Both of us had been on cruises but never together. Thus we booked on the lovely MS Kuala Lumpur for a twelve-day cruise sailing from Sydney to the Whitsunday Islands and the Queensland Coast and return. In all we spent a good six days in the ports we visited, and with the Kuala Lumpur sailing at a leisurely speed of just 13 to 14 knots, she took three days each way from Sydney to the Whitsundays and homeward."
Our cruise cost the princely sum of $364, which to today standards seems to be extraordinary good value for money. I suggested that my recently widowed mother, Mrs. Zeta Evans, join us on the cruise and she travelled as a single passenger in a two-berth cabin that was adjacent to our cabin. We were allocated a twin bedded, inside cabin with private facilities (cabin 441) adjacent to the lobby and close to the main public rooms. Interestingly none of the cabins on board had a loc on the door, thus there was no way of security at all. However, whenever anyone approached their cabin, be it by day or at any time during the night, in port or at sea, a head would emerge from the stewards serving room and "check one out." They must have had some sort of system, which indicated that someone had opened the door of one of their allocated cabins."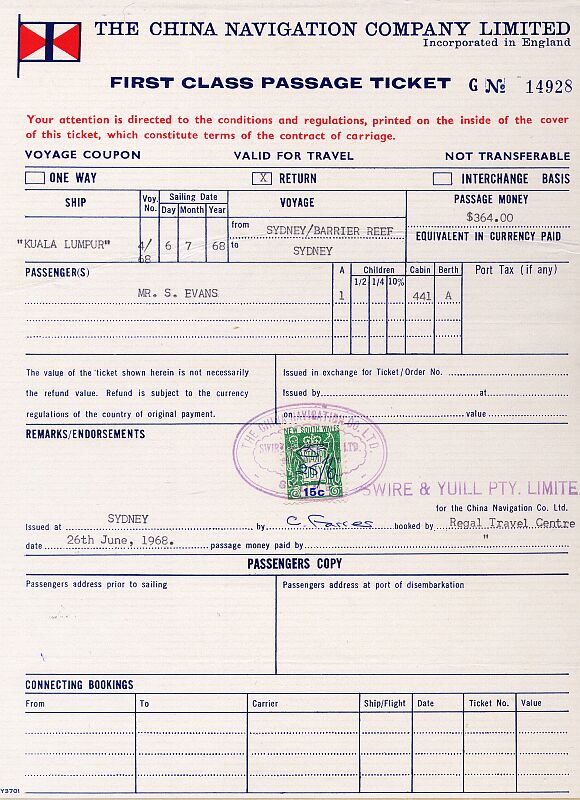 Stan Evens' Cruise ticket departing Sydney on 6 July 1968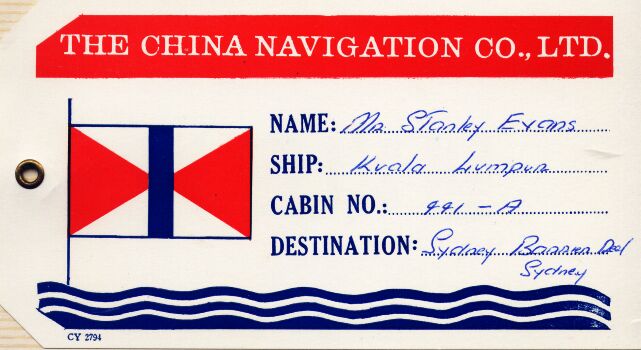 Stan's Baggage label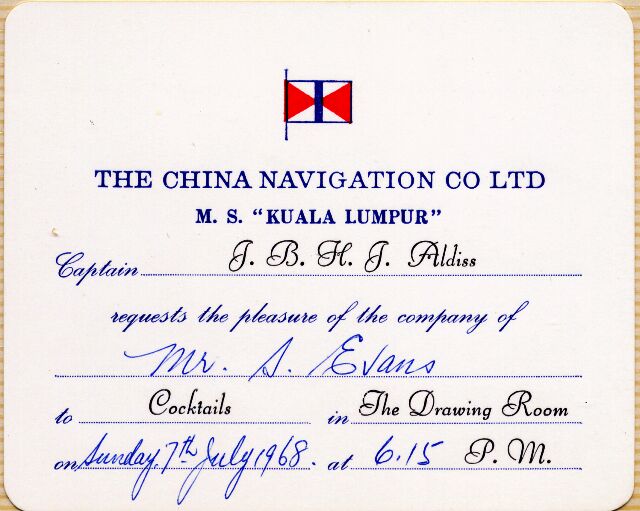 Mr Evans' invitation to "Cocktails" with the Captain and officers in the Drawing Room
This was a special party for just ten passengers with the ships senior company
"I well remember my first sighting of the delightfully spotless motor ship Kuala Lumpur, which was berthed at Circular Quay in Sydney. I loved her the very moment I saw her sitting there. She was so white and dressed overall bedecked with flags. Some friends who I had met on another cruise on the TSS Guglielmo Marconi came to see us off and as they were avid cruisers, we all spent several hours inspecting every corner of this fine British built ship. This was of course in the days when visitors were still allowed on board to see-off their friends and enjoy a drink in the lounge or even in their cabins.
As we toured the ship together we were struck by the pristine condition of her decks and all her fittings and the utter cleanliness of every area, both inside and on deck. I do wish some of the newer passenger ships were as attentive to cleanliness and presentation as the Kuala Lumpur was. We were impressed with our cabins and as we strolled through the public rooms and deck spaces.
But all too soon during the exploration of our ship we heard the all too familiar gong and the announcement "All visitors ashore" (two things [a gong] no longer heard these days). This was always an exciting time as it heralded that departure time was immanent. We assembled out on deck with the usual streamers linking passengers and their friends ashore, and then there is that magic moment when one is aware that the distance between the hull plating and the wharf is widening and one realises that the adventure has begun. To be honest for me personally, the most magic moment of any cruise is always that moment when one crosses the gangplank from the shore to the ship and every experience is a new one to be relished. MS Kuala Lumpur sailed at 4.30pm and backed out of the Quay and then picked up speed, past Fort Denison, round Bradley's head and down that wonderful harbour towards the heads and the open sea. At the heads she lifted her bows to the light swell and rolled slowly and gently as we turned to head north to the Whitsundays three days away. Then, as the central coast of NSW dimmed in the early dusk we headed to the dining room for the first of those wonderful dinners. There was no entertainment that night as the passengers were still settling into their accommodation and new shipboard routines. Most retired early."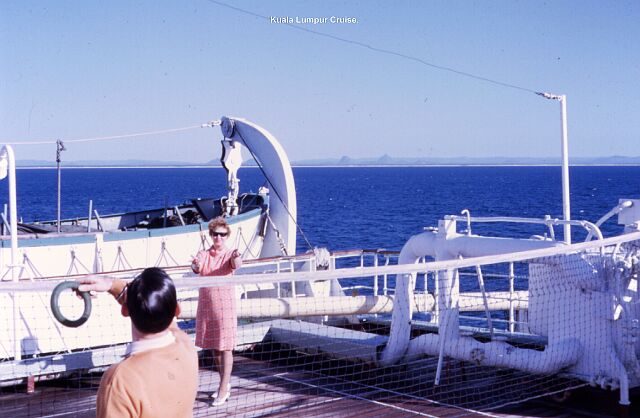 Stan's Mother, Mrs. Zeta Evans and cruise mate Lindsay Harwood playing a game of deck tennis off the Queensland Coast
The ship:
"The cabins, which were the first class section of the ship, and was used as the senior officer's accommodations in her previous life as a troop ship, were quite spacious and well fitted out. The private bathroom was tiled and spotless. All cabins were on two decks: The upper deck cabins were the original first class cabins and the ones on the deck directly below contained the original second-class cabins. However, these cabins were identical, although these had to share toilet and bathing facilities. The passageways to the cabins were clad in gently patterned dark green Formica, which was quite reflective, and the flooring was clad in rubberised non-slip type flooring.
All deck areas were available to passengers and these included two wonderfully covered and open promenades as well as the spacious sports decks on several levels, as well as the forecastle deck, well ahead of the bridge and around the foremast. This area was very popular with passengers, especially upon arrival and departing a port. There was a moderately sized swimming pool up on sports deck, but as the cruise was in the Australian Winter (July), this was not used a great deal, except for a few, and sunbathing around it as well as out on deck.
As the ship was also used as a pilgrim liner for part of the year, she also had huge dormitories available for this class of passenger. These areas were always open to the cruising passengers, and they were quite light and airy. Exploring them was an interesting pastime. They were equipped with two and some three level bunks, and also bench-type tables for meals. During our cruise, one of the dormitories became the haunt of a group of bridge players who only seemed to emerge from their seclusion for meals, even when in port. Although they were accommodated in the general cabins with the rest of the passengers, they were relocated to the dormitory as their bridge playing would have totally monopolised space in the Drawing Room. Such was their devotion, or should I say their obsession, that we rarely saw them.
The two main public rooms which I remember best are the Drawing Room, which was in reality the Main Lounge, and the Dining Room. These were two most attractive and comfortable rooms. They were painted in pale green with white trimmings and had such wonderful English traditional country-home style furniture. There were other public areas as well but they are lost to my memory in the mists of time.
The Cruise:
<![if !vml]>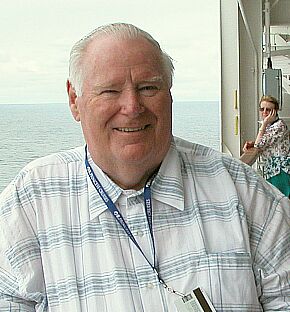 <![endif]>The first three days of our cruise we experienced superb balmy sea-days and enjoyed the gentle rolling of the ship, as well as the warmth of both the sun and our fellow passengers as we talked and played on the sports deck. This was punctuated only by calls to the dining room for yet more of the bountiful wonderful food that was on offer. Afternoon tea was served in the Drawing Room and that was one of the most wonderful affairs and all I can say, it was "ever so British." A selection of teas was offered, accompanied by the usual dainty cucumber sandwiches and a selection of wonderful little cakes served by the ships immaculate staff. To me, these wonderful sea-days are the stuff of dreams. In the afternoon of the second day we made an unscheduled stop at the mouth of the Brisbane River to off-load a sick passenger onto an appropriately manned cutter and then continued north to the Whitsundays.
Stan Evans - seen on board MV Dawn Princess October 2009
The Engine Room:
During this run from Brisbane to the Whitsundays, I was invited to attend a tour of the engine room. I well remember the stifling heat and smell of hot oil as the door from the promenade deck to the engine room was opened. But as we descended the several levels of those huge engines it became cooler and cooler until it was quite cold on the floor of the engine room where cool, forced, air was circulated constantly. After a brief, but detailed explanation of those massive, throbbing engines, I was taken down along the shaft tunnel to the very stern of the ship. There could be heard the thrashing of the propeller and the rush of water around the hull. My officer-guide told me that at that moment, we were many feet below the waterline and that only one and a half inches of steel was between us and that thrashing propeller. It was a rather sobering moment. I was also able to tour the bridge and have the navigation instruments explained but this was a general tour for all interested passengers. Sadly, because of security reasons, these types of tours are no longer possible these days. I also remember that a notice appeared on the notice board in the lobby asking if anyone would be interested in a rowing boat tour around the ship while in transit to the Whitsundays. I noticed next day that five names had appeared on the list, but there was general amusement when, that night during dinner, the captain explained over the communication system that such a trip in a rowing boat would not be possible with the ship proceeding at 13-14 knots. It later turned out to be the work of one of the officers but it was a great joke to play.
Ports of Call:
"Our first port of call was Hayman Island (not far for Mackay). We anchored for the day and went ashore in the open lifeboats where we had the full facilities of Hayman's excellent resort at our disposal. Lunch was a superb BBQ that was cooked by the ships Catering Department right on the pristine beach. We re-embarked about 5pm, again using the ship's lifeboats. The breeze had stiffened considerably, and by now and those in the bow of the lifeboat got rather wet as the spray came over the bow. But it was all great fun. Our second port of call was a day on Brampton Island (near Airlie Beach & Shute Harbour), which was conducted much in the same way as Hayman Island except that we had lunch at the actual resort and had a feast!"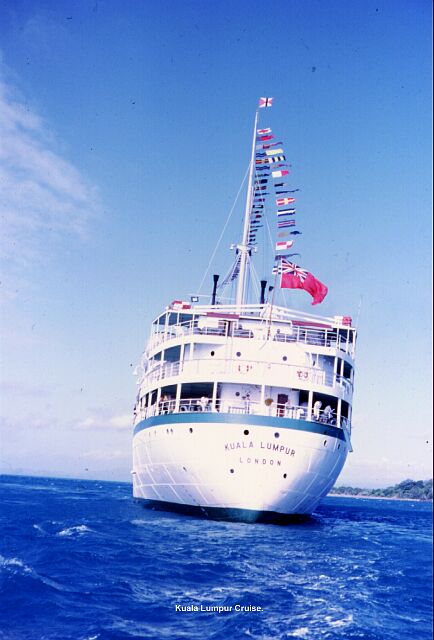 A fine stern view of the Kuala Lumpur as she is anchored off Hayman Island in the Great Barrier Reef region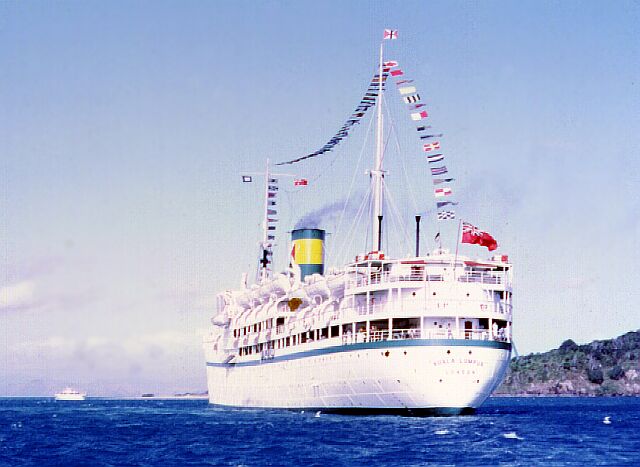 The pristine Kuala Lumpur is seen here anchored just off Hayman Island in the Whitsunday Islands
In the distance, just to port (left) you can see the Sitmar liner, MS Fairsea
"Our third port of call was Townsville where we stayed two full days. On the first day we did a tour of Townsville and the surrounding area in the morning and were at-leisure in the afternoon. On the second day we were all taken over to Magnetic Island and there we toured and had sufficient time to go for a swim, and ate all day before returning to the ship. We then sailed for the tropical city of Cairns late that night and entered port about 9am the following day where we were to spend another two full delightful days. On the first day we toured Cairns and surrounds and on the second day we were all taken out to Green Island for a most momentous day. Coming back it was quite rough and several of our passengers were terribly sick. Thank goodness Mother, myself and my friend were all good sailors and thus, thankfully were not indisposed at all!
Having had a wonderful time in Cairns we began our return voyage back to Sydney and enjoyed another wonderful three full sea-days before our final disembarkation."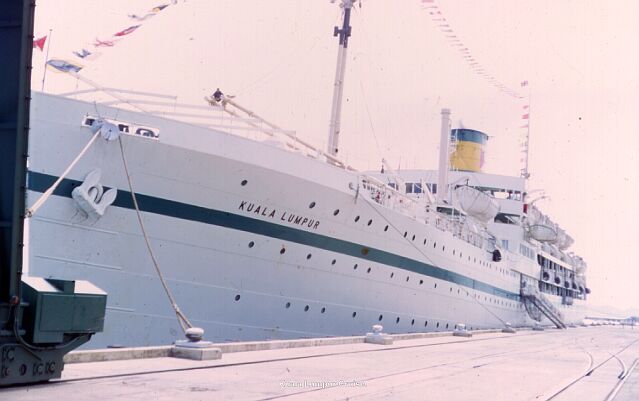 Above and below: MS Kuala Lumpur is seen berthed in Townsville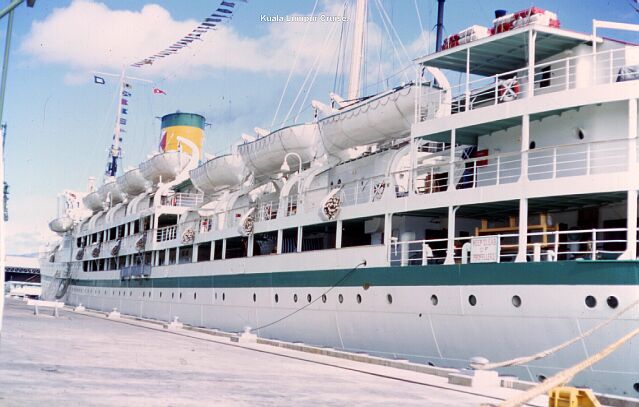 Entertainment:
"Entertainment on board in those days did not include all the huge theatre shows and casinos etc., like we have on today's cruise ships. But, I remember a wonderful dance exhibition put on by the ships Pilipino crewmembers and even included the famous "clicking bamboo poles dance." Many passengers tried this but ended up with rather bruised and sore ankles. There was also a wonderful Pilipino band on board and they would perform at various concerts and at night there would be the ever popular dancing. They mostly performed in a delightful venue that used to be the "Verandah Cafe," but it had now been converted as a general entertainment and dance venue. In addition there was a wonderful crew concert, and another that was put on by the passengers themselves, a sort of "Amateur Hour." One passenger was a classical pianist and this person gave a wonderful classical concert one afternoon in the Drawing Room. In addition movies were shown in the Drawing Room on a number of occasions during the voyage. We played cards every now and then, and of course, many, many hours of deck sports, as well as the ever-popular indoor game of "Horse Races. In some events we competed with either the officers or the general staff. But the most wonderful parts of the whole trip were the interactions with fellow passengers and the officers and crew and just the ship itself as she conveyed her happy and carefree complement of passengers onward on their journey. The Kuala Lumpur was a grand little ship, a happy ship, and she is a memory to be cherished."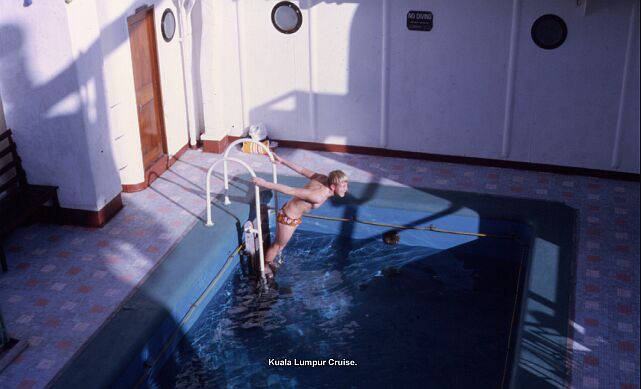 A fellow cruiser, Michael Grigor going in for a swim in the ships pool, even though it was only 23 degrees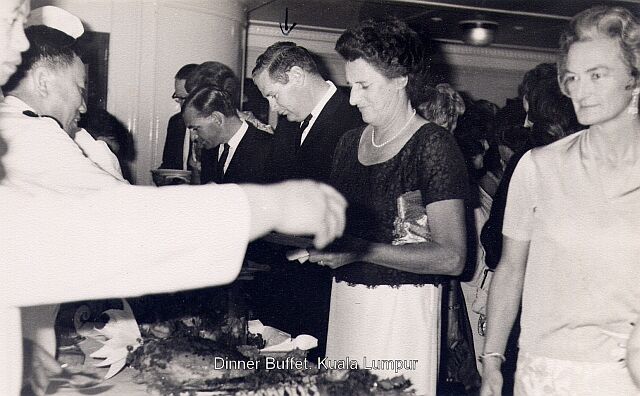 Stan is seen in the middle of the photo, during the special farewell event - the "Captains Gala Buffet Dinner"
Please Note: All Images in this story are © Stan Evans!
 "I am so happy that I was privileged enough to have known this wonderful ship and her incredible crew, for sailing on her was one of the high points of my cruising events, and I will remember her all my remaining days. It is for this reason that I have asked my friend Reuben to include her history on his wonderful website so that she will have immortality. Little ships like the Kuala Lumpur as well as the China Navigation Companies MS Taiyuan and MS Changsha are all too easily forgotten in these days of so much haste, but to sail on them was to experience the sea and your fellow passengers in a relationship that is simply not seen on today's cruise ships. Life on these fine smaller ships was gentle, dignified, human in scale, and the closeness of the sea in all its moods was more apparent than on today's ships. To tell you the truth, although, like Reuben, I am a frequent cruiser, I really long for the days of yesterday's cruising experience. Cruising on these little ships was to experience nature and the human experience at its most intense level and one returned home refreshed and renewed in both body and soul. These little ships conveyed one to far destinations with a gentle roll and at a pace more at one with inner contentment, self-discovery and general reflection. Life was simple, meaningful and predictable and interactions with fellow passengers, officers and crew were genuine, open and honest.
Thank you Reuben for allowing me to record my recollections regarding my cruise on MS Kuala Lumpur and remembering her has given me great joy and happiness."
Stan Evans – Newcastle, Australia."

*****************************
Obviously Stan Evans had a superb time on this superb British built ship. But what was so noticeable was the excellent maintenance on board, for there was not a scrap of rust to be found anywhere and she was simply spotless and as Stan stated and it is so true, modern cruise ships sadly are not as well looked after as they used to be! The Kuala Lumpur was credit to her owners and certainly her superb crew!
Kuala Lumpur
's end has come:
Sadly the time came that the company decided that the ship had her days as she was becoming too expensive to operate and they recalled her to her homeport. Thus on September 20, 1971 MS Kuala Lumpur departed Sydney for the final time and sailed via Singapore to Hong Kong where her very last passengers disembarked with great sadness. After being laid up at Hong Kong for a very short time, by the end of 1971 she was purchased by Tung Cheng Steel Co Ltd, a Taiwanese breaker, and she sailed for Kaohsiung Taiwan early in March 1972, and demolition officially commenced on April 1.
In Conclusion:
She and her sisters may not have been one of the great liners and many may even have forgotten her, nevertheless this was a notable liner and a ship that achieved much during her remarkable career as the MS Dilwara, for she was responsible in the education process of countless of thousands of young British boys and girls, takings them all over Europe with their teachers. In addition, this ship served her Government well, in peacetime and during World War II when she was damaged, but continued having been patched up, and bravely served her nation. She had some notable moments and high standing visitors on board, as shown in "Part One." MS Dilwara also operated inexpensive cruises, offering vacations to working couples and families who otherwise would never had the opportunity to go on a cruise. Then when she was sold to the brilliant British based, but Hong Kong managed, China Navigation Company, she once again became a multi-purpose ship and offered Pilgrim voyages for countless thousands Malay's for six months of the year. But it was for the rest of the year when she gave countless Australian and New Zealander vacationers a new and delightful, what we may call an "ever so British cruise experience" in an intimate setting that was quite unique and one that will never be forgotten! This ship was maintained better than any I personally have known and, I can honestly say, that Today's cruise companies, which are in reality managed by ex , bank CEO's, accountants and staff sourced from the hotel industry know nothing about ships, like ship-owners did in those days, the very days, the author operated "Celebrity Club Cruises" in Australia! We knew out ships, and how to maintain them and work with our staff. If only Companies like the China Navigation Company would return and operate a classic style cruise operation, with ships maintained like in those wonderful days!
What wonderful memories many of us have!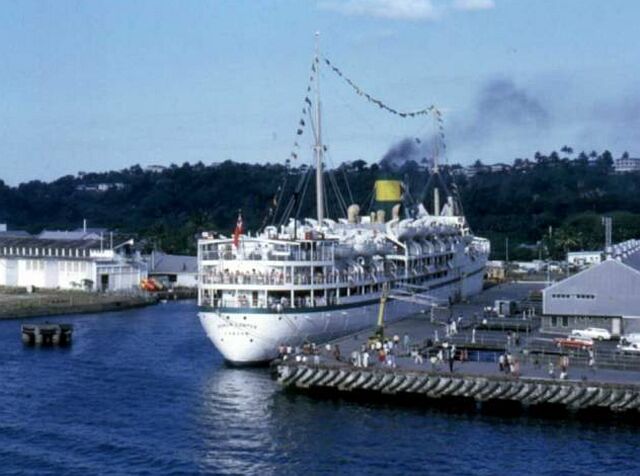 Memories - MS Kuala Lumpur seen during her final days cruising
*Photographer unknown – sent in by a supporter. Please see photo notes at bottom of page
As I have already made abundantly clear the MS Kuala Lumpur was indeed a special ship, and the author has one great disappointment, for I never sailed on her, but I did visit her on two occasions. Both times was in Auckland New Zealand. The first time was in 1962 and then again 1963, just before I came to live Brisbane Australia to work with the GSA of Chandris Lines. But sadly I never saw this delightful ship again. However, my agency in Brisbane did sell countless passengers to sail on her and they all came back totally satisfied, just like Stan Evans!
Please Note: I hereby wish to thank my dear friend Stan Evans for his cooperation and providing his cruise review and excellent photographs and items of memorabilia for this feature for a ship we both greatly love and admire! Stan has kindly assisted me with other projects and as you will discover from other pages, he has a great love of classic liners, be they great liners, or those that are little known. However, these little known ships are still important as they have touched countless lives! Thank you Stan!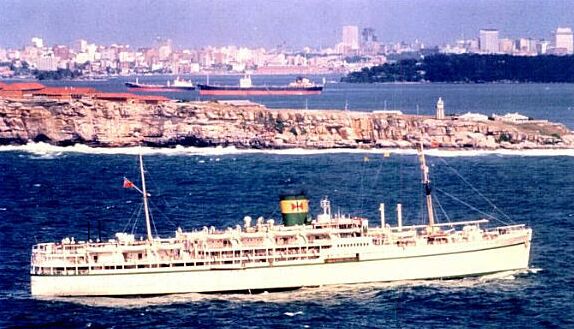 Memories – A great sight, the Kuala Lumpur seen entering Sydney Heads
Photograph by Stephen Berry
I trust you have enjoyed reading this page about this much loved passenger ship, and if you have sailed on her, then I would like to hear from you! Should you have a story about your voyage or a few photographs, I would greatly appreciate some, especially those of the interiors and out on deck. Please email me!
Return to … Part One … British India's MS Dilwara and her three sisters
For other China Navigation Company's Ships, Read the following:
MS Changsha & Taiyuan - MS Anking & Anshun
"Blue Water Liners sailing to the distant shores.
I watched them come, I watched them go and I watched them die."
****************************
Visit our ssMaritime Main INDEX
Where you will discover around 680 Classic Passenger & Passenger-Cargo Liners!
ssMaritime.com & ssMaritime.net
Where the ships of the past make history & the 1914 built MV Doulos Story
Please Note: ssmaritime and associated sites are 100% non-commercial and the author does not seek funding or favours and never have and never will.
Photographs on ssmaritime and associate pages are either by the author or from the author's private collection. In addition there are some images and photographs that have been provided by Shipping Companies or private photographers or collectors. Credit is given to all contributors, however, there are some photographs provided to me without details regarding the photographer or owner concerned. Therefore, I hereby invite if owners of these images would be so kind to make them-selves known to me (my email address can be found at the bottom of the page on www.ssmaritime.com), in order that due credit may be given.
ssMaritime is owned & © Copyright by Reuben Goossens - All Rights Reserved