SS Campana 1929, SS Rio Jachal 1943, SS Campana 1946 & SS Irpinia 1955 & MS Irpinia 1962 to 1983
Note: iPhones, iPads, Firefox & some other Search Engines may not be suitable
Use Google Chrome for this Web Page to load perfectly!
Click the logo above to reach the ssMaritime FrontPage for News Updates
With Reuben Goossens
Maritime Historian, Cruise'n'Ship Reviewer, Author & Lecturer
Please Note: All ssmaritime and my other related ssmaritime sites are 100% non-commercial and privately owned sites. Be assured that I am NOT associated with any cruise or shipping companies or travel/cruise agencies or any other organisations! The author has been in the passenger shipping industry for over 60 years, but is now retired, but hopes that you will enjoy the articles on many classic liners and cruise ships that have been covered, all done for past passengers and classic ship enthusiasts to relive those wonderful days gone by!
Société Générale de Transport Maritimes
S.G.T.M. Marseille, France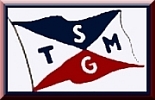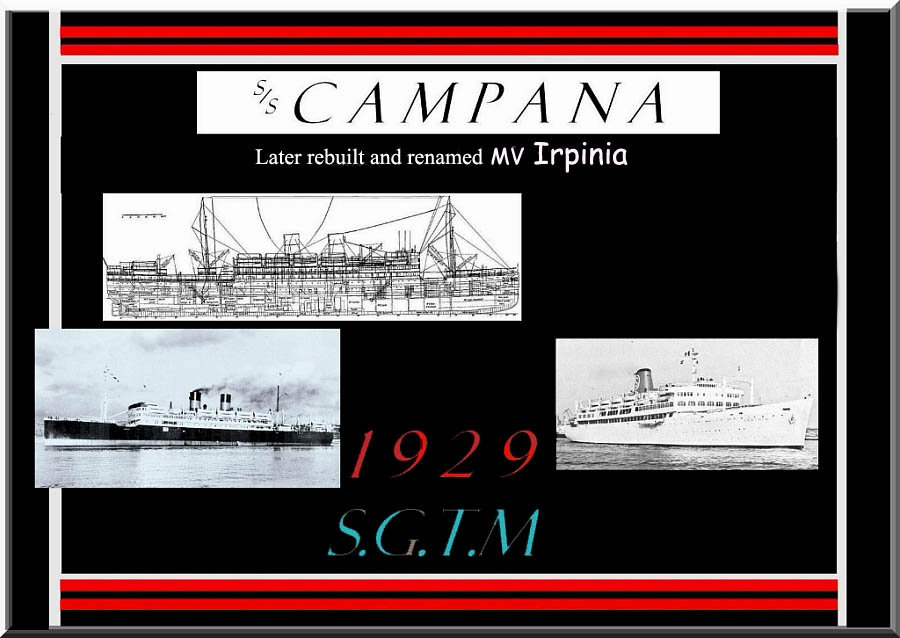 Please Note: If any Images are missing on this page, please refresh the page!
SS Campana 1929, SS Rio Jachal 1943, SS Campana 1946, T/v Irpinia 1955 & M/v Irpinia 1962 to 1983
PART ONE
Introduction:
Although this page is all about the French liner as built, and I will cover her from she was ordered to be built in late 1928 by a shipyard on the Clyde, to when she was paced on the market early in 1955. She was sold to the Italian 'Grimaldi Siosa Lines' who generally operated a low fare basis service to South across the Atlantic, serving the migrant trade. For that reason the company mostly obtained second-hand ships and rebuilt them as to their requirements. The most famous of these liners was a fine ship that eventually ended her days aged 54 years, and she  commenced her days as the French Société Générale de Transport Maritimes (SGTM) liner SS Campana completed in 1929, which Grimaldi Siosa Lines obtained in 1955 and renamed the 'Irpinia.' This ship served the company well as a liner, and a greatly loved cruise ship. Then later, she played a major role in a movie.
The story of SS Campana and the T/v Irpinia is one that is worth sharing, as she was just one of the last well-built and fine Blue Liners that sailed the Seas of the world for over a half a century!
SS

Campana 1928-1940:
SGTM required another liner to operate on their Marseilles to Buenos Aires service, thus they placed an order for a new liner to be built on September 17, 1928 with 'Swan, Hunter and Wigham Richardson' at Newcastle upon Tyne, UK.
A good eight months later, the ship was launched on June 11, 1929 and was officially named 'Campana.' Having been full fitted our and completed, she undertook her sea-trials successfully, and SS Campana was delivered to her owners in Marseilles.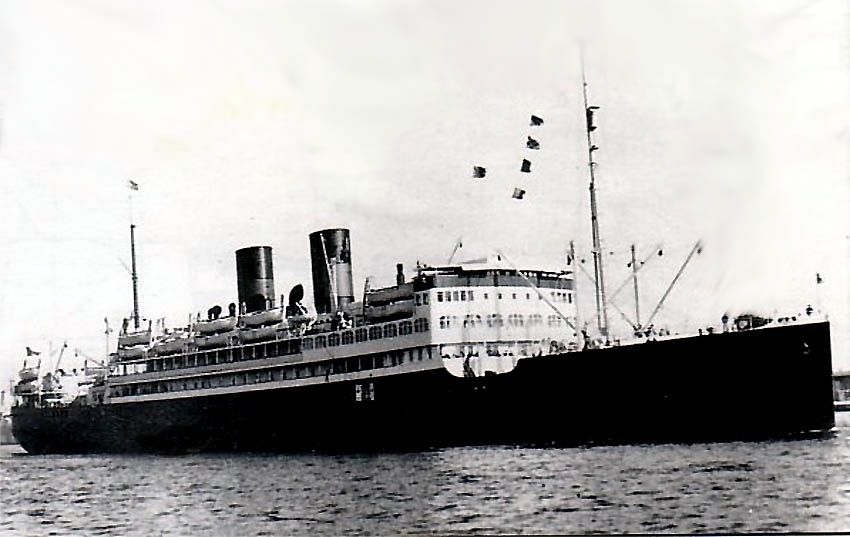 SS Campana is seen during her maiden voyage in 1928/29
Having been manned with a crew of 160 men, as well as having been stored up making her ready for service, SS Campana departed Marseille for her maiden voyage to South America on December 14, 1928. Her passenger capacity comprised of 105 passengers in a very comfortable First Class, 152 comfortable Second Class, 230 in a modest Third Class as well as 820 in the most basic Steerage section, which had mostly dormitories for migrants and little in the way of public facilities.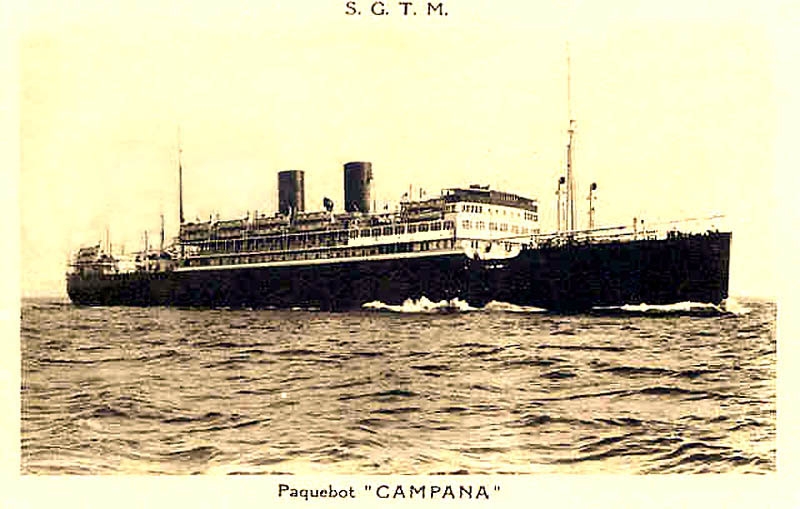 Above & below: One of SGTM's postcards of their Liner SS Campana as well as the back of the card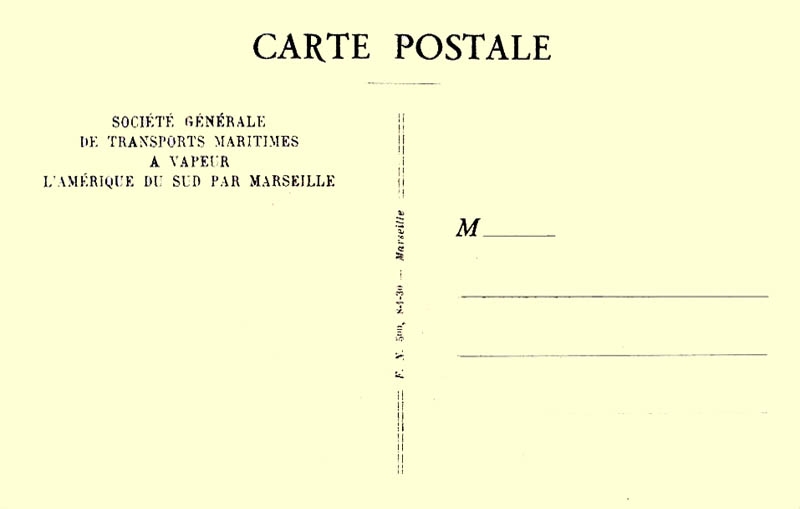 The next eleven years of SS Campana's operation to and from South America, assured SGTM a reputation of punctuality as well as offering good service aboard the ship. Her regular route was from Marseille via Dakar, Rio de Janeiro, Santos, Montevideo, concluding at her destination Buenos Aires, which was reached within ten-days. After a short stay, she would return the same way, with an occasional additional port.
Campana 1940-1951:
In June 1940, the Campana was berthed at Buenos Aires during the armistice which was signed on June 22, 1940 at 6.36 PM near Compiègne, France, by officials of Nazi Germany and the French Third Republic. However, it did not come into effect until after midnight on 25 June.
However, the Campana remained berthed at Buenos Aires for two years to keep her safe from the rages of war, but then she was requisitioned by the Argentine Government in July 28, 1943, she was registered in Buenos Aires and renamed 'Rio Jachal.' Her new duties would be on a return service between Buenos Aires and New York, under the management of Flota Mercante del Estrado.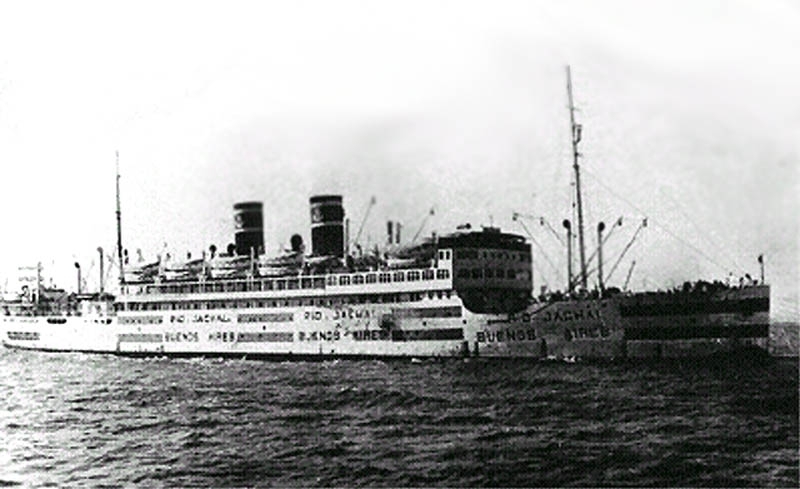 SS Rio Jachal seen bound for New York
In 1946 the SS Campana returned to her owners, as well as having her French registration and flag restored to the ship. After having her hull and superstructure fully repainted in her original colours, together with a few other minor modifications, SS Campana returned to her regular Southern Atlantic services when completed, although visits to Italy to collect passengers bound for South America was added to the schedule.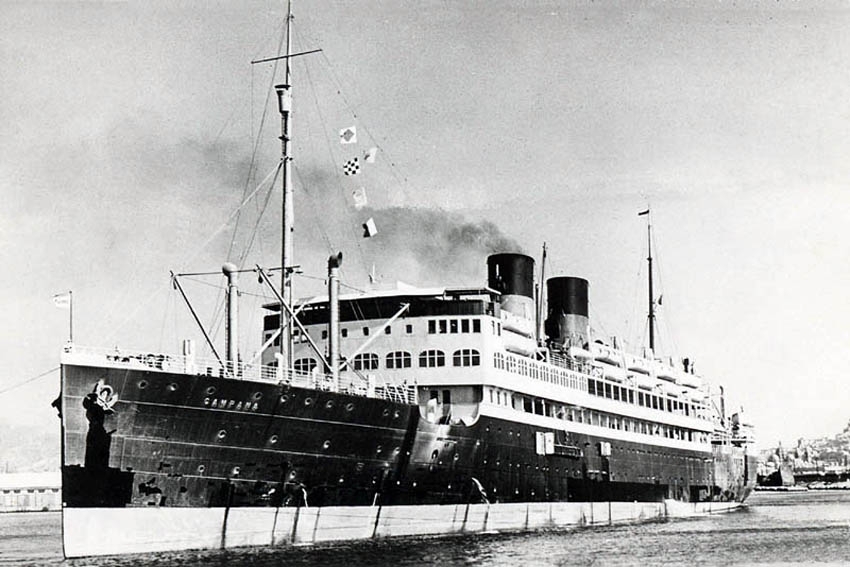 Above & below: The SS Campana seen during her five years on this service and a poster promoting the service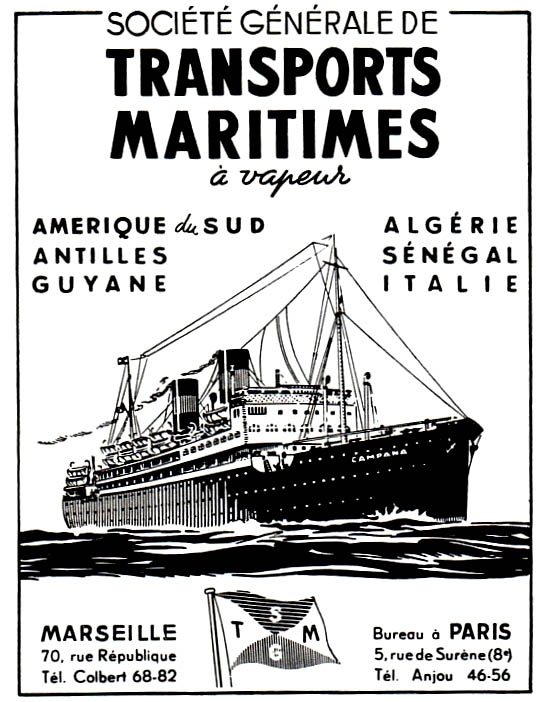 She continued on this service for five years, until 1951. Her duties would see her sail via the Suez Canal, to Colombo, Singapore to Saigon (today's Ho Chi Minh City) and to Haiphong, which was developed by the French to serve as Indochina's (today's Vietnam) main Naval Base).
SS

Campana 1951-1955:
In 1951 SS Campana was chartered to the French company Chargeurs Réunis who would use her on their Marseille to colonial Indochina service for the next four years.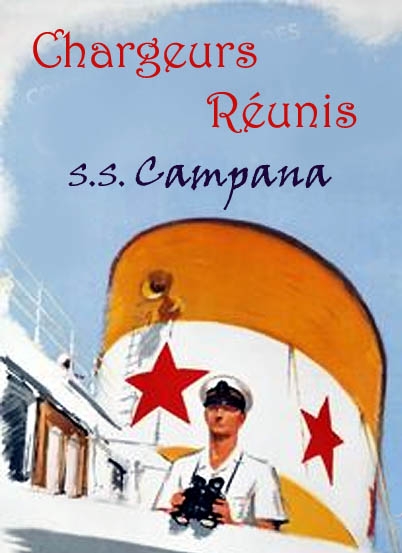 Part of a promotional brochure of the service, clearly showing a the company's funnel markings
For this service, her accommodation was radically changed as follows; 105 First Class, 96 Second Class, and just 56 in Third Class, being a total of just 257 passengers, compared to ships previous 1,307 passengers.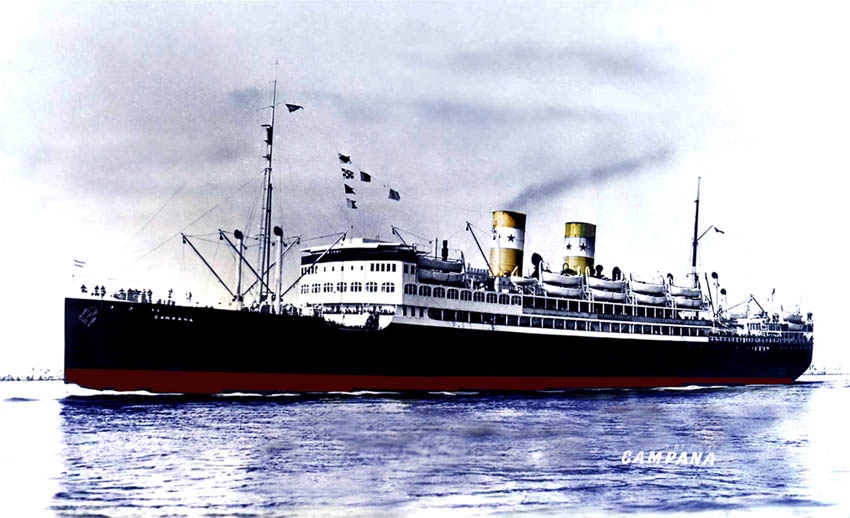 Here we see the SS Campana with her Chargeurs Réunis funnel
Her duties would see her sail via the Suez Canal, to Colombo, Singapore to Saigon (today's Ho Chi Minh City) and to Haiphong, which was developed by the French to serve as Indochina's (today's Vietnam) main Naval Base).
However, Chargeurs Réunis decided to discontinue their passenger services after the fall of the French Garrison at Dien Bien Phu, Indochina on May 7, 1954 as well as the increase in air travel. She continued to operate until late 1954 as French citizens and military personal had to be evacuated. The SS Campana was returned to SGTM and early in 1955 she was placed on the market, being already aged a good 26 years, but she remained in perfect condition!
She would soon be sold and receive a massive makeover and become a more modern Italian liner and cruise ship, named T/V Irpinia.
Specifications SS Campana of 1929:
Built by:………………………………………………..Swan, Hunter & Wigham Richardson Ltd.
Yard:………………………………………………………Low Walker, UK.
Yard Number:………………………………….……1302.
Owner:…………………………………………………..SGTM - Soc Générale de Transports Maritimes, Marseille, France.
Registered:…………………………………..….……Marseilles, France.
Launched:………………….…………… . …………June 11, 1929.                            
Delivered:……………………………………….……December 1929.
Tonnage:…………………………………….……….10,816 GRT, 6,463 NET, 7,025 DWT.
Length:…………………………………………………527ft - 160,63m.
Width:………………………………………………… 67ft - 20,42m.
Draught:……………………………………………….23.10ft - 7,28m.
Engines:…………………………………….………….6 x steam turbines, SR Geared, by Parsons Marine Steam Turbine Co Ltd.
Propellers:……………………………………….……Two.
Speed:…………………………………………………..17 knots, 17.5 knots maximum.
Passengers:…………………………………………..1,307 - 105 First Class, 152 Second Class, 230 Third & 820 Steerage.
Crew:…………………………………………………….160.
Campana / Irpinia INDEX:
Part One - SS Campana:                 The history of SS Campana, SS Rio Jachal & SS Campana - 1929 -1955.
Part Two - T/V & M/V Irpinia:        The refurbished & rebuilt T/v-M/v Irpinia - 1955-1983.
Part Three:                                     Irpinia Brochures, Deck Plans and Memorabilia.
************************
"Blue Water Liners sailing to the distant shores.
I watched them come, I watched them go and I watched them die."
************************
ENTER OUR ssMaritime MAIN INDEX
Where you will discover over 1,355 Classic Passenger & Passenger-Cargo Liners!
ssMaritime.com & ssMaritime.net
Where the ships of the past make history & the 1914 built MV Doulos Story
The Author has been in Passenger Shipping & the Cruise Industry for over 60 years!
Photographs on ssmaritime and associate pages are by the author or from the author's private collection. In addition there are some images that have been provided by Shipping Companies and private photographers or collectors. Credit is given to all contributors. However, there are some photographs provided to me without details regarding the photographer/owner concerned. I hereby invite if owners of these images would be so kind to make them-selves known to me (my email address may be found on www.ssmaritime.com only), in order that due credit may be given.
This notice covers all pages, although, and I have done my best to ensure that all photographs are duly credited and that this notice is displaced on each page, that is, when a page is updated!
ssMaritime is owned & © Copyright by Reuben Goossens - All Rights Reserved