Siosa line T/n Irpinia 1955 & M/v Irpinia 1962 to 1983
Note: iPhones, iPads, Firefox & some other Search Engines may not be suitable
Use Google Chrome for this Web Page to load perfectly!
Click the logo above to reach the ssMaritime FrontPage for News Updates
With Reuben Goossens
Maritime Historian, Cruise'n'Ship Reviewer, Author & Lecturer
Please Note: All ssmaritime and my other related ssmaritime sites are 100% non-commercial and privately owned sites. Be assured that I am NOT associated with any cruise or shipping companies or travel/cruise agencies or any other organisations! The author has been in the passenger shipping industry for over 60 years, but is now retired, but hopes that you will enjoy the articles on many classic liners and cruise ships that have been covered, all done for past passengers and classic ship enthusiasts to relive those wonderful days gone by!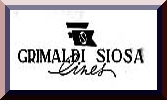 T/v Irpinia
Ex: S.S. Campana 1929, S.S. Rio Jachal 1943, S.S. Campana 1946 to 1955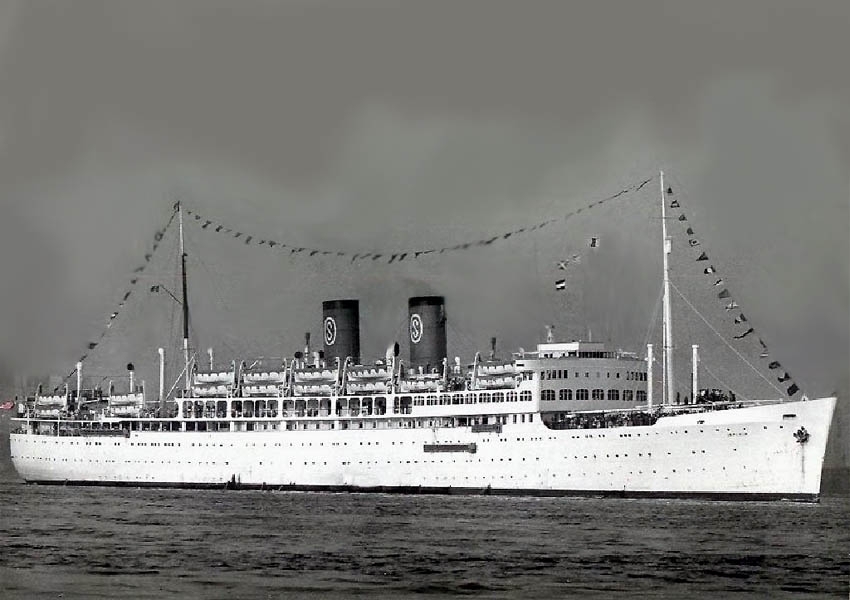 The Turbine vessel - T/v Irpinia is seen in 1956 during a cruise
She had been modernised, but in 1962 she received a massive transformation and became a Motor vessel - M/v in 1962
Please Note: If any Images are missing on this page, please refresh the page!
Introduction:
This superb liner and cruise ship, the 'Irpinia' was, as described in Part One, built as the SGTM liner S.S. Campana in 1929 by Swan, Hunter on the River Tyne. She sailed from Marseille to the East Coast of South America, Rio de Janeiro, Santos, Montevideo, and Buenos Aires. After the fall of France in 1940, the Campana was laid up in Buenos Aires, but in July 1943 she was commissioned by the Argentineans, for whom she ran some voyages to New York and back, having been renamed 'Rio Jachal.'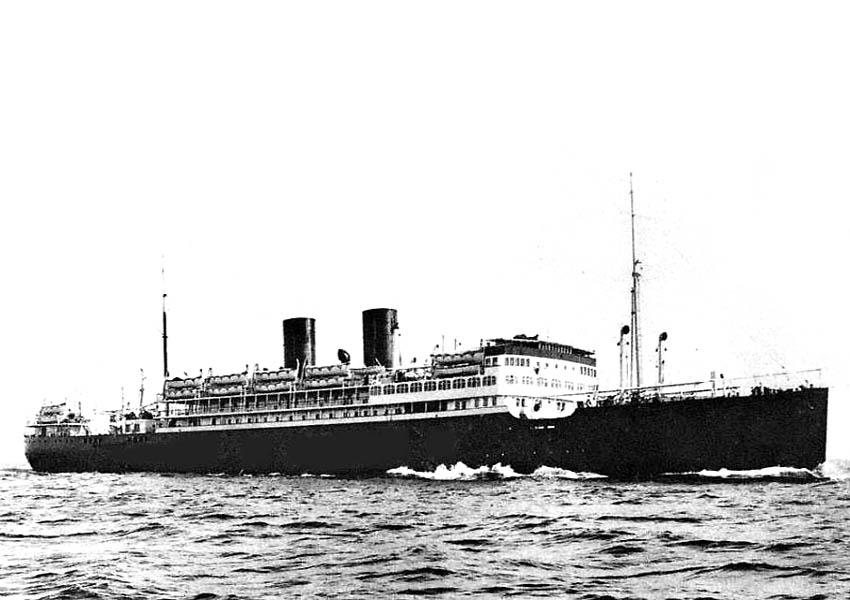 S.S. Campana is seen after she was returned to SGTM in 1946
In 1946, she was returned to SGTM, and she recommenced on her regular South Atlantic duties, until being chartered out, when she commenced voyages via the Suez to Indochina (Vietnam), until late 1954 and she was placed on the market, but still in top condition!
From S.S. Campana to TV Irpinia:
In March 1955, the S.S. Campana was obtained by the Italian brothers Grimaldi who had created the Sicula Oceanica, Palermo Italy, and the ship was renamed 'Irpinia."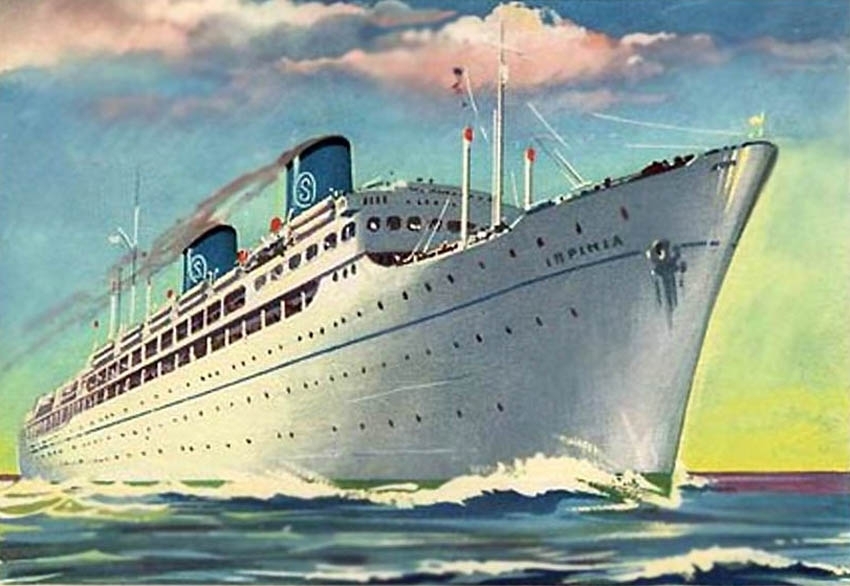 An advance highly stylised illustration depicting the new T/v Irpinia
She was purchased to be operated on the Trans-Atlantic service. She headed for Italy where she was given an extensive refit and a partial rebuilding. This included extending her aft decks as well as nicely raked bow, whilst her forward well deck was enclosed. Internally her facilities were upgraded as she was to become a two-class liner with 187 First Class passengers and 1,034 in Tourist Class A & B, in addition two swimming pools were installed as well as all public venues being upgraded. Her six passenger Decks were designated as follows; Boat, Lido, Promenade, A, B and C Decks.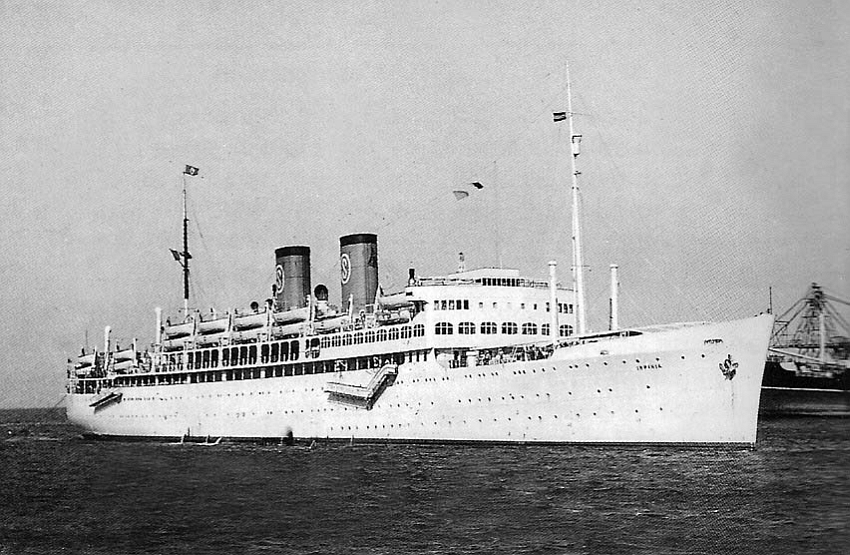 The transformed T/v Irpinia
First Class:
Two Lounges were one forward and one aft on Lido Deck as was their Swimming Pool together with a spacious Sun Deck. These two venues were separated by cabins ranging from single rooms to twin and three/four berth cabins, most of these having private facilities. The Dining Room was located on Promenade Deck just forward of a Grand Lobby, or "the Hall," with cabins located amidships. Down on A Deck there were 18 cabins located on the starboard side. The Children's Room was located aft on Boat deck.
Tourist Class A:
On Lido Deck aft there was the Tourist Class Swimming Pool, and a vast open deck space. Whilst on Promenade Deck two Lounges with a Bar were located aft of the First Class cabins, with a Children's Playroom a little further aft. Whilst outside, there was a spacious fully covered promenade deck space, which was very popular on hot sunny days. The large Dinning Room was located on A Deck aft with cabins aft, and on B Deck, whilst on C Deck aft there were 5 dormitories.
Tourist B:
The Dinning Room and Lounges were located forward on A Deck in the new enclosed well deck section. If taking the stairs from below the main lobby down to B Deck, there was a section of two to four berth cabins, whilst just forward of the Dinning Room, the stairwell there would take you down to B Deck forward were six there were large dormitories. Whilst C Deck had 16 dormitories of various sizes reached via the two staircases mentioned earlier, as they were separate compartments.
TV Irpinia Completed & Ready to Sail:
Upon completion the T/v Irpinia was registered in Palermo (Naples), Italy and she was registered as being 12,279 GRT, having been given the IMO Number 5163675, and the Call Sign ICIR. She commenced services under the management of the Grimaldi-Siosa Line.'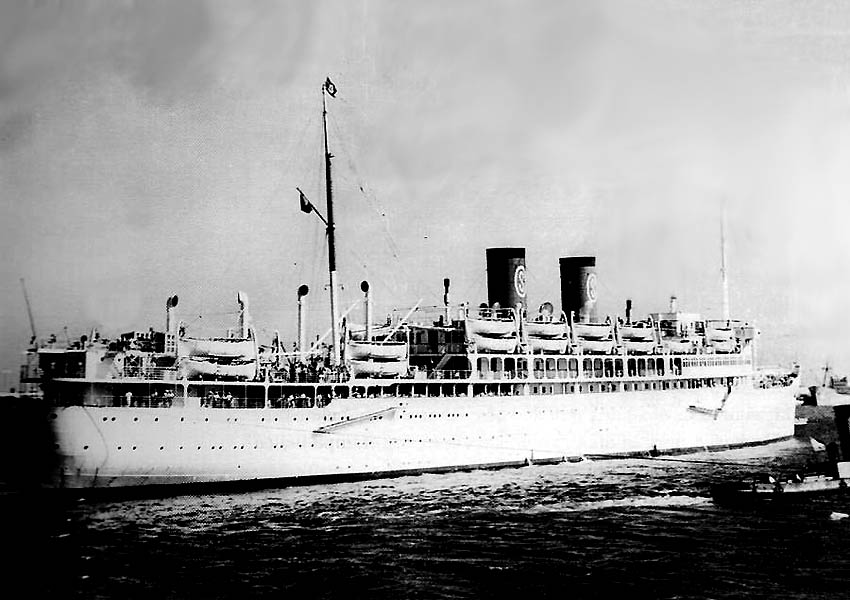 A stern view of the Irpinia showing her extended aft decks and additional lifeboats
Photo Album
First Class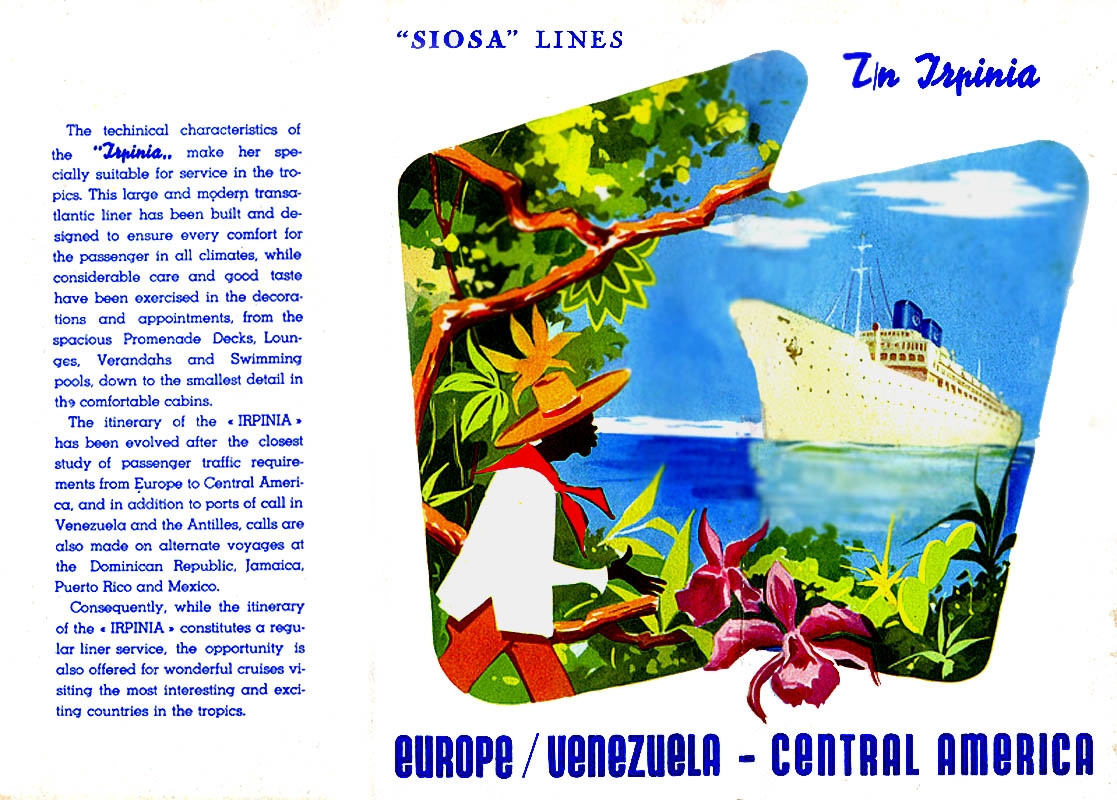 A new brochure with an introduction to the new ship the T/n Irpinia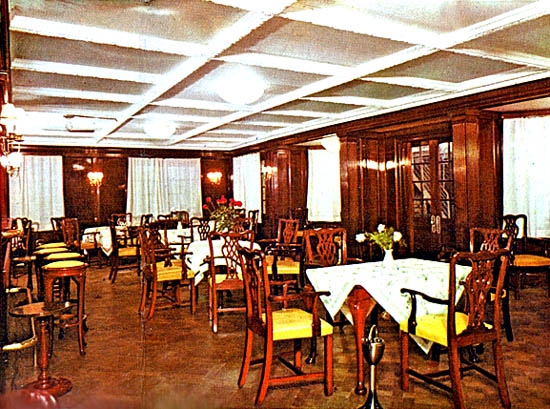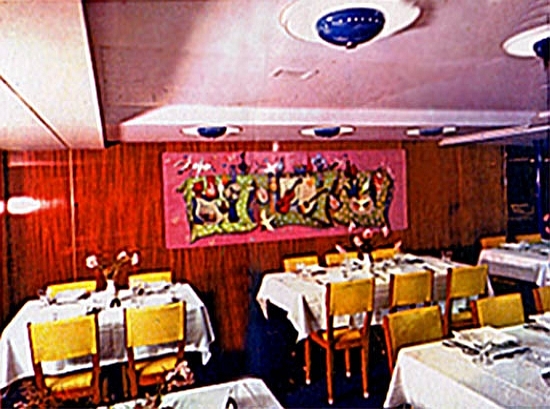 Left: The First Class Lounge on Lido Deck & Right: The Dinning Room on Promenade Deck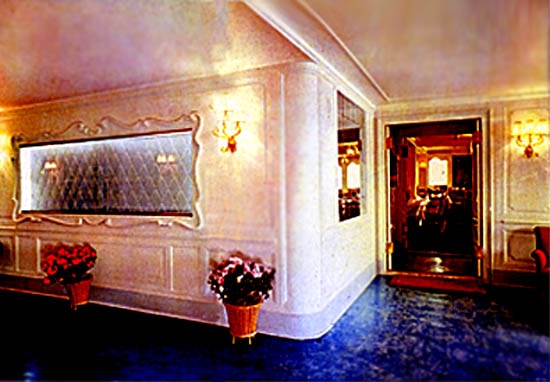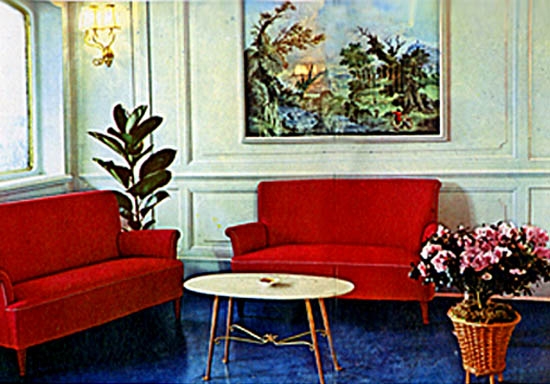 Left: The Grand Lobby (the Hall) looking into the Dinning Room on Promenade Deck
Right: A cosy corner of "The Hall"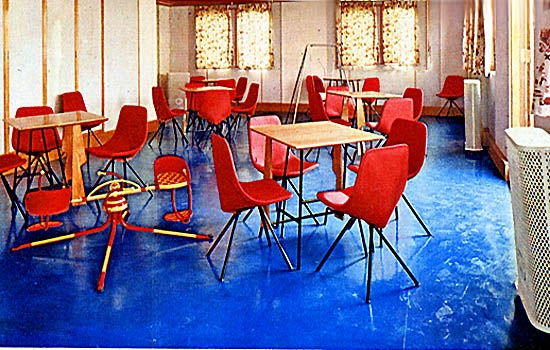 The Children's Playroom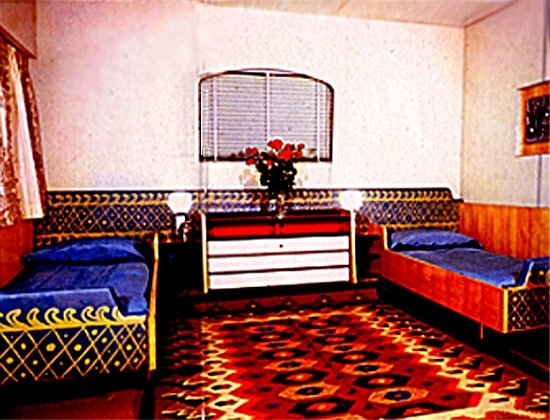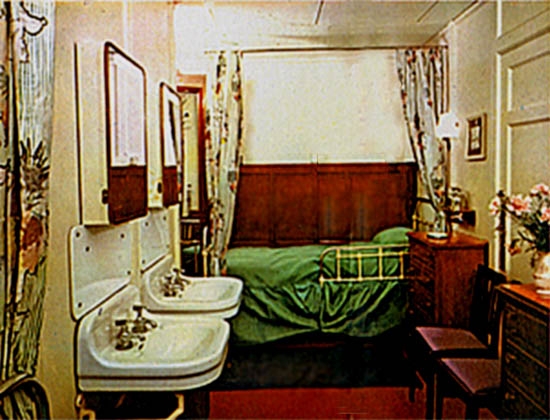 Left: A deluxe Suite Bedroom, there were only two Suites on Lido Deck
Right: An outside Twin bed Cabin on A Deck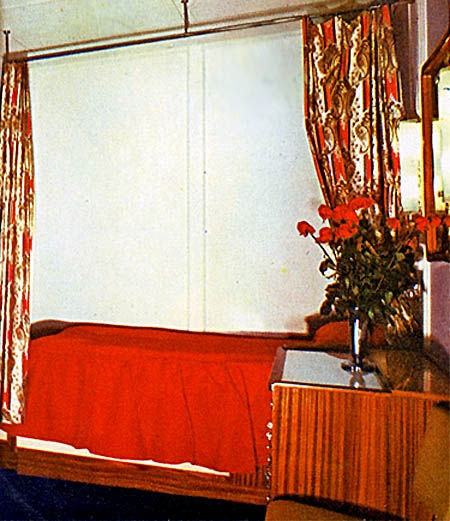 A single bedded cabin on Promenade Deck
Tourist Class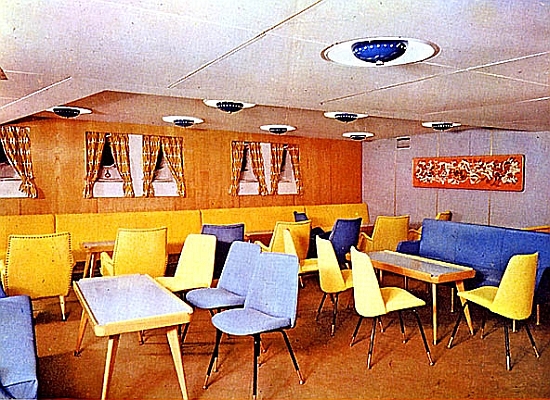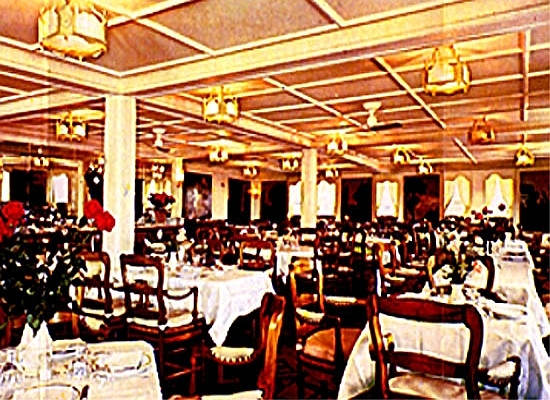 One of the Lounges & the Main Dinning Room aft on A Deck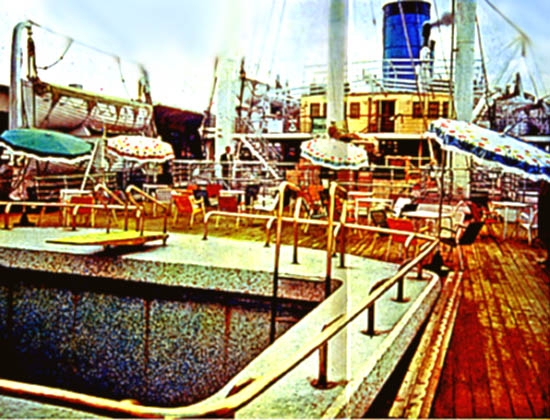 The far aft Swimming Pool for Tourist Class, the First class is further forward
Please Note: Deck Plans are available on Part Three
Use the LINKS at the bottom of this page!
TV

Irpinia 1960 Schedules:
The Irpinia operated on a variety of services between 1956 and 1962, as she first operated as a liner, in a first and a Tourist Class A & B for the migrant service from Italy to South America. The she was placed on the Naples, Genoa, Cannes, Barcelona Tenerife, Guadeloupe, Martinique La Guaira and Trinidad service, which was followed by the Palermo, Naples, Genoa, Halifax to New York service, although on her return voyage she would omit Halifax.
Then she operated on the; Palermo, Naples, Genoa, Quebec to Montreal service, yet during her return voyages she would call at Cannes before arriving in Genoa. Just during one summer return voyage she also called in at Gibraltar.
You can click on the above schedules and a full size version will open
But in addition, Siosa Lines realised that the Irpinia was also popular on shorter cruises around the Mediterranean. Therefore during one of her regular dry-dockings for maintenance, she was given some external and internal modernisation. She returned to operate a few more cruises and proved to be very successful. However, the ship with her two tall main masts and funnels looked like an aging ship, thus it was decided that she required radical modernisation, which would take place for this fine ship!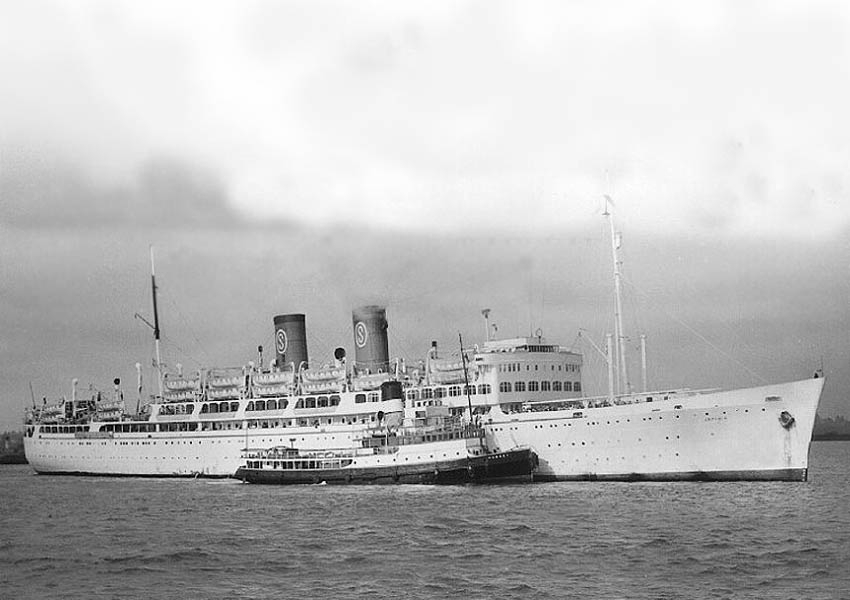 Her we see a modernised T/v Irpinia in 1961, but soon she would be completely rebuilt
M/v Irpinia 1962-1983:
In 1962 the ship was taken to the Adriatico Shipyard at Trieste, where she would receive a total metamorphosis into an almost brand new ship! Her old steam turbines engines were removed and replaced by two modern FIAT Diesel engines, which doubled her previous power, with 16 000 BHP, giving her a new speed of 19 knots cruising speed, with a maximum of 20 knots. Externally she was rebuilt with her two old funnels removed and a single shapely modern style funnel installed. Her two tall mainmasts were removed and a shapely tall signal, radar mast was placed atop her Bridge, whilst her forward kingposts were modernised, and the aft section of Lido Deck was enclosed as a new full width Lounge had been installed. Upon completion the amazing transformation of this fine cruise ship had turned her into a modern ship, and it was very difficult to see the original French liner in her, the 1929 built S.S. Campana.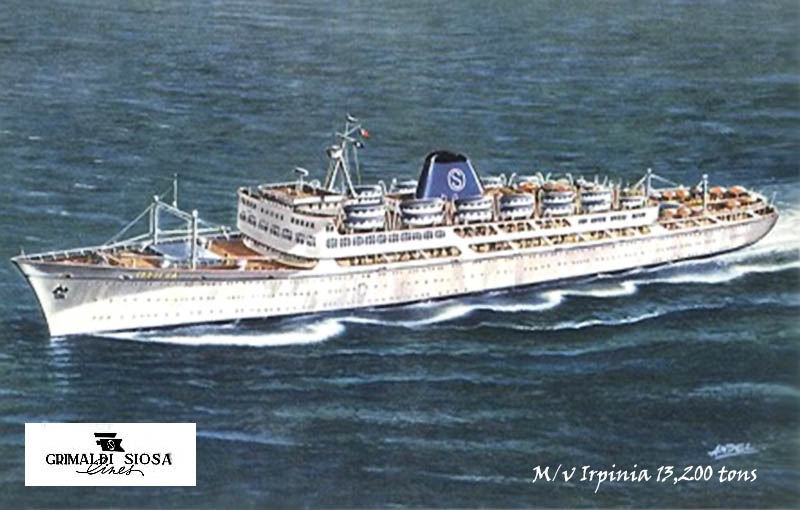 An early postcard with an artist impression of the all-new M/v Irpinia
Internally all her public venues received a massive overhaul, with a total of fourteen modern and spacious public venues installed, which included a winter garden, three restaurants, four bars, as well as a night club. First Class now accommodated 209 passengers, in 74 cabins, made up as single bed, twin bedded, and three berth cabins. Tourist Class now accommodated 972 passengers in 256 cabins, made up of two, four, and six berth cabins. The two classes had 166 cabins with private facilities (PF); with most cabins in First Class having PF!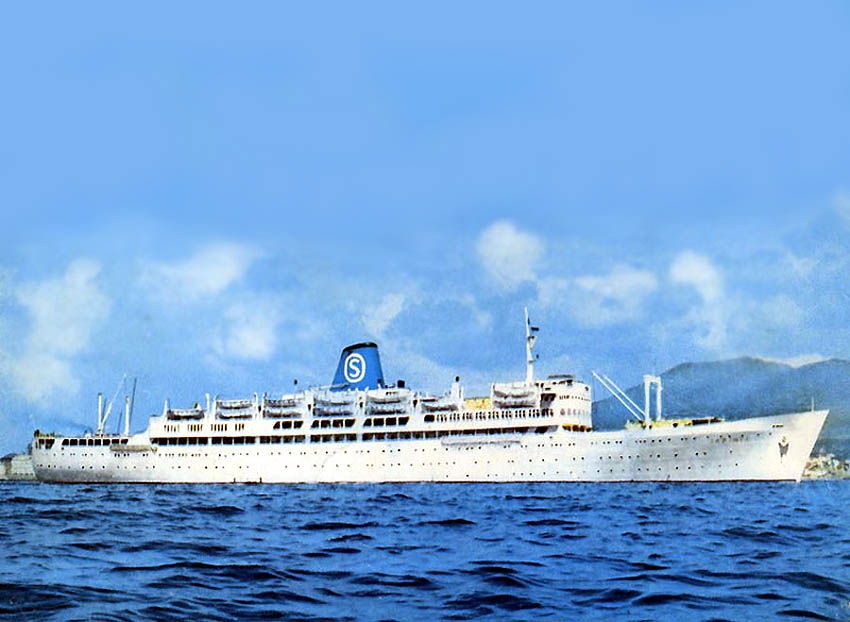 Here we see the completed all new motor vessel M/v Irpinia
Photo Album
First Class
Please Note: As we view this Photo Album, I will commence topside and slowly head down the ship and commence forward of the ship and slowly move aft.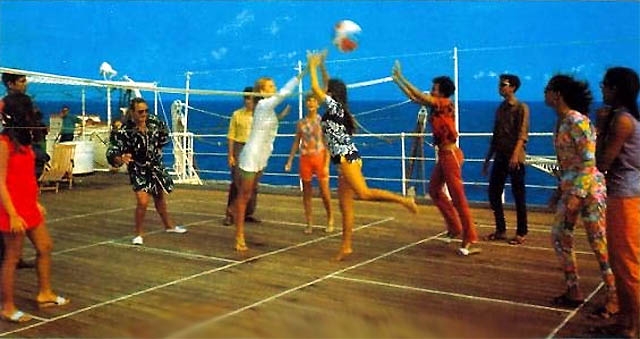 There was ample space for a variety of sports topside on Sun Deck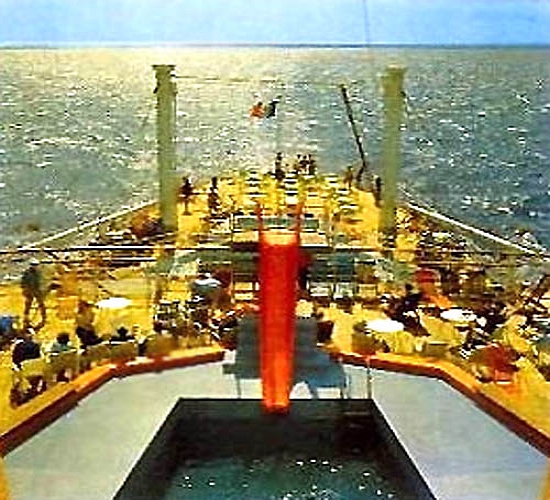 Here we see the First Class Swimming Pool located aft on Boat Deck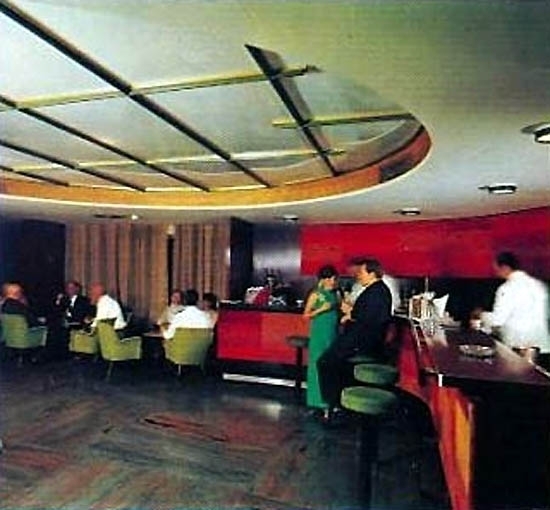 The delightfully intimate Venezia Lounge and Bar far forward on Lido Deck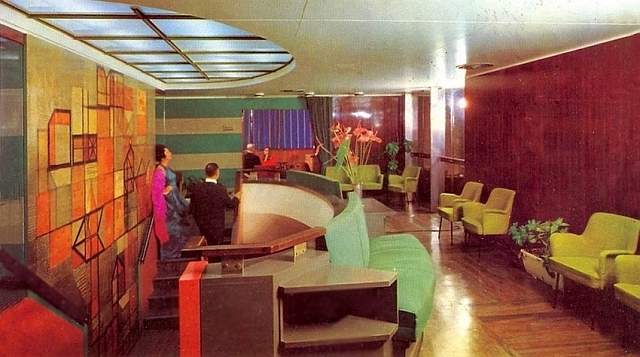 Lido Deck: First Class Forward Foyer and Stairwell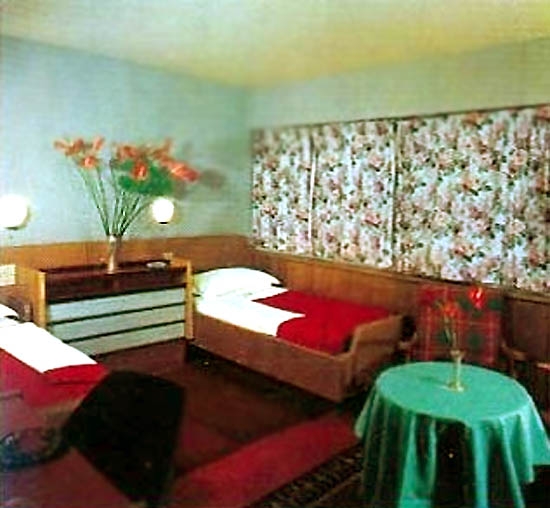 On Lido Deck there are two of these spacious deluxe twin staterooms with an extra large Bathroom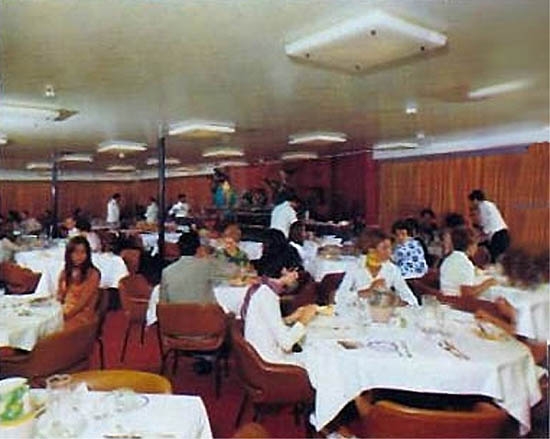 The Belvedere Restaurant is located on Promenade Deck forward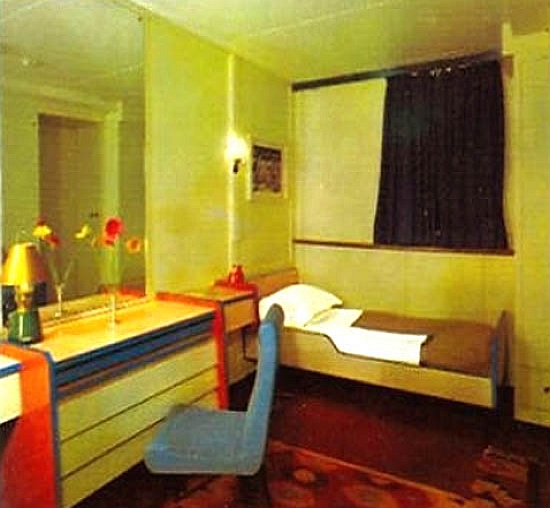 Here we see a Twin bedded cabin on Promenade Deck
Tourist Class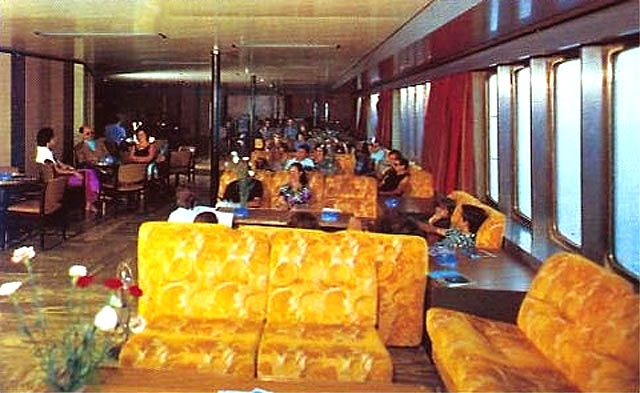 Aft of the First Class accommodations on Lido Deck was the spacious Dalmazia Lounge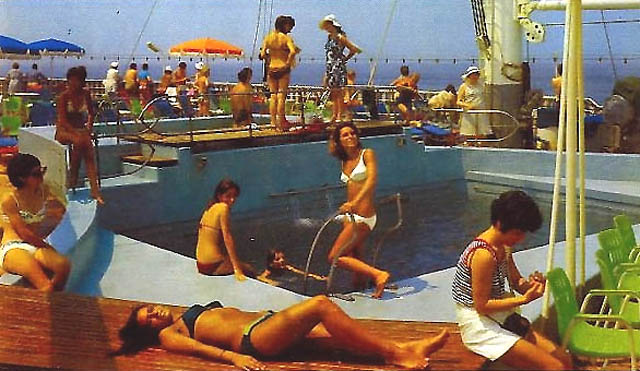 Aft of the Dalmazia Lounge was the Buffet and the Swimming and a children's Pool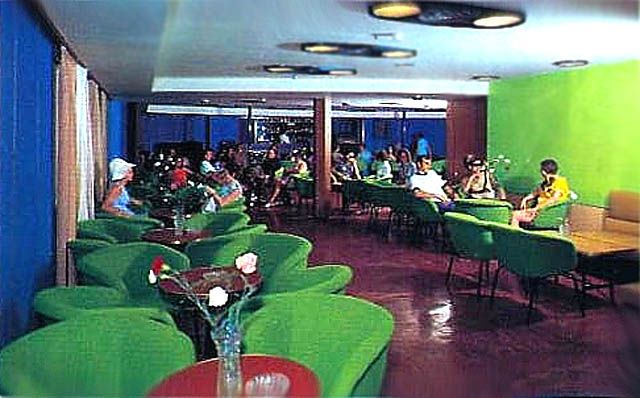 Here we see the delightful Sicilia Ballroom on Promenade Deck aft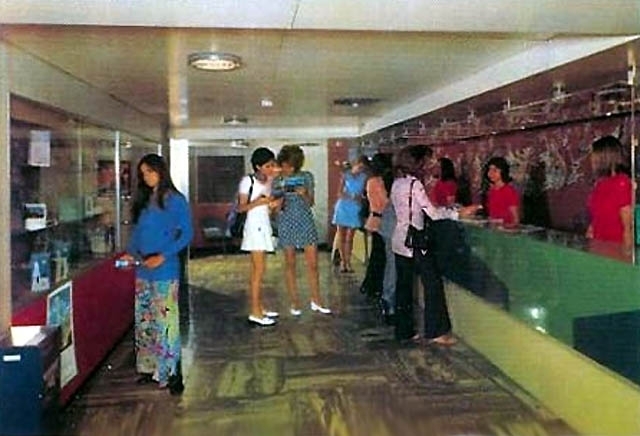 Directly aft of the Ballroom was the Cruise Office and a shop as well as a spacious covered deck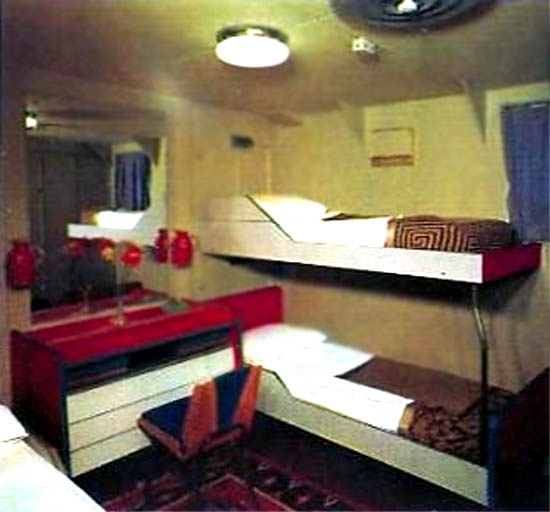 This is a typical 4-berth cabin on Main Deck aft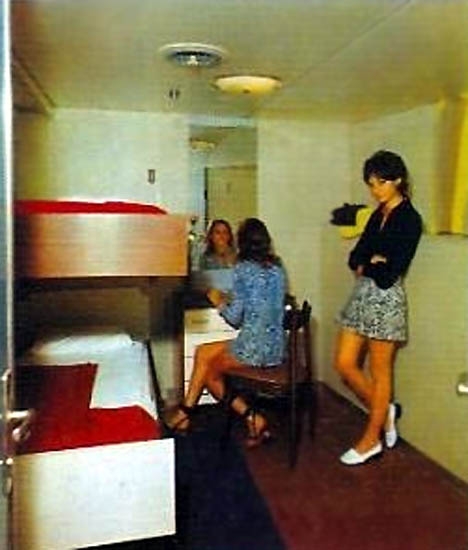 And an inexpensive 2 berth cabin on A Deck aft
For Interest: The Tourist Class Riviera Restaurant, with two smaller dinning rooms located on port and starboard sides was located on Main Deck aft.
Please Note: Deck Plans are available on Part Three
Use the LINKS at the bottom of this page!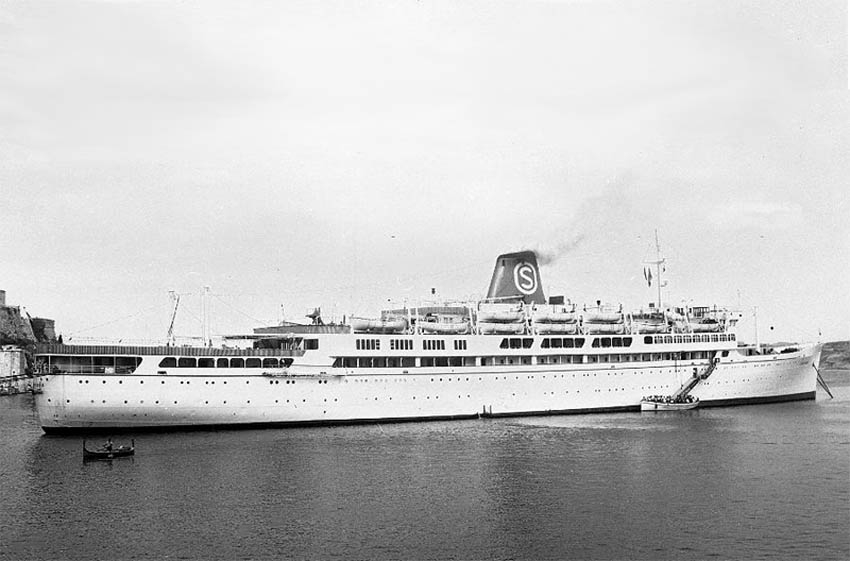 M/v Irpinia is seen at anchor in port with one of her tenders attending to the ships passengers
1962/63 Schedules:
Upon completion this beautiful modern ship, yet already 34 years of age, recommenced duties to the Caribbean, taking Spanish and Portuguese migrants Westbound, and collecting West Indian migrants Eastbound mostly bound for the UK. Her schedules commenced as follows; Naples, Genoa, Cannes, Barcelona, Tenerife, Martinique, Trinidad, Barbados, La Guaira, Guadeloupe, Tenerife, Barcelona, Cannes, Genoa, Naples.
Additional ports of call on some voyages would be: Las Palmas, Guadeloupe & Barbados westbound & Trinidad, Grenada, Martinique, Dominica & Antigua eastbound. Whilst one return voyage in December/January she operated her eastbound voyage as follows: La Guaira, Curacao, Kingston, Tenerife, Madeira, Lisbon, Vigo, Le Havre to Southampton and v.v.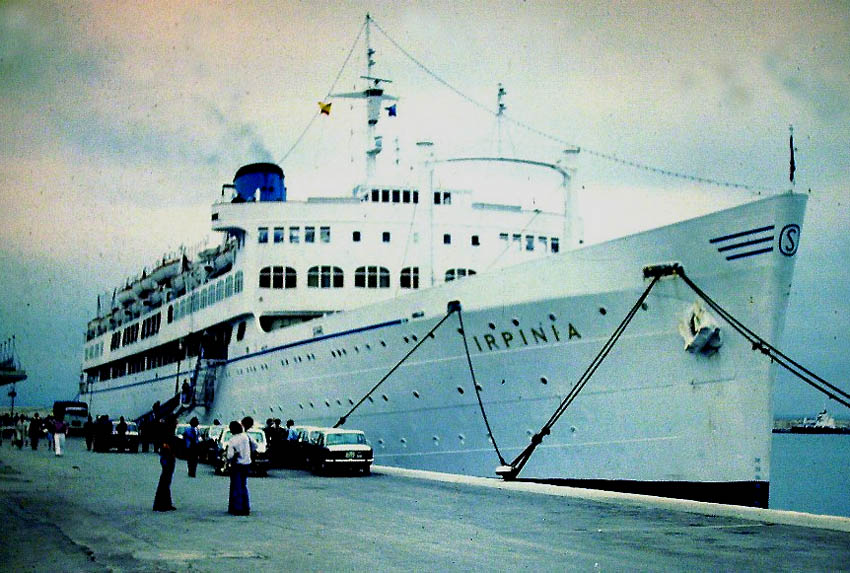 The Irpinia is seen here berthed at Le Havre, France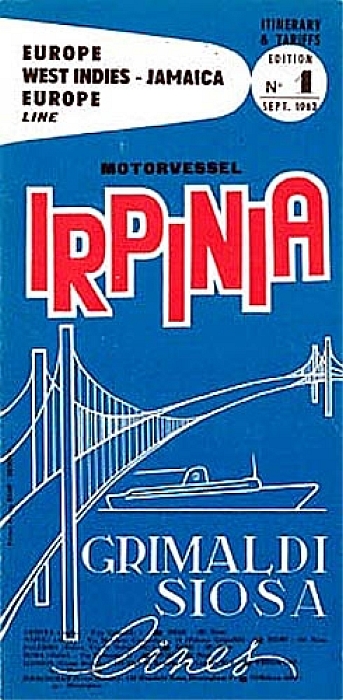 1963 M/v Irpinia Fares and schedule to the West Indies,
In addition to M/v Irpinia's line voyages to the Caribbean, the United States, as well as to Canada, she also operated seasonal holiday cruises from one to two weeks, which proved to be very popular.
However with the ships cruise successes, by 1970 the Irpinia was mostly used on cruise duties, being based in Genoa and operating short Mediterranean cruises, as well as a cruise to The USA and the Caribbean; which at the time were at a cost from US$79 for seven days, or US$134 for a fourteen-day Christmas cruise to New York and the Canaries.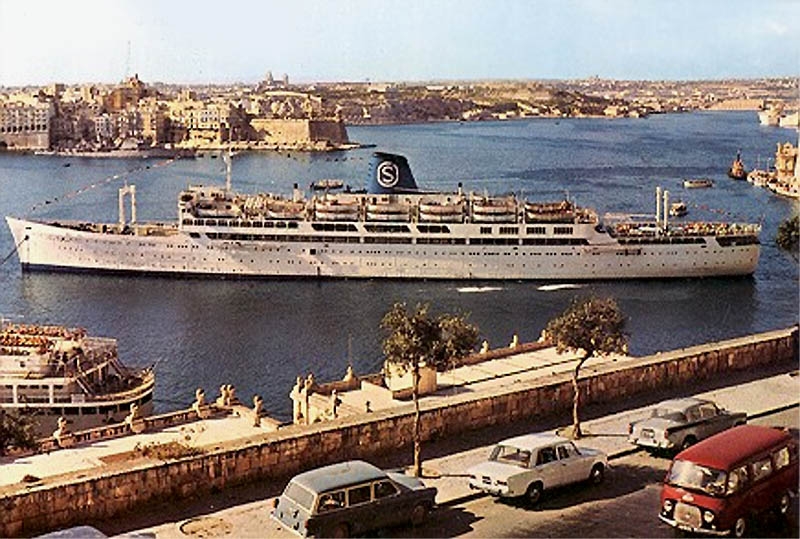 A postcard of the Irpinia seen in Malta
She continued with her various cruise duties and she gained a huge following, as she proved a comfortable ship, being a superbly British built ex French liner, as well with her extensive modernisations, she was a most attractive as well as an intimate ship and proved to be one of the friendliest and happiest ship afloat!
Withdrawal & A Movie:
In 1976 the company decided to withdraw the Irpinia from service, considering she was already an amazing 47-years of age and were planning to sell her to the breakers. However before she could be sold, something astounding occurred; for 'Grimaldi Sicula Oceanica' was contacted by "Associated General Films" who intended to make a 'Lew Grade' movie entitled the 'Voyage of the Damned," and they required a suitable older style liner  and the 1929 built M/v Irpinia was perfect. Thus they chartered her for the making of this major movie event, which had a massive cast of some of the finest and best-known actors of that time!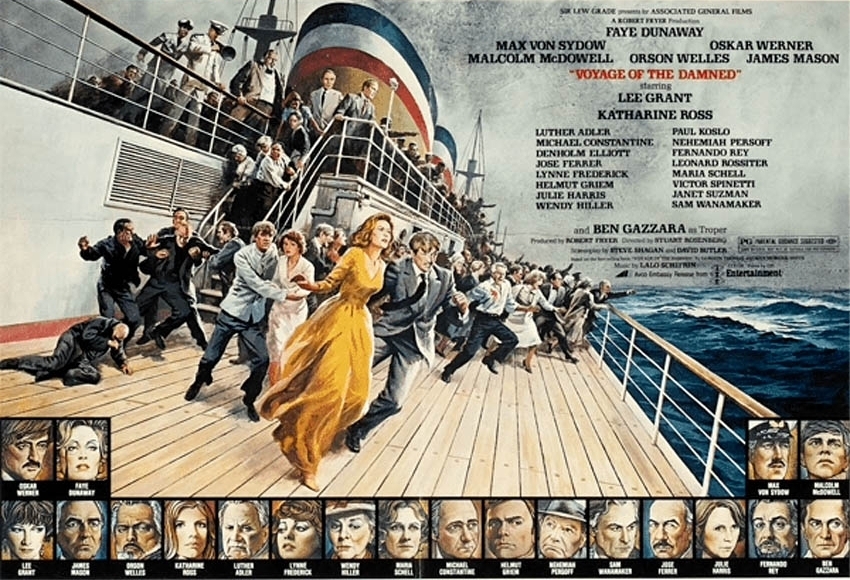 One of the many movie posters
The story of the movie was based on the actual events that took place in 1939, when the German luxury liner, M.S. St. Louis carried Jewish refugees from Germany to Cuba.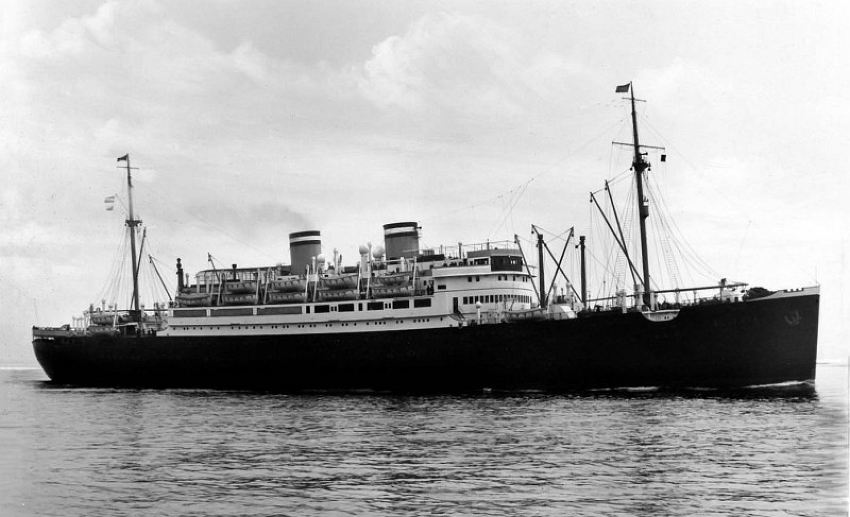 This is the actual Hamburg America Line 16,730-ton M.S. St Louis was completed in 1929
The M.S. St Louis departed from Hamburg with 937 Jewish men women and children all of whom were seemingly had been issued visas to enter into Havana, Cuba. The passengers, having seen and suffered massive anti-Semitism in Germany, realised this might be their only chance of escape. Thus the film details the emotional journey of the passengers who gradually become aware that their passage was really a Nazi propaganda exercise, for it was never intended that they would ever disembark in Cuba, as for the Nazis had in reality given them visas that were forgeries. The truth was that they were to be set up as Pariahs, to set an example before the world. Just like a Nazi official in the movie states; "When the whole world has refused to accept them as refugees, no country can blame Germany for the fate of the Jews." However, Captain Gustav Schröder who was a good and honest man, did not know any of this until the M.S. St Louis arrived in Cuba, and he tried everything to get them into Havana.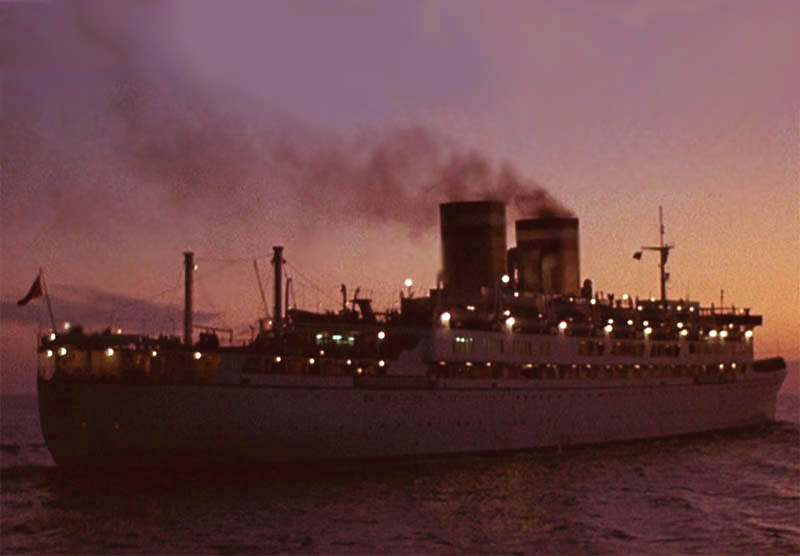 The M/v Irpinia is seen here in the movie looking like the M.S. St Louis with the two funnels
Shortly before the film's end, it is revealed although the Captain did everything to find safe havens for his passengers but the governments of the United States, Britain and other governments flatly refused to take a single one of these poor refugees, as the ship reached Europe again it was only the Netherlands, Belgium, France. Then the finally United Kingdom agreed to accept some of the passengers as refugees. As they cheered and clapped at the news, tragically the footnotes in the film clearly disclose the fates of so many of the passengers on board, suggesting that over 600 of the 937 Jewish passengers did not survive, for those who disembarked in Europe all the mentioned countries were invaded by Nazi Germany and in due course they lost their lives in Auschwitz concentration camp, as well in other death camps. It was only a small number of the St Louis passengers who were fortunate to be taken in by the UK that survived. If you ever get a chance get a DVD of the "Voyage of the Damned" and watch this epic Movie Event, it is worth while for more that, one reason! The story of course, but also the many views of the ship!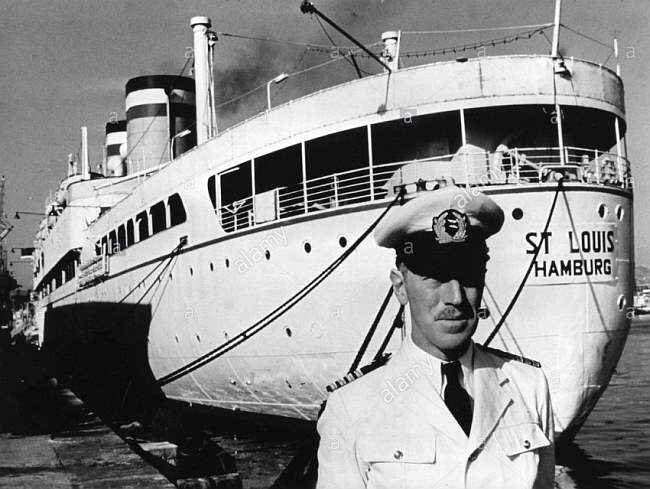 Here we see the Irpinia transformed as the M.S. St Louis, with famous actor Max von Sydow as Captain Gustav Schröder
A dummy funnel was placed over her actual funnel and another located just aft, but they retained her white hull
'Voyage of the Damned' won Golden Globe Awards for being the Best Motion Picture and Supporting Actress. It was without a doubt an amazing movie, but sadly it was a grossly under-rated film by the public, but later it had a huge revival!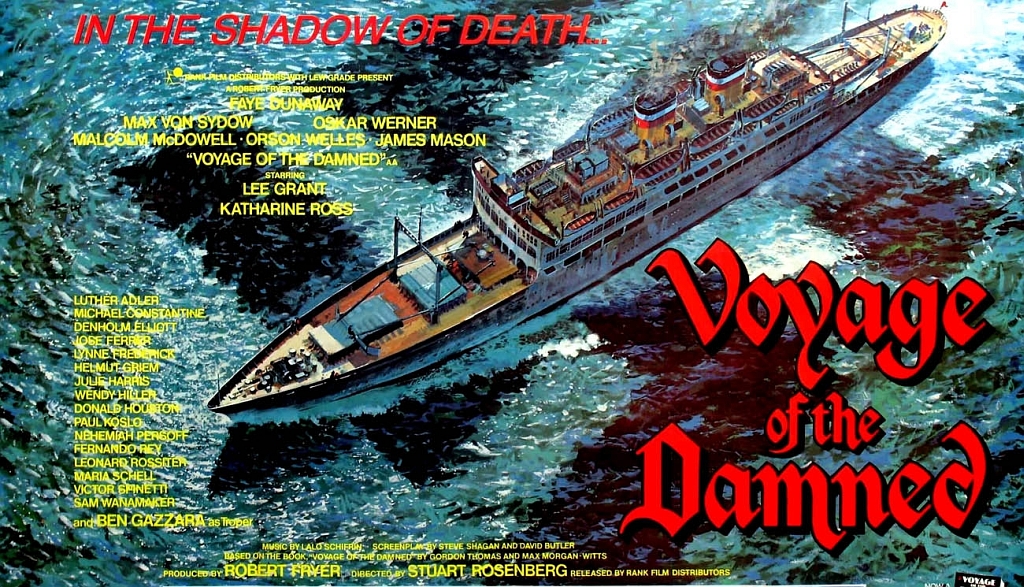 Another poster for the movie, a link is located at the bottom of the page for you to watch the full Movie!
M/v Irpinia and her concluding Days:
After the filming concluded T/v Irpinia was returned to Grimaldi Siosa Lines, and remarkably she was placed back into her previous Mediterranean cruise duties out of Genoa, and operated these very successfully for the next two years. There was no doubt that the public loved this wonderful ship!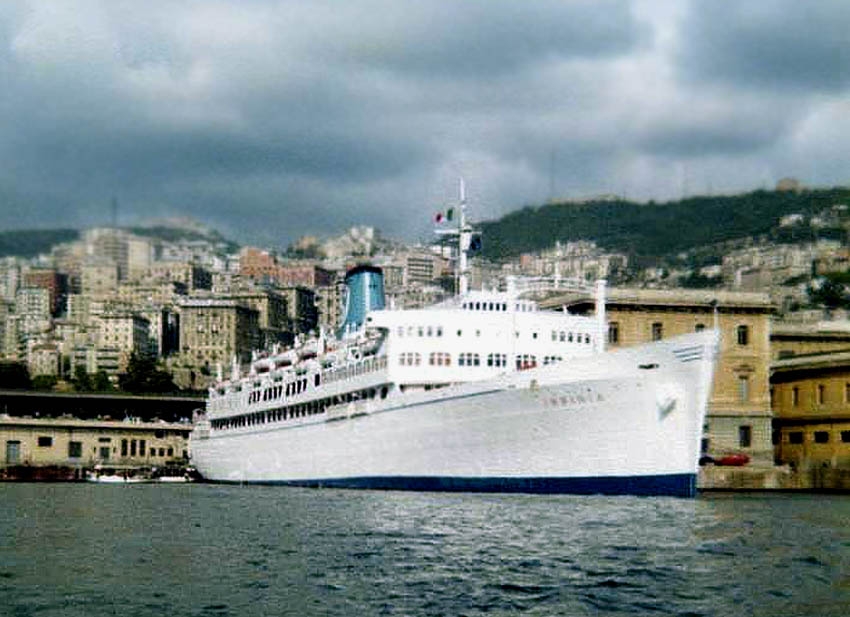 M/v Irpinia is seen berthed at her home port of Genoa Ready to depart for another cruise
Photograph by & © Enrico Righett
However in 1981, when she was due for her next major certification inspection by "Registro Italiano Navale," sadly the Irpinia was unable to obtain a new certificate of seaworthiness in Italy. This was mostly due to her considerable age and the cost of upgrading her would be huge, therefore Grimaldi Siosa Lines decided with great sorrow to having to sell this grand old girl. She was obtained by Cant Nav Santa Maria S.p.A., ship breakers in La Spezia, Italy.
Soon she headed to La Spezia, and having arrived she was laid up until she would be broken up. For some reason she remained in lay-up for 2 long years, but then in September 1983 breaking up commenced of this ship still in perfect condition, being 54 years of age having been named the; ex S.S. Campana, S.S. Rio Jachal, S.S. Campana. T/v Irpinia & M/v Irpinia.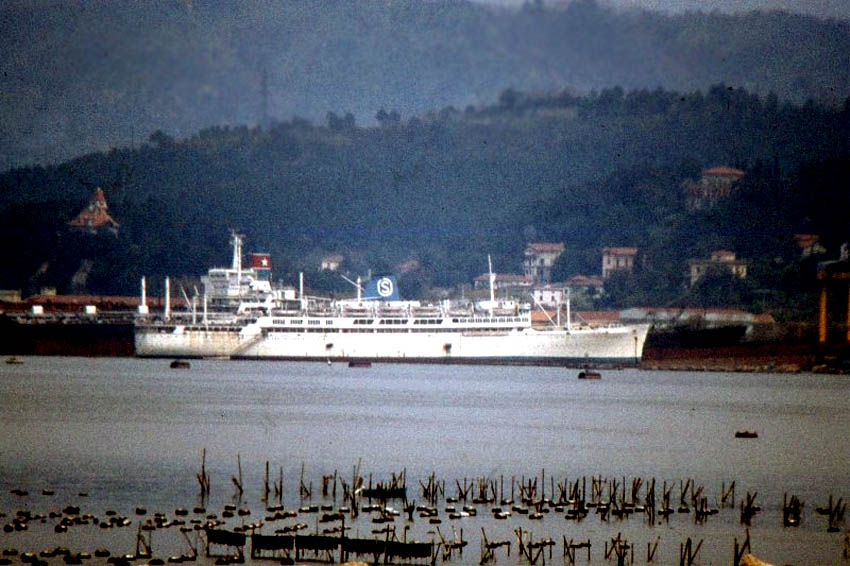 T/v Irpinia is seen laid up at La Spezia awaiting her end
Photograph by & © Alan Blakely
Details T/v Irpinia 1955 - M/v Irpinia 1962 to 1983:
Owner:                                             Sicula Oceanica, Palermo Italy.
Manager:                                          Siosa Lines - later Grimaldi Siosa Lines.                                         
Registered:       Palermo, Italy.
Call Sign:                                         ICIR.
IMO Number:       5163675.
Tonnage:                                          12,279 GRT in 1955.
.                                                      13,204 GRT in 1962.
Length:                                            537ft - 163,67m - 1955.
Width:                                              67ft - 20,42m.
Draught:       23.10ft - 7,28m.
Engines:                                           6 x Steam SR Geared Turbines – as built in 1929.
.                                                      FIAT Diesels 1,600 BHP in 1962.
Propellers:                                        Two.                                         
Speed:                                             17 knots service speed, 17.5 knots maximum 1955.
.                                                      19 knots cruising speed, 20 knots maximum 1962.
Passengers:                                      187 First Class & 1,034 Tourist Class - 1955.
.                                                      201 First Class & 972 Tourist Class - 1962.
Remembering the Wonderful and Much-Loved
 M/v Irpinia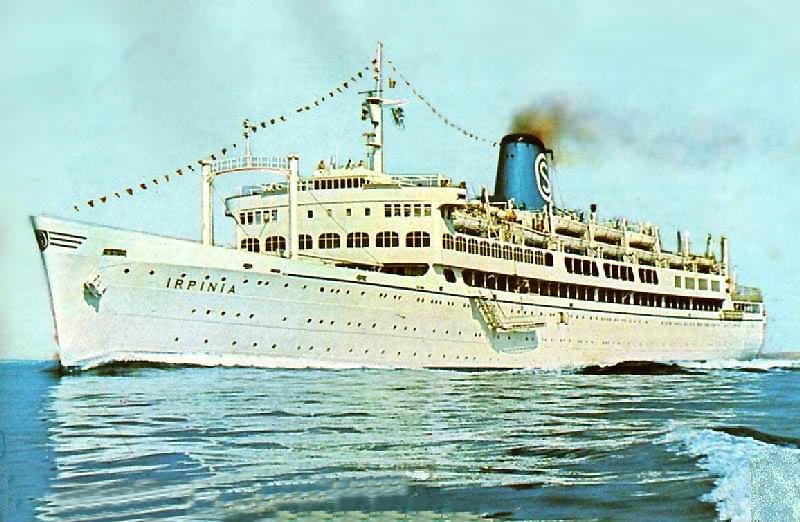 Campana/Irpinia INDEX:
Part One - S.S. Campana: …………………………The history of S.S. Campana, S.S. Rio Jachal & S.S. Campana - 1929 -1955.
Part Two - T/V & M/V Irpinia: ………………The refurbished & rebuilt T/v-M/v Irpinia - 1955-1983.
Part Three: ………………………………………………..Irpinia Brochures, Deck Plans and memorabilia.
You can watch the movie in full HERE or use the link below
https://archive.org/details/Voyage.Of.The.Damned.1976#
View … https://youtu.be/nVONWDGzhAU a 3.16-minute interior film of the M.S. St Louis
************************
"Blue Water Liners sailing to the distant shores.
I watched them come, I watched them go and I watched them die."
************************
ENTER OUR ssMaritime MAIN INDEX
Where you will discover over 1,355 Classic Passenger & Passenger-Cargo Liners!
ssMaritime.com & ssMaritime.net
Where the ships of the past make history & the 1914 built M.V. Doulos Story
The Author has been in Passenger Shipping & the Cruise Industry for over 60 years!
Photographs on ssmaritime and associate pages are by the author or from the author's private collection. In addition there are some images that have been provided by Shipping Companies and private photographers or collectors. Credit is given to all contributors. However, there are some photographs provided to me without details regarding the photographer/owner concerned. I hereby invite if owners of these images would be so kind to make them-selves known to me (my email address may be found on www.ssmaritime.com only), in order that due credit may be given.
This notice covers all pages, although, and I have done my best to ensure that all photographs are duly credited and that this notice is displaced on each page, that is, when a page is updated!
ssMaritime is owned & © Copyright by Reuben Goossens - All Rights Reserved