Siosa line T/n Irpinia 1955 & M/v Irpinia 1962 to 1983
Note: iPhones, iPads, Firefox & some other Search Engines may not be suitable
Use Google Chrome for this Web Page to load perfectly!
Click the logo above to reach the ssMaritime FrontPage for News Updates
With Reuben Goossens
Maritime Historian, Cruise'n'Ship Reviewer, Author & Lecturer
Please Note: All ssmaritime and my other related ssmaritime sites are 100% non-commercial and privately owned sites. Be assured that I am NOT associated with any cruise or shipping companies or travel/cruise agencies or any other organisations! The author has been in the passenger shipping industry for over 60 years, but is now retired, but hopes that you will enjoy the articles on many classic liners and cruise ships that have been covered, all done for past passengers and classic ship enthusiasts to relive those wonderful days gone by!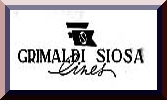 T/v - M/v Irpinia
Ex: SS Campana 1929, SS Rio Jachal 1943, SS Campana 1946 to 1955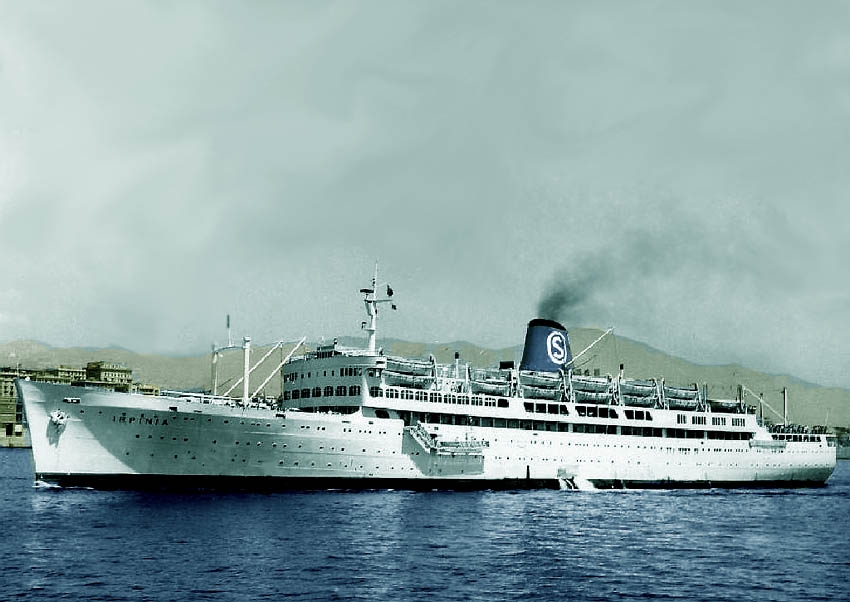 M/v Irpinia is seen arriving in Genoa after her complete rebuilding and becoming a motor ship (M/v) in 1962
Welcome to Part Three of this special feature, and this page deals mostly with the Grimaldi Siosa Lines liner and cruise ship the Irpinia seen after her first transformation in 1955 with her two funnels, as well after she was extensively rebuilt, becoming a single funnelled ship and re-engined with Fiat Diesel motors as well as having her interiors completely rearranged ending with an amazing 14 public venues.
I am delighted to present brochures and Deck Plans of both her guises below.
T/v Irpinia 1955 to 1962: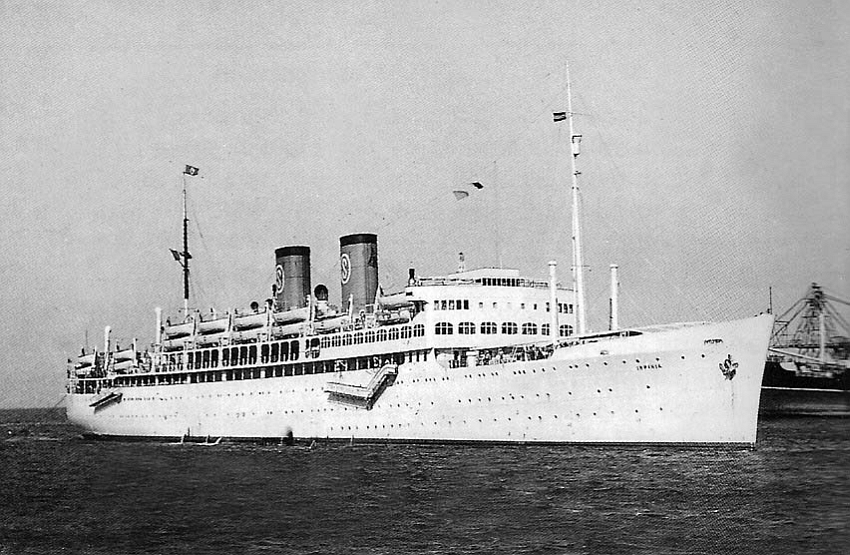 T/v Irpinia is seen after her 1955 conversion into the Siosa Lines liner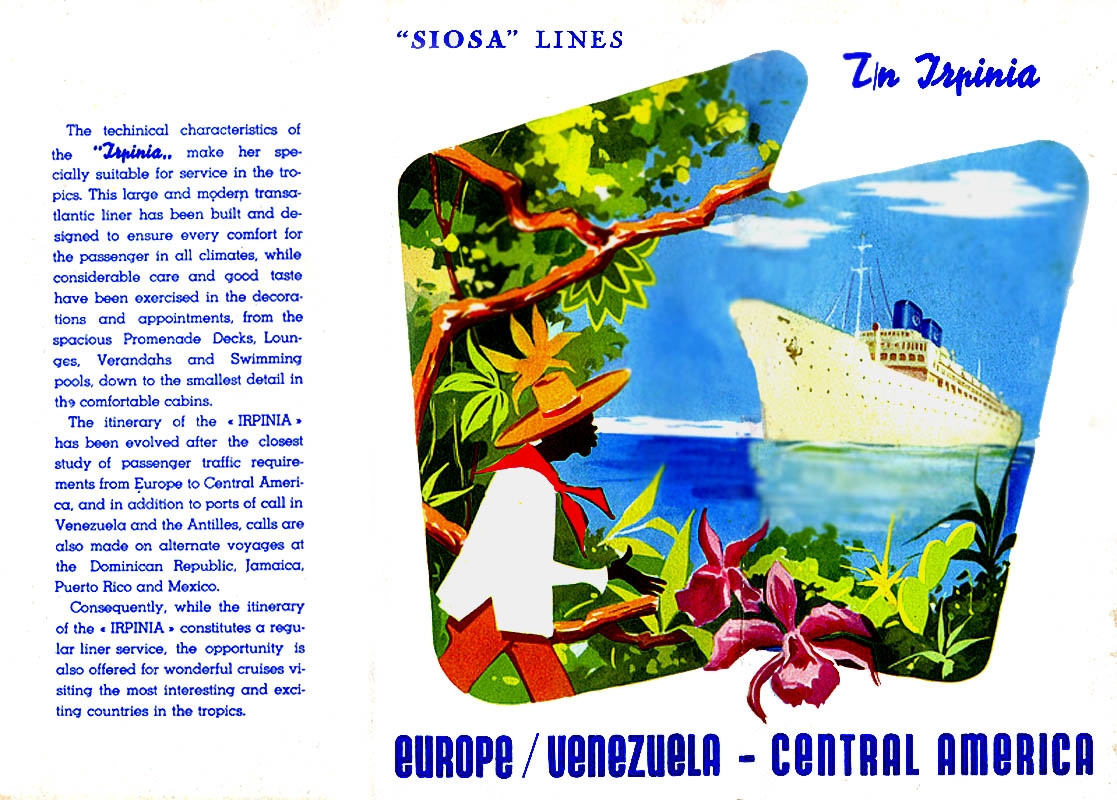 four fold brochure with ship description page from 1956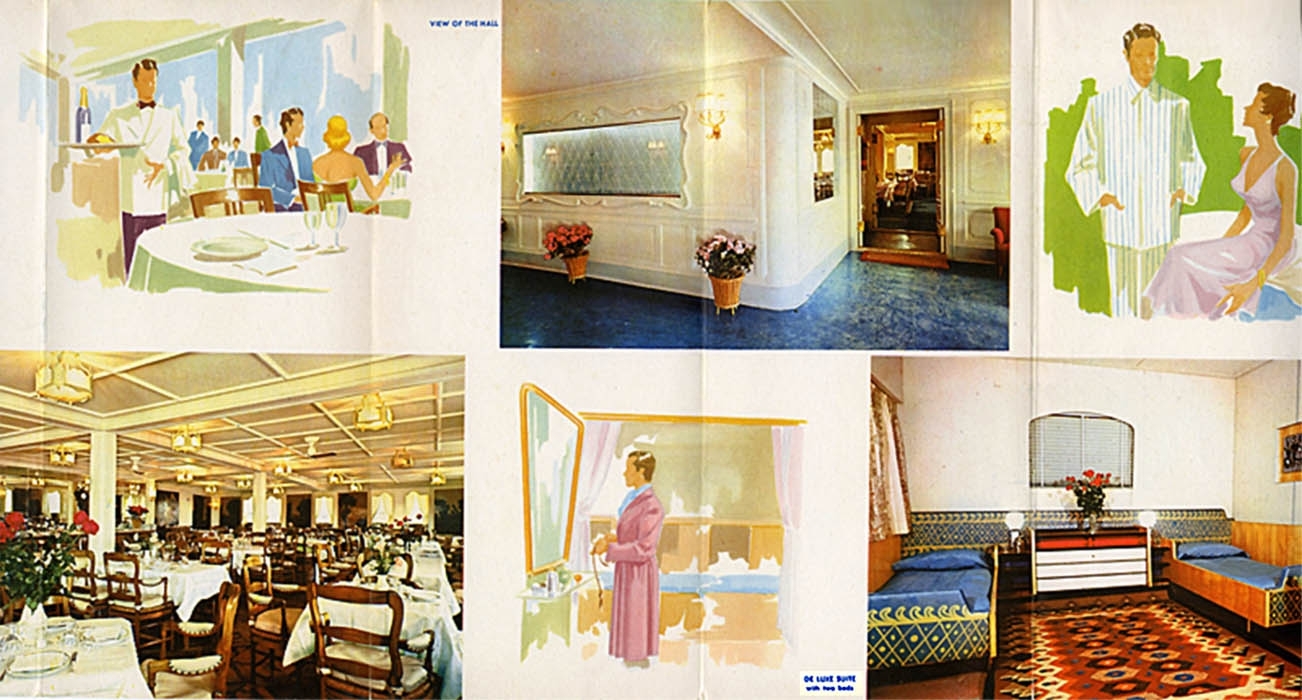 Above & below: Interior views found in the brochure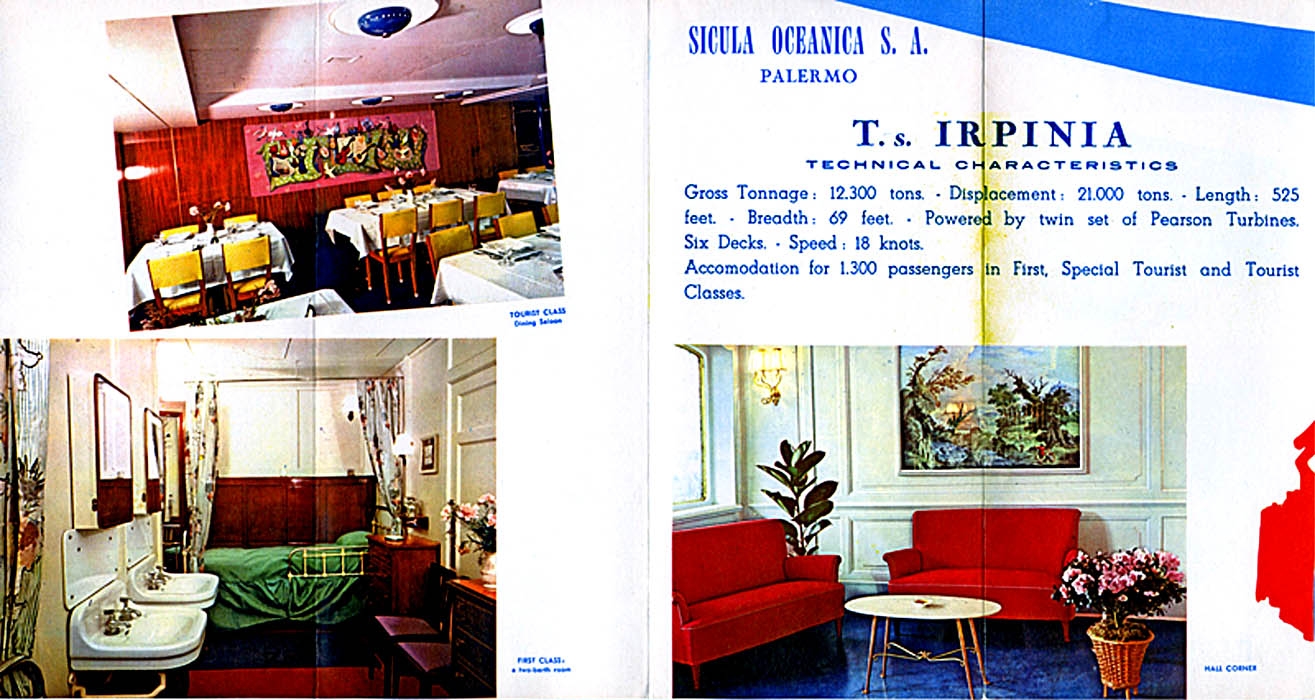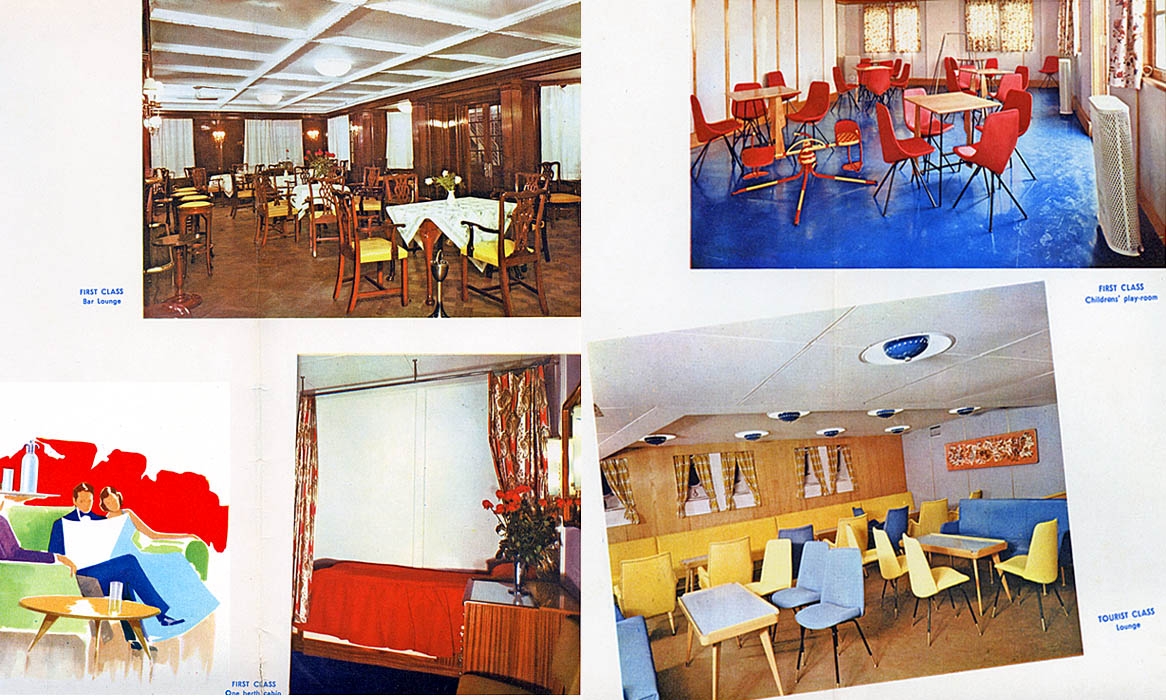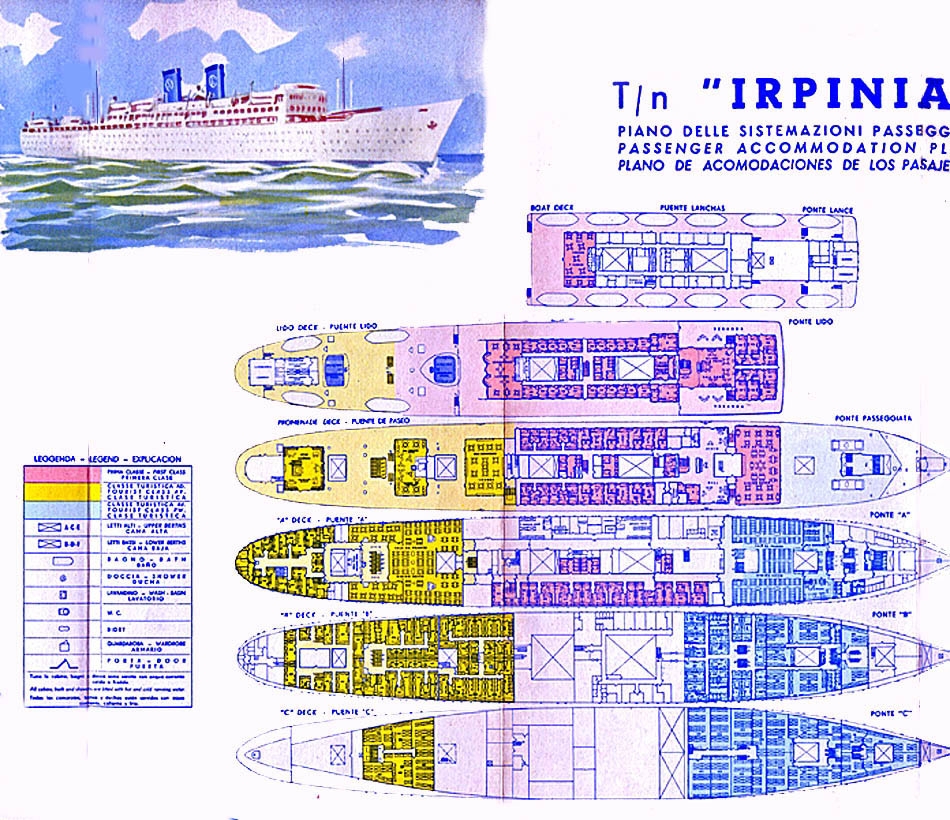 T/v Irpinia 1955 Deck Plan; Note there were only 8 public venues on the ship at that time
M/v Irpinia 1962 to 1983: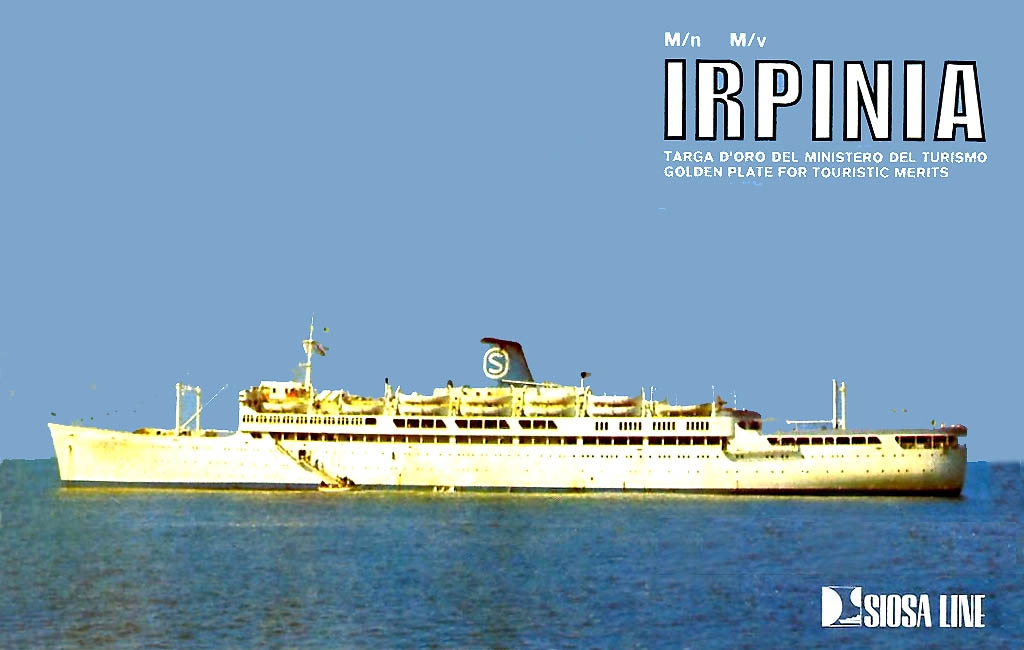 Above & Below: M/v Irpinia 1970 Brochure with Deck Plan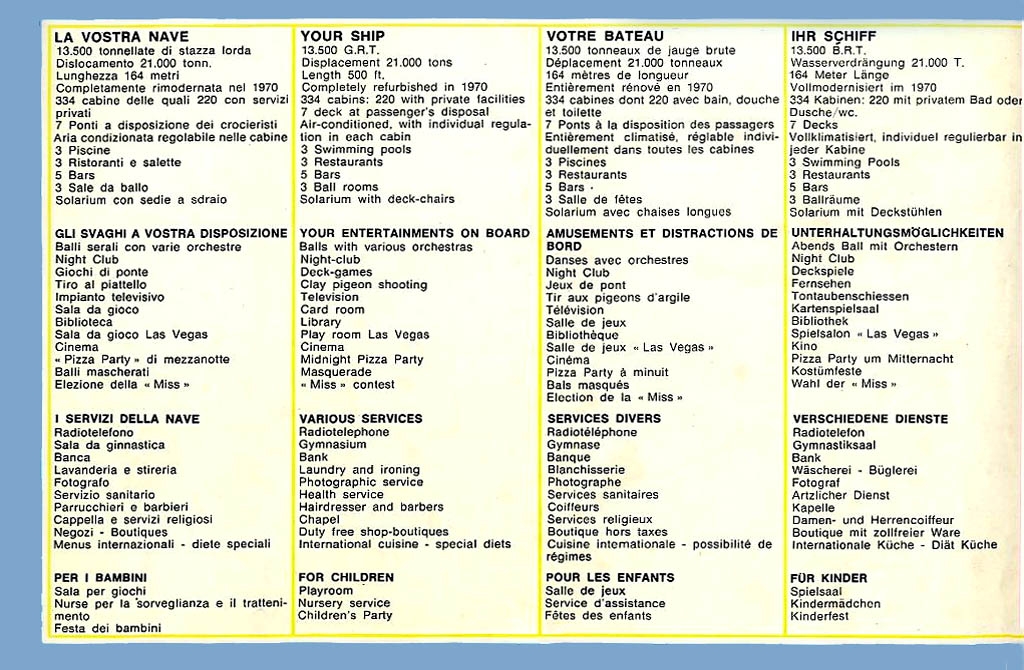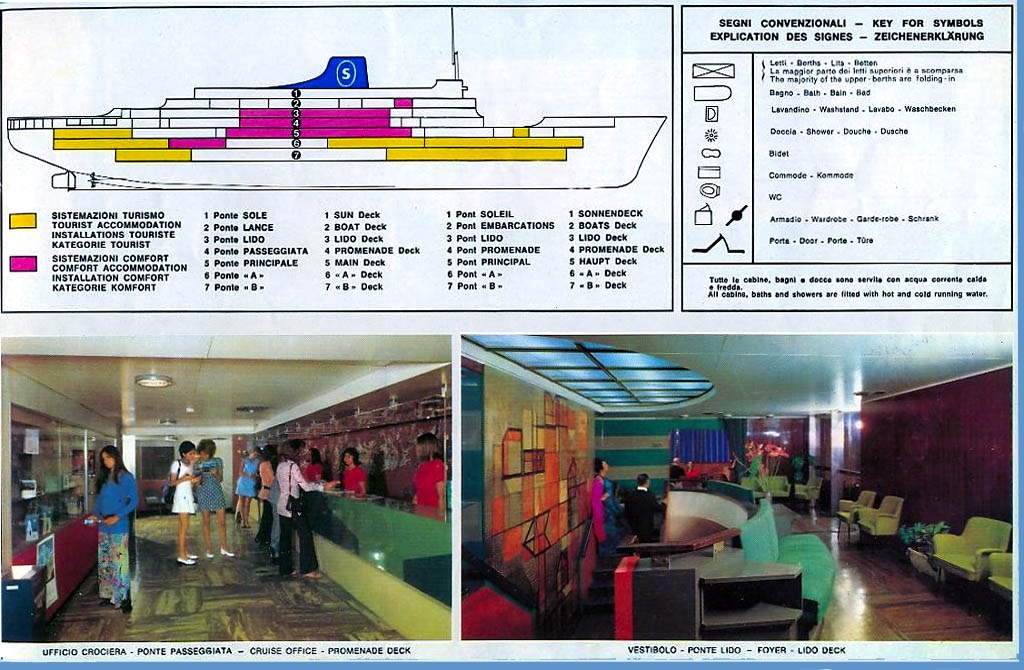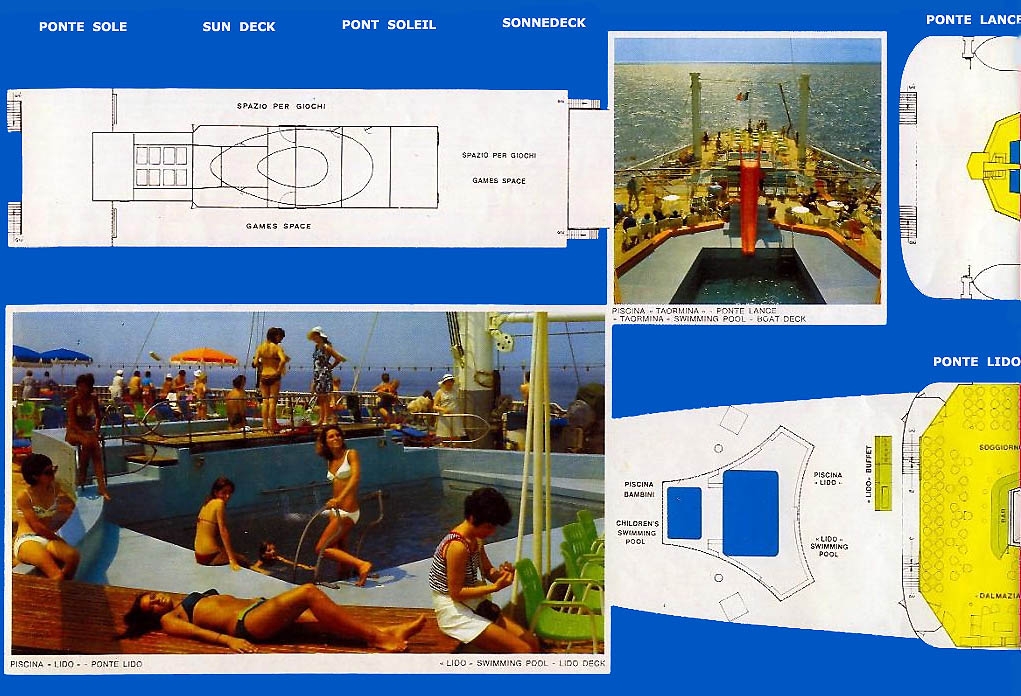 Decks continue on the next page below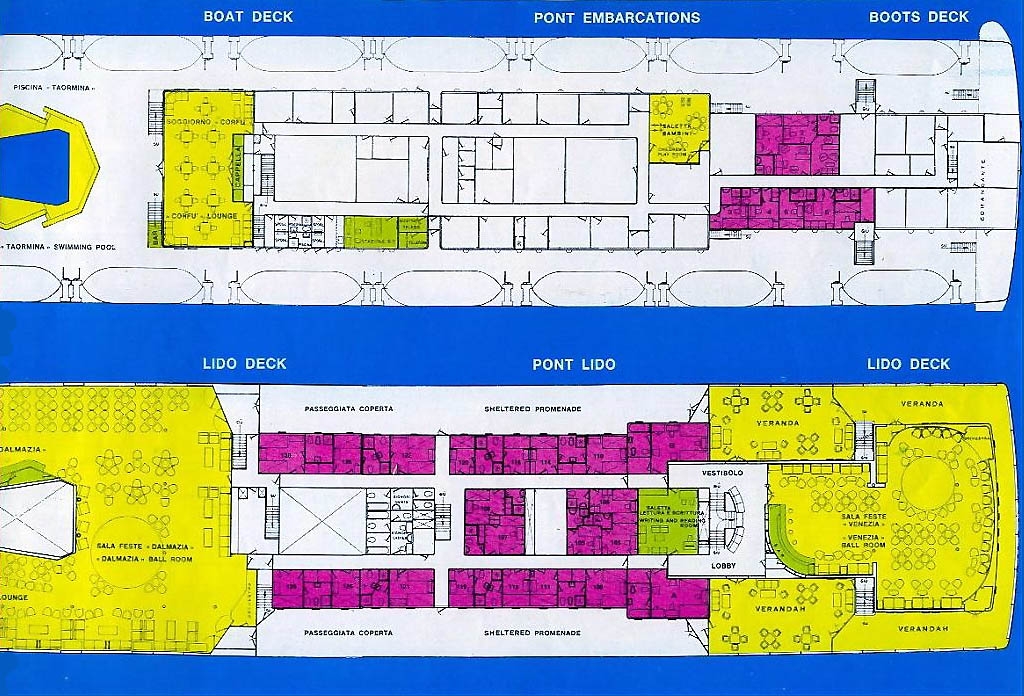 Decks continue on the next page below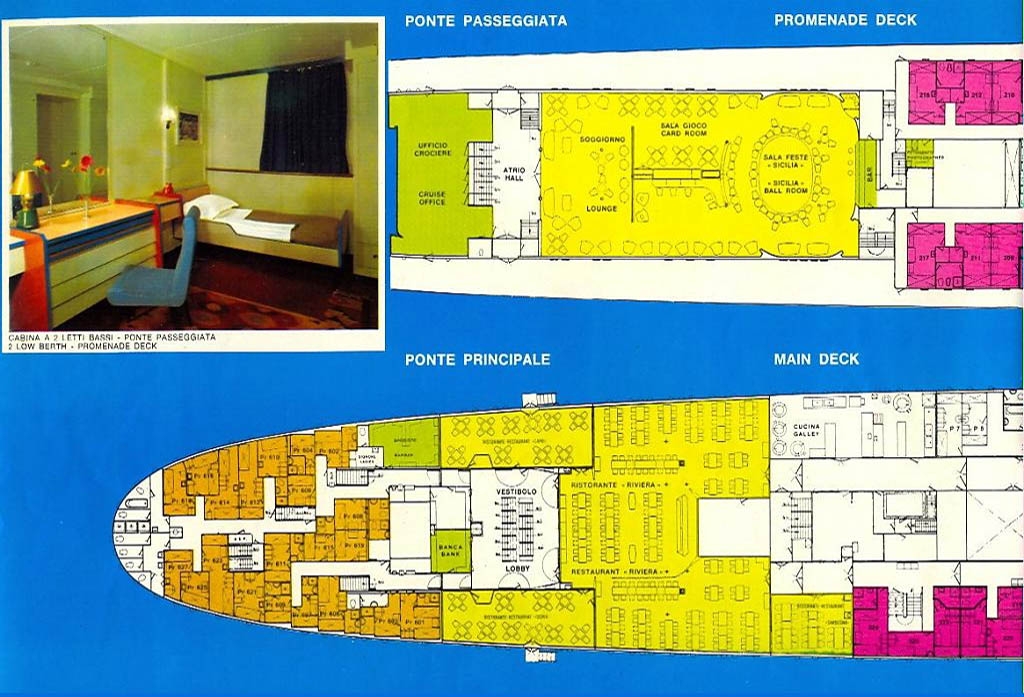 Decks continue on the next page below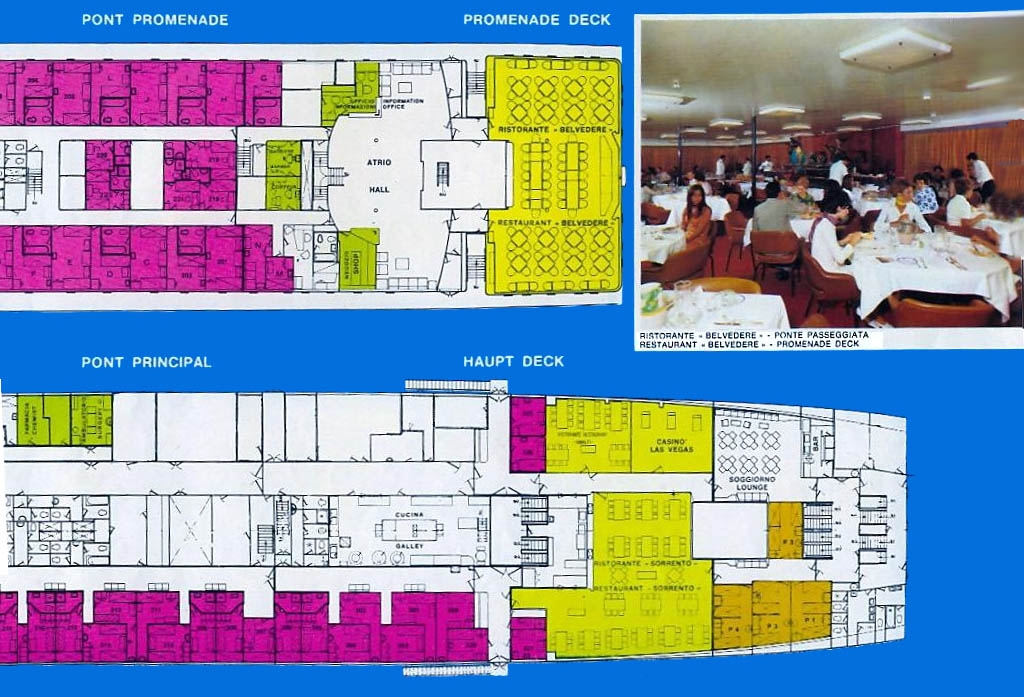 Aft decks continue on the next page below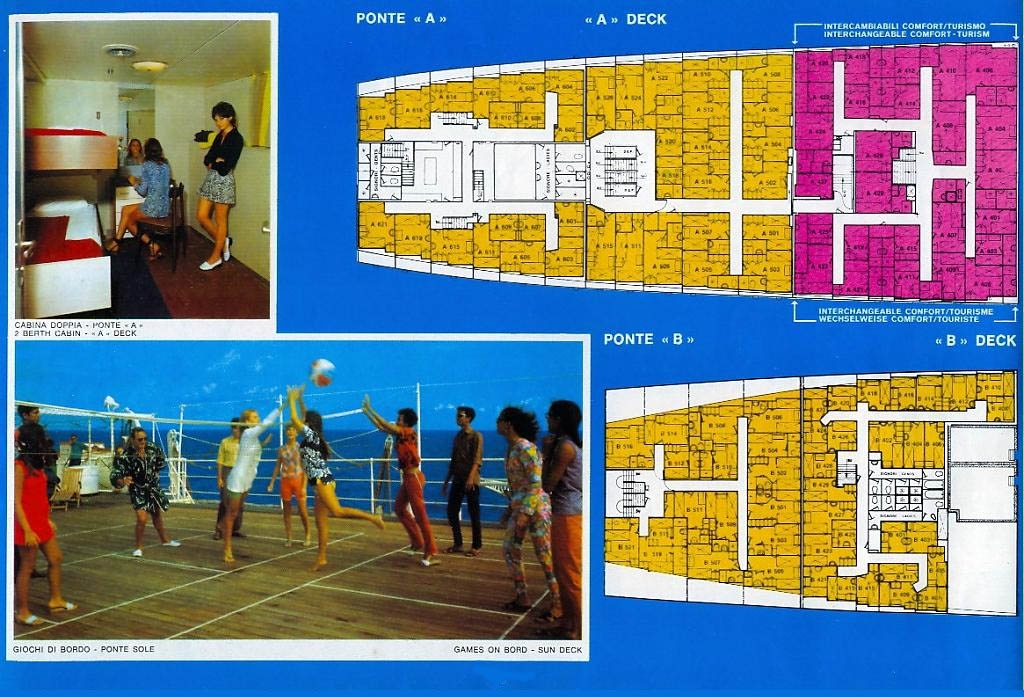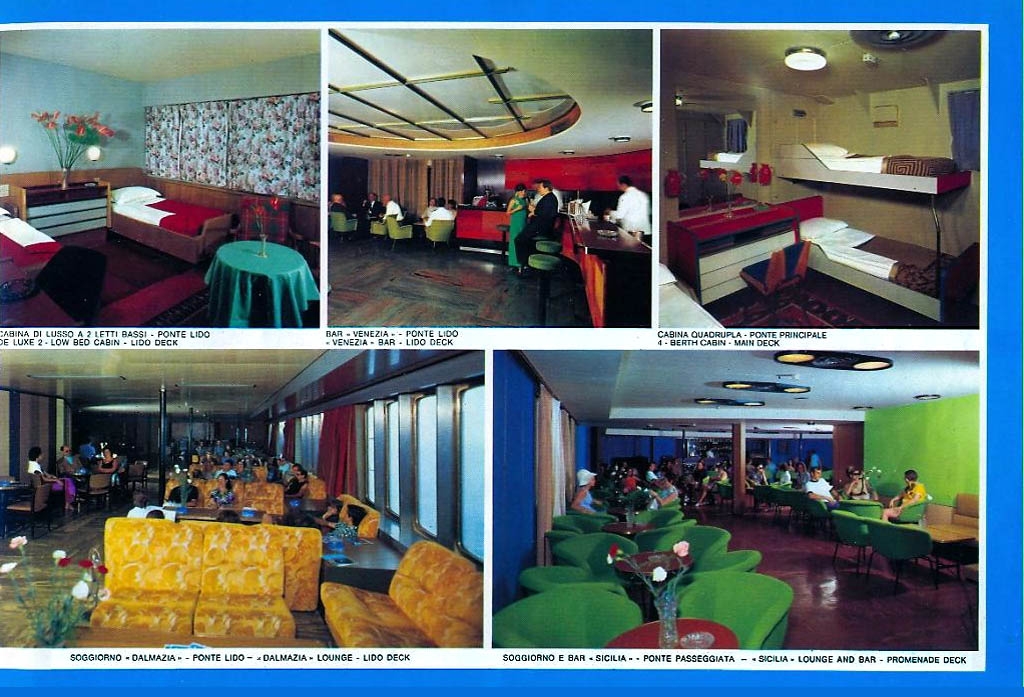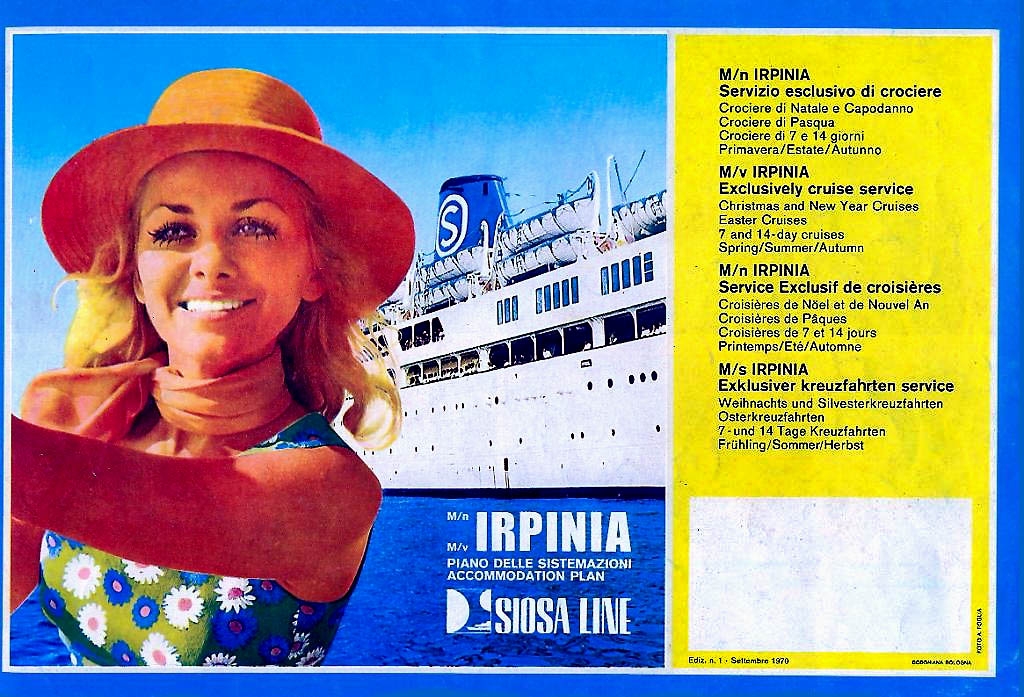 Back page of the brochure
Other M/v Irpinia Brochures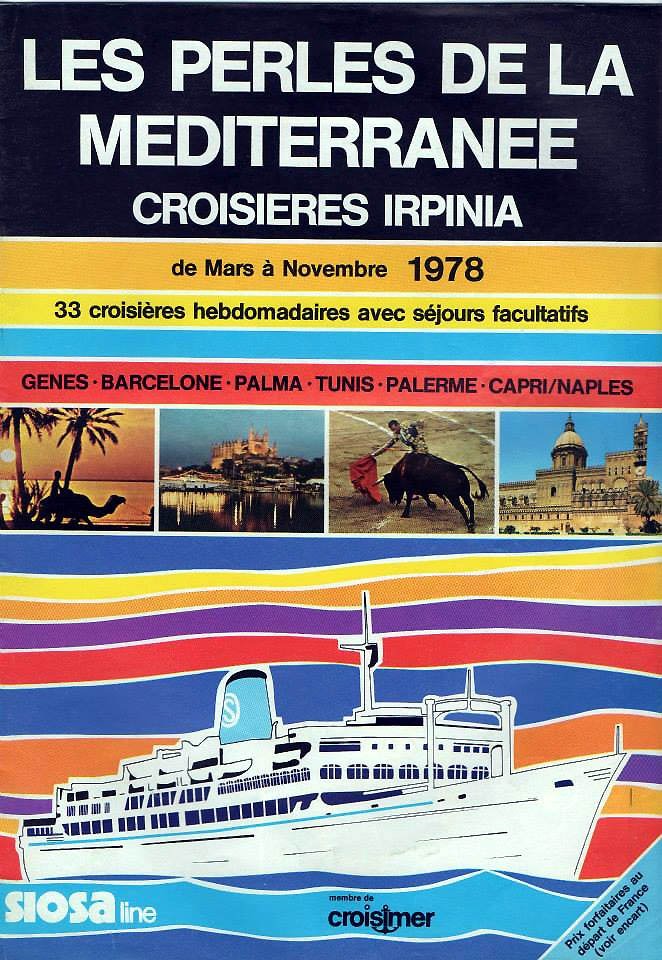 Above & below: Two French cruise brochures released in 1978 and 1980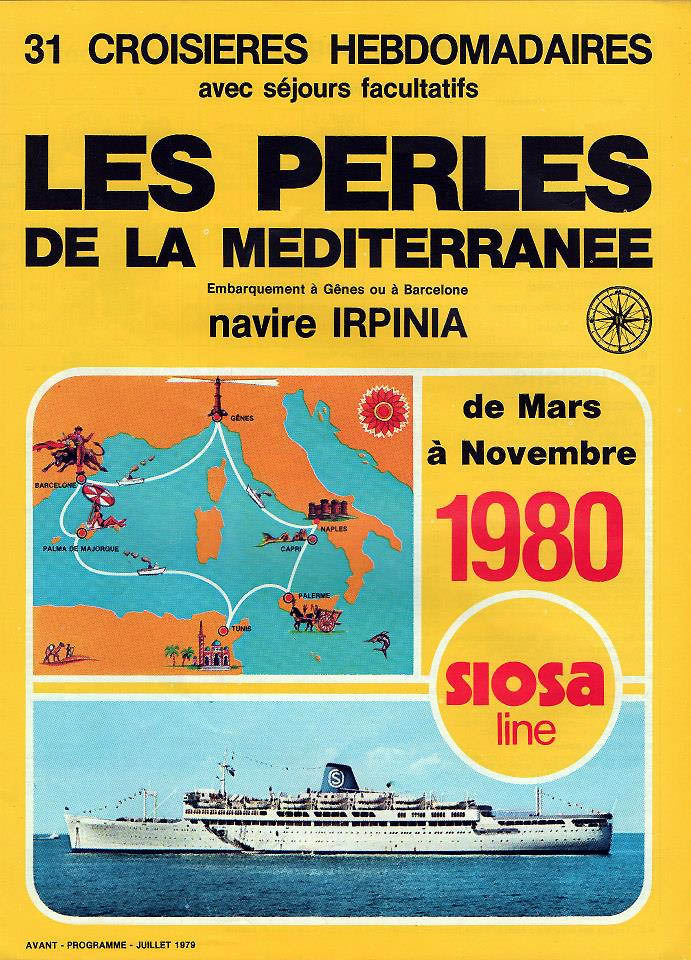 Item of Memorabilia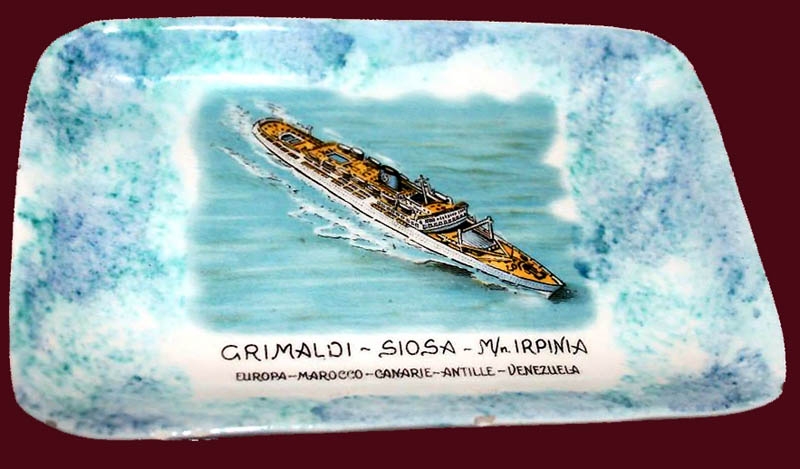 A souvenir dish of the Irpinia obtained during a cruise in 1979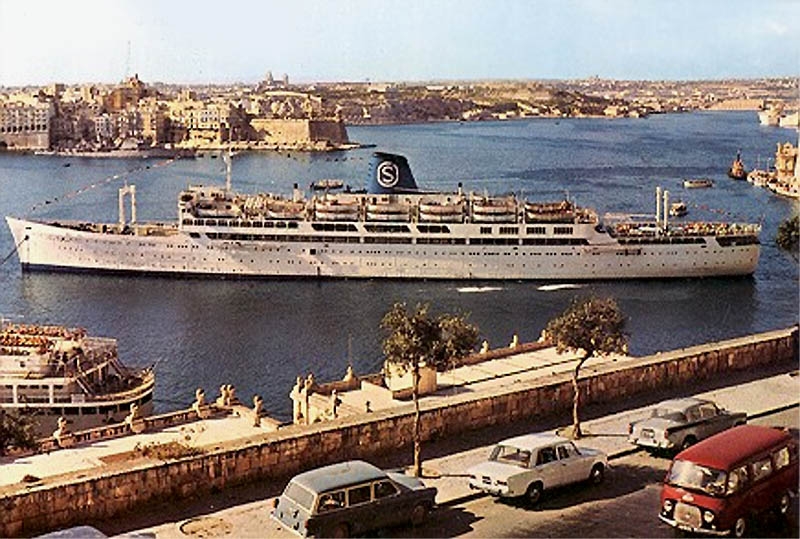 The M/v Irpinia is seen in Malta during one of her last cruises
************************
Campana/Irpinia INDEX:
Part One - SS Campana: …………………The history of SS Campana, SS Rio Jachal & SS Campana 192-1955.
Part Two - T/V & M/V Irpinia: ………The refurbished & rebuilt T/v-M/v Irpinia - 1955-1983.
Part Three: …………………………………………Irpinia Brochures, Deck Plans and memorabilia.             
 ************************
"Blue Water Liners sailing to the distant shores.
I watched them come, I watched them go and I watched them die."
************************
ENTER OUR ssMaritime MAIN INDEX
Where you will discover over 1,355 Classic Passenger & Passenger-Cargo Liners!
ssMaritime.com & ssMaritime.net
Where the ships of the past make history & the 1914 built MV Doulos Story
The Author has been in Passenger Shipping & the Cruise Industry for over 60 years!
Photographs on ssmaritime and associate pages are by: the author or from the author's private collection. In addition there are some images that have been provided by Shipping Companies and private photographers or collectors. Credit is given to all contributors. However, there are some photographs provided to me without details regarding the photographer/owner concerned. I hereby invite if owners of these images would be so kind to make them-selves known to me (my email address may be found on www.ssmaritime.com only), in order that due credit may be given.
This notice covers all pages, although, and I have done my best to ensure that all photographs are duly credited and that this notice is displaced on each page, that is, when a page is updated!
ssMaritime is owned & © Copyright by Reuben Goossens - All Rights Reserved