SS Canberra 1961 Introduction, Construction, Ships layout, History & Original Deck Plans
Please Note: Firefox and some other Search Engines may not be suitable
Use Google Chrome for this Web Page to load perfectly!

Click the logo above to reach the ssMaritime FrontPage for News Updates & "Ship of the Month"
With Reuben Goossens
Maritime Historian, Cruise'n'Ship Reviewer, Author & Lecturer
Please Note: All ssMaritime and other related maritime sites are 100% non-commercial and privately owned, thus ssmaritime is NOT associated with any shipping company or any other organisation! Although the author has worked and been involved in the passenger shipping industry for well over 60 years, but due to his old age and poor health, he was forced to retire. Yet, he has completed well over 1,550 Classic Liners, Passenger-Cargo Liners as well as humble converted C3 converted Migrant Liners, which has transported countless thousands of folk to the new world, as well on vacations'. Amazingly, ssmaritime.com has received 573.4 million visitors to date I trust the features online will continue to provide Classic Liner and Ship enthusiasts both the information they are seeking, but more so provide a great deal of pleasure and relive many happy memories!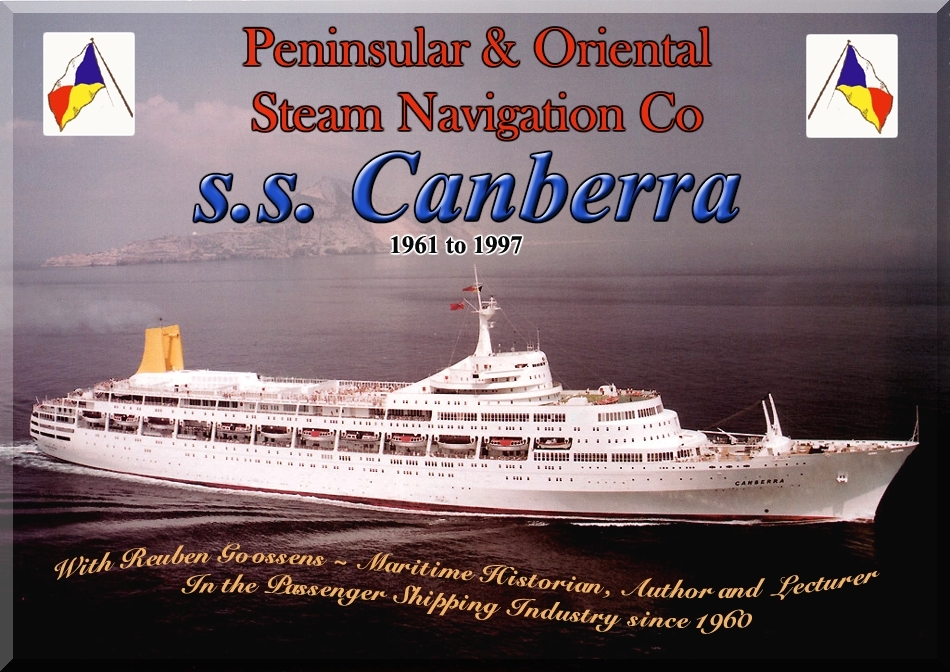 Page One
A Ship in Planning & Construction
& Her Voyage History from 1961 to 1963
Introduction:
Personally I go right back to her maiden voyage, which was beset with problems with the "condenser" to the "portside turbo-alternator" and this delayed her arrival in Australia, but she did make up some time after she departed Sydney and crossed the Tasman Sea for Auckland New Zealand were I lived at that time. Of course, nothing was going to stop me being quayside for the maiden arrival of this fine new P&O liner. Having arrived early, I managed to obtain the perfect spot on the top level of Princess Wharf, right at the end and close to the actual berthing side. There we thousands of people scattered on both sides of the harbour and the Passenger terminal was complexly packed awaiting her. Then she finally came into sight and we watched this graceful ship sail slowly past Rangitoto Island and head through Waitemata Harbour towards the Port of Auckland being in the heart of the city. The Canberra then slowly pulled up to Princess Wharf and as seen from the height I was on, she was without a doubt a most amazing sight to behold, she was indeed a ship that was designed for a long future but I realised that this ship would somehow never age and as we know she never did!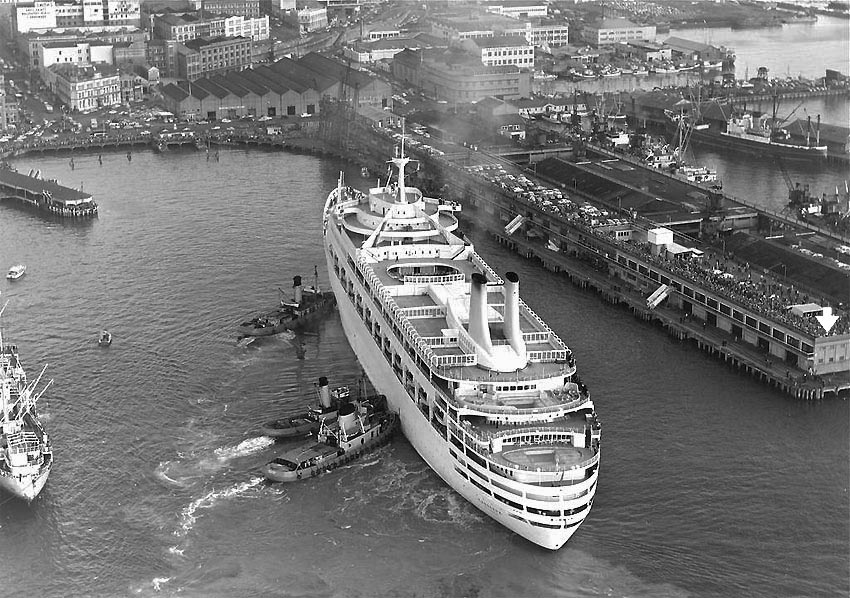 SS Canberra is seen about the berth at Princess Wharf & Passenger Terminal in Auckland on July 6, 1961
The author can only just be made out on the roof of the passenger terminal wearing his white Panama hat!
From my vantage point her lines looked so long and sleek and combined with her superbly designed forward superstructure right up to what seemed like the Bridge located up so high, but then at the rear this towering deckhouse was so beautifully stepped back, or as it looked like curved deck by deck towards the Sports deck below, it was indeed sheer perfection!
Thus my first impression was that this ship was very impressive, so much more than the Orient Line's SS Oriana, which arrived on her maiden voyage in December 1960, for the Canberra was sublimely modern, a modern type of ship like we had never seen before, like we had not seen before, whilst the Oriana, was grand, but somewhat boxy in her design!
Note of Interest: 1. The SS Oriana did certainly become one of my greatly loved ships as I sailed on her many times, as I did on the Canberra. 2. In regard to the two ships speed The SS Canberra was never as fast as the SS Oriana that operated at an incredible service speed of 27.7 knots and had an available top speed up to 30.64 knots. Although the Canberra was supposed to be able to operate at 27 knots but she seldom did, in 1973 her service speed was reduced to 23.5 knots, but she never managed a top speed of 30 knots, but this never made her less of a ship as these pages will attest to!
I trust you will enjoy this SS Canberra feature that include several Photo Pages and you will also find a number of accurate Deck Plans covering her from 1961 to when she became a One Class ship! It is my sincere hope that looking back at this great liner and cruise ship will provide you with countless joyful memories, be it as a past passenger, a crewmember or one of countless thousands who admired her sheer beauty whilst she was in port!
Reuben Goossens,
Maritime Historian.
Ships Already in Service:
In 1955 the Peninsular & Oriental Steam Navigation Company, or P&O-Orient Line operated four liners fulltime on the Australian service; these were the RMS Strathnaver of 1931 and the Strathaird of 1932, as well as two more recent liners the RMS Arcadia and Iberia both completed in 1954.
As built the two "Straths" as they were lovingly called, had three funnels a fore and the aft main mast, thus they were elegant looking traditional liners! They were the very first liners to feature an all white hull with a corn to yellow funnel. All previous P&O-Orient liners had black hulls with a white band surrounding the hull and what was called a "stone" colour upper hull and superstructure, which was in reality more of a corn colour and they also had a black funnels!
However, after WWII Trooping duties, the Strathnaver and her sister the Stratheden were refitted. The Strathaird returned to their builder, Vickers-Armstrong, Barrow and all her funnels were removed and a new single slimmer and taller funnel was added where the middle had been. She returned to service in January 1950. The Strathnaver was sent to Harland & Wolff in Belfast o be refitted and had the same treatment as well as all the internal restoration. She returned to duties five years later in January 1950. Four years later both ships were modernised and became One-Class liners. Both ships made their final voyages to Australia from Tilbury in December 1961, before being broken up in Hong Kong in 1962.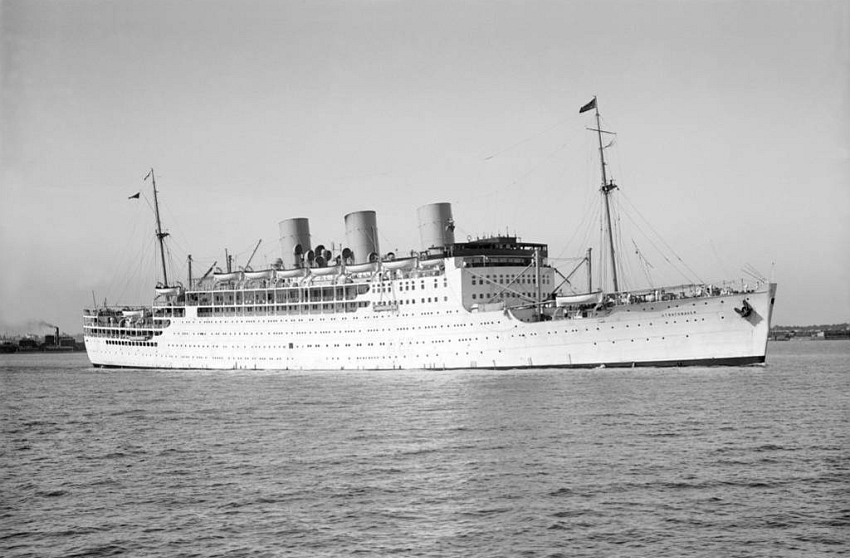 Here we see the RMS Strathnaver as built with three funnels, after WWII both ships sailed with a single funnel
The RMS Arcadia was the first of the modern liners and she was soon followed just seven months later by her sister the Iberia. Both ships operated as First and Tourist class ships, but in 1970 they were converted as One-Class ships as cruising had become popular, and the class system was dying! Iberia was the first to be sold to the breakers in 1972, whilst the Arcadia continued until 1979.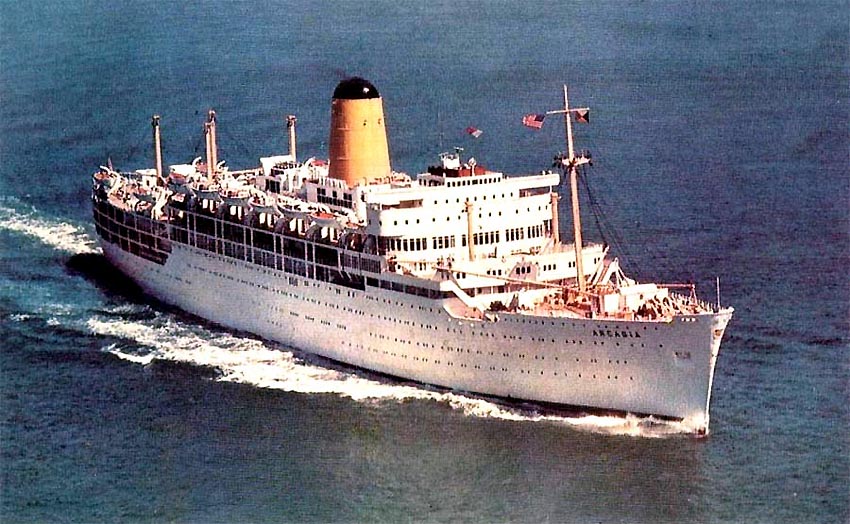 A P&O Postcard of the RMS Arcadia seen in her later years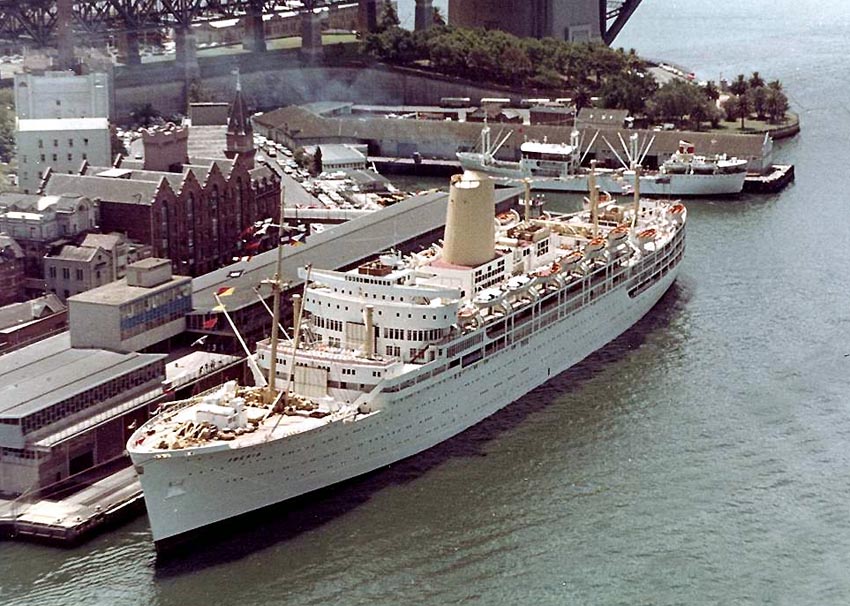 RMS Iberia is seen at the International Passenger Terminal at Circular Quay Sydney
Photograph by Stan Evens - Newcastle Australia
As the aging "Straths" were coming at the end of their career, Peninsular & Oriental Steam Navigation Company decided that they really needed to commence to making plans urgently for a new and a larger liner to replace these two old ships. In addition, she would have to be a liner that would take the company into the future!
Creating and Building the SS Canberra: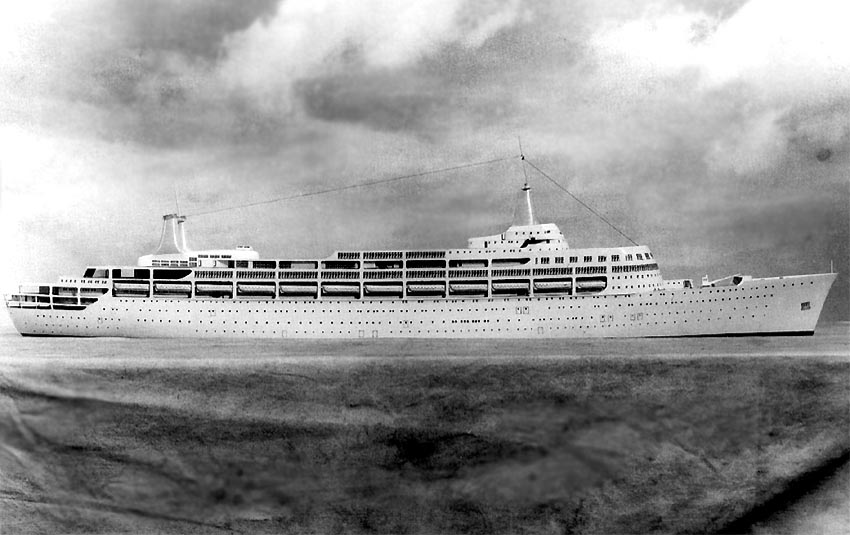 The early model of the Canberra as was displayed as detailed in my story just a little further below
P&O-Orient Line called on Mr. John West their head designer and the team from P&O's technical department, as well as naval architects to commence on plans for their new as yet unnamed ship, but they gave them one particular instruction and that was to provide as much passenger space as possible. Thus what the designers did is look to a number of recent revolutionary liners that had been built, such as the Shaw Savill SS Southern Cross, being the world's very first ever Passenger liner with her machinery and funnel placed aft, but also the first passenger liner not to carry any cargo, except for passenger baggage! The other ship looked at was the revolutionary SS Rotterdam that also had her machinery aft, but feathered those amazing and much spoken about aft, but twin side by side stylised stovepipe funnels, which did their designed job superbly for no exhaust ever touched the decks of the Rotterdam!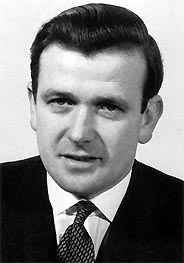 John West, a man who inspired the vision and beautifully influenced the Canberra's design-
However, there was one other feature that made her special for that matter, for she would feature the innovative under deck lifeboat stowage, thus all lifeboats hang high above the Promenade Deck, rather than high above on Boat Deck. This was already featured on the Orient Line's SS Oriana. The idea is that a lifeboat will lower down just a short way, until it is level with the deck. And as we now know, today every cruise ship built operated on this system and is part of the official SOLAS regulations, as it saves time and it is a much safer wat of entering a lifeboat, should the need ever happen.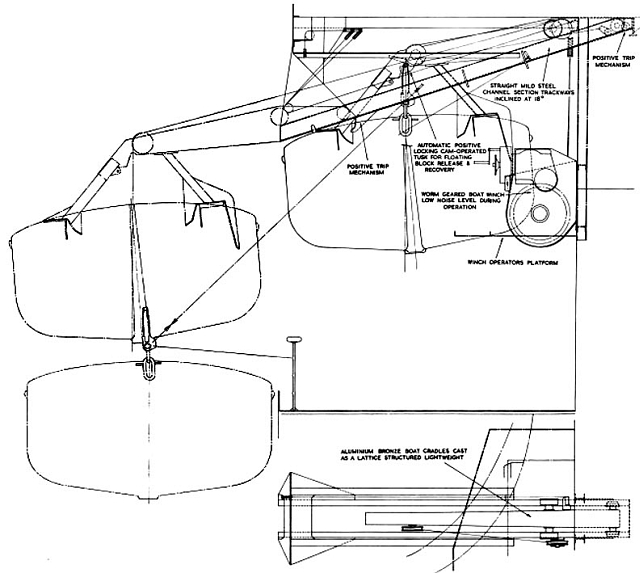 A pre launch impression of the new P&O-Orient Liner SS Canberra and it clearly reveals her under deck lifeboat stowage
When the plans for the new liner had been finalised and fully approved by the board of P&O-Orient in 1956, it was time for them to approach the major British Shipbuilders to tender for their new 45,000 GRT (Gross Registered Ton) liner. It was on December 20, 1956 that P&O-Orient informed that Harland & Wolff in Belfast, the very same company that had who had built some of the greatest White Star/Cunard liners, had won the tender.
The building of P&O-Orient's new liner raised a great deal of interest across the Britain as well as Europe, and for this reason for publicity purpose a large model of the ship was built and it was to be displayed at the Brussels International Fair in 1958. Other models were also displayed at Olympia in London and also at the "Queensland Centenary Celebrations" in Australia in 1959.
The first steel for the new liner was cut on Monday, September 23, 1957 and thus the first keel plates were laid. In March 1958 the P&O-Orient Chairman, Sir Donald Anderson announced that their new liner would be named the; "Canberra" after Australia's Capital City.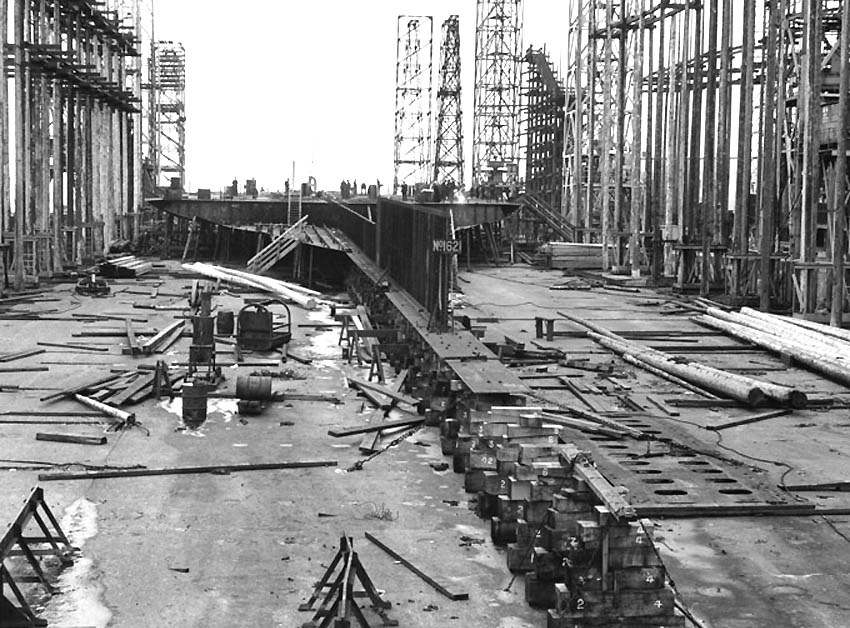 The laying of the ships keel, her first steel plates on September 23, 1959
Harland & Wolff Belfast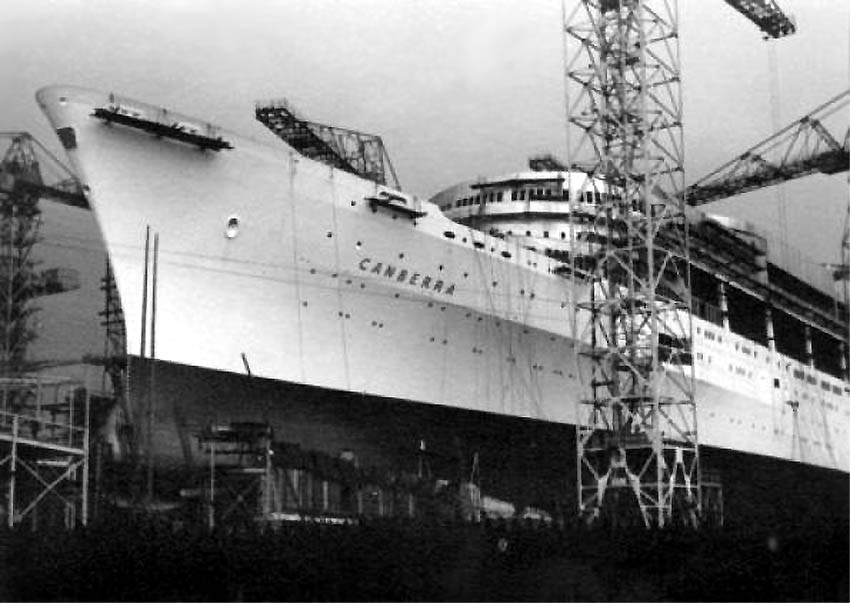 The Canberra see in the Harland & Wolff stocks whilst getting ready for launching
Harland & Wolff Belfast
The day of her launching on March 16, 1960 proved to be a miserable British cold and a wet day in Belfast. In fact it was so bad, that a flypast by a Canberra bomber that had been pre-arranged to celebrate this special event was forced to be abandoned. Yet three hundred guests gathered to watch the event, with another estimated 11,000 onlookers were crammed in and around the shipyard and other suitable spaces to watch her launching and slowly slipping into the Musgrave Channel.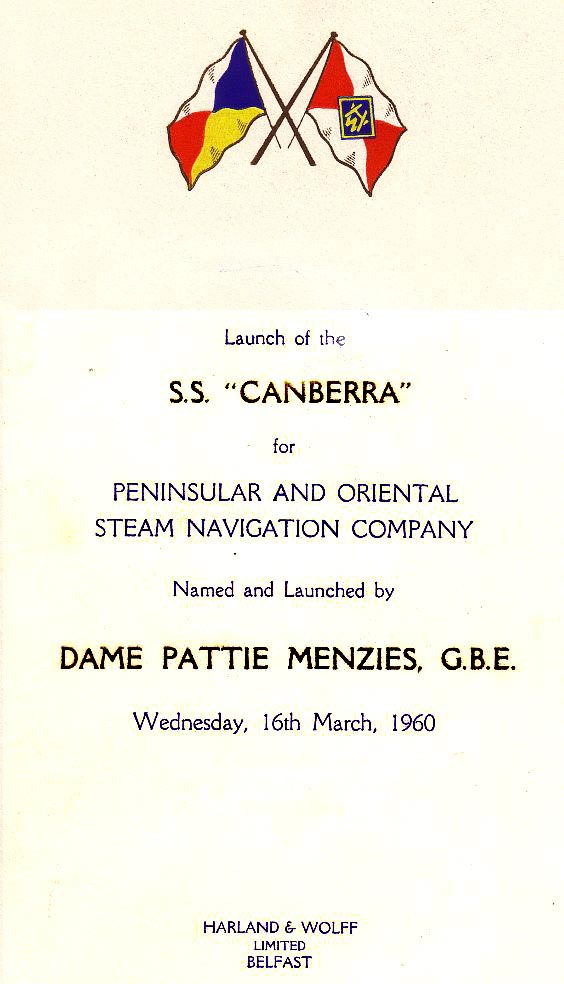 The cover of the official Launching booklet
Harland & Wolff Belfast
Just before the launch on March 16, 1960, Dame Pattie Menzies G.B.E., the wife of the Australian Prime Minister attached a sprig of white heather to the lunching ribbon. Then, with a pull of the handle, the bottle of Australian wine Dame Patti had brought with her smashed against the ships huge bulbous bow and Canberra's long sleek white hull began to slide down the slip into the Musgrave Channel.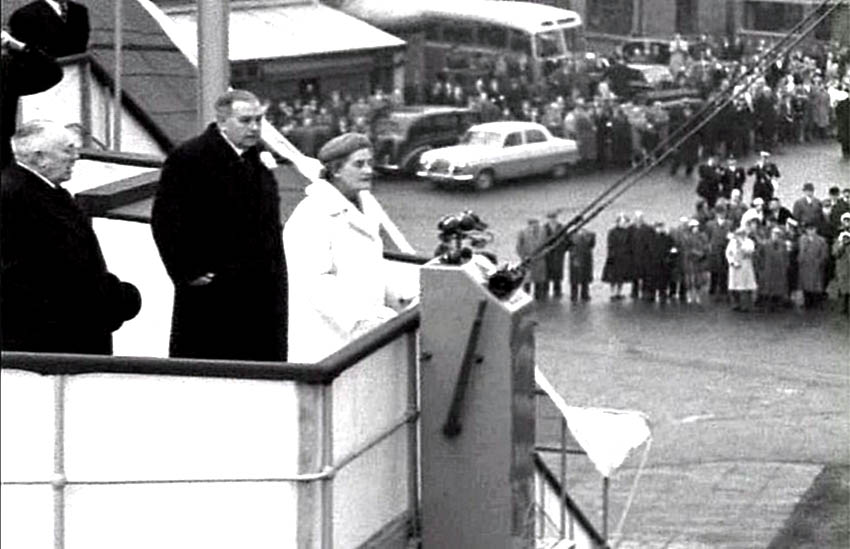 Dame Patti Menzies is seen here about to launch the Canberra. Beside her is the Prime Minister of Australia
Sir Robert Gordon Menzies, KT, AK, CH, FAA, FRS, QC, and P&O-Orient Chairman, Sir Donald Anderson
Harland & Wolff Belfast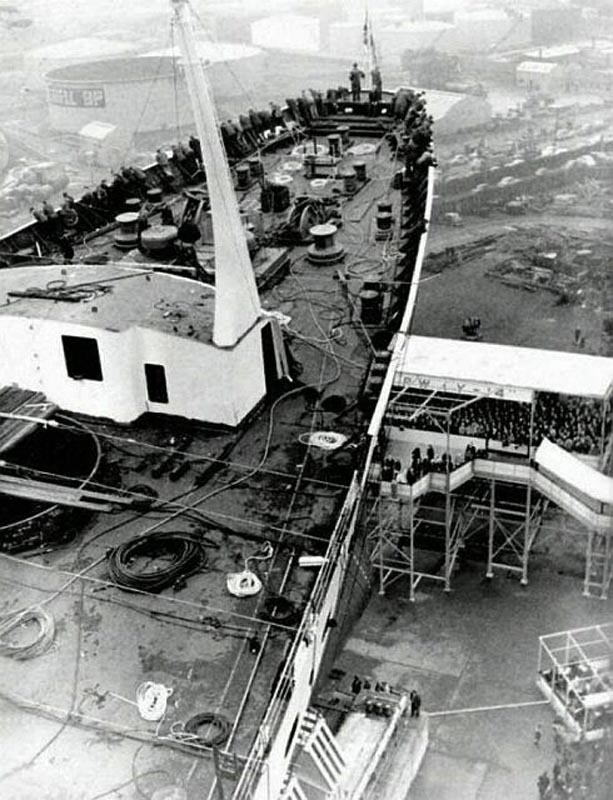 A bow shot towards the official party
Harland & Wolff Belfast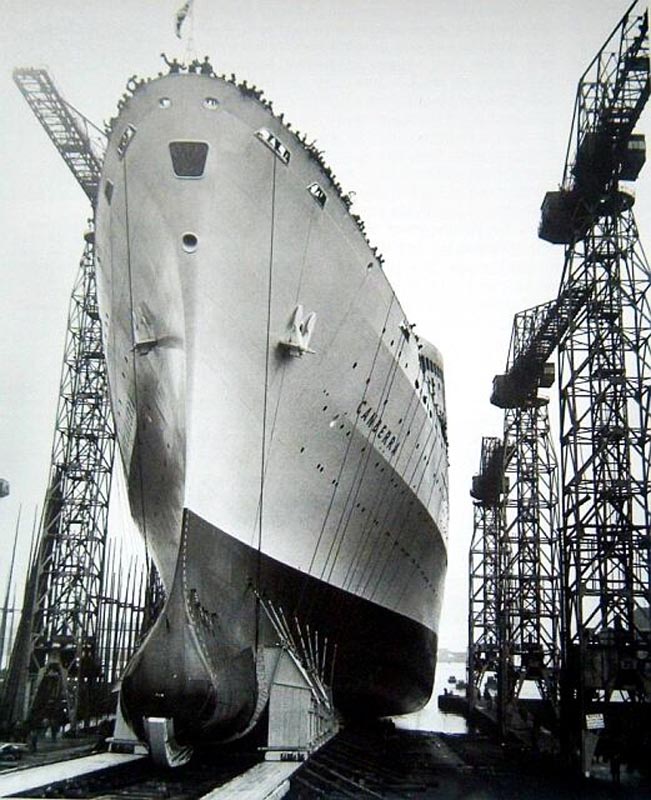 Here we see the Canberra slowly sliding down the slipway
Harland & Wolff Belfast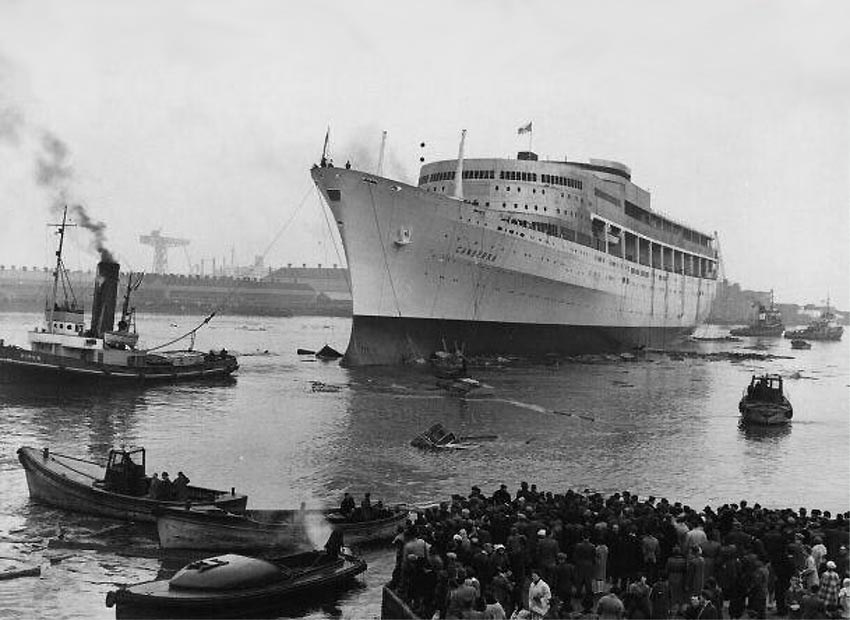 Finally the superb liner is in the water and ready to be towed to her fit-our berth
Harland & Wolff Belfast
WATCH: Canberra Launched on YouTube
This is a worthwhile film originally made by "Pathé Films"
Once the Canberra was afloat in the Channel she was taken in tow and taken to Thompson Wharf where she would be completely fitted out as well have her upper superstructure and masts and funnels fitted, etc! It would be eleven months after her launching that she would be completed being in April 1961.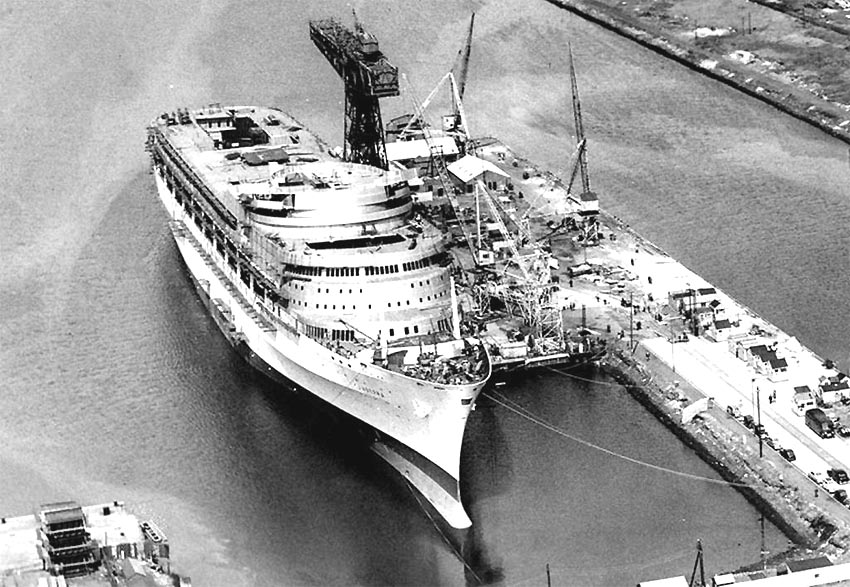 Canberra is seen here seen during her early fit-out process
Harland & Wolff Belfast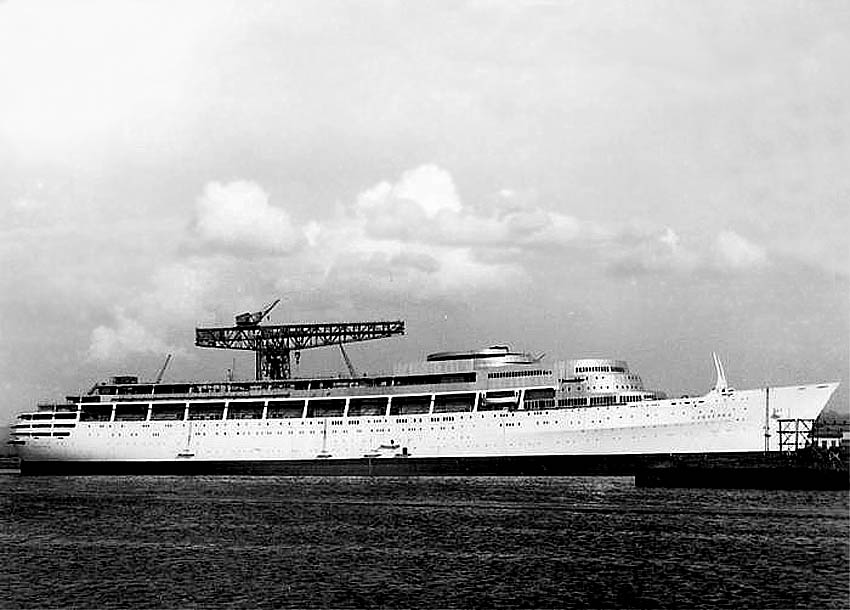 The Canberra is seen at her fit out berth and we can clearly see her aluminium superstructure
Her topside superstructure is still being built up and she has been painted white as far as Promenade Deck
Harland & Wolff Belfast
When ready, the SS Canberra underwent her builders trials on April 29, 1961 in Belfast Lough, during which time, when at full power, her massive bulbous bow almost lifted clear out of the water. Mr. John West, her designer, the team from P&O-Orient's technical department were somewhat alarmed, as well as her naval architects and builders from Harland and Wolff, but this was due to the weight of her machinery that had been located aft and no ballast had been added to offset this as yet!
She headed for Southampton where some of her forward compartments were filled with correct number of tons of ballast in order to act as a counterweight.

A complete view of her engine and boiler rooms, etc Photographs are available on another page.

Above: Here we see an excellent impression of the SS Canberra and view into parts of her interiors as well as her engine room, etc. This image was provided to me by my dear friend back in the 60s, a great maritime historian, the late Mr. Lawrence Dunn.
Completion & Her Acceptance Trials:
Having been in Southampton for a number of weeks and with her final fit-out being completed; on May 18, she headed out for her "Acceptance Trials" and sailing over a measured mile off the Isle of Arran, SS Canberra achieved an amazing top speed of 29.27 knots, with her bow in perfect position!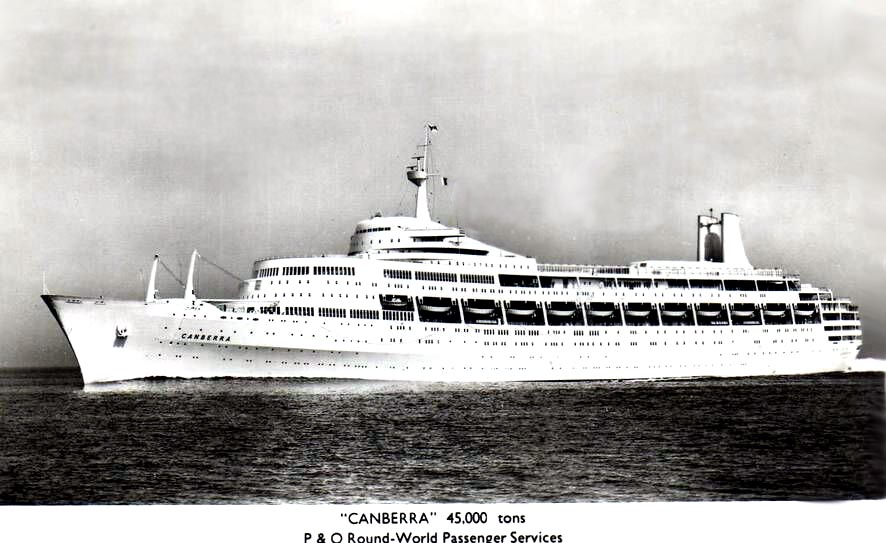 A P&O-Orient Line postcard of the SS Canberra seen during her Acceptance Trials on May 18, 1961
She is seen off the Isle of Arran that is in Scottish waters
She returned to Southampton having reached an amazing speed during her trials and it was assured that she would be a successful ship in more ways than one. She was technically advanced for her time, as well as one of the most beautifully designed and styled liners to sail the globe! She certainly offered some of the finest onboard facilities on an ultra modern liner, both in First and Tourist Class! Whilst in Southampton she was stored up and made ready for her maiden voyage to Australia and New Zealand. The final cost of her construction and completion came to a grand total of £17,021,000.
Besides the SS Canberra's modern, streamlined and distinguishing exterior features, there was a great deal more to this fine new liner than just her good looks, for her interior spaces were equally spectacular!
She has a large number of public venues with a new style to any of the previous P&O-Orient liners, as her designers created a whole new modern interior, yet retaining some classical touches! Below are just a few images from Canberra's preview brochure, that was released early in 1961. For interest, there is a separate page that contains further interior and exterior images!
First Class

Forward on Promenade Deck is the spacious Meridian Lounge with the Spiral Stairwell that goes up 4 decks to Crow's Nest
Located far forward of the stairwell casing is, what became the very popular "Century Bar" (First Class)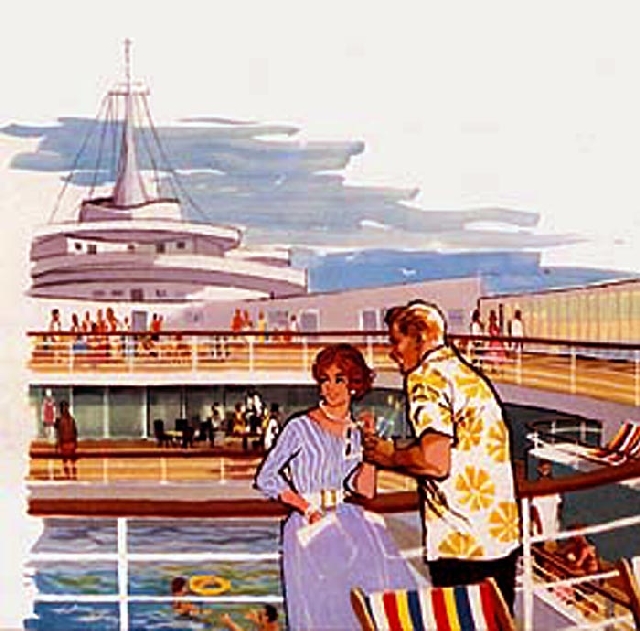 The Bonito Pool is surrounded by sundecks and forward is the Bonito Club
Tourist Class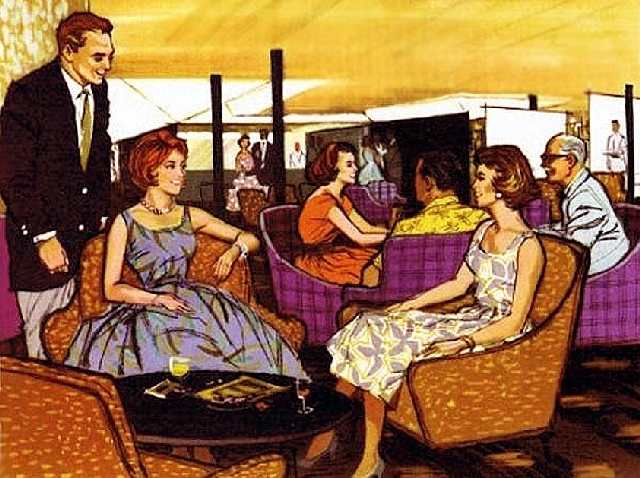 The William Fawcett Room is the Main Lounge and Ballroom the perfect place for entertainment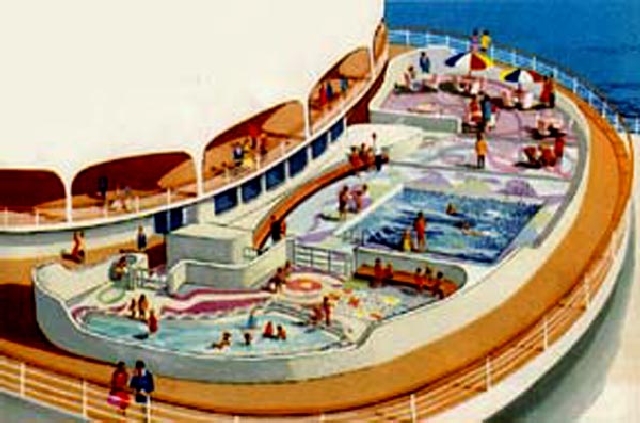 Here we see just one of the two aft swimming pools
Although the SS Oriana was the first to feature the Court Cabins, however Canberra featured many more Court as well as mini-Courts in both First and Tourist Classes that the Oriana, in Cast Canberra offered a total of 58 Courts, which were located on B, C and D Decks. The large Courts had three windows with seating below them, whilst the narrower Courts had either two or just one window, but all providing a view.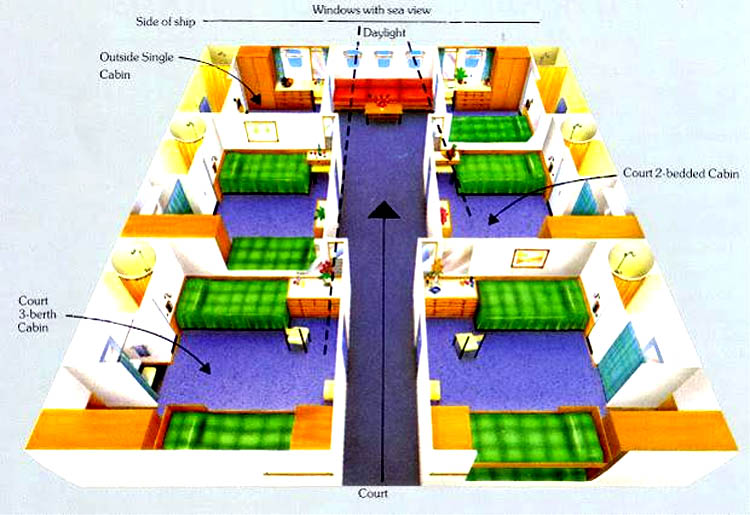 Here we see the general layout of six Court cabins all with a view through a tall narrow window with a blind out to the sea
SS Canberra's Maiden Voyage: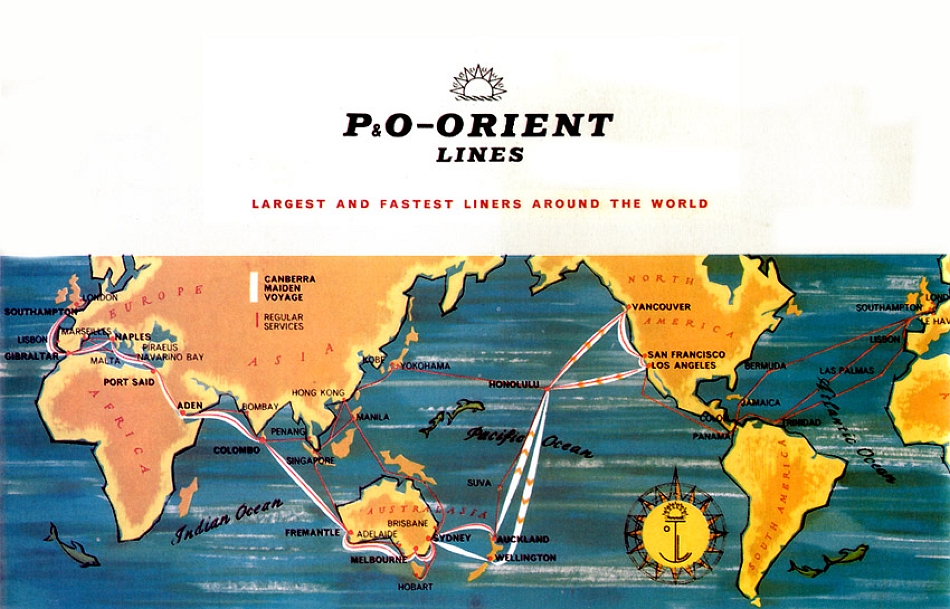 The P&O-Line Brochure covering Canberra's maiden voyage and there was a great deal of media
attention in relation to Canberra's maiden voyage as well as her many outstanding facilities
Finally the day came, on June 2, 1961 just before 5 PM the 45,270 GRT SS Canberra departed Southampton for her maiden voyage. At her helm was Commodore Geoffrey Wild, who was made the fleets Commodore only one day earlier, as he had been an outstanding Captain!
There had been an amazing blast of publicity and it certainly paid off for a good 2,238 passengers had embarked the new liner, thus she was fully booked ship!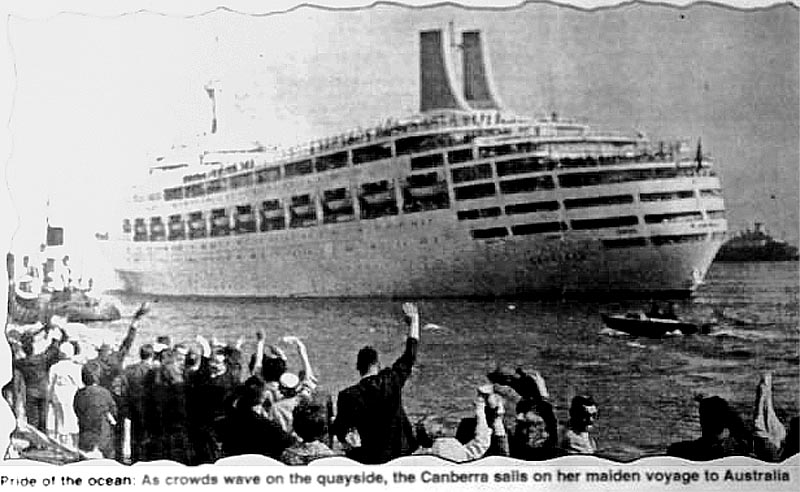 This is a newspaper clipping from the Southampton News of the departure of the SS Canberra on June 2, 1961
I know that it is in a poor state, but it was scanned and sent to me by a dear old friend in 1994!
Obviously being able sail on a maiden voyage aboard a great new passenger liner as exciting as the Canberra was not something that did not happen every day. Thus there were some passengers on board that had booked to sail only as far as Gibraltar or Naples, although they were the minority. No matter what, in Tourist class there were 750 emigrants on board who were setting off to commence a new life in Australia as well as another 120 persons who were heading for Auckland New Zealand. How fortunate were they to be able to sail on Canberra? However whilst in the Mediterranean there would be a surprise encounter! As she headed Down Under and Canada and America regardless where she arrived, there would be all manner of spectacular arrivals and tributes to grand new liner, for she was indeed a spectacular sight!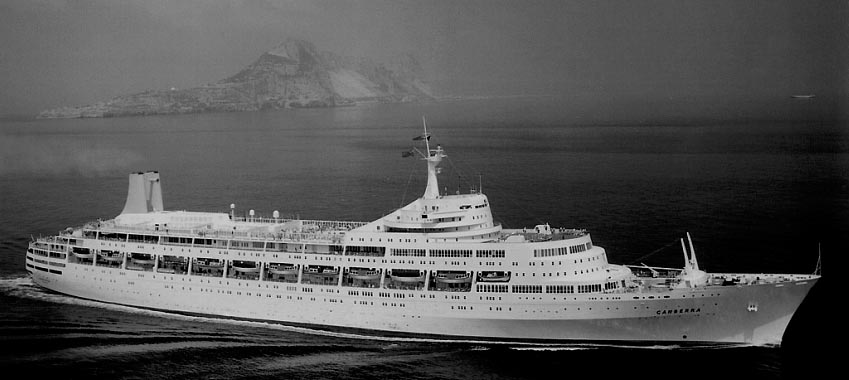 The Canberra is seen just off Gibraltar having just visited the port
The aging SS Strathaird had been on her final voyage to Australia, and she departed Sydney for the very last time on May 9, 1961 sailing via Melbourne, with her final port in Australia being Fremantle (Perth). She then headed through the Suez Canal and then whilst in the Mediterranean she passed SS Canberra which was on her maiden voyage. Whilst the Strathaird was on her final leg of her career, the Canberra was just beginning her long and what proved to be a most successful career!
Strathaird's Captain Clay sent the following beautiful message from his radio room; "from Strathaird to Canberra": "You look magnificent, and all in Strathaird wish you a happy and successful voyage, and from old to new, Strathaird bids you farewell."
In reply Commodore Wilde replied: "You too look magnificent with your paying off pennant flying gaily. You look a gracious and not too elderly lady. All well here." … Although, I must say that what the Commodore said was far from the truth! Reuben Goossens.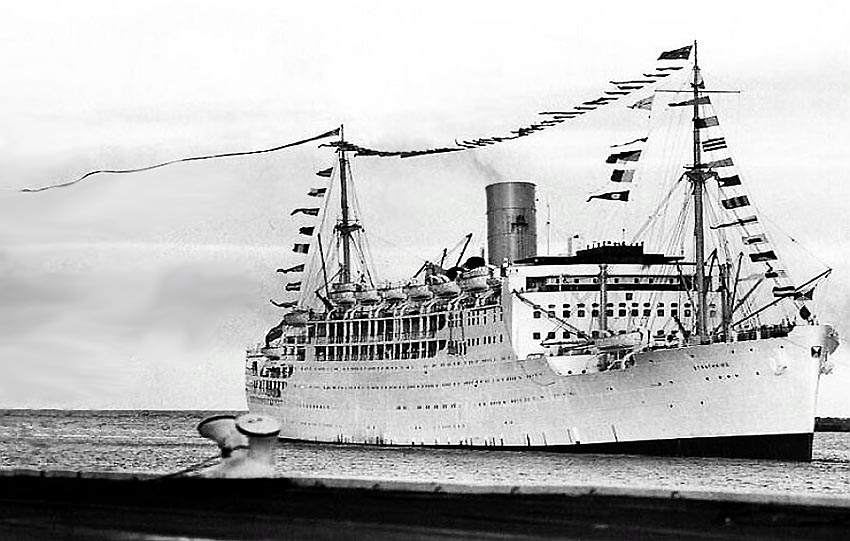 The Strathaird is seen departing Fremantle with her extra "Long Service Pendant" flying from her main mast
She and her sister would be heading very soon for the breakers in Hong Kong.
Commodore Wide had stated to the Captain of the Strathaird "All is well here" but the truth was in fact that down in the engine room all was certainly far from being "all well," for there was a big problem with one of the condensers as saline had been found in the distilled water that had most likely been caused by leaky tubing. The problem had caused the Canberra to miss her southbound Suez convoy. Whilst in Aden the ongoing problems caused a 14-hour delay for Canberra had now suffered a complete power failure.
On board passengers and crew was suffering with shocking heat as there was no air conditioning. The passengers were advised that they could take their bedding up on deck for the night if they so desired! The ship departed and arrived at Colombo 12 hours behind schedule, and then after she departed her speed was forced to be reduced as the condenser problem reared up once again.
By the time she finally reached in Fremantle (Perth) Australia, she was a good thirty-one hours behind schedule, yet as SS Canberra reached the inner harbour and terminal there were countless cheering crowds as well as cars along the shoreline with their horns blowing. Thousands of people had flocked to the shoreline to get a glimpse of the highly published P&O-Orient Lines new "Ship of the Future." Canberra may have been late, but she was a huge hit with the people of Perth, Western Australia, for she was a sight for sore eyes, such a beautiful and a sleek liner, she was like nothing that they had ever seen being so different to any other ship, including the recently completed SS Oriana! Sailing from Fremantle her next port of call would be Melbourne however, during this long voyage along the southern coast of Australia, but due to further problems with her port condenser sadly her engineers were once again forced to reduce her speed.
Finally she arrived at the entrance of Port Phillip Bay on June 27, and she headed for Port of Melbourne where there was a huge crowd awaiting her, as well as a very special VIP awaiting the Canberra at Station Quay, being Dame Pattie Menzies who launched the liner in March 1960. She boarded the ship and enjoyed two nights on board sailing north to Sydney.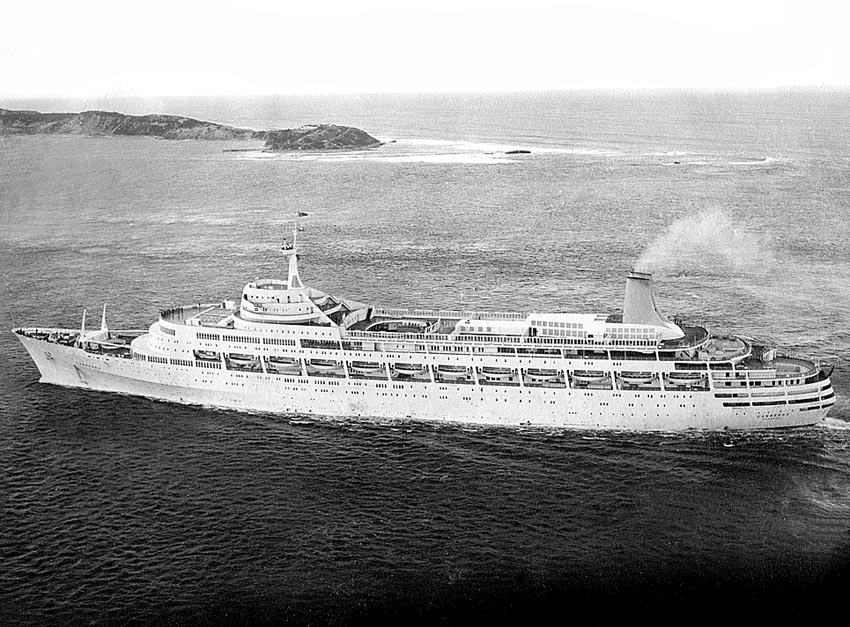 SS Canberra is seen entering Port Phillip Bay heading for Melbourne on June 27
The welcome received in Sydney on June 29 was massive, even though the Canberra was around 24 hours behind schedule. But it seemed that the huge crowds simply did not care, for there were hundreds of small yachts and motorboats escorting her from Sydney Heads towards her berth. There were countless thousands of well-wishers crowded along the shorelines; they stretched from the Heads all the way to the International Passenger Terminal and along Circular Quay! Her arrival seemed more like a festive event!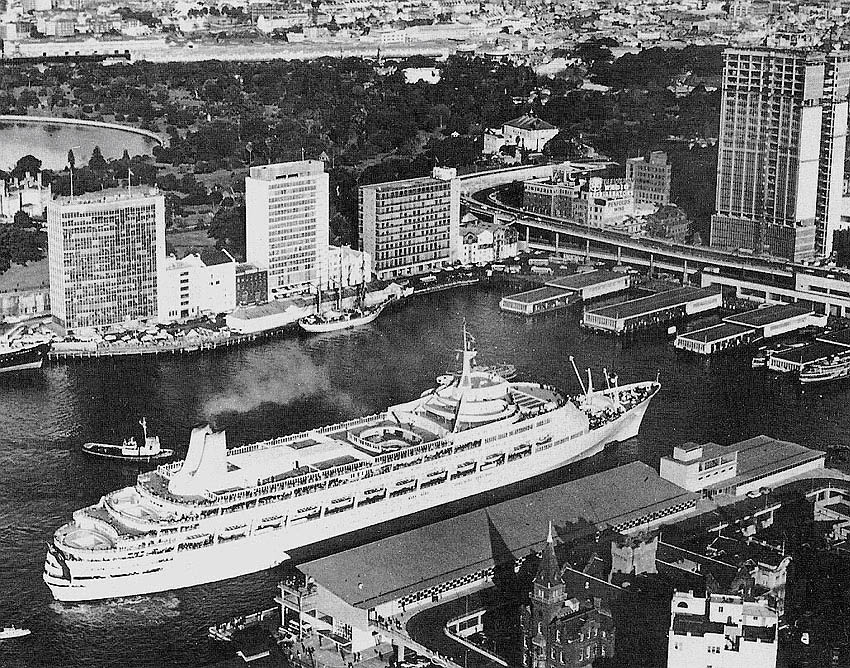 Canberra during her maiden voyage pulls into her berth in Sydney on June 29
Once she was safely alongside, P&O-Orient Lines, Sir Donald Anderson gave an official press conference, where he explained that the condenser trouble, which had obviously been well publicised, had now been rectified. And the truth was for the time being he was correct for the condenser had indeed been fixed.
Canberra's maiden voyage generally without any further problems, although you cannot blame the weather of course, for having sailed across "The Ditch" a popular local term for the Tasman Sea she headed for Auckland New Zealand. But even her arrival to Auckland on July 6, was not completely without problem, for she was forced to delay her berthing for a several hours due to extreme fog and it was reported as being the worst fog experienced in Auckland for a good 30 years! But again there was a huge crowd, as well as the author who can be seen in the photograph at the top of the page in my introduction.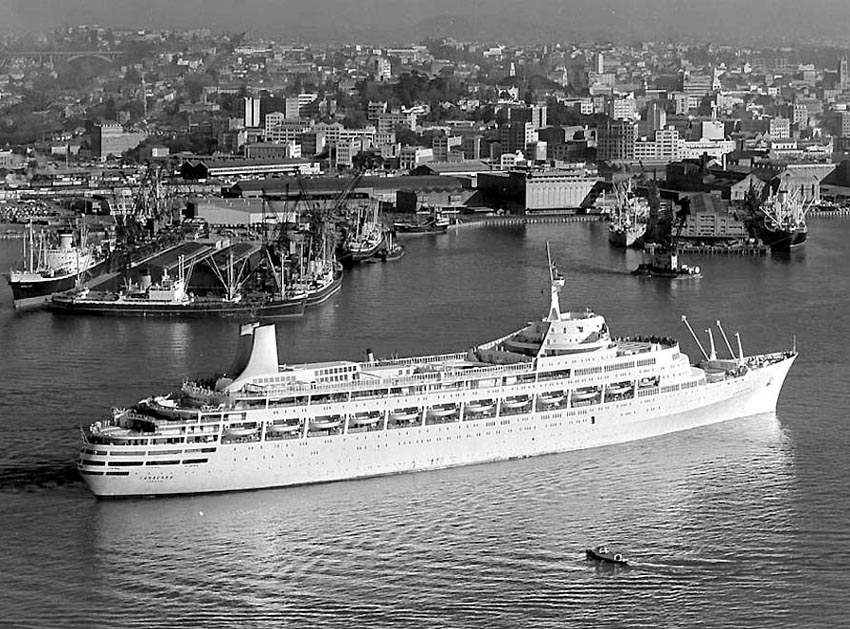 SS Canberra is seen in Waitemata Harbour Auckland New Zealand on July 6, 1961
Photo by Whites Aviation Photos NZ
From New Zealand she would undertake a Circle-Pacific Voyage, with ports of call being: Honolulu, Vancouver, San Francisco, Los Angeles, Honolulu and return to Wellington New Zealand completing the Pacific-Circle Voyage. Many had booked this as a one way or a return voyage from Australis ports, as well from Auckland and the New Zealander's would disembark in Wellington.
However, Honolulu had officially declared July 12, as "Canberra Day." Next there were hundreds of small boats that came out to meet and greet her at Vancouver. Amazingly, as she arrived at San Francisco where the Canberra was given a 13-gun salute from Telegraph Hill as she made her way to pier 32 being the famous Matson Lines Pier. Then as she continued down along the coast to Los Angeles she was given a 50-gun salute and a display of world champion water-skiers was laid on.
Her return voyage was via Honolulu and as she arrived at Wellington New Zealand she was greeted with force 12 winds that delayed her arrival. Next it was Sydney, Melbourne, Fremantle, Colombo, Aden, the Suez Canal, Naples and Gibraltar.
SS Canberra returned home to Southampton at 10.45 AM on Monday, September 4, 1961 and as it turned out, she did shorten her passage time from Sydney by a full week. She had steamed approximately 42,000 miles and even with her troubles with the condenser during her voyage to Australia, Canberra's voyage was hailed a success. And P&O-Orient considered that that her condenser malfunctions were "just an irritating teething problem." Although it had certainly been a costly most one!
The ships second voyage was scheduled to depart at 1.30 PM on Friday September 22, 1961 however some time earlier there a minor fire was discovered in pipes in the engine room. Although the fire was soon extinguished, yet there was a five-hour delay in the ships departure. Thus not a great start to her second voyage to Australia!
Like her maiden voyage, she headed for Gibraltar for a short stay, she then sailed across the Mediterranean to Naples Italy, after which she transited the Suez Canal and onto Aden. But then another problem occurred, for sailing between Aden and Colombo a blade in one of the main turbo-generators broke and this forced the ship to reduce speed by five-knots, and her voyage continued at just 22 knots until arriving in Sydney on October 18 and repairs were made. She departed Sydney two months later on December 18 and headed for Southampton sailing at full speed.
SS Canberra's third voyage to Australia passed without serious incident, but then came her fourth voyage, that departed on April 19, 1962 and yes, sadly this was another troublesome voyage to say the least. The ship suffered three major problems; with her boilers, then her distilling plant as well as the main turbo generators. P&O-Orient Line had to decide to do something, for they had to keep up their reputation! Thus they decided that the voyage would be shortened and instead of returning home via Australia and Suez from the USA, she would return direct by transiting the Panama Canal for the first time and head home for Southampton as soon as possible. Amazingly at that time, Canberra was the largest ship ever to pass through the Panama Canal on June 11, 1962 and P&O-Orient were charged £11,500 for Canal fees. When she arrived on the Atlantic side she had a slight scrape to her side, despite only having 3.6ft-In clearance on each side at the narrowest points. She stopped briefly at Willemstad, Curacao; she then headed for Trinidad and then headed directly for Southampton. It was reported that in Trinidad, nine stowaways had boarded. During the voyage home the ships Air-Conditioning broke down and for a number of nights certain passengers decided that it was better to sleep up on deck, for it became unbearable below!
Canberra arriving home to Southampton on June 21, 1962 where she received a 29-day overhaul to correct all her recurring problems, and also, it was decided to make a few modifications to the ship's appearance. The First Class stadium, the sheltered games area on Games Deck was not a popular or a much-used area as was. Thus, a retractable deck-head was welded in and the area below was turned into a new theatre/showroom. Air-Conditioning units for this area were for some strange region only later added, but they were never very effective. Whilst a good amount of other works were also undertaken.
With all repairs completed and all machinery having been meticulously checked and rechecked, the Canberra was deemed as being in A1 condition, but her Gross Registered Tonnage had increased somewhat to 45,733 GRT.
With the Canberra all ready to set sail again, and it had been decided for her to undertake a seven-day cruise to Gibraltar and Madeira, which was a popular cruise, and exceedingly well booked.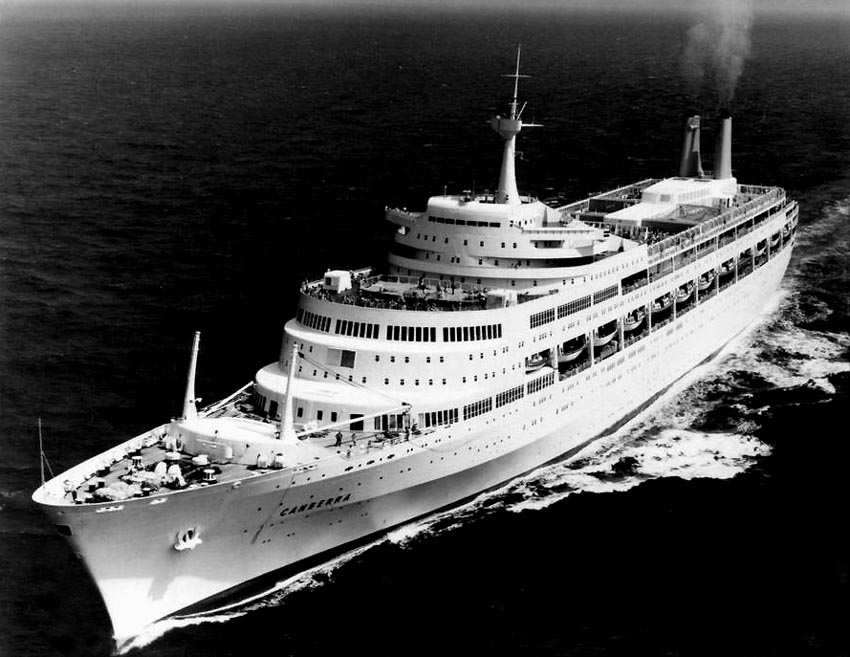 SS Canberra is seen after her refit with the sport stadium enclosed and her funnel extensions and whilst on her first cruise
Her next cruise would be more of a major event, for this time she was about to break with tradition for the SS Canberra was about to do something out of the ordinary! The truth was that she was about to undertake a return Trans-Atlantic sailing to New York and it had been 100 years since a P&O-Orient liner had visited New York. As the SS Canberra arrived, she was given a tumultuous welcome to New York City, in fact it proved to be such a big event that the Canberra was featured on the NBC show as a "Canberra Special."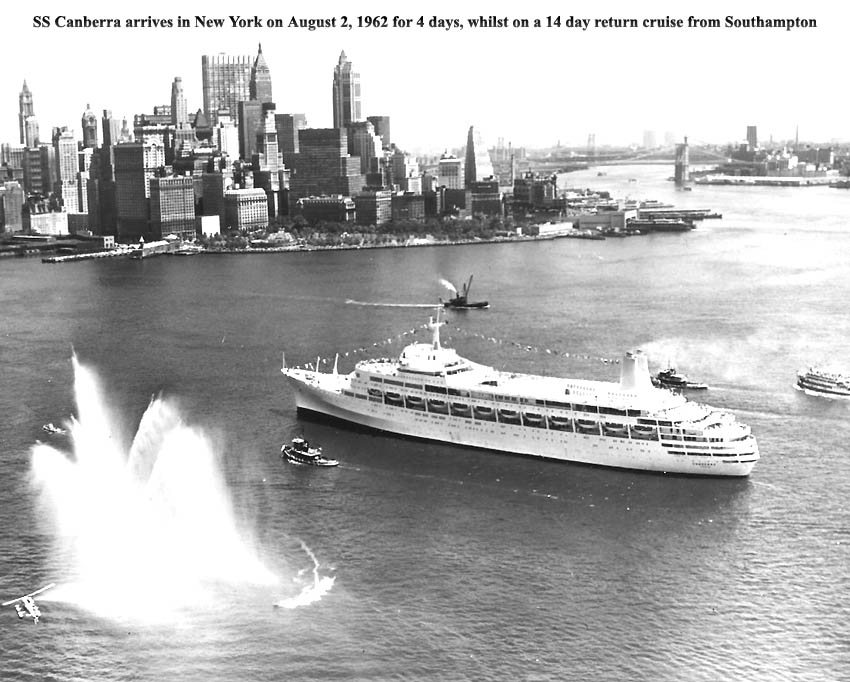 SS Canberra is seen during her maiden arrival in New York on August 6, 1962

Publicity photograph received from P&O-Orient Lines in January 1963

PLEASE NOTE

For a wonderful YouTube 50 second newsreel of SS Canberra sailing into New York Click HERE or the Photograph Above!

She was berthed alongside Pier 91 and the New York press and travel agents were everywhere and they waited eagerly to board this beautiful sleek looking white liner and see all the beauty of the much-publicised interiors of the new ship.

Having spent four-days in the Big Apple the Canberra returned to Southampton and having arrived she returned to New York again the very next day! And four days later she sailed home again to Southampton. Her next cruise was a 13-day cruise to the Mediterranean which was booked out. When she returned to Southampton this concluded her first and a very successful cruise season.

The fifth voyage to Australia was to be the last for Commodore Wilde as he would be replaced by Captain Leslie Hill. Later during the voyage, and sailing between Vancouver to San Francisco, on November 1, 1962 the Canberra collided with a steel barge whilst she was in dense fog, but thankfully Canberra was not damaged, except for some paint having being scraped off from her white hull.

But sadly her troubled past was about to catch up with her again for at around 4 AM on January 4, 1963 the Canberra was sailing eastward at good speed of 27 knots across the Mediterranean with 2,222 passengers on board. Being about 160 miles north-east of Malta

, one of the officers in the engine room saw that one of the three turbo-generators had "shed its load." As the generator began to speed up, the crew were unable to trip the circuit breaker, and then one of the crew forcibly broke the contact and that was in spite of the sign warning not to do this. It created a considerable electrical arc that caused a fire that was fed electrically by the other two generators and this then destroyed the starboard side of the switchboard and the majority of the electrical distribution cables. Canberra suddenly lost all power and suddenly alarms rang out throughout the ship.

With no electrical power, the engines could were out of commission and there was no lighting, no air-conditioning, ventilation or power for the galley. Parts of the lower decks also began to fill with smoke and passengers were ordered to their muster stations. Thankfully the ship it self was not in danger, thus the lifeboats would not be needed as the fire was soon under control.

Thankfully the P&O liner Stratheden had left Port Said just several days earlier and was diverted to assist the Canberra. In addition, two Royal Navy ships, the Lion and Scorpion that were exercising in the region had also been asked to assist and they also headed towards the stricken Canberra and an RAF Shackleton AEW aircraft that was based in Malta was also sent to overfly the ship and keep an eye on things.

Early in the morning the Stratheden had arrived on the scene and had supplied the Canberra with ample fresh bread and other stores as requested. Early in the afternoon the ship's engineers and electricians had worked hard and they had managed to restore power to the main engines and the ship was able to get underway at just 4 knots, to Grand Harbour at Malta, where repairs would be carried out. However, they managed to increase her 4 knots to 10 knots, and Canberra was able to arrive at Malta by 9 AM the next morning, January 5.

Back in London, big plans were underway to get all passengers back to their destinations, and it would be the big "Malta Airlift" as it would become known. The scheme was fully planned someone who later became well known, Mr. Freddie Laker.

Within a week, some 14 aircraft had been chartered and P&O soon managed to fly 1,700 passengers to their destinations, most of which went to Australia and New Zealand. However there were some passengers who simply refused to fly, and they either continued on other ships or with Canberra back to England. It was a massive task, but it was bad publicity for the poor struggling Canberra!

On January 14, 1963 the Canberra departed with 46 of her original passengers still on board, for they had refused to leave ship no matter what. But even as she headed for Harland & Wolff Shipyards, her builders in Belfast she encountered 60-knot winds, but arrived on January 21, 1963 and she would undergo further repairs and a new switchboard was installed. The Canberra being out of commission for around four months and she was also given another general overhaul.

With all repairs and works completed it was time for her sea trials and she departed very early in the afternoon of May 11, SS Canberra left Belfast and headed for the Irish Sea. Then on May 14, she dropped anchor off the Isle of Wight and the next morning she entered No.7 Dry-Dock in Southampton for an underwater hull inspection.

Finally the Canberra was back in top condition and ready to return to her regular schedule. On Friday May 24, 1963 she departed Southampton bound for Australia and New Zealand and as it turned out, she had a record 2,266 happy passengers and emigrants on board.
First Class Dining Saloon Staff 1963:
Some time ago I received an email from the First Class Dining Room steward Eddie Groody who served aboard the Canberra in the sixties between May 1, and November 8, according to his Log Book he sent me and seen below. As we can see he also served on the SS Orion and the wonderful SS Himalaya.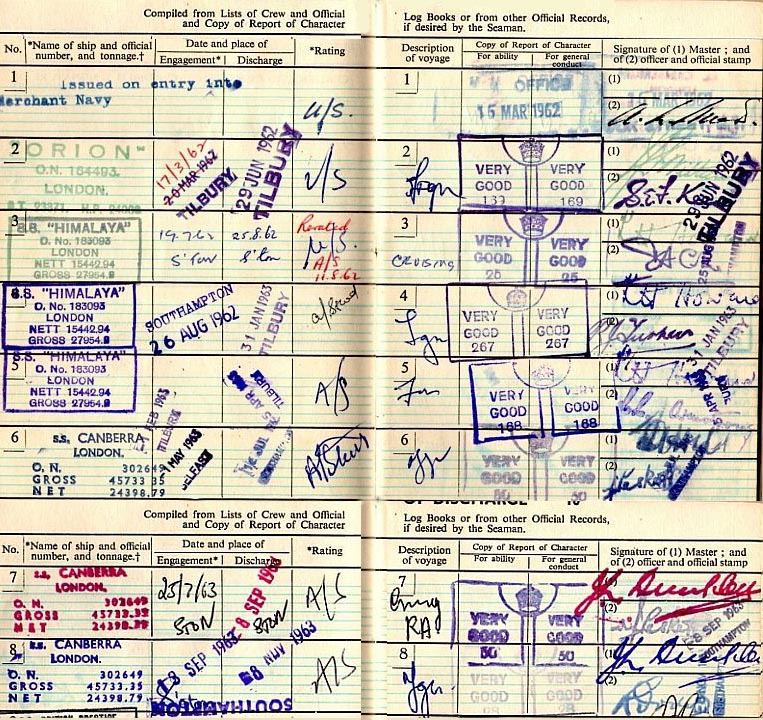 --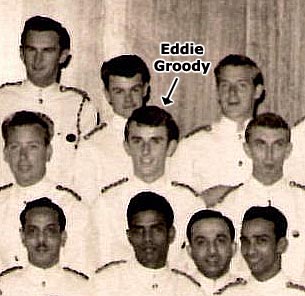 Eddie was kind enough to send me an excellent photograph of the First Class Dining Saloon staff that was taken during one of the voyages in that year, thus obviously it was after lengthy repairs in Belfast after her breakdown, as described above. Eddie has provided the names of those he was able to recall and I have numbered these and placed the names below.
However, if any of my readers, passengers or past crew members can provide further names, these would be appreciated. Email me at rg@ssmaritime.com. Thank you Eddie for your contribution and providing some wonderful memories of her great days of sailing!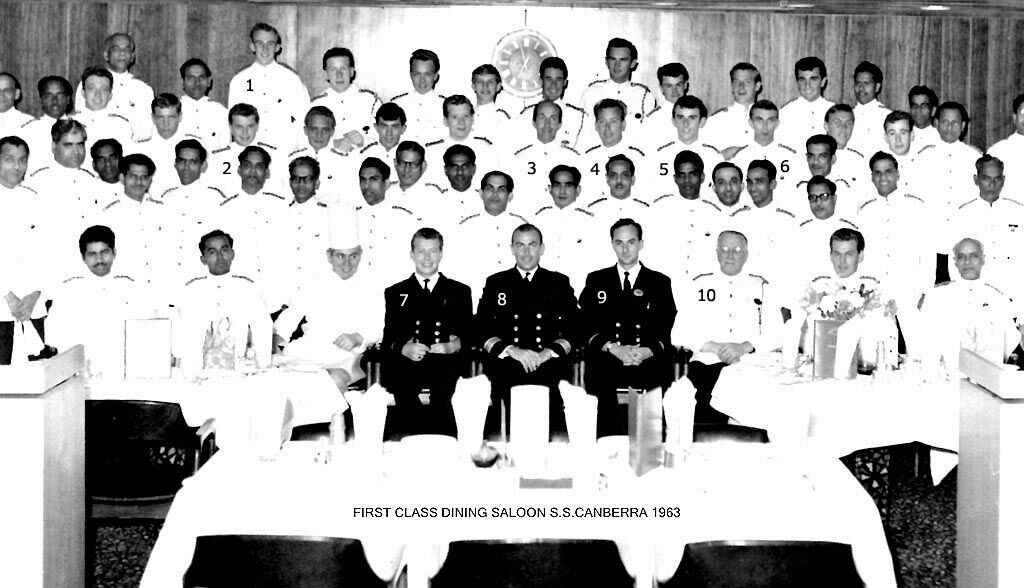 Back row from left: 1. Andy Cruickshank
Second row centre: 2. Jeff Crippen, 3. Peter Smith, 3. Matt Doyle, 3. Eddie Groody & 6. Mark Lindsay,
Front row seated from right: 7. Mike Quinn, 8. John Webb - Dining Room Head Steward, 9. Noel Coward - Asst Head Waiter, 10. Wine Steward Wally Baines.
Since placing the original photo online with Eddie's provided names, and I have indeed received further emails from other past crew members and therefore you will find these noted in the credits below, for I am most grateful to them all!
Credits:
Photograph & names of 1 & 3 to 5 were provided and owned by Eddie Groody & used with permission.
Number 7 the Assistant Head Waiters' information was provided in Oct 2011 by the Assistant Head Waiter from the Tourist Class Restaurant, Geoff Cook (not shown) who shared a cabin with Noel Coward.
Dining Room Head Steward John Webb advised me regarding his (8) and Mike Wally's (10) names in 2013.
Whilst in 2022 Jeff Chrippen contacted me and told me that he served on Canberra from1963/1964, joining her in Southampton as a first class steward. He said that when he saw the photograph "This brings back very fond memories of a great ship mates and what a pleaser it was to serve on such a happy ship".

A fine aerial view of SS Canberra, showing off huge amount of deck space!
P&O-Orient Lines Promotional Department
The Canberra sailed on, however it would come soon apparent that times were changing and P&O had to change directions. Page Two will continue her story, which will also include her heroic Falklands account and her concluding days until being sold to the breakers. Gladly I did sail on her in 1996, thinking it was going to be her last "World Voyage," but as it turned out she had just one more in her in 1997. Page Two contains a great deal as well as photographs, brochures and links to some very interesting items I have on file!
***********************************
Please Note: The SS Canberra INDEX below is still incomplete as there are many further pages to come, such as Canberra's early interiors and her first 1961 First and Tourist Class Deck Plans. Then there are her One Class 1973 Deck Plans. In addition I have a review of my cruise on the Canberra in 1996 which is combined with an extensive photo album of the Canberra at the time, which is combined with her 1996 Deck Plan. For interest, each deck plan can be clicked and a full size plane will be revealed for better details to be seen! I expect there be at least 6 or seven pages when completed!
SS Canberra INDEX:
Page One:             Canberra in building and history 1961 to 1963.
Page One A:          Canberra's Illustrations and Photo Page of 1961.
Page One B:          Canberra 1961 Provisional Deck Plans - First & Tourist Class.
Page Two:             Canberra the Cruise ship & her Falklands days, to her end in 1997.
Page Two B:          Canberra 1973 & 1996 Deck Plans - One Class.
Page A:                 Four Page interiors of Canberra's Final Cruise Log.
Page B:                 The Bill of Sale of the Canberra to Pakistani breakers.
***********************************
A MovieTone Newsreal of the launching of the SS Canberra
Also Visit our Features on the following Orient Lines/P&O Ships
Orient Lines: RMS Orcades – SS Oronsay - SS Oriana - RMS Orion
P&O: RMS Strathaird - SS Iberia - SS Canberra - RMS Kaisar-i-Hind
There May be more since this page was created – See our MAIN INDEX
****************************
Visit our ssMaritime Main INDEX
Where you will discover more than 1,550 Classic Passenger & Passenger-Cargo Liners!
ssMaritime.com & ssMaritime.net
Where the ships of the past make history & the 1914 built M.S. Doulos Story.
The Author has been in Passenger Shipping & the Cruise Industry for well over 60 years
In addition he was the founder of "Save the Classic Liners Campaign" in 1990.
Please Note: ssmaritime and associated sites are 100% non-commercial and the author seeks no funding or favours of any shape or form, never have and never will!
Photographs on ssmaritime and associate pages are by; the author or from the author's private collection. In addition there are some images that have been provided by Shipping Companies and private photographers or collectors. Credit is given to all contributors. However, there are some photographs provided to me without details regarding the photographer/owner concerned.
This notice covers all pages; although, and I have done my best to ensure that all photographs are duly credited and that this notice is displaced on each page, that is, when a page is updated!
ssMaritime is owned & © Copyright by Reuben Goossens - All Rights Reserved