SS Canberra 1961 First & Tourist Class Deck Illustrations & Photographs
Please Note: Firefox and some other search engines are not suitable – Use "Internet Explorer" for this page to load perfectly!

Click the logo above to reach the ssMaritime FrontPage for News Updates & "Ship of the Month"
With Reuben Goossens
Maritime Historian, Cruise'n'Ship Reviewer, Author & Lecturer
Please Note: All ssMaritime and my other related ssMaritime sites are 100% non-commercial and privately owned sites. Be assured that my sites have never been associated with any cruise or shipping companies or travel/cruise agencies or any other organisations! The author commenced working in the Passenger Shipping Industry back in 1960 but is now very much retired and I hope that the well over 625 articles on classic liners and cruise ships that I have written will continue to inform and also bring much joy to ship enthusiasts for many more years to come!
SS Canberra
Photo Page One

The Early Days!

Please Note

: If you have arrived at this page directly during your search, you may wish to read our Canberra page first.

It is located at … SS Canberra Main Page.

This is a very special page containing illustrations and some photographs of the much-loved SS Canberra in her early times. It features a good deal of her fine public facilities as well as some of her accommodations as she was built in 1961.

However, there is one photograph of myself seen standing in front of the famed spiral staircase forward of the Meridian Lounge that heads up from Promenade Deck up to Games Decks to Crow's Nest. But it should be noted, that this photograph was taken towards the end of SS Canberra's long and great career in 1996, whilst I was enjoying my time on Canberra's 1996 "World Voyage" to Sydney.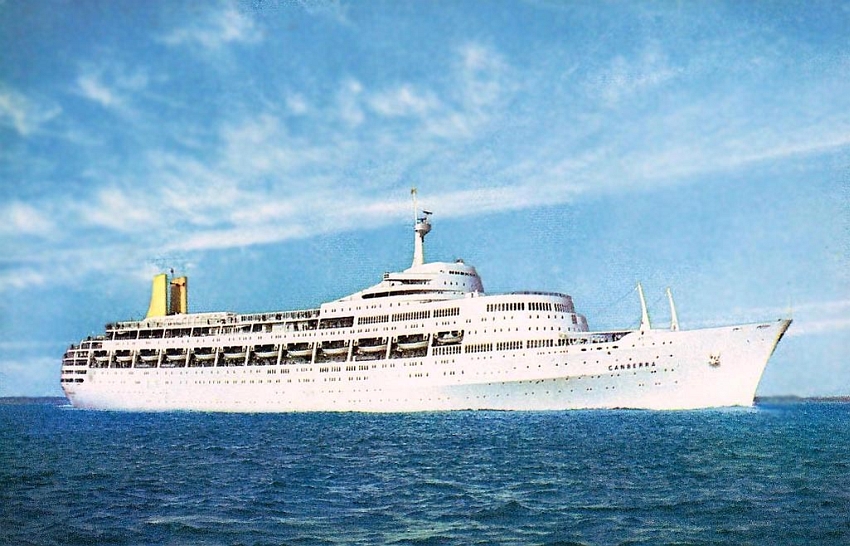 This is an early release of a P&O-Orient Lines released postcard of the magnificent SS Canberra
Just for interest, the Illustrations shown below were created pre completion of SS Canberra and they are relatively rare. The interior photographs I have online I sourced from P&O's early brochures that were released in the 1961.
I am sure that you will enjoy walking down memory lane as we visit the wonderful Canberra in her very early days when she was still a two-class liner, that is very much pre her One Class Cruise Ship days!
First Class
Promenade Deck

Above & below
: The Meridian Lounge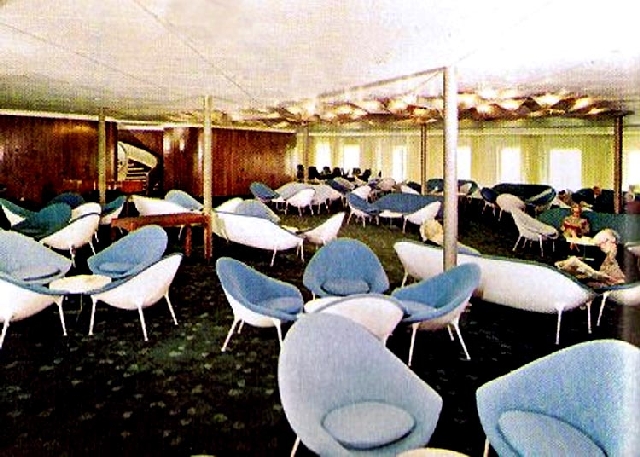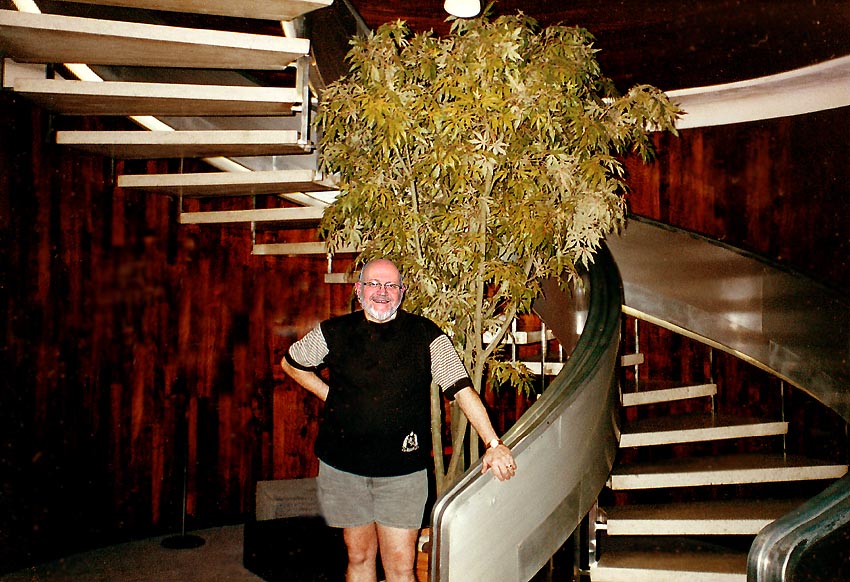 The author is seen at the famed staircase that leads from the Meridian Lounge up to the Crow's Nest
Photograph owned Reuben Goossens & © ssmaritime.com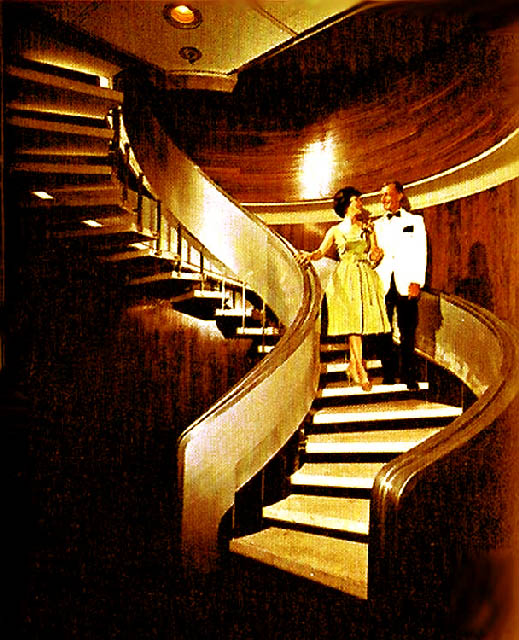 Another view of the Spiral Stairwell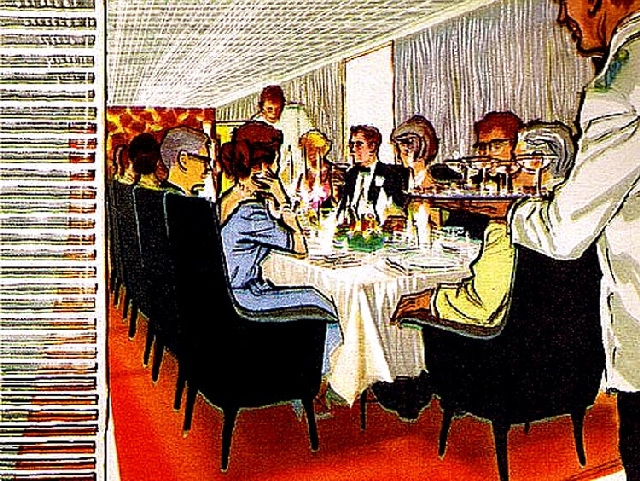 The Crystal Room a special event dining venue located starboard just aft of the lobby
A Deck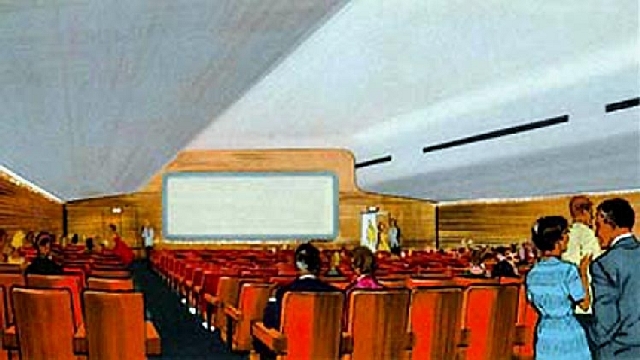 The Cinema used by both classes
Games Deck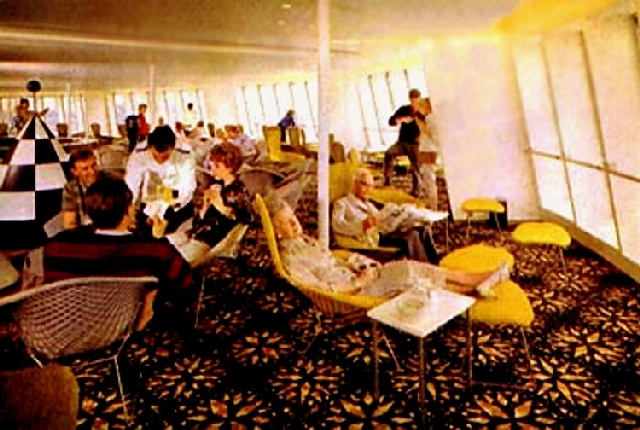 The Crow's Nest far forward on Games Deck

Above & below: The Bonito Club has a special "Sprung" Dance Floor that reduces sound for cabins below
The aft wall is made up of sliding windows and it looks out to the layered Bonito Swimming Pool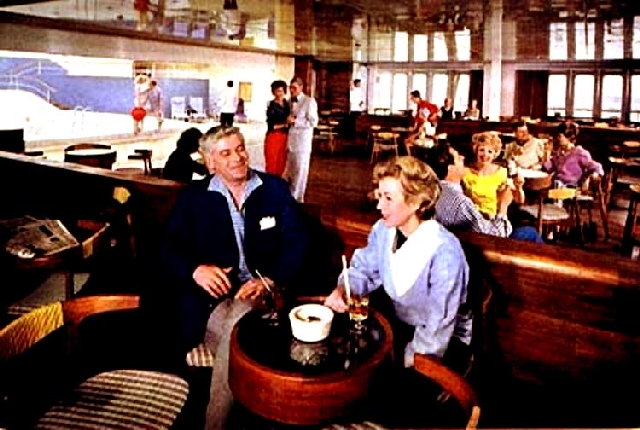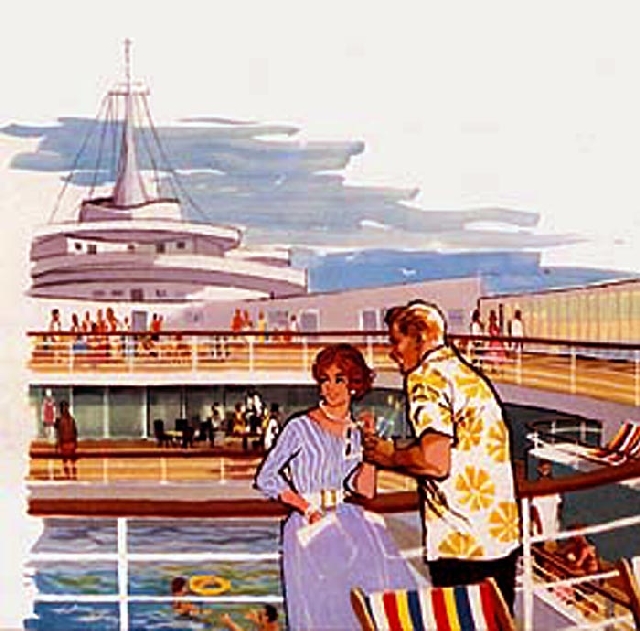 The First Class Bonito Pool, looking forward towards the Club
E Deck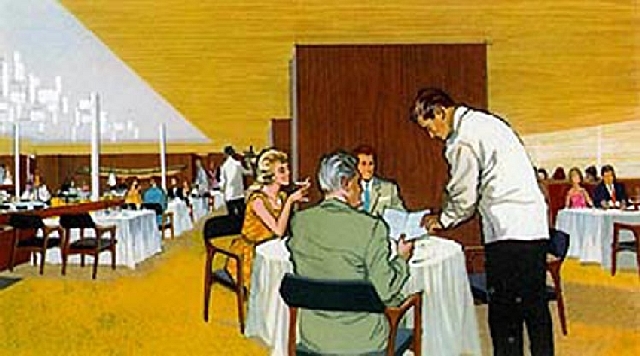 Above & below: First Class - Pacific Dining Room
Note the Pacific Canoe on the forward wall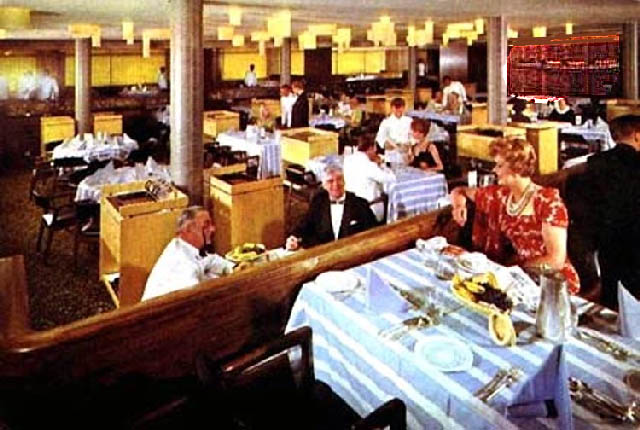 Accommodations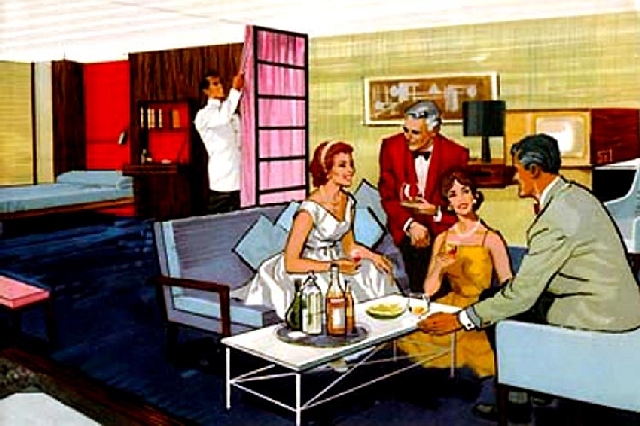 A Deluxe Suite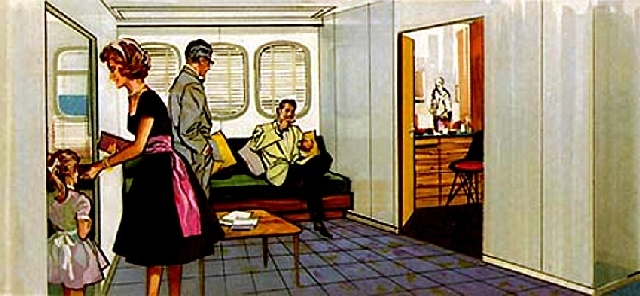 Above & below: All cabins have a view towards the sea, twin, three and single bedded cabins
The Court layout can be seen below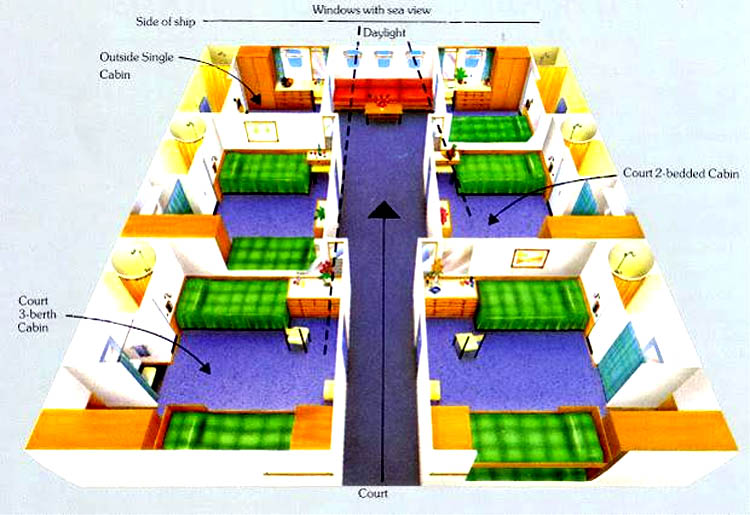 Tourist Class
Promenade Deck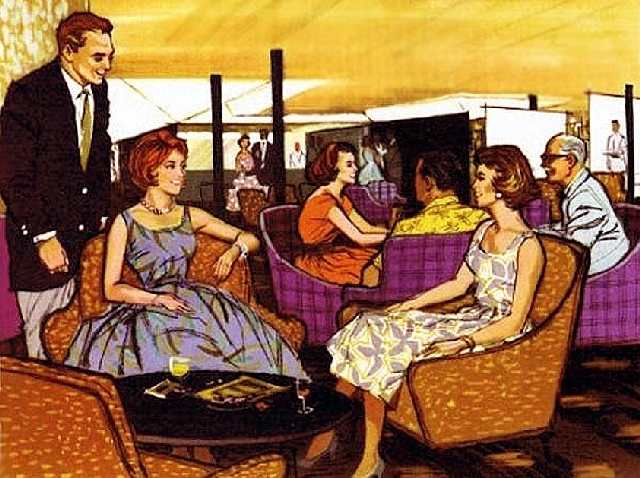 Amidships is the spacious lounge the William Fawcett Room, being the largest Tourist Class Lounge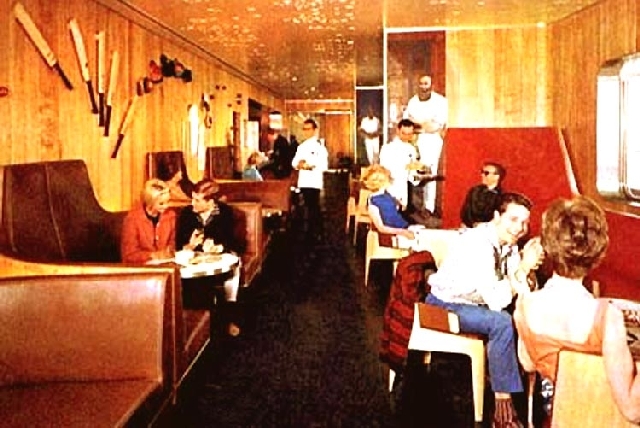 Portside just aft is the most popular Cricketers Club and Bar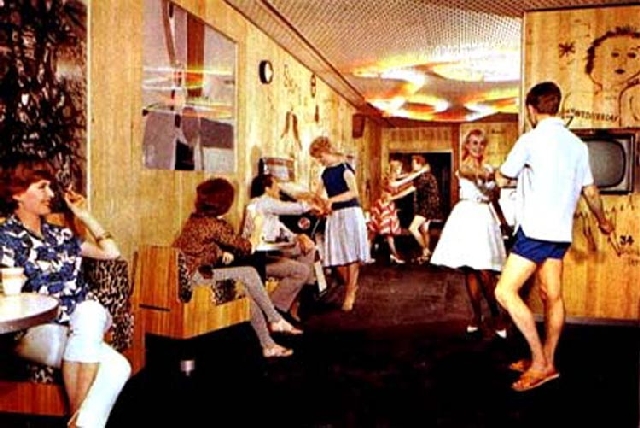 Whilst directly opposite on the starboard side was the "PopIn" a popular spot for the younger set!
There was a Juke Box and non-alcoholic bar the perfect place for a drink and to dance to the latest Hits!
Please note: Located far aft was the Peacock Room and the Card Rooms
B Deck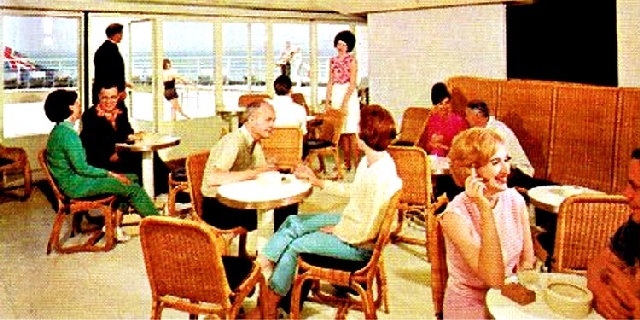 Far aft was the Alice Springs Lounge and one of the two Tourist Class Swimming Pools
A Deck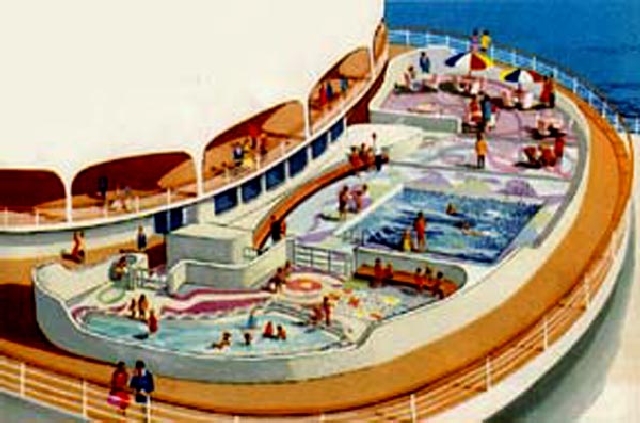 The Lido Pool the upper of the Tourist Class Pools
The Movie Theatre was also located on this deck and was shared with First Class
Games Deck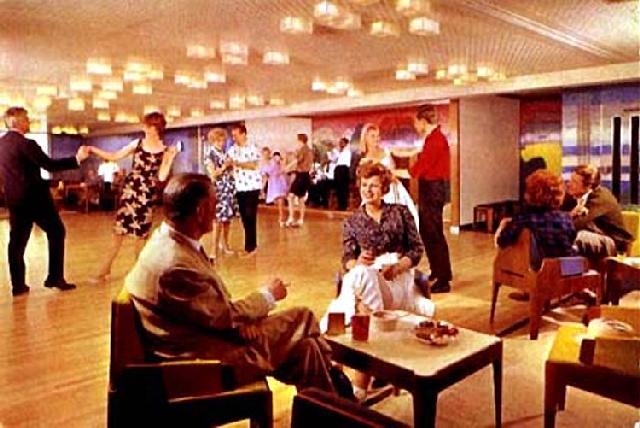 The Island Room was another dance venue and also a popular night spot on board
Sun Deck

The spacious place to pay games beside Canberra's famed smoke stacks
E Deck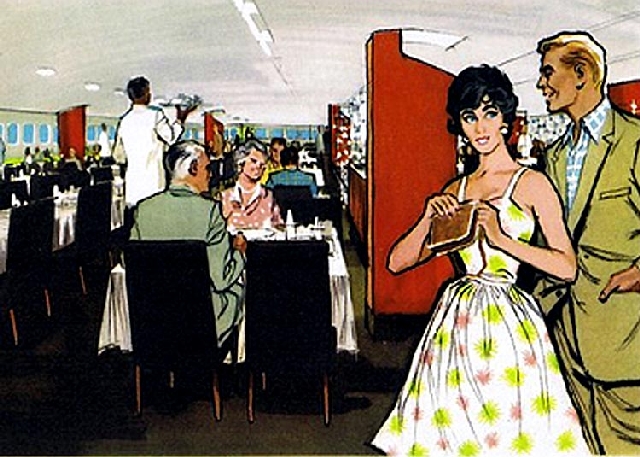 The Tourist Dining Room was spacious, yet comfortable and served fine cuisine, just not as large a choice as in First Class
Accommodations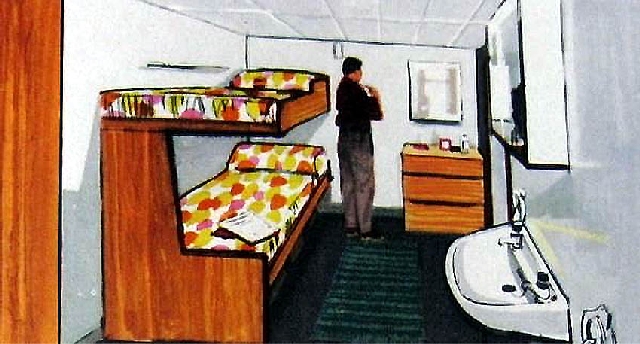 A typical inside two-berth cabin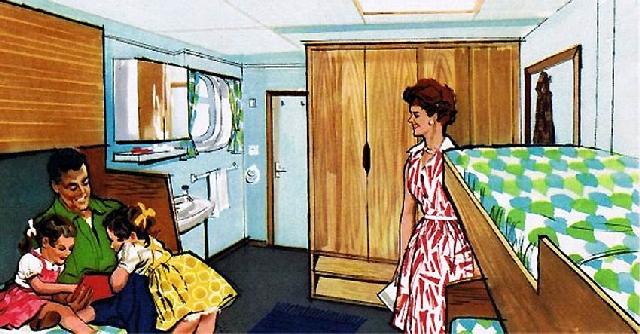 Here we see an outside cabin that can be sold as a twin bedded, a three or a four berth cabin, as required
Items of Memorabilia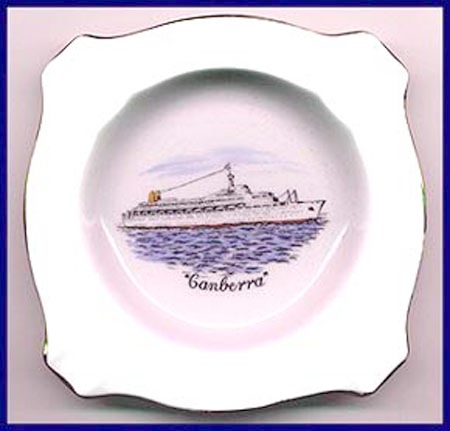 Above is one of my first souvenirs obtained aboard the SS Canberra
Purchased onboard Canberra back in the 1960s

I was given this ashtray during a later voyage, however the Canberra pin is extremely early and very rare and a gift
Form the author's personal collection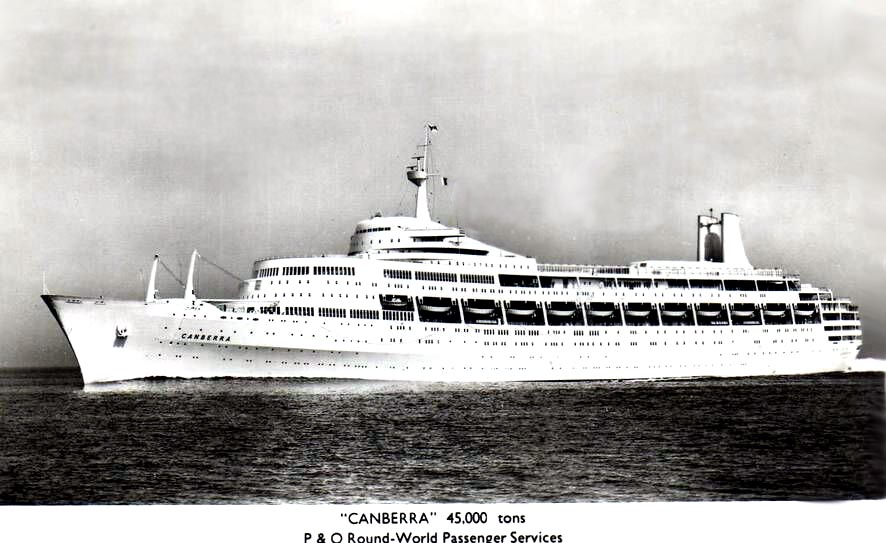 A P&O-Orient Line postcard issued in 1961
***********************************
Please Note: The SS Canberra INDEX below is still incomplete as there are many further pages to come, such as Canberra's early interiors and her first 1961 First and Tourist Class Deck Plans. Then there are her One Class 1973 Deck Plans. In addition I have a review of my cruise on the Canberra in 1996 which is combined with an extensive photo album of the Canberra at the time, which is combined with her 1996 Deck Plan. For interest, each deck plan can be clicked and a full size plane will be revealed for better details to be seen! I expect there be at least 6 or seven pages when completed!
SS Canberra INDEX:
Page One:     Canberra in building and history 1961 to 1963.
Page One A: Canberra's Illustrations and Photo Page of 1961.
Page One B:  Canberra 1961 Provisional Deck Plans - First & Tourist Class.
Page Two:    Canberra the Cruise ship & her Falklands days, to her end in 1997.
Page Two B: Canberra 1973 & 1996 Deck Plans - One Class.
Page A:         Four Page interiors of Canberra's Final Cruise Log.
Page B:         The Bill of Sale of the Canberra to Pakistani breakers.
***********************************
Also Visit our Features on the following Orient Lines/P&O Ships
Orient Lines: RMS Orcades – SS Oronsay - SS Oriana - RMS Orion
P&O: RMS Strathaird - SS Iberia - SS Canberra - RMS Kaisar-i-Hind
There May be more since this page was created – See our MAIN INDEX
****************************
Visit our ssMaritime Main INDEX
Where you will discover more than 625 Classic Passenger & Passenger-Cargo Liners!
ssMaritime.com & ssMaritime.net
Where the ships of the past make history & the 1914 built MV Doulos Story
Also visit my
"Save The Classic Liners Campaign"
Please Note: ssmaritime and associated sites are 100% non-commercial and the author seeks no funding or favours of any shape or form, never have and never will!
Photographs on ssmaritime and associate pages are by the author or from the author's private collection. In addition there are some images that have been provided by Shipping Companies and private photographers or collectors. Credit is given to all contributors. However, there are some photographs provided to me without details regarding the photographer/owner concerned. I hereby invite if owners of these images would be so kind to make them-selves known to me (my email address may be found on www.ssmaritime.com only), in order that due credit may be given.
ssMaritime is owned & © Copyright by Reuben Goossens - All Rights Reserved.