Click the logo above to reach the ssMaritime FrontPage for News Updates & "Ship of the Month"

With Reuben Goossens

Maritime Historian, Cruise'n'Ship Reviewer & Author

Hamburg Süd Reederei

(Hamburg South America Line)

Page Two

MS Cap San Diego

The Last of Six "Cap San" Class Liners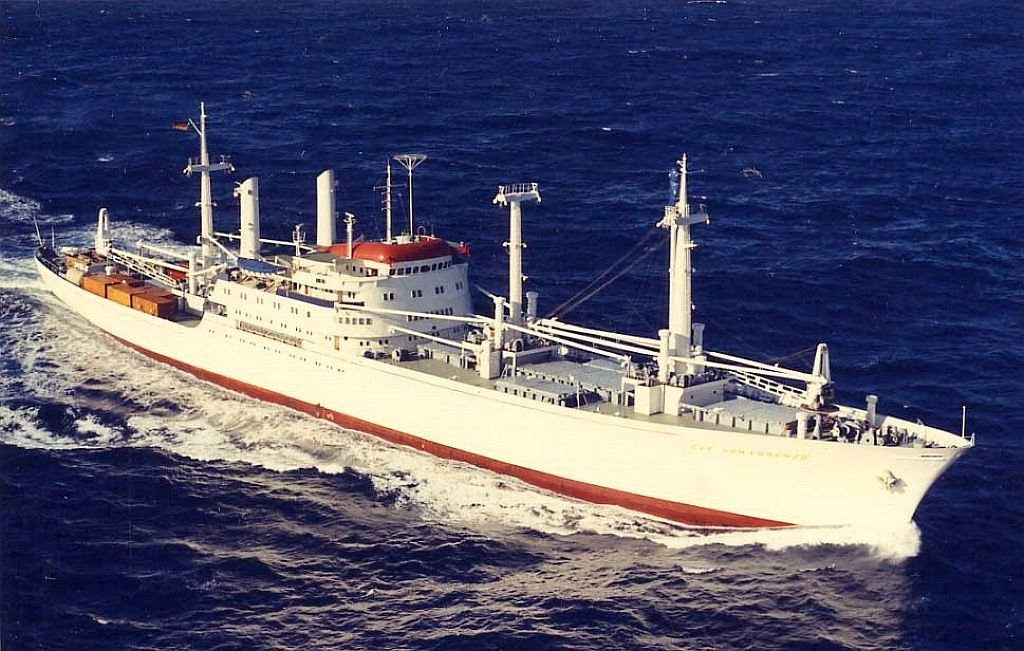 The sleek Passenger Cargo liner MS Cap San Diego seen at sea

Company's Postcard – Author's collection

Please Note:

On July 28, 2011, I received an email from Laurens von Oelsen in Germany and he wrote;

"I am not quite sure if this liner fits your bill, but it she is a beauty! The MS Cap San Diego was built in 1962 for the Hamburg Süd Reederei as a freight and passenger liner. She is currently preserved in Hamburg as a museum and she can also be visited as her cabins are used as a hotel. In addition, on special occasions she is used for day voyages along the German North coast! Laurens v. Oelsen."

Amazingly, some time ago I commenced a page on this ship, but for a good number of reasons I never completed it and it sat in a folder. However, thanks to v. Oelsen I decided to locate it and do something about it and below is the result. However, at this stage, I have not as yet completed this feature and there is more to come in relation to her current museum condition, but I will do so as when time permits. But in the meantime enjoy reading about the history of this beautiful ship. Thank you so much Laurens, for your encouragement to get this, page online, with Page Two that will cover her current condition as a fully operating Museum and hotel, very soon.

PS. Laurens stayed onboard the Cap San Diego in one of the Promenade Deck single bedded cabins, with an extra bed in 2007 and he took all the photographs as seen on both Cap San Diego pages, which are credited to him. He informs me that he has visited the ship several times, as well as the beautifully restored State steamer in Hamburg, named the Schaarh?rn. See: www.stiftung-hamburg-maritim.de/schiffe/schaarhoern.php.

I also wish to thank Jens Weber, Manager of the "Cap San Diego Betriebsgesellschaft mbH," Hamburg, Germany for providing a series of excellent photographs of the ship in Hamburg and her interiors, etc! You can visit their excellent website at: www.capsandiego.de. Although the site is mostly in German, there is English available under "Summery" that you will find at the top right hand side. Many of the other links will have the word "Bilder", which means photographs, and there are also some fine videos online! I am most grateful to both

von Oelsen and Weber of the Cap San Diego Organisation for their kind assistance in providing some fine images, etc!

Reuben Goossens – Updated Aug 5, 2011.

The "White Swan of the South Atlantic"

Introduction:

There is no doubt that the superb 1962 built MS Cap San Diego is one of the finest preserved ships that came out of six fast passenger cargo liners, that was constructed especially for a fine German shipping companies in Hamburg and she sailed between Hamburg and South America until 1981. Thereafter she had a varied career under two other operators, until obtained to be restored and retained as a fully operational Maritime Museum and Hotel in Hamburg.

The last of a very attractive series of six passenger cargo ships built for Hamburg Süd Reederei, was the MS Cap San Diego which was constructed by the Deutsche Werft AG in Hamburg. She was simply known as hull number 785. Her keel was laid down on April 10, 1961, and was launched and named later that year on December 15. After her fitting out was completed she was delivered and officially handed over to her owners on March 27, 1962, which was quite a feat to see a ship laid down and delivered within a year, that speaks of typical German efficiency! Having been delivered to Hamburg Süd Reederei she had two days to load her cargo and finally her fortunate passengers before she departed on her maiden voyage for South America, a great beginning of a faithful Trans-Atlantic service that would include call to North America as well!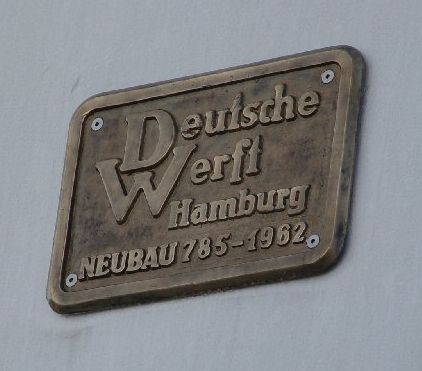 MS Cap San Diego's Builder Plaque
Author's collection
Her identical sisters were named as follows: MS Cap San Antonio, Cap San Augustin, Cap San Lorenzo, Cap San Marco and Cap San Nicolas (seen below). Amazingly all these ships were built in 1961, but have now been sadly broken up, whereas the superb 1962 Cap San Diego fortunately lives on as a fine Maritime Museum, Hotel and operating ship in Hamburg!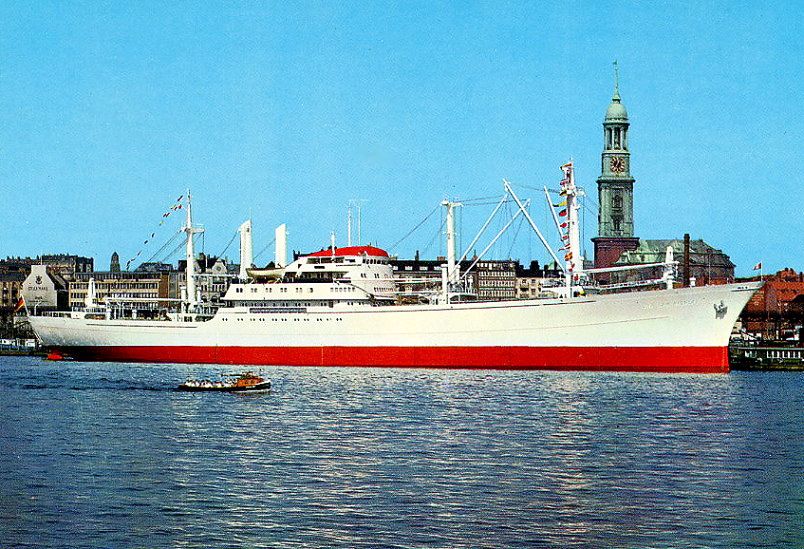 The fifth ship of the Cap series, the MS Cap San Nicholas
Company's Postcard – Author's collection
The Ships Features:
The 9,998 ton (GRT) MS Cap San Diego was designed by well known marine architect Casar Pinnau and there is no doubt that this elegant ship had a long slender, sleek yacht like look about her. In addition she had a beautiful and perfectly balanced superstructure that was located amidships to slightly aft. What made the "Cap San" series so well known was a delightful "rounded Bridge roof" feature, which was painted a rich red. However, in reality it was only a windbreak and there was certainly a regular flat deck on the top of the Bridge, but these curved and rounded sides continued (but now in white) down to Bridge Deck aft. With the rich red feature atop of the ship, and her boot topping the same colour this was broken with an all white ship, both hull and superstructure, but these red features gave her that sleek and elegant look. In addition, there was no traditional funnel, but she had white twin exhaust uptakes, which were located aft on Boat Deck. However her smoke uptakes were put to another good use, as they served as "Samson Posts" for derricks serving hold number four.
There was no doubt that MS Cap San Diego, as were her sisters, was the perfectly balanced ship from her beautifully flared bow, ending with that stern of sheer perfection to the overall design, that completed the perfect picture! April 1961
Cargo Facilities:
There is no doubt that the six "Cap San" class sisters initiated a whole new German era of the "super-fast passenger-cargo liners" all having five spacious multi layered holds. These gigantic cargo spaces measured around 540,000 cubic feet, but these ships had some other unique innovations. Whereas holds 3 and 4 were fully refrigerated, yet at hold 2 there were three separate hatches two smaller one on each side, the one on the starboard side and port side were both refrigerated, whilst the larger midsection hold was for regular cargo. All refrigerated spaces were cooled down to a minimum of minus -20 degrees, thus were able to transport frozen meat and other frozen goods, be it fruits and vegetables. Together these refrigerated holds had capacity of a good 240,000 cubic feet. In addition there were also some heated oil tanks for the transportation of palm oil. All hatches were operated electronically for additional efficiency. Her five holds were well taken care of by her three masts and derricks; there was her Fore Mast, a Loading Mast, and her Main Mast aft. For interest, located above her bridge were a Signalling Mast, HF Transmitting Aerial, Magnetic Compass Direction Finder and two Radars.
Maiden voyage:
On March 29, 1962, MS Cap San Diego finally departed Hamburg on her maiden voyage bound for South and North America and she proved to be a popular ship and obtained the nickname as being the elegant "White Swan of the South Atlantic." According to what I have obtained from online, this was her maiden ports of call: Cuxhaven to Montreal, Baltimore, New York, Recife, Rio de Janeiro, Buenos Aires, Santos, Antwerp, Rotterdam and back to Bremen. According to other schedules published the following were also part of Hamburg Sud's schedules: 1. Hamburg, Bremen, Rotterdam, Antwerp, Santos, and Buenos Aires. Return voyages: Optional call at Montevideo. 2. Hamburg, Bremen, Rotterdam, Antwerp, Rio de Janeiro, Santos, Rio Grande, Porto Alegre.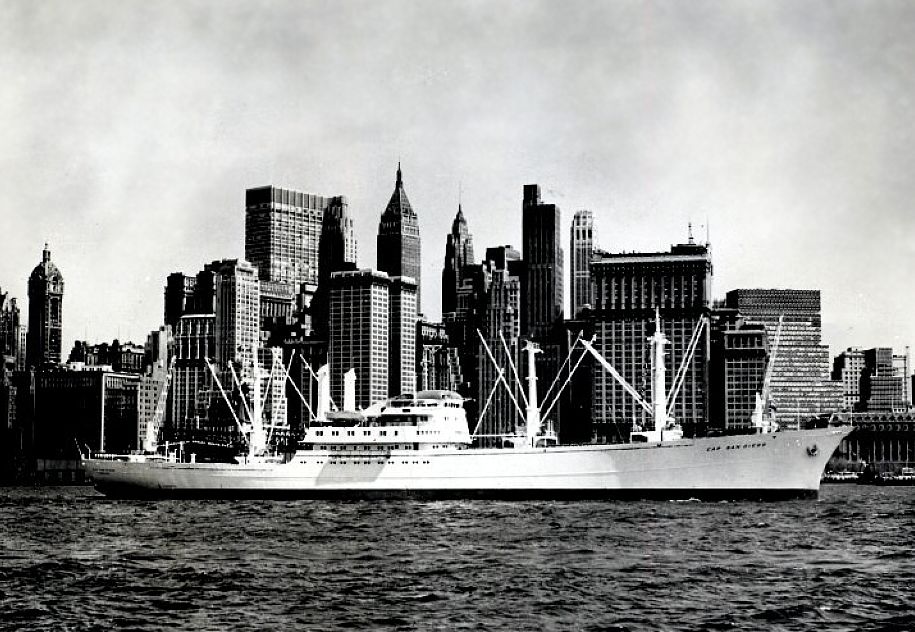 MS Cap San Diego is seen here departing New York
Postcard – George. S.
Public Venues and Staterooms: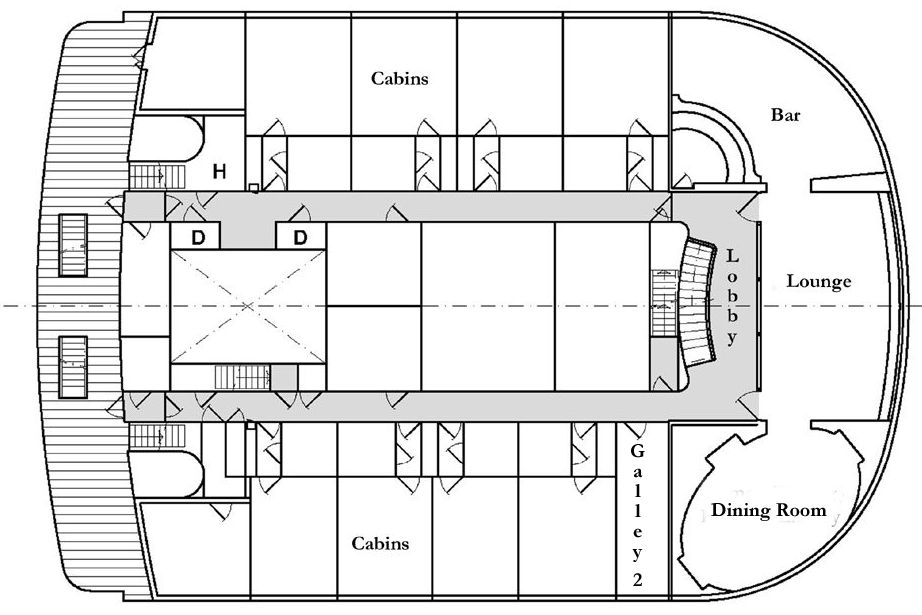 Promenade (passenger) Deck plan
Publicity material
There was no doubt, but the Cap San Diego certainly offered some of the most luxurious and spacious accommodations to be found on any passenger cargo ship with just 12 passengers sailing in the early 1960's. Her lounges were the ultimate in comfort and design and her spacious cabins were indeed the ultimate and as some of her past passengers stated;
"Our cabin on the Cap San Diego put many first class cabins on the big so-called luxury trans Atlantic liners to shame! We loved the intimacy and the excellent food and service on board, and no, we are not German, but British, but we decided that we just had to do it, for once we saw these ships we had to try it them, and when we booked, it just happened that it was the great survivor of the fleet, the Cap San Diego that fitted our timeslot, and it was certainly one of our the best voyages ever, bar that great Dutch liners you also have online, the SS Nieuw Amsterdam! Thank you for all your hard work and the best maritime sites, I have been reading it for over 10 years and never tire of it. Please keep on going, and I hope that you will write on the Cap ships soon! George.S. Nov 2008."
I hereby wish to thank you George.S., who did not wish to be fully identified, for providing your thoughts on your voyage and sending me these excellent postcards, as seen below, it was you that got me started on commencing this page in 2008, but somehow due to a lack of time I never finished it, and although I had written much of it, I only completed this page late in July 2011. Thanks again George!
Bar and Night Club:
Located forward on her main passenger deck are the ships three main public venues that span the entire width of the forward part of the ship and is divided into three rooms. Port side is the delightful Lounge Bar, which had deep leather luxuriously furnished sofas and high-backed armchairs, timber cabinets and soft colours soft furnishings dark glossy lampshades complementing the black marble round polished steel surrounded tabletops. The bar was on the aft wall towards the middle of the ship and was rounded and it had a subdued feel, yet it was well lit and beautifully executed, giving this room an understated but a delightfully joyful nightclub feel!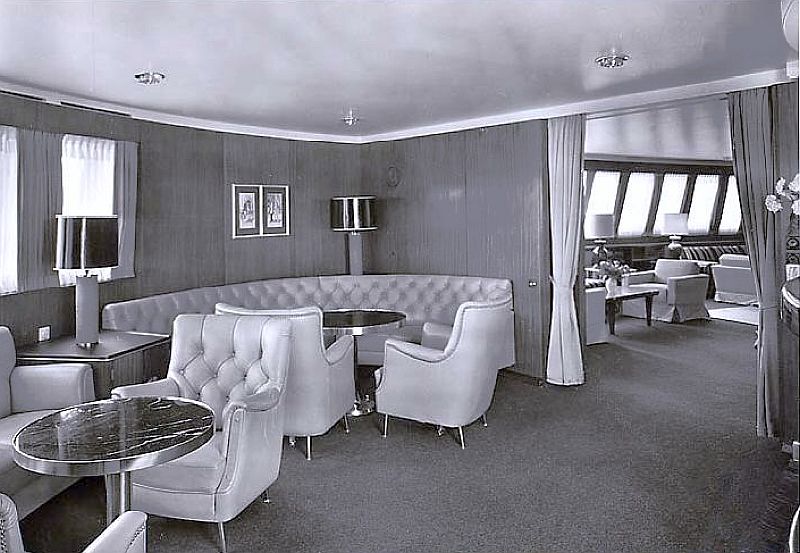 On the port side of the Lounge is the luxuriously furnished Bar
Postcard – George. S.
Main Lounge:
In the middle is the sublimely elegant Main Lounge that had most of its furnishings located on the forward section of the room close to the windows. There were comfortable and elegantly upholstered fabric stripped sofas, as well as more subdued plain fabric armchairs. Cantered below the windows you will note the book cabinet, as there was an ample selection of books for the passengers to read. Along the aft wall was a long steel based and timber topped cabinet with two armchairs at each side. Centred on the cabinet was always a fresh vase of local flowers pending on location, and at each end there was an elegant fabric covered base lamp (same as the plain armchairs) topped with a soft and light lamp shade. In the drawers of this cabinet passengers would find playing cards and various games. The wall behind the cabinet is of all glass and it looks directly into the Lobby and the main stairwell. The vertical, softly stripped side walls, featured two small pieces of art that were hung very close together, and looked very smart indeed, this was also a feature in the Bar!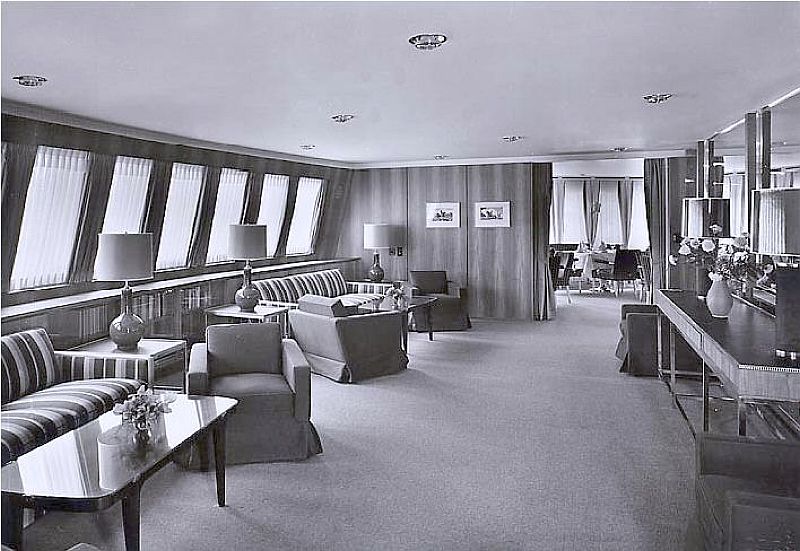 The beautifully designed Lounge has the ultimate of comfort and views over the ships bow
On the starboard side through the opening is the Dining Room
Postcard – George. S.
Dining Room"
On the starboard is the location of one of the most elegant Dining Rooms afloat! It may be a small restaurant, but it became famed as having the elegance of a fine dining Restaurant and I have been told that the meals were of the highest international standard! The décor was simple, yet overflowing with beauty, bet it the gently rippled walls had a touch of gold, the curtains continued the theme, but had a darker gold vertical stripe. This venue provided an overall relaxing feel and it was certainly a good preparation to a splendid meal that was to come! There are elegant brass wall light fittings with a fluted frosted glass shade and on the aft wall a fine piece of art. The most striking feature in this venue was the chairs, having a rather elegant fabric with gold and brown stripes that added to the whole theme of this luxurious venue. The room was also oval in shape and thus the whole venue had that sculptured feel about it and it was nothing short from sublime, and remember this is a freighter that transported just 12 passengers, thus it is so hard to believe for she looked more like a full fledged luxury Trans-Atlantic passenger liner! If I could have only sailed on her in her hey day!!!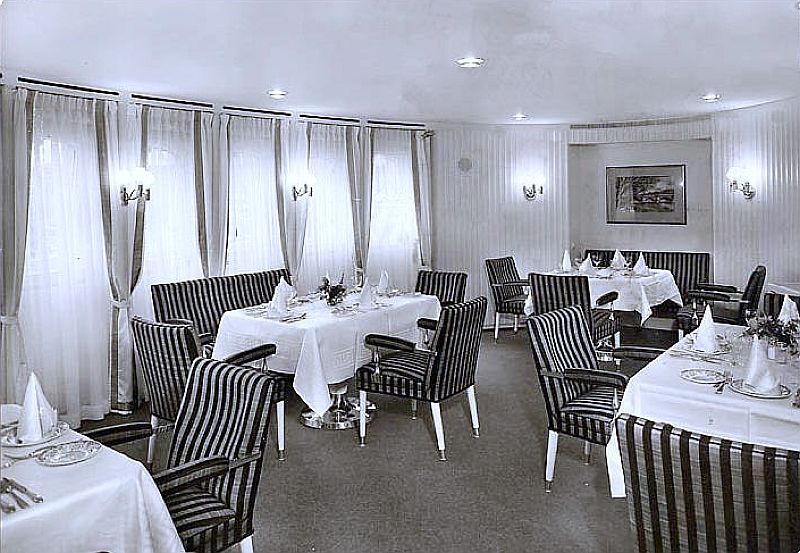 The delightful Dining Room is located next to the lounge on the starboard side!
Postcard – George. S.
Staterooms:
Aft of the Lobby there are eight gracious and spacious beautifully appointed staterooms, these are made up of twin and single bedded rooms. These staterooms were the ultimate in German style and elegance for as you enter the room the first thing that was rather obvious was the sheer space of the room, as well as the two large windows that brightened the space, which was complimented by the light walls and ceiling, the simple art work that adorned the wall, the large mirror and the brass wall lamp with a soft lampshade. However the furnishings is without doubt the most striking features here, as it features superb timbers that surround the beds, the cabinets, table and wardrobes, all of which are of fine dark timbers adorned with a gold trim. In addition there is a large sofa, as well as an armchair, a high table that can be used to dine on, or just as a coffee table. All rooms are huge, for between the two beds alone there was at least 8 feet of space, and that is just a part of the stateroom. The two sets of drawers had a fixed lamp on them, and there was a long desk spanning between them. Carpets throughout all passenger areas were very much a neutral pale grey. All staterooms, twin or single offered excellent private facilities!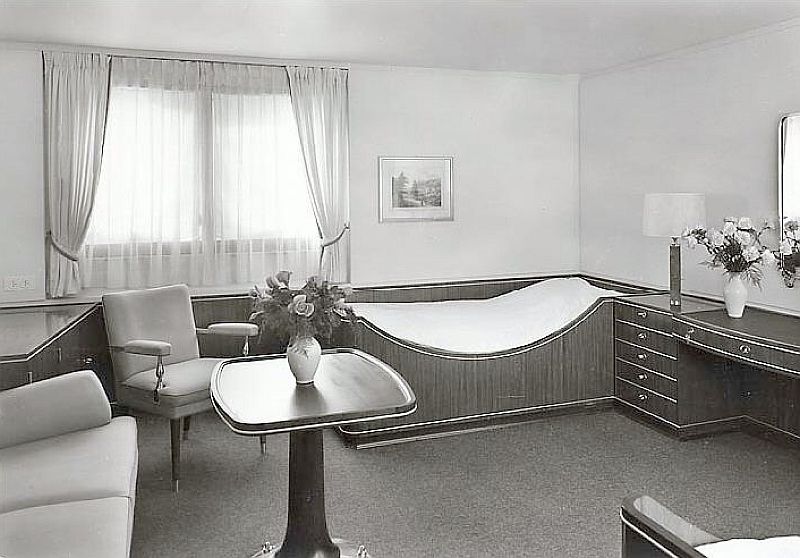 This is one of the twin staterooms and all cabins on board were large compared to most ships today
They were superbly fitted out and their furnishing added to the luxury feeling of the ship
Postcard – George. S.
Lobby:
The forward Lobby is the heart of the ship as it led to all the ships facilities, her lounge, bar, dining room, staterooms and her lower open deck spaces and the purser's office. The Swimming pool is located above on Boat Deck and is reached via stairs located aft on this deck. Like all the ships carpets they are a pale soft grey, and with the walls being clad in a rich timber, gives the interior a warm and homely feeling, the glass wall afforded sufficient light flowing in from the windows in the Main Lounge. The stairs balustrade is slightly curved giving it a delightfully sculptured touch! Generally this is a well finished, be it rather small area.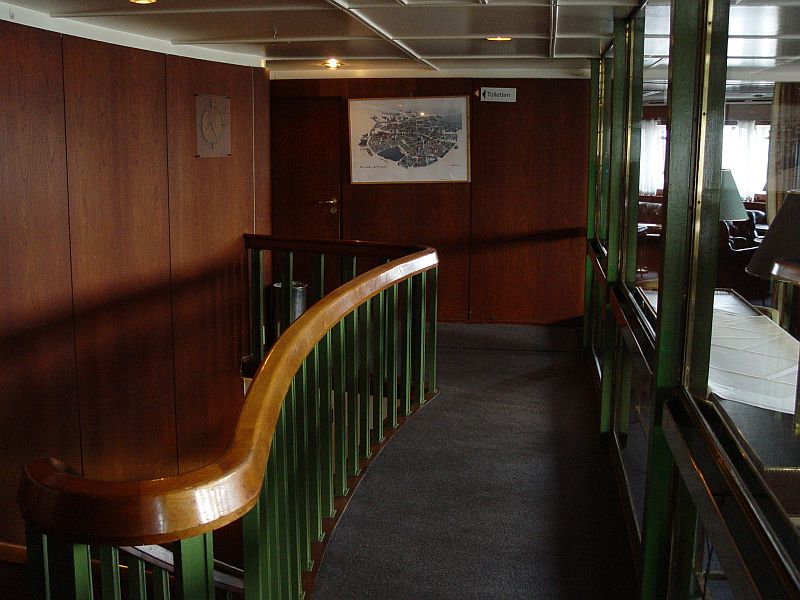 The Lobby and main Stairwell goes down to Shelter Deck
Photograph provided by: Cap San Diego Betriebsgesellschaft mbH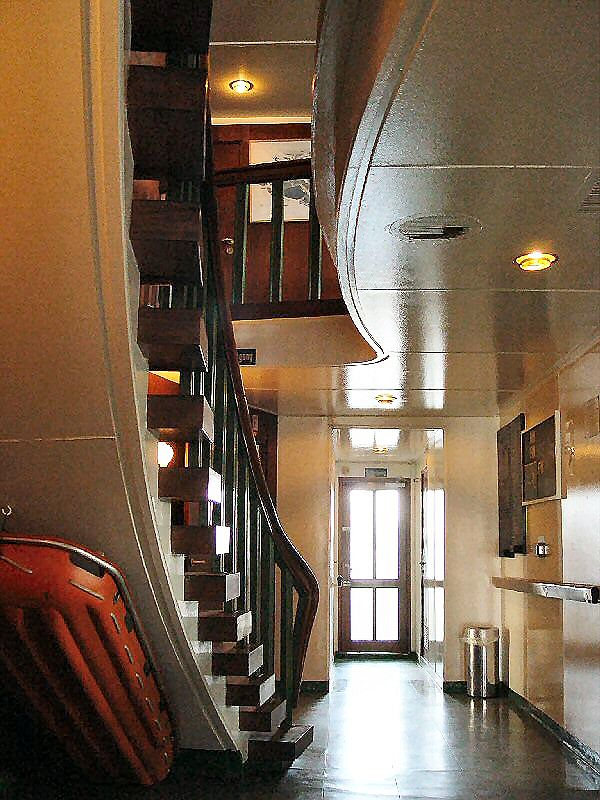 Lower Lobby and Stairwell on Shelter Deck looking to port and the door to the open deck
Image provided by Isaac Jacobsen (DE), but the photographer unknown - *Please see photo notes at bottom of page
For a passenger cargo ship, the Cap San Diego offered her passengers an excellent outdoor swimming pool up on Boat Deck and this area even offered a fine lido deck, reminiscent of a genuine Trans-Atlantic passenger Liner!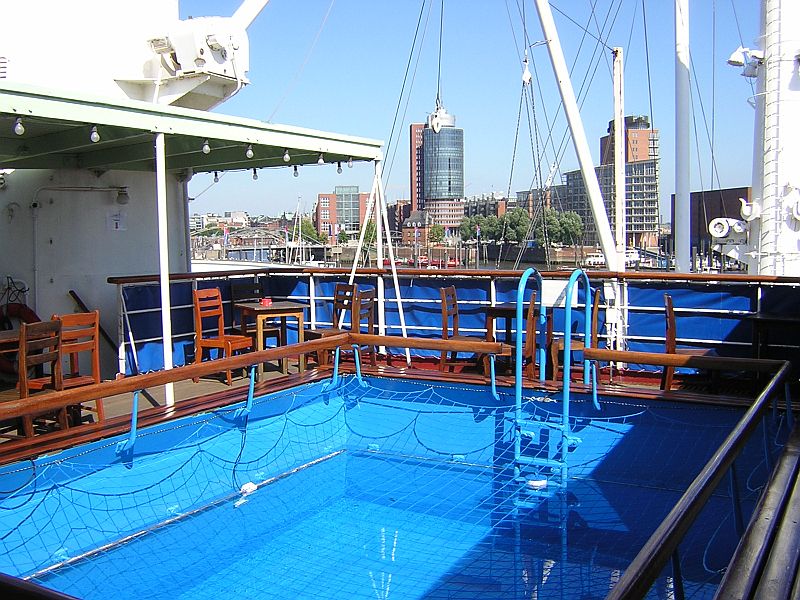 Pool and Lido Deck on Boat Deck
Photograph provided by: Cap San Diego Betriebsgesellschaft mbH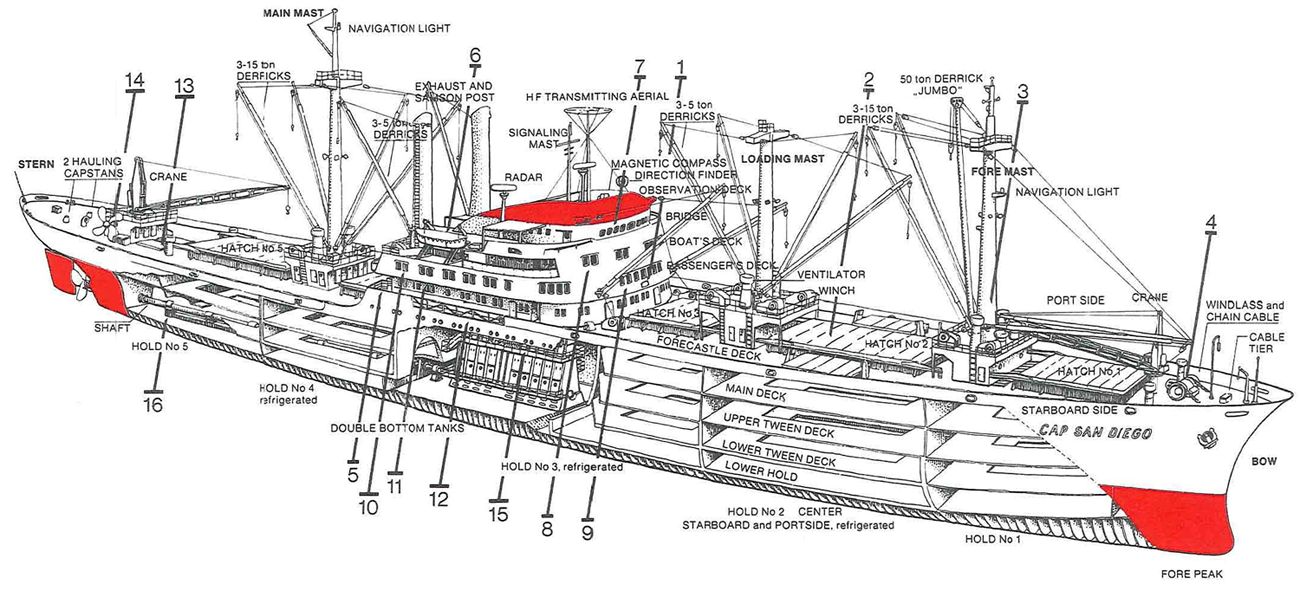 The ships overall lay-out
From original publicity material – author's collection
Photo Album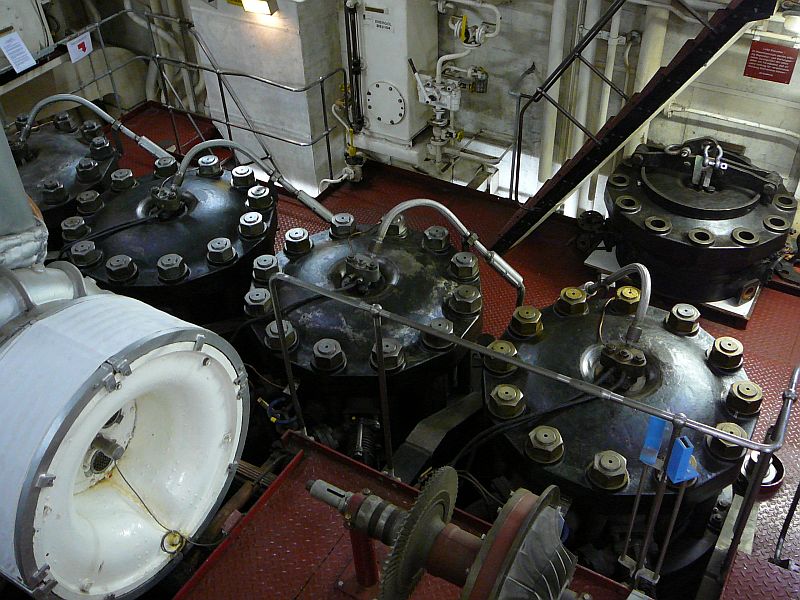 The Engine Room
Photograph by & ? Laurens v. Oelsen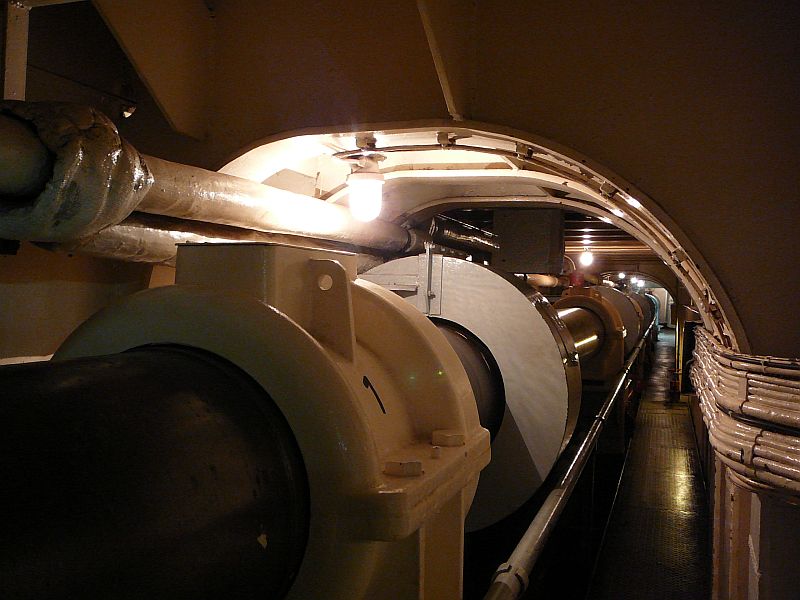 Here we see her 52 meter long propeller shaft
Photograph by & ? Laurens v. Oelsen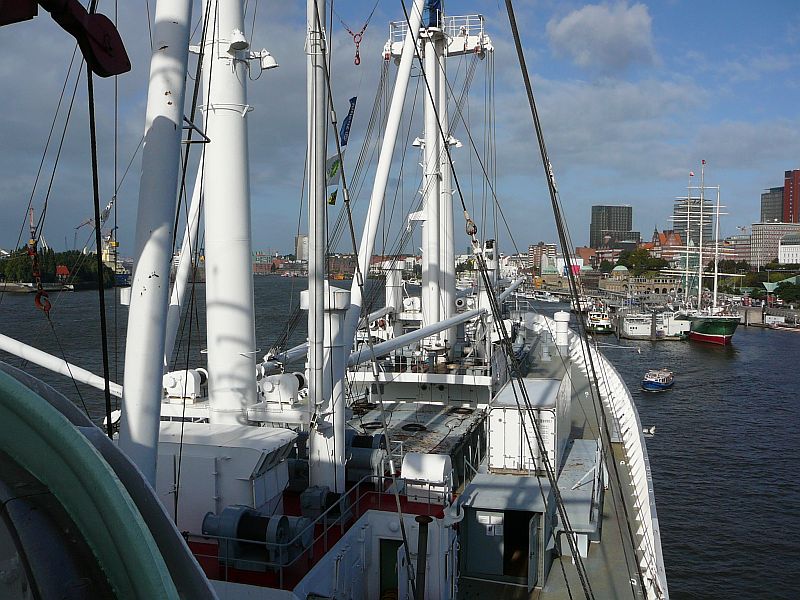 Looking over the ships fore-deck
Photograph by & ? Laurens v. Oelsen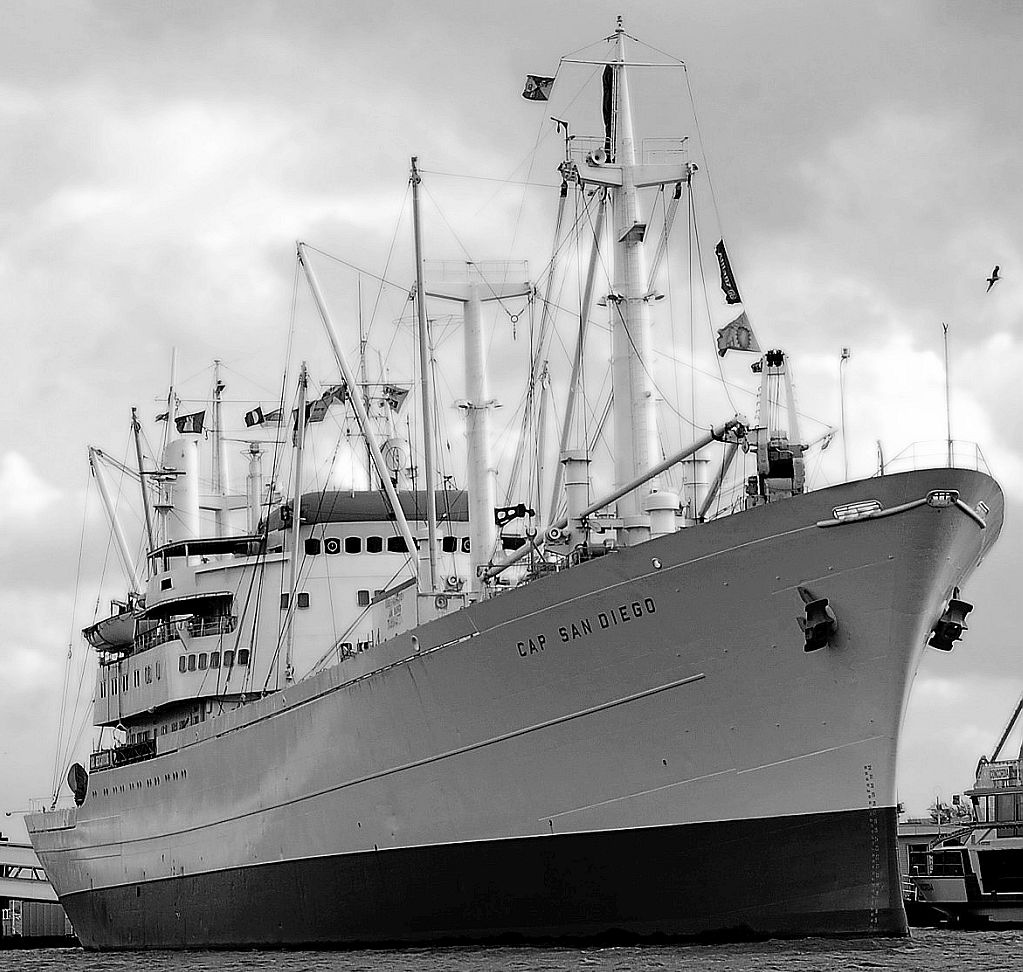 A superb black and white photo of this sleek ship

Photographer unknown - *Please see photo notes at bottom of page

Specifications

:

Builder:??????????????????????????????????????????????? Deutsche Werft AG in Hamburg.

Number:?????????????????????????????????????????????? 785.

Laid down:?????????????????????????????????????????? April 10, 1961.

Launched:??????????????????????????????????????????? December 15, 1961.

Maiden Voyage:??????????????????????????????????? March 29, 1962.

Tonnage:???????????????????????????????????????????? 9,998 GRT & 5,729 Net.

Length: ????????????????????????????????????????????? ft – 159.40m.

Beam:???????????????????????????????????????????????? ft - 21.40m.

Draft:????????????????????????????????????????????????? ft – 8.44m.

Engines:????????????????????????????????????????????? 1 x 2 Stroke MAN K9Z 78/140 D - diesel engine at 11 650 hp – 8,569 kW.????

????????????????????????????????????????????????????????? Four auxiliary KHD-engines (500 hp) with generators to supply the ship with electricity 440V/115 ac.

Screws:?????????????????????????????????????????????? Single.

Service speed:????????????????????????????????????? 19 knots (During trials: Max, 20.3 knots at 118 revolutions per minute).

Passengers:????????????????????????????????????????? 12 First Class deluxe.

Crew:????????????????????????????????????????????????? 50.

MS Cap San Diego would faithfully sail the Atlantic for the next 20 years and operate a good return voyages out of Hamburg across the Atlantic and back, which was quite a feat, but then came the 1980's and modernisation arrived with new systems, such as container ships and the shipping trade was rapidly changing and ships like the good old faithful Cape ships would become close to obsolete. And operating as passengers ships had slowly become too costly by now with crew costs increasing, etc...

Thus, sadly, late in 1981 the company had decided to modernise its fleet and to dispose of two of its Cap ships, with the other three to be sold in the following two years. The Cap San Lorenzo was sold months after being built. On December 19, 1981 she was taken over by the Spanish company Hansamerica S.A. and managed by Ybarra y Cia.S.A., Panama who renamed her MS San Diego. She operated until early 1986, on their services, although little is known, or that I have available at this time.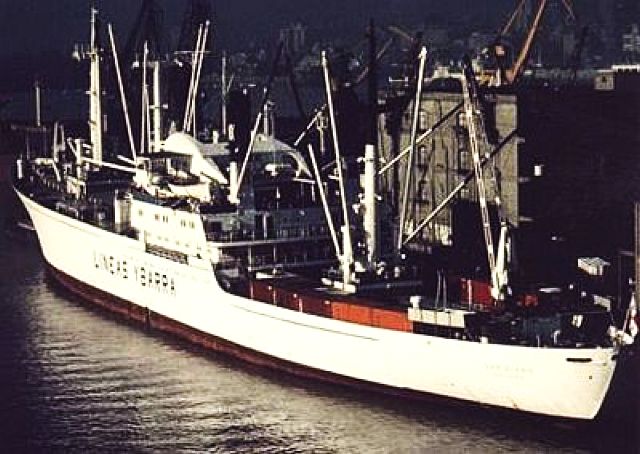 The Ybarra Lines MS San Diego – 1982 to 1986
Photograph provided by: Cap San Diego Betriebsgesellschaft mbH
However in March 1986 she was sold to Multitrade Shipping Inc and she was to be managed by Navorient Maritime Ltd of Kingston. But they soon realised that this once glamorous liner, renamed MS Sangria, would no longer be a profitable vessel to operate. Thus it was decided to lay her up and place her on the market. Sadly due to poor maintenance, possibly even from her previous owner, as well from current neglect, she was looking more like a ravaged and a rusty ship to say the least. She was finally sold to a Chinese breaker, but the question is … was this going to be the end of her?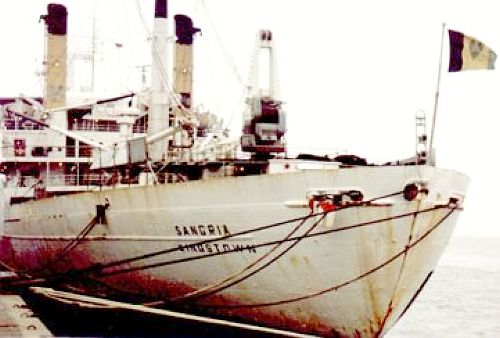 Here we see rather sad looking MS Sangria around August 1986
Photograph provided by: Cap San Diego Betriebsgesellschaft mbH
However the answer to the last question above is NO! For some very good fortune was on her side as the City of Hamburg decided to obtain the Cap San Diego in order to preserve her as a Maritime Monument. On October 31, 1986 this superb ship returned to her homeport of registry and she was officially handed over to the foundation "Hamburger Admiralty" in 1987.
Sadly her five older sisters have all been broken up, whilst the Cap San Diego has survived as superb museum, hotel and tourist venue in Hamburg. She is extremely well looked after by some 38 volunteer workers most of whom are retired sailors who hail from a variety of ranks and they take very good care of her, in addition there are 20 other workers that are part of an employment program. Amazingly the ship is fully operational and continues to operate short day voyages throughout the year.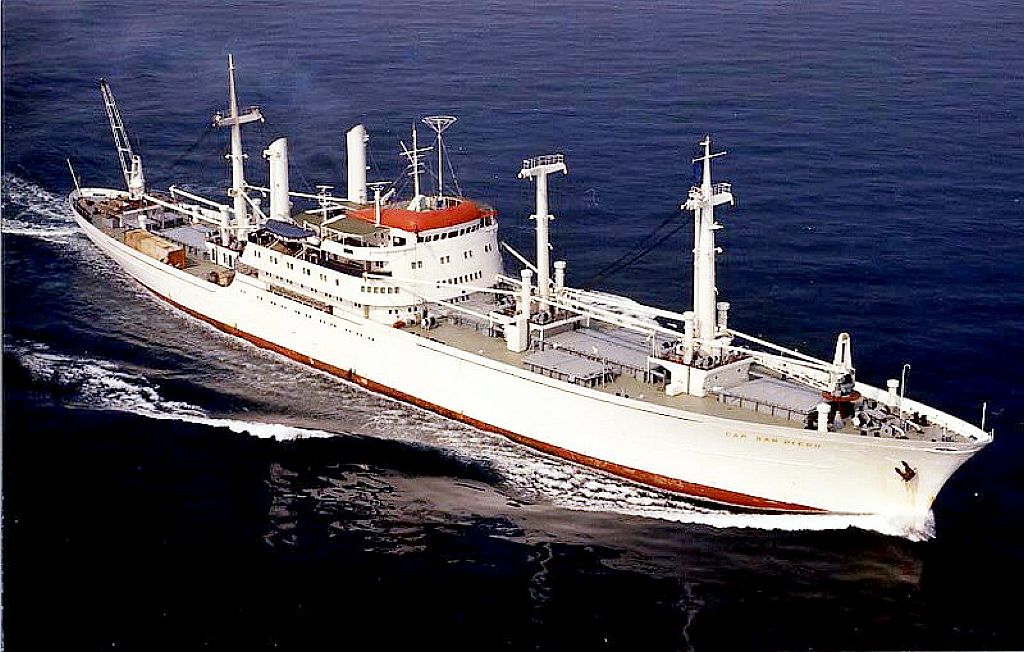 A superb photograph of the sleek MS Cap San Diego during her days sailing the Atlantic
Company's Postcard – Author's collection
Click HERE for an excellent YouTube video of the MS Cap San Diego
Hamburg Sud's INDEX:
Page One …?????????????????? "MS Santa Ines & Santa Teresa" - Including a little "Hamburg Sud" history and a few other ships.
Page Two …?????????????????? "MS Cap San Diego" - The Last of Six "Cap San" Class Liners.
Page Three …???????????????? "MS Cap San Diego" - "The Museum & Hotel Ship."
Page Four …?????????????????? The other Five "Cap San" White Swans.
**************************************************
Use the Back button on your browser or Close the Page to return to the previous page
or go to our INDEX
Who is the Author of ssMaritime?
Commenced in the passenger Shipping Industry in May 1960
ssMaritime.com & ssMaritime.net
Where the ships of the past make history & the 1914 built MV Doulos Story
Also visit my …
"Save The Classic Liners Campaign" & "Classic Ocean Voyages" pages
Photographs on ssmaritime and associate pages are by the author or from the author's private collection. In addition there are some images that have been provided by Shipping Companies and private photographers or collectors. Credit is given to all contributors. However, there are some photographs that have been provided to me without details regarding the photographer/owner concerned. I hereby invite owners of these images, if they would be so kind to make them-selves known to me (my email address may be found on www.ssmaritime.com ), in order that due credit may be given in full. I know what it is like, I have seen a multitude of my own photographs on other sites, yet these individuals either refuse to provide credit or remove them when requested, knowing full well that there is no legal comeback when it comes to the net. However, let us show these charlatans up and always do the right thing at all times and give proper credit where credit is due!
This notice covers all pages, although, and I have done my best to ensure that all photographs are duly credited and that this notice is displaced on each page, that is, when pages are updated!
ssMaritime is owned and ? Copyright by Reuben Goossens - All Rights Reserved