R.M.S. Carmainia of 1905 to 1932
Please Note: Firefox and some other Search Engines may not be suitable
Use Google Chrome for this Web Page to load perfectly!

Please Note: All ssMaritime and other related maritime sites are 100% non-commercial and privately owned, thus ssmaritime is NOT associated with any shipping company or any other organisation! Although the author has worked and been involved in the passenger shipping industry for well over 60 years, but due to his old age and poor health, he was forced to retire. Yet, he has completed well over 1,550 Classic Liners, Passenger-Cargo Liners as well as humble converted C3 converted Migrant Liners, which has transported countless thousands folk to the new world, as well on vacations'. I trust the features online will continue to provide Classic Liner and Ship enthusiasts both the information they are seeking, but more so provide a great deal of pleasure and relive many happy memories!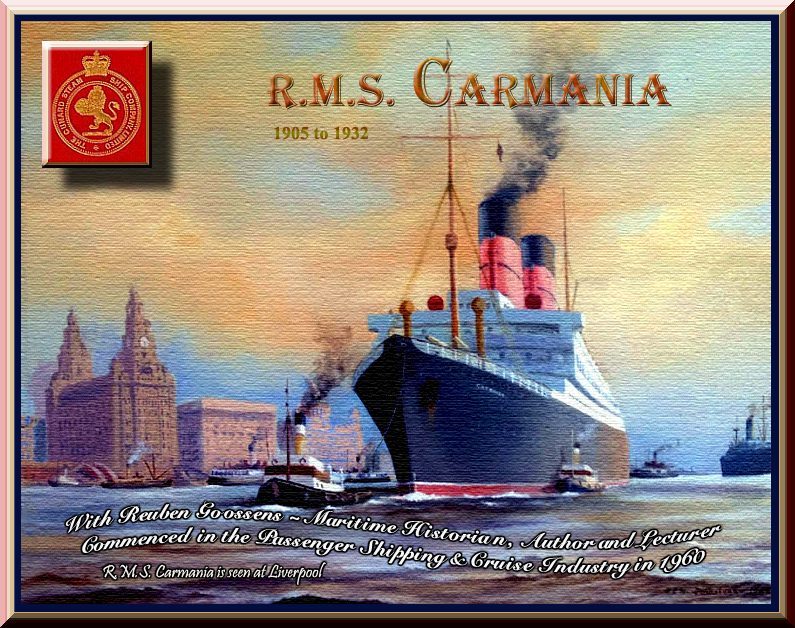 Please Note: Postcards, photographs & other images are either from the author's private collection.
A special thank to the three ssmaritime supporters for sending their most welcome Photos & images
Ronny MacQuoid (UK), David Smeeton (UK) and Michael O'Donnel (NZ)
I am sorry but some of the images shown are not of the highest quality, but they are the best that were available
Introduction:
The 19,566 GRT (Gross Registered Ton) "Carmania" (completed November 1905) was the sister ship of the 19,594 GRT "Caronia" (completed February 1905), yet they actually ended up having completely different machinery installed, in addition the "Carmania" was a triple screw liner, and the "Caronia" a twin screw liner. The R.M.S. Carmania was powered by the then innovative Parson's steam turbine engines, which offered higher speeds, simpler maintenance and best of all, lower operational costs. Thus she was effectively the test ship for operating a turbine engine on a large passenger liner, whilst her sister, the R.M.S. Caronia was operated by the more traditional quadruple-expansion steam engines. These very different systems were installed purposely as it was done to test the effectiveness of these two systems, and which would be the most effective for the future. Another feature that differentiated the two sister ships was that "Carmania" had two tall forward deck ventilator cowls, which the "Caronia" did not have. But there was something else about these two fine sister ships, for at the time they where the largest and fastest liners in the Cunard fleet.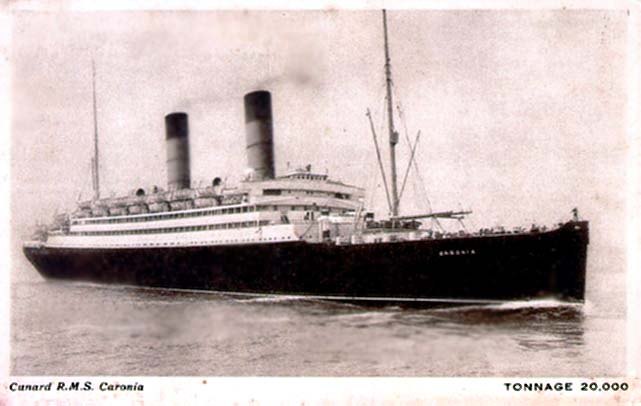 Carmania's earlier sister the R.M.S. Caronia
Design, Construction and Launching:
The "Carmania" was designed by Leonard Peskett, OBE (1861 – 1924) who was the Cunard Line's Senior Naval architect and designer, and he designed liners such as the "Mauretania", "Lusitania" and the "Aquitania".
The order was placed for her to be built by "John Brown & Company" at Clydebank, and her keel was laid down on May 17, 1904 in Yard No 366. Each of her three propellers were 4 bladed manganese bronze screws.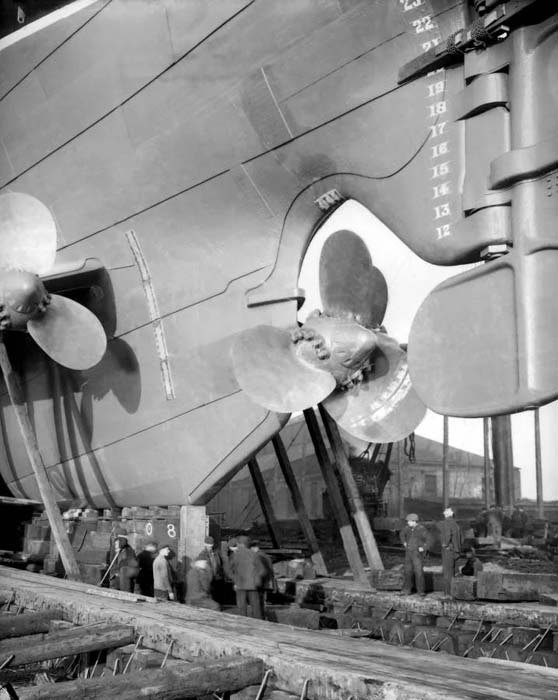 Her stern and triple screws and rudder are seen at the John Brown Yard 366
Thank you David Smeeton for your kind assistance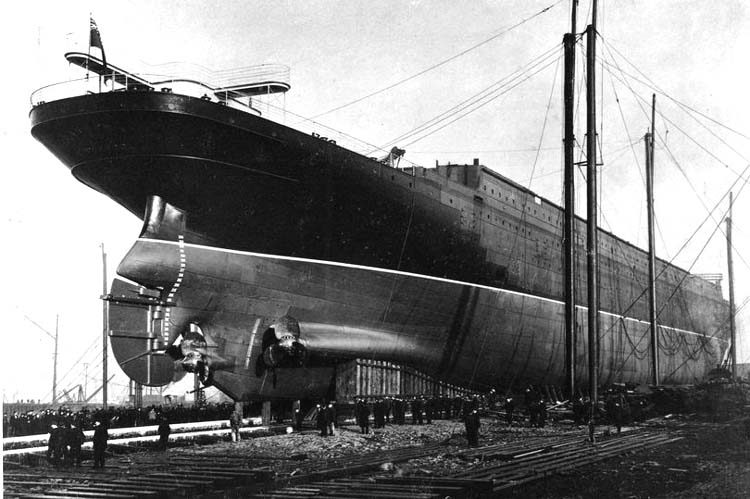 Here we see another view of her stern and her hull prior to her being launched
On February 21, 1905 the hull of the "Carmania" was launched by Lady Blythswood, who was the wife of a former aide to Queen Victoria.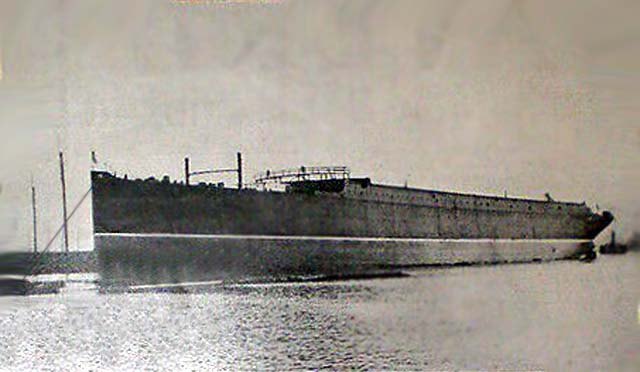 She is seen having been launched and is being towed to the John Brown fit-out berth
It became known that the R.M.S. Carmania was in fact the forerunner of the 31,550 GRT steam turbine liner the "Lusitania" which was completed in 1907 and this had become of great public interest.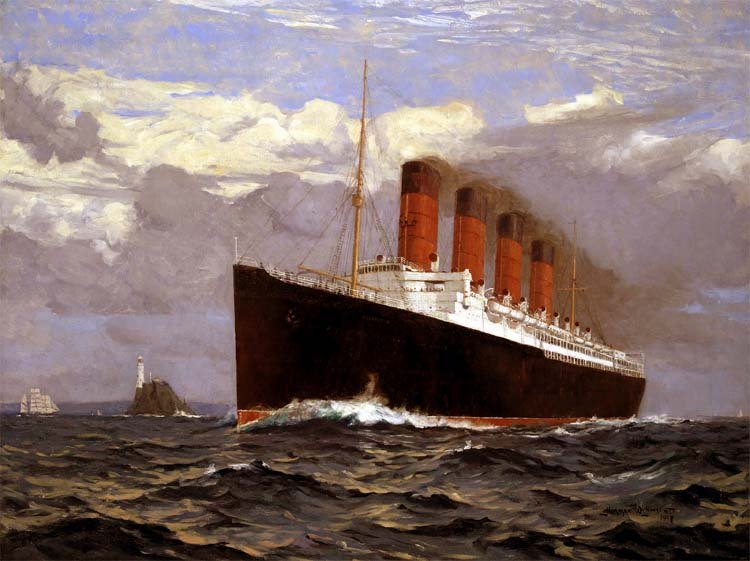 A pre-launch artistic postcard of the R.M.S. Lusitania
When the "Carmania" was completed at the "John Brown" fit-out berth she undertook her deep sea trials in the third week of November 1905 and during her speed trial just off Skelmorlie she achieved an excellent 20.19 knots or 37.39 km/h, thus her trial was a huge success! The "Carmania" was delivered to Cunard Line at Liverpool several days later.
The R.M.S. Carmania accommodated a total of 2,650 passengers, with 300 in First Class, 350 Second Class, 1,000 Third Class and 1,000 in Steerage. Her holds included 46,280 cubic feet (1,311 m3) of refrigerated cargo space.
Her Maiden Voyage and Service:
In Liverpool the "Carmania was being made ready, fully stocked up, manned and cargo loaded and then the "Carmania" was ready to depart on her maiden voyage.
R.M.S. Carmania with passengers having boarded on December 2, 1905 departed for her maiden voyage sailing from Liverpool to New York, via Queenstown and she arrived at New York on December 10. She completed her voyage in 7 days, 9 hours and 31 minutes, averaging a speed of 15.97 knots over the 2,835 nautical miles or 5,250 km route. Cunard had decided that a number of engineering experts would join her on this voyage, and they were extreamly enthusiastic about how her direct acting Parsons steam turbines had worked so efficiently, with so little vibration and cheaply compared to other engines!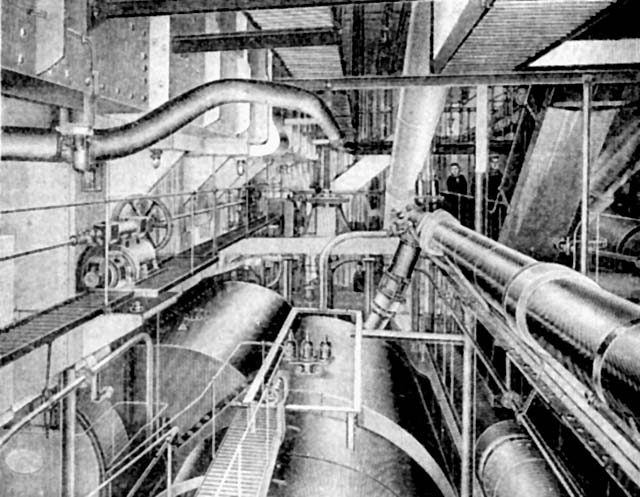 An artistic view of her engine room
R.M.S. Carmania operated her regular service from Liverpool to New York to 1910. And in the spring of 1906 she even had the famed H.G. Wells onboard. He noted the ship's size in a book about his travels and stated; "This Carmania isn't the largest ship nor the finest, nor is to be the last. Greater ships are to follow."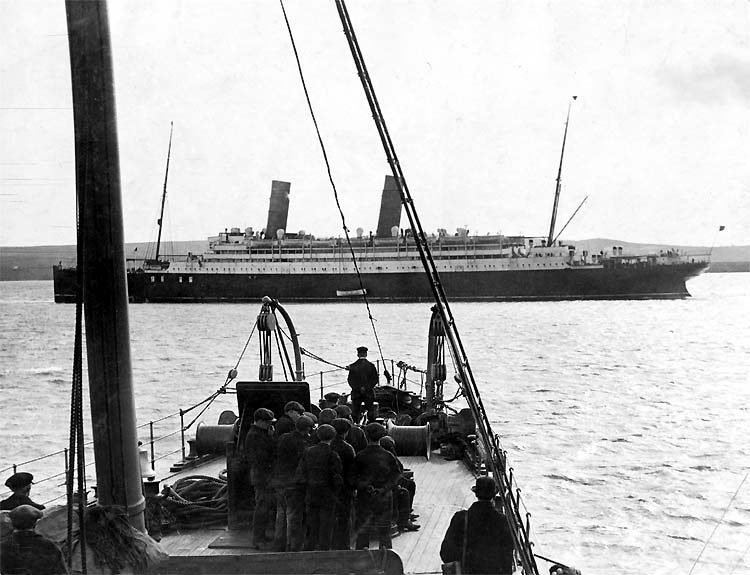 R.M.S. Carmania is seen at Fishguard (south-west) Wales in 1909
Thank you David Smeeton for your kind assistance
Interiors:
First Class:
Boat Deck offered "Carmania's" magnificent 'Lounge' and it was a delightful venue, where smoking was permitted even when ladies were present. There was a buffet where tea and coffee and light refreshments would be served. The venue was furnished with sofas along the walls, and large comfortable lounge chairs with high backs with comfy head rests, as well as timber and partially upholstered chairs.  The occasional tables were round and made of walnut. The overall colour scheme was blue, with scattered red Persian rugs, with beautiful mahogany timbers featuring along the walls and shapely carved columns throughout the room and above an elegant ceiling with a glass well that featured stained glass panels.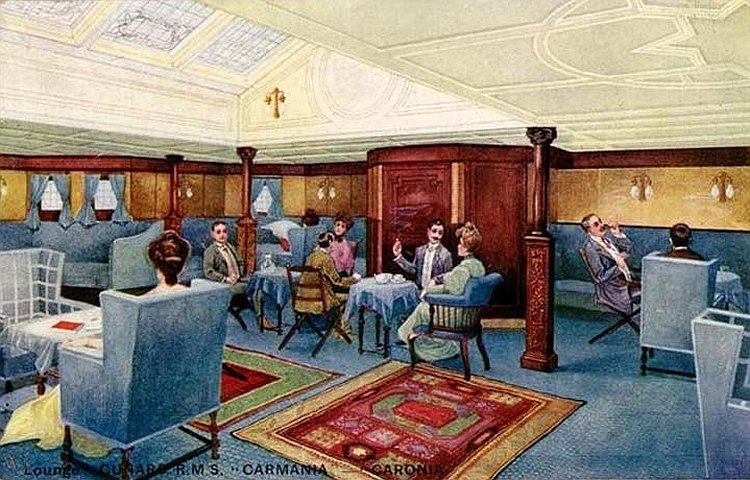 Above & below: A colour postcard of the Lounge and an actual photograph of the venue
Thank you Ronny MacQuoid for your kind assistance and the photo below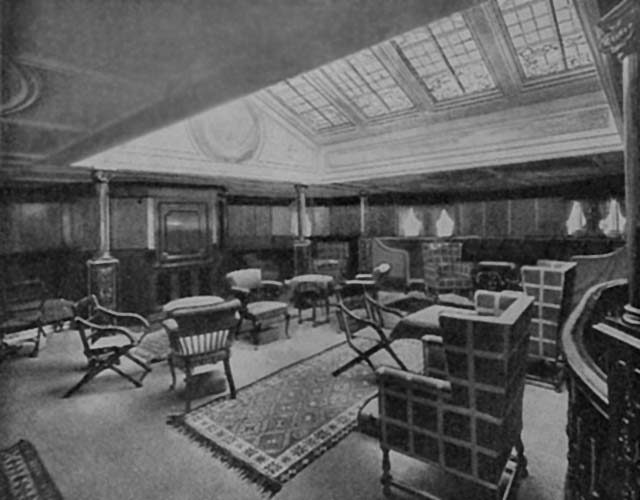 One deck down we find Upper Promenade Deck and here was the delightful 'Writing Room', that was a most tasteful room, with a ceiling and bulk-heading treated in the delicate Adams Style, all painted and finished in an ivory white, with rich and luxurious furnishings in a restful shade of green.
Passing through archways we arrive in the elegant 'Drawing and Music Room' and this venue also features the Adams Style with the bulk-heading being exquisitely panelled and moulded, broken by pilasters richly carved and fluted. The ceiling and bulk-heading was in ivory white with rose silk panels.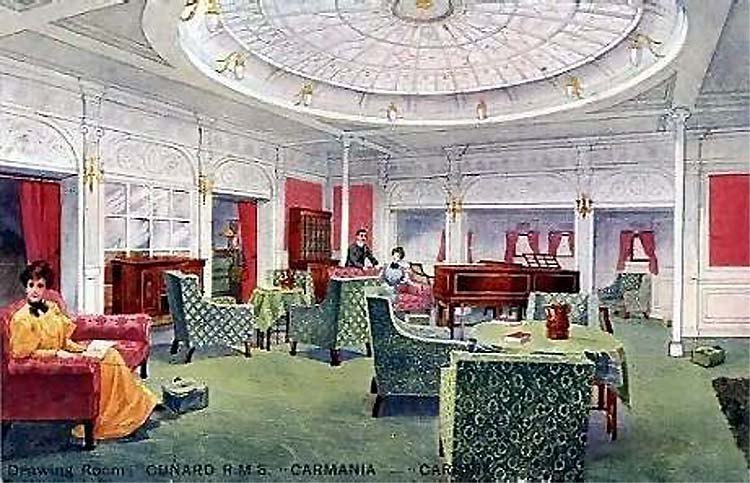 Above & below: Again two views of the Music & Drawing Room in colour and a black and white photograph
Thank you Ronny MacQuoid for your kind assistance and the photo below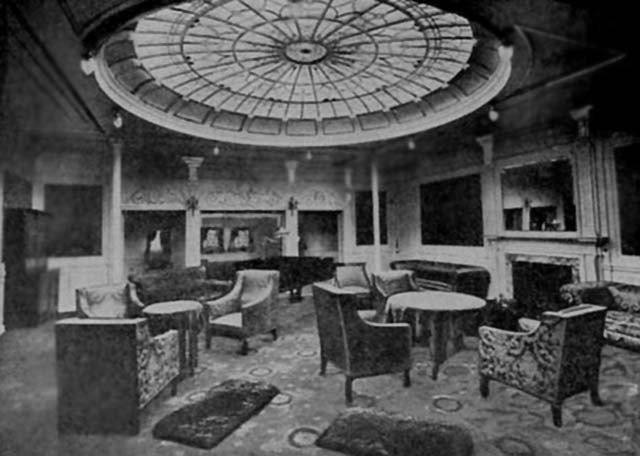 Carpets and furnishings were in a shade of green, and tables and cabinets, etc were all in a dark mahogany. The lounge chairs were upholstered in velvet in a delicate rose and green. A fine feature was the mantelpiece with hammered brass sides and a canopy. The room was flooded with a soft light from the beautiful circular dome above, with its beautiful leaded glass panels certainly added to this fine room.
Next was the 'Smoking Room', being located aft on this deck. Its style was mostly Elizabethan, and it was a most pleasing and comfortable room. The panelling was in oak and was enriched with carved pilasters and those fine pillars. The floor was laid with parquet, and the ceiling was panelled in a deep cream with oak moulded beams. In the ceiling there was another glass dome in the center of the room.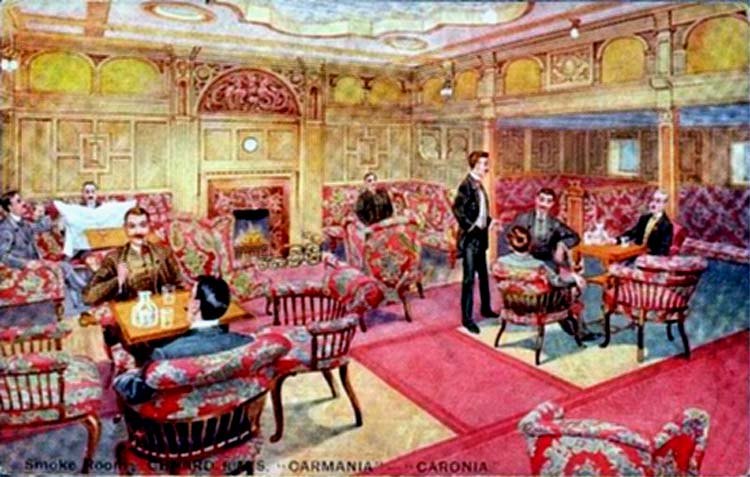 Above & below: Two views of the Smoking Room
Thank you Ronny MacQuoid for your kind assistance and the photo below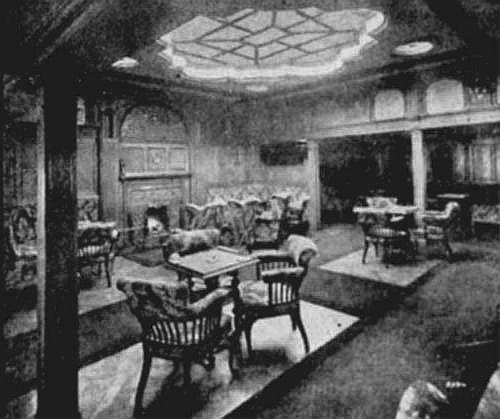 The Smoking Room was more like a very comfortable lounge in a large country house, and obviously was a very popular venue onboard.
Two decks down was the 'Dining Saloon', and it was located amidships, and the venue stretched the full width of the ship, and seated 300 guests. This time the style employed was Georgian, and in the centre of the room a large octagonal dome was arranged with the sides opening out onto the alleyways on the deck above. The sides, pillars, and ceilings of this dome was decorated in Ivory white and enriched with gold that formed a most pleasant sight.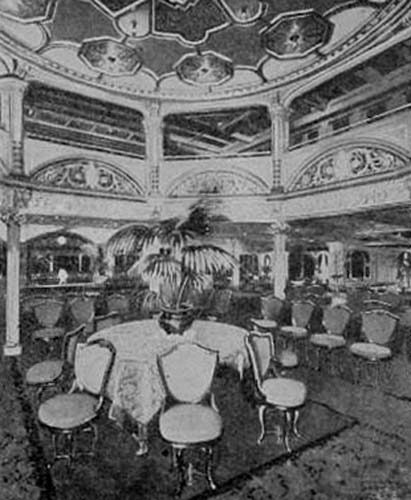 The Dining Saloon
Thank you Ronny MacQuoid for your kind assistance
Instead of long lines of tables, as had been the custom, on the "Carmania" they were more scattered and the tables were from seating four, six eight to the largest being twelve. Also the chairs instead of being the usual revolving ones, the chairs were very comfortable and had shield backs.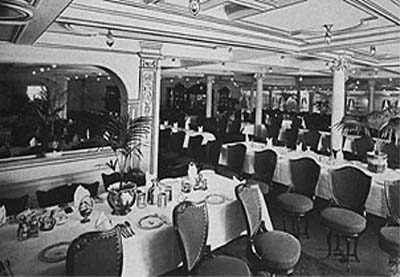 A view of the Dining Saloon nearer to the side of the ship, and a good view of the chairs
Accommodations:
First Class offered accommodations for one, two or three passengers. There were a good number of staterooms with an en-suite having a bathroom, whilst there were also the deluxe suites which had a bed room, a lounge, the bathroom with a separate toilet room. The en-suite rooms were spacious and featured ivory white panelling, velvet, pile carpets, luxurious settees and armchairs, dressing tables, wardrobes, writing tables, bookcases and there was hot and cold water available. The bedding were wide berths. Curtains in all staterooms were of the finest damask and the carpets were in a rich red giving these accommodations a comfortable and a cheerful rich appearance. The rooms were well lighted and an electric bell was fitted at every bed or berth to have your steward come to your room.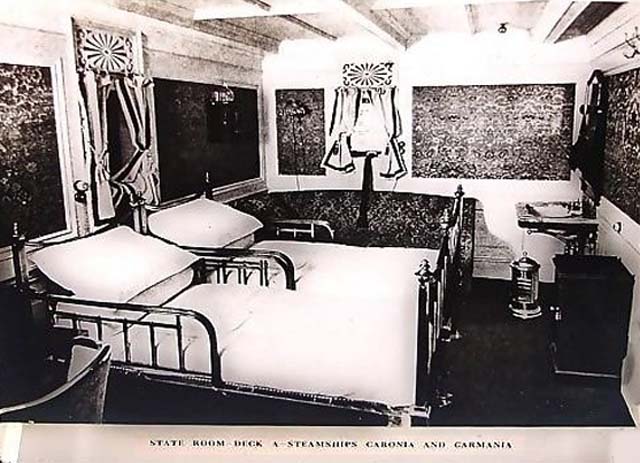 A stateroom with a bathroom on A Deck
Second Class:
Her Second Class Public Rooms as well as her staterooms were a vast improvement to all the ships of the past, as they were well presented and of a much higher quality.
On B Deck aft, which was also another covered promenade deck, we find the Smoke Room and the Drawing room.
The Smoke Room was fitted out in Mahogany panelling, with its seats covered in blue 'moquette' arranged in bays around the room, the venue also had deep easy chairs, armchairs and tables, whilst the floor had carpet runners. The room was appealing, comfortable and luxurious.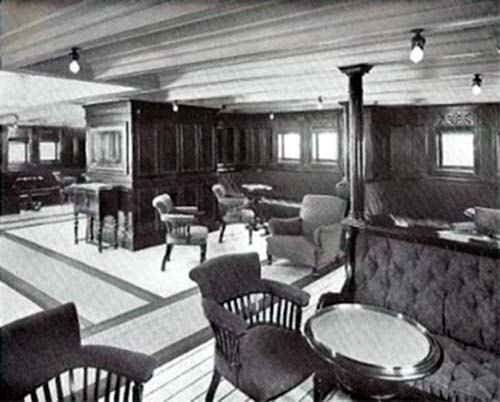 The Smoking Room
The Drawing Room was beautifully panelled in satinwood and featured carved pilasters. This venue also contained the Library which had an ample selection of books located in a fine timber cabinet, and also it had a writing space with special tables and chairs especially arranged.
The Dining Saloon was panelled and finished in ivory white, with soft blue coverings to the seats and blue carpets. There was an attractive sideboard fitted at the forward end, and aft there was the piano. The chairs were revolving type and the general effect was most pleasing. This room also extended the full width of the ship, ensuring ample light and ventilation from its large square ports.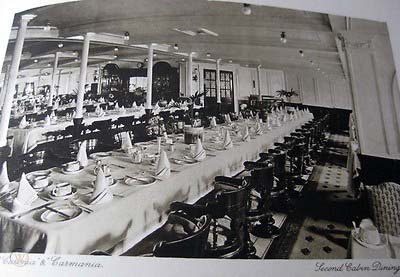 Their Dining Saloon
The staterooms were generally based on a two or four berth configuration, but their interior fittings were similar to those of the First Class staterooms; the rooms were notable by reason of their size, and were with wide spring berths, comfortable sofas, they had an unusual feature, being a fold-up toilet to save space. There was a wardrobe berth curtain, the same carpets and curtains as in First Class, thus Second Class was really excellent for their time.
Third Class:
Third Class was broken up in two parts with up to a 1,000 in each section, with the lower section "Steerage" and its passengers were housed in large 'male' or 'female' dormitories', which was used only by immigrants.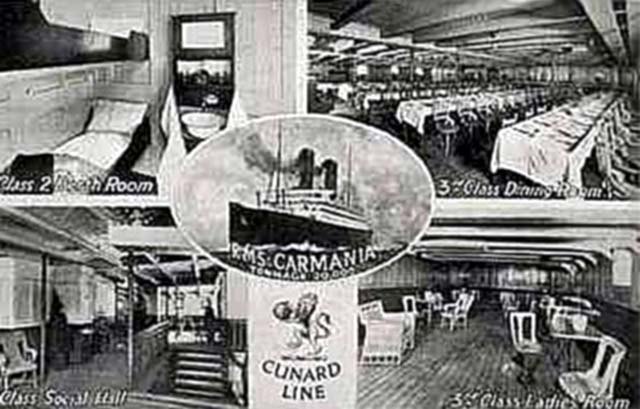 A postcard with a few views of Third Class venues
Third Class had a very large Dining Room located amidships seating 500 at a time, and it was panelled with American Ash and teak dado. The tables were fitted with revolving fitted chairs, and there was a sideboard as well as a piano for entertainment. There was a Smoke Room as well as a Ladies Room both with comfortable lounge chairs and tables, as well as ample deck space.
Accommodations offered cabins for two, four six berths, all with wardrobes and washstands. Ample public facilities were provided and they were maintained to Cunard's famous highest standards! Steerage was accommodated mostly in large dormitories.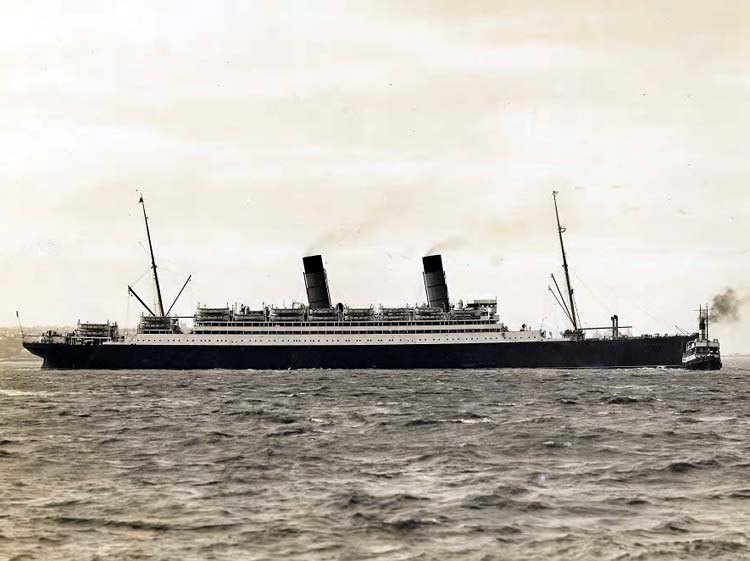 R.M.S. Carmania is seen sailing up the Mersey bound for Liverpool
Fire at Liverpool:
Whilst the "Carmania" was berthed at Liverpool on June 2, 1912 she was almost lost to fire, however thankfully the fire did not reach her major passenger decks nor the engine room after repairs were completed on October 4 she returned to her regular duties. The fire was even reported in "The New York Times" on June 3, which stated;
"LONDON, June 2. The Cunard Line steamer Carmania was seriously damaged by fire to-day in the West Huskisson dock, at Liverpool. Several saloons were destroyed and the bridge, upper deck, stokehold, and engine room were greatly damaged".
I am not sure how correct the description was, but it proves the date, for I noted that most historians have this fire occurring "in June 1910" which is completely incorrect, there is even a photograph of the fire with a date on it and that, besides "The New York Times" proves that it was indeed June 2, 1912.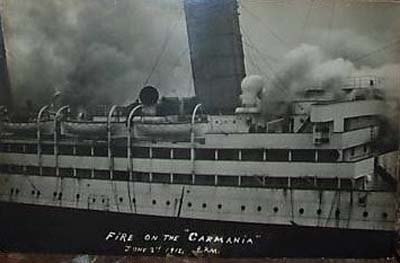 At the bottom it states - "Fire on the Carmania June 2nd 1912, 8pm"
Thank you Michael O'Donnel for your kind assistance
For interest, on January I, 1913 "Carmania's" Captain, James Clayton Barr was officially promoted as Cunard's Commodore, as the previous Commodore Captain, R.C. Warr had just retired after a long time and given the company excellent service!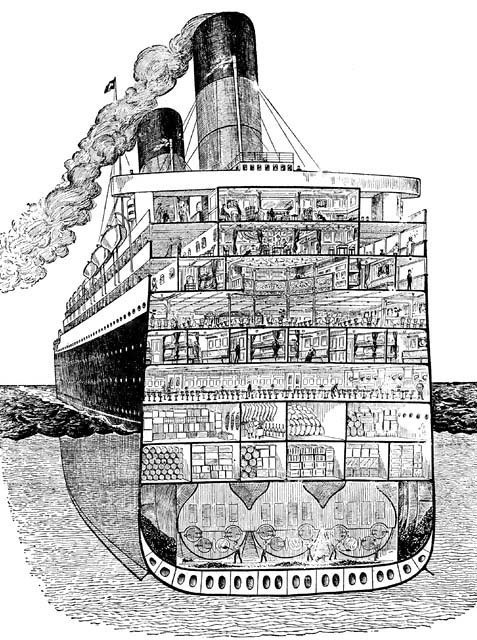 A promotional cut-away image of the "Carmania"
Thank you Ronny MacQuoid for your kind assistance
But there was to be a major event on the horizon whilst she was on a voyage from New York back to Liverpool in October 1913, when the "Carmania" received a distress signal from a small Canadian owned immigrant ship, the S.S. Volturno which was on fire during a violent storm.
The S.S.

Volturno

Story:
At this time the 3,602 GRT "Volturno" was owned by the Canadian "Royal Line" but in October 1913 she was under charter to the "Uranium Steam Ship Co Ltd", for a Rotterdam to Halifax and New York passenger and cargo service. Onboard there were 563 passengers and a crew of 93.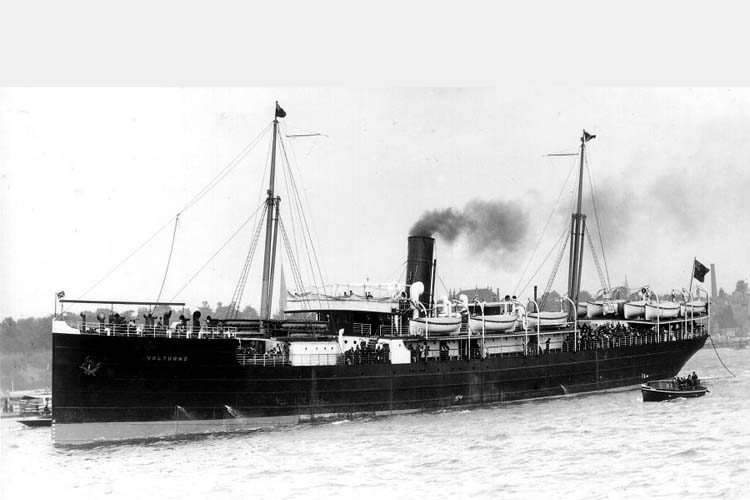 The small passenger cargo ship - S.S. Volturno
During her tragic voyage, apart from a very small number of first class passengers the rest of her passengers were immigrants in third class bound for a new life in a new country, but sadly this would not be for many. Apparently her forward hold was filled with a cargo that contained highly flammable chemicals. And on October 9, 1913 around 0600 hours the ship suddenly caught fire during a wild storm on the North Atlantic at location 49°12'N 34°51'W. Her forward cargo hold was engulfed in flames and very soon the cargo exploded.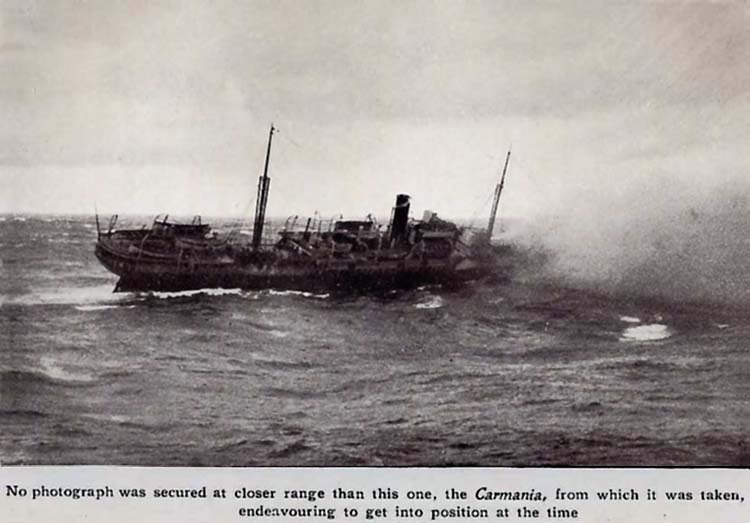 The "Volturno" is seen on fire and listing to starboard
The fire soon spread to the ship's coal bunkers and it cut power to the ships fire pumps. The crew fought the fire for around two hours but, realising the severity of the fire and the limited options for dousing it, her Captain, Francis Inch radioed an S.O.S. and thankfully a total of eleven ships responded to her reported position, arriving throughout the day and one the next day. In the meanwhile, several lifeboats with women and children aboard were launched; but sadly all either capsized or were smashed against the ship's hull, leaving no one alive from the boats that were launched.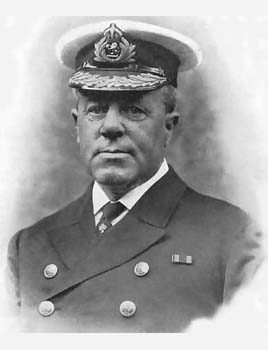 Commodore James Clayton Barr
R.M.S. Carmania was under the command of Commodore James Clayton Barr and the Cunarder was the first ship to arrive at noon, Commodore Barr decided to take command of the rescue effort. As the other nine vessels had arrived, he had them form a "battle line" and slowly circled the burning ship. Throughout the night of 11 October, "Carmania" kept one of her searchlights on "Volturno", with another searchlight sweeping around the ring of rescue ships ensuring that none would collide as they were so close to each other.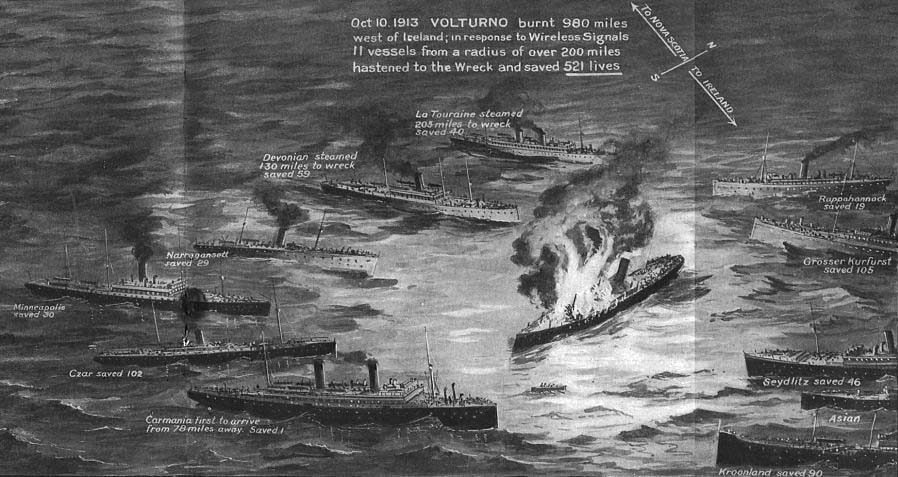 The "Carmania" and nine other ships are seen surrounding the Volturno with Captain Barr in command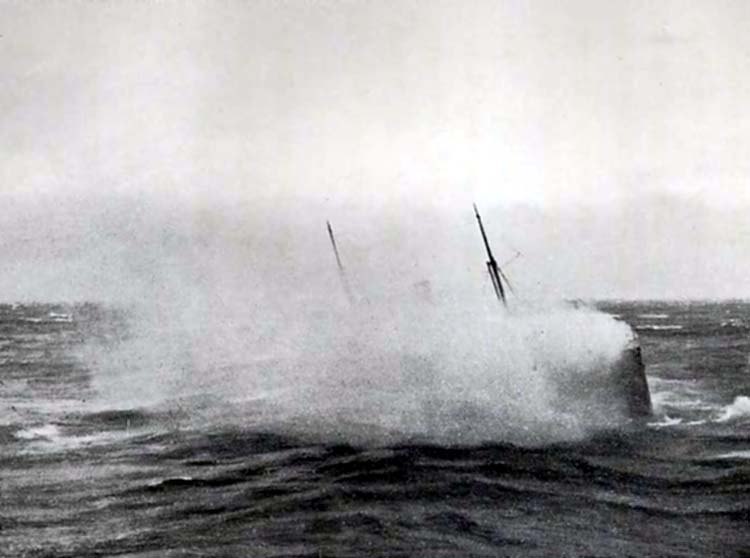 A photo taken from the decks of the R.M.S. Carmania sees the Volturno covered with smoke as the fire had badly spread!
The "Carmania" picked up as many survivors as was possible from the fire damaged ship during the storm, but the sad fact was that 30 of the crew and 130 "Volturno" passengers tragically lost their lives. The rescue resulted in many awards for gallantry being presented to members of "Carmania's" crew especially Commodore Barr.
World War One:
On August 8, 1914, after the outbreak of World War I, the "Carmania" was requisitioned by the Royal Navy and she was sent to the Sandon Dock, Liverpool to be converted to become an "Armed Merchant Cruiser" (AMC), and she was armed with eight QF 4.7 in Mk V naval guns.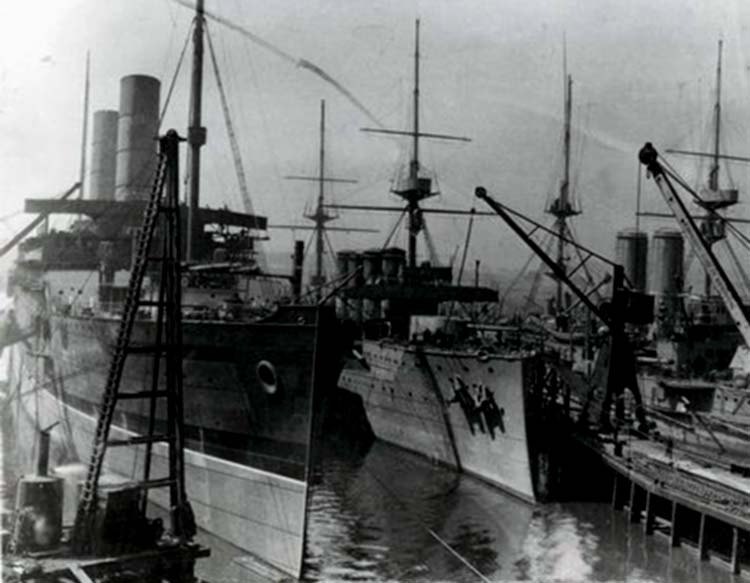 The "Carmania" is seen on the left being refitted as an "Armed Merchant Cruiser"
Thank you David Smeeton for your kind assistance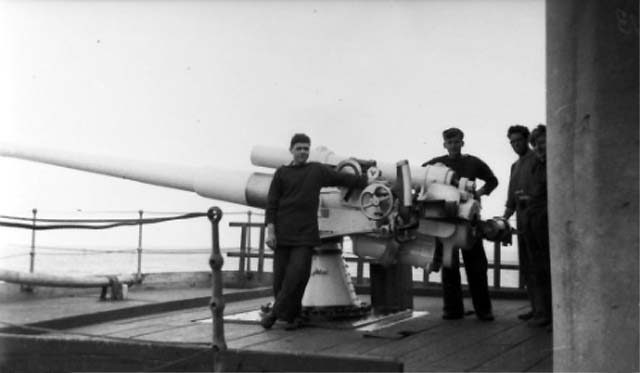 Here we see one of the 8 "QF 4.7 in Mk V naval guns
She was manned for her war duties as follows; the Captain, 24 Officers, 43 Petty Officers, 131, Seamen, 38 Marines, 156 Engine-room crew and 28 Stewards, a total of 421 personnel. Having been officially commissioned she was now the H.M.S. Carmania, with the pennant number M 55. The "Carmania" had been placed under the command of Captain Noel Grant RN, and when ready she departed Liverpool and headed for Shell Bay, Bermuda.
The Battle of

Trindade

:
Introduction: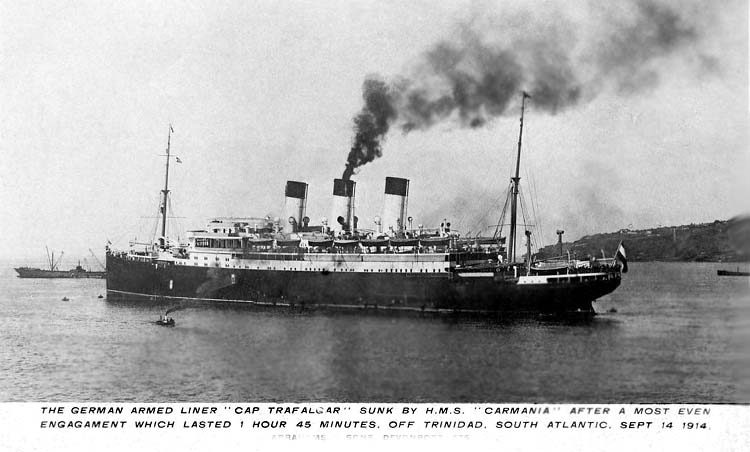 S.M.S. Cap Trafalgar seen before the removal of her dummy aft funnel
Thank you Ronny MacQuoid for your kind assistance
The German Imperial Navy requisitioned the three funnelled S.M.S. Cap Trafalger to become an Auxiliary Cruiser, although her aft funnel was a dummy stack. After they installed guns on her, they decided to remove the aft funnel in order to change her appearance. Amazingly as a two funnelled ship, the "Cap Trafalger" looked very much like the R.M.S. Carmania being around the same length and breadth.
She was armed with two 4.1 inch guns and six one-pounder pom-poms, and they were manned by experienced naval personnel, and she was given the mission to sink as many British merchant ships as possible. She was given the codename "Hilfskreuzer B" (Auxiliary Cruiser B) and her commander was Korvettenkapitän Wirth.
The Cap Trafalger set off on a voyage in search of British merchant vessels so that she could sink them, but failed to locate any and in early September she returned to her rendezvous point off Trindade Island to refill its bunkers. The small German gunboat the S.M.S. Eber came alongside and transferred naval officers, ammunition and armaments to the "Cap Trafalger".

The S.M.S. Cap Trafalgar is seen with her 3rd funnel removed, and the small S.M.S. Eber at her side at Trindade
September 14, 1914, Battle Day:
The battle that was about to take place has become known as the "Battle of the Doppelgänger", because the "Cap Trafalgar" looked so much like the "Carmania".
The H.M.S. Carmania M-55 was under the command of Captain Noel Grant and on September 14, 1914, the "Carmania" would meet the ship that looked very much like her, but it was the Nazi ship that was out to destroy her, the "Cap Trafalgar".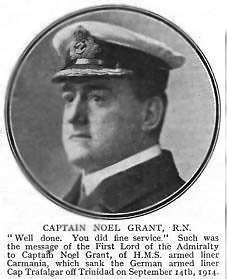 Around noon the "Carmania" could see the other ship clearly, but the "Cap Trafalgar" turned about and steamed away from the "Carmania". At first H.M.S. Carmania's captain may have been confused for her two funnelled prey was painted almost identical to her. There was no reason for a fellow British ship to flee, thus he was suspicious and he decided to pursue. After a short chase, "Cap Trafalgar" suddenly turned to starboard and began bearing down on the "Carmania".
Then at 8,500 yards, the "Carmania" fired the first shot. A shell whizzed towards the German ship, splashing in the ocean nearby. The "Cap Trafalgar" responded almost immediately with her starboard main gun, and a 56-pound piece of steel flew out at 2,300 feet/second.
A plume of water shot up next to the "Carmania". Both ships then opened fire. However the "Carmania" was able to bring 4 cannons to bear, while the "Cap Trafalgar" had just 1 cannon and 3 auto-cannons. It was her auto-cannons, being essentially heavy machine guns, which proved the most effective. They hit the "Carmania's" upper decks fore and aft, sending shrapnel, marble, and splinters flying down the corridors of the luxury liner.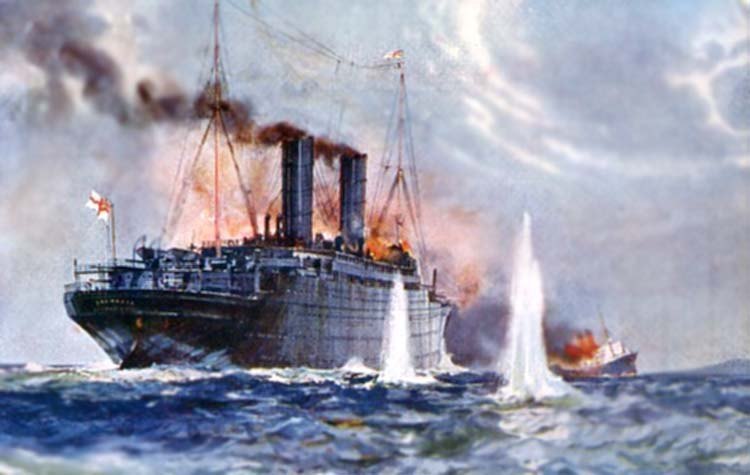 The H.M.S. Carmania and the "Cap Trafalgar" seen at the Battle of Trindade
But then H.M.S. Carmania scored a hit on "Cap Trafalgar's" bow, starting a fire and causing her to list to starboard. But next "Carmania's" forward cabin, just beneath the main bridge, caught fire as well as a shell destroyed her fire mains, thus they were now unable to extinguish the rapidly growing fire. The bridge was abandoned, and the Captain and his officers moved aft, fleeing the massive flames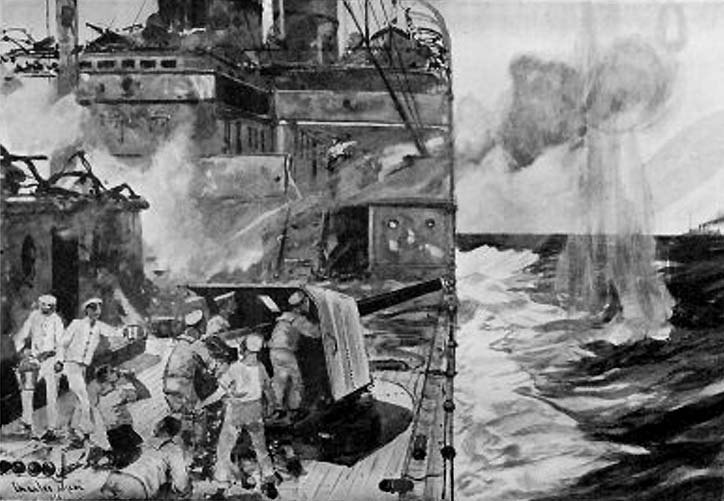 A drawing of the gun battle as seen on the H.M.S. Carmania with the German ship on the far right
Thank you Ronny MacQuoid for your kind assistance
Both ships continued the battle, their once majestic interiors filled with many wounded crew, and the ships filled with smoke, and debris. The "Cap Trafalgar" continued to fire onto "Carmania's" decks, hoping to destroy her guns. Then the "Carmania" altered her aim and targeted the "Cap Trafalgar's" water line and they blasted a hole after hole in the ship's side. As the battle progressed, the "Cap Trafalgar" began to take on water and she began to list heavily. Her crew continued firing their machine guns, making sure they defended the pride of their captain, their ship, and Germany. As she began sinking she sent out distress messages to all vessels in the area. German merchants sat on the horizon, waiting for the outcome of the battle.
Finally "Cap Trafalgar" swung to starboard and started to sink, and her crew rushed onto her lifeboats, whilst others jumped into the debris-filled ocean. Some were trapped inside the ship and had no chance to escape. With the "Carmania" being barely afloat she was listing badly as fires continued to burn, with all the communication and navigation equipment on the bridge being mostly destroyed. She turned away and headed south, hoping to rendezvous with a British cruiser in the region. By the time she was rescued on the 15th, she was hardly seaworthy and most likely would have sunk if she would have had to remain at sea for a number of days more.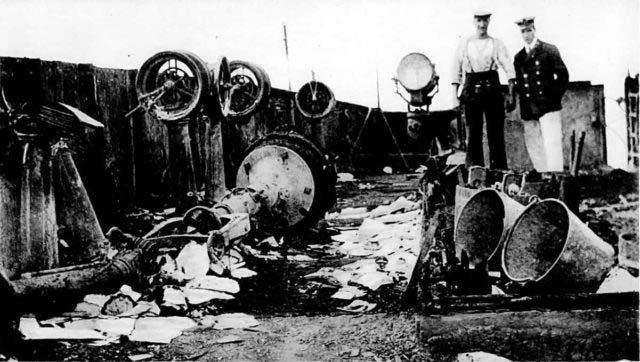 Her badly destroyed Bridge is seen after the event and it really looked to be in a bad state
Thank you Ronny MacQuoid for your kind assistance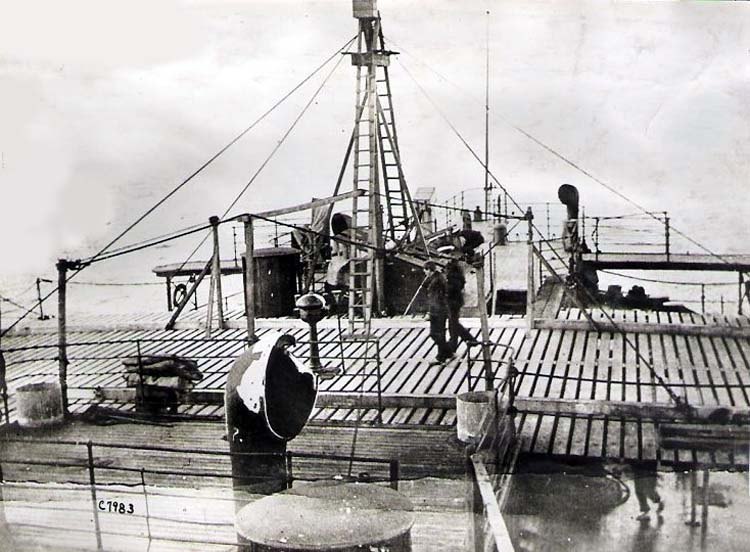 A temporary bridge built for the voyage to Gibraltar
Thank you Ronny MacQuoid for your kind assistance
Although the battle lasted less than 2 hours, it cost the lives of approximately 60 men as well as one of the finest German ocean liners of the time. Despite the shortness of the battle, it was in a way a considerably light casualty count as it was 60 out of just over 600 men in total, for this had been a massive battle to say the least!
Later in the day on September 14, the captain was in touch with the nearby Naval vessel "Cornwall" and requested to meet them, as his ship had become somewhat unseaworthy and practically all communications and navigational instruments had been destroyed, rendering the conning and navigation of the ship difficult and uncertain.
But the next day, the 15th at 4-30pm they first met the "Bristol" who escorted the "Carmania" until she was relieved by "Cornwall" later in that day who took the damaged ship to "Abrolhos Rocks" where she arrived on the September 16 at 8.27 am and she was given some rapid temporary repairs. The truth was that 79 projectiles had hit the "Carmania" making some 304 holes.
But, remarkably with excellent rapid emergency work done, on the very next day the 17th at 5.30 pm she departed "Abrolhos Rocks" with the H.M.S. Macedonia led leading her to Gibraltar, where they arrived on September 28, 1914 and she moored at the naval dockyard there at 10.00 am. Serious repairs commenced and these were finally completed on November 22, and she departed the next day; November 23, 1914 at 10.25 am to resume her regular AMC duties.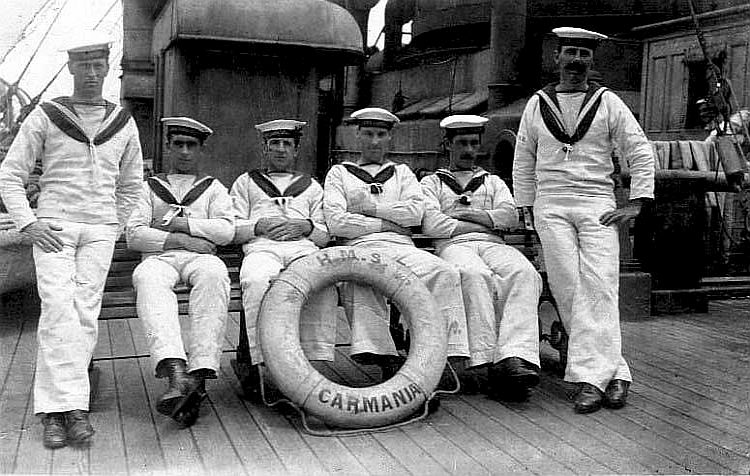 Six fine naval personnel posing for a photograph onboard the "Carmania"
After her repairs in Gibraltar, she patrolled the coast of Portugal and Atlantic Islands for the next two years as well as being fully involved in the Gallipoli campaign.
She was finally decommissioned from being an "Armed Merchant Cruiser" and removal of all naval stores took place in Liverpool from May 26 to June 5, 1916. Her naval crew returned to their respective barracks and the "Carmania" was returned again to Cunard. However until almost 1920 she served as a troopship and for this she was repainted in that well known "dazzle war paint" camouflage. She would not return to her passenger duties until 1920.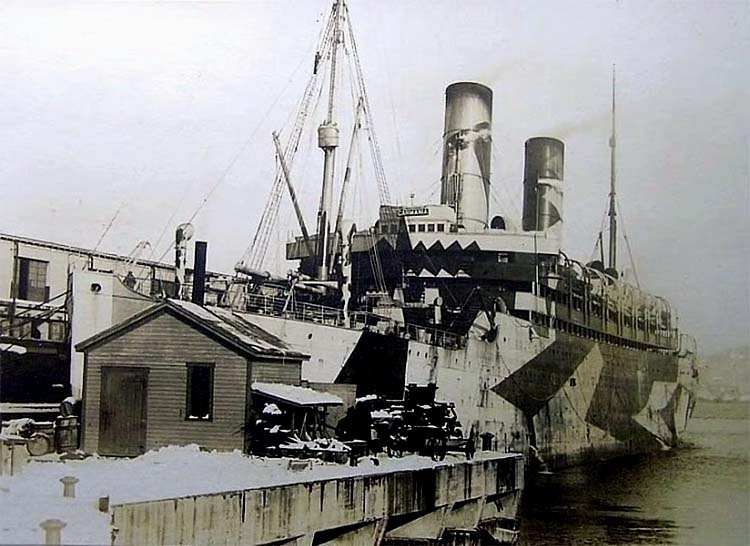 H.M.T. Carmania is seen photographed at Halifax, Canada still in her dazzle paint
Whilst transporting Canadian troops home to Canada in the winter of 1917
After a brief refit she was soon chartered by the Canadian Government to return Canadian soldiers to their home country. Then early in 1920, the "Carmania" was given a major refit and she was made ready to return to her regular Liverpool to New York service.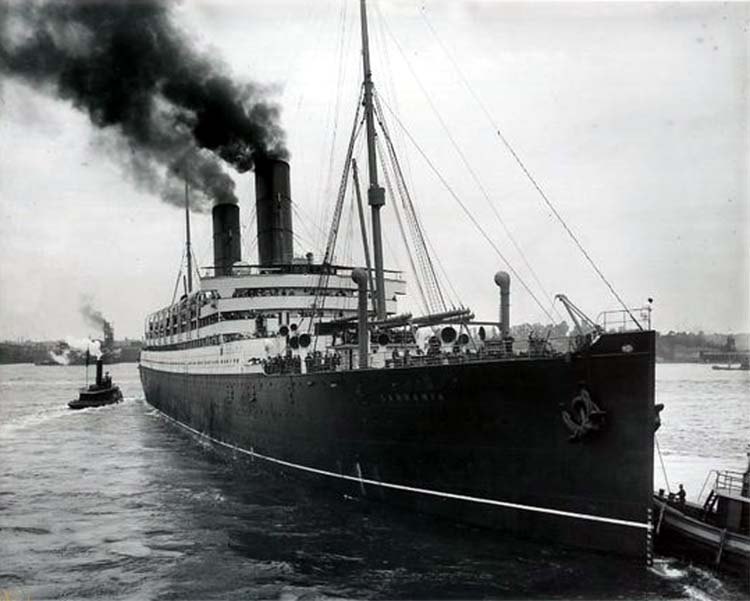 A fine photograph of the "Carmania"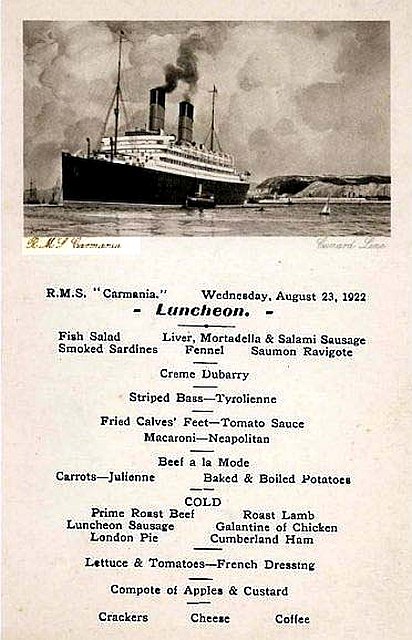 A lunch Menu from August 23, 1922
Then in 1923, Cunard decided to have her refitted to become an one class Cabin Class ship, with accommodation reduced from the previous 2,650 passengers to just 1,440. Her sister the "Caronia" was given similar refit, and the both sisters were kept busy on their Trans-Atlantic service.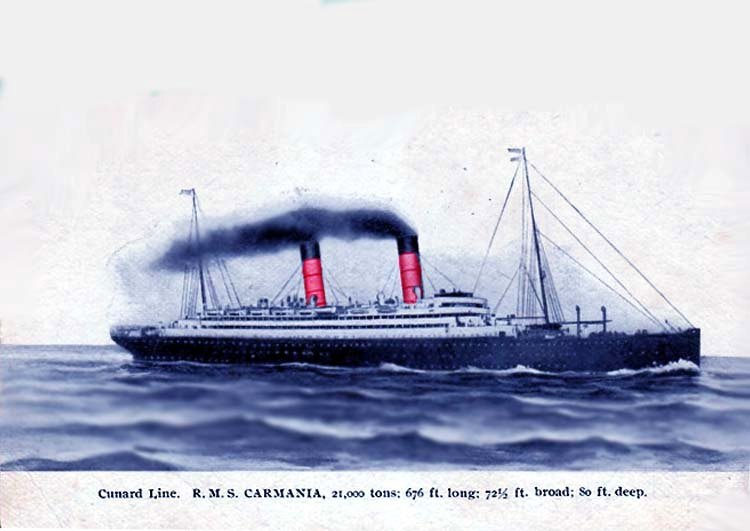 An artistic postcard of the remarkable R.M.S. Carmania
Sadly six years later passenger numbers reduced rapidly due mainly to the 1929 "Great depression" but the Carmania sailed on for she was a very popular ship and a more intimate liner compared to those larger liners operating. Early in 1930 "Carmania's" navigational equipment was improved to include submarine signalling and wireless direction finding, even though she was closing rapidly to her final days.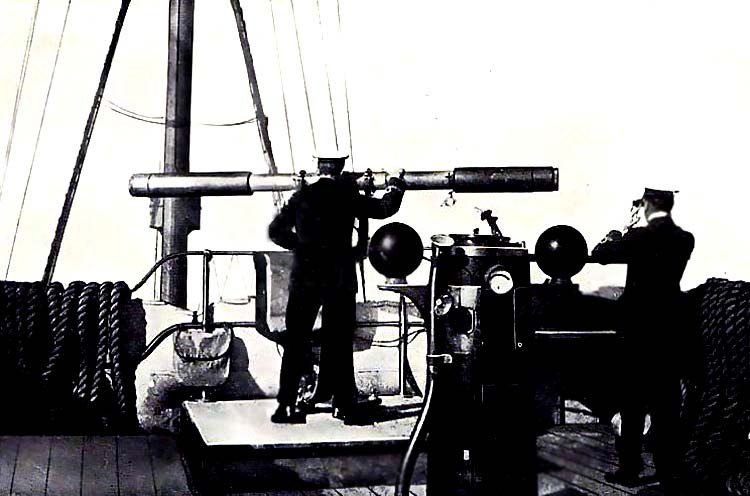 Officers using the Rangefinder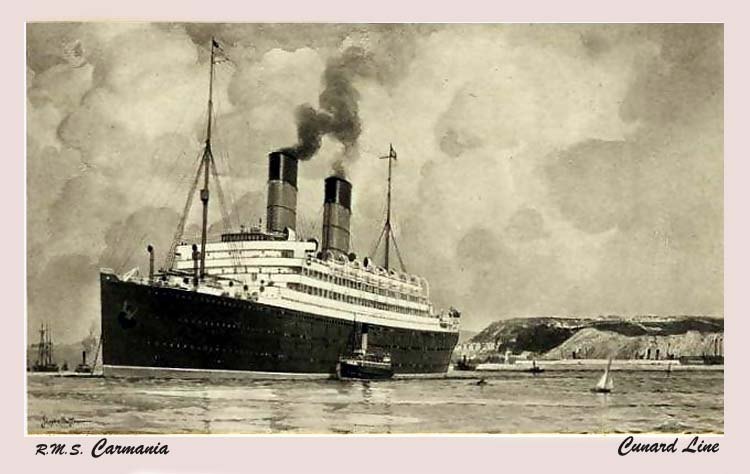 A postcard produced by Cunard
Her Final Days:
Towards the end of 1931 Cunard Line placed both the "Carmania" and the "Caronia" on the market and she was sold in 1932 to the breakers yard of "Hughes Bolckow & Co". The once fine liner R.M.S. Carmania arrived at Blyth on April 22, and breaking up soon commenced.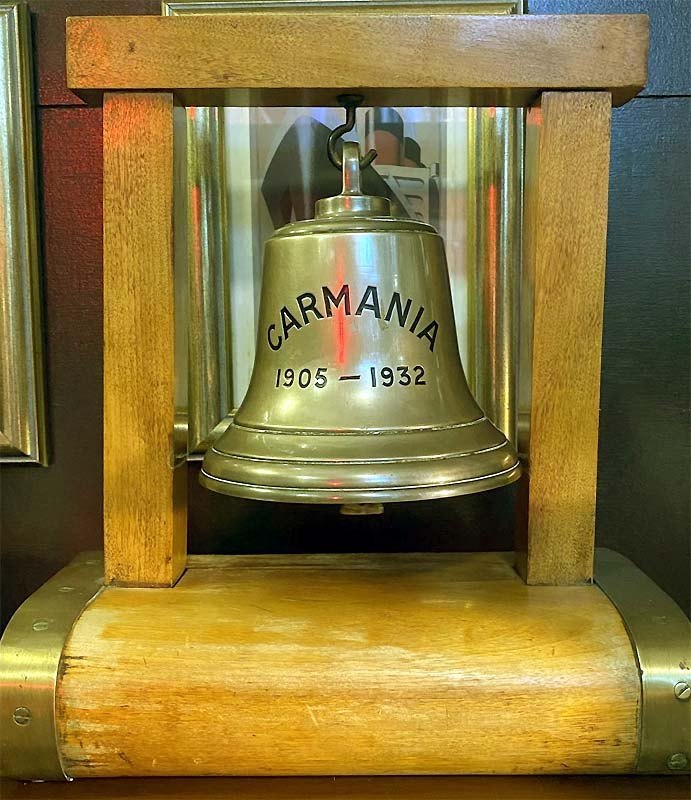 "Carmania's" bell is on display aboard the permanently moored HQS Wellington at Victoria Embankment, London
*********************
Specifications and Details:
Ship as built:             Carmania.
Type of ship:             Passenger - Cargo Ship.
Builder:                    John Brown & Company, Clydebank.
Names:                    R.M.S. Carmania 1904 to 1914 & 1916 to 1932.
.                              H.M.S. Carmania August 1914 to July 1916.
Laid Down:               May 17, 1904.
Yard;                       366.
Launched:                 February 21, 1905.
Delivered:                 November 1905.
Maiden Voyage:         December 2, 1905.
Official UK N°:           120901.
Call sign:                  HFBJ.
Owner:                     Cunard Line.
Port of Registry:        Liverpool, UK.
Launched:                 March 17, 1931.
Delivered:                 November 1931.
Operators:                Cunard Line. - 1931 to 1949.
.                              Royal Navy - 1914–19.
WWI identification:    Pennant number - M 55 - 1914–16.
AMC Armaments:       8 × QF4-7in Mk V naval guns.
Tonnage:                  19,566 GRT, 9,250 NRT.
Length:                    650.4 ft - 198.2 m - 678 ft - 207 m o/a.
Beam:                      72.2 ft - 22.0 m.
Draught:                  33 ft 3 in - 10.13 m.
Installed power:        21,000 SHP.
Propulsion:               1 × high-pressure Parsons steam turbine.
.                              2 × low-pressure Parsons steam turbines.
Built by:                   John Brown..
Propellers:                3 Screws.
Speed:                     18 knots - 20.19 knots maximum.
Decks:                     8.
Accommodations:      Total 2,650 passengers; 300 First, 350 Second, 1,000 Third Class and 1,000 in Steerage..
.                              1,440 Cabin Class only - 1923.
Cargo:                      46,280 cubic feet (1,311 m3) refrigerated space.
Crew:                       450.
Fitted with:               Direction finding equipment & submarine signalling equipment.
Sold:                        April 22, 1932 to "Hughes Bolckow & Co".
Fate:                        Scrapped in 1932 at Blyth.
R
emembering the …
  

           

R.M.S.

C

armania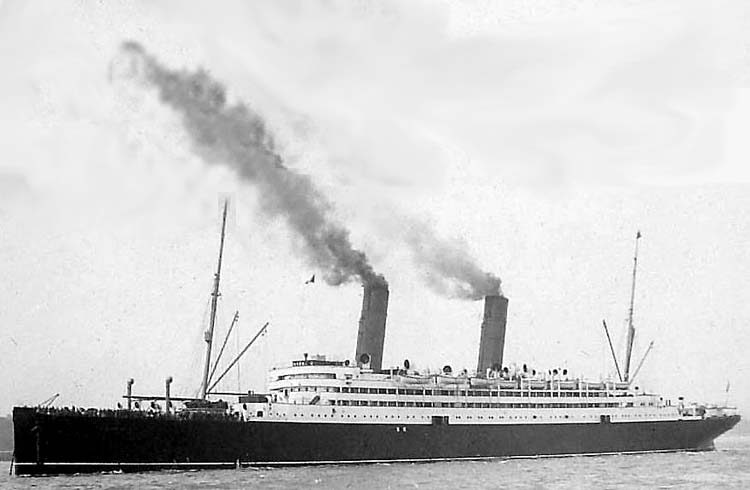 A magnificent view of the remarkable R.M.S. Carmania arriving on the Mersey River
**************
"Blue Water Liners sailing to the distant shores.
I watched them come, I watched them go and I watched them die."

Featuring well over 1,500 Classic Passenger Liners, Passenger-Cargo Liners & Classic Cruise Ships!
Or ENTER HERE
For interest: Sadly an email service to ssMaritime is no longer available, due to the author's old age and chronic illness as well as being disabled, etc. In the past ssMaritime received well over 120 emails per day, but Mr. Goossens can no longer handle same. He sincerely regrets this!
*********************
ssMaritime.com & ssMaritime.net
Where the ships of the past make history & the 1914 built M.S. Doulos Story offline
The Author has been in Passenger Shipping & the Cruise Industry for well over 60 years
In addition he was the founder of "Save the Classic Liners Campaign" in 1990.
Please Note: ssmaritime and associated sites are 100% non-commercial and the author seeks no funding or favours of any shape or form, never have and never will!
Photographs on ssmaritime and associate pages are by; the author or from the author's private collection. In addition there are some images that have been provided by Shipping Companies and private photographers or collectors. Credit is given to all contributors. However, there are some photographs provided to me without details regarding the photographer/owner concerned.
This notice covers all pages; although, and I have done my best to ensure that all photographs are duly credited and that this notice is displaced on each page, that is, when a page is updated!
ssMaritime is owned & © Copyright by Reuben Goossens - All Rights Reserved