P&O's SS Chitral & Cathay, ex Jadotville & Baudouinville
Please Note: Firefox and some other search engines are not suitable – Use "Internet Explorer" for this page to load perfectly!

Click the logo above to reach the ssMaritime FrontPage for News Updates & "Ship of the Month"
Please Note: All ssMaritime and other related maritime/cruise sites are 100% non-commercial and privately owned. Be assured that I am NOT associated with any shipping or cruise companies or any travel/cruise agencies or any other organisations! Although the author has been in the passenger shipping industry since 1960, although is now retired but having completed around 680 Classic Liners and Cargo-Passengers Ships features I trust these will continue to provide classic ship enthusiasts the information the are seeking, but above all a great deal of pleasure! Reuben Goossens.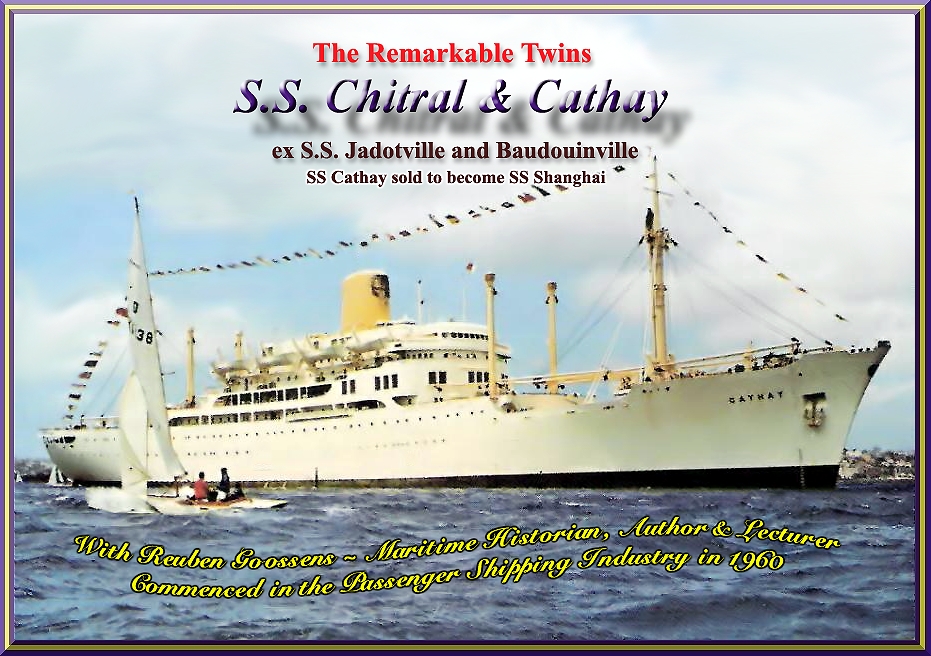 Please Note: Photographs, Postcards & brochures are from the author's private collection, unless stated otherwise.
Most of these remain in his collection from his agency days
Introduction:
As a maritime historian I am delighted to be able to write on these two delightful ships online, for I recently discovered that nobody has bothered to do so in the past have astonished me! I have admired the Belgian as well as other passenger cargo fleets ever since I was a youth and thus I have written on many Combi-Liners over the years and had intended to write on these two fine ships being the very last "Belgian Congo-Liners" ever to be built in due course! Due to declining health it slowed down my progress, however, I am delighted to present the SS Cathay and Chitral now in September 2013.
Enjoy! Reuben Goossens.
Introduction:
In mid 1950s "Compagnie Maritime Belge" built two remarkable ships, which were the very last of a very long line of Belgium passenger-cargo ships designed especially for the famed Congo service, the ex SS Jadotville and Baudouinville III. And in this feature I will be revealing a great deal about these two remarkable ships!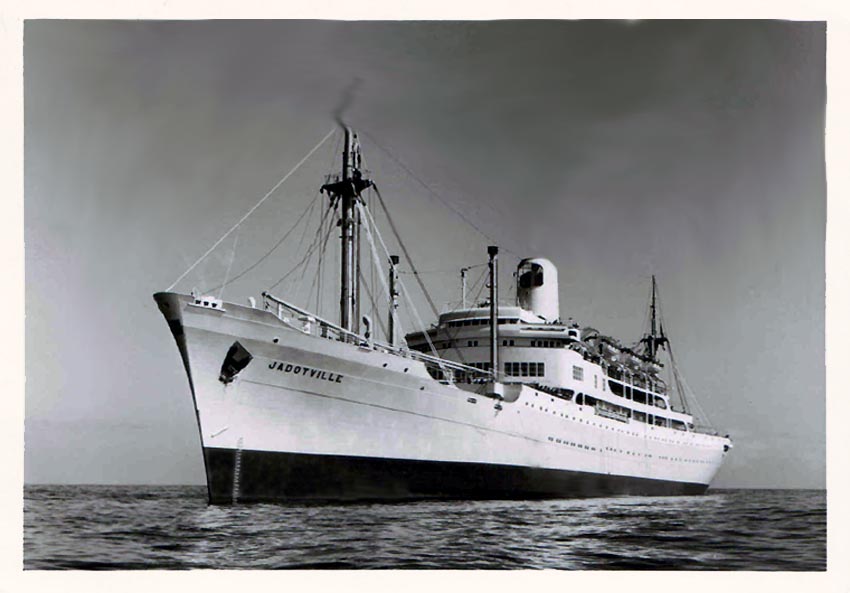 An early postcard of Compagnie Maritime Belge's SS Jadotville
Looking Back:
"Cie Maritime Belge" was founded in 1895 under the name "Compagnie Belge Maritime du Congo" (CBMC). At the request of King Leopold II of Belgium and with support from British investors, a maritime connection was opened with the "Congo Free State." Their very first ship the Leopoldville departed on her maiden voyage on February 6, 1895 and she was the company's first ship to leave the port of Antwerp bound for the Congo. Interestingly, it had been for some sixty years that the Dutch "Kongoboten" Congo boats, had been present in the Port of Antwerp, as the Dutch ruled the oceans over the years, even more so than the British, thus the reason, the British invested into the Belgium Company!
In 1930 CBMC purchased another Belgium company "Lloyd Royal Belge," and the company name was shortened to "Cie Maritime Belge" (CMB), mostly due to new services having been obtained towards America as well as the Far East. But amazingly the company had become closely associated with some thirty-two "Ville" ships operating between Antwerp and the Belgian Congo and that was quite an achievement!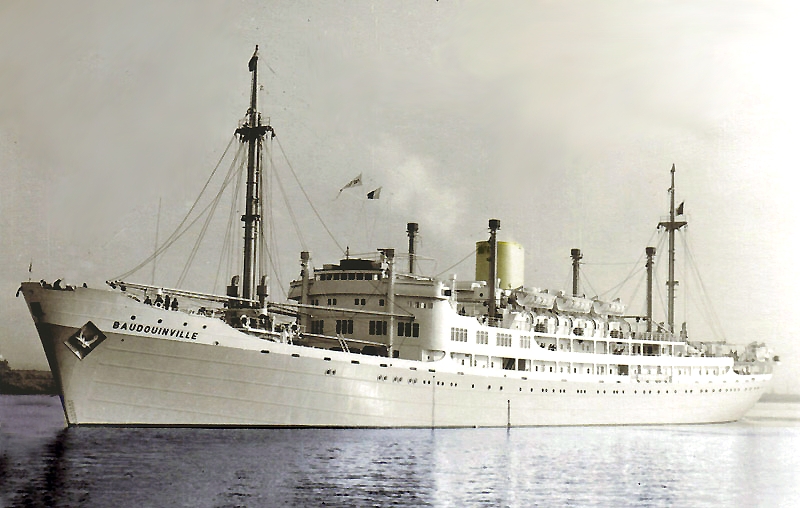 SS Baudouinville II was launched on March 4, 1950 and
she departed on her Maiden voyage September 7, that same year
Between 1948 and 1951 the company built the famed five 10,900-ton luxury "Albertville Class" ships, being the; M.S. Albertville, Elisabethville, Leopoldville, Baudouinville, that was later renamed Thysville because of the new Baudouinville being one of the ships being the subject matter of this feature, and finally the Charlesville, which was the last to be completed in 1951.
Their Two Final Passenger-Cargo Liners:
CMB, or as they were also known as; Lloyd Royal, decided to build two brand new, but larger 13,800 ton liners and these ships differed to their predecessors having a taller amidships superstructure with a modern tall funnel and a shapely bow and having delightfully slender streamlined lines. They were perfectly designed ships and their interiors were like all CMB ships being offering a most pleasing and a beautiful décor throughout!
Ship One: Both ships were built at different shipyards, one in Belgium and the other in France. The first of the pair, the SS Jadotville was built by at one of the most famous ship yards that had built some of the most greatest ships the world had ever known: The yard is the famed Chantiers de Penoët at St Nazaire, France, which was the very same shipyard that built such great French liners as the SS Paris (1916), the beautiful and glamorous SS Ile-de-France (1925) and the greatest liner of them all, the SS Normandy (1932) were built! And this rather small, but elegant passenger-cargo liner was also built here as was her steam engines.
Ship Two: The second of this delightful pair, being the, SS Baudouinville was built at the long established and well known, J. Cockerill S. A. at Hoboken, Belgium a most illustrious yard that had built so many of the companies ships in the past!
SS Jadotville was launched from the Chantiers de Penoët slipway on November 30, 1955 and having been fitted out and completed, she headed off for her sea trails in June 17 to 19, 1956. She was delivered to her owners on July 8, and then after she had been made ready with crew, cargo and with her passengers on board she departed for her maiden voyage from Antwerp to Matadi the Belgium Congo, on July 23, 1956 and she continued sailing without any mishaps.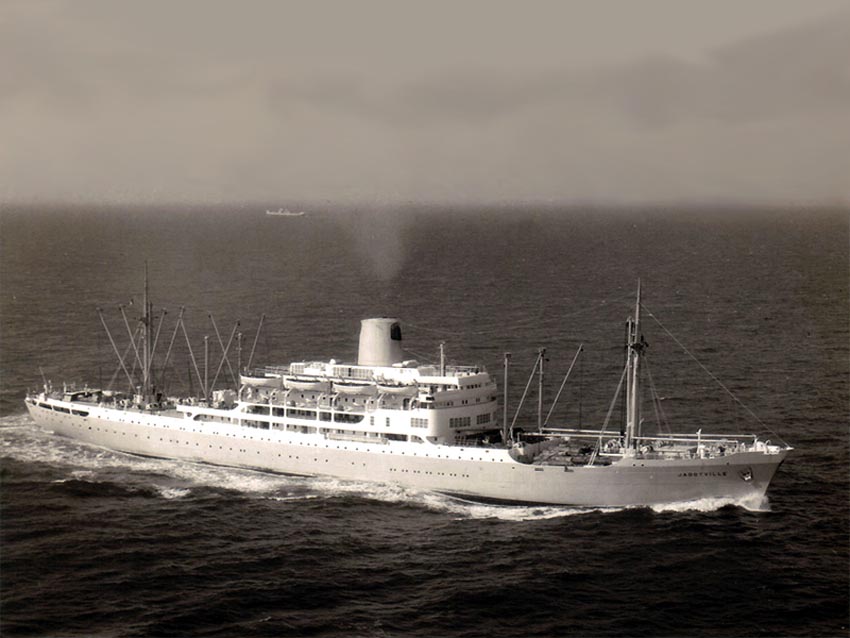 A wonderful photograph of the SS Jadotville is seen during her sea trails on June 18, 1956
SS Baudouinville was launched in Hoboken Belgium on January 10, 1957 and she ran her sea trails on October 17 to 19 and was delivered soon after. She departed on her maiden voyage from Antwerp to the Belgium Congo on November 2, 1957 and she like her sister operated successfully!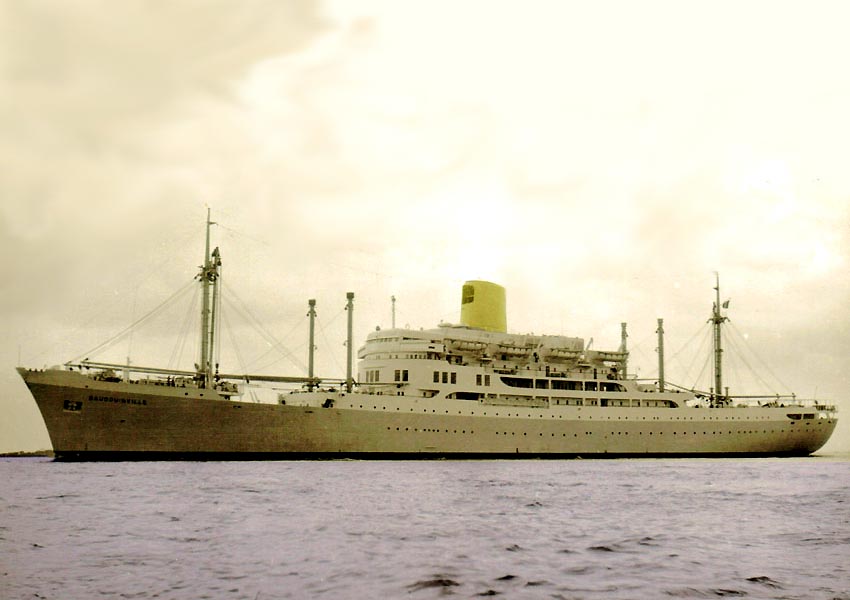 A wonderful photograph of the delightful SS Baudouinville III
Cargo Capacity and Interiors:
These two ships were perfectly balanced for their duties, having comfortable all outside cabins for 274 adult passengers and 24 children as well as having six holds with a capacity for a good 532,500 cu. ft of cargo, as well as 16,600 cu. ft of refrigerated goods.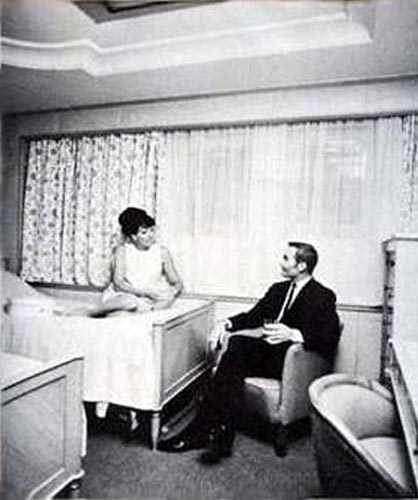 A twin bedded suite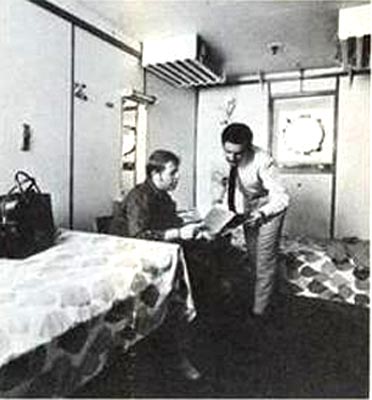 Two berth cabin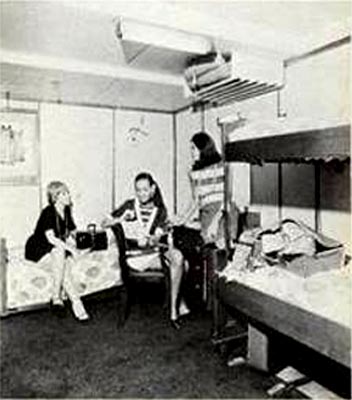 Three berth cabin
For passenger comfort these ships included a beautiful and spacious Main Lounge with a dance floor, an elegant Smoking Room with a Bar, a Library and Writing Room, as well as the ever-popular aft Verandah Café with large floor to ceiling windows along the aft wall overlooking the Swimming Pool and the aft Sports Decks. There was also a shop, the Pursers Office and a hairdressing Salon, a Cinema and a Children's playroom with a play deck. The ship offered ample deck spaces,
Below there was the spacious full width dinning room, whilst accommodations on offer varied from single to twin bedded rooms, to three or four berth cabins, having a bathroom with a bath or a shower.
A Sudden Change was at Hand!
However, both ships would not sail for the company for very long as both ships were placed on the market late in 1960. This was due to the Congo having entered into a vicious civil war, thus ending their services were forced to end. CMB, where able to reschedule some of their much-loved older ships, which continued to sail on well into the 1970s, but it was thought that in these tougher financial times that these two new ships would bring the company a far better and a high price, thus they had to be sacrificed!
Below you will find the specifications of the two ships in question. I have given two numbers (1) & (2) to cover the two ships and they are as follows:
(1) = SS Jadotville became the Chitral:
(2) = SS Baudouinville became the Cathay, later - Kengshin & Shanghai:
GRT = Gross Registered Tons.
Specifications:
Built by: (1) Chantiers de Penoët at St Nazaire, France.
. (2) J. Cockerill S. A. Hoboken, Belgium.
Yard: (1) Nr. 516.
. (2) Nr. 778.
Launched: (1) November 30, 1955.
. (2) January 10, 1957.
Trials: (1) June 19 to 17, 1956.
. (2) October 17 to 19, 1957.
Maiden Voyage: (1) July 23, 1956.
. (2) November 2, 1957.
Tonnage: (1) 13,724 GRT - 13,821 GRT - 1961.
. (2) 13,922 GRT - 13,809 GRT - 1961 - 13,531 GRT - 1969.
Length: (1) 169.8m / 557ft.
. (2) 170.5m / 559ft.
Width: 21.4m / 70.2ft.
Draught: 28.2ft / 8.6m.
Engine: Steam - D.R. Geared Turbine engines by their builders.
Screw: Single - 12.500 SHP.
Speed: 16.5 knots, maximum of 18 knots.
Passengers: 300 passengers.
Crew: 196.
P&O London:
P&O Line in London heard that these excellent ships had become available and they moved quickly and purchased both ships for just £3 million Pounds, being a bargain, considering these passenger-cargo liners were under five years old. Jadotville and Baudouinville were renamed, SS Chitral and Cathay respectively and were sent off for a refit.
However, P&O decided that only a minor refit was required when it came to their public venues and accommodations, as they were already of the very highest standard and first class, thus it was mostly soft furnishing changes!
A Deck-by-Deck description of the Ships:
We are now going to have a look at a Deck-by-Deck description and I will commence topside and always commence forward to aft where applicable: Also, please note that the description is based on the SS Cathay as the Chitral may have slight variances?
Upper Boat Beck:
This deck can only be reached via the stairs on each side of the aft superstructure on A (Promenade) and Boat Decks and this deck is the highest location where you would have found the Swimming Pool and Lido Deck. Besides the Pool, there were showers and toilets on the portside, whilst there was also a table tennis table on the starboard side. Both sides of this deck had a fixed clear screen protecting guests from the winds!
Boat Deck:
This deck just offers deck space under the lifeboats on both port and starboard sides; it was a pleasant place to relax.
A (Promenade) Deck:
Located far forward and occupying the full width of the ship is the Main Lounge, with curved slightly raised and areas on both sides separated by metal balustrades topped with timber railings. In the center was a dance floor with the bandstand being located in the middle forward of the ship. Up on the raise sections, there was seating for around 40 guests based who would be seated on comfortable armchairs and sofas. Whilst in the central section was further seating for around another 55 guests utilising armchairs, thus this venue could accommodate a good 95 guests.
Directly aft was the main Lobby where the Lift together with the fine timber stairwell went all the way down to E Deck. Heading aft we arrive at the delightful and popular Smoking Room that offered seating for 45 guests using deep armchairs as well as sofas.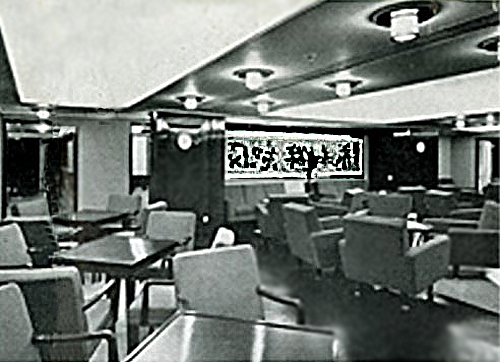 The cosy and warm Smoking Room
Heading aft along the starboard side is the Long Bar, it is mainly to serve the Smoking Room as well as the venue aft, and thus it does not have a large seating capacity. However, it does have seven barstools as well as six deep and comfortable lounge chairs identical to those in the Smoking Room.
From here you enter the aft Lobby and its curved stairwell that goes down as far as C Deck! Whilst on the opposite side of the Bar, thus on the portside there is the spacious Library, Writing and Reading Room with its comfy sofas, deep and comfortable Lounge chairs as well as several writing desks with accompanying chairs. Of course there where ample timber bookcases stacked with a wide range of books suitable for a long voyage!
We now reach the final venue aft on this deck and this is the delightful Verandah Café, a venue that was an old time standard on P&O-Orient Line ships and was so much loved venue!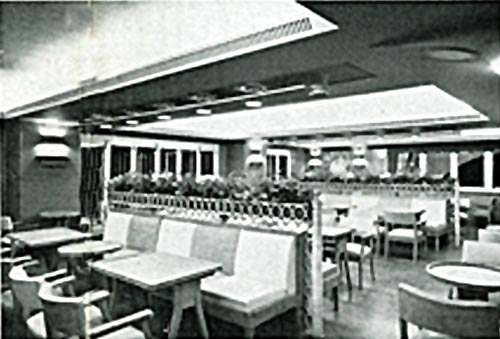 The Verandah Café on the SS Cathay
It had that delightfully casual feel always filled with plants and or palms; it was the perfect place for that hot cup of morning bullion or a cup of English tea, or possibly a coffee. This venue had wonderful views some through the side windows, but the best were through the aft folding screens, which during the warmer climes were opened up and the entire aft wall would disappear providing a grand view of the ships aft decks and the ships wake! Seating tended to be more intimate as there were more tables for two, in fact at total of 12 seating 24, then there
On the forward port corner was the Piano for entertainment as this venue was used for a variety of activities!
Externally, there was a covered Promenade Deck, with open space aft ideal for sun baking or some sport activities.
B Deck:
Internally this deck was mostly occupied with accommodations. Forward on the starboard side was the deluxe suite that had a bedroom and a lounge area with a spacious bathroom with a full bathtub and all the other luxuries that a suite would have!. To enter the suite, you would do so though its very own vestibule! Also located far forward by in the middle was "The Bureau," or the Pursers Office, whilst on the portside was the Pursers rooms, and his staff room.
All cabins on this deck were outside with a window and they had private facilities, many with a bathtub, whist others had a shower stall. This deck had 7 twin bedded cabins, 25 single bed casbins and 5 three berth cabins, for a total of 54 passengers
At the lobby was the spacious shop with the Hairdressing Salon located on the portside aft. The aft of this deck is the spacious Children's Playroom with every possible facility for the younger generation sailing on these ships. At the rear of this room was a pantry, a toy locker and toilets for the children. Then aft out on the deck on the port side was the children's paddling pool and enclosed playground.
C Deck:
Again all the cabins were outside but this time with portholes, except for those few facing forward that had windows. Cabins ranged from twin bedded, two-berth and three-berth cabins to a few four-berth cabins. All those forward had private facilities but with a shower, whilst cabins from the aft lobby to the rear had no private facilities however there were ample bathrooms with showers as well as spotess individual bathrooms with bathtubs and toilets close by.
Thankfully P&O decided to reduce the passenger capacity of both ships by sixty-nine berths to just 231 passengers on each ship, thus passengers had ample space and great comfort for these long and exotic voyages!
Located aft of this deck was a Medical Centre, which included a consulting room, a chemist as well as a spacious hospital.
D Deck:
On this deck, which is reached via the forward stairwell or the lift there is just one venue and it is without a doubt the most popular venue on the entire ship! It is the Restaurant that has thirty-seven tables and is it able to seat all guests at the one sitting.
E Deck:
This deck is reached again via the forward main Stairwell, as well as the Lift that reaches all decks from A (Promenade) down to E Deck. You may ask, what is located of interest here, well it as another very popular venue, it was the ships very populat and much used Cinema! It had seating for 80 passengers, thus a movie would be repeated several times, ensuring that all guest had the chance to see it!
This brings me to the end of the Deck-by-Deck tour of the SS Cathay and the Chitral! See Page Two for Lounge and other photographs from a 1961 P&0 Brochure as well as Menus and Deck Plans – The Link is located at the bottom of this page.
Cargo Space:
Both the SS Chitral and the Cathay had room for a considerable amount of cargo with six cargo holds, three forward and three aft with a total space of 532,600 cu.ft, plus 16,700 cu.ft. of refrigerated cargo space.
Upon completion their tonnage registered as being (1) SS Chitral - 13,821 and (2) Cathay - 13,809 GRT and registered in London England. Both were placed on the London (Tilbury) to Yokohama service and the first of the pair, the SS Chitral departed Tilbury on March 2, 1961 and headed for Japan via Hong Kong and an assortment of ports sailing via the Suez Canal, whilst her sister the SS Cathay departed on Aril 14, 1961.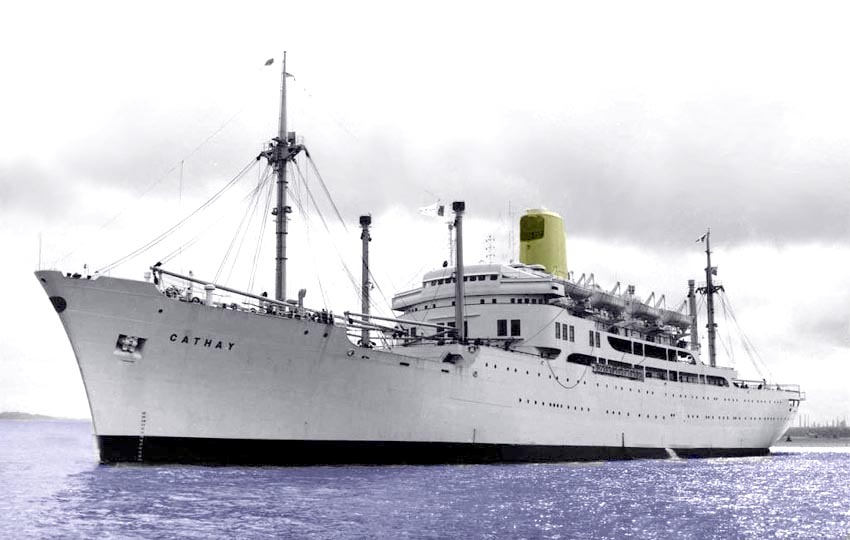 Above & below: The almost identical P&O ships Cathay and Chitral having entered the Japan service
But, note their very different window configurations up on Promenade Deck, the Chitral windows being more generous!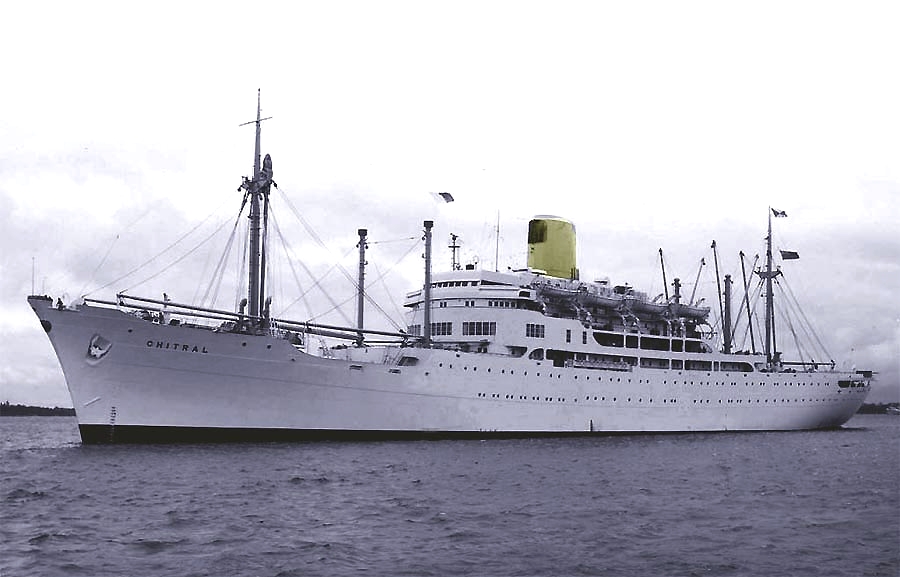 The service was going well and the ships were much loved by their adventurous passengers, however one big problem came suddenly about that would somehow change the course of the success of these two ships on this service, and that was the closure of the Suez Canal in 1967! This would mean that all ships had a very long detour sailing all the way south around South Africa, which was simply uneconomic for the Far East trade.
Thus the SS Cathay was the first to be withdrawn in the middle of 1969 and given a comprehensive refit; upon completion she was registered as being 13,531 GRT. She was then transferred within the P&O's long established associate group, being the "Eastern & Australian Steamship Company" (E&ASSCo) who had been operating the ex Cunard liner Parthia, but after several refits was now named SS Aramac, and this ship operated with great success on their round voyages from Melbourne to Japan, but they required a more modern and more economical ship and obviously the Cathay was the perfect ship!
E&ASSC0:
Eastern & Australian Steamship Company Ltd (E&ASSCo) had since World War II only been operating as a cargo company, but in 1965 the perfect opportunity had come to them, when the New Zealand Shipping Company's SS Remuera (built as the famed Cunard Line RMS Parthia) became available and E&ASSCo obtained her in order to recommence its passenger services. She was renamed Aramac and she became more popular than the Remuera had ever been during her services from New Zealand to the UK!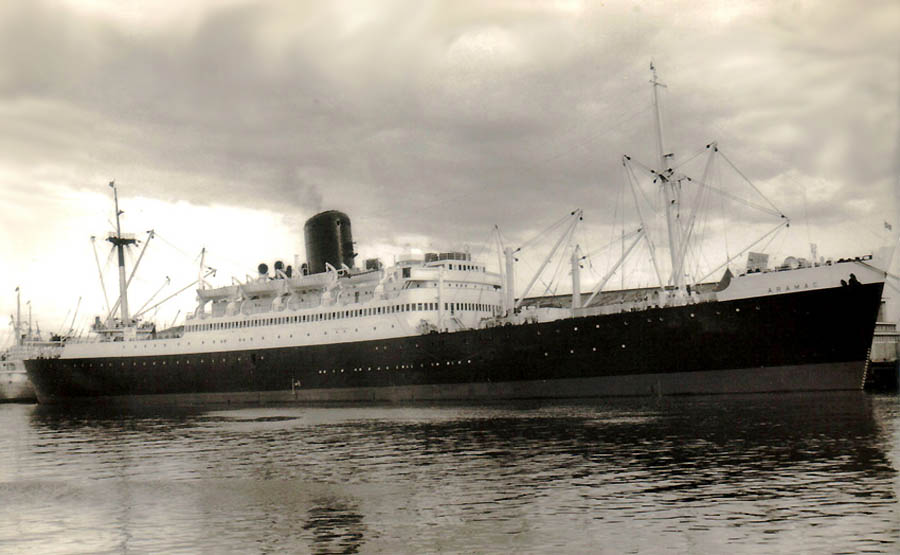 The SS Aramac, ex Remuera & Parthia
Photograph from an A. Duncan print, from the Rich Turnwald collection
SS Aramac's new voyages to Asia and Japan were advertised as Holiday Circle Cruises, sailing from Melbourne, or from Sydney, or Brisbane to Japan and back! Advance sales were even better than good and the ship continued to prove to be extremely popular with her departing mostly fully booked! She departed Melbourne on her first Yokohama voyage on February 8, 1965 and when she returned the ship came home with every single passenger more than happy with their voyage and the experience. In fact many came back as repeat passengers! But being this popular, the ship in reality killed herself off, for the company decided on a newer and an even better ship, which would be the Cathay!
The freshly refitted and modern Cathay headed for Melbourne Australia and having arrived, she was made ready and she departed for Sydney on December 13, 1969. The ports of call were the same as those that the SS Aramac had made so popular!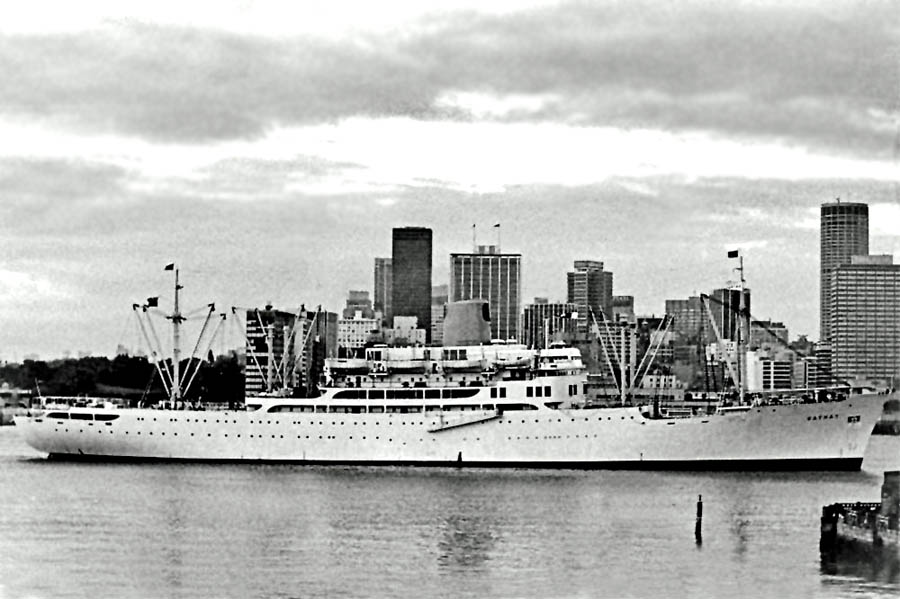 Here we see the SS Cathay as she arrives in Sydney for the very first time on December 15, 1969
Ports of call: Melbourne, Sydney, Brisbane, Yokkaichi, Nagoya, Tokyo (Yokohama), Kobe, Keelung, Hong Kong, Manila. Returning directly to: Brisbane, then back to Sydney and Melbourne.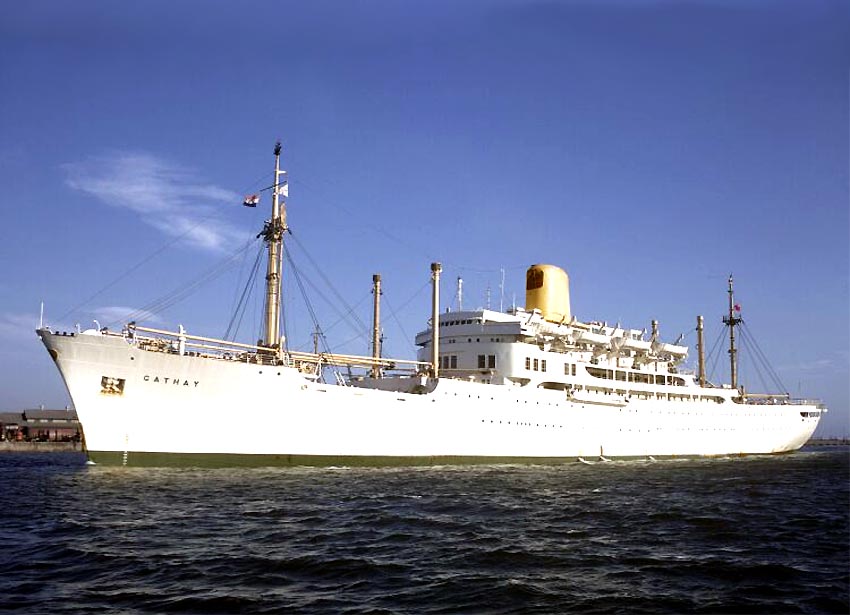 The Cathay looking wonderful as she sails around Asia during a Christmas cruise
Back in England the Chitral was also withdrawn, but she was laid up and placed on the market and was for sale. However, there were simply no offers for her, thus P&O used her from March 1970 for a few Mediterranean cruises out of Genoa. But, considering the huge success of the Cathay in Australia, it was decided that it was best to transfer the Chitral to E&ASSCo in Melbourne!
Thus the Chitral also joined the Cathay in Melbourne in October 1970 and commenced on the Japan service with the same success as the Cathay. These voyages were most profitable, not just because of their passenger loadings, but also as these ships had a large cargo and refrigerated capacity!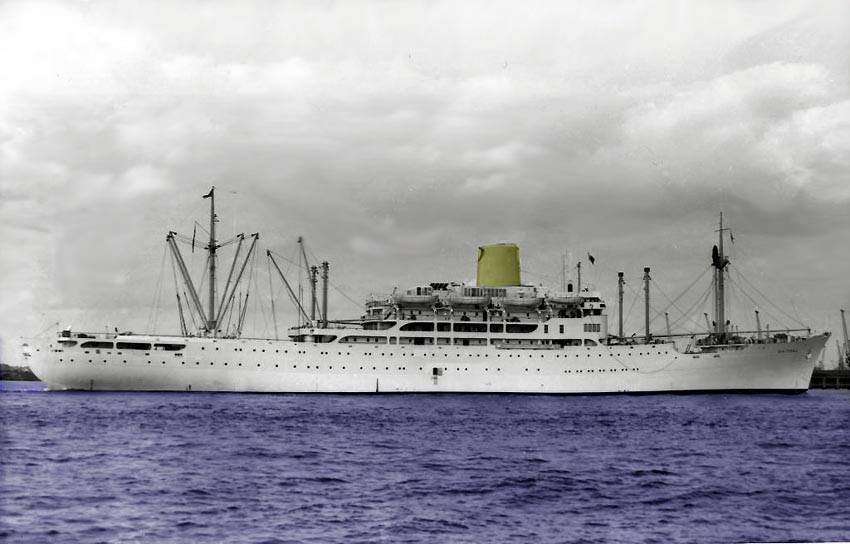 A fine view of the SS Chitral
But sadly then came the time when fuel costs were rising to very high levels and this combined with an onslaught of competition in the Australia to Asia and Japan service by companies who had been in this field for much longer that any of the other companies would certainly have an adverse effect on the Cathay and the Chitral. Yet, whist other ships that were in this same service left the scene, both the Cathay and Chitral remained popular, however they had to contend with two of the most popular glamour ships that ever operated on this service, being two famed Dutch twins, lovingly known as the "Elegant White Yachts", being the Royal Interocean Lines (RIL) MS Tjiluwah and Tjiwangi. These two beautiful ships were indeed the most elegant and luxurious small passenger-cargo ships afloat at the time! The service and cuisine on these ships were world famous and sadly the other ship just could not compete with the style that these ships offered!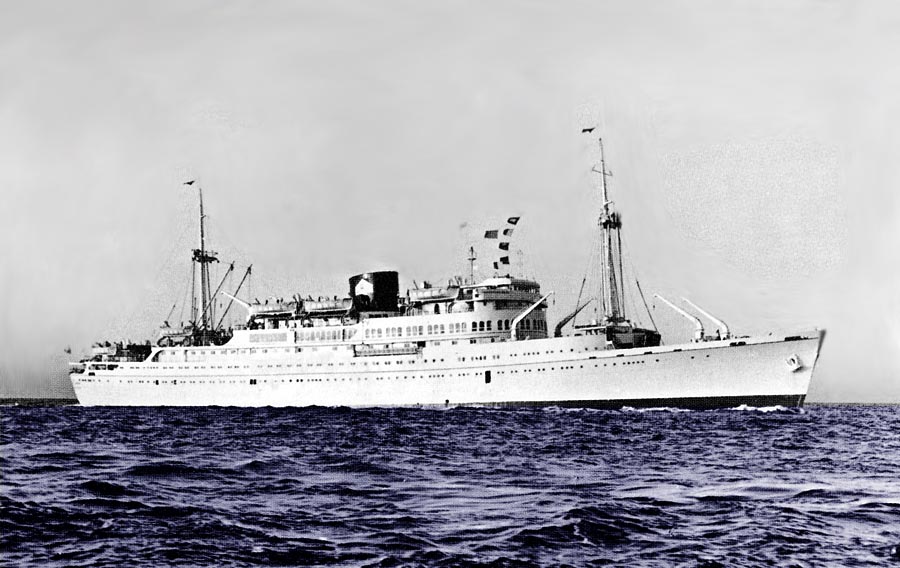 A postcard of one of the "Elegant White Yachts"
On board passengers were spoiled with an elegant grand staircases going down into the Dining Rooms of each ship, which were two decks high whilst other elegant features were the spacious Garden Terrace that surrounded the Main Lounge & Ballroom located forward of the ships. Thus, the Aramac, Cathay nor the Chitral could possibly compete with these two glamorous and much loved "Elegant White Yachts."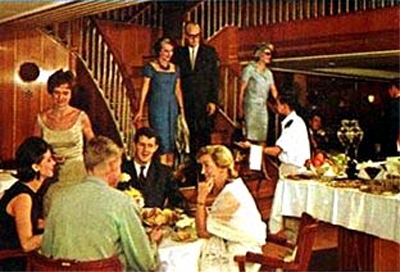 One of the Restaurants on the MS Tjiluwah & Tjiwangi
But, when it came to cargo, all ships had one new enemy and that was containerisation, and again the Dutch ships relied more on passengers than cargo, but it would eventually have an effect on all shipping!
Times were slowly getting difficult for the Cathay, but things were far worse for the Chitral for she had been using far more fuel than her sister. Thus E&ASSCo decided on changing their scheduling and the Chitral was relocated to Fremantle (Perth Western Australia) and she departed Melbourne on January 14, 1972 and headed for Fremantle and sailed to Singapore, Hong Kong, Keelung and visited all the Japanese ports as per the regular schedule. She then returned via Manila, Bangkok, Singapore, Bali, and Fremantle to Adelaide (South Australia). Thereafter, she operated on this schedule for just two further voyages, but sadly she simply was not popular and passenger numbers were simply very poor indeed.
Eastern & Australian Steamship Company Ltd (E&ASSCo) then decided to test the waters and the SS Chitral would make two Trans-Tasman voyages to New Zealand visiting Auckland on June 16 and August 1, 1975.
But tragically Chitral's fuel problems was getting really bad and thus it was finally decided by P&O & E&ASSCo to sell her as soon as possible, for sadly the SS Chitral had become completely unreliable and uneconomical for her to continue.
However, with the decision to sell their problem ship, what completely shocked the maritime industry and prospective passengers was that P&O & E&ASSCo suddenly announced that they had also decided to dispose of their still popular and well booked SS Cathay, even though she was in excellent mechanical condition, but the company stated that they decided to do so because of the competition being mostly due the Dutch ships popularity and the complete decline in cargo bookings, thus they felt to sell both ships was the best option at that time.
It was felt by many that their sale could well mean the end of these two beloved ships, and for one these ships, the Chitral it would certainly be the end, but not for the second ship, the Cathay!
1… The Chitral:
The 1956 SS Chitral, ex Jadotville was sold on December 3, 1975 to a Taiwanese breaker and she headed for the "Chou Iron & Steel Company" Breakers Yards at Hualien in Taiwan and was duly broken up early in 1976. She was aged just 19½ years, if she had only been built in Belgium with her sister!
2… The Cathay:
The 1957 SS Cathay was a whole other matter, for although most thought she would go the same way as the Chitral, but nobody could have imagined that this ship had a long life ahead of her, in fact another 21 years, which was longer than she had been at sea to date!
The proud Cathay departed Melbourne on December 1, 1975 for her final voyage along the coast of Eastern Australia, visiting both Sydney and Brisbane, and completed her voyage at Hong Kong on December 17, where she remained. Eastern & Australian Steamship Company had already placed her on the market knowing full well that a good buyer would be found in Asia.
With the Cathay being in perfect condition she was sold a month later, on January 28, 1976 to the Chinese "Nab Yang Shipping Company" who renamed her "Kengshin" and she was to be temporarily used as a training ship to train Merchant Marine Officers.
SS Shanghai 1976 to 1996:
However later in 1976 she was sold the China's giant shipping company, the "China Ocean Shipping Company" or "COSCO," which is based in Shanghai and they renamed her the "Shanghai." She was given an extensive refit, giving her that more modest and traditional Chinese interior style. She was very popular and she usually departed a full ship. Food served on board was mostly aimed at the local market, bit occasionally European's would send small groups on her and special menus would be prepared with a special Asian evening for both the meal and entertainment, etc!
In 1984 and 2000 she was placed under different management companies, such as the China Merchant Steam Navigation Company Ltd, and she had either an all white livery to the odd-looking green hull, but she was always very well maintained. She sailed along the China coast to Hong Kong and she was seen in Hong Kong Harbour on a frequent basis.
The Shanghai Postcard Series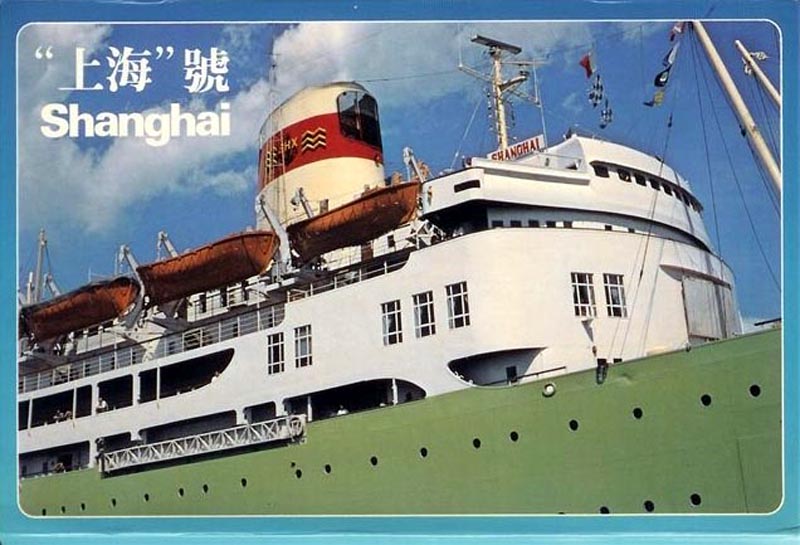 A close up of the Shanghai with her new green hull, red lifeboats and her yellow and red funnel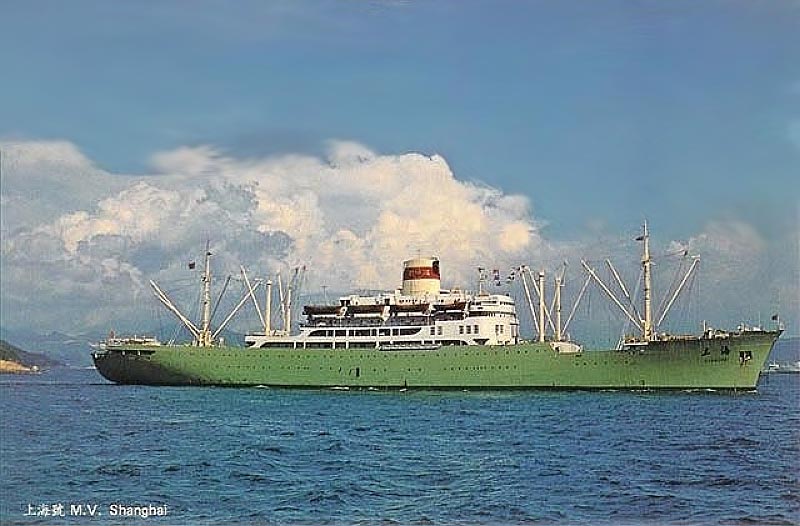 Her we see the SS Shanghai with her all green hull and she looked a very different ship indeed!
Although she was a steam ship, the postcard showed M.V. for "Motor Vessel"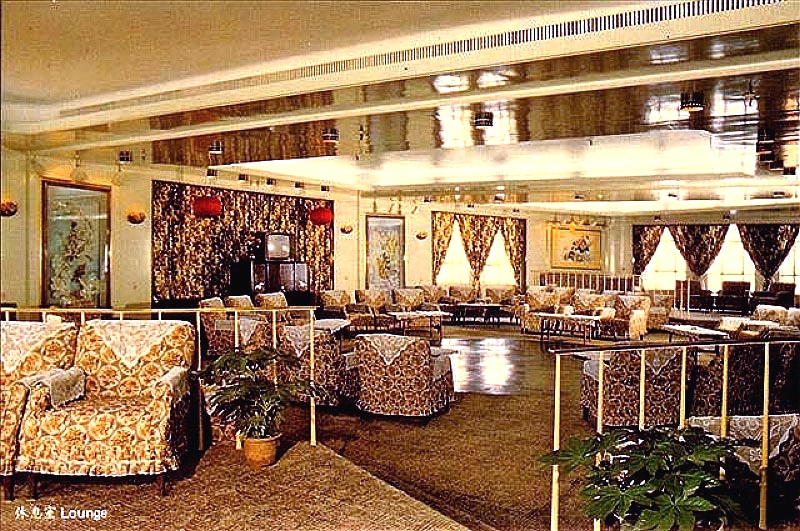 Above & below:
The Main Lounge had been completely refurbished. The hardware is the same
Just the software and artworks have been changed to suit Chinese tastes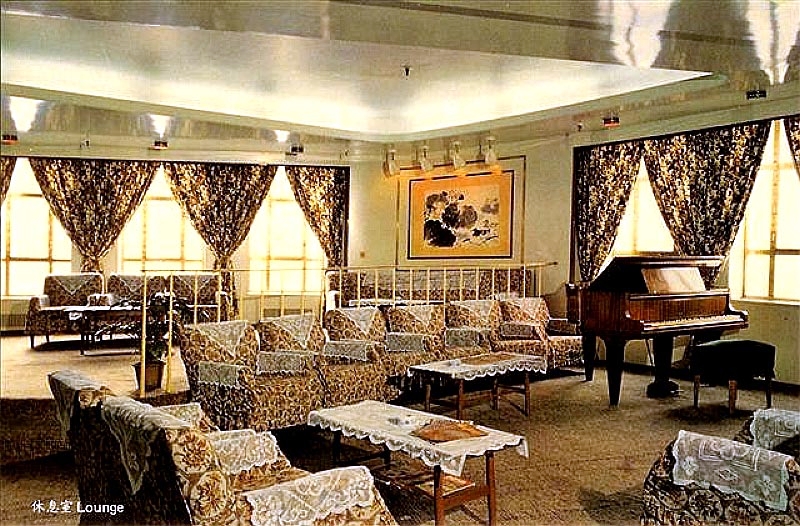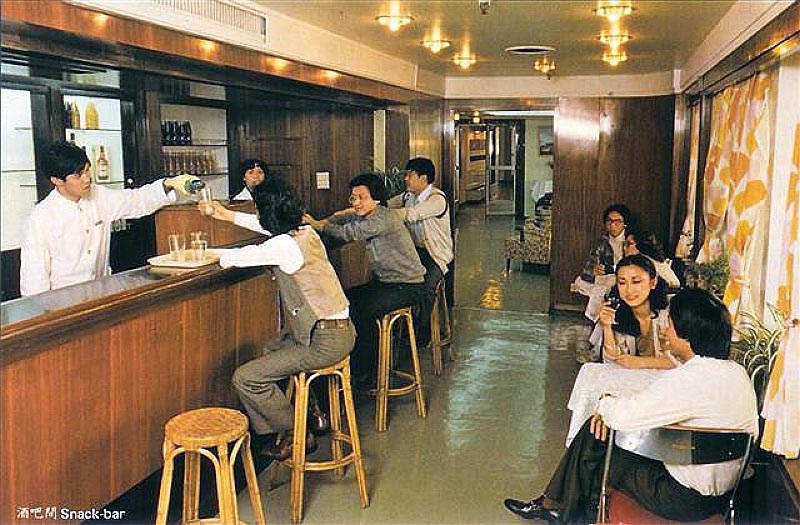 The Bar, known as the "Snack Bar"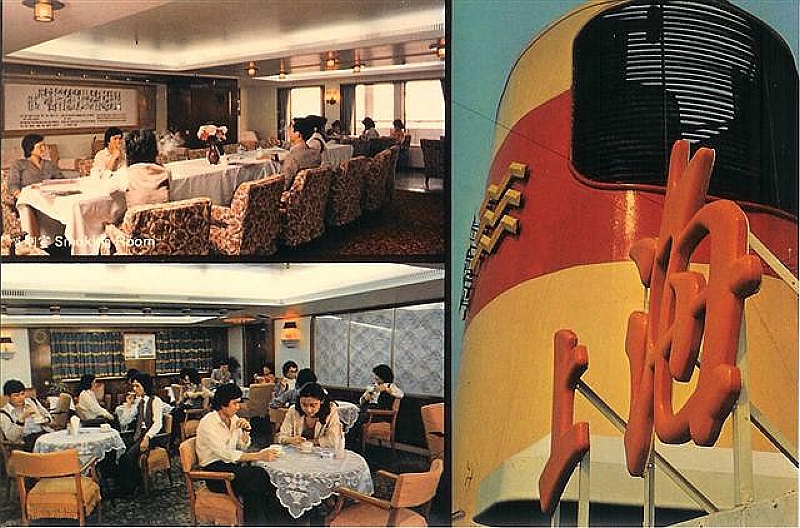 The Smoking Room and the Café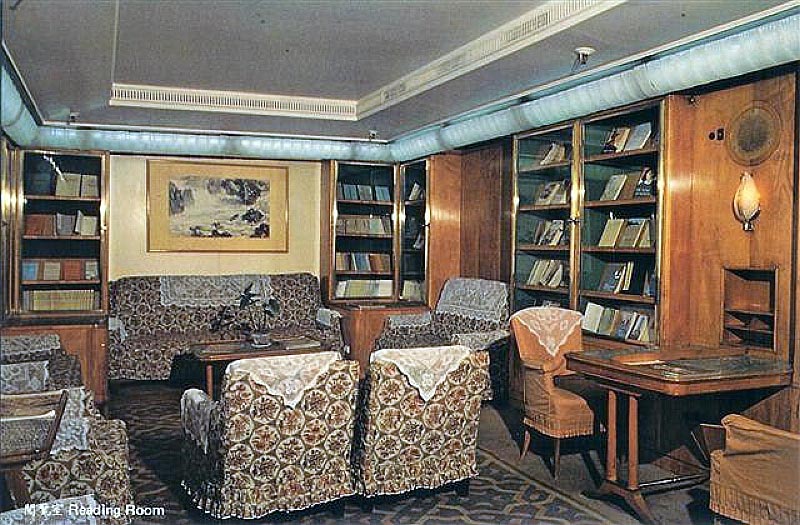 The Reading & Writing Room and Library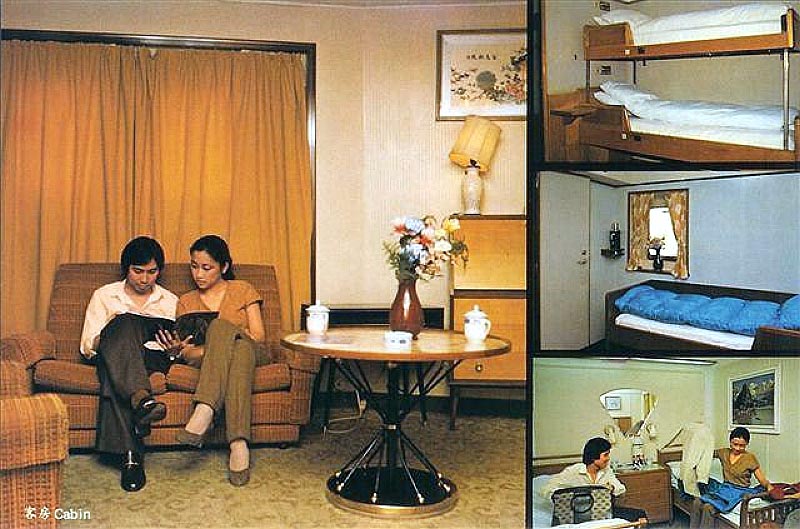 A range of accommodations, a Suite, two berth, a single bed and a twin bedded cabin
All cabins had private facilities and mod-cons, but were relatively simple when it came to décor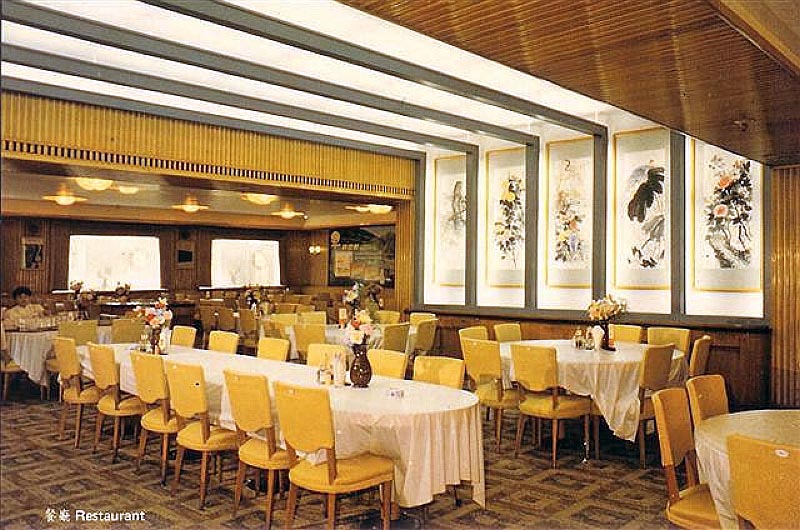 Then Restaurant the only venue that remained very much unchanged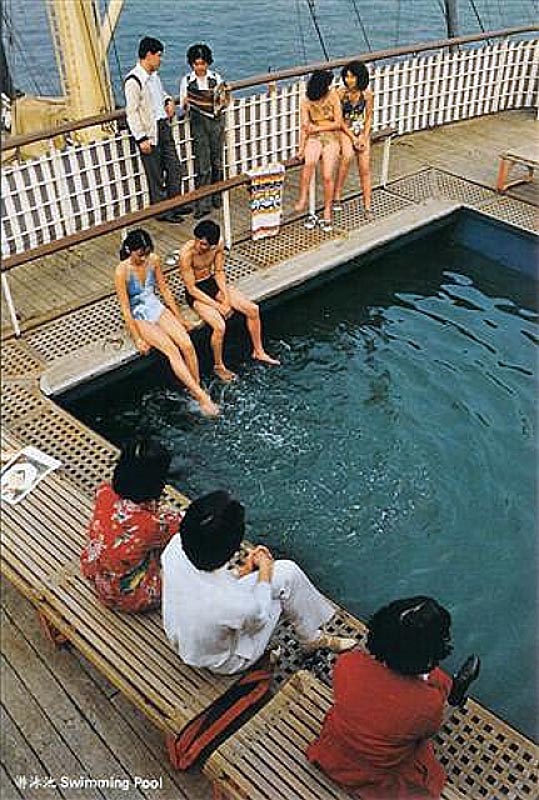 The Swimming Pool
Later the Shanghai was painted all white again and continued sailing, but when she was seen in 1993, she was certainly looking somewhat the worse for wear, but at least she was still in operation and she continued until she was finally sold in 1996 to be broken up.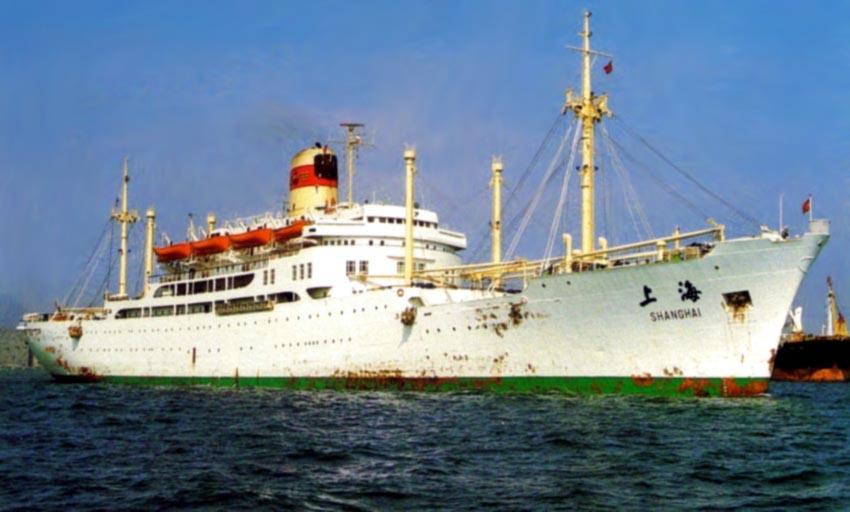 This fine ship and her superb steam engine which together with the ship itself were built by one of the greatest shipyards in the world - "Chantiers de Penoët" at St Nazaire in France and she certainly had an outstanding and a long career behind her and nothing better can be said than that! Except, that her passengers simply loved the SS Cathay and yes also her sister the Chitral when they were both in service with P&O and E&ASSCo's for they were indeed exceptional ships, it was just a pity that the Chitral had those engine and terrible fuel problems,. If it had only been built in France and not by her builder!!
Memories of a Wonderful Belgium Congo Liner …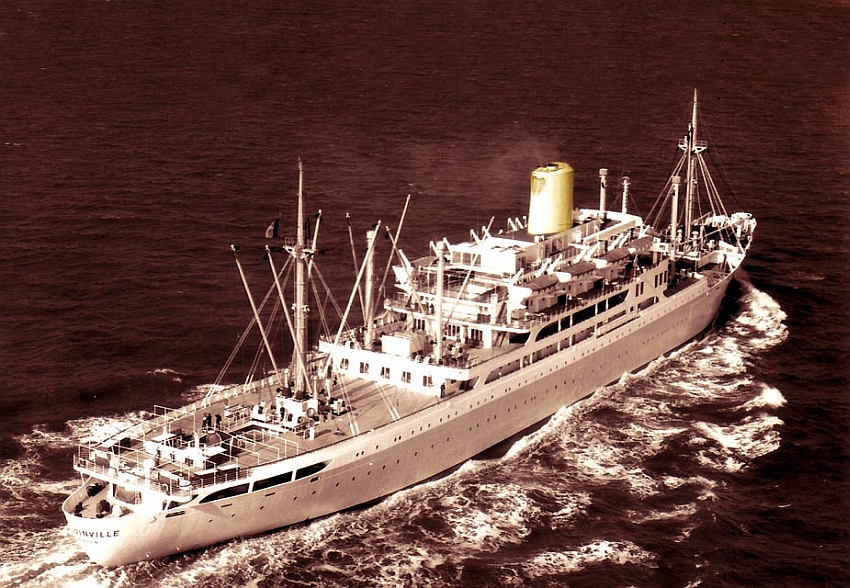 The wonderful SS Baudouinville III is seen from the air just after she was built
A great Belgium ship that became the SS Cathay and the SS Shanghai!
View of amazing SS Chitral Page Two
This Page Features; Interior Photographs, Menus and a Deck Plan!
****************************
The following are related pages to the earlier Belgium Congo ships
Read the MV Baudouinville II story
Also the SS Charlesville feature
Covering all the "Albertville Class" Ships
"Blue Water Liners sailing to the distant shores.
I watched them come, I watched them go and I watched them die."
****************************
Visit our ssMaritime Main INDEX
Where you will discover around 680 Classic Passenger & Passenger-Cargo Liners!
ssMaritime.com & ssMaritime.net
Where the ships of the past make history & the 1914 built MV Doulos Story
Please Note: ssmaritime and associated sites are 100% non-commercial and the author does not seek funding or favours and never have and never will.
Photographs on ssmaritime and associate pages are either by the author or from the author's private collection. In addition there are some images and photographs that have been provided by Shipping Companies or private photographers or collectors. Credit is given to all contributors, however, there are some photographs provided to me without details regarding the photographer or owner concerned. Therefore, I hereby invite if owners of these images would be so kind to make them-selves known to me (my email address can be found at the bottom of the page on www.ssmaritime.com), in order that due credit may be given.
ssMaritime is owned & © Copyright by Reuben Goossens - All Rights Reserved.