S.S. Conte Grande 1925 to 1961 & WW2 - U.S.S. Monticello (AP-61) 1942 to 1947
Please Note: Firefox and some other Search Engines may not be suitable
Use Google Chrome for this Web Page to load perfectly!

Please Note: All ssMaritime and other related maritime sites are 100% non-commercial and privately owned, thus ssmaritime is NOT associated with any shipping company or any other organisation! Although the author has worked and been involved in the passenger shipping industry for well over 60 years, but due to his old age and poor health, he was forced to retire. Yet, he has completed well over 1,365 Classic Liners, Passenger-Cargo Liners as well as humble converted C3 converted Migrant Liners, which has transported countless thousands folk to the new world, as well on vacations'. I trust the features online will continue to provide Classic Liner and Ship enthusiasts both the information they are seeking, but more so provide a great deal of pleasure and relive many happy memories!
Please Note: Postcards, photographs & other images are either from the author's private collection, unless stated otherwise.
A special thank to the ssmaritime supporters and Mario Santucci (Naples) for their very kind assistance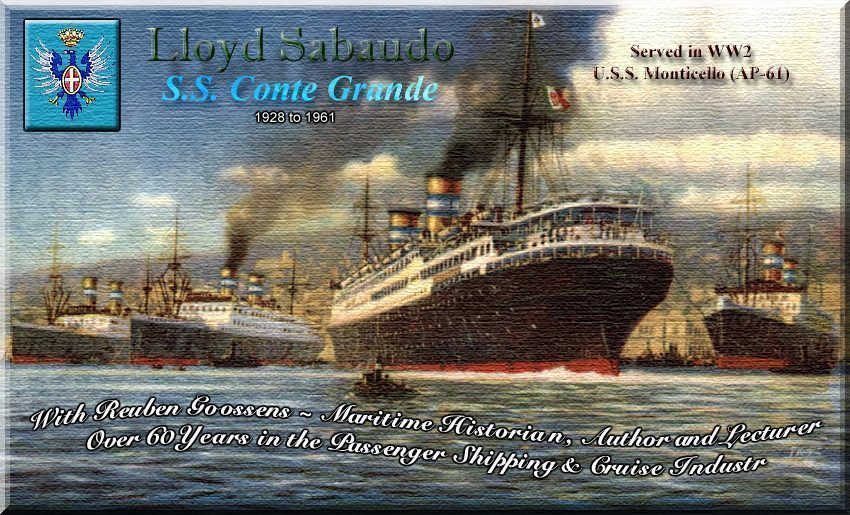 In this painting the S.S. Conte Grande is seen entering her berth, with other Sabaudo ship in port
S.S. Conte Grande
U.S.S. Monticello (AP-61) during WW2
The Company: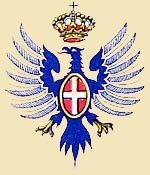 The "Lloyd Sabaudo" logo
"Lloyd Sabaudo" was formed at Turin, Italy in 1906 and they commenced a passenger sailing from Genoa to New York in 1907, sailing via Naples and Palermo, and they also commenced a Genoa to Buenos Aires service in that same year.
In 1912 their head office transferred from Turin to Genoa iin1912, and in the next years a subsidiary company, "Marittima Italiana" was set up, and they would operate services to the Near East, Red Sea, East Africa, India and the Far East. A new service from Black Sea and Eastern Mediterranean ports to New York commenced in 1919, but due to huge competition from other shipping companies, they ceased this service. Then in 1919 a service from Italyto Australia was established.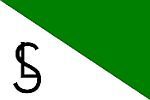 The "Lloyd Sabaudo" house flag
However, mid 1920's "Lloyd Sabaudo" disposed all interests in "Marittima Italiana", and then in 1929 the company took financial control of the "Cosulich Line", "Lloyd Triestino", "Marittima Italiana" as well as "Adria Lines".
In 1932, due to the depression and widespread number of Italian ships being laid up, or simply not obtaining work, all the major Italian shipping companies were combined into one State controlled syndicate under the name "Italia Line" or "Societą Italia Flotte Reuniti".
Introduction:
The "Conte Grande" was ordered by the Italian "Lloyd Sabaudo" to operate as a passenger liner and be placed on the Trans-Atlantic service from Genoa, Italy to New York. Her sister ship was the 1925 completed S.S. Conte Biancamano.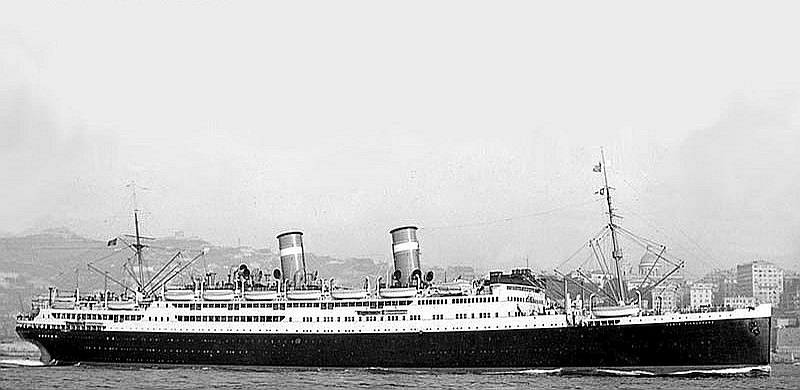 Above & below: S.S. Conte Biancamano departed on maiden voyage on November 20, 1925
But note the slight different window arrangement on the deck below the forward Promenade Deck
On the "Biancamano" we see, 1, 3, 1 & 3 windows, etc. On the "Grande" it is 4, 4, 3 windows, etc.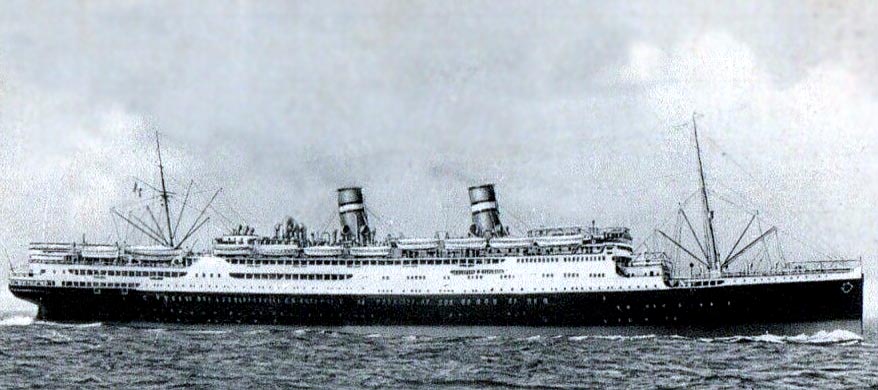 S.S. Conte Grande
In 1932, after an acquisition by the newly formed "Italian Line" she was transferred to the South America service, but due to Italy having entered the war on June 10, 1940, she was confiscated and laid up in Santos, Brazil. But she was purchased by the US Government on April 16, 1942 and she was officially commissioned and renamed U.S.S. Monticello (AP-61) to be used as a troopship. After the war she was finally returned to Italy and resumed passenger services after a major refit. This is the "Conte Grande" story, enjoy it!
Construction:
The S.S. Conte Grande was built by "Stabilimento Tecnico Triestino" at their San Marco shipyard, Trieste as a luxury passenger liner. This shipbuilder to date had only built naval ships, and constructing the "Conte Grande" was a huge test for this Italian yard, as they had never before constructed a passenger liner, especially one as large as this ship being 25,661 GRT (Gross Registered Tons).
She was officially named and launched on June 28, 1927 and was delivered to "Lloyd Sabaudo" in Genoa early April 1928.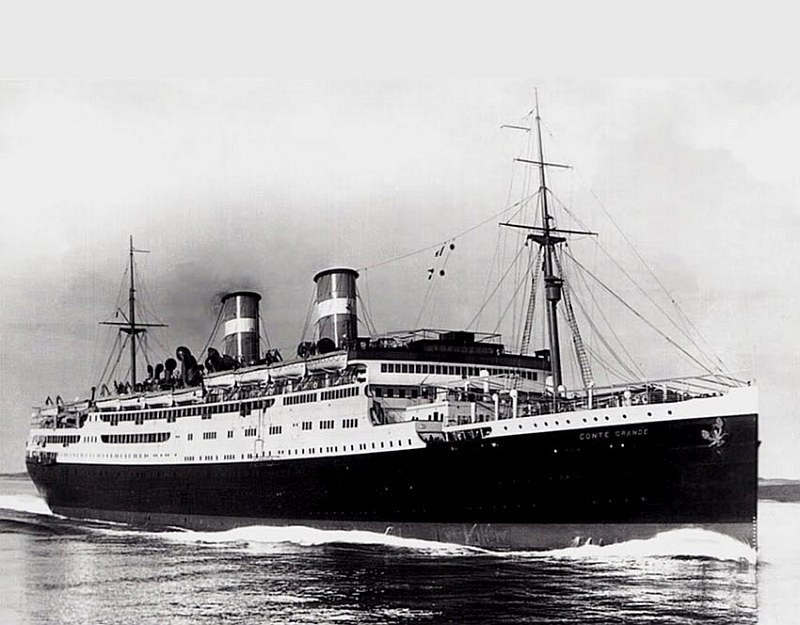 The elegant liner S.S. Conte Grande is seen during one of her early voyages to New York
S.S. Conte Grande designers had done an outstanding job as she was without a doubt one of the most magnificent ships afloat, with her public rooms being the most spectacular ever seen on any passenger ship to that time. Her interiors were the ultimate of opulence having been decorated with the then popular "Chinoiserie style", featuring a great deal of gilt and the finest white marble available. She accommodated 578 passengers in First Class, 420 in Second Class and 720 in Third Class, looking after them was a crew of 532.
Photo Album: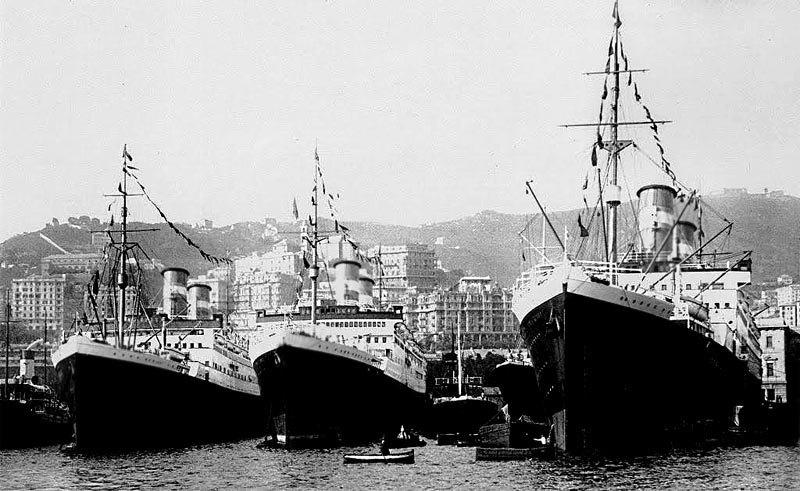 Left to right: S.S. Conte Grande, S.S. Conte-Biancamano and the S.S. Conte-Rosso seen berthed at Genoa

The photographs below are all of the super luxury First Class part on the fine liner! I wish to thank Mario

Santucci from Naples for assisting me with these fine photographs.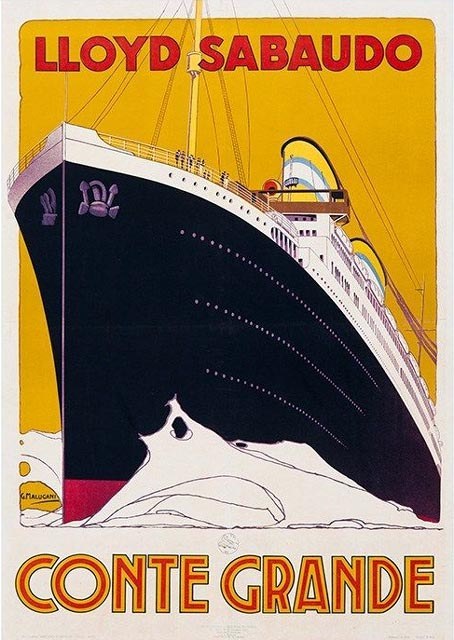 A promotional Conte Grande poster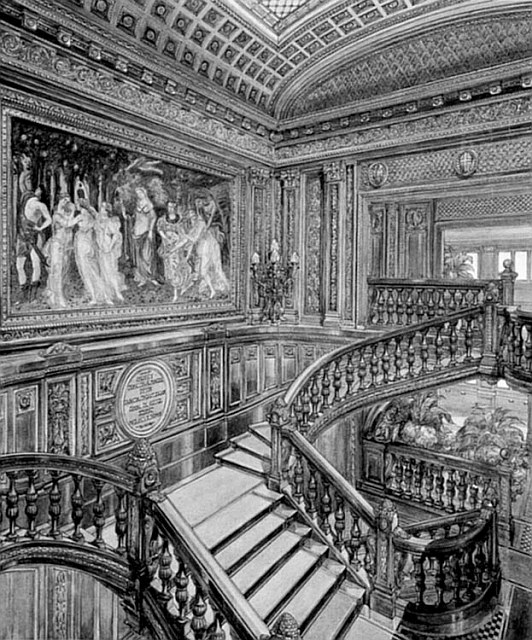 Grand Stairwell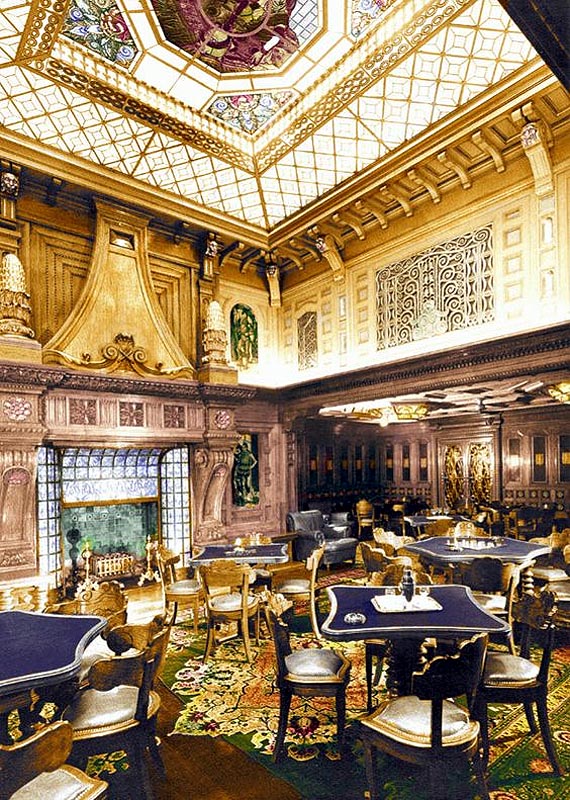 The magnificent Main Lounge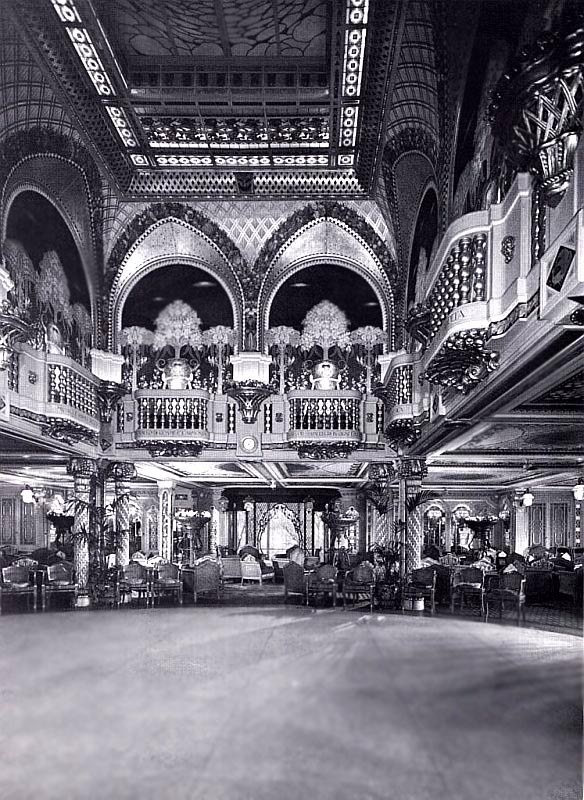 Above & below: Two views of the grandiose Ball Room, black & white and one in colour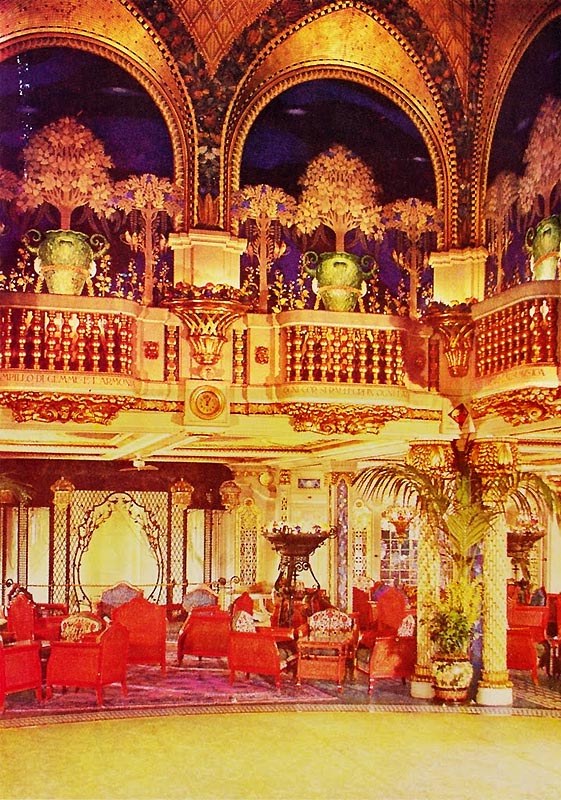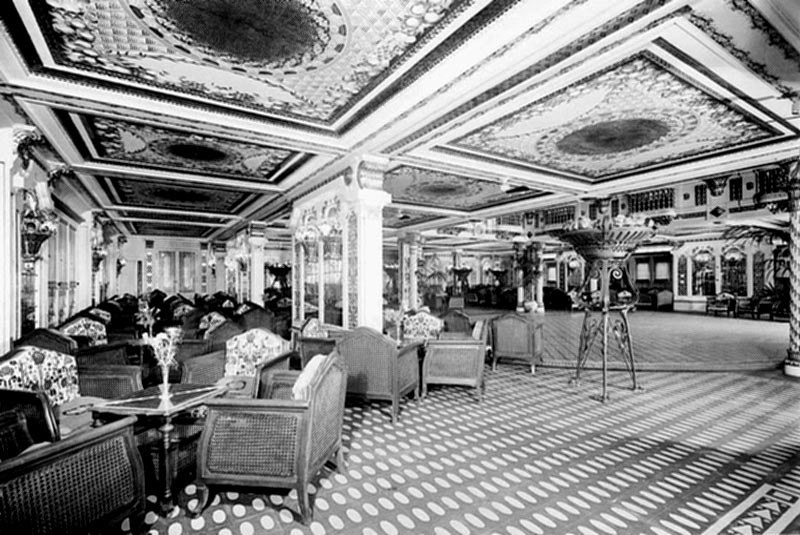 And here are the lower level sides of the Ball Room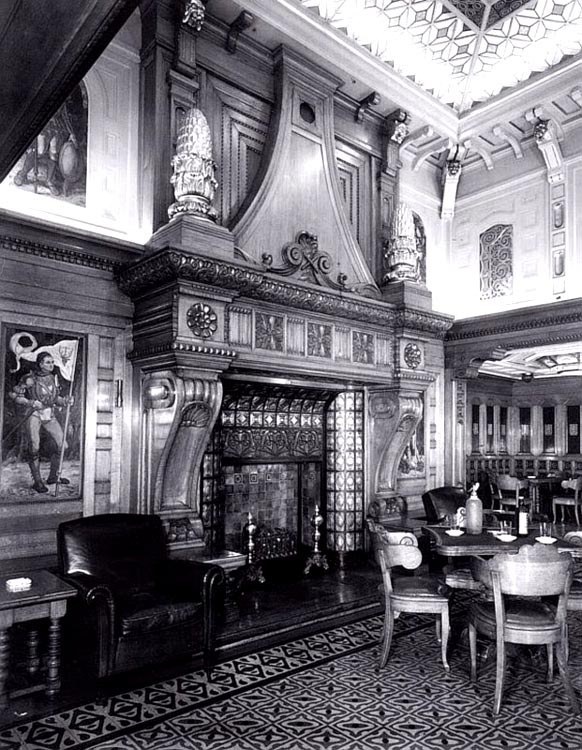 The Smoking Room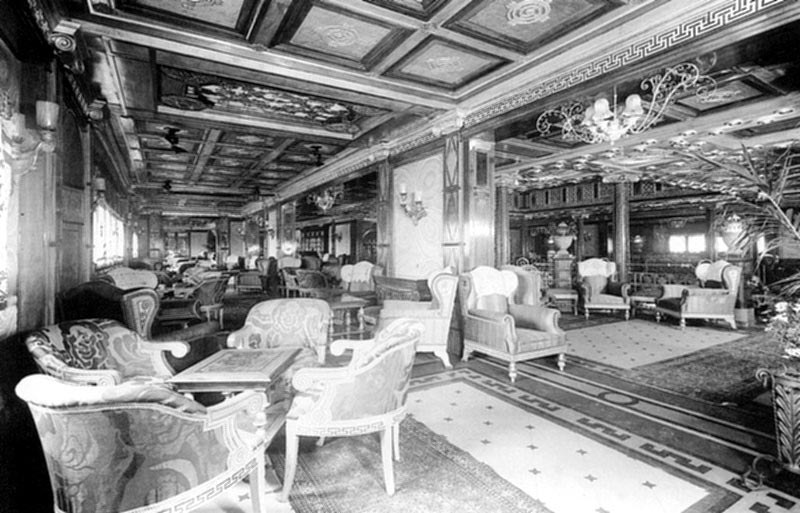 A venue named the Grand Hall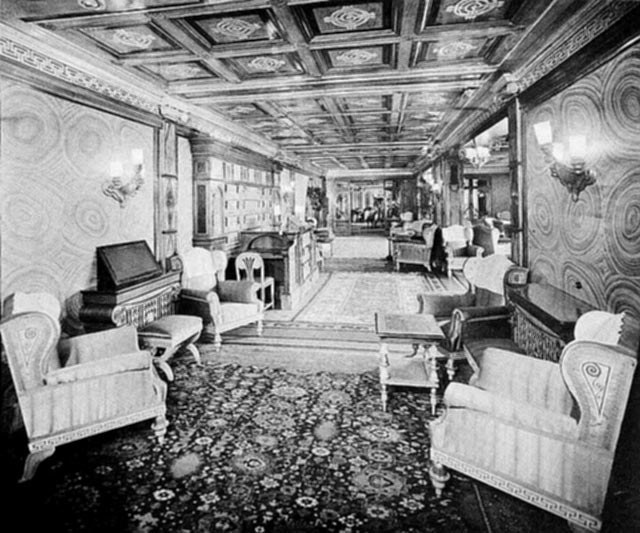 The Writing Room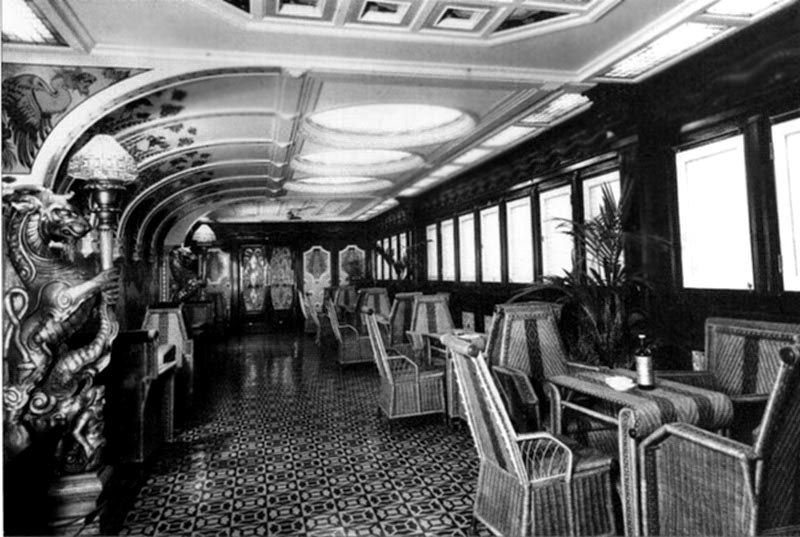 The Verandah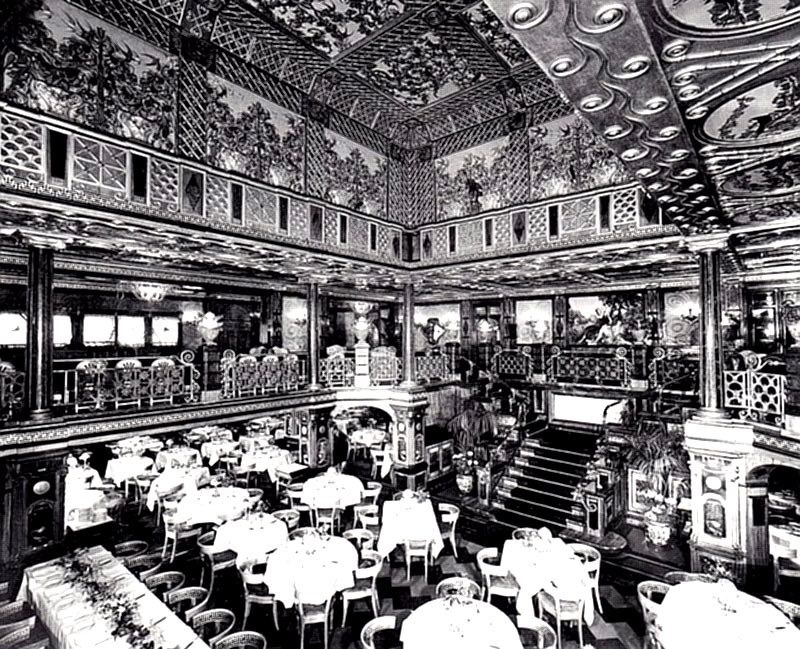 The Dinning Room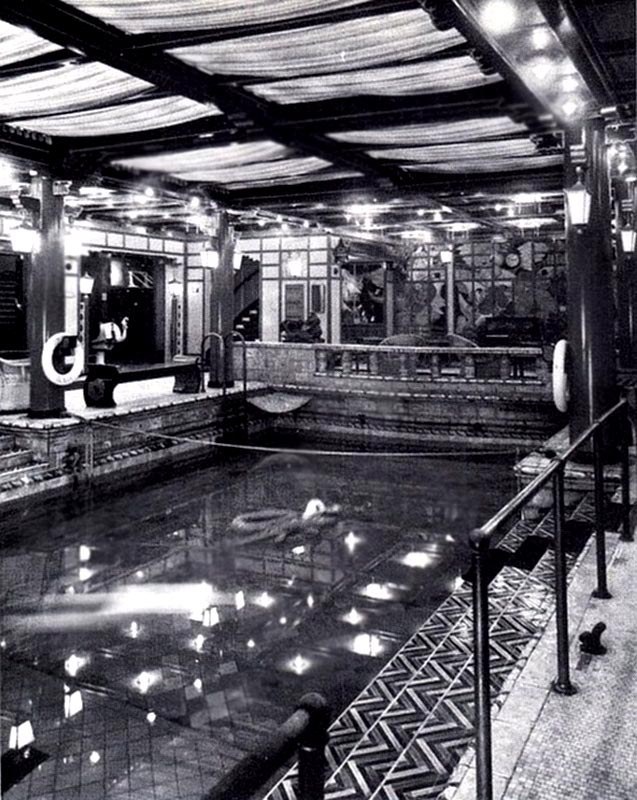 The indoor Pool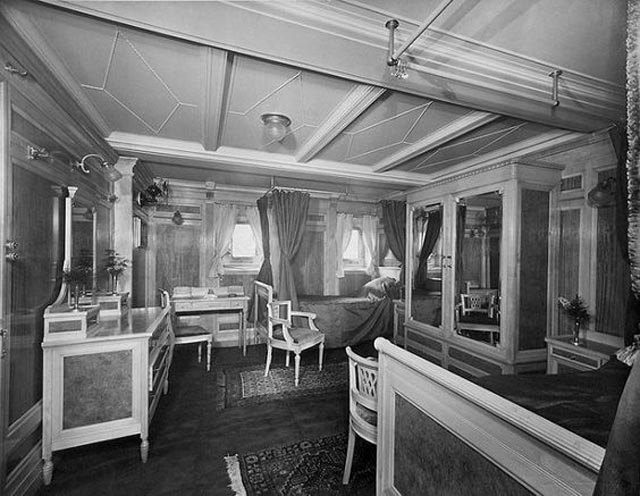 A Deluxe two berth cabin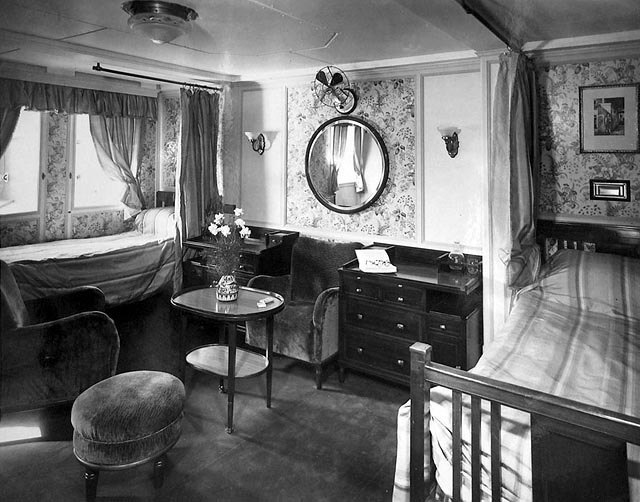 Another style of Deluxe two berth cabin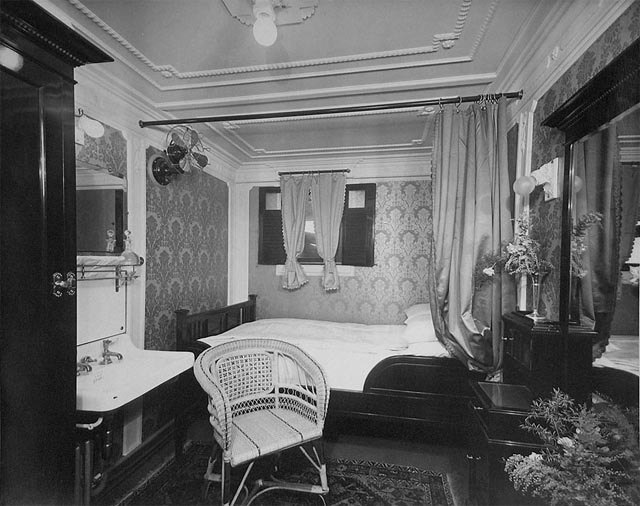 A fine single bed cabin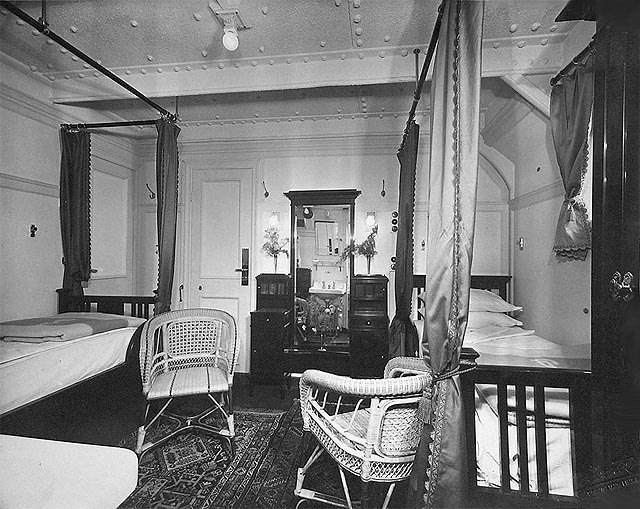 An inside Second Class two berth cabin
Maiden Voyage and services:
She departed on her maiden voyage on April 3, 1928 from Genoa sailing via Naples to New York. She was filled with exited passengers who had heard so much about this remarkable luxury liner, and In Genoa and Naples so many came to see her depart.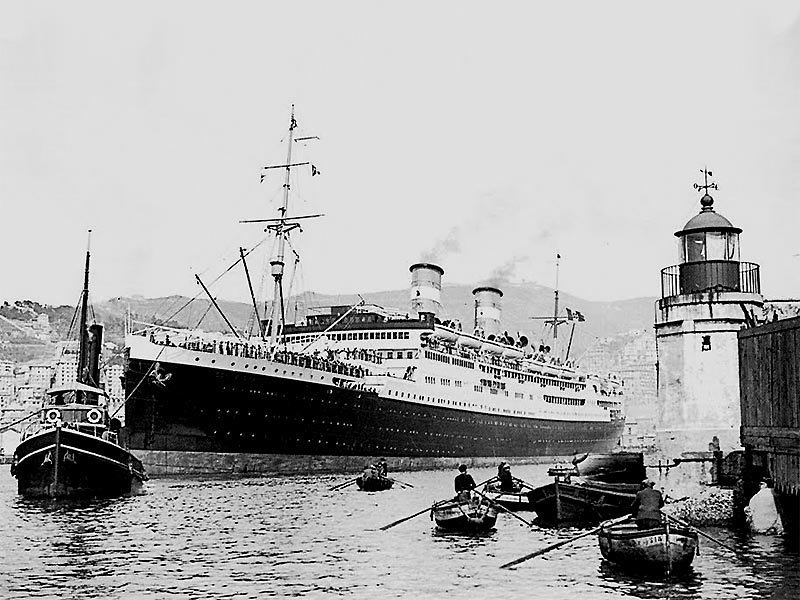 S.S. Conde Grande is seen departing on her maiden voyage to New York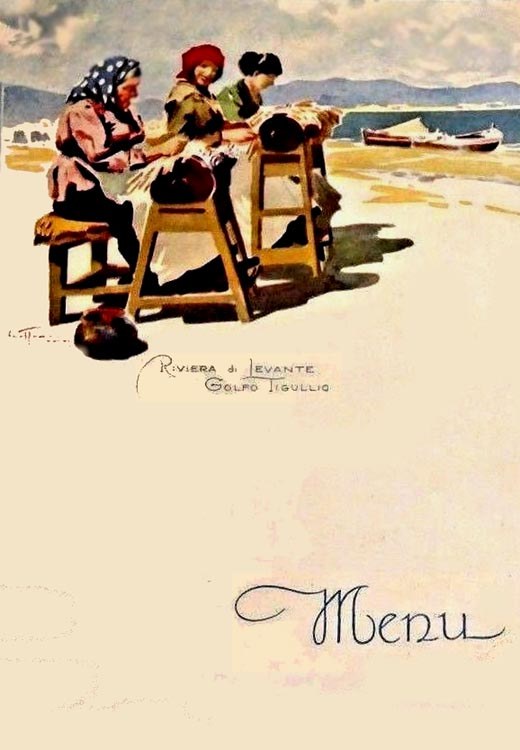 Above & below: A Dinner menu from July 1, 1928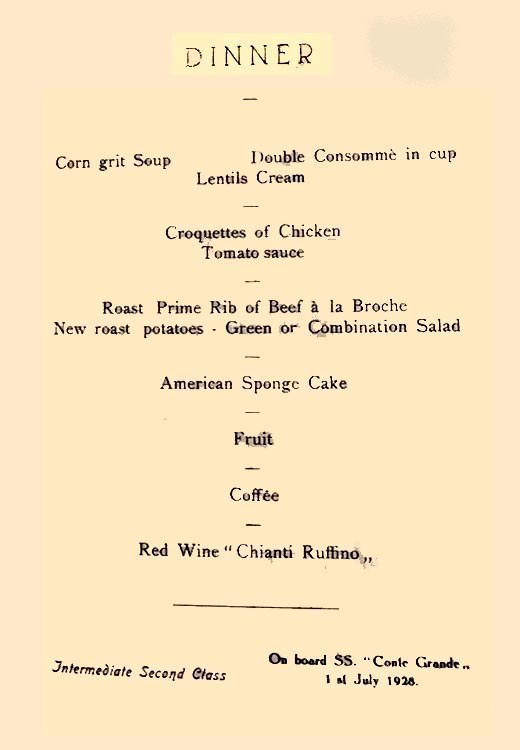 However four years later in 1932, with the company having merged together with other Italian Lines into the "Italia Line" the "Conte Grande and her sister were transferred to the South American (the River Plate route) service, offering an express service from Genoa to Santos and Buenos Aires.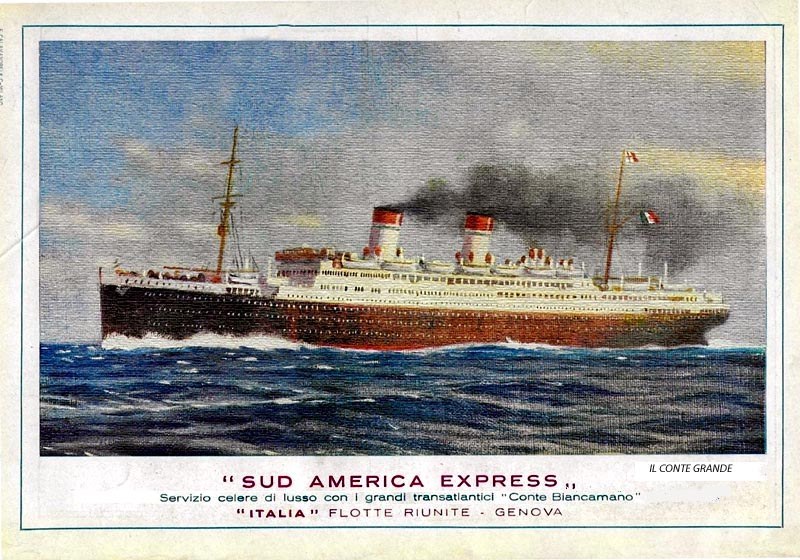 A postcard of the refurbished S.S. Conte Grande and seen in her new "Italia Line" livery
One voyage recorded shows that she arrived at Buenos Aires, Argentina on October 13, 1933 with many immigrants from Europe, including a number of Jewish people, who were mostly escaping Anti-Semitism and the possibility of war.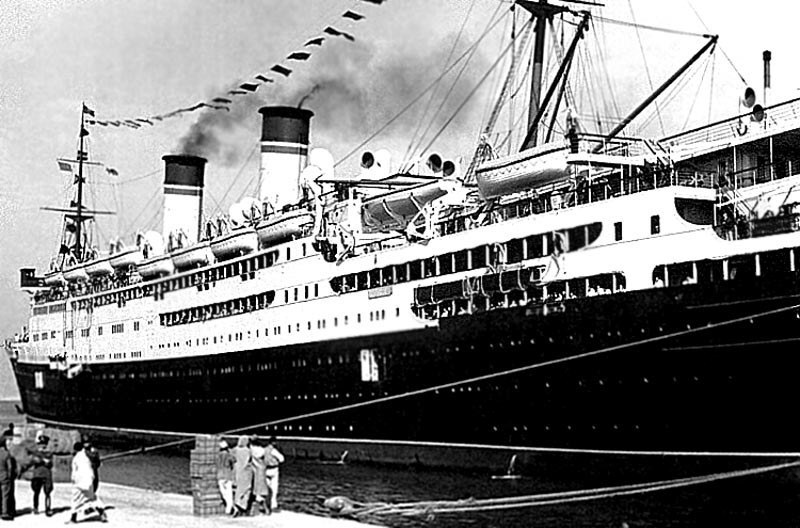 She is seen here in Algiers in Algeria
She continued her popular South American service until 1939, when to the outbreak of WW2 the "Conte Grande" was interned in Brazil and she was retained at Santos.
In June 1939 the "Conte Grande" was in Brazil, on one of her regular South American voyages, but to the outbreak of WW2 the ship was interned in Brazil and she was retained at Santos.
World War 2:
With the ships Italian officers and some of the crew still aboard in June 1940 they waited to see what was going to happen after Mussolini's attack on France on June 10th. As expected the "Conte Grande" remained laid-up. Then on February 27, 1942 she was transferred to Brazilian registry and a Brazilian crew replaced the Italian crew who were all interned.
The "Conte Grande" was purchased on April 16, 1942, by the United States Government, who officially commissioned her and renamed the ship U.S.S. Monticello II - (AP-61), being the second ship to bear this name. Capt. Morton L. Deyo USN, was placed in command of her and she sailed north under the escort of the U.S.S. Lansdale (DD-426) to a Philadelphia Naval Ship Yard where most of her luxurious fittings would removed and she was refitted to become a Troop Transport Ship.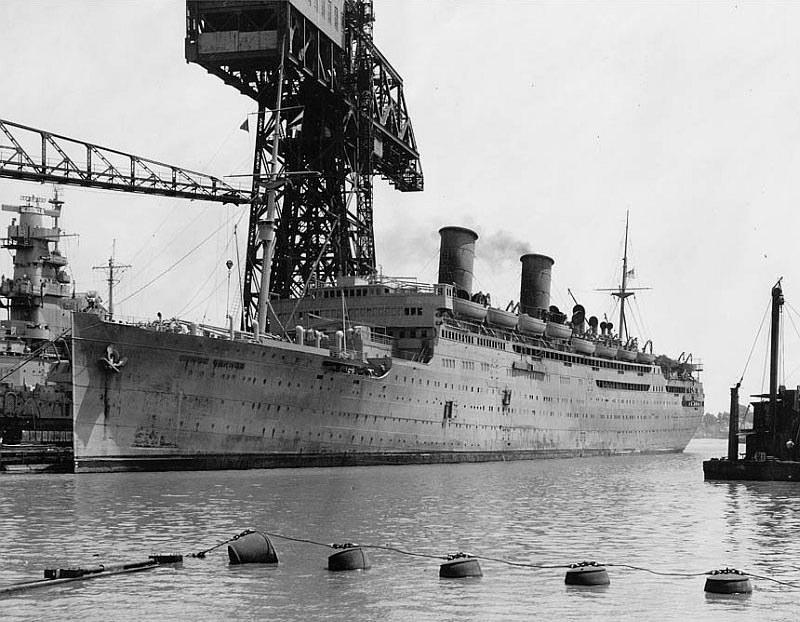 U.S.S. Monticello (AP-61) is seen berthed at the Philadelphia Navy Yard late in May 1942
Upon completion she had a complement of 48 officers and 73 enlisted men to operate the ship, whilst her troop accommodations had facilities for 200 officers and 6,720 soldiers. She also had a cargo capacity of 60,000 cubic feet.
Armaments placed onboard was as follows: One single 5"-38 dual purpose gun mount, six single 3"-50 dual purpose gun mounts, sixteen single 20mm AA gun mounts and four .30 Machine guns.
The U.S.S. Monticello (AP-61) was completed September 10, 1942.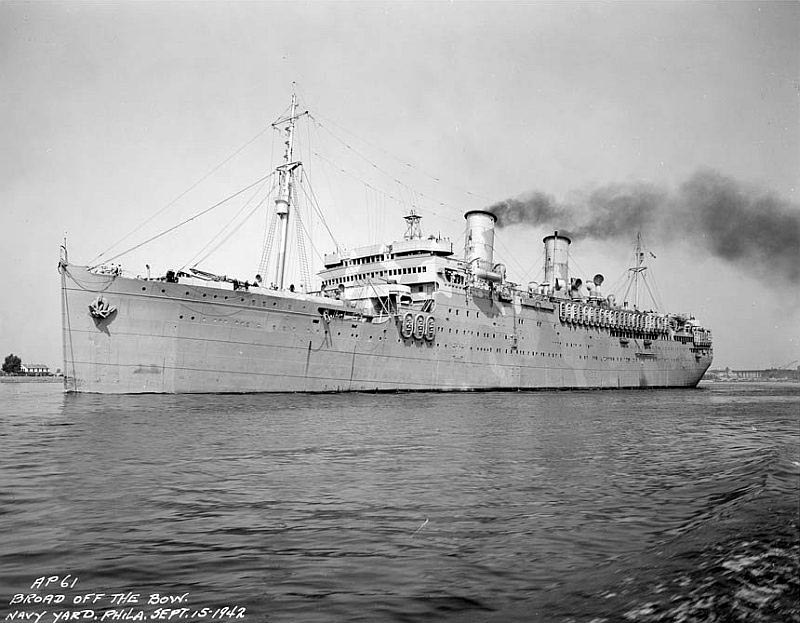 USS Monticello (AP-61) having been completed is seen bound for New York on September 15, 1942
Her first deployment was transporting GI's from New York on November 2, 1942, bound for "Operation Torch", the invasion of North Africa, the GI's left the ship in Casablanca and she then returned to New York.
Her subsequent assignments included transporting troops from New York to India via the Panama Canal and Australia in 1942-43; from New York to North Africa in 1943 …
U.S.S. Monticello (AP-61) departed again on December 25, 1942 full of soldiers bound for the various commands of the China-Burma-India theatre, and she headed for Karachi sailing via the Panama Canal, Australia, and Ceylon. Thereafter she returned again to New York arriving on April 24, 1943.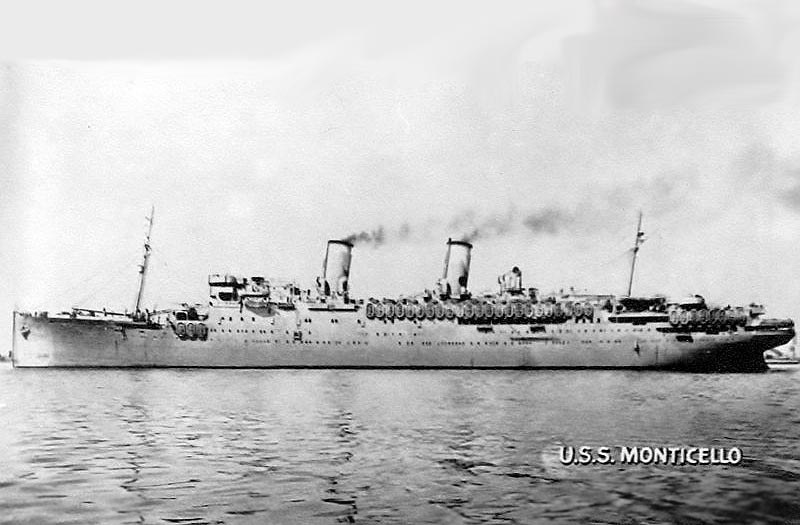 She is seen at sea in June 1943.
With the U.S.S. Monticello (AP-61) having returned to New York on April 24, 1943, she then carried reinforcements to Oran on two voyages, then sailed from Africa to San Francisco by way of the Panama Canal.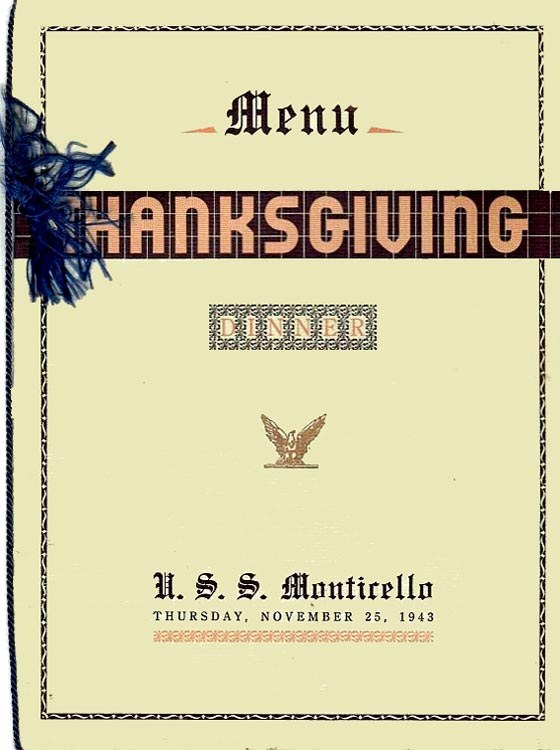 Above & two images below: A Thanksgiving Dinner Menu November 25, 1943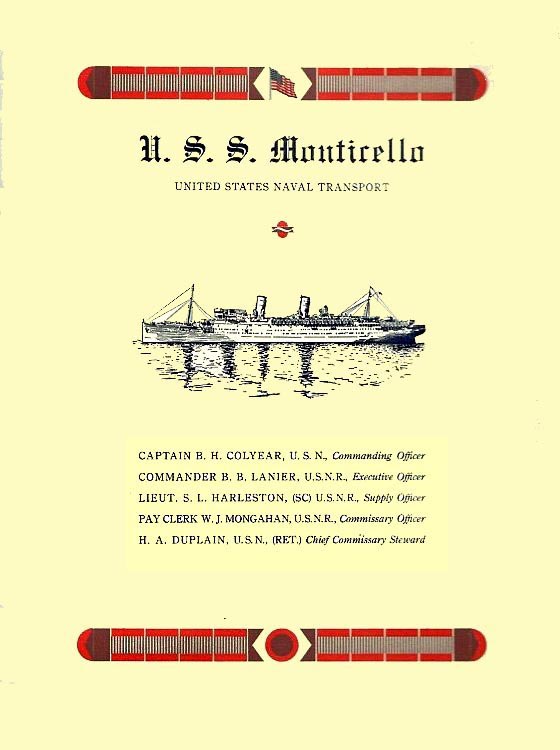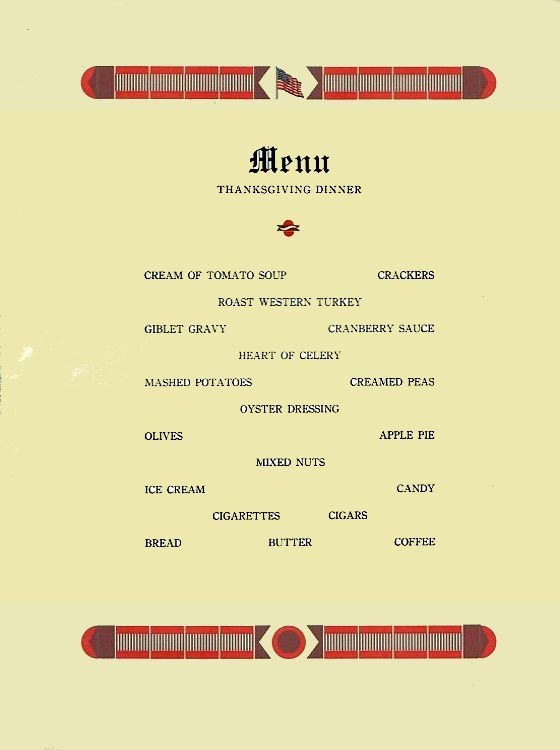 During the first half of 1944, she transported men from San Francisco to Californian ports, Australia, Hawaii, and the burgeoning bases of the South Pacific. 
In June 1944, she began the first of a series of Trans-Atlantic voyages taking men to fight and win victory in Europe.
Having arrived at Brooklyn, New York on July 20, 1945 she was at "Todd's Shipyards" where she remained until October 2, 1945 and whilst there all of her armament was removed.
on July 21, 1945 all her naval crew left the ship, then on August 6, 1945 a "US Coast Guard" crew took over the ship. Her first "Coast Guard" commanding officer was Commander George R. Leslie USCG, who took command of her, he was then replaced by Captain R. S. Patch, USCG.
When work was completed, she departed New York on October 8, 1945, and she was bound for Naples transporting 176 Italian officers, 5,590 Italian enlisted men, 13 US Army officers and 34 Army enlisted men, a total of 5,813. She arrived at Naples on October 19. She departed Naples on the 22nd and U.S.S. Monticello arrived in Norfolk, Virginia on November 3, 1945.
She departed Norfolk again on November 8, 1945 and arrived at Le Havre, France on the 17th. She departed Le Havre on November 19, and returned to New York arriving on 27 November 27.
She then departed New York on 10 December 10, 1945 and she headed to Marseille, arriving on December 20. She sailed from Marseille on December 22, 1946 and arrived at New York on January 1, 1946.
The "Monticello" was officially decommissioned at Norfolk on March 22, 1946, and she was officially struck from the Naval Register on April 12, 1946, and was returned to the "War Shipping Administration" on May 27, 1946 and she was laid up ready to be disposed.
Back to Italian Ownership:
The "Monticello" was finally returned to the Italian Government on March 16, 1947 with an "Executive Order" 9935 having been signed by President Truman.
In July 1947 she returned to Italy and was officially handed back" to "Italia SAN" who returned her original name "Conte Grande" and was reregistered in Italy at 23,842 GRT.
She was sent to a shipyard where she was given an extensive refit to return her to commercial service, and she was given a new raked bow, and two sleeker funnels being installed. Accommodation wise, she would now accommodate 1,498 passengers, being; 215 in First Class, 333 in Cabin Class and 950 in Tourist Class.
The new S.S. Conte Grande was completed in July 1949 and she recommenced her earlier service to South America.
When completed in July 1949, S.S. Conte Grande and her sister "Conte Biancamano returned to their traditional South American service.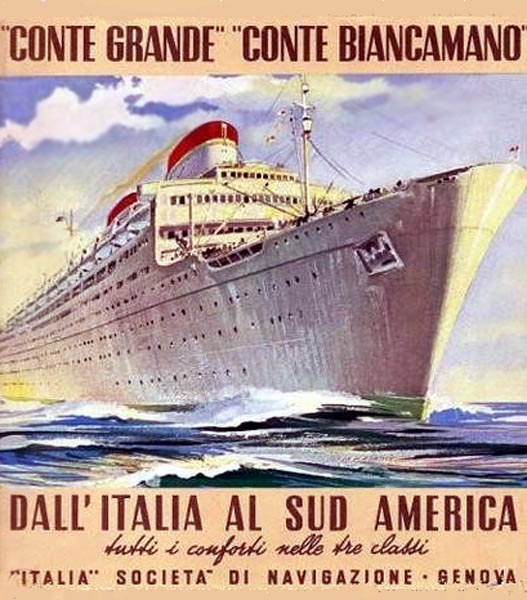 Above & below: A new 1949 brochure cover for her South American service and an image of her Second Class Dining Room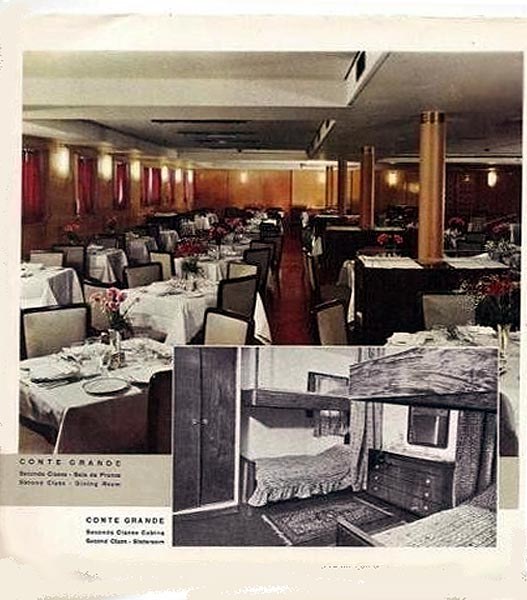 Due to the S.S. Andrea Doria having tragically sunk on July 26, 1956, both the "Conte Grande" together with the "Conte Biancamano" were placed back on the New York service for a few months. Thereafter they were returned to their original service. However over the next few years both ships would operate the New York run during the busy summer months.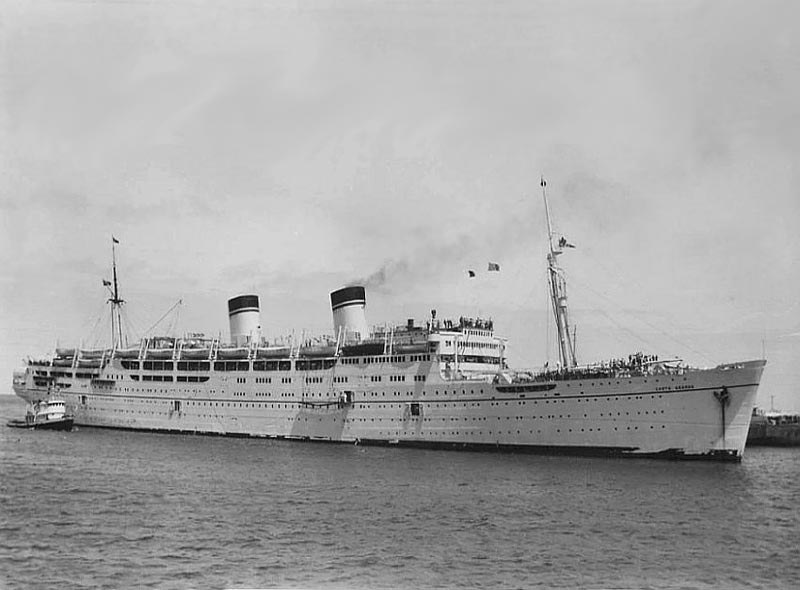 S.S. Conte Grande is seen arriving in a South American port around 1958
Then late in 1960, the "Conte Grande" was chartered by "Lloyd Triestino Line" for the "IRO" the "International Refugee Organisation" to operate a single return voyage to Australia transporting both migrants as well as European refugees who were escaping countless dangers in their countries, and sadly that included the hatred of Jews, due to anti-Semitism in places like Poland, etc.
S.S. Conte Grande departed Genoa on December 15, 1960, with around 1,400 passengers who where accommodated on a One Class basis, but besides the many migrants and refugees, there were also 200 full fare paying passengers who occupied the First Class accommodations.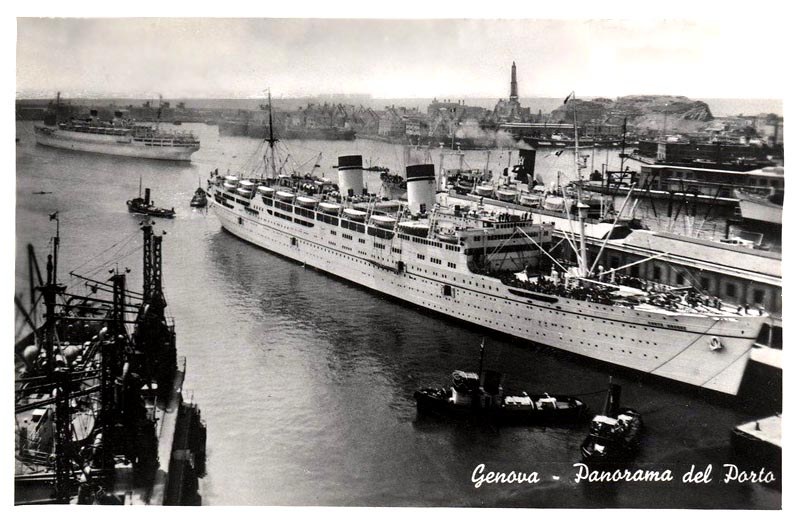 She is seen departing for Australia on December 15, 1960
She sailed via the Suez Canal, Aden, Colombo and then she headed for Fremantle (Western Australia) where she arrived on January 6, 1961. Her next port of call was Melbourne (Victoria) where she arrived on January 11, and then arriving on January 14, in Sydney.
S.S. Conte Grande is seen arriving in Sydney on January 14, 1961
Whilst on the Indian Ocean she had gone some wild seas thus the ship looked battered
Photographer is unknown, sent in by an Australian supporter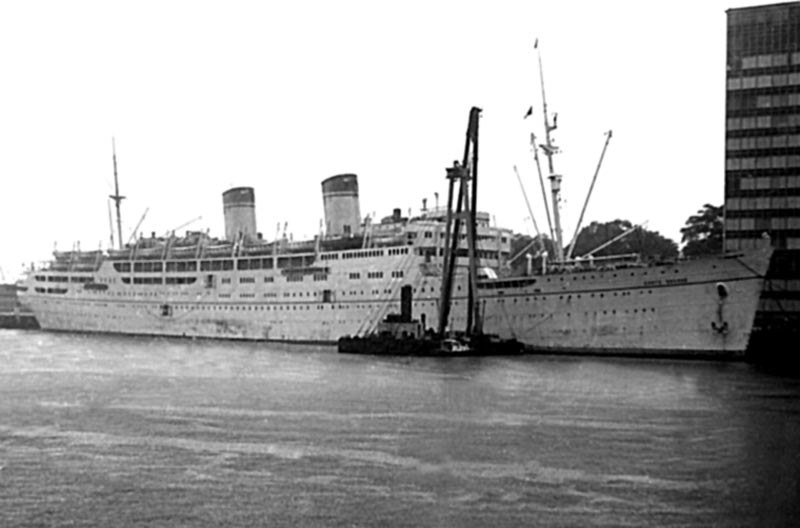 "Conte Grande" is seen berthed at Sydney Cove - today just behind her is today's Sydney Opera House
Photograph was taken by Graeme Andrews
Provided courtesy of the City of Sydney Archives
She departed from Sydney on the 15th and she returned to Melbourne, arriving on January 17, after which she also called into Adelaide (South Australia) on the 19th, and her last Australian port being Fremantle on January 22, 1961 and she returned with full fare paying passengers to Genoa, arriving on February 14, 1961.
Having returned to Genoa, she was returned to the "Italia Line" and she returned to her South American service, although her sister had already been sold.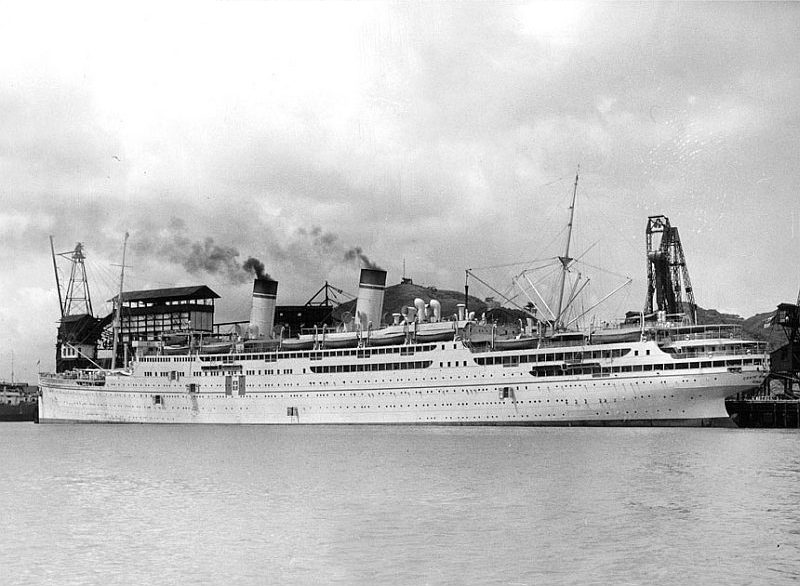 The S.S. Conte Grande is seen here in her final days in service looking simply superb
She returned to Genoa after her very last passenger service on September 7, 1961, and the 33 year old liner was placed at anchor at La Spezia, but rapidly she was sold to a local breakers yard and she was broken up at La Spezia, Italy in 1961.
Specifications and Details:
Names:                           S.S. Conte Grande 1925 - 1942.
.                                     U.S.S Monticello (AP-61) 1942 - 1947.
.                                     S.S. Conte Grande 1947 - 1961.
Type of ship:                   Passenger Ship
Builder:                           Stabilimento Tecnico Triestino.
Yard:                              764.
Owners:                          "Lloyd Sabaudo" 1928 to 1932.
.                                     "Italia Line" or "Societą Italia Flotte Reuniti" 1932 to 1942
.                                     "US War Shipping Administration" 1942 to 1947.
.                                     "Italia Line" 1947 to 1961.
Port of Registry:               Genoa, Italy - 1928 to 1942.
.                                     New York, U.S.A. - 1942 to 1947
Launched:                       June 29, 1927.
Maiden Voyage:                April 3, 1928.
Tonnage:                         25,661 GRT - 1928 to 1942.
.                                     23,861 GRT - 1942 to 1947.
.                                     23,842 GRT - 1947 to 1961.
Length:                           654.8 ft - 199.6 m - 1931 to 1947.
.                                     667.3 ft -203.3 m - 1947 to 1961.
Beam:                             81.6 ft - 24.9 m.
Draught":                        25.9 ft - 7.9 m.
Propulsion:                      Two Stabilimento Tecnico Parsons type turbine, 24,000 HP.
Boilers:                           Nine Scotch boilers, 230psi 500°.
Generators:                     Three turbo-drive, 150Kw 120V D.C.
.                                     Two turbo-drive, 300Kw 120V/240V D.C.
Propellers:                       2 Screws.
Speed:                            20 knots, 21.8 knots maximum.
Accommodations:             578 passengers First Class, 420 Second Class & 720 Third Class - 1928 to 1942.
Troops:                           6,920 soldiers - 1942 to 1947.
Accommodations:             215 First Class, 333 Cabin Class & 950 Tourist Class - 1949 to 1961.
Crew:                              532 - 1928.
Fate:                               Broken up at La Spezia, Italy in December 1961.
**************
Remembering the luxurious …
S.S. Conte G
rande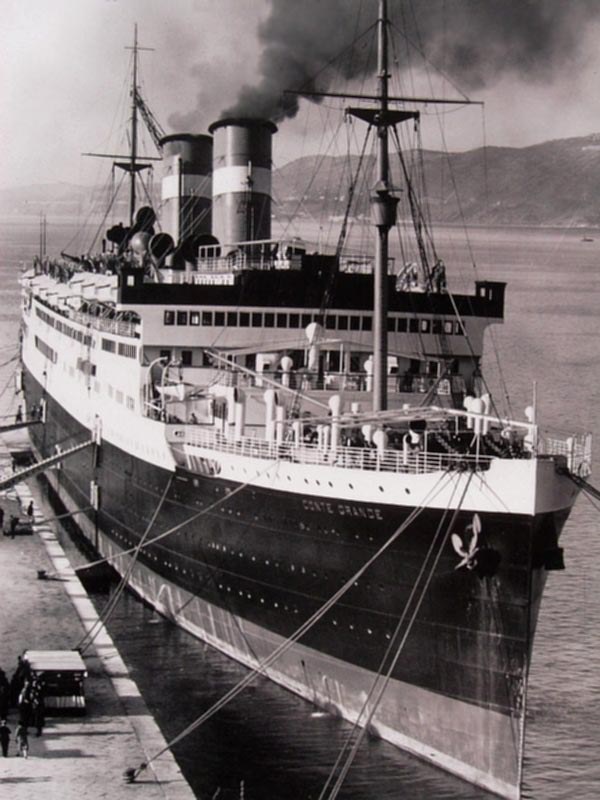 A wonderful view of her in a South American port in the 1930's
**************
"Blue Water Liners sailing to the distant shores.
I watched them come, I watched them go and I watched them die."

Featuring over 1,365 Classic Passenger Liners, Passenger-Cargo Liners & Classic Cruise Ships!
Or ENTER HERE
For interest: Sadly an email service to ssMaritime is no longer available, due to the author's old age and chronic illness as well as being disabled, etc. In the past ssMaritime received well over 120 emails per day, but Goossens can no longer handle same. He sincerely regrets this!
**************
ssMaritime.com & ssMaritime.net
Where the ships of the past make history & the 1914 built M.S. Doulos Story.
The Author has been in Passenger Shipping & the Cruise Industry for well over 60 years
In addition he was the founder of "Save the Classic Liners Campaign" in 1990.
Please Note: ssmaritime and associated sites are 100% non-commercial and the author seeks no funding or favours of any shape or form, never have and never will!
Photographs on ssmaritime and associate pages are by; the author or from the author's private collection. In addition there are some images that have been provided by Shipping Companies and private photographers or collectors. Credit is given to all contributors. However, there are some photographs provided to me without details regarding the photographer/owner concerned.
This notice covers all pages; although, and I have done my best to ensure that all photographs are duly credited and that this notice is displaced on each page, that is, when a page is updated!
ssMaritime is owned & © Copyright by Reuben Goossens - All Rights Reserved