Rotterdam Lloyd MS Sibajak 1928 to 1959
Please Note: Phones, Firefox & Google Chrome & other search engines may not suitable
Please use Internet Explorer or Old Google for this page to load perfectly!

Click the logo above to reach the ssMaritime FrontPage for New Features & Updates
With Reuben Goossens
Maritime Historian, Author, Cruise'n'Ship Reviewer and Maritime Lecturer
Please Note: All ssMaritime and other related maritime & cruise sites are 100% non-commercial and privately owned. Be assured that I am NOT associated with any shipping or cruise companies or travel or cruise agencies, etc! Although having been in the passenger shipping industry since 1960, I am now retired but having completed features on well over 700 Classic Liners and Cargo-Passengers Ships, I trust these will continue to provide you the classic ship enthusiast the information you are seeking, but above all a great deal of pleasure!
SS Corsair IV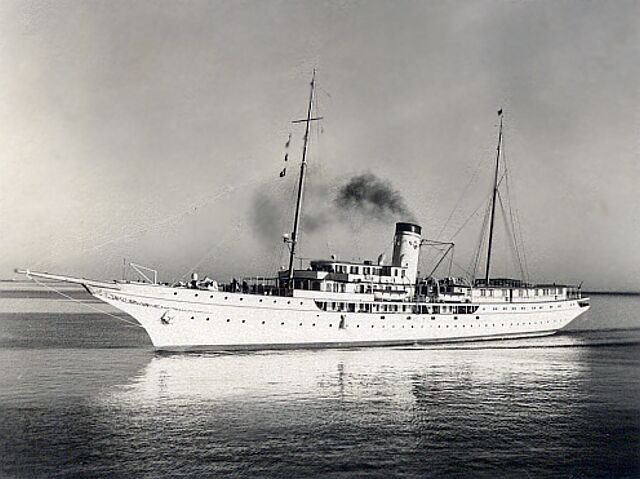 We see the ship here as the 1947 Pacific Cruise Lines SS Corsair having been sold
and completely renovated into a passenger ship from a private luxury yacht – Corsair IV
For many years the author had a folder somewhere in the system containing the ships details as well as a series of photographs of this remarkable small classic vessel. She certainly was not one of the great liners of the world, for she was built and designed to be a luxury yacht that would later become a deluxe cruise ship. Many of my regular readers may say that this ship does not fit the profile of ssmaritime.com, however, I believe that this delightful ship has a special place in maritime history, for sadly so little has been written about her! It was only due to an email received from a reader with an enquiry regarding this ship, which prompted me to write and compile this story, and I trust that it will be greatly enjoyed by those who read it, although the Corsair did have a tragic end!
Background to her building:
The story starts with the famed Business tycoon J. Pierpont Morgan and his son, Jack Morgan who had built three fine yachts in their days. All of them had been named Corsair & Corsair II & III. Like any great man of wealth and power each yacht be bigger, faster and even more luxurious than the previous one. Because of this, the family created massive media attention each time a new yacht was launched and when the last ship was launched a rather famous quote became a byword for many in the world of the rich. For when asked "Sir how much will it cost to operate a boat of this size" Mr. Morgan's response was, "Sir, if you have to ask that question, you can't afford it."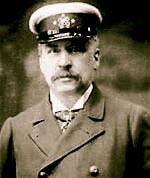 J. P. Morgan Snr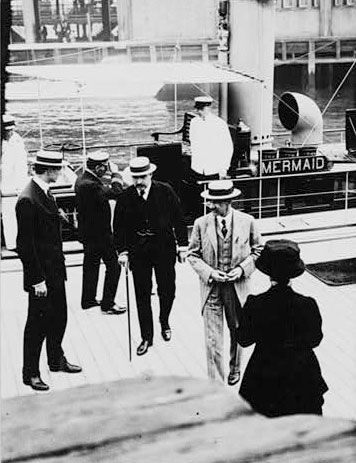 Mr Morgan senior boarding the first SS Corsair
In 1927 the Morgan's were already thinking of a new addition, the Corsair IV, which would be constructed at the Maine Shipyards. She cost US$2.5 million, being the equivalent of around 60 million plus in today's terms. This new ship would be the Morgan's largest yacht ever, but also the largest yacht to have been built in the U.S.A. She had an overall length of 104.55m / 343ft, although her official registered length was 91.4 m / 300ft. She was listed as: 2,142 GRT (Gross Registered Tons).
The Morgan's had a love for the traditional yachts and even a touch of the pirate look in the designs. This was obvious in the Corsair IV, as she was a long, sleek looking, dark and heavy below, with a stylised superstructure that was lighter and to be envied!
Her Launching:
When she was ready for launching in 1930, Jack Morgan Junior hired three private railway cars which were filled with family and friends, and transported them all the Bath Iron Works Maine shipyards for the grand occasion. The launching was a great event and was covered by all the media of the day, considering the Great Depression had already begun.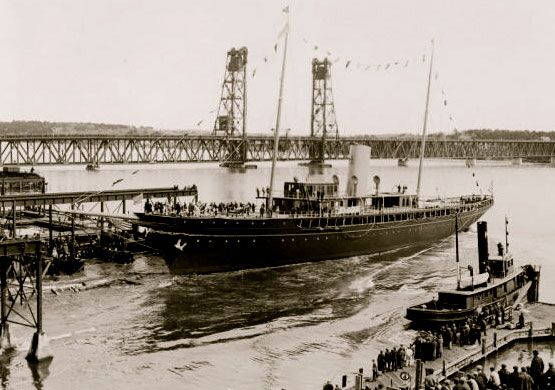 The sleek looking motor yacht Corsair IV slips into the water

with a multitude of onlookers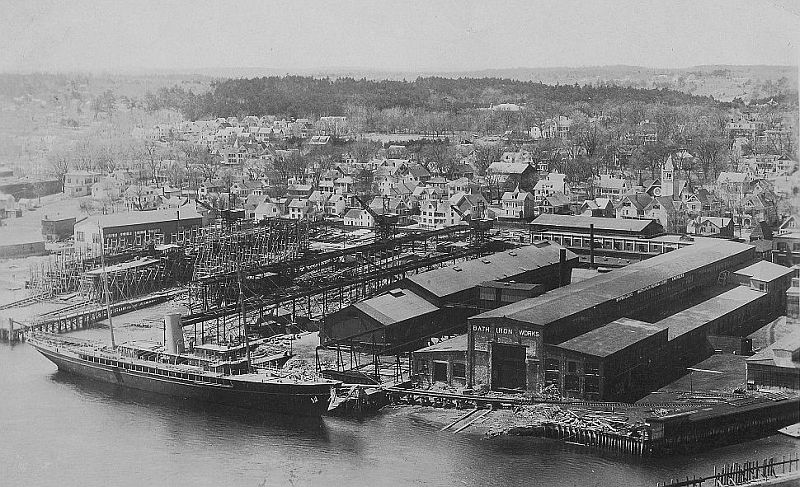 The SS Corsair is seen being fitted out beside her builders at Bath Maine
Photograph is owned and was provided by Mr. Mark Pennington
Mr. Mark Pennington wrote the author and stated: "My grandfather Ferdinand G. Dumais (Bud) worked at the Bath Iron Works during the construction of the SS Corsair and I have included two images he has left to me for your viewing and use. I only recently became aware of the identity of the ship and its owner through conversation with Mr. Nathan R. Lipfert, who is the Senior Curator of the "Maine Maritime Museum" in Bath Maine."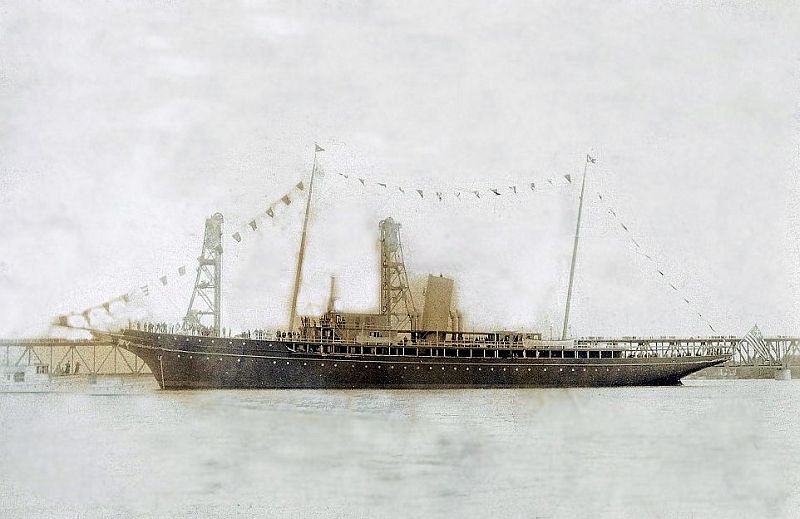 A water colour image of the SS Corsair just after her completion
Image is owned and was provided by Mr. Mark Pennington
The author is most grateful to Mr. Pennington for providing these rare images and advising us about his Grandfather's involvement in her building.
**********************************
The Corsair Story:
SS Corsair IV served the Morgan family faithfully for the ten years, sailing along the East Coast of the USA as well in the Caribbean and she took part for trans-Atlantic record-breaking crossings. However in 1940 the Corsair IV was handed over to British Admiralty to be used for the war effort. After the war was over she was laid up as the Morgan's had no further plans for her.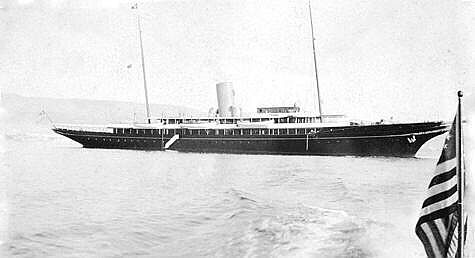 Here we see the SS Corsair IV completed and at sea looking simply splendid!

After World War II suddenly cruising had seemed to have become extremely popular amongst Americans who seemed to have money to spend on cruises, especially in the luxury end of the market. However at the time there were not any all first class ships that specialised in cruising, as most were liners that had two or three classed and operated on seasonal cruising. In addition, around half of the passenger ships had been sunk and those that had survived the war required extensive refurbishing and were needed on line voyages, and then even they would take several years before they would be back in service or new ships built. Well known North American Companies, such as American President Lines, Matson and Canadian Pacific Lines all took their time to get back to service. It took American President Lines three years to re-establish liner service to the Orient and it wasn't until 1948 when Matson Line's famous Lurline recommenced her Hawaii service. Canadian Pacific also took their time, but they all sailed again in due time! But, none of these would be ready to operate cruises.

There were some business men in the shipping industry who had a good head on them and they had a good idea about the luxury cruise market, and thus the Skinner and Eddy Corporation who owned the Alaska Steamship Company in 1946 decided to form a new branch the Pacific Cruise Lines. They went looking for a ship and soon found the perfect ship for their needs, the Corsair IV. The former super luxury Morgan yacht was purchased reregistered Panamanian flag.

She was officially renamed Corsair, with the IV being dropped, was taken to the Todd Shipyards in New York where she received some minor repairs required at the time as well as an overhaul in the engine room.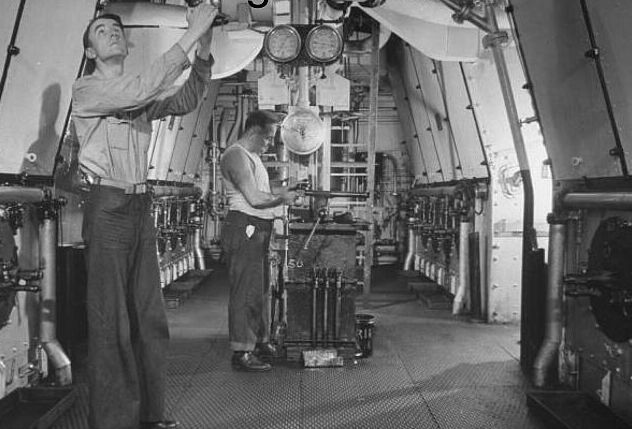 SS Corsair's engine room

– like the rest of the ship, it was spotless!

When these were completed she sailed to the Victoria Machinery Depot in Victoria, Canada, where a comprehensive conversion took place making her into a genuine luxury passenger cruise ship. Some of the most famous designers took part in her interiors, such as William F. Schorn & Associates of New York, who also worked on the famous liners SS Brazil, Argentina and Uruguay of McCormick Line. Every part of the ship, for now she was much more than just a yacht, but a glamorous ship, was redone in detail, but retaining the elegance befitting the luxury of the Corsair, but modernised with sublimely elegant surroundings for the ships passengers! When Skinner and Eddy Corporation of Pacific Cruise Lines planned a new ship, their plan was to offer to their cruise passenger one of the most luxurious cruise ship's on the seas, and apparently they succeeded as the future booking would soon prove.
SS Corsair's facilities:
Facilities on the new and glamorous SS Corsair were second to none. She had just 42 staterooms accommodating 82 passengers. Each of her staterooms was much larger and more luxurious than on almost any other ship afloat. Obviously there was no expense spared in furnishing and decorating them, with the finest materials, and all done with the best workmanship that was available in the USA. Each of the Corsair staterooms and suites featured luxury beds, as there were no passenger berths on her. In addition every stateroom and suite had a private bathroom.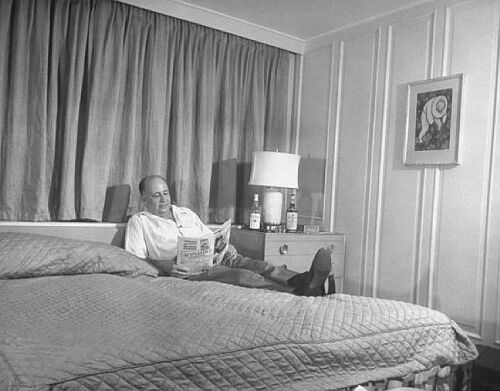 The bedroom of a double bedded suite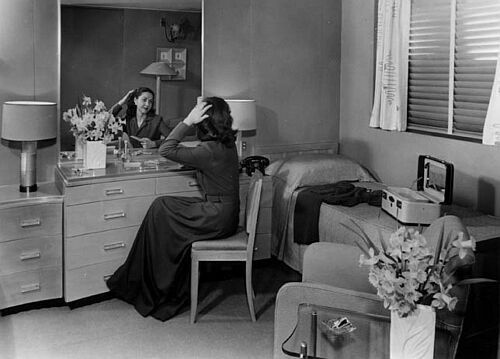 The bedroom of a twin bedded stateroom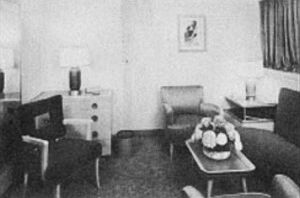 Then lounge area of a twin bedded stateroom

SS Corsair had just over 40 stewards on board; however she did have a total of 76 crew members that is almost one per passenger, which is unheard of these days! Each passenger received individual attention and nothing was ever too much. Catering on board was the ultimate as some of the very top European chefs were hired to dish up their finest cuisine, and her food was lauded by everyone long after they had left the ship!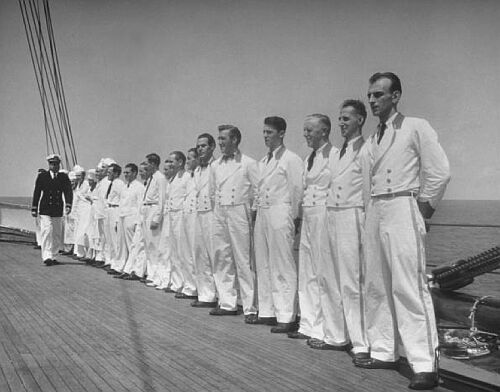 Stewards line up out on deck for inspection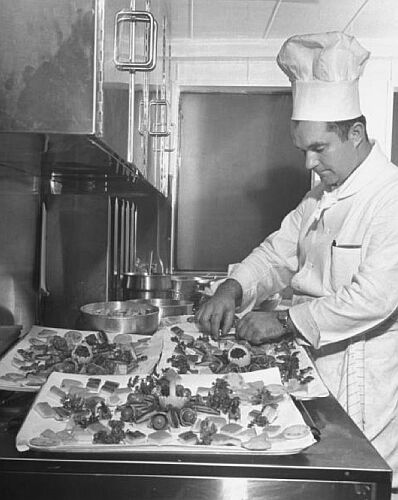 One of the ships chefs ensuring the detail is perfect!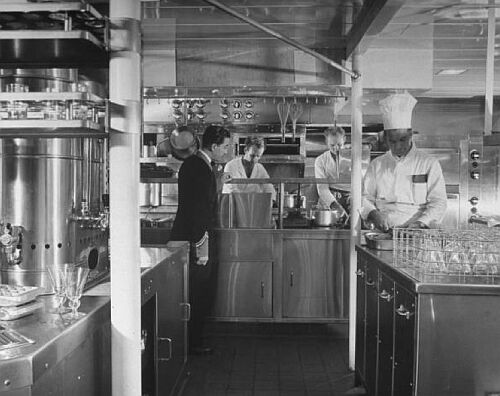 A gleaming galley
Her public rooms such as the Main Lounge, forward Observation Lounge, Cocktail Lounge, Restaurant and other on board venues were all luxuriously carpeted and fully air-conditioned as were all of her accommodations, bedrooms, sitting rooms and suites. The Morgan's would have been very proud of her!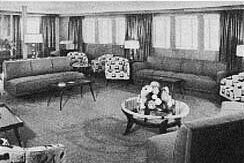 The Main Lounge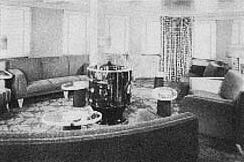 Forward Observation Lounge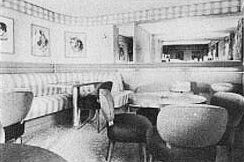 Cocktail Lounge and Bar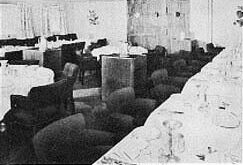 The Thunderbird Restaurant
SS Corsair is ready to set sail:
Pacific Cruise Lines placed full-page advertisements for cruising on this super luxurious all first class SS Corsair in a popular Holiday magazine and the response was simply amazing. Suddenly bookings rolled in and before Pacific Cruise Lines knew it, they had a big waitlist on their hands. All was going well for their new ship!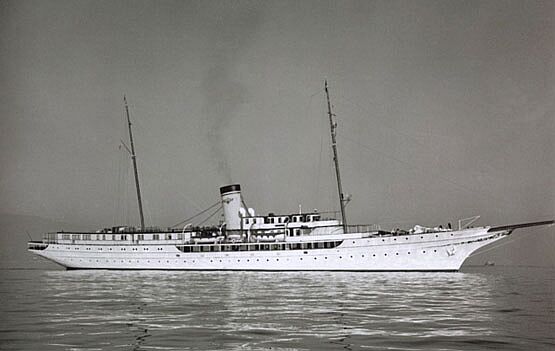 SS Corsair looking like a luxury cruise ship in her new all white livery
Note her hull enclosures and aft deck extensions
SS Corsair made her maiden voyage on September 29, 1947 as she departed on a two-week cruise from Long Beach, to Acapulco, via a variety of ports. The fare started from $600 per person, which was expensive for those days and it equalled, it is said "more than a quarter of the 1947 typical American family income" at that time. But this was a luxury cruise line and was aimed at the rich and her cruises were selling out well in advance. Her popularity as a luxury cruise ship was even bigger than her owners could have imagined, as countless letters proved from her passengers during the first twelve months of operation. The super luxury cruise ship, SS Corsair was a massive success, and she was to have a profitable long future ahead of her!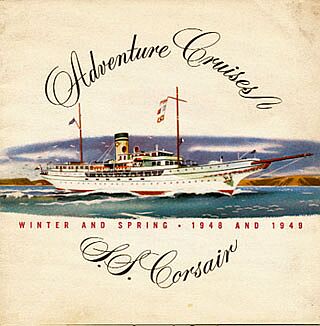 Above and below: The 1948/49 Acapulco cruise brochure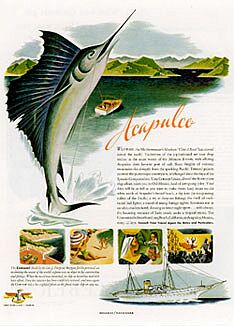 Her Long Beach to Mexico cruises continued, however in the summer of 1948 Pacific Cruise Lines switched the Corsair to Alaska service, sailing out of Vancouver, British Columbia where she was the very first ship ever to provide a deluxe two-week cruise to the Inside Passage. In addition, there was another first for the Corsair Alaska cruises for they also had am especially chartered train transporting passengers from Whittier to famed McKinley National Park, which is now the norm with most cruise lines, but the Corsair was the forerunner of this operation!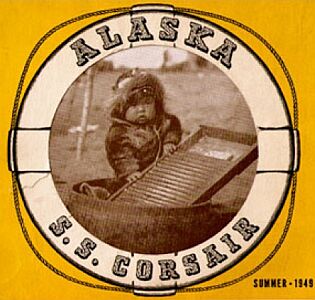 Above and below: The 1949 Alaska brochure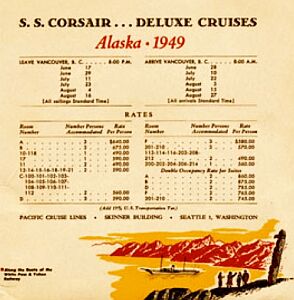 This season was followed by a series of cruises to Mexico and Havana, where she cruised the Gulf of California and the Panama Canalthis schedule was completed in the spring of 1949. She then returned to Alaska for a series of summer cruises, which was again repeated by a season of cruises to Mexico from Long Beach beginning in October 1949.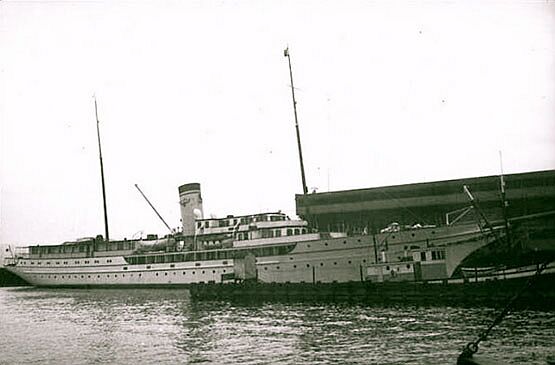 SS Corsair seen at Long Beach California
Passengers enjoying the cruising life on SS Corsair: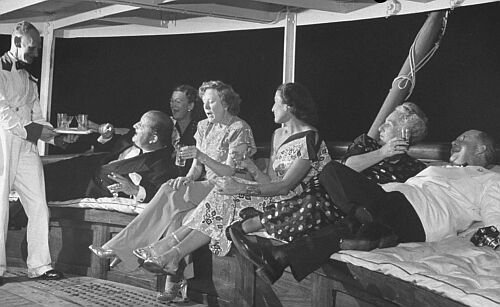 Passengers enjoying a drink aft of the ship on the "big bed"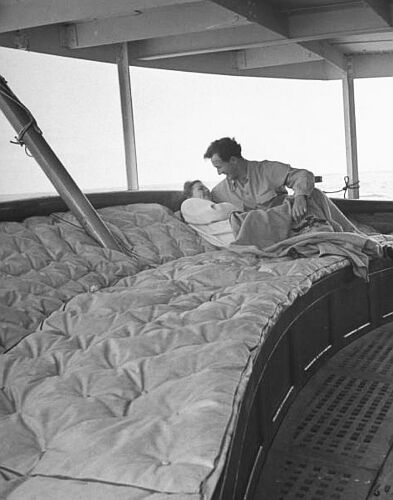 An intimate moment on the aft "big bed" – still has that feel of a yacht!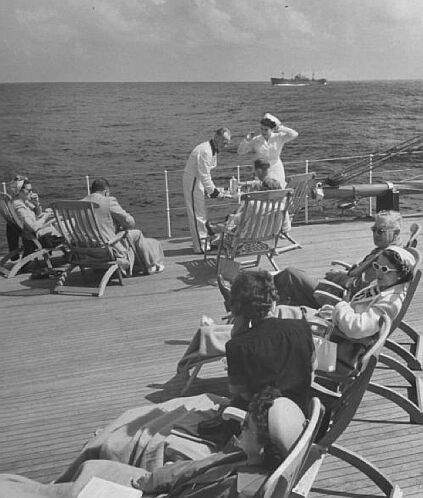 Having fun up on deck
Tragedy struck the SS Corsair on November 12, 1949:
Then suddenly on November 12, 1949 whilst on a Mexican Riviera cruise, SS Corsair struck a rock and being in danger of sinking, she was beached at Acapulco. Her crew and all 55 passengers took to her lifeboats and went safely ashore.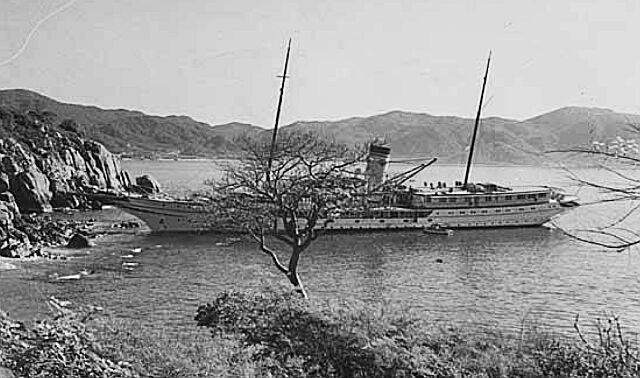 Tragedy has struck as we see the Corsair on the rocks
This photograph is the property of "Puget Sound Maritime Historical Society"
Thus, thankfully there was no loss of life. The Corsair soon listed onto her starboard side, and her promenade deck was soon under water. She was examined by her marine experts and owners, however it was determined that the luxury cruise ship was a total loss, and thus she was abandoned to "Davy Jones' locker." Today divers go down and look at this once great lady of the sea and they can only imagine her grandeur that once was.
As we think of the countless ships that I have written on over the years, we must admit that this small luxury yacht come cruise ship is very special indeed. There have been very few ships that compare to this magnificent super luxury cruising yacht in these modern days, for they build massive ships well over 223,000 GRT that simply look more like hideous Condos, and square boxes with a hull under it. But 1. you will cruise with a crowd, and 2. None will any of those ship come even close to equal the sublime elegance of the former J.P. Morgan yacht SS Corsair IV!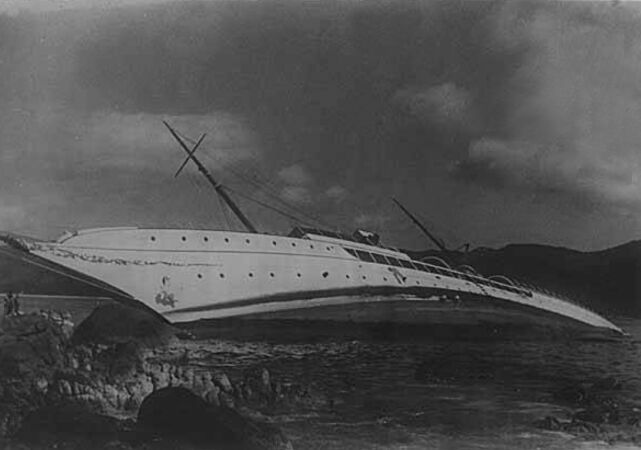 Sadly the storm clouds says it all, her days are over!

This photograph is the property of "Puget Sound Maritime Historical Society"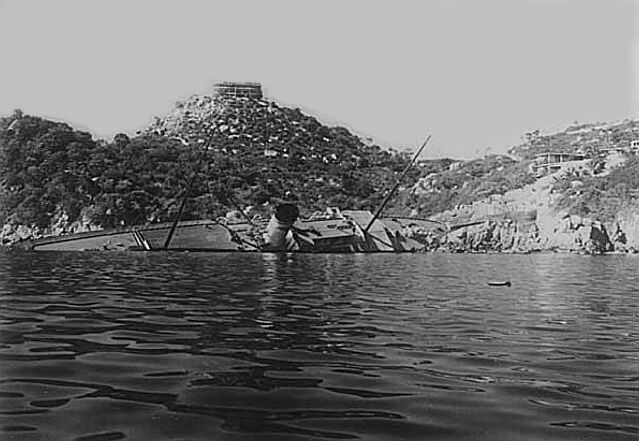 The end to P. J. Morgan's dream
This photograph is the property of "Puget Sound Maritime Historical Society"
Remembering the SS Corsair IV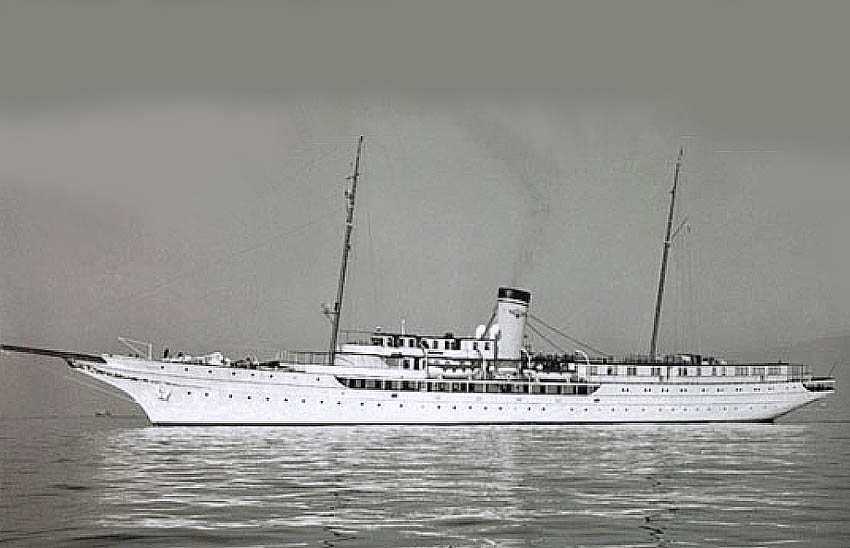 ****************************
"Blue Water Liners sailing to the distant shores.
I watched them come, I watched them go and I watched them die."
************************
ENTER OUR ssMaritime Main INDEX
Where you will discover over 700 Classic Passenger & Passenger-Cargo Liners!
ssMaritime.com & ssMaritime.net
Where the ships of the past make history & the 1914 built MV Doulos Story
Photographs on ssmaritime and associate pages are by the author or from the author's private collection. In addition there are some images that have been provided by Shipping Companies and private photographers or collectors. Credit is given to all contributors. However, there are some photographs provided to me without details regarding the photographer/owner concerned. I hereby invite if owners of these images would be so kind to make them-selves known to me (my email address may be found only on www.ssmaritime.com), in order that due credit may be given.
This notice covers all pages, although, and I have done my best to ensure that all photographs are duly credited and that this notice is displayed on each page, that is, when a page is updated!
ssMaritime is owned and © Copyright by Reuben Goossens - All Rights Reserved