Dear Mr Dr. Reuben- Emails to say thank you
Note: Firefox & some other Search Engines may not be suitable
Use Google Chrome for this Web Page to load perfectly!
Click the logo above to reach the ssMaritime FrontPage for News Updates & "Ships of the Month"
With Dr. Reuben Goossens
Maritime Historian, Author, Lecturer & Cruise'n'Ship Reviewer
Please Note: All ssMaritime and other related maritime sites are 100% non-commercial and privately owned, thus ssmaritime is NOT associated with any shipping company or any other organisation! Although the author has worked and been involved in the passenger shipping industry for well over 60 years, but due to his old age and poor health, he was forced to retire. Yet, he has completed well over 1,550 Classic Liners, Passenger-Cargo Liners as well as humble converted C3 converted Migrant Liners, which has transported countless thousands of folk to the new world, as well on vacations'. Amazingly, ssmaritime.com has received 752,579.047 billion visitors to date I trust the features online will continue to provide Classic Liner and Ship enthusiasts both the information they are seeking, but more so provide a great deal of pleasure and relive many happy memories!
Emails of Thanks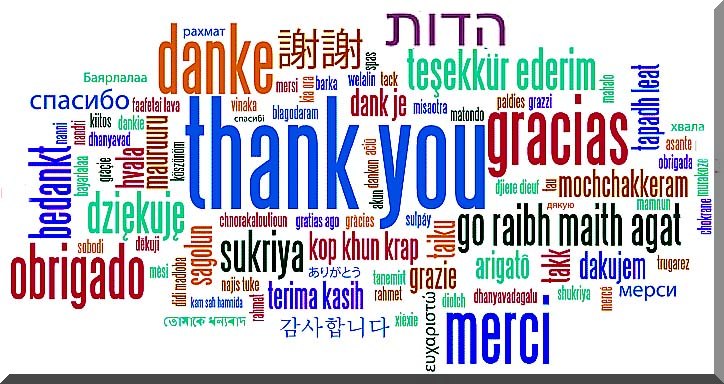 This page has been updated with additional photographs added in May 2023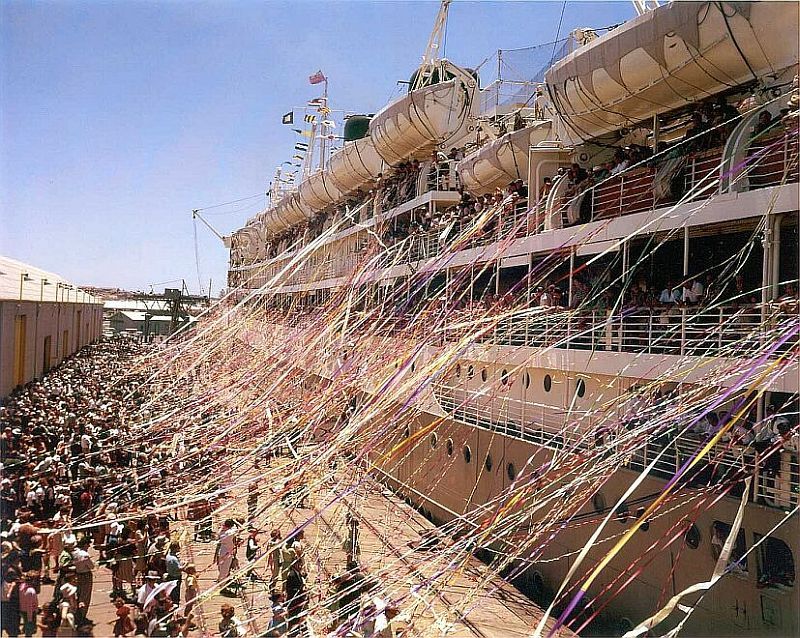 Such wonderful Memories of those wonderful days, now long gone!
Ship shown is the Dutch Liner M.S. 'Johan van Oldenbarnevelt' lovingly known Down Under as the 'JVO'
"Above we see the genuine days of Passenger Shipping; today's cruising vessels are just on an ugly
big square box Hotels. Worse still these modern boxes at sea are not as safe as the real ships!
For they no longer offer long and wide Promenades low on the ship!"
By a world famous Passenger Ship (Naval) Designer.
There are still many of us who will remember those memorable days when families and friends came shipside, and as the liners were about to depart, hundreds of colourful streamers would be thrown by passengers down to family and friends dockside. Then as the ship was about to depart bound to faraway places on the other side of the world, the streamers would eventually break, and it would be the last contact for many as they would be either migrating from Europe to the USA, South America, Australia, New Zealand or South Africa, or possibly heading back to their homeland to visit family or permanently, as well as many tourists.
The ship seen departing above is the 'Netherland Line' M.S. 'Johan van Oldenbarnevelt' departing Fremantle, Western Australia on May 3, 1961 for her long voyage to Amsterdam, sailing via Melbourne, Sydney, Wellington, Papéeté, Balboa, Cristobal, Port Everglades and Southampton, arriving in Amsterdam on June 22, 1962.
Introduction:
I have been encouraged to place this page online by a countless number of my supporters, for it is not something I would normally have done. However, after so many having said to me, although be it having been said to me in various ways; "just do it Reuben, for far too many do not realise how much your 42 years as a maritime historian, and with around 29 years of these having been online has meant so much to countless millions around the world." Thus having been pushed for so long, here it is.
Having written on well over 1,550 Classic Passenger Liners, Passenger-Cargo (Combi) Liners, humble converted American Victory & C3 Class Ships into Migrant Liners, with some being converted into fine and stylish, to even sleek looking Ships, such as the Flotta Lauro Line sisters, TN Roma and Sydney (rebuilt 1951) and the delightful TSS Fairsky (rebuilt 1958). In addition I have covered a good number of fine Classic Liners that have become fulltime Cruise Ships. I suggest that you visit the ssMaritime MAIN INDEX, where you will discover that the vast majority of ships mentioned and an amazing huge list of ships from countries around the world, including Britain, the USA, most European countries, including Scandinavian, Eastern European, South American Ships, Asian, South Africa, as well as Ships from New Zealand and Australia. Believe me; the list just goes on and on. Happy reading and Bon Voyage!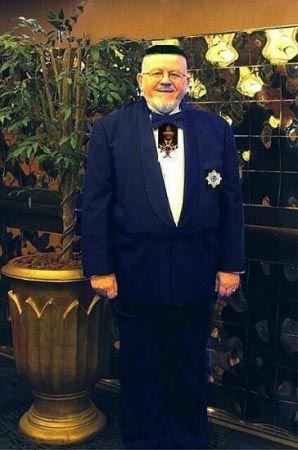 Rabbi Dr. Reuben Goossens has been involved in the Passenger Shipping and Cruise Industry since 1960.
The photograph above was taken quite some time back, but sadly Dr. Reuben is now critically ill, and completely disabled and in severe pain all day long! Yet currently he is still attempting updating the SS & Royal Yacht Gothic multi page feature, for which he was originally praised.
Shuel Elisha, his long time friend since 1983.
***************************
Please Note: The some emails have been slightly edited for readability sake, but their content remains as intended!
*******************************
Emails of "Thank You" received: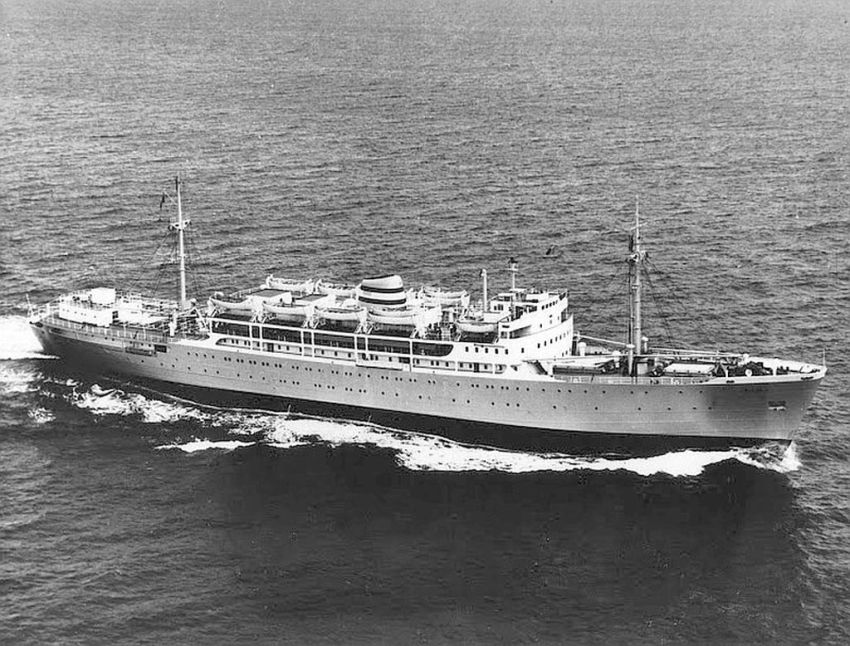 A fine photograph of the M.S UIGE taken from the air as she headed for Lisbon
Hi Reuben, I am adding a brochure on the Portuguese ship "UIGE" and I used Google to find more information. Of course It went to ssMaritime.com! That reminded me yet again what a great resource you have created for the world.
I know you are ailing but I hope you can still enjoy things about ship's. I am sure your carer Eng is providing good care and support.
Sincerely, Don.
*******************************
Hi Reuben;
In my search for small cruise lines operating in today's market, I came across your great story on the RHMS Britanis. I actually had the opportunity to sail on the Britanis as part of the cruise staff between 1988 & 1991.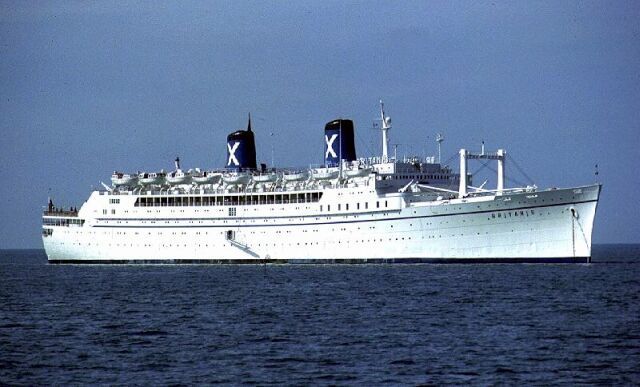 The popular and much loved Britanis
I loved to read your historic facts of the ship and was sad to see how it finally came to rest. the Britanis was certainly what they now call 'Old School' with brass and polished wood and layers upon layers of paint. I had some of the best times of my life on the Britanis and those memories will always be with me.
I thank you for your dedicated history report. Attached is a picture of fun times in the 80's with the Britanis in the background.
Cheers, Steve Vance.
*******************************
Dear Mr. Dr. Reuben Goossens.
I want to thank you for putting the information on various ship's histories online for others to see. We were able to learn about the ship my father-in-law came to Canada on, in 1953, from your work. Using your detailed webpage as a source, I was able to write a short history for our own family history. When my wife read it, she said "My father would have loved to read this." Unfortunately, he has passed away. But now all his children and grandchildren will be able to read about the ship he came over on, the M.S. Nelly, which became later the M.S. Seven Seas.
Thank you again for the wealth of information you have provided. Rob Miller (Canada).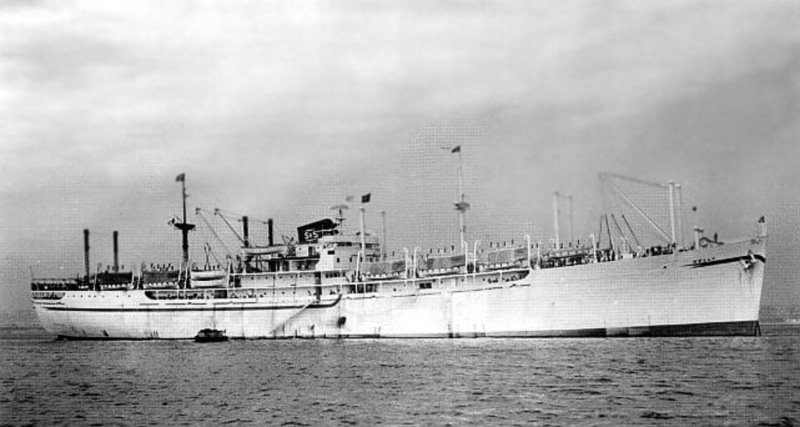 Here we see the M.S. Nelly
*******************************
Dear Mr. Goossens.
Thank you for your herculean efforts and dedication that you have achieved with your website. I know of no similar source of information and I have delighted in reading features from time to time and now read that you have retired.
I wanted to let no more time slip by to thank you very much for recording the history of so many vessels and your marvellous efforts to achieve this.
It is also a pleasure to read of your background and know that you have found so much enjoyment in your profession to want to chronicle so much about it.
My interest in your work is through my love of ships, passenger vessels and freighters.
I changed course in my career after commencing as a sea-going deck officer on freighters. I enjoyed the work but where the ship was my workplace, I not have the time to appreciate the beauty of ships; such was the schedule of activity. It was only after I came ashore and worked in naval design and architecture that the appreciation of ships past, present and future inspired my great interest.
And then there was the added dimension of the historic travel component to appreciate as well, when the speed of travel more closely related to the speed of thought, in the days when we were one with the travel environment.
Many thanks to you and my very best wishes.
Allan Lowther Porter.
*******************************
Dear Mr. Goossens,
I sailed on the S.S. France.
If you're still interested in hearing from people who sailed on this magnificent ship - I sailed on her in 1962 when I was 5 years old. Email me back if you're interested in details.
Kathryn. (fiver1057@gmail.com).
*******************************
Dear Dr. Reuben Goossens,
I've just come from reading and viewing your wonderful extensive page about the P&O line's SS Iberia. What a find that was for me. In 1966, when I was eight years old, my family and I spent several wonderful weeks aboard the Iberia, on our way to go and live in Hong Kong.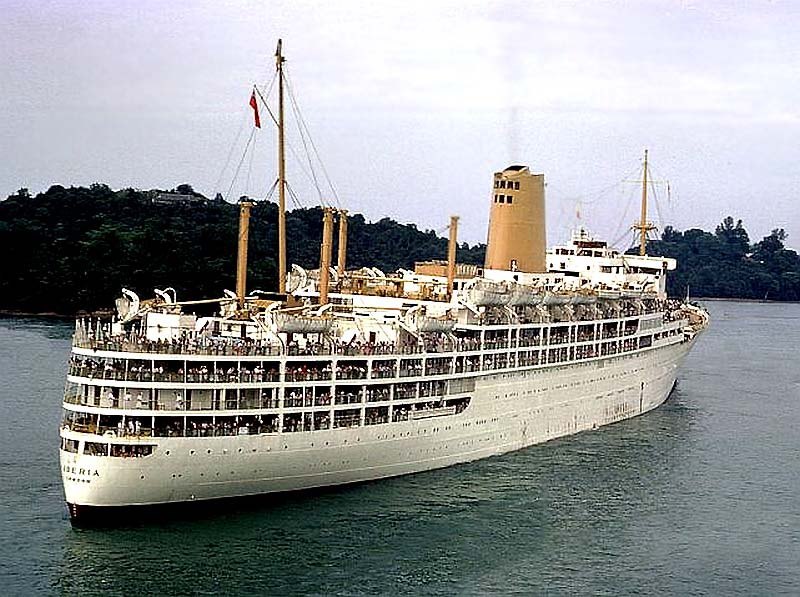 A fine P&O postcard of the SS Iberia
I have always had fond memories of the ship, the crew, the amenities, the planned activities, and the ports of call. Your photos and descriptions brought those all back with vivid focus. I have just shared that page address with my sisters (I'm the youngest) and I am sure they'll enjoy your page on the Iberia as much as, or likely, more than even I did.
I'm glad to have this chance to say thank you.
Sincerely,
James M.
*******************************
Dear Mr. Goossens,
I just wanted to drop you a short note to say how much I am enjoying your website ssmaritime. I came across it completely by accident, and although I have never even been on a passenger liner, the mixture of history (general, social and corporate) technological advances, personal stories and interesting anecdotes has kept me absolutely gripped. Some of the ships of course are famous in their own right and have a reputation that extends outside the industry, but thanks to your detailed histories and enjoyable narrative I am enjoying just as much learning about ships I have never even heard of.
I am a Brit, currently living overseas and travel a great deal for my work. Over the past few years my job has caused me to travel to Wellington a number of times and I also briefly lived in Melbourne, so I especially enjoyed reading the various accounts of ships on the UK/Australia routes.
As you make clear, your site has no commercial sponsoring, nor advertising, and clearly is a (considerable) labour of love and I am quite sure that I am one of many, many people that are enjoying the fruits of your labour.
Once my work becomes a bit more conducive to planned holidays, it makes me wish to sample a cruise, though I must admit I am not so taken by the huge megaships of today's industry (as impressive a feat of engineering as they are).
Anyway, thank you again and best regards,
Stephen H.
*******************************
Dear Mr. Goossens,
I came across the ssMaritime.com web site while researching information about the RMS Titanic. I checked out the list of passenger ships you have compiled.
Lo and behold I found the two passenger ships I sailed on during the summer of 1960: The MS Aurelia and the T/V Irpinia.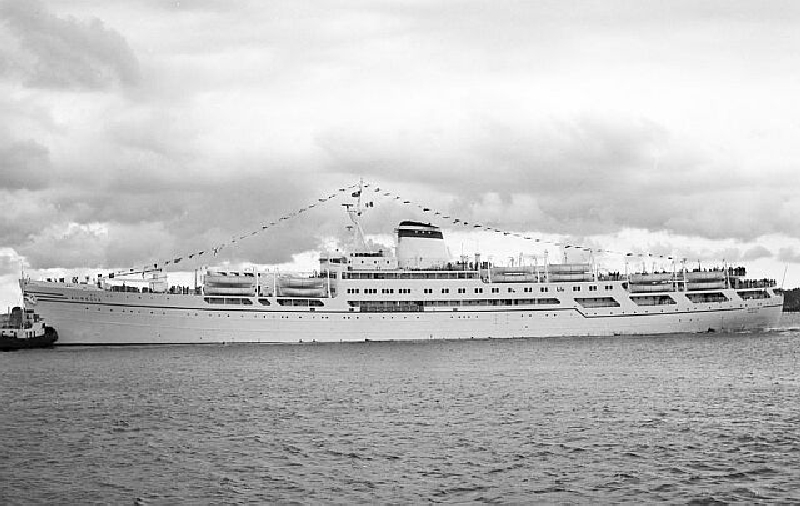 The delightful Cogedar liner MS Aurelia
I was on the MS Aurelia from New York to Le Havre and on the T/V Irpinia from Naples homeward to Quebec City Canada. Outbound I was with a group of about 30 teenage students and will never forget two things I learned on board the Aurelia.
1. Pizza. It was not the typical round Pie now served in the US but was prepared on a half slice of Italian bread. That began a life long love affair with Pizza. Our group of boys devilled the cook at all hours of the day and night for pizza and they frequently ran out.
2. Johnny Walker Red Scotch Whisky. As a minor in the US I had not had exposure to drinking alcohol and before departing from the ship in Le Havre, I purchased 5 bottles of it for 10 dollars and got it through French customs. End result of that is that I never drank Scotch Whisky again. I had got myself in a lot of trouble by the time the last bottle was gone.
The same group of boys departed Naples for Quebec on the T/V Irpinia. All I remember now about that crossing is how much I wanted to get home.
I was purely amazed to find the 1960 sailing schedule in your (loving) description of the Irpinia. There, 4th from the bottom are the dates that we were on that ship on our way to Quebec. I wish I remembered more about that trip but I was tired of adventure I guess.
Thus, Mr. Goossens, Please accept my sincere thanks for your years of hard work in putting together a magnificent ssMaritime.com description of mid-century passenger and cruising ships that will never be seen again. I hope is that it is perused at and it will amaze people for the next hundred years and more.
Bravo,
John S. Marsh, January, 21, 2020.
*******************************
Dear Rabbi Dr. Goossens,
I just wish to officially thank you for providing me, during my time in retirement, the countless hours of reading your informative pages on ssmaritime.com. There is no doubt Reuben, if I may call you so, that ssmaritme is packed with countless treasures, and you remind me of the passion held by my late friend Laurence Dunn, who of course you also knew so well. Having had correspondence with you in the past, I know that countless ones have contacted you who have discovered the ships they have sailed long ago sailing to their new homes far across the globe, and that must have provided you with a great deal of satisfaction for you have done all this out of the goodness of your heart, and it must have cost you a great deal, yet you have never asked for donations or advertising to fund your sites. I applaud you for what you have done my friend, and as we are both getting older, and I know your health is not great and that you are retiring, but please know that you are appreciated!
Wishing you the very best for the future,
Your friend forever William E. Warwick,
The now late ex Commodore of the QE2, May He Rest in Peace!
*******************************
Dear Mr. Goossens,
Just wanted to thank you for your very informative pages on the 'M.S. Seven Seas' formerly the 'M.V. Nelly'. My husband and I are just rapt with all the information you have online covering so many ships. But, he and his mother arrived on the 'M V Nelly' in December 1952 from Bremerhaven to Melbourne. In the past couple of weeks I've met a woman who also came on the 'Nelly' in 1950 another man who travelled as a crewman aboard the 'Nelly' in 1953!
None of us knew anything about her extensive history until we visited a travelling exhibition in Geelong called 'Memories in my luggage' and ssmaritime was mentioned as being the best place to read about any ship that came to Australia from Britain and European ports. Thus we looked it up and shared it with many of our friends who did not go to the exhibition and they are all overjoyed!  Again thank you!
Kind regards
Elizabeth Kraus Geelong, Victoria.
*******************************
Dear Mr. Dr. Reuben Goossens,
Thank you for your prompt reply to my email and thank you too for your permission to print the photographs of the R.M.S. Athenian which are relative to my family travels.
My biggest thank you is for the treasure trove you have created that will be a wealth of information and joy in perpetuity.
As a researcher of family history now and then we come across 'gold' and your work, Reuben, is one such precious nugget.
I am sorry you are not well and I trust, at the very least, you are not in pain or discomfort.
Kind regards and best wishes always,
Penny N******.
*******************************
Dear Rabbi Dr. Reuben Goossens,
We have certainly have known each other for some time, but as you so well know I appreciate your writing on length of the magnificent "Queen Elizabeth 2", the one Cunard ship you actually have come to love to say the least! But I know for sure during our voyage together we did have an amazingly wonderful time and enjoyed the voyage greatly. And I appreciate your privacy, as you never stated names and certain details, etc.
And also Dr. Reuben, I wish to thank you for so much information provided, I thought that I knew so much, but obviously in the field on maritime history you know so much more! In addition providing your Maritime Lectures during the voyages, they were, without a doubt the most famous and the largest attended ever, without a doubt!
My kindest regard's Dr. Reuben.
Your good friend, Commodore-Ronald-W-Warwick of the "Queen Elizabeth 2".
*******************************
Dear Reuben,
Thank you for your wonderfully informative website Reuben. I particularly liked not only the historical detail, but the amazingly descriptive approach that you have taken. We must all retire someday, but I wonder if you have any books published, so that I can read more of your work?
Regards, Phil Gray.
*******************************
Dear Dr. Goossens
Having first crossed the Atlantic aged 3 in 1946 on RMS Queen Elizabeth and back on MS Gripsholm, I subsequently crossed 9 times, variously Cunard and Home Lines, including twice on the QE2 and on the QM2's maiden voyage. In fact my wife and I are sailing to New York in May on QM2.
Your website has given me huge nostalgic pleasure, thank you! I've also travelled from San Francisco to Suva on SS Orcades, Sydney to London on the SS Oriana (1962), Suva to Auckland on union Steamship Co MV Matua. As well Sydney to Lisbon on SS Northern Star and so on!
My father was a ship's doctor on the Booth Line, and my mother travelled on the Berengaria and Aquitania in the 1920s from her home in Montreal, and they were both torpedoed in 1941.
As a now (only just retired at 76!) as an orthopaedic surgeon I have worked for a number of overseas aid agencies in Africa, Bangladesh, Nepal, Bosnia, Fiji and the New Hebrides, and lived in Port Moresby for 3 years. Now I help sort out donated surgical equipment for Medical Aid International, much of which goes to "Mercy Ships" which I note you have a close interest in!
Thank you again for much pleasure given.
Dr. John Lourie (UK).
*******************************
All the best to you Reuben, for you have produced a marvellous resource online. Thank you once again for all your good work. Thanks to you I was able to learn all about the ship that my great grandparents used in their emigration to Australia and all the pictures to boot, for that really made their story come to life!
Warmest regards 'Joady', Melbourne.
*******************************
Dear Reuben,
What a thrill to find your website ssmaritime. Like many of your readers, I also have some vibrant and wonderful memories of travel by sea.
In 1955, I travelled from Sydney to Naples via the Suez Canal on the MS Oceania of the Lloyd Triestino Line. Then in 1958, I returned to Sydney again via the Suez Canal on the Oceania.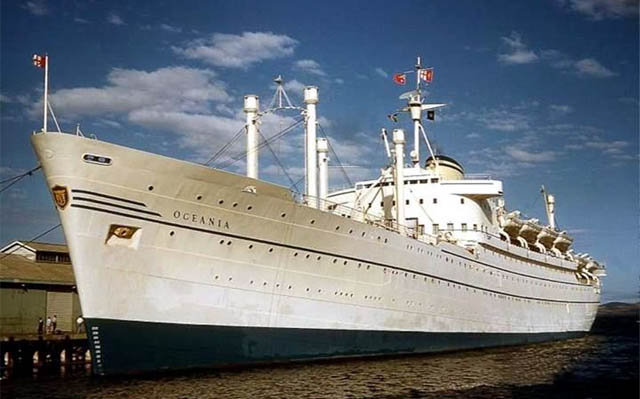 The M.S. Oceania is seen berthed in Sydney in 1958
In 1964, I headed from Sydney sailing via the Panama Canal to Europe on the RHMS Ellinis of the Chandris Line.
There were all kinds of adventures for a young girl, meeting rogues, rascals and heroes for all travelled in those days. But what fun it all was, apart from the occasional times of bad weather.
I look forward to reading the website in depth.
Heather F, Atlanta, Ga. USA.
*******************************
Dear Dr. Goossens,
Like you, I am a shipping historian and journalist; however I so greatly admire your work for I have read a great deal of 'ssmaritime.com' and related sites. But even more so your personal and courageous campaign on 'savetheclassicliners.com' where you have worked so hard to save some of the last fine and great ocean liners. Those ships were so very different and had a certain feel of elegance, compared to those current giant floating apartment blocks of flats, come resorts and theme parks, where rock climbing and ice skating is all the go, but many will never learn what a genuine ocean voyage is all about!
But, tragically this is a very sad material world, for the truth is that very few of us can expect genuine romantic dreams of preserving those beautiful ships from days gone by! Now, almost all of them have then have fallen by the way, except for just a very few. However, regardless what the future holds, thankfully all the great and lesser passenger and passenger cargo liners will survive on wonderful sites like yours Mr. Goossens. Then there are the many shipping books on the market as well as ship models and fine drawings and paintings. I certainly have much the aforementioned at home and they will remain part of my memories, for it is rapidly becoming a vanished era for the rest of the world!
With my sincere congratulations.
Kind regards,
Gabriel Alomar Bouzas.
*******************************
Dear Reuben,
This is just to say 'Thank You' for such a wonderful history of the Oronsay. My career in travel began in August 1949 at Thos Cook & Son Ltd in London, but I was employed by the Orient Line on their Passage Counter in Melbourne for most of 1956. I sailed from Navarino Bay in March 1956 to Melbourne and returned to London in the Orcades in November, 1956. I have sailed in many of the ships you have in your pages and been aboard so many more, even on stretcher parties while serving with the RAF in Aden in 1952/1954.
*******************************
Dear Dr. & Rabbi Reuven Ben-Avraham (Your Jewish Name)
I an well aware the you are one of the most learned doctors around as well you have received a number if most wonderful honours and I just wish to congratulate you! You see I am also a Sir, as you may have noted I have my contacts.
I just wanted to let you know how many hours of pleasure I have had searching your Maritime website. You have obviously spent many hours on this and I am sure that there are many people who have appreciated your efforts.
I am now retired aged 88, but of course maintain my interest in ships. I was a travel agent in San Francisco for 40+ years, specializing in cruise sales. My father was a dining room steward on the Dollar Line S.S. President Hoover in 1934, my uncle was a purser on the SS Yale of the Los Angeles Steam Ship Co., and my grandfather was a maritime architect for the old Union Iron Works in SF. So I guess I come by my interest honestly.
I have taken many cruises during my days, starting with the old S.S. Lurline from SF to Honolulu in 1965 up to my last two-week cruise on the M/V Crown Princess from SF to the Hawaian Islands. I've lost track of all the names of the ships that I have sailed on, but some were the Sunward, Island Princess, Princess Marguerite, Princess Italia, Holland America Line's Statendam and the Prinsendam (not the one that sunk), also the Vistafjord, QE2, Queen Victoria, Silver Wind and more.
Since retiring I have no access to good prices on cruises, in addition my good friend who went with me on many cruises is sadly gone. But I have many pleasant memories and your website has given me some pleasurable times.
Sincerely,
Sir Tomas Baker, (Now living in San Francisco, U.S.A.).
*******************************
Most Honourable Sir,
I think that your website is one of the very best and without a doubt the most complete web about maritime history on Internet!
Yours sincerely,
José L. Delisau R.
Spanish Merchant Marine Captain (R).
Las Palmas de Gran Canaria, Canary Islands.
***************************
Dear Reuben,
I came to England with my parents and brother on the MS Neptunia nearly 60 years ago. I only very recently developed a burning desire to see if I could trace any records of that lovely ship we travelled in. I still remember her with such fond memories. It started with walking into the port at Cochin, India and seeing her for the first time. She was the largest and most beautiful thing that I had ever seen and I remember standing on the dock and straining my neck to look up at her.
It has been a very emotional experience to have found the photos of her and read your accounts of her especially in such affectionate terms. I can only sit in awe and total admiration for the wonderful experiences that you have had. I with countless others all over the world are so grateful that you had the passion to share your knowledge and experiences with us.
Naturally, it was so heartbreaking to read of her demise, quite ironically at her place of origin. During the voyage from Cochin to Genoa we befriended a German family. The significance of being on an Italian liner and becoming good friends with a German family not long after the War didn't dawn on me until many years afterwards.
Anyway, I'm sorry to read that you're not well. There must be so many people across the globe, like me who would love to have had the opportunity to have met you in person.
I wish you all the best and thank you so much for such an emotional experience.
Kind regards,
Keith Alan Robbins.
***************************
Thank you Rabbi Dr. Reuven Ben-Avraham,
As a child I was a passenger on the Italian Transatlantic liner T/V Irpina in 1955. For years I have searched the internet for a history of this ship that became a major part of my story.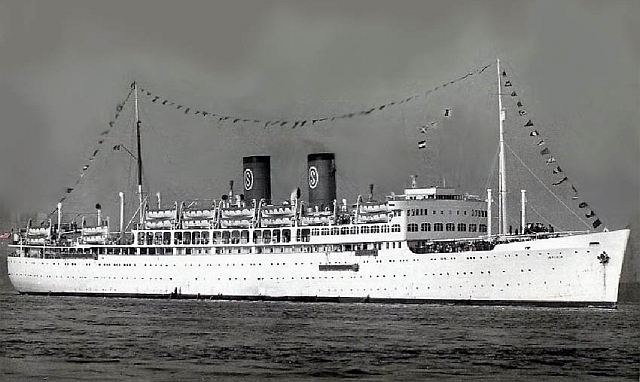 T/V Irpina seen in the mid 1950's
Thank you for such meticulous detail of her history.
God bless you for your gift of in-depth research.
Much Grace and blessings,
Janet Gould.
***************************
Hello again Dr. Reuben,
Many thanks for taking the time to reply. As very little has been said about S.S. Oriana since the time we knew the scrapping had commenced, I did not imagine there would be any significant section of the ship left intact.
There had been several mentions in local Chinese papers about last minute attempts to restore her in some form. Even whilst sitting at the breakers yard, the local province expressed interest in again turning her into some kind of local landmark. I suspect this is the source of most speculation but it is all in the past!
Interestingly, runsky.com had commented shortly after the accident that the mooring at Xinghai Bay was hastily prepared and not completely suitable for a static attraction, even suggesting it was "when" not "if" Oriana would sustain some major damage in bad weather. A lot of pride and media focus on Oriana's arrival in Dalian meant that a deadline for preparations had to be met.
I have attached a photo taken shortly before I left Dalian. It serves little purpose other than to show I'm not that great with a camera!  However, I thought this image at Xinghai Square may be of interest for you to see.  
My last stay in Dalian earlier this year was a little strange as Oriana was gone!  Of course i knew to expect this, but the large space left at Xinghai Bayis quite overwhelming!
If you have no objections, I'd like to add some of your comments to the Dalian news BBS as I think the news will be of interest to many.  
Many thanks and kind regards.
William Thompson – London, England, UK.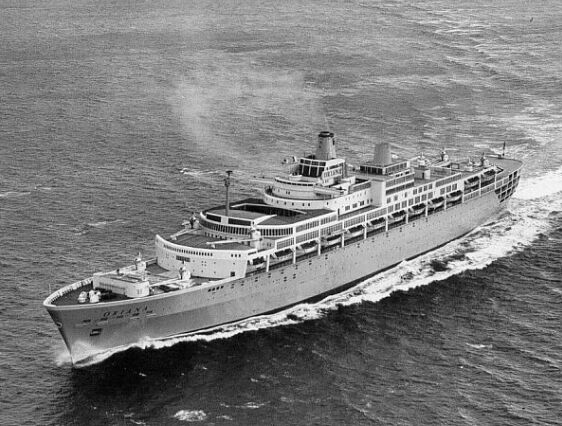 The beautiful S.S. Oriana is seen during her sea trials
***************************
Dear Dr. & Sir Goossens,
I just wanted to express my appreciation of your website. My parents immigrated to Australia from the UK, on the RMS Ormonde's final voyage in 1952, and I was thrilled when I found your history of the ship, and all the photos of her.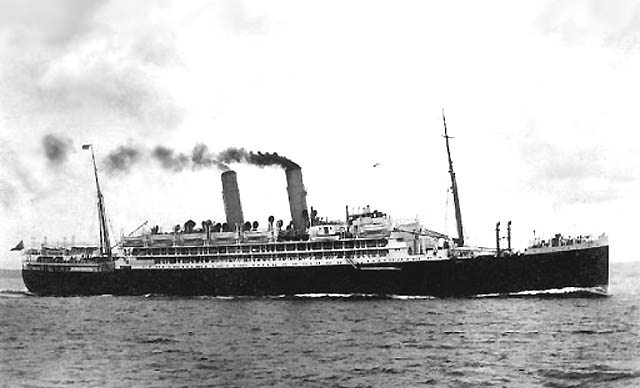 A postcard of the RMS Ormonde
The entire website must have been a truly mammoth job for you, and must have taken you millions of hours to gather all that information.
Thank you so much for all your hard work.
Regards,
Robyn Denton
***************************
Dear Sir,
I have just experienced a nostalgic trip down memory lane reading your information about the Oriental Queen and viewing the photographs. She was a fine ship. Loved her size and her beautiful lines, they certainly do not make ships like that anymore.
I was working in Auckland in the early sixties and during that time had the privilege of spending time working in the duty free shop on the Oriental Queen during which time we did a number of Tasman crossings, one of which we experienced the fury of a cyclone which drove us to New Caledonia instead of a direct route to Sydney. On one occasion the Oriental Queen did a cruise for ex NZ servicemen where the ship visited various Pacific islands where New Zealand troops had fought. While they were having their remembrance services on these locations, the Japanese crew were holding their own commemoration services on deck when I recall they threw rice cakes into the sea.
I recall in the Solomon Islands the air conditioning wasn't working. It was too hot to sleep in my cabin so spent the evening up on deck. This was a rather special cruise.
I have always intended to take a cruise as a passenger but could only do it on a small ship. The massive cruise ships of today, in my opinion, are just horrendous.
Thank you for your interesting website and the memories it has awakened.
Judith Balnaves.
***************************
Dear Dr. Goossens,
This is the first time I've encountered your magnificent website, and I must say I'm impressed. My experience of these classic liners is limited to a holiday I took with my parents in 1961 on the Union Castle mail ships to Cape Town, but sadly, although I have many happy memories, I have no photos or mementoes.
In connection with the Chitral & Cathay, you mention menus provided by Mr. Colin P. Boyce. I believe I was at school with Mr. Boyce, but sadly I have lost touch with him.
With kind regards,
Jeremy Dyer.
***************************
Dear Mr. Goossens,
I met you on board the MV Dawn Princess' around the World Cruise in 2009 which was Australia's very first ever world cruise product, although I boarded in Auckland, and I recall your excellent knowledge of so many classic liners as well passenger-cargo liners. After I arrived home, I checked your website, and have been reading it ever since, and I am so delighted that you have written on many New Zealand ships. You may possibly recall that I mentioned that I had been a steward on various Union Steam Ship ships, a career I dearly loved, and we actually met when you were aboard the MS Matua during those days you worked with the USSCo back in the 60's, and there we were on a long world voyage! Who would have thought then that you would become such an outstanding greatly respected maritime historian, well known around the world!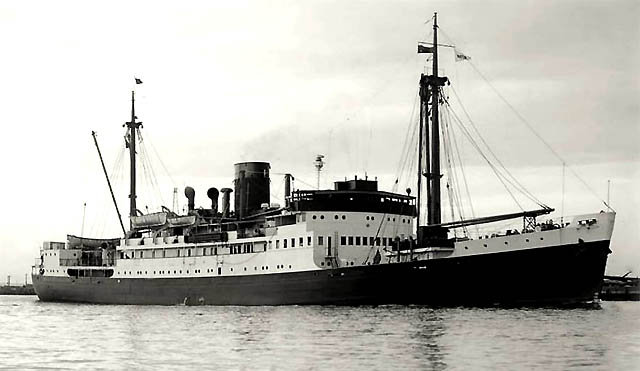 Our beloved MS Matua
Thank you Dr. Reubenand now you are a S.., and have a the medal of Honour, and what ever. For the huge catalogue of ships you have covered and I pray that you will be able to continue to write on many more ships, for there are just no maritime historians who are as detailed as you are! Thank you so much, and it was such an honour meeting you again on the Dawn Princess.
God bless you, and best wishes,
Your shipmate Vernon S, Wellington NZ.
***************************
Hello Reuben,
I thought you may like some pics taken when we visited the Doulos during her visit to Brisbane in 2008!
I came to Australia on the great SS Australis & have enjoyed your page about her history immensely. Thank you so much!
My brother was with us on at the time, who is a marine engineer thus he was fascinated by her engines, which is why we have a photo of the engine room.
I hope you will enjoy them,
Kind regards,
Sarah.
***************************
Mr. Goossens
I found your article on ssMaritime so very interesting, my name is Per Källner and I am a Naval architect.
I was responsible for all the delivery and installation on board the superb liner the SS Raffaello in charge of all the air-treatment equipment such as the air-conditioning, ventilation, air extraction, cooling and heating onboard her. I worked for a Swedish Company 'Flakt Marine' (today ABB) together with the Italian Company 'Dell Orto Chiricatti.' Under me were between 250 to 400 workers and 50 draftsmen during the construction time.
In addition to this I sailed on her maiden voyage from Genoa to New York and further to trips to New York, as well as during Mediterranean Cruises. All this as being a Guaranty Engineer.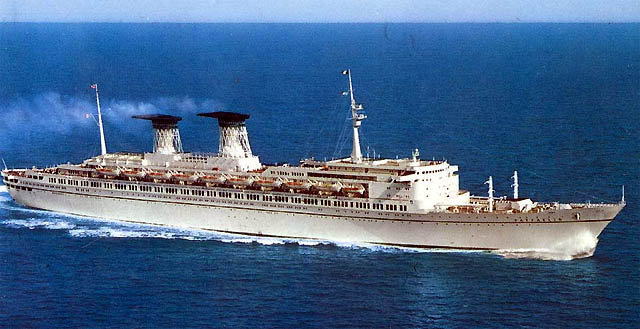 The second and the largest of the pair of sister ships to be built for the Italian Line, the magnificent S.S. Raffaello
I lived on lived with the Raffaello for so long, on and off for extended periods, from July 1962 to October 1965, and lot of serious very funny and strange things happened. As far I can remember or have heard from of my fellow engineers working on other work on board, very few accidents occurred. Strange as the safety measures compared to today was very poor, for there were no helmets or protection gloves, if you had a hardhat you were an engineer. However one of the most amusing thing that did happen regarding the Raffaello was the Place were the she was actually built; at the "Arsenale Triestino," which was a WWI Austro Hungarian Naval Base that was originally built by Emperor Franz Joseph before 1861.
Best wishes,
PER Källner, I am a Swede and now 86 years old.
***************************
Dear Sir, Dr. Reuben Goossens,
First of all thank you for such a wonderful website www.ssmaritime.com/.
I am truly amazed at how you can publish so much information about so many different ships and their crew. I just wish I knew where to start!
Kind regards,
Dr Peter Wilson.
***************************
Hi Reuben,
I have just come across your webpage about the S.S. Oriana. Wow, that brought back fond memories. I was onboard this beautiful ship in September of 1968 when it sailed from Vancouver to Auckland New Zealand via Honolulu and Suva in Fiji. I was a young Canadian lad emigrating to NZ and had my 19th birthday on board a day before arriving in Suva. The Oriana was still a two class ship in those days, not sure when it became one class. My wife has also travelled on the Oriana with her first husband and family after she had become a one class ship.
Prior to the Oriana trip, my parents and 6 children had sailed on the S.S. Orsova in November 1963 to New Zealand from Vancouver and made the return voyage home on the same ship in November 1964.
Thanks again Dr. Reuben for putting together such a wonderful bit of history.
Nelson and Maree (NZ).
***************************
Dear Reuben,
I came across your website as I was researching my grandfather's journey from Ireland to Australia in the early years of the last century. I had found passenger manifests and such like, but nothing on the ship itself until I found your wonderful site. I write to thank you for all the time and effort you have taken to record and present this part of Australia's story. It helped me a lot as I work with my dad (87) to write up the story of his father.
Many thanks,
Paul O'Shea.
***************************
Dear Sir:
Thank you for the most interesting story of the life of TSS Awatea. My father and two uncles were "Winnipeg Grenadiers" and they sailed with her on the ill starred venture to Hong Kong in 1941. All three gentlemen raved about what a beautiful ship she was with all her fine amenities. Being prairie boys who had never seen the ocean before landing in Vancouver it was an exciting time for them. I belong to the "Hong Kong Veterans Commemorative Association" and I have taken the liberty to link your page to their page so that the children, grandchildren and great grandchildren can see the magnificent ship their fathers and grand fathers took to Hong Kong.
Thanks again for your post and pictures.
Yours very truly,
Kate Sarginson, Victoria BC.
***************************
Dear Sir. Dr. Reuben Goossens.
Just dropping a line about your web site regarding the history of the MS Nelly. I enjoyed the history of the ship. My mother and I sailed on her from Hamburg Germany to Halifax in 1951. Both my parents have now passed but I found an old photo of that ship in the family album, and I decided to Google it and found your amazing site. I just wanted to thank you for your efforts on passing so many good memories.
Sincerely,
Willy Zygar.
***************************
Dear Mr. Goossens,
May I thank you for the fantastic article you have written about the M.T.S. Odysseus.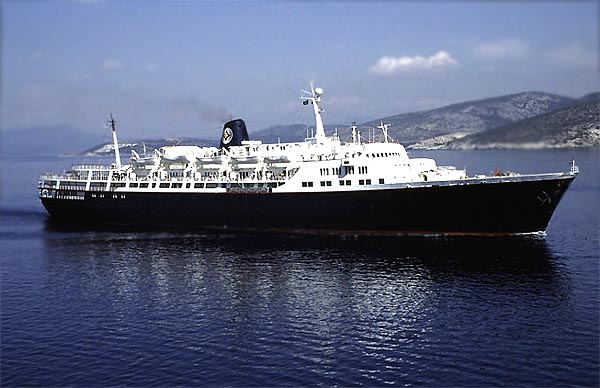 The elegant looking and fitted out M.T.S Odysseus
I was a singer aboard the ship during her 2000 season and I became very attached to this lovely cosy cruise ship, and I have many happy memories of her. I often wondered what became of her and although I feel an inevitable end for the "Odysseus", I feel better knowing what path she took.
I thoroughly enjoyed your feature online and I thank you for a refreshing article and providing me with such wonderful memories.
Kind regards.
Dave Markiewicz UK.
***************************
Dear Sir,
I have just read your account of the SS Ocean Monarch (ex RMS Empress of England).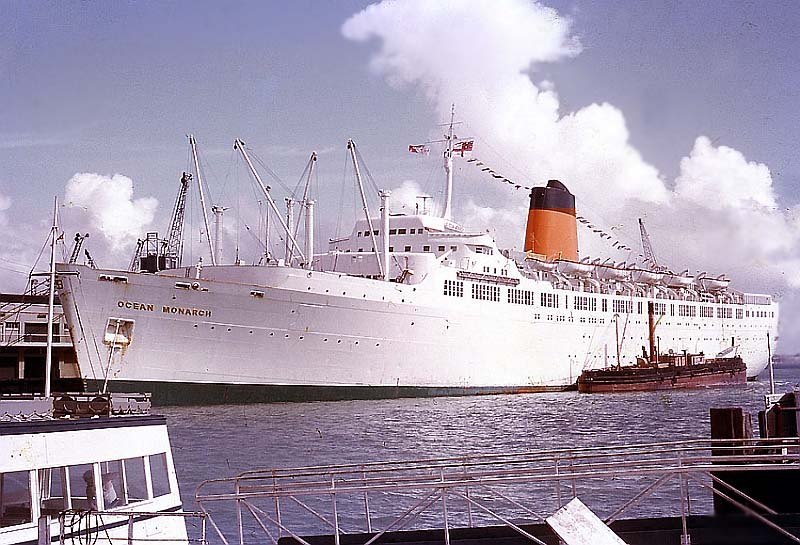 The SS Ocean Monarch is seen at Auckland New Zealand
Photograph was provided by David J. Boyd of New Zealand
As the longest serving officer on the vessel, from just after she came out of Cammell Laird to just before she went to scrap; I would like to compliment you on her history. It brought back many great memories, including working in a hot top boiler drum in Sydney.
Once again many thanks.
Kind Regards,
Len Michaels.
***************************
Dear Mr. Goossens,
In July/August, 1953 I sailed on both the SS Waterman and the Zuiderkruis from New York to Rotterdam and back. They were used as student ships at the time, full of college kids on a jaunt to Europe. Heineken beer was at 10 cents a bottle. There were all Indonesian crew below decks and the cabins were as pictured online, 6 to a cabin and the ship was packed. I obtained such pleasant memories reading your website.
Many thanks,
Ben Sadock, New York.
***************************
Dear Mr Goossens
I discovered your website by accident when looking for information on the SS Iberia. As a teenager I sailed on her when returning from the UK to Australia with my family in January 1963.
Your excellent website gave me information about Iberia to enable me to write about our UK trip in a memoir I am completing for my family.
(On your webpage) You mention the story of the christening of baby Teresa Swan in the ship's bell during the voyage. While I do not recall reading about it in the ship's daily newsletter, (as a teenager there were too many other distractions) I have retained the passenger list. So I went looking for mention of the Swan family who were immigrating to Australia from the UK. Their names are absent which leads me to believe they may have missed the deadline for inclusion in the small booklet issued to passengers carrying names of ship officers and passengers as well as badges of rank.
One memory of the trip stands out for me. The Bay of Biscay was already living up to its reputation soon after we left the UK. I admit to not being a good sailor but I insisted on dining with my Father (who got his sea legs very quickly). My Mother and sister admitting to not being good sailors remained in their cabin. The meal was pork chops which, with the rising swell proved not to be a good choice. I was wearing my newly acquired suede Chelsea boots as we made our way after the meal to the forward observation lounge. Alas, I am sure I turned a shade of green, and my new footwear came off second best and I retired to our cabin my ego severely deflated.
Thank you very much for a most informative website. I commend your enormous efforts.
Kind regards,
Michael Vanderkelen.
***************************
Dear Mr Goossens,
Thank you so much for your most enjoyable and enlightening records. I was recently filing my deceased mother's documents when I became curious as to what ship she had emigrated on. Thus I did a search and it was your pages that were perfect to fill in all the gaps. From comparisons with your records I can identify that my mother sailed on T/N Sydney Voyage 5, and this has been confirmed as I have now located her passage ticket.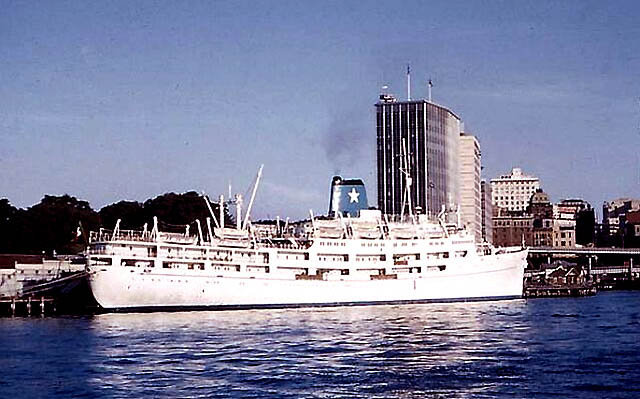 Flotta Lauro Lines T/N Sydney is seen berthed in Sydney's Circular Quay
Therefore, please find attached scans of her ticket, and you have my full permission and free licence to use the attached for your records or for public distribution as desired.
Best regards and heartfelt thanks for your interest and diligence in recording the history of these two fine sister ships, the T/N Sydney & the Roma.
Raymond (Aus).
***************************
Hi Reuben,
Greetings from the United States!
Thank you so very much for taking the time to write back to me regarding the M/V Franca C cruise my Grandparents sailed on. The details you have provided me about their travels are absolutely wonderful and entirely what I was hoping to learn. Thank you for the detailed layout of the ship, it is so fun to see exactly where their cabin was.
Your knowledge of cruise ship history cannot be matched and I hope your website will be a wonderful help to all other on the internet who are doing their own research of any type.
Best wishes!
Courtney Cordaro.
***************************
Dear Dr. Reuben
I just wanted to send you a quick email to say how delighted I am to have found your site. I am researching the preparation of a small book about my father's life 1931-1952 in Germany and then his migration here to Australia and I could not believe that I found so much information about the ship on your site!
I have just watched the video of the Fairsea and it brought a lift to my heart to see and listen to it. What a present to share with him this Christmas of memories! Thank you from the bottom of my heart for doing this research and creating this site.
Danke vielmals und frohe Weihnachten! (Thank you very much and Merry Christmas!)
Regards
Fiona Gringe.
***************************
DR. Reuben,
I just wanted to thank you so much for collating all this wonderful information about the RMS Ormonde. I am writing up my family history and I found that one of my aunts travelled to the UK in 1923 first class aboard this ship. Amazing! Kind regards,
Virginia.
***************************
Dear Reuben,
I have only just recently discovered your website and immediately added it to my list of quality maritime history sources or "maritime bibles" as I like to call them. My original search was for the R.M.S. Olympic.
The Olympic was the finest of the three sisters. It is a shame that she was scrapped without having her entire interior photographed. She certainly wanted her fair share of attention having rammed into all sorts of things. Gives me a chuckle. It was almost as if she was jealous of her sisters' fame.
Thanks to your goldmine of a website, and all of your superb work, I have so much more to discover about maritime history.
All the best your'e honourable 'Sir'.
Salvatore - UK.
***************************
Hi, I would like to say thank you for all the information on the MS Fairsea for I came to Australia on this ship. It was the most wonderful time of my life and it brought me to tears just remembering all the good times having has a very tough life, as well as being able to get so much information on the ship. Thank you for bringing back so many good memories which I had long forgotten. I am so very grateful to you!
Best Wishes,
Robert.
***************************
Good Day
I wanted to express my heartfelt thanks for all your work shared on your wonderful ssmaritime.com website, and the incredible detail and stories as well as the countless images to be found on your site. I have been an avid lover of classic passenger ships for nigh on 60 years and find your site a wealth of information.
I live in South Africa and as a result we are far off the beaten track and thus we do not have the luxury of ship related facilities as others have. We do have one or two organizations that keep us busy, but again it's in various places within our borders thus I cannot enjoy them as I would like to.
Thank you for your web site
Kindest Regards, Bryan Portwig.
***************************
In Conclusion:
To everyone who has written me, thank you so much you have been more than kind. And it is greatly appreciated. Although I have now retired due to heath problems, but I still enjoy the volumes of emails I receive every day.
Keep enjoying ssmaritime.com it was created for you to relive those wonderful days when ships were real ships, not like so many of the current cruise ships that are more like floating apartment (condo's) or theme parks, come resorts and casino's, and all are now based on how they can strip you of as many dollars a possible! In the days of great ocean travel, you paid your fare and everything was included, except your drinks and excursions. But no one ever attempted to sell you additional drink packages or for the spa, the photographer or the many optional restaurants and the list just go's on.
Also on all my sites, you will never be annoyed by pop up advertisements, or any other kind of ads, for ssmaritime.com, ssmaritime.net and cruise-australia.com & net are all 100% non-commercial, as I am not associated wit any Shipping or Cruise company's, or Travel agencies, and although I have receive countless lucrative offers to have advertisements placed on ssmaritme and cruise-australia considering there has been well over 537.6 million readers from Australia, New Zealand and from around the world, but I have refused all offers, which would have made me very rich indeed! But I have just one love, and that is to give pleasure to all who have sailed on the countless fine ships that my readers may have been on and have been able to relive some memories, and hopefully have brought them a great deal of joy!
For all those who have written me, and those above are just a minute number of those who have, again thank you for contacting me with your appreciation! There have been countless thousands, including ship designers, including the designer of the S.S. Oriana, S.S. Shalom and simply so many other magnificent fine Liners, but sadly most have now pasty away, may they rest in peace! In addition over the many years in shipping there has been letters, notes and emails from Royalty, Sirs., Lord's and Baron's etc, etc, and I have been honoured with medals, but of course I will never publish or ever reveal them!
Reuben Goossens
.

"Blue Water Liners sailing to the distant shores.
I watched them come, I watched them go and I watched them die."

****************************

Visit our ssMaritime Main INDEX

Where you will discover well over 1,550 Classic Passenger & Passenger-Cargo Liners!

Amazingly; ssmaritime.com has received 752,7 billion visitors over almost 32 years

Last update: May 4, 1922 The truth is: We should remember many people have

read hundred's of pages and some features have up to twenty pages as well.

Where the ships of the past make history

I have been involved in the Passenger Shipping and Cruise Industry since 1960.

Please Note: ssmaritime and associated sites are 100% non-commercial and the author does not seek funding or favours and never have and never will.

Photographs on ssmaritime and associate pages

are either by the author or from the author's private collection. In addition there are some images and photographs that have been provided by Shipping Companies or private photographers or collectors. Credit is given to all contributors, however, there are some photographs provided to me without details regarding the photographer or owner concerned.

ssMaritime is owned & © Copyright by Dr. Reuben Goossens - All Rights Reserved