Email Messages from ssMaritime Readers
Click the logo above to reach the ssMaritime FrontPage for the "Ship/Company of the Month"
With Reuben Goossens
Maritime Historian, Cruise'n'Ship Reviewer, Author & Maritime Lecturer
Please Note: All ssMaritime and other related maritime/cruise sites are 100% non-commercial and privately owned. Be assured that I am NOT associated with any shipping or cruise companies or any travel/cruise agencies or any other organisations! Although the author has been in the passenger shipping industry since 1960, although is now retired but having completed over 700 Classic Liners and Cargo-Passengers Ships features I trust these will continue to provide classic ship enthusiasts the information the are seeking, but above all a great deal of pleasure!
Emails of Thanks and Appreciation to
The Author of ssMaritime.com
Please Note: The some emails have been slightly edited for readability sake, but their content remains as intended!
*******************************
Dear Goossens,
I came across the ssMaritime.com web site while researching information about the RMS Titanic. I checked out the list of passenger ships you have compiled.
Lo and behold I found the two passenger ships I sailed on during the summer of 1960: The MS Aurelia and the T/V Irpinia.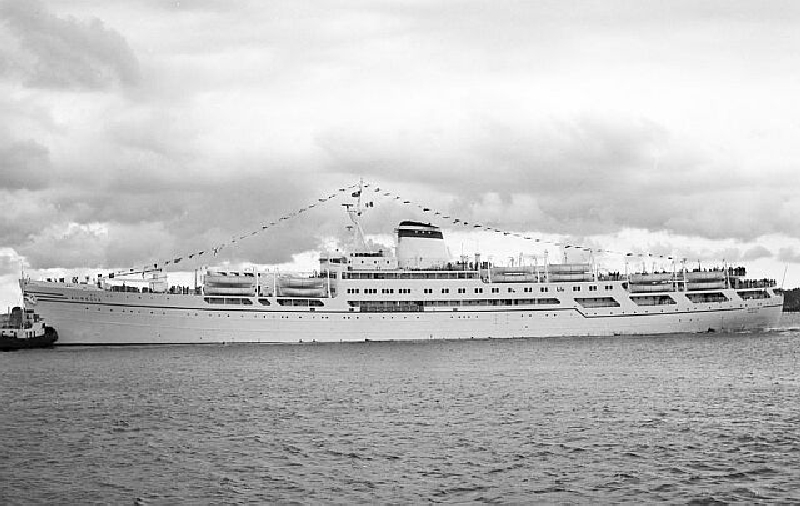 The delightful Cogedar liner MS Aurelia

I was on the MS Aurelia from New York to Le Havre and on the T/V Irpinia from Naples homeward to Quebec City Canada. Outbound I was with a group of about 30 teenage students and will never forget two things I learned on board the Aurelia.

1. Pizza. It was not the typical round Pie now served in the US but was prepared on a half slice of Italian bread. That began a life long love affair with Pizza. Our group of boys deviled the cook at all hours of the day and night for pizza and they frequently ran out.

2. Johnny Walker Red Scotch Whisky. As a minor in the US I had not had exposure to drinking alcohol and before departing from the ship in Le Havre, I purchased 5 bottles of it for 10 dollars and got it through French customs. End result of that is that I never drank Scotch Whisky again. I had got myself in a lot of trouble by the time the last bottle was gone.

The same group of boys departed Naples for Quebec on the T/V Irpinia. All I remember now about that crossing is how much I wanted to get home.

I was purely amazed to find the 1960 sailing schedule in your (loving) description of the Irpinia. There, 4th from the bottom are the dates that we were on that ship on our way to Quebec. I wish I remembered more about that trip but I was tired of adventure I guess.

Thus, Goossens, Please accept my sincere thanks for your years of hard work in putting together a magnificent ssMaritime.com description of mid-century passenger and cruising ships that will never be seen again. I hope is that it is perused at and it will amaze people for the next hundred years and more.

Bravo,

John S. Marsh, January, 21, 2020.

*******************************

Dear Goossens,

I just wanted to drop you a short note to say how much I am enjoying your website ssmaritime. I came across it completely by accident, and although I have never even been on a passenger liner, the mixture of history (general, social and corporate) technological advances, personal stories and interesting anecdotes has kept me absolutely gripped. Some of the ships of course are famous in their own right and have a reputation that extends outside the industry, but thanks to your detailed histories and enjoyable narrative I am enjoying just as much learning about ships I have never even heard of.

I am a Brit, currently living overseas and travel a great deal for my work. Over the past few years my job has caused me to travel to Wellington a number of times and I also briefly lived in Melbourne, so I especially enjoyed reading the various accounts of ships on the UK/Australia routes.

As you make clear, your site has no commercial sponsoring, nor advertising, and clearly is a (considerable) labour of love and I am quite sure that I am one of many, many people that are enjoying the fruits of your labour.

Once my work becomes a bit more conducive to planned holidays, it makes me wish to sample a cruise, though I must admit I am not so taken by the huge megaships of today's industry (as impressive a feat of engineering as they are).

Anyway, thank you again and best regards,

Stephen H.

*******************************

Dear Goossens,

Just wanted to thank you for your very informative pages on the 'M S Seven Seas' formerly the 'M V Nelly'. My husband and I are just rapt with all the information you have online covering so many ships. But, he and his mother arrived on the 'M V Nelly' in December 1952 from Bremerhaven to Melbourne. In the past couple of weeks I've met a woman who also came on the 'Nelly' in 1950 another man who travelled as a crewman aboard the 'Nelly' in 1953! None of us knew anything about her extensive history until we visited a travelling exhibition in Geelong called 'Memories in my luggage' and ssmaritime was mentioned as being the best place to read about any ship that came to Australia from Britain and European ports. Thus we looked it up and shared it with many of our friends who did not go to the exhibition and they are all overjoyed! Again thank you!

Kind regards

Elizabeth Kraus Geelong, Victoria.

*******************************

Dear Reuben Goossens,

Thank you for your prompt reply to my email and thank you too for your permission to print the photographs of the R.M.S. Athenian which are relative to my family travels.

My biggest thank you is for the treasure trove you have created that will be a wealth of information and joy in perpetuity.

As a researcher of family history now and then we come across 'gold' and your work, Reuben, is one such precious nugget.

I am sorry you are not well and I trust, at the very least, you are not in pain or discomfort.

Kind regards and best wishes always,

Penny N******.

*******************************

Dear Reuben,

Thank you for your wonderfully informative website Reuben. I particularly liked not only the historical detail, but the amazingly descriptive approach that you have taken. We must all retire someday, but I wonder if you have any books published, so that I can read more of your work?

Regards, Phil Gray.

*******************************

Dear Goossens.

Thank you for your herculean efforts and dedication to what you have achieved with your website ssMaritime. I know of no similar source of information and I have delighted in reading features from time to time and now read that you have sadly retired.

I wanted to let no more time slip by to thank you very much for recording the history of so many great ships and your marvellous efforts to achieve this. It is also a pleasure to read of your background and know that you have found so much enjoyment in your profession to want to chronicle so much about it.

My interest in your work is through my love of ships, passenger vessels and freighters. I changed course in my career after commencing as a sea-going deck officer on freighters. I enjoyed the work but where the ship was my workplace, I hadn't the time to appreciate the beauty of ships such was the schedule of activity. It was only after I came ashore and worked in naval design and architecture that the appreciation of ships past, present and future inspired my great interest. And then there was the added dimension of the historic travel component to appreciate as well, when the speed of travel more closely related to the speed of thought. In the days when we were one with the travel environment.

Many thanks to you and my very best wishes.

Allan Lowther Porter

*******************************

All the best to you Reuben, for you have produced a marvellous resource online. Thank you once again for all your good work. Thanks to you I was able to learn all about the ship that my great grandparents used in their emigration to Australia and all the pictures to boot, for that really made their story come to life!

Warmest regards Joady, Melbourne.

*******************************

Dear Goossens,

Like you, I am a shipping historian and journalist; however I so greatly admire your work for I have read a great deal of 'ssmaritime.com' and related sites. But even more so your personal and courageous campaign on 'savetheclassicliners.com' where you have worked so hard to save some of the last fine and great ocean liners. Those ships were so very different and had a certain feel of elegance, compared to those current giant floating apartment blocks of flats, come resorts and theme parks, where rock climbing and ice skating is all the go, but many will never learn what a genuine ocean voyage is all about!

But, tragically this is a very sad material world, for the truth is that very few of us can expect genuine romantic dreams of preserving those beautiful ships from days gone by! Now, almost all of them have then have fallen by the way, except for just a very few. However, regardless what the future holds, thankfully all the great and lesser passenger and passenger cargo liners will survive on wonderful sites like yours Goossens. Then there are the many shipping books on the market as well as ship models and fine drawings and paintings. I certainly have much the aforementioned at home and they will remain part of my memories, for it is rapidly becoming a vanished era for the rest of the world!

With my sincere congratulations.

Kind regards,

Gabriel Alomar Bouzas.

*******************************

Dear Reuben,

This is just to say 'Thank You' for such a wonderful history of the Oronsay. My career in travel began in August 1949 at Thos Cook & Son Ltd in London, but I was employed by the Orient Line on their Passage Counter in Melbourne for most of 1956. I sailed from Navarino Bay in March 1956 to Melbourne and returned to London in the Orcades in November, 1956. I have sailed in many of the ships you have in your pages and been aboard so many more, even on stretcher parties while serving with the RAF in Aden in 1952/1954.

*******************************

Hi Reuben;

In my search for small cruise lines operating in today's market, I came across your great story on the RHMS Britanis. I actually had the opportunity to sail on the Britanis as part of the cruise staff between 1988 & 1991.

I loved to read your historic facts of the ship and was sad to see how it finally came to rest. the Britanis was certainly what they now call 'Old School' with brass and polished wood and layers upon layers of paint. I had some of the best times of my life on the Britanis and those memories will always be with me.

I thank you for your dedicated history report. Attached is a picture of fun times in the 80's with the Britanis in the background.

Cheers,

Steve Vance.

*******************************

I commenced in the passenger shipping industry in May 1960 and commenced with Russell and Somers Ltd, who were the GSA's for Royal Dutch Mails, being Royal Rotterdam Lloyd, the Netherland Line and Holland America Line, which also operated two other shipping companies with four ships, three Dutch and one German migrant passenger liners. During this time I was proficient good at. This included having to visit the ships when in port to lodge relevant paper work, as well as stationary and other items.

I was contacted by a manager of the Union Steamship Company (USSC) who had heard of my work, and I was elevated to managing the stationary department for the USSC passenger fleet. Both the aforementioned jobs were in Wellington New Zealand.

I then contacted to come to Brisbane Australia and there I became the assistant manager for Chandris Lines as well as another line. Then I became the CEO of a brand new Company and in the late 1970's I was involved with the creation and the operation of the Australian Cruise Line "Celebrity Cruises, the name that was later taken up my old boss, and dear friend, Mr Chandris, who had plans for a 5 Star deluxe cruise company, which came to a reality (a long story which I will not cover here). But sadly in due course later the family who were then running the company just did not have a heart for passenger shipping, and sold the cruise line to Royal Caribbean International (RCI).

With the Cruise Line's name sold, I retired from work and concentrated on writing on classic liners' history. I decided that for my new website ssmaritime.com would be 100% non commercial and although I have dag countless big offers for advertising, all have been refused, and I continue pay all costs myself! To date have covered well over 1,300 Classic Passenger Liners, Passenger-Cargo Liners, humble Migrant Ships and Classic Cruise Ships, including the famed MV Doulos built two years after the RMS Titanic, as the SS Medina. She was fully functional until December 2009, since then she has been converted into a hotel and was placed on land in Indonesia in 2017. See ssmaritime.net. My other love is obviously cruise ships and I have now sailed on over 250 voyages/cruises since 1958, I have also covered many of the current ships on cruise-australia.com, especially those that call Australia and New Zealand home, but also those that sail around the world! However, I am personally not too fond of those hideous giant money-making apartment (condo) square floating boxes, that are more like theme-parks, and floating resorts, and have very little in common with what a genuine ship should really be like! But soon most of the real ships will all be gone and Carnival who started the modern cruise trend will ultimately win, for it is more like a Las Vegas style money machine, get on board and strip of as many dollars as we can, and all companies have followed their pattern, for it works. Sadly the world has gone mad, nobody in general respects traditional ships, for it has to be all Glitz and Show-Biz.

But I am so grateful for the wonderful emails received in regard to ssmaritime.com, for there are shill thos who have memories and a love for those days when ships were real ships!

Reuben Goossens

Email Messages from ssMaritime Readers

"Blue Water Liners sailing to the distant shores.
I watched them come, I watched them go and I watched them die."

****************************

Visit our ssMaritime Main INDEX

Where you will discover over 750 Classic Passenger & Passenger-Cargo Liners!

ssMaritime.com & ssMaritime.net

Where the ships of the past make history & the 1914 built MV Doulos Story

Please Note: ssmaritime and associated sites are 100% non-commercial and the author does not seek funding or favours and never have and never will.

Photographs on ssmaritime and associate pages are either by the author or from the author's private collection. In addition there are some images and photographs that have been provided by Shipping Companies or private photographers or collectors. Credit is given to all contributors, however, there are some photographs provided to me without details regarding the photographer or owner concerned. Therefore, I hereby invite if owners of these images would be so kind to make them-selves known to me (my email address can be found at the bottom of the page on

www.ssmaritime.com), in order that due credit may be given.

ssMaritime is owned & © Copyright by Reuben Goossens - All Rights Reserved