The Dutch Victory Ships - S.S. Zuiderkruis, Groote Beer & Waterman
Please Note: Firefox and some iPad's or iPhone's, etc are not suitable
Use Google Chrome for this web page to load perfectly!

Click the logo above to reach the ssMaritime FrontPage for Ships of the Month & News Updates
With Reuben Goossens
Maritime Historian, Cruise'n'Ship Reviewer, Author & Lecturer
Please Note: All ssmaritime as well as my other related maritime & cruise sites are 100% non-commercial and privately owned sites. Be assured that I am NOT associated with any shipping or cruise companies or agencies or any other organisations! The author has been in the passenger shipping industry since May 1960, but although retired and unwell, I occasionally attempt to write an article now and then, in order to bring enjoyment and pleasure to ship enthusiasts past passengers and crew.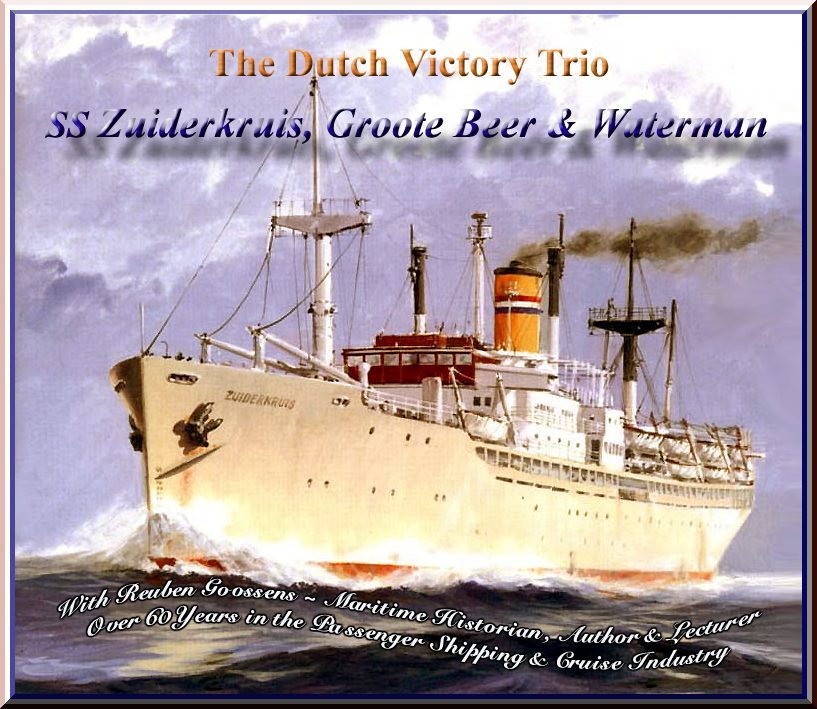 Please Note: Photographs and images are from the ssMaritime.com collection, unless stated otherwise,
Page Two
Photo Album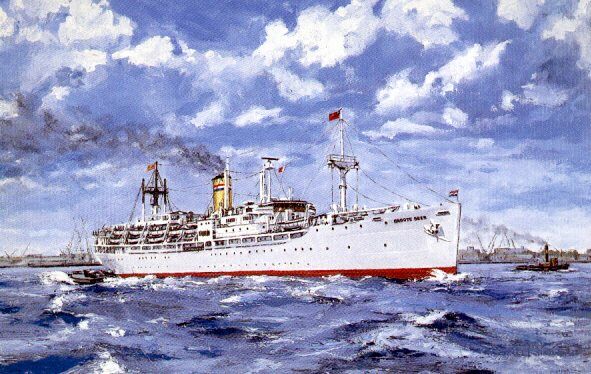 A fine artist impression SS Groote Beer – This was an official postcard sold on board
I am sure that here will be many who have sailed on these ships and will be able to look back to their days onboard. I know that they were certainly the most stable ships at sea, and many horror stories have been told over the years. I trust you will enjoy this page, and if you have anything to add, you are more than welcome to email me link on the main page - see bottom of page.
S.S. Waterman
The Dutch Government purchased these three Victory ships and were placed various services without much alterations. Before their extensive rebuilding in 1951, these three ships were austere to say the least, as the three SS Waterman items reveal. However, after their rebuilding in 195q, they were remarkably improved as the SS Groote Beer Photographs shown down the page prove.
We should understand that all three ships were almost identical as far as their interiors were concerned, and having visited all three of them, I would not have known which ship I was on whilst on board as the lounges and public spaces were identical. Thus, although I may have some of the images under various ships, please take them as being relevant for all three ships. However, please note, these ships did have various refits during their years, thus there were various changes over the years!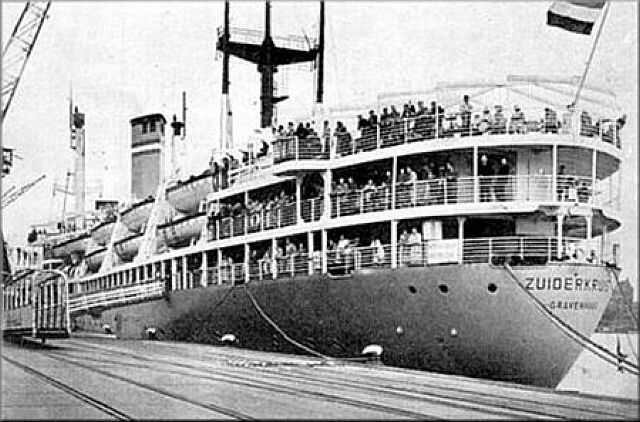 S.S. Zuiderkruis prepares to depart
**********************************
S.S

. Groote Beer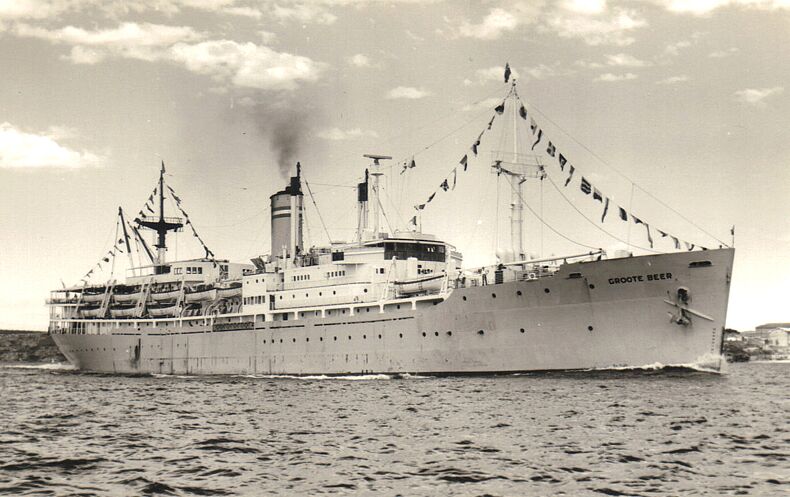 The S.S. Groote Beer seen in Sydney Australia late 1950
S.S. Groote Beer, as with the other two ships were greatly improved. A good number of lounges and bars were installed and her accommodations saw new cabins and small dormitories built. Externally these ships changed remarkably. One deck was added and the bridge was placed on top, but far forward. Spacious sport and sunbathing decks were added aft. As can be seen below, the lounges, dining room and cabins remained basic. I personally remember my many visits to these ships (I was employed by Dutch Mails in Wellington New Zealand) these ships were well maintained and her public rooms were quite cheerful. Generally passengers tended to be happy with their surroundings and pleased with the service and food onboard. These three ships were simple but offered that distinctive Dutch atmosphere.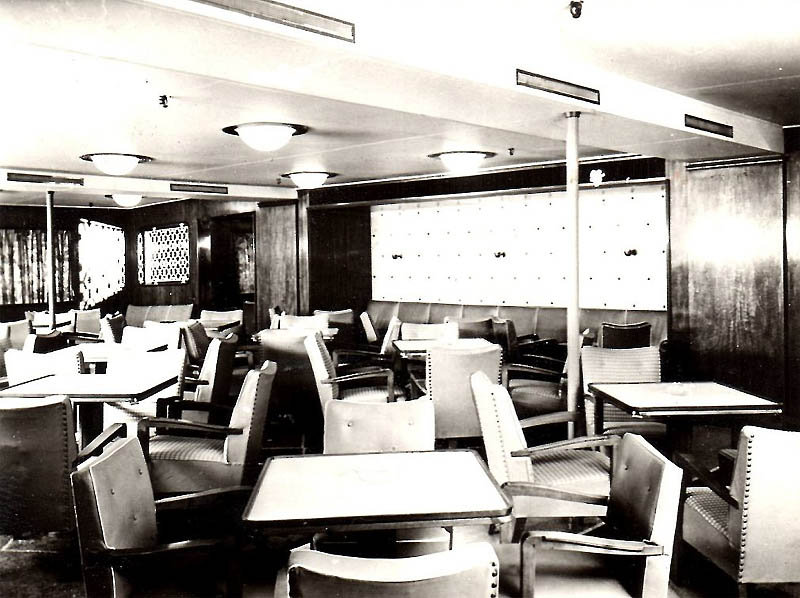 This the Main Lounge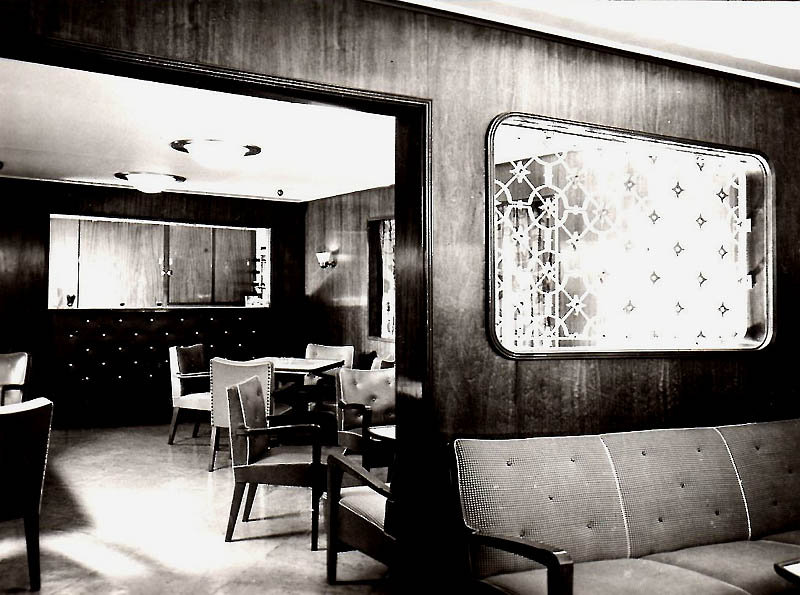 This is ships Bar located aft on the portside of the Main Lounge on A Deck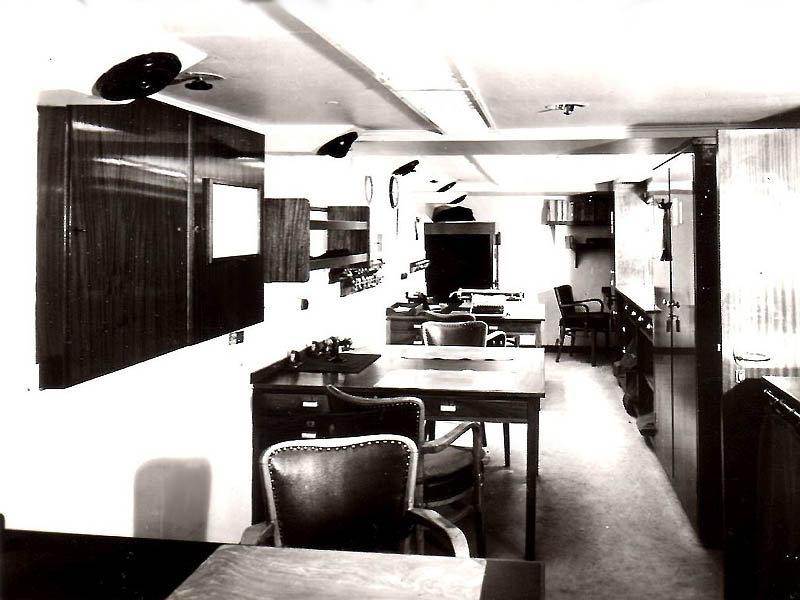 The Writing Room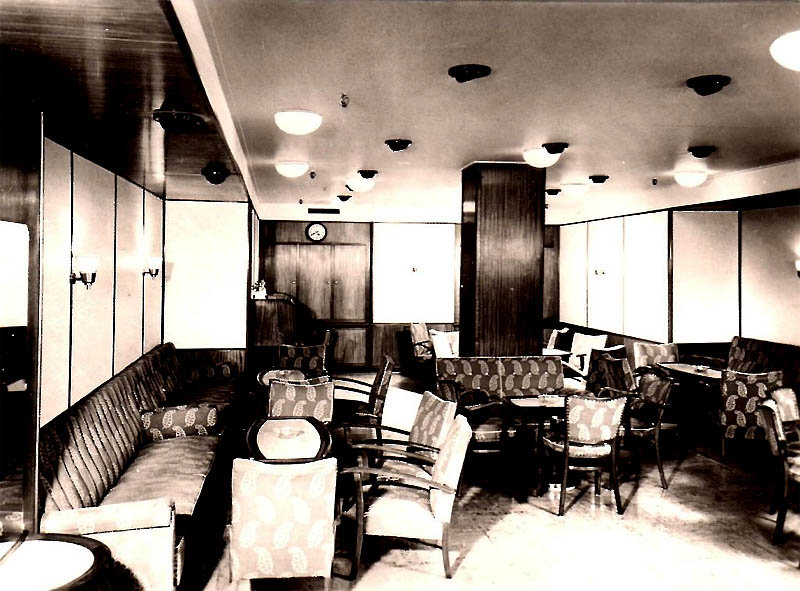 This is one of the internal smaller Lounges between the cabins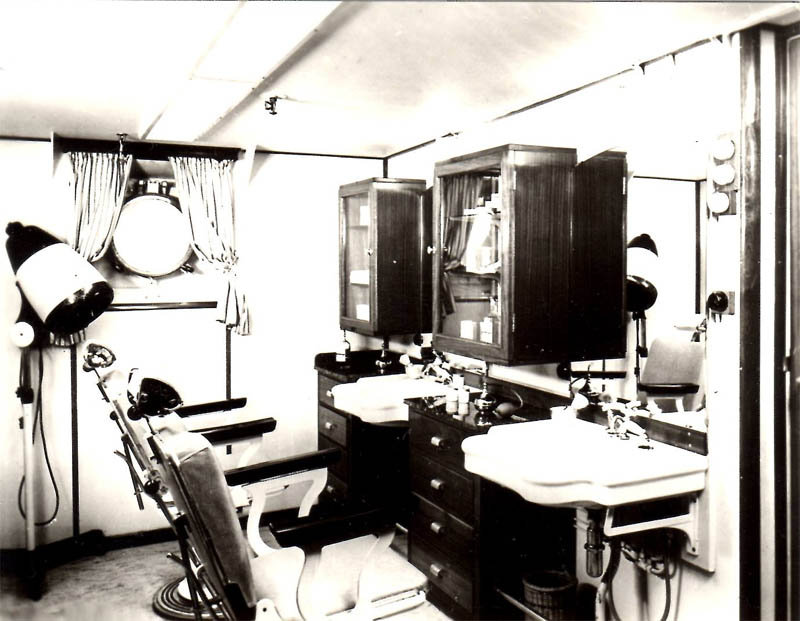 The Hairdressing Salon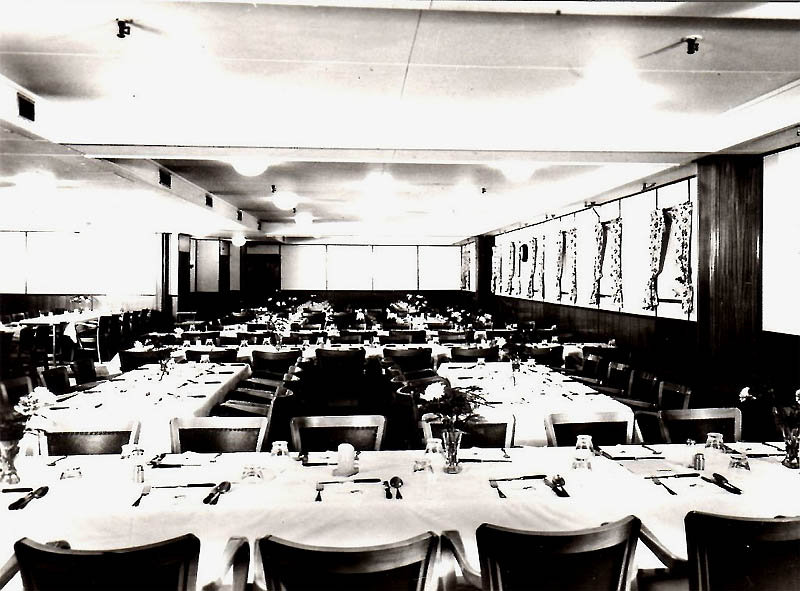 The forward Dinning Room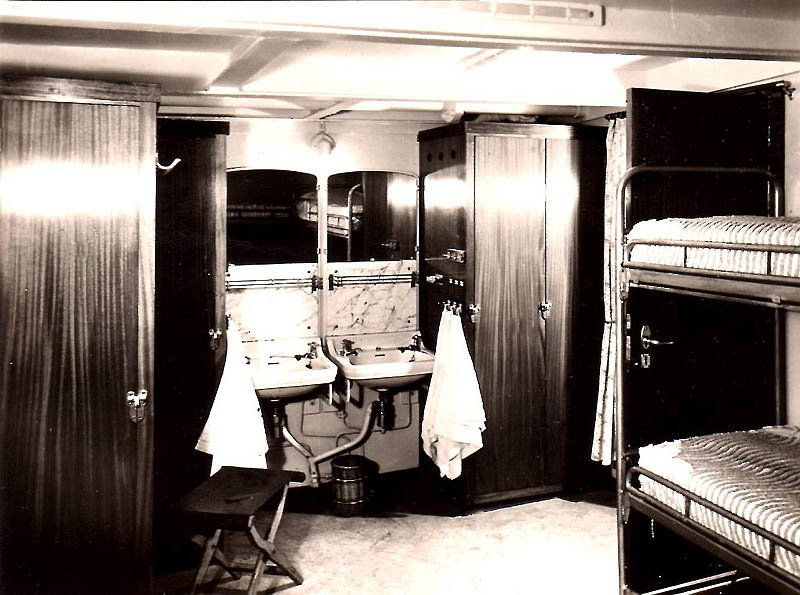 Four berth cabin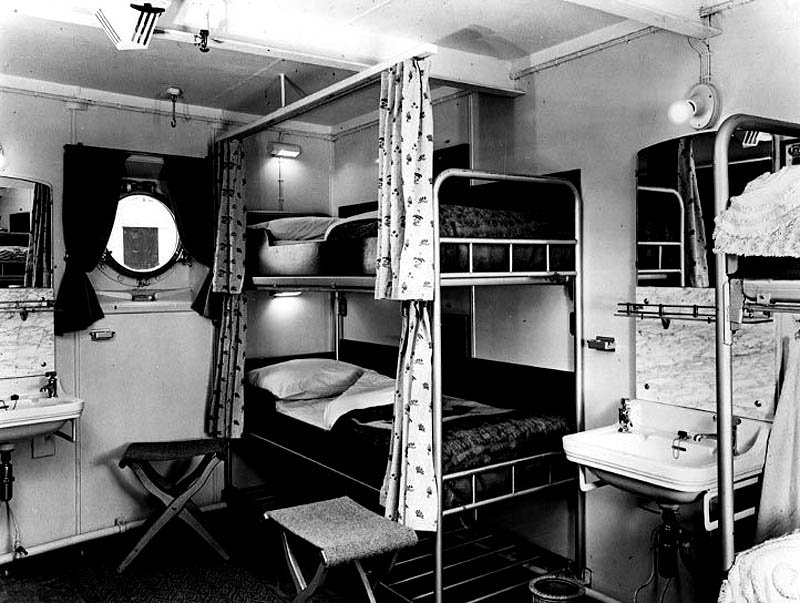 A typical 6 or 8 Berth Cabin as found on all three ships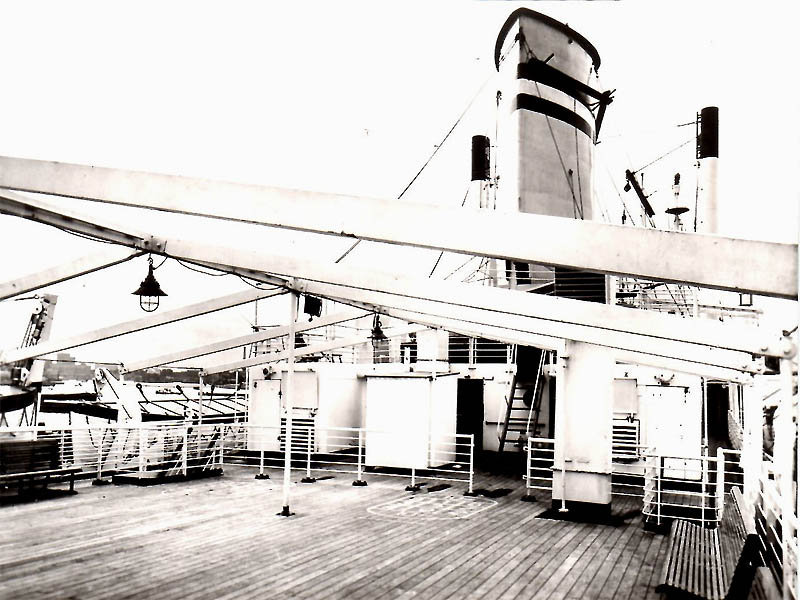 Sports Deck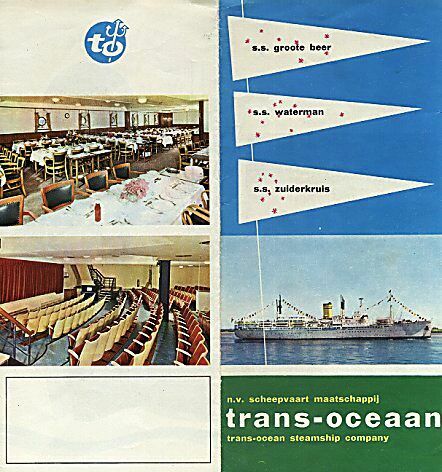 Above & Below: A Trans-Ocean brochure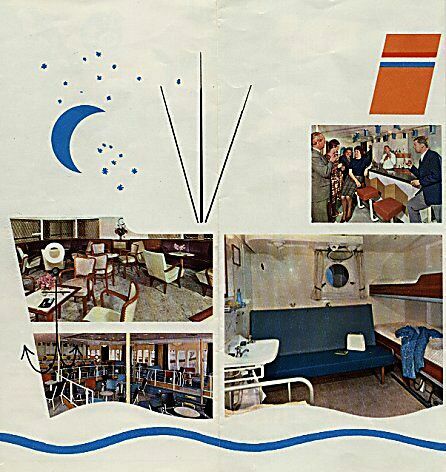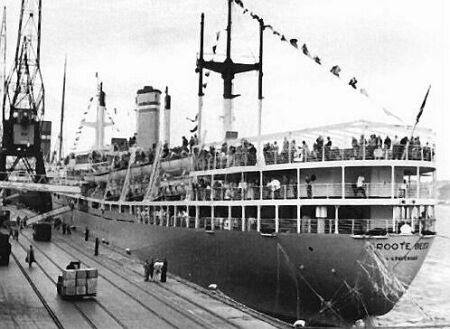 S.S. Groote Beer ready to depart
So we have come to the end of ssMaritime's feature on these three Dutch Victory ships. Sadly, I was unable to obtain and photographs of the Margareta (Waterman) and Marianna IV (Groote Beer), owned by the Latsis Shipping Company.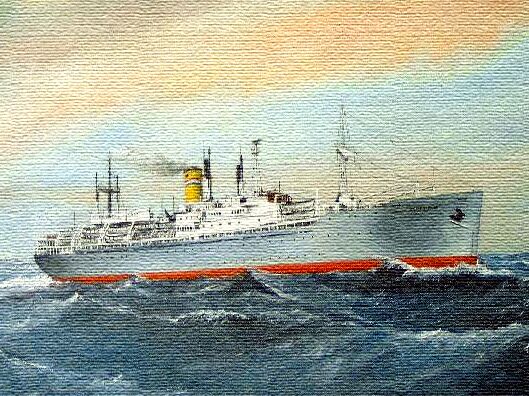 A fine painting of one of the Dutch Victory ships
Sadly the Painter is unknown
***********************************
Dutch Victory Trio INDEX:
Page One …           The history of these three ships.
Page Two …           Ships – General Photo Album.
Page Three …        Theo Kroon Story - They sailed from Amsterdam to Wellington - September 1956 - Lots of great photos!
Page Four …          Passenger List for the S.S. Groote Beer, Rotterdam, Halifax, New York on January 16, 1957. Provided by passenger Simon de Vente – Two other (S.S. Waterman) passenger lists are also available on THIS page via links provided.
Page Five …           Here is another passenger list, but this time for the S.S. Zuiderkruis sailing from Holland to New Zealand and Australia. She departed on December 9, 1960. It was kindly provided by Gabriel-Bosch.
Page Six …            S.S. Groote Beer Passenger Lists from 1951 to 1962.
Page Six-a  …        S.S. Groote Beer Passenger List for those disembarking at Wellington on September 19, 1951.
Page Seven …        Passenger Dr. Barbara Wollman sailed in 1955 on the S.S. Groote Beer from New York to Rotterdam and returned on the Zuiderkruis.
Page Eight …         Bob ter Haar kindly provided the passenger list of his voyage on the S.S. Zuiderkruis from Amsterdam to Australia, January 16, 1959. He came to Australia with his family.
Page Nine …          This is the story of soldier Frank Lovell who finally returned home, having fought so many battles during WW2 throughout many parts of Europe on the S.S. Costa Rica Victory, (later the Groote Beer) in September 1945. The three parts are by Franks daughter Mary Lovell, by Frank himself in his Dairy, and myself using Mary's notes. This page has countless actual photographs of the Costa Rica Victory, most of which Frank took on board!
Other Passenger lists currently available online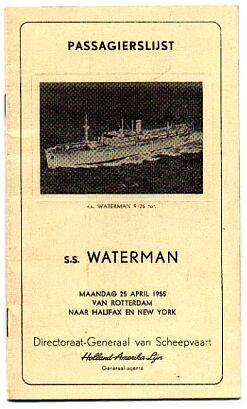 Passenger List dated 25 April, 1955
View it online
http://www.frontiernet.net/~hdebruyn/waterman/passengerlist1.HTM
Also S.S. Waterman departed from Rotterdam on Friday April 1, 1955
http://www.frontiernet.net/~hdebruyn/waterman/passengerlist.HTM
***********************************
 "Blue Water Liners sailing to the distant shores.
I watched them come, I watched them go and I watched them die."
Return to the ssMaritime MAIN INDEX
ssMaritime.com & ssMaritime.net
Where you will discover over 1,355 Classic Liners & the 1914 built MV Doulos Story
The Author has been in Passenger Shipping & the Cruise Industry for over 60 years!
Note: ssmaritime and associated sites are 100% non-commercial and the author seeks no funding or favours of any shape or form, never have and never will!
Photographs on ssmaritime and associate pages are: by the author or from the author's private collection. In addition there are some images that have been provided by Shipping Companies and private photographers or collectors. Credit is given to all contributors. However, there are some photographs provided to me without details regarding the photographer/owner concerned. I hereby invite if owners of these images would be so kind to make them-selves known to me (my email address may be found on www.ssmaritime.com only), in order that due credit may be given.
This notice covers all pages: although, and I have done my best to ensure that all photographs are duly credited and that this notice is displaced on each page, that is, when a page is updated!
ssMaritime is owned & © Copyright by Reuben Goossens - All Rights Reserved