The Dutch Victory Ships - S.S. Zuiderkruis, Groote Beer & Waterman
Please Note: Firefox and some iPad's or iPhone's, etc are not suitable
Use Google Chrome for this web page to load perfectly!

Click the logo above to reach the ssMaritime FrontPage for Ships of the Month & News Updates
With Reuben Goossens
Maritime Historian, Cruise'n'Ship Reviewer, Author & Lecturer
Please Note: All ssmaritime as well as my other related maritime & cruise sites are 100% non-commercial and privately owned sites. Be assured that I am NOT associated with any shipping or cruise companies or agencies or any other organisations! The author has been in the passenger shipping industry since May 1960, but although retired and unwell, I occasionally attempt to write an article now and then, in order to bring enjoyment and pleasure to ship enthusiasts past passengers and crew.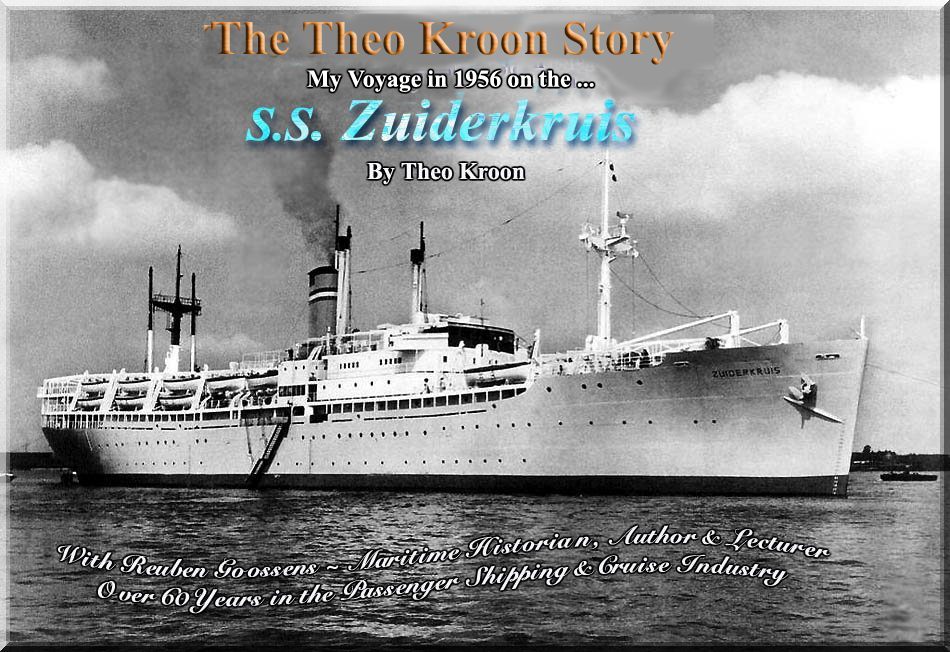 S.S. Zuiderkruis is seen leaving Amsterdam, the Netherlands bound for Wellington New Zealand

Page Three

Please Note: All photographs (except for several as noted) were taken by

Theo Kroon, Jan Kinkelaar, and the ship departing Amsterdam by Theo's relatives and they are all © Copyright to Theo Kroon. Please do not copy these and use them without permission from Theo Kroon. His email is located at the bottom of the page.

Our Story by; Theo Kroon

"My name is Theo W. Kroon, and I departed Amsterdam the Netherland's on September 26, 1956 for Wellington New Zealand with my good friend Jan (John) Kinkelaar. The ship sailed to New Zealand via Curacao (Willemstad), Panama (Balboa City) and Tahiti (Papeete).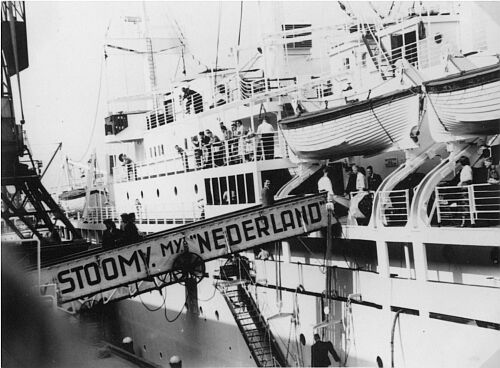 SS Zuiderkruis is ready for departure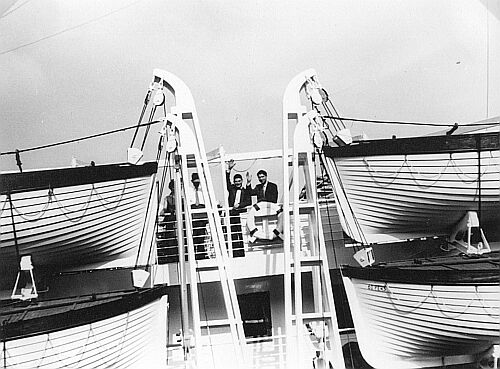 Theo and Jan give their last wave goodbye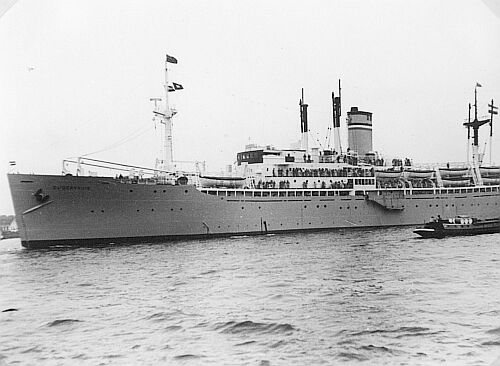 Above and below: SS Zuiderkruis departing Amsterdam
Taken by Theo's relatives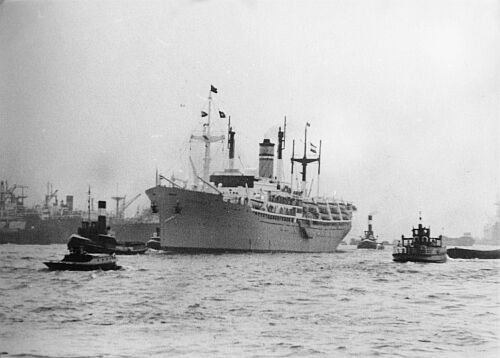 Although the ship was only supposed to be able to accommodate 830 passengers according to the literature, on our voyage we discovered that we had over 1,000 passengers onboard.
Forward of the galley there were two dormitories and each had (from memory) around 60 passengers in them. I actually slept in one of these. The problem with the dorm was that there was no wardrobe or any desk space whatsoever. Also, the bunks where just two feet wide, and then there was just two feet in between the rows of bunks. I slept in the top bunk, whilst my friend Jan slept in the bottom one. Our suitcases were stored underneath the bottom bunk.
To get to our dormitory we had to pass the Galley and that is were the Javanese stewards would often sit and relax and entertain themselves. There is a photo of them singing and often we would join in and have a great time!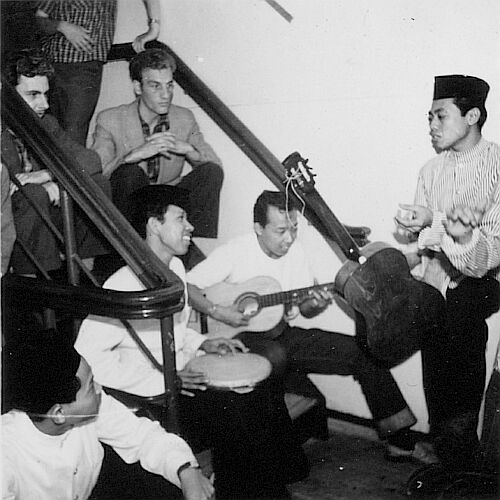 Javanese crew play and sing near the Galley, close to Theo & Jan's dormitory
During the voyage I frequently played the piano as did another passenger. I played mostly the popular songs and the other chap played classical music. The Captain gave me a large photograph of the ship with a hand written note on the back thanking me for my help with the entertainment whilst I was onboard.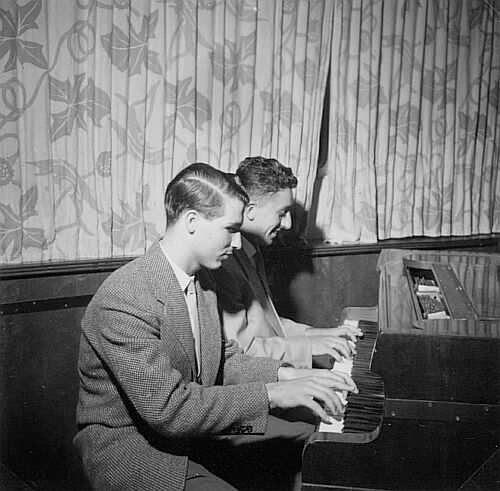 Theo (in the foreground) and a friend entertain passengers in the lounge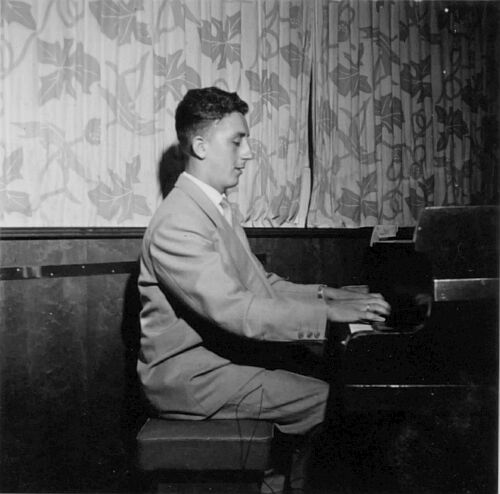 Theo's friend on the piano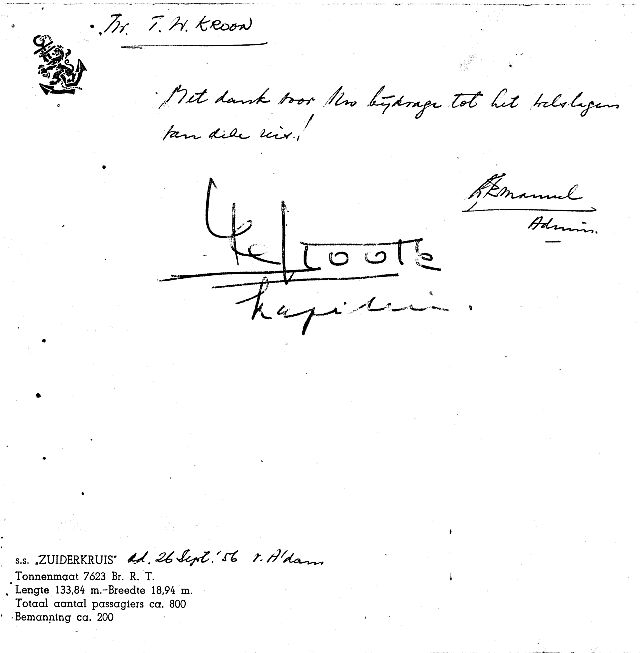 The back of the Zuiderkruis postcard; written by the Captain thanking Theo
for his efforts on board playing the piano, etc.
During the voyage there were 3 sittings each for Breakfast, lunch and dinner and normally the dining room was packed except during the second, third and fourth days of the voyage, when there were only up to a dozen or so people around. Why? The rest were simply too seasick as we sailing the Gulf of Biscay. In order to miss the worst part of the storm, we went south along the coast of Portugal, and around Madeira Island before crossing the Atlantic to Curacao., and then through the Panama Canal.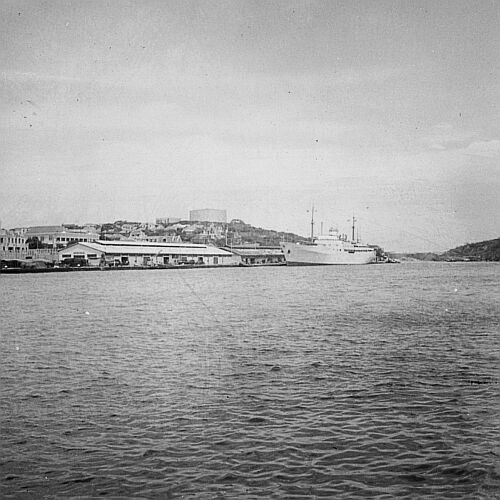 Willemstad Curacao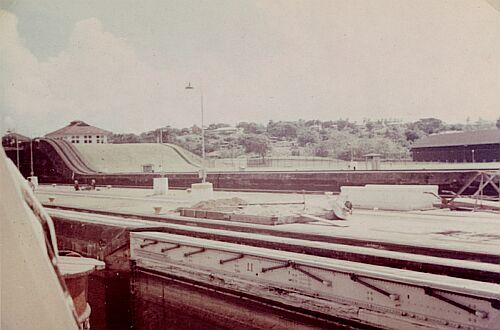 The Panama Locks
We had a very enjoyable voyage although the ship was somewhat crowded, but when you are 19 years old, life is an adventure and you don't mind it being a bit primitive.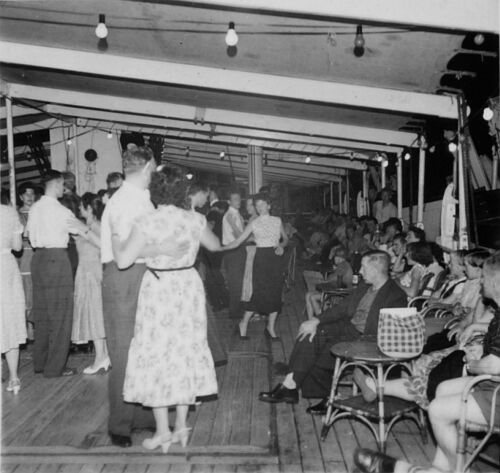 Dancing out on deck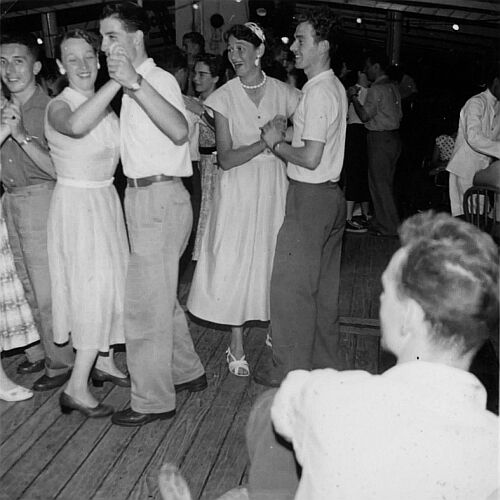 Theo and Jan enjoying a dance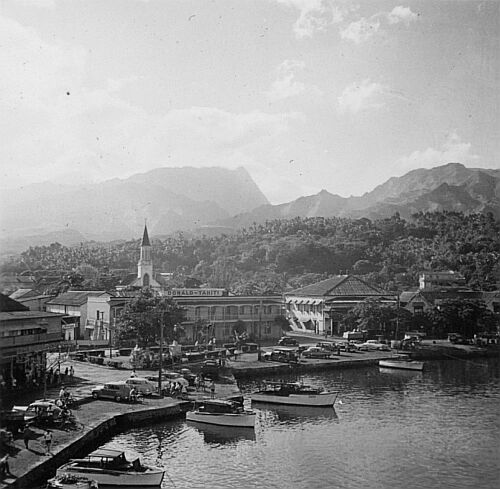 Papeete Tahiti
Considering the large number of passengers onboard, and the long voyage between Tahiti and new Zealand suddenly there was a water shortage onboard. Thus, for the last four days prior to arriving in Wellington we were placed on a water ration, with no showers, the taps could only be used for a few hours a day, thus we had to plan everything in advance in order to stay clean as it was getting hotter and hotter!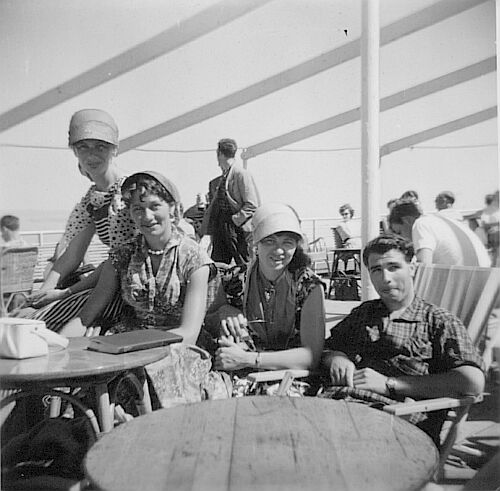 Up on the aft Sun deck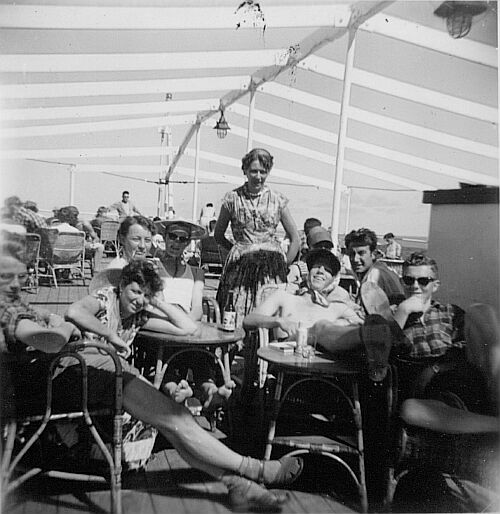 Enjoying the sun in the Pacific Ocean
We arrived in Wellington on 5 November 5, 1956. After arrival in Wellington, Theo and Jan were sent by train north to Auckland".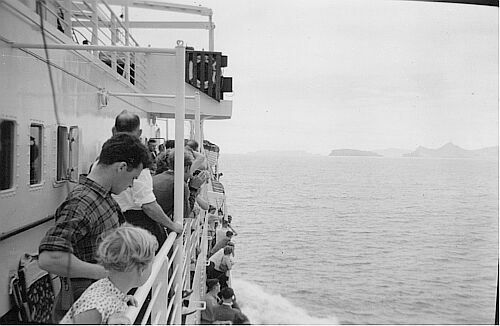 Suddenly the end of the voyage draws near as New Zealand approaches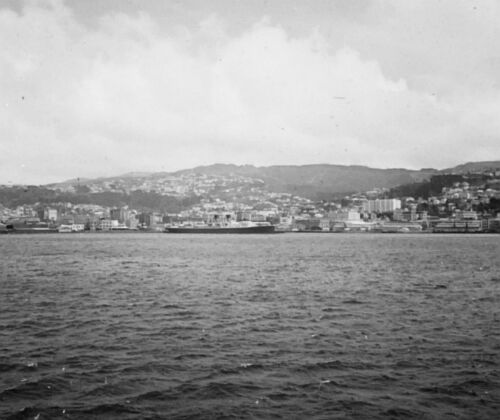 Wellington on 5 November 5, 1956 and Jan and Theo are ready to begin a new adventure!
Above we came to the end of Theo and Shirley's story, although there is really much more to tell regarding their life in New Zealand and I will relate this to you as I have been told about it by Theo.
Having settled happily in New Zealand Theo and his dear wife Shirley have created a successful and an award winning business, "Crown Embroidery" a Worldwide Custom Digitizing Service for Embroiderers.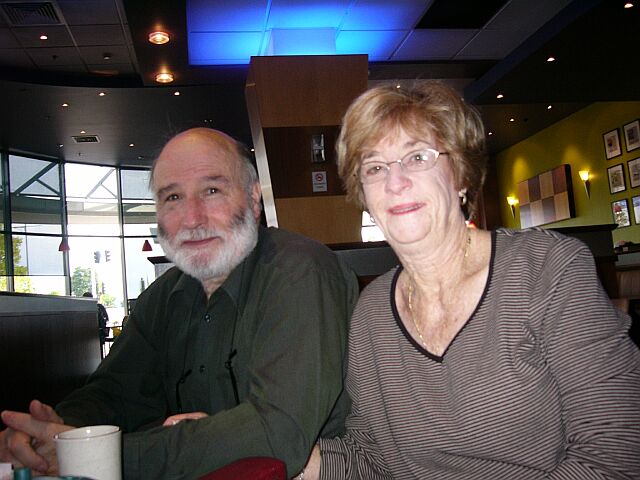 A very happily settled Theo is seen here with his lovely wife Shirley in 2009
Photo provided by Theo and Shirley Kroon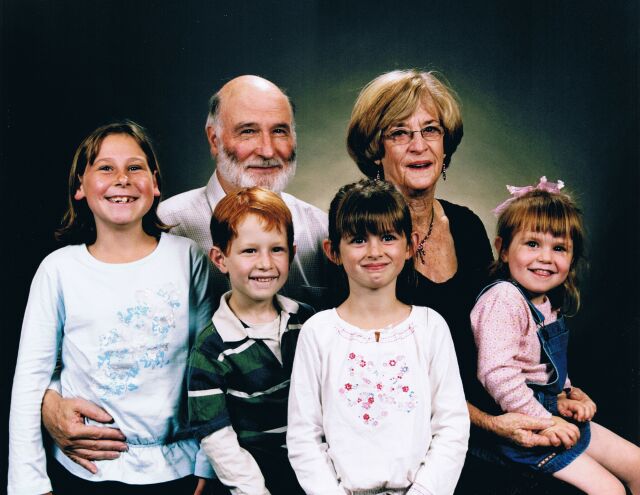 Theo and Shirley and grandchildren, Isabelle, Cory, Shannen and Ashley
Photo provided by Theo and Shirley Kroon
One of Theo's most famed pieces was produced at the request of the Dutch Ambassador in Wellington being the Royal Coat of Arms of "The House of Oranje Nassau." This piece was entered into the "International Embroidery Competition" in America it won both the 1st price in its category and the Grand overall prize. Having won these prizes the Ambassador requested for extra copies to be made and they were presented to Her Majesty Queen Beatrix and Crown Prince Willem Alexander. Today, copies hang in Dutch Clubs and Dutch Retirement Villages. Below is a photo of this embroidery piece, however I have a High Res copy of the photograph and the detail is just superb!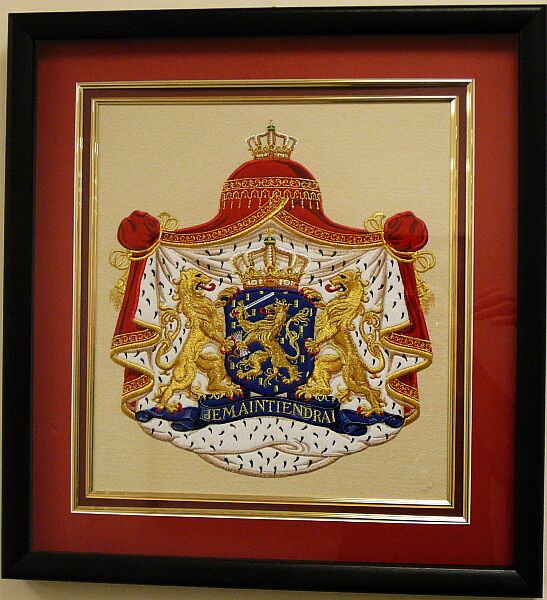 The framed dimensions are 500 x 470 mm (unframed 310 x 280 mm)
Photo by & © 2009 Theo Kroon
The good news is that there may still be a very limited number of this very special award winning embroidery available. Email Theo for details: crownembroidery@ihug.co.nz. Also visit his website at: www.crownembroidery.co.nz. Theo posts worldwide.
Although Theo currently does not have a Passenger List from that voyage, he would very much like to hear from others that might have been on the same trip, we ask that you please email him.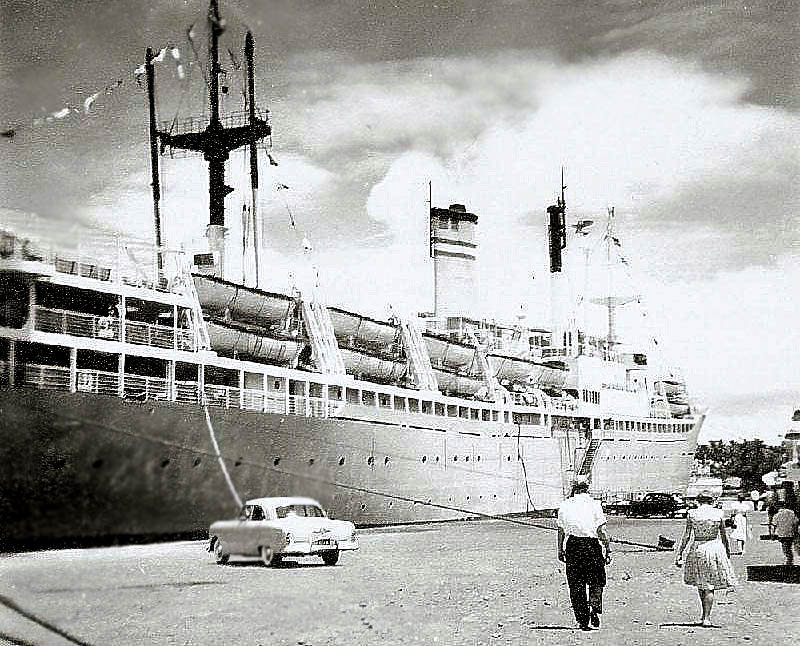 S.S. Zuiderkruis seen berthed at Papeete, Tahiti
From the ssmaritime collection
***********************************
Dutch Victory Trio INDEX:
Page One …           The history of these three ships.
Page Two …           Ships – General Photo Album.
Page Three …        Theo Kroon Story - They sailed from Amsterdam to Wellington - September 1956 - Lots of great photos!
Page Four …          Passenger List for the S.S. Groote Beer, Rotterdam, Halifax, New York on January 16, 1957. Provided by passenger Simon de Vente – Two other (S.S. Waterman) passenger lists are also available on THIS page via links provided.
Page Five …           Here is another passenger list, but this time for the S.S. Zuiderkruis sailing from Holland to New Zealand and Australia. She departed on December 9, 1960. It was kindly provided by Gabriel-Bosch.
Page Six …            S.S. Groote Beer Passenger Lists from 1951 to 1962.
Page Six-a  …        S.S. Groote Beer Passenger List for those disembarking at Wellington on September 19, 1951.
Page Seven …        Passenger Dr. Barbara Wollman sailed in 1955 on the S.S. Groote Beer from New York to Rotterdam and returned on the Zuiderkruis.
Page Eight …         Bob ter Haar kindly provided the passenger list of his voyage on the S.S. Zuiderkruis from Amsterdam to Australia, January 16, 1959. He came to Australia with his family.
Page Nine …          This is the story of soldier Frank Lovell who finally returned home, having fought so many battles during WW2 throughout many parts of Europe on the S.S. Costa Rica Victory, (later the Groote Beer) in September 1945. The three parts are by Franks daughter Mary Lovell, by Frank himself in his Dairy, and myself using Mary's notes. This page has countless actual photographs of the Costa Rica Victory, most of which Frank took on board!
Other Passenger lists currently available online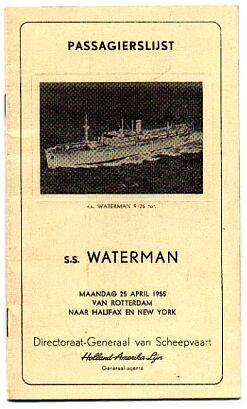 Passenger List dated 25 April, 1955
View it online
http://www.frontiernet.net/~hdebruyn/waterman/passengerlist1.HTM
Also S.S. Waterman departed from Rotterdam on Friday April 1, 1955
http://www.frontiernet.net/~hdebruyn/waterman/passengerlist.HTM
***********************************
 "Blue Water Liners sailing to the distant shores.
I watched them come, I watched them go and I watched them die."
Return to the ssMaritime MAIN INDEX
ssMaritime.com & ssMaritime.net
Where you will discover over 1,355 Classic Liners & the 1914 built MV Doulos Story
The Author has been in Passenger Shipping & the Cruise Industry for over 60 years!
Note: ssmaritime and associated sites are 100% non-commercial and the author seeks no funding or favours of any shape or form, never have and never will!
Photographs on ssmaritime and associate pages are: by the author or from the author's private collection. In addition there are some images that have been provided by Shipping Companies and private photographers or collectors. Credit is given to all contributors. However, there are some photographs provided to me without details regarding the photographer/owner concerned. I hereby invite if owners of these images would be so kind to make them-selves known to me (my email address may be found on www.ssmaritime.com only), in order that due credit may be given.
This notice covers all pages: although, and I have done my best to ensure that all photographs are duly credited and that this notice is displaced on each page, that is, when a page is updated!
ssMaritime is owned & © Copyright by Reuben Goossens - All Rights Reserved