S.S Groote Beer Passenger List & her sister ships
Please Note: Firefox and some iPad's or iPhone's, etc are not suitable
Use Google Chrome for this web page to load perfectly!

Click the logo above to reach the ssMaritime FrontPage for Ships of the Month & News Updates
With Reuben Goossens
Maritime Historian, Cruise'n'Ship Reviewer, Author & Lecturer
Please Note: All ssmaritime as well as my other related maritime & cruise sites are 100% non-commercial and privately owned sites. Be assured that I am NOT associated with any shipping or cruise companies or agencies or any other organisations! The author has been in the passenger shipping industry since May 1960, but although retired and unwell, I occasionally attempt to write an article now and then, in order to bring enjoyment and pleasure to ship enthusiasts past passengers and crew.
Three Dutch "Victory" Ships
S.S. Groote Beer - Passenger List
From Rotterdam on Wednesday January 16, 1957
To Halifax and New York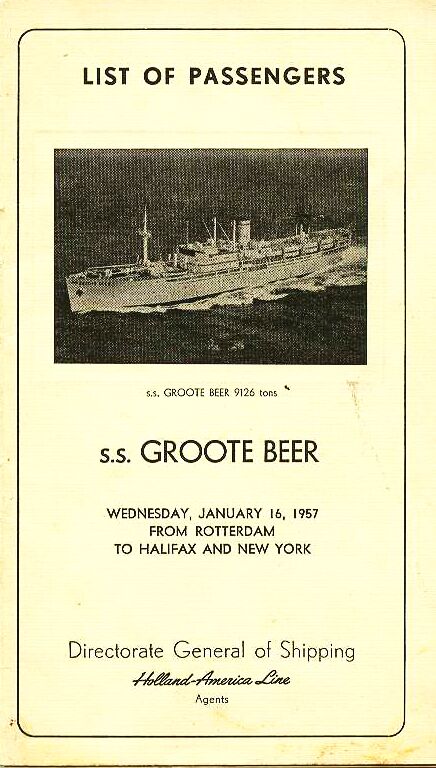 The passenger list featured on this page was kindly provided by Simon de Vente

who was a passenger on the SS Groote Beer, sailing from Rotterdam to Halifax and New York on January 16, 1957. He came to the USA with his family of tem member in all and he was only a toddler at the time. We are grateful to de Vente for providing this passenger list, and if you were a passenger on this sailing I am sure you will be interested in it.

At the bottom of the page there are two links to passenger lists that are available online for the SS Waterman that departed Rotterdam on April 1, and on April 25, 1955. However, please DO NOT contact the author regarding any other passenger lists or sailing schedules. See the notice below my email address.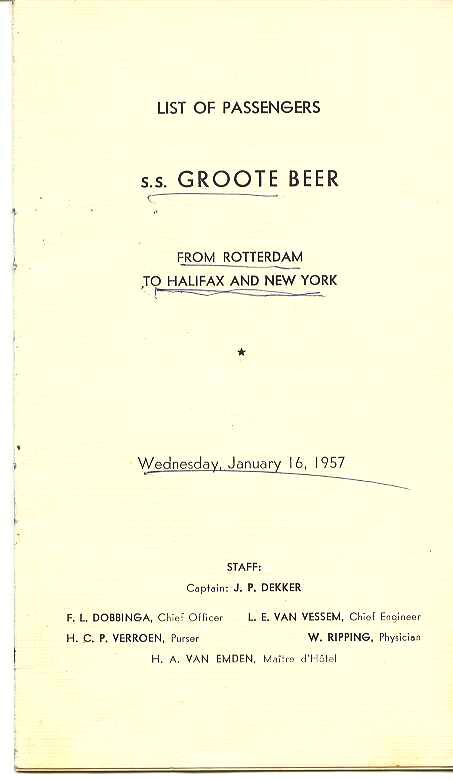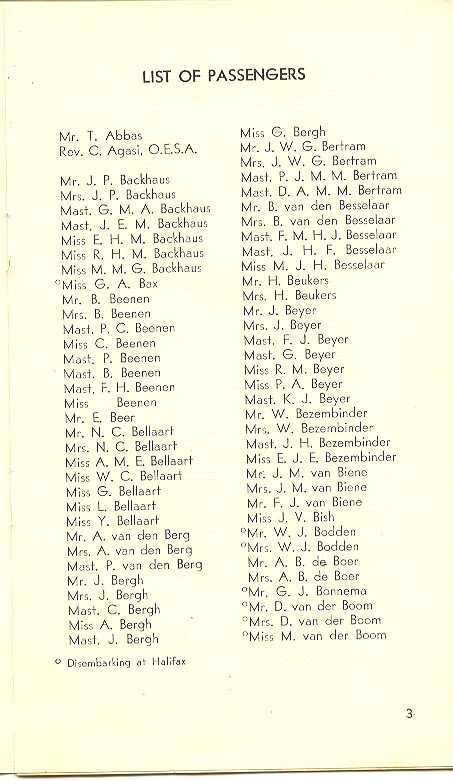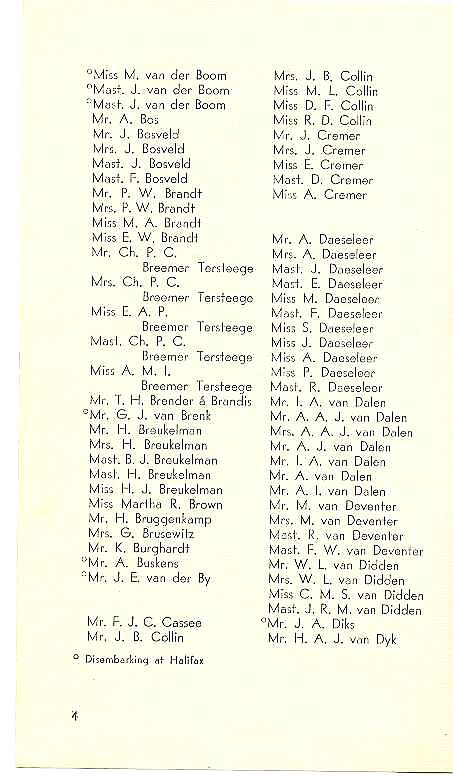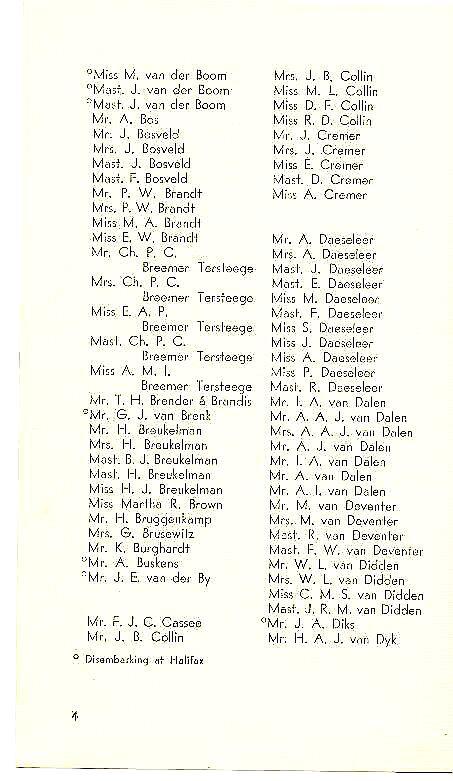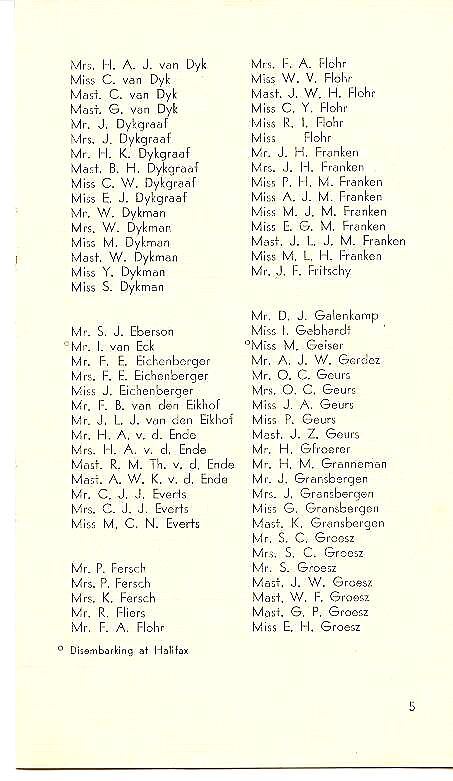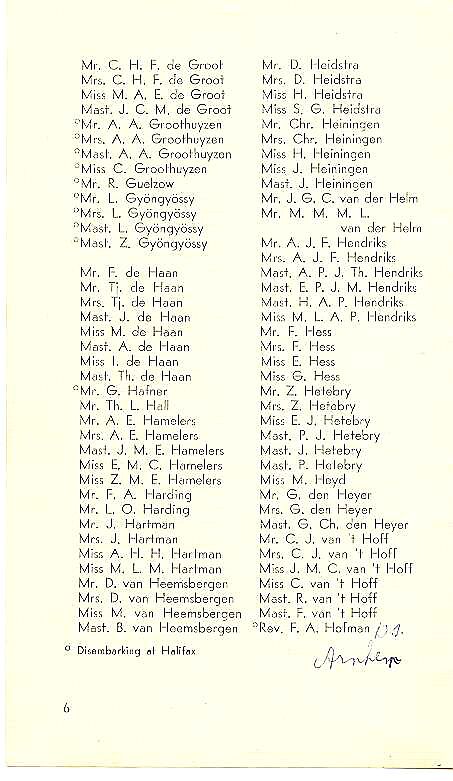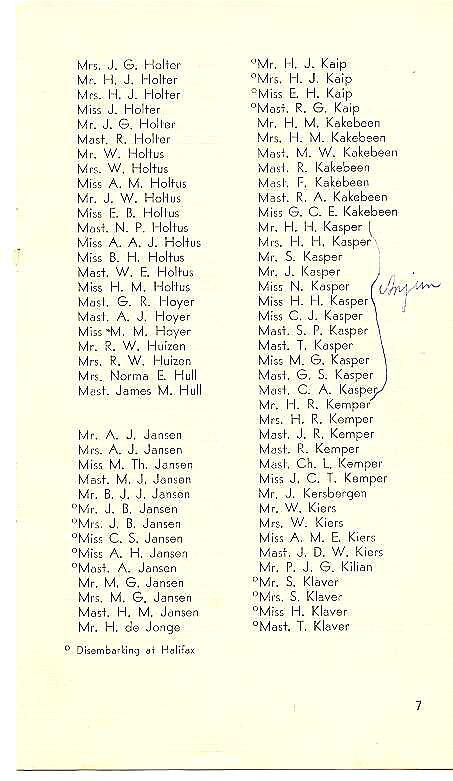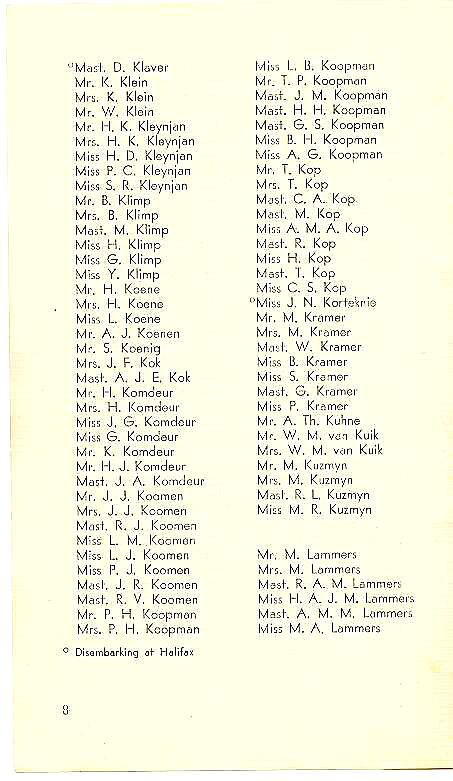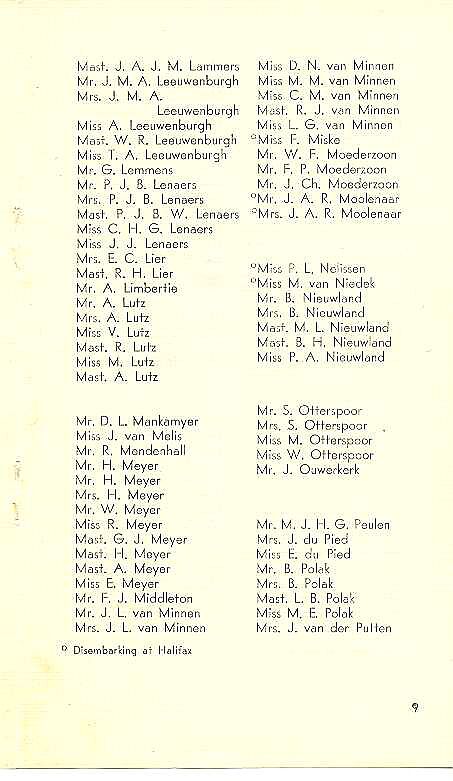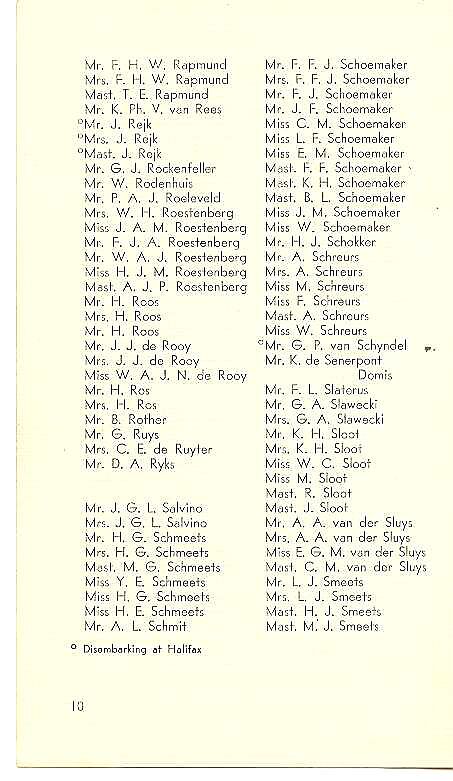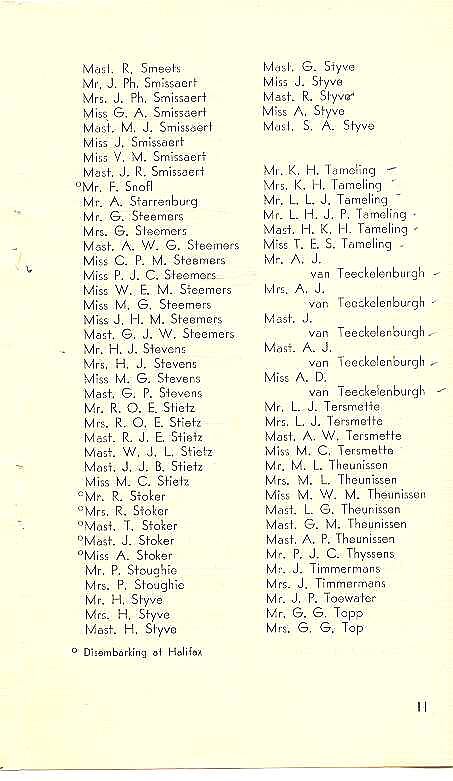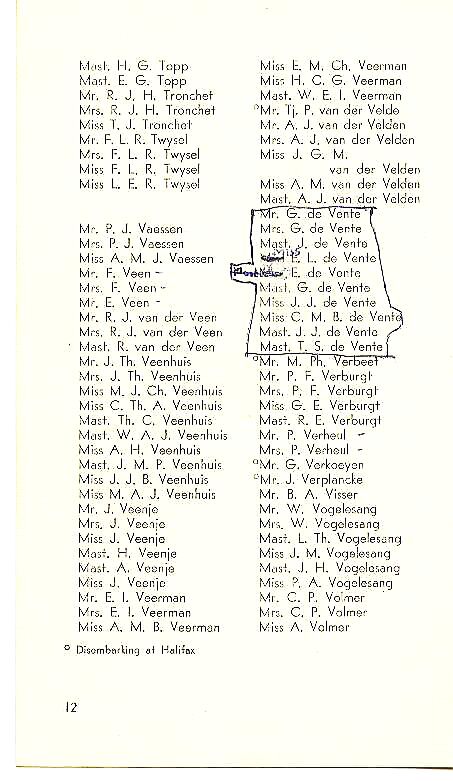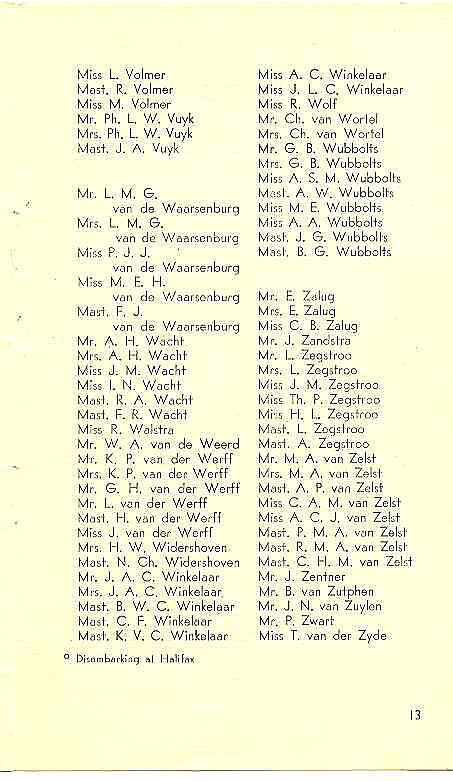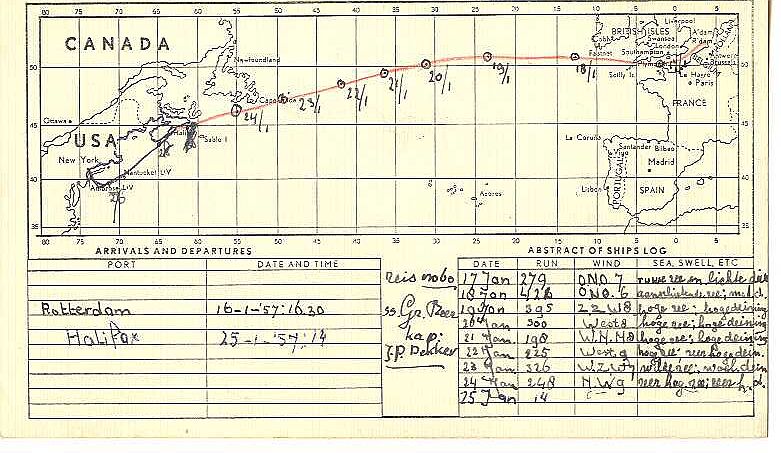 ***********************************
Dutch Victory Trio INDEX:
Page One …           The history of these three ships.
Page Two …           Ships – General Photo Album.
Page Three …        Theo Kroon Story - They sailed from Amsterdam to Wellington - September 1956 - Lots of great photos!
Page Four …          Passenger List for the S.S. Groote Beer, Rotterdam, Halifax, New York on January 16, 1957. Provided by passenger Simon de Vente – Two other (S.S. Waterman) passenger lists are also available on THIS page via links provided.
Page Five …           Here is another passenger list, but this time for the S.S. Zuiderkruis sailing from Holland to New Zealand and Australia. She departed on December 9, 1960. It was kindly provided by Gabriel-Bosch.
Page Six …            S.S. Groote Beer Passenger Lists from 1951 to 1962.
Page Six-a  …        S.S. Groote Beer Passenger List for those disembarking at Wellington on September 19, 1951.
Page Seven …        Passenger Dr. Barbara Wollman sailed in 1955 on the S.S. Groote Beer from New York to Rotterdam and returned on the Zuiderkruis.
Page Eight …         Bob ter Haar kindly provided the passenger list of his voyage on the S.S. Zuiderkruis from Amsterdam to Australia, January 16, 1959. He came to Australia with his family.
Page Nine …          This is the story of soldier Frank Lovell who finally returned home, having fought so many battles during WW2 throughout many parts of Europe on the S.S. Costa Rica Victory, (later the Groote Beer) in September 1945. The three parts are by Franks daughter Mary Lovell, by Frank himself in his Dairy, and myself using Mary's notes. This page has countless actual photographs of the Costa Rica Victory, most of which Frank took on board!
Other Passenger lists currently available online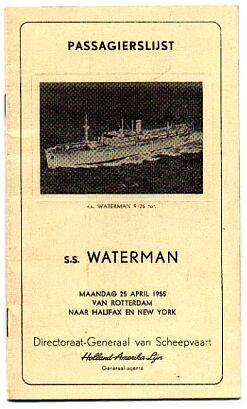 Passenger List dated 25 April, 1955
View it online
http://www.frontiernet.net/~hdebruyn/waterman/passengerlist1.HTM
Also S.S. Waterman departed from Rotterdam on Friday April 1, 1955
http://www.frontiernet.net/~hdebruyn/waterman/passengerlist.HTM
For Australians:
The "National Library of Australia" in Canberra has retained passenger lists of all passenger ship arrivals, thus details of the arrival and passenger list of the ship you are looking for will be available to you.
You must be able to supply the following information to the "NLA."
1. Name of the ship. 2. Port of arrival. 3. Day, Month & Year of arrival. They will not mind if you do not know precisely the actual date, but the MONTH and YEAR is a MUST!
And last and not least; 4. Full names of the family who dissembarked.
The "National Library of Australia's" Webpage is located at: https://www.nla.gov.au/.
Below is their "Shipping and Passenger Records" Page:
http://www.nla.gov.au/research-guides/finding-ship-and-passenger-records.
However, should you require assistance just use the "ask the librarian page".
https://reftracker.nla.gov.au/reft100.aspx?pmi=M0GYxtCO1I.
You can also phone: 61 (0)2 6262 1266.
Best of luck with your search.
Reuben Goossens.
***********************************
 "Blue Water Liners sailing to the distant shores.
I watched them come, I watched them go and I watched them die."
Return to the ssMaritime MAIN INDEX
ssMaritime.com & ssMaritime.net
Where you will discover over 1,355 Classic Liners & the 1914 built MV Doulos Story
The Author has been in Passenger Shipping & the Cruise Industry for over 60 years!
Note: ssmaritime and associated sites are 100% non-commercial and the author seeks no funding or favours of any shape or form, never have and never will!
Photographs on ssmaritime and associate pages are: by the author or from the author's private collection. In addition there are some images that have been provided by Shipping Companies and private photographers or collectors. Credit is given to all contributors. However, there are some photographs provided to me without details regarding the photographer/owner concerned. I hereby invite if owners of these images would be so kind to make them-selves known to me (my email address may be found on www.ssmaritime.com only), in order that due credit may be given.
This notice covers all pages: although, and I have done my best to ensure that all photographs are duly credited and that this notice is displaced on each page, that is, when a page is updated!
ssMaritime is owned & © Copyright by Reuben Goossens - All Rights Reserved