The Dutch Victory Ships - S.S. Zuiderkruis, Groote Beer & Waterman
Please Note: Firefox and some iPad's or iPhone's, etc are not suitable
Use Google Chrome for this web page to load perfectly!

Click the logo above to reach the ssMaritime FrontPage for Ships of the Month & News Updates

With Reuben Goossens

Maritime Historian, Cruise'n'Ship Reviewer, Author & Lecturer

Please Note: All ssmaritime as well as my other related maritime & cruise sites are 100% non-commercial and privately owned sites. Be assured that I am NOT associated with any shipping or cruise companies or agencies or any other organisations! The author has been in the passenger shipping industry since May 1960, but although retired and unwell, I occasionally attempt to write an article now and then, in order to bring enjoyment and pleasure to ship enthusiasts past passengers and crew.

Two of the

Three Dutch "Victory" Ships

Sailing on the S.S. Groote Beer & Zuiderkruis

I received an interesting email from

Barbara Wollman who sailed on both the S.S. Groote Beer and the Zuiderkruis in 1955. She describes her voyage and the people on board, but I decided to mostly use my own words, but at all times remain true to the story as provided.

Part One - S.S. Groote Beer

New York to Rotterdam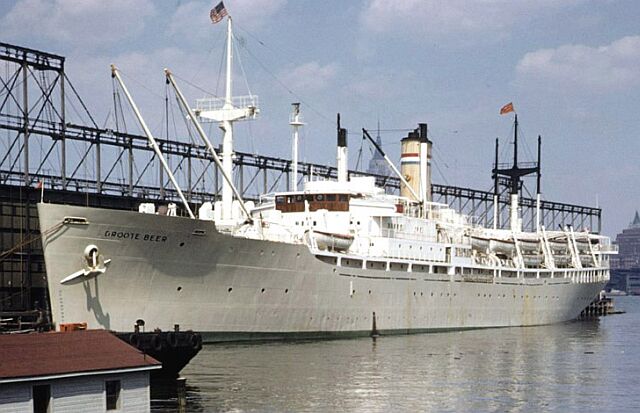 S.S. Groote Beer seen in the USA
Photo by Victor Scrivens – from the Rich Turnwald collection
Myself and a close friend Ancella (Andy) Weinstein, who had just obtained her B.A., and I was between sophomore and junior year, sailed on the S.S. Groote Beer from New York to Rotterdam in June/July 1955. We had a cabin up on the top Deck, which was the equivalent to first class.
There was an interesting group of passengers on this deck and many are now well known. One of these is a man who was from 1977 to 1981 the National Security Advisor to the President of the United States, and he is currently President Obama's top security advisor, Zbigniew Brzezinski. He and his wife Mushka were just two of the notable passengers who sailed on this humble ship up on the top deck.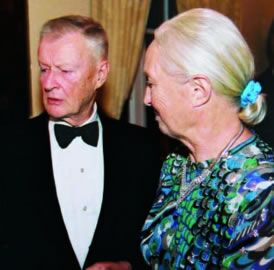 Zbigniew and his wife Mushka Brzezinski, seen in 2004

Photographer unknown - *See photo notes at bottom of page

Another well known passenger on this voyage included Professor. Hans Rogger who at the time was a professor of history at either Harvard or at Sarah Lawrence, with him was his wife Claire, and Wollman. In addition, if she recalls correctly, a Loic Bouvard who is currently a member of the French National Assembly. She recalls three other people who were accommodated up on top deck, but she is not 100% sure of their full names. One she believes was Ruth Bazelton, and then there was Philip (?) who was a fine pianist, and Jane (?) who was a student at Sarah Lawrence.

"Zbigniew, Mushka, Hans, Claire, Jane, Andy (her friend) and her played Botticelli every evening after dinner, over a single bottle of wine each time, the question is, "how did we stretch it that far?" The lower decks were filled with groups of people mostly under twenty years old. The crew on board was Dutch."

Part Two - S.S. Zuiderkruis

Rotterdam to New York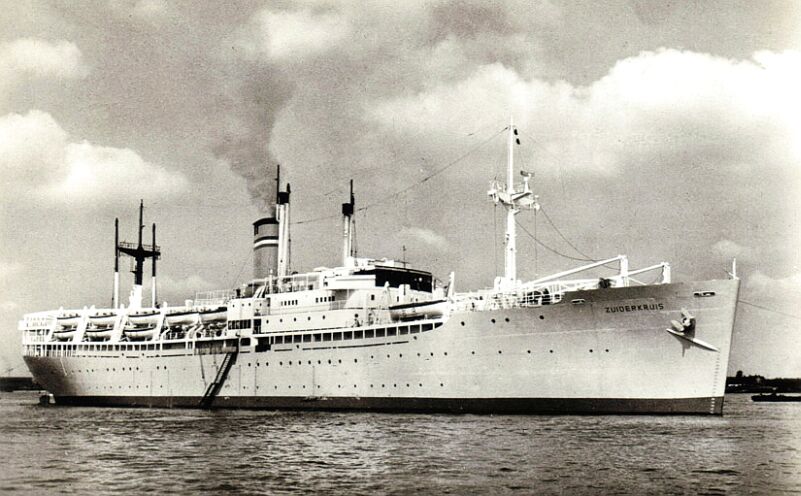 S.S. Zuiderkruis
From the ssmaritime collection
Amazingly when Dr. Wollman and her friend Andy returned to America on one of the sisters of the Groote Beer, the S.S. Zuiderkruis in August they discovered that Dr. Zbigniew, Mushka, Hans and Claire were all on board. Again they played Botticelli each evening, however on this voyage they discovered that the crew (stewards) were Indonesian and not Dutch as it was on the Groote Beer. "Considering that Indonesian stewards are small in stature compared to the young American men down on the lower decks, they frequently took advantage of them by snatching food trays from the crew and generally, it is sad to say, but our American boy's behaved abominably!"
"On this voyage the Atlantic crossing took a long nine and 1/2 days, as the ship hit a severe storm. The people on the top deck did not seem to get seasick, but everyone was tossed about violently in their bunks at night. The kids on the lower decks were extremely ill for a few days until the ship sailed out of the storm. Consequently very few people showed up for meals". Wollman remembers once being allowed out on deck during the storm and she could see the horizon high above the antenna as the ship pitched fiercely.
"Both these were voyages to be remembered for so many reasons!"
Barbara Wollman.
***********************************
Dutch Victory Trio INDEX:
Page One …           The history of these three ships.
Page Two …           Ships – General Photo Album.
Page Three …        Theo Kroon Story - They sailed from Amsterdam to Wellington - September 1956 - Lots of great photos!
Page Four …          Passenger List for the S.S. Groote Beer, Rotterdam, Halifax, New York on January 16, 1957. Provided by passenger Simon de Vente – Two other (S.S. Waterman) passenger lists are also available on THIS page via links provided.
Page Five …           Here is another passenger list, but this time for the S.S. Zuiderkruis sailing from Holland to New Zealand and Australia. She departed on December 9, 1960. It was kindly provided by Gabriel-Bosch.
Page Six …            S.S. Groote Beer Passenger Lists from 1951 to 1962.
Page Six-a  …        S.S. Groote Beer Passenger List for those disembarking at Wellington on September 19, 1951.
Page Seven …        Passenger Dr. Barbara Wollman sailed in 1955 on the S.S. Groote Beer from New York to Rotterdam and returned on the Zuiderkruis.
Page Eight …         Bob ter Haar kindly provided the passenger list of his voyage on the S.S. Zuiderkruis from Amsterdam to Australia, January 16, 1959. He came to Australia with his family.
Page Nine …          This is the story of soldier Frank Lovell who finally returned home, having fought so many battles during WW2 throughout many parts of Europe on the S.S. Costa Rica Victory, (later the Groote Beer) in September 1945. The three parts are by Franks daughter Mary Lovell, by Frank himself in his Dairy, and myself using Mary's notes. This page has countless actual photographs of the Costa Rica Victory, most of which Frank took on board!
Other Passenger lists currently available online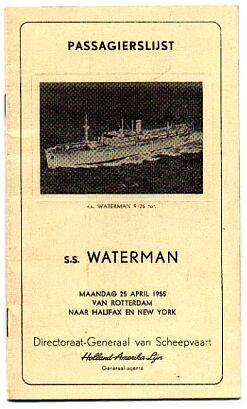 Passenger List dated 25 April, 1955
View it online
http://www.frontiernet.net/~hdebruyn/waterman/passengerlist1.HTM
Also S.S. Waterman departed from Rotterdam on Friday April 1, 1955
http://www.frontiernet.net/~hdebruyn/waterman/passengerlist.HTM
***********************************
 "Blue Water Liners sailing to the distant shores.
I watched them come, I watched them go and I watched them die."
Return to the ssMaritime MAIN INDEX
ssMaritime.com & ssMaritime.net
Where you will discover over 1,355 Classic Liners & the 1914 built MV Doulos Story
The Author has been in Passenger Shipping & the Cruise Industry for over 60 years!
Note: ssmaritime and associated sites are 100% non-commercial and the author seeks no funding or favours of any shape or form, never have and never will!
Photographs on ssmaritime and associate pages are: by the author or from the author's private collection. In addition there are some images that have been provided by Shipping Companies and private photographers or collectors. Credit is given to all contributors. However, there are some photographs provided to me without details regarding the photographer/owner concerned. I hereby invite if owners of these images would be so kind to make them-selves known to me (my email address may be found on www.ssmaritime.com only), in order that due credit may be given.
This notice covers all pages: although, and I have done my best to ensure that all photographs are duly credited and that this notice is displaced on each page, that is, when a page is updated!
ssMaritime is owned & © Copyright by Reuben Goossens - All Rights Reserved