Please Note: Firefox and some iPad's or iPhone's, etc are not suitable
Use Internet Explorer or Google for this page to load perfectly!

Click the logo above to reach the ssMaritime FrontPage for News Updates & "Ship of the Month"
With Reuben Goossens
Maritime Historian, Author, Lecturer
& Cruise'n'Ship Reviewer
Matson Lines
SS Lurline
The ship that became the Chandris Lines …
 

RHMS Ellinis
Part One
Matson Lines ~ SS Lurline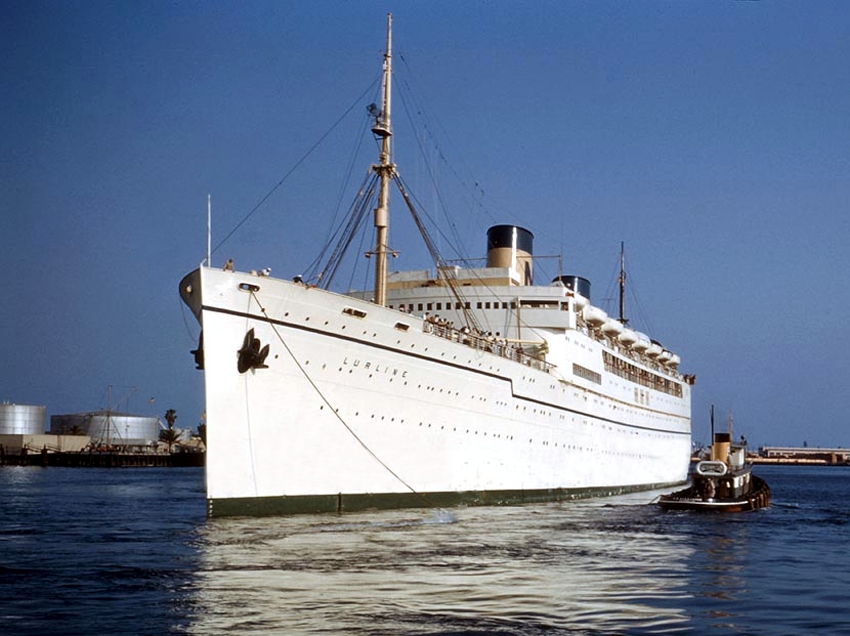 The elegant and striking SS Lurline is seen in Los Angeles late in the 1950's
Matson Lines commenced sailing from San Francisco to Australia, due to the takeover of the Oceanic Steamship Company in larger tonnage. In 1871, a number of smaller ships crossed the pacific, until it was decided to build a fleet of 1928 "Mariposa Class Matson decided to build a trio of liners for the Australian service. This series became known as the "Matson Liners"
1 … Mariposa was launched July 18 1931. In 1954 she became the Homes Line cruise ship Homeric. After a major fire in July 1973 she was declared a total loss and was scrapped in Japan in January 1974.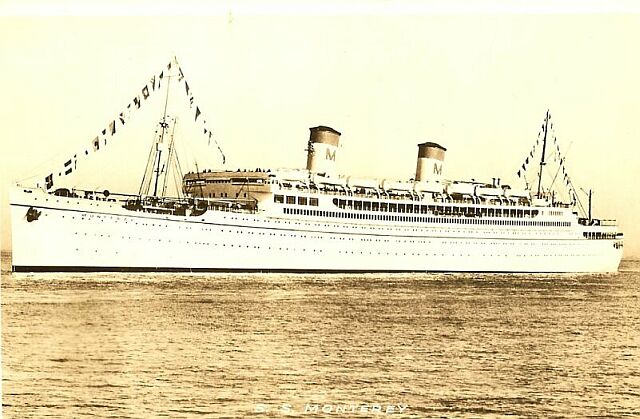 SS Monterey the second liner of the trio
2 … Monterey was also launched in 1931, renamed Matsonia in May 1957, renamed Lurline in 1963. In May 1970, she was sold and became the successful Chandris passenger liner RHMS Britanis. She was sold in 1998, to become the ill-fated Bolofin, which sank 20 October 2000, whilst under tow to the breakers.
3 … Lurline was launched on July 18 1932, and was the only ship to retain her original name until being sold in September 1963 to Chandris Lines to become the subject of this article, RHMS Ellinis.
Dimensions SS Lurline
Built by:

                  

Bethlehem Shipyard at Quincy, Mass, USA.
Tonnage:                  18,163 GRT.
Length:                    192.6 m / 632 ft.
Beam:                      24.2 m / 79.4 ft.
Propulsion:               Geared Turbines - 28,450 SHP – (21,215.16 kW).
Screws:                    Twin screws.
Speed:                     20 knots, max 22.8 knots.
Passengers:              475 First Class.
                               240 Tourist Class.
                               First Class only from 1957.
Crew:                       359.
On January 15, 1933, SS Lurline departed New York City at noon for her maiden voyage, a "Circle Pacific Cruise," bound for Auckland New Zealand, Sydney Australia and Asia. She sailed, via Havana, the Panama Canal, Los Angeles, San Francisco, Hawaii and a host of Pacific Island ports. Having visited Australia and Papua New Guinea she then visited many Asian ports before returning to the San Francisco on April 24, 1933. After her Circle Pacific voyage, she, together with her older sister the Malolo, was placed on the shorter, but popular San Francisco to Honolulu service.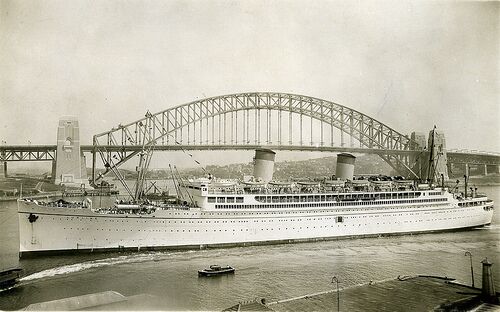 The Lurline arriving in Sydney on her maiden visit in 1933
I hereby wish to thank Mr. Todd M. Curro for providing the correct scheduling information regarding her maiden voyage as his Grandfather Robert worked on her during this voyage and retained a copy of the schedule in his photo book as seen below.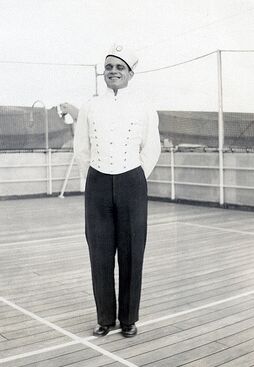 Todd Curro's Grandfather - Robert Pitts served aboard the Lurline in 1933
Provided by Todd M. Curro

Schedule provided by Todd M. Curro
SS Lurline the Trooper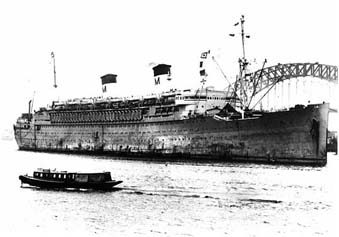 The troopship SS Lurline departing Sydney
In 1932, the last of four elegant liners designed by William Francis Gibbs and built for the Matson Lines' Pacific services was launched: the SS Lurline christened on 12 July 1932 in Quincy, Massachusetts by Lurline Matson Roth (who had also christened her father's 1908 steamship Lurline as a young woman of 18). On 12 January 1933, the SS Lurline left New York City bound for San Francisco via the Panama Canal on her maiden voyage, thence to Sydney and the South Seas, returning to San Francisco on 24 April 1933. She then served on the express San Francisco to Honolulu service with her older sister with whom she shared appearance, the Malolo.
Famous aviator Amelia Earhart rode Lurline from Los Angeles to Honolulu with her Lockheed Vega airplane secured on deck during December 22–27, 1934. The voyage prepared her for the record-breaking Honolulu-to-Oakland solo flight she made in January 1935.
Lurline was half-way from Honolulu to San Francisco on 7 December 1941, when the Japanese bombed Pearl Harbour. She made her destination safely, travelling at maximum speed, and soon returned to Hawaii with her Matson sisters Mariposa and Monterey in a convoy laden with troops and supplies.
She spent the war providing similar services, often voyaging to Australia, and once transported Australian Prime Minister John Curtin to America to confer with President Roosevelt.
On December 7, 1941, whilst Lurline was sailing from Honolulu to San Francisco, the Japanese air force bombed Pearl Harbour. She set her engines at maximum speed for San Francisco. However, on December in a convoy with her two of her sisters she returned to Hawaii laden with troops and much needed supplies.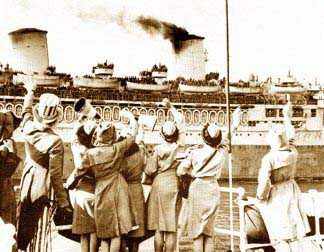 The troops set sail
She proudly continued her wartime service, including visits to Australia. She even transported Prime Minister (Australian) John Curtin to America to meet with President Roosevelt.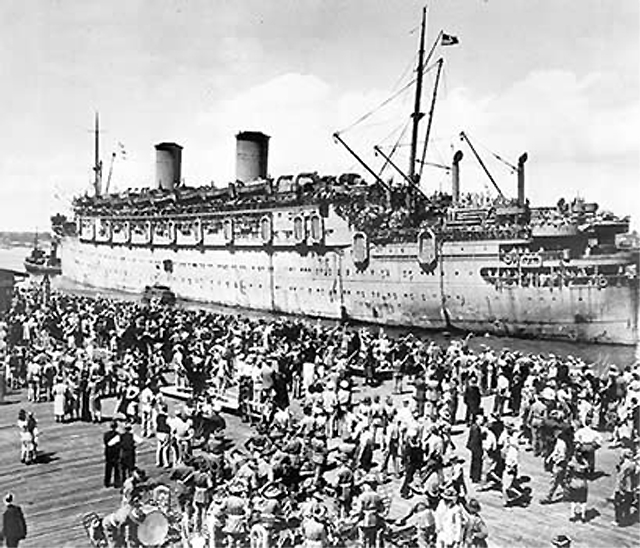 She is seen here departing Australia on September 11, 1945 with 3,500 servicemen, as well as 500 war-brides and 200 children
Mid 1946 the Lurline was returned to Matson Lines, and underwent and extensive refit at Alameda, during 1947/48. Estimated costs were close to $US20 million, but all her fittings had been stripped prior to the war and these had to be restored, as well as extensive changes needed to be made to her exterior, making her look more like an up to dad liner!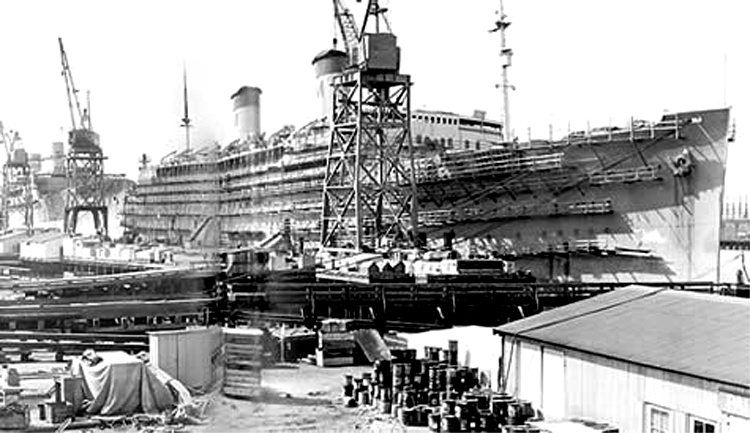 The Lurline is seen here undergoing her refit returning her to her glorious luxury Liner days!
On April 15, 1948, the Lurline resumed her San Francisco to Honolulu service. As per prior the war, the Lurline was christened the Pacific Ocean's top liner.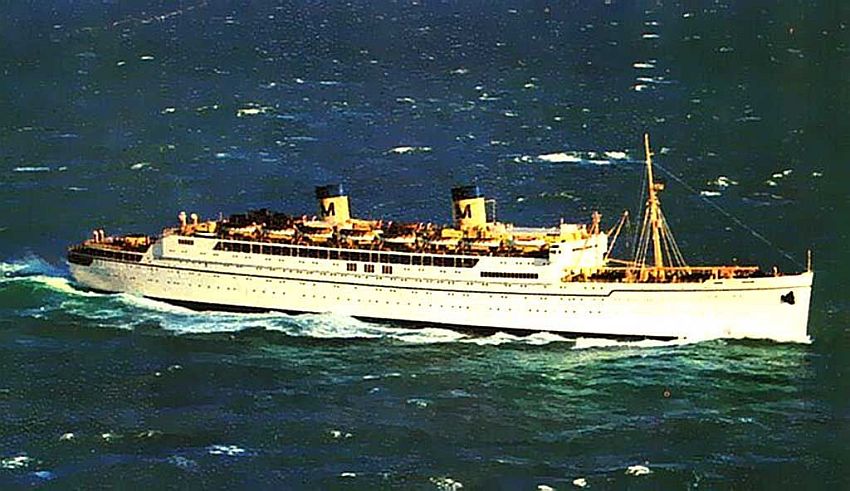 SS Lurline's first post refit voyage to Honolulu, April 1948
The Honolulu Advertiser ran the following advertisement as seen below on April 21, 1948, "Welcoming Hawaii's Own … SS Lurline Home".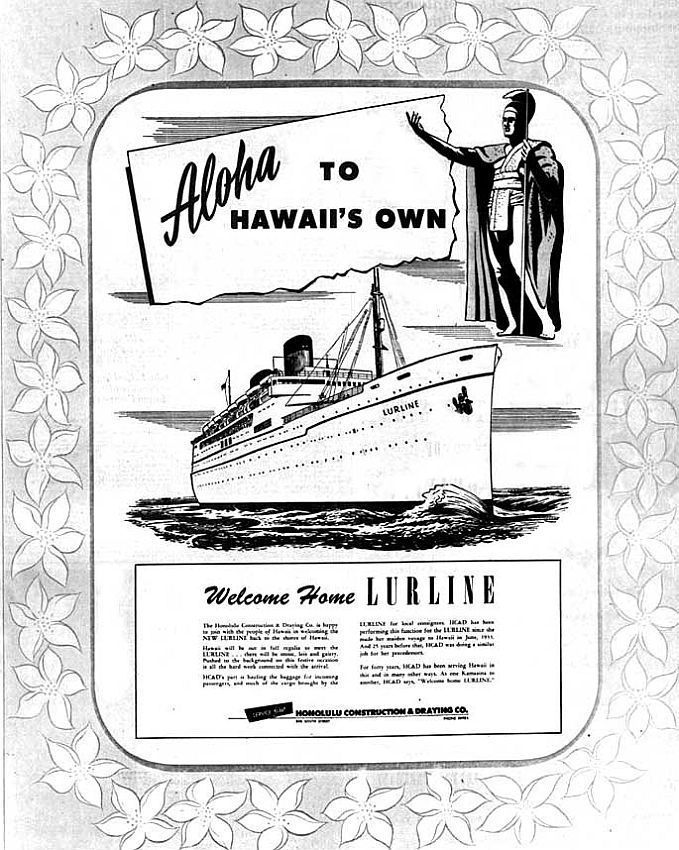 During her career, the greatly loved Lurline was also used as a film set for the "Ma and Pa Kettle, Go to Hawaii" movie.
In 1950, due to incredible success of Laconia, it was decided to also refit her sister ship, SS Monterey, which was renamed the Matsonia. From this point on both liners would now only provided only First Class services between the States and Hawaii. Although, from time to time Pacific cruises would be undertaken.
But sadly just like all the grat liners and cruise ships worldwide, a new enemy had arrived on the scene and that was airlines operating new and faster aircraft, and these became serious competition and it soon caused passenger loadings to fall. The first to be laid up was the SS Matsonia in September 1962, and the Lurline remained on the service as she was the much loved ship. The name alone was a bvanner of luxury and comfort, thus it remained something very special, and no airline could provide that!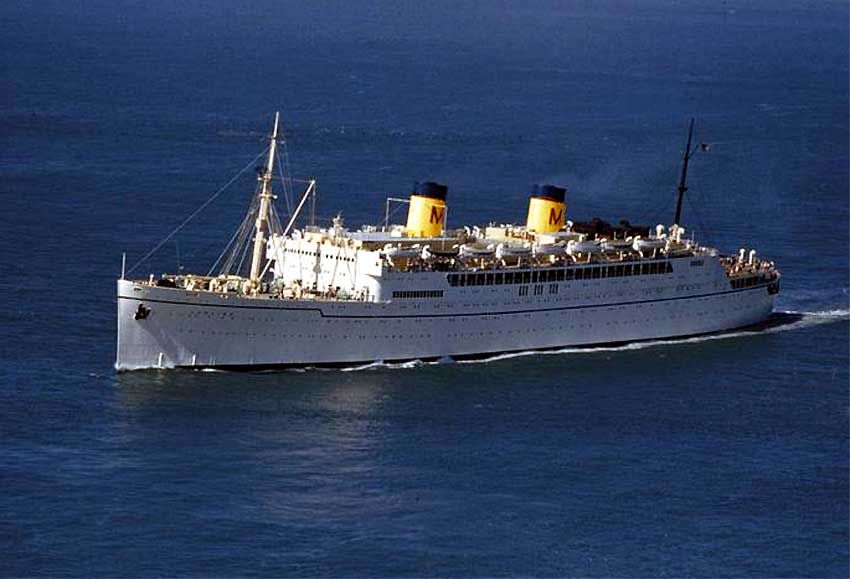 The Lurline is seen late in 1962 and thus is close to her final days with Matson Lines
But no matter how much the great Lurline was loved, it was on February 3, 1963 she arrived in Los Angeles with engine problems, mostly with her port turbines. Having checked on repairing her, this proved to be far too excessive, considering her 30 years of age. Thus Matson decided it was best to place her on the market and hope to find a buyer for her.
With the decline of the greatly beloved Lurline, Matson decided to take the Matsonia out of the mothballs, and characteristically they changed her name to "Lurline", for they knew well that this name was so much loved, she would continue to do well, as she is loved by so many!
The original SS Lurline was sold to the Greek Chandris Lines just a little later in 1963. and she became the "fabulous" RHMS Ellinis.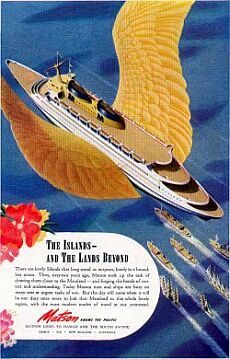 Matson Line advertisement
Go to Page Two for the RHMS Ellinis
********************************
Use the Back button on your browser or Close the Page to return to the previous page
or go to our INDEX
ssMaritime.com & ssMaritime.net
Where the ships of the past make history & the 1914 built MV Doulos Story
Also visit my …
"Save The Classic Liners Campaign"
Photographs on ssmaritime and its associate pages are by the author or from the author's private collection; be they taken by him, from his private collection such as postcards, images purchased or photographs copied from brochures from his collection. In addition there are some images that have been provided by Shipping Companies and private photographers or collectors. Credit is given to all contributors.
However, there are some photographs that have been provided to me by supporters of ssmaritime but without details regarding the photographer or /owner concerned. Therefore, I hereby invite owners of these images to be so kind as to make them-selves known to me per email at info@ssmaritime.com, in order that due credit may be given to them.
This notice covers all pages, although, and I have done my best to ensure that all photographs are duly credited and that this notice is displaced on each page, that is, when a page is updated!
ssMaritime is owned and © Copyright - Reuben Goossens - All Rights Reserved