Canadian Pacific RMS Empress of Australia, ex SS Tirpitz 1912
Please Note: Firefox & Google Chrome other search engines may not suitable
Please use Internet Explorer - Google for this page to load perfectly!

Click the logo above to reach the ssMaritime Main Page
With Reuben Goossens
Maritime Historian, Author, Cruise'n'Ship Reviewer and Maritime Lecturer
Please Note: All ssMaritime and other related maritime & cruise sites are 100% non-commercial and privately owned. Be assured that I am NOT associated with any shipping or cruise companies or travel or cruise agencies, etc! Although having been in the passenger shipping industry since 1960, I am now retired but having completed features on well over 700 Classic Liners and Cargo-Passengers Ships, I trust these will continue to provide you the classic ship enthusiast the information you are seeking, but above all a great deal of pleasure!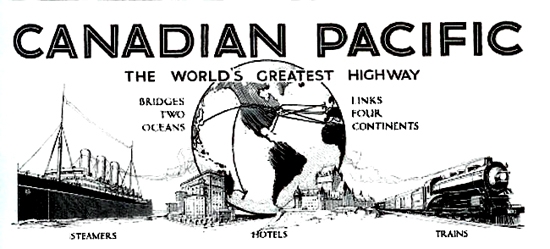 RMS Empress of Australia

Ex: Empress of China 2, Tirpitz & Admiral von Tirpitz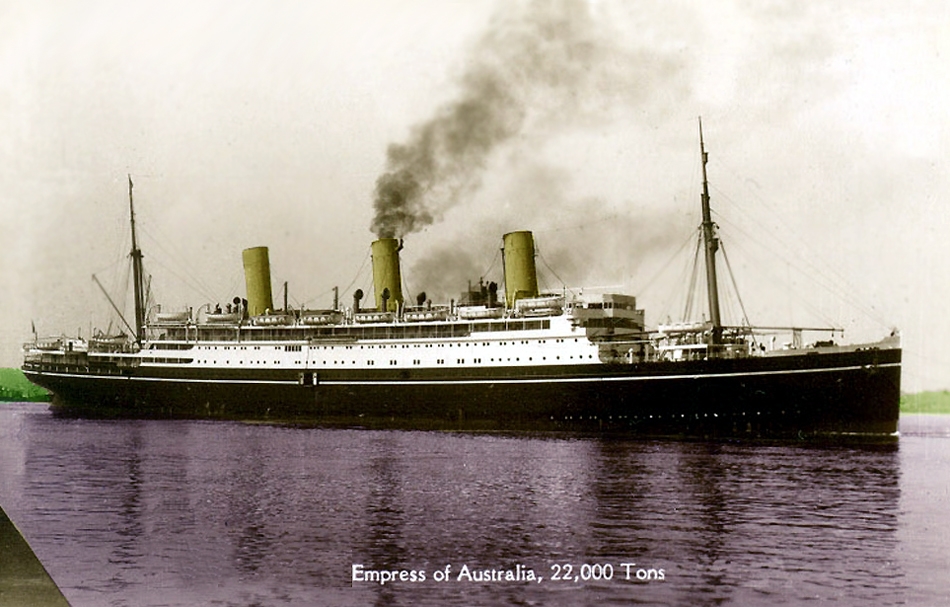 Introduction - pre
Canadian Pacific
- Hamburg-Amerika Line:
The North German Lloyd, a rival of the Hamburg-Amerika Line, placed Germany's very first four-funnel liner, the 15,000-ton SS Kaiser Wilhelm der Grosse in service in 1897. This 15,000-ton liner became well established on the Atlantic, and she even gained the Blue Riband for Germany, being a most notable prize for the fastest voyage from Europe to America, which had been previously dominated by the British.
However, the Hamburg-Amerika Line also had a four-funnelled ship on order, the 16,000-ton SS Deutschland, which entered service in 1900. Amazingly, she was also able to capture the Blue Riband from the SS Kaiser Wilhelm der Grosse, having crossed the Atlantic Ocean in just over five days. However, due to her speed the Deutschland continually suffered from on going engine problems, and high speeds, also meant reduced passenger comfort, due to vibrations in the ship's structure. Therefore, just ten years after entering service she was withdrawn from Trans-Atlantic service in 1910 and she was renamed and became a cruise ship sailing at lower speeds.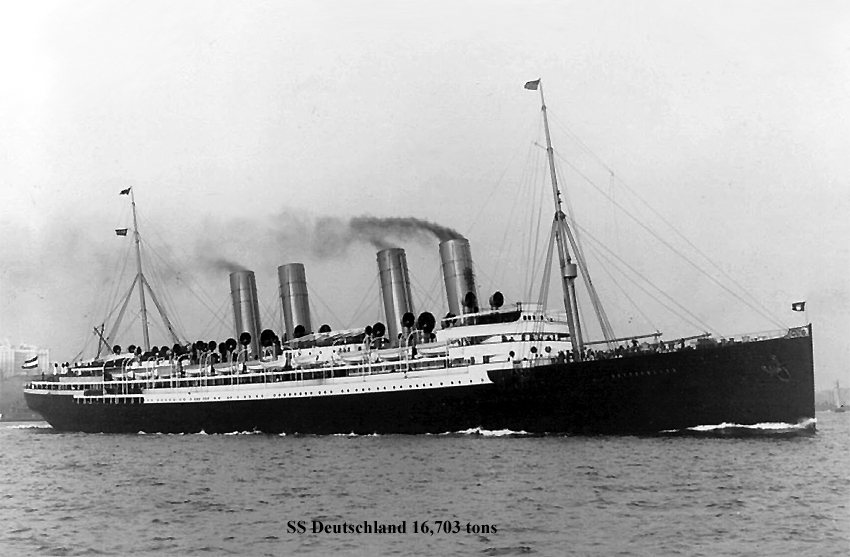 Postcard of the SS Deutschland 1900-1910, later renamed: SS Viktoria Luise 1910-1921, SS Hansa 1921-1925
Managing Director Mr. Albert Ballin decided that the Hamburg-Amerika Line would follow White Star Lines ideology, deciding that speed was not an issue as it had been, but instead aim for their new ship's size and luxury! These plans truly became reality in 1913, when the first of three new huge liners were built and entered service, being the SS Imperator. At more than 52,117 tons, this ship exceeded even the White Star Line's Olympic-Class liners in size. Suddenly Germany had become a powerhouse when it came to shipping on the high seas!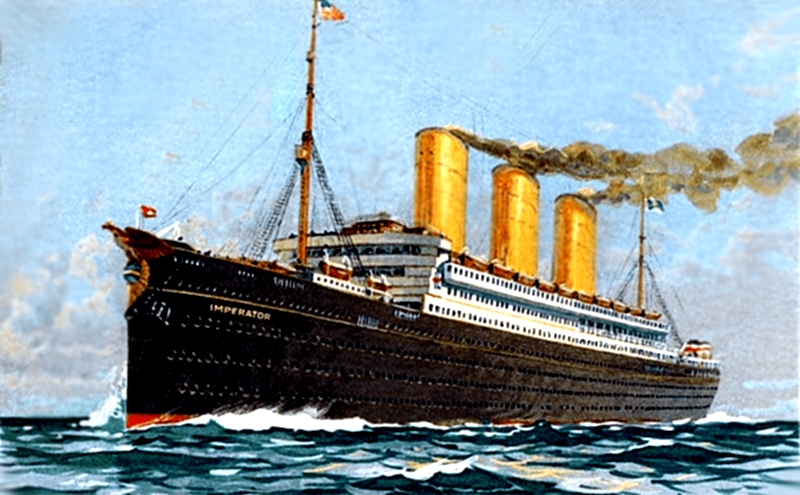 The Hamburg America Line grandest liner, the SS Imperator
On her bow we can see the grandiose "Bow Eagle" of the Hapag Company
Admiral von Tirpitz – Tirpitz:
However, the SS Imperator and the two sister ships that followed were intended for the prestigious North Atlantic service. But to cover new ground, Albert Ballin also commissioned several smaller liners for other trades this included the South America service. One ship ordered for this service was built by the Stettin-based Vulkan-shipyards. She was intended to serve as the company's lead ship on the South American service, and upon her launching on December 20, 1913, she was oddly named; Admiral von Tirpitz. The name choice was rather strange for the following reasons; although Admiral von Tirpitz was well known having done a great deal to improve the German Naval Fleet, yet he was a man who had obvious anti-British sentiments and he freely let everyone know it. Mr. Albert Ballin obviously did not share his ideology at all, and he feared that a war between Germany and Britain could well be at hand. This would have been the reason why Albert Ballin decided to rename the ship's in February 1914 to just "Tirpitz."
It was planned for the Tirpitz after her completion to commence a service between Germany and the west coast of South America, sailing via the Panama Canal. The SS Tirpitz was to accommodate emigrants in Steerage utilising basic accommodations, however in First Class she was to be fitted out with super luxurious facilities throughout.
Her machinery was of a brand new kind, for she was fitted with steam turbines, but the problem with these were that they could only turn in one direction, thus this made it necessary for a special reversed turbine to going astern. In addition to this, the quality of her gear-cutting equipment was low and created a big problem for the ship's engineers. To solve the problems with the gears, the company had decided to adopt a new German invention - hydraulic transformers instead of conventional mechanical gearing. This type of machinery had already been placed on the company's new 2,163 ton Ferry, the SS Konigin Luise, and it was hoped that it would perform equally well on the SS Tirpitz.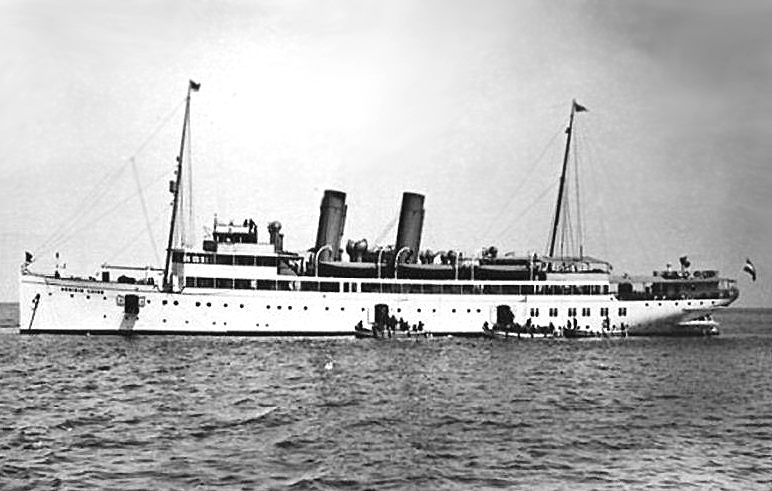 The Hamburg-Amerika Line ferry the SS Konigin Luise
Where-as the new SS Tirpitz had a luxurious interior with state of the art machinery, and generally for the time she was a relatively attractive looking three-funnelled liner, but certainly not one of the greatest we have ever seen, for British liners were generally beautifully proportioned and the new German ships just were not in their league!
As it appears, Albert Ballin's fears of a war were indeed justified, for in 1914 war became a horrible reality, with the shots in Sarajevo, the First World War suddenly became a fact. In Stettin, work was still being undertaken on the Tirpitz, when the news of the war arrived, however all work was immediately halted when it became clear that all shipyards were told to commence urgently with new Naval orders for the war effort!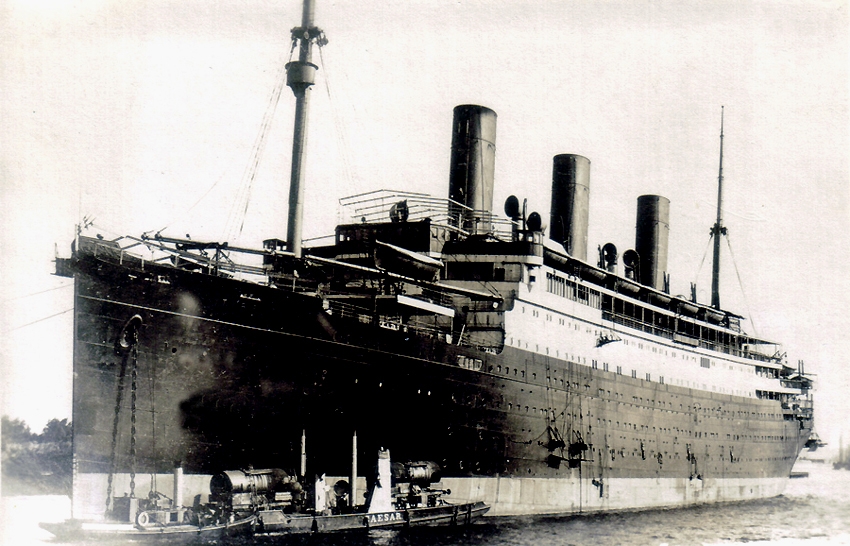 Fitting out the Tirpitz at the Vulcan AG shipyard, Stettin
Amazingly later in 1914, the Germans were very confident of victory, and work now recommenced to turn the Tirpitz into a Royal Yacht, as Kaiser, Wilhelm II decided that he would use her to lead in and greet the defeated British fleet. Instead, the SS Tirpitz never became what the Kaiser had planned on at all, in fact far from it!
In 1918, Great Britain and her allies stood victorious over the Kaiser's Germany. The next year, the relevant Nations converged at the Castle of Versailles to dictate the peace agreements to the Germans, and it was absolutely - "ruthless" to say the least! Germany was blamed for the war, and she was sentenced to give up all her ships as reparations for the allied ships that had been sunk during the war. This of course included the Tirpitz, which was still lying at the Vulkan shipyards at Stettin.
HMT Tirpitz brief World War I Service:
In March of 1919, the Tirpitz was officially handed over to the Great Britain and having been requisitioned by the Royal Navy, and she was to be completed in Germany at the Vulcan Shipyards. Whilst work was underway, this was delayed due to a fire breaking out onboard. Thankfully, the fire was quickly extinguished and work soon recommenced, and work was continued and they completed the now six-year old ship. The HMT Tirpitz was completed in November 1920.
Having been completed in November 1920, the HMT Tirpitz departed Hamburg and headed for Hull where she rapidly was made to operate as a troopship, and she soon commenced on her first task with her new owners with a loading of Garrison troop replacements, whist the ship was placed under the P&O Line management. The ship continued as a trooper until 1921.
Under Canadian Pacific Ownership:
In 1921 "Canadian Pacific Railway," purchased two German-built ships from the War Reparations Commission, first being the 1908 built 17,083 GRT SS Prinz Friedrich Wilhelm, which was obtained on May 13, 1921, followed by the SS Tirpitz, which was purchased on July 25, 1921. Tirpitz (although still with her previous name remaining on her bow, had been renamed the "Empress of China 2") was returned to "Vulcan AG shipyard" in Germany where she was comprehensively refitted to become a Canadian Pacific Liner.
She is seen here at the Vulcan AG shipyards in 1921
Seen at her stern is the SS Prinz Friedrich Wilhelm during their refit
Upon completion she headed for the John Brown ship Yards at Clydebank, Scotland where the final work on her was completed. Upon her completion in May 1922 the RMS Empress of China 2, headed off for her deep-sea trials, which were successful, and she headed for Glasgow. The liner was now ready to set sail. But first on June 2, she was again renamed as the Empress of Australia.
The SS Prinz Friedrich Wilhelm had also been renamed the "Empress of China," but whilst the Tirpitz was number "2" she was number "3", however she was then renamed Empress of India 2. but in 1923 she was again renamed, RMS Montlaurier.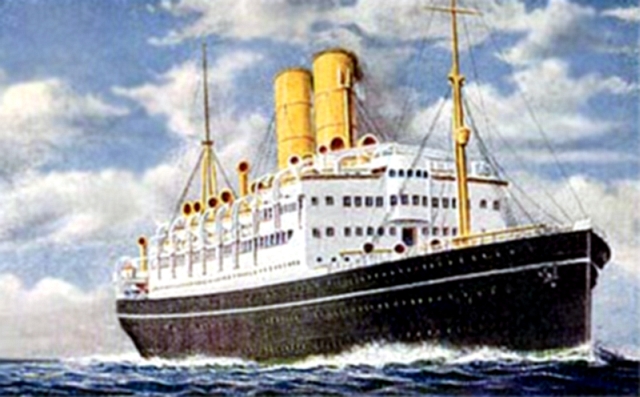 Postcard of the RMS Montlaurier
Due to the refit, the Empress of Australia had increased her tonnage somewhat, from her original 21,498 GRT to 21,861 GRT (Gross Registered Tons). The Dining Room was in the French Regency style and there was a spacious Main Lounge designed in the Empire style, which included a huge central dance floor.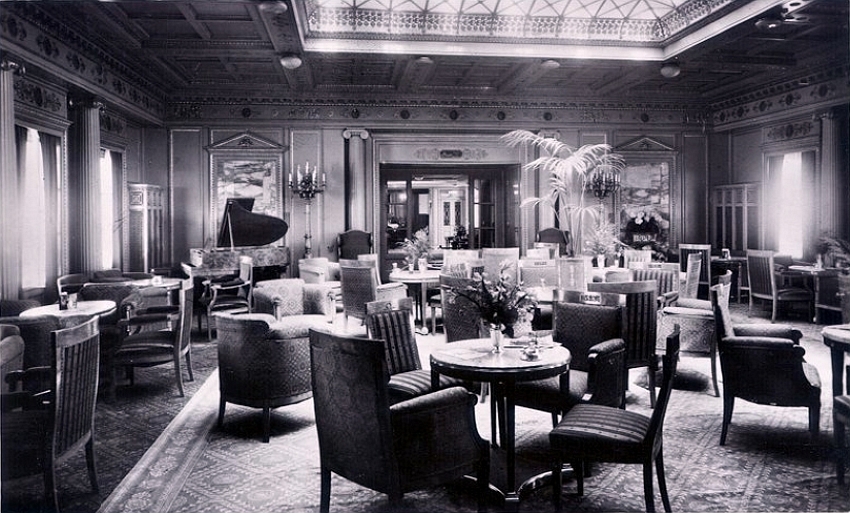 A postcard of the First Class Lounge
The Writing Room was fitted in the style of Louis XVI, with tinted walls and mahogany furniture, as was the Smoking Room which had oak panelled walls. There was also an indoor swimming pool and fully equipped gymnasium. PS: Many interior photographs will be shown on Page two!
This new looking and very smart looking liner departed Glasgow on June 16, 1922 for her delivery voyage to Vancouver, which would be her homeport, therefore she crossed the Atlantic and transited the Panama Canal and sailed northward along the west coast of the USA. Here she was made ready for her first commercial service from Vancouver to Asia.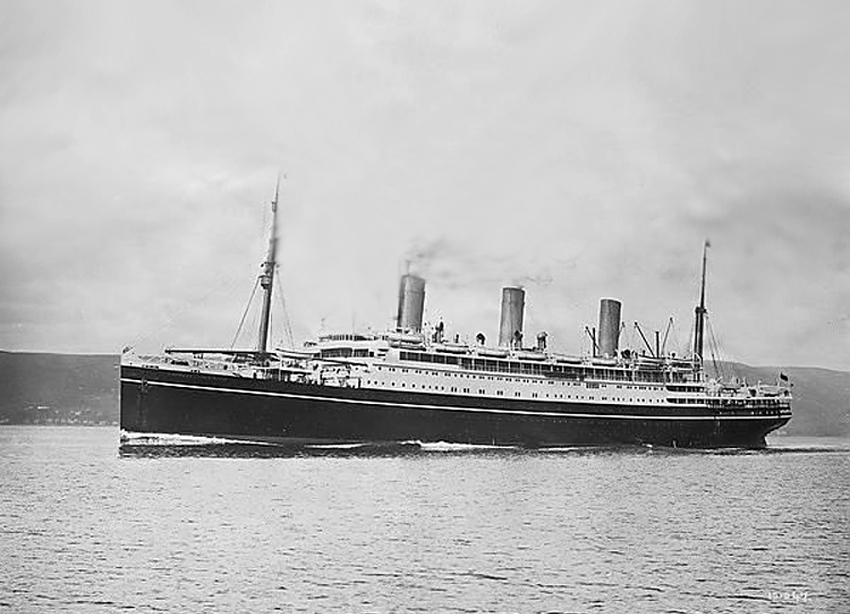 RMS Empress of Australia is seen departing Vancouver
Her regular schedule for the next five years would be as follows; sailing from Vancouver to Yokohama, Kobe, Nagasaki, Shanghai, Hong Kong & Manila, and return. The Trans-Pacific voyage to Asia had proved to be a popular service for Canadian pacific, however not all things went well during her maiden voyage!
It was on July 28, 1922 that the RMS Empress of Australia departed for her maiden voyage, bound for Asia. However sadly, it was not long before the ship's engineers noted that something was seriously wrong with her engines. First of all the boilers were terribly inefficiently to the point the ship was unable to attain her service speed of 16.5 knots, thus she arrived at her first port behind schedule. However worse still, one of her turbines was completely disabled from the commencement of her second voyage, forcing her to return to port. As the Empress of Australia required repairs to be undertaken.
Although her repaired boilers did allow the Empress of Australia's workings, but the ship remained a disappointment for Canadian Pacific for operations on these long Trans-Pacific voyages.
On August 18, 1923 the RMS Empress of Australia had departed Hong Kong, and she was heading out to sea. However, a typhoon had suddenly hit, and she sailed through the rough seas. The Empress passed the 1,738 GRT cargo vessel, the S.S. Loong Sang, which had already partially, sank, but considering that the Empress was powerless to be able to assist as all hands had already left the vessel she was able to continue her voyage.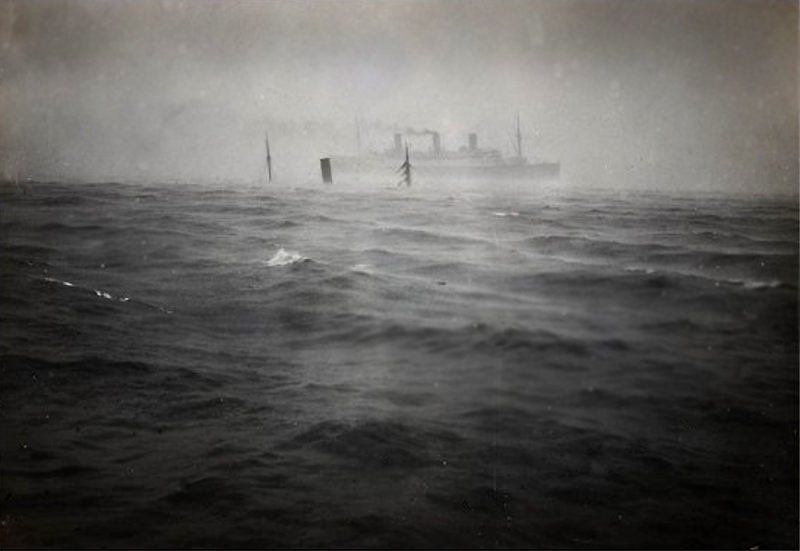 Here wee the sinking SS Loong Sang and the Empress of Australia heading out to sea
However somehow, Canadian Pacific decided to keep the Empress of Australia on her current service. But the most dramatic event of her career was yet to come on September 1, 1923.
From near disaster to great distinction:
On Saturday September 1, 1923 the RMS Empress of Australia was in Yokohama, Japan, and at 11.55 am she was getting ready to slowly pull away from the docks, where several hundred family and friends were on the docks, holding streamers from departing passengers lining the railings, and shouting their farewells and joyfully waving goodbye. As tugs were about to ease the ship away from the dock, suddenly without warning the 21,861 ton liner was flung violently from side to side in the water. Around her, the earth trembled as several great and violent shocks occurred and sections of wharf collapsed under the feet of the panic-stricken crowd. The land and remaining dock structure suddenly began to roll in wave like motion up to six to eight feet high. In only a few minutes the worst of the shocks were over, but after-shocks, some of which were quite heavy, continued for a long time. In addition, winds had risen up to 70 mph (110 km/h). And from the city a great horrible rumbling sound could be heard as hundreds of buildings were collapsing making it became a city that in a very short space of time had rubble everywhere.
This was the "Great Kanto Earthquake of 1923," that devastated Tokyo as well as Yokohama together with the entire the Kanto region of central Honshu. This was one of the worst earthquake disasters in recorded history.
Obviously the Empress of Australia was in a very dangerous position, as she was crowded with passengers, and she was still alongside the remains of what was the dock, and there was a freighter moored close behind her, thus she could not clear without the aid of tugs. Meantime, Lyons Maru that was moored to the east had lost her cable and she drifted across the harbour, and she ended up colliding with the Empress at her stern. Having done that, she then hit amidships, shattering a lighter loaded with lumber that had drifted alongside. This small vessel thankfully acted as a buffer between the two large ships and prevented serious damage. Tugs had disappeared in the confusion, the docks were now on fire, and it was spreading rapidly. All available crew as well as passengers were put to work hosing down the ship to put out sparks and embers that were falling on her timber decks. Ropes and ladders were lowered over the side in order that people who were trapped on the dock could climb aboard and escape the fires. Captain Robinson then tried to push the freighter moored astern with his ship, to allow enough room to manoeuvre away from the flaming docks. The Empress was able to carefully move the nearby freighter, the Steel Navigator; and then the Empress slowly pulled away. However, as the Empress of Australia moved forward, her port propeller fouled in the anchor cable of the freighter. Fortunately the liner was now about 60 feet (18 m) away from the flames, and the winds had shifted, blowing the fires away from the ship.
By 3.00 pm the fires had died down and the wind dropped off to a light breeze; even though the ship was immobile but she was safe for the moment. In the distance huge fires could be seen in the city. The ship's lifeboats were lowered and manned by members of the crew and passenger volunteers, who formed rescue parties to help those ashore, working throughout the night.
The next morning, the ship was again in danger from a large mass of burning oil that was moving across the harbour. The Empress could not steer because of her damaged propeller, but she was able to avoid the oil fire long enough to get assistance from the Dutch tanker, the Iris. Her captain agreed to tow the bow of Empress of Australia around, and she was then relocated to a safer anchorage. When taking a count on Sunday, there were over 2,000 refugees onboard.
On Monday September 3, the RMS Empress of Canada arrived whilst on her regular schedule; and she was able to provide Empress of Australia with further stores. Then Empress of Canada took onboard a large number of refugees and transported them to Kobe, where the Japanese government had set up a special relief center.
On Tuesday September 4, the Imperial Japanese Navy's second Fuso-class battleship Yamashiro arrived in Yokohama harbour. Considering the Empress of Australia had been unable to proceed, because she had a fouled propeller. Arrangements were made for a diver from Yamashiro to inspect the damage and effect repairs. The cable was unwound and the machinery was tested, and it was found that thankfully the fouled propeller suffered no actual damage.
RMS Empress of Australia was now free to depart Yokohama, but at the request of the British Consul, she remained as long as she was needed for continued relief work. Each morning, for the next several days, the Empress of Australia re-entered the devastated harbour and sent her boats ashore manned by a combination of crew, local residents, and passenger volunteers. Refugees were brought aboard, transferred from the ship to other ships, or taken to Kobe. To aid the victims, the ship's officers and most of the passengers donated everything they could spare.
The Empress of Australia finally departed Yokohama on September 12, 1923 and returned to her regular duties; but her services to Japan were not forgotten. Captain Samuel Robinson received numerous awards in recognition of his actions, including the CBE, and award of the "Lloyds Silver Medal." Also, a group of passengers and refugees who were aboard during the disaster commissioned a bronze tablet and presented it to the ship in recognition of the relief efforts.
1927/28 Re-Engineering Programme:
With the RMS Empress of Australia having returned to Canada from Asia after her twenty-first voyage, as well as being her final Pacific voyage, CPL decided that after almost five years of operations sailing across the Pacific it was vital to do something regarding those engines, which continued to performing badly. Thus in August 1926 she arrived at the Fairfield Shipbuilding and Engineering Company, at Govan for a massive re-engineering programme. The work would take a good ten months as well as just over cost over half a million pounds sterling to complete. Work included the installation of new Parson's Turbine-Engines. However, the re-arrangement of her boilers was a very difficult affair and as Canadian Pacific Lines had no desire to damage any of the ship's superb interiors, her old boilers had to be cut up in pieces in the boiler rooms, and then they would be carried from the ship piece by piece. Her new boilers came onboard in a very different manner, for they were lowered into her forward hold, and then slid into position on special skids through the opened up bulkheads.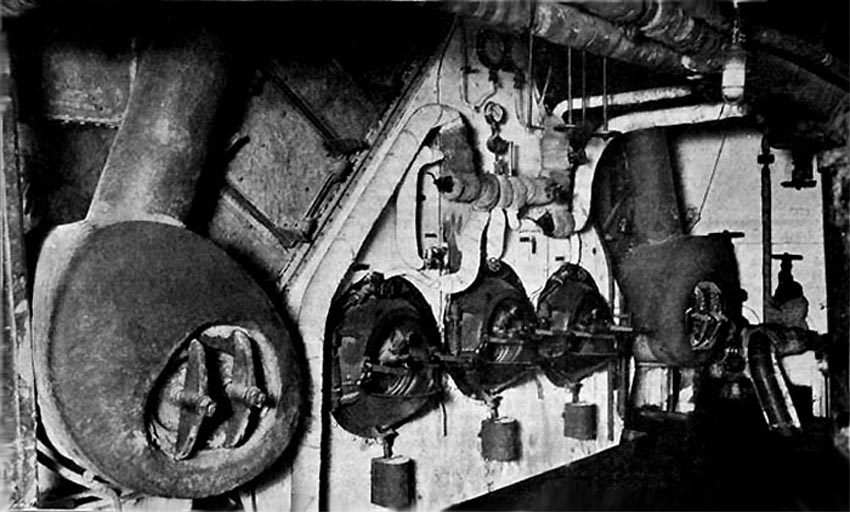 Here we see one of the 1922 installed oil-fired boilers
With the work s completed she was virtually like a new ship, as she was now driven by Parsons Turbines with six double-ended boilers. During her sea trials the Empress of Australia made a good 20.34 knots and required 50 tons a day less oil then she did previously.
The ship continued operating as a three-class liner, providing accommodations for 1,180 passengers in luxurious appointments, as she had been fitted out to the highest of specifications, featuring the finest of décor in each class.
First Voyage in 1927:
Canadian Pacific decided to transfer the Empress of Australia to Atlantic duties, and on June 25, 1927 she departed from Southampton on her first voyage bound for Quebec City, with the Prince of Wales (Edward III) and Prince George (the Duke of Kent) onboard. The Royal Princes, as well as Prime Minister Stanley Baldwin were bound for Diamond Jubilee celebrations in Canada. On this new Atlantic service, she was teamed with two other ships, the RMS Empress of Scotland (built as the SS Kaiserin Auguste Victoria) and the RMS Empress of France.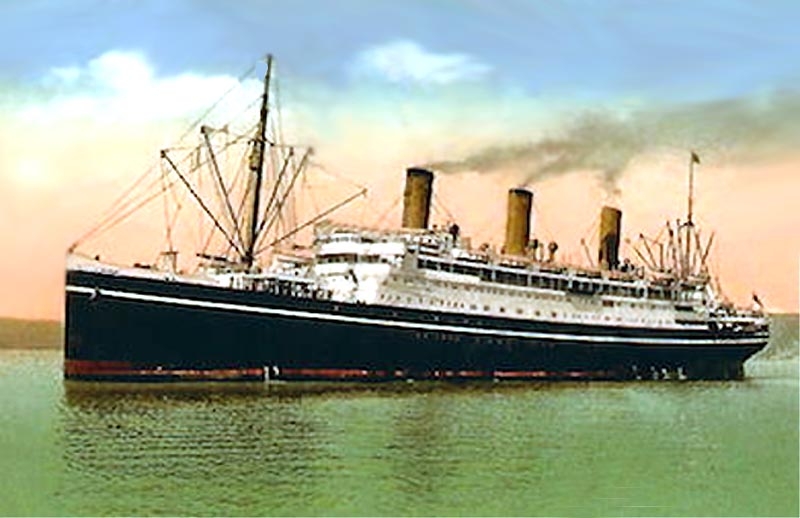 A rare colour photograph of the Empress of Australia
Luxury Cruise Ship:
As from December 1928 the Empress of Australia would become a luxury all First class cruise ship operating with a maximum of 370 very fortunate guests, as she commenced to operate an annual four-month around the world-cruise. After she returned from her first cruise and sometime in 1929  she was painted all white with a thin blue band around her hull, making her look more like a glamorous cruise ship!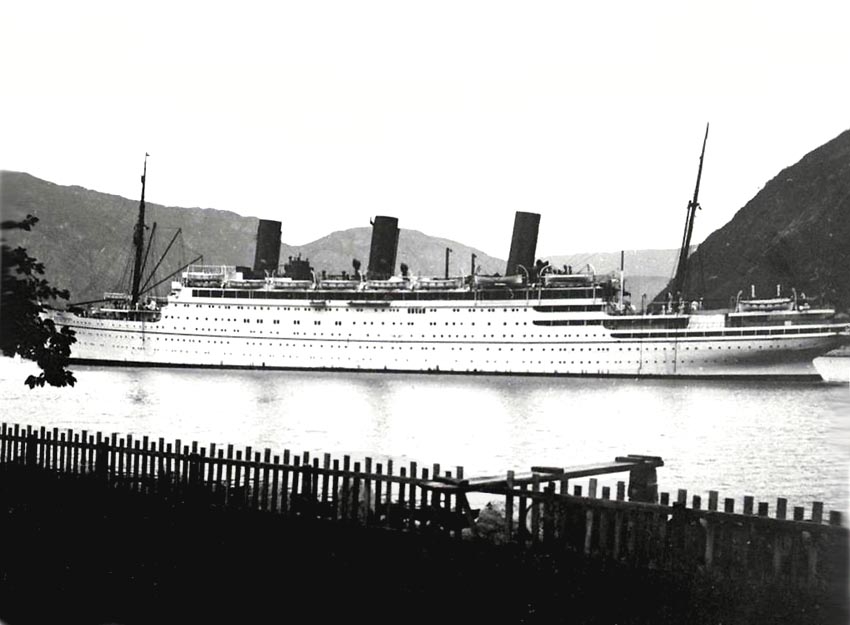 She is seen here during one of her winter cruises
The ship was now being promoted as being "The Dream Ship of Cruises."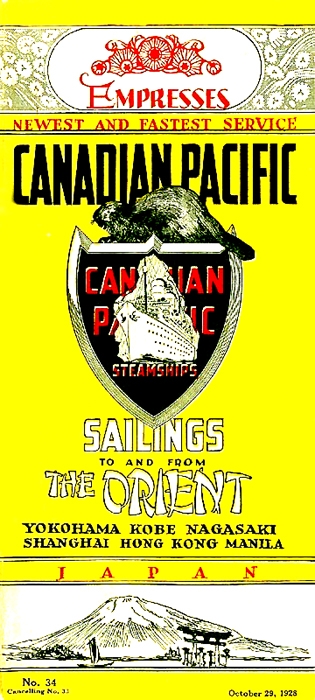 A 1929 CPL Trans-Pacific schedule of the now all white Empresses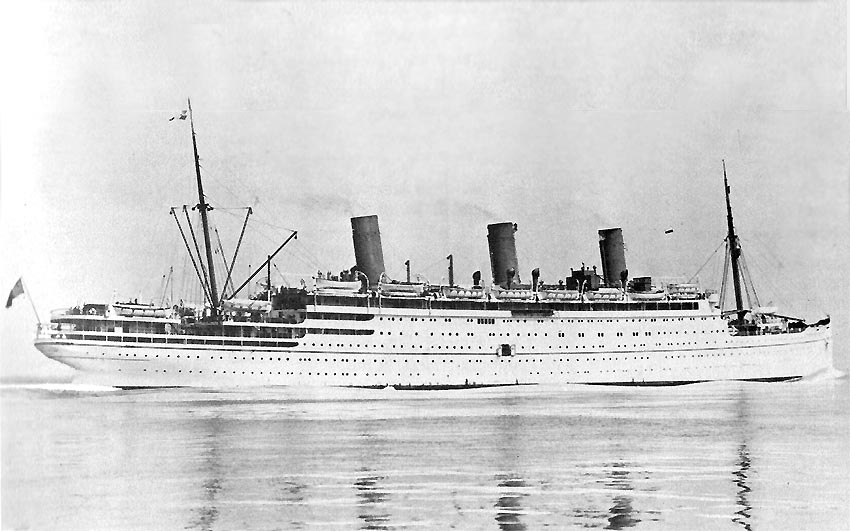 The Empress of Australia the cruise ship, with an all white hull and a blue ribbon
Canadian pacific Lines actually printed a comprehensive book for each passenger, which contains not only a full itinerary, but also complete details of each port of call as well as a full description of every land excursion, which were included in the cruise fare, some excursions, such in India an overland tour, was 8 days in length.
The author has a copy of a high quality hard cover book, entitled; "The World is Round" for the 1929 cruise, which was printed for each passenger and it contains 104 pages, filled with information, her complete schedule in the most intricate detail, the ships facilities, ports of call, and countless photographs! It includes the cruise fares for the 137-day voyage, which included all land tours, and some of these excursions were overland road and rail tours lasting up to 8 days long. One of these was as follows: A Tour of the Holy Land (today's Israel), including Haifa, Jerusalem, Bethlehem, Mt of Olives, rail to Cairo visiting all highlights including the Pyramids and the Cairo Museum, etc, a River Nile cruise, and passengers rejoin the ship at the port of Suez. Fares commenced at US$2,000. There was also a full description of the interiors of the ship with countless photographs of many, as well as ports of call. For your enjoyment, I have placed the many of the details contained in my copy of the 1929 cruise book with photographs on Page Two of this feature!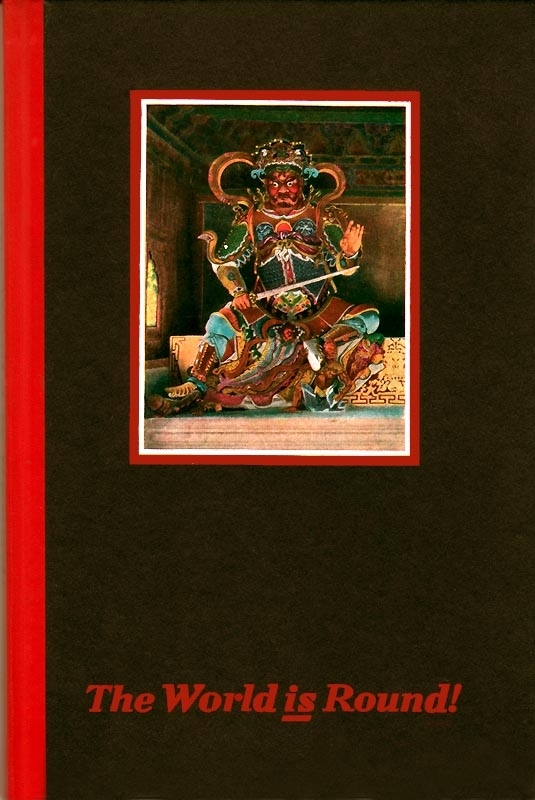 Cover of the 1929 passenger World Cruise Book, which can be found on Page Two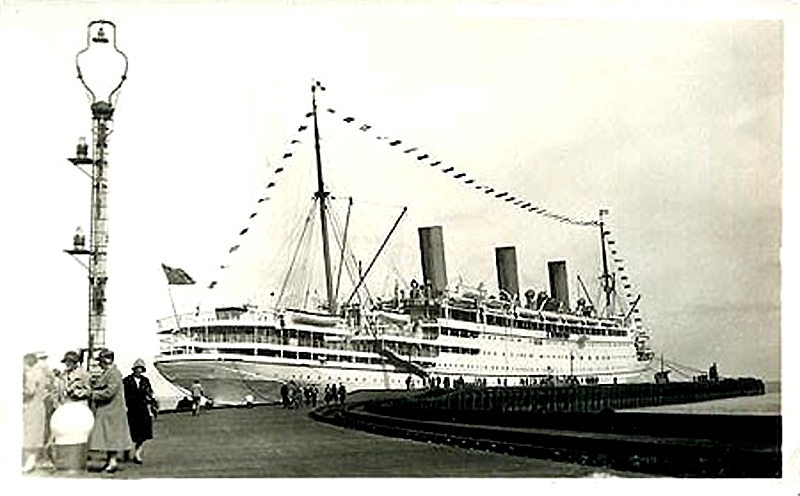 A postcard of the Empress of Australia seen during her 1929/30 world cruise
Changes and a Royal Yacht:
After the Empress of France was withdrawn from the service, RMS Empress of Australia and the RMS Empress of Scotland operated a two-ship service, with both now having white hulls with dark blue ribbon and green boot topping. In 1938, the Empress of Australia went to Harland & Wolff in Southampton for an overhaul, and she returned for the 1939 season.
After three Atlantic crossings Empress of Australia was chosen by HRH King George VI and Queen Elizabeth as their Royal Yacht for their official tour of Canada. The now prefixed HMY (His Majesty Yacht) Empress of Australia sailed from Portsmouth on May 6, 1939 and she arrived at Quebec on May 17, two days late being due to dense fog on the Atlantic. His Majesty and the Queen used the RMS Empress of Britain for the return voyage to England in June.
Empress of Australia continued on the Quebec service until the outbreak of World War II, when she was requisitioned for her second wartime duties and operate as a troopship.
World War II service:
The Empress of Australia was sent to Southampton, where she was to be converted into a troopship, painted in that traditional drab camouflage wartime grey, as well as being fitted with three-inch (76 mm) guns and other weaponry, and given a capacity of transporting some 5,000 service men. Amazingly, she would remain in this role for the next 13 years.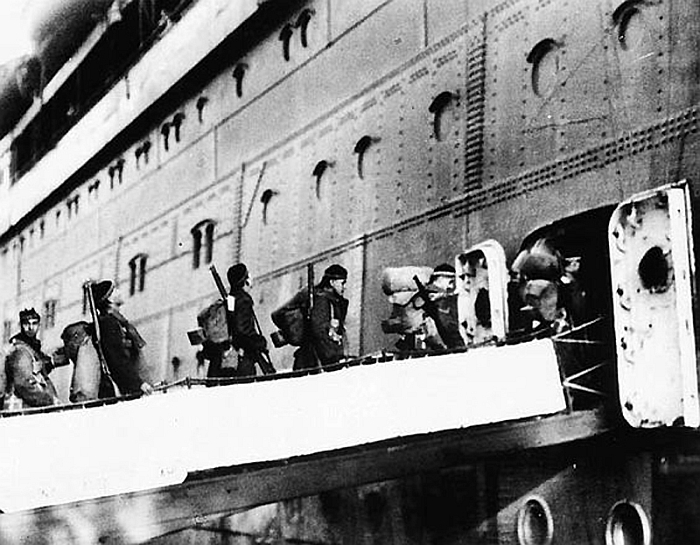 Canadian Infantrymen of The Toronto Scottish Regiment embarking in HMT Empress of Australia en route to Britain on December 7, 1939
Photograph by & is ©Michael Guilbeault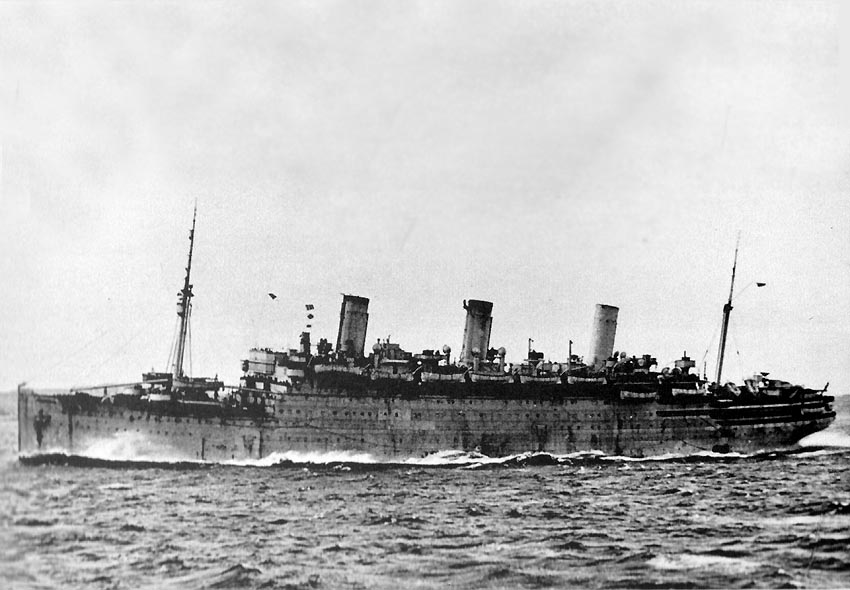 HMT Empress of Australia is seen at full speed ahead at sea
Photograph obtained from the "Imperial War Museums" & are © IWM (A 5176) Photograph obtained from the "Imperial War Museums" & are © IWM (A 5176)
On September 28, 1939 the HMT Empress of Australia departed on her first wartime voyage bound to Ceylon and Bombay India and return. She sailed across the Atlantic to Halifax, where she joined a large convoy carrying Canadian soldiers bound for Europe.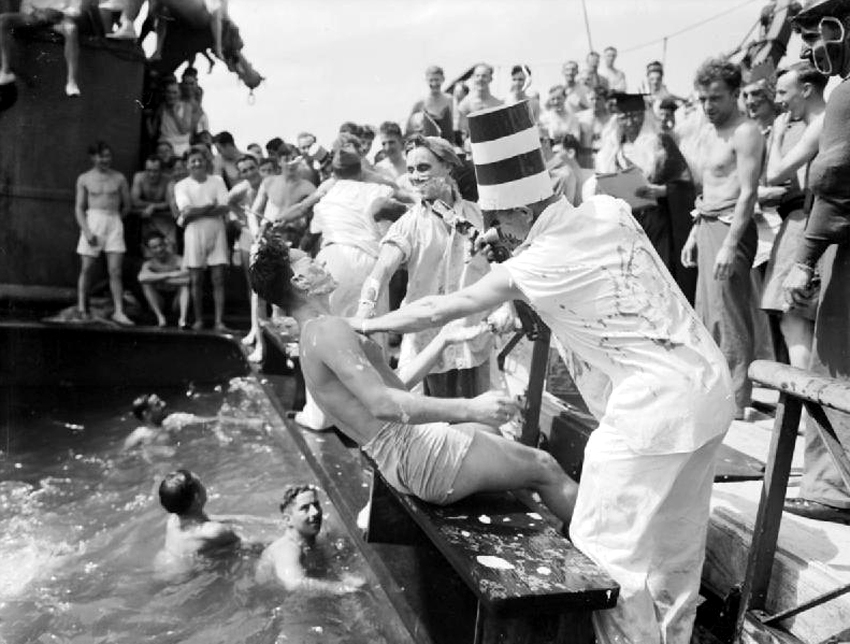 A Crossing the Line Ceremony onboard HMT Empress of Australia, during an African troop convoy in August 1941
Photograph obtained from the "Imperial War Museums" & are © IWM (A 5176)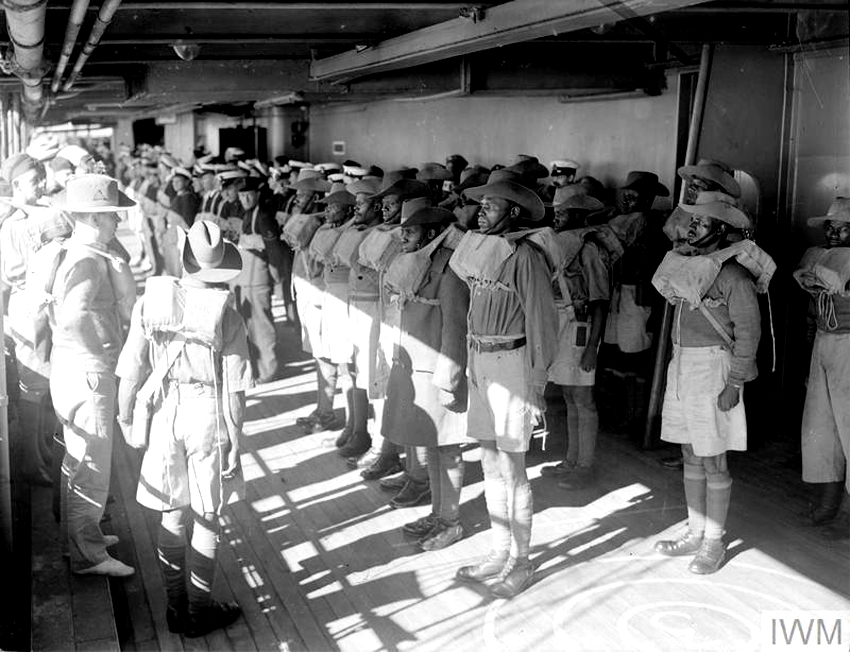 A contingent of the Kings Royal African Rifles are seen during boat drill
Photograph obtained from the "Imperial War Museums" & are © IWM (A 5090)
Throughout the war Empress of Australia was very fortunate. In 1941, it was widely reported that she had been torpedoed off the coast of Africa, but soon the news came that "she survived a brush with disaster." However, she was damaged when she was holed by the Orient Line's SS Ormonde during the North African campaign in January 1943.
HMT Empress of Australia's final official wartime voyage was from Hong Kong and Singapore filled with ex-prisoners of war and internees all being homeward bound!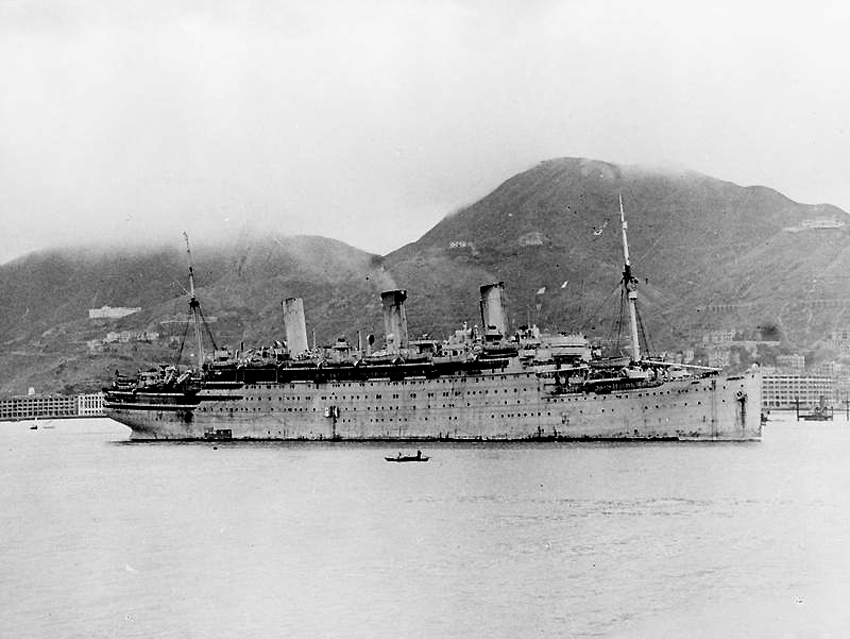 Photograph obtained from the "Imperial War Museums" & are © IWM (A 30749)
Photograph above: The HMT Empress of Australia, was the first transport ship to arrive in Hong Kong in September 1945 after the re-occupation, and she is seen here steaming into Victoria Harbour, with a good 3,000 RAF personnel aboard, who will take up duties in the Crown Colony
Post-war Service to Her Final Days:
After World War II, the Empress of Australia continued operating as a troopship around the world, including later carrying military personnel to Pusan during the Korean War.
In 1946 whilst anchoring off Liverpool, her anchor somehow was tangled with the cargo vessel MS Debrett, which led to the two ships colliding and some seven tugs were needed to separate them. In December 1949, she was re-fitted for peacetime trooping, offering accommodations for service men and women, that were more like proper passenger cabins; however the Empress was never repainted with a white, or a black hull again, and livery remained in that drab wartime grey.
In 1947, she ferried home the last British soldiers from Bombay India, just after they symbolically passed through the "Gateway of India" after the Indian independence. With this final act well over two Centuries of British Imperial Rule in India finally came to an end!
The End for the Empress:
The HMT Empress of Australia continued to carry further troops until an overhaul in Liverpool in 1951. But when she completed her 70th.trooping voyage, the now aging Empress of Australia arrived at Liverpool for the final time on April 29, 1952 which was also her 234th.voyage. She was soon sold for scrap to the British Iron & Steel Corporation (BISCO). Once she was de-stored, the Empress of Australia sailed for Inverkeithing, Scotland where she was broken up.
It is worth remembering, that from all the ships that had resulted from Mr. Ballin's grandiose plans well over forty years ago, the Empress of Australia 1, ex Empress of China 2, Tirpitz, launched as the Admiral von Tirpitz, was the one ship that was the longest survivor of them all!
Concluding Notes:

When Empress of Australia was scrapped in 1952, the famed bronze tablet that commemorated the amazing work done by the ship, crew and passengers in Yokohama Japan, was removed from the ship and it was presented to Captain Robinson, who was at that time aged 82. The presentation was done in a special ceremony in Vancouver. However, today, with the Captain having long passed away, I do not know of its current location? But I hope it is in a Maritime Museum in Canada!

In Addition, her magnificent oak carved panelling from the smoking room was installed in the '"Ships Room" in the Visitor Centre of the "Glenfarclas Distillery" at Ballindalloch on Speyside when it was built in 1973.

Specifications

: Including details after her refits in 1922 & 1926.

Built by:                 Vulcan AG shipyard in Stettin, Germany.

Yard:                      333.

Owner & Registry:    1913-1919 Hamburg America Line - Germany.

.                            1920-1921 P&O Line - United Kingdom.

.                            1921-1952 Canadian Pacific - Canada.

Launched:               December 20, 1913.

Maiden Voyage:       December 1, 1919.

Tonnage:                21,498 GRT - 32,800 Displacement as built.

.                            21,861 GRT after rebuilding in 1922.

Length:                   187.45m - 615ft.

Beam:                    22.9m – 75.1ft.

Engines:                 2 steam turbines with Fottinger Hydraulic Gearing Steam Ship, 16,000 HP, as built.

.                            2 oil fired Parson's turbines, 20,440 HP, after her refit in 1926.    

Boilers:                  6 double-ended boilers, 1926.

Propellers:              Twin Screws.

Speed:                   16.5 knots service speed, 17 knots max, as built.

.                            19 knots service speed, 20.3 knots max, 1926.

Accommodations:     370 First, 190 Second, 415 Third Class & 1,000 Steerage, as built.

.                            400 First, 150 Tourist & 635 Third Class, 1922.

.                            400 First, 150 Tourist & 630 Third Class, 1927.

.                            387 First, 394 Tourist & 358 Third Class, 1933.

Officers & crew:       500, as built.

.                            520, 1922.

Remembering a Great Liner, Troop and Cruise Ship

ENTER - Page Two: TSS Empress of Australia "The Dream Ship of Cruises"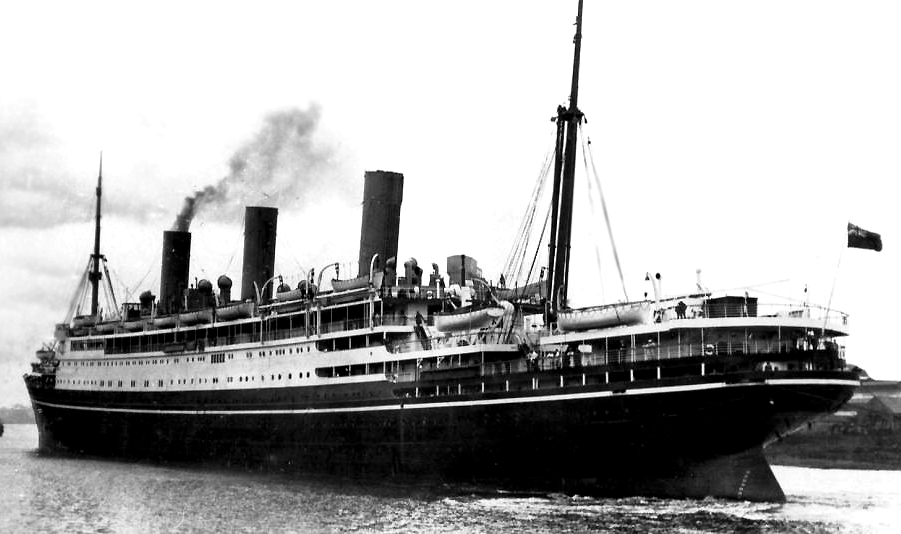 The magnificent RMS Empress of Australia, which gave 32 years of

service including her first 2 years operating as the Troopship HMT Tirpitz

"Blue Water Liners sailing to the distant shores.
I watched them come, I watched them go and I watched them die."

************************

ENTER OUR ssMaritime Main INDEX

Where you will discover over 700 Classic Passenger & Passenger-Cargo Liners!

ssMaritime.com & ssMaritime.net

Where the ships of the past make history & the 1914 built MV Doulos Story

Photographs on ssmaritime and associate pages are by the author or from the author's private collection. In addition there are some images that have been provided by Shipping Companies and private photographers or collectors. Credit is given to all contributors. However, there are some photographs provided to me without details regarding the photographer/owner concerned. I hereby invite if owners of these images would be so kind to make them-selves known to me (my email address may be found only on http://www.ssmaritime.com), in order that due credit may be given.

This notice covers all pages, although, and I have done my best to ensure that all photographs are duly credited and that this notice is displayed on each page, that is, when a page is updated!

ssMaritime

is owned and © Copyright by Reuben Goossens - All Rights Reserved