Please Note: Firefox and some other search engines are not suitable – Use "Internet Explorer" for this page to load perfectly!

Click the logo above to reach the ssMaritime FrontPage for News Updates & "Ship of the Month"
With Reuben Goossens
Maritime Historian, Cruise'n'Ship Reviewer & Author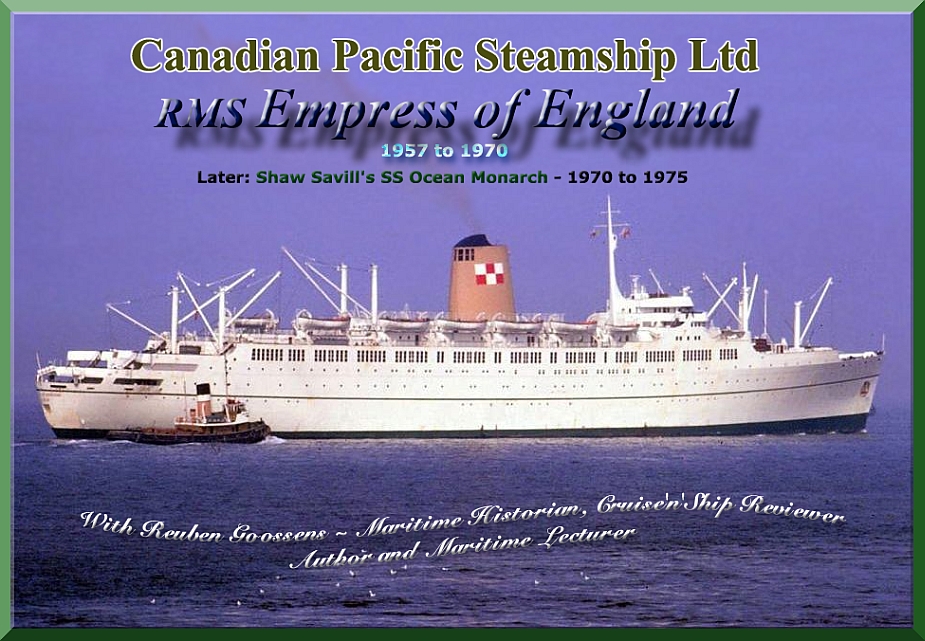 Page One
Please Note: Page One will cover this fine Canadian Pacific liner, the RMS Empress of England, whilst Pages Two and Three will cover her last five years as the Shaw Savill liner and cruise ship, the SS Ocean Monarch!
Introduction:
The Canadian Pacific Line had already built the elegant and sleek looking RMS Empress of Britain, which had been built by Fairfield Ship Building in Glasgow in 1955. The first of the series was to be followed by a sister ship named RMS Empress of England but she would be built by Vickers-Armstrong in Newcastle in Yard 155.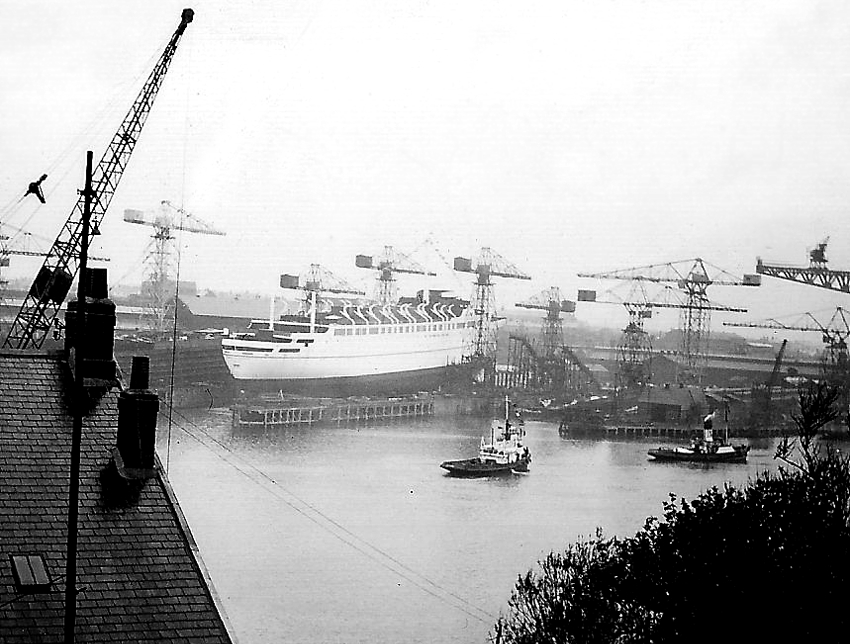 The Empress seen on the stocks at Vickers-Armstrong, but ready to be launched
She was launched by Lady Eden, the wife of the Prime Minister, the Hon, Mr. Anthony Eden on May 9, 1956. Then speaking after the launch, Lady Eden said: "This must be a day of satisfaction for Canadian Pacific. War brought the almost complete annihilation of the Empress class of ships, and I believe it is true that no other line suffered as heavily as yours. We in Britain will never forget the brave part your ships played in the dark years. They brought your (Canadian) soldiers to these shores and they helped to keep this Island supplied. They made resistance possible."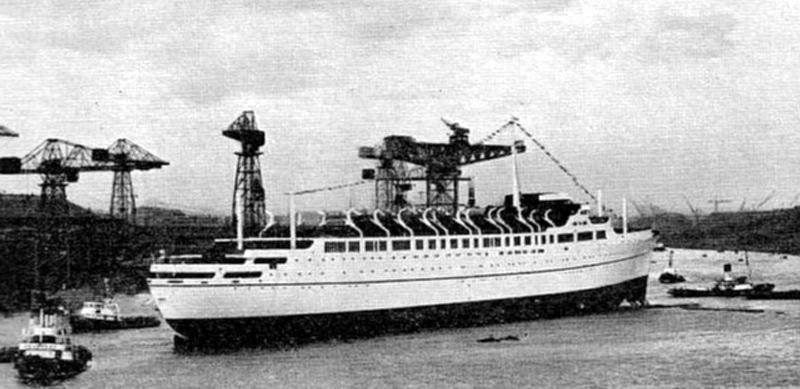 Here we see the newly launched ship on her way to the fit-out berth
The gleaming white RMS Empress of England departed on her maiden voyage, under the command of Captain C. L. de H. Bell on April 18, 1957 as he took her out of Liverpool bound for Montreal. The dock had been packed with well-wishers for the ship was just 4 persons short of a full complement of passengers onboard, with a good 158 in First Class and 900 Tourist Class passengers.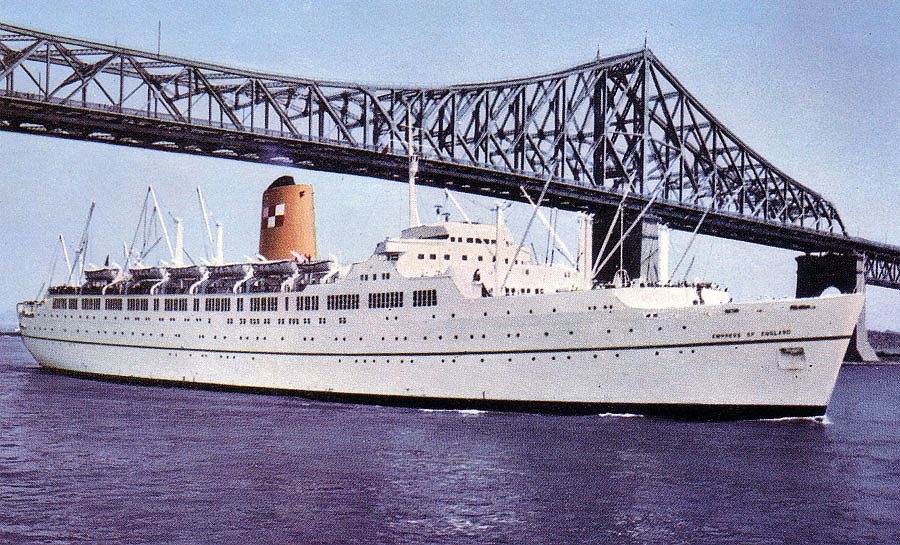 Her maiden arrival to Montreal on April 25, 1957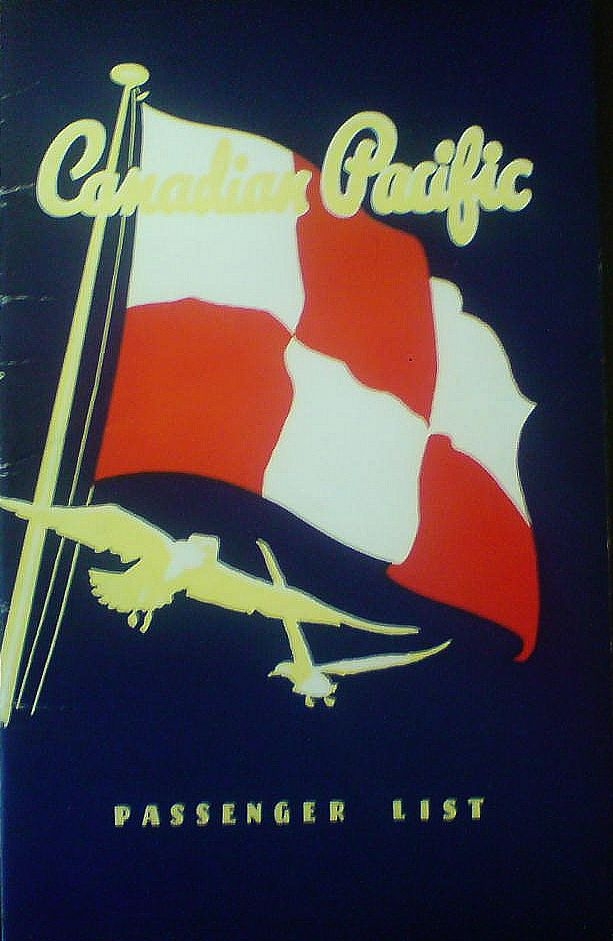 Above & below: The cover and the introduction page to the passenger list of the Maiden Voyage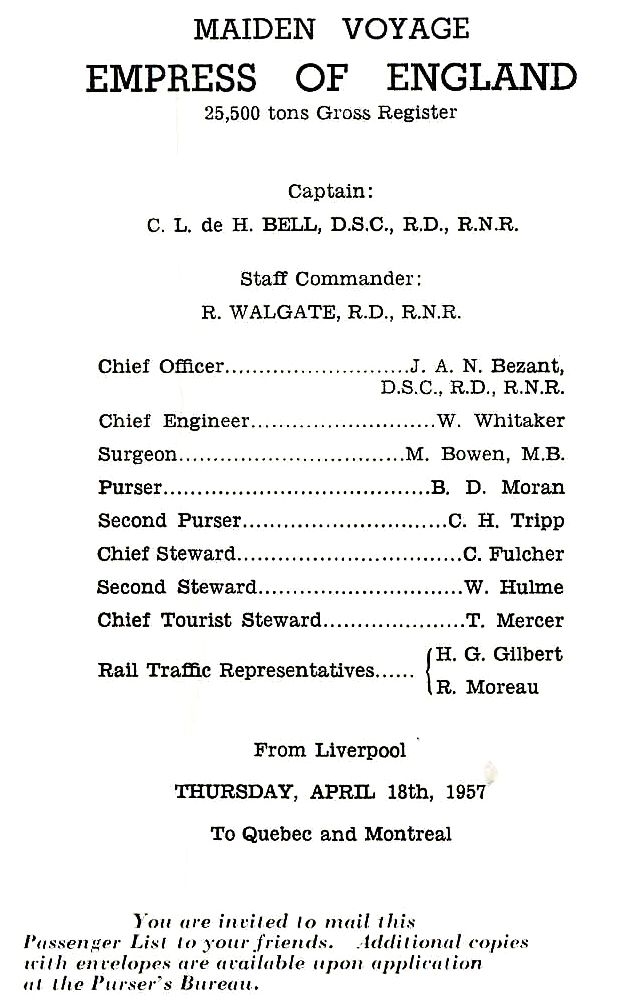 A Note regarding differences between these two sister ships: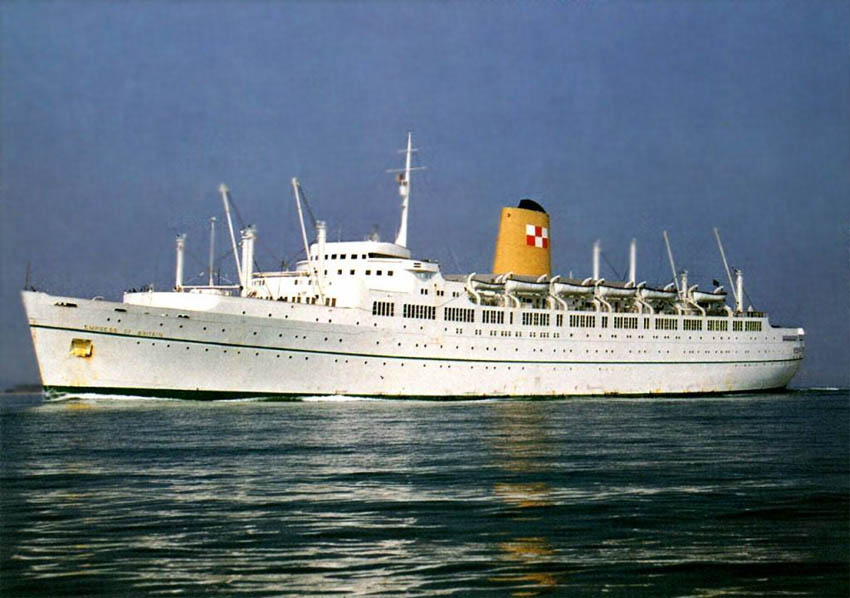 RMS Empress of Britain
Although her earlier sister looked practically identical, it was still relatively easy to separate the two ships from each other, for looking at Boat Deck forward and both the Empress of Britain and England had windows located there just below the Bridge. The Empress of Britain had them arranged as follows, 2 + 2 + 2, whereas on the Empress of England they were spaced 2 + 1 + 2.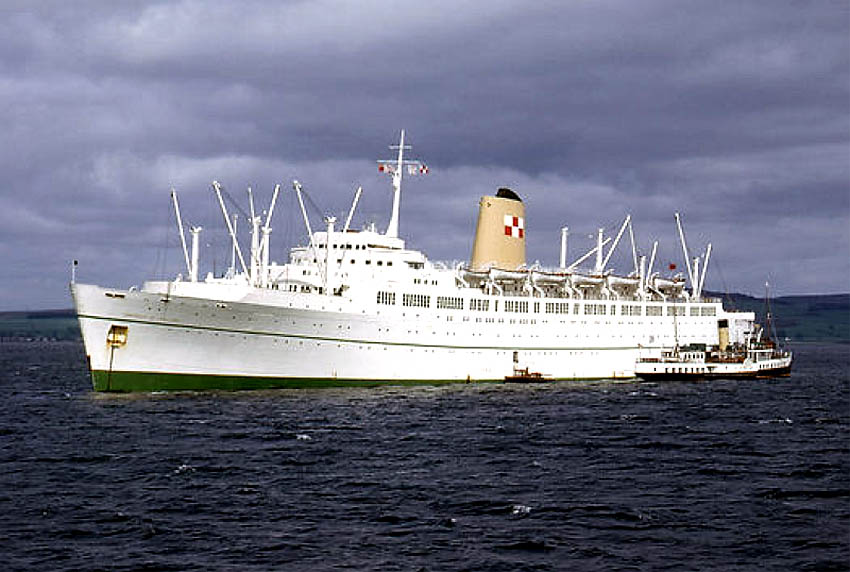 RMS Empress of England
Empress of Canada, the third ship and much newer ship was built in 1960 the 27,284 ton RMS Empress of Canada was launched and she commenced her maiden voyage to Canada fro Liverpool on April 24, 1961. However, she was far a more modern and distinct looking liner, having a distinctive top to her funnel as well as a more built up superstructure, especially the forward section being more pronounced and bulky.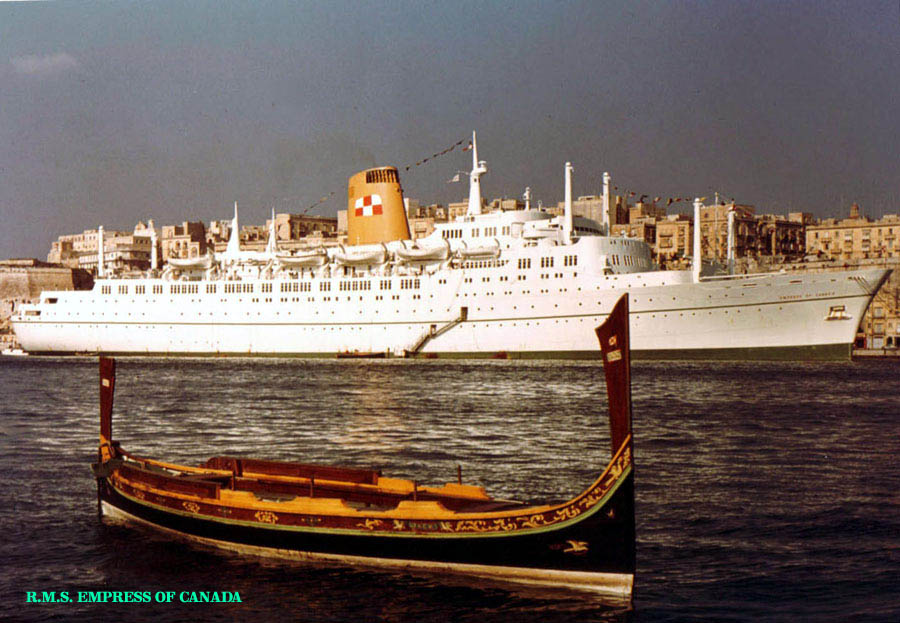 The RMS Empress of Canada seen in Venice during a cruise
Empress of England's Profile and Public Facilities:
Like her sister the Empress of Britain, for a ship of her size she had rather a long and a very low profile. The majority of her public rooms were arranged on the Promenade Deck, First Class lounges were located forward and Tourist Class aft. The venue located furthermost aft being the Cinema which was shared by both classes. Up on Boat Deck located forward directly under the Bridge, was another of the First Class Lounges, that had large windows along the aft wall over looking a sheltered Sun Deck.
First Class Photographs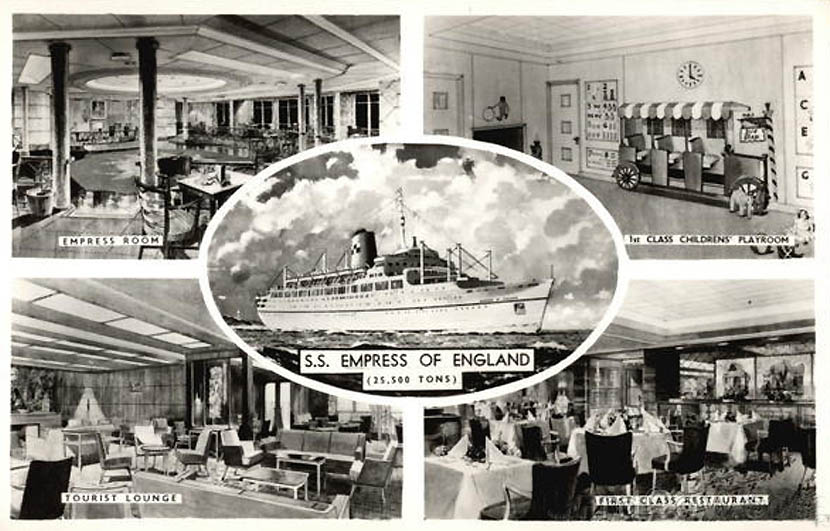 An early postcard released by Canadian Pacific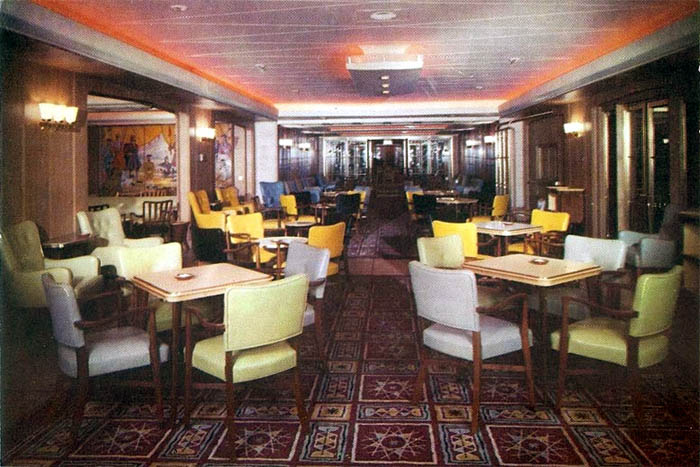 One of the Lounges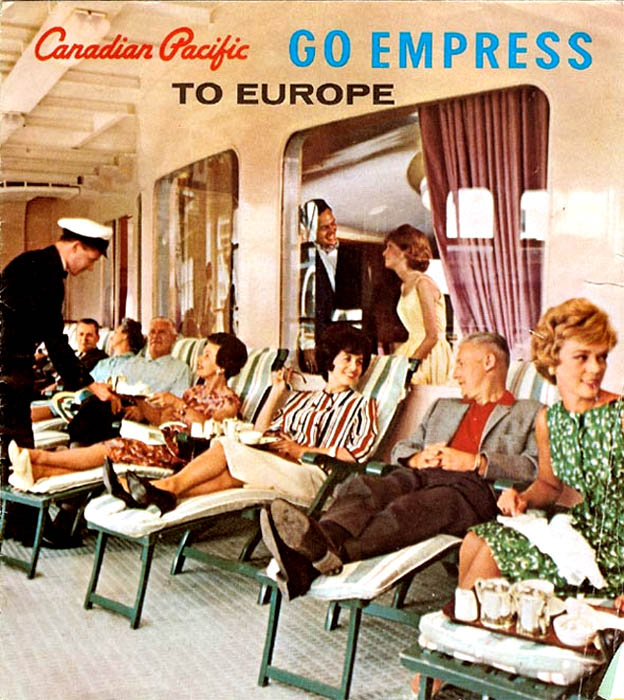 Luxuriating on Promenade Deck with a good hot drink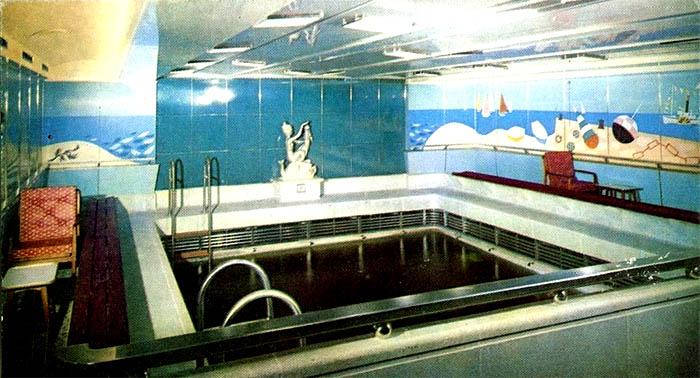 Above & below: It is fun in the Indoor Pool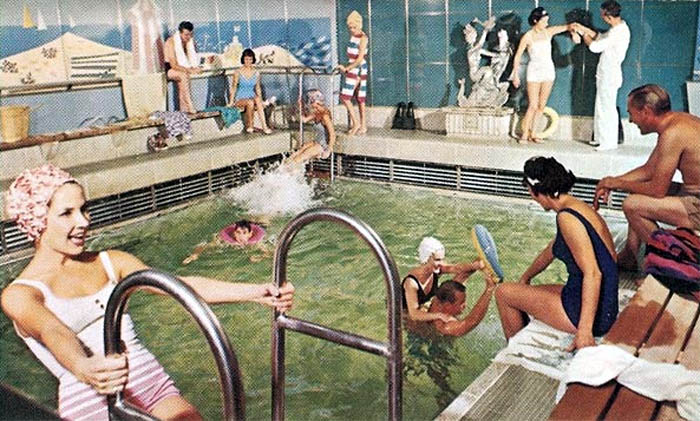 Tourist Class Photographs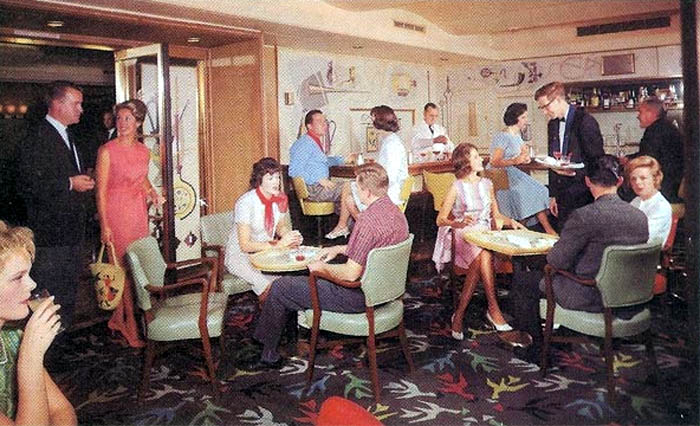 A delightful Cocktail Lounge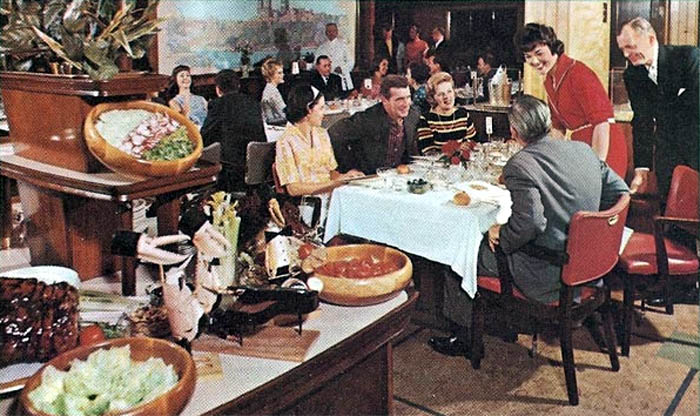 The Dining Room
Below Promenade Deck there were three decks mostly for accommodations, these where A, B and C Decks.
A Deck was devoted to First Class, and B to Tourist Class. Whilst C Deck had Tourist accommodations located aft, but forward was the First and Tourist Class (aft) Restaurants with the galleys located between them. A Deck also had the First Class Main Entrance and the Pursers Office. Whilst the second Class Entrance was aft on B Deck.
Accommodations:
First Class offered some fine suites and semi suites. These luxury accommodations included 2 or 3 rooms, private facilities with full bath and/or shower and some even had an enclosed veranda. Other First Class cabins were either one or twin bedded with all having private facilities. All Tourist Class cabins were two berth cabins with many had upper Pullman beds, thus these could be used as three or four berth cabins. All cabins had individual temperature controls.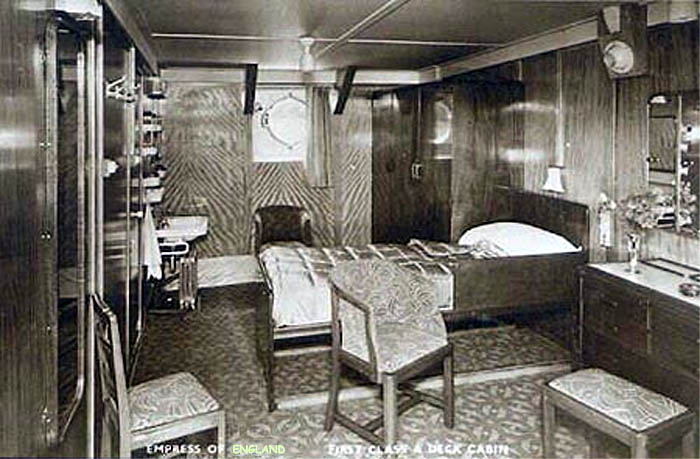 A First Class outside single cabin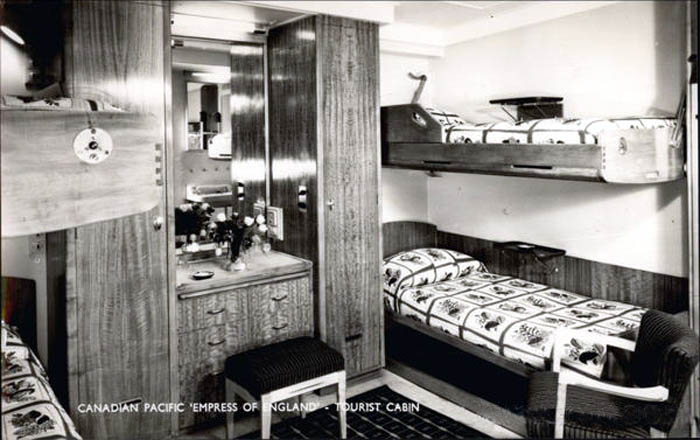 A typical Tourist Class four berth outside cabin, the porthole
is just out of view on the right
Cargo:
She had six cargo holds with 380,650 cu, ft of space, of which 80,000 cu, ft was refrigerated in hold number 5. Number 2 hold was also designed to take cars. For loading purposes, she had four all white and slender kingposts forward and four aft and these did not distract from her overall look!
Livery:
The ship had that typical Canadian Pacific livery featuring a stylish buff funnel with the red and white chequered house flag! Her hull and superstructure being all white with a green ribbon wrapped around her hull with green boot topping. Unusually set far aft atop of her bridge she had her tall but nicely stylised slender mast, but still with the traditional crow's nest two thirds of the way up. She was a well balanced looking liner with her pleasant CP livery. However, in 1968 her livery would change dramatically as I will reveal later!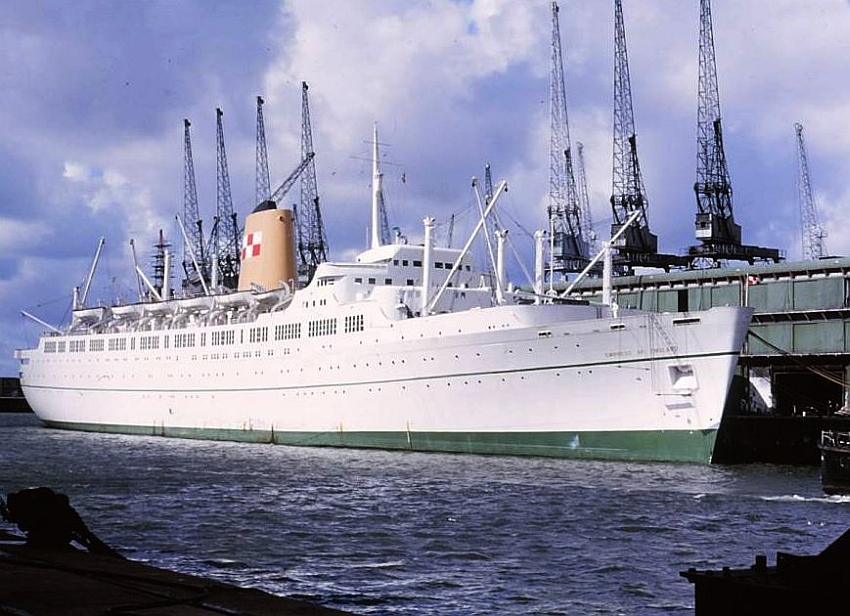 The Empress is seen here at Southampton
RMS Empress of England's regular year round Trans-Atlantic crossings continued, until at least 1961, after which she would operate the Liverpool and Montreal Canada service only during the winter and the Liverpool to St. John, N.B. service during summer.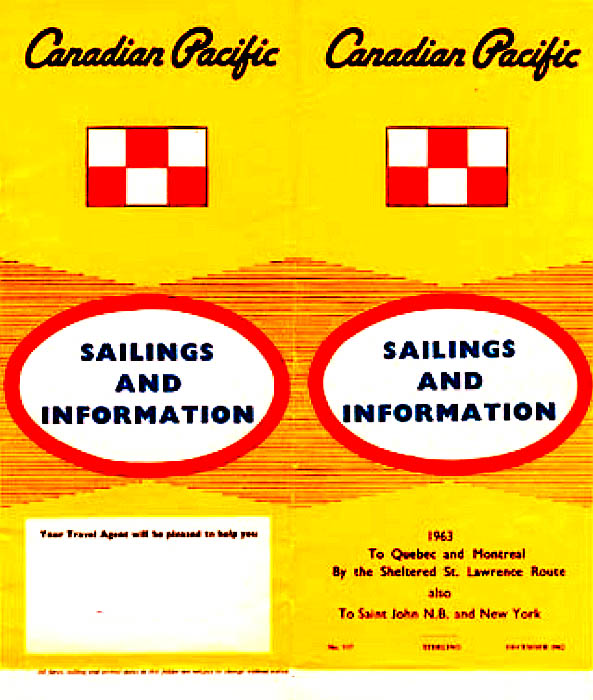 After this Trans Atlantic Schedule she would commence fulltime cruise operations
It would be in 1963 that there was an acceleration rapid decline of the loading onboard all ships crossing the North Atlantic by sea. Canadian Pacific reached the inevitable conclusion that it could no longer justify employing three liners on its Liverpool - Montreal service. It has to be said that Canadian Pacific had been involved in airline operations for many years, as part of its claim to be 'the world's most complete transportation system.'
"Travel Savings Association" (TSA) arrived on the scene just in time for CP in 1963, and Canadian Pacific was only too happy to charter the Empress of England and the Empress of Britain to operate TSA cruises, and to acquire a 51 per cent interest in the business. On November 28, 1963 the Empress of England sailed for Cape Town on TSA charter and operate cruises across the South Atlantic to Brazil and Argentina, and also along the east coast of Africa. However, this new alliance with TSA was not too last!
Sadly, the TSA bubble burst and by April 1964 both the Empress of England and the Empress of Canada were back on the St Lawrence run. At the conclusion of the TSA cruises, it had been decided in 1964 to sell the oldest of the trio, Empress of Britain and she was quickly was sold to the Greek Line to become the SS Queen Anna Maria. Now operating with two ships operating on the North Atlantic, CPs passenger occupancy amazingly improved! Now there was an average of 930 passengers on westbound sailings, with an average of 735 on eastbound crossings, which was an excellent achievement!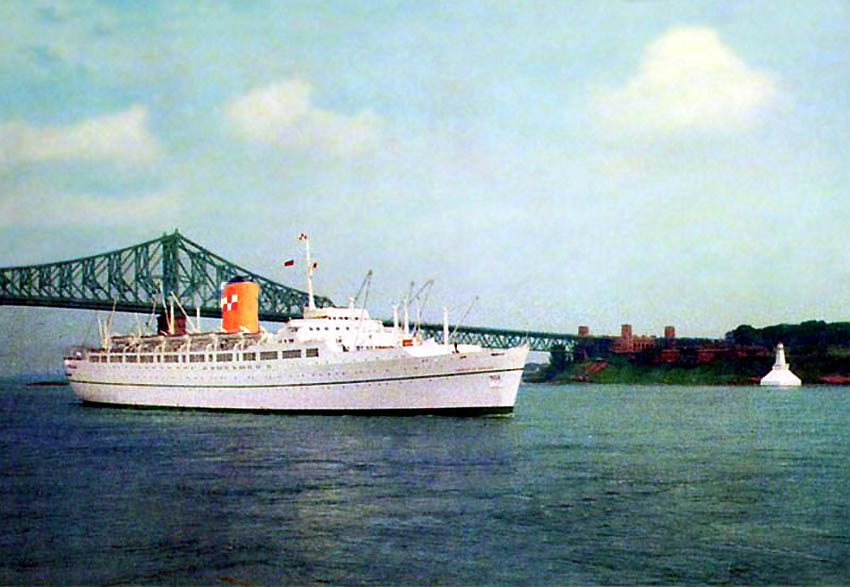 She is back in Montreal, the service she was built for!
The years ahead were filled with union problems, as well as a collision! On November 8, 1965 the Empress of England collided with the 12,000-ton Norwegian tanker Lifjord in the St Lawrence at the height of a wild blizzard. The Empress's bow was holed and her stern damaged, resulting in five days of temporary repairs which was carried out at Quebec. She returned to Liverpool on December 4, where she had her annual refit and overhaul after which she commenced her winter cruise duties. And she continued until another change would come about!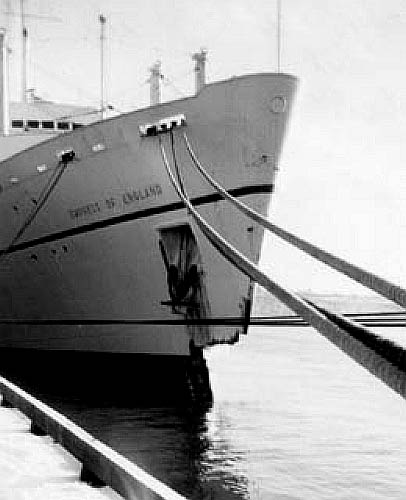 This reveals the damage done to her bow!
This time Canadian Pacific decided this was the time to change their company's image, and late in 1968 the Canadian Pacific fleet was treated to a "new corporate image." The famous buff funnel with the much loved red and white chequered house flag disappeared to make way for a new funnel design that was made up of a green and white funnel with what the company described as a logo being to mean: "A triangle to represent motion, a circle for global operations, and a square for stability!" The slender ribbon on the hull was repainted and was now a much wider green band. Generally the public and all ship lovers wrote quite a few strongly written and even a few nasty letters to the company in regard to what was considered as being a hideous approach to their customers and defacing their ships. Thus, the change of the ships livery was met with a massive disapproval and everyone desired to let CP know their feelings!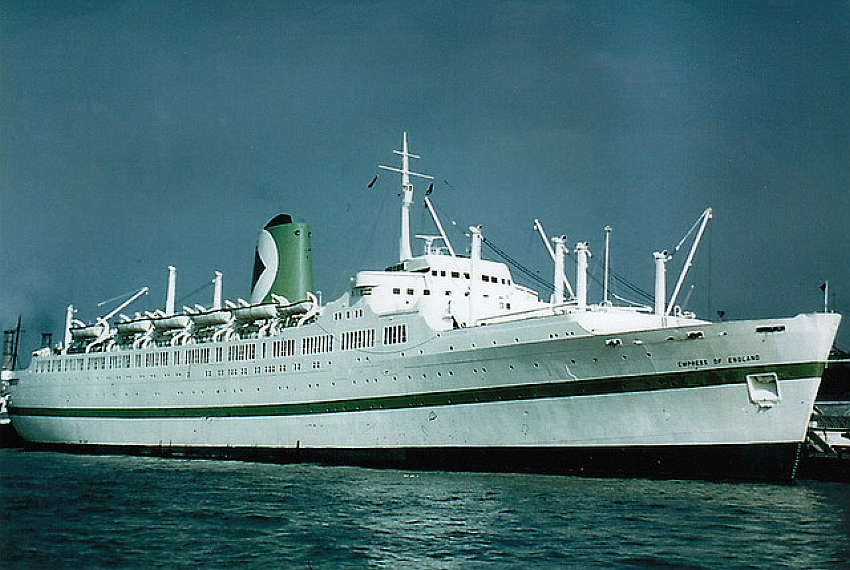 The White "Empress" is seen in her new livery
With the departure of her slightly older sister, the RMS Empress of Britain, in 1969 there was no doubt that the RMS Empress of England was the mainstay of the St Lawrence service and she completed fourteen round voyages, but sadly loadings (passenger numbers) were rapidly falling! But, CP continued on as long as they could.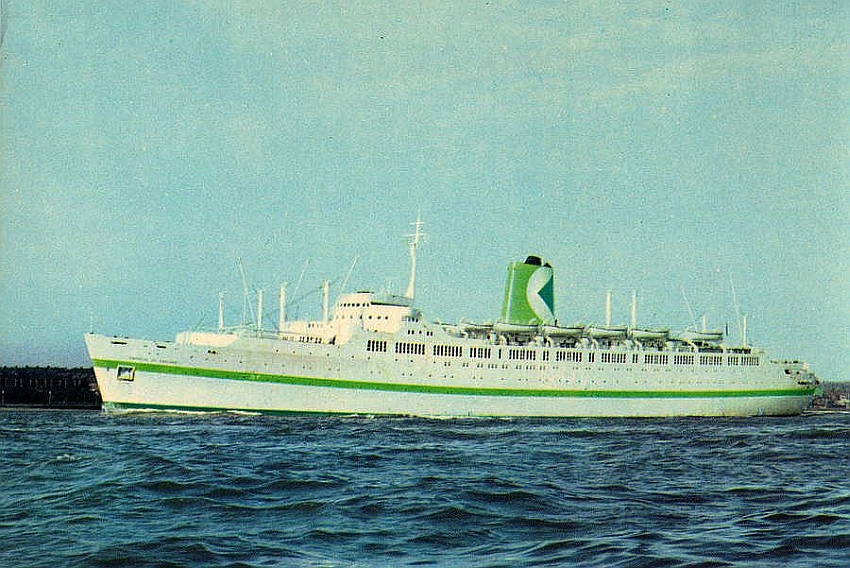 The Empress of England is seen at sea in 1969
She left Liverpool on what was to prove her final crossing to Canada on 14th November. On 20th January 1970 Canadian Pacific announced its decision to dispose of the liner on 1st April, following the completion of her winter cruise programme.
In 1969 the Empress of England was the mainstay of the St Lawrence service and she completed fourteen round voyages. Then she departed on her scheduled winter crossing on November 14, 1969, but as Trans Atlantic passenger numbers had by now simply disappeared and the skies had taken the majority of passengers away from these slow speed liners of yesteryear, this would be her very last return voyage to Canada! Upon her return to Liverpool, the Empress of England continued to operate a number of cruises for a short time, but it was obvious that Canadian Pacific had already decided on disposing her on April 1, and CP announced this on January 20, 1970. She continued cruising until she returned from her final cruise on March 31, 1970.
The ship was immediately sold to Shaw Savill for £5 million. Chairman Robert Russell said "When the Empress of England became available we decided immediately that she would be a most satisfactory partner to join the Northern Star and the Southern Cross in our extremely popular round-the-world service."
RMS Empress of England Specifications:
Built:                             Vickers-Armstrongs, Newcastle.
Yard:                             155.
Launched:                      May 9, 1956.
Maiden Voyage:              April 18, 1957.
Tonnage:                       25,585 GRT (Gross Registered Tons).
    "                               13,725 Net
    "                               8,910 D.W. (Dead weight).
Length:                          640ft – 195m.
Beam:                           85.3 ft – 25.9m
Draught:                        29ft – 8.83m.
Engines:                        Sic Steam D.R. Steam Turbines from the builder.
Screws:                          Twin 30,000 SHP.
Speed:                           20 knots service speed, max speed 21 knots.
Passengers:                   1,058 - 160 First Class & 898 Tourist Class.
Decks:                           Six passenger decks, plus two top decks for crew only.
Crew:                            464.
Air:                               Fully Air-Conditioned.
Stabilisers:                     Denny-Brown stabilisers.
***********************************
INDEX:
Page One:           RMS Empress of England - History & Photo's - This Page.
Page Two:          SS Ocean Monarch - History & Photo's.
Page Three:        SS Ocean Monarch - Photo Page.
Page Four:          SS Ocean Monarch - Deck Plan.
***********************************
Who is the Author of ssMaritime?
Commenced in the passenger Shipping Industry in May 1960
ssMaritime.com & ssMaritime.net
Where the ships of the past make history & the 1914 built MV Doulos Story
Also visit my …
"Save The Classic Liners Campaign" page
Photographs on ssmaritime and associate pages are by the author or from the author's private collection. In addition there are some images that have been provided by Shipping Companies and private photographers or collectors. Credit is given to all contributors. However, there are some photographs provided to me without details regarding the photographer/owner concerned. I hereby invite if owners of these images would be so kind to make them-selves known to me in order that due credit may be given. I know what it is like, I have seen a multitude of my own photographs on other sites, yet these individuals either refuse to provide credit or remove them when asked, knowing full well that there is no legal comeback when it comes to the net. However, let us show these charlatans up and do the right thing at all times and give credit where credit is due!
This notice covers all pages, although, and I have done my best to ensure that all photographs are duly credited and that this notice is displaced on each page, that is, when a page is updated!
ssMaritime is owned and © Copyright by Reuben Goossens - All Rights Reserved