CPR - RMS Empress of Ireland 1906 to 1914
Please Note: Firefox and some other search engines are not suitable – Use "Internet Explorer" for this page to load perfectly!

Click the logo above to reach the ssMaritime FrontPage for News Updates & "Ship of the Month"
With Reuben Goossens
Maritime Historian, Cruise'n'Ship Reviewer & Author
Please Note: All ssMaritime and other related maritime/cruise sites are 100% non-commercial and privately owned. Be assured that I am NOT associated with any shipping or cruise companies or any travel/cruise agencies or any other organisations! Although the author has been in the passenger shipping industry since 1960, although is now retired but having completed over 690 Classic Liners and Cargo-Passengers Ships features I trust these will continue to provide classic ship enthusiasts the information the are seeking, but above all a great deal of pleasure!
R.M.S. Empress of Ireland
Page Two - Her Final Voyage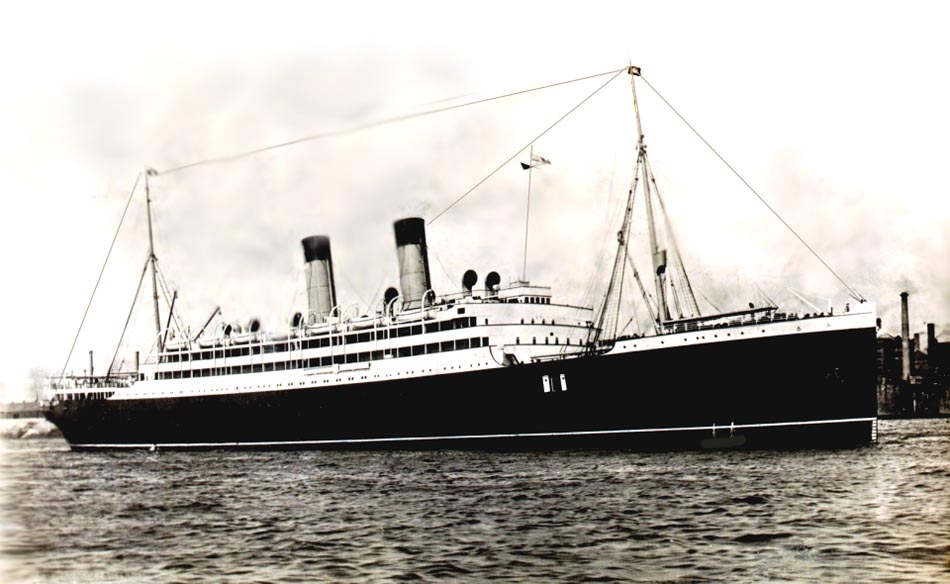 A truly elegant and Classic Looking Trans-Atlantic Liner - A CPR postcard of the Empress of Ireland
Introduction:
Over the past seven years of the RMS Empress of Ireland sailing between Quebec and Liverpool she had become a popular and a fast liner sailing between the two Continents, with just four days on the open ocean and with two days on sheltered waters of the St. Lawrence River. She and her sister ship, the RMS Empress of Britain, which ended her days in June 1930, had made the Canadian Pacific Shipping system on both sides of the Atlantic the number one Shipping Company for they now operated two larger and more glamorous liners between Quebec and Liverpool! In addition, these fine ships offered superior accommodations in both First and Second Classes, whilst Third was comfortable and Steerage had very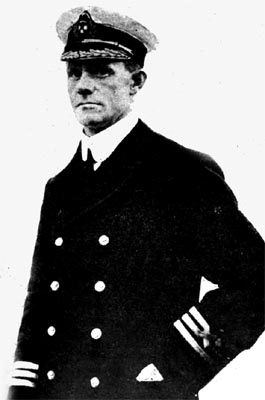 much the basics for those who travelled on an economy or as migrants to Canada from Europe and Britain.
Captain Henry Kendall:
In May 1914 the Empress of Ireland returned to Quebec having concluded her 95th.voyage. In the City awaiting her arrival was the 39 year-old Captain Henry George Kendall who would be taking command of the Empress' very next voyage, his first as captain of this ship when she would depart Quebec on Thursday May 28, 1914. Captain Kendall was a rising star with Canadian Pacific, for he first went to sea when very young when his ship was still under sail and as he worked hard and grew in the industry and went up to First Mate and finally as a captain of CPR ships. Before he joined the Empress, he had already made quite a name for himself as he had not only proved to be an admirable seaman, well liked as one in command, but whilst he was the Captain of CPR's SS Montrose in 1910 he recognised the evil Dr. Crippen on his ship and contacted the London police!
Living in London, Dr. Hawley Harvey Crippen had murdered his second wife Corrine (Cora) Turner, who had the stage name of "Belle Elmore" and pretended that she had left him, which was generally accepted, but later suspected. However, he had long before taken a lover, his typist Ethel Le Neve, now being suspected, he decided to do a runner and booked and departed on the CPR Ship SS Montrose with Le Neve disguised as a boy.
Captain Henry George Kendall-
However, Captain Henry George Kendall recognized the fugitives and just prior steaming out of range of his ship-board transmitter, he had Radio Man, Lawrence Ernest Hughes send off a wireless telegram to the British authorities, which stated: "Have strong suspicions that Crippen London cellar murderer and accomplice are among saloon passengers."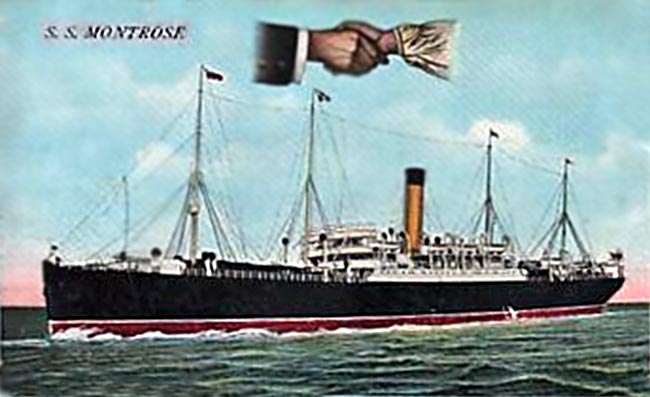 6,278 GRT - She was fitted out for 70 Second-Class and 1,800 Third-Class passengers
The Montrose continued to Canada and the English Chief Inspector came over on a faster ship and boarded as a Pilot and with the aid of Captain Kendall arrested Dr. Crippen on July 31, 1910. He was returned to London and was hanged at HM Prison Pentonville Prison on November 23, 1910.
For the full story on the murderous Dr. Crippen click the link!
The Empress' Lloyd's Classification:
However, as the RMS Empress of Ireland would soon commence her 96th voyage, it needs to be understood that there had never been any doubt that her safety record was unscathed! In fact, Lloyd's of London had rated her at the very highest safety level, being; "100-A1," thus she was a ship that was second to none, and over the years she had already safely transported some 186,848 passengers across the Atlantic! Throughout her career, her crew had trained for any eventuality and conducted regular lifeboat drills when in port.
In addition the ship was divided into 11 sections by sealed watertight bulkheads. When these were closed, twenty-four doors used for general ship purposes in the bulkheads made each section completely watertight. Nevertheless, the Empress could float with any two compartments flooded. However, these doors required manual closing.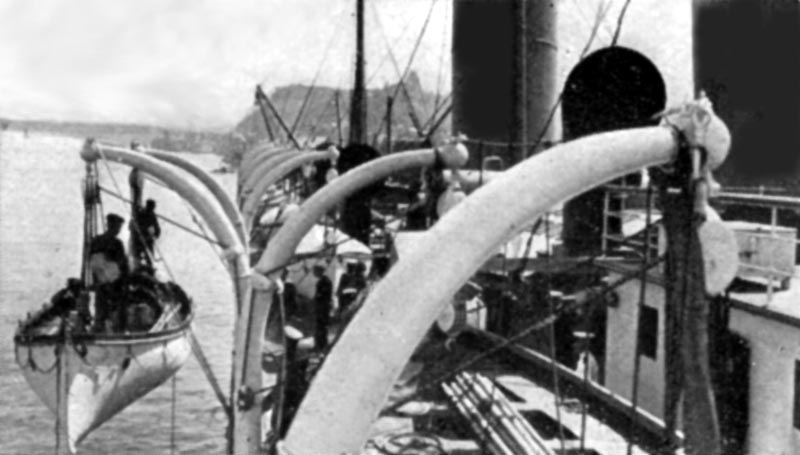 The crew undertakes one the regular drills and lowers various lifeboats into the water
But we must diverse and look at another ship for a moment:
There is one other ship I believe I must cover for she plays a very big part in this story and that is the collier SS Storstad, a ship of 6,028 GRT constructed by Messrs Armstrong, Whitworth and Company Limited at Newcastle-on-Tyne in 1910. She was 439.6ft - 134m in length, 58.1ft - 17.7m at the beam and had a Draught of 28.8ft - 8.73m.
Her hull was painted black, and on each side of the tall amidships located black-painted funnel was a large white "K"," signifying her ownership by the Norwegian "Klavenes Line." The vessel was fitted with 2 stockless anchors in cast-iron hawsepipes; the anchor flukes projected 18inches from the sides of the ship.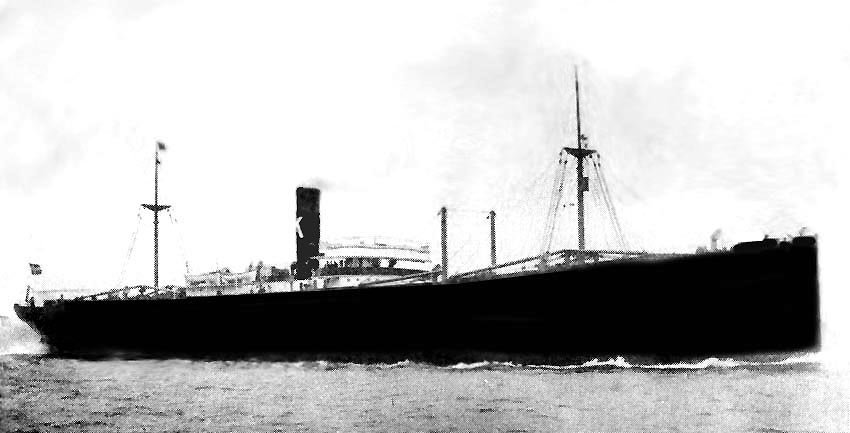 Klavenes Line SS Storstad
The Storstad was without a doubt the worst imaginable ship to collide into any ship, let alone amidships into a boiler room deep under water. The reason being is that her longitudinal bracing was designed to break through ice, for she would spend a great deal of her time slicing through ice in the Northern Hemisphere! This made the Storstad a lethal weapon for she was life a sharp knife and would cut through plate steel like butter, in addition considering that she was usually fully loaded with around 10 to 11-000-tons of coal made her an even more dangerous weapon, should two ships meet by accident!
The Empress Departure Day:
But, now on Thursday May 28, 1914, the great ship was ready to sail, with a complement of 1,477 persons onboard, which included 167 members of the Salvation Army, who were on their way to the third Salvation Army International Congress in London.
RMS Empress of Ireland cast off at 4:27 P.M. amid the waving of Union Jacks and joyful shouts of good-bye and we will see you soon, etc. As the ship moved from her berth the Salvation Army Band struck up the Hymn "God Be With You Till We Meet Again," which was led by Bandmaster Edward Hanagan. But sadly far too many would never return!
Amongst the 1,057 passengers there were a good number of people that were of Irish descent and they were well represented in all three classes. Irish names, surnames and backgrounds were well represented in the list of crewmembers, such as; stewards, seamen, firemen, trimmers and others. Among the 87 passengers in First Class was a well known actor Laurence Irving and his wife Mabel.
Among the 87 passengers in First Class was a well known actor Laurence Irving who had was saved at the sinking of the ship, but he then drowned as he dived back into the river in order to locate his beloved wife Mabel. Sadly their bodies were ever found.
Interestingly, much of Third Class was made up of workers from Ford in Detroit who had been laid-off and were now returning home to Europe, along with many other immigrants who were not able to make in the America's or Canada. But out of the 717 Third Class passengers only 133 were saved.
As she headed down the St. Lawrence River, no one knew what lay ahead of them, thus as she sailed down River, passengers took a good look around the ship as well as their accommodations. When it was Tea Time they enjoyed their meals, afterwards generally enjoyed the surroundings, strolling along the promenade deck, enjoying some time on a lounge until it was time to head for their accommodations and go to sleep, for boarding day is usually rather a tiring day, as many will have travelled a long way to reach the ship and then it is a long line having to go through the authorities, especially for those in Third Class. After exchanging the last mail bags at Rimouski and dropping the pilot, the Empress was able to gather up speed and she headed for open water on the St. Lawrence.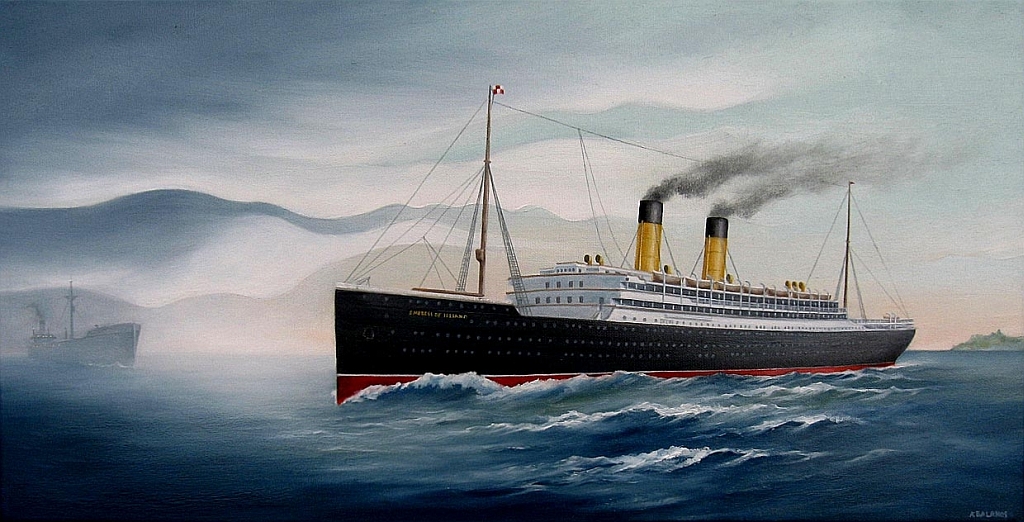 The Empress meets a wayward collier ice breaker
This fine work is by & © artist Aristides Balanos
Terror on Friday May 29 at 1.55 AM:
As the great liner continued down the St. Lawrence it was early the next morning, on May 29, however, a dense fog engulfed her near Pointe-au-Père, Quebec. Thus all precautions were taken as usual on the Bridge. Then at 1:38 A.M. the lights of another ship were spotted. Captain Kendall, who had just arrived back on the bridge, took his binoculars and observed, what turned out to be the SS Storstad that was heading up river from Sydney, Nova Scotia. It was located off the starboard bow around six miles away. The Empress altered course slightly, shortly before the Storstad disappeared into a fog bank.
The Captain ordered the Empress full astern and gave three blasts on its powerful whistle, indicating he was reversing. Then he stopped the ship and gave two more blasts, thus informing the oncoming vessel that she was now dead in the water.
At 1:55 A.M. Captain Kendall was horrified to see the SS Storstad appearing out of the fog and it was heading directly for the Empress of Ireland. He acted quickly and ordered full speed ahead, but sadly it was too late as the collier inflicted a mortal wound to the starboard side of the Empress amidships directly into her aft boiler room. Kendall shouted through a megaphone for the Storstad to keep going ahead on its engines, in the faint hope it would serve as a giant plug. But the collier floated away into the night mists. Kendall struggled forward, unsuccessfully trying to beach the ship on the shores of the St. Lawrence two miles away near Father Point, around 12 miles east of Rimouski. The freighter was hauling over 10,000 tons of coal and she left a massive gash in the Empress' hull. Despite the Empress of Ireland was fitted with ample of watertight doors, but they were operated manually and thus they could not be closed with the ship listing so fast and sharply because of water was pouring into the gaping wound at the rate of 60,000 gallons per second and thus she rapidly began to keel over to starboard.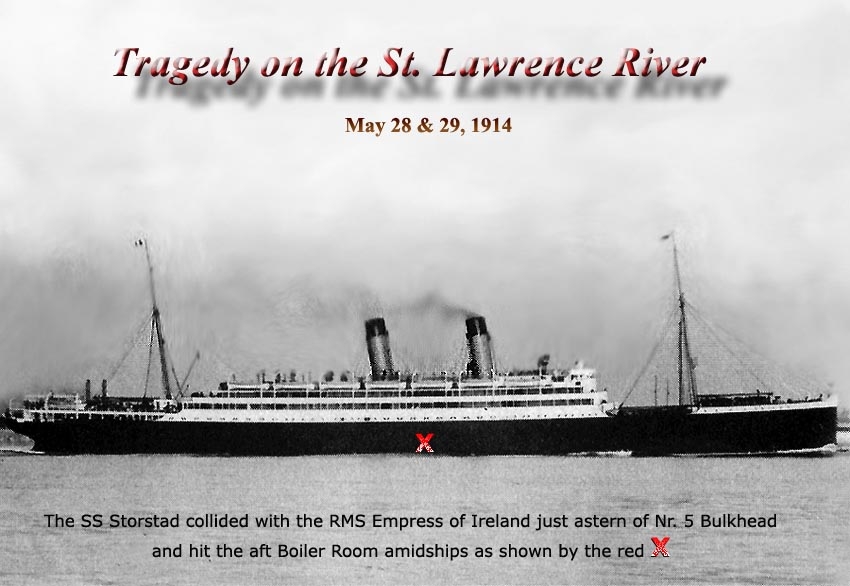 The vast amounts of water was aided by the third class cabin portholes having been left open down on lower deck, although illegally, but passengers desired fresh night air. Thus, most of the passengers and crew on the lower decks drowned almost immediately. Within three minutes of the collision, the raging waters reached the dynamos and knocked out all power, plunging frightened passengers and crew into darkness. although Captain Kendall had ordered lifeboats to be lowered and Marconi wireless operators Edward Bamford and Ronald Ferguson to send out an SOS. Passengers who were on the upper decks and who were able scrambled out on deck, in their night clothes, and some jumped into the frigid waters in a desperate attempt to save themselves, but sadly many more remained trapped below. There were those who were more fortunate who managed to get into one of the five lifeboats that were loaded immediately and took them away from the ship.
Moments later, however, the Empress was tilting well over on her side that it became impossible to launch any of the remaining 11 main lifeboats she had onboard. Most of the people clinging to the deck thought the Empress had run aground. As she was well on her side by now, countless passengers and crew were clambering along the portside of the ship and attempted to reach the water and swim away in the cold water, for the Storstad was still nearby.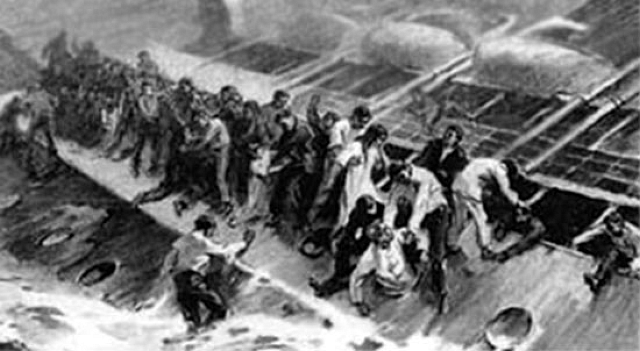 Others attempted to get off the ship by climbing down the portside of her hull, but they were either
thrown off when she feel flat on her side or others who sadly drowned in the river
It was ten minutes after the collision with the Storstad that the Empress of Ireland suddenly lurched violently and she fell flat on her side that those who were still on board or climbing down her sloping side of her hull were all flung off her. This included Captain Kendall who was thrown from the Bridge into the river by the force of the ships fall.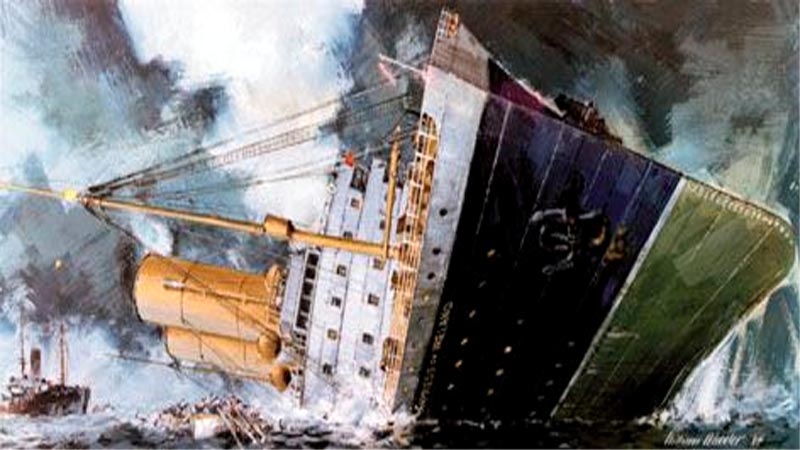 An illustration of the Empress being lurched violently as she fell over on her side with just five of her life boats on the water
The dying ship final moments did not last for long, for suddenly her beautiful counter stern suddenly lifted briefly out of the water as her bow slid down into the deep and the once beautiful ship disappeared into the dark waters of the river at 2:09 A.M. All this happened just fourteen minutes since the Storstad had stuck her and now she lay 150ft on the bottom of the St. Lawrence, a river she had sailed a multitude of times, until a wayward Norwegian collier came along, with a captain in bed!
As we already know that among the 87 First Class passengers Laurence Irving and his wife was travelling together to England and he was saved after the ship had sunk. However he then drowned as he dived back into the river in order to find his beloved wife Mabel, but sadly their bodies were never found.
But now came the time to rescue those who were in the water and in lifeboats. Many were rescued by the crew of the Storstad and by ships in the area, including the SS Lady Evelyn. But the sad truth came after morning broke and a final count of the passengers were done, out of 1,057 passengers on board just 217, or a miserable 20.5% were saved. On the other hand, from 420 crewmembers on board, amazingly 248 or a shocking 59% were saved and that is a disgrace. How come that not more was done by the crew to save those they were responsible fore, as that was their duty! But greatest shock of all is the following tragedy; 138 happy children embarked the ship, yet why is it that just 4 or 2.9% survived. A little further down is a chart showing the sad number and all the percentages.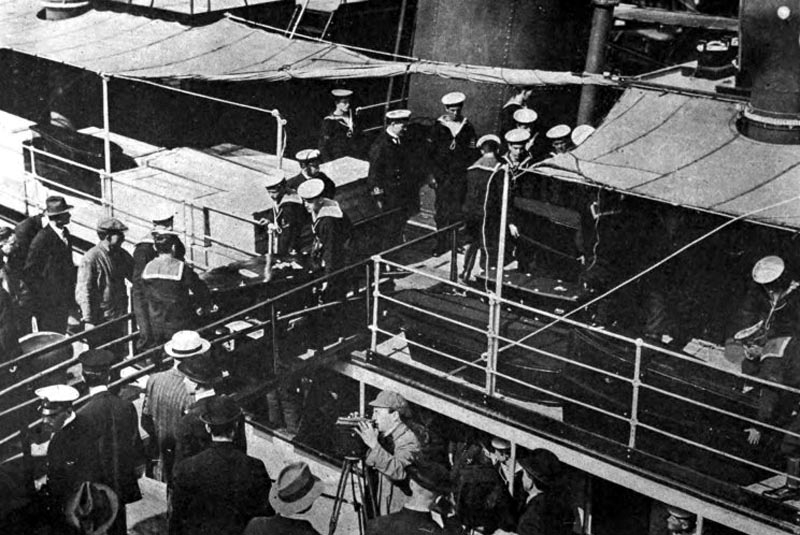 Coffins of the victims of the Empress removed at Quebec from the Lady Grey by seamen from HMS Essex on May 31
Comparisons between the Empress of Ireland, Titanic & Lusitania. From the 1,057 passengers on board the Empress, 840 passengers were lost, being more passengers having died than on the Titanic just two years earlier, which was then the worst passenger death toll in peacetime history, but now tragically the Empress of Ireland held that sad record. Even later, the Lusitania lost 55 passengers less than the Empress.
It needs to be clearly understood that each of these horrific events were great and personal tragedies for everyone involved, and therefore I am certainly not making small of the Titanic or Lusitania for both had enormous consequences!
But, this much smaller Trans-Atlantic two stacker had a Lloyd's of London safety rating of "100-A1," and yet this horrific and great tragedy that has lost more passengers than the other two liners mentioned, has largely been forgotten within the maritime world, for it is true that everyone seem to be fascinated by that name … "Titanic." And I am sorry, I find that just tragic. Even the Commission of Inquiry did come to a conclusion of guilt to the Norwegian ship, but it did not seem to take the matter as being very important for bigger matters were at hand globally!
| | | | | | | |
| --- | --- | --- | --- | --- | --- | --- |
| | Numbers on board | Numbers lost | Percentage lost by total onboard | Numbers saved | Percentage saved by total onboard | Percentage survival rate per group |
| Crew | 420 | 172 | 11.6% | 248 | 16.8% | 59% |
| Passengers | 1,057 | 840 | 56.9% | 217 | 14.7% | 20.5% |
| Total | 1,477 | 1,012 | 68.5% | 465 | 31.5% | - |
| 1st Class Passengers | 87 | 51 | 3.4% | 36 | 2.4% | 41.3% |
| 2nd Class Passengers | 253 | 205 | 13.9% | 48 | 3.24% | 18.9% |
| 3rd Class/ Steerage Passengers | 717 | 584 | 39.5% | 133 | 9% | 18.5% |
| Children | 138 | 134 | 9.07% | 4 | 0.3% | 2.9% |
| Women | 310 | 269 | 18.2% | 41 | 2.8% | 13.2% |
| Men | 609 | 437 | 29.6% | 172 | 11.6% | 28.2% |
I am grateful to

Mathieu Vernier of Quebec Canada for the above chart!
The Inquiry:
Convened on June 16, 1914 the Commission of Inquiry, chaired by Lord Mersey who had also presided over the hearings into the sinking of both the Titanic and the Lusitania and it was conducted in Quebec City, obviously somewhat hidden from the international limelight. The extensive inquiry found that the Storstad was entirely at fault. The bow damaged SS Storstad was seized and given to Canadian Pacific after the later had filed a $2,000,000 lawsuit for damages.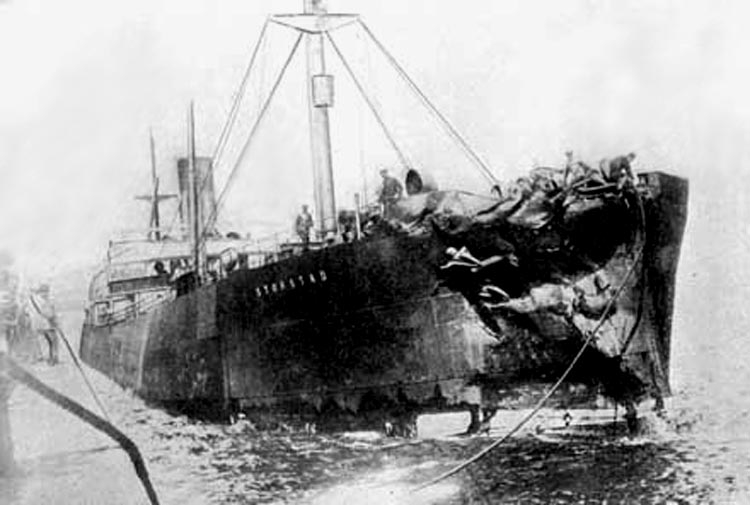 SS Storstad is seen with her damaged bow after the tragedy
Amazing, but not surprising, a Norwegian inquiry which had no authority, conducted at the Norwegian Consulate General in Montreal, who not unexpectedly found hat the Norwegians would exonerate the Storstad as well as her Captain Thomas Andersen, who was asleep at the time of the collision, thus technically it may not have been his fault, but when it comes to chain of command, fault always rests with the captain!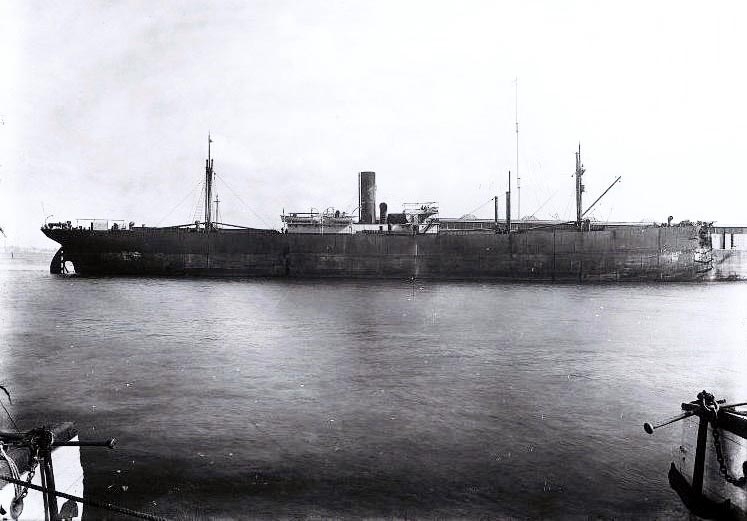 A view of the SS Storstad with her damaged bow at
But despite the scale of the tragedy, the Empress of Ireland's tragedy never achieved anything like the Titanic's prominence or enduring fascination. And yet even though the passenger deaths outnumbered the count of the Titanic, yet those on the Empress were not given as much attention. We may ask why? But the answer is very simple, for the Titanic was owned by what was known as a luxury shipping Company and she had many prominent, super rich people on board, many of who passed away when she sank. Whilst the just 14,000 GRT Empress of Ireland mostly transported middle-class citizens with only a small number of more affluent ones in its First Class!
But with the outbreak of the First World War, the disaster quickly faded from memory. Captain Henry Kendall and the Captain of the SS Storstad Thomas Andersen soon served during World War I, and amazingly the two of them were torpedoed in their respective ships with both men surviving. But the Storstad certainly did not, for Canadian Pacific had sold her for $175.000 and she was ultimately torpedoed and sunk on March 8, 1917 by a U-Boat the U-62, near the coast of Ireland, with all hands were saved.
Captain Henry Kendall never returned to sea after the war and he passed away in England in 1965 at the good age of 91. Amazingly, his obituary in The Times of London never made any mention of the sinking of the Empress of Ireland.
View and excellent 6.03 minute YouTube presentation of the Empress of Ireland Tragedy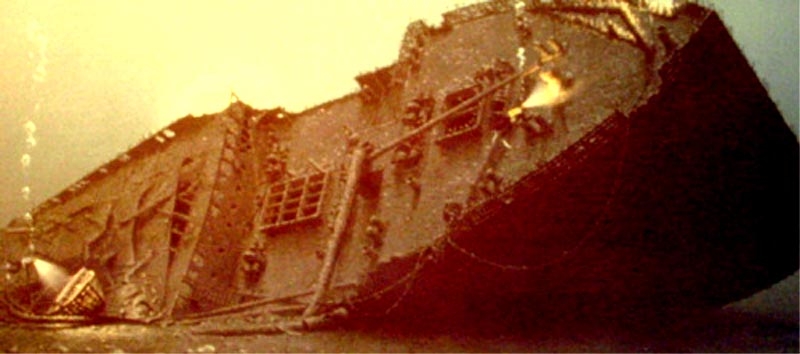 Two divers seen on what was the fore part of her superstructure and the bow
Finally on April 30, 1998, the remains of the Empress of Ireland was declared a Historic Site by the Quebec Provincial Government. The shipwreck became the first underwater Heritage site in Quebec and thus it also benefits from protection under Canada's Merchant Marine Legislation.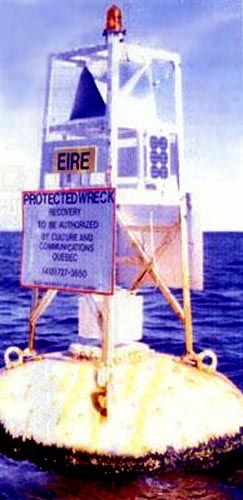 The wreck marker for the Empress of Ireland on the St. Lawrence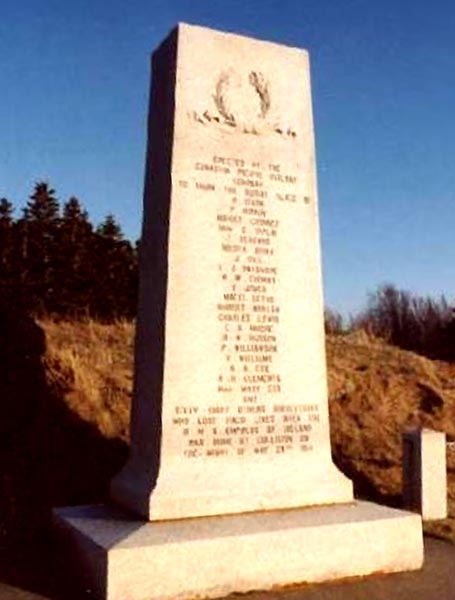 The Memorial erected by the CPR on the south bank of the St. Lawrence River near Father Point
The Last Survivor:
Edith Grace Hanagan was born in Oshawa, Ontario on May 16, 1907 and she was the daughter of Edward James and Edith Emily (nee Collishaw) Hanagan. Later the family moved to Toronto Mr. Hanagan was the bandmaster of the Salvation Army.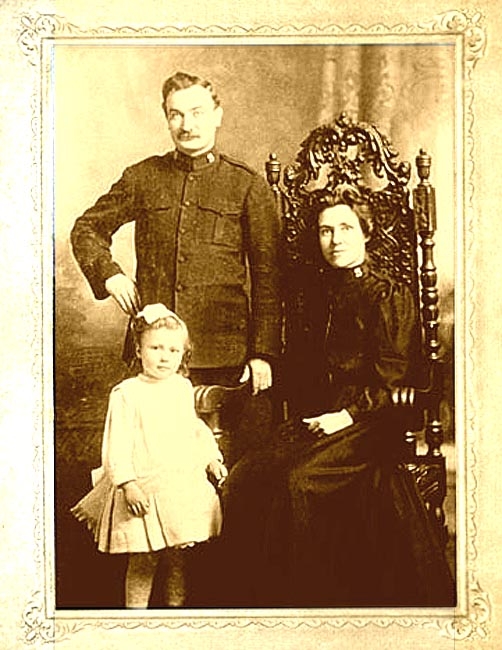 Here we see young Grace at the foot of her Mother Edith Emily and her Father Bandleader Edward James Hanagan
On May 28, 1914, Grace's father was taking her and her mother along with 164 other Salvation Army members travelling on board the Empress of Ireland from Quebec City to Liverpool, England for the third International Congress, following which they would take a vacation for the family. Meanwhile, her father conducted the orchestra on the ship in the afternoon. And as they did at 4:27 in the afternoon as the ship set sail. As the orchestra commenced, Grace and her father's boss, Commissioner David Rees's son Harold decided to go on a tour of the ship. To Grace the ship was so beautiful, just like a lovely hotel and she was quite thrilled with it. After that she and her parents went to dinner in the ship's Second Class Dining Room at 7:00 P.M. and then after some time in the Lounge, they prepared to turn in for the night. Grace refused to sleep in a berth that was right next to a porthole for she believed this would be "where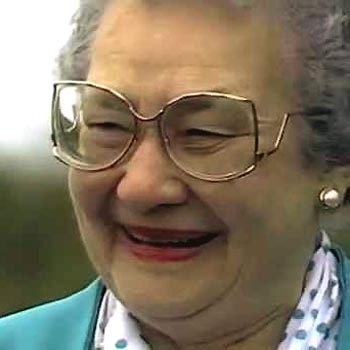 the water will come in."
Grace and her parents were woken up by a noise that sounded like "a firecracker" according to Grace. They did not know what it was until her Father said that it was the pilot coming for the mail, thus they just relaxed and remained in bed. But then suddenly the door opened and somebody came into their cabin and told them to get out fast because the Empress of Ireland was sinking. So Grace and her parents got out of bed and ran out of their cabin down the hallway and they finally got out on deck. Once deck they found Ensign Ernest Pugmire, and Mr. Hanagan asked for Pugmire's overcoat in order that he could wrap it around seven year old Grace, so he gave it to them. They were close to some stairs, but the ship was listing so quickly that they could hardly climb. Thus they sat on the high part of the railing of the stairs along with the Evans family until the ship went down and the three of them were thrown into the water. Grace went under the water twice until she finally got a hold of a piece of wreckage. She then lost sight of her parents in the panicking crowd in the water. A few minutes later Grace saw a couple of lifeboats and she called for help. One crowded boat came over and the people in the lifeboat pulled Grace in. In the lifeboat, Grace lost consciousness, and woke up in a bed on board the Storstad, and she asked for her mother.
Grace Hanagan Martyn is seen here in her latter years during her TV statement -
Grace was then taken to a Hospital in Rimouski. Then the day after, the hospital arranged for a train to take her and some other survivors back to Toronto, with a Mrs. Atwell (being another survivor) having been asked to watch over her. Before she went to the hospital, an officer promised to find her mother, and Grace clung to that promise even after having seen her father's dead body in a Toronto Mortuary. But she still hoped that her mother would still come back to her, but she never did. It took a long year before Grace could somehow accept that her mother was really dead.
Watch Grace's short YouTube (TV) statement regarding her being saved HERE
Edith Grace Hanagan Martyn was the very last survivor of the sinking of the Empress of Ireland, but she passed away on May 15, 1995 in St. Catharine's, Ontario, just one day before her 88th.birthday and two weeks before the 1995 memorial service of the sinking of the RMS Empress of Ireland..
Remembering a Magnificent Classic Canadian Pacific Liner
That was so tragically struck down in the Prime of her Life!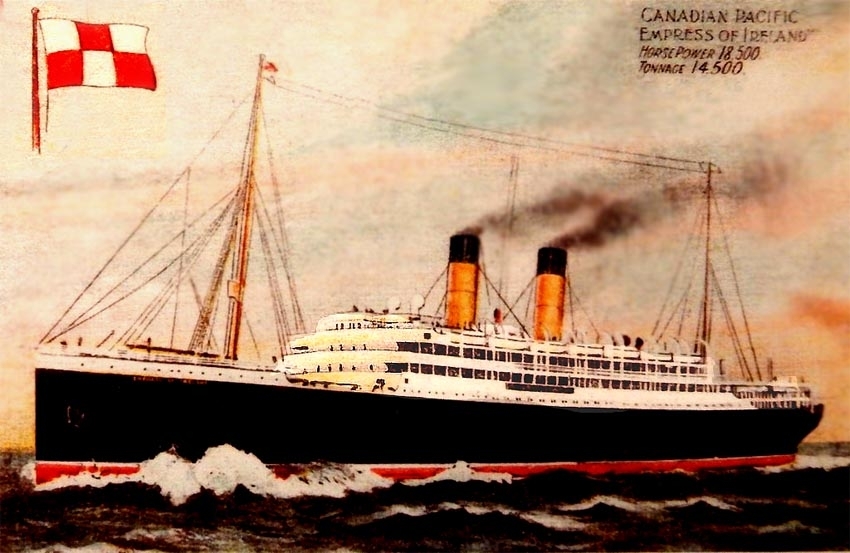 Return to Page One "Empress of Ireland" - History Page

"Blue Water Liners sailing to the distant shores.
I watched them come, I watched them go and I watched them die."
****************************
Visit our ssMaritime Main INDEX
Where you will discover well over 690 Classic Passenger & Passenger-Cargo Liners!
ssMaritime.com & ssMaritime.net
Where the ships of the past make history & the 1914 built MV Doulos Story
Please Note: ssmaritime and associated sites are 100% non-commercial and the author seek's no funding or favours of any shape or form, never have and never will!
Photographs on ssmaritime and associate pages are by the author or from the author's private collection. In addition there are some images that have been provided by Shipping Companies and private photographers or collectors. Credit is given to all contributors. However, there are some photographs provided to me without details regarding the photographer/owner concerned. I hereby invite if owners of these images would be so kind to make them-selves known to me (my email address may be found on www.ssmaritime.com only), in order that due credit may be given.
ssMaritime is owned & © Copyright by Reuben Goossens - All Rights Reserved