Epirotiki Lines the early cruise ships
Please Note: Firefox and some other search engines are not suitable – Use "Internet Explorer" for this page to load perfectly!

Click the logo above to reach the ssMaritime FrontPage for News Updates & "Ship of the Month"

With Reuben Goossens

Maritime Historian, Cruise'n'Ship Reviewer & Author

Please Note

: All ssMaritime and other related maritime/cruise sites are 100% non-commercial and privately owned. Be assured that I am NOT associated with any shipping or cruise companies or any travel/cruise agencies or any other organisations! Although the author has been in the passenger shipping industry since 1960, although is now retired but having completed over 700 Classic Liners and Cargo-Passengers Ships features I trust these will continue to provide classic ship enthusiasts the information the are seeking, but above all a great deal of pleasure!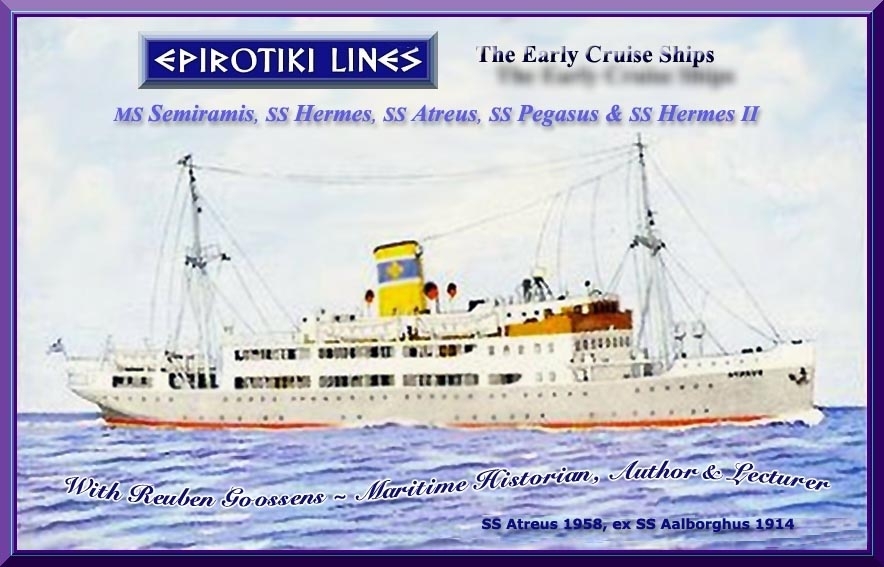 Page Two
The Early Cruise Ships
SS Hermes 1955, SS Atreus 1958, SS Pegasus & Hermes II 1960
Ships name and date obtained by Epirotiki Lines.
Introduction:
Welcome to a new feature covering the very early days of long established Epirotiki Lines purchasing second hand ships in order to enter a brand new market of operating a cruise service around the Greek Islands, which they were the very first to establish!
This is the second page and the Epirotiki feature and it contains details of four ships obtained between 1955 to 1960. Sadly I have very little to no interior details of the ships listed on this page, however should I locate brochures and deck plans of these in the future I will add them online, all being well! But, as you you will have seen on Page One and Page Three that there are ample photographs as well as comprehensive deck plans, and the same applies for the final three ships shown on Page Four!
I sincerely trust that you will enjoy this feature for I was a friend of the late Mr. George Potamianos for the last company he owned was "Classic International Cruises" that had an amazing fleet of ships, on which I sailed on a good number of times, such as the wonderful MV Funchal and the amazing MV Athena! In fact I was to meet him in Lisbon Portugal when the Athena was to be in port, whilst I was on yet another voyage from Australia to Portsmouth England, however, sadly he had fallen very ill and was rushed to hospital. Tragically, my dear friend George Potamianos passed away, before we reached The United Kingdom, less than a week later. There is a special page online (Page Five) that Honours him and his countless achievements!
****************************
SS Hermes I, ex SS Jupiter 1915:
In January 1915, Lindholmens Shipyard in Gothenburg and the 2,511 GRT (Gross Registered Tons) SS Jupiter (II) was delivered to the Bergen Line and she was twice the size of previous the ships on the Bergen to Newcastle service. She remained on this service until the Jupiter was chartered by the British Government in March 1918 at a cost of £30,000 per year, with a replacement cost that was set at £200,000. She was to continue a service between Aberdeen and Bergen but now with a British crew and flying the British flag, with priority guaranteed in a British shipyard for building a replacement should Jupiter meet with an unfortunate accident. Normal regular Danish services recommenced by the SS Jupiter on January 18, 1919 and she sailed on until the 1930s.

Here we see a line drawing of a fine small ship, the SS Jupiter
In 1931 the Jupiter had a cooling system installed and facilities of the Third Class were upgraded. Then in 1937 the Jupiter was to operate on the Fjord service to Trondheim in Norway and she was sent to Rotterdam for a refit.
However with WWII having arrived, the Nazis invaded Denmark and in 1940 the German seized the Jupiter for the use as a residential ship for Norwegian prisoners of war. Then from August 1940 she was used as a German Troop Ship and as from 1944 she officially sailed under the German flag.
Finally at the end of the war was the Jupiter was home in Copenhagen and on June 15, 1945 she was returned to the Bergen Line. She was given a renovation in Gothenburg and from February 1946 she retuned back on the Fjord service to Trondheim. The problem for the Bergen Line was that from the time the Jupiter was built she was the largest and most luxurious ship in the Hurtigruten (coastal) fleet, thus she had a major disadvantage of higher operating costs.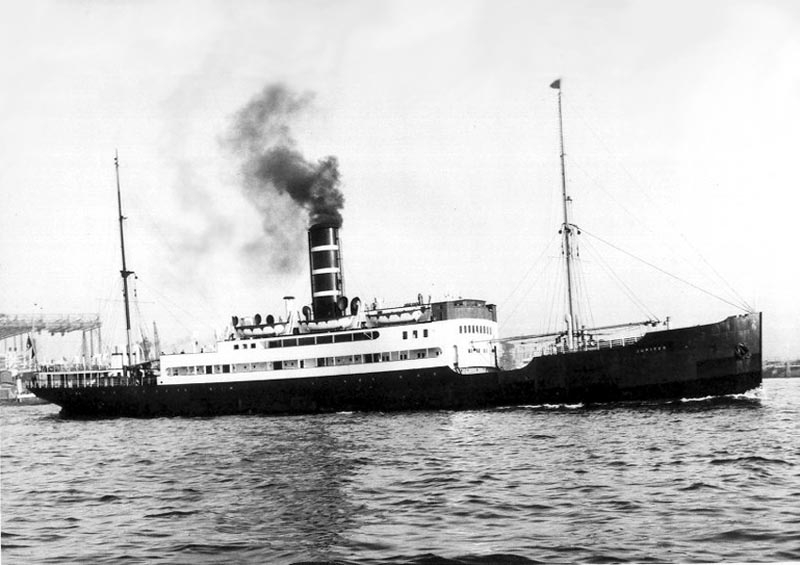 An excellent photograph of the SS Jupiter seen in the early 1950s
Then from 1953 she operated on the more lucrative summer service from Antwerp to Newcastle, whilst during the winter months she would operate the popular coastal services to Trondheim. However, finally the time had come in 1955 that the Company decided to dispose the 40 year old coastal liner and placed her on the market and she soon found a buyer.
It was on September 9, 1955 that Epirotiki Lines purchased her and duly renamed her "Hermes." She was sent to a shipyard to be refitted into a cruise ship when completed Two of her forward decks below the Bridge were lengthened and her funnel top was rounded nicely and shortened a little and she was given the traditional Epirotiki livery, but the rest of her externally retained much as she was. Internally there had been many changes, but sadly I have not been able to find the details to date.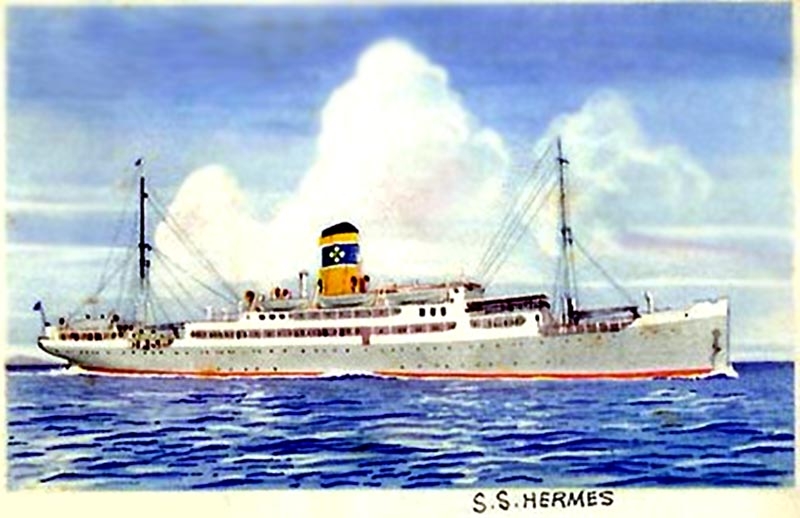 This is an early Epirotiki Postcard of the SS Hermes, although it was badly damaged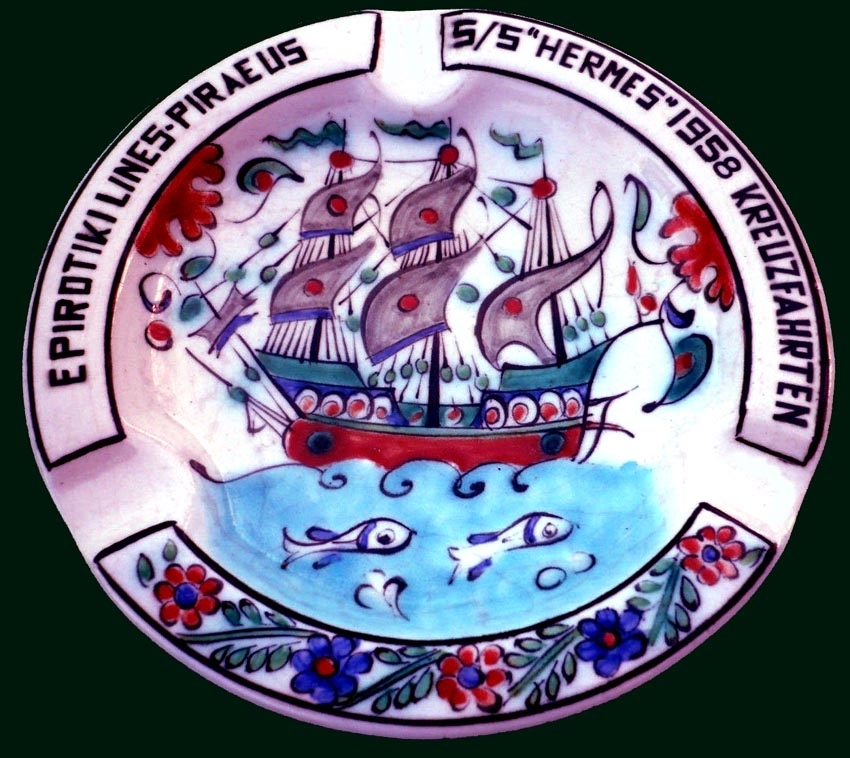 This is a very rare German Souvenir obtained on the wonderful SS Hermes, a decorative plate dated 1958
With the ship doing very well sailing together with the Semiramis and the newly acquired Atreus, Epirotiki decided to give the Hermes a comprehensive refit, thus she was sent to Piraeus where the work commenced. However as interior modernisation was well on the way, suddenly on March 4, 1960 a fire started that rapidly involving the entire ship and she was completely gutted. With the completely destroyed ship having been sold, in December of that year, the wreck was towed to Split in Croatia where she was broken up.
1. SS Jupiter 1915 to 1955 & 2. SS Hermes I 1955 to 1960 Specifications:
Builder:   Lindholmens Shipyard, Gothenburg Denmark.
Hull No:                                 423.
Sold to:                                 Epirotiki Lines September 1955, renamed SS Hermes.
Call Sign's:                             MSTR & LEBA.
Tonnage:                                1. 2,511 as built – 915 Net.
.                                            2. 2,652 GRT as SS Hermes.
Length:                                  93m
Breadth:                                 12.7m
Draught:                                5.7m
Engines:                                 Triple Expansion Steam Engines by the builder. 3,000 BHP.
Speed:                                   15.5 Knots.
Passengers:                            2. 170.
Fate:                                      During a refit at Piraeus a gutted by fire & destroyed on March 4, 1960.
.                                            Broken up at Split in Croatia.
****************************
SS Atreus, ex SS Aalborghus & Frederikshavn 1914:
Of all the passengers ships in the Epirotiki fleet the SS Atreus is the oldest of their small cruise ships. Of course these ships were generally obtained as second hand tonnage, being small ships that were sturdy, mechanically sound and a worthwhile investment, thus these were all ships that Epirotiki were able to rebuild and refit into worthwhile and a comfortable cruise ships that offered the very best of food and service!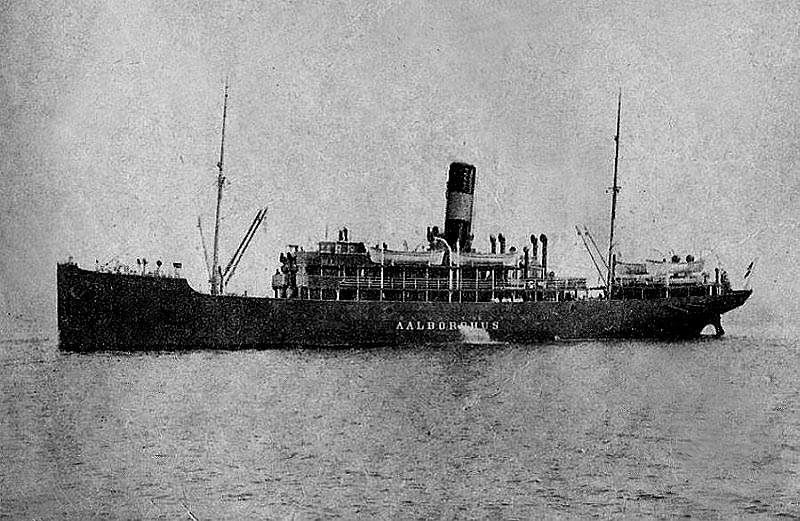 Here we see a very old photo of the D.F.D.S. coastal ship the SS Aalborghus as she was built in 1914
I am sorry for the quality, but photography in 1914 was not the best as yet!
The SS Atreus was originally built in 1914 for "D.F.D.S" or "Det Forenede Dampskibs-Selskap A/S" of Copenhagen. The 1,478 GRT (Gross Registered Ton) ship was built, launched with the name "Aalborghus" and she was placed on the Frederikshavn to Oslo service. However, it soon became apparent that the ship required considerable upgrading and she was given an extensive refit as well as some external changes.
Then on May 23, 1936 she entered the Elsinore Iron Ship & Machine Construction Company, to be completed rebuilt and when completed she was renamed; "Frederikshavn."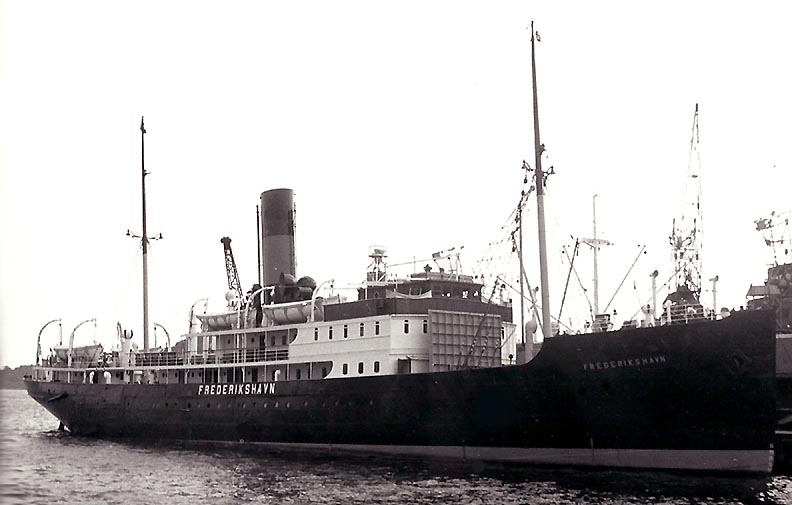 Here we see the just rebuilt and renamed SS Frederikshavn, and a very smart looking ship whilst in port
Ten years later, in 1946 she was placed on a new service and she commenced operating between Copenhagen and Oslo, working together with the newer and much larger ship, the 3,119 ton MS Kronprins Olav.
However, in 1958, at the age of 44 years the company decided to sell her and Epirotiki Lines realised that she was a solid and a very sound ship, when she arrived in Piraeus she was given a comprehensive refit and a partial rebuild making her suitable for cruise duties. She offered accommodations for around 464 passengers in twin bedded cabins most of which were convertible into day rooms as the beds folded away and became sofas. However some cabins had one or two upper Pullman beds. Like The Semiramis, this ship had modern and most attractive Lounges, Bars and a swimming Pool and a fine Dining Room, etc.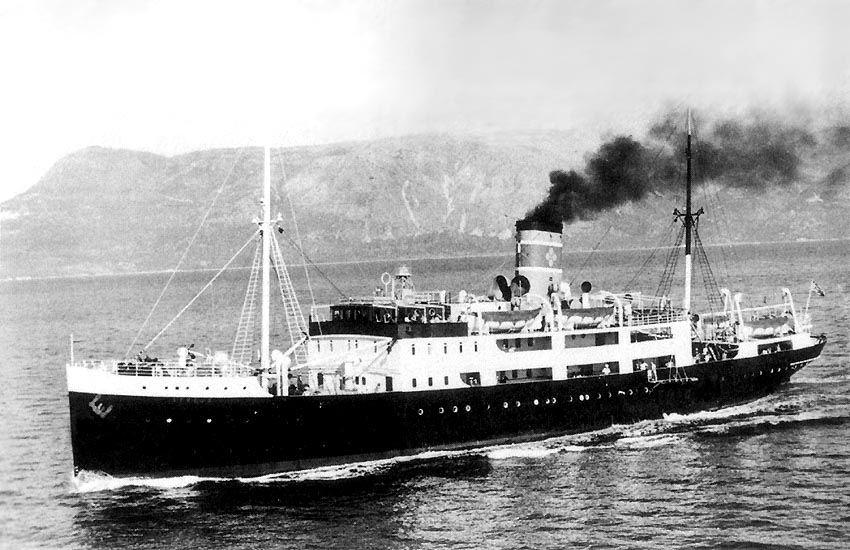 Above & below: SS Atreus commenced her days having been modernised but still with a black hull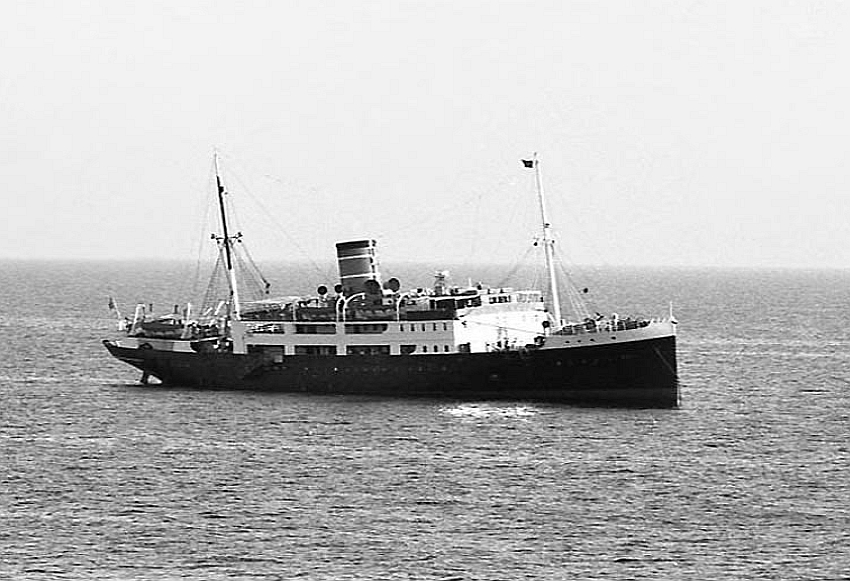 As Epirotiki worked so closely in conjunction with the "Hellenic National Tourist" Office and operated various round cruises to the Greek Islands and Eastern Mediterranean the SS Atreus was placed on the following three services:
1. Piraeus, Corfu, Patras, Brindisi and return. 2. Piraeus, Calymnos, Cos, Rhodes and return. 3. Piraeus to Herakleion, but return via Rethymnon and Chania to Piraeus.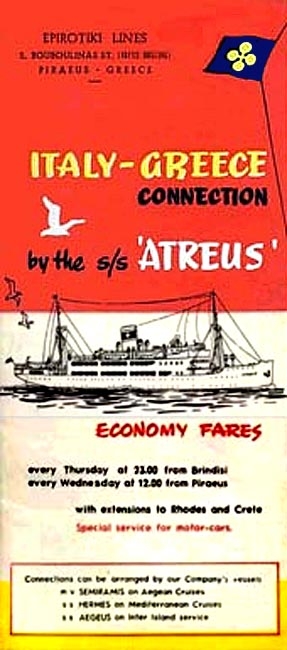 An Epirotiki Brochure containing fares for SS Atreus
The SS Atreus became Epirotiki Lines very first Passenger Cruise ship that had facilities to transport a good number of passenger cars, but she was essentially a cruise ship. She proved to be very popular indeed and operated a service that connected with three other ships, should passengers extend their voyages. The Atreus was greatly loved and thus very soon she was given a further refit as well as a livery change featuring Epirotiki Lines traditional colours.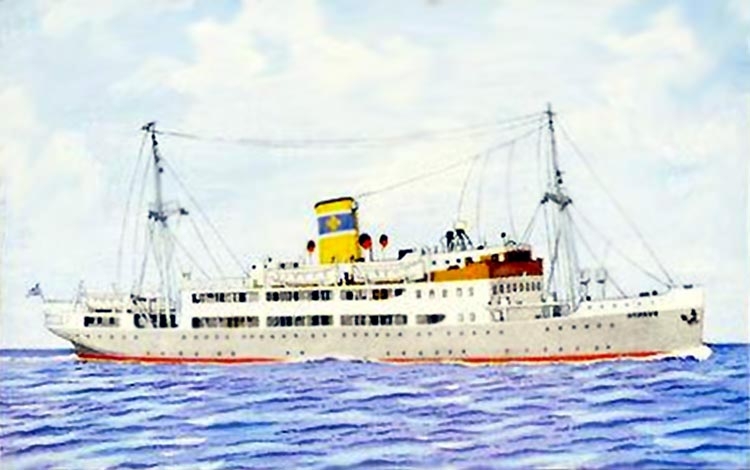 Here is a new Epirotiki postcard of the SS Atreus after her refit and she is finally sailing in the Epirotiki livery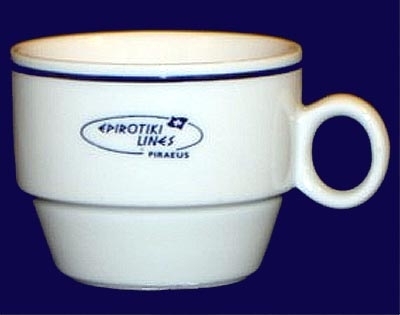 This is a cup used onboard the SS Atreus in the 1960s
SS Atreus continued on her services for a total of ten years, but in 1968 it was decided by Epirotiki Lines that with their newer acquisitions that regrettably, this delightful, but aging ship required to be retired and therefore she was laid up in the Bay of Piraeus and placed on the market. However, as time went by there were no buyers for the old girl, thus sadly she was finally sold to an Italian ship breaker who took her to La Spezia in 1970 where she was duly broken up, aged a respectable 56 years.
1. SS Aalborghus - 2. SS Atreus Specifications:
Built by:                          Burmeister & Wain Shipbuilding, Copenhagen.
Yard No:                          296.
Keel laid down:                December 6, 1913.
Launched:                       April 3, 1913.
Completed:                      June 4, 1914.
Tonnage:                         1. 1,478.
.                                     2. 1,554.
Length:                           77.6m - 254.6ft.
Beam:                             11.8m 38.7ft.
Draught:                         7.5m - 24.8ft.
Engines:                          B&W triple expansion steam engines, 1,750 BHP.
Propeller:                        One.
Speed:                            13.5 knots.
Passengers:                     1. 142 First, 94 Second Class & 250 deck passengers.
.                                     2. 464 One Class - SS Atreus.
Crew:                              1. 38.
.                                     2. 170. 
****************************
SS Pegasus and Hermes II, ex SS Princess Elizabeth & Princess Joan 1930: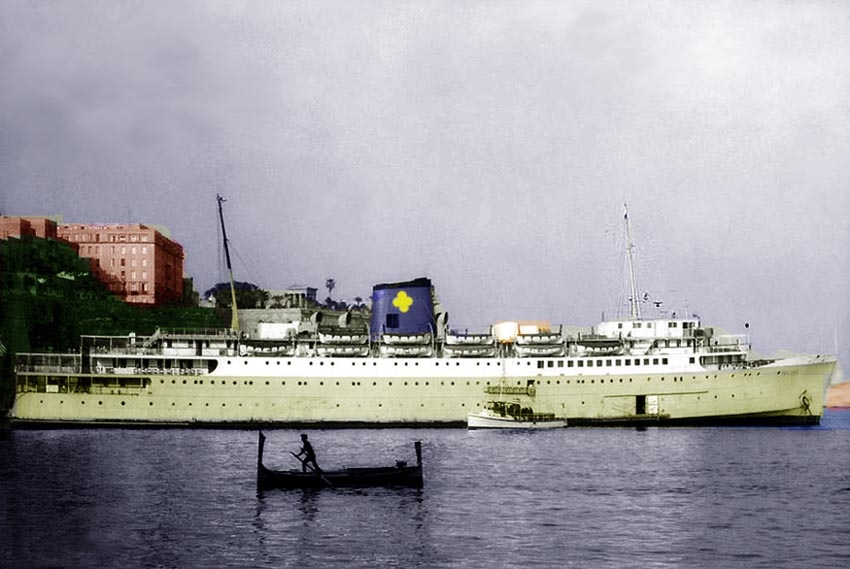 The SS Pegasus seen in her later years
Part One - The SS Princess Elizabeth and Princess Joan:
Pegasus and Hermes II were built as two "Canadian Pacific Railway Company" (CP) ships, the SS Princess Elizabeth and Princess Joan, both being passenger car ferries, which were completed in 1930. Their original builders were Fairfield Shipbuilders of Govan (Glasgow) and they operated a service between Seattle, Victoria and Vancouver B.C., as well as other services. However, they were withdrawn by CP in 1959.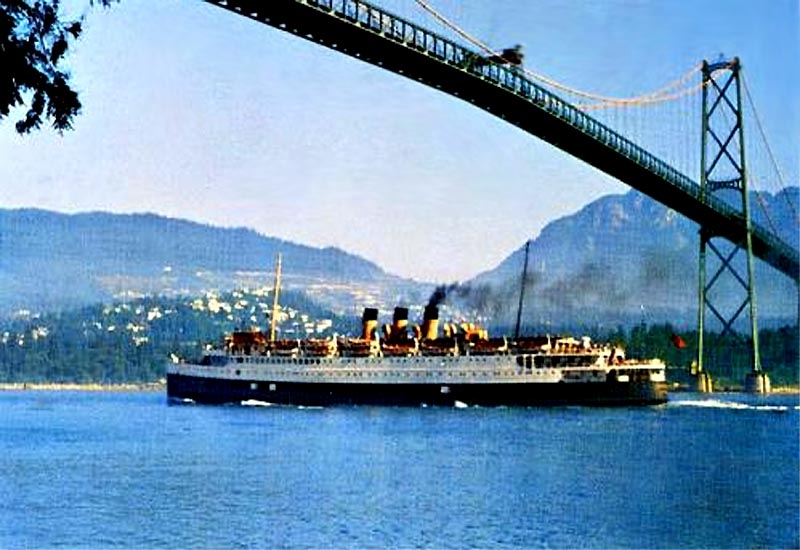 Here we one of Canadian Pacific's three funnel ships, the SS Princess Joan

A close up of these fine and well built ships, for they may be ferries, but they certainly stood out in a crowd!
SS Pegasus & Hermes:
These two identical ships were built with three funnels, but when both ships were purchased by Epirotiki Lines in 1960 they were given an extensive refit and partial rebuild. The SS Princess Elizabeth was renamed the "Pegasus" and SS Princess Joan became the "Hermes II." Upon completion their three funnels had gone and one larger, but shorter funnel had replaced them and although these two ships were externally identical in appearance, however internally they had completely different layouts.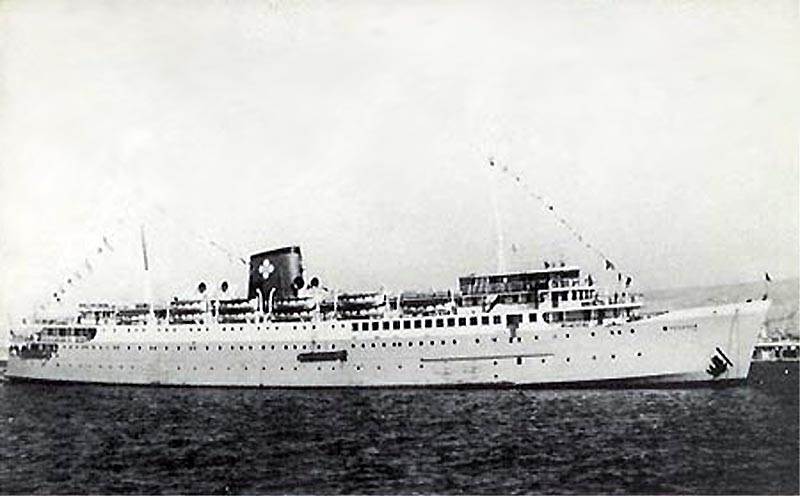 SS Pegasus is seen here in her early days as a Passenger Car Ferry, and did not look as good as she did in the past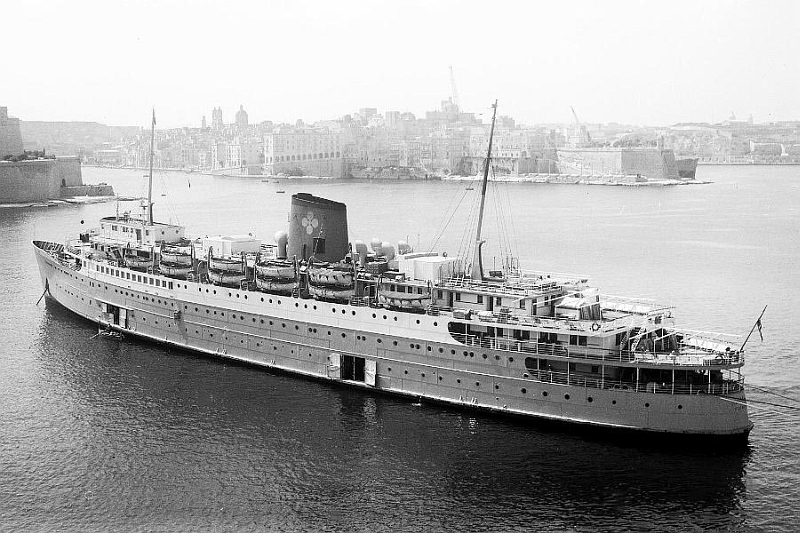 The Pegasus having had a further refit is looking better; she is seen arriving in Venice with her garage doors open
Both ships retained the large garage for cars that entered through large side doors in the side of the hulls, which can be clearly seen on the ships photographs. Both The SS Pegasus and the Hermes II commenced service in 1961.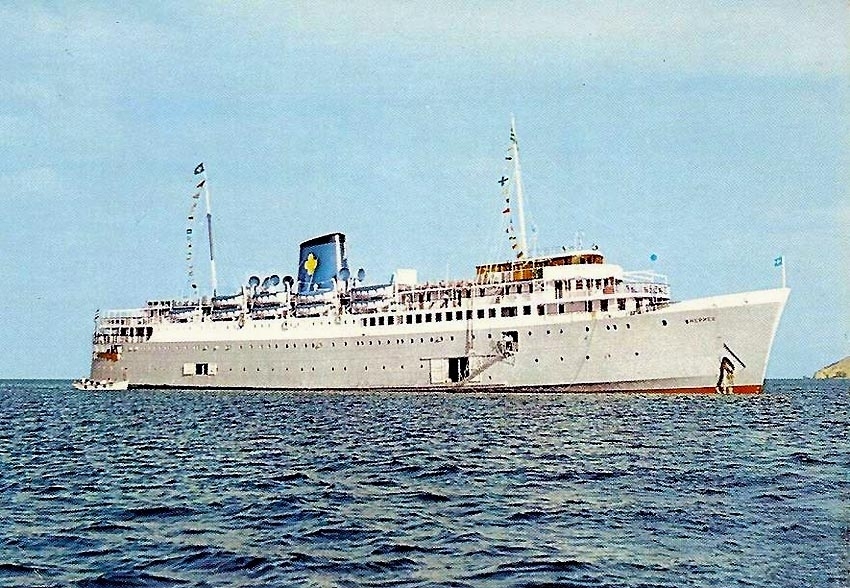 Here we see that she had SS Hermes II being the name on her bow, but she was marketed just as the "SS Hermes"
They commenced as Three Class ships, operating the lucrative Passenger Car Ferry service between Italy, Greece, Cyprus and Israel. In due course they were also operated as cruise ships.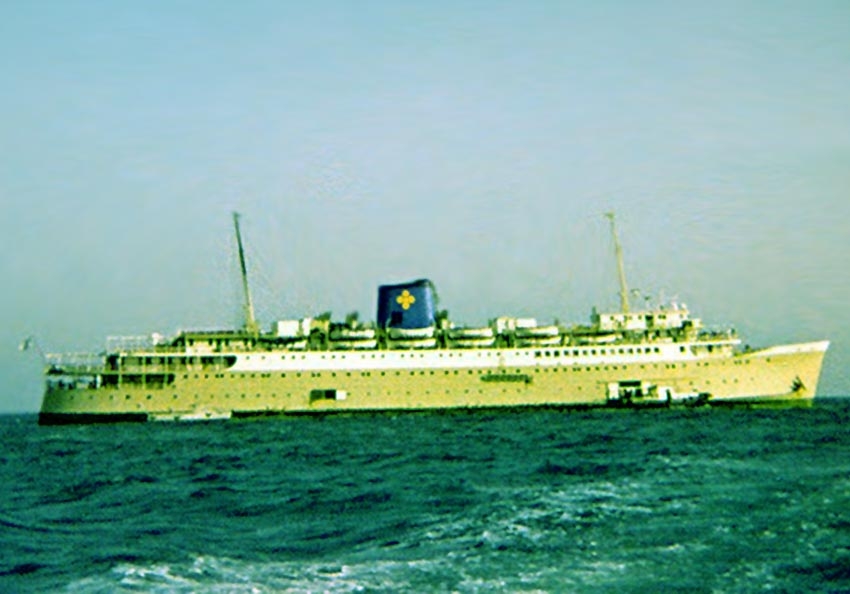 The SS Pegasus is seen during one of her cruises
However, in the seventies both the Pegasus and Hermes spent time as accommodation ships in Scotland. The Hermes was the first to arrive but she was sold to the breakers in 1974. The Pegasus had been renamed the "Highland Princess" for her new roll in 1973, but her accommodation duties concluded early in 1976, and she was sold to the "Bruges Ship Breakers" in Belgium, where she arrived on March 19, 1976.
1. SS Princess Elizabeth & 2. Princess Joan Specifications:
1. CP - 2. Epirotiki.
Built at:                           Fairfield Shipbuilders & Engineering Co., Govan, Scotland -1930.
Yard:                              1. 638.
.                                     2. 639.
Launched:                       1. January 15, 1930.
.                                     2. February 4, 1930.
Length:                           107.70m – 353.3ft.
Breadth:                          15.87m – 52.1ft.
Draught:                         7.67m - 25ft.
Tonnage:                         5,251 GRT, 3,023 Net, 772 Dwt.
Engines:                          Quadruple-Expansion Steam Engines, by the builder 3,600 BHP.
Propellers:                       Two.
Speed:                            16.5 knots.
Passengers:                     1. 1,000 berthed and seated.
.                                     2. 180 First Class, 140 Cabin Class & 150 Tourist Class.
****************************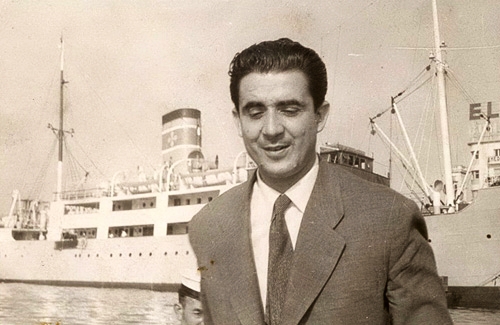 Here we see Mr. Giorgos Potamianos standing in front of the SS Atreus, being the
second ship obtained in the new passenger fleet purchased in the 1950s and the 1960s
Epirotiki Index:                     
Page One …                              MV Semiramis the first ship!
Page One B …                           MV Semiramis Deck Plan.
Page Two …                              The Early Ships - SS Hermes, Atreus, Pegasus & Hermes II.
Page Three …                           MS Argonaut.
Page Three B …                        MS Argonaut Deck Plan.
Page Four …                             MTS Jason.
Page Four B …                          MTS Jason, later MS Ocean Odyssey - Deck Plans.
Page Five …                              MTS Orpheus II.
Page Six …                               MTS Apollon II.
Page Six B …                            MTS Orpheus II & Apollon II - Deck Plans.           "
 "Blue Water Liners sailing to the distant shores.
I watched them come, I watched them go and I watched them die."
****************************
Return to the ssMaritime Main INDEX
Where you will discover over 700 Classic Passenger & Passenger-Cargo Liners!
ssMaritime.com & ssMaritime.net
Where the ships of the past make history & the 1914 built MV Doulos Story
Please Note: ssmaritime and associated sites are 100% non-commercial and the author seeks no funding or favours of any shape or form, never have and never will!
Photographs on ssmaritime and associate pages are by the author or from the author's private collection. In addition there are some images that have been provided by Shipping Companies and private photographers or collectors. Credit is given to all contributors. However, there are some photographs provided to me without details regarding the photographer/owner concerned. I hereby invite if owners of these images would be so kind to make them-selves known to me (my email address may be found on www.ssmaritime.com only), in order that due credit may be given.
This notice covers all pages, although, and I have done my best to ensure that all photographs are duly credited and that this notice is displaced on each page, that is, when a page is updated!
ssMaritime is owned & © Copyright by Reuben Goossens - All Rights Reserved