Fred Olsen Lines M/S Blenheim 1951 & the Braemar -1953
Please Note: Firefox and some iPad's or iPhone's, etc are not suitable
Use Internet Explorer or Google for this page to load perfectly!

Click the logo above to reach the ssMaritime FrontPage for News Updates & "Ship of the Month"
With Reuben Goossens
Maritime Historian, Cruise'n'Ship Reviewer, Author & Maritime Lecturer
Please Note: All ssMaritime and other related maritime/cruise sites are 100% non-commercial and privately owned. Be assured that I am NOT associated with any shipping or cruise companies or any travel/cruise agencies or any other organisations! Although the author has been in the passenger shipping industry since 1960, although is now retired but having completed over 700 Classic Liners and Cargo-Passengers Ships features I trust these will continue to provide classic ship enthusiasts the information the are seeking, but above all a great deal of pleasure!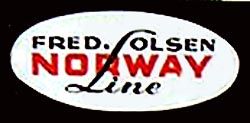 M/S Blenheim (2) & Braemar (1)
Completed 1951 & 1953 respectively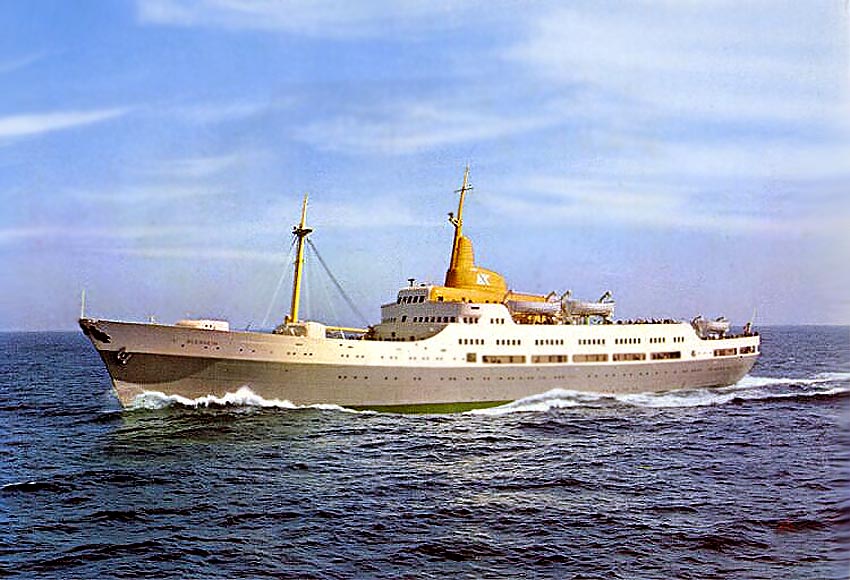 The elegant, super advanced ship considering she was built in 1951; Fred Olsen's - M/S Blenheim
PS: Due to the angle of the photograph, her foc'sle seems far longer than it actually is
Please Note: Images on this page, be they photographs or postcards are from the authors' private collection, unless mentioned otherwise.
Introduction:
This is a message to all those who love Classic Passenger Ships, and although these two ships are very different to what I would normally present, I am absolutely delighted to present two very different than my usual ships I have online. However these two ships are without a doubt the most remarkable small ships built in the early 1950s, and I dearly love them and dearly wish that even one of them would still be with us today, but sadly that is not the case.
You may ask, but what is so special about these ships? Well as you can see from the photograph above, they were the most advanced and innovatively designed passenger-cargo ships of their time, and fact they would certainly not be out of place today. The M/S Blenheim and her sister the Braemar were amazingly beautiful, and their advanced streamlined design remains for me, still a sight to behold of sheer beauty in semi-traditional, yet ultra modern design! Note her streamlined radar-mast being part of the ultra modern shapely funnel, which was successfully tested in the wind-tunnel, and it is set perfectly slightly aft above the Bridge.
All the aforementioned was located atop of the beautifully designed superstructure and a hull which being a symphony of perfection, and not to forget the magnificent traditional figurehead located on her prow.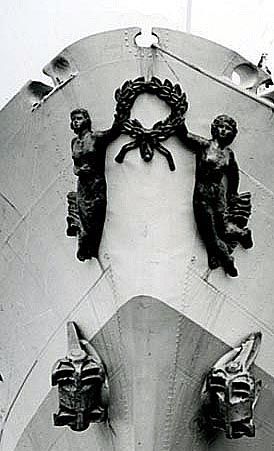 The figurehead on the prow of their ships was a Fred Olsen tradition
Thus I have added these two fine smaller passenger-cargo ships as an indulgence, and although they may not be great Trans-Atlantic Liners, or Around the World Liners, I trust that you will indulge my great fondness for these two wonderful ships and tell their story with photographs of them, but sadly I have been unable to locate very little of their interiors except of the First Class Dinning Room of the Blenheim, as well as one of the Bridge.
I trust that you will enjoy discovering these two fine ships, as much as I have enjoyed presenting them to you!
Reuben Goossens.
Part One ~ M/S Blenheim
(2)
M/S Blenheim - Construction to Completion:
With the Norwegian brilliance, Fred Olsen & Co (A/R Ganger Rolf) designed these two ships not long after WW2 had finished, and there is no doubt that they intended to set a new maritime standard. With their maritime designers having completed several ideas, there was one style of ship that was so revolutionary for those days, that the board decided to go with it and they contracted Thornycroft in Southampton, UK, to construct the hull.
Fred Olsen Line decided to name her the Blenheim, after an earlier ship of that name the 1,807 GRT (Gross Registered Tons) SS Blenheim (I) from 1923, and this new remarkable ship would was about to set new standards in maritime history!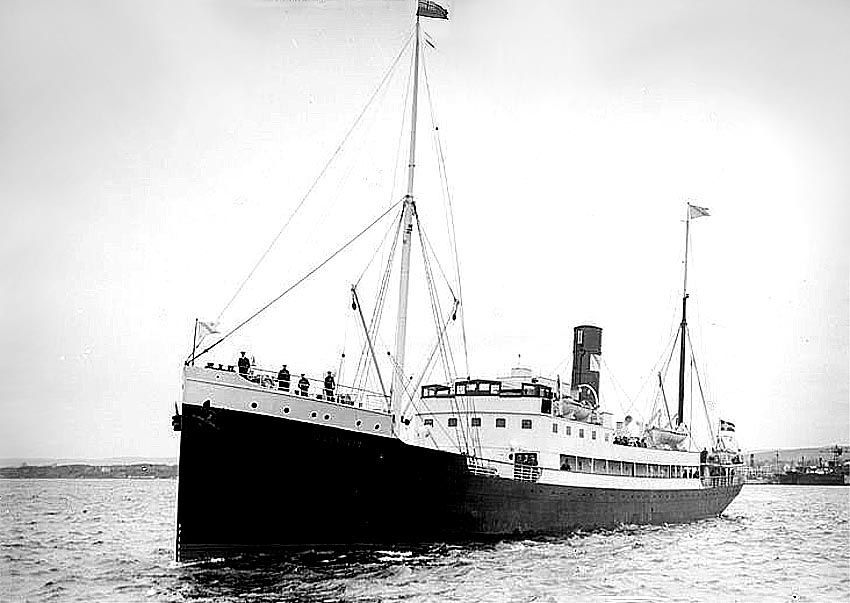 S.S. Blenheim (I) operated for Fred Olsen from 1923 to 1944 when she became a war casualty
The Blenheim's hull was launched on August 16, 1950 and then towed to the Akers M.V. shipyard, Oslo Norway, where she was completed and her magnificent figurehead was affixed to her prow!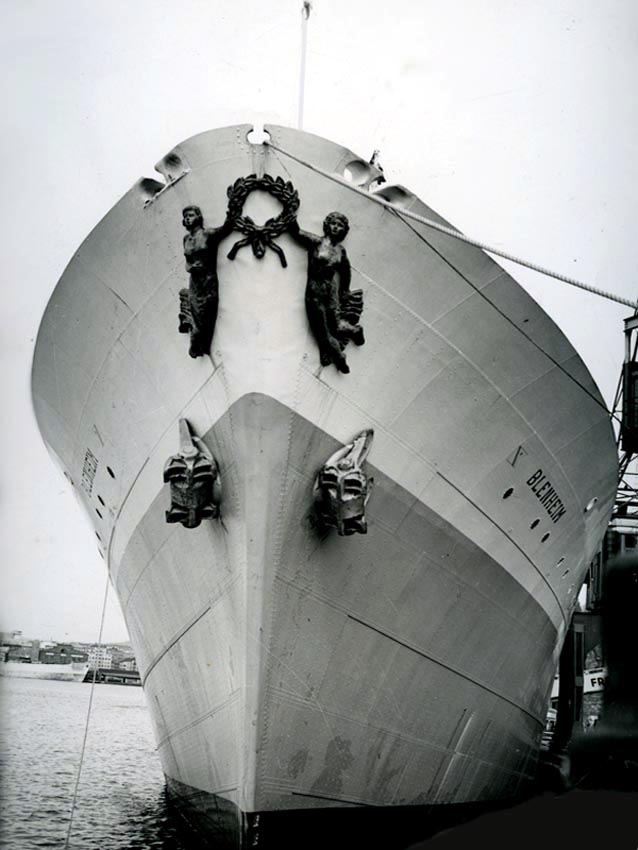 Here we see her full bow area with her magnificent figurehead.
The M/S Blenheim was delivered to her owners, Fred Olsen Lines on March 10, 1951 and she was made ready for her twice weekly schedule from Oslo sailing via Kristiansand to Newcastle, U.K., then returning via the same route. Although during the summer months she, with her sister ship would operate this service three times per week, as the poster below suggests. Please Note: I will cover her sister ship, the M/S Braemar in Part Two later on this page.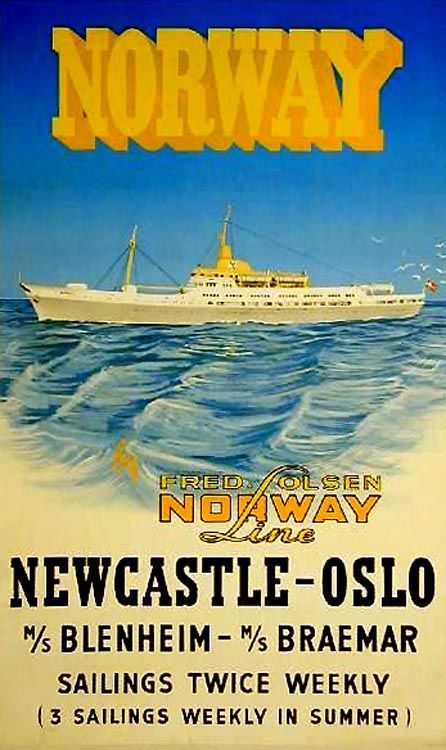 Tonnage and General Details:
This magnificently modern M/S Blenheim was 4,766 GRT, and she was 374 ft, or 114 m long, and she was powered by a powerful eight cylinders famed Burmeister & Wain (B&W) engine, having a power of 4,600 kW, which operated a single propeller and allowed her to maintain a constant speed of 16.5 knots. She accommodated 230 passengers in First and Second Class, both having exceptional facilities. In addition, there were cabins available for 36 in "Group Accommodation" located far forward of the ship and completely separated from the two classes, this was available to men only. Both ships had three holds located forward, her forward hold N° 1, had space for 40 cars, hold N° 2, was for general cargo, & small hold N° 3, was for refrigerated goods.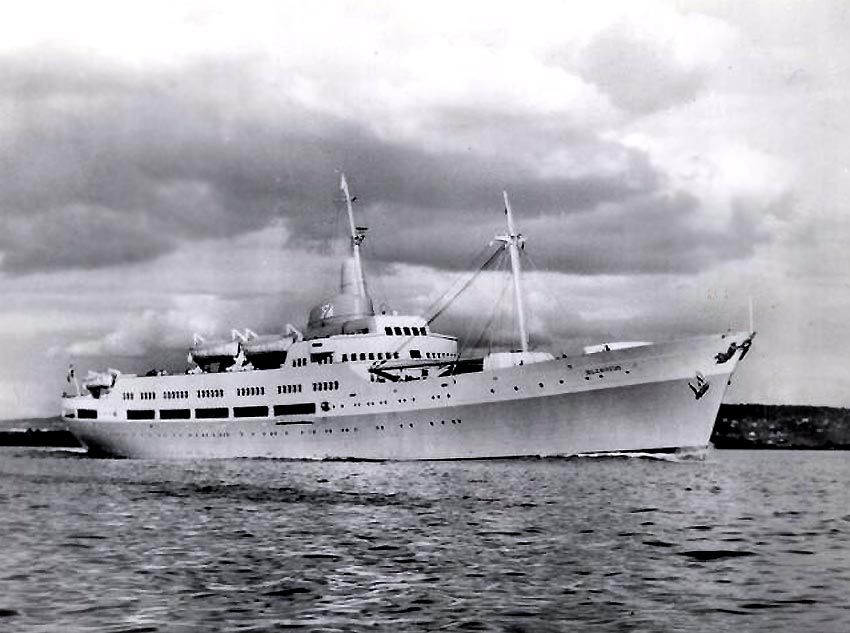 An early Fred Olsen postcard of the M/S Blenheim
Public Venues:
As we take a tour of the M/S Blenheim, I will commence from the highest passenger deck, being Boat Deck, and then I will slowly head down the decks and we will always commence from forward and head aft! Please Note: The M/S Braemar is very much the same when it comes to her public venues, there are only slight differences when it comes to her cabin arrangements. On Page Two there you will find the deck plans for both the M/S Blenheim of 1951 and her sister the M/S Braemar of 1953. On these plans you will see the slight differences regarding their accommodation layout although it being minor.
Bridge Deck:
Although there is no passenger facilities on this Deck, but it is of course one of the most vital locations on board the ship, as forward is the ships Bridge, which from the exterior looks very modern, yet internally it is surprisingly very traditional, as the photograph below proves! Aft of the Bridge is the captain, the staff captain and his first officers' quarters.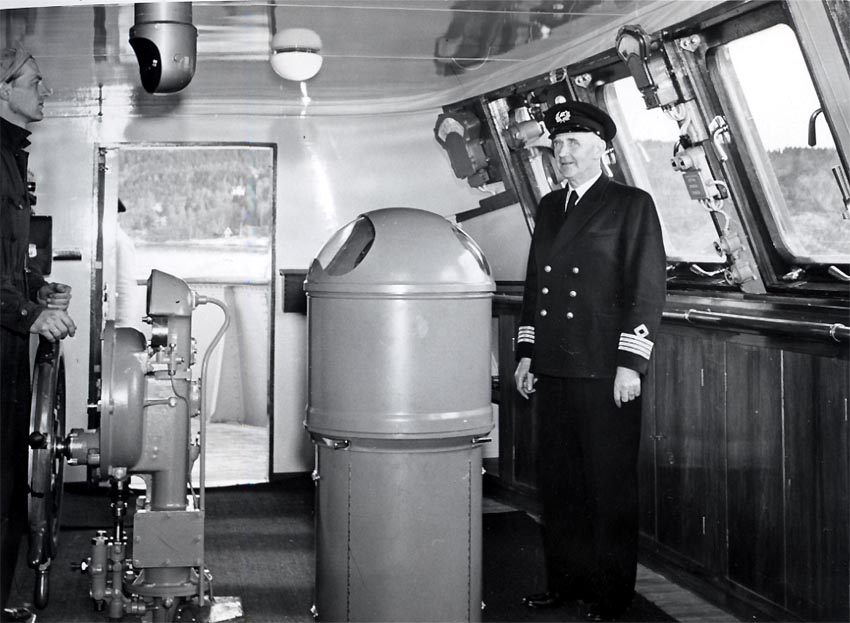 The Captain and his Helmsman are on the Bridge
We see the traditional steering wheel and a Binnacle Compass
Boat Deck:
First of all, this deck is only available to First Class passengers, thus all facilities are allocated to this class.
Far forward is a magnificent full-width of the ship Main Lounge witch has fine views through spacious windows on three sides and is beautifully furnished. A central door forward will allow guest to go out to a verandah style deck for exterior viewing when arriving in port, as views especially in Norway are always spectacular!
Just aft of the Lounge is the forward Lobby with the ships Main Stairwell located in the centre aft, and on the aft starboard side is a telephone room with three phones and a booth for privacy, whilst on the portside of the stairwell is the Radio (wireless) Room.
Far aft of the superstructure is something extra special the partial Glass Domed Veranda and a bar. Although a relatively small venue, having just six tables and fifteen seats, but visually it was rather spectacular. And it overlooked a spacious lido deck and Swimming Pool located directly aft. Also, along both sides of Boat Deck there were of course spacious decks, which were ideal for walking, or just relaxing in one of the deck chairs. The Verandah would be open to the Pool area during the day and serve drinks, etc.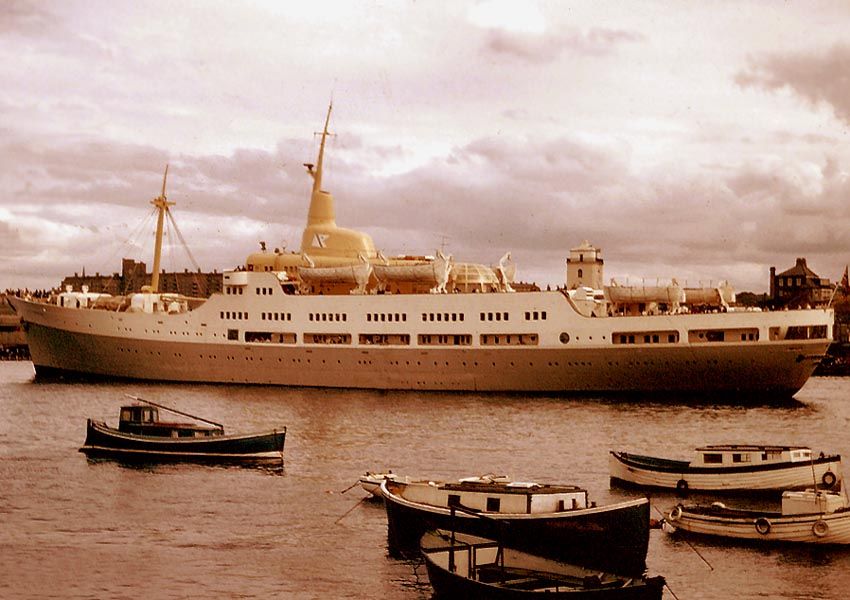 A fine stern view, as well of the glass dome over the First Class Veranda
The Photographer of this photo is unknown - Please Photo notes at the bottom of this page
Saloon Deck:

                                                                                
Saloon Deck, which is more commonly known these days as Promenade Deck, contains the majority of three public venues and a restaurant. Far forward is the First Class full-width of the ship Smoking Room, which was again superbly furnished and on the portside aft there was an intimate alcove leading off the main room, which could be also booked for special occasions, or used as a more intimate room.
Aft of the Smoking Room, located amidships was the Lobby with the ships Main Stairwell, Doors on the starboard side would lead you into the spacious First Class Bar, which had doors into the Main section of the spacious Restaurant, once again a full-width of the ship venue, whilst on the portside from the Lobby was an entrance into an more intimate section of the Restaurant, which had doors that also led into the main venue.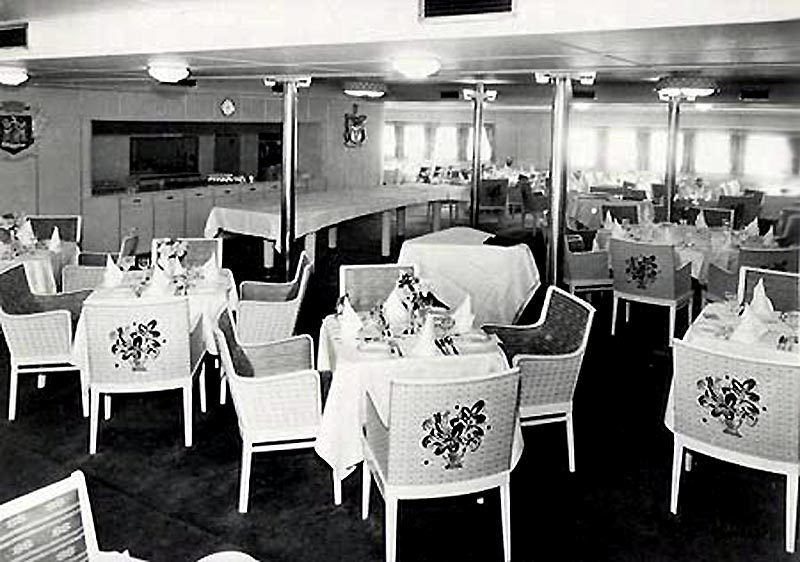 The First Class Restaurant looking forward to starboard
Directly aft of the First Class Restaurant was the Second Class Smoking Room (port) and the Bar (starboard). This, again a full-width of the ship venue and it was reached via a smaller aft stair well. Directly aft of the public venues was a huge deck space for Second Class for relaxation.
A Deck:
Far forward in the bow section was the male only "Group Accommodations" available for 36 persons. Cabins ranged from six and two berth with all having shared facilities. Portside aft of this separated section was a Dinning area with long tables and stool like seating, as well similar style somewhat forward, which would also be used as their lounge areas. However, interior stairs led up to the rear section of the foc'sle where there was deck space, as well as some sheltered space near the stairwell deckhouse with the forward mast on top of it!
With First class, everything leads off its beautifully curved Main Stairwell. However, on A Deck, the lobby is the First Class' Main Entrance, as well as for the "Group Accommodation", which must board at a separate time as they enter their section through a door far forward of First Class.
Located forward in the Lobby is the Pursers Office with doors on both sides out to a covered deck suitable for strolling, or for arrivals, For First Class it ends just before Second Class commences.
Forward of the Lobby there are 34 single bedded interconnecting cabins, each of these can be booked as a two bedded cabin, there are also four higher graded cabins with private WC and basin, etc. and again these have four interconnecting cabins available making them spacious rooms indeed. On either side of the Pursers office (port & starboard) are two single bedded cabins, all cabins have hot and cold water with basins, but no private facilities, except for those with a WC!
Aft and on the starboard side of the Main Lobby are two very special Staterooms, which even have its private passage to their doors. Each stateroom has two beds, a complete bathroom, with a full bath with an overhead shower, a WC and all you would wish for, etc! And both Staterooms were superbly furnished, however there was another option, for one of these staterooms could opt for a superb Lounge to be part of their stateroom, or if a family of four travelling, the entire three rooms could be booked, and it would become one huge Suite, with two bedrooms, two full bathrooms and a lounge!
Further aft, on the portside there was the Second Class Lounge just forward of their stairwell, which was followed by the Second Class spacious Dining Saloon. Outside, was the rest of the outside covered sheltered deck reserved for Second Class, which continued around her stern.
B Deck:
Forward there were nineteen First Class inside single cabins some of these had interconnecting doors. Also located forward, there were twelve outside single cabins, and just aft of these there were six twin bedded cabins, all of which having shared facilities. We now head down a deck via the far aft stairwell.
The above cabins were followed by Second Class cabins as follows; in all there were 27 outside two berth cabins as well as twenty two inside two berth cabins. All accommodations aboard without private facilities had ample facilities for full baths, and ladies and gents facilities, and as was so typical for Norway, they were always completely spotless!
C Deck:
Reached via the forward Main Stairwell, here was a relatively small area of First Class cabins, with just seven twin bedded cabins, and nine two berth cabins, again all having shared facilities.
The M/S Braemar had a similar arrangement to the Blenheim, with some variations, like her sister, she also had the similar arrangement forward on C Deck, but aft on this Deck she had sixteen two berth Second Class cabins and two three berth cabins. All cabins on C Deck were inside, regardless if they were along the hull or not, for there were no portholes on this deck.
The entire ship had thermotank hot and cold air control to all parts of the ship, and each cabin had individual air temperature control.
Round Voyages became Popular:
These two amazingly delightful ships became greatly loved by the British public, so much so that many booked a round voyage, much like a short cruise, for Norway had so much to offer, let alone the delights of the ship and the voyage itself!
Fred Olsen promoted itself in Britain in the perfect manner with a poster that said it all; "Join us for a Holiday at Sea and Visit Beautiful Norway".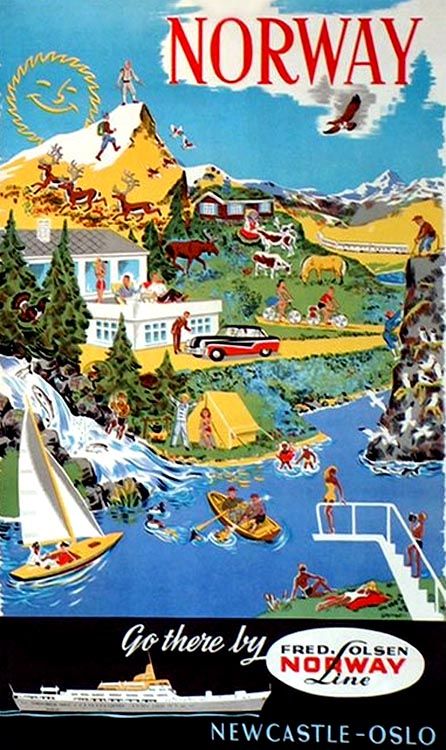 As the M/S Blenheim sailed on with her scheduled voyages with happy passengers, sailing either on one way voyages, or the ever popular round voyages, be it from Newcastle or Oslo it was  all going well.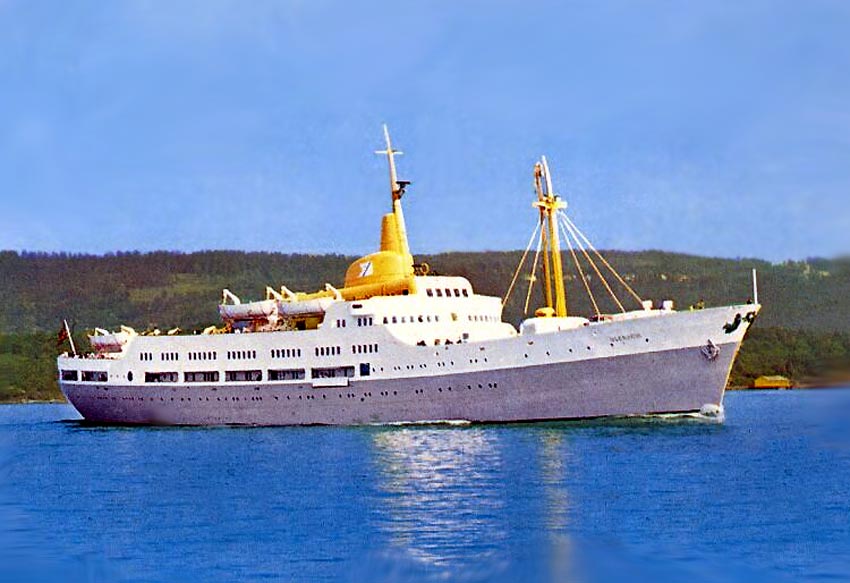 Another fine photograph of a ship that was stylish and well ahead of the times
Although, the M/S Blenheim having been quite successful over the years we need to remember that essentially she was built as a ferry, but soon times and the need for this type of ship would be changing.
The truth is that in the mid-sixties, the concept of the ferry was changing, and that conventional ships like the Blenheim engaged in regular passenger traffic and having to load a small number of cars by crane would soon come to an end, for new the transport of vehicles on Ro-Ro vessels, therefore these new type of ships were opening a brand new stage in the industry, and it was making far more money being not just ships carrying passengers only with just a few cars! Whilst Fred Olsen would head into a new direction, with newer ships and enter into cruising and have roll on and off larger ferries!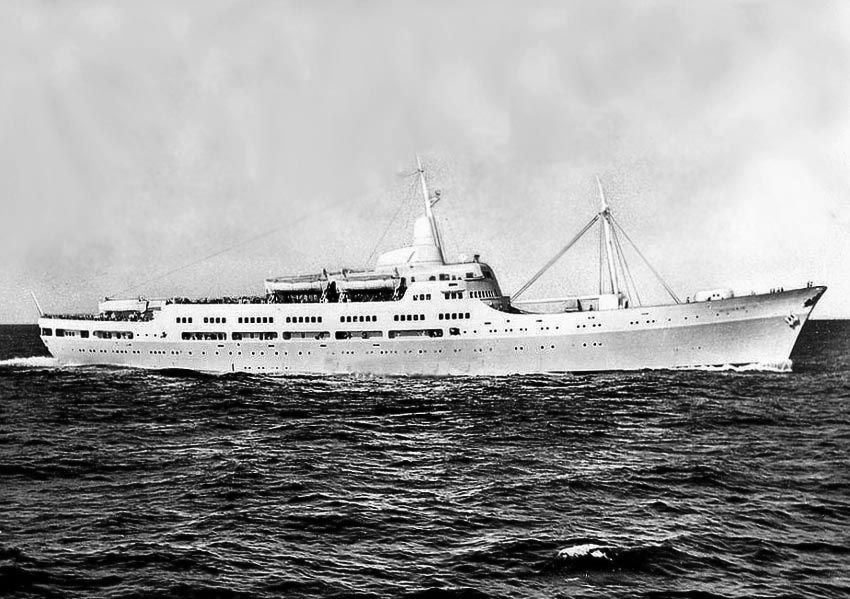 This postcard really shows off the M/S Blenheim's beautiful sleek lines!
During the summer of 1967, the newly introduced ferries the MS Black Prince and her sister the Black Watch were introduced to the - U.K. service and they were especially renamed 'Venus' and 'Jupiter' respectively.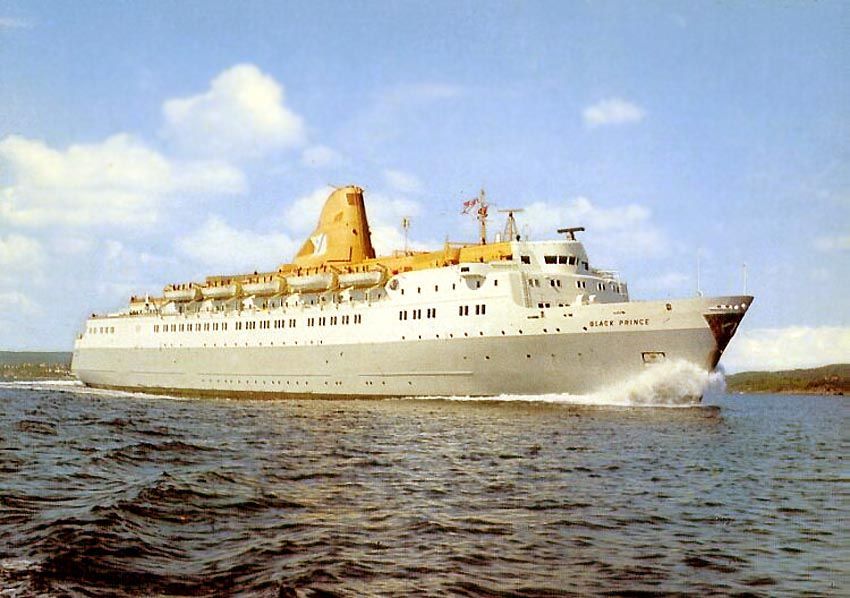 The Black Prince is seen here before she was renamed the 'Venus' for Fred Olsen
Disaster strikes the M/V Blenheim:
On May 21, 1968 suddenly a fire broke out on board the Blenheim, whilst she was not far out of Kristiansand, but thankfully all passengers safely evacuated. She was towed back to Kristiansand where she was laid up, and with the board of Fred Olsen was now considering what to do with her, repair the damage, which would be easily done or, was it time to sell their much loved ship?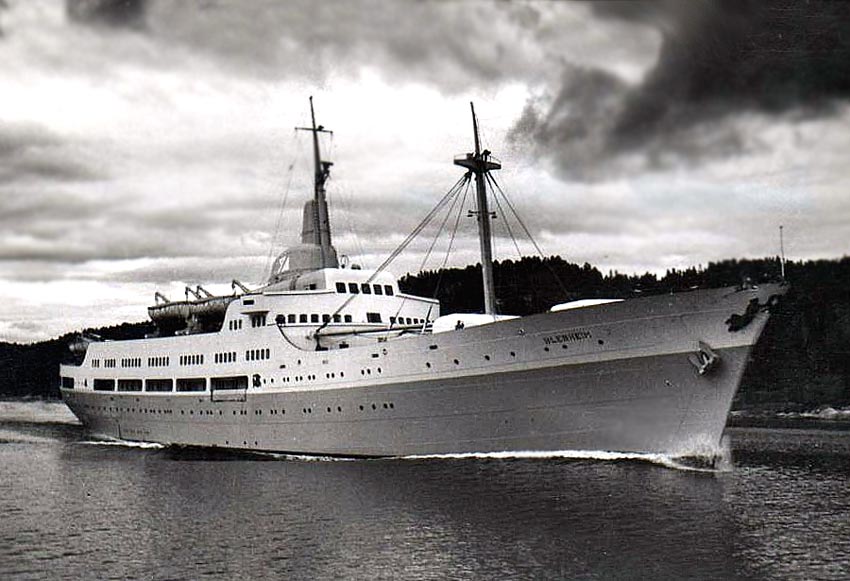 A photograph of the Blenheim taken early in 1968, but the dark clouds may have been an omen, for not long after she caught fire
M/S Blenheim Sold to become the MS Cilaos:
Ayear later in May of 1969 the Blenheim was sold to the Norwegian firm, A/S Ugland Rederi, which at that time was becoming one of the major players in the transporting of vehicles and thus the once superbly beautiful looking Blenheim, was completely transformed into an unrecognisable and ugly looking boxlike "car carrier" in the shipyard of Grimstad Norway, and she was renamed the 'Cilaos'.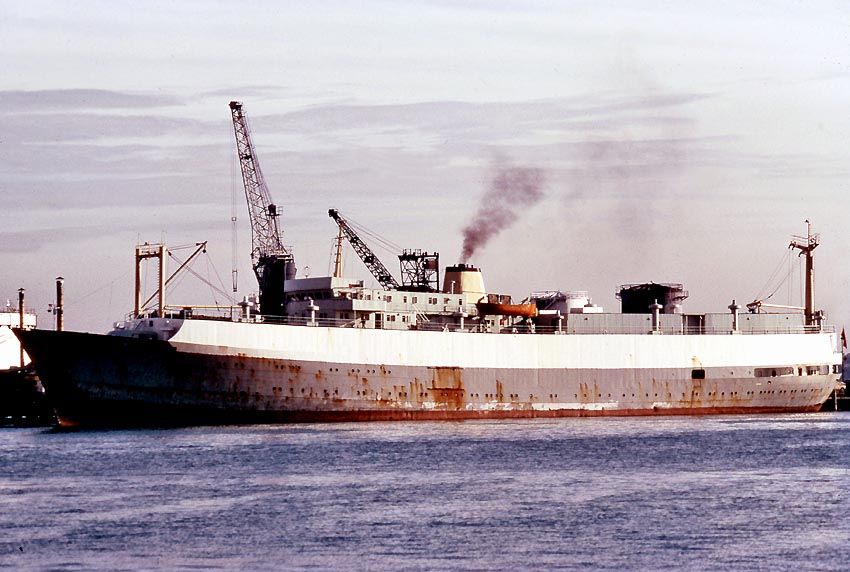 The rebuilt 'Cilaos', was now completely unrecognisable from the magnificent ship she had been
She is seen here in Auckland New Zealand on April 7 1974
Photograph by & © Mr. Mike Cornwell
In October 1969 she commenced operating her car-carrier service on the Le Havre to Reunion service, which she continued until early 1974, for then she headed Down Under to New Zealand in April 1974, when the company obtained newer ships.
MS Cilaos was sold to "Ocean Car Carriers Pte. Ltd" of Singapore mid 1974, and she was placed on services between the Mediterranean and South America and continued on this service for a good seven years, for her engines were well constructed and just kept on going!
In September 1981 the once glamour ship of the early fifties was sadly sold to "Demolition Tonnage Ltd," of London, and she headed under her own power for Gadani Beach in Pakistan. It was in December that the breakers put fire to their torches and commenced to cut her up and it took them a good six months to break this well built small ship her up.
M/S Blenheim Specifications & Details:
Hull Built by:                J.I. Thornycroft & Co. Ltd, Woolston, England.
Yard N°:                       490.
Hull Launched on:         August 16, 1950 and later towed to Oslo.
Completed by:              Akers M V Shipyards, Oslo Norway.
Delivered:                    March 10, 1951 to her owners.
IMO;                            5046334.
Tonnage:                     4,766 GRT, 1,665 DWT.
Length:                        114 m - 374 ft.
Beam:                          16.20 m - 33 ft.
Draught:                      5.38 m - 17.7 ft.
Engines.                       Eight-cylinder B&W type Diesel.
Propeller:                     One.
Power:                         4,600 kW.
Speed:                         16.5. knots, 17.8 maximum.
Passenger Decks:          Five.
Passengers.                  100 First Class, 130 Second Class & 36 Group Accommodation (male only).
Cargo:                         Three forward holds, hold 1. took forty cars, hold 2. for general cargo, hold 3. refrigerated goods.
Tonnage:                     2.404 GRT after conversion to MS Cilaos in 1969.
************************
 

Part Two ~ M/S Braemar (I)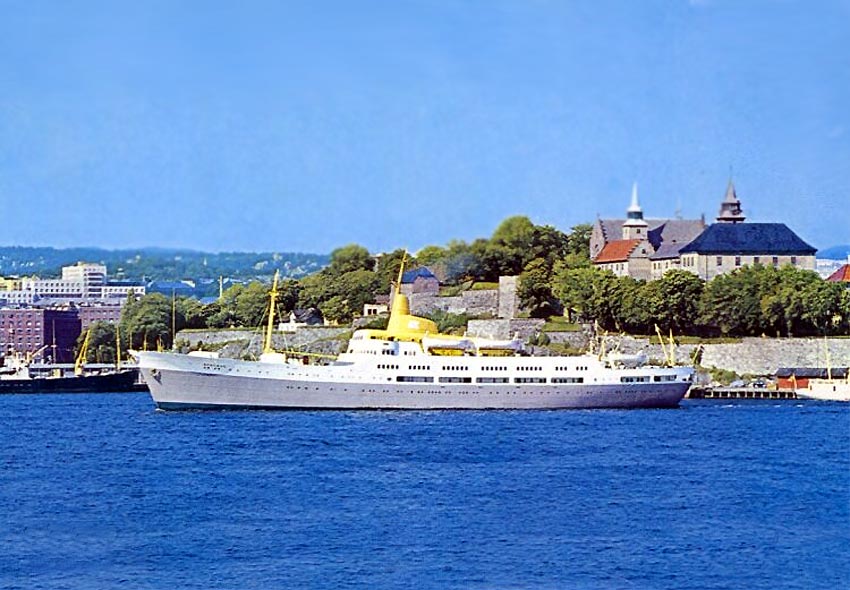 A Fred Olsen Line Postcard
M/S Braemar - Construction to Completion:
Just like her sister, the Braemar's hull was constructed by Thornycroft & Co. Ltd., Woolston England, in Yard N° 4123. When her hull was completed it was launched on November 20, 1952 and after some further work was finished she was towed to the Akers M.V. shipyard, Oslo Norway, where the ship had her superstructure added and she was fully fitted out and finally her magnificent figurehead was fixed to her prow!
After her speed trials, the brand new M/S Braemar was delivered to Fred Olsen Line, and very soon she joined the M/S Blenheim on the Oslo, Kristiansand to Newcastle and return service. She departed on her first voyage in May 1953.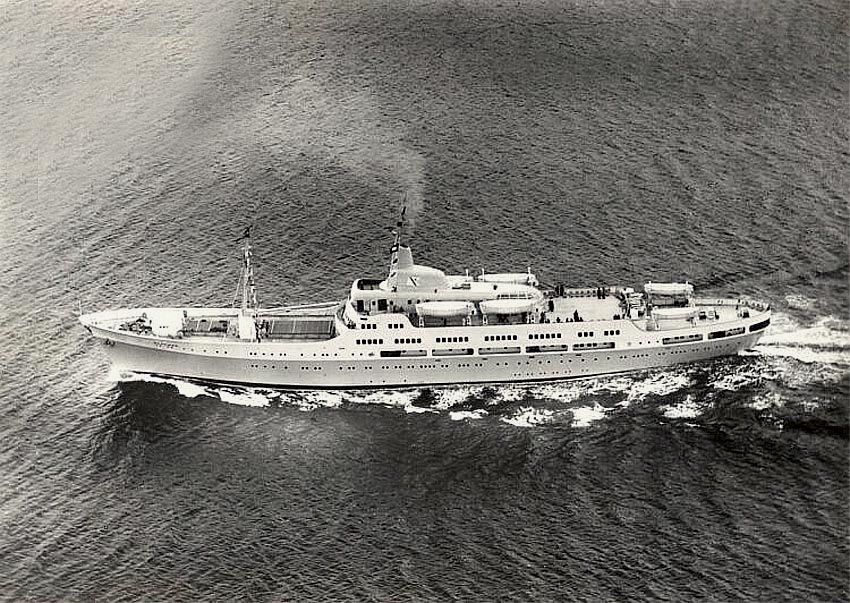 A fine aerial photograph of the M/S Braemar on her first voyage in May 1953
This photo does reveal her long foredeck with her three holds & her two spacious aft decks
Whist the 1951 Blenheim was the second ship to be after a ship of that name from 1923, but it was very different for the Braemar, as she was the first ship to use this name in the companies' history.
Tonnage and General Details:
This magnificently modern M/S Blenheim was 4,776 GRT, and she was 374 ft, or 114 m long, and she was powered by a powerful eight cylinders famed Burmeister & Wain (B&W) engine, having a power of 4,600 kW, which operated a single propeller and allowed her to maintain a constant speed of 16.5 knots. She accommodated 230 passengers in First and Second Class, both having exceptional facilities. In addition, there were cabins available for 36 in "Group Accommodation" located far forward of the ship and completely separated from the two classes, this was available to men only. Both ships had three holds located forward, her forward hold N° 1, had space for 40 cars, hold N° 2, was for general cargo, & small hold N° 3, was for refrigerated goods. Her IMO N° was 5050074.
In Part One M/S Blenheim, I provided a detailed description of the ships public and accommodation arrangements over the five passenger decks. Except for some differences in her accommodations, her public venues are identical and I suggest that you view the two ships Deck Plans on Page two for full details!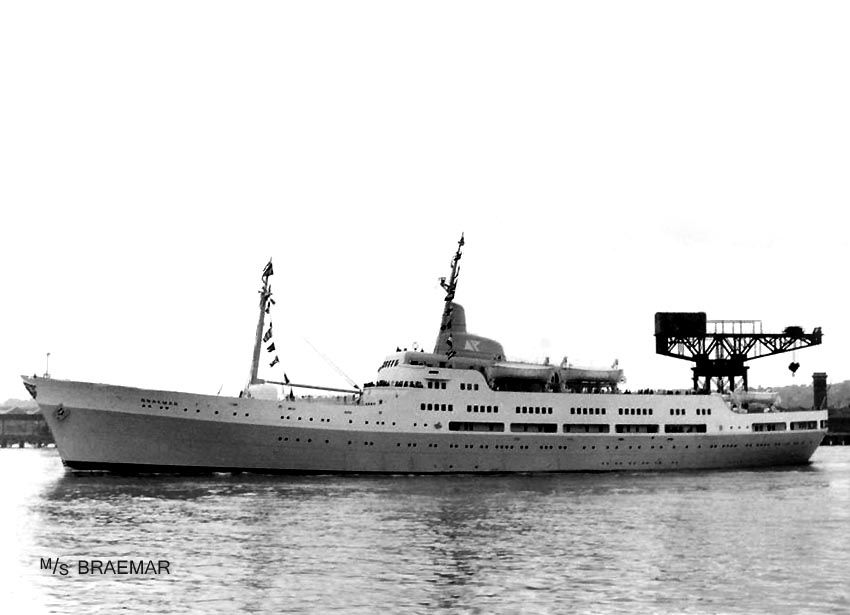 A postcard of the M/S Braemar
The Braemar continued in service right through until August 1975, having enjoyed good loading from her early days, with the same success, as her sister becoming popular with the Britain as well as many Scandinavians to take a round voyage and enjoy their time on board, as well as a visit in Norway or Newcastle in the U.K.

However, in due course loadings had been falling, but with the loss of the Blenheim, it improved somewhat for the Braemar, but it just could not last,  for the Ro-Ro car and passenger ferries were taking over the North sea!
Sold to become the Philippine Tourist:
Later in 1975 the Braemar was sold in Oslo for U$4million to the "Peninsular Tourist Shipping Corporation", being fully financed by "Dashwood Finance Co. Ltd". She was renamed the 'Philippine Tourist', and was flagged in the Philippines.
The MS Philippine Tourist sailed for the Philippines and to the Bataan Shipyard & Eng. Co., where she was internally transformed into floating casino, with two dinning rooms on Promenade (Saloon) Deck & A Deck aft being converted into gaming rooms providing space for 68 gaming tables including roulette, blackjack and baccarat, as well as 110 slot machines.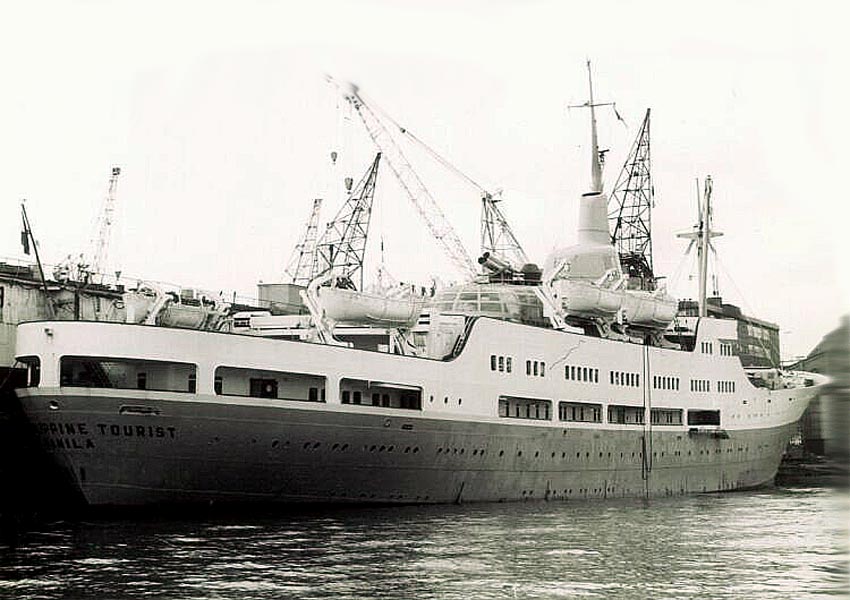 MS Philippine Tourist casino ship is seen in Manila, amazingly externally she remained unaltered!
The Photographer of this photo is unknown - Please Photo notes at the bottom of this page
In her new guise she was anchored in the Bay of Manila in 1976, but the company decided that she would be better suited at Cebu, where her name was given a slight alteration, as she was registered the 'Philippine Tourist I'. She did well in her casino role and she was a great success according to a report, which can be read below.
"Of the Philippine Tourist casino in the Philippines, of the estimated 2,200 gamblers who boarded the ship each day; around 600 of these would have been tourists, whilst the rest were Filipinos, most being of Chinese ancestry. Regular customers paid $400 for an annual pass to board the ship, or $700 if they desired VIP status and privileges on board. The tables were frequently packed and gamblers often had to wait for a vacancy.
The estimated gross revenues of the Philippine Tourist casino operation last year came to about $165 million, of which about $82 million was paid back in winnings to customers and about $16 million to the government for public works projects. The estimated gross revenues of the Philippine Tourist casino operation last year came to about $165 million, of which about $82 million was paid back in winnings to customers and about $16 million to the government for public works projects."
Thus there is no doubt that Philippine Tourist (I) owners made, as they say, "a killing" with her as a casino ship, according the statistics' I have presented above! In due course she was returned to Manila.
However her profitable role was not going to last, as her new owners were not aware that new regulations would come into place that would halt their operation fast!
It was due to the 1978 massive changes, with 'SOLAS' – 'Safety Of Life At Sea', it caused a decline in her Lloyd's registry. The ship was returned to Manila in mid 1979 and she was laid, her owners decided that the only option for the company was to dispose the ship as the costs to upgrade her up to the new regulations was far too great, thus they sold her for scrap and she was broken up in 1980.
Remembering Two Magnificent Small Passenger ships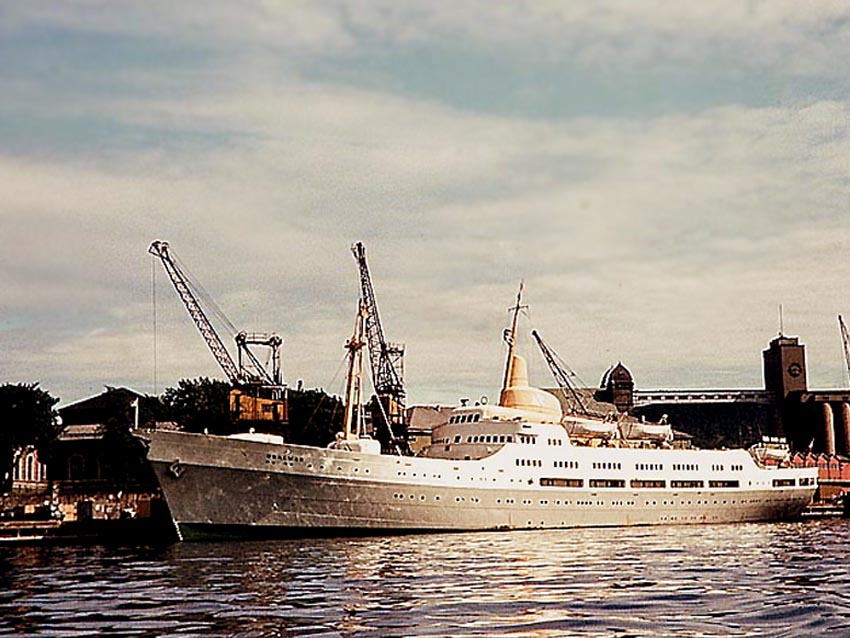 Go to Page Two for the Ships Deck Plans
************************
"Blue Water Liners sailing to the distant shores.
I watched them come, I watched them go, and I watched them die."
************************
ENTER OUR ssMaritime MAIN INDEX
Featuring over 1,250 Classic Passenger Liners, Passenger-Cargo Liners & Cruise Ships!
ssMaritime.com & ssMaritime.net
Where the ships of the past make history & the 1914 built MV Doulos Story
Photographs on ssmaritime and associate pages are by the author or from the author's private collection. In addition there are some images that have been provided by Shipping Companies and private photographers or collectors. Credit is given to all contributors. However, there are some photographs provided to me without details regarding the photographer/owner concerned. I hereby invite if owners of these images would be so kind to make them-selves known to me (my email address may only be found on www.ssmaritime.com), in order that due credit may be given.
This notice covers all pages, although, and I have done my best to ensure that all photographs are duly credited and that this notice is displaced on each page, that is, when a page is updated!
ssMaritime is owned & © Copyright by Reuben Goossens - All Rights Reserved