Linea "C" - Costa Cruises S.S. Frederico C 1958–1983, to become the S.S. StarShip Royale - 1983–1988 & S.S. SeaBreeze - 1988–2000
Please Note: Firefox and some other Search Engines may not be suitable
Use Google Chrome for this Web Page to load perfectly!

Please Note: All ssMaritime and other related maritime sites are 100% non-commercial and privately owned, thus ssmaritime is NOT associated with any shipping company or any other organisation! Although the author has worked and been involved in the passenger shipping industry for well over 60 years, but due to his old age and poor health, he was forced to retire. Yet, he has completed well over 1,355 Classic Liners, Passenger-Cargo Liners as well as humble converted C3 converted Migrant Liners, which has transported countless thousands folk to the new world, as well on vacations'. I trust the features online will continue to provide Classic Liner and Ship enthusiasts both the information they are seeking, but more so provide a great deal of pleasure and relive many happy memories!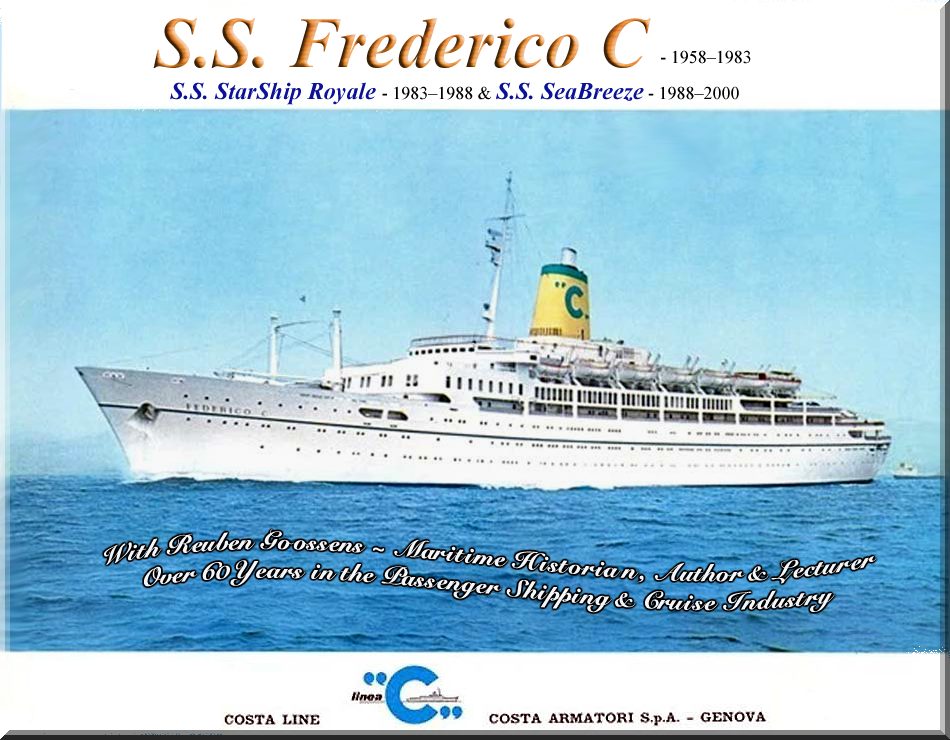 The S.S. Frederico C is seen after her 1968 refit
Please Note: Postcards, photographs & other images are from the author's private collection, unless stated otherwise.
A special thank you to Jason Wilson and Leo Johannes for their photographs and assistance.
This feature covers a Costa Line Flagship, the wonderful S.S. Frederico C a liner that became a greatly loved cruise ship that sailed on for 42 years, but having been sold she has a several name changes. This is her story and I trust that will enjoy the journey with her!
Linea "C" - Costa Line:
A new shipping company was founded in 1854 by Giacomo Costa as "Giacomo Costa fu Andrea", the company commenced to operate cargo ships, carrying olive oils as well as textiles. However in 1924, the company was passed to the founder's three sons - Federico, Eugenio and Enrico and continued the shipping activities and in 1927 they purchased the 1888 built 1,243 GRT S.S. "Ravenna". In 1947, the name of the company was changed to Linea "C" and it was decided to add passenger accommodations for 120 persons to one of their cargo ships, being the S.S. Maria C and she became the first passenger-cargo ship in the fleet. The S.S. Maria C served on the South and North American service until she was sold by Linea "C" on April 18, 1953 to ship breakers at Savona who scrapped her that year.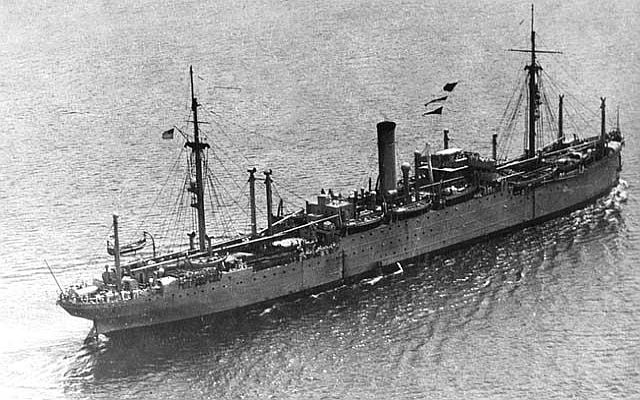 -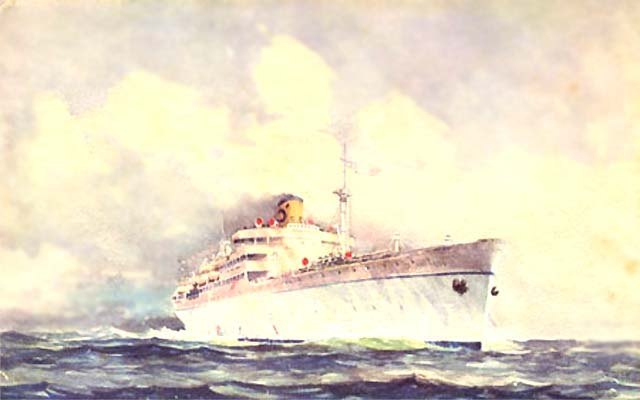 The S.S. Maria C is seen as built and after her passenger conversion
Linea "C" first true passenger ship was the 11,736 GRT M.S. Anna C which was purchased on March 6, 1948 for £122,500 (UK Pounds). She headed for Genoa and the OARN shipyards where she was given a massive refit, which included a new bow, as well as superior passenger and crew accommodations. Her Promenade Deck was extended far aft and her upper main superstructure was enlarged. Other external changes included a larger, but shorter more stylish flat sided funnel. Her interiors were very glamorous, commencing the famed Costa pastel colour scheme, which the company became so famed for. Her furnishings were the best available provided an intimate and a luxurious atmosphere on board this ship and their future liners. She offered First and Second Class for a total of 164 passengers, all of whom lived in fine style regardless the class her passengers sailed in. The Anna C set a brand new standard for Linea "C", Costa Line. M.S. Anna C departed on her maiden voyage on March 31, 1948, commencing regular line voyages to South America.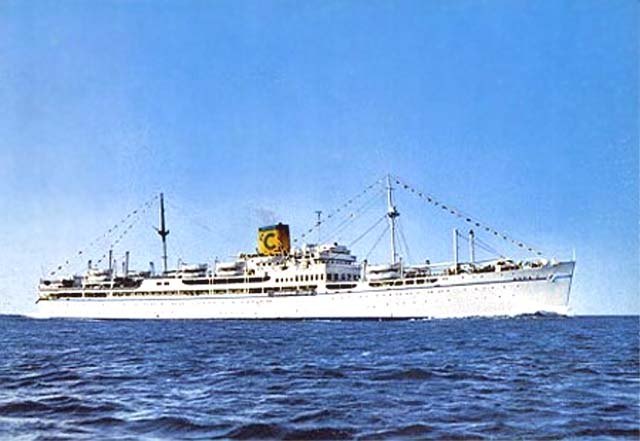 The delightful motor ship Anna C seen with an extended aft accommodation section fitted during a 1959 refit
In 1959, Linea "C" gradually commenced offering some pleasure cruises, with voyages being offered in the Mediterranean as well as the Caribbean. Linea "C" proceeded to take ownership of its first purpose-built cruise ship in 1964 and went on to own many more ships by 1980, with the company now having the world's largest fleet of passenger ships.
In 1986, Linea "C" changed its name to "Costa Cruises" and became a full time Cruise Company.
Costa's Linea "C" S.S. Frederico C:

Costa's Linea C logo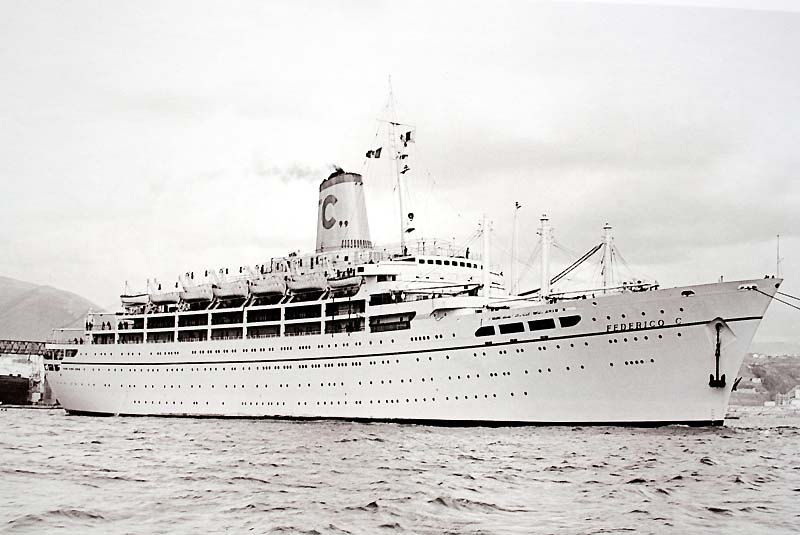 Linea "C" first brand new built ship, the S.S. Frederico C is seen as built
Even though there was an anticipation of a decline in passenger and migrant services to South America due to the ever increasing air travel Linea "C" decided they needed a brand new superior, high quality ship in order to strengthen their share in both First and Tourist Class passenger service to and from South America.
The Italian shipyard chosen was "Ansaldo G. & Co" or "Societa Nazionale Di Navigazione Ansaldo" at their Sestri Ponente, Genoa shipyards. "Ansaldo" was Italy's oldest, and most famous as well as being the greatest maritime engineering companies in Italy, if fact they were around for an amazing 140 years, from 1853 to 1993.
Her keel was laid down on June 9, 1956 as Hull N° 1516, and she was ready for her launching it was a huge affair for post-war Italy and it was attended by a large crowd, as well as countless dignitaries. This included the Minister of the Merchant Marine, as well as the Archbishop of Genoa who blessed the ship. But officiating the actual launching of the "Frederico C" was Miss Franca Costa, who was the daughter of Angelo Costa.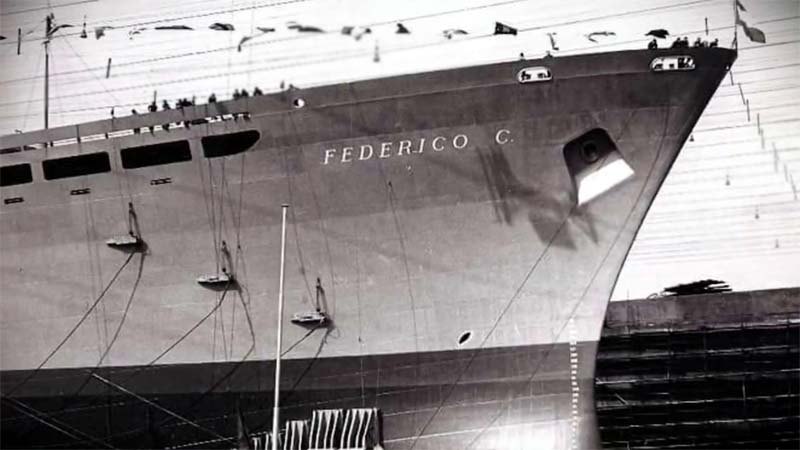 Above & below: The launching of the Frederico C
Photographs by "Ansaldo G. & Co" Shipyard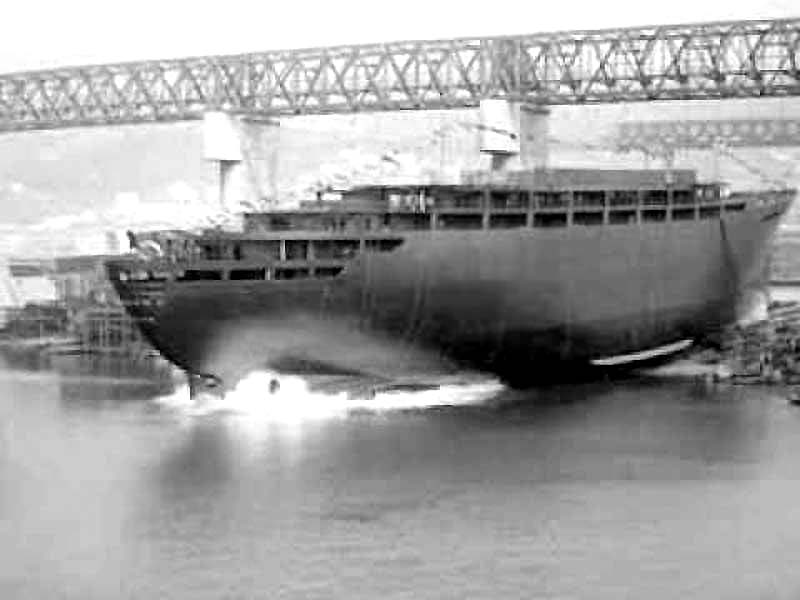 Once she entered the water she was towed to Ansado's fit-out quay where her interiors and exteriors were completed, with some of the finest interior decorators used to install her fine lounges as well as her staterooms and cabins.
One completed she undertook her deep sea and speed trials from 21 to 23 February 1958 and she reached a respectable top speed of 22.3 knots. Once she had successfully completed her trials, she returned to the fit-out berth, then back into dry-dock for her final paint touch up's, before being delivered to her owners.
On March 14, 1958, the S.S. Frederico C was delivered to "Lloyd Tirrenico", being a subsidiary of Costa Line and she was made ready to commence her liner service to South America.
The Federico C then departed Genoa filled with passengers as well as migrants on her maiden voyage on March 23, 1958, commencing her liner service from Genoa, Naples, sailing via Cannes, Barcelona, Lisbon, Funchal, Rio de Janeiro, Santos, Montevideo, to Buenos Aires. She would occasionally call on Bahia and Recife.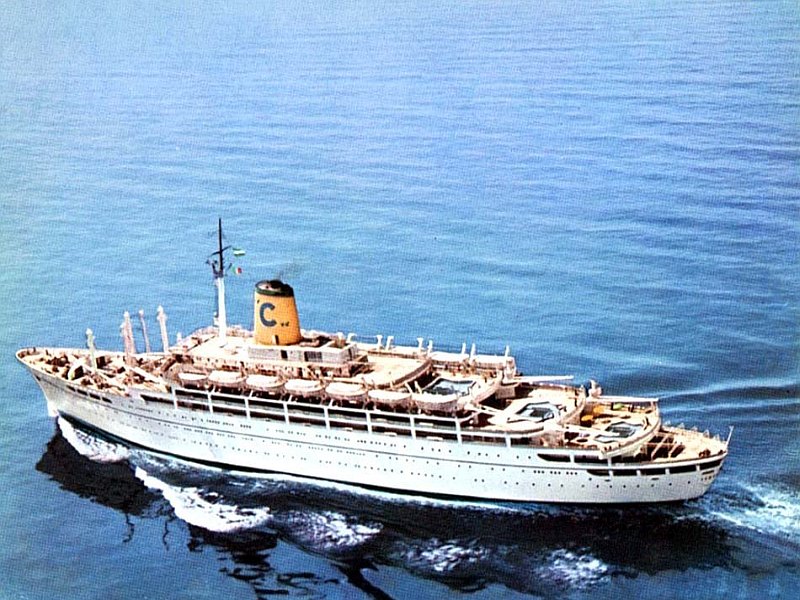 An aerial postcard of the S.S. Frederico C at sea during her maiden voyage in March 1958
Note her three aft stylish swimming pools
The Ship and her Facilities:
The elegant looking Linea C's new flagship; S.S. Federico C was built to be a stylish three class liner First, Cabin and Tourist Class, and she was Costa's very first ship to be especially constructed for them. When people saw her for the very first time they were amazed at her style, as she was a shapely and a beautiful looking liner!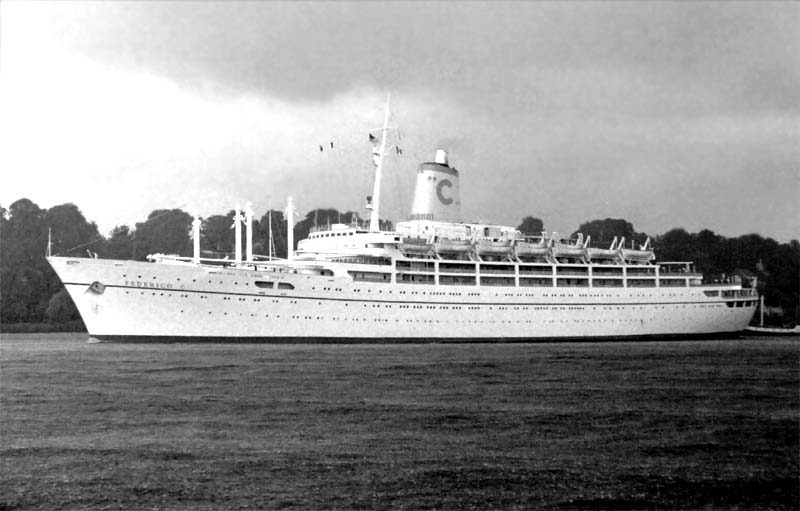 A fine photograph of the S.S. Federico C
Provided by Jason Wilson UK
She had an all white livery with a blue ribbon surrounding her hull and a shapely modern yellow funnel with the Companies blue "C" logo and blue top. She certainly was an attractive ship and she became famed for her luxurious interiors. She was fully air-conditioned, and the very first liner on the Italy to South America service that was fitted with Denny-Brown stabilizers fins. In addition to her 1,279 passenger capacity she also had space for 8.520 tons of cargo in her forward three holds.
Costa Line had selected the very best Architect and interior designer 'Nino Zoncada' who ensured that this ship would be truly magnificent in every possible respect! He took great care with her décor as her Public Rooms and Accommodations, which were based on typical contemporary Italian style, and featured a restrained use of colours. First Class was magnificent; however Second Class contained very much the same luxuries as found in First Class.
She offered her passengers eight decks, commencing topside with decks named as follows; Bridge, Sun, Lounge, Promenade, Restaurant, Main, A and B Decks.
Bridge Deck:
Commencing forward was the Bridge, followed by officer's quarters, and aft was the Radio Room and Children's Play Room on the starboard side. This was followed by a spacious sports deck.
Sun Deck:
Offered a range of First Class cabins commencing forward and along the starboard side, whilst aft of the superstructure was the delightful Pool Lounge. The latter was followed by yet another spacious deck with and attractive and a shapely Pool. Both Restaurants are identical, as it is the same venue, but is separated by a partition to suit any variation.
Lounge Deck:
Forward we find the spacious First Class Ballroom, followed by the Lobby and grand stairwell and two lifts. As we head aft we find the relaxing Main Lounge and Library and Reading Room. Out side on both sides and is the First Class Promenade Deck that goes half way of the length of this deck, for aft was Cabin Class, which was as good as First Class.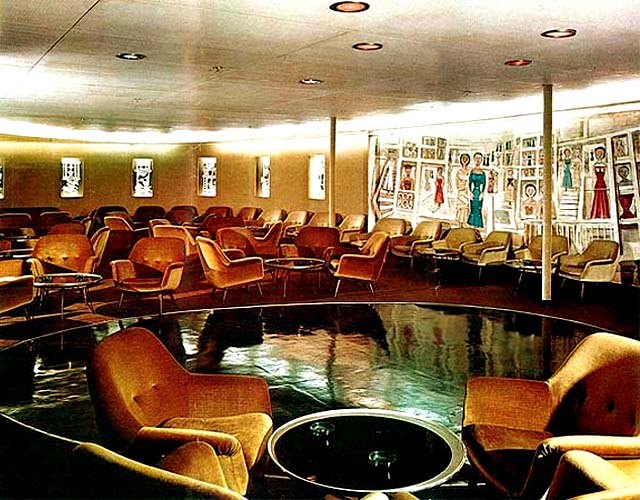 The First Class Ballroom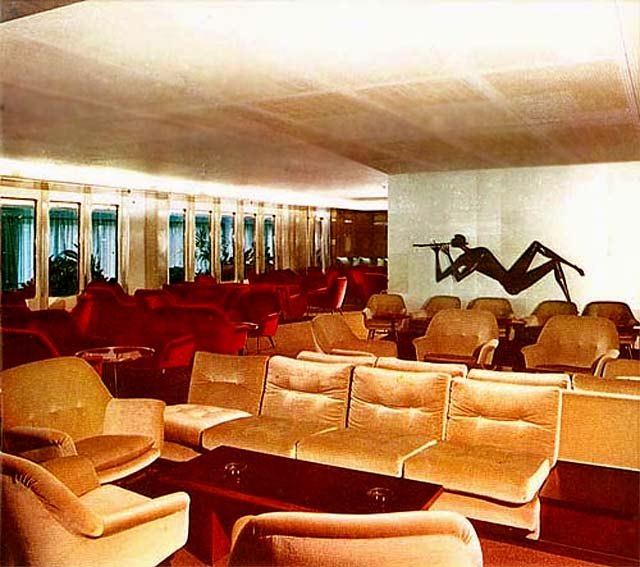 Main Lounge, the sculpture of the bronze Flute Player was by Marcello Mascherini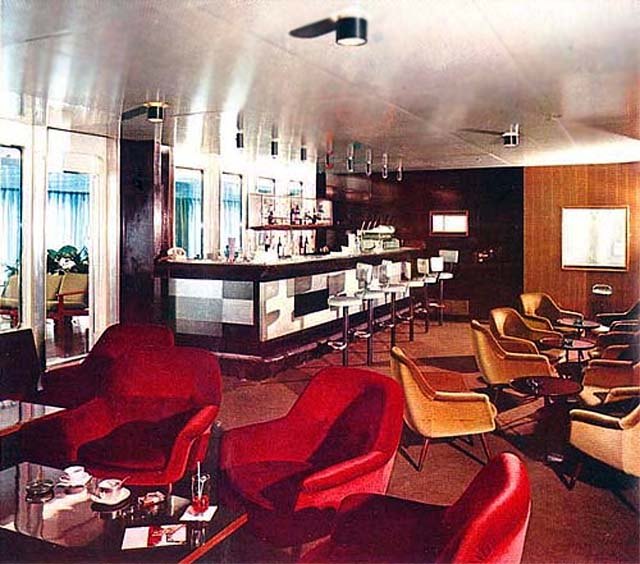 First Class Lounge and Bar
Amidships is the Cabin Class Lobby which was followed by the huge Venezia Lounge. Aft there was another Pool lounge and the Cabin Class pool. Of course along the sides is the continuation of the Promenade that goes to far aft.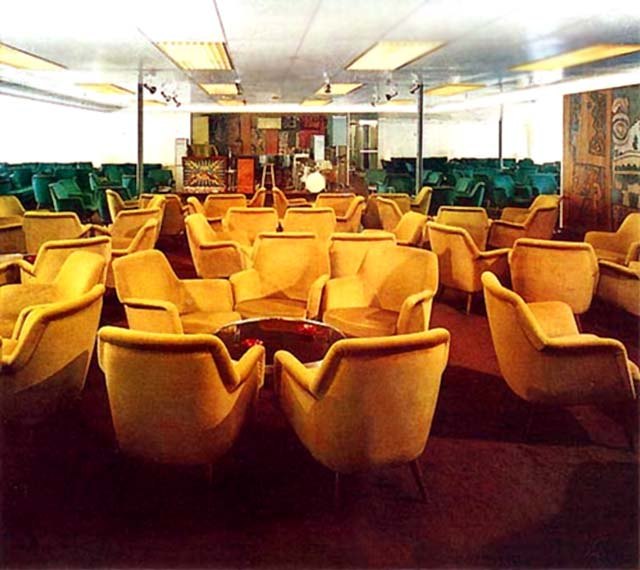 The Cabin Class' Venezia Lounge
Promenade Deck:
From forward to amidships, were the First Class Staterooms and Cabins with a fine lobby.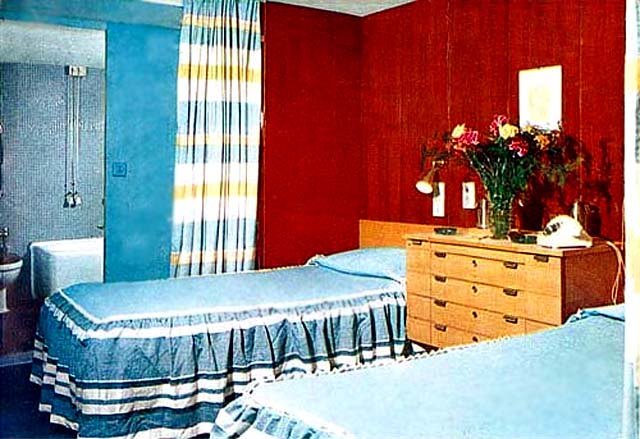 First Class Stateroom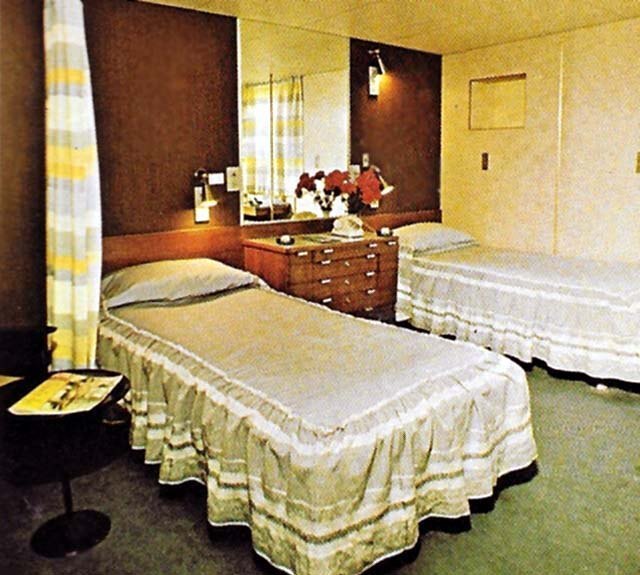 A First Class Twin bedded Cabin
Aft were both Cabin Class and some Tourist Class Cabins with the Tourist Class Poolside Lounge at the stern of the superstructure, and another specious deck outside with the Tourist Class Pool.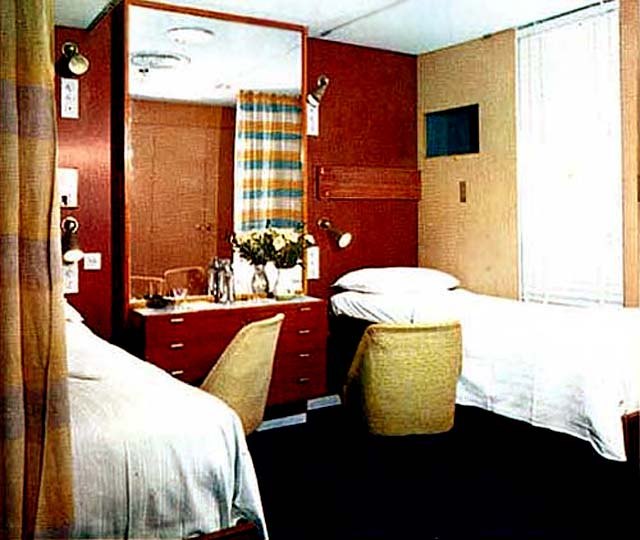 A Cabin Class outside Twin Bedded Cabin
Restaurant Deck:
This Deck contains a Cinema far forward, followed by some cabins, the Main Lobby with the Pursers Office, followed by one huge Restaurant. This venue is divided, the forward section being First Class and the aft part was Cabin Class. Public spaces for both classes were very much the same, offering much the same style and décor. In fact Cabin Class would be like First Class on other liners, if they were lucky!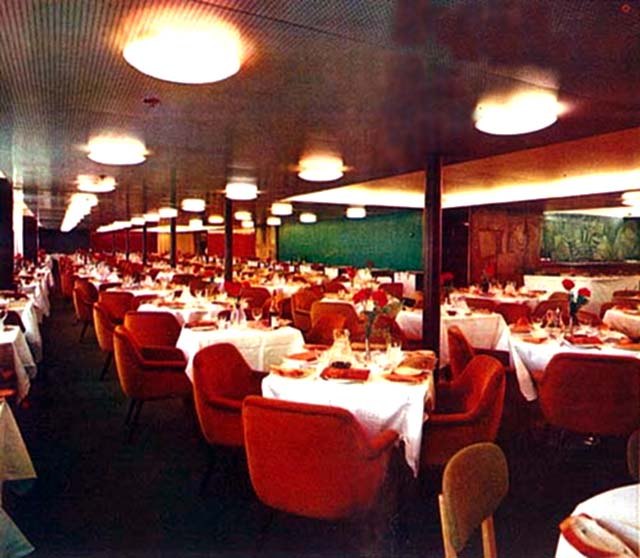 First Class Restaurant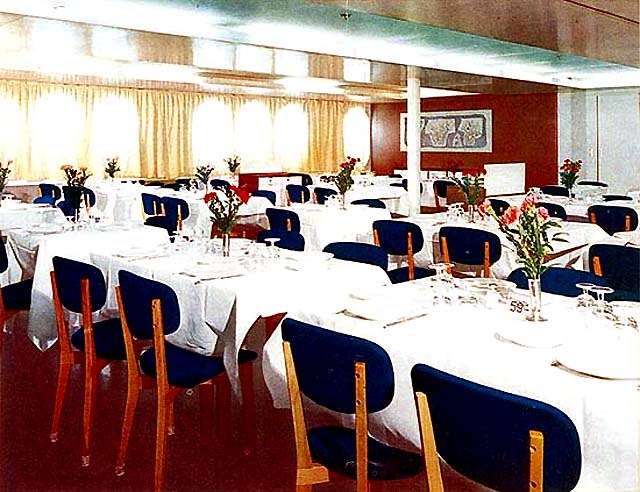 The Cabin Class Restaurant
Aft was the aft Lobby and followed by further Cabins. Many cabins on the Frederico C were interchangeable.
Main Deck:
Forward there were more Tourist Class Cabins, as well as several public venues that included the Orvieto Lounge and their Restaurant.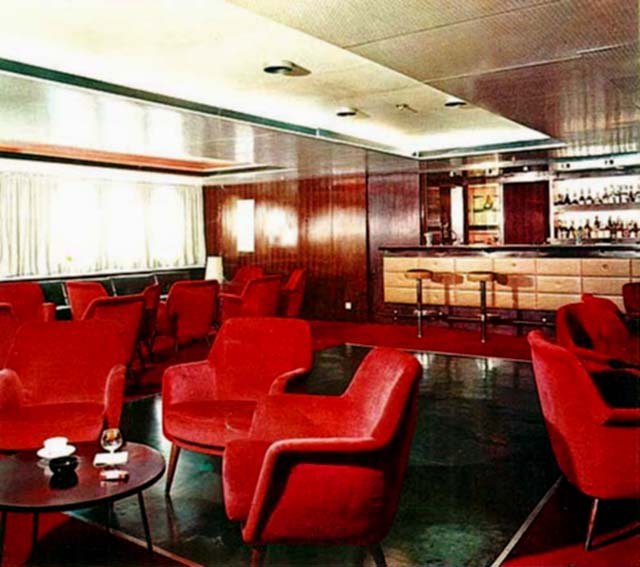 The Tourist Class delightful Orvieto Lounge and Bar
However far aft there were further Cabin Class accommodations, as well as the Firenze Lounge.
The delightful Cabin Class Firenze Lounge
A and B Decks:
These decks contained both Cabin and Tourist Class accommodations, as well as some other facilities, such as the Doctors Surgery, etc.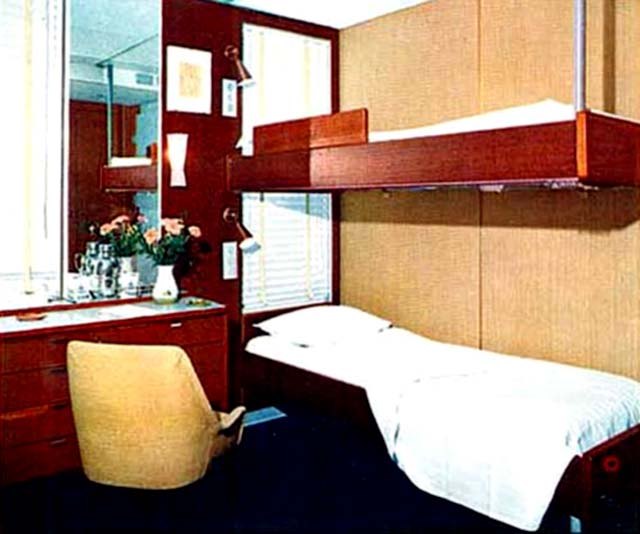 A Two Berth Cabin Class Cabin on A & B Decks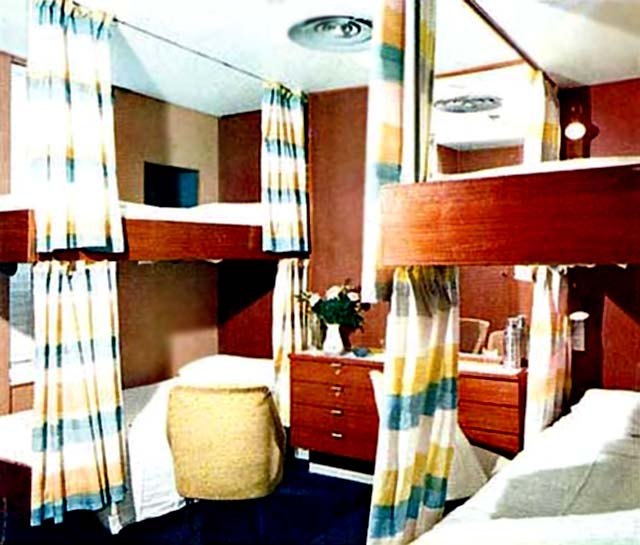 A Tourist Class Four Berth Cabin and as can be seen it was of an excellent standard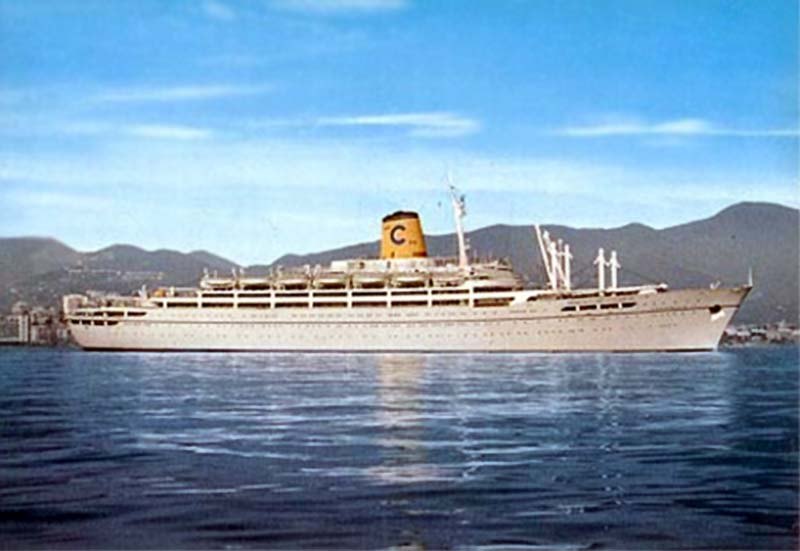 A fine postcard of the S.S. Frederico C seen as built
Schedules: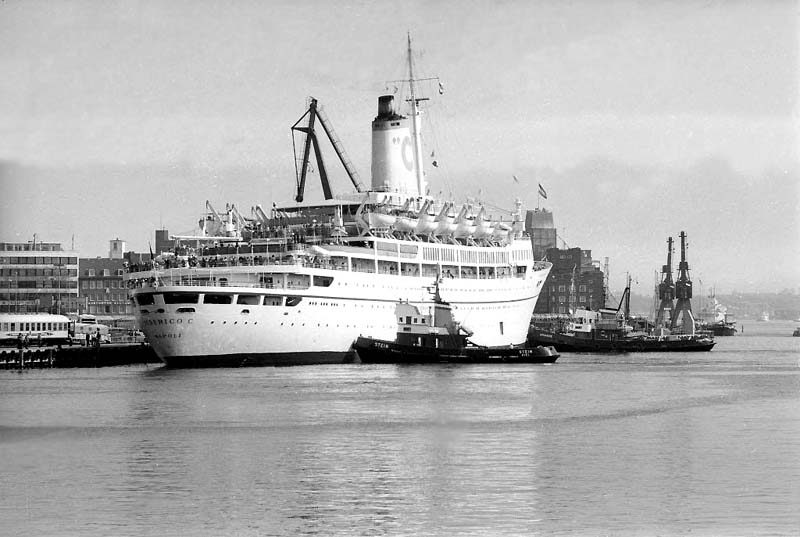 Frederico C arrives in port, providing a fine stern view
Photo by Provided by Jason Wilson UK
The Frederico C had become a very popular ship having gained a loyal clientele and she was more often that not fully booked. But having operated on the Italy - eastern South America service from 1958, with the arrival of the Costa's Linea C brand new and revolutionary looking liner, the S.S. "Eugenio C" in 1966, S.S. Federico C was transferred to a new service that would now include Fort Lauderdale U.S.A. She departed Genoa on June 3, 1966 for her first sailing of her new schedule and she headed for Naples, Lisbon, Funchal, Fort Lauderdale, San Juan, St. Thomas to La Guaira (Venezuela).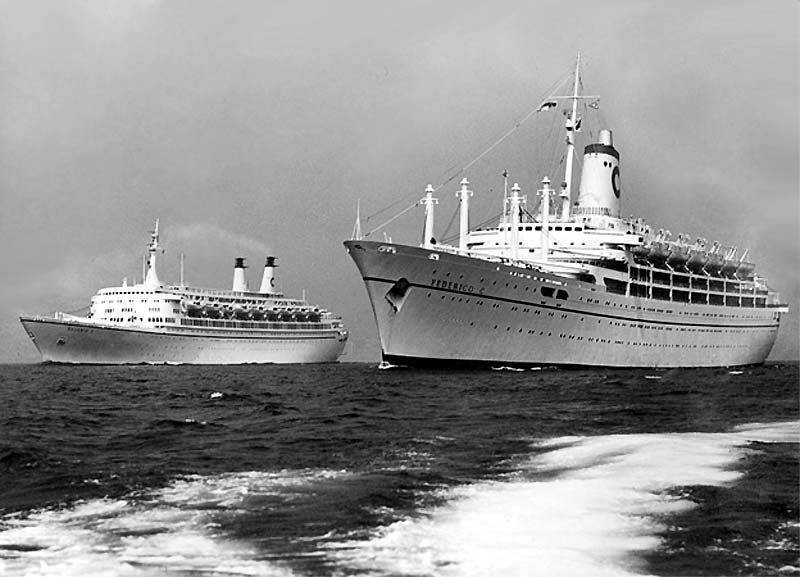 Here we see both the new S.S. Eugenio C and the S.S. Federico C
The 1966 Sailing Schedule below shows that the Federico C operated the Europe & Mediterranean from Florida and it was known as "The Sunny Holiday Route" sailing via Funchal, Barcelona, Cannes, Genoa to Naples from April-November. These could be taken either way, or as a complete round voyage.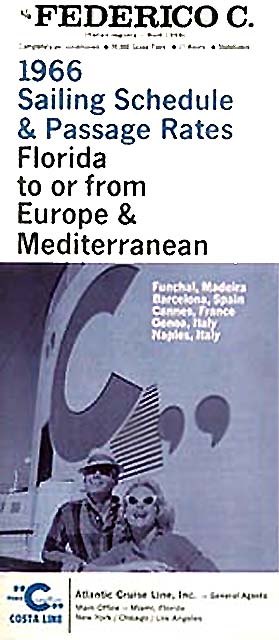 S.S. Federico C continued on the new service as well as winter cruises, but it was decided that ten years after her maiden voyage it was time to give her a comprehensive refit as she needed new and upgraded facilities, meeting the demand of demanding passengers, as her standards had to be very high!
Thus she was sent to the Mariotti Shipyards in Genoa, where work commenced in May 1968 and her refit saw the Frederico C change dramatically externally as was about to become a part time liner and a cruise ship during the northern hemisphere winter.
Her Promenade Deck was glazed in as far as the ships last two lifeboats up on Boat Deck. In addition her superstructure was stretched forward to build some new more spacious cabins. Her new passenger configuration was now 186 in First Class and 1,450 in the new Tourist Class, although during cruises she would carry just 1,259 passengers. The refit also saw the removal of hold N°3 and the relevant cargo derricks.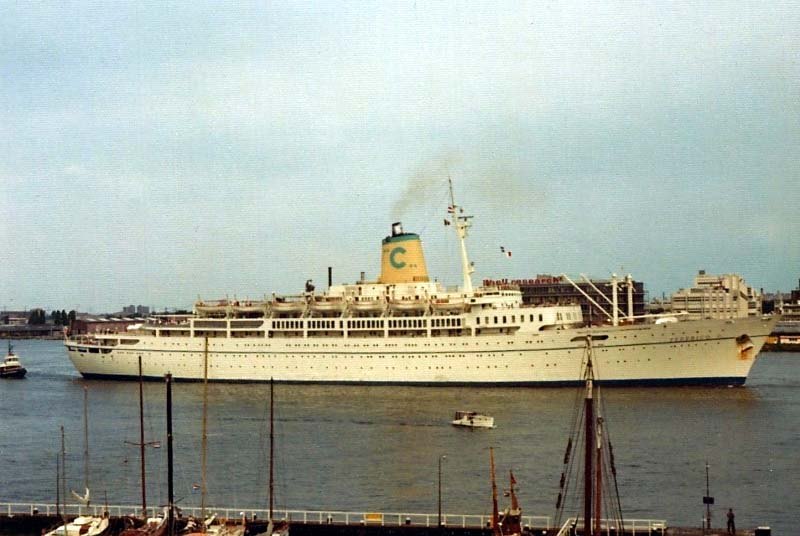 The new look Frederico C
Photograph © by Aden Anthos
Upon completion she looked like a brand new ship and although her schedule remained very much the same, but Caribbean cruises were added between her regular liner voyages. However during cruises, this two-class ship would become a One Class cruise ship for 1,259 passengers. In 1972 the Federico C became a full time cruise ship.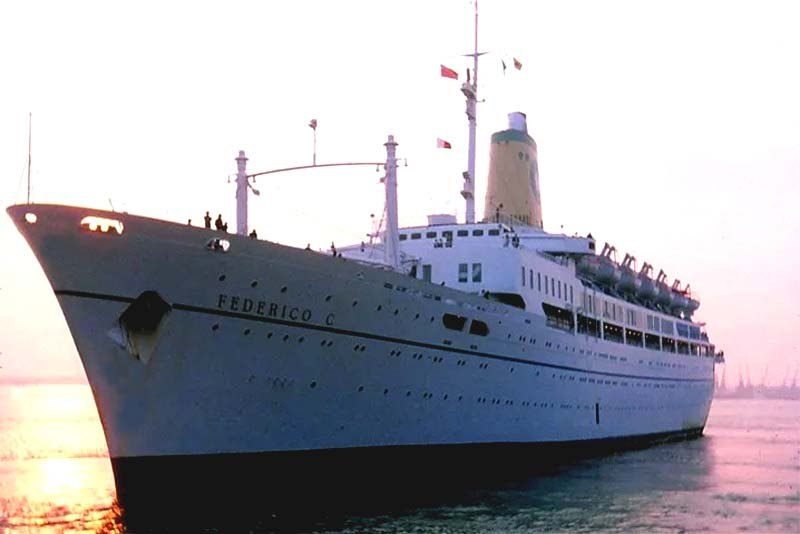 Frederico C is seen during her only visit to Southampton
Photo by Provided by Jason Wilson UK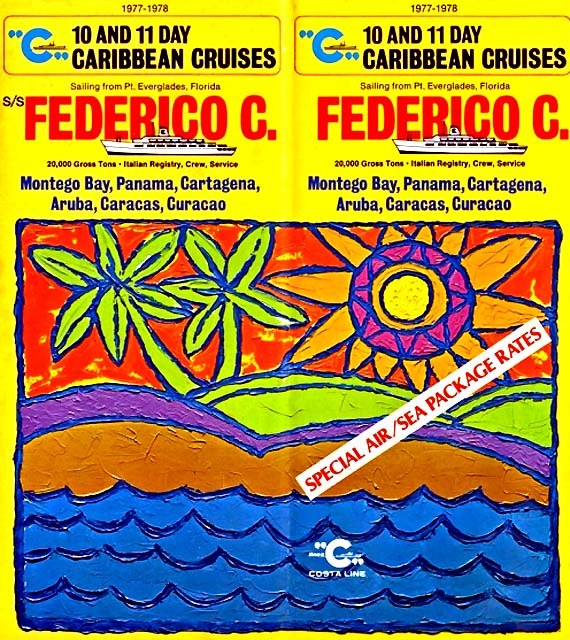 Above & below: An 1977/1978 cruise brochure
During the winter of 1976 & 1977 there were further upgrades to her interiors, then in September 1980 she was fully refurbished, making a beautiful ship even more luxurious.
However with the newer ships in the fleet Costa had made their decision, and when she returned to Genoa from a Mediterranean cruise on October 22, 1983 her passengers disembarked, and she went straight into Lay-up having been placed on the market. However it is notable that she had 25 excellent years of service with Costa's Linea "C", but it was time for a new life for this beautifully built ship!
S.S.

Frederico C sold:
On November 29, 1983 Frederico C was sold to Premier Cruise Line, based in Cape Canaveral, who renamed her - the "Royale". She was sent to Mariotti Shipyards in Genoa where her decks were all renamed and her hull was painted in red with a white funnel that had a large stylized red, orange and yellow P on it being the company's logo. Her purchase and refit totalled US$14 million. The S.S. "Royale" departed for her maiden Premier cruise on May 26, 1984 the then became a full time cruise ship based in the USA and operated 3 and 4 day Caribbean cruises.

Premier Cruise Line logo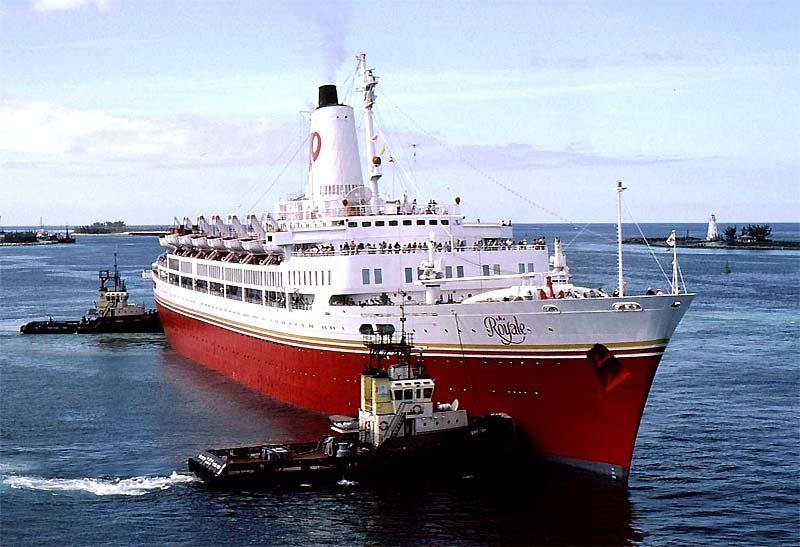 Premier Cruises S.S. Royale
However in 1985, she was again renamed this time; "StarShip Royale".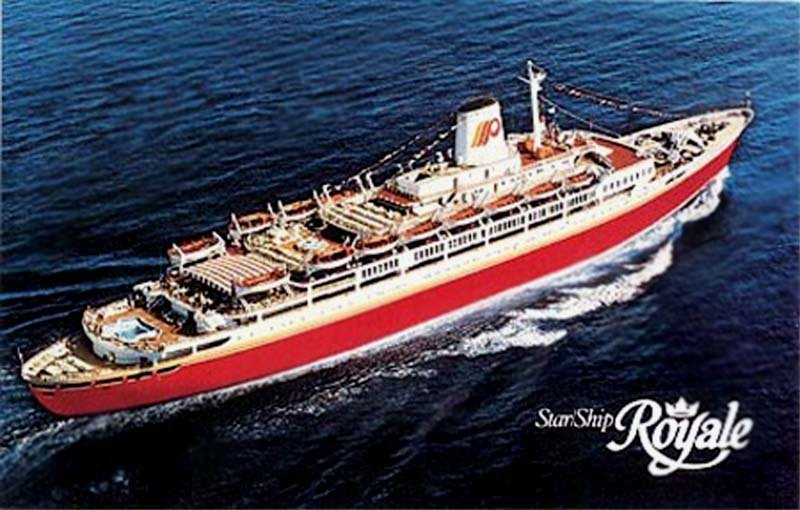 Here we see her as the "StarShip Royale"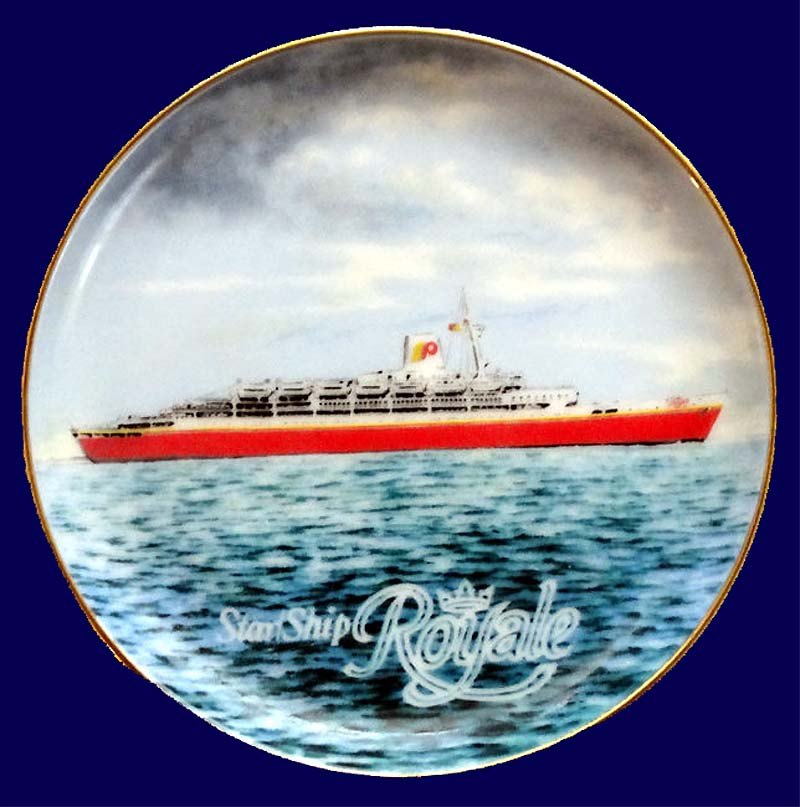 A souvenir Kaiser Porcelain dish
StarShip Royale sold again:
Having obtained quite a sizable fleet of ships, Premier decided to sell the "StarShip Royale" and a Greek Company Dolphin Cruise Line obtained her, and she was delivered to them on January 2, 1989, and she was renamed "SeaBreeze I".
She received another refit with her hull being painted white again, but with three ugly racing stripes stupidly pointed down to the waterline at her bow. Her funnel now had a blue jumping Dolphin logo.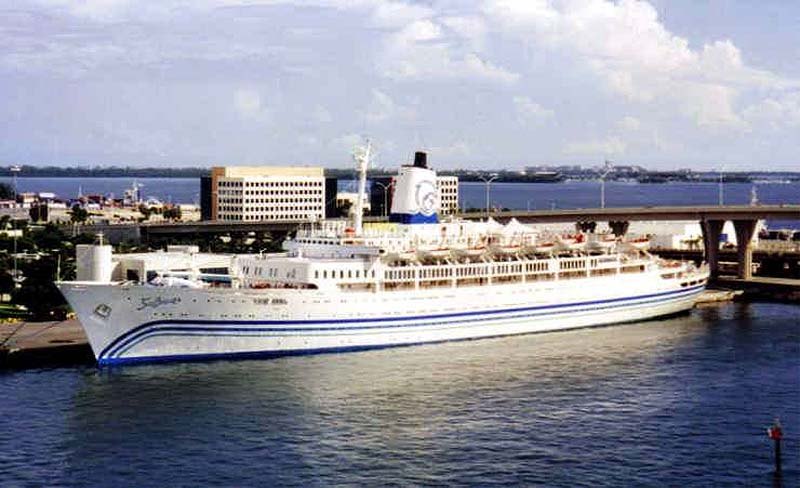 S.S. SeaBreeze I with her new livery
On completion, she was based in Miami and placed on weekly cruises to the Caribbean
However, somehow in 1997 the ship was returned to Premier as they had taken possession of SeaBreeze I when they acquired Dolphin Cruise Line. She once again had her hull repainted, as she would now have a new, handsome livery, a dark blue hull with gold accents, being an improvement on that red hull, that with those silly stripes.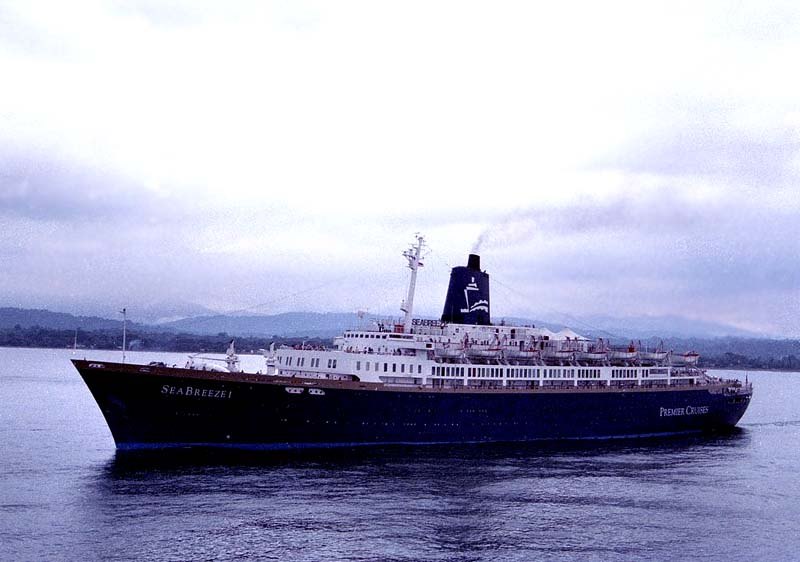 Premier's S.S. SeaBreeze I with her second last livery, as her funnel would painted white again
Photograph © by Leo Johannes
The SeaBreeze I was 21,900 GRT and was registered in the Bahamas with Greek Officers and an International crew.
In 1999 Premier Cruise Line released a new S.S. SeaBreeze brochure with 7, 2 and 5 night cruises with departures from Fort Lauderdale Florida and Boston. The 7 night cruises from Fort Lauderdale visited; Cozumel (Mexico), Roatan (Honduras), Belize City (Belize) and the Island of Key West (Florida). The 5 night cruises visited: Halifax (Canada), St John (Canada) and Portland U.S.A. The 2 night cruises were "A cruise to nowhere", giving a 2 night experience at sea. However, little did Premier know that this brochure would also be the very last one, as time was running out fast for the company!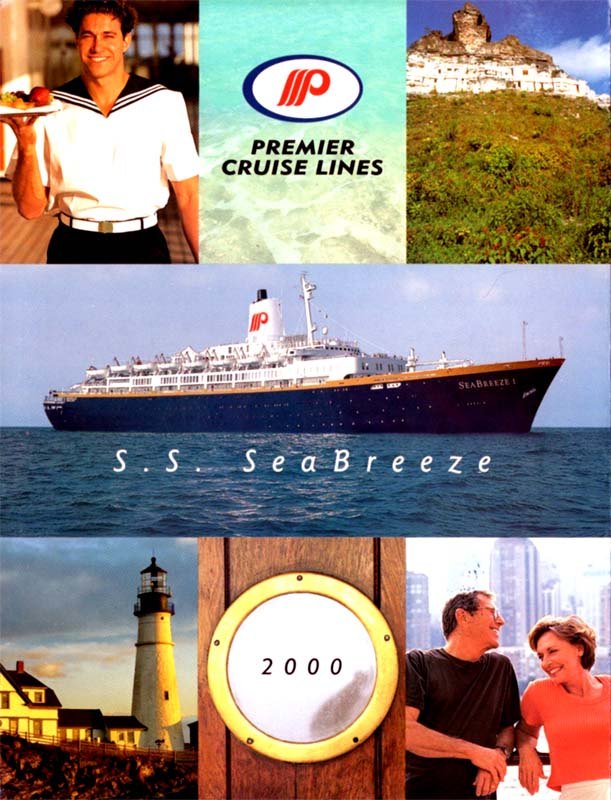 The final Premier brochure for the S.S. SeaBreeze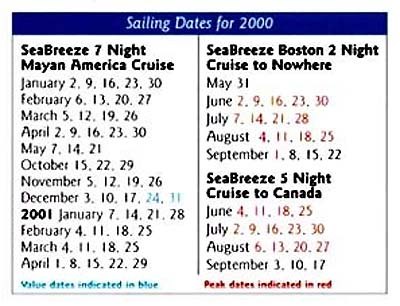 Below, the final photographs of the SeaBreeze interiors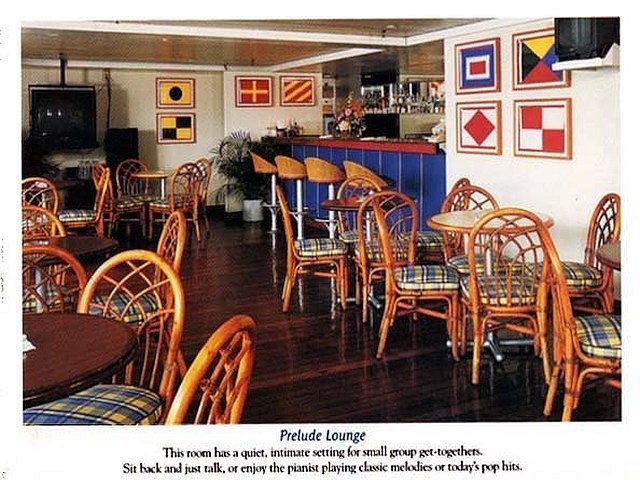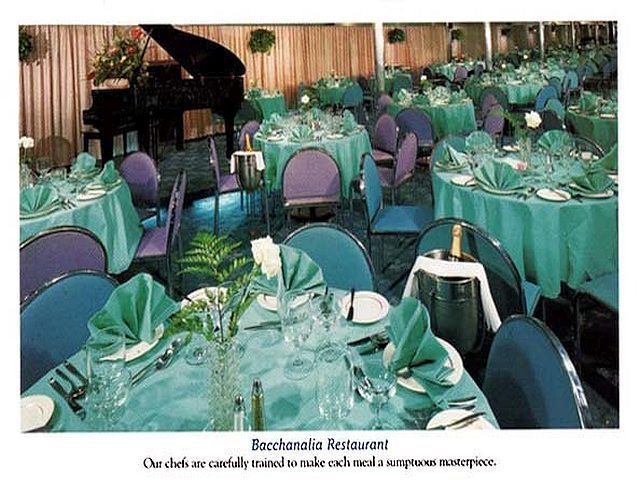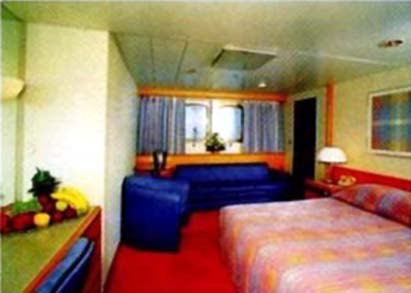 -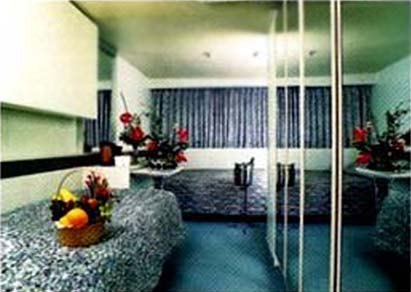 -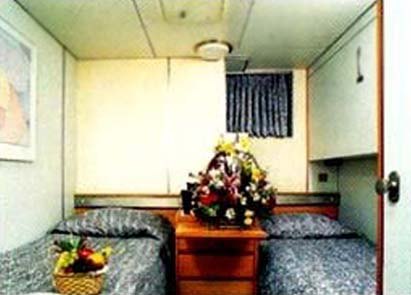 Left to right: A Suite, Ocean View Stateroom and an Inside Twin Bedded Cabin
The End is Near:
Sadly Premier went out of business in September 2000, and the ship was ordered to cease operations whilst she was docked at Halifax Canada. However, she departed several days later and headed for Freeport, Bahamas where she was laid up.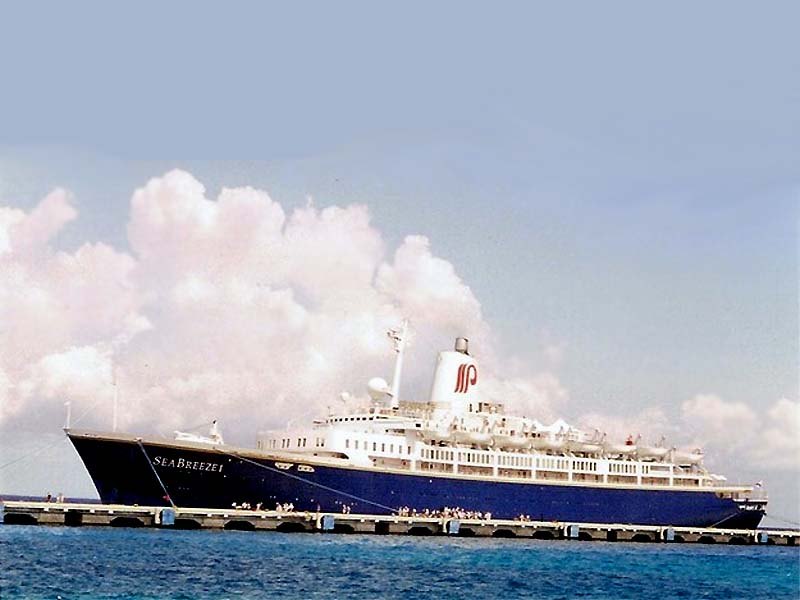 One of the last photographs taken, whilst she was in Lay-up
On September 14, 2000, the ship was placed under arrest as she was berthed in Halifax Canada, this was due to Premier' having gone into bankruptcy. Obviously the SeaBreeze I made all the headlines as her passengers were removed from the ship half-way during their cruise.
On December 1, 2000, the creditor's bank purchased her at auction; Then on December 15, 2000, she sailed from Halifax bound for Charleston; however she went down on December 17, during a storm around 200 miles East of "Cape Charles." It was claimed that the boiler allegedly broke off and damaged the ship, but there is really a very big is that true? Thankfully her 34 crewmembers were rescued by U.S. Coast Guard helicopters and of course there were no passengers onboard.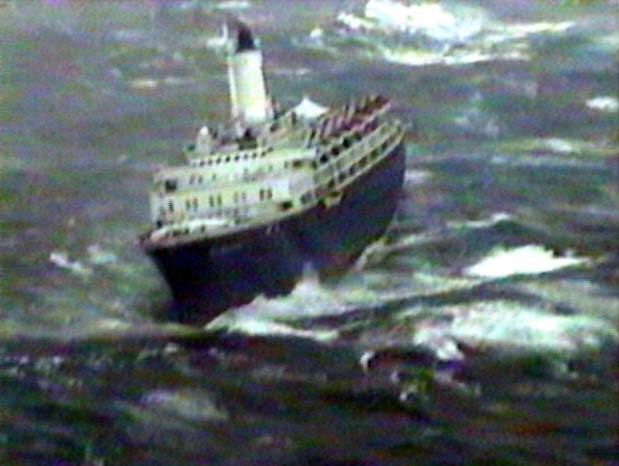 The SeaBreeze I seen here about to sink
The investigation in regard the sinking of SeaBreeze I caused huge international concern, this was based upon a number of suspicious incidents, including the fact that the SeaBreeze I would only have fetched between US$5 and $6 million for scrap, but her owners had placed a massive US$20 million insurance policy on her. The ship's captain had very quickly radioed a distress call stating that he was down to one engine & was taking on water. She sank in international waters, and was flying the Panamanian flag at that time, thus making Panama responsible for the investigation of the sinking.
The ship's captain told the United States Coast Guard rescuers that his ship was in imminent danger of sinking as a result of its engine room being flooded in high winds and 25-foot (7.6 m) seas. At the time, the Coast Guard rescuers believed that it was highly unlikely for a large 21.000 ton ship to sink that fast, and they were astonished when the Greek captain demanded that all hands be extracted from the ship as soon as possible, rather then requesting salvage tugs and tow her to shore for recovery.
The truth is that Panama's track-record of carrying out a comprehensive investigation into a ship sinking was far from being efficient, and to bring about the right result.
The wonderful S.S. Frederico C, and her later versions did sail the oceans of the world for a good 42 long years and had she been in better hands, she could have gone on for much longer!
Please Note: Page Two (Index below) contains her various Deck Plans as well as a complete list of the Ships Specifications and General Details.
*************************
Remembering the magnificent - S.S. Frederico C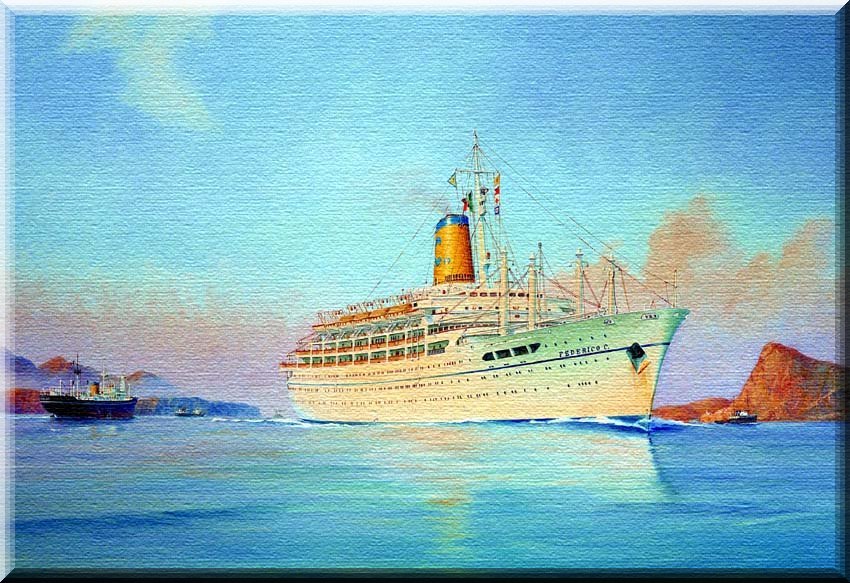 A fine artist's impression of the magnificent Linea "C" - S.S. Federico C
By an unknown painter
S.S. Frederico C - Index:
Page One:            Frederica C & her later names from 1958 to 2000.
Page Two:             Deck Plans & General Specifications.
Page Three:         Costa's S.S. Eugenio C a three page feature.
*************************
"Blue Water Liners sailing to the distant shores.
I watched them come, I watched them go and I watched them die."

Featuring over 1,358 Classic Passenger Liners, Passenger-Cargo Liners & Classic Cruise Ships!
Or ENTER HERE
For interest: Sadly an email service to ssMaritime is no longer available, due to the author's old age and chronic illness as well as being disabled, etc. In the past ssMaritime received well over 120 emails per day, but Goossens can no longer handle same. He sincerely regrets this!
**************************
ssMaritime.com & ssMaritime.net
Where the ships of the past make history & the 1914 built M.S. Doulos Story.
The Author has been in Passenger Shipping & the Cruise Industry for well over 60 years
In addition he was the founder of "Save the Classic Liners Campaign" in 1990.
Please Note: ssmaritime and associated sites are 100% non-commercial and the author seeks no funding or favours of any shape or form, never have and never will!
Photographs on ssmaritime and associate pages are by; the author or from the author's private collection. In addition there are some images that have been provided by Shipping Companies and private photographers or collectors. Credit is given to all contributors. However, there are some photographs provided to me without details regarding the photographer/owner concerned.
This notice covers all pages; although, and I have done my best to ensure that all photographs are duly credited and that this notice is displaced on each page, that is, when a page is updated!
ssMaritime is owned & © Copyright by Reuben Goossens - All Rights Reserved