Please Note: Firefox and some other search engines are not suitable – Use "Internet Explorer" for this page to load perfectly!

Click the logo above to reach the ssMaritime FrontPage for News Updates & "Ship of the Month"
With Reuben Goossens
Maritime Historian, Cruise'n'Ship Reviewer, Author & Maritime Lecturer
Please Note: All ssMaritime and other related maritime/cruise sites are 100% non-commercial and privately owned. Be assured that I am NOT associated with any shipping or cruise companies or any travel/cruise agencies or any other organisations! Although the author has been in the passenger shipping industry since 1960, although is now retired but having completed around 680 Classic Liners and Cargo-Passengers Ships features I trust these will continue to provide classic ship enthusiasts the information the are seeking, but above all a great deal of pleasure! Reuben Goossens.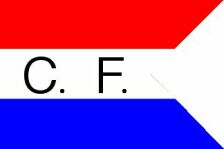 Cie de Nav Fraissinet et Cyprien Fabre
MS General Mangin
Later: MS President, Eastern Queen, Hizbul Bahr & Shaheed Salahuddin
--Page Recently Updated--
NEW Photographs, other Images, Information & a NEW Page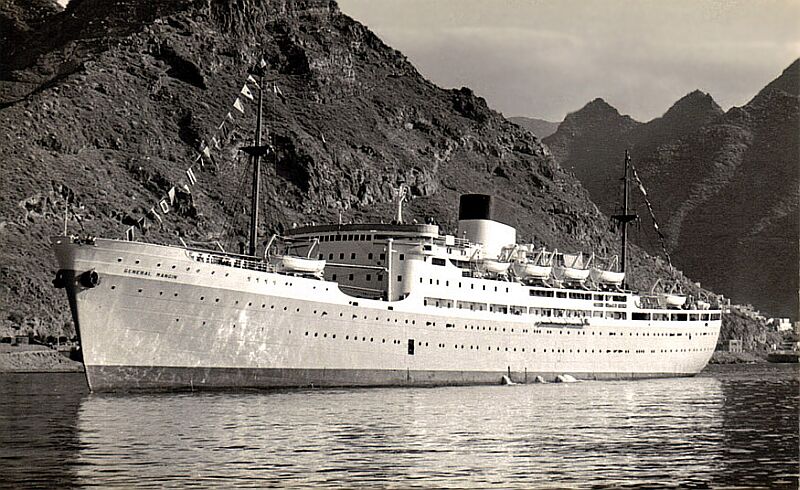 MS General Mangin seen as built
Please Note: Photographs are from the author's private collection, unless otherwise noted.
Part One: The Company.
Cie de Nav Fraissinet was founded in January 1836 in Marseilles by Marc Fraissinet the son of a Protestant merchant from Languedoc. Following a historical tradition dating back to the revocation of the "Edict of Nantes," another member of the Fraissinet family founded in the same time a company in Rotterdam it is for that reason the company flag has the Dutch flag as its background.
In 1955, Fraissinet and Fabre (a company that was started in 1868 by the 30-year-old Cyprien Fabre) merged into Compagnie de Navigation Fraissinet et Cyprien Fabre, but the two companies kept sailing in their respective domain, western Africa for Fraissinet and America for Fabre.
Part Two: MS General Mangin.
General Mangin was the first of two ships ordered by Cie de Nav Fraissinet et Cyprien Fabre, Marseilles, the second being the Jean Mermoz, which had a good and a long life, and she is the subject on another page as she became a well known cruise ship under three names, including Mermoz and later Serenade. She was eventually broken up at Alang India in 2009.
General Mangin was built by Atelier et Chantiers de St-Nazaire, PenhoŽt and launched on July 9, 1952. During her sea trials she achieved 17.4 knots. She was completed in March 1953 and commenced on the Marseilles, France to Point Noire, Congo service. She was joined in 1957 by her sister MS Jean Mermoz, which visited both Brisbane and Sydney Australia as the cruise ship Mermoz on November 17 and 19 1985 respectively – see a photograph at the bottom of this page.
General Mangin was the first post war built ship French mail liner to be built without any State aid, and she was remarkably well appointed. Although a relatively small ship by today's standards, but as built she had three classes and special accommodations for troops: 132 First Class, 125 Second Class, 101 Third Class, 500 troops, with a crew of 168.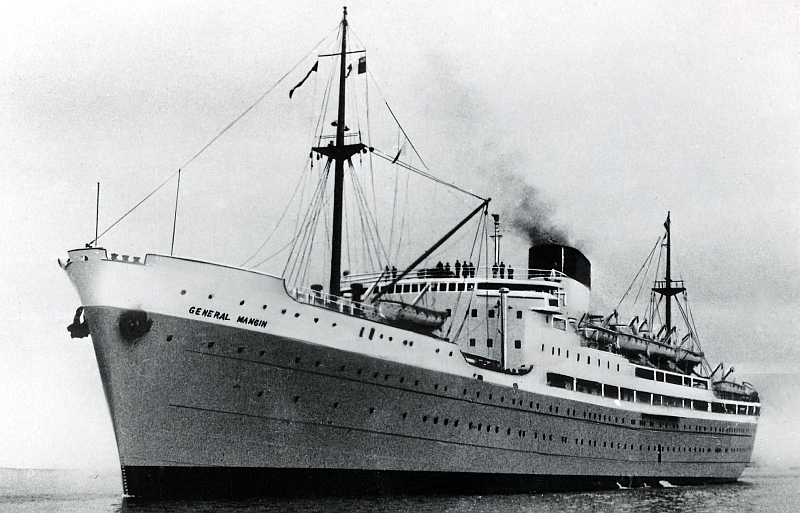 A fine postcard that shows the General Mangin's bow section
First Class was located amidships on Promenade and upper decks, with a few more cabins on Main Deck. The main First Class public rooms were on the aft section of Promenade Deck with the forward section occupied by cabins including four deluxe suites. First Class cabins were for one, twin bedded or three berths the majority having private facilities. Second Class pubic rooms were all on Upper deck below the Mainmast. Their cabins were located on Main deck aft of the First Class cabins and two Dinning Rooms and consisted of two and four berth cabins. Both these classed has a pool. Third Class was located further aft with cabins located lower down the ship in six berth cabins as well as in large dormitories.
Part Three: Nouvelle Cie de Paquebots.
In 1965 she was transferred to Nouvelle Cie de Paquebots of Marseilles, but she remained on the same service. Externally she was painted all white, including her masts, with the new company's traditional black funnel with the white NCP logo and a black upper Mainmast.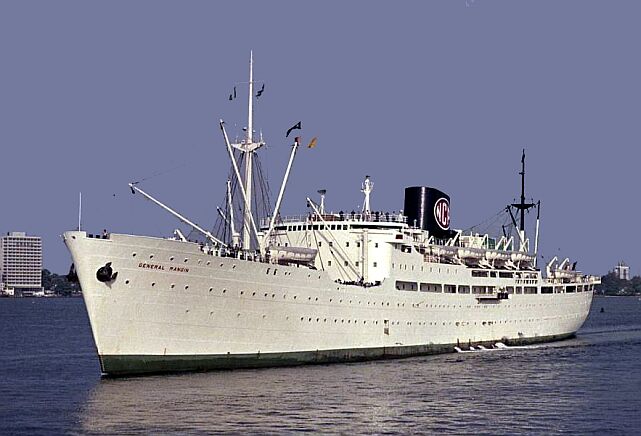 General Mangin seen in her new livery in December 1965
Photographer unknown – *Please see photo notes at bottom of page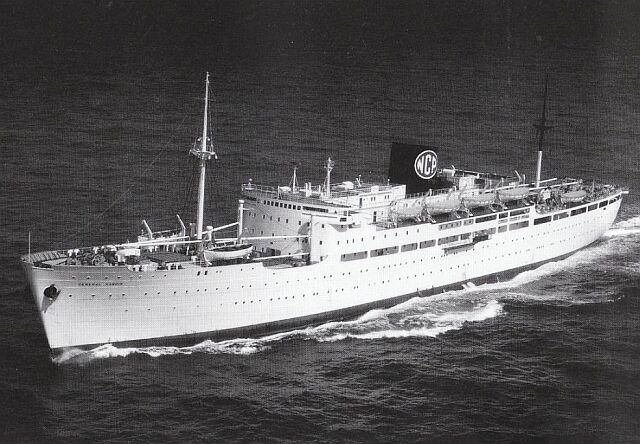 MS General Mangin seen from the air
Late in 1968 the French Government announced that it would stop financially subsidising these liners as it had done for all these years, as it had been doing for most French liners. Nouvelle Cie de Paquebots therefore decided sell the older of the two ships and several years later converted the Jean Mermoz into a cruise ship Mermoz.
General Mangin was offered for sale in 1969 and the Greek Chandris Lines purchased her for conversion into a cruise ship. However, very quickly Chandris decided against this and resold her.
General Mangin Specifications:
Builder†††††††††††††††††††††††††††††† Atelier et Chantiers de St-Nazaire, PenhoŽt
Yard:††††††††††††††††††††††††††††††††† R14
Built for††††††††††††††††††††††††††††† Cie de Nav Fraissinet et Cyprien Fabre
Launched††††††††††††††††††††††††††† July 9, 1952
Completed†††††††††††††††††††††††††† March 1953
GRT††††††††††††††††††††††††††††††††††††††††††††††††† 12,457 GRT
Length††††††††††††††††††††††††††††††† 161.8m / 531ft
Width†††††††††††††††††††††††††††††††† 19.8m / 65ft
Draught††††††††††††††††††††††††††††† 6.4m / 22.9ft
Propulsion†††††††††††††††††††††††††† B&W type diesels 16,600 BHP
Screws†††††††††††††††††††††††††††††† Twin
Service speed††††††††††††††††††††† 16 knots – 18.4 at trails
Passengers††††††††††††††††††††††††† 132 First Class
†††††††††††††††††††††††††††††††††††††††† 125 Second Class
†††††††††††††††††††††††††††††††††††††††† 101 Third Class
†††††††††††††††††††††††††††††††††††††††† 500 Troops in special accommodations
Crew††††††††††††††††††††††††††††††††† 168.
†††††††††††††††††††††††††††††††††††††††† Fully Air-Conditioned
Part Four: MS President.
General Mangin's next owner was the Philippine President Lines who would operate her between Manila and Japan and she was duly renamed MS President. She operated services between the Philippines and Japan for several years, but the service was not a great success, thus by 1972 she was placed on the market once again.

Philippine President Lines - MS President
Part Five: The Australian Connection.
MS President was sold in March 1972 to Cia de Nav Abeto SA of Panama and was renamed Eastern Queen. She made one return voyage from Singapore to Fremantle Australia in April, but upon her return she was given a refit to make her suitable as a comfortable one-class ship, accommodating 506 passengers, with an additional 156 in dormitories. When the refit had completed she was re-registered at 11,684 GRT.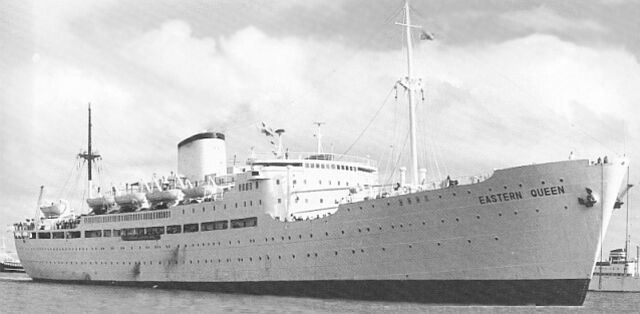 MS Eastern Queen
Eastern Queen was placed on the Fremantle, Indonesia Singapore service for the next few years under a charter agreement to Fit Line. Although she was market to operate for single and round voyages, but also the then popular Jet/Ship programs to and from the UK and European destinations, using charter flights from Singapore. This was operated by the Singapore Shipping Company and the Far East Travel Centre Ltd. And it commenced well with the fares for Jet/Ship travel being much cheaper than regular airfares in those days!
MS Eastern Queen Promotional & Photo Gallery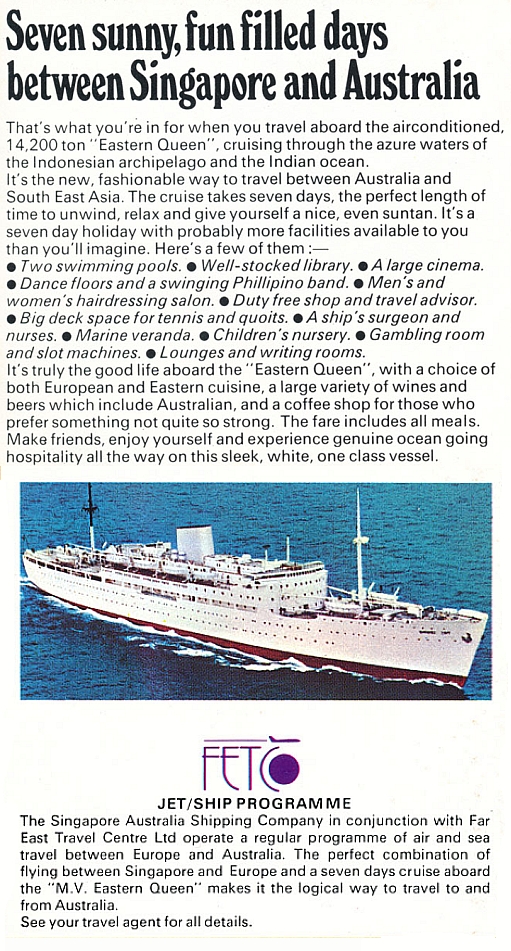 Promotional material release by the Far East Travel Company Ltd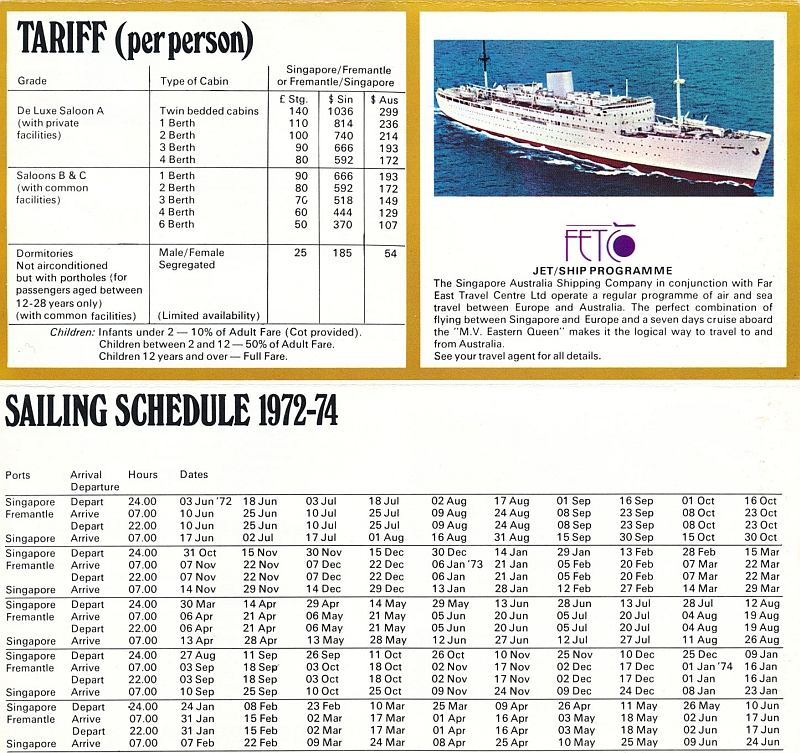 Fares and sailing schedule 1972 to 1974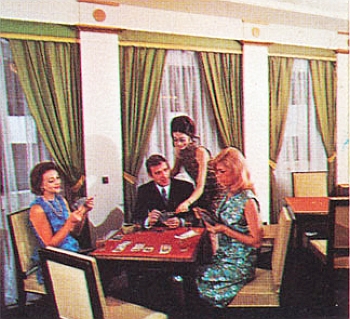 †----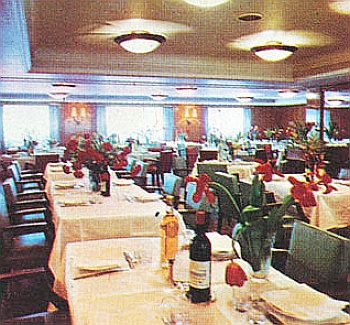 Left: The card tables in one of the ships lounges – Right: The Main Dining Room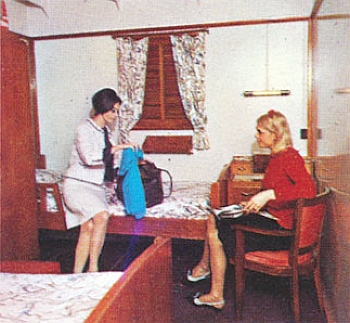 †----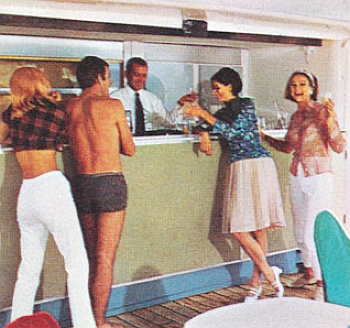 Left: A typical twin bedded cabin with a window – Right: The Lido Bar
Sadly she encountered a number of ongoing problems and having only commenced sailing from Fremantle (Perth) Australia June 10, 1972; her departure from Singapore on August 29 had to be cancelled as she was suffering from a generator breakdown. Her passengers were therefore flown to and from Singapore to be able to catch their charter flight or reach arrive in Fremantle. She missed one full return voyage and then returned to service.
It was decided early in 1973 considering there were a number of superior ships operating on the same service at that Eastern Queen was not the Queen of the stack and thus not quite the success as the others and thus needed a extensive refit, in addition it was decided to also overhaul her machinery. Her accommodations were reduced to just 358, with all passengers now being accommodated in cabins and her public venues also looked very much smarter. Upon departure, she was without a doubt a much superior ship!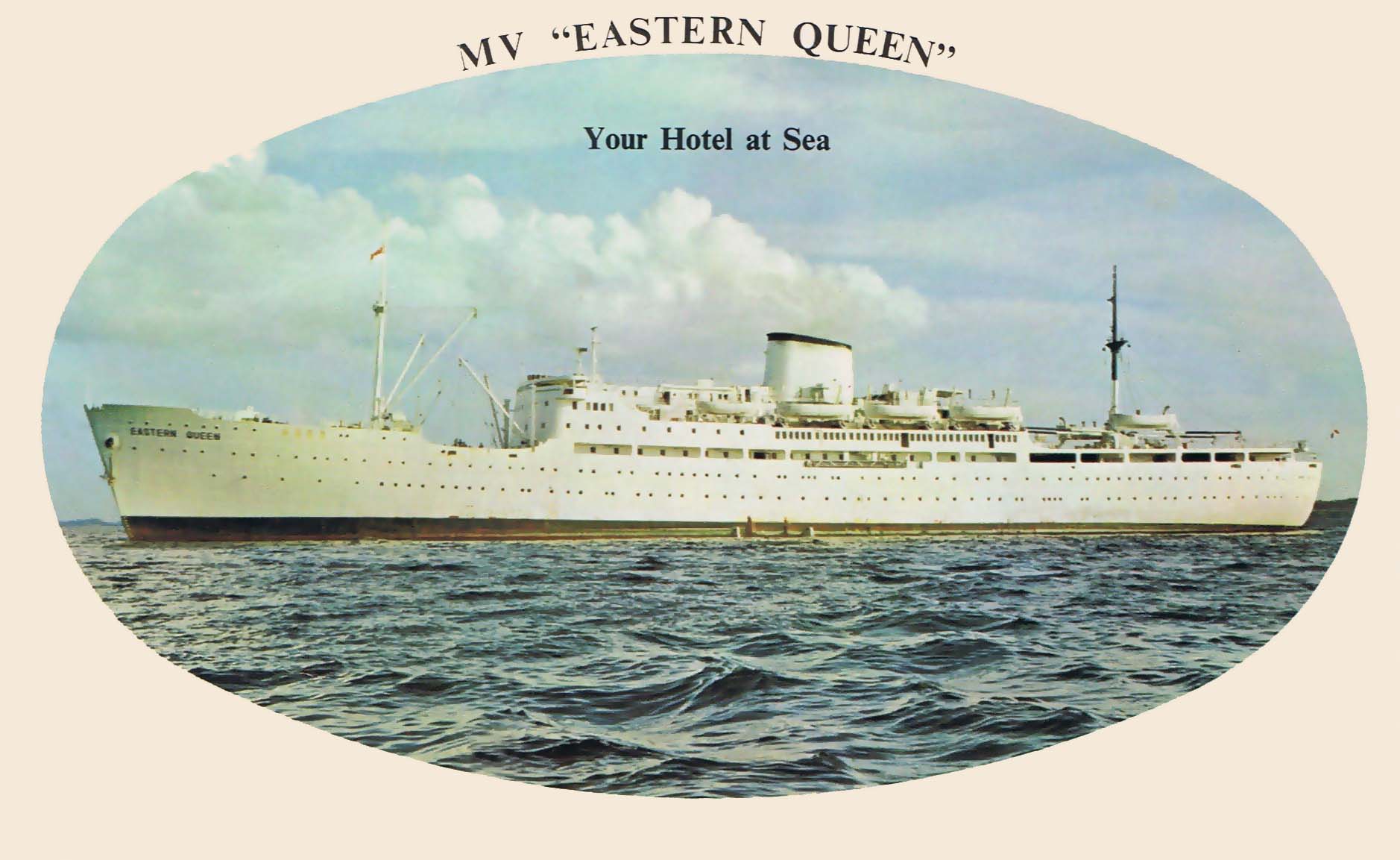 MS Eastern Queen seen whilst on the Australian service
Postcard provided by 1973 passenger Mr. Roger Jackson who sailed with his wife and two children from Singapore to Perth
She departed Singapore on April 19, 1973 for Fremantle, however unbelievably, with all the work done down in the heart of the ship, whilst at sea she sadly suffered further engine problems and she had to limp to Fremantle. She finally arrived on April, 27 and received the required repairs whilst there. As soon as this was completed she returned to service, and sailed on for the next year.
However by April 1974, the ships owners were well aware that she was not the right ship to keep on this service and thus it was decided to withdraw her from the Australian services in May. This was due to a number of reasons; her ongoing problems, but also the far superior completion of ships that were built as luxury passenger liners unlike the rather humble Eastern Queen that simply could not compete!
Although her original schedule, as shown above in the gallery, showed that her last departure from Fremantle was on June 17 and arriving in Singapore on June 24, 1974. This schedule had been reprinted after her 1973 refit and had been extend until 1976. The truth is, although I have received emails from those who have sailed on her, how much they enjoyed their time on the Eastern Queen and that the crew was just great, etc, but there have been others felt quite otherwise and said that their cabins "were like cupboards", thus too small and that the food was "simply awful on our trip, but we heard from others that it was better when they sailed from Fremantle."
Thus the truth is, she was never the greatest success on the Australian service and the MS Eastern Queen departed Fremantle for the very last time on July 12, 1974.
The Charter and Seasonal Pilgrim Ship:
From 1974 to 1977 the company placed her on the Singapore to Madras service as well as operating the seasonal Muslim pilgrim trade and chartered her out for various services.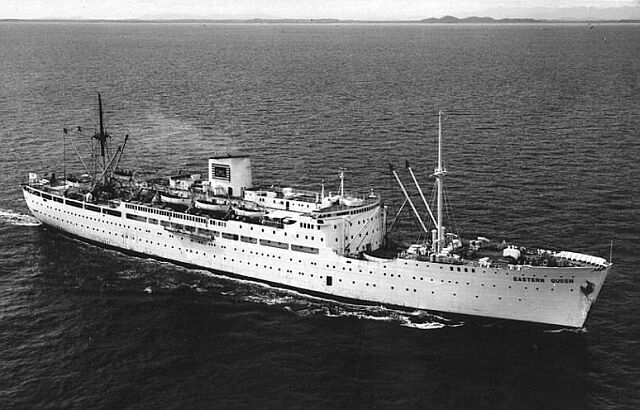 Eastern Queen is seen here whilst in service between Singapore and Madras & the pilgrim trade
Hotel Ship in Jeddah.
Mr. David Vaughan advised me that he and his company chartered the Eastern Queen in 1976 for a year to serve as a hotel ship in Jeddah Saudi Arabia. I have his and Mr. Tien another of the persons who joined the ship in Hong Kong stories on Page Two with a few photographs. See the bottom of the page.
Part Six: Her final years.
In September 1977 Eastern Queen was sold to the Bangladeshi Shipping Corp and she was renamed Hizbul Bahr. She began services from Dacca to Singapore with 930 passengers in three classes, returning to the French days. In February 1980 she commenced a new service to Dubai via Colombo and Bombay (Mumbai). During this time she was also used to transport troops. But in December that year the Bangladesh Navy decided that she would better serve them a stationary barracks at Chittagong she was renamed Shaheed Salahuddin.
In 1985 it appeared that this fine ship that had covered a great deal of the world would come to the end of it days, for the Shaheed Salahuddin was beached and broken up that year at Chittagong after a thirty three year varied career.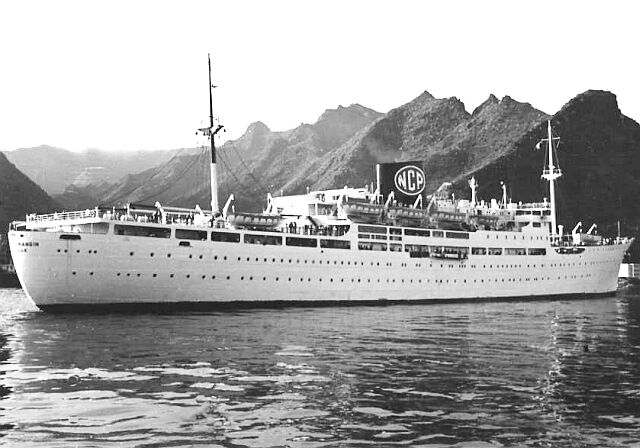 From every angle she was a good-looking French passenger–cargo liner
Photographer unknown – *Please see photo notes at bottom of page
Also read about her Sister Ship: MV Jean Mermoz
"Blue Water Liners sailing to the distant shores.
I watched them come, I watched them go and I watched them die."
****************************
Visit our ssMaritime Main INDEX
Where you will discover around 680 Classic Passenger & Passenger-Cargo Liners!
ssMaritime.com & ssMaritime.net
Where the ships of the past make history & the 1914 built MV Doulos Story
Please Note: ssmaritime and associated sites are 100% non-commercial and the author does not seek funding or favours and never have and never will.
Photographs on ssmaritime and associate pages are either by the author or from the author's private collection. In addition there are some images and photographs that have been provided by Shipping Companies or private photographers or collectors. Credit is given to all contributors, however, there are some photographs provided to me without details regarding the photographer or owner concerned. Therefore, I hereby invite if owners of these images would be so kind to make them-selves known to me (my email address can be found at the bottom of the page on www.ssmaritime.com), in order that due credit may be given.
ssMaritime is owned & © Copyright by Reuben Goossens - All Rights Reserved