M.V. Georgic 1935 to 1959
Please Note: Firefox and some other Search Engines may not be suitable
Use Google Chrome for this Web Page to load perfectly!

Please Note: All ssMaritime and other related maritime sites are 100% non-commercial and privately owned, thus ssmaritime is NOT associated with any shipping company or any other organisation! Although the author has worked and been involved in the passenger shipping industry for well over 60 years, but due to his old age and poor health, he was forced to retire. Yet, he has completed well over 1,365 Classic Liners, Passenger-Cargo Liners as well as humble converted C3 converted Migrant Liners, which has transported countless thousands folk to the new world, as well on vacations'. I trust the features online will continue to provide Classic Liner and Ship enthusiasts both the information they are seeking, but more so provide a great deal of pleasure and relive many happy memories!
Please Note: Postcards, photographs & other images are either from the author's private collection, unless stated otherwise.
A special thank to the ssmaritime supporters including Gregory Macilroy & Sean O'Donnall for their very kind assistance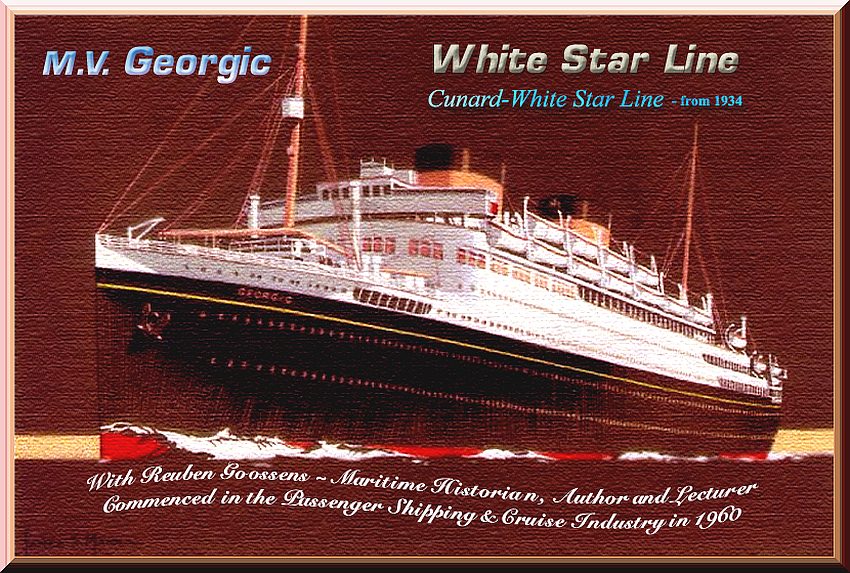 The above logo is based on an early White Star Line postcard
Introduction:
The M.V. Georgic was built for the "Oceanic Steam Navigation Co. Ltd" being the "White Star Line". She was the very last passenger liner to be built for the "White Star Line" before they merged with "Cunard Line" in 1934.
Originally, late in the 1920s, "White Star Line" had planned to build two new liners to replace their ageing fleet, both of these ships were to be motor-ships rather than more traditional steam-ships: the first was to be a large ship that was going to be around 1,000 ft long superliner with three funnels, which was going to be known as the "Royal Mail Motor Vessel" or the R.M.M.V. Oceanic.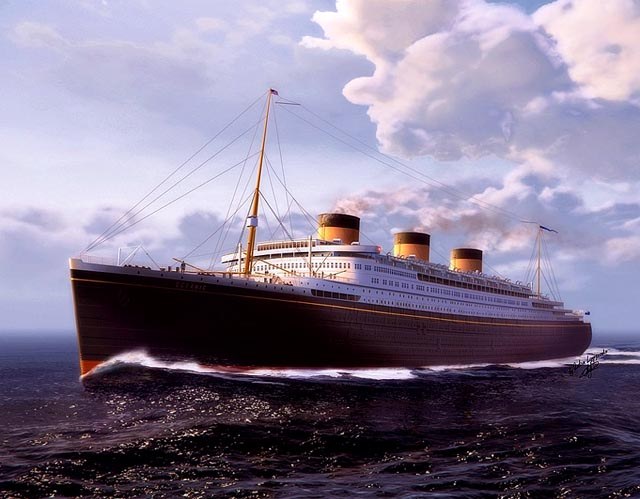 The "Oceanic" … The ship that never was!
There was also going to be a smaller more economic liner of a similar design but with two funnels and this would be the M.V. Britannic which was completed in 1930.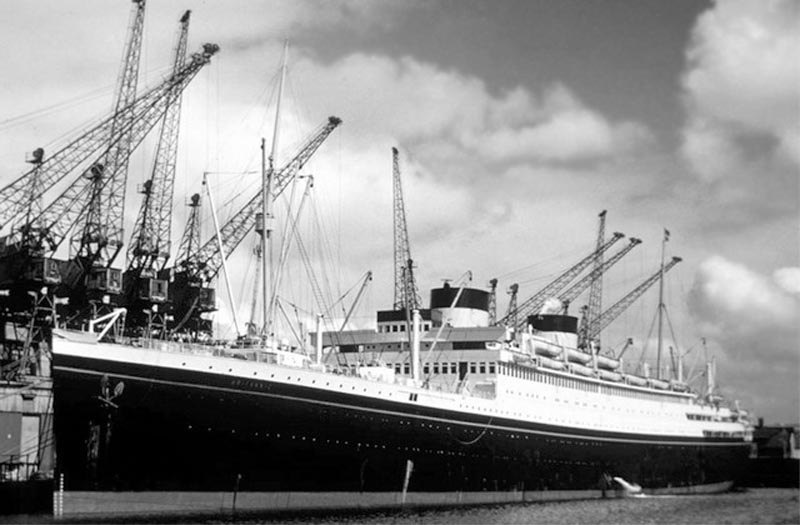 M.V. Britannic is seen at her berth at Liverpool
However, White Star decided to not go ahead with the "Oceanic" as yet, thus work commenced on the "Britannic" in 1927 and she was launched in 1929. Work was started on the "Oceanic" in 1928, and although the keel was laid down, but due to financial problems all work on the "Oceanic" was halted in July 1929 and the entire "Oceanic" project was soon cancelled and she became know as "The Ship that never was!"
In her place White Star decided to build a more economical sister-ship to the M.V. Britannic, and she would be the second "White Star" ship to bear that name, after an earlier liner the S.S. Georgic that had served the company from 1895 to 1916.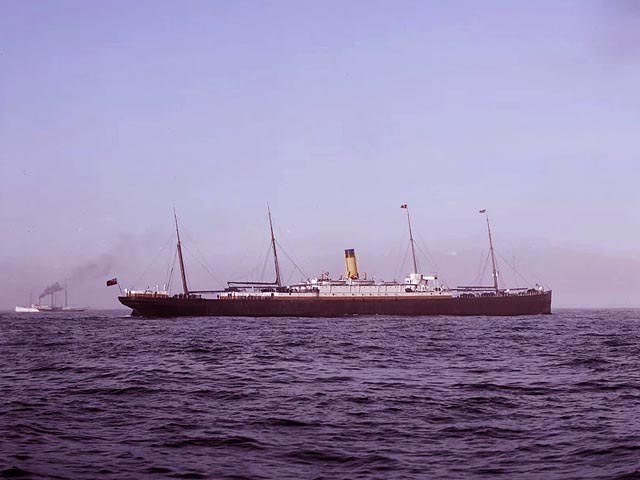 S.S. Georgic (I) of 1895
Thank you Sean O'Donnall for this brilliant photo, which I assume was colourised
Building the "Georgic:

She was ordered to be built by famous "Harland and Wolff" shipyard in Belfast, and she was officially laid down in Yard No. 896 in July 1929. However construction on her was rather slow, thus finally in April 1931 it had been decided that work on her was to be speeded up in order that she could enter service by May 1932 instead of June. The reason for this was that there were around 25,000 Americans due to visit Dublin to attend the "Eucharistic Conference" which was to be held there from June 22 to the 29th. But sadly the Georgic was not completed in time for this event Conference.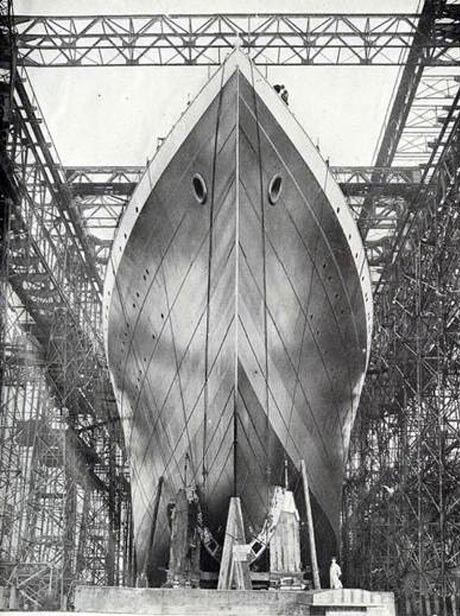 -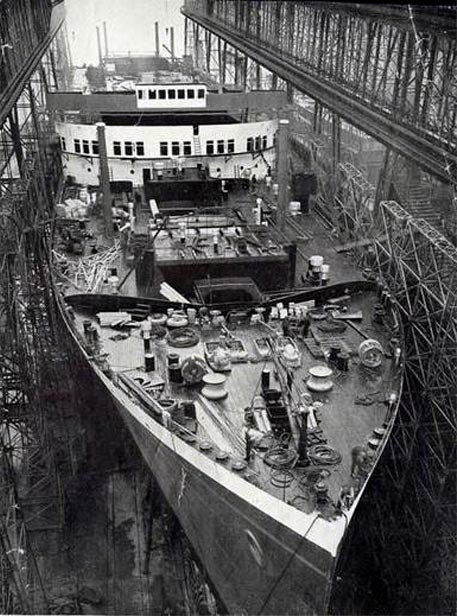 On November 12, 1931, she was officially named and launched and, once the "Georgic" entered the water she was taken under tow to her "Harland & Wolff" fit-out berth, and completion would take another seven months.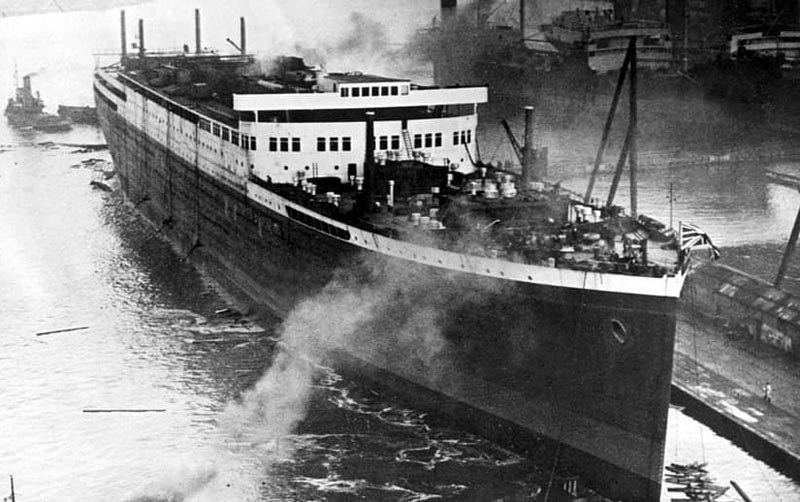 The Georgic (2) is seen having just been launched and taken under tow to her fit-out berth
The "Georgic" was designed as was stated at the time on rather "ambitious lines" as she had an almost straight stem, a cruiser stern, and atop the ship there were those two, what was claimed to be "fashionable squat funnels". Although she did differ to her earlier sister the Britannic, for the "Georgic" had a rounded forward superstructure. In addition "Georgic was just slightly larger than the "Britannic" as the Georgic was 27,759 GRT (Gross Registered Tons) compared to her sister which was 26,943 GRT. The M.V. Georgic accommodated a total of 1,542 passengers, with 479 in a super glamorous Cabin Class, 557 in a superb Tourist Class and 506 in a good standard Third Class.
Having been completed she undertook her deep sea trials on June 4, 1932, and her trials were deemed to be successful managing a maximum speed 19.8 knots.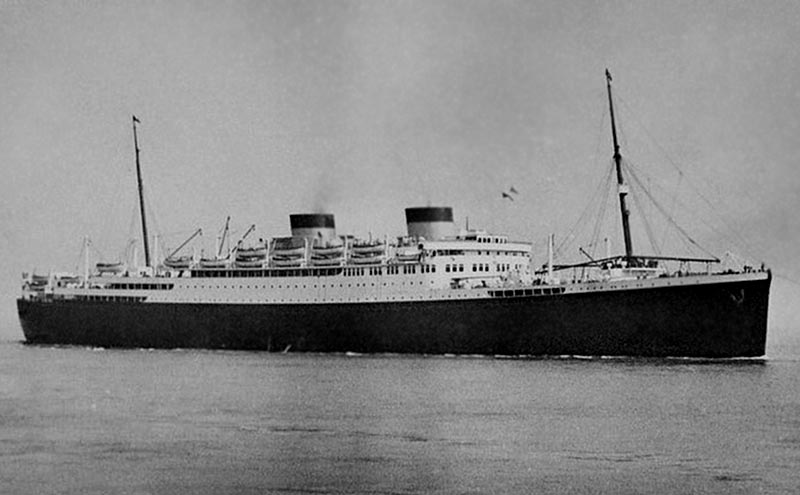 M.V. Georgic is seen during her sea trials on June 4
For the occasion of her sea trials, a large party of guests were invited to join the Georgic's during her sea trial and the "Belfast Steamship Company" ferry the "Ulster Monarch" was chartered to transport all guests to the ship-yard and board her there.
At the completion of her trials, she was deemed to be ready for service and she was readied for delivery to her owners' the "White Star Line" in Liverpool.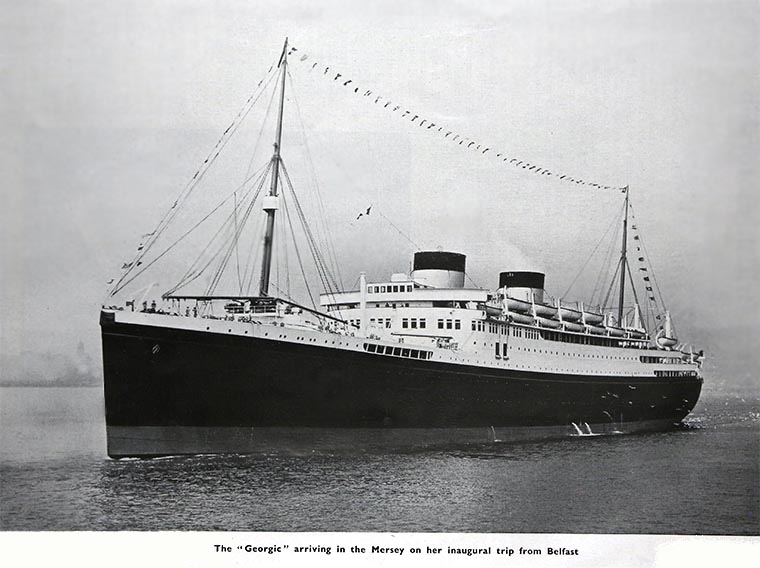 The M.V. Georgic is about to enter the Mersey and head for Liverpool on June 10
She was officially delivered to her owners at Liverpool on June 10, 1932, and the arrival of the largest ever British motor-ship "Georgic" attracted huge attention with large crowds awaiting her along the River Mersey as well as in the port city of Liverpool. She was welcomed to the famed port city for the very first time by Liverpool's Lord Mayor who offered his congratulations to the President of the "White Star Line".
The "Georgic" was a slightly larger version of her sister the "Britannic", having a tonnage of 27,759 GRT, compared to Britannic's 26,943. In addition the "Georgic" differed somewhat in appearance from the M.V. Britannic as Georgic's forward superstructure and bridge was rounded instead of flat. Both ships featured two short stumpy funnels, however the forward funnel was a dummy and it housed the radio room as well as an engineers Smoking Room.
Both ships had identical power plants, consisting of two 10 cylinder, four stroke double acting "Burmeister & Wain" diesel engines. At the time they were the largest and most powerful engines of their type to be constructed by "Harland and Wolff", and they were coupled to two propellers that would propel the ship at a service speed of 18 knots, although she had maximum speed of 19.8 knots.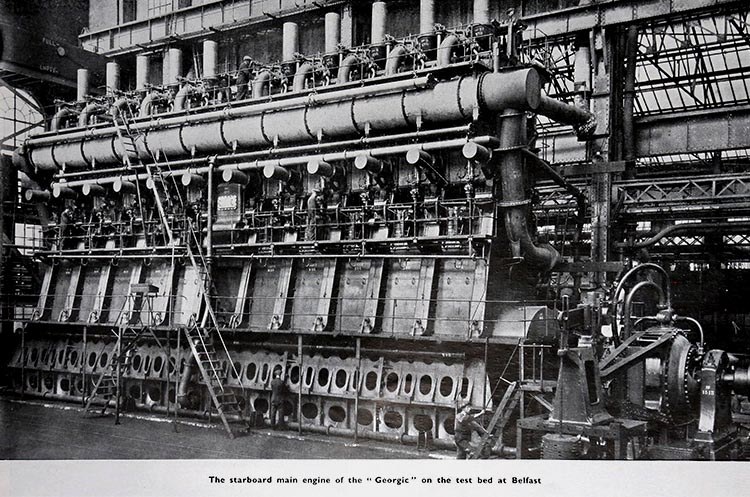 Thank you Gregory Macilroy for this fine photograph of her starboard engine
Georgic's interiors were superbly designed, as she was decorated in the then popular "Art Deco" style, which was very different to that of the "Britannic" as she was decorated in various period styles, which was also popular in the 1920's.
M.V. Georgic's accommodated 479 in Cabin Class, 557 in Tourist Class and 506 in Third Class. In addition to passenger accommodation, Georgic also offered refrigerated cargo capacity in two of her holds. Her hull was divided into eight holds and she had twelve main bulkheads.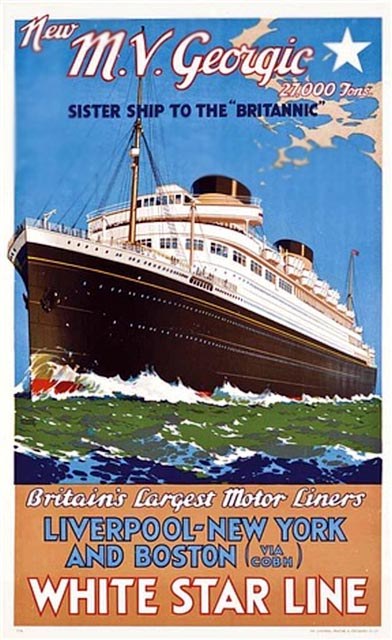 An advanced promotional Poster for the M.V. Georgic
Interior Photo Album:
The photographs' presented are mostly from the ships Cabin Class, and one from the Tourist Class and it reveals the great care that was taken with her overall interior design and décor.
The first venues shown below are all on Promenade Deck and I have placed them from forward to aft commencing with the spacious the Palm Court located far forward.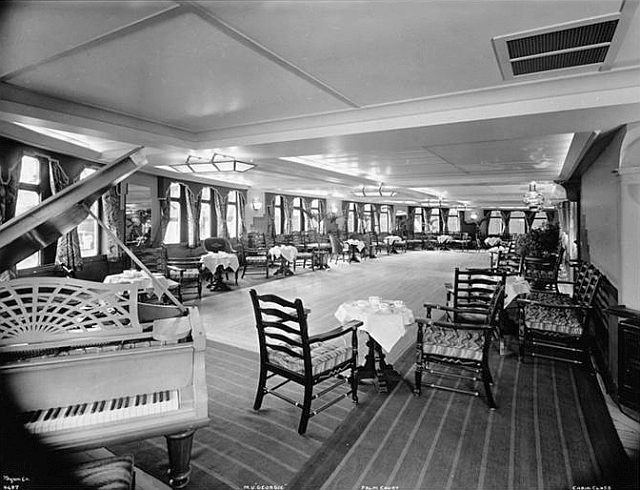 The delightful Palm Court had a huge dance floor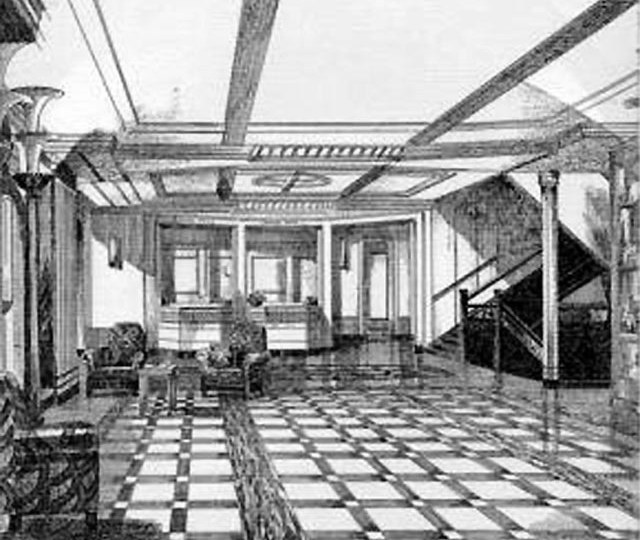 Aft of the Palm Court was a delightful Lobby with a lift forward centre and two fine timber stairwells at the sides
Above we see a drawing of this Lobby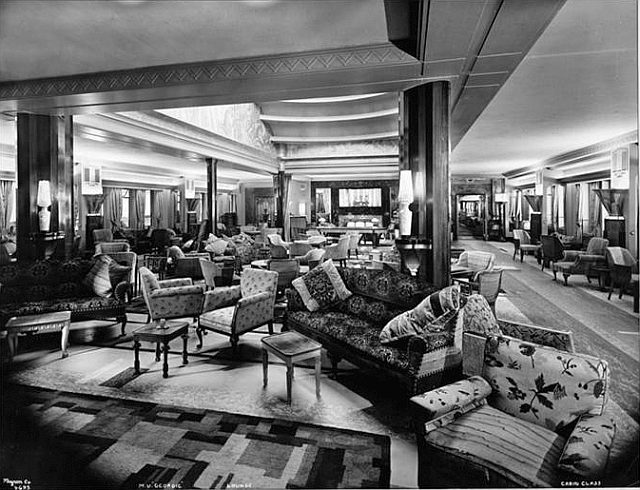 Aft of the forward Lobby was the magnificent Lounge with a centred Dome
The Lounge also had a stage as well and a dance floor
Heading aft along the portside was the elegant "Long Gallery", whist on the starboard side there was an office, followed by another central lobby with doors to the outer deck, then public facilities and next the "Card Room" followed by the third (aft) Lobby with two further exits to the Promenade deck. Far aft was the magnificent Smoking Room, which was open to the Veranda and its Cocktail Bar.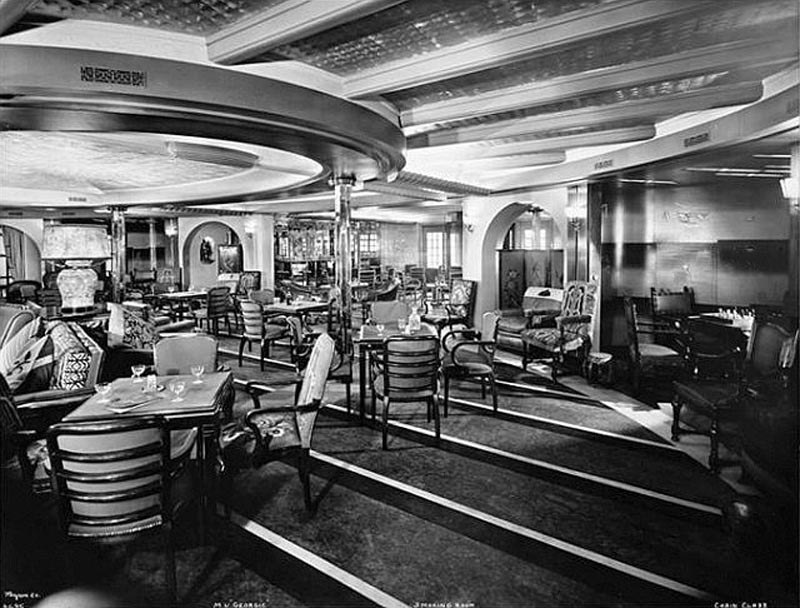 The beautiful Smoking Room looking into the Veranda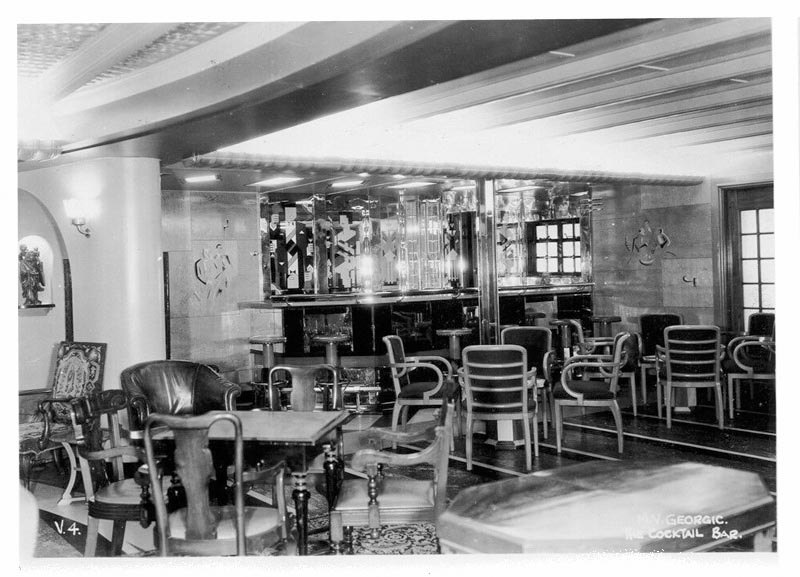 A Postcard of the Veranda Cocktail bar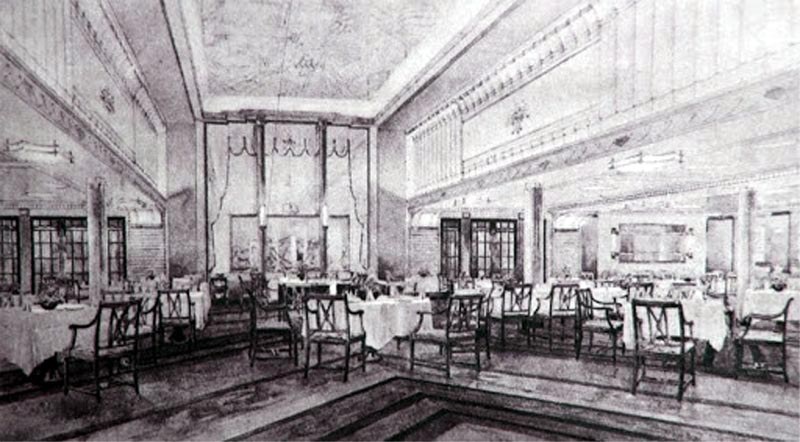 Above & below: The Restaurant amidships on C Deck,
Above: A drawing of the domed Dinning Room - Below: And a photograph of the venue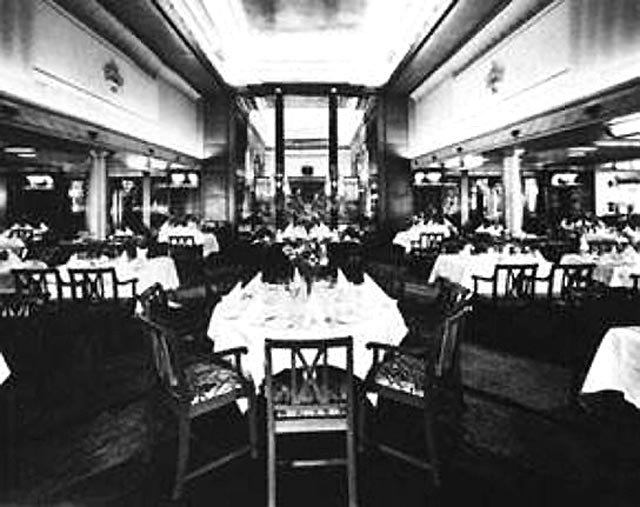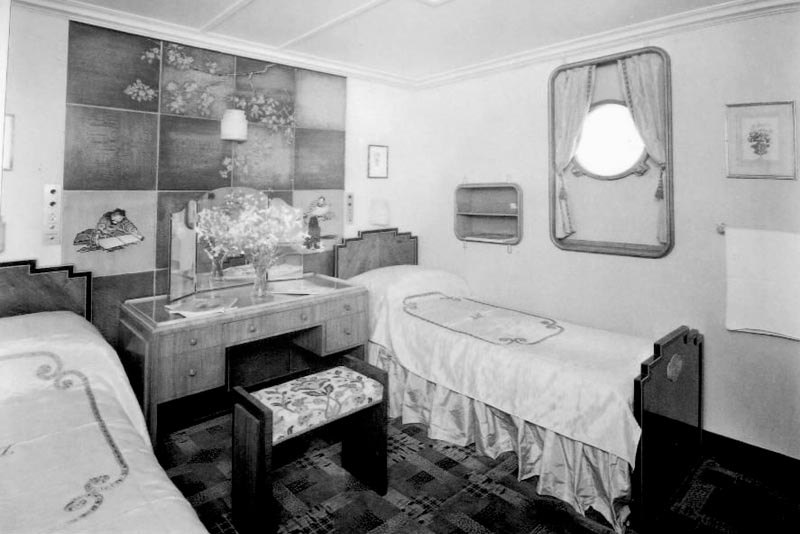 A twin bedded outside cabin on C Deck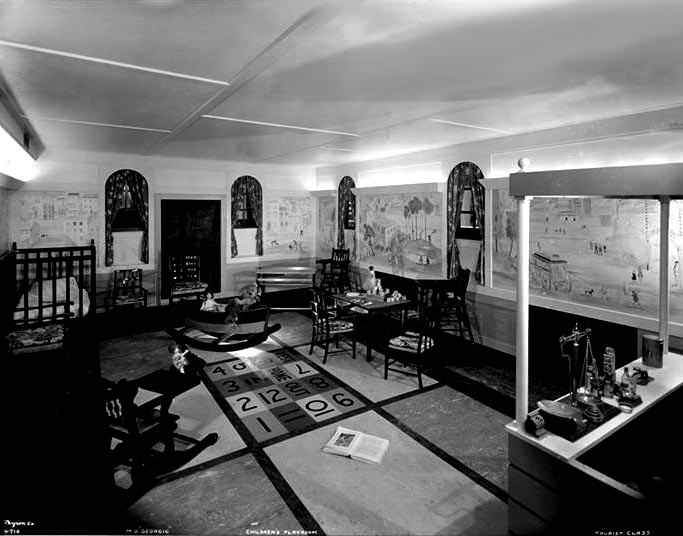 This the Tourist Class Children's Playroom located Deck A just aft of Cabin Class cabins
Maiden Voyage:
M.V. Georgic departed Liverpool for her maiden voyage on June 25, 1932, sailing via Cobh and Boston to New York, being the service she was built for. Her running mate was her earlier sister-ship the M.V. Britannic. "Georgic" remained on this service until early 1940, except for a brief spell in 1933, which I will cover shortly.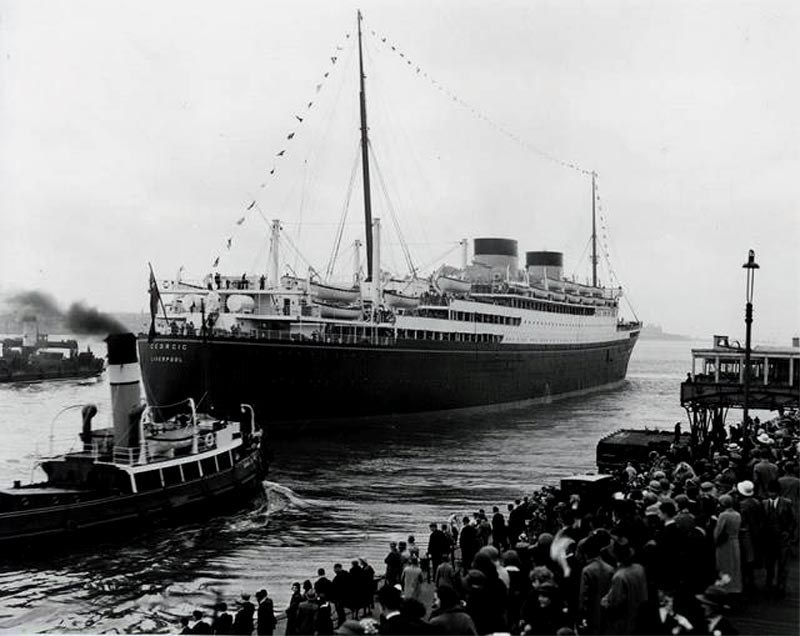 M.S. Georgic departs Liverpool on her maiden voyage to New York on June 25, 1932
After her maiden voyage to New York, the "georgic continued her Trans-Atlantic services, however during the winter months she operated One Class luxury cruises from New York to the West Indies and South America, which became extreamly popular and became an annual event.
Then early in 1933, M.V. Georgic temporarily replaced the aging R.M.S. Olympic on the Southampton, Cherbourg to New York service whilst the old liner was being refitted and updated. As soon as her refit was completed, the "Olympic" was returned to her duties, and the "Georgic" returned to her regular service based in Liverpool again.
Having returned to Liverpool from the USA in October 1933, she landed a record cargo of 51,687 cartons of fruit, with a weight of around 3,000 tons.
Although the M.V. Britannic and Georgic were not the largest nor fastest liners of their day, yet they proved to be extreamly popular ships, and in fact during the 1930's they became "White Star Lines" most profitable two ships. This was due to their lower running costs and more affordable ticket prices compared to their other ships being all more costly steamships operating on the service. Therefore it was these two ships that really kept the company afloat financially during a time that was well known as being … "the Great Depression".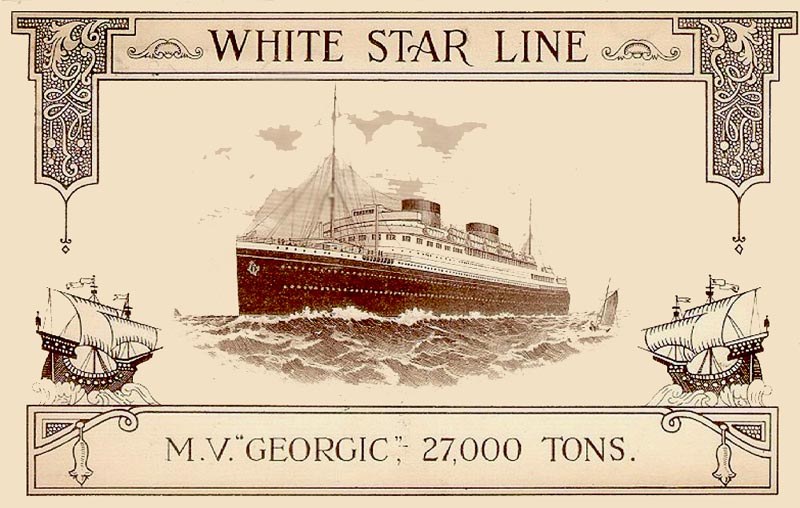 This is the cover of a "Georgic" Letter Card provided to all Cabin Class cabins
Then on May 10, 1934, the "White Star Line" merged with their long time competitor "Cunard Line" and both the "Britannic" and "Georgic" became part of the newly formed "Cunard-White Star Line", although both ships retained their "White Star" livery as well as the house flag, but the "Cunard" house flag was added.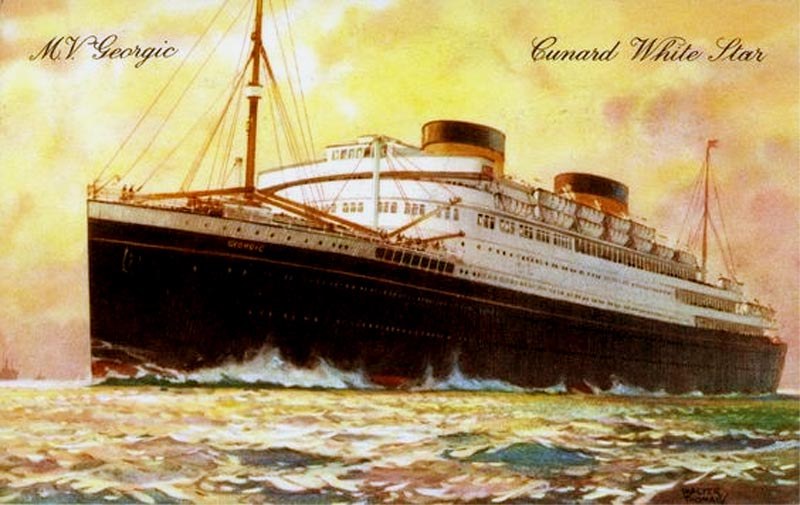 A beautiful M.V. Georgic postcard when she was with the "Cunard-White Star Line"
In 1935 both ships were transferred to operate from London's "King George V dock", sailing via Cobh, Galway and Boston to New York, and the M.V. Georgic commenced this new service on May 3, 1935, making the "Georgic" the largest ship to ever sail up the River Thames and to use the Port of London. She continued to serve on this route until March 1940.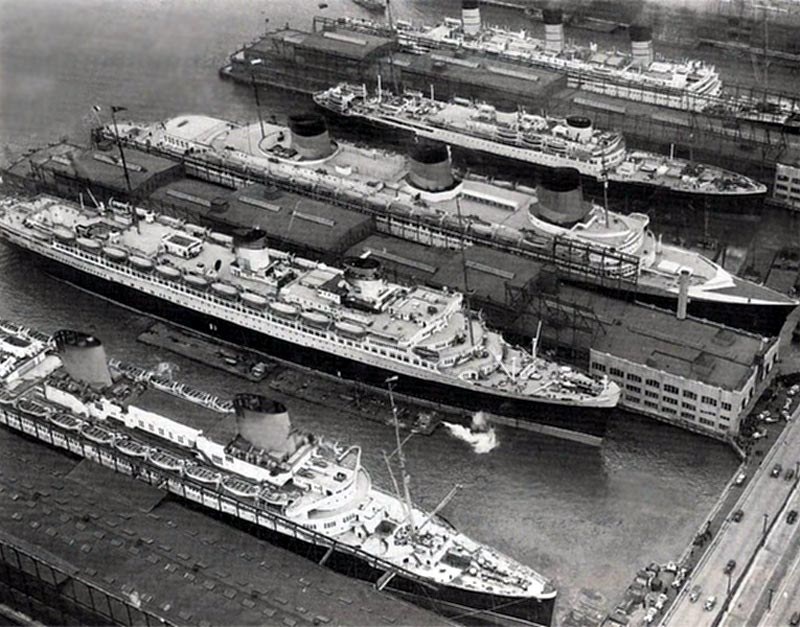 Ships row in New York 1936 bottom to top: the "Europa", "Rex", "Normandie", Georgic, and the "Berengaria"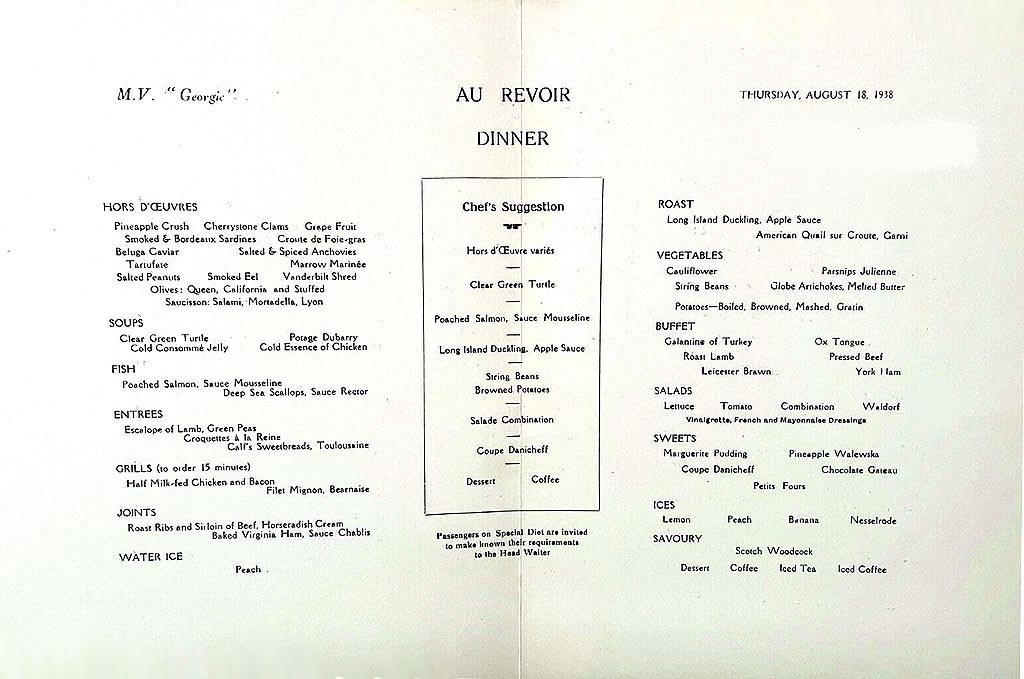 A Cabin Class Farewell Dinner Menu dated August 19, 1938
Thank you Sean O'Donnall for this menu
During the winter months of course, she continued to operate her popular cruises from New York to the West Indies and South America.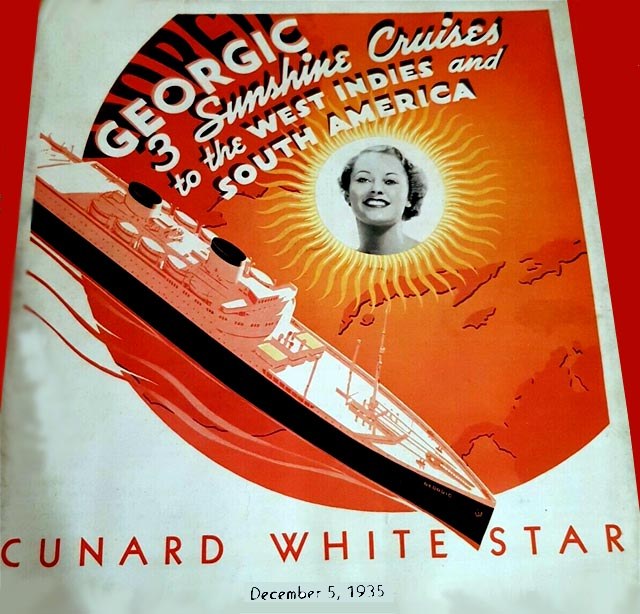 An M.V. Georgic cruise brochure for 1935
At the outbreak of war, Georgic was not immediately commandeered, but instead she was transferred back to the Liverpool to New York service in September 1939, and she made five round voyages before being requisitioned for trooping duties in March 1940.
Her Wartime Career:
Having been a most an exceedingly successful Trans-Atlantic liner during the 1930s, the M.V. Georgic was requisitioned to become a British troopship in 1940. However she was severely damaged and sunk in June 1941 when she was hit by a German bombing raid whilst she was docked in Egypt. Although she was refloated and extensively rebuilt, and was returned to service as a troopship in 1944, she did continue in service both for military purposes, but also as a civilian and a migrant ship, including to Australia, as well as other military uses until 1956, when she was eventually withdrawn from service and sold.
But first let us read the full and interesting story of her World War 2 days.
His Majesties Troopship - H.M.T. Georgic:
Whilst the M.V. Georgic was on the Atlantic bound for her home port, on March 11, 1940, "Cunard-White Star Line" was advised by the British Admiralty that she would be taken off commercial service and would be requisitioned after having disembarked her passengers and discharged her cargo at Liverpool. She was ordered to head for the Clyde on April 19 where all her luxury fittings were removed and she was rapidly converted into a troopship with space for 3,000 soldiers. His Majesties Troopship Georgic was completed within a month.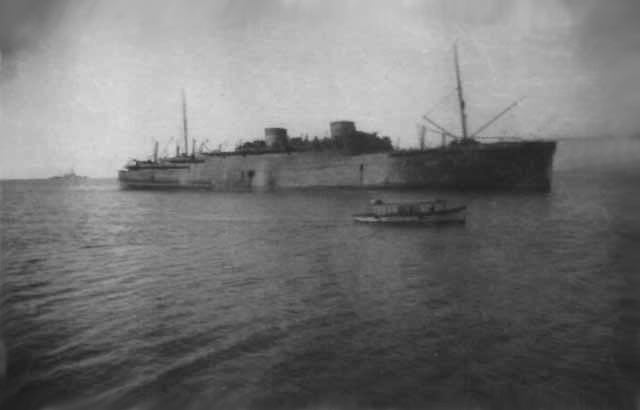 H.M.T. Georgic is seen at sea May 1940
In May that year she assisted in the evacuation of British troops from the failed Norwegian Campaign, from the ports of Andesfjord and Narvik, landing them at the Clyde.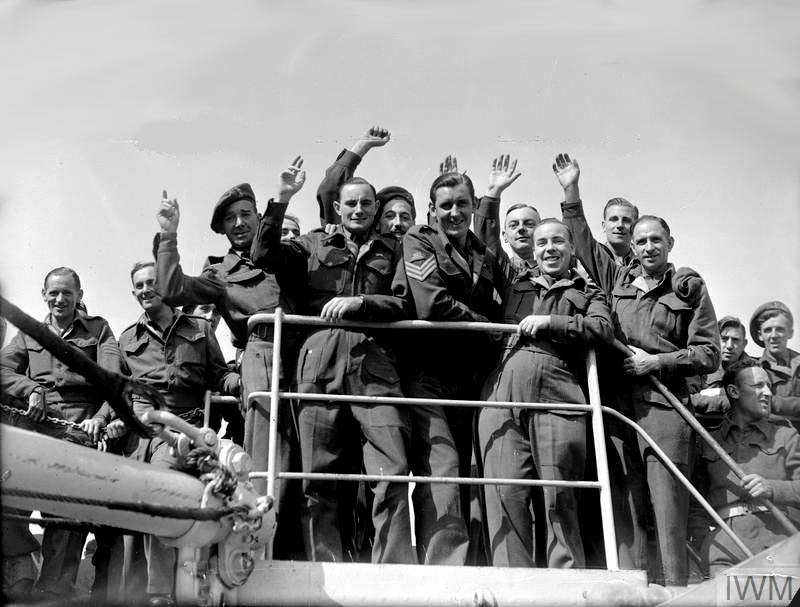 British Troops seen on board the Georgic
With grateful thanks to the "Imperial War Museums" (IWM) - www.iwm.org.uk
Then in June she assisted in Operation Aerial, evacuating British soldiers from the French ports of Brest and St. Nazaire, whilst at anchor off St. Nazaire the troopship H.M.T Lancastria was bombed and she was sunk on June 17, 1940 with a huge loss of life.
The Lancastria received three direct hits from a German Junkers 88 bomber and within 20 minutes, the 16,243 GRT ex luxury liner sank taking with her an estimated 4,000 victims. The sinking is the worst single disaster in British maritime history, and it is claimed that it was even more victims than the sinking of the Titanic and Lusitania together. It was also the largest single loss of life for British forces for the whole of World War 2.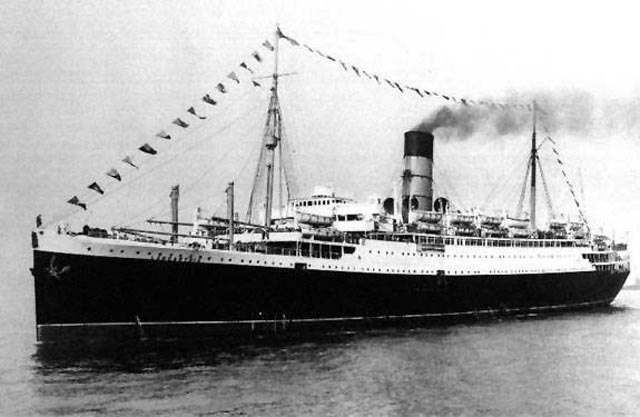 The tragic Lancastria seen during her civilian days
Between July and September 1940, H.M.T. Georgic sailed to Iceland, then to Halifax, Nova Scotia to transport Canadian soldiers across the Atlantic to the Middle East sailing around the Cape. The Georgic then made a variety of journeys from Liverpool and Glasgow to the Middle East again sailing via the Cape, along with journeys between Liverpool, New York and Canada. Between May 1940 and July 1941, Georgic transported around 25,000 troops, mostly to the Middle East.
On May 22, 1941, H.M.T. Georgic departed Glasgow under the command of Captain Greig OBE, RNR, and onboard was the 50th Northumberland Infantry Division and they were bound for Port Tewfik, Egypt - in the Gulf of Suez. She has been sailing in a part of a convoy, but she was left almost unprotected, being due to the then hunt for the famous German battleship the "Bismarck" which they did sink, but the Georgic did arrive at Port Tewfik safely on July 7, and all the troops on board disembarked there.
A week later on July 14, 1941, being at anchor just off Port Tewfik whilst awaiting to embark some 800 Italian detainees, suddenly German bomber aircraft that were based in Crete, were sweeping the area for targets, and they spotted the unprotected "Georgic" which was an easy target and proceeded to attack her. At first there were several misses, but then she was hit by two bombs, the first bomb glanced off her side and exploded in the water, causing huge damage to the ship's hull right next to No.4 hold causing heavy flooding. Then the second bomb hit the aft section of boat deck and it penetrated some five decks down, and it exploded in a lift shaft, causing massive damage to No.5 hold, and it was there were a fire started that soon ignited fuel from ruptured fuel tanks; the fire spread rapidly and next it ignited ammunition that was stored in the aft holds causing an explosion, which engulfed the entire aft of the ship in a massive fire.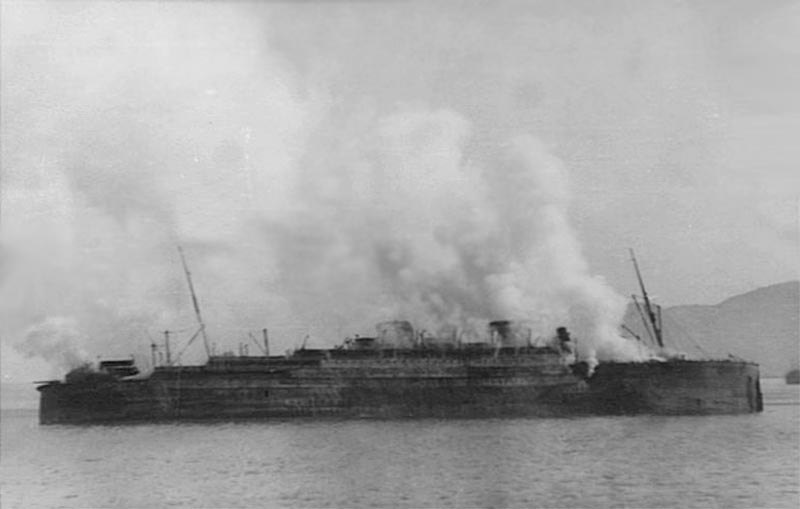 H.M.T. Georgic is seen ablaze in the Gulf of Suez
Despite the huge damage to her, the ship's engineers amazingly managed to start her engines and on July 16, Captain Greig manoeuvred the blazing ship out in the middle of Suez Bay, in order she would not block the busy channel. However whilst doing this, the Georgic collided with another ship, the H.M.S. Glenearn which resulted in Georgic's stem being badly twisted. But by now the fire had spread to the upper decks, and she started to sink.
On the after deck located near No.5 hatch was a new German tank that was being taken to England to be tested, it had been captured in the desert. A barge came alongside and several members of the Norfolk Regiment climbed onboard and although they were surrounded by flames and exploding ammunitions they managed to place slings around the tank and a derrick lifted the tank over the side and onto a barge. There is no doubt that a few medals would have been won that day.
The Georgic slowly settled by the stern onto a shallow reef and was left to burn out over the next two days, and by that time she was half submerged, the engine room had partially flooded, and the superstructure was gutted by the fire. As the flames swept forward through the decks, the accommodations and finally the fire reached the bridge. Thus an order was given to abandon ship, and all on board managed to escape using the ships lifeboats.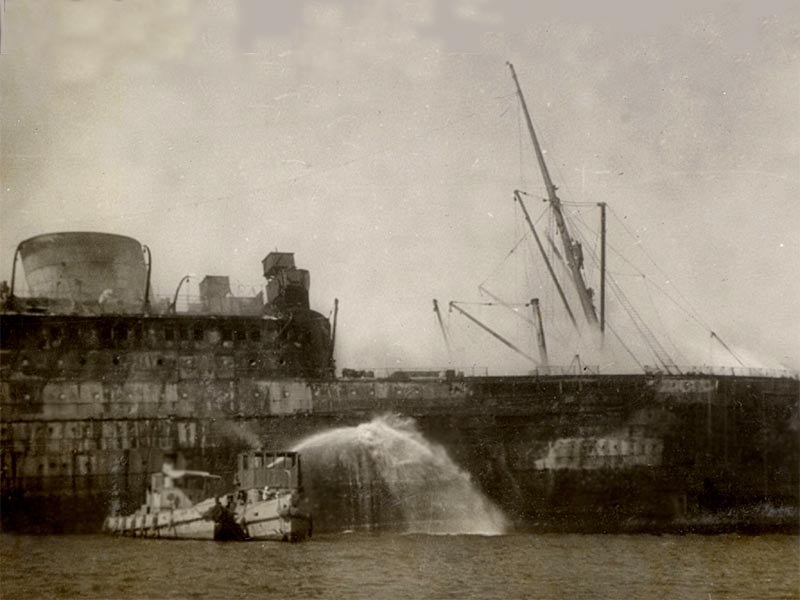 Flames having reached her forward sections
It took several weeks for the ship to cool down enough for an inspection team to board her. She was a burnt out and blackened hulk, and there was eighteen feet of water in the engine room.
An assessment team had boarded her and on September 14, 1941, came the advice that the damage to Georgic was assessed by them and she was considered to salvageable, and that she could be saved. On October 27, she was refloated and her holes and openings were temporarily plugged with the last of the water being pumped out, she was now a wreck, but a dry ship.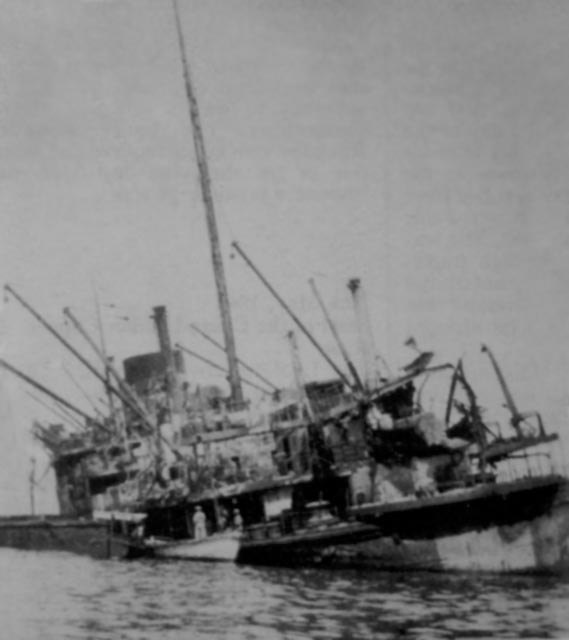 The ship is being inspected in September
Then on December 2, 1941, the Georgic was taken in tow stern first, by the "Clan Campbell" and the "City of Sydney". It would take 12 days to sail just 710 miles, and she arrived at Port Sudan on December 14, where she was made seaworthy.
The Georgic left Port Sudan on March 5, 1942, and she was towed by "Charente Steamship Co. Ltd" 5,891 GRT cargo ship S.S. Recorder, together with the tug "St. Sampson", which was steering from astern. On the following day a strong north-westerly gale rendered the wallowing Georgic close to being unmanageable, thus the southerly course had to be abandoned and the ships hove to. For five hours the Recorder battled to bring her charge head to wind, and in the process the tug "St. Sampson" was damaged. The tug was rapidly filling with water and slipped her tow rope and drifted down wind. Shortly afterwards she foundered and her crew were picked up by the hospital ship "Dorsetshire", which was passing at the time.
For twelve hours S.S. Recorder and the "Georgic" rode out the gale and then, as the winds abated, cautiously swung back through 180 degrees to resume their course. Meanwhile they were joined by another tug, the "Pauline Moller" and the British India steamer "Haresfield" and together they guided their labouring charge past Abu Ail and the islands of the southern Red Sea into the Gulf of Aden, and on to Karachi.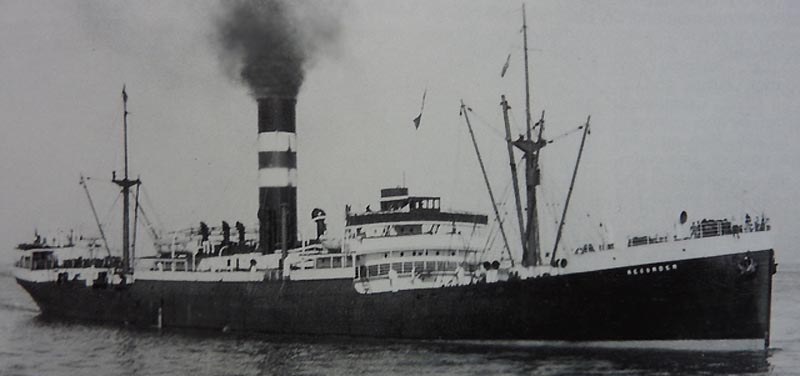 S.S. Recorder
The salvage crew responsible for the "Georgic" lived on board the "Recorder" and every few days boarded the liner from a motor launch in order to pump out a steady ingress of water.
On March 31, 1942 the ships arrived at Karachi, where the "Georgic" was taken in tow by 8 tugs. At Karachi further temporary repairs were carried out that took until December 11, and she departed bound for Bombay arriving on December 13, 1942.
The "Georgic" was dry-docked for to have her hull completely cleaned and the ship given further repairs. She remained in Bombay for just over a Year, but finally she loaded 5,000 tons of "pig iron ballast" and on January20, 1943, the "Georgic" departed Bombay under her own power bound for Liverpool where she arrived on March 1, having sailed at a reasonable 16 knots.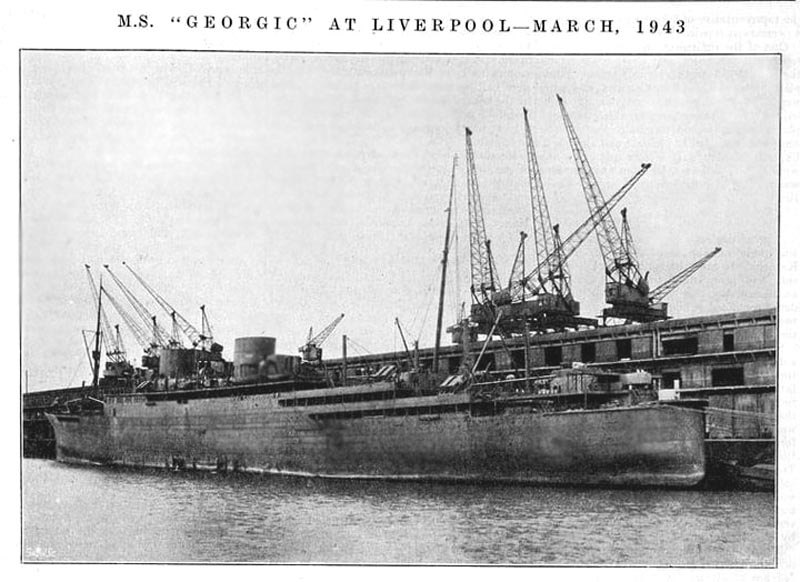 The patched up Georgic is seen at Liverpool in March 1943
Soon thereafter she headed for Harland and Wolff in Belfast, but she had to anchor in Bangor Bay until July 5, as she had to await a berth.
At the very shipyard that had originally built her "Harland and Wolff" she was given complete rebuild and a refurbishment into a troopship, which took 17 months. She was finally completed in December 12, 1944, although her exterior looked very different from the ship she had been.
The main changes were, her forward funnel and main (aft) mast had been removed and her forward mast been shortened. Now every possible difficulty in separating Georgic from her sister the Britannic had been completely reduced as they now looked like completely different ships.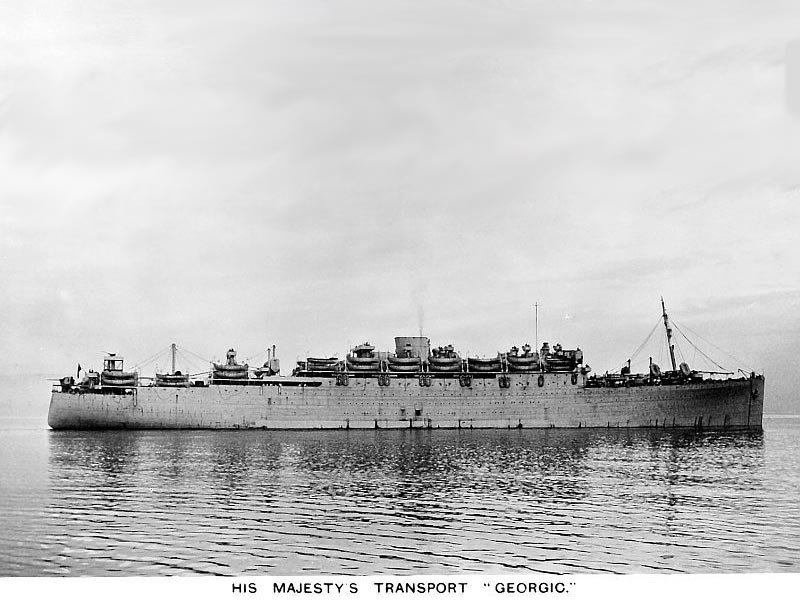 The new look Troop Ship Georgic seen in December 1944
On December 16, 1944, she was returned to her owners in Liverpool, now being the "Ministry of Transport" (MoT), with Cunard-White Star Line being the ships managers.
During 1945 the H.M.T. Georgic trooped to Italy, the Middle East and India. On Christmas Day she arrived at Liverpool with troops from the Far East, including General Sir. William Slim, Commander-in-Charge of South East Asia.
Then early in 1946 she Georgic repatriated 5,000 Italian prisoners of war. In June 1946 on a homeward voyage from Bombay there was trouble between civilian women and service women, and this led to the barring of civilians on troopships unless there was absolutely no other transport available.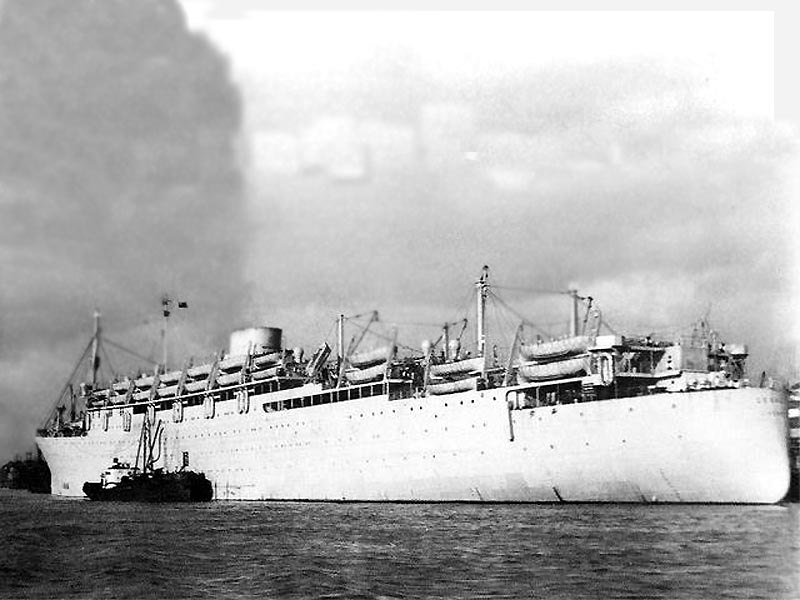 H.M.T. Georgic is seen disembarking troops at Liverpool's Princes Landing Stage in 1946
Thank you Gregory Macilroy for this photograph
During the last year of the war, the "Georgic" made trooping voyages to Italy, the Middle East and India, her war duties continued until 1948.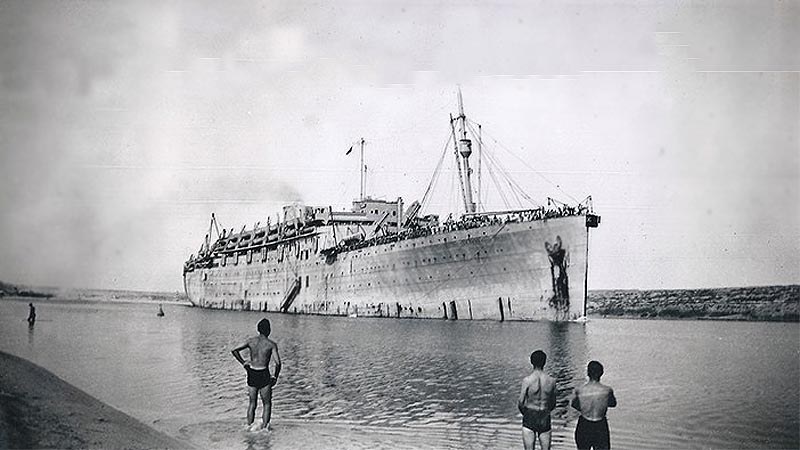 H.M.T. Georgic is seen in her final year as a troop transport ship
Post War Service:
By 1948, with trooping requirements falling off, and the need for additional ships were required for the emigrants trade, especially to Australia and New Zealand, the "Ministry of Transport" (MoT) decided to restore the "Georgic" for civilian service, with the option that she could be used for trooping duties if the need arose.
In September 1948 Georgic was sent to the "Palmers & Company" shipyard at Hebburn on the Tyne to be completely refitted to become a passenger once again, or rather amore humble migrant liner accommodating a huge 1,962 passengers in a One Class configuration.
M.V. Georgic had her White Star colours restored in the refit, with her black hull, red boot topping, a thin yellow ribbon high around her hull, with a white superstructure and a yellow and black funnel. However her interiors were not restored to their pre-war luxury standards, but to say the least they were of an extreamly humble standard.
Externally she looked like a long and a relatively sleek liner, with single funnel, main (aft) mast removed and her shortened foremast. Located just aft of the Bridge were two straight masts, one taller than the other, used to hoist flags and some equipment. Whilst up on Boat deck, Promenade and A decks aft as well as far forward on A deck, she carried an astonishing 36 lifeboats.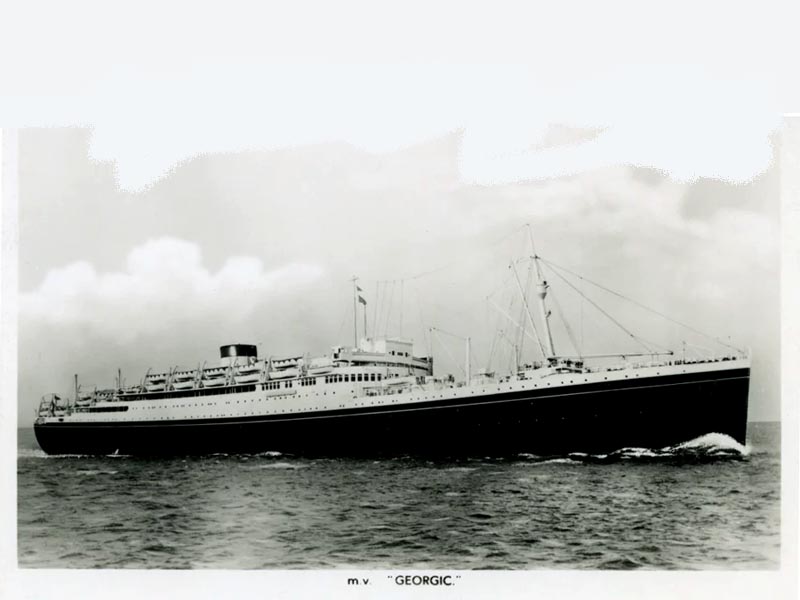 M.V. Georgic seen in her new guise in January 1949
From January 11, 1949 to November 19, 1955, M.V. Georgic was operated on the UK-Australia migrant service, managed by Cunard, but under charter by the Australian government.
She departed Liverpool on Tuesday January 11, 1949, for her first voyage to Australia with 1,994 passengers, which was made up of 1,529 adults and 465 children and she sailed via the Suez Canal, where she made a stop at Port Said as well as Suez.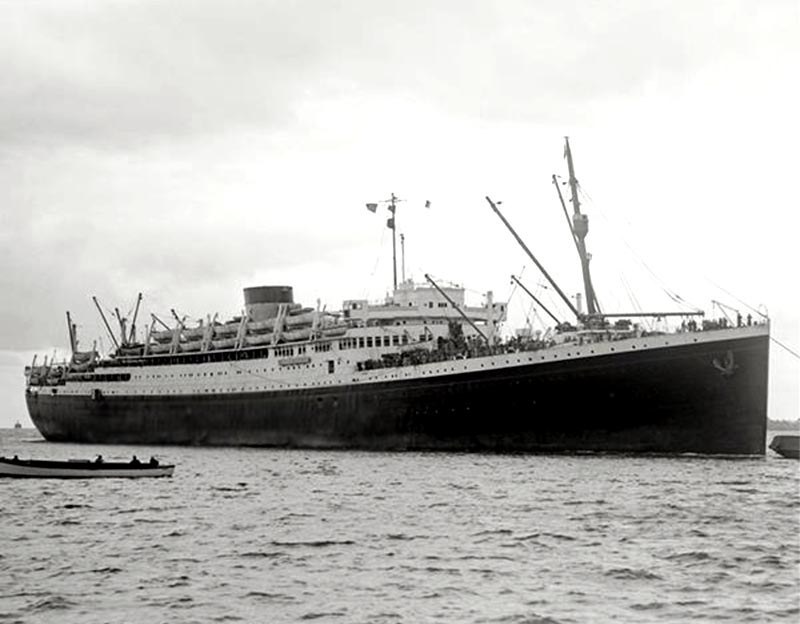 The Georgic is seen at Port Said, Egypt
She then sailed headed for Aden, where she would anchor and she would visit there mostly to bunker and take on fuel, as her next voyage was a long one down the Indian Ocean heading to Fremantle the port for the city of Perth (Western Australia - WA) where she briefly visited on Sunday February 6. Having left Fremantle she rounded along the bottom of Australia and headed east for her voyage on the "Southern Ocean" and sailing along the "Great Australian Bight." When the weather is good this will be a fine voyage, but this region is known to be treacherous and there can be atrocious weather and exceedingly wild seas. On this voyage it was just fine and children could happily play outside.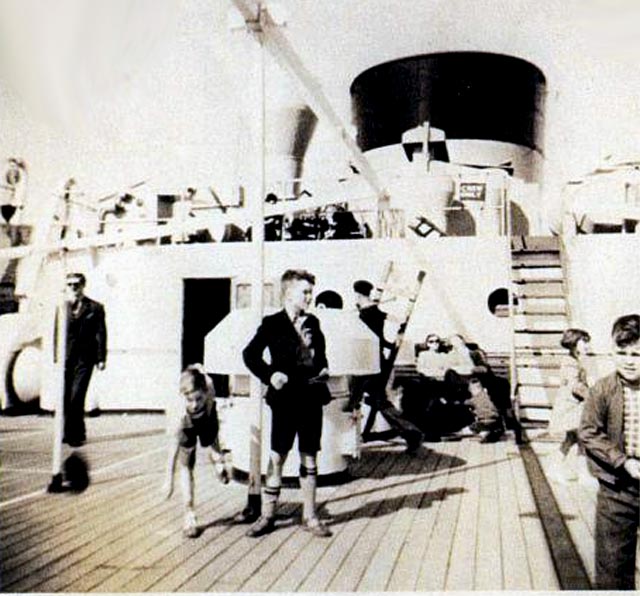 Children playing on her aft deck
Thank you Gregory Macilroy for this photograph
The "Georgic" sailed past the City of Adelaide (South Australia - SA) and she headed for Melbourne (Victoria - VIC) where she arrived on Saturday February 12, where many of her passengers disembarked.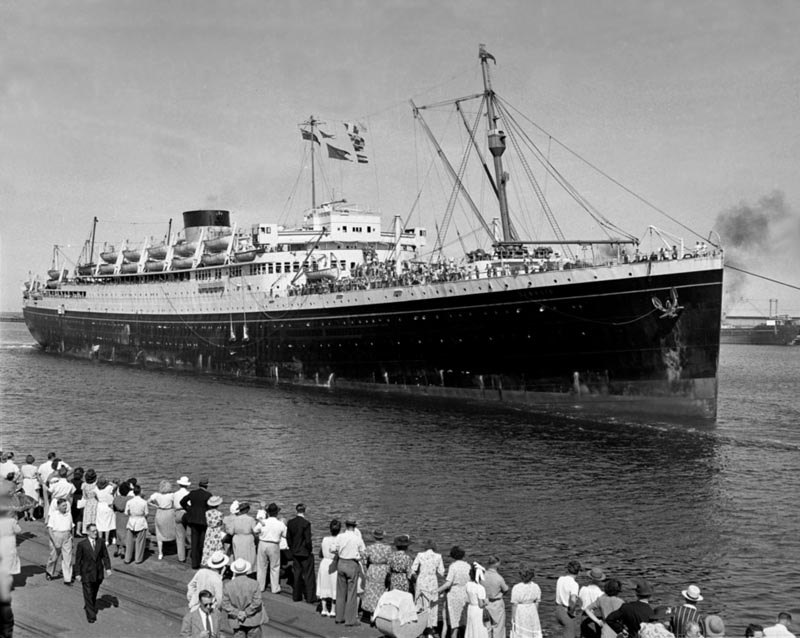 M.V. Georgic is seen arriving at Melbourne on her first voyage to Australia on February 12, 1949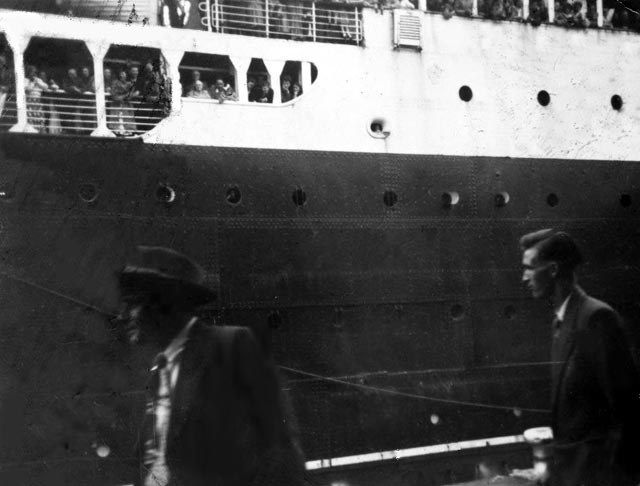 Having just berthed many passengers are along the railings, waiting to disembark and commence a new life in Australia
She departed Melbourne later that day, and she headed north to Sydney (New South Wales - NSW) where she arrived on the Monday February 14, and the balance of her passengers left the ship. Upon departure she returned directly to England without any passengers.
During the summer high seasons from 1950 through to 1954, the Cunard Line chartered M.V. Georgic from "MoT" to operate a "Tourist Third" class service from Liverpool and then from Southampton to New York, and she did this together with her sister the "Britannic". The reason for obtaining her was to meet the huge demand for Trans-Atlantic travel. The "Georgic" was chartered in 1950 for six round Trans-Atlantic voyages, but for the next four years (from 1951 to 1954 she made seven round voyages each year.
Her second voyage to and from Australia departed Liverpool on April 8, 1949. Upon her return to Liverpool the "Georgic was used for another trooping voyage departing Liverpool on July 8, 1949, this time she would be heading to Hong Kong.
Having returned from her Hong Kong voyage, she was made ready for her third voyage to Australia, which became eventful mostly due to a propeller being damaged and she had to enter the "Captain Cook Dry-dock" in Sydney in November 1949, for a new prop to be fitted. The Georgic became the largest ship ever to be dry-docked in Australia to that date! When fixed she returned to Liverpool.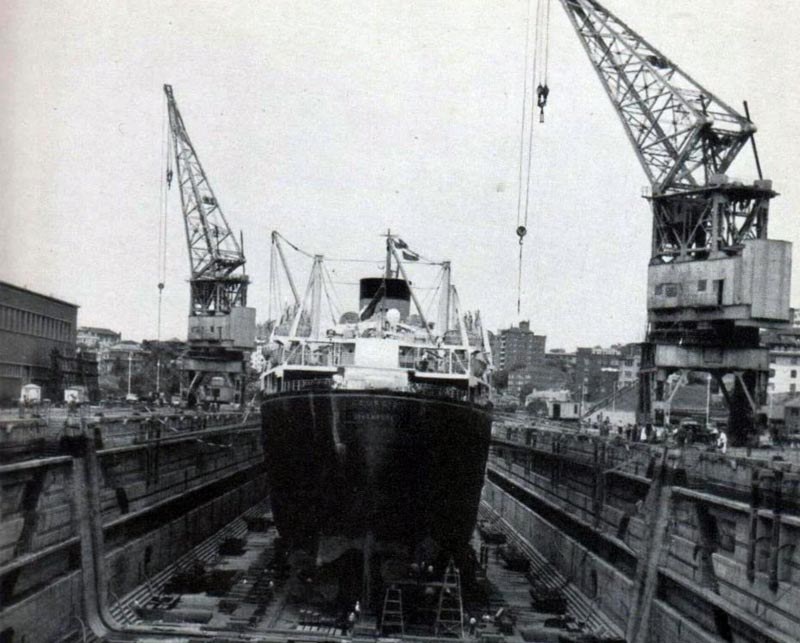 Georgic is seen in the "Captain Cook Dry-dock"
Her next (fourth) voyage departed late in January 1950, and called at her usual ports of call, visiting Melbourne on February 17, and she arrived in Sydney on February 19, 1950. She departed on the 20th, but this time she headed for Jakarta in the "Dutch East Indies" (Indonesia) and there she collected Dutch nationals and they were returned to the Netherlands, but via Liverpool where she arrive on March 29, 1950.
After her next round (fifth) voyage to Australia, she commenced her first charter with "Cunard Line" on the Liverpool to New York service for the summer operating six round voyages.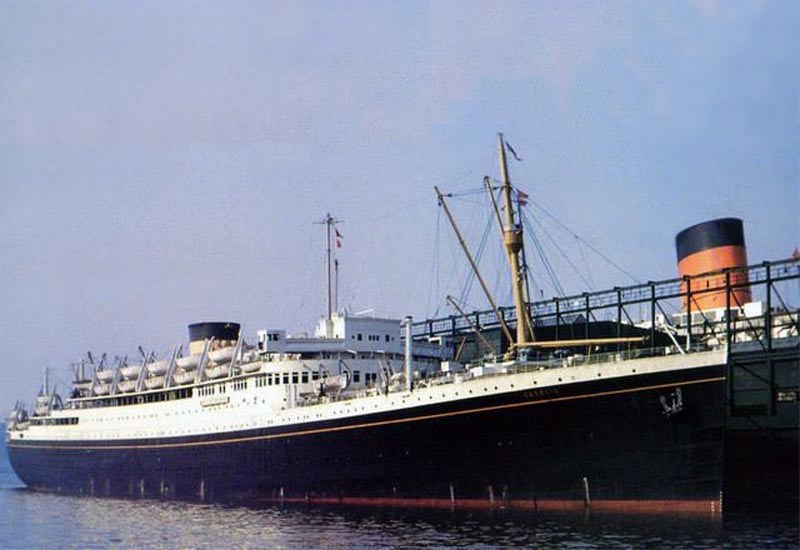 M.V. Georgic seen whilst under charter to the "Cunard Line" operating in the summer to and from New York for five years
M.V. Georgic returned to her Australian duties departing from Liverpool early in December 1950, but when she arrived in Sydney and berthed at Woolloomooloo on January 8, 1951, the "Georgic" was placed in full Quarantine and this was due to her having some 49 persons with smallpox on the ship.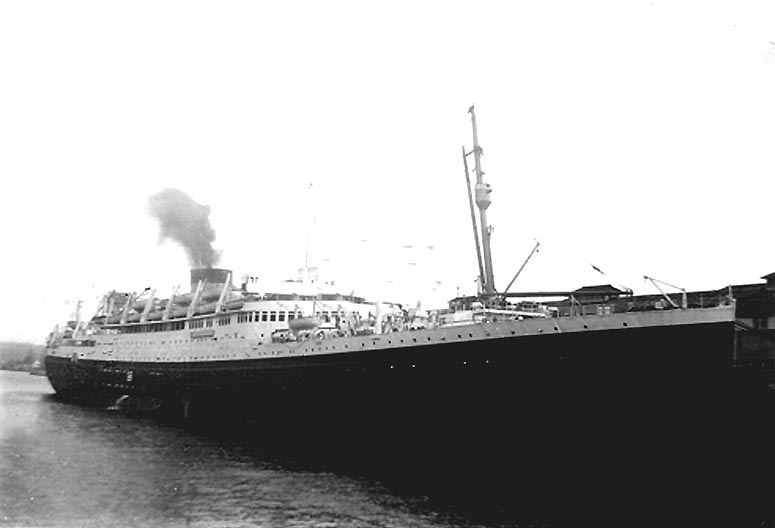 The "Georgic" is seen berthed at the old Woolloomooloo wharf which today has become super luxurious apartments
She was finally released on January 14, and she departed the very next day the 15th, and she sailed via Melbourne, Aden and Port Said to Liverpool arriving on February 14, 1951.
Instead of returning to Australia, the "Georgic was used for further trooping duties until she returned to her charter with "Cunard", but from now it would be seven round voyages to New York and back.
M.V. Georgic is seen during her Cunard service to and from New York
From November 1953 to April 1955, the Georgic was again used for trooping duties as she was commissioned to carry Commonwealth troops returning from the Korean War, although she continued to fulfil her Cunard charter agreement from Southampton to New York during the summer.
But in February 1954 she headed to Hong Kong again, from there she returned via Singapore, Colombo, Aden, Suez and Port Said and she arrived at Liverpool on March 12, 1954.
Her trooping voyages continued for in January 1955 the "Georgic" headed for Egypt to collect troops from Port Said and on the way home she called at Famagusta, Cyprus and arrived back at Liverpool on January 19, 1955.
Her next sailing was to Kure in Japan to collect further troops, and she departed from there mid March, and sailed via Hong Kong, Singapore, Colombo, Aden and Port Said back to Liverpool where she arrived on April 16, 1955.
Although MoT had announced that the "Georgic" would be withdrawn from service and put up for sale. Yet once again the Australian Government decided to charter her for the season.
M.V. Georgic departed Liverpool for Australia on May 21, 1955 and she sailed via her usual ports and was bound for Sydney where she arrived on June 23, 1955.
Sadly by now the Georgic's aging engines started to prove to be troublesome and they required ongoing work. Yet very quickly she was withdrawn from sale when she was chartered by the Australian Government for one more season on the migrant run.
On the previous voyage to Australia with migrants from Liverpool sailing on May 21, 1955, sadly when the ship entered the Red Sea, she became so hot inside considering she was built for the North Atlantic trade, and sadly there was no air-conditioning, and ventilation was very poor, especially down below in all those over crowded cabins. It was so bad that five young children whose parents were taking them to a better life in Australia, tragically died from the heat and they were buried at Sea. All the remaining children were then kept in cool rooms below the galleys, in order for them to stay cool, also special classes and lessons were arranged to keep them occupied. This voyage had sadly become a very sad one for families!
Thus it was decided that for her next voyage departing Liverpool on August 24, 1955 to send her via Cape Town and thankfully this voyage proved to be much cooler and no passengers were lost due to the heat.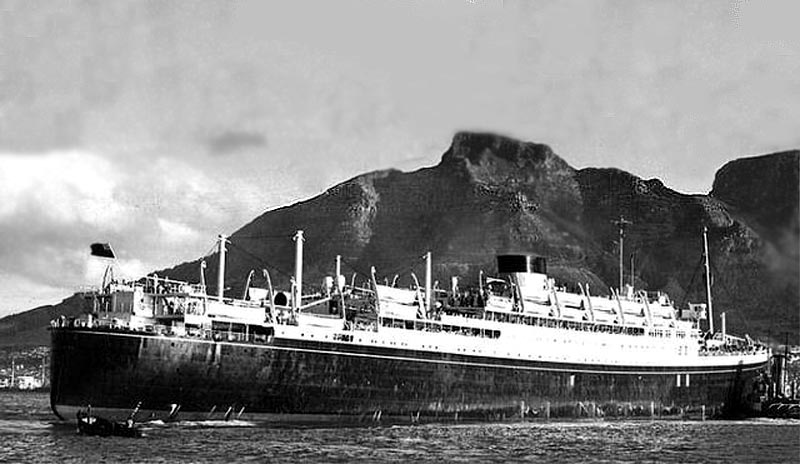 The M.V. Georgic is seen at Cape Town
She again passed through Fremantle on September 29, and then headed to Melbourne for the day on October 4, and she then headed for her destination Sydney, where she arrived on October 6, 1955. In Sydney she loaded 3,000 Australian troops of the "Royal Australian Regiment" bound for Malaya (Malaysia). As the troops were lined up ashore waiting to embark the ship, flags were flying and the band was playing "Waltzing Matilda" it was all a very impressive sight and people were cheering as the ship departed. Sadly there was trouble in Malaya, and upon arrival at Penang, Malaya the troops disembarked and headed for Butterworth Base. M.V. Georgic then headed for Singapore where she awaited for orders, which was to go to "Vung Tau" in Vietnam to rescue the "French Foreign Legion" there, who were survivors of the "Battle of Dien Bien Phu" and they were taken to Algiers and Marseilles via Aden and Suez. The Georgic sailed into Liverpool on November 19, 1955 a ship without passengers or troops, as they had all left in France. The Georgic was officially withdrawn from service and remained at berth.
After a couple of weeks the "Georgic" departed for the Clyde, and her crew now left the ship on December 12, 1955 to await the ship breakers. Later in December she was laid up at Kames Bay at Isle of Bute, and in January 1956 she was sold to the Shipbreaking Industries Ltd. at Faslane where she arrived one month later.
In December, the once luxurious M.V. Georgic was finally laid up at "Kames Bay" at the "Isle of Bute", pending her disposal, however she was sold for scrap in January 1956 to "Shipbreaking Industries Ltd". The "Georgic" arrived at Faslane Scotland to be broken up by the breakers on February 1, 1956. Soon thereafter this once magnificent liner, being the very last ship to be built for the "White Star Line" was gone forever, but she will be remembered for her luxury, her brave war duties, even her rather humble migrant days.
Whilst her still luxurious sister M.V. Britannic remained with "Cunard" until 1960, when she was sold and she was broken up early in 1961.
Specifications & Details M.V. Georgic:
Built by:                      Harland & Wolff at Belfast. 
Yard No:                      896.
Official No:                   162365
Call Sign:                     LHRF.
Owners:                       White Star Line - 1932-1934.
.                                 Cunard-White Star Line - 1934-1944.
.                                 Ministry of War Transport - 1944-1946.
.                                 Ministry of Transport - 1946-1956.
Port of Registry:            Liverpool England.
Launched:                    November 12, 1931.
Completed:                  June 10, 1932.
Maiden Voyage:            June 25 1932.
Tonnage:                     27,759 GRT - 16,839 Nett.
Length:                        683.6 ft - 208.36 m.
Breadth:                      82.4 ft - 25.11 m.
Draught:                      35 ft - 10.66 m.
Propulsion:                   2 10 cyl, four stroke, double acting "Burmeister & Wain" diesel engines built by H&W, 20,000 HP.
Propellers:                   2 Screws.
Speed:                         18 knots service speed, 19.8 knots maximum.
Accommodations:          Total 1,542 passengers - 1932 to 1940.
Cabin Class:                 479 passengers.
Tourist Class;               557       "        .
Third Class:                  506       "        .
Troopship:                   3,000 men - April 1940.
One Class:                   1,962 migrants - 1949 to 1955.
Crew:                          500 - 1932 to 1940.
Fate:                           Sold to be broken up and arrived at the Faslane, Scottish breakers in January 1956, and arrived on February 1.
**************
Remembering the
M.V.
G
eorgic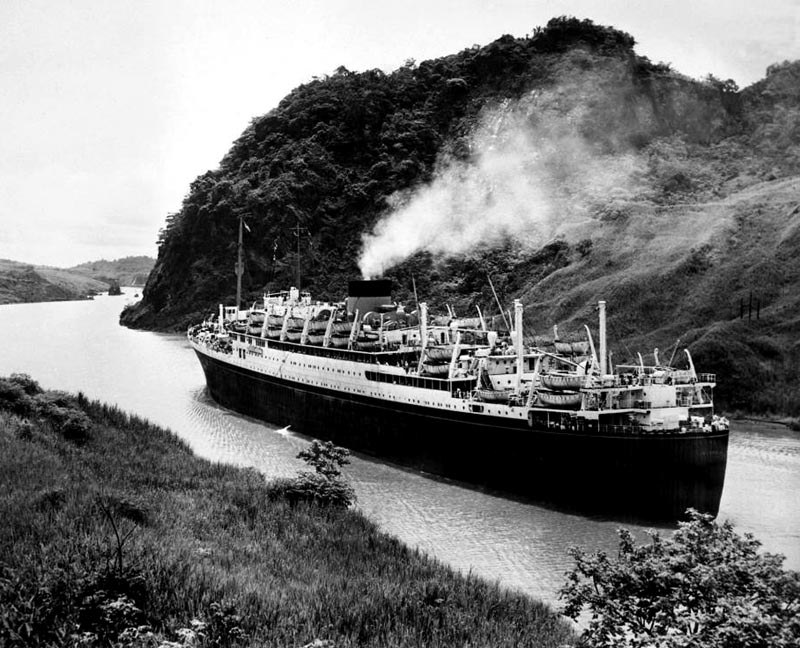 A rare aerial stern view of the post war M.V. Georgic sailing through the Panama Canal
Thank you Sean O'Donnall for this rare photograph
View an 11 minute Movietone film of the M.V. Georgic on YouTube: Enter Here
**************
"Blue Water Liners sailing to the distant shores.
I watched them come, I watched them go and I watched them die."

Featuring over 1,365 Classic Passenger Liners, Passenger-Cargo Liners & Classic Cruise Ships!
Or ENTER HERE
For interest: Sadly an email service to ssMaritime is no longer available, due to the author's old age and chronic illness as well as being disabled, etc. In the past ssMaritime received well over 120 emails per day, but Goossens can no longer handle same. He sincerely regrets this!
**************
ssMaritime.com & ssMaritime.net
Where the ships of the past make history & the 1914 built M.S. Doulos Story.
The Author commenced in Passenger Shipping & the Cruise Industry in 1960.
In addition he was the founder of "Save the Classic Liners Campaign" in 1990.
Please Note: ssmaritime and associated sites are 100% non-commercial and the author seeks no funding or favours of any shape or form, never have and never will!
Photographs on ssmaritime and associate pages are by; the author or from the author's private collection. In addition there are some images that have been provided by Shipping Companies and private photographers or collectors. Credit is given to all contributors. However, there are some photographs provided to me without details regarding the photographer/owner concerned.
This notice covers all pages; although, and I have done my best to ensure that all photographs are duly credited and that this notice is displaced on each page, that is, when a page is updated!
ssMaritime is owned & © Copyright by Reuben Goossens - All Rights Reserved