Elders & Fyffes Ltd Passenger-Banana Liners - T.S.S. Golfito (1949) & T.S.S. Camito (1956)
Please Note: Firefox, iPhones, iPads & some other Search Engines may not be suitable
Use Internet Explorer & Old Google for this Web Page to load perfectly!
Click the logo above to reach the ssMaritime FrontPage for News Updates
With Reuben Goossens
Maritime Historian, Cruise'n'Ship Reviewer, Author & Lecturer
Please Note: All ssmaritime and my other related ssmaritime sites are 100% non-commercial and privately owned sites. Be assured that I am NOT associated with any cruise or shipping companies or travel/cruise agencies or any other organisations! The author has been in the passenger shipping industry since May 1960 and is now semi-retired, but continues to write article on classic liners and cruise ships in order to better to inform cruise and ship enthusiasts for their pleasure!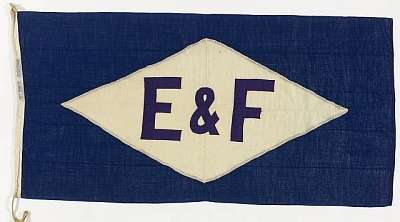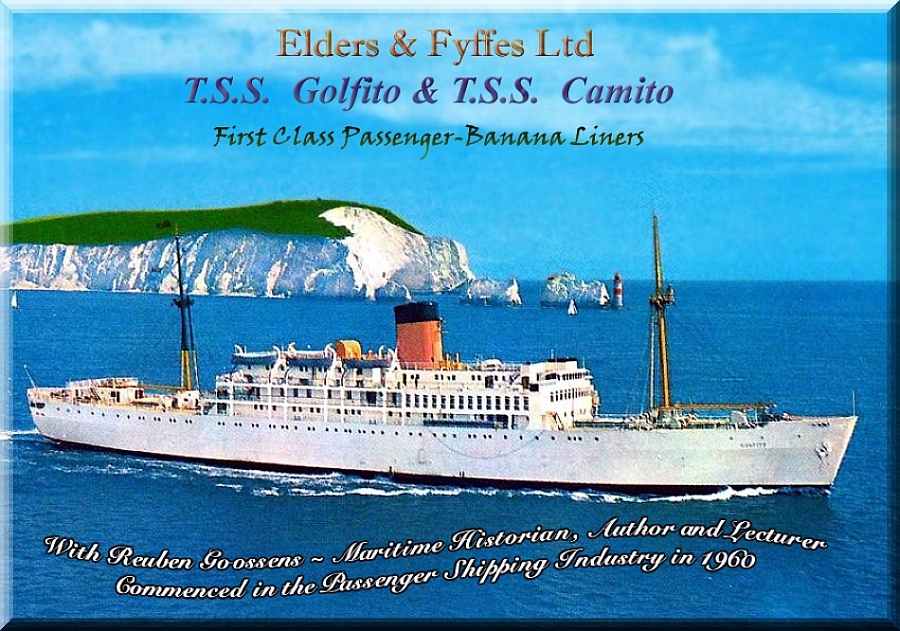 Please Note: Postcards, photographs & other images are from the Author's private collection, unless otherwise stated.
Elders & Fyffes - A Company History:
Although this famous banana company only commenced as a shipping line early the 1900s, but today it is known just "Fyffes" and they continue to operate to this very day and their bananas are well known throughout the UK and all over Europe!
With the formation of Elders & Fyffes Ltd in 1901 and it was necessary to for them obtain suitable ships to transport bananas from the West Indies to the United Kingdom. With a capital of £150,000 pounds, Elders & Fyffes was a subsidiary of Elder Dempster of Liverpool, but with a working capital was still in short supply. Alfred Jones of Elder Dempster had supplied funding, as did the London fruit distributors Fyffe, Hudson & Co., therefore the company name Elders & Fyffe Ltd., and even the small Bristol stevedoring company C.J. King and Sons had contributed, receiving in return contracts to handle the discharge of the bananas and fruits, as well as the provision of tugs. £60,000 pounds was raised with some difficulty and Elders & Fyffes placed deposits on four second-hand ships that were on the market by the shipbuilder, Furness, Withy & Co. For some reason these 2.875 GRT (Gross Registered Tons) ships had failed on their intended services, and they had been operated by United States Railroad Company, and therefore they had very typical Virginian names such as; SS Appomattox, Chickahominy and Greenbriar. The fourth ship of the quartet had been operated by Furness Withy themselves as the Carlisle City and she was renamed SS Oracabessa being a traditional Jamaican name which the company never used again. All four ships were sent to Newcastle upon Tyne where they were refitted, and special cooling systems were installed to keep the bananas firm and other fruits fresh during the crossing to the UK.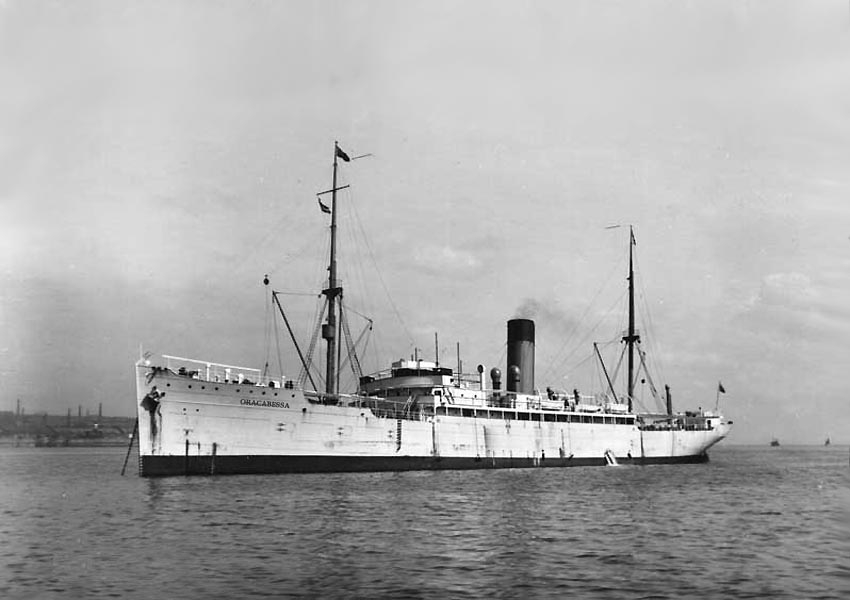 Here we see the SS Oracabessa in 1902
In 1904, three purpose built banana boats were ordered, each being 3.760 GRT, when completed and placed into service, these three ships proved a perfect replacement for the original four ships, which were all sold to the United Fruit Company. The new thing was that these three new ships did accommodate a small number of passengers and did so in relative comfort, as it was said; "Especially when compared to the Royal Mail steamers of that period." The truth is that these ships were acknowledged as playing a significant part in bringing the first tourists to Jamaica. Over the years the Fyffes fleet grew rapidly and was very successful both in carrying cargoes from the UK to the Caribbean, and bananas back to England, and Europe, but also seeing the tourist trade by sea grow!
Thus, by the commencement of World War One, the Fyffes fleet had grown to 18 ships, but due to the war most ships had been requisitioned by the Ministry of War to transport troops and other duties. During the war years, ten of the Fyffes ships were sunk by either having been torpedoed or having struck a mine.
Elders & Fyffes Ltd recovered speedily and in less than five years they had once again become a company with a fine fleet of ships. But then suddenly a major problem arose, for in 1923 a dock strike had a huge impact on the company and thus huge losses were incurred, and then there was the Great Depression throughout the United Kingdom. All this was followed by a series of floods and hurricanes in Jamaica and then the Spanish Civil War and all of these events produced their own difficulties.
However in 1928 and 1929 two sisters entered service, the 5.392 GRT SS Tilapa (I), and 5.389 GRT the SS Mopan respectively and both accommodated around 20 passengers. The Mopan was captured and sunk in 1940 by the German battleship Admiral Scheer, and Tilapa (I) came through WW2, and was scrapped in 1959.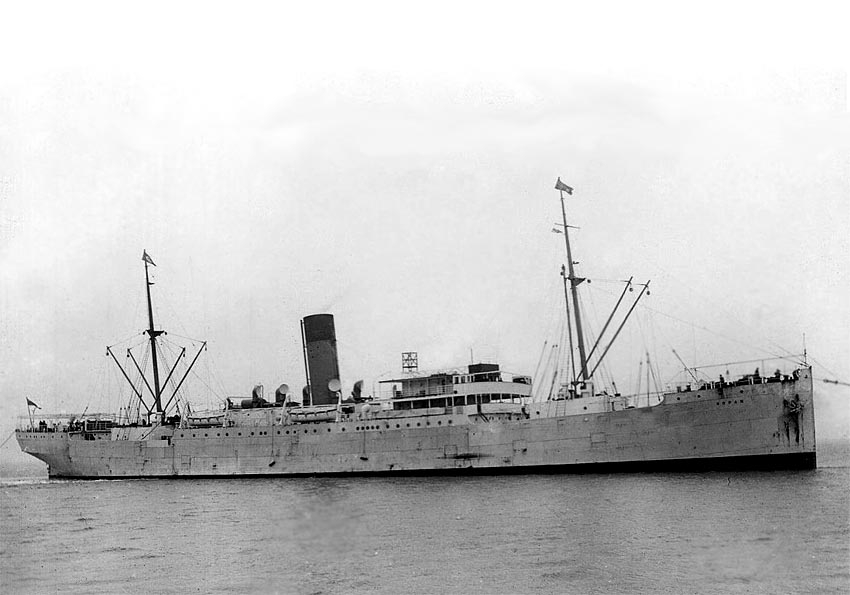 The 1929 built SS Mopan a photo of the Tilapa is just a little further below
As time went by and the year 1938 came around the Fyffes fleet was down to just 21 ships, but back in 1932 they had a fleet of 36 ships, that is a loss of 11 ships due to the hard times they had suffered.
And of course then came World War Two and once again their ships were commissioned into war duties and during the six years of their ships serving in the war, tragically 14 of their ships were lost at sea, thus Fyffes had to rebuild once again.
There were some Fyffe ships that remained in commercial operation during the war, and continued to sail to Jamaica but amazingly another problem arose, for in November 1940 the British Government imposed a complete ban on the importation of bananas, and had been decided that the only fruit that could be imported into the United Kingdom for the duration of the war was oranges. This ban continued until December 30, 1945 when the 6.738 GRT SS Tilapa arrived in the UK with the very first cargo of bananas in the past five years.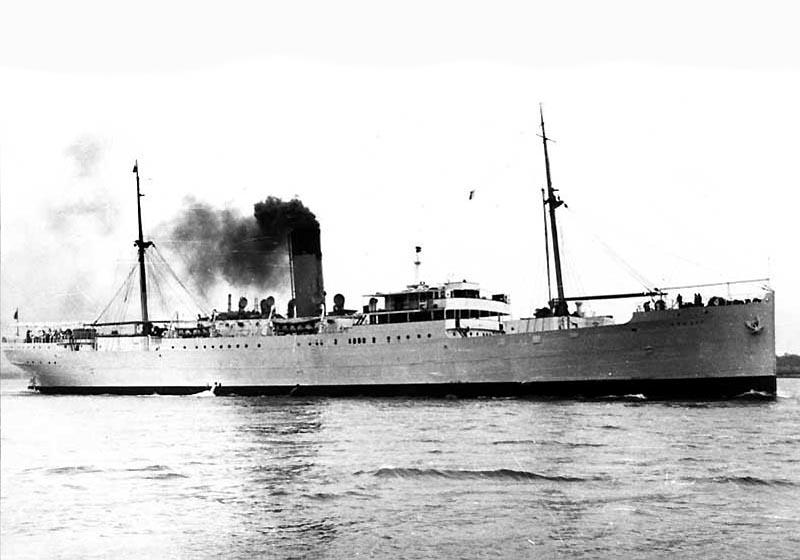 The 1928 built SS Tilapa, which also accommodated some 20 passengers
Fyffes regularly carried distinguished passengers on its ships including Princess Alice, Countess of Athlete, who, as Chancellor of the University of the West Indies, made frequent visits to Jamaica and the West Indies Cricket Team who came to play Test Matches in England (the team always ended their visit by playing a private game against Elders & Fyffes own cricket team at the company's sports ground in New Malden, Surrey). To this end, it built two final ships the TSS Golfito and TSS Camito, which provided a fortnightly service between the UK and the Caribbean until the company decided on ending all passenger operations in 1972.
Introduction to the TSS Golfito & Camito: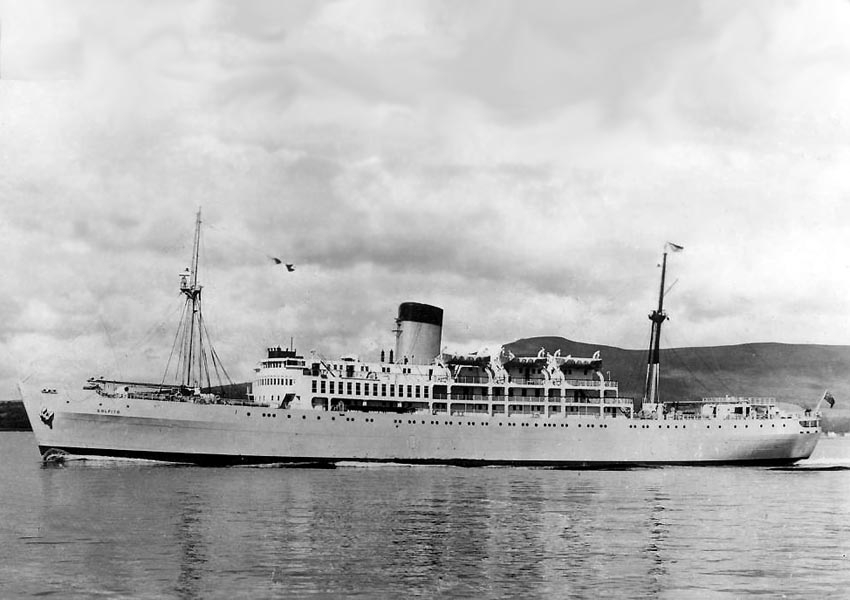 The Elders and Fyffes passenger-banana ship the TSS Golfito
This feature is all about two amazing passenger-banana liners being part of a fleet of ships owned and operated by the British banana importer Elders and Fyffes Limited.
There will be many who will recall the days when a voyage on one of the wonderful Elders & Fyffes banana ships that invoked so many romantic, seagoing memories, of a long and a memorable voyage featuring tropical nights and many wonderful ports of call, visiting some amazing Caribbean destinations. The much-loved TSS Golfito and her slightly newer sister the TSS Camito were very similar in every respect, and they operated on what was a popular passenger service from England to Barbados and Jamaica and return. Although being banana ships on their return voyage to the U.K., bananas as well as other fruits, was their primary business.
The Ships:
Both ships were built by Alexander Stephen and Sons of Glasgow, Scotland, whilst the 8.687 GRT - TSS Golfito was built in yard 618, and was launched on October 6, 1948 and was completed on December 3, 1949. The Golfito was 448ft - 137m long and a beam of 62ft - 19.20m, and a draught of 26,1ft - 7.95m, having a top speed of 17.7 knots. The Golfito as built accommodated 94 First Class passengers.
The 8.502 GRT - TSS Camito was built in yard 649, and was launched on March 27, 1956, and she was completed in December 1956. Like her earlier sister she was also 448ft - 137m long and a beam of 63ft - 19.20m, and a draught of 26,1ft - 7.95m, but she had a top speed of 18 knots. The Camito as built accommodated 96 First Class passengers.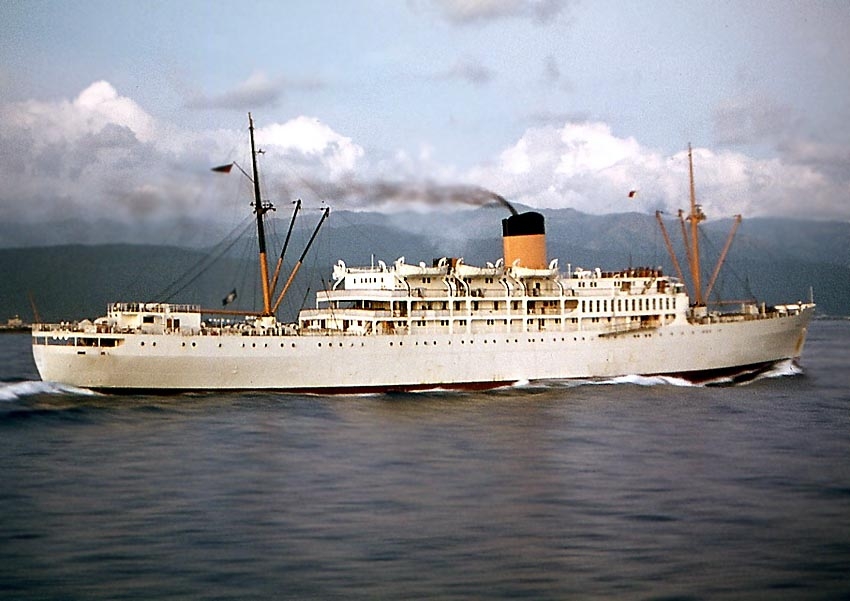 A full colour stern view of the TSS Camito
TSS Golfito and the TSS Camito were without a doubt most comfortable ships to sail on, as each ship offered accommodations for just under 100 First Class passengers. Each ship offered four passenger decks; Sport (Sun) Deck, Promenade Deck, Bridge Deck, and Saloon (later Upper) Deck having cabins, public venues, and ample open-air deck spaces. The Lounges were all located aft on Promenade Deck, being, commencing starboard forward venue, aft of cabins. The Library / Writing Room, on the portside was the Smoking Room and Bar. Directly aft was the spacious Lounge with dance floor and bandstand, whilst outside aft was the Swimming Pool. This deck featured a full walk-around promenade, with the forward section of Promenade Deck having floor to ceiling glass window, making a verandah. These ships had two main stairwells, one forward, and one amidships.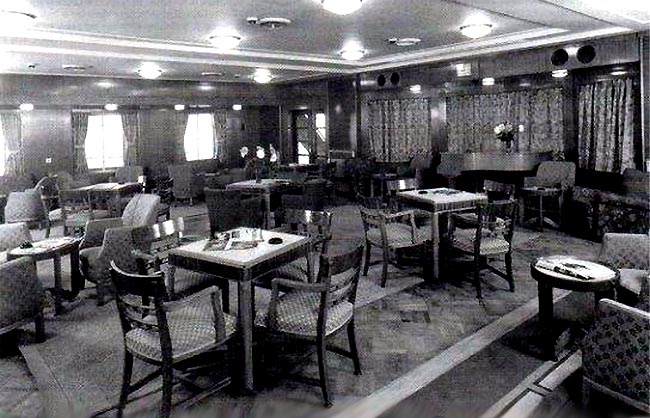 The Lounge, there was a Grand Piano and space for a small band, as there was a dance floor
Provided by Stan Evans Australia
The Pursers Office and the shop were based at the main Entrance Hall located on Bridge Deck by the forward stairwell, whilst the Dining Room was one deck down in front of the same stairwell on Saloon (Upper) Deck.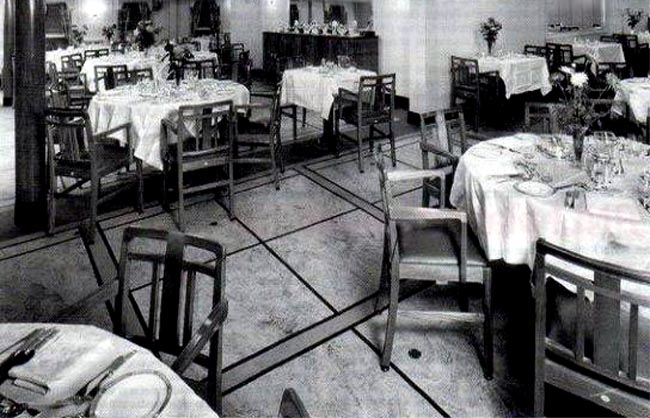 The Dinning Room
Provided by Stan Evans Australia
TSS Golfito Deck Plan:
Three of her decks are shown in detail. Although she was not air conditioned when built, Golfito (and her sister Camito) sported a fine swimming pool aft of Promenade Deck along with the Lounge, Smoking Room & Cocktail Bar, the Library, and Writing Room, as well as nine businessman cabins. Bridge Deck was the location the best cabins onboard, as the two magnificent owner's suites were located forward and had views to the side of the ship as well as overlooking the bow. Located at the forward Main Entrance Hall, there was a Barber Shop (just aft) and Gift Shop. One deck lower was Saloon Deck that contained the Dining Saloon forward, as well as along the port side a row of double and single cabins all without private facilities all other accommodations above had private bathrooms.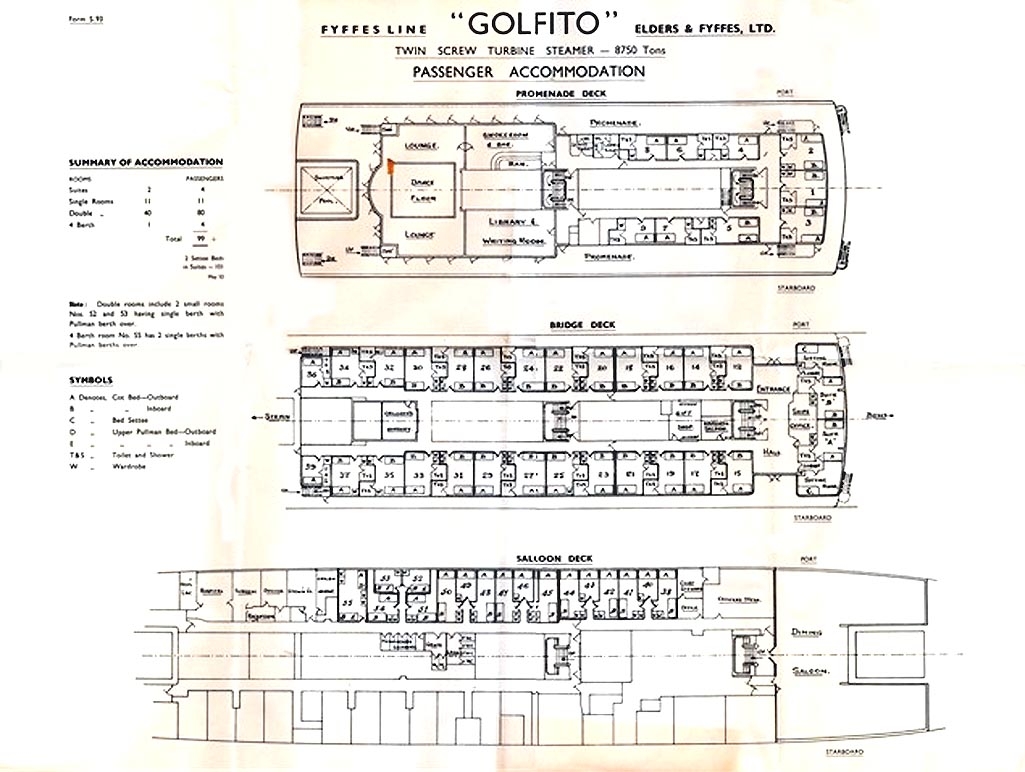 Accommodations: All cabins and suites were located on the outside having spacious windows or two portholes on Saloon Deck. Aboard the, at the front of Promenade Deck there were a total of nine businessman cabins, three of these were more spacious. On the port side there were three single bedded cabins all with a full bathroom and on the starboard side there was one twin and two single bed cabins, all cabins having full bathrooms. On Bridge Deck far forward were two spacious deluxe Suites that had a separate lounge, bedroom, as well as an upgraded spacious bathroom. Whilst directly aft on the portside there were twelve twin bedded cabins all with bath, and one single bed cabin with private facilities that had a shower. This arrangement was identical on the starboard side twelve twins and one single, etc. On the portside of Saloon Deck there were ten twin bedded cabins and four singles as well as one four-berth cabin aft. Some had private facilities, others were share facilities based. There were some cabins on Saloon Deck that has a Pullman bed, mostly for children's use.
I regret that to date I have been unavailable to obtain any photographs of her public venues, cabins or deck spaces. Should any ever come to hand, I will of course publish these, all being well!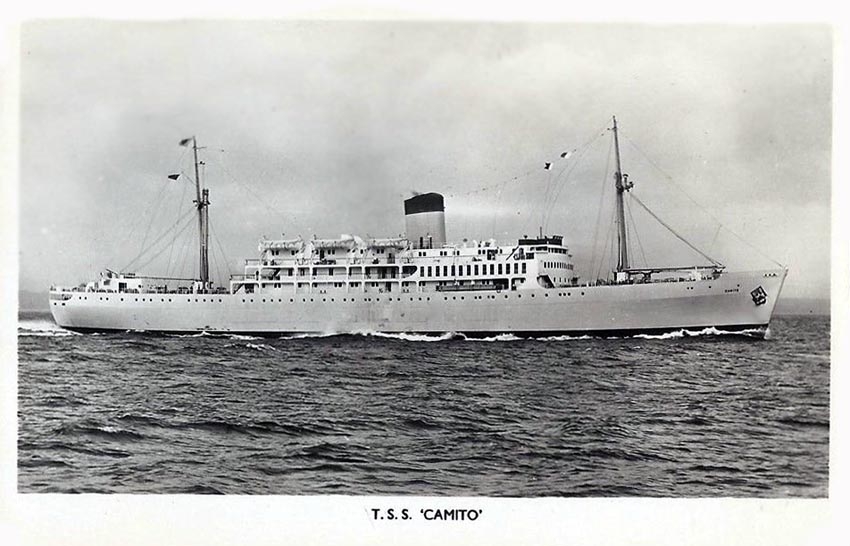 A postcard of the TSS Camito sold onboard the ship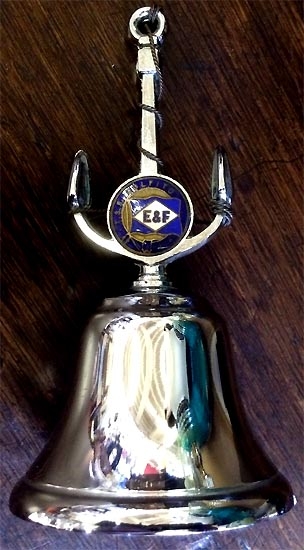 An Elders & Fyffes souvenir Silver Bell as sold in their ship shop
Cargo & Schedules:
Both ships had four large cargo holds, two being located forward, and two holds aft. They could handle 140,000 stems, or 1,750 tons of bananas. During their voyage to the Caribbean they carried general cargos made up mostly of British manufactured goods, and then they would return with their refrigerated holds full of bananas but also some other fruits, pending the season.
The TSS Golfito and Camito provided a regular fortnightly service sailing from the Southampton 'Empress Dock', which was located directly across from the Ocean Terminal, where the far superior Cunard Queens berthed, and these passenger banana ships would sail to and from the West Indies being a four-week voyage. Their schedule was mostly as follows:
Southampton Empress Dock, or Avonmouth (Bristol) England to Barbados and Trinidad and also the following five ports in Jamaica being; Kingston, Port Antonio, Montego Bay, Oracabessa, and Bowden where bananas would be loaded during in the cool of the night, and then ships returned to the U.K.
Over the years passengers on these two fine ships proved to be very loyal and they would return again and again, for they loved these smaller and intimate ships and tended to take round voyages, thus a month long cruise.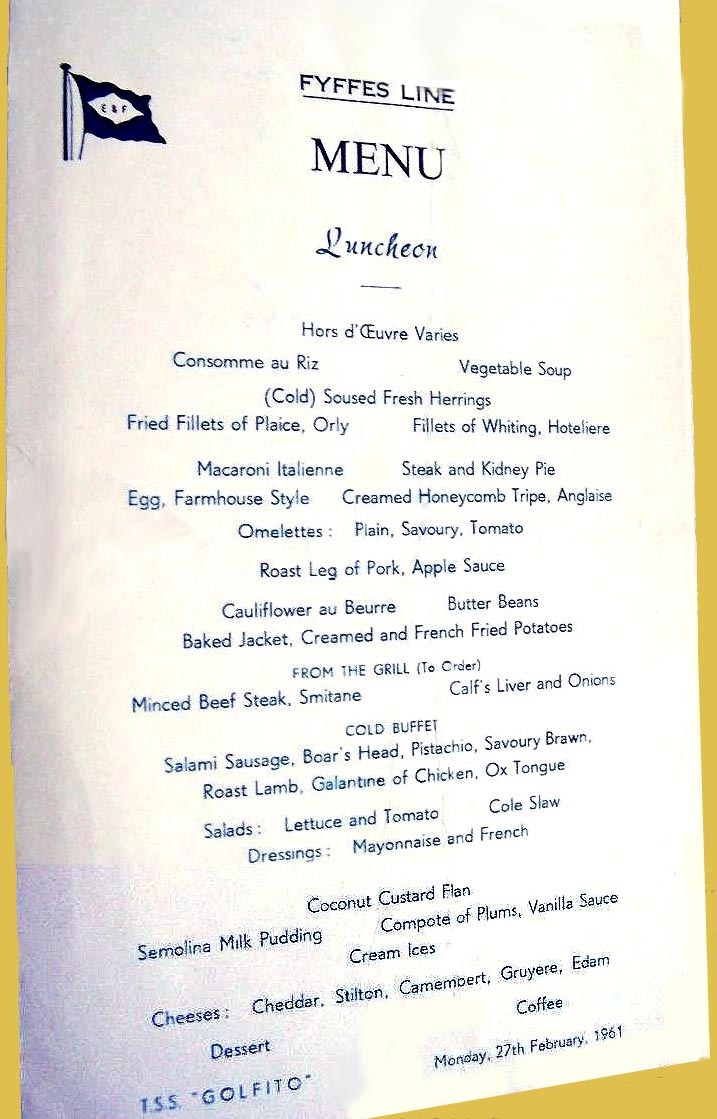 A TSS Golfito Luncheon Menu from February 27, 1961
Sent in by Hugh Maccallum - Edinburgh
A berth in one of the two luxury two roomed Owners suites in 1969 would cost 549 English pounds, 19 shillings, and 6 pence, for those days that was a great deal of money, but then these two suites were the very best accommodations aboard, amazingly until the late fifties these suites were not even air-conditioned, that only occurred in 1961. The Golfito and Camito, as well as other Fyffes' ships would often carry many consular staff to and from the West Indies, along with all their belongings, as they would be living there for extended periods, Besides consular staff, these two fine ships would also frequently carry businessmen, colonial administrators, and even royalty to and from the Caribbean. The Camito varied slightly and she had two four-berth cabins and just two or three less of either twin or single bed cabins. Sadly the information is just not available for me to be precise.
Refit:
Both the TSS Golfito and Camito received a refit in 1960's, which saw a slightly increased passenger numbers, with the Golfito increasing to 101 passengers as well as children's berths, and the Camito 103 passengers and 10 children's berths. Both ships also saw their tonnage increase somewhat. Please see the Ship Specifications section below for full details.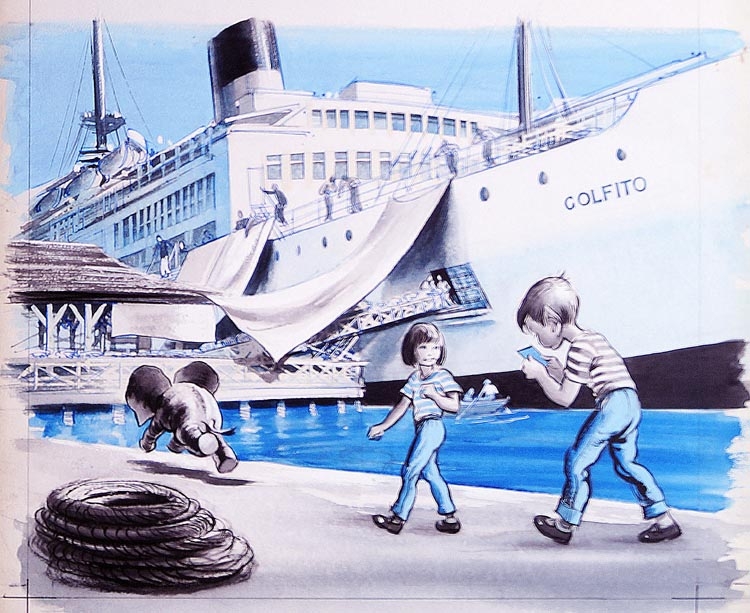 A delightful light-hearted artist's impression of the TSS Golfito and children at play on the dock
Sent in by Hugh Maccallum - Edinburgh but artist is unknown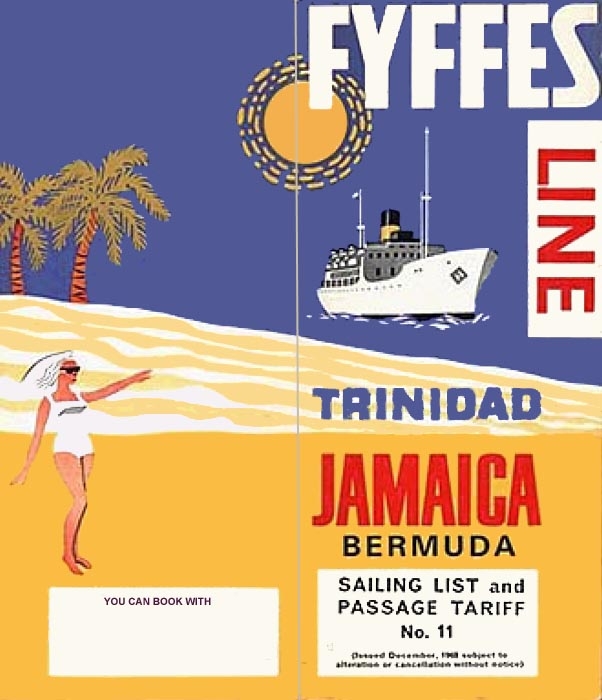 A brochure promoting the TSS Golfito and Camito from the late 1960's
Sent in by Hugh Maccallum - Edinburgh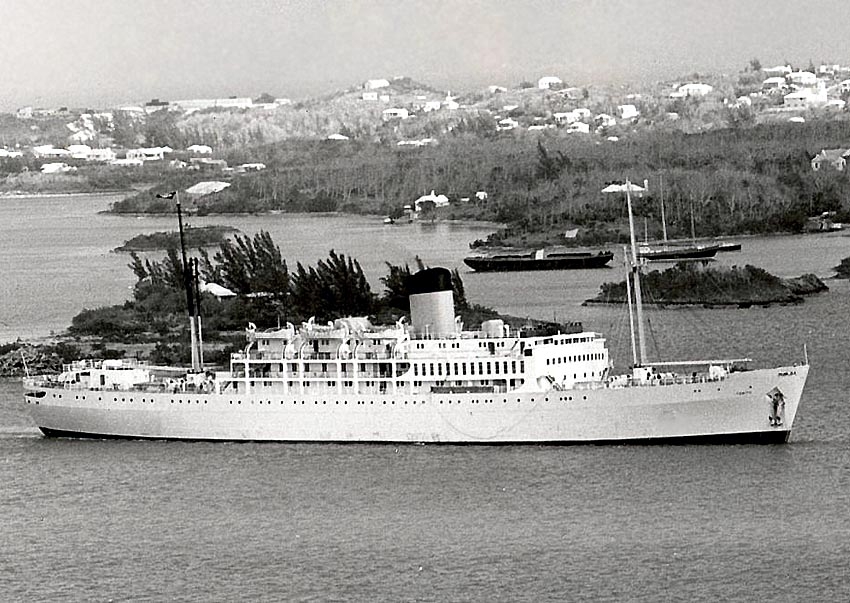 The delightful Camito is seen arriving in Bermuda
Photograph by & © Captain Stephen J. Card
In 1962 the very first and much loved James Bond movie DR. No with Sean Connery as 007, and actress Ursula Andress, there is a scene where the Golfito can be seen in the background at the point when James Bond meets 'Quarrel' as well as in several other scenes.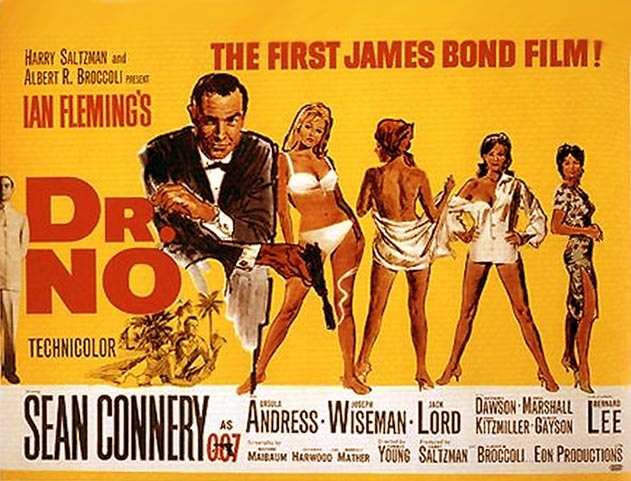 This is the original Dr. No poster
T.S.S
. Golfito & Camito Final Days:
However, as the 1960.s went on, it became very obvious that these fine and once exceedingly popular Passenger-Banana Ships were losing much of their earlier clientele, and it is sad to say, they were now utilising those new fast jet planes, which saw them at their destination fast and they could have a holiday on a tropical Island instead of an long ocean voyage.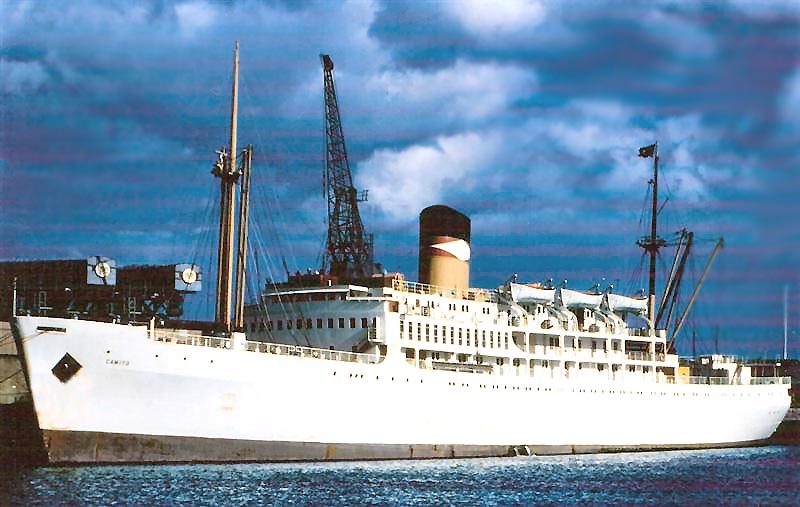 The TSS Camito is seen in her final days with her new Fyffes Group Ltd funnel livery
Photographer is unknown, please read the Photo Notes at the bottom of the page.
In addition both ships were slowly growing older and due to reduced passenger loadings they had become less and less profitable. It is for this reason that the "Fyffes Group Ltd to completely end the days of their big "Passenger-Banana ships," and conclude all passenger operations. For this reason, Fyffes decided to sell both their ships, with the Golfito being the first to go, later followed by the Camito as shown below.
TSS Golfito was obtained by 'Shipbreaking Industries Ltd' in December 1971, and she arrived at Faslane Port where she would be broken up. The ship was as per usual dismantled internally and then her cutting up was completed in mid 1972. Whilst the Camito was sold to the 'Chi Shun Hwa Steel Company' of Taiwan, and she arrived at Kaohsiung to be broken up later in 1972, her breaking up was duly completed on April 3, 1973.
For Interest Ship Prefixes:
Ships with a prefix such as … T.S.S. is an abbreviation for these ships being "Twin Screw Ships," however, it can also mean "Turbine Steam Ship" as with some other ships. But T.S.S. - "Twin Screw Ships," was the Golfito and Camito's "official' designation by her owners, Elders and Fyffes, which later became the "Fyffes Group Ltd."
Then there is also the prefix S.S. which stands for "Steam Ship," and there were a good number of ships prefixed M.S. meaning "Motor Ship." These days with a world filled by cruise ships, these ships of all sizes are mostly prefixed with M.V. standing for "Motor Vessel."
Specifications (1) TSS Campana of 1959 - (2) TSS Camito of 1956.
Built by:……………………………………………….. Alexander Stephen and Sons of Glasgow, Scotland.
Yard:………………………………………………………(1) 618.
Yard:……………………………………….……….……(2) 649.
Owner:……………………………………….…………..Elders & Fyffes Ltd,.
Operator:…………………….…………………………Elders & Fyffes Ltd,.
Registered:…………………………………..…..……Glasgow, Scotland.
Official Nr:…………..….……… …………….….…(1) 182119.
Official Nr:……………...……… …………….….…(2) 185049.
Launched:……………………………………………..(1) October 6, 1948.
Launched:……………………………………………..(2) March 27, 1956.
Completed:………………….……….… .  ………(1) December 3, 1949.                                  
Completed:………………………….………….……(2) December 1956.
Tonnage:……………………………….…….……….(1) 8.687 GRT, 4.474 NET / 5.800 DWT - in 1961, 8.740 GRT.
Tonnage:……………………………….…….……….(2) 8.502 GRT, 4.131 NET / 5.995 DWT - in 1961 8.736 GRT.
Length:………………………………….………………448ft - 137m.
Width:……………………………………….……,,……63ft - 19.20m.
Draught:…………………………………….………… 26,1ft 7.9.m.
Engines:…………………………………….….……….Steam D.R. Geared Turbines.
Propellers:……………………………………….……Twin screw.
Speed:…………………………………………………..17.7 knots, 18.5 knots maximum.
Passengers:…………………………………………..(1) 94 as built &  111 First Class in 1960s.
Passengers:…………………………………………..(2) 96 as built & 113 First Class in 1960s.
Remembering Two Fine Elders & Fyffes Banana Ships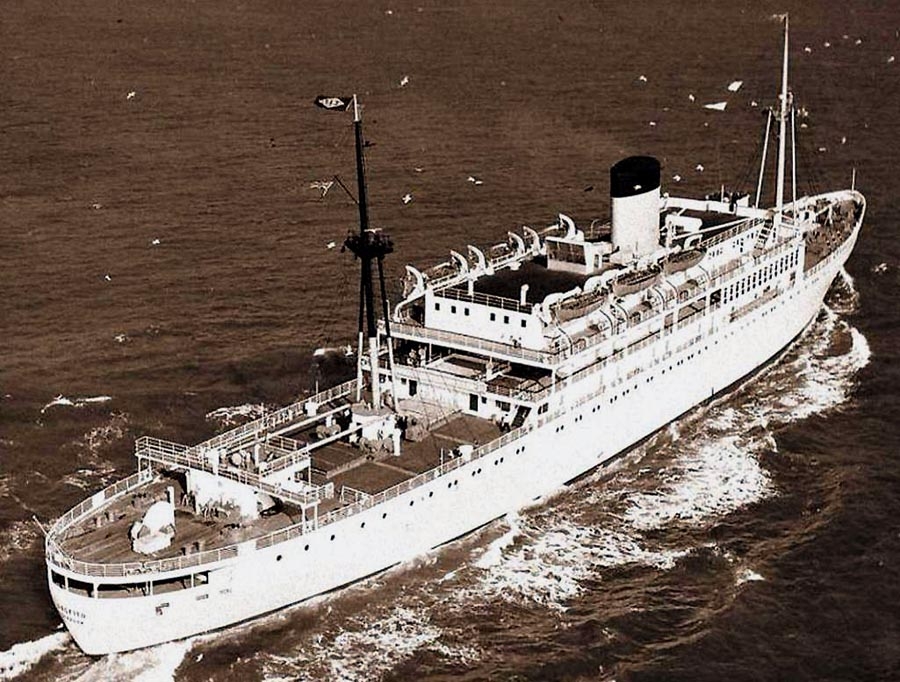 A Postcard with an excellent aerial view of the TSS Golfito
I hereby wish to thank:
 Mr. Hugh Maccallum from Edinburgh, Scotland for his kind assistance, photographs, and images; also Capt. Stephen J. Card for a superb photo!
************************
"Blue Water Liners sailing to the distant shores.
I watched them come, I watched them go, and I watched them die."
************************
ENTER OUR ssMaritime MAIN INDEX
Where you will discover over 1,250 Classic Passenger & Passenger-Cargo Liners!
ssMaritime.com & ssMaritime.net
Where the ships of the past make history & the 1914 built MV Doulos Story
Photographs on ssmaritime and associate pages are by the author or from the author's private collection. In addition there are some images that have been provided by Shipping Companies and private photographers or collectors. Credit is given to all contributors. However, there are some photographs provided to me without details regarding the photographer/owner concerned. I hereby invite if owners of these images would be so kind to make them-selves known to me (my email address may only be found on www.ssmaritime.com), in order that due credit may be given.
This notice covers all pages, although, and I have done my best to ensure that all photographs are duly credited and that this notice is displaced on each page, that is, when a page is updated!
ssMaritime is owned & © Copyright by Reuben Goossens - All Rights Reserved