Holland America Line, MV Dalerdijk, Delftdijk & Duivendijk Cargo-Passenger Liners
Please Note: Firefox and some other search engines are not suitable – Use "Internet Explorer" for this page to load perfectly!

Click the logo above to reach the ssMaritime FrontPage for News Updates & "Ship of the Month"
With Reuben Goossens
Maritime Historian, Cruise'n'Ship Reviewer, Author & Lecturer
Please Note: All ssMaritime and my other related ssMaritime sites are 100% non-commercial and privately owned sites. Be assured that I am NOT associated with any cruise or shipping companies or travel/cruise agencies or any other organisations! The author has been in the passenger shipping industry since May 1960 and is now semi-retired, but continues and I hope that the well over 635 features on Classic Liners and Cargo-Passengers ships I have written on will continue to provide classic ship enthusiasts and continue a great deal of information and pleasure!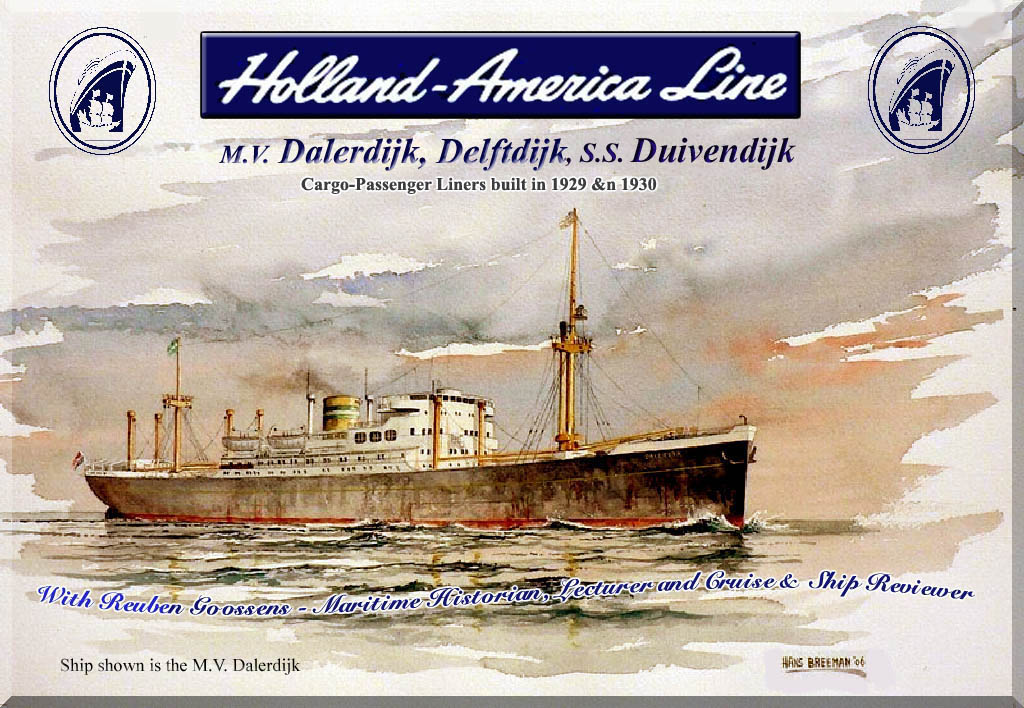 The original seen above, was painted by the great Dutch Artist Hans Breeman - ENTER his website
Holland America Lines Combi-Liners:
The three 1929 to 1930 built Holland America Line (HAL) Combi-Liners or Cargo-Passenger Liners featured on these two WebPages may seem rather basic looking ships, however these ordinary Cargo-Passengers ships certainly did offer excellent HAL First Class cuisine as well as the finest of service and in many ways these ships were the very reason for HAL to commence to build a number of fine and much loved Combi-Liners all having an increased passenger capacity. The earlier trio as well as two of the newer ships operated between Rotterdam, London and the North Pacific Coast of America to Vancouver and return, and this voyage in general would take around 2? to 3 months. However, the two more glamorous looking ships, seen directly below, were placed on the Trans-Atlantic; Rotterdam, London to New York service.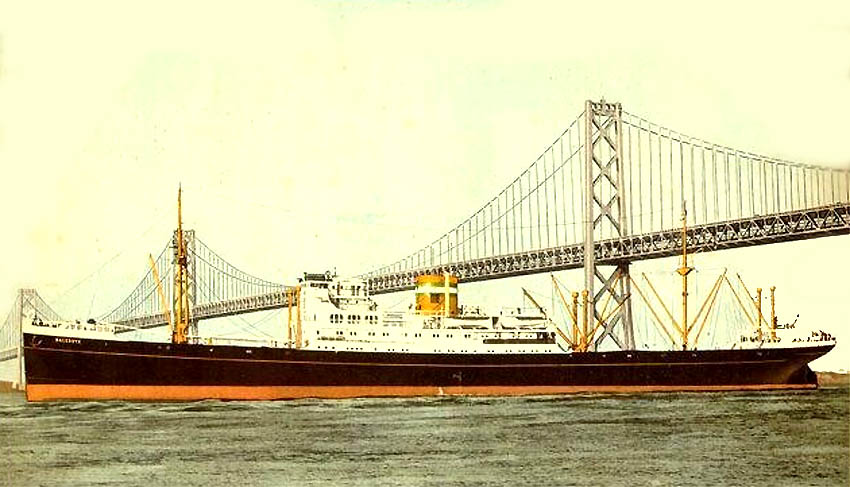 A HAL postcard of the MV Dalerdijk is seen arriving in San Francisco
The first of these new-builds was the 1938, 10,704 GRT (Gross Registered Ton) MS Noordam that accommodated 125 (later 150) First Class Passengers. Her almost identical sister, the MS Westerdam amazingly had been sunk three times during the war, twice by the Dutch Resistance so that the Nazis could not use her. After the War the unfinished ship was refloated and completed in 1946. She was larger at 12,149 GRT offering accommodations for just 134 First Class Passengers, with both ships providing the finest of comforts in all cabins, as well as having Private facilities in each one and featuring the most stunning public venues and vast Promenades and sport Decks as well as a swimming pool! Both ships sailed at an average of 17 knots.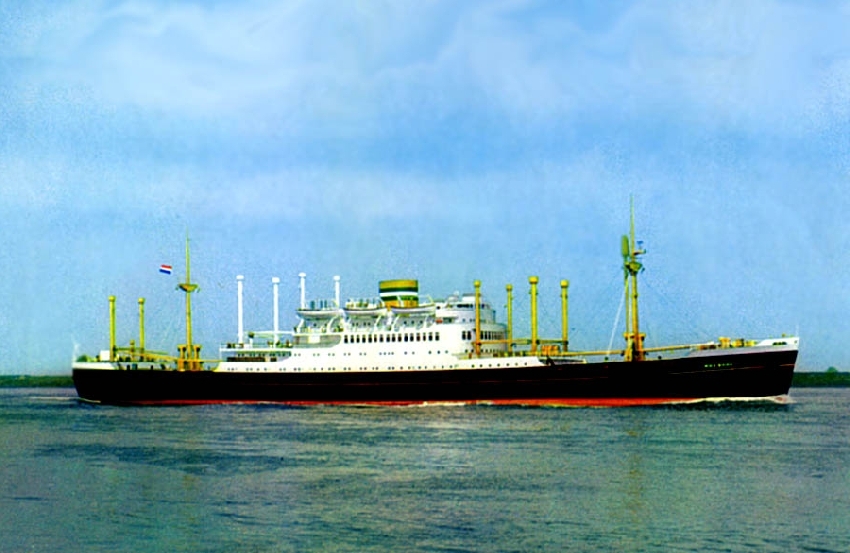 Above & below: Top we see the superb Combi-Liners MS Noordam and below the Westerdam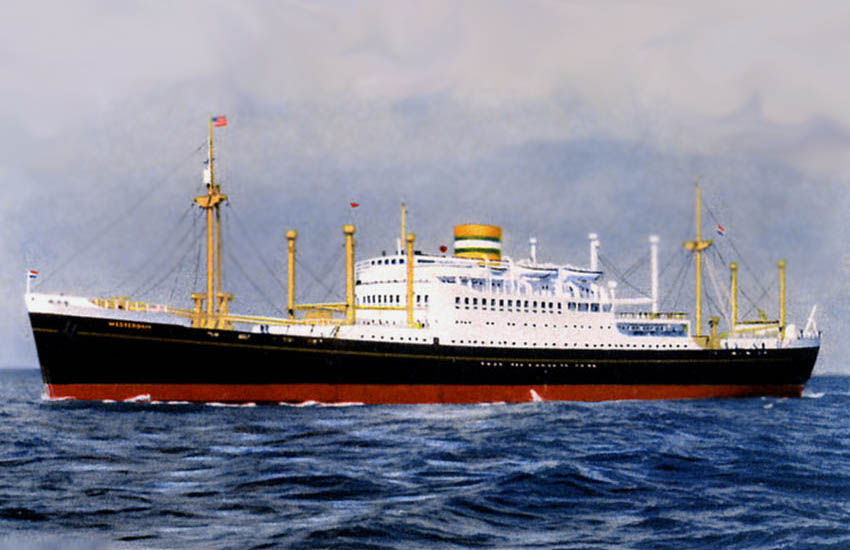 These ships were followed by another pair of Combi-Liners, the 11,195 GRT - 61 passenger SS Diemerdyk and the 11,366 GRT – 60 passenger SS Dinteldyk, which were built in 1950 and 1957 and both ships had a swimming pool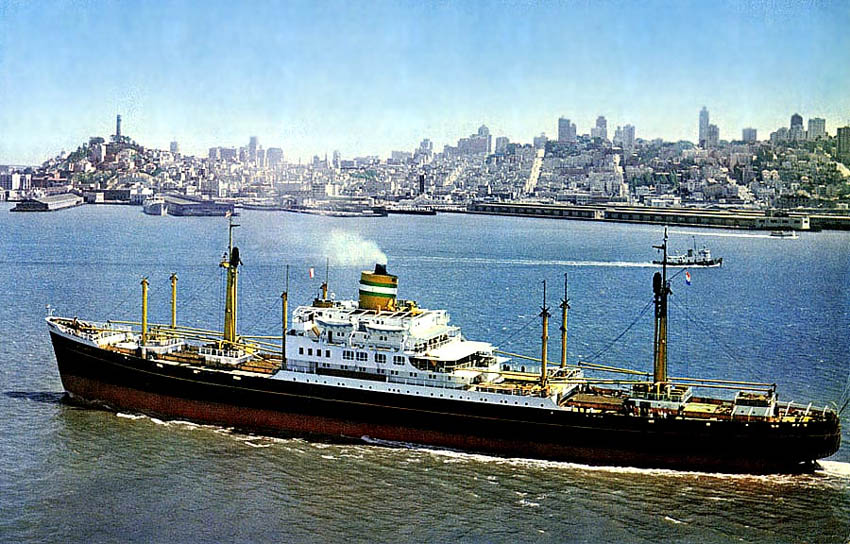 The SS Diemerdyk seen arriving in San Francisco
PS: The seven years difference was mainly due because the hull for the second ship was used to build one of a pair of Tourist Class Passenger Liners that were in building and she was named the SS Ryndam, who with her sister the Maasdam set brand new standards in the Trans-Atlantic Tourist Class service. However, although being Tourist Class ships, they did offer what was known as the "Boat Deck Penthouse" for a mere 39 First Class deluxe passengers. Boat Deck offered a Lounge and a Bar as well as a Smoke Room located forward, with the Dining Room aft of the deck, with staterooms and suites amidships. In this way, Tourist Class had run of the rest of the ship!
M.V. Dalerdijk, M.V. Delfdijk, S.S. Duivendijk:
*It is important to note that the descriptions featured on this page for ships two and three, as well as the associated Deck Plans on Page Two, are all based on the ships mostly prior before World War 2, or shortly after. However each part will describe the history as they so vary!
However, these three very different liners, two Motor Ships and the Duivendijk being a Steam Ship for this ship was not for Holland America Line. However, with these three ships, HAL certainly did set very high onboard standard, just as it was expected on their main passenger fleet. For even on these Cargo-Passenger Liners passengers cold expect excellent service, fine food and the best facilities possible for a Cargo-Passenger ship. Although there would be no band on board, yet entertainment would be more like one of the crew or even a passenger that would sit down at the Grand piano in the Lounge and play a few tunes. Music would be played either as background music during the day, or as dance music on the "Gramophone" giving the guests an opportunity to make use of the dance floor in the Lounge, or out on deck on a warm and balmy evening when a buffet would be served! Or there were also various games passengers could partake off, such as the ever-popular horde racing. Passengers who sailed on these ships loved this style of travel and enjoyed the quieter life and the surroundings of the ships, being able to dine with the Captain in the evening as well as the senior officers. Life on these cargo ships was far better than many ever could have imagined!
Ship One - M.V. Damsterdijk - Dalerdijk - Dalerdyk:
The MV Dalerdijk was built by Wilton's Engineering & Slipway Co. Ltd. Rotterdam in 1930, but she was originally named the Damsterdijk and operated Vancouver service at a service speed of 14.5 knots.
With the war having started, and although the Netherlands being a Neutral Country, sadly to the Nazis that meant nothing and in 1940 the Damsterdijk was seized by them and she was renamed the Mulhausen. However her duties are unknown.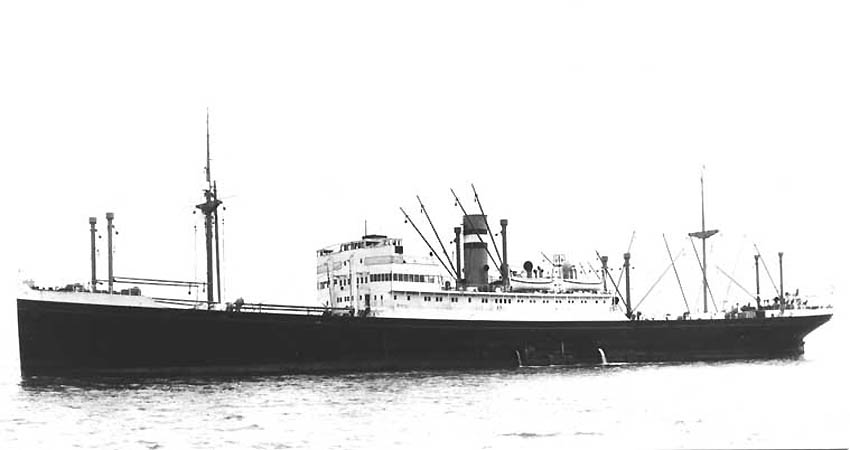 MV Damsterdijk is seen in 1947 before she was refitted and renamed
In 1946 she was liberated and returned to HAL and having received a minor refit she returned to her regular service to Vancouver. However three years later it was decided in 1949 to give her a comprehensive refit as she required modernisation, her funnel was replaced with a short squat funnel and changes to her superstructure as well as her cargo handling facilities. Obviously her passenger facilities were brought up to a much higher and a more modern standard! When she was completed the ship was renamed the Dalerdijk and was registered at being 10,820 GRT. Her length was 509ft, her width being 64.7ft and having a Draught of 30.10ft.
Her itinerary had already received a few changes being mostly for cargo reasons, but it the ports were wonderful for her passengers, as well as for the other ships on this service!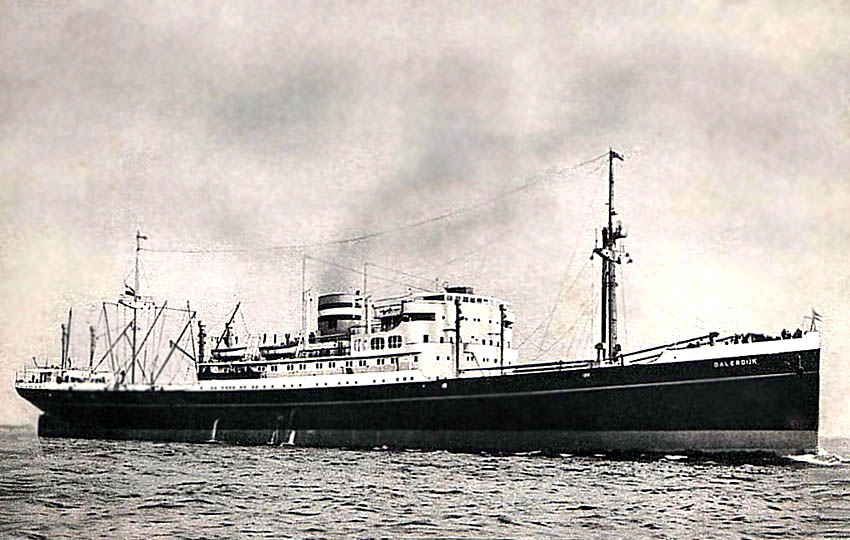 The Dalerdijk is seen after her refit
Itinerary Rotterdam to Vancouver: Rotterdam, London, Swansea, Cura?ao, Puerto Colombia, Cristobal, Guayaquil, Los Angeles, San Francisco, Victoria to Vancouver.
Returning as follows: Vancouver, Seattle, Tacoma, Portland, San Francisco, Los Angeles, Cristobal, Liverpool, Glasgow, London and home to Rotterdam. This service also applies to the MV Delftdijk and MV Duivendijk.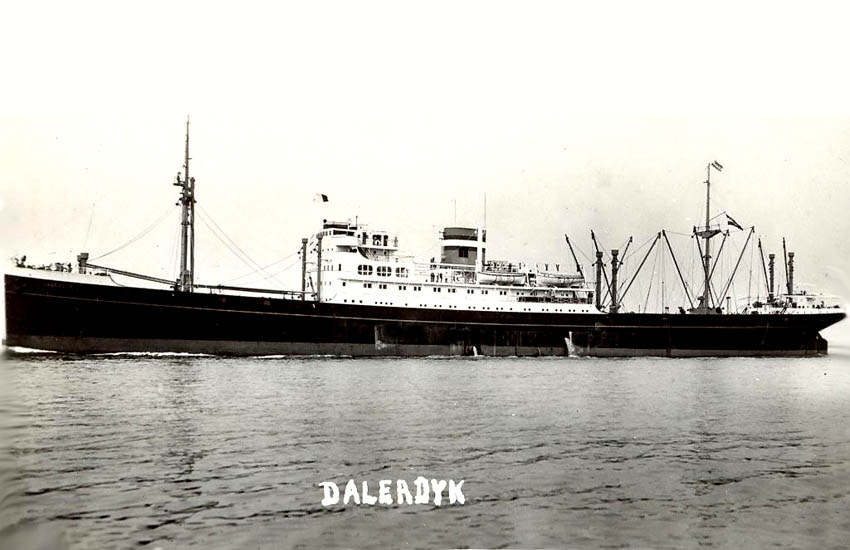 MV Dalerdijk
We will now look at the ships facilities and do this deck by deck commencing from the bottom deck on each ship and slowly head up to the top deck!
B Deck - Restaurant:
One deck down on B Deck forward of the Lobby and the wonderful curved stairwell was the dining Room that extended the full width of the ship and was bright and beautifully furnished and well known for the sliding window panels that depicted twelve of the "de la Fontaine" famed fables including; "The Crow and the Fox," "The Hen and her Golden Eggs," as well as others.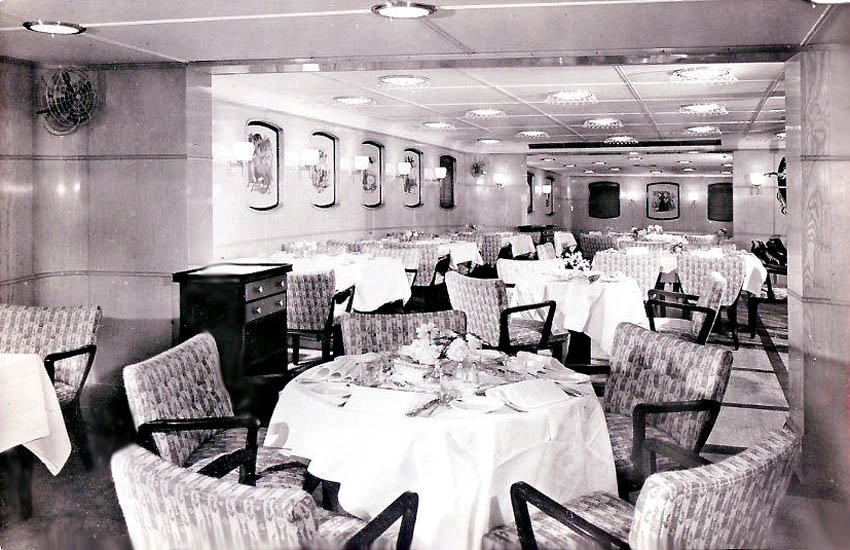 The delightful Dining room with many of the window panels shut, revealing the famed fables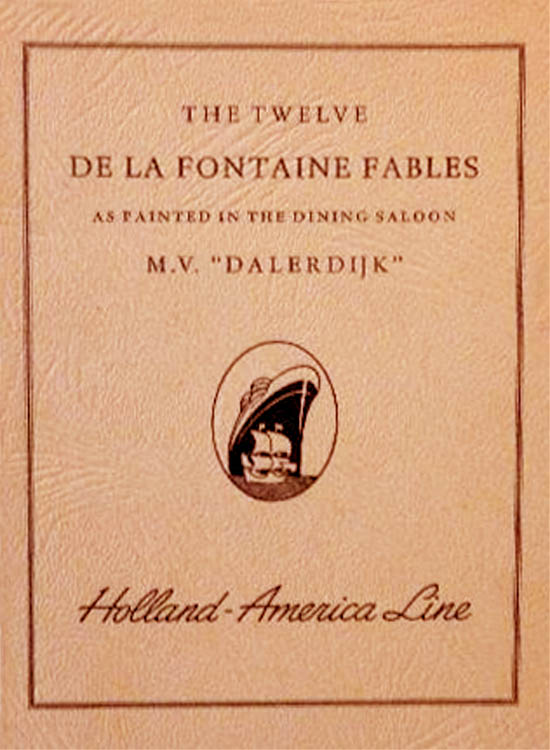 A 37-page booklet based on the famous panels with the "de la Fontaine" fables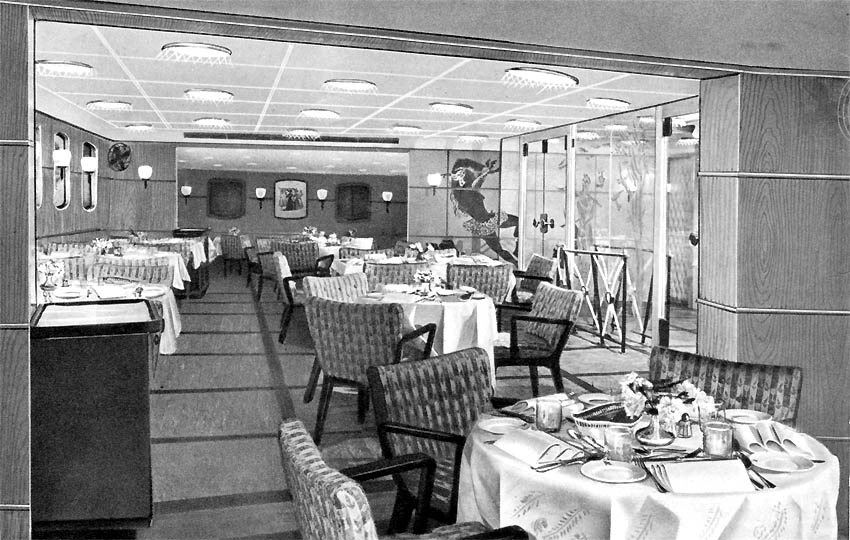 This photo reveals the beautiful all grand glass door entrance to the Dining Room
Directly aft of the curved stairwell, via the port side hallway is the doctor's consultation room for those in case they may need him during this long voyage to Vancouver.
A Deck - Accommodations:
The 10,820 GRT MV Dalerdijk offered excellent accommodations for 46 guests with all cabins located A Deck with having a window, except one two-berth cabin number 25, but all cabins had private facilities. The three berth cabins had a full sized bathtub as well as a separate shower, a basin with hot and cold water and WC, etc; the twin and single bed cabins all had a shower, a basin with hot and cold water & WC.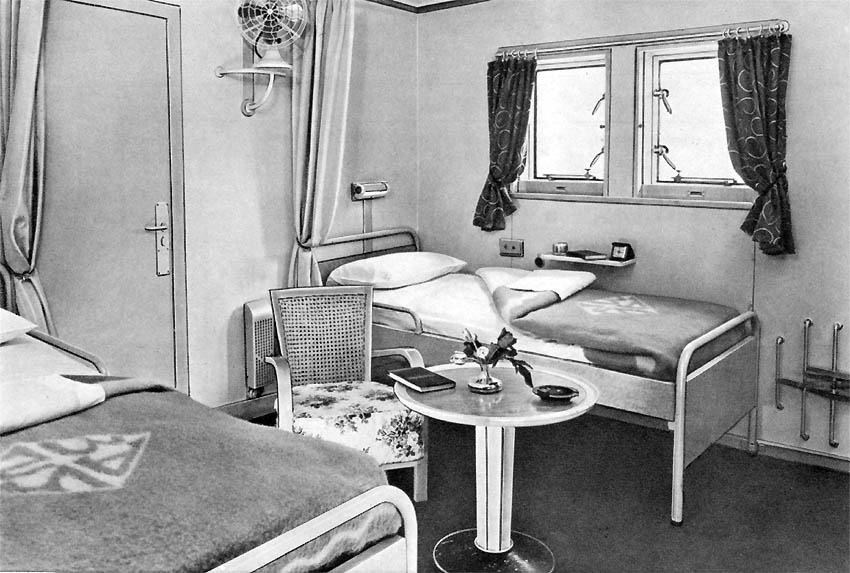 This Dalerdijk twin bedded cabin is typical of all three ships
Aft was a Verandah Deck offering views over the ships aft decks, as well along the sides there were short narrow side decks available.
Boat Deck - Lounges:
We now reach Boat Deck via the ships magnificent fine walnut timber curved stairwell in the ships three level Foyer. Heading forward on this deck centred are beautifully sand blasted doors and as passengers entered this glamorous Lounge they saw a room that not only had plus carpets and luxuriant "furnishings," but the walls were clad with the finest of timbers and wonderful items of art works. And as is customary with Holland America Line there are always fresh flowers in the room as well as throughout the ship! In the centre of the Lounge was a grand Piano for entertainment and as I said earlier anyone can play!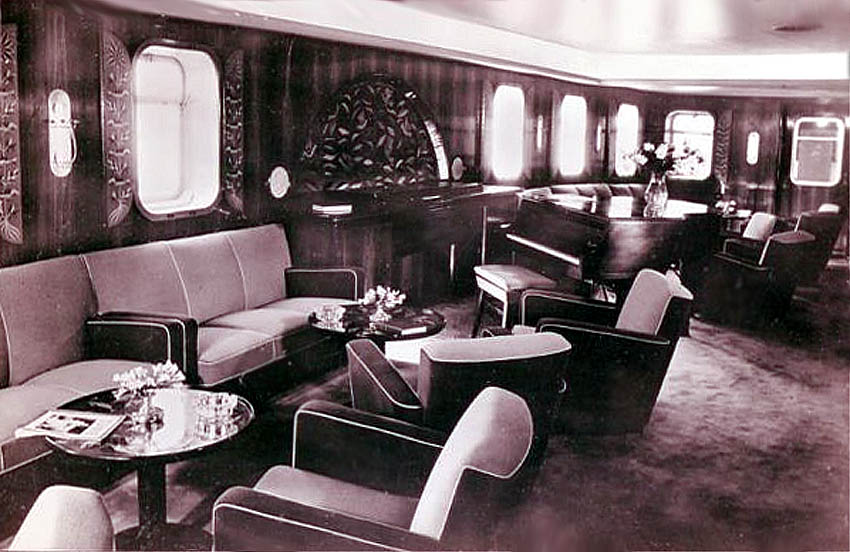 The elegant Lounge with all its rich timbers and comfortable furnishings
Returning to the Lobby and on the starboard side were twin glass doors that lead into another fine lounge, but this time it was the elegant Smoking Room and Bar. This venue featured many long sofas along the walls and tables and chairs in the middle. Again, as is typical with HAL, the décor was perfection and the Dalerdijk was the pride of the smaller Cargo-Passenger Fleet at that time.
Heading outside there were spacious glass enclosed and open Promenade Decks, with a Sports Deck located far aft.
Bridge Deck:
There was further exterior deck space available here and this could be reached via the exterior stairs. However, portside in lobby down on Boat Deck there was a semi-curved stairs heading up to Bridge deck, but only to the Radio Room. The actual Bridge was one deck higher on Navigation Bridge Deck!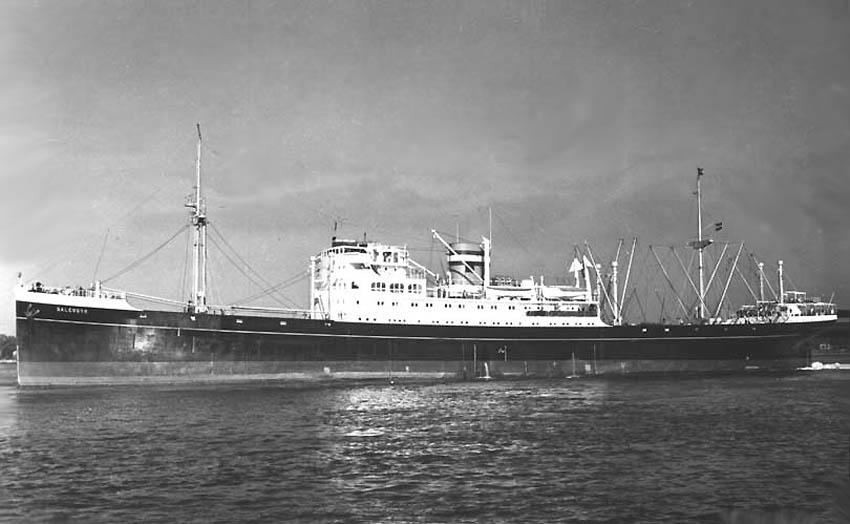 MV Dalerdijk seen during her final years with her new name Dalerdyk
Why did all these ships end?
The MV Dalerdijk had a slight change to her name like all the ships that had "dijk" spelled with the Dutch "ij" being our "Y." Thus, from the late 1950's all ships had an "ij" like the SS Dalerdijk became Dalerdyk, etc. However as these ships entered the 1960s I am sure that we will be aware that "times were 'a' changing" in the shipping industry, but even more in the Cargo-Passenger area, being due to the change in cargo handling operations with containerisation!
Officially the first commercially successful container ship was the 1948 built SS "Potrero Hills" that was an oil tanker. However in 1955 she was refitted to become a container ship and was renamed SS "Ideal X." And this ship departed on her maiden voyage as a container ship on April 26, 1956 laden with 58 containers on her deck, from Newark sailing to Houston.
Thus by the early sixties containerisation was taking over the older style cargo trade, but also these fine Combi-Liners was seeing their passenger loadings slowing down mostly due to air travel, but also as these voyages being rather long for some people in this new, modern and ever faster world.
Thus in 1963, HAL decided to sell the MV Dalerdyk and she was renamed Presvia and sadly, this ship that was much loved by many who had sailed on her, saw her head to a Japanese breakers yard to be broken up. This fine ship gave 33 years of excellent service!
****************************
Ship Two - M.V. Delftdijk - Dongedyk: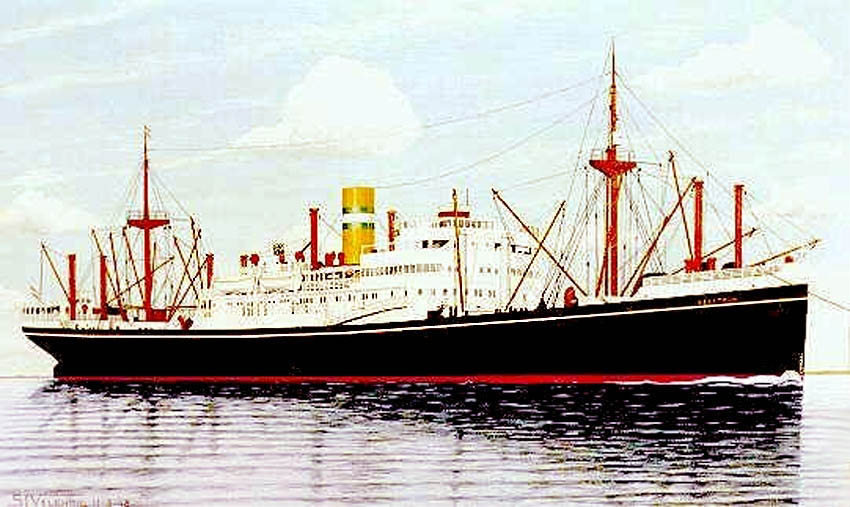 MV Delftdijk, painted by the late great Dutch artist; Mr Sjouke Jan Veldhuis (1918-1997)
The 10,220 GRT - Delftdijk was built in 1929 at Wilton's Engineering & Slipway Co. Ltd. Rotterdam and she also operated on Vancouver service at a service speed of 14.5 knots. As built the Delftdyk had a length was 509.2ft, her width being 64.6ft and a draught of 30.10ft.
Bridge Deck:
This is the lowest deck in the ships superstructure having square windows around it. This deck contains five twin bedded cabin on both sides of the sips, thus ten in all, however all cabins have a third upper Pullman berth, giving her a capacity of 30 guests. Each cabin has a private bathroom a basin with hot and cold water and a bathtub as well as a shower and a WC. The cabins are well appointed with the best of bedding a table and a comfortable chair, as well as a desk with a chair. Each cabin has two windows thus providing ample light, and windows do open, but forced ventilation is also provided throughout the ship!
Far forward is the Main Lobby with its grand fine timbered stairwell heading u o Boat Deck and directly in front of it is the spacious Library with seating for 14 Guests. There are ample books and magazines, as well as games and cards. Amidships is the 42 seat Dining Room which extends the full width of the ship. The décor was light and modern with the usual HAL touches of fresh flowers and in the evening passengers would dine with the Captain and his senior Officers. Directly aft of the Dining Room on the portside is the doctor's consultation room for anyone, should they need him during this long voyage.
Boat Deck:
Arriving at the top of the main stairs there is a choice of entering the Lounge on the two sides of the stairs through a single glass doors into a delightful and a charming Lounge with a hidden Bar on the starboard side aft. The Lounge was fully furnished in a casual wicker style of furnishings, but with high quality thick cushioned seats and comfy backs only has seating for 24 guests.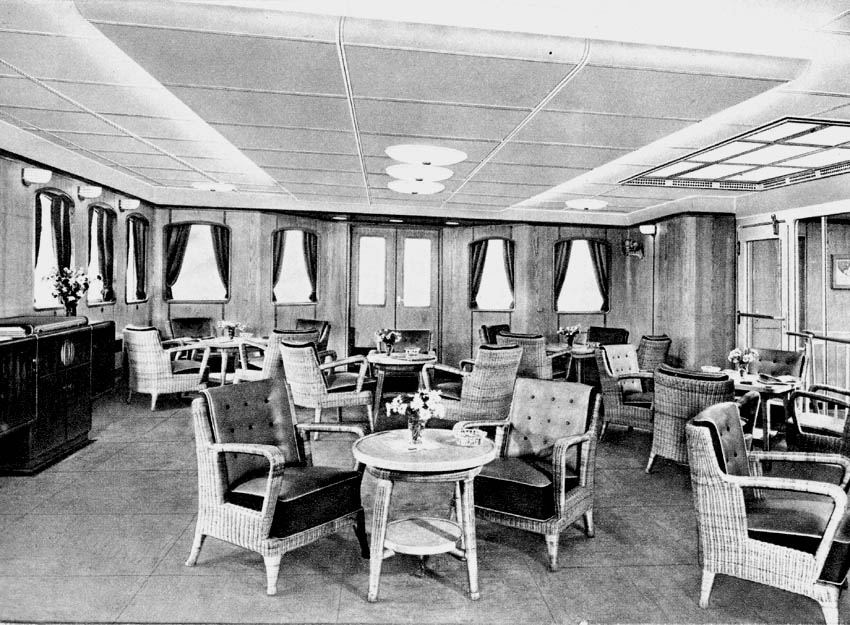 The smart Lounge on Boat Deck with its cosy wicker furniture, note the walnut Gramophone on the aft wall
On both sides of the lounge are the spacious fully glass enclosed Promenade Deck spaces, which are also carefully furnished with wicker tables and chairs, sun lounges as well with ample palms, etc. Thus making enclosed Promenade Decks more an attractive and a relaxing Palm Court. Thus this extended the lounge space on both sides! Aft of the lobby is an extensive open Promenade and Sports Deck.
Post War Days to Her final Days:
Like all HAL ships, they were used for the War effort, and many ships sustained damage. And the Delftdijk was used during the WWII by the British Ministry and manned by the Dutch.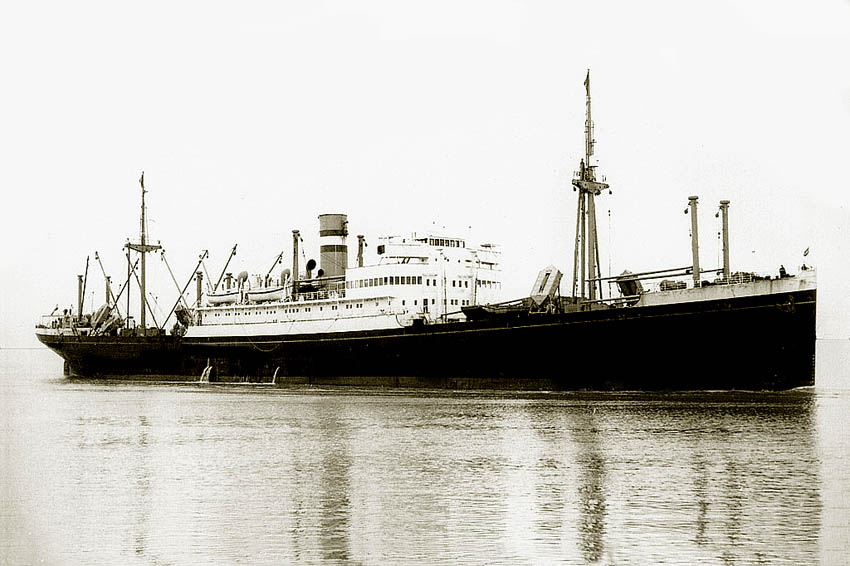 The MV Delftdijk is seen around the end of the war, but still
carrying some of her additional lifesaving equipment
However, in March 1950 she hit a mine in the North Sea and she was returned to her builders to be reconstructed. She received a longer and a more raked bow and higher-powered engines. In addition her interiors were dramatically altered, with additional cabins added, thus now accommodating 52 passengers and her Lounge now extended the width of the ship. When completed she was returned to HAL and the ship recommenced her original duties, but with the new name SS Dongedijk. Her new tonnage was 10,942 GRT and her length was 529ft, her width being 65ft and a draught of 30.10ft.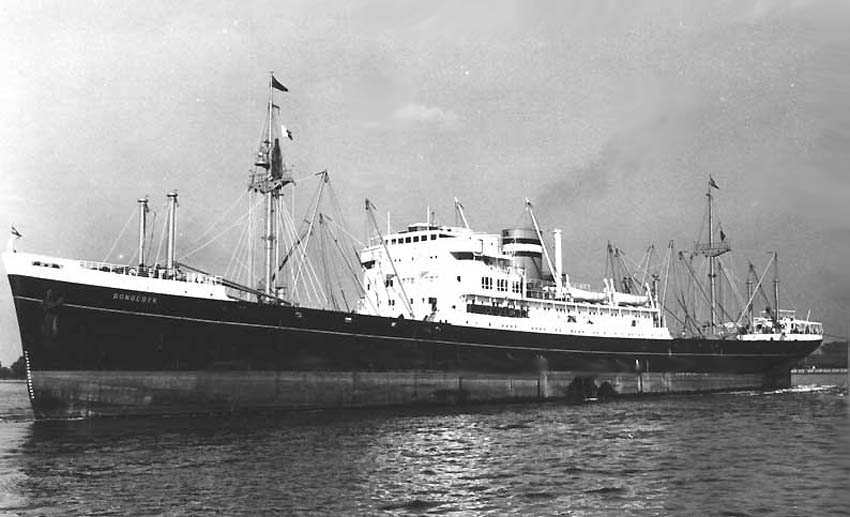 The MV Dongedijk now looks very similar to the Dalerdijk
But sadly, again due to containerisation and passenger loadings, the Dongedyk was sold in 1966 to Taiwanese breakers who renamed her "Tung Long" and she soon departed and headed for Kaohsiung, Taiwan where she was broken up.
****************************
Ship Three - S.S. Duivendijk:
This ship was built for the Hamburg America Line as the 8,269 GRT SS Vancouver by the Deutsche Werft A/G., Hamburg in 1930 and she operated on their Trans-Atlantic service.

A typical looking German Combi-Liner SS Vancouver seen before the War
Having served for the German Company for almost ten years, in May 1940 she was seized by the Royal Dutch Marines and she was placed under the management of the K.N.S.M., being the "Royal Netherlands Steamship Company" and she was renamed "Curacao." She served for the British, but with her Dutch crew in various roles during the war and thankfully came out unharmed.
Then on July 3, 1946 she was transferred to HAL for war reparations, as they had lost many ships, and she received a comprehensive refit and was made ready for passenger service on the Vancouver service. But somehow, she never really looked like a true Holland America ship, as she had the exterior of a Hamburg America Line vessel with her boxy superstructure, even though she had been renamed with a traditional name "Duivendijk" she was never considered as the Dutch ship. Upon completion, she was registered as being 8,338 GRT. She had a length of 499.7ft, her width 62.11ft and a draught of 30ft.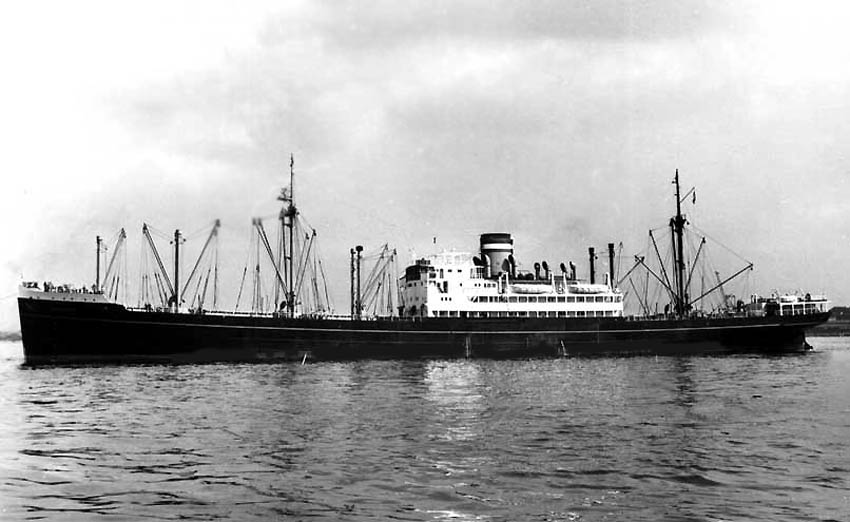 Here we see her as the SS Duivendijk, sadly she always looked more like a Hamburg America Line ship!
Promenade Deck:
This deck offered a wide U shaped Promenade Deck commencing aft for the public venues forward the extended the full width of the ship and then the deck wraps around the rest of the superstructure, offering ample space for relaxation and viewing opportunities as well as aft of the ship.
Far forward were all the ships Public Venues, with the Lounge located on the starboard and this venue was pleasant, but somewhat small, having seating for just 15 Guests. On the portside was the Smoking Room being the same size, with seating for 13 Guests. Although the plan does not show it, but a Bar would have been nearby. Between the two Lounges was the Dining Room that had seating for 48 Guests. Each venue was without doubt beautifully furnished, with touches of rich timbers, deep carpets and elegant décor s was the norm for HAL. But she was obviously not a Holland America Line built ship, for none of the cabins on this Deck had private facilities, thus all cabins on this deck have to use share facilities, making this the only One Class (Tourist) ship of the trio!, However, there were two deluxe Staterooms forward on Boat Deck that had a full sized bath room. All rooms did have windows offering natural light as well as fresh air whenever needed. However, she may have been regarded as a Tourist Class ship, but Holland America Line would never their high standard of service or excellent cuisine, for everything remained typically Holland America Line, even on a ship that really did not meet their very high standard!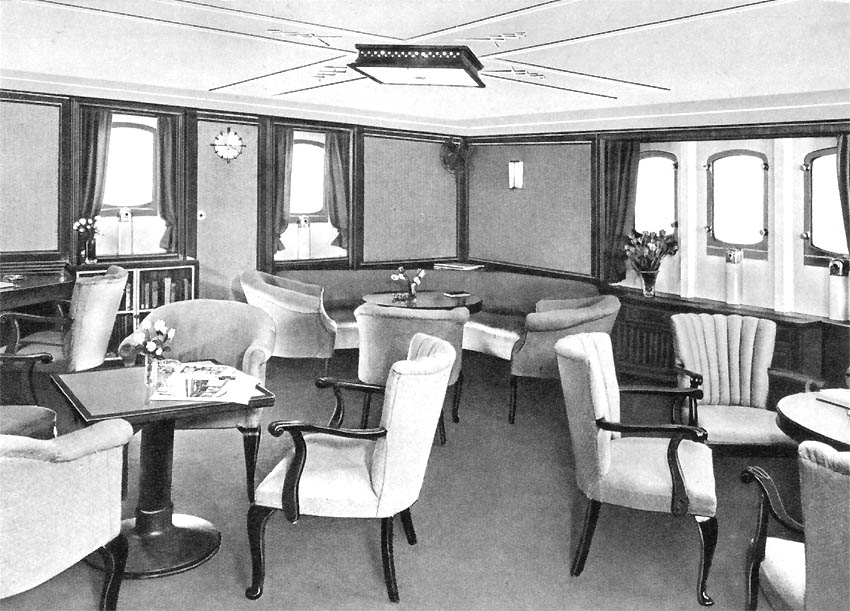 The ships Lounge was very pleasant
There were sixteen cabins on Promenade Deck, eleven of these where twin bedded cabins, one singe bedded cabin, and four single cabins, but these had a convertible sofa and thus could accommodate a second person. Thus her complement would be based on her normal berths on this deck as 27. Each cabin had one washbasin and a wardrobe per person. The showers and WC were located amidships, with bathtubs aft. However every cabin did have a sofa, but except those mentioned these sofas did not convert.
Boat Deck:
As we head up the staircase in the forward Lobby from Promenade Deck to Boat Deck, Deluxe Staterooms 1 and 2, were more spacious and had additional facilities including a full bathroom. In addition, just forward on the portside was the Doctor's consultation rooms, and the Radio Room on the starboard side. However directly aft of the Deluxe Staterooms there were two door that took you out to a vast open Promenade and Sport Deck.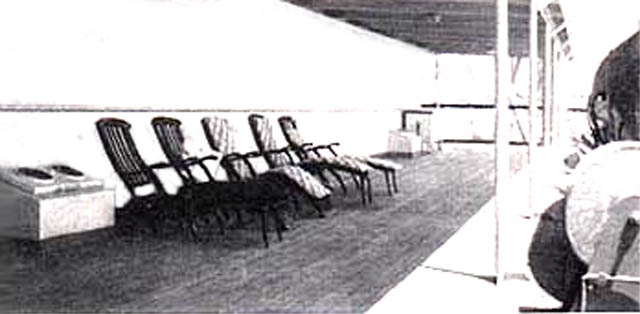 Portside Boat Deck Promenade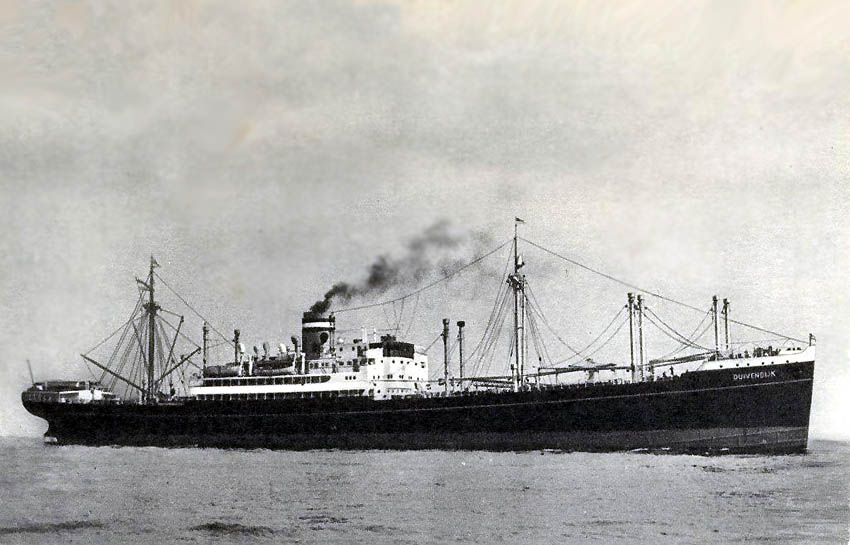 SS Duivendijk in the late 1940s
Her final Days:
No long having entered the 50s HAL decided to change her name to "Duivendyk" in 1953 just as they would do with all of their ships in due course, as the Dutch form of the "y" was hard to get used to!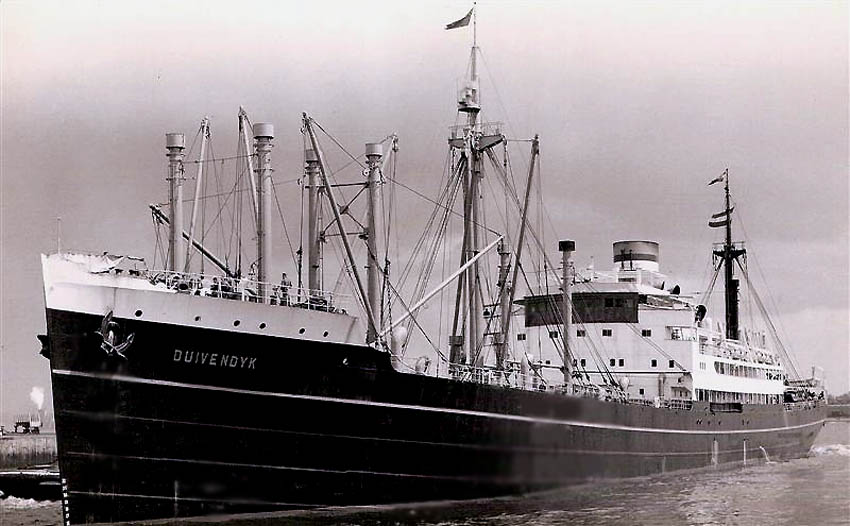 The SS Duivendijk is seen here renamed the Duivendyk in 1953
Her career with HAL had lasted for a good ten years, but still it was her difference, which was the reason that she was the first ships to leave this particular trio of Combi-Liners for in 1959 she was sold to Asian breakers and on July 28, 1959 she departed for Hong Kong where she would be broken up.
M.V. Dalerdijk, M.V. Delfdijk, S.S. Duivendijk INDEX:
Page One -??????????????? The Ships History & Photo Page - This Page.
Page Two -?????????????? Their Deck Plans.
And ...
Feature 2 ?-????????????? The MS Noordam & MS Westerdam.
Feature 3 -?????????????????????????? The SS Diemerdyk & SS Dinteldyk.
"Blue Water Liners sailing to the distant shores.
I watched them come, I watched them go, and I watched them die."
****************************
Visit our ssMaritime Main INDEX
Where you will discover more than 1,250 Classic Passenger & Cargo-Passenger Liners!
ssMaritime.com & ssMaritime.net
Where the ships of the past make history & the 1914 built MV Doulos Story
Also visit my
"Save The Classic Liners Campaign"
Please Note: ssmaritime and associated sites are 100% non-commercial and the author seeks no funding or favours of any shape or form, never have and never will!
Photographs on ssmaritime and associate pages are by the author or from the author's private collection. In addition there are some images that have been provided by Shipping Companies and private photographers or collectors. Credit is given to all contributors. However, there are some photographs provided to me without details regarding the photographer/owner concerned. I hereby invite if owners of these images would be so kind to make them-selves known to me (my email address may be found on www.ssmaritime.com only), in order that due credit may be given.
ssMaritime is owned & ? Copyright by Reuben Goossens - All Rights Reserved